The Most Reliable Dishwashers (2023 Update)
January 16th, 2023 | 8 min. read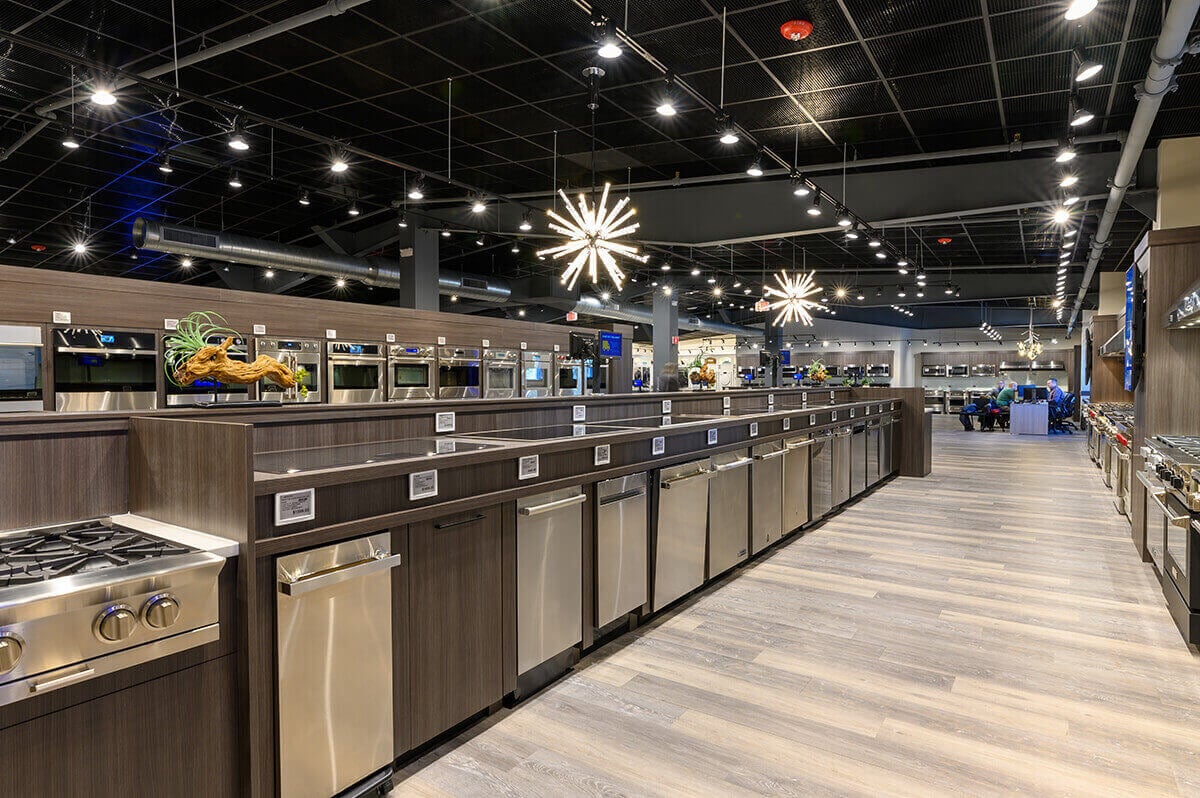 The most reliable dishwasher brands for 2023 are:
Imagine a world where dirty dishes pile up in the sink and take hours to wash by hand because your dishwasher is not working.
You call the 1-800 number for factory service, or a local repair company only to find it's a 30 to 90-day wait until they can send someone to fix it.
This may sound like a nightmare, but it's a daily reality for many people due to unreliable dishwashers and long wait times for service.
Dishwashers have an average service rate of 6.8% within the first year of use, according to over 39,000 service calls logged last year by our service team.
In this article, you will learn about the most reliable dishwasher brands to consider, along with popular models and video reviews.
We'll also share expert tips for navigating the service process, so you avoid the frustration of dirty dishes piling up in the sink.
Let's get started.
Why Reliability Is So Important Especially Now
I am convinced that the worst appliance company job is the parts purchasing manager.
They have to deal with tons of back-ordered (industry jargon for not available) parts on an ongoing basis. From our example above, let's say your local service agent quotes you for 30 days until a technician can repair your dishwasher.
If the technician brings the wrong part to fix your dishwasher or the part is unavailable, you are now looking at another 30 to 60-day wait until the new part arrives and the technician can come again.
Dishwasher Availability
Not to mention, dishwashers have been the least available appliance since 2020.
For example, after almost fifteen months, Miele shipped their first dishwashers last November.
Bosch? Well, nobody has any idea when, where, and if Bosch dishwashers will be available.
Then again, Bosch makes a great dishwasher and is one of the best companies in the industry. Their lack of availability is a product of their own success.
However, if dishwashers are scarce, the parts to fix them are even worse.
Of course, buying a reliable dishwasher is the best way to avoid service, so let's look at the most reliable dishwasher brands for 2023.
The Most Reliable Dishwasher Brands for 2023
The following service rates are based on a minimum of 100 products sold and a total sample size of over 8000 units over a 12-month period.
| | |
| --- | --- |
| | Service Rates |
| LG | 3.5% |
| Bosch | 5.1% |
| Thermador | 5.9% |
| KitchenAid | 6.2% |
| Miele | 6.7% |
| GE Profile | 7.1% |
| Signature Kitchen Suite | 7.5% |
| Fisher & Paykel | 9.0% |
| Café Appliances | 10.3% |
| Beko | 11.2% |
| Grand Total | 6.8% |
LG – 3.5% Service Rate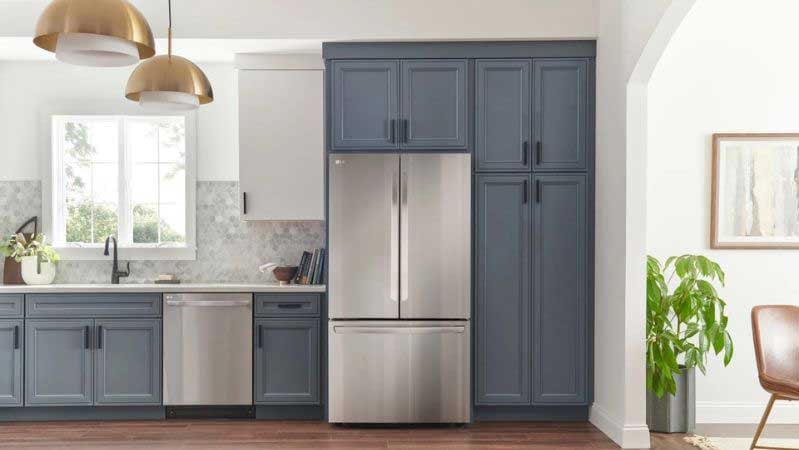 LG Dishwasher
Last year, LG had an incredibly low 1.9% service rating. This year was still impressive at 3.5%.
LG manufactures most of its dishwasher components, like motors and other key parts, than any other manufacturer - except for Miele.
LG's dishwashers have a new wash arm technology called QuadWash or oblong wash arms to wash your dishes from every angle.
In addition, their dishwashers feature steam. Steam is a unique feature for LG. It loosens baked-on food from your dishes like my kid's macaroni and cheese.
My neighbor has an LG dishwasher, and yes, I tested it...with the macaroni I overcooked.
Earlier Service Rates:
2020-2021 - 1.7%
2018-2019 - 6.2%
2017-2018 - 5.1%
2016-2017 -19.1%
Bosch – 5.1% Service Rate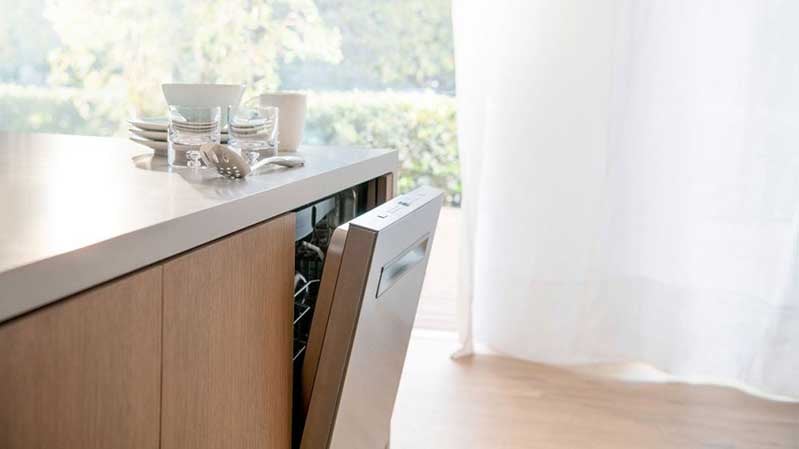 Bosch Dishwasher with AutoAir Drying System
Last year, some Bosch dishwashers were made in the US and Germany.
Yet Bosch had a near identical service rate to Thermador's 5.9%.
Thermador dishwashers are more simplistic while Bosch's most popular dishwashers are more advanced with features like CrystalDry drying starting at $1,399.
The original company to address a quiet, well-featured, and affordable dishwasher was Bosch. In 2020-2022, you haven't seen any Bosch dishwashers under $1,000.
Typically, more advanced dishwashers have more issues.
Bosch's dishwashers with CrystalDry featuring Zeolite volcanic elements is the best drying system available. The best Bosch dishwasher for 2023 is the Bosch 800 series dishwasher, the SHX78B75UC.
Earlier Service Rates:
2020-2021 - 10.1%
2019-2020 - 12.8%
2018-2019 – 11.1%
2017-2018 – 11.1%
2016-2017 – 10.4%
Thermador – 5.9% Service Rate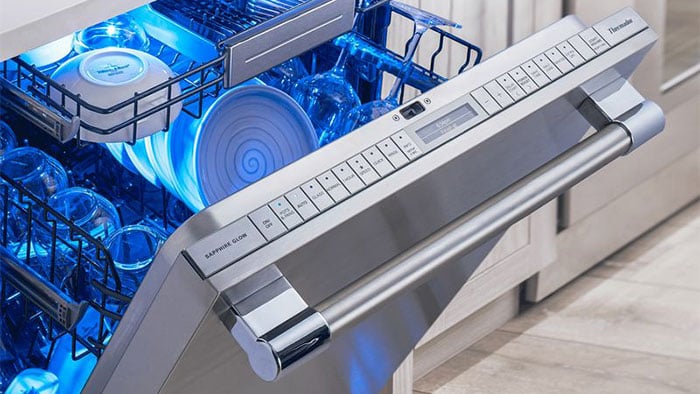 Thermador Sapphire Dishwasher
Bosch and Thermador are the same company and possibly the same dishwasher, depending on what model you consider.
Bosch, like most other premium brands, has had problems during the pandemic. Supply chain issues are partly to blame, but overwhelming demand is also.
Almost everyone wants a Bosch dishwasher. Their factory in North Carolina, the largest in the world, cannot handle the demand.
Many Bosch dishwashers produced in 2023 will be shipped from their German factories, while Thermador will be produced in the US.
Only Thermador's less expensive models are available. They are free under Thermador's One-Two-Free rebate program when you buy a range, cooktop, or wall oven.
All of Theramador's Star and Sapphire dishwashers with a 20-minute wash and dry cycle have not been made in almost two years.
Earlier Service Rates:
2020-2021 - 3.6%
2018-2019 -14.5%
2017-2018 - 17.3%
2016-2017 - 12.2%
KitchenAid - 6.2% Service Rate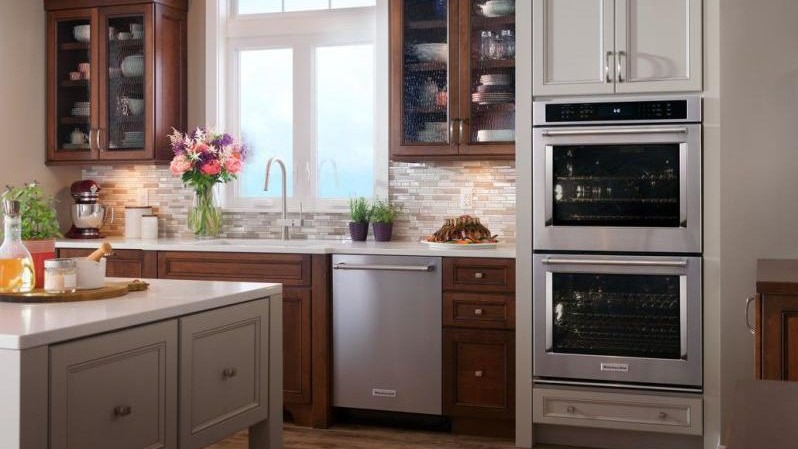 KitchenAid M Series Dishwasher
KitchenAid morphed into two series. Their M series has a new wash system, drying system, and racks.
The best KitchenAid models to consider are the KitchenAid 200 Series Dishwasher KDTE204KPS and the KitchenAid 600 Series dishwasher KDTM604KPS.
Being this reliable with new products is unusual. Then again, we didn't sell as much KitchenAid last year.
I doubt we will be rating KitchenAid or other Whirlpool products in the next few years as they pursue a box store strategy.
We also sell a different portfolio of appliances than a regular box store and need different suppliers, so we are both happy.
KitchenAid is a good dishwasher.
Still, if the pandemic taught people anything about appliances, you have plenty of good brands and models to choose from.
Earlier Service Rates:
2020-2021 - 5.5%
2019-2020 - 11%
2018-2019 – 13.1%
2017-2018 – 16.3%
2016-2017 – 9.5%
Miele – 6.7% Service Rate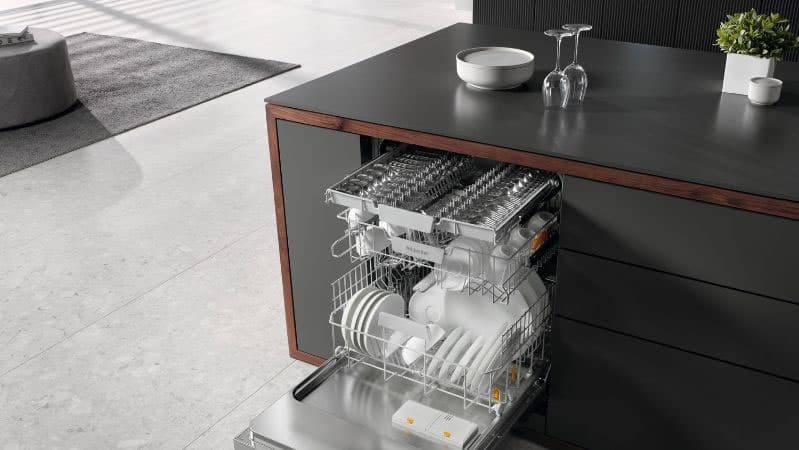 Miele G 7000 Series Dishwasher
I am surprised to see Miele on this list. It's hard to believe we shipped any because none was available for so long.
They introduced their new dishwasher series months before the pandemic and, much like Bosch, did not ship due to a heavy backlog.
In fact, the only available Miele dishwasher was the $4,250 ProLine PFD 104 SCVi.
Most people think Miele has excellent reliability with a 0% service rate, but no brands can honestly claim that. Still at 6.7% when introducing new products and selling only commercial $4,250 dishwashers is impressive.
Their past issues were minor. In 2017, it was frozen motors. In 2018 it was buzzing solenoids. The dishwasher solenoid opens the drain. It buzzed enough for us to replace them in 2018 and part of 2019.
Miele is the best for dishwasher rack design, features, and washing and drying systems.
They are also the only company with a 20-load detergent dispenser, dispensing the exact amount of detergent needed at the right time. We've tested it, and it works.
The best Miele dishwashers are the G7366SCVISF, G5056SCVISFP, and G5266CVISF.
Earlier Service Rates:
2020-2021 - 8.9%
2019-2020 - 8.2%
2018-2019 - 20.5%
2017-2018 - 14.4%
2016-2017 – 6.0%
GE Profile - 7.1% Service Rate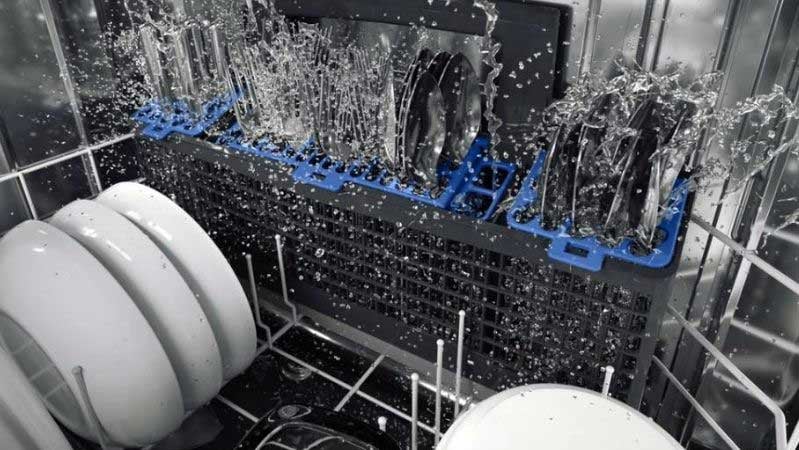 GE Profile Dishwasher with Special Wash Jets for Silverware
GE Profile is another brand you should consider. GE Profile's dishwasher was brand new in 2021, with a service rate of 12.2%. Now, that service rate has improved by dropping down to a repair rate of 7.1%.
The best dishwasher to consider this year could be the Profile UltraFresh System Dishwasher PDP755SYRFS with special wash arms for bottles and silverware.
It has a 42 dB (decibel) silence rating with a soft food disposer.
GE also has its own service department. It's a key consideration if you are buying from an appliance store without service.
Earlier Service Rate:
2020-2021 - 12.2%
2019-2020 - 10.5%
How Dishwasher Reliability is Calculated
We calculate dishwasher reliability by dividing the products we serviced by the products we sold for a service rate percentage.
That brand percentage is then compared to other brands and ranked. For this article, we looked at the number of dishwashers sold and serviced from January 1, 2022 to December 31, 2022.
Dishwasher Service
The best dishwasher brands to buy based on service and parts availability are any dishwashers from Bosch, Thermador, and GE, including Café Appliances, GE Profile, and Monogram.
You should also be concerned with the service experience. Only 5% of retailers have a service department with more than one or two technicians.
Also, as of this writing, most manufacturers do not have a service department or are woefully understaffed.
GE and Whirlpool have the best service departments nationally.
It is paramount for you to find a reputable service agent before buying any appliance. You will statistically need one when buying a whole new kitchen of appliances within the first year.
Read More: Why Your New Appliance Will Not Be Repaired
Which Dishwasher Should You Buy Based on Reliability?
It depends on what you want for features and your budget. For 2023, you still have availability issues.
However, you have plenty of good options to consider for the best and most reliable dishwasher with many different brands.
Remember, even reliable products break, so make sure you have an available appliance service in your area.
Dishwashers
FAQs
Answers to the most commonly asked questions about dishwashers
How long do dishwashers usually last?
Is it worth repairing a dishwasher?
What is the best decibel (dB) rating for a dishwasher, and what is the quietest dishwasher?
How long should a dishwasher cycle last, and what is the fastest dishwasher?
Do you need insulation around the dishwasher?
Should you buy an extended warranty for a dishwasher?
Additional Resources
Have questions on dishwashers? Then get the Yale Dishwasher Buying Guide with features, specs, and detailed profiles of every major brand like Miele, Bosch, KitchenAid, Beko, and more. Over 1 million people have read a Yale Guide.
Related Articles:
Most Reliable Appliances Series:
Why Should You Trust Us?
It seems that every appliance review has nothing but glowing comments about almost every product, yet you read customer reviews and they are almost universally bad.
We are here to fill in the disconnect. We'll give you the best features, and the drawbacks as well, including reliability based on over 37,000 calls performed by our service team just last year. Our goal is to give you ALL the information so you know what's right for you.
Please consider subscribing or adding to the conversation in the comments below. We appreciate you stopping by.
Steve Sheinkopf is the third-generation CEO of Yale Appliance and a lifelong Bostonian. He has over 38 years of experience in the appliance industry, and he is a trusted source of information for consumers on how to buy and repair appliances.

Steve has also been featured in numerous publications, including the New York Times, Consumer Reports, The Boston Globe, Bloomberg Radio, the New York Post, The Wall Street Journal, and Entrepreneur, for his knowledge of how to buy appliances and appliance repair.

Steve is passionate about helping consumers find the best appliances for their needs, and he is always happy to answer questions and provide advice. He is a valuable resource for consumers who are looking for information on appliance buying, repair, and maintenance.

Despite being the worst goalie in history, Steve is a fan of the Bruins and college hockey, loves to read, and is a Peloton biker. The love of his life is his daughter, Sophie.
A Note About Pricing
Pricing on this blog is for reference only and may include time sensitive rebates. We make every attempt to provide accurate pricing at time of publishing. Please call the stores for most accurate price.