Most Reliable Dishwasher Brands for 2022 (Reviews / Ratings)
The 12 Most Reliable Dishwasher Brands for 2022 Are:
We have all been there.
Your appliance is not working. You call the 1-800 number for the factory service. It's now 60 days to send a technician out. You call a local company, and it's 30 days.
Typically, it's longer than 30 or even 60 days for reasons you will learn about in this article.
In addition to choosing your new dishwasher based on quietness, cycles, and racks, you should look at dishwasher reliability and availability.
This article is all about the most reliable dishwasher brands based on actual service calls logged last year.
This article will help you buy a reliable dishwasher. We'll share some popular models to consider along with some video reviews. Please read the whole article before you buy a dishwasher on this list. There is much to learn.
Let's get started.
Why Is Reliability So Important Especially Now
I am convinced the worst job in any appliance company is the purchaser of parts. You have to deal with tons of back-ordered (industry jargon for not available) parts on an ongoing basis.
Let's take your service agent who quotes you for 30 days. If he doesn't have the part or has the wrong part to fix your dishwasher, you are now looking at another 30-60 days before your new dishwasher is fixed.
Of course, the best way to avoid service is buying a reliable dishwasher, so let's look at trends and then brands.
Short on time? Get our free Dishwasher Buying Guide
Dishwasher Service Trends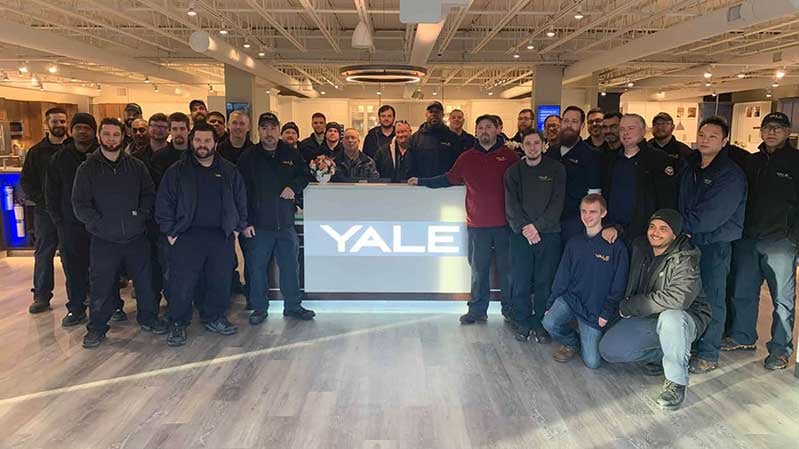 Yale Appliance Service Team
We now have 35 service technicians performing service calls six days a week. They work five days in rotation and have the data to help us compare brands.
We logged 34,687 service calls in 2018. In 2019, that number rose to 35,256. In 2020, we logged 37,061 service calls. Once again, the service numbers were up from the previous year.
It could have been even higher as the need for service was greatly reduced in March, April, and May due to COVID-19. Yet dishwashers were better last year.
In 2020, it was 11.2%. That average repair rate rose to 12.8% in 2021. We found that the top four dishwasher service calls were due to installation issues, water leaks, drain pump issues, and dishes not being cleaned.
You will see four years of dishwasher service percentages for the brands we've carried. Lastly, you will learn why the most reliable dishwashers are not always the best purchases.
How Dishwasher Reliability is Calculated
We calculate dishwasher reliability by dividing the products we serviced by the products we sold for a service rate percentage.
That brand percentage is then compared to other brands and ranked. For this article, we looked at the number of dishwashers sold and serviced from December 2020 to October 2021.
Dishwasher Reliability December 2020 to October 2021
The following service rates are based on a minimum of 90 units sold and a total sample of over 8,000 pieces.
| | |
| --- | --- |
| | Service Rates |
| LG | 1.7% |
| Thermador | 3.6% |
| Whirlpool | 4.1% |
| JennAir | 5.3% |
| KitchenAid | 5.5% |
| Miele | 8.9% |
| Fisher & Paykel | 9.9% |
| Bosch | 10.1% |
| Beko | 10.3% |
| Café Appliances | 10.7% |
| GE Profile | 12.2% |
| Asko | 12.5% |
| Samsung | 18.5% |
| Grand Total | 12.8% |
Let's break those numbers down and look at the most reliable dishwasher brands for 2021.
Most Reliable Dishwashers for 2022
1. LG - 1.7% Service Rate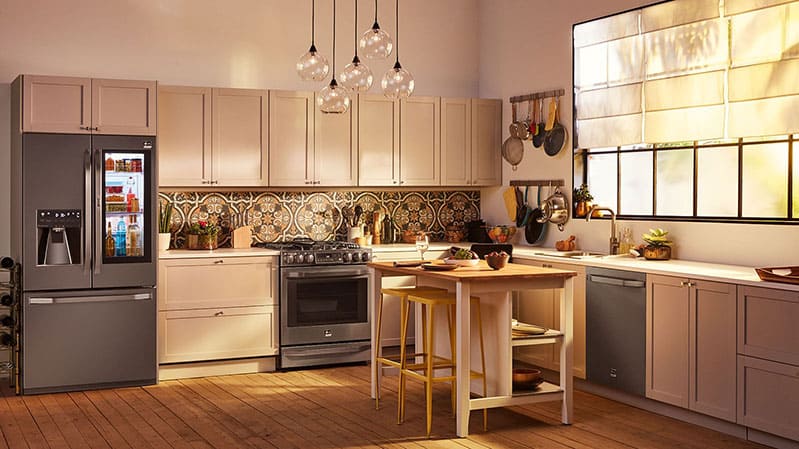 LG Kitchen With Dishwasher and Counter-Depth Refrigerator
Last year, LG had similar repair numbers but didn't make the minimum number required to be ranked. Their brand is generally reliable, plus all the dishwashers are $799 or greater, not builder grade with no features. A 1.7% service rate is impressive for almost any category.
LG's best dishwasher to consider is the LG top control dishwasher LDB4548ST with special features like QuadWash and EasyRack Plus.
Previous Service Rates:
2020-2021 - 1.9%
2018-2019 –6.2%
2017-2018 – 5.1%
2016-2017 – 19.1%
2. Thermador - 3.6% Service Rate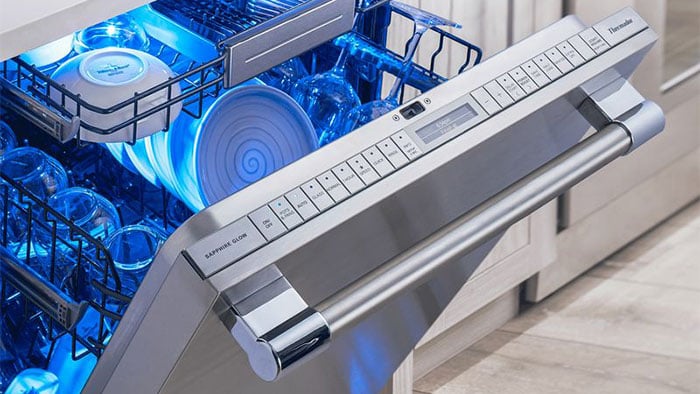 Thermador Sapphire Dishwasher
Thermador is a Bosch dishwasher and is part of their One-Two-Free program. The dishwasher is free when you buy other Thermador appliances.
Due to the pandemic, their better models were unavailable throughout most of 2020.
Only Thermador's less expensive models are available. However, these free products are less-featured Bosch dishwashers.
That said, the Thermador Star Sapphire is a pretty amazing dishwasher if it ever becomes available. For now, Thermador's Emerald Series, like the Thermador Emerald dishwasher DWHD650WPR, is their best dishwasher to consider. They are nearly free with other qualifying Thermador purchases.
Previous Service Rates:
2020-2021 - 7.6%
2018-2019 -14.5%
2017-2018 - 17.3%
2016-2017 - 12.2%
3. Whirlpool - 4.1% Service Rate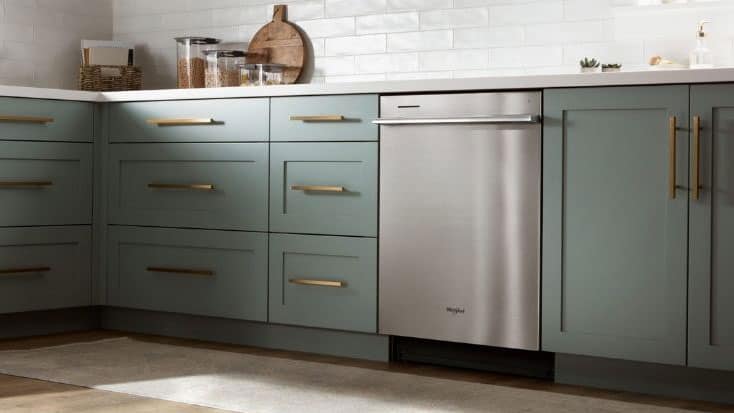 Whirlpool Dishwasher
The best dishwasher to consider is the Whirlpool Heavy-Duty Dishwasher WDF330PAHW.
Whirlpool is sold primarily to large construction jobs. It's hard to know when people move in and use the appliance. It's also hard to know whether they know to call us even though we provide documentation and warranty information.
Builder jobs are also different from how you would buy an appliance.
Whirlpool's dishwashers are basic, with limited features. They are also loud at over 50 dB (decibels). So, don't run out and buy a Whirlpool dishwasher unless you're looking for something affordable. Also, we typically are involved in the installation and do product checks before the job is turned over.
Consider another brand if you want a quieter dishwasher with better features.
Previous Service Rates:
2019-2020 - 2.1%
2018-2019 - 2.6%
2017-2018 - 4.3%
2017 - 2018 - 1.4%
LG vs. Whirlpool
LG is better at 1.7% vs. 4.1% for Whirlpool in terms of reliability. The average LG dishwasher is about $799 versus $399 for Whirlpool through the builder channel.
LG is the better dishwasher in terms of stainless vs. plastic construction features. However, Whirlpool will have better service. It could be important if your store does not offer service.
4. JennAir - 5.3% Service Rate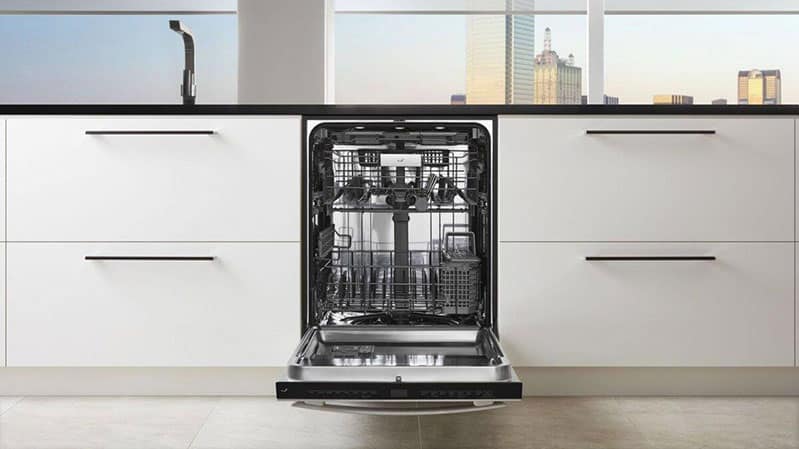 JennAir Dishwasher
JennAir and KitchenAid (featured next) are both Whirlpool subsidiaries. Both were reliable last year. Like Thermador, the JennAir dishwasher is almost free with other qualifying products. JennAir's best dishwasher to consider is the JennAir Rise Dishwasher JDPSS244LL.
Previous Service Rates:
2019-2020 - 11%
2018-2019 – 38.1%
2017-2018 – 18.7%
2016 - 2017 – 17.6%
5. KitchenAid - 5.5% Service Rate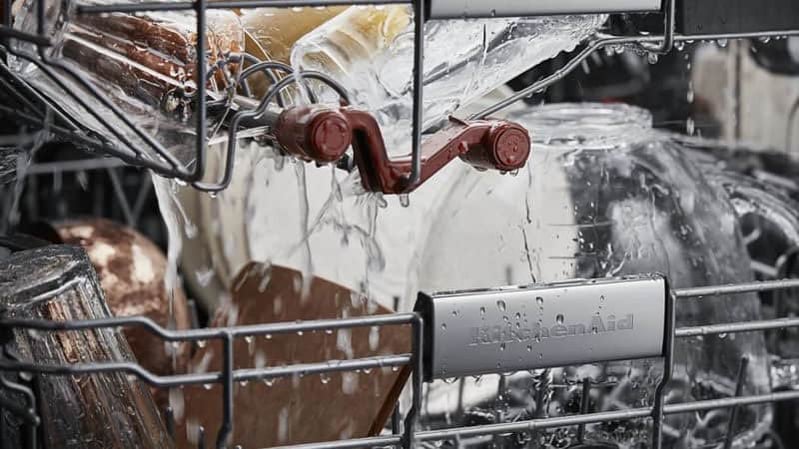 KitchenAid Dishwasher With New Third Rack
KitchenAid has two series. The more popular is their basic line with better silence ratings. Their M series has four levels of wash, better drying, and better filtration.
The best KitchenAid models to consider are the KitchenAid 200 Series Dishwasher KDTE204KPS and theKitchenAid 600 Series dishwasher KDTM604KPS.
Previous Service Rates:
2019-2020 - 11%
2018-2019 – 13.1%
2017-2018 – 16.3%
2016 - 2017 – 9.5%
Bosch vs. KitchenAid
Just by math, you would think KitchenAid is more reliable. However, it's about even when you add the Thermador, Bosch-made dishwashers. Bosch tends to sell with more features at $1,149-$1,399, whereas KitchenAid's most popular model is the 200 series at $999.
Read More: KitchenAid vs. Bosch Dishwashers
6. Miele - 8.9% Service Rate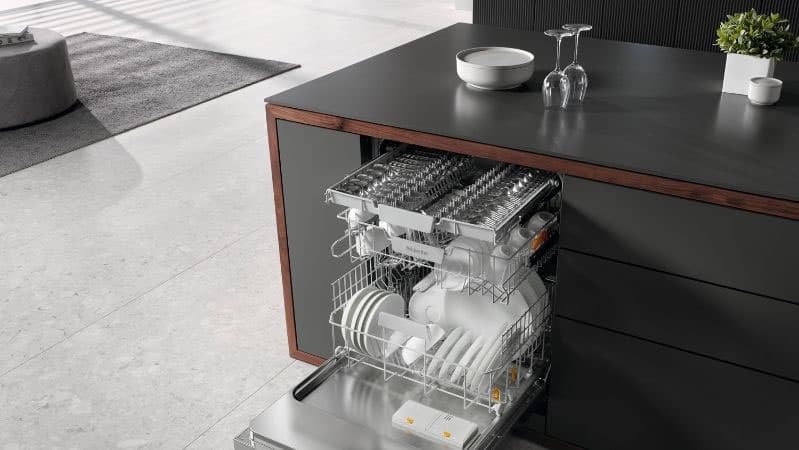 Miele G 7000 Series Dishwasher
How does a brand priding itself on quality control go from 6% to over 20% in 3 years and back to 8%? In 2017, it was frozen motors. In 2018 it was buzzing solenoids. The dishwasher solenoid opens the drain. It buzzed enough for us to replace them in 2018 and part of 2019.
With the issues seemingly behind them, Miele is again the top-rated premium dishwasher at 8.9%.
Miele is considered the best in terms of racking, washing, and drying in terms of features. They are also the only company with a 20-load dispenser, dispensing the right amount of detergent at the right time - and it works.
Their problem is availability. You won't be able to buy most of their dishwashers until May of 2022. The best Miele dishwashers to consider are the G7366SCVISF, G5056SCVISFP, G7156SCVISF, and G7566SCVISF series dishwashers.
Previous Service Rates:
2019-2020 - 8.2%
2018-2019 - 20.5%
2017-2018 - 14.4%
2016 - 2017 – 6.0%
7. Fisher & Paykel - 9.9%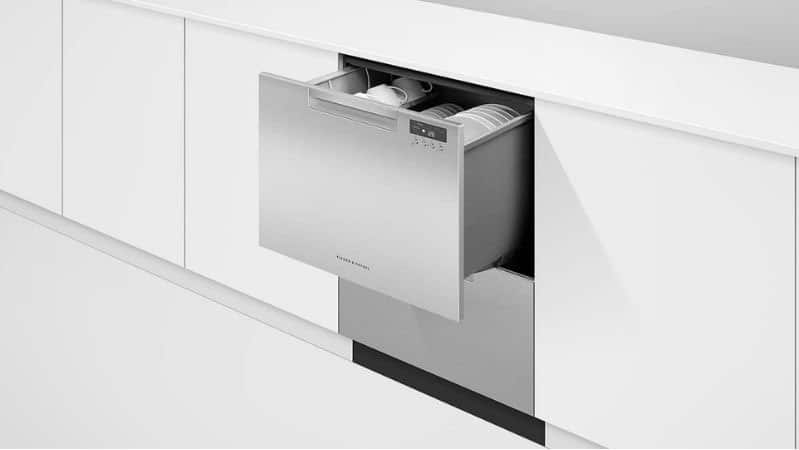 Fisher & Paykel DishDrawer
I remember buying some of the first Fisher & Paykel dishwashers. You could remove the motor and place it in your hand. The best Fisher & Paykel model to consider is their DishDrawer DD24DAX9 N. I loved the dishdrawer concept, especially after I turned 50. You bend less.
However, the service has never been good. So, it's surprising to see them this high. Then again, they are owned by Haier, who has turned around GE in less than five years.
Previous Service Rates:
2019-2020 - 27.8%
2018-2019 – 29.0%
2017-2018 – 24.0%
2016 - 2017 – 30.3%
8. Bosch - 10.1% Service Rate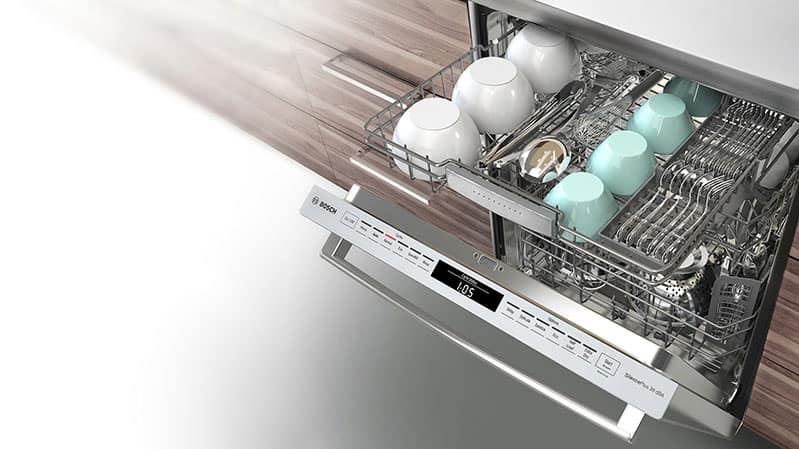 Bosch Dishwasher
The original company to address a quiet, well-featured, and affordable dishwasher was Bosch. In 2020-2022, you haven't seen any Bosch dishwashers under $1000. Typically, except for Miele, more featured dishwashers have more issues.
Over the last few years, Bosch has vastly improved their drying with Auto Air opening dishwashers at the end of the cycles.
Their CrystalDry with Zeolite volcanic elements is the best drying available. The best Bosch dishwasher to consider for 2022 is the Bosch 800 DLX Series Dishwasher SHP878ZP5N.
Previous Service Rates:
2019-2020 - 12.8%
2018-2019 – 11.1%
2017-2018 – 11.1%
2016 - 2017 – 10.4%
9. Beko - 10.3% Service Rate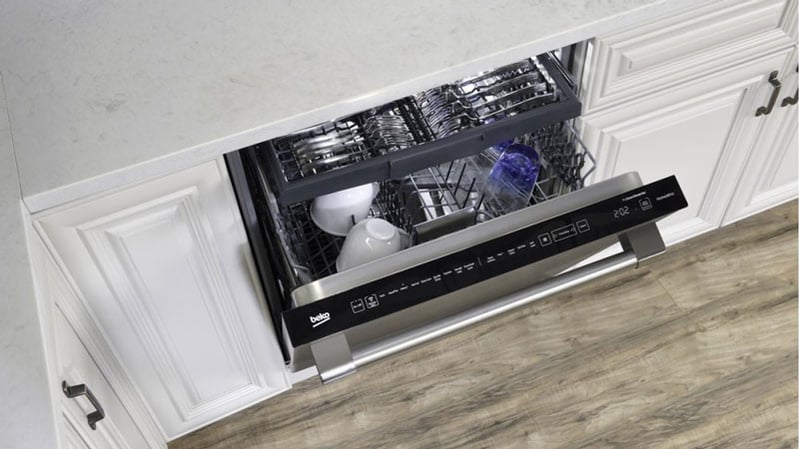 Beko Dishwasher
Their $899 dishwasher has 39 dB, specialized sprays and cycles for baked-on dishes, and even an Ion neutralizer to keep your dishwasher smelling fresh.
Beko is also the only brand to have a panel-ready dishwasher available for under $1200.
You may only want to buy familiar brands, but Beko is certainly an interesting alternative. Beko's best dishwashers include the DIT39432, DDT39432, and the DUT25401X.
Previous Service Rate:
10. Café Appliances - 10.7% Service Rate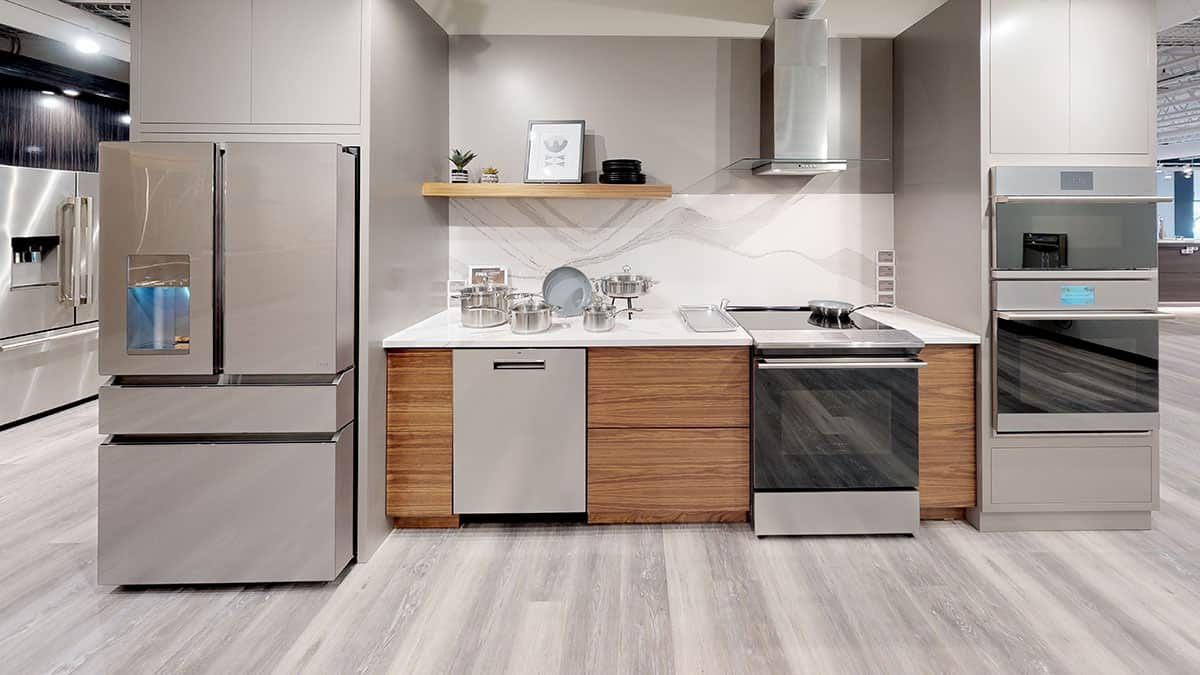 Café Appliances Kitchen at Yale Appliance in Hanover
Like Beko, we don't have reliability stats for Café Appliances, GE Appliances, and GE Profile. We started selling GE lines in 2019.
Café has a good array of features. It's popular because it matches their incredibly popular suite. Their best dishwasher to consider for 2022 is the CDT845P4NW2 with Sanitize and Ultra Wash & Dry features.
Previous Service Rates:
11. GE Profile - 12.2% Service Rate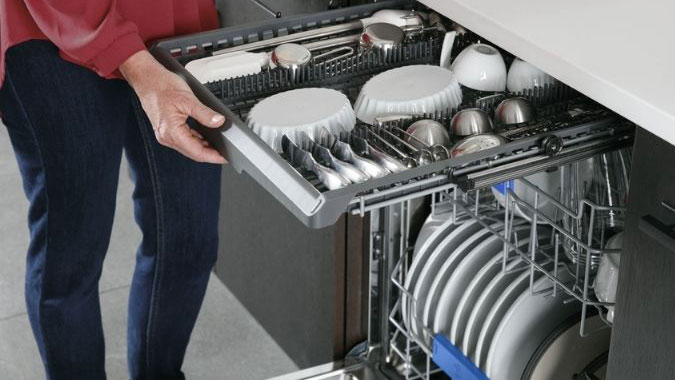 GE Profile Dishwasher
The new dishwasher to consider this year could be the Profile UltraFresh System Dishwasher PDP755SYRFS with special bottle and silverware washes. It's 42 DB with a soft food disposer.
The best part is its availability. You can buy one and have it delivered within a few days.
Previous Service Rate:
12. Asko - 12.5% Service Rate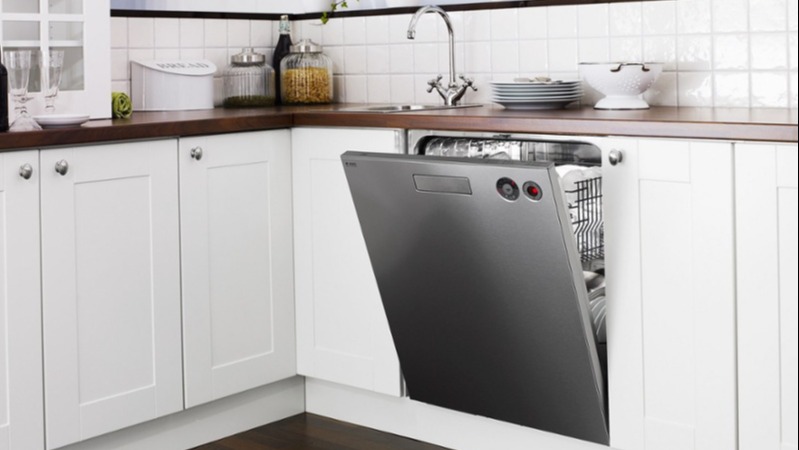 Asko Dishwasher
I had one of the first Asko dishwashers. It's a fantastic design in all steel, including the wash arms and graphite baskets. However, Asko was sold years ago two different times. The best Asko dishwasher to consider is the Asko Dishwasher DBI664IXXLS.
Previous Service Rates:
2019-2020 - 11.6%
2018-2019 – 54.2%
2017-1018- 24.1%
2016-2017- 12.2%
Dishwasher Service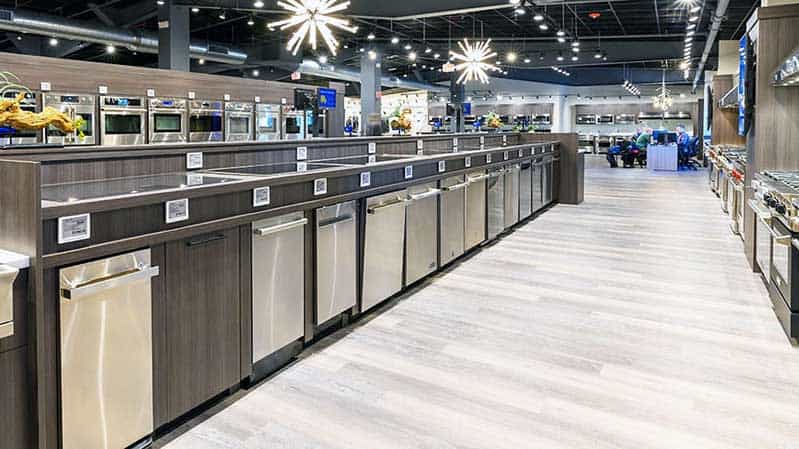 Dishwashers at Yale Appliance in Hanover
The corollary to service issues is the parts turnaround. You call us with a problem. We then diagnose the problem, order the parts, and send a technician to repair the dishwasher. It should be a 1-2-day turnaround maximum.
The best dishwasher brands to buy based on service and parts availability are any from the Bosch and by osmosis Thermador and the GE lines.
You should also be concerned with the service experience. Only 5% of the retailers have a service department with more than one or two technicians.
Also, as of this writing, most manufacturers do not have a service department or are woefully understaffed. It is paramount for you to locate a reputable service agent before buying any appliance. You will statistically need one when buying a whole new kitchen of appliances within the first year.
Which Dishwasher Should You Buy Based on Reliability?
It depends on what you want for features and your budget. For 2021, you will have the added issue of availability.
For the best simple dishwashers, Beko and the basic GE are reliable. For a premium dishwasher, Bosch, KitchenAid, Beko, and Miele. Thermador is a great choice, but only if you buy other Thermador products. The dishwasher is free, and that's a good price.
However, even reliable products do break, so make sure you have an available appliance service in your area.
Frequently Asked Questions
1. How long do dishwashers usually last?
Dishwashers last 6-10 years on average.
2. Is it worth repairing a dishwasher?
Depending on the issue, many companies will give you an estimate.
3. What is the best decibel (dB) rating for a dishwasher and what is the quietest dishwasher?
The best dB rating for a dishwasher is anything under 44 dB. Miele and Bosch have the quietest dishwashers at 37 dB. However, Beko and KitchenAid have a 39 dB for $1000 less.
4. How long should a dishwasher cycle last and what is the fastest dishwasher?
Dishwasher cycles top out at three hours 30 minutes, but the average is two hours. The fastest is 20 minutes for the Thermador Star Sapphire.
5. Do you need insulation around a dishwasher?
No, you do not need insulation around your dishwasher because dishwashers already have insulation.
Additional Resources
Have questions on dishwashers? Then get the Yale Dishwasher Buying Guide with features, specs, and detailed profiles of every major brand like Miele, Bosch, KitchenAid, Frigidaire, and more. Over 1 million people have read a Yale Guide.
Related Articles:
Most Reliable Appliances Series:
Why Should You Trust Us?
It seems that every appliance review has nothing but glowing comments about almost every product, yet you read customer reviews and they are almost universally bad.
We are here to fill in the disconnect. We'll give you the best features, and the drawbacks as well, including reliability based on over 37,000 calls performed by our service team just last year. Our goal is to give you ALL the information so you know what's right for you.
Please consider subscribing or adding to the conversation in the comments below. We appreciate you stopping by.
A Note About Pricing
Pricing on this blog is for reference only and may include time sensitive rebates. We make every attempt to provide accurate pricing at time of publishing. Please call the stores for most accurate price.