Most Reliable Dishwashers for 2021 (Reviews / Ratings)
You're probably choosing your new dishwasher based on quietness, cycles, and racks.
However, and more importantly, you should look at dishwasher reliability.
This article is all about reliability from the last 12 months and the most reliable dishwasher brands based on actual service calls.
This article will help you buy a reliable dishwasher for 2021. The brands are almost completely different from last year.
Based on 37,061 service calls logged last year, the most reliable dishwashers for 2021 are:
Whirlpool - 2.1%
Beko/Blomberg - 5.4%
Thermador - 7.6%
Miele - 8.2%
Samsung - 10.6%
KitchenAid/JennAir - 11.0%
Please read the whole article before you buy a dishwasher on this list.
You can also view some videos of the most reliable dishwasher models if you want to learn more.
Dishwasher Service Trends
We logged 34,687 service calls in 2018. In 2019, that number rose to 35,256. In 2020, we logged 37,061 service calls for a 5.11% increase.
Once again, the service numbers were up from the previous year.
It could have been even higher as COVID-19 greatly reduced service calls in March, April, and May.
Yet dishwashers were better last year.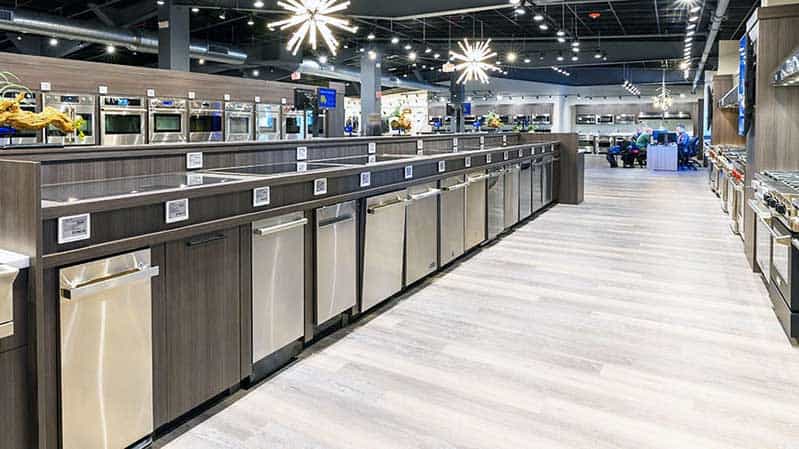 Best-Selling Dishwashers on Display at Yale Appliance in Hanover
We delivered 10,166 and serviced 1,377 dishwashers in all of 2019 for an average repair rate of 13.55%.
In 2020, 10,661 dishwashers were sold, with only 1,139 serviced for 10.68%.
Much of this decrease was due to a new brand.
However, a few brands, like Miele and KitchenAid, improved their service rates greatly.
You will see four years of dishwasher service percentages.
You will also learn about buzzing solenoids and why the most reliable dishwashers are not always the best purchases.
Short on time? Get our free Dishwasher Buying Guide
How We Calculate Appliance Reliability
It's a simple formula.
We calculate appliance reliability by looking at the products sold compared to the products serviced by brand for the last 12 months.
We do not consider brands like LG and GE Profile with less than 100 units shipped.
For this article, we looked at the number of dishwashers sold and serviced from December 2019 to November 2020.
We look at these stats all the time to curate our selection to be the most reliable.
We have to fix appliances often at a loss in warranty, so a more reliable brand portfolio is financially better for us with fewer headaches for you.
Most Reliable Dishwashers for 2021
Dishwasher Reliability From December 2019 to November 2020. Each brand represented has a minimum of 50 units sold, and a total sample of over 10,000 pieces.
| | |
| --- | --- |
| | Service Ratio |
| Blomberg | 0% |
| LG | 1.9% |
| Whirlpool | 2.1% |
| Thermador | 7.6% |
| Beko | 7.67% |
| Miele | 8.2% |
| GE Profile | 10.5% |
| Samsung | 10.6% |
| JennAir | 11.0% |
| KitchenAid | 11.0% |
| Asko | 11.6% |
| Bosch | 12.8% |
| Bosch Benchmark | 18.4% |
| Café Appliances | 18.8% |
| GE Appliances | 19.5% |
| Fisher & Paykel | 27.8% |
| Average | 11.2% |
Let's break those numbers down and take a look at the most reliable dishwasher brands for 2021.
Whirlpool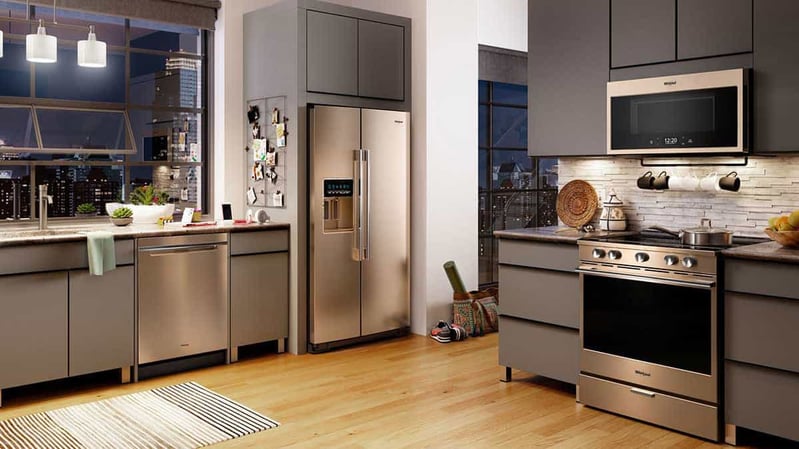 Whirlpool Dishwasher and Appliances in Sunset Bronze
2019-2020: 762 Sold | 16 Serviced - 2.1% Service Ratio
Previous Years:
2018-2019 1471 Sold | 38 Serviced - 2.58%
2017-2018: 1,040 Sold | 44 Serviced - 4.27%
2017 - 2018: 779 Sold | 11 Serviced - 1.41%
2016 - 2017: 525 Sold | 20 Serviced - 3.81%
Whirlpool is sold primarily to large construction jobs.
It's hard to know when people move in and use the appliance.
It's also hard to know whether they know to call us even though we provide documentation and warranty information.
Builder jobs are also different from how you would buy an appliance.
The product is basic, with limited features. It's also loud at over 50 dB.
So, don't run out and buy a Whirlpool dishwasher unless you're looking for something inexpensive and basic.
Also, we typically are involved in the installation and do product checks before the job is turned over.
We just started selling Whirlpool dishwashers in the stores because they are available, unlike many brands. We will see if their repair rate rises this year.
If you want a quieter dishwasher with better features, then consider another brand.
For all of Whirlpool's dishwashers, click here.
Beko / Blomberg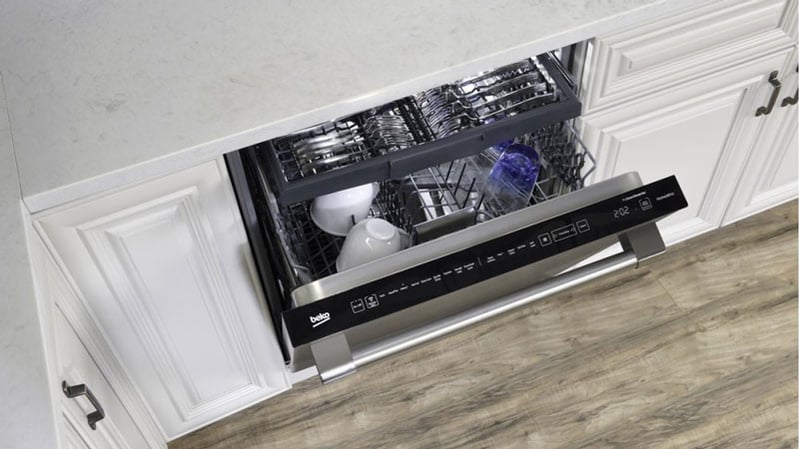 Beko Top Control Dishwasher Installed
Beko 2019-2020: 611 Sold | 47 Serviced - 7.67%
Previous Years: We started selling the Beko line this year, so there are no numbers from the last few years.
Blomberg 2019-2020: 244 Sold | 0 Serviced - 0.0%
Beko and Blomberg are the same company. I was thinking of not showing Blomberg because its numbers reflect a large Boston delivery to a condominium building from this summer.
However, the numbers are not touched, so next year Beko will be hit with the service from this year's delivery.
The company is impressive, at least this year. Beko is still in the top 5 at 7.67% with a feature-laden dishwasher.
Beko has three dishwashers to consider.
Their $499 dishwasher, the Beko DUT25401X, is all stainless with good cycles and 48 dB.
Their $999 dishwasher, the Beko DDT39432X, has 39 dB, specialized sprays and cycles for baked-on dishes, and even an Ion neutralizer to keep your dishwasher smelling fresh.
Beko is also the only brand to have a panel-ready dishwasher available under $1000 with the Beko DIT39432 dishwasher.
You may only want to buy familiar brands, but Beko is certainly an interesting alternative.
To learn about Beko's best dishwasher models, watch the videos below:
Thermador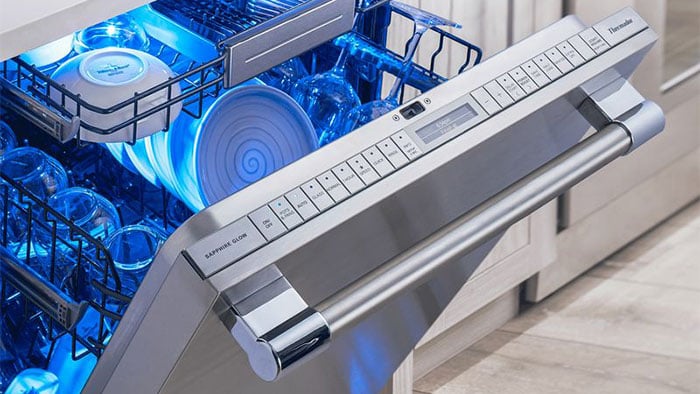 Thermador Star Sapphire Dishwasher With Star Glow Lighting
2019-2020: 852 Shipped | 65 Serviced - 7.63%
Previous Years:
2018-2019: 872 Sold | 126 Serviced - 14.45% Service Rate
2017-2018: 711 Sold | 123 Serviced - 17.30%
2016-2017: 875 Sold | 107 Serviced - 12.23%
2015-2016: 609 Sold | 104 Serviced - 17%
You probably think why Thermador is on this list and why it is so much sold.
Thermador is a division of Bosch. The dishwasher is a Bosch.
They have incredible cycles like a 20-minute wash and dry cycle. It has Zeolite volcanic elements packed inside for the best drying in the industry.
At least it should.
Due to the pandemic, their better models were not available throughout most of 2020.
Only Thermador's less expensive models are available.
The dishwashers are free with qualified purchases of Thermador cooking products.
However, these free products are basic Bosch dishwashers.
That said, the Thermador Star Sapphire is a pretty amazing dishwasher if it ever becomes available.
To learn about Thermador's best dishwasher model, watch the video below:
Miele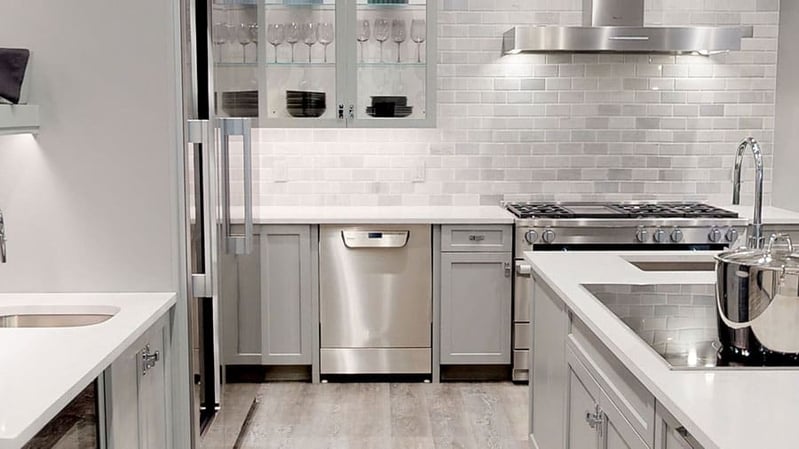 Miele Dishwasher at Yale Appliance in Hanover
2019-2020: 858 Shipped|70 Serviced - 8.16%
Previous Years:
2018-2019 903 Sold | 185 Serviced - 20.49% Service Rate
2017-2018: 1,078 Sold | 155 Serviced - 14.38%
2016 - 2017: 1,126 Sold | 67 Serviced - 5.95%
2015 - 2016: 871 Sold | 78 Serviced - 7.8%
How does a brand priding itself on quality control go from 5.95% to over 20% in 3 years?
In 2017, it was frozen motors. In 2018 it was buzzing solenoids.
The dishwasher solenoid opens the drain. It buzzed enough for us to replace them in 2018 and part of 2019.
Now with the issues seemingly behind them, Miele is again the top-rated premium dishwasher at 8.16%.
They introduced a new line, the Miele G 7000 Series, in 2020 with the industry's only automatic dispenser and other features.
The best part is that it works.
To learn more about Miele's best dishwashers, watch the videos below:
Samsung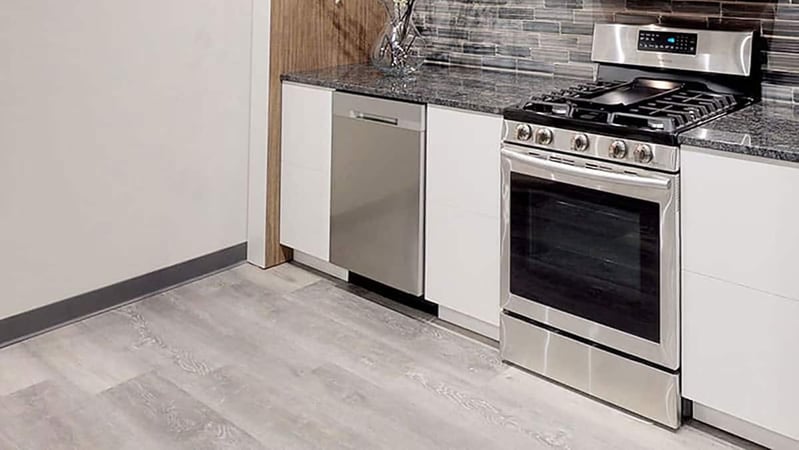 Samsung Top Control Dishwasher at Yale Appliance in Hanover
2019-2020: 1169 Sold|124 Serviced -10.61%
Previous Years:
1297 Sold | 134 Serviced - 10.33% Service Rate
2017-2018: 915 Sold | 85 Serviced - 9.29%
2016 - 2017: 285 Sold | 24 Serviced - 8.42%
2015 - 2016: 140 Sold | 9 Serviced 6.5%
I almost want Samsung to have a high repair rate, so people will stop yelling at me.
I only report the numbers, folks. I don't make them up.
Unfortunately, people think otherwise:
"Zaniboni, Your comments are typical multiplied a million times. Why this company is still in the appliance business is beyond me. I bought my French door refrigerator and you guessed it. Exactly a week after the 1 year warranty expired the ice maker quit. Then a year later the water dispenser started to act erratically. I bought it at H H Gregg. They of course went out of business. Maybe because they sold too many defective Samsung appliances. Long story short I had to pay over $400 for parts and service to replace the filter housing which operates the water dispenser. Scheinkopf is doing his customers a disservice by continuing to sell this worthless brand. Obviously he is making huge amounts of money on service calls for Samsung, so he is clearly biased in his continued support for this brand. Notice there are NO complaints about GE or Maytag."
If there was so much money to be made fixing appliances, why isn't every company in the service business?
Service is a financial drain on any store offering it. That's why none of the box stores and only 5% of independent dealers have service departments.
So, why would I make up service numbers just to spend more money repairing them?
The truth about Samsung is:
Samsung has decent dishwashers for low prices. Look at their less expensive models up to the Storm Wash at $599-699.
Their WaterWall dishwasher is interesting, but then again, a dishwasher has to wash dishes. The newer KitchenAid dishwashers have a better design.
Now the bad part.
In certain areas, however, their service is a hassle, to be polite. It can be nonexistent despite being the number 1 sold brand in the US.
If there is no reputable service company in your area specializing in Samsung, consider not buying it.
To learn more about Samsung's best dishwasher, watch the video below:
Honorable Mention: JennAir / KitchenAid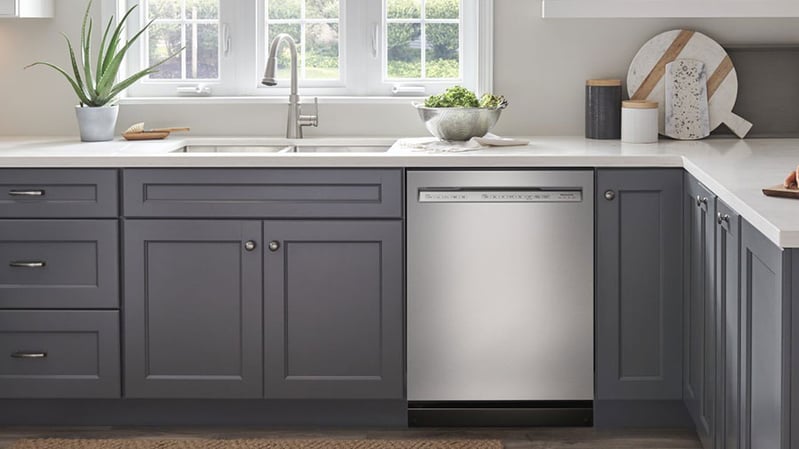 KitchenAid Front Control Dishwasher
KitchenAid and JennAir Combined for 2019-2020: 1514 Sold | 166 Serviced - 10.96%
KitchenAid 2019-2020: 1149 Sold / 126 Serviced - 10.97%
Previous Years:
2017-2018: 705 Sold | 115 Serviced - 16.31%
JennAir 2019-2020: 365 Sold | 40 Serviced - 10.96%
Previous Years:
2017-2018: 908 Sold | 170 Serviced - 18.72%
2016-2017: 575 Sold | 175 Serviced - 17.75%
You start seeing patterns when you read enough of these reports.
Any brand with a builder business selling simple dishwashers will rank higher for reliability.
KitchenAid and JennAir have neither. KitchenAid and JennAir make the same dishwasher.
KitchenAid's best-selling dishwashers are $949 and $1,199 instead of $300-400 for Whirlpool.
Yet KitchenAid has quietly improved their reliability and, for the first time, are more reliable statistically than arch-rival Bosch with better features.
Bosch does have some great products of their own, but the following are two KitchenAid models to consider.
To learn more about KitchenAid's best dishwashers, watch the videos below:
Dishwasher Service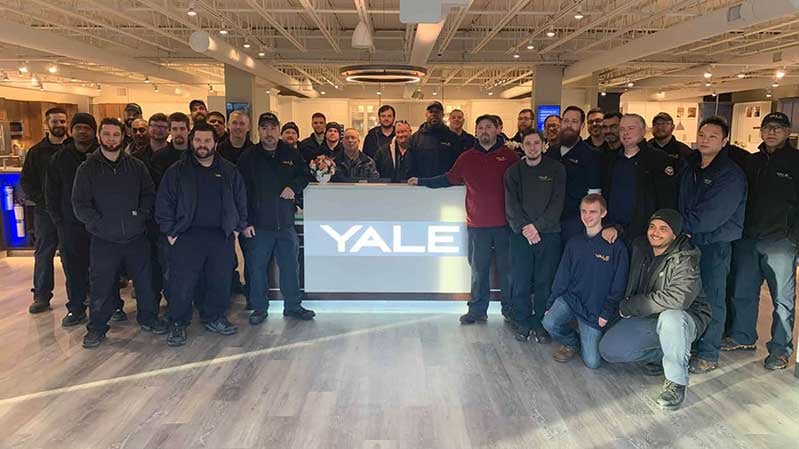 Yale Service Team
The corollary to service issues is the parts turnaround. You call us with a problem. We then diagnose the problem, order the parts, and then send a technician to repair the dishwasher.
It should be a 1-2-day turnaround maximum.
The best dishwasher brands to buy based on service and parts availability are any from the Whirlpool companies (JennAir, Kitchen-Aid, and Maytag) as well as Bosch.
You should also be concerned with the service experience.
Only 5% of the retailers have a service department with more than one or two technicians.
Also, at this writing, most manufacturers do not have a service department or are woefully understaffed.
It's paramount for you to locate a reputable service agent before buying any appliance. You will statistically need one when buying a whole new kitchen of appliances within the first year.
Which Dishwasher Should You Buy Based on Reliability?
It depends on what you want for features and your budget. For 2021, you will have the added issue of availability.
Tomorrow you will learn the best dishwashers.
For the best basic dishwasher, Whirlpool and Beko are great choices. For a premium dishwasher, KitchenAid and Miele are statistically reliable.
You should probably consider Beko as well. At 7.69%, it's reliable and still has some unique features.
Thermador is a great choice, but only if you buy other Thermador products. Free is always good.
However, even reliable products break, so make sure you have an available appliance service in your area.
Frequently Asked Questions
1. How long do dishwashers usually last?
Dishwashers last 6-10 years on average.
2. Is it worth repairing a dishwasher?
Depending on the issue, many companies will give you an estimate.
3. What is the best decibel (dB) for a dishwasher? / What is the quietest dishwasher?
The best dB rating for a dishwasher is anything under 44 dB. Miele and Bosch have the quietest dishwashers at 37 dB. However, Beko and KitchenAid have a 39 dB for $1000 less.
4. How long should a dishwasher cycle last / what is the fastest dishwasher?
Dishwasher cycles top out at 3 hours 30 minutes, but the average is 2 hours. The fastest is 20 minutes for the Thermador Star Sapphire.
5. Do you need insulation around a dishwasher?
Dishwashers already have insulation.
Additional Resources
Have questions on dishwashers? Then get The Yale Dishwasher Buying Guide with features, specs, and detailed profiles of every major brand like Miele, Bosch, KitchenAid, Frigidaire, and more. Over 820,000 people have read a Yale Guide.
Related Articles:
Most Reliable Appliances Series:
Why Should You Trust Us?
It seems that every appliance review has nothing but glowing comments about almost every product, yet you read customer reviews and they are almost universally bad.
We are here to fill in the disconnect. We'll give you the best features, and the drawbacks as well, including reliability based on over 37,000 calls performed by our service team just last year. Our goal is to give you ALL the information so you know what's right for you.
Please consider subscribing or adding to the conversation in the comments below. We appreciate you stopping by.
Steve Sheinkopf
Steve is the third-generation CEO of Yale and a lifelong Bostonian. He currently resides in Boston, one mile from where he was born. Despite being one of the worst goalies of all time, he is a huge hockey fan of college hockey and the Boston Bruins. The love of his life is his daughter Sophie.

Steve has also been featured in numerous publications such as the New York Times, Consumer Reports, The Boston Globe, Bloomberg Radio, and Entrepreneur, for his knowledge of how to buy appliances and appliance repair.
A Note About Pricing
Pricing on this blog is for reference only and may include time sensitive rebates. We make every attempt to provide accurate pricing at time of publishing. Please call the stores for most accurate price.