Most Reliable Gas Cooktops and Rangetops for 2020
There are hundreds of options for gas cooktops and rangetops. You should narrow down your choices by first looking at burner output, simmering capability, features, and finally, by price.
For rangetops, you also have different grills, griddles, woks, and French top additions to consider as part of the stovetop.
The most critical part of your research should be reliability and how long your cooktop or rangetop will last.
Last year, we logged 35,256 service calls or almost 20% more than the 30,000 registered in 2018.
We use service calls and sales numbers within 12 months to find the most reliable appliance brands.
In this article, you will learn about the most reliable cooktops and rangetops calculated to the exact percentage.
First, let's look at the difference between a cooktop and a rangetop.
Short on time? Get our free Gas Cooking Buying Guide
What's the Difference Between a Rangetop and Cooktop?
The major differences between a rangetop and a cooktop are their installation and design. Rangetops are taller and install on the cabinet with their controls on the front side of the rangetop. Cooktops, on the other hand, mount to a countertop with their controls on the surface of the countertop.
Imagine your new kitchen.
You have gray counters, a beautiful white tile, some dark floors, and gleaming stainless appliances, as well as stainless faucets and decorative hardware.
It's all going great until your contractor unwrapped the rangetop when he planned for a cooktop or vice versa.
You now have a significant problem because the installations for both of these appliances are entirely different.
Cooktop and rangetop are used interchangeably in our business and should not be.
Think of a rangetop as the top of a professional range and a cooktop as the top of a regular gas range. Both fit into your counters differently.
Rangetops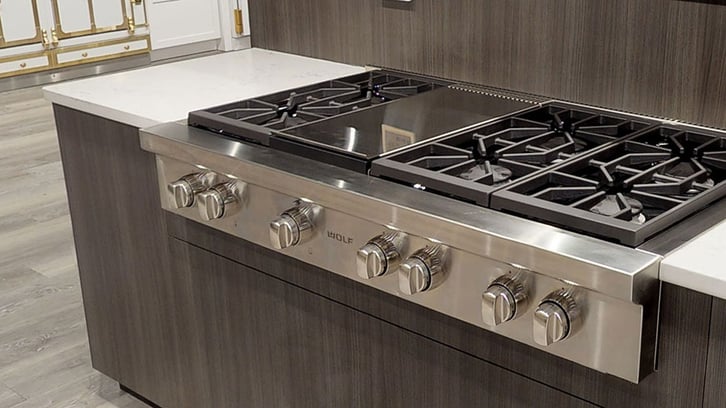 Wolf Gas Rangetop at Yale Appliance in Hanover
Rangetops have high output burners in front of the cabinet. Rangetops can also have an integrated grill, griddle, or French top burner.
Cooktops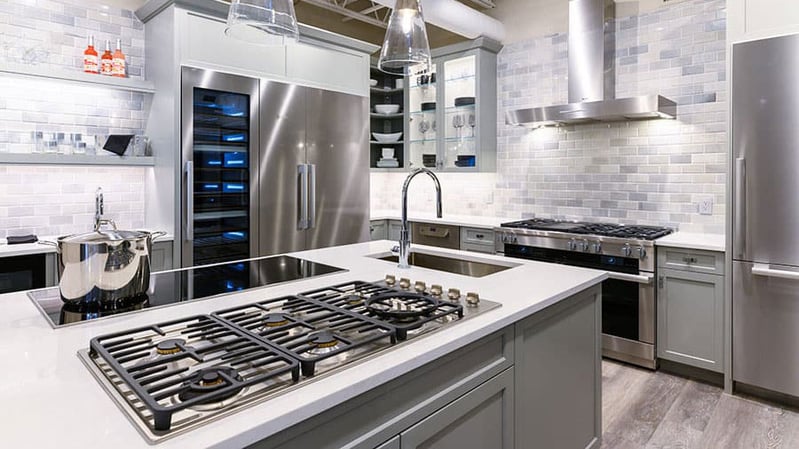 Miele Gas Cooktop With 6 Burners at Yale Appliance in Hanover
Cooktops have one or two high output burners with a portable griddle and no ability for grills or French tops. Cooktops will be $700-1500 cheaper than a rangetop.
How We Calculate Appliance Reliability
We have 35 service techs and will have 40-45 by the end of the year. Every day, a tech will be in 6-12 homes five days a week with another 150 calls on Saturday.
That's over 100,000 service calls in less than three years.
For 12 months, the sales are then divided into service calls for the percentage and then compared against other brands.
Reliability is useful for us because we can see patterns of unreliable products and stay away from unreliable brands.
It's useful for you because you can decide what brand you may want to buy (or not buy after reading this article).
In this case, we're looking at our service numbers compared to our sales from January 2020 to October 2020. Two months shy of a year.
Now let's talk about the most reliable gas cooktops and rangetops.
Most Reliable Gas Cooktops for 2020
Most Reliable Gas Cooktops from January 2020 to October 2020
| | | | |
| --- | --- | --- | --- |
| | Service Qty | Shipped Qty | Service Ratio |
| Gaggenau | 11 | 14 | 78.57 % |
| Miele | 4 | 16 | 25.00 % |
| JennAir | 13 | 59 | 22.03 % |
| Wolf | 23 | 129 | 17.83 % |
| Café Appliances | 1 | 10 | 10.00 % |
| Thermador | 13 | 143 | 9.09 % |
| Bosch Appliances | 8 | 97 | 8.25 % |
| Bosch Benchmark | 1 | 14 | 7.14 % |
| KitchenAid | 3 | 44 | 6.82 % |
| Samsung | 2 | 32 | 6.25 % |
| Fisher & Paykel | 0 | 10 | 0.00 % |
| Grand Total | 79 | 568 | 13.9% |
The reliability for all appliances was 13.4% last year, and cooktops are almost in line at 14.36%.
You may think this is high for nearly half an appliance, but our second most serviced part for all appliances is ignitors.
Secondly, appliances are split between highly serviced products like refrigerators and wall ovens versus less repaired products like hoods, disposers, and washers.
Cooking appliances are in the middle.
It looks like Bosch has the most reliable cooktop. KitchenAid is sold mostly to builders, so the tenant/condo owner may not be calling us for service.
Wolf, JennAir, and Thermador are also worth considering based on the numbers.
The most reliable gas cooktop brands for 2020 are:
Bosch - 8.25%
Thermador - 9.09%
Wolf - 17.83%
JennAir - 22.03%
Most Reliable Rangetops for 2020
Most Reliable Gas Rangetops from January 2020 to October 2020
| | | | |
| --- | --- | --- | --- |
| | Service Qty | Shipped Qty | Service Ratio |
| BlueStar | 6 | 10 | 60.00 % |
| JennAir | 6 | 13 | 46.15 % |
| Miele | 6 | 18 | 33.33 % |
| Wolf | 35 | 137 | 25.55 % |
| Thermador | 8 | 124 | 6.45 % |
| Grand Total | 61 | 302 | 20.19 % |
The average rangetop requires more service as expected because rangetops have higher BTU burners and more of them.
The average 36-inch rangetop will have six burners versus 5 for a comparable cooktop.
Thermador is the most reliable gas rangetop brand for 2020, followed by Wolf and Miele. Buy a rangetop based features or package rebate opportunities within each brand.
The most reliable gas rangetop brands for 2020 are:
Thermador - 6.45%
Wolf - 25.55%
Miele - 33.33%
Which Gas Cooktop or Rangetop Brand is the Best?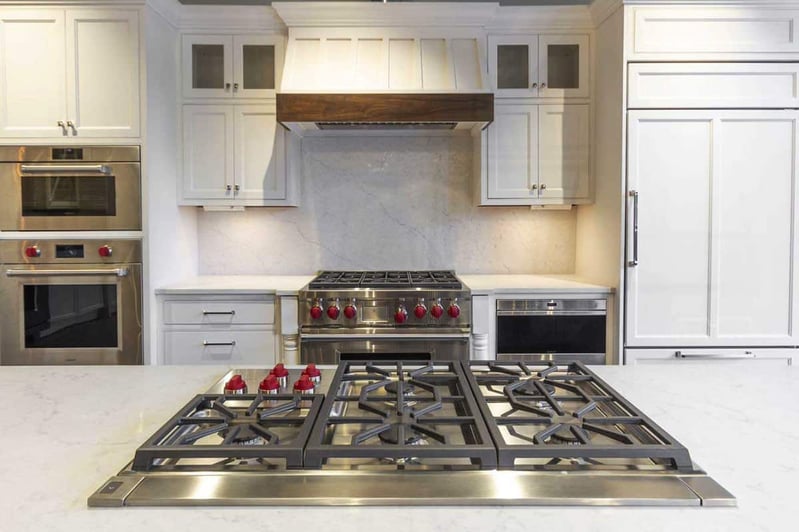 Wolf Gas Cooktop With 5 Burners at Yale Appliance in Framingham
The best brands to consider for a gas cooktop or rangetop based on reliability are:
Bosch
Thermador
Wolf
JennAir
Miele
Ultimately, choosing the right cooktop or rangetop depends on your budget and how you'll use it.
The other part of your shopping should be for service and who can provide it.
Unfortunately, appliances break statistically more than ever. In the whole kitchen, you will need service statistically within a year.
You will also need to find a company to fix issues and not just sell you products.
In Massachusetts, Wolf is the best for parts in technical support, especially in premium appliances.
Wolf has the most service techs and is the best for parts in the industry.
Frequently Asked Questions
1. What is the Best Gas Cooktop?
There is no best gas cooktop for every aspect of cooking. We cover this more extensively in this article Best Gas Cooktops. Short version: Thermador has the best simmer, BlueStar is the most powerful, with Wolf and JennAir having decent overall products.
2. What is the Best Downdraft for Gas Cooking?
You have two types: JennAir has theirs built into the middle for better proximity to all burners, but it lacks CFM at only 350. Every brand manufactures a downdraft for behind the cooktop at 600-1000 CFM. Downdrafts are limited and should be last resort options because they lack the capture area to chamber smoke. Serious cooks should only buy hoods.
3. Which is Better: induction or gas?
For boiling and simmering, induction is the fastest. However, induction cannot grill or griddle effectively. You also need metal pots for the magnets for induction cooking to work.
Additional Resources
Get the Yale Gas Cooking Buying Guide with features, specs, and inside buying tips to all the brands. Well over 800,000 people have read a Yale Guide.
Related Articles
Why Should You Trust Us?
It seems that every appliance review has nothing but glowing comments about almost every product, yet you read customer reviews and they are almost universally bad.
We are here to fill in the disconnect. We'll give you the best features, and the drawbacks as well, including reliability based on over 37,000 calls performed by our service team just last year. Our goal is to give you ALL the information so you know what's right for you.
Please consider subscribing or adding to the conversation in the comments below. We appreciate you stopping by.
A Note About Pricing
Pricing on this blog is for reference only and may include time sensitive rebates. We make every attempt to provide accurate pricing at time of publishing. Please call the stores for most accurate price.