Most Reliable Counter-Depth French Door Refrigerator Brands for 2022
The Most Reliable Counter-Depth Refrigerator Brands for 2022 are:
The most reliable counter-depth French door refrigerators for 2022 are LG, Samsung, GE Profile, Café Appliances, and Bosch, based on real service calls from December 2020 to October 2021.
I didn't want to write this article about the most reliable counter-depth French door refrigerators. Writing it is easy. Responding to the deluge of angry comments is the time-consuming part. Then again, they (and probably you) have a point.
Over the last year, the number one most reliable brand settled a class action suit over failed compressors in 2019. The second most reliable brand has the worst reputation for service after the sale.
In this article, you will learn the most reliable counter-depth French door refrigerators. More importantly, you will understand how the numbers are derived and incorporate the information into your buying decision.
Read to the end, or at least read the end, because, in many instances, you should not buy the most reliable brands.
Short on time? Get our free Counter Depth Refrigerator Buying Guide
How We Calculate Reliability
Let's discuss how we calculate reliability.
We have logged over 100,00 service calls in less than three years. We now have 35 service technicians averaging 8-10 calls a day, Monday through Friday, plus another 110 calls on Saturday.
We calculate appliance reliability by dividing the products we serviced by the products we sold. For this article, we looked at the number of counter-depth French door refrigerators sold and serviced from December 2020 to October 2021.
Most Reliable Counter-Depth French Door Refrigerator Brands for 2022
The following service rates are based on a minimum of 90 refrigerators sold and a total sample of over 2500 products.
| | |
| --- | --- |
| | Service Rate |
| LG | 4.5% |
| Samsung | 8.4% |
| GE Profile | 10.2% |
| Café Appliances | 12.6% |
| Bosch | 14.9% |
| JennAir | 15.8% |
| GE Appliances | 16.5% |
| KitchenAid | 17.0% |
| Beko | 32.6% |
| Grand Total | 15.5% |
The average service rate is 15.5% for French door counter-depth refrigerators versus 9.5% for appliances in general based on over 40,000 service calls logged from December 1, 2020, to October 31, 2021.
Why Trust Us?
The eternal question. Why not pick up Consumer Reports or Wirecutter report instead?
These ratings are based on real service calls, not surveys or predictive analytics. Real service calls in warranty cost the servicing agent real money.
The warranty rate paid by manufacturers adequately compensates for the amount of work fixing the refrigerator. It's not even close in most cases.
You need a customer service team, parts, warehouse staff, technicians, supervisors, and vans.
Then there are the three types of insurance needed to walk into your home: Workmans Comp, Auto, and general liability. Ninety-five percent of appliance dealers do not offer service for that reason. It is a cost plain and simple.
So don't trust these ratings because you think I am a nice guy. Trust them because we look at this every day to keep our costs down.
It is in my best interest to sell reliable products. It should also be yours because getting a repair on any product is incredibly aggravating even before this year's parts shortage.
3 Most Common Counter-Depth French Door Refrigerator Problems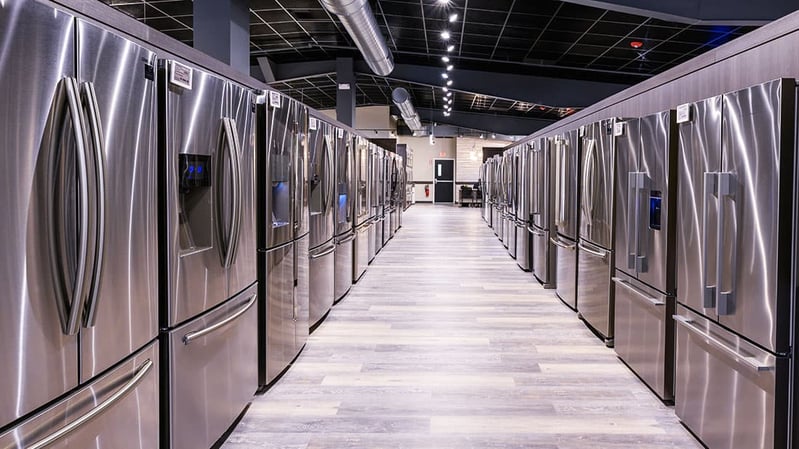 Counter-Depth French Door Refrigerators at Yale Appliance in Hanover
These numbers may be statistically bad, but most of their issues are not. The problems are more related to ice maker issues than compressor failures. It isn't all terrible.
Below are the three most common counter-depth refrigerator problems we found.
Freezer Not Working
Icemakers Not Making or Dispensing Ice: Sending a frozen cube through a warmer refrigerator has been an issue. Icemakers in general have problems because you should clean them regularly.
Reports of Noise: Modern refrigerators are way more efficient but are noisier as well.
Now let's look at the five most reliable counter-depth French door refrigerator brands.
Most Reliable Counter-Depth French Door Refrigerator Brands for 2022
LG - 4.5% Service Rate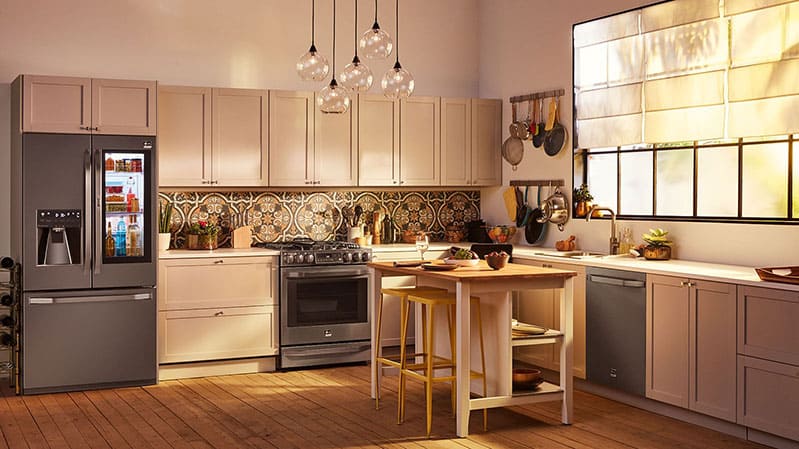 Yes, LG is number one for a reliable refrigerator. In 2019, they settled a class-action lawsuit based on their new linear compressor not cooling.
In theory, the linear compressor should be more reliable because of fewer working parts and strike points. Give them credit for improving the design and not starting over.
They also have a decent lineup of interesting refrigerators to consider.
Samsung - 8.4% Service Rate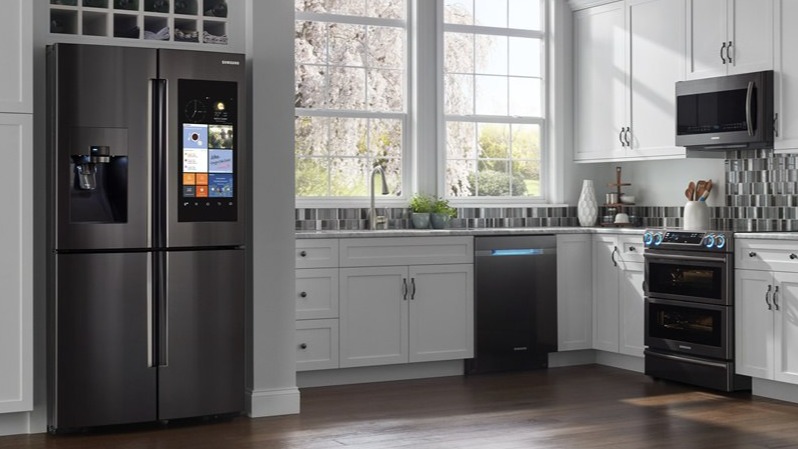 Samsung has the best lineup of three and four-door French door models.
However, Samsung has become the target of many people's comments on the internet, including a class-action lawsuit. Samsung's main issue is its lack of service. You buy a Samsung. If it has an issue, it is your problem.
We didn't sell a lot of Samsung this year due to availability issues, so their numbers are better than normal.
Read More: Samsung vs. LG French Door Counter Depth Refrigerators
GE Profile - 10.2% Service Rate
Café Appliances - 12.6% Service Rate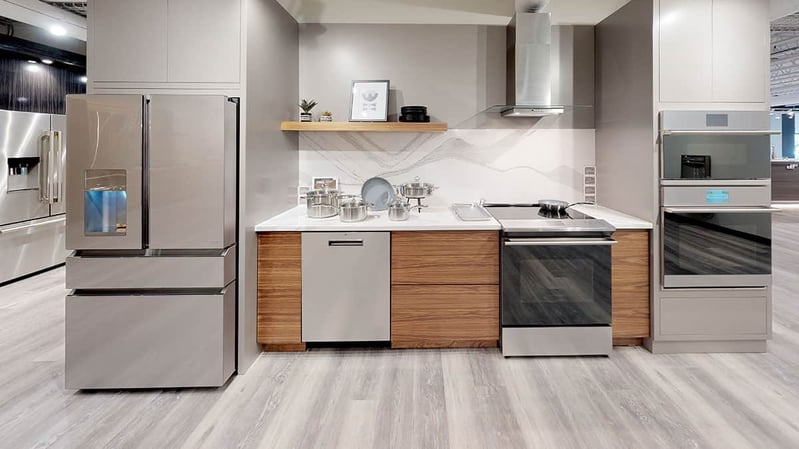 Both GE Profile and Café Appliances have the same parent company, GE Appliances. It's interesting to see the Profile and Café refrigerators on this list. They both have ice and water dispensers, smart functionality, and the most features. Café Appliances even has a Keurig coffee dispenser.
The best part is all of GE's brands have a service department. It's a good consideration if your retailer does not offer in-house service.
Read More: Café Appliances vs. Samsung Family Hub Smart Refrigerators
Bosch - 14.9% Service Rate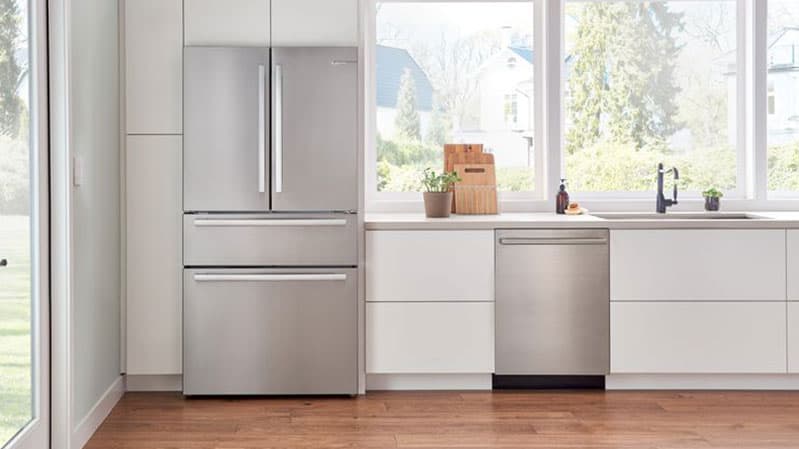 Bosch was surprising at number five on this list.
Their counter-depth refrigerator line is only three years old. Bosch's counter-depth refrigerators have a surprising number of features. Bosch is the only freestanding French door with two compressors.
Their most popular refrigerator does not have an ice dispenser, so many of the most common counter-depth French door problems do not apply.
Read More: Is the Bosch B36CT80SNS a Good French Door Refrigerator?
What About Beko With a 32.6% Service Rate?
Beko is on our list of best counter-depth French door refrigerators. Beko is an interesting brand. It has the most features to keep food fresh for a longer.
Their Blue Lighting and EverPure+ extend photosynthesis in fruit and vegetables. Beko was second only to Sub-Zero in our four-week "Project Produce" tests, of which refrigerators kept fruit and vegetables fresh.
However, their reliability number is over 32%. At that rate, should you consider a Beko counter-depth refrigerator?
Most of the issues were a problem with the handle, not the refrigerator cooling. The repair was simple, and the problems have been resolved going forward. So yes, you should consider a Beko counter-depth refrigerator.
Read More: Should You Buy The Beko BFFD3624SS Counter Depth Refrigerator?
Should You Buy a Warranty for Your Refrigerator?
Until 16 years ago, we did not sell warranties. You should consider a warranty for a French door refrigerator just from looking at the first-year service rates above. There are articles on this blog and comments written about nightmare service experiences.
Just do not buy a warranty from a store without a service department.
You certainly won't buy a car warranty from a dealer without service. Follow the same thinking with appliances. Third-party warranties are a joke (only you will not be laughing). They will sell you the warranty without actually employing any service technicians.
Read More: Are Appliance Extended Warranties Worth It?
Key Takeaways
You may have an annoying ice maker problem within five years, statistically, but the refrigerator will work and save money in energy costs.
The top five most reliable counter-depth French door refrigerator brands for 2022 are LG, Samsung, GE Profile, Café Appliances, and Bosch.
With an average service rate of 15.5% for refrigerators, your refrigerator may need service at some point, especially with a whole package of kitchen appliances.
You wouldn't notice the other part of what we consider as reliable. Bosch and GE are better at turning around parts and service than the others.
In addition to researching prices and features, you should know your service agent before making any purchase.
Should You Buy an LG or Samsung Counter-Depth Refrigerator?
In terms of product design, LG and Samsung are the best. They also have the best features with cool-sounding refrigerator styles like the Samsung FamilyHub or the LG Instaview.
However, do not buy either brand without understanding who will be fixing it first. In this case, LG is much better than Samsung.
LG has made a recent commitment to service, and it takes time. Samsung has the twin problems of being the most popular brand and no support.
In other words, you may love the product but trust and verify the service aspect first.
Frequently Asked Questions
1. What is the difference between counter depth and standard depth refrigerators?
The difference between standard depth and counter-depth refrigerators is that a standard depth refrigerator adds 6 to 8 inches. A counter-depth refrigerator does not protrude as much from your cabinets, giving you more space in your kitchen layout.
2. What's the largest counter-depth refrigerator?
Twenty-four cubic feet is the largest counter-depth refrigerator. You can learn about the largest counter-depth refrigerators by clicking this link.
3. How deep are counter-depth refrigerators?
Counter-depth refrigerators are 24-inches deep, plus the depth of the door.
4. Are counter-depth refrigerators wider?
No, counter-depth refrigerators are not wider. Counter-depth refrigerators are made to fit standard 24-inch, 30-inch, 36-inch, 42-inch, and 48-inch widths.
Click here to learn about how much clearance a refrigerator needs.
5. Are counter-depth refrigerators more expensive?
In most cases, a counter-depth should be 10-20% more expensive than a regular depth refrigerator. Around promotions, that price becomes more comparable.
Upcoming Webinar: How to Buy Counter-Depth and Undercounter Refrigeration
Don't miss our upcoming webinar on choosing the right counter-depth and undercounter refrigeration for your kitchen!
In this free webinar, you'll learn the following:
The three types of counter-depth refrigerators
The best brands and models to consider
One new counter-depth refrigerator worth considering
We'll also cover the basics of wine storage and undercounter refrigeration, like beverage centers, drawers, and ice makers.
Sign up for free today by clicking here.
Additional Resources
Want some more information about counter-depth refrigerators? Get the Yale Appliance Counter Depth Buying Guide with features, specs, and detailed profiles of the major brands. Well over 1 million people have read a Yale Guide.
Related Articles:
Most Reliable Appliances Series:
Why Should You Trust Us?
It seems that every appliance review has nothing but glowing comments about almost every product, yet you read customer reviews and they are almost universally bad.
We are here to fill in the disconnect. We'll give you the best features, and the drawbacks as well, including reliability based on over 37,000 calls performed by our service team just last year. Our goal is to give you ALL the information so you know what's right for you.
Please consider subscribing or adding to the conversation in the comments below. We appreciate you stopping by.
A Note About Pricing
Pricing on this blog is for reference only and may include time sensitive rebates. We make every attempt to provide accurate pricing at time of publishing. Please call the stores for most accurate price.