Most Reliable Counter Depth French Door Refrigerators for 2021
You have probably read through a bunch of reviews and the many horror stories about refrigeration and repair.
Unfortunately, they are mostly valid.
If you are looking for your refrigerator for the last 20 years, I have some bad news.
French door refrigerators require the most service of any appliance outside of professional ranges.
We have logged over 100,000 service calls in less than three years. So let's discuss how we calculate reliability.
The Most Reliable French Door Counter Depth Refrigerator Brands for 2021 are:
Short on time? Get our free Counter Depth Refrigerator Buying Guide
How We Calculate French Door Counter Depth Reliability
Over the last few years, we have published articles about the most reliable brands.
However, certain products like refrigerators will fail more as a group than just a dishwasher or a hood.
Refrigerators, for example, are on 24/7, while dishwashers are used more sporadically.
We now have 33 service technicians averaging 8-10 calls a day, Monday through Friday, plus another 110 calls on Saturday.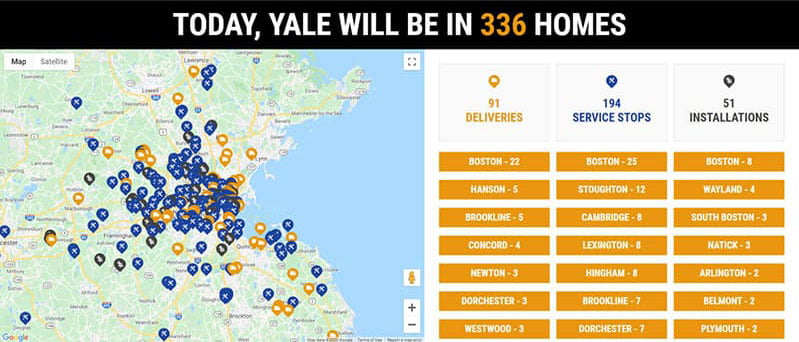 We calculated our reliability based on how many French door counter-depth refrigerators were sold compared to how many were serviced by the brand for one year.
In 2020, we logged 37,061 service calls from December 2019 to November 2020.
In 2019, we logged 35,256 service calls.
This information is pretty impressive for many reasons.
Let's take a look at the numbers.
French Door Counter Depth Refrigerator Reliability for December 2019 - November 2020
| | |
| --- | --- |
| | Service Ratio |
| GE Appliances | 12.1% |
| Bosch Appliances | 16.9% |
| Fisher & Paykel | 17.3% |
| Beko Appliances | 18.1% |
| Samsung | 20.9% |
| KitchenAid | 21.6% |
| Café Appliances | 21.9% |
| GE Profile | 22.8% |
| LG Electronics | 27.8% |
| JennAir | 36.7% |
| Average | 21.1% |
These figures are based on a minimum of 20 sold per brand and over 3,000 total pieces.
The average service rate is 21.1% for French door counter-depth refrigerators versus 9.65% for appliances in general.
However, these numbers are bad, but most of the issues are not.
The problems are more related to ice maker issues than compressor failures.
It isn't all terrible.
Refrigerators are tightly regulated for energy usage. You should save $100-200 per year in energy costs.
You will have problems with your ice maker or dispenser but will save a good amount of money yearly.
Now, let's take a look at the most reliable counter-depth French door refrigerator brands for 2021.
Most Reliable Counter Depth French Door Refrigerator Brands for 2021
GE Appliances - 12.1%
The base GE model has fewer features such as the built-in coffee system found in the GE Profile and Café Appliances refrigerators. However, GE has its own available service department.
It's a good consideration if your retailer has no service department.
Bosch - 16.9%
Bosch surprised me. They have a surprising number of features with two compressors and Wi-Fi, yet is number 2 on this list.
▶️ Click here to learn about Bosch 800 Series Refrigerators.
Fisher & Paykel - 17.3%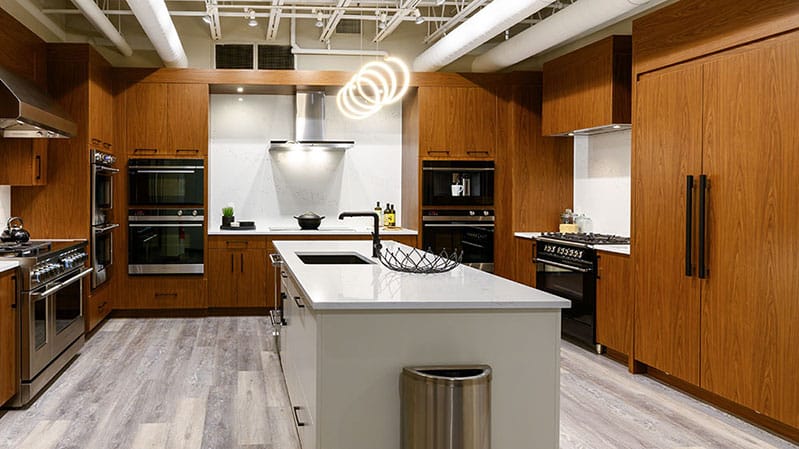 Fisher & Paykel Kitchen with Custom Cabinet Front Integrated Refrigerator at Yale Appliance
Fisher & Paykel isn't surprising. Most of their refrigerators are basic without dispensers.
As a side note, the Fisher & Paykel integrated panel-ready French door refrigerator is $5,000-$8,000 less than a Sub-Zero or other panel ready type.
For all of our most reliable and best counter depth refrigerators, their features, and how they compare, click here to download our free Counter Depth Buying Guide.
Beko - 18.1%
The best refrigerator to keep food fresh for a longer time after Sub-Zero is Beko.
We tested five refrigerators with fruits and vegetables for 30 days in our "Project Produce" experiment.
Beko's refrigerators have the most features with two evaporators, ethylene filters, and blue lighting in the crisper.
Beko's Active Blue Light feature emulates sunlight and promotes continued photosynthesis in fruit and vegetables.
It actually works.
▶️ Click here to learn about the Beko BFFD3624SS French-Door Counter-Depth Refrigerator.
I know many of you will dislike the next brand.
Samsung - 20.9%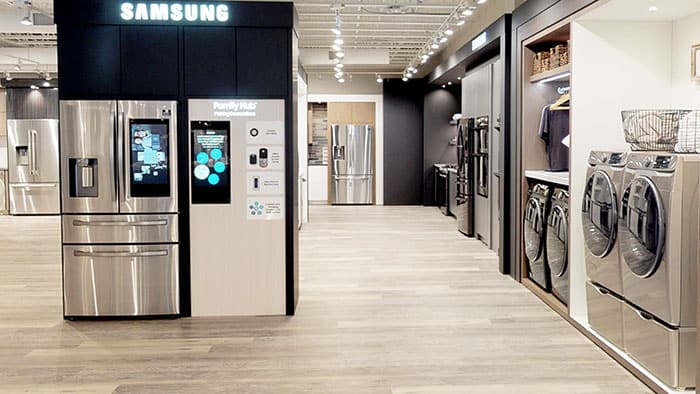 Samsung Appliances and Counter-Depth Refrigerator at Yale Appliance in Hanover
I hoped Samsung wasn't on this list even though their products are popular.
Samsung has become the target of many people's comments on this blog.
Like this:
"Zaniboni, Your comments are typical multiplied a million times. Why this company is still in the appliance business is beyond me. I bought my French door refrigerator and you guessed it. Exactly a week after the 1 year warranty expired the ice maker quit. Then a year later the water dispenser started to act erratically. I bought it at H H Gregg. They of course went out of business. Maybe because they sold too many defective Samsung appliances. Long story short I had to pay over $400 for parts and service to replace the filter housing which operates the water dispenser. Scheinkopf is doing his customers a disservice by continuing to sell this worthless brand. Obviously he is making huge amounts of money on service calls for Samsung, so he is clearly biased in his continued support for this brand. Notice there are NO complaints about GE or Maytag."
Well, he spelled my name wrong.
Service does not make huge amounts of money either.
If it did, every internet company, box store, and local store would have available service instead of just a handful of dealers.
Anyway, Samsung's main issue is their lack of service. In some areas, it's nonexistent.
Always check for available service before you buy any appliance.
For all of our most reliable and best counter-depth refrigerators, their features, and how they compare, click here to download our free counter-depth Buying Guide.
Common French Door Counter Depth Refrigerator Problems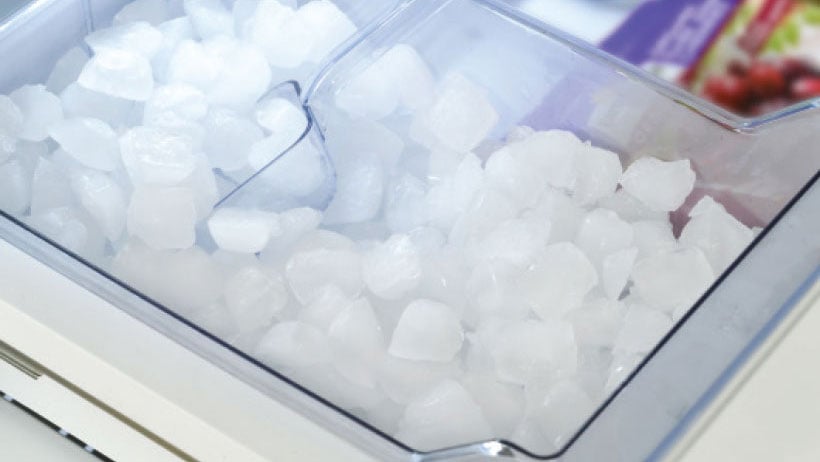 Refrigerator Ice Maker
Although refrigerators fail more than almost any other appliance, refrigerators are also way more energy efficient than in previous years due to Federal regulations.
One of the biggest issues is with the ice dispensers. With an ice dispenser, you are sending an ice cube through a warmer refrigerator. This can cause leaks.
Although this problem is annoying, it does not affect the cooling of the refrigerator. Invariably, the refrigerator will work.
Read More: How to Maintain Your Refrigerator's Ice Maker
Should You Buy a Warranty for Your Refrigerator?
Until 16 years ago, we did not sell warranties.
You should consider one on a French door refrigerator just from looking at the first-year service rates above.
There are articles on this blog and comments written about nightmare service experiences.
Just do not buy a warranty from a store without an actual service department.
You certainly won't buy a car warranty from a dealer without service. Follow the same thinking with appliances.
Third-party warranties are a joke (only you will not be laughing). They will sell you the warranty without actually employing any service techs.
Read More: Are Appliance Extended Warranties Worth It?
Key Takeaways
Now, you know you may have an annoying ice maker problem within five years, statistically, but the refrigerator will work and save money in energy costs.
The top 5 are GE, Bosch, Fisher & Paykel, Beko, and, unfortunately for me, Samsung.
With a service rate of 21% just on refrigerators, you will also need some service, especially with a whole package of kitchen appliances.
You wouldn't notice the other part of what we consider as reliable. Bosch and GE are better at turning around parts and service than the others.
In addition to researching prices and features, you should know your service agent before making any purchase.
Frequently Asked Questions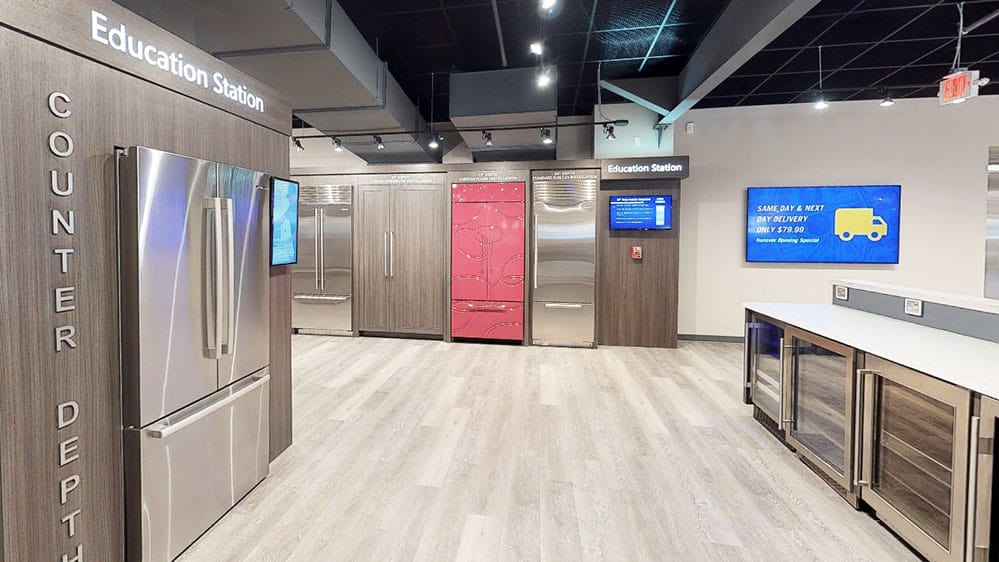 Refrigeration Education Station at Yale Appliance in Hanover
1. What is the difference between counter depth and standard depth?
The difference between standard depth and counter-depth refrigerators is that a standard depth refrigerator adds 6-8 inches. A counter-depth refrigerator does not protrude as much from your cabinets, giving you more space in your kitchen layout.
2. What's the largest counter depth refrigerator?
Twenty-four cubic feet is the largest counter-depth refrigerator. You can learn about the largest counter-depth refrigerators by clicking this link.
3. How deep are counter depth refrigerators?
Counter-depth refrigerators are 24-inches deep, plus the depth of the door.
4. Are counter depth refrigerators wider?
No, counter-depth refrigerators are not wider. Counter-depth refrigerators are made to fit standard 24-inch, 30-inch, 36-inch, 42-inch, and 48-inch widths.
Click here to learn about how much clearance a refrigerator needs.
5. Are counter depth refrigerators more expensive?
In most cases, a counter-depth should be 10-20% more expensive than a regular depth refrigerator. Around promotions, that price becomes more comparable.
Additional Resources
Want some more information about counter depth refrigerators? Get the Yale Appliance Counter Depth Buying Guide with features, specs, and detailed profiles of the major brands. Well over 630,000 people have read a Yale Guide.
Most Reliable Appliances Series:
Why Should You Trust Us?
It seems that every appliance review has nothing but glowing comments about almost every product, yet you read customer reviews and they are almost universally bad.
We are here to fill in the disconnect. We'll give you the best features, and the drawbacks as well, including reliability based on over 37,000 calls performed by our service team just last year. Our goal is to give you ALL the information so you know what's right for you.
Please consider subscribing or adding to the conversation in the comments below. We appreciate you stopping by.
Steve Sheinkopf
Steve is the third-generation CEO of Yale and a lifelong Bostonian. He currently resides in Boston, one mile from where he was born. Despite being one of the worst goalies of all time, he is a huge hockey fan of college hockey and the Boston Bruins. The love of his life is his daughter Sophie.

Steve has also been featured in numerous publications such as the New York Times, Consumer Reports, The Boston Globe, Bloomberg Radio, and Entrepreneur, for his knowledge of how to buy appliances and appliance repair.
A Note About Pricing
Pricing on this blog is for reference only and may include time sensitive rebates. We make every attempt to provide accurate pricing at time of publishing. Please call the stores for most accurate price.