Most Reliable Top Load Washers for 2021
Laundry is a necessity.
If your stove is broken, you can always order out.
Going to a laundromat is a different story. You end up spending three hours between washing and drying your clothes.
Fortunately, most top load washers have not changed in design over the last few decades. All top load washers are technically reliable.
In this article, you will learn about the most reliable top load washers. We'll also compare top washer reliability to front load washer reliability.
Our numbers are based on 37,061 service calls logged last year.
Our most reliable top load washer brands for 2021 are:
Whirlpool 5.43%
Maytag 6.69%
Speed Queen 9.93%
Most Reliable Top Load Washers for 2021
The average repair rate for top load washers is 7.02%, or about 2% better than appliances in general.
Top Load Washer Reliability for December 2019 to November 2020
| | |
| --- | --- |
| | Service Rates |
| LG | 4.76% |
| Whirlpool | 6.16% |
| Maytag | 6.69% |
| Speed Queen | 9.93% |
| Grand Total | 7.02% |
The most reliable top load washers are based on a minimum of 50 sold per brand with a sample of over 800 units.
LG was reliable but didn't have a large enough sample size for a fair comparison.
1. Whirlpool - 6.16% Service Rate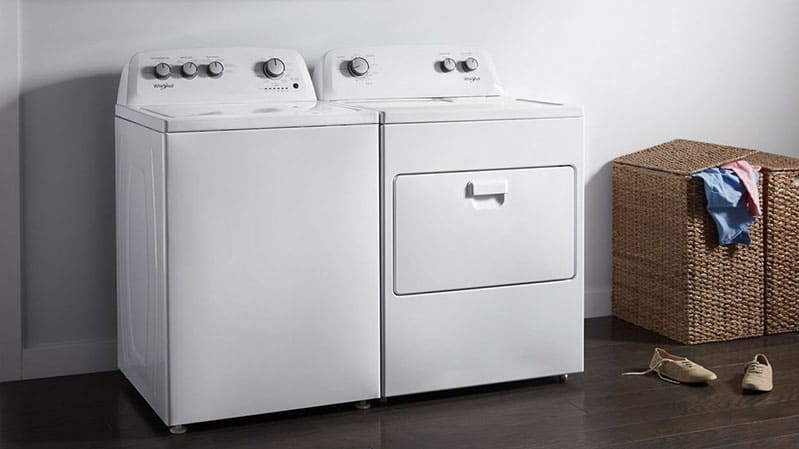 The Whirlpool Corporation owns reliability for top load washers literally.
Whirlpool owns Amana and Maytag. Amana's top load washer is less-featured, while Maytag has a better feature set.
That Amana unit was all sold to one builder, so it does not reflect Amana's overall reliability. Amana top load washers are mostly bought by builders or box stores because of their low price.
Most people do want more useful features.
Whirlpool's design hasn't changed much over the last 40 years, making it very reliable.
Whirlpool's top load washers include a delicate cycle, a bulky sheets cycle, quick wash, and an extra rinse option.
Best Whirlpool Top Load Washer to Consider: WTW4855HW
This model (pictured above) looks very similar to the Whirlpool I sold back in 1986 with two speeds and 12 cycles. They added soaking cycles and a couple more temperatures.
The size is a bit bigger at 3.8 cubic feet.
2. Maytag - 6.69% Service Rate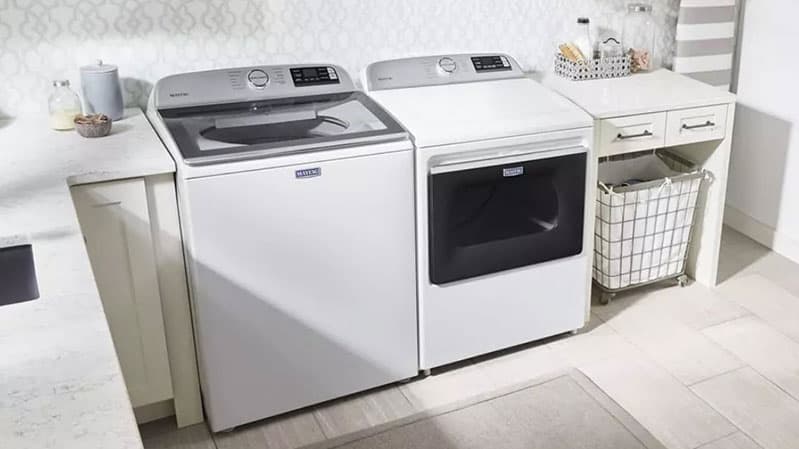 Maytag is the Whirlpool Corporation's best top load washing machine. It's considered high-end with the most features.
Maytag has a few interesting new cycles.
Their Extra Power button allows you to wash your white clothing with a normal load. The washer starts in cold water and then gradually warms to wash your whites and colors together.
You can safely mix loads of whites and colors using Extra Power.
The DeepFill options fill the entire tub for blankets or comforters.
You have Wi-Fi functionality in the Maytag. It may be helpful, so you don't have to wait for the load to end. The washer will text you automatically.
Best Maytag Top Load Washer to Consider: MVW6230RHW
Maytag's best top load washer (shown above) is 4.7 cubic feet, but it's like the Whirlpool with a smaller agitator.
It also has a five-year warranty.
3. Speed Queen - 9.93% Service Rate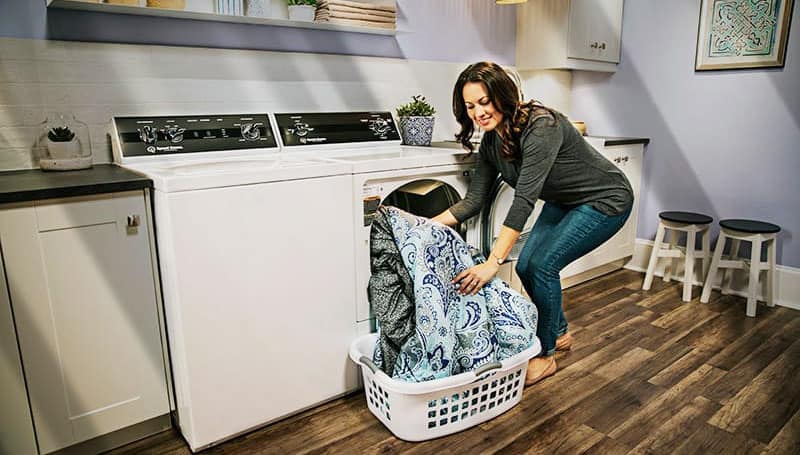 Speed Queen is a throwback. I mean that in the best way. The machine is solid and made in the US. It's simple and built solid like the old machines and is the heaviest washer on the market.
Best Speed Queen Top Load Washer to Consider: TR3003WN
Speed Queen's top load washer has a stainless steel tub and a variable speed agitator making it gentle on your clothes.
Speed Queen's washers rely on moving your clothes through the water rather than hard agitation to clean them. It cleans better than a regular top load washer, and repair rates have improved over the years.
It also has a 7-year warranty.
Short on time? Get our free Washing Machine Buying Guide
How We Calculate Top Load Washer Reliability
In 2017 alone, we logged 30,761 service calls. In 2018, we logged 34,687 service calls. In 2019, the number was 35,256.
In 2020, we logged 37,061 service calls for the year.
We now have 30 service techs performing 8-10 service calls five days a week. We record the service calls and divide by sales for a percentage within the first year.
Service is free for the consumer in the first year, so the data is more accurate. In theory, more people will be calling us for free service.
The numbers are not scrubbed for any reason. Anytime we send a service van, it becomes a service call.
Our Appliance Reliability Blogs
Finding you a reliable top load washer is important for us. We have to repair it.
Repair is now the biggest single department at Yale by far. Have a look at our service technicians pictured below.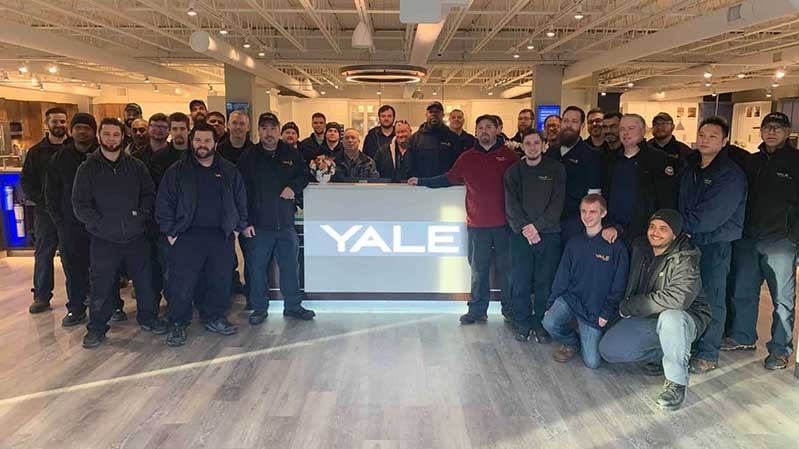 On an average day, we will have 1.5 service calls to 1 delivery.
Most appliance stores do not have a service department or even use a single technician. You must call a 1-800 number for that.
Brands With Extended Appliance Warranties
Speed Queen and Maytag have extended warranties as part of the price of the machine.
You also have a 3 to 7-year full warranty depending on the machine, so you will be covered and not paid for service.
Top load washers are easier to repair than front load washers.
However, you may have problems finding service in certain areas.
Most independent service agencies make warranty calls the last priority. This is because of the low warranty reimbursement rates.
The cost of fixing a warrantied washer is higher than it costs to service the machine.
They don't tell you that when you are buying at your local, regional, box store, or internet dealer.
It's also the reason most stores do not service what they sell. They are afraid of losses.
What You Need to Know Before Buying a Top Load Washer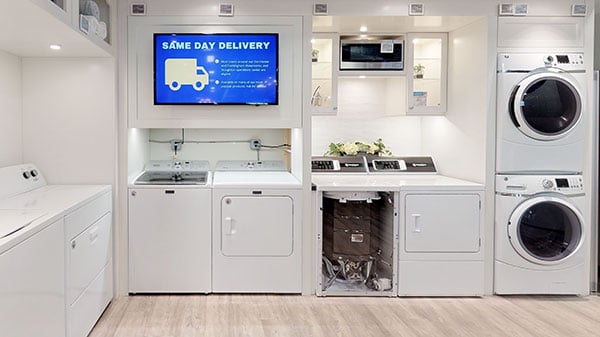 Top load washers are known for their ease of use. They are the same as the first automatic models from 70 years ago.
These machines run on a motor. The motor is attached to the agitator through a transmission component. The agitator sits vertically in the center of the tub.
However, it can be argued that a top load washer's agitator can be rougher on clothing.
Top load washers use about 30-45 gallons of water per load on a normal cycle. This is a lot compared to the average 15 gallons in a front loader.
Top Load Vs. Hybrid Top Load Washers
There are two types of top load washers. There is the traditional top load with an agitator and the hybrid top load without an agitator.
Most of the washers on this list are the older, less expensive agitator models. However, the hybrids have a larger capacity, use less water, and are more expensive.
Initially, the early hybrids had issues, especially with cleanability. The agitator rotated and cleaned the clothes. How do you remove it?
We tested it in our training center. However, that was years ago.
We will offer the LG hybrid this year and start selling hybrid washers for the first time in 10 years.
Front Load Vs. Top Load Washers: Which is More Reliable?
The most reliable washers sold are the most basic top load washers from Whirlpool.
They haven't changed in quite some time. For the front load, the story is a bit different.
Front Load Washer Reliability for December 2019 to November 2020
| | |
| --- | --- |
| | Service Rate |
| Whirlpool | 1.85% |
| Samsung | 2.90% |
| LG | 4.14% |
| GE Appliances | 8.61% |
| Maytag | 17.61% |
| Grand Total | 6.24% |
These figures are based on a minimum of 10 washers sold per brand and over 4,000 total units.
Whirlpool's top load washers are basic builder models. Samsung, GE, and LG have more, better-featured units.
Maytag's high repair rate for front load washers is due to a problem with their dispenser.
Front load and top load washers have almost statistically the same reliability at 7.02% Vs. 6.24%.
You would think top loads are drastically more reliable.
Top load washers are generally less expensive, as well as cheaper to fix than front load washers.
Front load washers are larger and use less water, electricity, and detergent than a top load. The spin speed is also three times faster, so the clothes need less drying time.
Although front load washers are more expensive to buy, the payback is 2-3 years.
The only downside to a front load is the cost of repair. It's expensive and time-consuming.
When people buy a Yale extended warranty and need any part of the motor, we replace the machine with a new one.
Read more: Front Load Vs. Top Load Washers
What are the Best Front Load Washers to Consider?
The best front load washers to consider are from GE, Whirlpool, and LG.
1. GE GFW850SSNWW Front Load Washer
2. GE GFW650SSNWW Front Load Washer
3. Whirlpool WFW8620HW Front Load Washer
4. LG WM4000HWA Front Load Washer
Read More: Best Front Load Washers
Most Reliable Top Load Washers: Key Takeaways
You could be reading this because of a bad experience with another machine.
Statistically, a basic Whirlpool top load washer is the most reliable.
Yet, front load washers are pretty good overall and a good consideration. They offer larger sizes and better efficiency, saving you more money over time.
Should you buy a hybrid top load without an agitator? In terms of reliability, you will have stats next year.
If you're looking for the most reliable brands, look at Whirlpool for top load washers. GE, Samsung, Whirlpool, and LG are the most reliable for front load washers.
Frequently Asked Questions
Do Top Load Washers Clean Better?
They use more water and an agitator but do not clean better than the front load washers.
Which is better, a top load or front load washer?
Front-load washers are much bigger with better cycles. Front load washers also use less water and energy consumption than top load washers.
Who makes the best washing machine?
LG, Whirlpool, Maytag, and Samsung make the best washing machines.
Which top load washer is best?
The simple Whirlpool washer is statistically the most reliable top load washing machine.
How long do washers last?
Top load washers will last 6-10 years on average.
Additional Resources
Download our Yale Washer Buying Guide with all the features, terms, and brands of laundry. Over 820,000 people have already found answers in a Yale guide.
Related Articles:
Why Should You Trust Us?
It seems that every appliance review has nothing but glowing comments about almost every product, yet you read customer reviews and they are almost universally bad.
We are here to fill in the disconnect. We'll give you the best features, and the drawbacks as well, including reliability based on over 37,000 calls performed by our service team just last year. Our goal is to give you ALL the information so you know what's right for you.
Please consider subscribing or adding to the conversation in the comments below. We appreciate you stopping by.
Steve Sheinkopf
Steve is the third-generation CEO of Yale and a lifelong Bostonian. He currently resides in Boston, one mile from where he was born. Despite being one of the worst goalies of all time, he is a huge hockey fan of college hockey and the Boston Bruins. The love of his life is his daughter Sophie.
A Note About Pricing
Pricing on this blog is for reference only and may include time sensitive rebates. We make every attempt to provide accurate pricing at time of publishing. Please call the stores for most accurate price.