Most Reliable Top Load Washers (Reviews / Ratings)
You want a reliable washer and would probably trade features for durability. Most top load washer have not changed in design since our Grandparents bought theirs 60 years ago.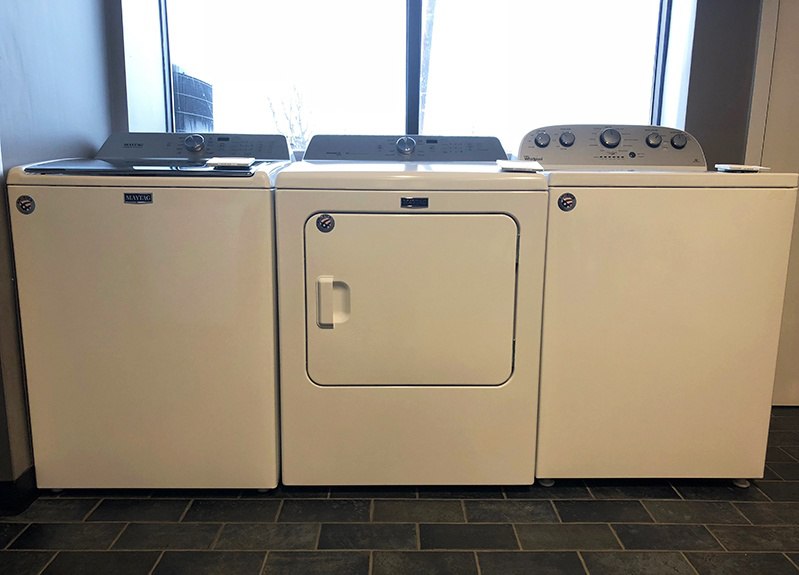 Now Speed Queen and the new Maytag Professional have promised better durability, repair, and life with a more solid commercial type machine.
In this article, you will learn about the most reliable top load washers and our repair methodology.
We will also cover whether top load machines are more reliable than the far more efficient front load washers.
Most Reliable Top Load Washers for 2019
The most reliable top load washers are based on top load units serviced divided by units sold in 2018. The average rate of repair for top load washers is 13.41%. The appliance industry average is almost identical.
| | | | |
| --- | --- | --- | --- |
| | Service Qty | Shipped Qty | Service Ratio |
| Samsung | 0 | 7 | 0.00 % |
| Amana | 0 | 6 | 0.00 % |
| Whirlpool | 15 | 409 | 3.67 % |
| Maytag | 36 | 231 | 15.58 % |
| Speed Queen | 65 | 243 | 26.75 % |
| LG Electronics | 2 | 4 | 50.00 % |
| Frigidaire | 1 | 1 | 100.00 % |
| Fisher & Paykel | 2 | 1 | 200.00 % |
| Grand Total | 121 | 902 | 13.41 % |
For comparison, here were our top stats from 2017:
LG: 0 Serviced / 24 Sold - 0%
Whirlpool: 9 Serviced / 328 Sold - 2.38%
Amana: 2 Serviced / 32 Sold - 6.25%
Speed Queen: 49 Serviced / 329 Sold - 14.89%
Maytag 21 Serviced / 104 Sold - 20.19%
How We Calculate Appliance Reliability
In 2017 alone, we logged 30,761 service calls. In 2018, we logged 34,687 service calls.
We now have 30 service techs performing 8-10 service calls 5 days a week. We record the service calls and divide by sales for a percentage within the first year.
Service is free for the consumer in the first year, so the data is more accurate. In theory, more people will be calling us for free service.
The numbers are not scrubbed. Anytime we send a service van, it becomes a service call.
What You Need To Know Before Buying a Top Load Washer
Front Load vs. Top Load Washers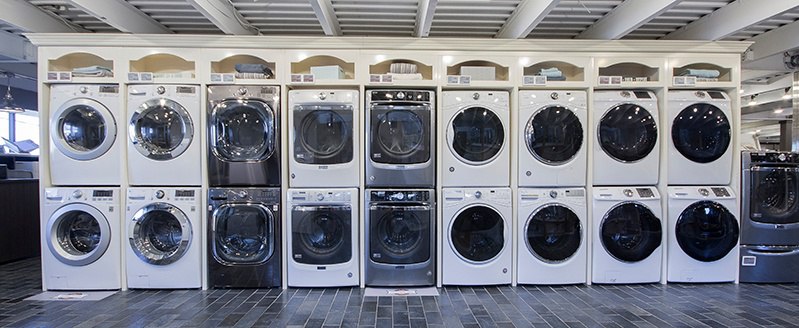 The most reliable washers sold are the simple Whirlpool machines. They haven't changed in quite some time. However, the 2nd, 3rd, and 4th most reliable washing machines are all front load machines from LG, Samsung and Whirlpool in that order.
For the first time since we started writing our reliability posts, front load washers are more dependable at 13.04% vs 13.41% for top load washers.
Click to Read About Our Most Reliable Front Load Washers
Given the reliability, a front load washer is almost twice as big as a top load machine and saves water and electricity. You should consider a front load machine.
Are the Premium Speed Queen and Maytag Top Loaders Any Better?
Speed Queen and Maytag are the two most repair-prone top load washers sold with repair rates of 26.75 and 15.58% this year up from 14.89% and 20% in 2017.
However, you do have a 3 to 7-year full warranty on both, so you will be covered and not pay for service. Although top loads are simpler to repair, you will have problems finding a tech for either brand due to low labor rates.
Final Thoughts
You are probably reading this because of a bad experience with another machine.
Statistically, the simple Whirlpool is the most reliable, but front loaders, especially for families, are still the best overall machines with bigger sizes and better efficiency
Frequently Asked Questions:
Do Top Load Washers Clean Better?
No, they use more water and an agitator, but do not clean better than the front load washers.
Which is better, a top load or front load washer?
Font load is much bigger with better cycles and lower water and energy consumption.
Who makes the best washing machine?
LG, Whirlpool, Maytag (a division of Whirlpool), and Samsung make the best washing machines.
Which top load washer is best?
The simple Whirlpool washer is statistically the most reliable.
How long do washers last?
6-10 years on the average.
Additional Resources
Need some more information on hybrid washers, top loads, and front loads? Read the Yale Washer Buying Guide with a full explanation of the best washer brands, features and models. Well over 400,000 people have read a Yale Guide.

Most Reliable Appliances Series:
Editor's Note: This article is updated yearly with data from our internal service department.
Steve Sheinkopf
My goal has always been simple: I want Yale to be the best retail experience anywhere. I have tried to create a compelling environment for customers and employees alike.
A Note About Pricing
Pricing on this blog is for reference only and may include time sensitive rebates. We make every attempt to provide accurate pricing at time of publishing. Please call the stores for most accurate price.