Best Bosch Dishwashers for 2022
Our Top Picks for 2022:
Buying a Bosch dishwasher can be incredibly confusing. You have many series to choose from, like the 100, 300, 500, 800, 800+, and two Benchmark series.
Logic normally dictates the more expensive dishwashers have the best features, except in Bosch's case. Their best series do not have their best drying system and you pay nearly $1,000 more.
There are over 52 dishwashers in eight series. Once you pick the series, then the blizzard of model numbers will be astonishing.
You have up to five different styles and model numbers for each dishwasher. I have to admit; I needed more than one explanation to understand the differences myself.
In this article, you will learn about the five best Bosch dishwashers to consider, their features, prices, and reliability based on real service calls. In addition, I will show several Bosch dishwashers you should avoid.
Availability is also a big part of this article as some of Bosch's best-selling models are unavailable. It was tough finding five models for you to buy currently.
Many brands also have supply chain issues. That's why you will see such a massive jump in price from $599 to $1,149. Bosch's most popular models from $829-$899 are not available.
Lastly, you will see a short comparison between Bosch and their top competitors, Beko, Miele, and KitchenAid. So, you will have a good idea of what dishwasher or brand to consider, but first, let's learn how to buy one.
How to Buy a Bosch Dishwasher
Every Bosch dishwasher can heat the water to 161 degrees, and most use no-heat condensation drying.
They all have the basic cycles and can wash delicates like china and crystal. This is where the major similarities end.
5 Styles of Bosch Dishwashers

Many of the dishwashers are the same, just with different-looking fronts. There are five styles of Bosch dishwashers.
This is important because Bosch has chronic supply issues. Look at the series and features. Then compromise on the style like switching from having a towel bar handle for a pocket handle or a regular front.
Regular: More or less, it's a dishwasher with controls on the front.
Integrated: Controls on the front with a "scoop" handle under the control panel.
Pocket handle: Similar to an integrated handle only with a spot in the door for your hand. The pocket has become popular because it matches every brand.
Towel Bar: Another integrated dishwasher with a towel bar handle. For towels certainly, but this will match the handles of other Bosch appliances. However, it probably won't match exactly to different brands.
Panel-Ready: Some series are available with no front, so you can place your custom-cabinet front on your dishwasher.
We recommend only paneling European-made dishwashers, like Bosch, Beko, and Miele, because they fit within a 24-inch space and won't protrude from your cabinets.
Bosch Dishwasher Wash Cycles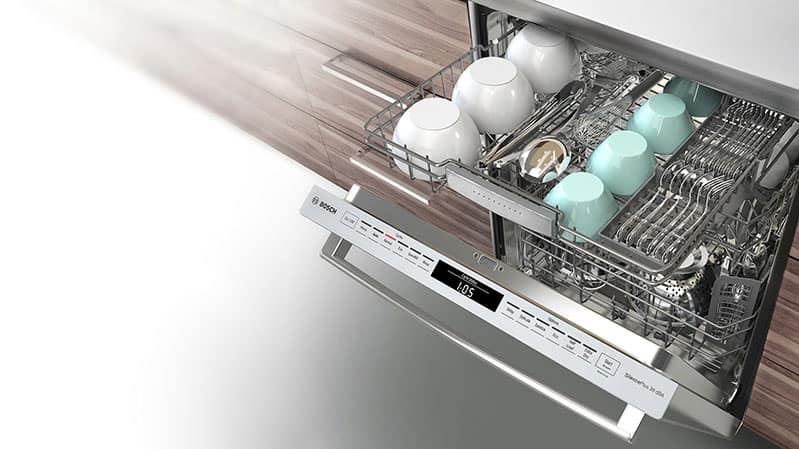 First, dishwashers work by time and temperature. A Bosch Heavy or Pots and Pans cycle will wash your dishes longer at a higher temperature. A China or Crystal cycle is less time at a lower temperature.
The Water Softener Cycle removes hard water spots caused by lime deposits and softens water to the appropriate levels. Hard water can leave spots on your dishes, among other problems. Buying a dishwasher with a softener is smart, especially if you have well water.
The Eco Cycle is best for delicate dishes and glasses. The Eco cycle decreases energy usage by lowering temperature and cycle length. It's a shorter cycle, so don't put any dishware with baked-on food in an Eco cycle.
SpeedPerfect™ Cycle delivers up to 25% faster cleaning on a normally soiled load of dishes.
Bosch Dishwasher Drying Features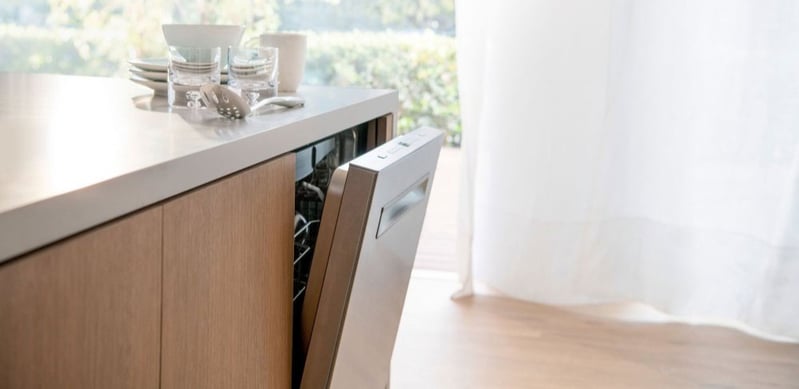 Bosch Dishwasher with AutoAir Drying
The ExtraShine option can be used with most wash cycles (except Rinse). The Extra Shine option helps dishes and glassware come out clean and shiny by raising the temperature and extending the drying time. Ultimately, it dries your dishes better by using more time and temperature.
The Extra Dry option is great to use in combination with any wash cycle. When used in combination, the Extra Dry option raises the temperature and extends the drying time to enhance drying results further.
Bosch has always used Condensation Drying or residual steam combined with JetDry. It does an average job of drying dishes and isn't as good on plastics as a Miele or KitchenAid.
The next two cycles are new and have improved Bosch's drying capabilities. They are available in Bosch's better dishwashers.
With Bosch's AutoAir drying system, the door will pop open automatically to speed the drying process at the end of the cycle. It does so by releasing steam and heat. AutoAir is mostly in Bosch's 500 series models. Miele and Samsung, in their better models, both have the same feature.
Bosch dishwasher models promoting CrystalDry have Zeolite packed inside the dishwasher. Zeolite is a volcanic element with many uses, from supplements to industrial cleanups.
Specifically, in dishwashers, Zeolite adds heat and absorbs moisture, which is pretty much what a drying cycle should do when you think about it.
We tested Zeolite in Thermador (the same manufacturer as Bosch) in their 20-minute wash and dry cycle. We found it works, even on plastics.
Bosch's CrystalDry feature can be found in all of the Benchmark series, 800 series, and 800+ series.
What Are the Best Bosch Dishwasher Features?
1. Bosch Dishwasher Racks
Every dishwasher beside the Ascenta series has a third rack. The better Bosch dishwashers have the more flexible "MyWay" rack.
Adjustable rackmatic:

The top rack will go up and down as well as side-to-side. It has nine positions to fit most of your plates and trays.

3rd Rack configuration:

Basic to MyWay with the ability to store silverware and more.
2. Levels of Quietness
Another major difference between all the Bosch dishwashers is their quietness from 50-38 dB (read The Quietest Dishwashers by Decibel Rating to learn more).
In our opinion, 44 decibels is quiet enough, so you won't hear your dishwasher.
One of the big mistakes is upgrading from a 44 dB to a more expensive dishwasher just for quietness. You don't need the upgrade unless you like other features.
Below is a sound comparison between 44 and 55-decibel dishwashers in a kitchen.
3. Bosch HomeConnect and Wi-Fi Capabilities
Wi-Fi is more of a novelty now, but it is the future of appliances. Wi-Fi is available in two of our recommendations. It can be a bit spotty for most manufacturers, but Bosch works well through their HomeConnect app.
You do have essential functions, including on/off and a cycle countdown. The dishwasher can alert your phone when the cycle is complete.
With an incredibly quiet dishwasher, Wi-Fi may be advantageous, so you do not open a running dishwasher to check if it's done.
Are Bosch Dishwashers Reliable?
Dishwasher Reliability December 2020 to October 2021
The following service rates are based on a minimum of 90 units sold and a total sample of over 8,000 pieces.
| | |
| --- | --- |
| | Service Rates |
| LG | 1.7% |
| Thermador | 3.6% |
| Whirlpool | 4.1% |
| JennAir | 5.3% |
| KitchenAid | 5.5% |
| Miele | 8.9% |
| Fisher & Paykel | 9.9% |
| Bosch | 10.1% |
| Beko | 10.3% |
| Café Appliances | 10.7% |
| GE Profile | 12.2% |
| Asko | 12.5% |
| Samsung | 18.5% |
| Grand Total | 12.8% |
You look at this and see Bosch at 10.1% and KitchenAid at 5.5% and automatically think KitchenAid is more reliable. Yet, the Thermador is a less featured Bosch dishwasher at 3.6%.
It's tough to compare Bosch with added features and an average selling price of $1,300 compared to a KitchenAid with fewer features at $1,000.
When you add in the Thermador, the reliability is similar. Still, 10% is good for a premium dishwasher.
Read More: Most Reliable Dishwashers
Short on time? Get our free Dishwasher Buying Guide
Best Bosch Dishwashers for 2022
Bosch Ascenta Series Dishwasher SHE3AR75UC - $599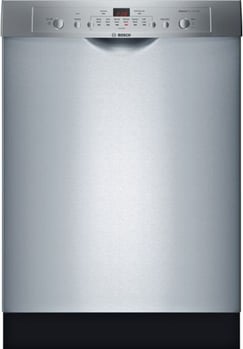 The "Ascenta," also known as Bosch's 100 series dishwasher, is not a typical Bosch dishwasher.
It has a plastic interior at the bottom, not stainless steel, unlike every other Bosch.
It is comparatively loud at 50 dB with a lighter door and has basic cycles. However, it does have the Bosch label and is relatively inexpensive, usually at $499 after qualifying rebates.
You may not have the other Bosch dishwashers' features, but it's comparable to other dishwashers in this price range.
The newer Ascenta model has added more adjustability and is a bit quieter. The Ascenta is suitable if you want the name at $230 less than their regular series.
Availability: It's not currently available at Yale. However, you will probably find a Bosch Ascenta at box stores like Home Depot, Lowe's, or Best Buy.
Features:
50 dB
6 Wash Cycles and 2 Options
Sanitize Option eliminates bacteria and enhances drying results
EcoSense Reduces Energy Usage by up to 20%
Three h, six h, nine h Delay Start Timer
Express Wash - In 30 Minutes or Less
14 Place Setting Capacity
300 Series Racks
Bosch 500 Series Dishwasher SHP865ZP5N - $1,149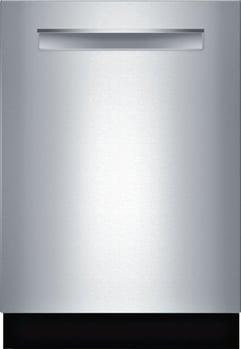 The SHP865ZP5N has better ball-bearing racks and a rack stop at the bottom. The ball bearing racks glide out better, especially when laden with plates and cups.
The rack stop below will ensure your toddler does not fling the tray out of the dishwasher. I have a toddler. I get it.
This dishwasher is quiet and has its AutoAir drying feature. It releases steam and heat. AutoAir works well, especially if you prefer to run your dishwasher overnight.
Availability: The availability of this dishwasher is good. Of course, there are ten varieties of this dishwasher, so you should be able to buy some iteration of this model. But be careful, this particular model and style has better racks. The others do not.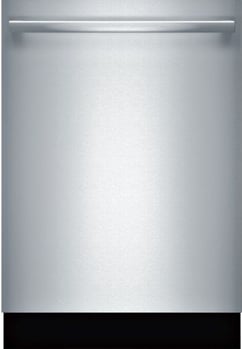 The SHX78Z55N has CrystalDry, so it is the least expensive 800 series with this feature. CrystalDry is the best drying system and will work on plastics or less dense items.
At 42 dB, you will not hear this dishwasher even if your kitchen is open to the living room.
Availability: Good, but rapidly declining.
Features:
44 dB: Quietest Dishwasher Brand in the U.S.
A flexible 3rd rack with fold-down sides adds 30% more loading capacity.
The pocket handle seamlessly integrates into your kitchen & installs flush.
The two levels EasyGlide rack system provides a smooth glide for easier loading & unloading on the upper and lower racks.
FlexSpace Tines fold back to fit your larger pots & pans.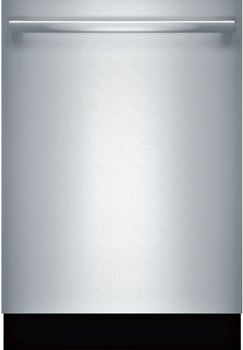 This dishwasher has CrystalDry for the best drying system of any dishwasher. The difference between this dishwasher and the previous model is Wi-Fi and a better silence rating.
You have Wi-Fi, so you do not have to wait by the dishwasher for the cycle to end. It will text you on your phone when the cycle is complete. At 40 dB, it might be handy because you won't open the dishwasher while it's still running to check if it's done.
Availability: You should be able to find this dishwasher in one of the four styles.
Features:
40 dB: Quietest Dishwasher Brand in the U.S.
The MyWay™ Rack gives you the industry's largest 3rd rack loading capacity.
Speed60® gets your dishes from dirty to dry in about an hour.
The EasyGlide™ rack system provides a smooth glide for easier loading & unloading on the upper rack.
TimeLight™ beams the remaining cycle time on the floor.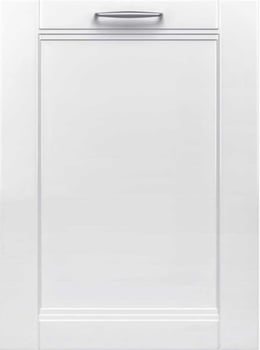 Very similar to the SHP878ZP5N, the Bosch 800 Series dishwasher SHVM78Z53N comes panel-ready for a custom cabinet front.
Interestingly enough, it is 2 dB quieter for a noiseless 40 dB. That's the main difference between an 800 and 800 Plus series Bosch dishwasher.
As we said before, buy a European dishwasher for custom cabinet fronts because it will sit seamlessly, whereas an American dishwasher will protrude and be noticeable.
Availability: Not good. Bosch paneled dishwashers are almost impossible to find in any model number from any manufacturer. However, buying a paneled dishwasher is similar to buying their regular line.
Pick the features you want, and then look for the corresponding (and available) dishwasher. If it's not Bosch, look at Beko, Asko, and Miele, because their dishwashers will be seamless to your cabinet.
Features:
40 dB: Quietest Dishwasher Brand in the U.S.
The MyWay Rack gives you the industry's largest 3rd rack loading capacity.
Touch Control Technology allows for quick cycle programming.
The EasyGlide rack system provides a smooth glide for easier loading & unloading on the upper rack.
AquaStop™ leak protection works 24/7 to prevent water damage.
For all of our dishwashers, including their best features, reliability, and how they compare to one another, download our free Dishwasher Buying Guide.
Which Bosch Dishwasher Should You Not Buy?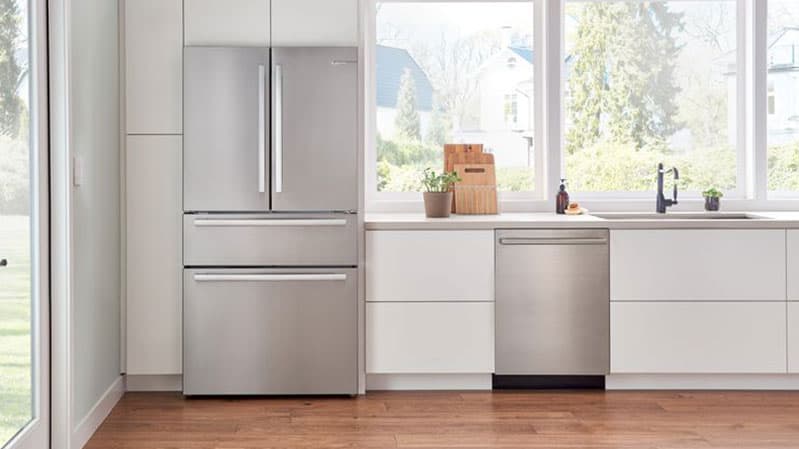 Bosch Benchmark Series Dishwasher
There is a reason to buy most of the above dishwashers. At a certain point, the features become overly repetitive. The Bosch Benchmark series are similar to the 800 series and 800+ series but are more expensive.
You are paying over $2,000 for a Bosch, but you're paying for a digital display on the controls and an incredibly quiet 38 dB silene rating.
Then again, you can buy a still quiet 42 dB dishwasher with CrystalDry and all the significant cycles for almost half the price at $1,249.
Which Bosch Dishwasher Is the Best?
That all depends. In writing this, I am beginning to believe your best Bosch is the available one. However, if you are a builder and want the name and not the price, the Bosch Ascenta dishwasher is ideal.
It's a pretty big step from the lowest series at $599 up to the best 500 series at $1049 dishwasher and the 800 series. Our most popular Bosch up until 2021 was their lower-priced 500 series, but they are currently unavailable.
If you can find an SHS863 or SHX863 in your area at about $829-$899, they are worth buying. I will update this post when the supply chain returns to 2019 levels (sometime in 2024).
The 800 series is excellent for washing, racking with the MyWay third rack, quietness, and the best drying system. Plus, it's what Bosch is producing.
I know this post title is the five best models, but you may have to deviate from buying a Bosch nowadays for a more available brand or any brand of dishwasher you can find.
Below we compared Bosch briefly to their main competitors, Miele and KitchenAid.
How Does Bosch Compare to KitchenAid, Beko, and Miele Dishwashers?
Bosch vs. KitchenAid Dishwashers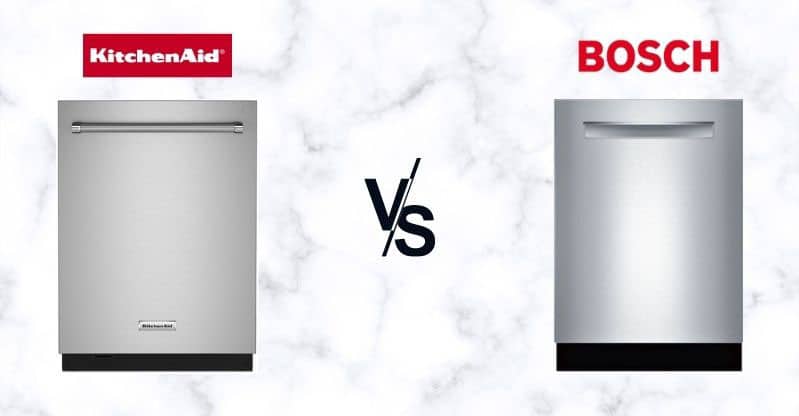 KitchenAid now has another new series. After years of being beaten to market by Bosch, KitchenAid's new series is worth looking at, especially with Bosch's availability issues.
KitchenAid has two series. The 200 series has a 39 dB silence rating at about $999. Their M-series now has four levels of wash action and a drying system copied from Miele. The dishwasher lets air from the kitchen into the side of the dishwasher.
The M Series's newer dishwasher has a new top rack and washing system. Their drying cycle pulls in outside air from your kitchen. The hot steamier air is attracted to the cooler side and dissipated as water.
However, Bosch will be quieter and offer better drying in the CrystalDry series.
Read More: Bosch vs. KitchenAid Dishwashers
Bosch vs. Miele Dishwashers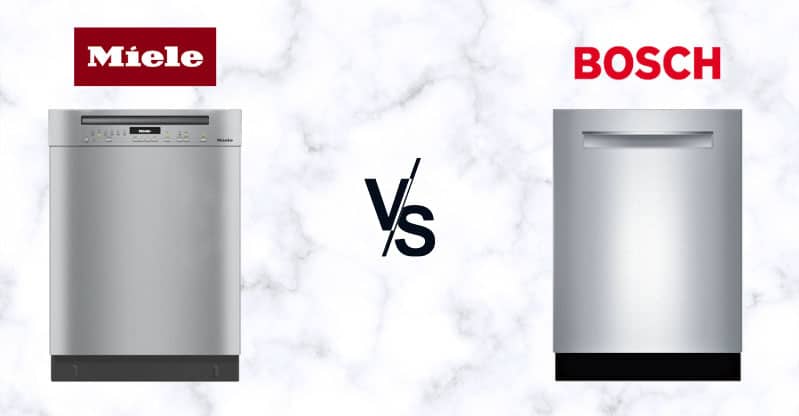 Miele has probably the best wash and dry system. It has full wash arms on the top and bottom.
Their clean air drying allows air into the side of the dishwasher. The hot, moist air is attracted to the "cooler" side and then dissipated as water.
Miele will also have the best racks because they are all removable and adjustable. Their new G 7000 series has brand new cycles and an auto dispenser holding 20 loads of detergent.
Bosch will have better features and drying in their 800 series, while Miele has some great dishwashers, especially $1,500 and over.
Availability with Miele is as tough as Bosch, if not worse.
Read More: Bosch vs. Miele Dishwashers
Bosch vs. Beko Dishwashers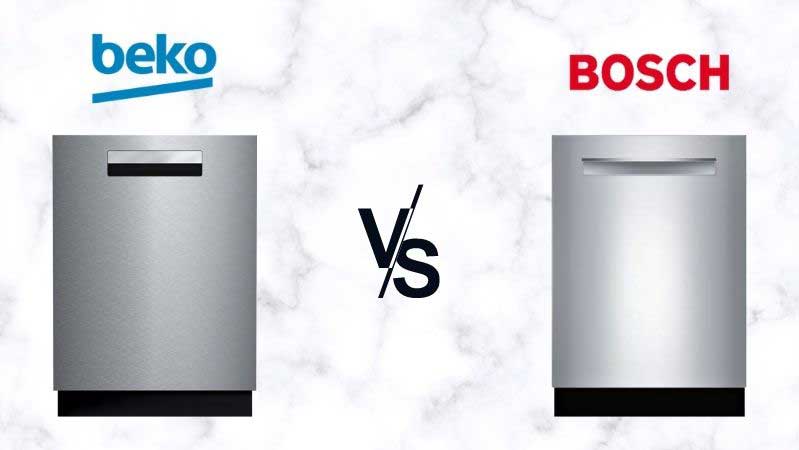 If KitchenAid is Bosch's number one competitor, then Beko will not be far behind. Beko is a Turkish manufacturer and builds dishwashers for Viking in this country.
Beko has been the best by far throughout the pandemic in terms of availability.
Their $599 dishwasher is comparable to the Bosch Ascenta but is quieter at 48 dB and is all steel, whereas the Bosch is metal and plastic.
However, Beko's is feature-loaded at $899 with 39 dB and special intense cycles or separate sprays to power out tough stains. It even has Wi-Fi. It is a good alternative to the non-existent Bosch 500 series.
If you are placing a panel on your dishwasher, you may end up with a Beko through lack of choice. It's also more affordable at $1,129 for a panel-ready dishwasher with 39 dB, Wi-Fi, tons of cycles, and special wash arms for tough dishes.
Read More: Beko vs. Bosch Dishwashers
Frequently Asked Questions
1. What brand has the most reliable dishwasher?
LG, Whirlpool, and Thermador are statistically the most reliable dishwasher brands based on over 40,000 service calls logged last year. Bosch is over 2% more reliable than the average dishwasher.
Read More: Most Reliable Dishwasher Brands for 2022
2. How long should a dishwasher last?
On average, a dishwasher can last anywhere between 7-10 years. Some may last longer, depending on how frequently it's used. Most will require some service during that lifespan.
3. Which dishwashers are the quietest?
Any dishwasher under 44 dB is considered quiet. Bosch and Miele have the quietest dishwasher with 38 dB silence ratings - virtually silent. You should not overpay for quietness.
Read More: Quietest Dishwashers By Decibel Rating for 2022
4. How long is the warranty on a Bosch dishwasher?
Bosch dishwashers come with a 1-year manufacturer's warranty.
5. Should you buy an extended warranty on a Bosch dishwasher?
You will probably need some service within five years, but do NOT buy a warranty from a retailer or manufacturer without a service department.
Read More: Are Appliance Extended Warranties Worth It?
6. Who services Bosch dishwashers?
Bosch has a small service department for a company of its size so expect long delays unless your retailer offers service.
Additional Resources
Want to learn more about Bosch, Miele, KitchenAid, and other dishwashers? Download the Yale Dishwasher Buying Guide with features, specs, and inside buying tips to all the major brands. Over 1 million people have downloaded a Yale Guide.
Related Articles:
Why Should You Trust Us?
It seems that every appliance review has nothing but glowing comments about almost every product, yet you read customer reviews and they are almost universally bad.
We are here to fill in the disconnect. We'll give you the best features, and the drawbacks as well, including reliability based on over 37,000 calls performed by our service team just last year. Our goal is to give you ALL the information so you know what's right for you.
Please consider subscribing or adding to the conversation in the comments below. We appreciate you stopping by.
A Note About Pricing
Pricing on this blog is for reference only and may include time sensitive rebates. We make every attempt to provide accurate pricing at time of publishing. Please call the stores for most accurate price.