Best Bosch Dishwashers for 2024: What to Buy and Avoid
October 26th, 2023 | 10 min. read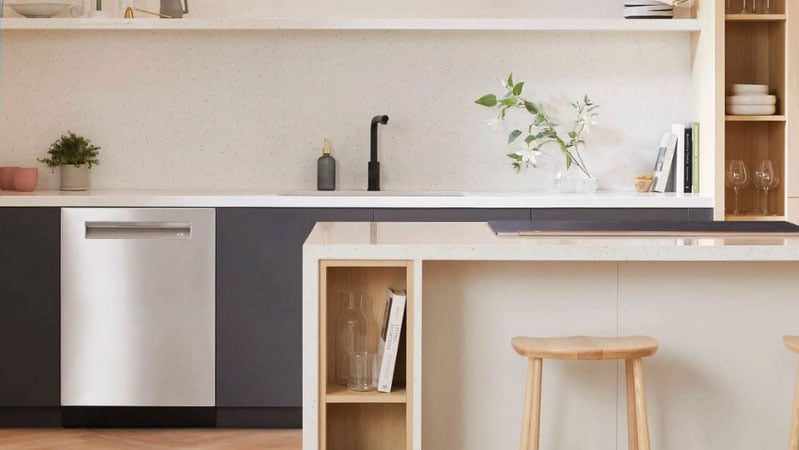 Buying a Bosch dishwasher can be incredibly confusing.
You have many series to choose from, such as the 100, 300, 500, 800, and Benchmark series.
Every series, except the 300, features new additions like the PowerControl spray arm and unique drying options.
In this article, you will learn about the five best Bosch dishwashers to consider, their features, prices, and reliability based on over 33,000 actual service calls.
Additionally, I will show you two Bosch dishwashers you should avoid. Interestingly, one was recommended by my friends at Wirecutter.
Lastly, you will see a brief comparison between Bosch and their top competitors: Beko, Miele, and KitchenAid.
Let's get started.
Best Bosch Dishwashers for 2024
Bosch 100 Series Dishwasher SHXM4AY55N
The old Ascenta is now the 100 series, 100 Plus, and 100 Premium.
The difference between the series lies in their silence ratings.
They range from 46-50 decibels. The 100 Premium now features the nine-position RackMatic rack system, like the other Bosch dishwashers.
It is comparatively loud at 48 dB, has a lighter door, and offers basic cycles.
However, it does bear the Bosch label and is relatively inexpensive, usually priced at $599 after qualifying rebates.
You may not have all the features of a high-end Bosch dishwasher, but its reliability is unmatched. For builders, the Bosch brand holds significance, whereas homeowners might prefer more advanced models.
Pros: Price, reliability, main cycles, smart functionality.

Cons: Noticeable sound during a cycle, shallower racks, and lighter doors.
Bosch 500 Series Dishwasher SHP65CP5N
The 500 Series is Bosch's premier dishwasher in terms of drying capability and quietness.
At 44 decibels, the 500 series meets the quietness threshold, ensuring you won't hear it running while watching TV in the adjacent room.
AutoAir performs well, especially for those who prefer to run their dishwasher overnight.
Pros: Enhanced drying with AutoAir, versatile cycles with customization options, meets quietness standards.

Cons: Lacks unique wash features; more expensive compared to other brands.
Bosch 800 Series Dishwasher SHP78CP5N
The 800 Series combines its newest washing with its PowerControl Wash arm and its best drying.
PowerControl allows you to control the intensity of the wash spray. You can wash different items in four quadrants on the lower rack.
This dishwasher has CrystalDry for the best drying system of any dishwasher.
Zeolite acts to absorb moisture and emit heat.
Pros: Best washing and drying combination for the price, good racks, quietness

Cons: Expensive
Bonus: Bosch 800 Series Panel-Ready Dishwasher SHV78CM3N
Very similar to the SHP78CP5N, the Bosch 800 Series dishwasher SHV78CM3N comes panel-ready for a custom cabinet front.
Buy a European dishwasher for custom cabinet fronts because it will sit seamlessly, whereas an American dishwasher will protrude and be noticeable.
Pick the features you want, and then look for the corresponding (and available) dishwasher.
If it's not Bosch, look at Beko, Asko, and Miele because their dishwashers will be seamless to your cabinet.
For all of our dishwashers, including their best features, reliability, and how they compare to one another, read: The Ultimate Guide to Buying a Dishwasher.
Which Bosch Dishwashers Should You Not Buy?
300 Series Dishwashers
Bosch SGE53B55UC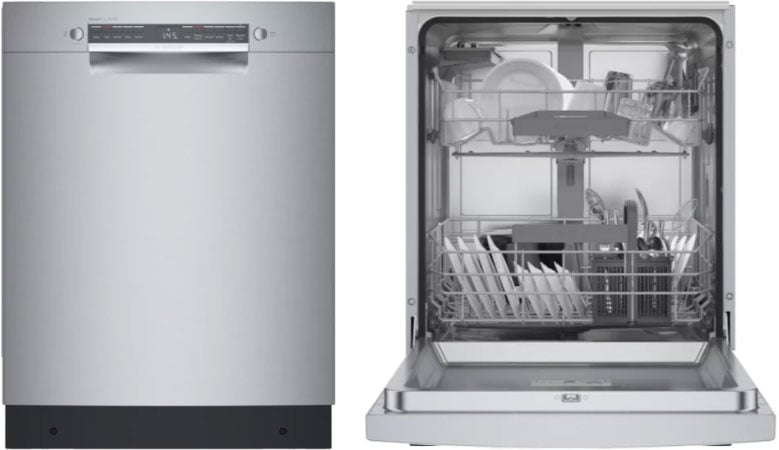 Bosch© 300 Series 24" Stainless Steel Built In Dishwasher
Wirecutter praises this dishwasher, noting it includes all the main cycles.
They provided a detailed, flowery description of this dishwasher in their article.
The dishwasher have an all-stainless tank and a heavier door, unlike the recommended 100 Series.
However, its price ranges from $999 to $1,099. Furthermore, with a silence rating of 46 dB, you can expect to hear the dishwasher running..
For just $100 more, you can purchase the 500 series, which offers better drying due to its AutoOpen door and a quieter silence rating of 44 dB.
While you might hear the 300 series during operation, the 500 series meets the quietness standard.
Benchmark Series Dishwashers
The Benchmark is Bosch's premier dishwasher. It comes with more features and is priced $500 less than last year.
This model is their quietest, registering at 38 decibels. Nonetheless, 42 decibels is still impressively quiet.
Furthermore, the Benchmark features a superior third rack that holds slightly more items.
Its glide-out ball-bearing racks operate more smoothly, a distinct advantage when the dishwasher is fully loaded.
However, priced $450 above the 800 series, the premium for these racks might be a bit steep for some.
Which Bosch Dishwasher Is Best?
It all depends.
The 100 series is less expensive and may be a good choice if you want performance but not necessarily that of a Bosch.
The 500 series excels in both washing and drying and is a good all-around dishwasher.
The 800 Series combines Bosch's latest washing and drying capabilities.
Read More: 100, 300, 500, 800 & Benchmark Series Explained
How Does Bosch Compare to KitchenAid, Beko, and Miele Dishwashers?
Bosch vs. KitchenAid Dishwashers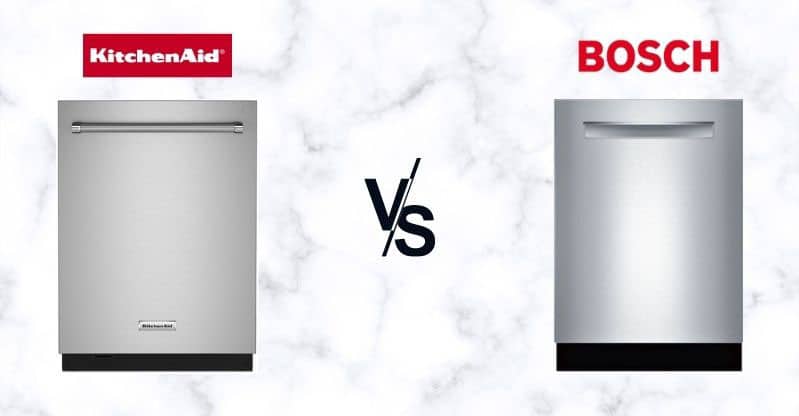 KitchenAid has introduced another new series. After years of being outpaced by Bosch, KitchenAid's new series is worth considering.
KitchenAid offers two series. The 200 series boasts a 39 dB silence rating at approximately $999.
Their M-series now features four levels of wash action and a drying system inspired by Miele.
The dishwasher allows air from the kitchen into the side of the machine.
The M Series' newer dishwasher introduces a refreshed top rack and washing system. Its drying cycle utilizes heat in an already warm dishwasher.
However, Bosch's dishwashers are quieter and offer superior drying in the CrystalDry series.
Their PowerControl feature allows users to wash with varying intensities.
While KitchenAid has reduced its prices and might be more affordable, Bosch remains the superior dishwasher.
Read More: Bosch vs. KitchenAid Dishwashers
Bosch vs. Miele Dishwashers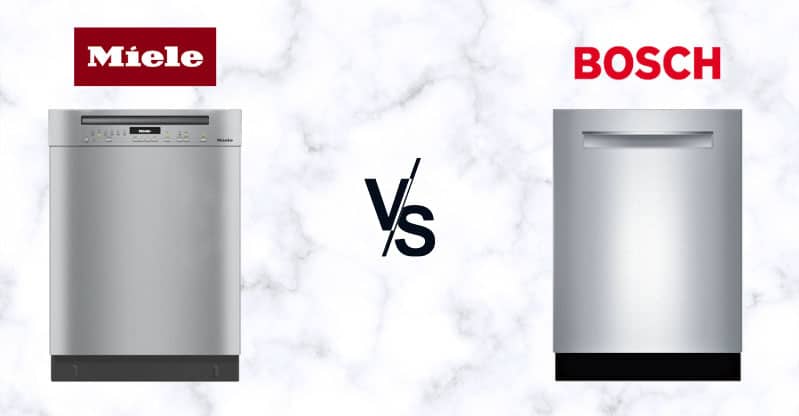 Miele is the best wash and dry system. It has full-wash arms on the top and bottom.
In our tests, Miele performed the best in both washing and drying, surpassing even the 800 Series, thanks to their Auto Dos dispenser and system.
Their clean air drying allows air into the side of the dishwasher. The hot, moist air is drawn to the "cooler" side and then dissipates as water.
Miele also has the best racks, as they are all removable and adjustable.
However, the Miele is priced over $2000, compared to $1349 for the 800 Series.
Read More: Bosch vs. Miele Dishwashers
Bosch vs. Beko Dishwashers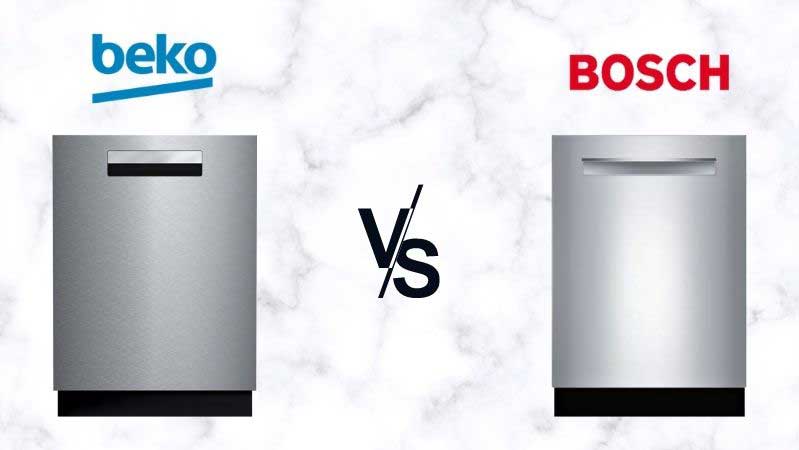 Beko's $699 dishwasher is comparable to the Bosch 100 Series in price but is quieter at 45 dB and is all steel, whereas the Bosch is made of metal and plastic.
However, Beko offers a feature-loaded model at $1099 with a free installation and special intense cycles, as well as separate sprays to power out tough stains.
At 39 dB, it is the quietest in its class and is a good alternative to the 300 Series.
They also offer affordable panel options.
Read More: Beko vs. Bosch Dishwashers
Like what you are reading? Learn more in our Dishwasher Buying Guide, which offers how-to strategies and buying tips to save you money. Over 1 million people have trusted a Yale guide. We never sell or share your private information.
How to Buy a Bosch Dishwasher
Every Bosch dishwasher can heat the water to 161 degrees, and most use no-heat condensation drying.
Bosch Wi-Fi Connectivity
I hesitate to mention Wi-Fi so early, but all are Wi-Fi enabled, allowing you to turn the washer on or off remotely.
You can customize your cycles in the higher series as well.
Styles of Bosch Dishwashers

Many of the dishwashers are the same but with different-looking fronts. There are five styles of Bosch dishwashers.
Examine the series and features. Then, compromise on the style, like switching from a towel bar handle to a pocket handle or a regular front.
Regular: Essentially, it's a dishwasher with controls on the front.
Integrated: Controls on the front with a "scoop" handle under the control panel.
Pocket handle: Similar to an integrated handle, but with a spot in the door for your hand. The pocket handle has become popular because it matches every brand.
Towel Bar: Another integrated dishwasher with a towel bar handle. It's intended for towels and matches the handles of other Bosch appliances. However, it might not align exactly with different brands.
Panel-Ready: Some series are available with no front, allowing you to place your custom cabinet front on the dishwasher.
We recommend paneling only European-made dishwashers, like Bosch, Beko, and Miele, because they fit within a 24-inch space and won't protrude from your cabinets.
Bosch Dishwasher Wash Cycles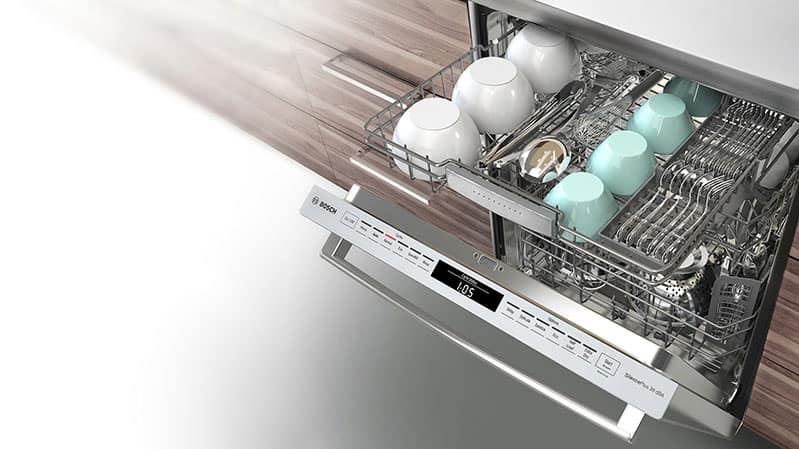 Dishwashers operate based on time and temperature.
A Bosch Heavy or Pots and Pans cycle will wash your dishes longer and at a higher temperature.
A China or Crystal cycle uses less time and a lower temperature, similar to most dishwashers.
The Water Softener Cycle removes hard water spots caused by lime deposits and softens water to appropriate levels.
Hard water can leave spots on your dishes and create other issues. Buying a dishwasher with a softener is an excellent choice, especially if you have well water.
The Eco Cycle is ideal for delicate dishes and glasses. This cycle reduces energy usage by lowering the temperature and cycle length. It's a shorter cycle, so don't use it for dishware with baked-on food.
The SpeedPerfect™ Cycle provides up to 25% faster cleaning on a normally soiled load of dishes.
The Favorites feature lets you program your customized cycle directly on the dishwasher.
Benchmark and 800 Series
These two series feature the "PowerControl" spray arm: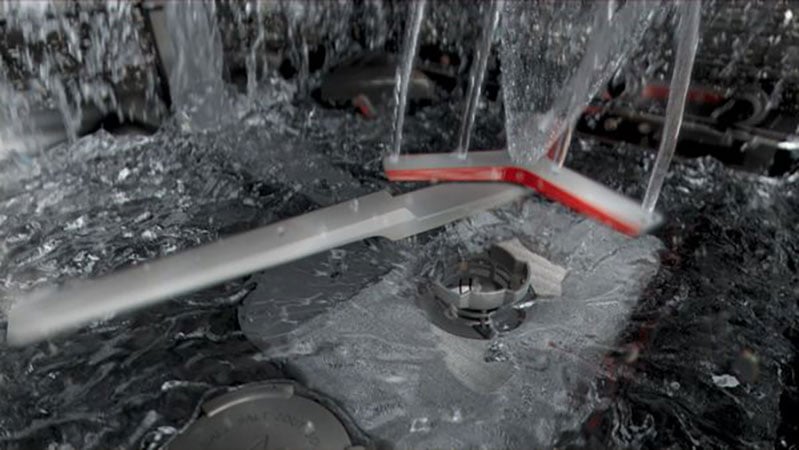 You can set the lower rack to wash in four different quadrants using Bosch's HomeConnect App.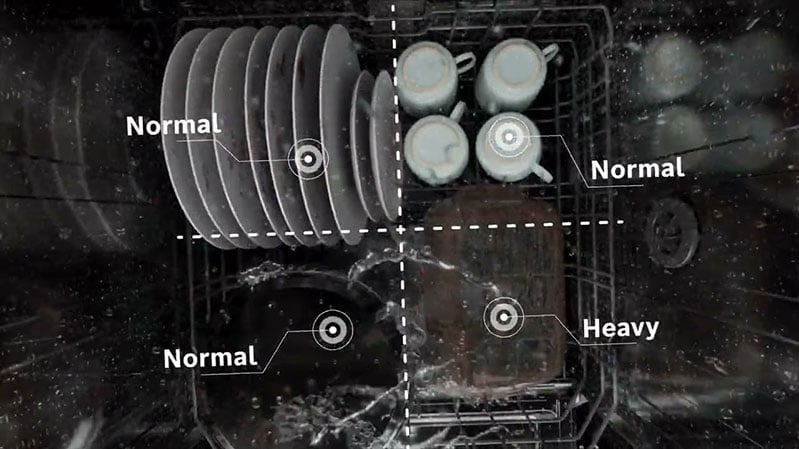 This allows you to wash light, medium, and heavy loads and control the spray's intensity to clean china, baked-on lasagna dishes, or both in the same wash.
Bosch Dishwasher Drying Features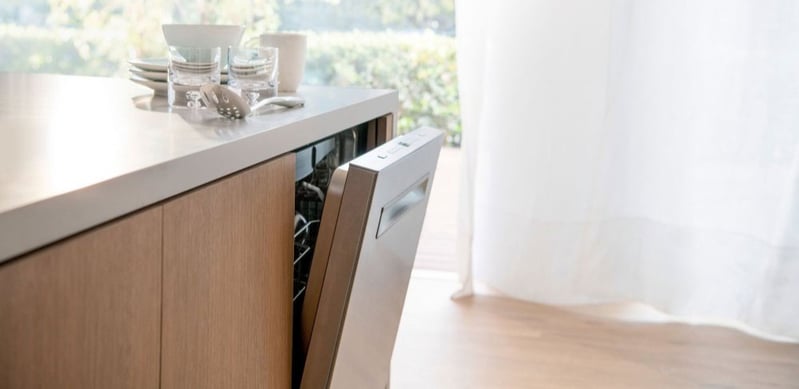 Bosch Dishwasher with AutoAir Drying
ExtraShine
The ExtraShine option can be used with most wash cycles (except Rinse). It enhances the cleaning and shininess of dishes by raising the temperature and extending the drying time.
Essentially, it dries your dishes more efficiently by using additional time and temperature.
The Extra Dry option is ideal for use in tandem with any wash cycle. This option further enhances drying results by raising the temperature and prolonging the drying time.
Condensation Drying
Bosch consistently uses Condensation Drying, which combines residual steam with jet drying. This method provides average drying results and isn't as effective on plastics compared to brands like Miele or KitchenAid.
The next two cycles are newer and have enhanced Bosch's drying capabilities. They're featured in Bosch's superior dishwasher models.
AutoAir
Bosch's AutoAir drying system automatically opens the door to expedite the drying process at a cycle's end by releasing steam and heat.
If you prefer washing and drying dishes at night, AutoAir is an especially useful feature. The residual steam doesn't condense back into water, leaving a thin coat on your dishes.
AutoAir is exclusive to Bosch's 500 series models. Brands like Miele, some Samsung models, and Beko also offer similar features.
CrystalDry
Bosch dishwasher models equipped with CrystalDry contain Zeolite. This volcanic element is versatile, used in everything from supplements to industrial cleanups.
In dishwashers, Zeolite generates heat and absorbs moisture – exactly what a drying cycle should accomplish.
We tested Zeolite in Thermador dishwashers (manufactured by the same company as Bosch) in their 20-minute wash and dry cycle and found it effective, even on plastics.
The CrystalDry feature is available in all Bosch 800 and Benchmark series models.
What Are the Best Bosch Dishwasher Features?
1. Bosch Dishwasher Racks
Every dishwasher, except the 100 series, has a third rack. The higher-end Bosch dishwashers feature a more flexible rack.
Adjustable RackMatic:

The top rack can be adjusted both vertically and horizontally. It offers nine positions to accommodate a variety of plates and trays.

3rd Rack Configuration:

Ranges from the 100 Premium to the Benchmark series, providing storage for silverware and more.
2. Levels of Quietness
One significant difference among Bosch dishwashers is their noise levels, ranging from 50-38 dB. (For further information, refer to "The Quietest Dishwashers by Decibel Rating").
In our tests, we found that 44 decibels is quiet enough that you won't hear your dishwasher running.
However, it's unnecessary to upgrade from a 44 dB model to a pricier one solely for reduced noise. The upgrade is only justified if you appreciate other features.
Bosch's 500, 800, and Benchmark series either meet or surpass this standard. Here's a sound comparison between 44 and 55-decibel dishwashers in a kitchen setting:
3. Leak Protection
All Bosch dishwashers come with leak protection. The AquaStop feature employs sensors to halt water intake in their advanced models, spanning the 300 to Benchmark series.
4. Bosch Dishwasher Reliability
Dishwasher Reliability for 2023
The following service rates are based on a minimum of 100 products sold and a total sample size of over 8000 units over a 12-month period.
| | |
| --- | --- |
| | Service Rates |
| LG | 3.5% |
| Bosch | 5.1% |
| Thermador | 5.9% |
| KitchenAid | 6.2% |
| Miele | 6.7% |
| GE Profile | 7.1% |
| Signature Kitchen Suite | 7.5% |
| Fisher & Paykel | 9.0% |
| Café Appliances | 10.3% |
| Beko | 11.2% |
| Grand Total | 6.8% |
Bosch ranks as one of the most dependable dishwasher brands, with only 5.1% requiring repairs in the first year. This is in contrast to 6.2% and 6.7% for their main competitors, KitchenAid and Miele, respectively.
Read More: Most Reliable Dishwashers
5. Drying
The drying capability of the 500 series is commendable, but the 800 and Benchmark series particularly stand out in this regard for their price point. Only Miele's G7000 series performed better.
Why You May Not Want a Bosch Dishwasher:
Cost: Bosch's superior dishwashers are priced between $1149-1349. Many other brands have reduced their prices, so it might be worth considering other options.
Quietness: The story has two sides. The 100 and 300 series don't achieve the 44-decibel quietness benchmark, operating at 46 to 50 decibels.
No Hard Food Disposer: If you dislike scraping your dishes clean before loading, prepare to clean the filter located at the dishwasher's base. That said, several other brands, including Miele and KitchenAid, also use filters.
No Designated Bottle or Silverware Sprays: Brands like Profile and Beko offer specialized sprays to cleanse residue from the bases of sports and baby bottles.
Bosch Dishwashers
FAQs
Answers to the most commonly asked questions about Bosch dishwashers.
Are Bosch dishwashers reliable?
How do I clean my Bosch dishwasher?
What is the average lifespan of a Bosch dishwasher?
Are Bosch dishwashers quiet?
What makes Bosch dishwashers energy-efficient?
Can I use regular detergent in a Bosch dishwasher?
Are panel-ready Bosch dishwashers customizable to match my cabinets?
What are the benefits of a pocket handle vs. bar handle Bosch dishwasher?
Do Bosch dishwashers dry dishes effectively?
Are Bosch dishwashers worth the investment?
Additional Resources
Want to learn more about Bosch, Miele,KitchenAid, and other dishwashers?Download the Yale Dishwasher Buying Guide with features, specs, and inside buying tips to all the major brands. Over 1 million people have downloaded a Yale Guide.
Related Articles:
Why Should You Trust Us?
It seems that every appliance review has nothing but glowing comments about almost every product, yet you read customer reviews and they are almost universally bad.
We are here to fill in the disconnect. We'll give you the best features, and the drawbacks as well, including reliability based on over 37,000 calls performed by our service team just last year. Our goal is to give you ALL the information so you know what's right for you.
Please consider subscribing or adding to the conversation in the comments below. We appreciate you stopping by.
Steve Sheinkopf is the third-generation CEO of Yale Appliance and a lifelong Bostonian. He has over 38 years of experience in the appliance industry, and he is a trusted source of information for consumers on how to buy and repair appliances.

Steve has also been featured in numerous publications, including the New York Times, Consumer Reports, The Boston Globe, Bloomberg Radio, the New York Post, The Wall Street Journal, and Entrepreneur, for his knowledge of how to buy appliances and appliance repair.

Steve is passionate about helping consumers find the best appliances for their needs, and he is always happy to answer questions and provide advice. He is a valuable resource for consumers who are looking for information on appliance buying, repair, and maintenance.

Despite being the worst goalie in history, Steve is a fan of the Bruins and college hockey, loves to read, and is a Peloton biker. The love of his life is his daughter, Sophie.
A Note About Pricing
Pricing on this blog is for reference only and may include time sensitive rebates. We make every attempt to provide accurate pricing at time of publishing. Please call the stores for most accurate price.