The 6 Best Bosch Dishwashers for 2019 (Ratings / Reviews / Prices)
On Bosch's website, they currently list 50 available dishwashers. They are organized by series like Ascenta, 300, 500, 800, 800+, and Benchmark.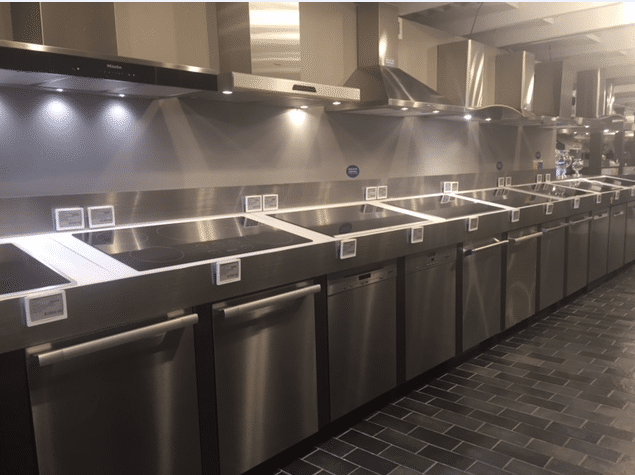 It is pretty confusing because often times the more basic series will have better features than their best Benchmark series.
Of those 50, we will review the current 6 best Bosch dishwashers across the six series, so you will save a ton of time and frustration trying to compare the differences between all these dishwashers.
We will look at Bosch as a company and then look at their 6 best dishwashers.You will also learn reliability percentages of Bosch against their major competitors like Miele and KitchenAid.
By the way, you do not have to spend $1,200-$2,000 for their best dishwasher models. You can spend less for a very good dishwasher.
Bosch
First, Bosch is the most popular dishwasher sold at Yale. They were late to the US, arriving in the mid-1990's.
However, the dishwashers became wildly popular due to their stainless steel tubs, relative affordability, and especially their quietness.
Bosch is German owned and made in the US.
Let's Review the Top 6 Bosch Dishwashers
Pricing valid for January 2019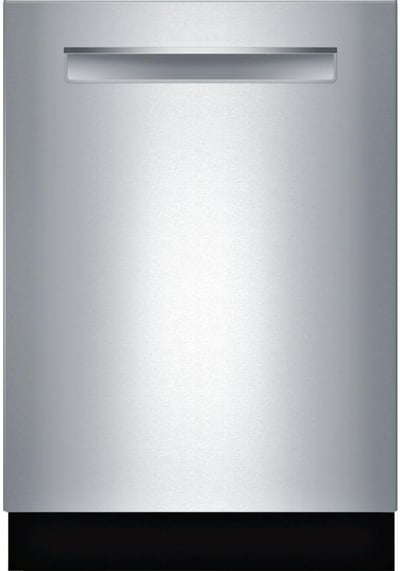 Features:
44 dBA
Flexible 3rd rack
InfoLight(R)
AquaStop(R)
RackMatic(R) on Upper Rack - 3 Height Adjustments and Up to 9 Possible Rack Positions

Ball bearing wheels

2 folding tines at the rear for added flexibility
FlexSpace Plus (both sets of tines fold down in front right section)
Lower Rack Handle with metal inlay
Rack stop to keep the rack from pulling completely out of the dishwasher
The SHP865YP5N is brand new and is similar to the SHP865WD5N. However, it has much better ball bearing racks. The bottom rack also has a stop so you cannot pull it past the dishwasher (common dishwasher complaint).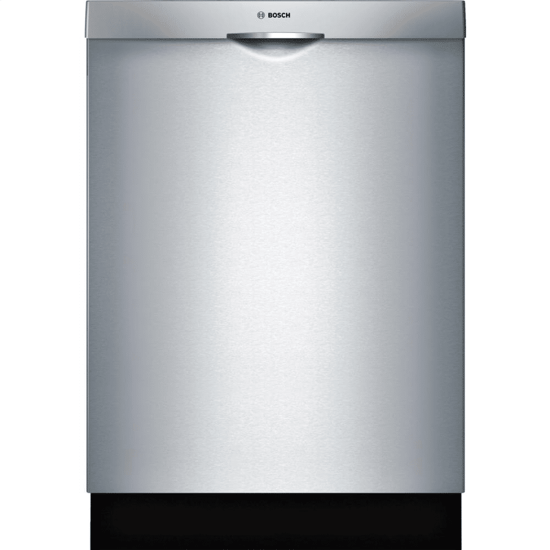 Features:
Made in North Carolina
6 Wash Cycles, 5 Options, Button Controls
44 dBA
Stainless Steel Tub
AquaStop Plus Leak Protection System
InfoLight – Tells you that the dishwasher is running
Silverware Basket
Adjustable Top Rack for Cutlery
16 Place Settings
The Bosch 300 Series SHS863VL5UC
If your primary objective is value but you are looking for something with solid features and reliability, then this is a great dishwasher. It is all stainless steel with better adjustable racks than the lower-priced, plastic bottom Bosch Ascenta series.
That being said, at 44 DB, it should be almost noiseless and is 40% quieter than the Ascenta. The 300 series also adds better racks and a heavier, more solid door. This newer model adds the third rack for cutlery allowing you more room on the bottom rack.
This is one of the best-selling dishwashers at Yale and nationally. It is ranked well, because it is an excellent value
This is one of the best-selling dishwashers at Yale and nationally.
3. Bosch 800 Series SHXM98W75N - $1,129
Features:
6 Wash Cycles/6 Options/Touch Controls
39 dBA Silence Rating
Stainless Steel Tub
AquaStop Leak Protection
30 Minute Express Cycle
5-level Wash
Info Light - tells you that the dishwasher is running
Silverware Basket
Adjustable Top Rack for Cutlery
16 Place Setting
If you want to buy a great dishwasher with high-end features but aren't looking to break the bank, this is the right dishwasher for you.
This is one of the most feature-loaded dishwashers in the industry for a great price. It has almost every cycle available and an absolutely noiseless 39-decibel rating.
This is the best overall value for a high-end dishwasher.
Also consider model SHPM98W75N (with pocket handle) for the same price.
Features:
42 dBA- Quietest Dishwasher Brand.
A flexible 3rd rack with fold down sides adds 30% more loading area.
AquaStop(R) Plus 4-Part Leak Protection Works 24/7
Full Size Stainless Steel Tall Tub Installs Perfectly Flush
16 Place Setting Capacity
LED Remaining Time Display
The dishwasher is a bit space aged looking and has decent features. However, it has their Smart HomeConnect package. It will tell you time remaining, when the cycle is complete and even if you need to refill detergent or rinse aid.
Unlike most brands HomeConnect actually functions properly as well
I ranked this #4, because I load my dishwasher before bed. However, if you dont, it is cool to monitor your appliances off an app (when the apps work)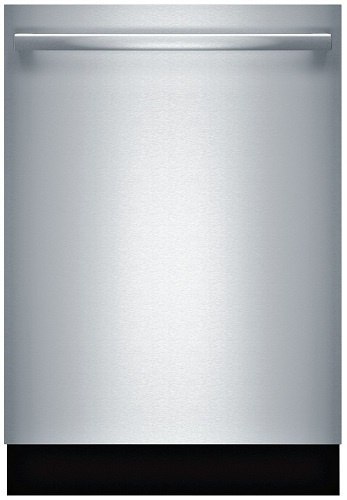 Features:
39 dBA
The MyWay™ Rack
InfoLight® Beams
RackMatic®
AquaStop® Leak Protection
The SHX89PW55N is a popular premium dishwasher. I compete mostly with Miele at that price yet is quieter with more cycles and nicer touch control panel.
It also projects the time remaining on the floor with a beam of light.
This is ranked 5th, because you have most of the similar features at $999-1129.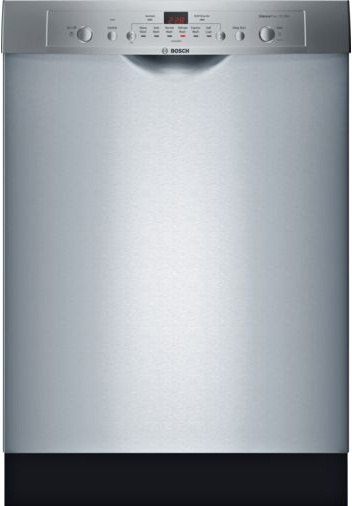 Features:
50 dBA- Quietest Dishwasher Brand.
Saves up to 280 gallons of water each year
Self-Latching Door Stays Put and Latches
Delicate Wash for Fine China
Stainless Steel TallTub w/ *PP
This is a great model for builders or renovators who want a Bosch dishwasher without spending $700 and up.
It does have the basic cycles you will use. However, you will hear it at 50 dBs unlike the rest of the Bosch dishwashers.
The racks are shallower as well and not adjustable. It also does not have the third rack for silverware and is the only Bosch with a plastic bottom.
Still, it is a Bosch and a great value at $539.
Differences Between Bosch Dishwashers
Features of Bosch Dishwashers [VIDEO]
Short on time? Get our free Dishwasher Buying Guide
Every Bosch dishwasher can heat the water to 161 degrees and uses no-heat condensation drying. They all have the basic cycles and can wash China.
This is where the major similarities end. Below we'll explain the major differences between Bosch dishwashers.
Quietness
A major difference between all the Bosch dishwashers is their quietness from 50-37 decibels (dBA) (read The Quietest Dishwasher by Decibel Rating for an explanation).
Racks
Every dishwasher beside the Ascenta series has the third rack. The better Bosch dishwashers have the more flexible "My Way" rack.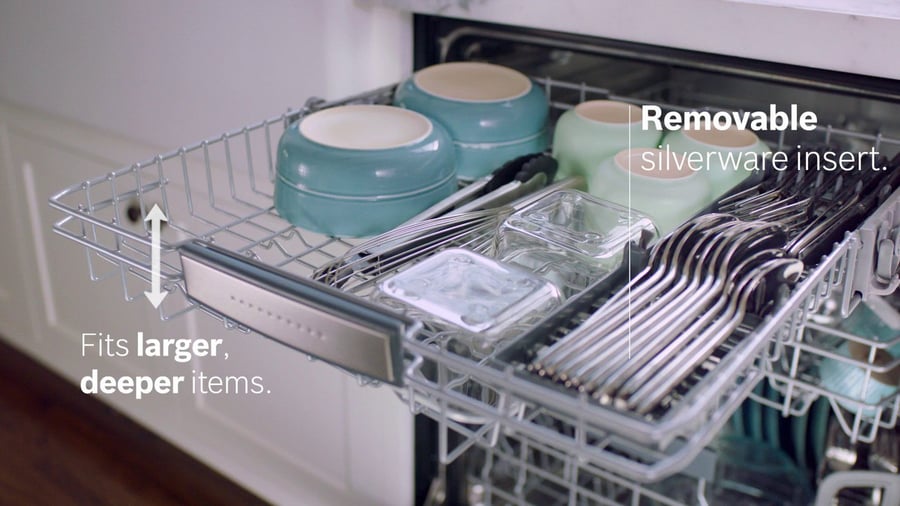 The actual baskets become more flexible as well. The tines fold down allowing you to accommodate bigger pots and pans.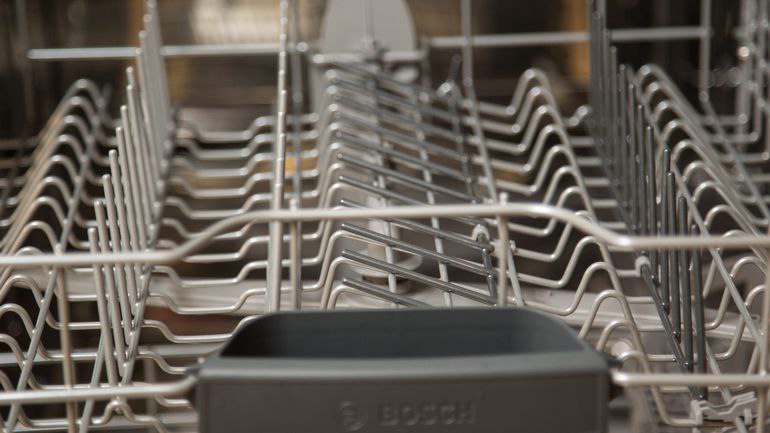 Cycles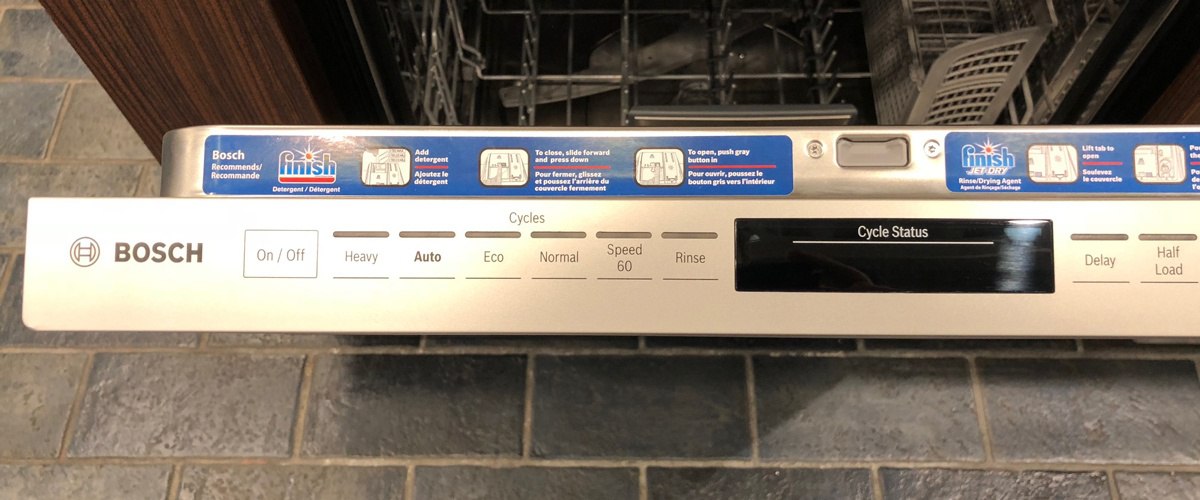 You have more choices as you go up in the series. The Eco and Speed60 cycles become features.
The Eco cycle heats the water slower to save energy costs. However, it also extends the wash time.
Speed60 will allow you to wash and dry a load in 60 minutes. It is the exact opposite of Eco by adding water and heat faster.
Most wash cycles are now over 2 hours.
Styles
The styles do not cost more within each series. Here they are: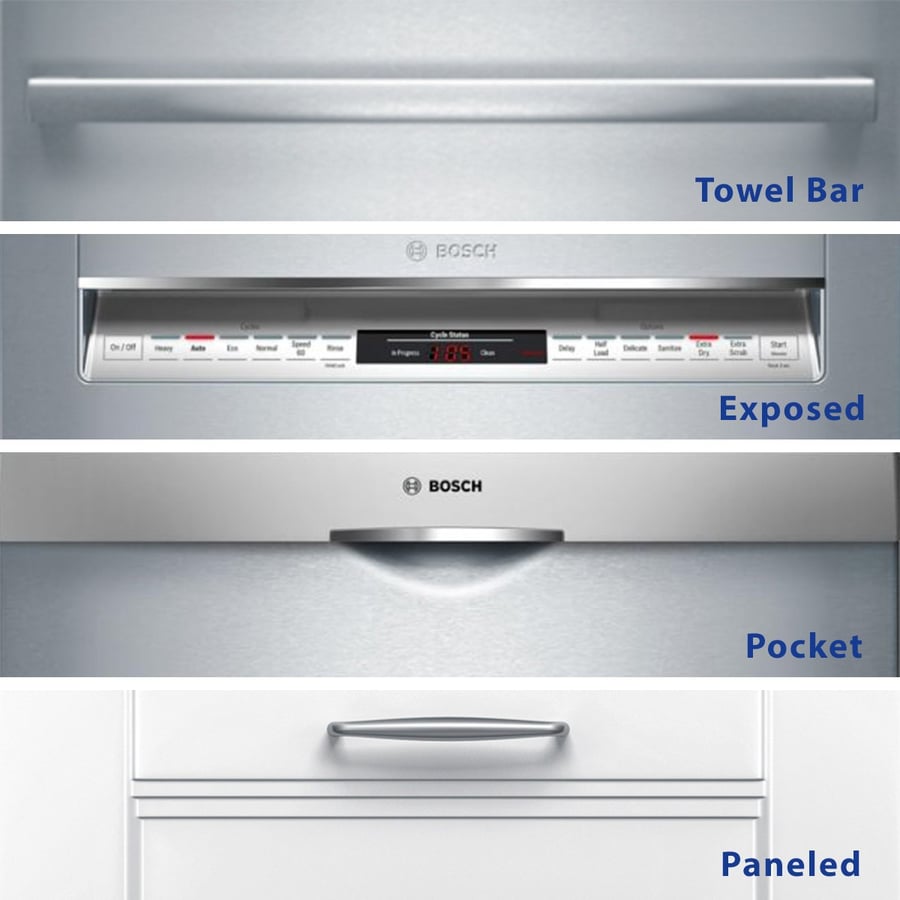 Towel Bar: Holds a towel and the bar matches other Bosch appliances. The controls are integrated (another way of saying on the inside rather than outside).
Exposed Controls: Very similar to most dishwashers on the market with front control panels.
Pocket Handle: Controls on the inside like the towel bar but without a handle. The pocket handle is popular if you do not want another handle style in your kitchen or if you are trying to match another brand.
Paneled: Controls on the inside. You use your own custom panel. Bosch (and Miele) are the best because they do not protrude from the cabinet. It will not be noticeable from the surrounding area.
Are Bosch Dishwashers Reliable?
| | | | |
| --- | --- | --- | --- |
| | Service Qty | Shipped Qty | Service Ratio |
| Signature Kitchen Suite | 0 | 17 | 0.00 % |
| Whirlpool | 44 | 1030 | 4.27 % |
| Gaggenau | 2 | 42 | 4.76 % |
| LG Electronics | 4 | 78 | 5.13 % |
| Samsung | 85 | 915 | 9.29 % |
| Maytag | 3 | 29 | 10.34 % |
| Bosch Appliances | 303 | 2735 | 11.08 % |
| Miele | 155 | 1078 | 14.38 % |
| Kitchenaid | 115 | 705 | 16.31 % |
| Thermador | 123 | 711 | 17.30 % |
| Jenn-Air | 170 | 908 | 18.72 % |
| Blomberg | 6 | 28 | 21.43 % |
| Fisher & Paykel | 42 | 175 | 24.00 % |
| Bosch - Benchmark | 38 | 158 | 24.05 % |
| Asko | 47 | 195 | 24.10 % |
| Amana | 3 | 11 | 27.27 % |
| Frigidaire | 10 | 22 | 45.45 % |
| Frigidaire Gallery | 5 | 8 | 62.50 % |
| Electrolux | 2 | 2 | 100.00 % |
| Frigidaire Professional | 2 | 2 | 100.00 % |
| Grand Total | 1159 | 8852 | 13.09 % |
Above is our Most Reliable Dishwashers for 2019. When combining Bosch and Bosch Benchmark, Bosch has a service rate of 11.78%. For value in a dishwasher, Bosch may be the best product sold.

Conclusion
You can buy a very good dishwasher in the Bosch line for around $700 or about the same price as Frigidaire Pro, GE or KitchenAid.
Bosch is quieter and more reliable than any brand for the same price. Just remember the differences are simply racks, cycles, and quietness between all the series.
Bosch is a great dishwasher to consider.
Frequently Asked Questions:
What brand of dishwasher is most reliable?
LG and Whirlpool are statistically the the most reliable dishwasher brand based on 34,487 service calls loffed in 2018. Bosch is 2% more reliable than the average.
How long should a dishwasher last?
On average a dishwasher can last anywhere between 7-10 years. Some may last longer depending on how frequent it is used. Most will require some type of service during that life span.
Which dishwashers are the quietest?
Any dishwasher under 444 Dba is considered quiet. Bosch and Miele has the quietest dishwasher with 37 Dba which is virtually silent.
How long is the warranty on a Bosch dishwasher?
Bosch dishwashers come with a 1 year manufacturer warranty.
Should you buy an extended warranty on a Bosch dishwasher: You will probably need some service within 5 years, but do NOT buy a warranty from a retailer or manufacturer without a service department.
Who Services Bosch Dishwashers: Bosch has a small service department for a company of their size, so you would need support from your retailer
Additional Resources
Want to learn more about Bosch, Miele, KitchenAid, and other dishwashers? Download the Yale Dishwasher Buying Guide with features, specs, and inside buying tips to all the major brands. Over 400,000 people have downloaded a Yale Guide.

Related Articles:
WHY SHOULD YOU TRUST US?
A few review sites have placed this at the bottom of their articles. So here is our take: Our mission is to find reliable products for you to buy. Other review sites may say this as well.
However, we don't love every product. Quite frankly, it costs us way too much money in repair costs to support less reliable brands.
In fact, we sell fewer brands than most appliance stores. Here is why:
We feel it is our responsibility to repair your appliances after you buy them.
We now have 30 service technicians, each averaging 8-10 calls a day Monday through Friday, plus another 110 on Saturday. That's over 30,000 service calls logged in one year.
The labor rates of fixing an appliance do not come close to the true cost in any product's warranty period.
That is why no major retailer has a service department. It costs too much labor, money and time.
Our Blog is a bit different than most others you will read. We cannot write glowing reviews of unreliable products.
Hopefully, the bloggers and organizations who write such glowing product reviews for every brand consider servicing these products first. Only then they will understand the consequences of their marketing.
Steve Sheinkopf
My goal has always been simple: I want Yale to be the best retail experience anywhere. I have tried to create a compelling environment for customers and employees alike.
A Note About Pricing
Pricing on this blog is for reference only and may include time sensitive rebates. We make every attempt to provide accurate pricing at time of publishing. Please call the stores for most accurate price.