LG vs. KitchenAid Dishwashers: Which Is Better?
For years if you wanted a premium dishwasher, you would look for only three brands, KitchenAid, Miele, and Bosch.
Many brands are out of stock, so you must consider other options.
At the same time, your options have improved. GE Profile and Beko have interesting new dishwashers.
However, LG may have improved significantly over the last two years with new features.
But does it compare against KitchenAid, one of the best dishwashers in the industry?
This article will compare both dishwashers' washing, drying, and racking features along with reliability to determine the difference between the two brands.
Let's get started.
Short on time? Get our free Dishwasher Buying Guide
LG vs. KitchenAid Dishwashers
LG Company Profile
LG is a giant conglomerate based in Korea.
They have been the best supplier through the pandemic and subsequent years because they produce more of their own significant components than other manufacturers.
They have also been at the forefront of inverter technology to produce a more reliable motor with fewer working parts.
You will find their better dishwashers under the brand names Studio, Signature, and SKS (Signature Kitchen Suite).
KitchenAid Company Profile
Hobart, the commercial dishwasher manufacturer, first manufactured KitchenAid. In the 1990s, Whirlpool bought KitchenAid.
After losing customers to Bosch and Miele, KitchenAid finally developed better dishwashers with compelling features, as you will see.
Let's compare three of LG's and KitchenAid's best dishwashers at multiple price points.
LG LDP6810SS ($899) vs. KitchenAid KDFE104HPS ($899) Dishwashers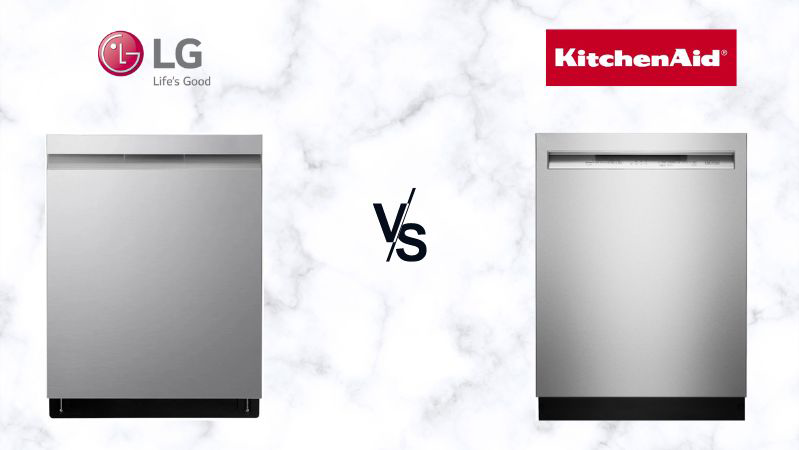 Both have plenty of cycles and options. LG has ten cycles while KitchenAid has six with four options.
Reliability
The following service rates are based on a minimum of 90 units sold and a total sample of over 8,000 pieces.
Dishwasher Reliability December 2020 to October 2021
| | |
| --- | --- |
| | Service Rates |
| LG | 1.7% |
| Thermador | 3.6% |
| Whirlpool | 4.1% |
| JennAir | 5.3% |
| KitchenAid | 5.5% |
| Miele | 8.9% |
| Fisher & Paykel | 9.9% |
| Bosch | 10.1% |
| Beko | 10.3% |
| Café Appliances | 10.7% |
| GE Profile | 12.2% |
| Asko | 12.5% |
| Samsung | 18.5% |
| Grand Total | 12.8% |
You are looking at two of the most reliable products sold at Yale, not just dishwashers.
LG's dishwasher were the most reliable products sold at Yale last year with 1.7% service rate in the first year.
KitchenAid also was excellent at 5.5%
LG had the best last year for reliability overall as a brand. Their inverter motor is the cornerstone of all their appliances.
It runs quieter with fewer contact points and working parts, so it has fewer problems.
Read More: Most Reliable Dishwasher Brands
How They Wash
Dishwashers normally wash dishes with some limited exceptions.
Many dishwasher brands like Samsung, Beko, and LG have reengineered dishwashing.
LG has a "QuadWash," and the oblong-shaped arms will wash in a different pattern to cover more of the dishwasher.
KitchenAid has three arms rotating in a circular pattern like most dishwashers.
Author's Note: Do you need another pattern, or shouldn't the dishwasher focus on the racks where the dirty dishes are?
Steam
LG Dishwasher featuring Steam Cycle
Steam is an important feature in the laundry because it loosens the tougher stains for a more thorough cleaning.
LG added four steam generators in the front of the dishwasher and the door to loosen baked-on food, so you don't have to rewash.
Drying
KitchenAid uses condensation drying, JetDry, and time. You also have the heated dry option.
Adding heat doesn't work as well as directing or pulling cooler air out like other brands or even the better KitchenAid dishwashers.
LG has hybrid condensation drying. It's another new industry term. The dishwasher uses the heat from the wash plus Jetdry and time.
However, it adds a fan to circulate the air inside the dishwasher plus steam to eliminate water spots on your glasses.
Silence Ratings
LG is 44 decibels (dB). Forty-four decibels is the minimum threshold for quietness so that you won't hear your dishwasher in an open kitchen.
KitchenAid is 47 dB, so you will hear it if you are watching TV while the dishwasher is running.
KitchenAid does have their 39 dB model with similar features, the KDTE204KPS, at $1,034.
Third Rack
Third racks have become standard for washing silverware allowing for more room in the dishwasher.
Both dishwashers have a third rack.
Wi-Fi
Wi-Fi is basic in a dishwasher.
You turn the dishwasher on or off from an app on your phone and see the time remaining in the cycle.
A notification will be sent to your phone when the cycle is over.
With a super quiet dishwasher, that notification may prevent you from opening the dishwasher while running.
LG's appliances are all enabled with one of the best smart platforms in ThinQ, while KitchenAid currently has no smart capabilities.
Wi-Fi is not a critical feature for a dishwasher, at least not yet.
LG is developing their service component side where the appliance will diagnose itself, cutting down service time.
That would be huge as it would also eliminate ordering the wrong parts.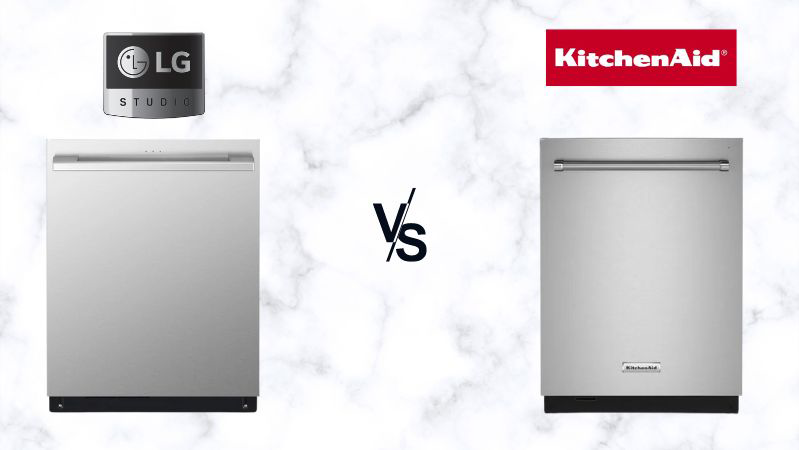 This comparison is a bit different. The LG Studio has more features, whereas the KitchenAid is a completely different dishwasher.
Cycles
Cycles are the same in the LG. KitchenAid adds their ProDry cycle.
How They Wash
LG still has their new QuadWash system and steam to help lift tougher stains like their previous model.
KitchenAid advertises four levels of wash action. However, one of those levels is just smaller holes off their larger top rack.
Racking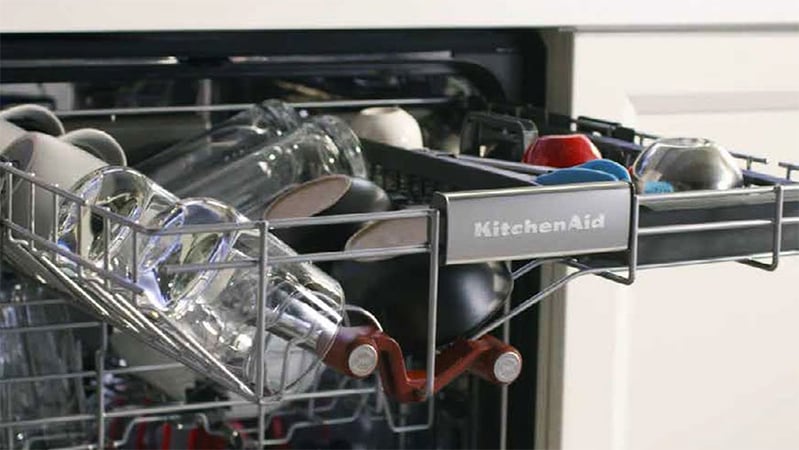 KitchenAid Dishwasher Top Rack
LG still has their adjustable top rack and third rack.
KitchenAid, however, reengineered theirs to be much larger, so you can hold more like smaller cups and plates.
Quietness
KitchenAid now meets the minimum standard of 44 decibels, while LG far exceeds it at 40 decibels.
Drying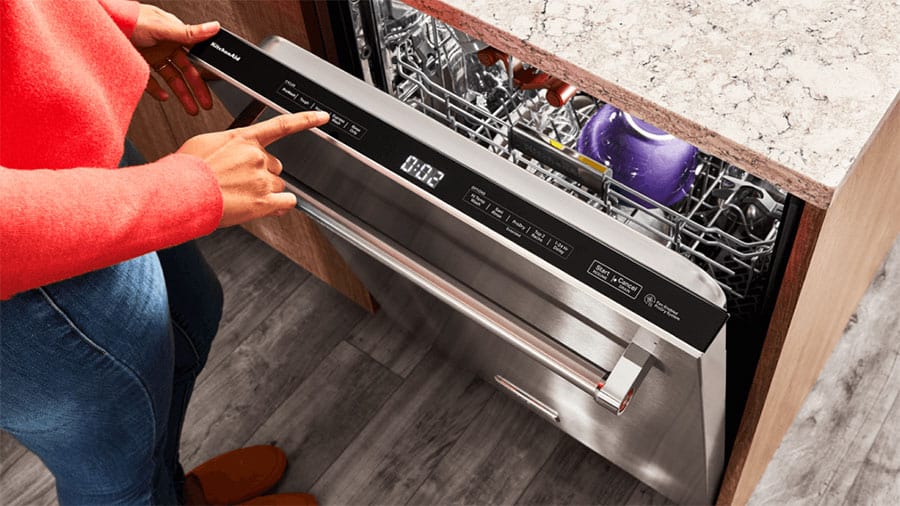 KitchenAid Dishwasher with ProDry
KitchenAid has ProDrying in this series. It's similar to Miele's of pulling outside air into the dishwasher.
The hotter air inside the dishwasher is attracted to the cooler side and is dissipated as water.
LG uses a fan, steam, and adds heat like the last dishwasher.
Wi-Fi
The LG and Studio dishwashers are similar except for the quietness, aesthetics, and monitoring.
For Wi-Fi, the Studio can be voice-activated, whereas the regular LG cannot.
Warranty
Also, Studio has a full 2-year warranty versus one for the LG. KitchenAid features a two-year warranty.
SKS SKSDW2402P vs. KitchenAid KDTE304LPA Panel-Ready Dishwashers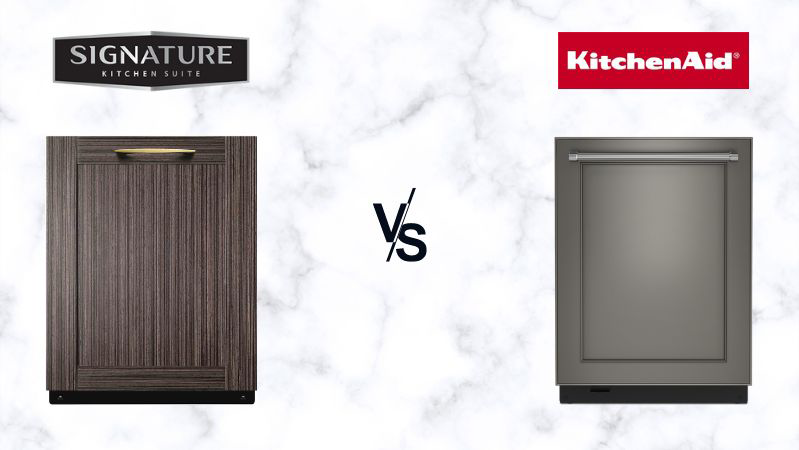 I added panel-ready options in case you wanted to place a custom cabinet front on your dishwasher.
If you do want to place a custom cabinet front on your dishwasher, these dishwashers have been the hardest appliances to find over the last two years.
Presently, Bosch, Miele, and KitchenAid are out of stock.
Your only available options for a panel-ready dishwasher are Beko and SKS.
We will compare SKS and KitchenAid in the hopes they will be available one day. First, you should know how to buy one.
American vs. European Dishwashers
There are pros and cons to buying one or the other in washing, drying, and racking. You should look at both to see what is right for you except when you are placing a panel on the front.
American dishwashers like KitchenAid, GE, Whirlpool, Frigidaire, and Electrolux will protrude from the cabinet.
European dishwashers like SKS, Bosch, Miele, and Asko fit within the cabinet, making it seamless and look like another cabinet.
As I say in other articles, one looks like the cabinet, whereas the other looks odd because it protrudes past your other cabinets.
Differences in KitchenAid and SKS Panel-Ready Dishwashers
KitchenAid is like the 200 series model or the model between the two reviewed.
It has basic racks and regular drying, and a 39 dB silence rating.
SKS is like the Studio dishwasher with steam and a 40 decibel silence rating.
SKS also has a better adjustable rack with a three-year full warranty.
LG vs. KitchenAid Dishwashers: Key Takeaways
At the very least, you can add another brand to your list besides KitchenAid, Bosch, and Miele.
LG adds steam and is one of the best dishwashers under $1,000.
Their dishwasher reliability is significantly better than any other dishwasher on the market.
When the most popular $900 Bosch and Miele dishwashers become available, LG will be competitive.
Their Studio dishwasher at $1,299 does not have the racks of the more expensive $1,449 KitchenAid dishwasher.
Over $1,000, LG's steam and reliability against the better rack design of KitchenAid's better model.
What do you think is best?
Additional Resources
Get our free Dishwasher Buying Guide with tips, trends, and reviews of all the major brands. Over 1 million people have already found answers in a Yale guide.
Related Articles:
Why Should You Trust Us?
It seems that every appliance review has nothing but glowing comments about almost every product, yet you read customer reviews and they are almost universally bad.
We are here to fill in the disconnect. We'll give you the best features, and the drawbacks as well, including reliability based on over 37,000 calls performed by our service team just last year. Our goal is to give you ALL the information so you know what's right for you.
Please consider subscribing or adding to the conversation in the comments below. We appreciate you stopping by.
A Note About Pricing
Pricing on this blog is for reference only and may include time sensitive rebates. We make every attempt to provide accurate pricing at time of publishing. Please call the stores for most accurate price.