Best KitchenAid Dishwashers for 2021 (Reviews / Ratings / Prices)
KitchenAid has wholly changed its line. It's now two different series.
The best KitchenAid dishwashers for 2021 are:
In this article, you will learn both series, their features, and reliability based on real service calls.
Miele and Bosch have also recently changed their dishwashers, so you will see a brief comparison between the three dishwasher brands.
But first, a brief history of KitchenAid and the evolution of your home from 1990 to now.
KitchenAid Dishwashers 1990-2021
Thirty years ago, you bought a KitchenAid for a premium dishwasher. That was your choice.
GE was the less expensive brand with Maytag as the middle price dishwasher, and KitchenAid firmly in the premium position.
Hobart, a commercial dishwasher manufacturer, manufactured KitchenAid.
It was a dependable dishwasher.
Whirlpool bought KitchenAid in the late 1980s to brand it as a whole appliance line instead of emphasizing the dishwashers.
Then as our lifestyles opened the kitchen to the living spaces, people wanted quieter dishwashers.
Even today, you will probably first inquire about quietness before features.
Simultaneously, in the 1990s, Bosch, Asko, and Miele started importing their quiet dishwashers into the US. They also had stainless tubs and better cycles.
In a matter of three years, the loud, porcelain-tubbed KitchenAid was no longer premium against the quieter stainless-tubbed imports.
It stayed that way until recently.
KitchenAid's dishwashers are now competitive with any brand, even more so in most instances.
First, let's compare KitchenAid with the other brands for reliability based on real service data.
Are KitchenAid Dishwashers Reliable?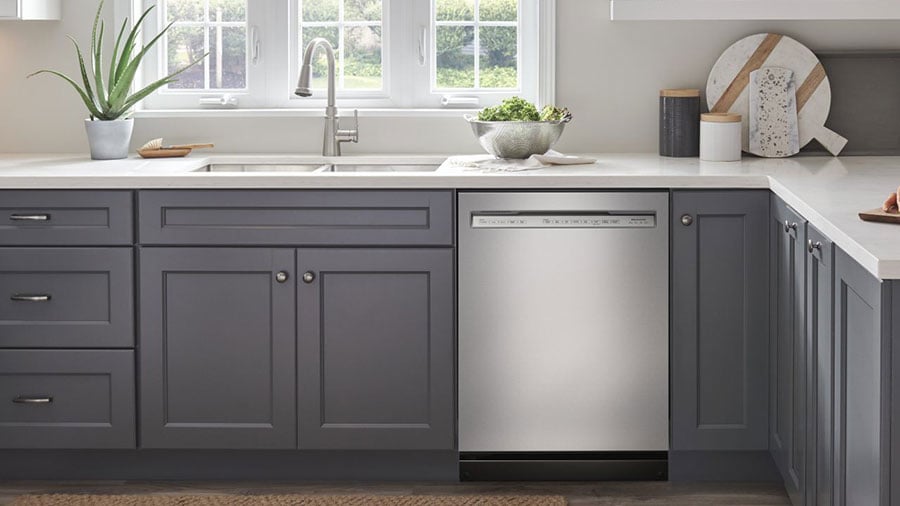 Front Control KitchenAid Dishwasher
KitchenAid has always been average and behind Bosch for overall reliability.
This year, KitchenAid for the first time is more reliable than the rival Bosch.
They are also surprisingly more reliable than Miele.
Miele's issues in the last 12 months were noisy solenoids, which are easily replaceable.
KitchenAid and Bosch are both made in the US. Miele is manufactured in Germany.
Dishwasher Reliability for January 2020 to November 2020
| | | | |
| --- | --- | --- | --- |
| | Service Qty | Shipped Qty | Service Ratio |
| Gaggenau | 9 | 10 | 90.00 % |
| JennAir | 146 | 325 | 44.92 % |
| Asko | 48 | 121 | 39.67 % |
| Fisher & Paykel | 60 | 207 | 28.99 % |
| Cove | 16 | 75 | 21.33 % |
| GE Appliances | 11 | 59 | 18.64 % |
| Bosch Benchmark | 15 | 83 | 18.07 % |
| Café Appliances | 14 | 81 | 17.28% |
| Thermador | 134 | 778 | 17.22 % |
| Miele | 123 | 776 | 15.85 % |
| GE Profile | 9 | 66 | 13.64 % |
| Bosch Appliances | 432 | 3489 | 12.38 % |
| Samsung | 119 | 1030 | 11.55 % |
| KitchenAid | 116 | 1076 | 10.78 % |
| Beko Appliance | 44 | 610 | 7.21 % |
| Whirlpool | 15 | 665 | 2.26 % |
| LG Electronics | 1 | 54 | 1.85 % |
| Blomberg | 0 | 222 | 0.00 % |
| Grand Total | 1312 | 9727 | 13.48 % |
We calculated our dishwasher reliability based on over 35,000 service calls logged from January 2020 to November 2020.
We then divided our service numbers by our sales numbers within the same time period for a service ratio.
Read More: Most Reliable Dishwashers
KitchenAid's Best Dishwasher Features
4 KitchenAid Dishwasher Styles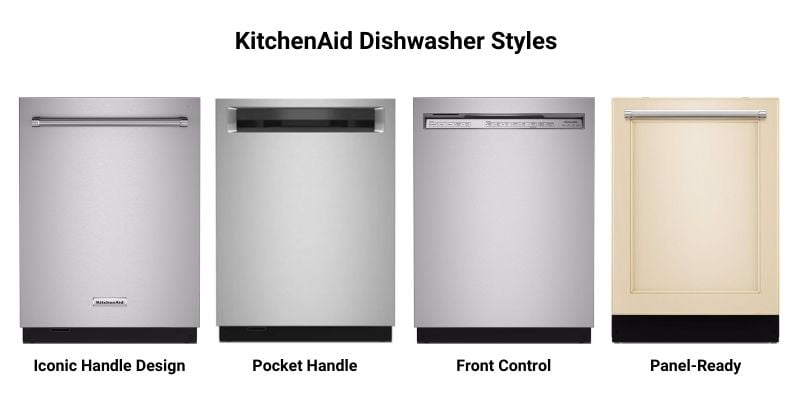 KitchenAid Dishwashers are now available in the following styles:
Iconic KitchenAid Handle Design (Towel-Bar)
KitchenAid Pocket Handle
Kitchen Front Control
KitchenAid Panel-Ready
More Robust Third Rack
Miele was the only one with a third rack for 15 years. Now even Samsung's dishwasher at $450 has a third rack.
KitchenAid allows you to fit more, plus they added a rotating concentrated spray in the middle in their better models.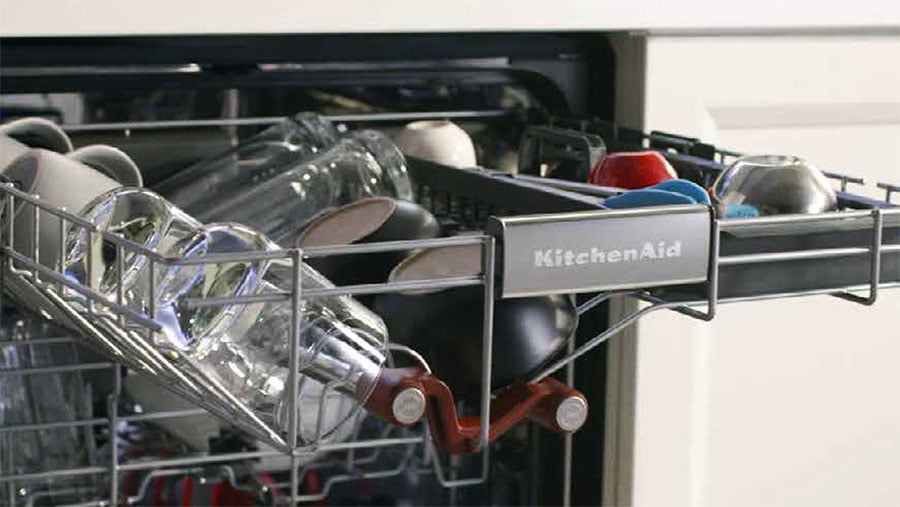 KitchenAid Dishwasher Third Rack
Miele still allows you to easily remove their rack to place your fine silverware in the drawer more easily.
The silverware basket is also more "form-fitting," so the silverware is not scratched during the wash.
Wash System
KitchenAid may now have the best wash system with four wash action top levels.
The first two are rotating rods in the third rack, the third under the middle rack, and the fourth is at the bottom.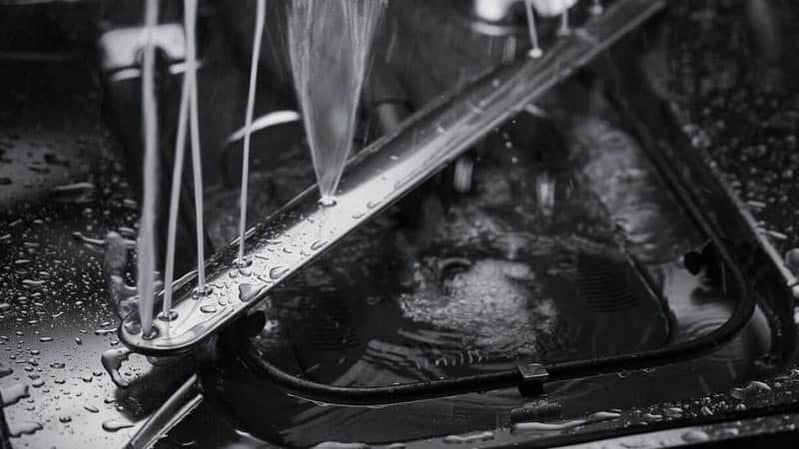 KitchenAid Dishwasher Wash Arm
I have always assumed dishwashers wash dishes. You probably have as well.
However, with KitchenAid's large third rack and more sprays arms even at the top of the dishwasher, it should clean far better than most dishwashers.
Bosch and many others only have two levels, but with basic third racks. Miele has three, with one on the top, middle, and bottom.
Of course, we will be testing the new KitchenAid dishwashers' washing systems when our testing center reopens.
Read More: 10 Best Dishwashers
Water Filtration
On the bottom of the dishwasher, KitchenAid now employs two filters plus a new system to ensure fresher water is cleaning the dishes.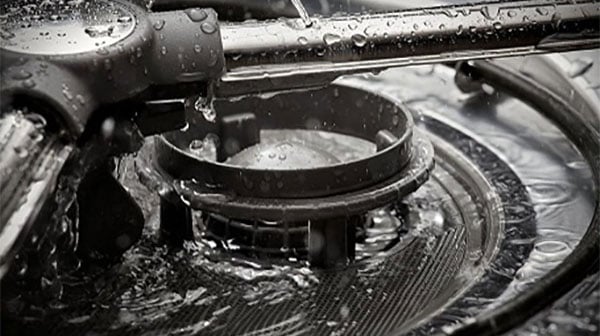 KitchenAid Dishwasher Filter
Many companies have one filter, but now KitchenAid has more. In theory, this should work better.
However, it increases the noise level from 39 dB to 44 dB. Forty-four decibels is still the minimum level of quiet, but 39dB is probably the quietest without spending $1,999 for the quietest dishwasher at 37 dB.
Drying Fan Assisted Pro Dry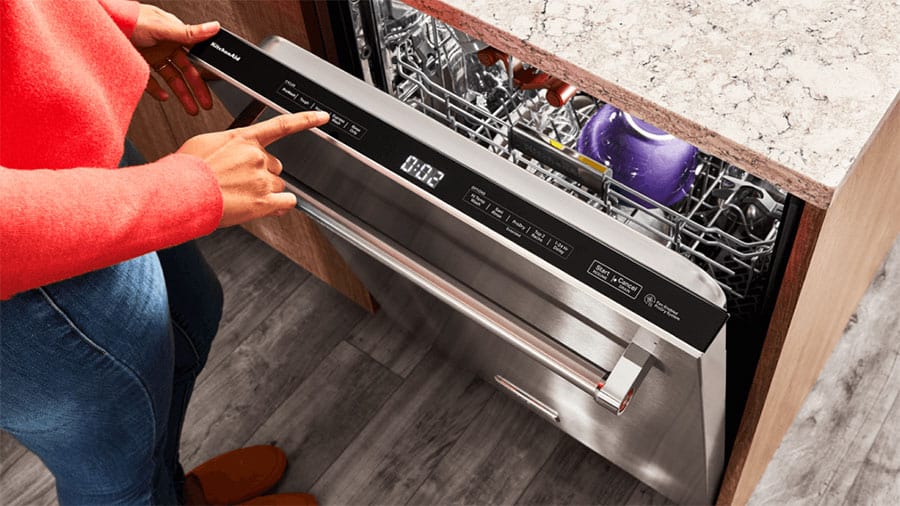 KitchenAid Dishwasher Controls
KitchenAid recesses the heating element, providing better drying and doesn't warp plastics on the bottom rack.
They use a fan to circulate the heat and pull the humid air out and draw cooler, drier air from your kitchen.
Miele has a similar system. It allows air to the side of the dishwasher where the warmer air is attracted to the cooler side and dissipated as water.
Bosch developed its Crystal Dry drying system. They pack a volcanic element called Zeolite at the bottom of the dishwasher to add heat and reduce moisture - and it works.
However, you have to spend $1,300 and more for that feature.
All stainless steel dishwashers still recommend JetDry to help dry your dishes, whether it's Fan Assist or CrystalDry.
Read More: Best Drying Dishwashers
What KitchenAid Could Have Improved
1. No Smart Functionality or Wi-Fi
KitchenAid dishwashers do not have Smart functionality. I am not sure Smart technology is as important in a dishwasher as it is for a range or cooking product.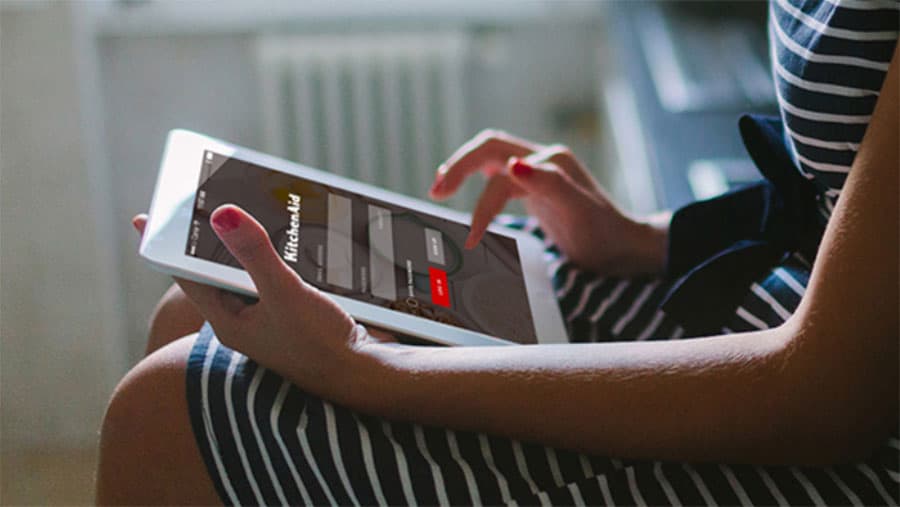 KitchenAid Connected Appliances App
I wash my dishes before I go to bed. I do not need an alert at 2 AM telling me the cycle is done.
Wi-Fi could be a decent feature if you wash during the day. The dishwashers are so quiet sometimes you open a dishwasher while it's running. An alert system would prevent that.
Smart could be a better feature in the future. An alert with service prompts or automatically adding detergent to your shopping could be a convenience.
However, Wi-Fi is not the reason to buy a dishwasher, at least not yet.
Most of KitchenAid's competitors offer Wi-Fi, including Bosch, Miele, Café Appliances, and Samsung.
2. No More Bottle Wash Sprays
KitchenAid no longer markets their Bottle Wash feature.
This may be a mistake because that residue at the bottom of your 50 oz sports bottle or your baby's bottle never seems to be clean after a wash without a dedicated spray.
KitchenAid Bottle Wash Spray Jets in Previous Series
Then again, I had a baby and was an avid biker when they started marketing the feature. Maybe it's just me.
Bottle wash is still available in the better JennAir and Café Appliances dishwashers.
3. Protruding "Panel-Ready" Dishwashers
The KitchenAid panel-ready dishwasher still protrudes from the cabinets instead of fitting more seamlessly with the cabinet. It's easily recognizable as a dishwasher rather than another cabinet.
This was a big missed opportunity.
For paneled dishwashers, you should buy a Bosch, Beko, Asko, or Miele because they do not protrude from the cabinet.
Read More: Best Panel-Ready Dishwashers
Best KitchenAid Dishwashers for 2021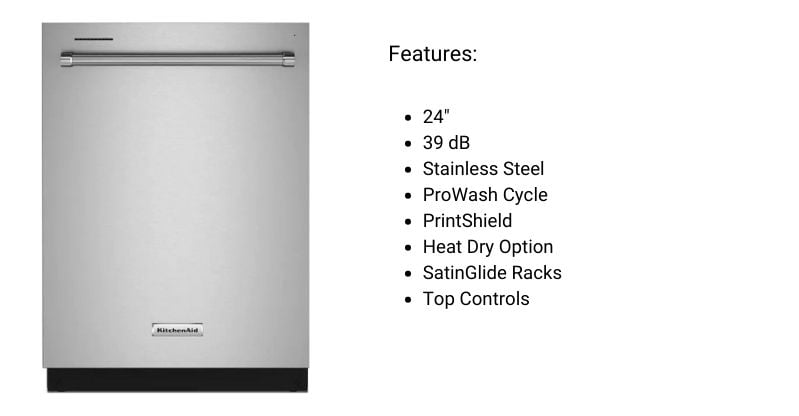 This dishwasher is similar to last year's most popular dishwasher. At $949, it's still one of the least expensive KitchenAid dishwashers like the previous year.
It's still 39 dB like last year.
It has their old, third rack but lacks the bottle wash capability of last year.
Nine-hundred and forty-nine dollars is a competitive price this year because most other dishwashers are chronically on backorder.
However, this dishwasher was cheaper last year. Their competition isn't much better.
Miele doesn't market a dishwasher below $999. Bosch sells its better dishwashers at $1,049.
KitchenAid's only real competition is from a new line called Beko with identical 39 dB, Wi-Fi, and many specialized cycles at $849.
Their "M" series has newer features. This series has the same rack, filtering, and uses condensation drying as last year's model.
Condensation drying is fancy term for residual heat from the wash, plus JetDry and time to dry your dishes.
KitchenAid does add a heated dry as well.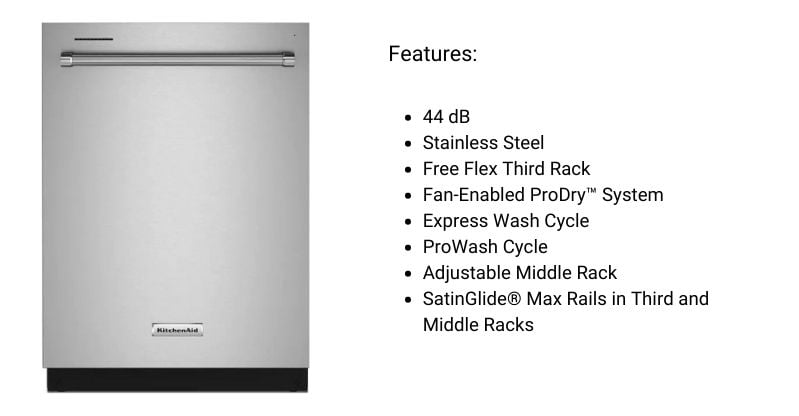 This model has the ProDry feature as well as their new fresh water filtering system. Their bold new third rack is also in this model, along with greater rack flexibility.
This unit is their best selling because it provides all the improvements in racks, filtering, and drying.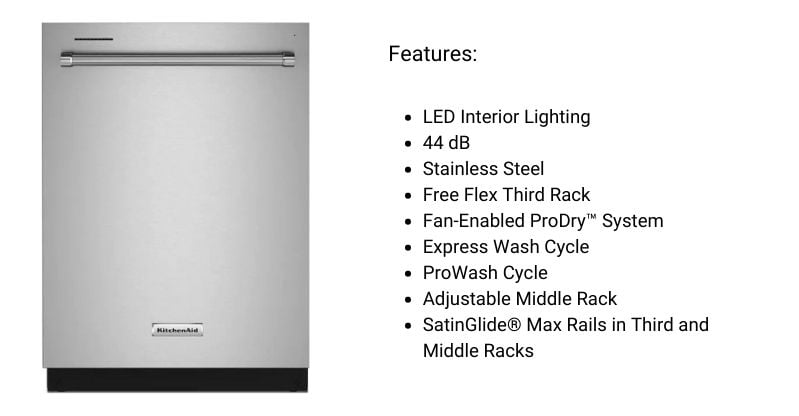 The KDTM704KPS adds better ball bearing racks to glide out even when laden with a ton of heavy dinner plates.
Bosch has this on their better models as well.
You also have a light inside and an extra silverware basket, but it's a bit pricey at $1,399.
Best KitchenAid Dishwashers: Key Takeaways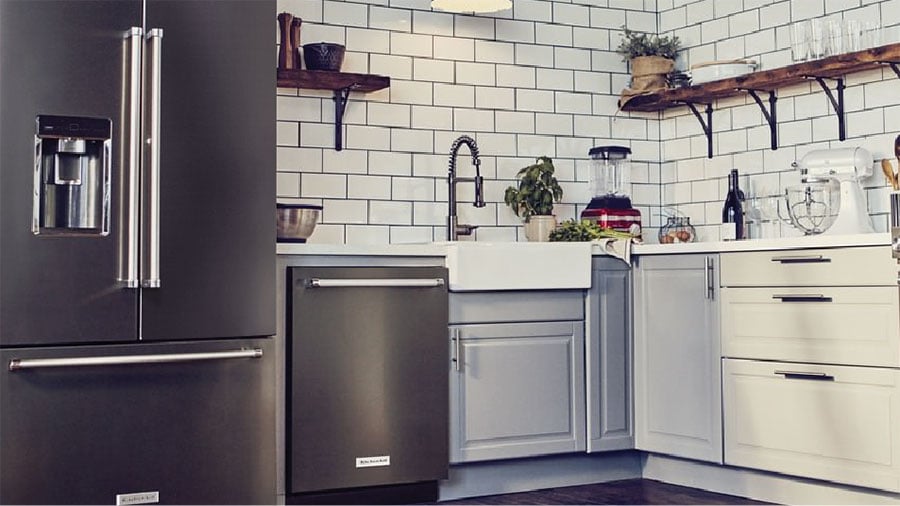 KitchenAid Dishwasher in Black Stainless Steel
In many ways, they may have outthought themselves with the new third rack. It does give you greater capacity when needed.
Their filtering story is different. Most dishwashers, even the cheap ones, wash the dishes.
Drying in a KitchenAid is now on par with Miele's Clean Drying system, so it is a vast improvement.
Their biggest missed opportunity was their lack of a seamless panel-ready model. You don't want a dishwasher to stick out in that application.
However, at $999-$1,199, KitchenAid is certainly worth considering.
Its washing system is probably the best. It has good drying capability and the best reliability for a premium dishwasher.
Additional Resources
Get the Yale Dishwasher Buying Guide with features, specs, and inside tips to all the brands. Over 840,000 people have read and trusted a Yale Guide.
Related Articles
Why Should You Trust Us?
It seems that every appliance review has nothing but glowing comments about almost every product, yet you read customer reviews and they are almost universally bad.
We are here to fill in the disconnect. We'll give you the best features, and the drawbacks as well, including reliability based on over 37,000 calls performed by our service team just last year. Our goal is to give you ALL the information so you know what's right for you.
Please consider subscribing or adding to the conversation in the comments below. We appreciate you stopping by.
Steve Sheinkopf
My goal has always been simple: I want Yale to be the best retail experience anywhere. I have tried to create a compelling environment for customers and employees alike.
A Note About Pricing
Pricing on this blog is for reference only and may include time sensitive rebates. We make every attempt to provide accurate pricing at time of publishing. Please call the stores for most accurate price.