Best KitchenAid Dishwashers for 2022 (Reviews / Ratings / Prices)
KitchenAid has changed its dishwasher series over the last few years with new features like new racks and new washing and drying systems.
But is it finally competitive to Bosch and Miele?
In this article, you will learn all the best features and models of KitchenAid dishwashers.
We will also show you the ones not to buy and focus on their most popular and available models.
This article includes reliability based on over 40,000 service calls completed by our service department last year, along with comparisons to Bosch and Miele.
Should you buy a KitchenAid dishwasher? You will know if a KitchenAid is the best dishwasher for your home after reading this article.
Short on time? Get our free Dishwasher Buying Guide
Are KitchenAid Dishwashers Reliable?
KitchenAid is one of the most reliable dishwashers and appliances you can buy. The average appliance needs repair 9.5%. The average dishwasher needs repair over 12% of the time. KitchenAid is much lower at 5.5%.
Dishwasher Reliability December 2020 to October 2021
The following service rates are based on a minimum of 90 units sold and a total sample of over 8,000 pieces.
| | |
| --- | --- |
| | Service Rates |
| LG | 1.7% |
| Thermador | 3.6% |
| Whirlpool | 4.1% |
| JennAir | 5.3% |
| KitchenAid | 5.5% |
| Miele | 8.9% |
| Fisher & Paykel | 9.9% |
| Bosch | 10.1% |
| Beko | 10.3% |
| Café Appliances | 10.7% |
| GE Profile | 12.2% |
| Asko | 12.5% |
| Samsung | 18.5% |
| Grand Total | 12.8% |
You may look at this and automatically think KitchenAid is way more reliable than Bosch at 10.1% However, Thermador is a Bosch-made dishwasher at 3.6%, so the reliability is about the same between the brands for similar features.
KitchenAid Dishwashers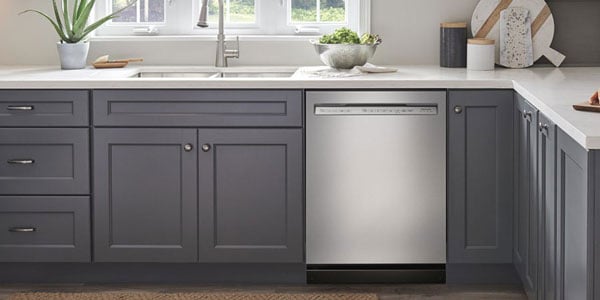 KitchenAid Front Control Dishwasher
KitchenAid has seven models in their lineup. Bosch at one time had over 100, so KitchenAid should be easy to buy in theory. But many of their models have not been available like most other brands.
For example, their least expensive, the KDFE104DSS, has had limited availability in 18 months. By limited, we have only delivered 30 KitchenAid dishwashers compared to about 150 in the previous 12 months before COVID-19.
Many are available in three different styles. Given the availability problems, look at all the styles of a particular model. If it's not available with a towel bar handle, then try it with a pocket handle.
Most of my references are for their most popular towel bar or "T" models for simplicity's sake. Their "P" model has the Pocket handle, whereas the "F" model has controls on the face or front of the dishwasher.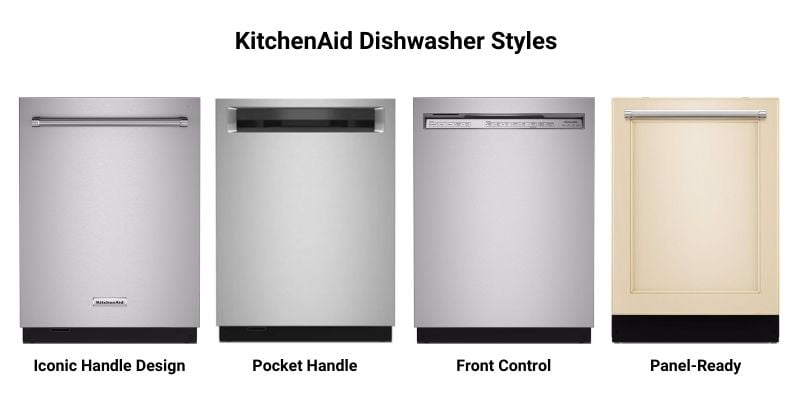 KitchenAid dishwashers are available in the following styles:
Iconic KitchenAid Handle Design (Towel-Bar)

KitchenAid Pocket Handle

Kitchen Front Control

KitchenAid Panel-Ready
Even so, the two best models to consider and KitchenAid's most popular are the towel bar KDTE204 in the 200 and KDTM604 in the 600 series.
KitchenAid Dishwasher Models to Avoid
Ironically, the two models to avoid are KitchenAid's most expensive.
The 700 series is $1,499, and the 800 series is $1,899, but you are only adding a knife caddy, light, and glide-out racks. It's $200-600 more than the 600 series, will all the other best features.
Another KitchenAid dishwasher you should probably not consider is their 304 panel-ready model.
Panels
Unlike the European brands like Bosch, Asko, Beko, and Miele, KitchenAid's panel-ready dishwasher protrudes past the cabinet. It looks like a dishwasher with a panel stuck on it rather than a cabinet, which is the intended look.
Now let's look at the two best models to consider. They have completely different feature sets.
Best KitchenAid Dishwashers for 2022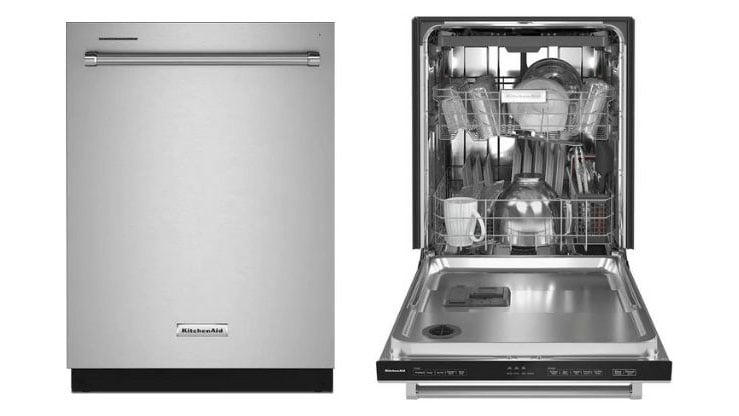 The 204 series is offered in a few different styles and sells for about $999. The "T" models for controls on the top have been the most available. You can again buy it as a "P" for the pocket handle. I haven't seen it available as an "F" or front control model.
It has KitchenAid's traditional wash system with a spray arm on the top, middle, and bottom.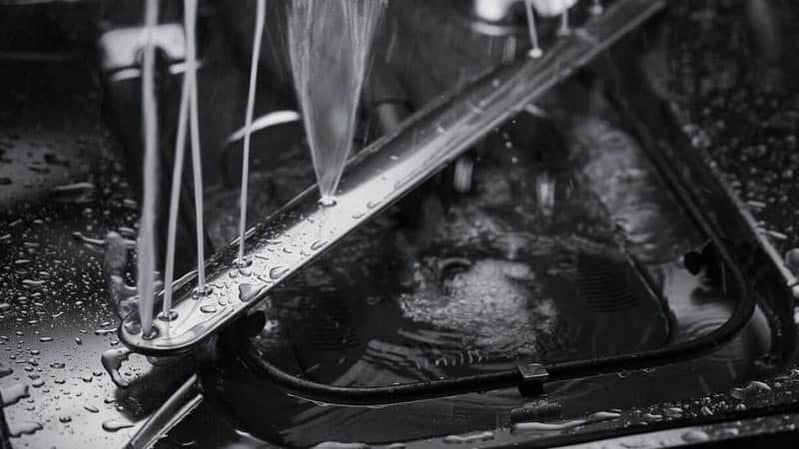 KitchenAid Dishwasher Bottom Wash Arm
You would think that three wash arms would be the standard, but Bosch and GE Profile most notably has two arms with a sprinkler head on the top. Miele has larger arms to be technical.
You have decent racks, including a third for silverware plus the primary cycles and options.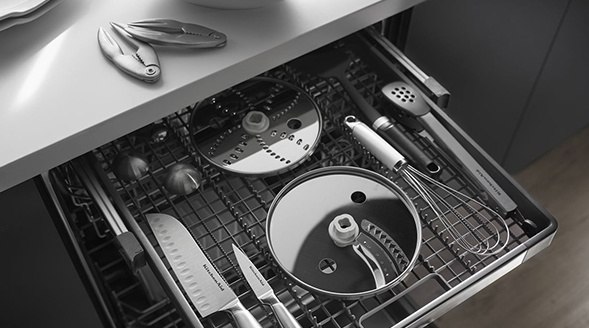 KitchenAid Third Silverware Tray
Jet Dry plus time, this series dries with condensation, a fancy term for the residual steam and heat from the wash. You have a heated dry option, but adding heat to an already hot dishwasher does not dry much faster.
What makes this dishwasher unique is its silence rating. It is 39 decibels which means it's noiseless. A Bosch or Miele dishwasher at 38 decibels will cost $2,149 and $1,999, respectively. Yet the KitchenAid is below $1000.
Not to confuse the matter, but 44 decibels is silent enough to be considered quiet. As we say throughout this blog, you do not need to spend more on a dishwasher under 44 decibels for quietness alone.
Read More: Is the New KitchenAid 200 Series KDTE204KPS Dishwasher Worth Buying?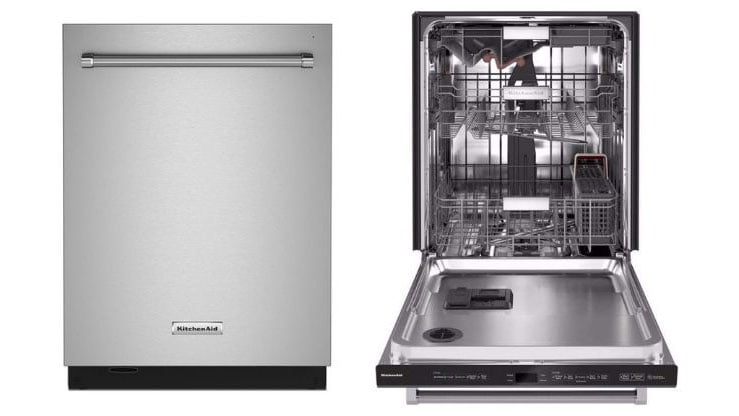 This brings us to the KitchenAid "M" models with four dishwashers, the KDTM404KPS, KDTM604KPS, KDTM704KPS, and the KDTM804KPS series.
We have already discussed the two best models. The 404 models haven't been available since their introduction two years ago.
These are radically different dishwashers from their regular 200 series. The best model in this series is the KDTM604KPS.
As you can see, the third rack is much larger. You can fit some glasses and cups as well as silverware.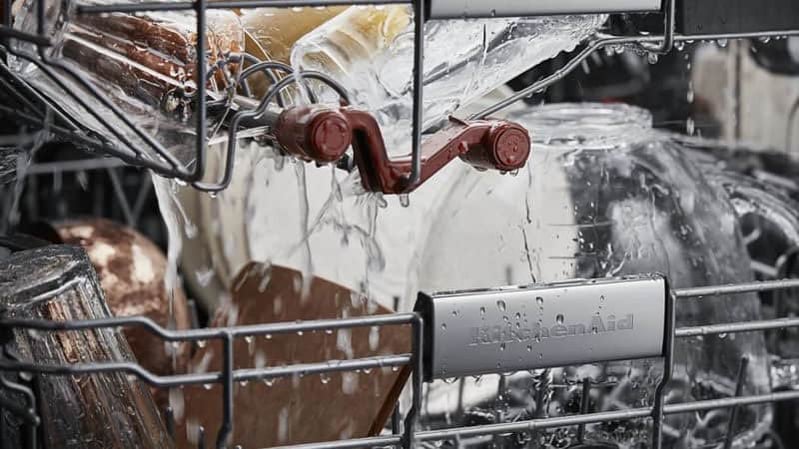 KitchenAid Dishwasher Third Rack
The rack also has holes for a separate spray set for the 4th level of washing action. This series dries with its pro drying system.
Drying
This series dries with its pro drying system.
Pro Drying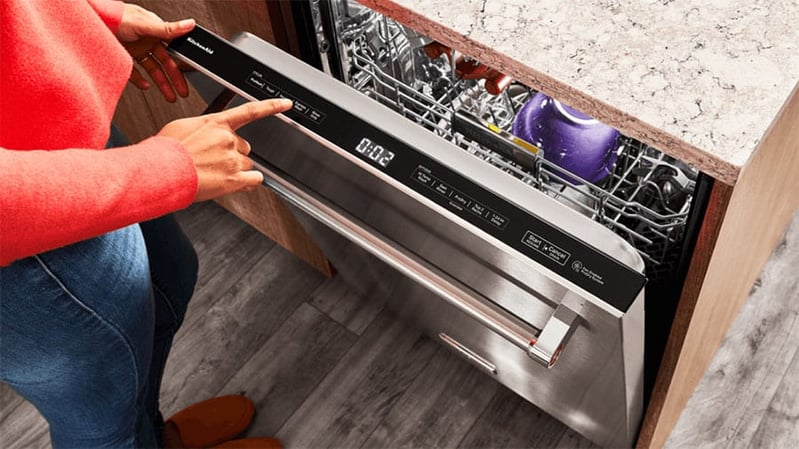 When the fan pulls air into the dishwasher, the warmer air is attracted to the cooler air and dissipates as water. It's like when you jog in the winter. It's the steam you see as hot and cold air merge and dissipate as steam rises from your head.
This sounds exactly like the Miele CleanDry system. Miele has a port for air to flow through, while KitchenAid uses a fan to pull the air. You have better washing and drying systems as well as largest rack.
The M series model adds a filter for cleaner water but is louder at 44 decibels than the less expensive 200 series in terms of quietness.
Water Filtration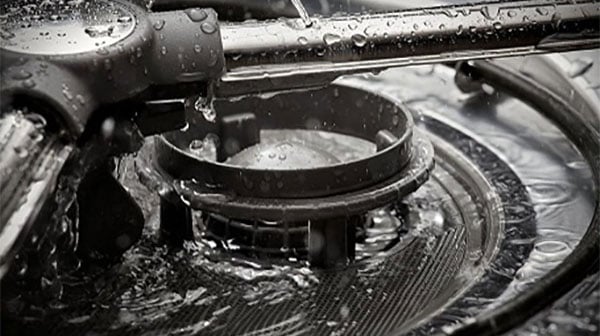 KitchenAid Dishwasher Filter
KitchenAid now employs two filters and a new system to ensure fresher water is cleaning the dishes on the bottom of the dishwasher.
Many companies have one filter, but now KitchenAid has more. In theory, this should work better. Remember, 44 decibels is still considered quiet.
Read More: Is the KitchenAid 600 Series Dishwasher KDTM604KPS a Good Dishwasher?
How Does KitchenAid Compare to Miele and Bosch?
In between $999-$1,299, KitchenAid is compelling.
KitchenAid vs. Bosch vs. Miele Dishwashers at $999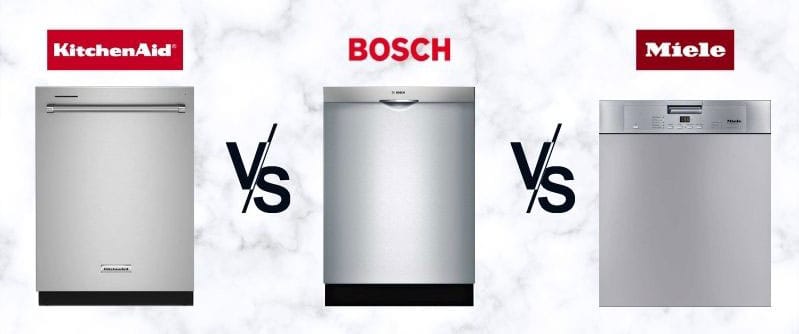 KitchenAid KDTE204KPS ($999) | Bosch SHS865WD5N ($1049) | Miele G5006 ($1099)
Miele offers their clean, dry system at $1099, so the air is infiltrated to the side, and the hot air is dissipated to water. It's similar to the better KitchenAid M series.
Bosch offers AutoAir drying, which automatically pops the door to release steam and heat and speed drying.
In terms of quiet, KitchenAid is the lowest at 39 dB, but they all meet the 44-decibel quietness standard.
KitchenAid vs. Bosch vs. Miele Dishwashers Over $1,299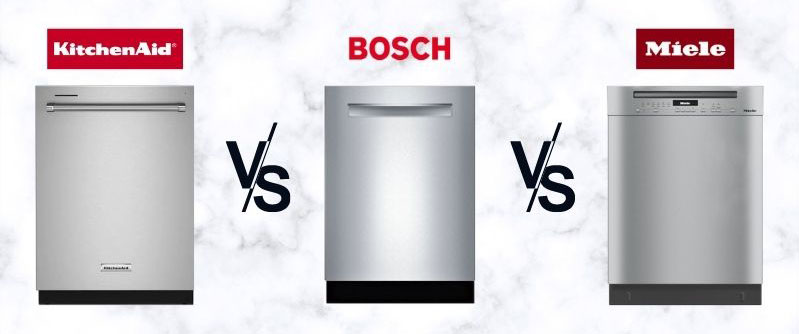 KitchenAid KDTM604KPS ($1,299) | Bosch SHP78ZPSN ($1,249) |Miele G7106SCUSS ($1,499)
At $1,299, KitchenAid is competitive. Miele only offers their better third rack and another cycle over their $1049 model.
Bosch has the best drying in their $1,249 CrystalDry dishwashers, which use volcanic elements to dry even plastic.
It works. We tested it in the Thermador 20-minute wash and dry cycle.
KitchenAid will have a better wash system, a bigger rack, and the Pro Dry system introducing cooler air into the dishwasher. Bosch and Miele will fit within a cabinet, but KitchenAid will protrude, so look at the other brands.
Over $1,249, Miele has the better selection of dishwashers. They have the "Auto Dos" automatic dispenser at $1,999. It's a 20-load dispenser automatically dispensing at the right time.
Should You Buy a KitchenAid Dishwasher?
Yes, between $999-$1,299, it could be considered for a good combination of washing, drying, racking, and quietness features.
You don't need to spend any more than $1,299 for a KitchenAid dishwasher.
Look at the other brands for more premium dishwashers over $1,300, especially if you place a panel on your dishwasher.
The best dishwasher KitchenAid may be one of the two available. However, you can also be happy with a Bosch or Miele.
Additional Resources
Get the Yale Dishwasher Buying Guide with features, specs, and inside tips for all the brands. Over 1 million people have read and trusted a Yale Guide.
Related Articles
Why Should You Trust Us?
It seems that every appliance review has nothing but glowing comments about almost every product, yet you read customer reviews and they are almost universally bad.
We are here to fill in the disconnect. We'll give you the best features, and the drawbacks as well, including reliability based on over 37,000 calls performed by our service team just last year. Our goal is to give you ALL the information so you know what's right for you.
Please consider subscribing or adding to the conversation in the comments below. We appreciate you stopping by.
A Note About Pricing
Pricing on this blog is for reference only and may include time sensitive rebates. We make every attempt to provide accurate pricing at time of publishing. Please call the stores for most accurate price.