Most Reliable Wall Ovens for 2022 (Reviews / Ratings)
Our Most Reliable Wall Ovens Brands for 2022 are:
You have far more options for wall ovens than any other cooking appliance.
Brands like Thermador, Wolf, and Miele dominate the high-end ovens with different cooking technologies.
The controls and convection systems are distinct, with steam integration and smart functionality.
That's all good until it isn't.
Like when your new smart oven doesn't work before Thanksgiving or another holiday when you are cooking for tons of people.
Before you spend $3,500 - $10,000 on a new wall oven, you should consider reliability and repair.
Finding a competent technician or any technician to fix a new smart oven will be incredibly hard.
COVID-19 and supply shortages have made service even harder.
The best way to avoid that particular nightmare before your next holiday is to buy a reliable wall oven.
Just as reliability and service rates are important for choosing a car, you should consider service when buying appliances, along with delivery and installation.
In this article, you will learn the most reliable wall ovens based on real service calls, not surveys and lab tests.
The Problem With Appliance Reliability
You won't find many appliance blogs with this type of information because retailers typically do not service your appliances after they are sold.
Consumer Reports and Wirecutter are good sources of features and differentiation of brands.
However, like most appliance bloggers, they cannot provide information on how the wall oven performs in your home.
That is your disconnect.
Every appliance store, blogger, and review site loves every product.
Yet every consumer review is just the opposite. Every personal review is about a bad product or experience.
The main problem happens after researching features and benefits, namely reliability and product service.
The following are the service rates of the most reliable wall ovens based on over 40,000 service calls logged last year.
You should read through this whole article because our recommendations are different than last year's.
Short on time? Get our free Wall Oven Buying Guide
How Wall Oven Reliability Is Calculated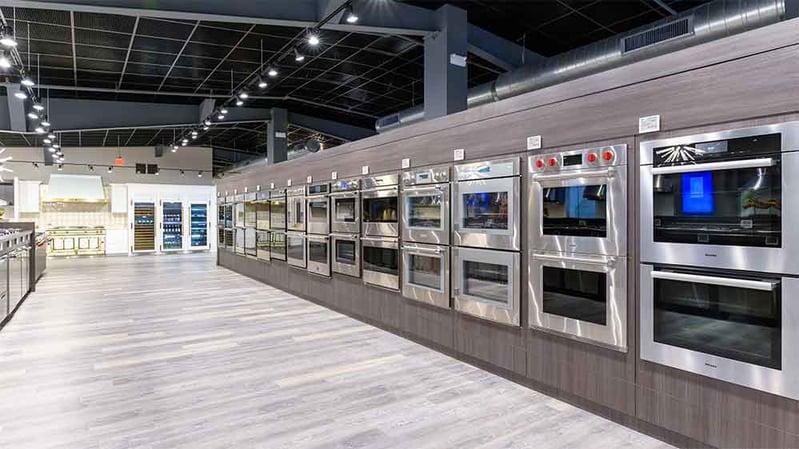 Wall Ovens at Yale Appliance in Hanover
We calculate appliance reliability by comparing the products sold to the products serviced by brand for one year.
We have 30-35 service techs taking 8-10 service calls a day, five days a week, plus another 110 calls over the weekend.
Our service team completed more than 40,000 service calls last year alone.
Are Wall Ovens More or Less Reliable Than Other Appliances?
Wall ovens need repair about 8.6% of the time within the first year, which is lower than the average by about 0.9%.
I would have expected wall ovens to be serviced more than the average appliance.
Many of these are sold as double ovens.
You would expect a larger percentage on having two wall ovens than a dishwasher or washing machine.
Then again, how many people use their second wall oven regularly?
There are also more installation and education issues with wall ovens than other appliances.
Read More: Most Reliable Appliance Brands
Most Reliable Wall Oven Brands for 2022
| | |
| --- | --- |
| | Service Rate |
| Miele | 6.3% |
| Bosch | 7.3% |
| Wolf | 7.6% |
| KitchenAid | 8.1% |
| Thermador | 11.2% |
| JennAir | 12.8% |
| Grand Total | 8.6% |
The figures above are based on a minimum of 100 wall ovens sold and over 2000 total pieces from December 2020 to October 2021.
The best premium ovens are Wolf and Miele. A 1.3% difference is not statistically significant, so they both qualify as the best.
Miele - 6.3%
Miele is an excellent wall oven. Their MasterChef controls are the simplest to use. Just input the food and how you want it cooked. The wall oven will set the time and temperature.
You also have steam assist in this wall oven to bake bread or caramelize the tops of lasagna and other foods.
Again, Miele simplifies the process with 17 automatic bread-making recipes.
Wolf - 7.6%
Wolf has similar controls to the Miele. Input the food, weight, and how you want it cooked, the oven calculates time and temperature. Wolf even shows you the best rack position.
Although Wolf does not have steam, they have the best convection delivery system using blowers instead of fans.
Wolf is also the most invested with parts and service after the sale for a better turnaround when there is an issue.
Bosch (7.3%) and KitchenAid (8.1%)
KitchenAid and Bosch are just regular self-cleaning convection wall ovens. They have basic features with no steam integration for guided cooking modes.
Yet, Bosch and KitchenAid are simple convection ovens worth considering for reliability. This has been a steady trend for several years.
Both offer decent support after the sale as well.
Learn More: Yale Wall Oven Buying Guide
Most Reliable Wall Ovens: Key Takeaways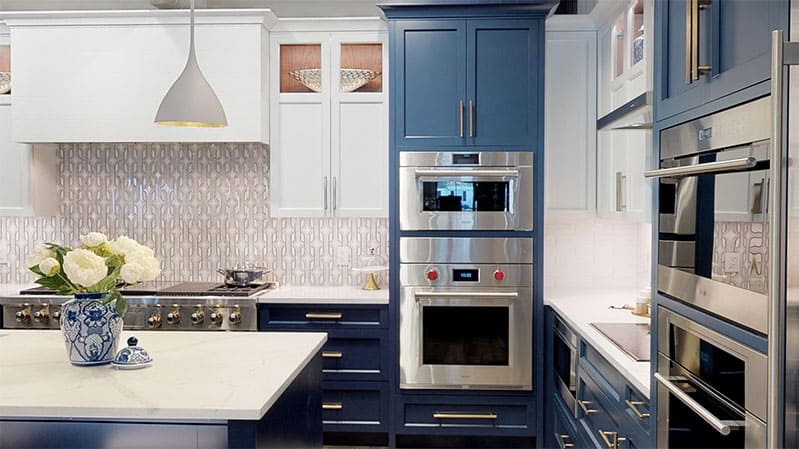 Wolf Wall Ovens at Yale Appliance in Hanover
Wall ovens were incredibly complicated to fix even before the advent of these new controls.
Remember, what is paramount is finding a service company to support you.
Technology is becoming more complex, so service becomes more of a challenge.
If you add all the service rates, cooktops, refrigerators, dishwashers, and wall ovens, you will need service on at least one appliance within 2-3 years.
Service has to be part of your buying process. Check reviews of every warranty service agent.
New wall ovens may be able to answer Alexa. That's cool. However, having a working wall oven before Thanksgiving is far more important.
Frequently Asked Questions
1. What is the best brand for wall ovens?
It depends. Samsung has the most reliable wall oven. Miele and Wolf have the best wall oven functionality. Bosch, Samsung, and KitchenAid have the best wall ovens for price and value.
Read More: Best Wall Ovens
2. Are wall ovens smaller than regular ovens?
Yes, marginally. A JennAir or KitchenAid slide-in range will give you the most capacity, but most wall ovens can fit a large turkey (except steam ovens).
3. What is the largest oven?
Wolf has the largest wall oven due to their blower convection on the sides rather than the back's fans.
Additional Resources
Confused about Wall Ovens? Get the Yale Wall Oven's Buying Guide with updated features, specs, and detailed profiles of the best brands like Miele, Wolf, Viking, Bosch, Thermador, and more. Over 1 million people have read a Yale Guide.
Related Articles
Most Reliable Appliances Series:
Why Should You Trust Us?
It seems that every appliance review has nothing but glowing comments about almost every product, yet you read customer reviews and they are almost universally bad.
We are here to fill in the disconnect. We'll give you the best features, and the drawbacks as well, including reliability based on over 37,000 calls performed by our service team just last year. Our goal is to give you ALL the information so you know what's right for you.
Please consider subscribing or adding to the conversation in the comments below. We appreciate you stopping by.
A Note About Pricing
Pricing on this blog is for reference only and may include time sensitive rebates. We make every attempt to provide accurate pricing at time of publishing. Please call the stores for most accurate price.