Now, wall ovens have cool new features. You can buy them with double convection, blower convection, with steam, or incredibly cool controls. You can even connect it into your Nest thermostat. It's all pretty amazing…when it works.
We will look at the most reliable products, but first, let's look at the methodology.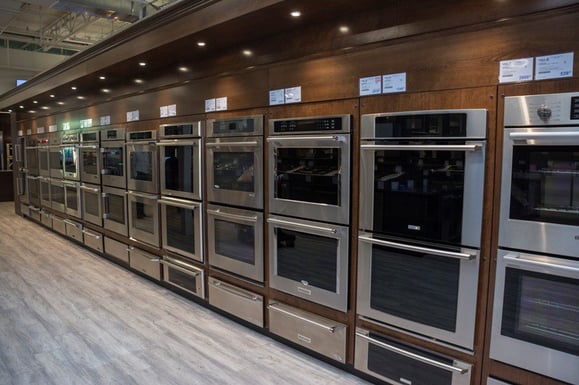 Most Reliable Appliances
Every year, I publish the most reliable and least reliable brands. Comparing the brands by type of appliance is a bit better, because certain products like refrigerators have a higher fail rate than dishwashers or ventilation hoods for example. Refrigerators are on 24/7 whereas dishwashers run sporadically.
Service Methodology
We have 22 service techs at 8-10 calls a day 5 days a week plus another 110 calls over the weekend. That is over 20,000 service calls per year. The measurement is service calls divided by sales for the service percentage over the first year.
We do not distinguish between major and minor calls. Anytime we have to send a service tech to your house, it counts as a service call. Damage and customer education calls do not count.
Most Reliable Wall Ovens
| | | | |
| --- | --- | --- | --- |
| Brand | Units Sold | Units Serviced | Service Rate |
| KitchenAid | 48 | 1 | 2.08% |
| Whirlpool | 47 | 3 | 6.38% |
| Miele | 159 | 11 | 6.92% |
| Wolf | 290 | 31 | 10.69% |
| Bosch | 405 | 46 | 11.36% |
| Bosch Benchmark | 159 | 22 | 13.84% |
| Thermador | 342 | 86 | 25.15% |
| Jenn-Air | 195 | 68 | 34.87% |
Which One Should You Consider?
Well, Miele is the best, but then again they do manufacture every component in their factory. Still, they have added steam and better functionality without the usual bugs. It is pretty impressive.
Add Wolf to your shopping list. They have a new convection delivery system and new controls in a brand new oven with only a 10% service rate in the first year. (By the way, the blower does make more noise sometimes)
Bosch is a reasonably priced, reasonable brand. Their new Bosch Benchmark wall oven seems to work well. Their Thermador brand, however, has not been improved and is at 25%.
I still think Jenn-Air is fantastic. Their controls are unbelievable. Some of their issues are questions rather than actual problems.
Whirlpool and KitchenAid are sold in builder jobs. It is hard to know whether the units are occupied yet. We will wait to validate the number.
Final Thoughts
The average service rate on a wall oven is 15.65% within the first year. Wall ovens are incredibly complicated to fix even before the advent of these new controls.
Watch how you change a light bulb in a wall oven:
What is paramount is finding a service company to support you. The technology is becoming more complex so service becomes more of a challenge.
If you add all the service rates, cooktop at 15%, a refrigerator at 29% and dishwasher at 11%, there is a 70% chance of needed service just in the first year.
Service has to be part of your buying process.
Most Reliable Appliances Series
Additional Resources
Confused about Wall Ovens? Get the Yale Wall Ovens Buying Guide with updated features, specs and detailed profiles of the best brands like Miele, Wolf, Viking, Bosch, Thermador and more. Over 160,000 people have read a Yale Guide.
Related Articles