The Most Reliable Wall Ovens (2023 Update)
The Most Reliable Wall Ovens Brands for 2023 are:
Key Takeaway: Look at reliable brands PLUS reliable service in your area. Google reviews in your area.
When it comes to cooking appliances, wall ovens offer the most options. The features can seem endless, from distinct controls and convection systems to steam integration and smart functionality.
But what happens when your high-tech, expensive oven fails right before a major holiday?
That's where reliability and repair come into play.
Before shelling out thousands of dollars for a new wall oven, it's crucial to consider the likelihood of breakdowns and finding an experienced technician to fix them.
Buying a reliable wall oven is the best way to avoid a holiday nightmare.
In this article, we'll delve into the most reliable wall ovens based on actual service calls.
Let's get started.
Short on time? Get our free Wall Oven Buying Guide
The Most Reliable Wall Oven Brands for 2023
The following service rates are based on a minimum of 50 wall ovens sold and over 1,200 total pieces from January 1, 2022 – December 31, 2022.
| | |
| --- | --- |
| | Service Rates |
| Café Appliances | 3.3% |
| Bosch | 4.2% |
| Miele | 5.7% |
| Thermador | 6.0% |
| KitchenAid | 8.0% |
| JennAir | 15.9% |
| Grand Total | 5.9% |
Café Appliances – 3.3%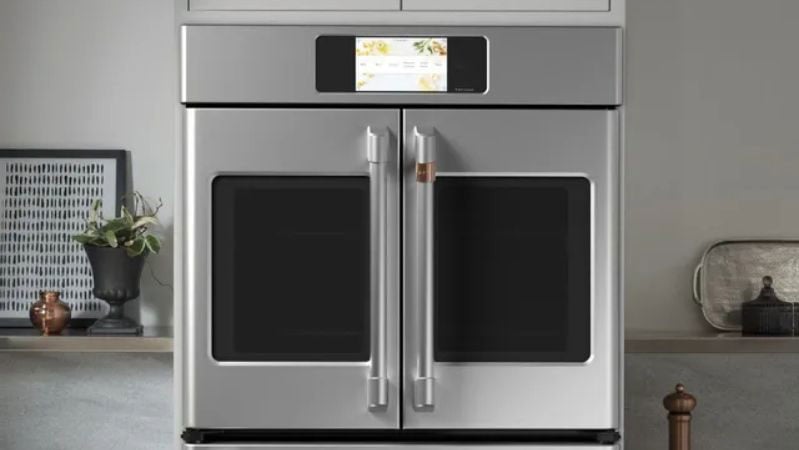 Café Appliances French Door Wall Oven
Most Café ovens purchased at Yale are French door wall ovens. You can access your food better in a side swing or French door than a traditional fold-down because you are not lifting that turkey or roast over a door.
Bosch - 4.2%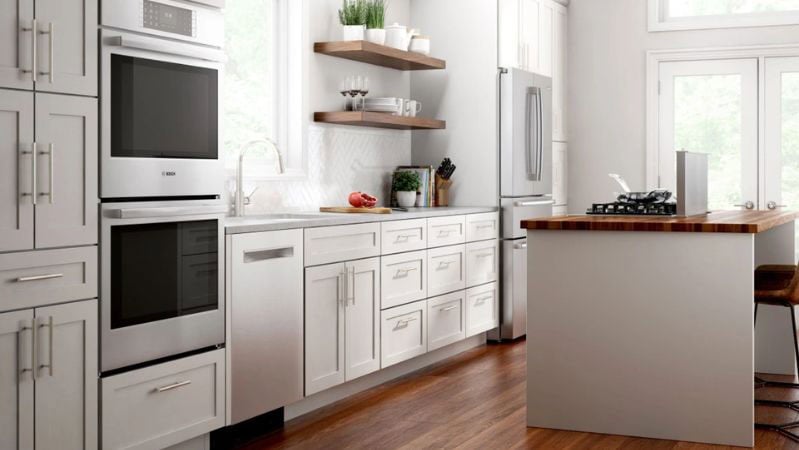 Bosch 800 Series Double Wall Oven
Bosch is just a regular self-cleaning convection wall oven. They have basic features with no steam integration or guided cooking modes.
Yet, Bosch is worth considering for reliability. This has been a steady trend for several years. Bosch also offers decent support after the sale.
Miele - 5.7%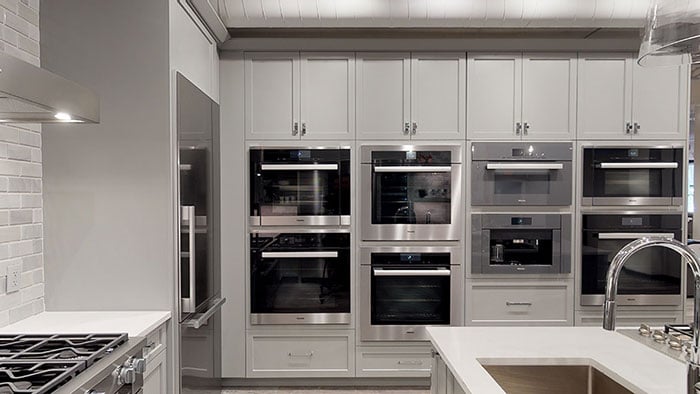 Miele Wall Ovens at Yale Appliance in Hanover
Miele is an excellent wall oven. Their MasterChef controls are the simplest to use. Just input the food and how you want it cooked. Then the wall oven will set the recommended time and temperature for you.
You also have steam assist in this wall oven and 17 automatic bread-making recipes.
Thermador - 6.0%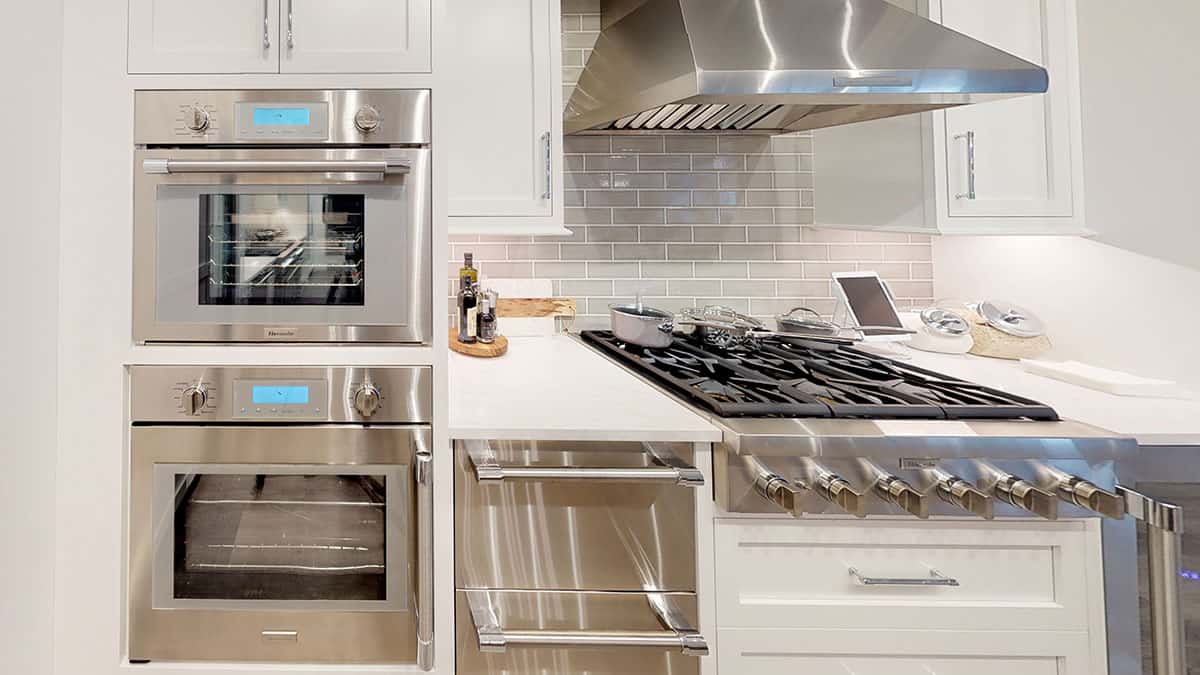 Thermador Wall Oven at Yale Appliance in Boston
Thermador is the high-end division of BSH along with Gaggenau. Thermador wall ovens have Wi-Fi, rotisseries, and better broil functions. However, they don't offer the same guided cooking system as Miele.
Then again, Thermador is less expensive with the option of having a free dishwasher or hood with qualifying purchases.
Learn More: Yale Wall Oven Buying Guide
How Wall Oven Reliability Is Calculated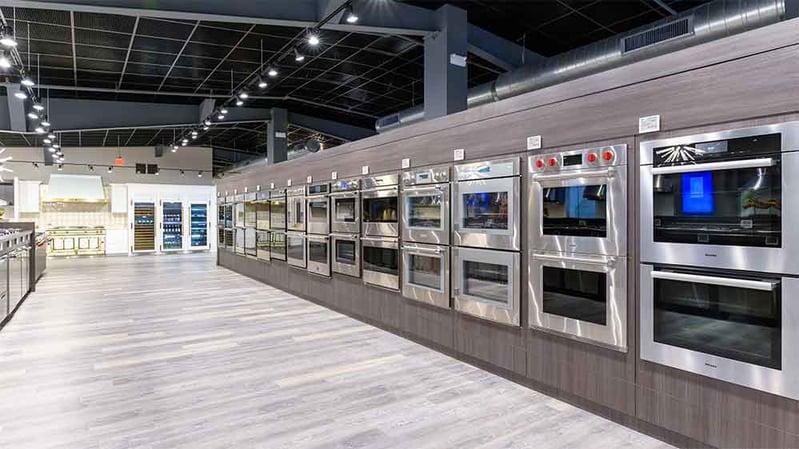 Wall Ovens at Yale Appliance in Hanover
To determine appliance reliability, we compare the number of products sold to those serviced by each brand over 12 months.
Our team of 30-35 service technicians handles 8-10 service calls per day, five days a week, and an additional 110 calls over the weekend, allowing us to gather comprehensive data on appliance performance.
In fact, our service team completed nearly 40,000 service calls last year alone, providing valuable insights into each brand's reliability.
Are Wall Ovens More or Less Reliable Than Other Appliances?
Wall ovens need repair about 5.9% of the time within the first year, which is lower than the average of 9.7% for appliances overall.
I would have expected wall ovens to be serviced more than the average appliance.
Many of these are sold as double ovens. You would expect a larger percentage of having two wall ovens than a dishwasher or washing machine.
You will have more installation and education issues with wall ovens than with other appliances.
Read More: Most Reliable Appliance Brands
The Problem With Appliance Reliability
It's difficult to find reliable information on appliance performance because few retailers offer servicing these days. In fact, fewer than 5% of all appliance dealers provide service.
While Consumer Reports and the Wirecutter are trustworthy sources for brand differentiation and features, they can't tell you how a wall oven will perform in your home.
Unlike appliance bloggers and review sites that tend to praise every product, personal reviews often highlight poor experiences with bad products or subpar customer service.
Many consumers have experienced frustration when their appliances fail right before important events like Thanksgiving.
Remember, even the most reliable appliance can fail unexpectedly, so purchasing your appliance from an appliance store with service is always a good idea.
Key Takeaways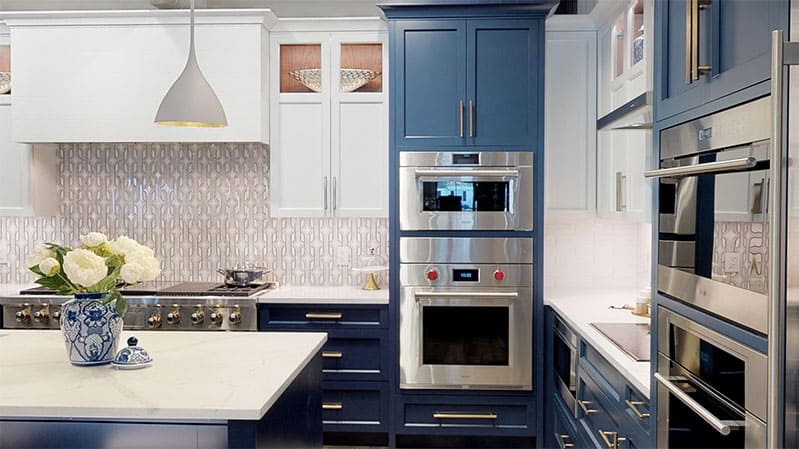 Wall Ovens at Yale Appliance in Hanover
Wall ovens were incredibly complicated to fix even before the advent of these new controls.
Remember, what is paramount is finding a service company to support you.
Technology is becoming more complex, so service becomes more of a challenge.
If you add all the service rates, cooktops, refrigerators, dishwashers, and wall ovens, you will need service on at least one appliance within two to three years.
Service has to be part of your buying process. Check reviews of every warranty service agent.
I know I sound repetitive. New wall ovens may be able to answer Alexa. That's cool. However, having a working wall oven before Thanksgiving is far more important.
Frequently Asked Questions
1. What is the best brand for wall ovens?
The best brands for wall ovens depend on your priorities. If reliability is your main concern, Café's wall ovens are the most reliable.
If you prioritize functionality, Miele is known for having the best features. Bosch and Thermador offer great value for money for those on a budget.
Read More: Best Wall Ovens
2. Are wall ovens smaller than regular ovens?
The size of wall ovens and regular ovens can vary. It's not necessarily true that wall ovens are always smaller than regular ovens in a range.
Wall ovens are designed to be installed into kitchen cabinetry and can be narrower than freestanding or slide-in ovens but can also be large enough to fit a turkey.
Regular ovens also come in various sizes, with freestanding ranges typically having larger capacities than wall ovens.
Overall, the size difference between a wall oven and a regular oven in a range depends on the specific models being compared.
3. What is the largest oven?
The largest wall oven available can vary depending on the manufacturer and model. However, many premium appliance brands offer wall ovens with a capacity of 5.0 to 6.0 cubic feet or more, considered large for a wall oven.
Some brands that offer large wall ovens include Thermador, Viking, JennAir, and KitchenAid.
It's best to research specific models and their dimensions to find the largest wall oven that fits your needs and kitchen space.
Additional Resources
Confused about Wall Ovens? Get the Yale Wall Oven's Buying Guide with updated features, specs, and detailed profiles of the best brands like Miele, Wolf, Viking, Bosch, Thermador, and more. Over 1 million people have read a Yale Guide.
Related Articles
Most Reliable Appliances Series:
Why Should You Trust Us?
It seems that every appliance review has nothing but glowing comments about almost every product, yet you read customer reviews and they are almost universally bad.
We are here to fill in the disconnect. We'll give you the best features, and the drawbacks as well, including reliability based on over 37,000 calls performed by our service team just last year. Our goal is to give you ALL the information so you know what's right for you.
Please consider subscribing or adding to the conversation in the comments below. We appreciate you stopping by.
A Note About Pricing
Pricing on this blog is for reference only and may include time sensitive rebates. We make every attempt to provide accurate pricing at time of publishing. Please call the stores for most accurate price.