Miele vs. Monogram Dishwashers (2023 Update)
Miele vs. GE Monogram Dishwashers: Which is better?
You are about to read an article about Miele vs. Monogram dishwashers, for which I am still trying to figure out a straight answer for you.
A case can be made for both Monogram and Miele, depending on how you wash your dishes. Another can be made depending on what else you are buying. And finally, a case can be made for buying neither.
In this article, you will learn about the features of both dishwashers and whether you should buy one or neither.
It will be interesting. Let's get started.
Short on time? Get our free Dishwasher Buying Guide
Miele Dishwashers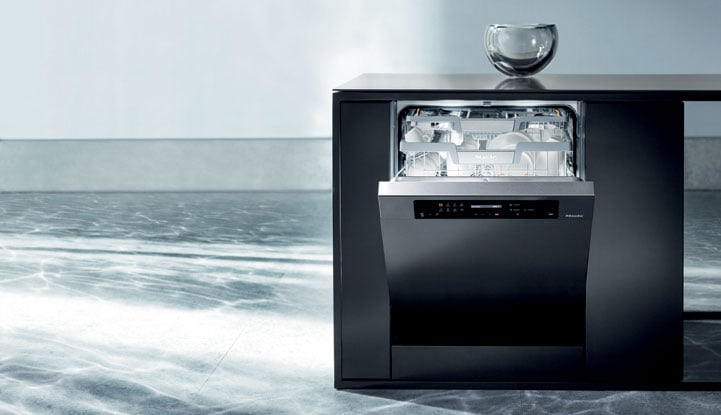 Miele G 7000 Series Dishwasher
Miele is based in Germany and is currently one of the largest family-owned appliance manufacturers in the world. Miele does not outsource dishwasher parts except the rollers under the racks.
The appliances are manufactured down to the component level in their one German factory, ostensibly for better quality control.
Below is their best and most competitive dishwasher in comparison with Monogram.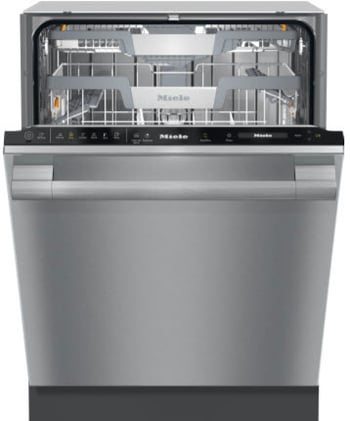 Features:
AutoDos PowerDisk – Automatic detergent dispensing for excellent results
Miele Home Connect – Communicate with your dishwasher via Miele mobile app
3D MultiFlex Tray – Create more space in the dishwasher with this flexible 3rd rack
Quick Intense Wash – Wash and dry dishes in less than one hour
Auto Open Drying – The door pops open automatically at the end of the cycle for better drying
China & Crystal Wash – Gentle and delicate wash with care
Intense Zone – High-performance cleaning in the lower basket
Water Softener – Prevents build-up of calcium on dishware and in the dishwasher
42 dBA – Low noise level
11 Wash programs
Energy Star Certified
Available in Stainless Steel or Panel Ready
Monogram Dishwashers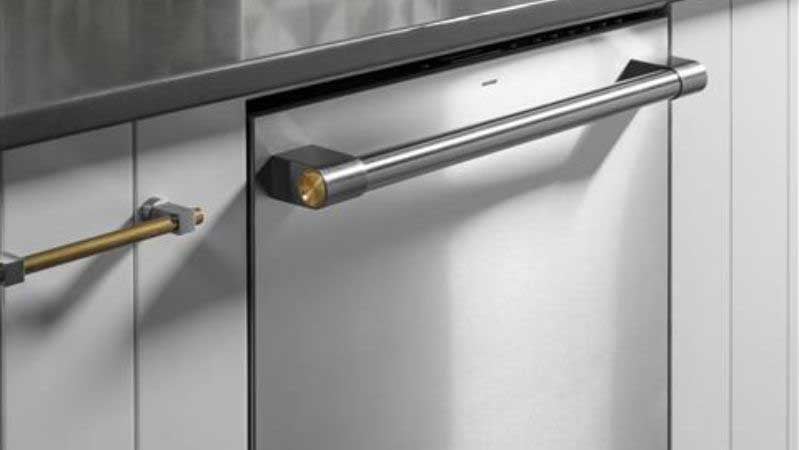 Monogram Dishwasher
Monogram was created in the late 1980s by GE as an ultra-premium line.
Monogram is made in the US and promises to elevate everything in the kitchen, from cooking to refrigeration.
However, the line became builder-grade with a need for more investment. Monogram, along with the rest of GE, was sold to Haier, a Chinese conglomerate, in 2017.
Hair transformed GE, especially the Monogram line, with exciting (dare I say) features across the whole line.
Their rebate program of $3,000 with qualifying purchases is interesting. Then again, so is this dishwasher.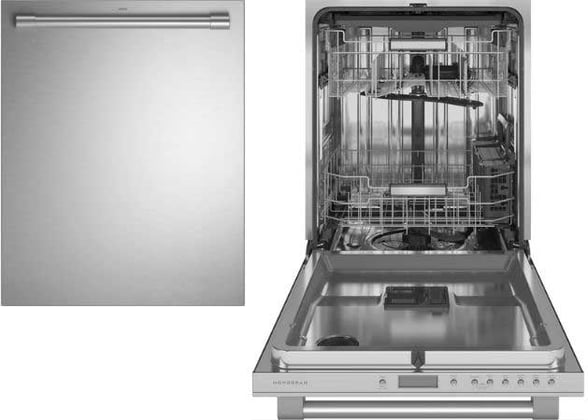 Features:
Advanced Wash System – Over 90 powerful jets deliver a better wash in every corner of the dishwasher
Hard Food Disposer – Grinds food into tiny particles that wash away with ease
42 dBA – Low Noise Level
Steam and Sanitize cycle – Loosen lingering traces of food particles in dishes using steam
Bottle Jets – Four dedicated jets integrated into the upper rack that sends water deep inside tall items
Interior LED Lighting
11 Wash Programs
Upper 3rd Rack for utensils and cutlery
Built-in Wi-Fi connection allows you to monitor the dishwasher from a mobile app
Sabbath Mode
Available in Stainless Steel or panel ready
Energy Star
Miele vs. Monogram Dishwashers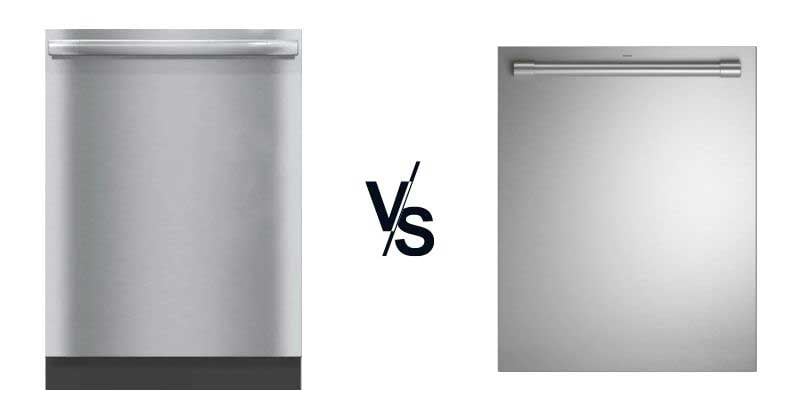 Dishwasher Silence Ratings
The standard silence rating for a quiet dishwasher is 44 decibels (dB). Miele and Monogram are below the standard at 42 dB making them noiseless and great options for an open kitchen. Your TV watching will be unfettered by a noisy dishwasher.
However, there is one big difference: Miele uses a filter you have to clean after every wash.
Monogram is the only dishwasher with a grinder under the 44 DB standard. You don't have to clean a filter in the Monogram.
Drying Performance
Both are excellent yet opposite.
Miele allows outside air into the dishwasher through a port at the bottom. The hot air is attracted to the colder and is dissipated as water.
The door on the Miele also pops open at the end of the cycle to reduce steam and heat from inside the dishwasher.
Monogram uses a fan to pull heat from the dishwasher to dry every dish, silverware, and plastic container you may have in the dishwasher.
Read More: Best Drying Dishwashers
Dishwasher Rack Design
Both have a third rack on the top and an adjustable rack for glasses. The Miele 3rd top rack slides and extends to fit more on the rack below, like a taller wine glass. However, both are good.
Washing Performance
This answer for the best washing performance is more complicated. In terms of wash action, Miele is amongst the best with three full wash arms, whereas the Monogram has two wash arms and several sprinkler heads on the top, similar to a Bosch dishwasher.
Unique Features
Miele AutoDos Dispenser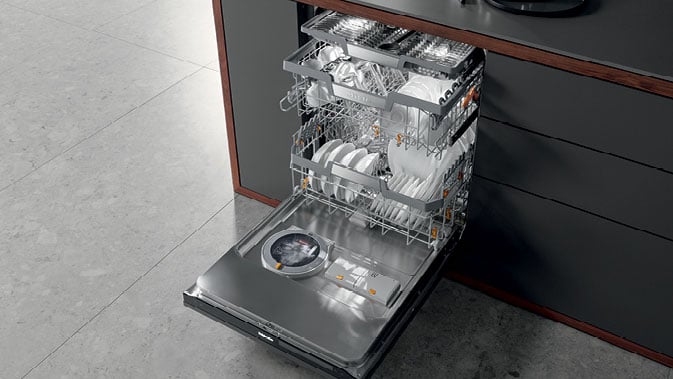 Miele Dishwasher with AutoDos and PowerDisk Automatic Detergent Dispenser
Miele first revolutionized automatic dispensing in their compact washers. Now, they've incorporated them into their dishwashers. Their AutoDos dispenser releases the exact amount of detergent needed at the right time for optimum washing.
With PowerDisk, Miele's dishwasher can hold up to 20 dishwasher cycles of detergent, so you don't have to keep refilling it.
Monogram Silverware and Bottle Wash Sprays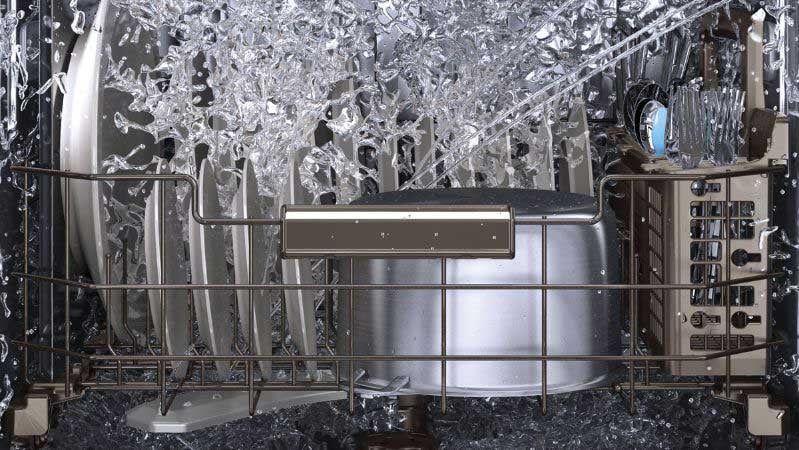 Monogram Dishwasher Wash-System
The Monogram is equally compelling.
You have a third rack for silverware, but you also have a silverware basket with 40 separate sprays to power out any sticky food off your forks, knives, and spoons.
In addition, Monogram dishwashers have four separate bottle washes designed to thoroughly clean the protein residue off the bottom of taller sports bottles.
Reliability
Although we service what we sell, most dealers do not. Generally, Monogram has the best service network for any brand. Service is the reason Haier bought GE.
Read More: Most Reliable Dishwashers
Miele vs. Monogram Dishwashers: Which Should You Buy?
You have two dishwashers with similar reliability, the same quietness, and a few different features.
Miele may have the pedigree, but the Monogram has good features and the best service department in the industry.
Your choice depends on what you value and where you are buying your new dishwasher.
That's my typical conclusion. After all, it's your decision. I respect that.
But this comparison is a challenge. So, let's look at a few other considerations.
If You Are Buying Additional Appliances
Monogram has a rebate program of up to $3,000 when buying other qualifying Monogram appliances. The Monogram dishwasher can net down to $600 after applying a qualifying rebate.
In addition, Miele has 10% rebates with qualifying purchases. However, Miele has not had any rebates as of late.
Always be mindful of rebates and the qualifying models when buying either.
If You Are Not Buying Additional Appliances
Another option is to consider the GE Profile PDT755SYRFS dishwasher.
Monogram ZDT925SPNSS vs. GE Profile PDT755SYRFS Dishwashers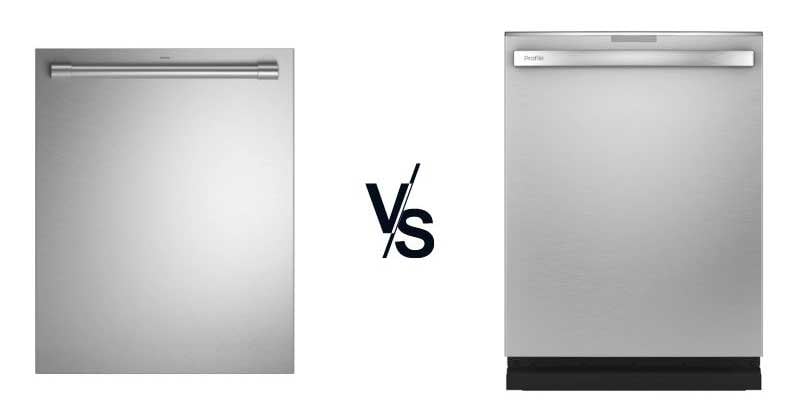 GE Profile is another GE brand, but ironically has similar features as the Monogram with the same wash system, drying system, and 42 dB silence rating with a grinder.
It's also $1,000 less than the Monogram at $999.
If you are considering just the Monogram dishwasher and not buying additional appliances, take a hard look at the GE Profile.
If you are buying other Monogram appliances, the price of the Monogram will be less at roughly $600.
Key Takeaways
Much of what I said before stays the same. Both are good dishwashers with excellent silence ratings. However, buy the GE Profile dishwasher unless you plan to buy a kitchen appliance package.
If you're buying a kitchen of appliances, I'd suggest the Monogram. Then again, buy the Miele dishwasher if you like its features better.
Additional Resources
Get our free Dishwasher Buying Guide with tips, trends, and reviews of all the major brands. Over 1 million people have already found answers in a Yale guide.
Related Articles:
Why Should You Trust Us?
It seems that every appliance review has nothing but glowing comments about almost every product, yet you read customer reviews and they are almost universally bad.
We are here to fill in the disconnect. We'll give you the best features, and the drawbacks as well, including reliability based on over 37,000 calls performed by our service team just last year. Our goal is to give you ALL the information so you know what's right for you.
Please consider subscribing or adding to the conversation in the comments below. We appreciate you stopping by.
Roger Pontes
Roger Pontes has been with Yale Appliance for over 10 years. He's worked in both the lighting and appliance department over the years. Roger truly enjoys helping people. He's a married father of 2 kids, a boy and a girl. On his spare time Roger enjoys spending time with his family and playing sports.

Schedule a showroom visit with me
A Note About Pricing
Pricing on this blog is for reference only and may include time sensitive rebates. We make every attempt to provide accurate pricing at time of publishing. Please call the stores for most accurate price.