September 8th, 2023 | 8 min. read
Miele vs. Bosch Dishwashers: Which Brand is More Reliable?
Let's start with reliability.
Many reviewers will talk about reliability and possibly distort it.
You are looking at service percentages based on 34,000+ service calls for all dishwashers logged by our service team just last year.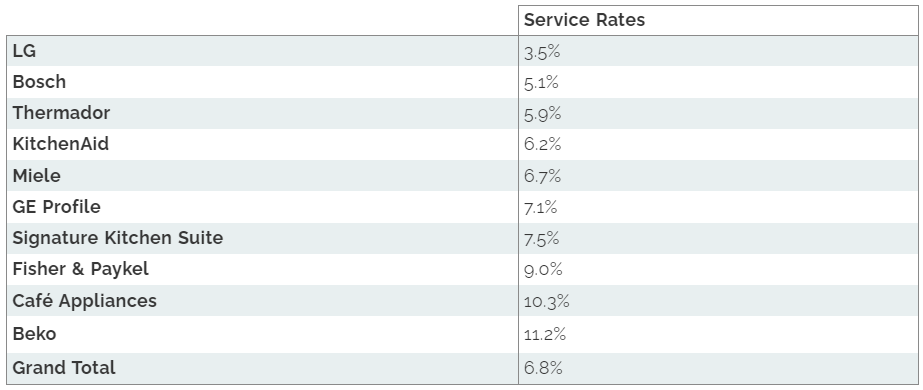 While both talk about reliability and 20-year life, LG is the most reliable dishwasher at 3.5%.
That said, both are reliable with Boscch being better at 5.1% versus Miele at 6.7% with an average at 9.5%.
1.6% is not statistically significant enough to convince you of Bosch over Miele.
However, Google service in your area to see which company is more responsive when problems do occur.
Let's look at both companies.
Bosch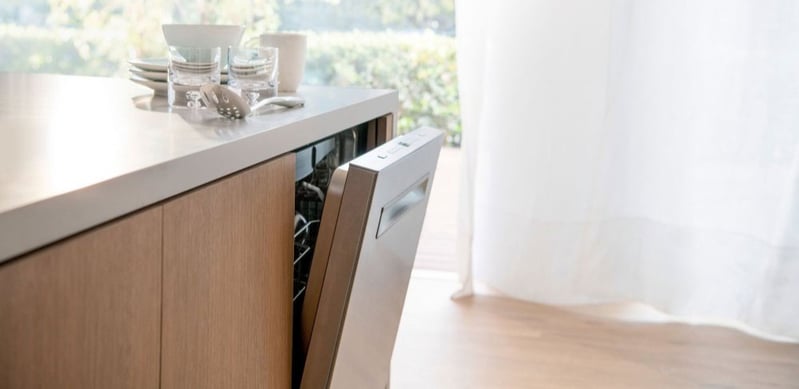 Bosch is a German company but operates the largest dishwasher manufacturing facility in New Byne, North Carolina.
Dishwashers are Bosch's most known product. Miele may have been the first importing dishwashers in the US, but Bosch was the first with quiet, affordable dishwashers.
Bosch has improved their dishwashers especially drying, in the last year with the AutoAir and CrystalDry cycles.

Their new Power Control wash system is also a vast improvement in washing dishes.
Read More: Best Bosch Dishwashers
Miele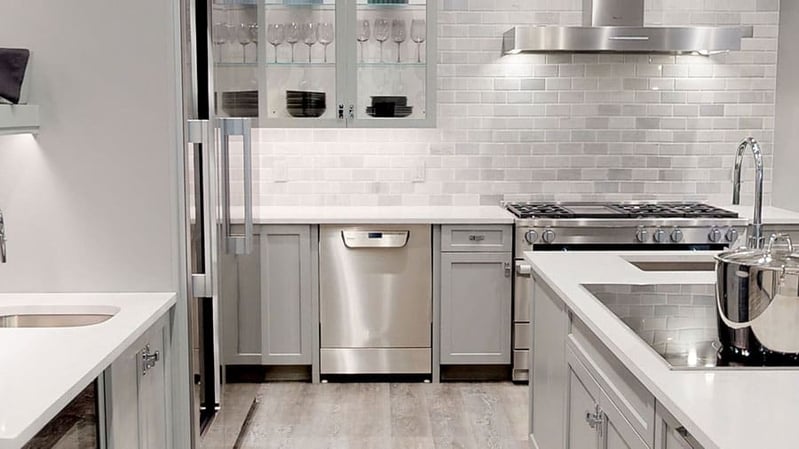 Miele is the largest family-owned appliance manufacturer operating from one factory in Germany.
They are slated to open their second in the US.
Unlike every other company, Miele still manufactures its components instead of outsourcing globally.
Miele also pioneered stainless interior dishwashers with drying capabilities with CleanDry and automatic opening doors.
Their new G7000 dishwashers employ the newer dispensing technology, the AutoDos, to wash more completely than any other brand.
Read More: Are The New Miele G 7000 Dishwashers Any Good?
Bosch vs. Miele Dishwashers
Where They Do Not Compete
Although Bosch and Miele are the best-known premium brands, they only compete between $1299-1799
Bosch starts at $549 and has dishwashers to $1,799, while Miele starts at $1299 and has their professional dishwashers at $6,000.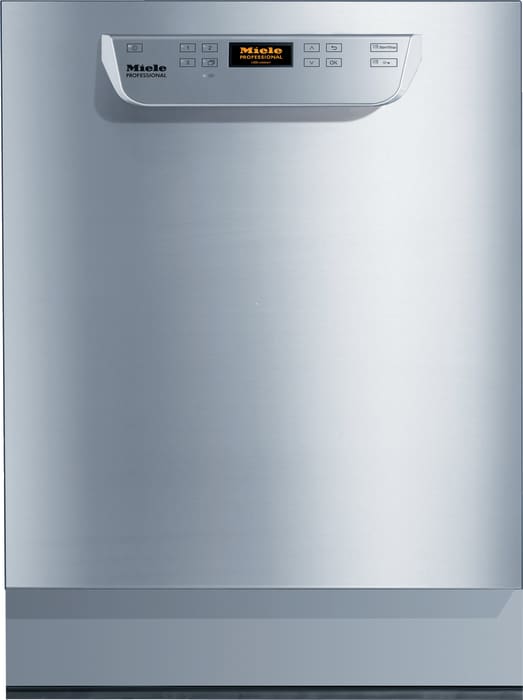 The Miele Pro
What Bosch and Miele Dishwashers Have in Common
Panel-Ready Dishwashers for Custom Cabinets: You can place a panel on either of these dishwashers seamlessly.
They will look like your cabinet, not like a dishwasher with a panel, because they do not protrude past the cabinet.
It's not a given, KitchenAid and GE both protrude.
Safety: Miele has a double insulated tub.
Bosch has the sensor-driven AquaStop which uses sensors to shut off the water. The AquaStop Plus will even pump it out of the dishwasher.
Please note if you are reading this in a Boston condo on the 37th floor or any other tower.
Stainless Tubs: All premium dishwashers are. Stainless is more hygienic than plastic and doesn't retain odors.
Note: We are comparing similar prices. Bosch has lesser expensive 100 series of plastic and stainless
Multiple Styles: Bosch has five styles, with one panel-ready, and Miele has 3 and 1 panel. Both have pocket-style handles to blend in with other appliances

Bosch Dishwasher Styles
Miele vs. Bosch Quietest Dishwashers
44 decibels is the standard for quietness meaning you can watch TV and not hear your dishwasher in an open kitchen
You can buy both Miele and Bosch as low as 38 dB, but the noticeable noise difference is not that great.
I say that because people tend to overbuy for quietness.
For example, you can buy a 44 dB Bosch at $1,149, a 40 dB Bosch for $1,349, or a 38 dB Bosch at $1,799, assuming you want just basic features, the $1,149 is fine.
Miele is 44 decibels and over $3000 for a 38 decibels
Both are quiet.
However, on Miele's most expensive 38-decibel 7000 series dishwashers, the motor slows for a longer 4-hour cycle.
Read More: Quietest Dishwashers By Decibel Rating
Bosch vs. Miele Dishwashers: Drying
Miele is known for drying with its CleanAir system. It's so simple you have to wonder why others don't copy it. (Samsung did in part while Profile reversed it).
In a Miele dishwasher, the port on the bottom allows air to the side of the dishwasher. Steam and heat are attracted to the cooler side and dissipate as water.
On the better Miele models, you have two ports, so air is infiltrated to both sides.
Miele also pops the door open in their dishwashers.
It's a great feature, especially if you wash overnight.
The steam doesn't leave residual moisture on your dishes.
Bosch calls their dishwasher opening cycle "AutoAir," but you can buy that feature for $1,149.
Bosch CrystalDry
The best drying dishwasher is Bosch's 800 series and Benchmark dishwashers with CrystalDry.
It uses Zeolite, a volcanic mineral, to absorb moisture and emit heat.
So if you use a lot of plastics, Bosch CrystalDry is probably the best dishwasher to consider.
Note: Don't put plastic over the Zeolite dispenser in the back it will melt.


Bosch vs. Miele Dishwashers: Dishwasher Racks
Miele again was the first with the third rack for silverware. Everyone copied it to a certain extent, including Bosch.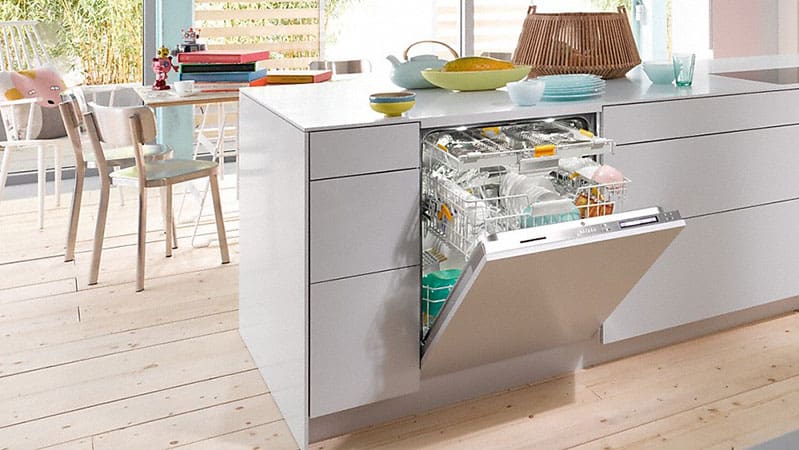 Third racks are a good way to add more room for plates at the button by moving the silverware up top.
Miele's rack is technically better if you have fine silverware because it locks it in place.
The silverware won't budge and scratch by moving into each other during the wash.
Both have adjustable top racks.
Bottom Racks: Miele will be better as you progress as more will flip up or be removable to fit odd-shaped dishes.
Anything with an orange tab is movable or foldable in a Miele.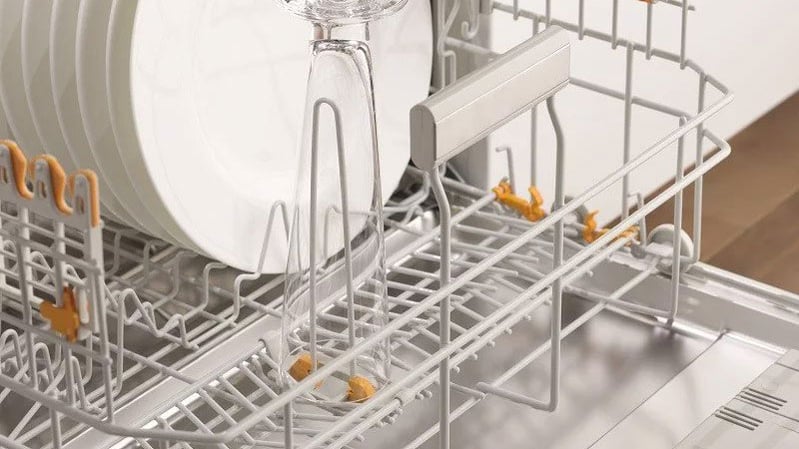 Miele Dishwasher Bottom Rack

Miele has a fold-down 3D rack so you can fit larger items in the second rack.
Miele vs. Bosch Dishwashers: Washing
Both will wash your dishes.
However, if you look closely, Miele has a better washing system.
It has a full wash arm on the top versus a sprinkler head up top for Bosch.
It may be an issue if you load up that third rack. Miele should be considered slightly better.
Power Control: However, at $1349, the Power Control of Bosch adds the ability to be flexible.
You can control the spray to be light, medium, or heavy.
It's simple to do with Wi-Fi through Bosch's HomeConnect app and essentially divides that bottom rack into four areas.
I will describe it in greater detail in the comparisons section.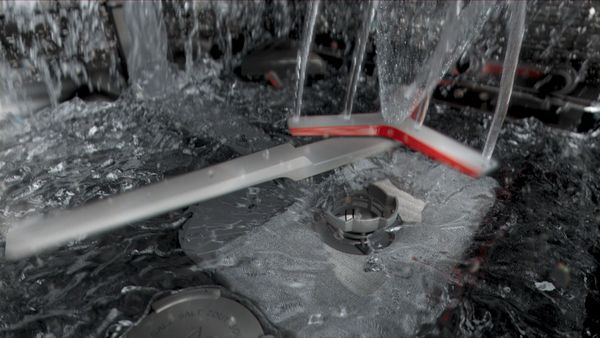 Power Control Spray Arm
Bosch vs. Miele: Wash Cycles
The Germans (Miele) don't believe in many cycles, whereas the German Americans (Bosch) do.
Let's look at the control panels of both.

At $1,349 both Miele and Bosch will have five cycles, but Bosch adds five options.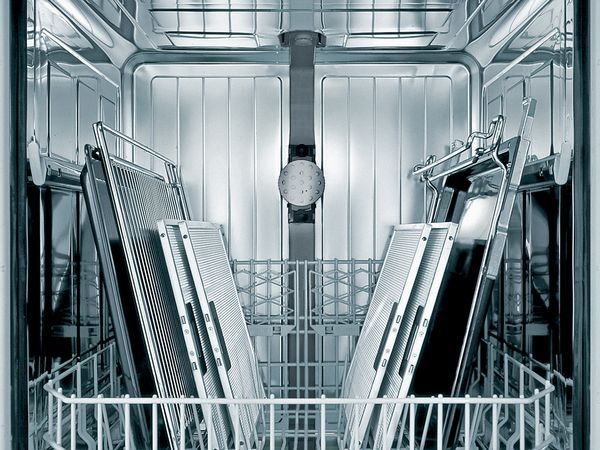 Miele G5056SCISFP ($1,299) vs. Bosch SHP78CM5

N (

$1,349)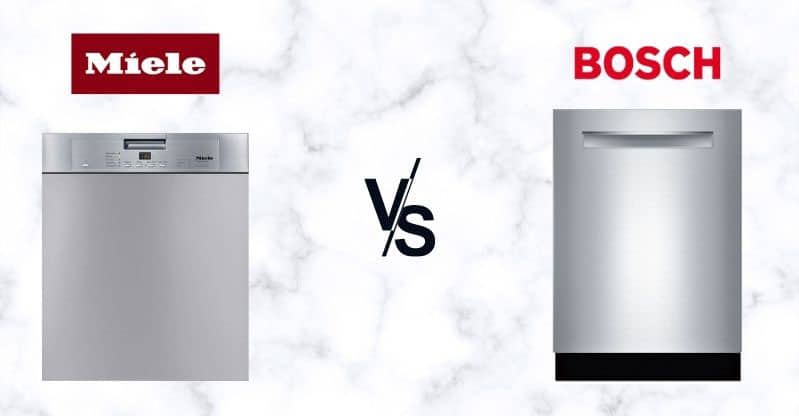 The key cycles are almost identical between these two dishwashers. Miele has the QuickIntenseWash cycle at 58 minutes, whereas Bosch has the Speed60 at 60 minutes.
Key Differences
Quietness: Both are quiet with Miele at 44 decibels and the Bosch technically a bit quieter at 42 decibels.
Racks: The racks are identical with an adjustable top rack.
However, the third rack in the Miele is technically superior (shown below). It holds the silverware, so they stay in place.
If you are washing fine flatware, Miele is the better choice.
Drying: Miele allows air into the sidewall of the dishwasher. The hot air is attracted to the cooler side to liquefy and drain the steam.
It's a good system.
Think of when you are watching a winter football game and you see the steam from the players. Hot air is attracted to cold.
The door also pops open allowing heat and residual moisture to escape.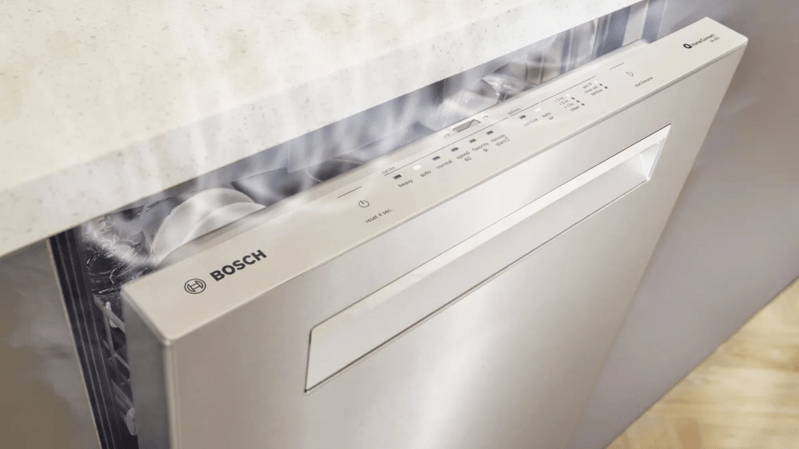 Bosch has the same system in their lesser expensive 500 series.
If you wash before bed, sometimes you have that thin coating of moisture on your glasses and dishes.
The steam converts to water, so an auto-opening door will prevent that.
Bosch CrystalDry: CrystalDry is still the better option because it employs zeolite to absorb moisture and increase heat to dry even plastics.
Both are excellent but Bosch is a bit better.
Washing: At one time, I didn't think anyone could improve Miele's wash system.
You have three full arms washing versus usually two and a sprinkler head as is the case with Bosch.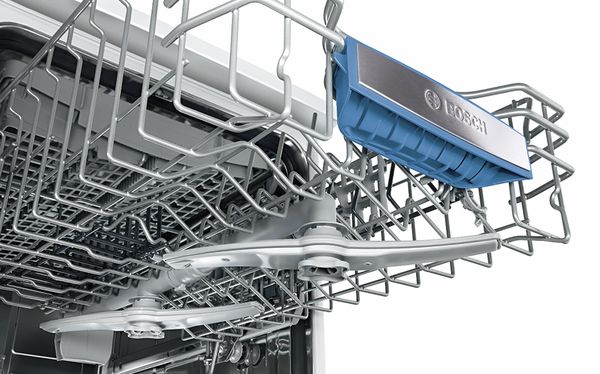 With a third rack, directly under, I thought it was important.
Bosch Power Control
Power control is Bosch's newest feature.
This propeller-looking object allows you to control the intensity of the wash from light, medium, or high?
You can even divide the rack to be half and half.
So if you want to wash a dishwasher full of china, you can do that in a Bosch.
If you want to scour a bunch of lasagna pans, the Bosch Power Control will allow you to do that as well.
The Bosch HomeConnect App allows you to customize your cycles easily including the washing of Power Control.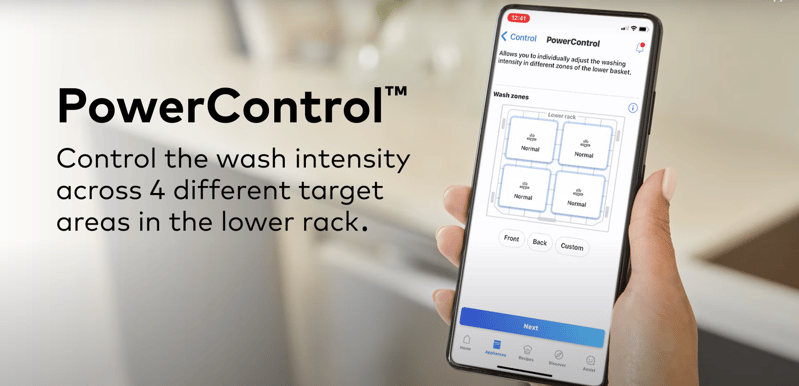 Miele G7366SCVISF ($2,299) vs. Bosch

Benchmark (

$1,799)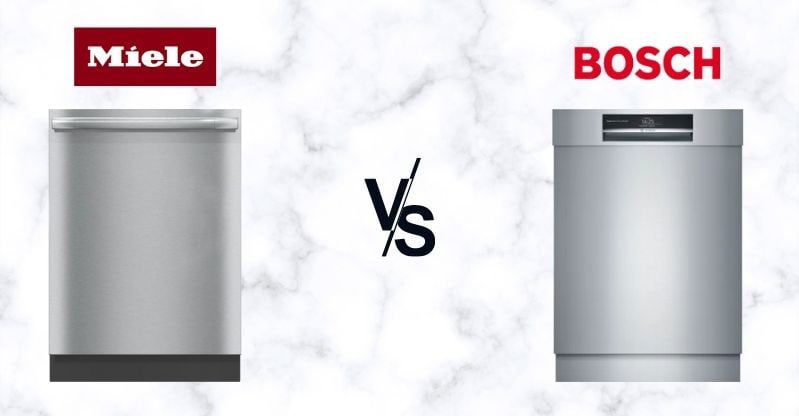 Benchmark was never a good consideration until last year, but they lower the price and added features like quietness.
However, Miele is different with their new G7000 series and "AutoDos" dispensing system.
Bosch Benchmark Vs Miele G7000 Series Differences


Quietness: Bosch will be quieter. It is 38 dB versus 43 for the Miele.
Remember, 44 is the standard for not hearing your dishwasher.
Cycles: Once again, cycles are similar. QuickIntenseWash adds water pressure to wash in 60 minutes, whereas Bosch Express 60 doesn't.
The Miele, 50% cycle, is cool as it is a special sensor to determine half load or full load.
Racks: Miele has more adjustable than Bosch in the bottom rack. The 3rd cutlery tray on top dubbed, "the 3D", is more flexible as well.
Wash System: The wash system is the same as the top with Miele have the three full spray arms versus two for Bosch. You do have the Power Control system in the Benchmark as well
Drying: Miele is excellent with the system described above, but has two ports for air instead of the one in the G5000 series above, plus the automatic door opening.
Bosch is still a bit better with the same zeolite drying system to absorb moisture and emit heat
Miele AutoDos Dispensing: Like their incredibly successful laundry, you can load up to 20 loads with each "Power Disk."
I used to think dispensing was not a big deal.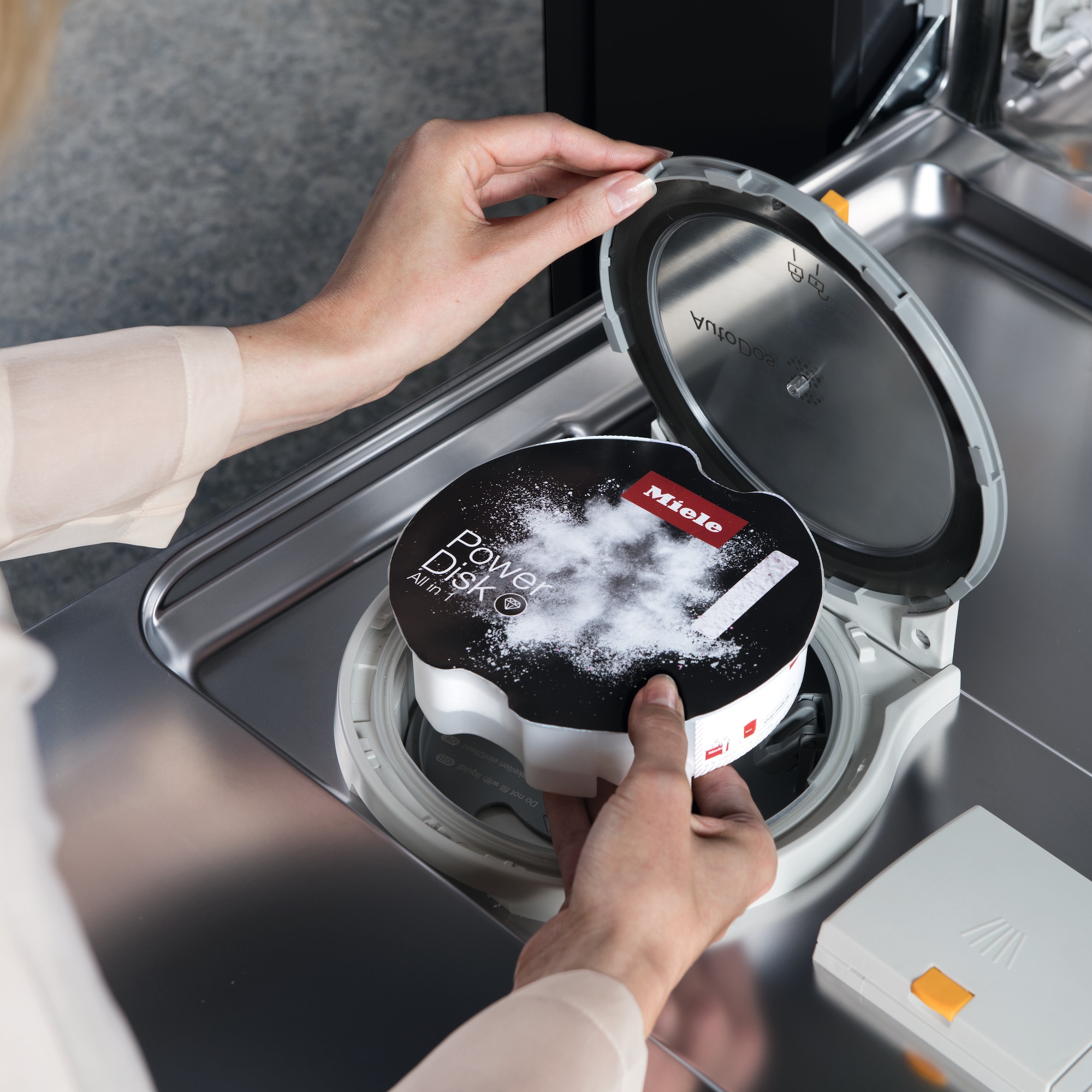 However, dispensing is a big deal as anyone after opening their dishwasher and finding a half opened pod on their silverware can attest
The AutoDos does open at the right time, and people report the cleanest dishes ever.
Miele will wash better throughout the dishwasher yet doesn't have the ability to change intensity and isn't as flexible as the Bosch Power Control.
Bosch Vs Miele Dishwashers

: When

Do You Buy?
Both are great dishwashers.
However, Miele is more promotional than Bosch with $250 mail-in rebates and $200 installation rebates at different times of the year.
In a comparison this close, incentives could be a deciding factor
Miele vs. Bosch Dishwashers Conclusion
First, both are great brands. They both set the standard for premium dishwashers.
It really depends on what features you value.
Miele has a good combination of washing, drying along with the best racks. Their AutoDos dispenser really works as gimmicky as it sounds.
Bosch reimagined washing and drying with the zeolite drying and now the Power Control washing. You have better flexibility in washing in that lower rack versus better racking and dispensing in the Miele.
However, Miele will have $450 in incentives at certain times of the year which could be a tiebreaker.
Bosch vs. Miele Dishwashers
FAQs
Answers to the most commonly asked questions about Bosch vs. Miele dishwashers.
Which brand, Bosch or Miele, offers more advanced cleaning technology?
Are Miele dishwashers as quiet as Bosch?
Do Miele dishwashers have panel-ready options like Bosch?
Are Miele dishwashers more energy-efficient than Bosch?
How do Bosch and Miele dishwashers compare in terms of longevity?
What makes Miele dishwashers stand out in terms of design?
Which brand offers more budget-friendly options: Bosch or Miele?
Additional Resources:
Download our Yale Appliance Dishwasher Buying Guide for info on the latest trends, brands, and models. You can compare Miele and Bosch to KitchenAid, Beko, Samsung, LG, and more.
Almost 1,000,000 people have read a Yale Guide.
Related Articles:
Why Should You Trust Us?
It seems that every appliance review has nothing but glowing comments about almost every product, yet you read customer reviews and they are almost universally bad.
We are here to fill in the disconnect. We'll give you the best features, and the drawbacks as well, including reliability based on over 37,000 calls performed by our service team just last year. Our goal is to give you ALL the information so you know what's right for you.
Please consider subscribing or adding to the conversation in the comments below. We appreciate you stopping by.
A Note About Pricing
Pricing on this blog is for reference only and may include time sensitive rebates. We make every attempt to provide accurate pricing at time of publishing. Please call the stores for most accurate price.