Most Reliable Regular Front Load Washers for 2018 (Reviews / Ratings)
Back when I was selling washers in 1986, the Maytag A506 was the most popular washer. The top load had one speed and a cycle for delicates. The reliability sold the machine because back then you would expect a 15-20-year life out of a Maytag.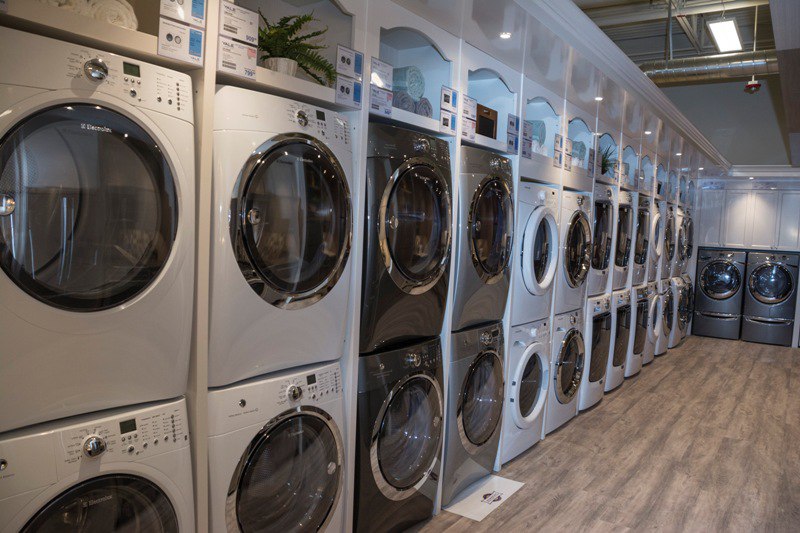 Now every machine has 5 speeds, 5 rinse combinations, and more cycles for every possible fabric type with almost twice the capacity. You should look at reliability because capacity and cycles/options are more than you will probably need.
In this article, we will look at the most reliable machines in regular washer and dryers with actual numbers. Let's look at the methodology.
Short on time? Get our free Washing Machine Buying Guide
Let's look at the methodology.
The Reliability Methodology
We have 27 service techs on 8-10 service calls per day, 5 days a week with 110 on the weekend. To be exact, we had 30,761 appliance service calls booked in 2017.
In the chart below, you will see sales in the right column and service calls on the left. The percentage is calculated by service calls divided by sales.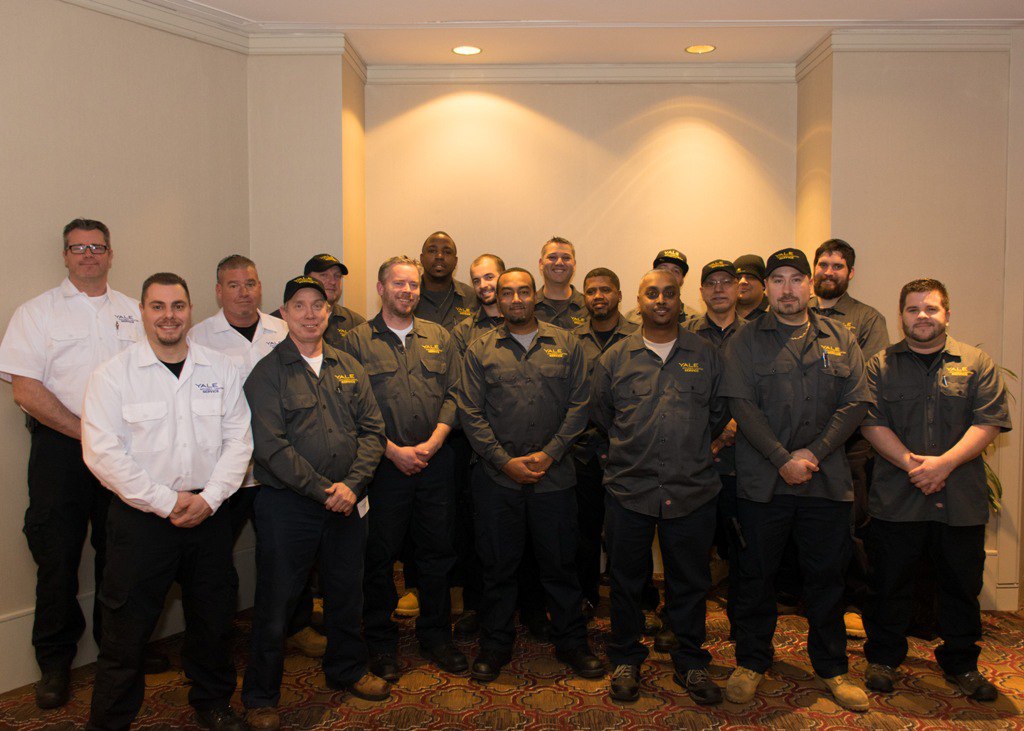 Yale Appliance Service Team
It is the fairest measure of initial quality. However, we do not distinguish between a major or minor call. If you need us to send a technician, it counts. Customer education phone calls and damage are not applied.
These numbers also do not include people who do not call us in the first year. Most do because we fix the unit for free within the first year.
Most Reliable Regular Front Load Laundry
The average rate for washers is 11.73% service within the first year.
We looked at full-size washers from Whirlpool, Maytag, Samsung, LG, Electrolux, Speed Queen, and Frigidaire. Many people asked for previous year's reliability numbers. Below you will find 2016's report as well as 2017's statistics for comparison.
2016 Reliability Statistics
| | | | |
| --- | --- | --- | --- |
| | Units Sold | Units Serviced | Service Rate |
| Whirlpool | 210 | 12 | 5.7% |
| LG Electronics | 164 | 12 | 7.32% |
| Maytag | 252 | 22 | 8.73% |
| Samsung | 166 | 19 | 11.45% |
| Electrolux | 1,867 | 280 | 15% |
| Frigidaire | 147 | 34 | 23.13% |
| Speed Queen | 37 | 10 | 27.03% |

2017 Reliability Statistics
| | | | |
| --- | --- | --- | --- |
| | Units Sold | Units Serviced | Service Rate |
| Whirlpool | 524 | 20 | 3.82% |
| LG Electronics | 320 | 17 | 5.31% |
| Maytag | 1,124 | 74 | 6.58% |
| Samsung | 154 | 12 | 7.79% |
| Electrolux | 1,549 | 295 | 19.04% |
| Speed Queen Commercial | 13 | 3 | 23.08% |
| Frigidaire | 86 | 21 | 24.42% |
| Speed Queen | 44 | 16 | 36.36% |
Maytag and Whirlpool look to be the most reliable again in 2017 and 2017. Most of the time, the brand produces the same machine with a different door and feature package.
They also have the fastest turnaround time with parts, so you (and we) should not wait very long for a repair.
The Korean brands, LG and Samsung, are decent as well, especially for the technology. However, the turnarounds are a bit slower.
The best 4 brands are all better for reliability than 2016.
Electrolux and Frigidaire had new machines in 2017. With newer machines, there are growing pains. I hope and expect them to be better this year.
Speed Queen has had some issues with their front-loading products. Their warranty is at least 5 years, so at least you will not pay for service.
Should you buy an extended warranty?
I am asked this all the time. You will be asked and pushed by your store to buy one. First, you should never buy a warranty from a company who does not offer their own service. These warranties are not designed to fix anything promptly.
Seriously.
If you are buying this for a peace of mind, then you will get exactly the opposite with repair or lack thereof.
For washers, the numbers suggest no buying a warranty. At 3-8%, these machines work better than almost every other appliance.
Unfortunately, the repair itself is incredibly expensive because it is a direct drive motor. We find it better for you to simply replace the machine even in year 5 then the parts and time to properly repair a bad direct drive system.
Final Thoughts
I am actually impressed by the numbers because the reliability is better than the average. We have changed the brands we sell at Yale because of the spread between reliable and less reliable machines.
There is a flip side to reliability.
Most of the honor stories about appliances are the inability to find qualified technicians to fix the washers on a timely basis, especially on more complicated washers.
Above all, you need to figure out who will be fixing your new washer before you buy.
Most Reliable Appliances Series
Additional Resources
Download our Yale Washer Buying Guide with all the features, terms and brands of laundry. Over 210,000 people have already found answers in a Yale guide.
Related Articles
Steve Sheinkopf
My goal has always been simple: I want Yale to be the best retail experience anywhere. I have tried to create a compelling environment for customers and employees alike.
A Note About Pricing
Pricing on this blog is for reference only and may include time sensitive rebates. We make every attempt to provide accurate pricing at time of publishing. Please call the stores for most accurate price.