Are Appliance Extended Warranties Worth It? (Reviews)
Appliances now fail at higher rates than ever.
You are probably better off just taking your chances and not wasting money on an extended warranty.
This is a complicated, often conflicting article to read.
Many consumer publications, along with ours, say never buy an extended warranty and take your chances.
However, appliances do not last like they did in the past.
French door refrigerators, icemakers, and pro ranges need repair from 28-38% of the time in the first year.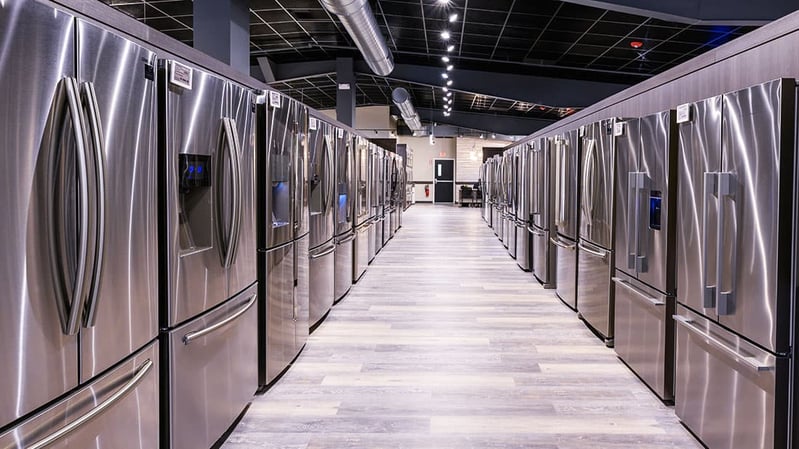 French Door Refrigerator and Ice Makers have the highest appliance repair rate
You have to understand how appliance warranties differ from other warranties before you are pressured into making a decision.
This article will help you decide when to consider a warranty, when it's not necessary and when you should run from the offer.
Appliance Availability and COVID-19 Update
COVID-19 has rampaged its way around the world for almost a year.
Appliances are now manufactured globally, meaning the parts for your appliances could have boards from China, wiring harnesses in Mexico, and hinges manufactured in Europe.
With COVID-19 infections and social distancing guidelines, appliance parts are in short supply.
Let's say you buy a dishwasher, and it needs repair in year 2 or 3, but there are no parts to fix it. It's out of the manufacturer's warranty, so you have to buy a new one in theory.
If you buy an extended warranty, then you should have a replacement.
For instance, here's a recent message I received sharing a recent experience due to the supply crisis:
"My wife and I purchased a new dishwasher from you in March. It broke about two months later. Your technician was great. Diagnosed the problem ordered the part. Fast forward another six weeks, and Yale ended up giving us another new dishwasher due to not being able to get parts."
A warranty can be a good hedge if you buy it right - that's the secret.
Let's take a look at how to buy one the right way.
Read More: How to Buy Appliances During a Supply Crisis
Short on time? Get our free Appliance Buying Guide
Car Warranties Versus Appliance Warranties
You probably bought a warranty on your car or had an extended warranty included through your lease agreement or purchase.
Your car dealership is mostly service when you think about it. They have a showroom, some offices, but a huge space is devoted to service.
Service is 75% of the square footage of most dealerships. Sixty-five percent of our staff is dedicated to appliance service.
At least if you did buy an extended warranty, there was an actual service to back it up.
Appliance Service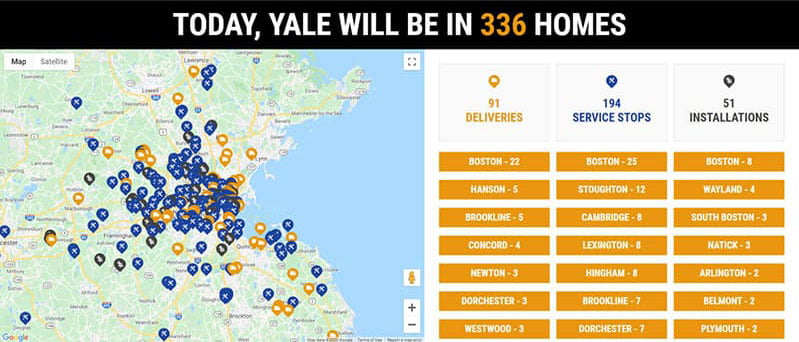 Appliance dealers are the exact opposite. The largest dealers, Lowes and Home Depot, do not employ a single technician.
Then again, neither do the more service-oriented smaller dealers.
You see 10-20 service bays in a car dealership, yet none in an appliance store or any mere mention of any kind of service.
Have you ever asked to see a service department after spending your money on a kitchen package of appliances?
It's unfortunate because there is a greater need for appliance service, now more than ever.
Appliance Warranty Providers
The two largest extended service providers are based out of Texas. Like most appliance dealers, they do not employ a single service tech.
They advertise themselves as third party administrators.
Car dealers service what they sell and repair your issues.
For appliance dealers, they do not provide service. They are not even responsible for finding a service technician when you have a problem.
If you live in Massachusetts, you're contacting a call center in Texas to resolve your appliance issues.
Ouch.
Appliance Extended Warranties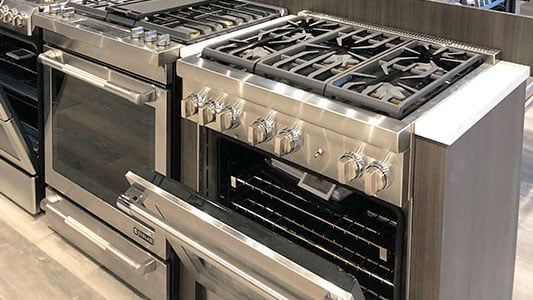 Gas Ranges at Yale Appliance in Hanover
You pay $999-$1490 for a stove. It costs the dealer between $20-40 for that warranty.
It's all good until you need repair.
You do not call the dealer. You call the third party administrator. They find your service. The dealership has no responsibility to help you. They can't (or won't).
If it's a difficult repair, the independent servicer will not fix the problem.
The third party's low compensation does not pay for the time, labor, and parts to fix the serious issues.
In your contract, they can perform almost any way they want.
Like this experience, these are so prevalent, by the way.
"In addition to buying two appliances, I purchased the 5-year appliance warranties from [Name Withheld]. What the salesperson did NOT make clear is that [Name Withheld]. Does NOT service what they sell. These warranty policies are expensive ($250 for stove and $200 for range hood), but they are NOT worth it. All you get is directed and redirected and misdirected - from the warranty policyholder [Name Withheld] to the repair companies they try to find. Hmm, do you think that an appliance repair company in Vermont is going to come to Mass or service a stove? No!"
In other words, the warranty company contracted a service company from Vermont to repair an item in Worcester, Massachusetts.
That's crazy.
Extended warranties are efficient for the dealer as they make money on the front end.
They are efficient for the third party, who can legally perform awful service without any penalties.
However, it's a bad deal for you.
You spend money thinking you are protected when you are not.
You will still probably have an awful service experience without the warranty just without spending the money upfront.
Who Should You Buy A Warranty From?
This article is about understanding warranties. There are statistical arguments either way. You will see the products to consider and ones generally more reliable in the next paragraph.
However, there is one absolute.
Do not fall into the trap of buying an extended warranty when the provider cannot directly resolve your problems.
That eliminates most of the dealers who rely on third parties.
You should only buy an extended warranty from a dealer providing service. In the US, finding these dealers is next to impossible.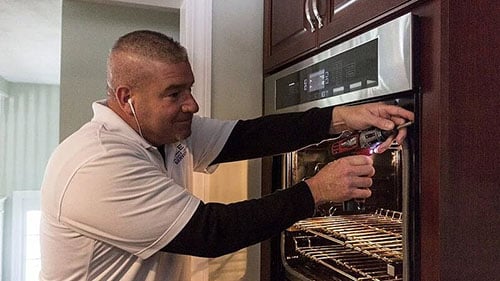 Yale Appliance Service Technician Adjusting a Wall Oven
In Massachusetts, there are several excellent service departments. Many are our direct competitors.
Poirier in Norwood, Belchers in Framingham, Hunter in Littleton, Doyons in Reading, and George Washington TOMA in Weymouth all are service first, sales second type of places.
Hopefully, they self insure, so you do not have to call third parties to have them service your appliances.
It's a bizarre question, but worth asking.
Now you know who to buy a contract from, let's see which products to buy them on.
What Appliances Should You Not Consider A Warranty For?
Hoods, microwaves, grills, disposers do not require a warranty, in my opinion, because they require service less than 5% of the time in the first year based on our service reports from 2019.
What Appliances Should You Buy A Warranty For?
The statistically most unreliable appliances are professional gas ranges and refrigerators.
Both have changed the most drastically, with gas ranges being more powerful and now having ignition system problems.
Professional Gas Range Reliability for 2020
| | | | |
| --- | --- | --- | --- |
| | Service Qty | Shipped Qty | Service Ratio |
| Miele | 15 | 21 | 71.4% |
| BlueStar | 30 | 42 | 71.4% |
| Wolf | 50 | 307 | 16.3% |
| JennAir | 15 | 103 | 14.6% |
| Thermador | 53 | 430 | 12.3% |
| Grand Total | 163 | 903 | 18.1% |
Refrigerators have changed the most. They are far more efficient due to new Federal energy standards.
Counter Depth Refrigerator Reliability For 2020
| | | | |
| --- | --- | --- | --- |
| | Service Qty | Shipped Qty | Service Ratio |
| BlueStar | 23 | 36 | 63.89% |
| Jenn-Air | 308 | 595 | 51.76% |
| KitchenAid | 103 | 239 | 43.10% |
| Whirlpool | 6 | 17 | 35.29% |
| Bosch Appliances | 135 | 422 | 31.99% |
| LG Electronics | 10 | 46 | 21.74% |
| Samsung | 248 | 1220 | 20.33% |
| Fisher & Paykel | 31 | 192 | 16.55% |
| GE Profile | 9 | 59 | 15.25% |
| GE Appliances | 5 | 35 | 14.29% |
| Café Appliances | 2 | 41 | 4.87% |
| Grand Total | 916 | 2932 | 31.24% |
The new French door refrigerators have more issues, especially with the icemaker dispenser in the refrigerator.
It can leak when a frozen cube is dispensed out of a slightly warmer refrigerator.
Front-load washers should also be considered. They are generally reliable but are expensive to repair.
Front Load Washer Reliability For 2020
| | | | |
| --- | --- | --- | --- |
| | Service Qty | Shipped Qty | Service Ratio |
| Whirlpool | 20 | 350 | 5.71% |
| GE Appliances | 1 | 15 | 6.67% |
| LG Electronics | 161 | 2270 | 7.09% |
| Samsung | 27 | 349 | 7.74% |
| Maytag | 251 | 659 | 38.09% |
| Electrolux | 13 | 13 | 100.00% |
| Grand Total | 473 | 3656 | 12.94% |
It is less expensive to simply replace a front load washer rather than buy the parts and allocate 4 hours of labor to fix a broken washer.
Our Current Stance On Warranties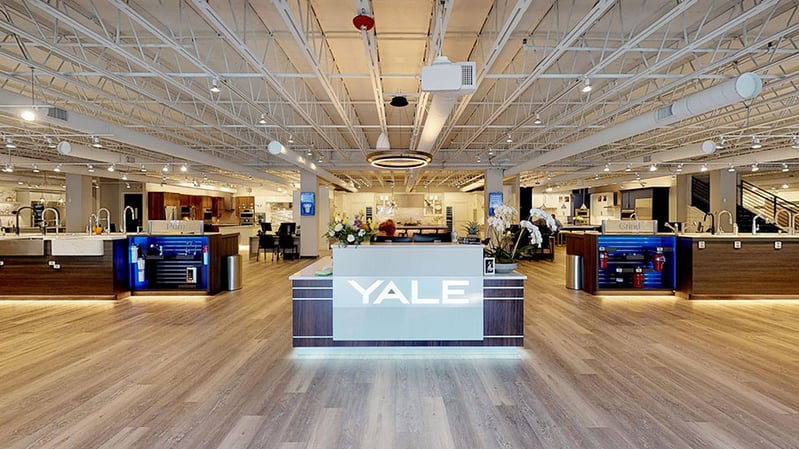 Front Entrance of Yale Appliance in Hanover
Over the years, we have stopped representing unreliable brands. In 2017, our laundry shift to Whirlpool/LG had decreased our warranty repair from 20% to 7% in the first year.
Although we have never pushed extended warranties, there are certain times when, as we said, you should consider protection after the first year.
At the same time, everyone hates buying a product they never use. In this case, it is an unredeemed warranty.
We can now offer extended warranties with a 50% credit if unused. We can do that because we have our service department and market only the statistically reliable brands.
Should You Buy an Extended Warranties for Your Appliances?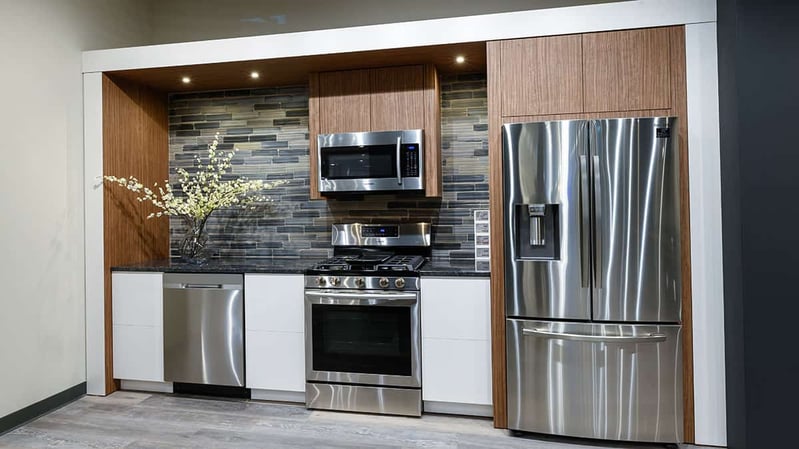 Samsung Kitchen Appliances Featuring a French Door Refrigerator With an Ice Maker
Mathematically, you should consider an extended warranty on the highest risk appliances, just like buying regular insurance.
With COVID-19 and the lack of parts worldwide to fix anything makes the case more attractive for buying extended warranties like any insurance.
However, who is as important as what appliance for extended warranties.
As we often say in this blog, check and verify before you buy. Check review sites like Yelp and Better Business Bureau.
You want to understand how you will be treated after you buy any product or service, especially an extended warranty.
Check services like you would any purchase before you have problems later.
As a general rule, you will find the best service with companies with service departments, not with third-party call centers.
Frequently Asked Questions
1. Can You Negotiate An Extended Warranty?
It depends. When outsourced, you probably could because it's a sold product.
2. How Much Does It Cost To Repair Your Appliances?
Our average repair is about $155. Refrigerators and front load washers are higher.
Additional Resources
Download a Yale Buying Guide covering all topics of appliances and lighting. Over 820,000 people have read a Yale Guide.
Related Articles:
Why Should You Trust Us?
It seems that every appliance review has nothing but glowing comments about almost every product, yet you read customer reviews and they are almost universally bad.
We are here to fill in the disconnect. We'll give you the best features, and the drawbacks as well, including reliability based on over 37,000 calls performed by our service team just last year. Our goal is to give you ALL the information so you know what's right for you.
Please consider subscribing or adding to the conversation in the comments below. We appreciate you stopping by.
A Note About Pricing
Pricing on this blog is for reference only and may include time sensitive rebates. We make every attempt to provide accurate pricing at time of publishing. Please call the stores for most accurate price.