Are Appliance Extended Warranties Worth the Cost? (2022 Update)
Your refrigerator's ice maker leaks all over the floor on a hot summer day.
No problem. You bought the extended warranty.
It's all covered.
After all, the point of extending a warranty is coverage for situations just like this.
You call your appliance store, who tells you to call an 1-800 number.
After being on hold for 19 minutes, you have a sinking feeling that the warranty will not help you fix your refrigerator (or any other appliance).
In this article, you will learn why extended appliance warranties don't work most of the time.
Then you will learn the one case where you might want to buy an extended warranty. I know it's a lot to consider, but you should know all your options before buying a warranty.
The Problem with Appliance Service
Service is a big problem and a huge need. We logged over 40,000 service calls just last year in the Boston area.
Moreover, these service calls were only for people who bought an appliance from us. We do not have the technicians to handle appliances bought elsewhere.
We expect this situation to be direr as manufacturers have new suppliers to fix their broken supply chains.
Read on. It gets a bit grimmer in the following two paragraphs.
Short on time? Get our free Appliance Buying Guide
How Much Are You Paying for an Extended Appliance Warranty?
Shopping for a warranty is harder to shop for than an actual appliance.
We shopped at several internet dealers and box stores for warranties by category.
Below is how much you would pay for a warranty based on how much your appliance is.
Extended Warranty Prices
| | | | | |
| --- | --- | --- | --- | --- |
| | AJ Madison (5-Year) | Plesser's (5-Year) | Lowe's (3-Year Only) | Home Depot (5-Year) |
| Standard Refrigerators | $235 (With 30% Cash Back) | $32 | $14 | $19 |
| Counter Depth Refrigerator | $295 (With 30% Cash Back) | $40 | $18 | $23 |
| Dishwasher | $195 (With 30% Cash Back) | $24 | $12 | $11 |
| Ranges Over $3,000 | $350 (With 30% Cash Back) | $399+ | $23 | $42 |
| Ranges Under $3,00 | $235 (With 30% Cash Back) | $24 | $87 | $29 |
| Washer | $160 (With 30% Cash Back) | Monthly washer warranty only $6.49 and up | $100 | $13 |
| Dryer | $160 (With 30% Cash Back) | $32 | $86 | $135 |
Interestingly, none of the four appliance dealers employ a single technician to fix your appliances.
I am unsure how Lowe's and Home Depot manage their five-year warranty. (If you have experience with either, then please leave your experience in the comments below).
However, appliance stores without service sell the warranty to a third party. The third-party company is responsible for fixing your appliance.
Yale Appliance Extended Warranty Prices
| | |
| --- | --- |
| | |
| Standard Refrigerators | $299 (50% credit if unused) |
| Counter Depth Refrigerators | $399 (50% credit if unused) |
| Dishwashers | $199 (50% credit if unused) |
| Ranges Over $3,000 | $499 (50% credit if unused) |
| Ranges Under $3,000 | $299 (50% credit if unused) |
| Washers | $299 (50% credit if unused) |
| Dryers | $159 (50% credit if unused) |
The next paragraph will show why you could spend hours pleading to fix your stove or any appliance as quickly as possible.
Why Is Appliance Warranty Service So Bad?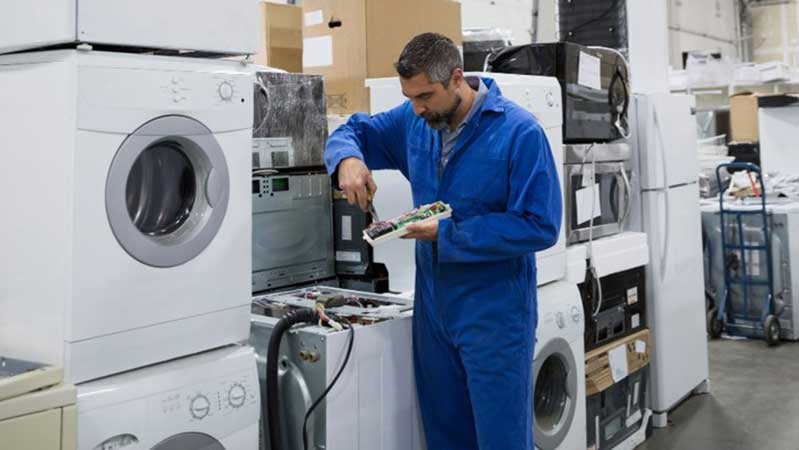 Appliances are different from the car industry. Your car dealership has an impressive service department, especially if you own a better car.
Yet fewer than 5% of all appliance stores have a service department.
Your warranty and personal information are sold to a third-party insurance company. Your appliance store does not handle you.
However, you will encounter many problems if you need service during your extended warranty.
Here are a few:
1. Appliance Service Technicians
I remember being at a service conference in 2003.
The concern back then was the average age of a service technician was 53.
Twenty years later, we must recruit hard-for-new technicians with two staff members exclusively to find potential service techs.
Then we have a six-month training period in our training center with a senior tech. Finally, they spend another three months on the road with a limited number of calls monitored by other senior technicians.
Service is the hardest part of the appliance business; only 5% of stores have an actual service department.
These third-party call centers will have difficulty finding people to fix your appliance, especially on the higher-end, more technical brands.
2. Parts
COVID-19 and supply chain issues have worsened an already bad situation. It is tougher finding parts now in general than pre-pandemic.
I suspect most are being used to ship new appliances.
3. Profit
Fixing a professional range out of warranty costs about $700 for us to diagnose the problem, order the part, and then send the technician to fix it.
Any legitimate service agent needs workman comp, auto, and general liability for damages.
It's expensive to be in the service business.
How can an insurance company pay high claims on such low premiums and share the profit with your dealer?
They can't afford to fix your stove properly.
How can they?
You need an experienced service technician and good compensation for a team of agents, parts personnel, and supervisors.
4. No Real Responsibility
You will be caught in endless finger-pointing.
The technician who finally shows up doesn't have any connection to you or your purchase.
You didn't buy it from them, so it doesn't matter.
You didn't buy the warranty from the appliance store either because they only sold your information to the call center handling the claim.
The store pocketed the proceeds, but they don't own the warranty.
The appliance warranty company will hide behind the many provisions on the terms and agreements page.
Then again, they never would have sold you THAT appliance.
So, what do you do?
Read More: Why Your New Appliance Will Not Be Repaired
Which Appliances Should You Buy an Extended Warranty For?
First, let's look at the most repaired appliances that were above the average appliance repair rate of 9.5%.
The service rates below are based on over 40,000 service calls logged from December 2020 to October 2021.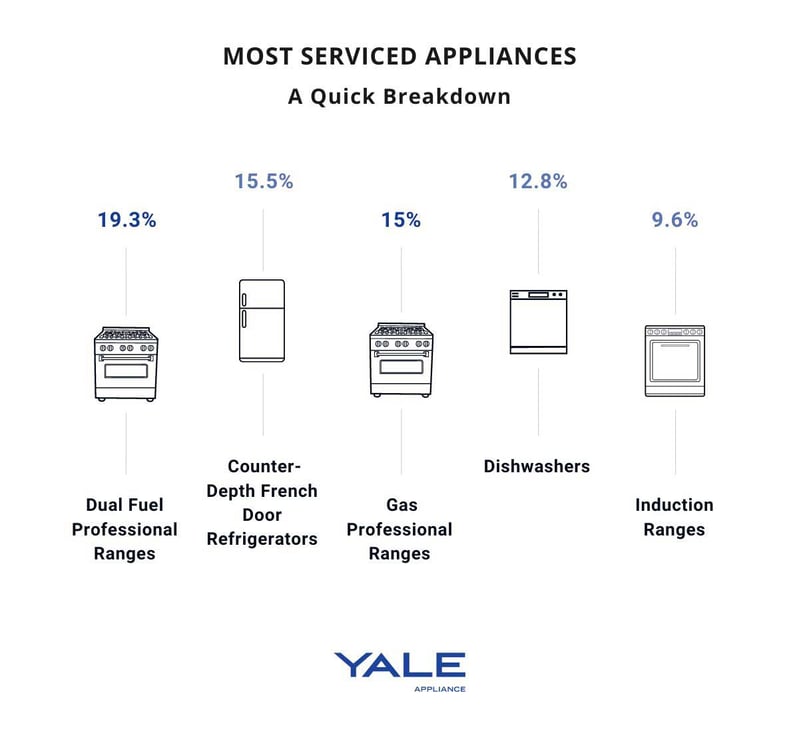 Refrigeration and professional ranges are the most repaired appliances.
Refrigeration has a service rate of 15.5% during the manufacturer's one-year warranty period. Most of their issues were due to water and ice dispensers.
Professional ranges have a service rate of over 15%, depending on the size, fuel type, and features.
Front load washers have a low service rate of 6.3% but are incredibly expensive to fix.
Regular ranges, hoods, and grills are the most reliable.
Read More: Most Reliable Appliance Brands
Who Do You Buy an Extended Warranty From?
The answer is simple enough.
Buy the warranty from an agency with an entire service department, whether a dealer or a service-only agency.
They sold you the warranty and have the resources to fix the issues. You have to ensure they don't sell the warranty to a third party.
Many do sell to third parties, as strange as that may seem.
When there is an issue, you call, and they have the technicians available.
Google reviews service providers in your area.
The following are good self-servicing dealers in Massachusetts. All are our direct competitors.
Belchers in Framingham, Hunter in Littleton, Porier in Norwood, Doyon's in Reading, and George Washington TOMA in Weymouth are service first, sales second types of places.
Read More: Should You Buy a Third-party Appliance Warranty?
Self-Insured vs. Not Self-Insured Service Dealers
You should know the difference between the two options.
Self-insured companies can respond to a service call immediately and swap out a product if needed.
Service companies who decide to buy a third-party warranty will still need authorization from the same third-party companies.
If their rates are too high, you may have the same experience as outlined above.
Most companies do not self-insure because they need to keep reserves against the warranty.
You should ask before you buy.
Our Current Stance on Warranties
Warranties are presented but never pushed at Yale.
We service the manufacturer's warranty free within one year.
We respect your decision to buy insurance or not.
It does make some sense for some products because your appliance will most likely need a repair within the first five years.
Typically, an extended warranty is less expensive than a service call.
Read More: What Appliance Brands Have the Best Warranties?
Are Appliance Extended Warranties Worth the Cost?
In most cases, you should not buy a warranty because most don't provide adequate coverage.
You are better off taking your chances and saving money, especially on the more reliable appliances.
Service percentages for every appliance will probably rise with new parts being incorporated into many products.
You should only buy a warranty after vetting reputable service agencies.
As we often say in this blog, check and verify before you buy. Check review sites like Yelp and Better Business Bureau.
You want to understand how you will be treated after buying any product or service, especially an extended warranty.
People often make the mistake of just checking the product prices.
You should check the product and all the complementary services including delivery and installation.
Generally, you will find the best service with companies with their own service departments and technicians, not with third-party call centers.
If you can't find a good service agency, you are better off taking your chances.
Any good or bad experiences with extended warranties or services? Leave them in the comments below.
Additional Resources
Download a Yale Buying Guide covering all topics of appliances and lighting. Over 1 million people have read a Yale Guide.
Related Articles:
Why Should You Trust Us?
It seems that every appliance review has nothing but glowing comments about almost every product, yet you read customer reviews and they are almost universally bad.
We are here to fill in the disconnect. We'll give you the best features, and the drawbacks as well, including reliability based on over 37,000 calls performed by our service team just last year. Our goal is to give you ALL the information so you know what's right for you.
Please consider subscribing or adding to the conversation in the comments below. We appreciate you stopping by.
A Note About Pricing
Pricing on this blog is for reference only and may include time sensitive rebates. We make every attempt to provide accurate pricing at time of publishing. Please call the stores for most accurate price.