KitchenAid vs. Bosch Dishwashers 2021 (Reviews / Ratings / Prices)
Probably the single biggest product comparison for dishwashers and perhaps appliances is Bosch versus KitchenAid.
If you are looking for a dishwasher between $899-$1,399, then these two brands are your best considerations.
Why?
Both brands have excellent dishwashers. You will be happy with either.
In times of tough availability, which we will discuss, you may have to be open to switching brands.
They are different in how they wash and dry your dishes as well as the design of their dishwasher's racks. Their silence ratings are somewhat surprising.
Their reliability is different based on 37,061 service calls last year.
In this article, you will learn all the best features of both dishwashers and a few problems.
Oddly enough, these brands, however different, have the same problem.
You will also learn what not to buy for both brands.
Almost every blog post I have read or Youtube review I have ever watched has touted Bosch to be the better dishwasher.
That can be really bad advice depending on what you are looking for.
That's the key - knowing what is important to you. Your appliance store or online review site should be asking that question before you consider either Bosch, KitchenAid, or a competitive brand.
Let's take a look at the dishwashers we're reviewing.
KitchenAid vs. Bosch Dishwashers 2021
Surprised? The KitchenAid TE models are only 39 dB, which is technically noiseless. A Bosch 39 dB dishwasher will cost $1000 more.
Of course, the biggest mistake you will make is buying solely on quietness.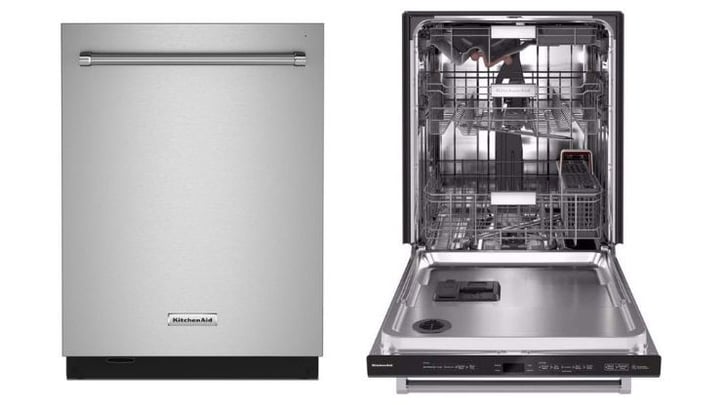 You will see a detailed comparison later, but this KitchenAid has a full spray arm on the top and a fourth spray arm in the top rack itself.
Best Drying Dishwasher: Bosch 800 Series SHP878ZPSN - $1,349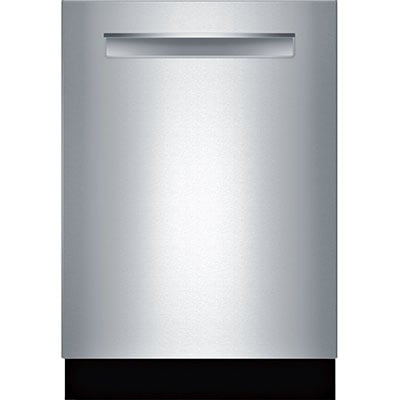 After years of being amongst the worst drying dishwashers, Bosch's 800 series with CrystalDry are the best drying dishwashers using volcanic elements, no less.
Best Dishwasher for Custom Cabinet Panels: Bosch 800 Plus Series SHV878ZD3N - $1,249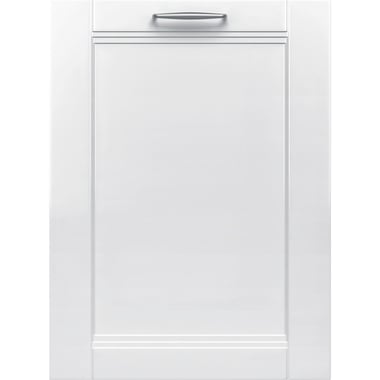 If you want your dishwasher to look seamless to the cabinet, Bosch is one of three brands to consider along with Miele and Beko.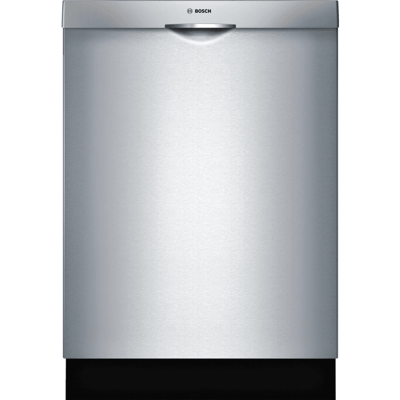 The Bosch 300 series was the best-selling Bosch dishwasher last year. It has solid reliability, a stainless-steel interior, and adjustable racks.
At 44 dB, it meets the quietness standard.
However, it does not have upgraded drying features like AutoAir or CrystalDry, nor is it likely to be available.
Dishwasher Availability & Why This Is Such an Issue
On the top of the Bosch website is a message from their CEO. Below is the first paragraph.
"I want to personally acknowledge and apologize for any inconvenience you may be experiencing as a result of global delays affecting the shipment of our orders. I want you to know that I, along with our whole Bosch team, greatly value your business and trust in our brand." Christofer von Nagel, CEO of BSH Home Appliances Corporation
It's pretty transparent and should be on every appliance company's site.
Availability is a huge problem now for various reasons and will affect how you buy almost every product, not just dishwashers.
In a comparison this close, pick the one with the best features and consider availability.
Some of Bosch's and KitchenAid's dishwasher models haven't been available for at least a year.
Short on time? Get our free Dishwasher Buying Guide
KitchenAid Dishwashers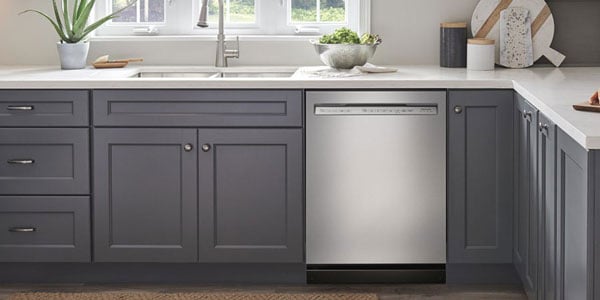 KitchenAid is known as an affordable luxury appliance brand owned by the Whirlpool Corporation.
Their early dishwasher changed the dishwashing business because of its solid commercial design.
KitchenAid's weakness was noise, especially when Bosch and Asko started importing quiet dishwashers into the US.
While it cleaned well, it was noisy.
Last year's model finally addressed that issue, dropping to a noiseless 39 decibels and changing their dishwasher to a more European design by removing the disposer and adding a filter.
They now have two different series, the TE and TM series.
The TE series dishwashers will be quieter at 39 dBs. The TM will have a better washing, racking, and drying system.
The less expensive KitchenAid is the quietest, whereas the most expensive Bosch will be the quietest.
Kind of odd.
Their top models are the KDTE204KPS and KDTM604KPS.
Yes, only two models. KitchenAid's availability is a problem, but their higher-end 704 and 804 models don't justify the price increase.
Read More: Best KitchenAid Dishwashers
Bosch Dishwashers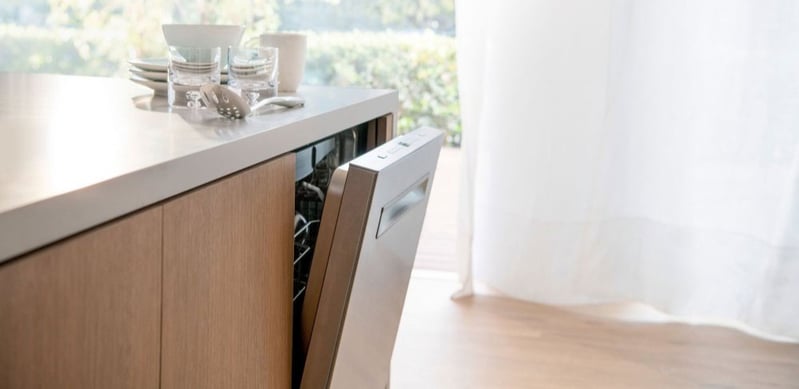 Bosch dishwashers are made in North Carolina, even though they're based in Germany.
Their weakness was always drying.
Most European stainless-steel dishwashers use condensation from the heat of the wash and JetDry to dry dishes.
Last year, Bosch improved their drying on some models featuring AutoAir (shown above), a feature that pops open the dishwasher after the cycle is complete.
This will release moisture and speed up the drying process.
Having a dishwasher popping open is especially effective when you wash your dishwashers at night. You reduce the residual moisture on the dishes in the morning because the steam has been released.
Bosch's better models have their CrystalDry using volcanic elements to increase heat and absorb moisture.
Bosch's two most comparable dishwashers to KitchenAid in price are SHP878ZPSN and SHV878ZD3N.
Before we compare both, let's look at reliability based on real service data.
Read More: Best Bosch Dishwashers
Bosch vs. KitchenAid Dishwasher Reliability
Both are good brands to consider. The average service rate on a dishwasher in the first year was 13.09%, based on our own database of sales versus service.
Last year, we logged 37,061 service calls - 10,216 were just dishwasher service calls.
Below are last year's service calls divided by the amount shipped for each brand.
Dishwasher Reliability From December 2019 to November 2020
| | |
| --- | --- |
| | Service Ratio |
| Blomberg | 0% |
| LG | 1.9% |
| Whirlpool | 2.1% |
| Thermador | 7.6% |
| Beko | 7.67% |
| Miele | 8.2% |
| GE Profile | 10.5% |
| Samsung | 10.6% |
| JennAir | 11.0% |
| KitchenAid | 11.0% |
| Asko | 11.6% |
| Bosch | 12.8% |
| Bosch Benchmark | 18.4% |
| Café Appliances | 18.8% |
| GE Appliances | 19.5% |
| Fisher & Paykel | 27.8% |
| Average | 11.2% |
Each brand represented has a minimum of 50 units sold and a total sample of over 10,000 pieces.
KitchenAid is now more reliable than Bosch by almost 2%.
Reliability is even more important now.
Products are hard to find, but parts to fix are even harder.
That's before finding decent technicians, which may be the hardest of all. Be mindful of who has a better repair service in your area.
Read More: Most Reliable Dishwashers
KitchenAid vs. Bosch Dishwashers: What They Have in Common
You will see the differences, but they do have a lot in common as well. Below are their similarities.
Stainless-Steel Tub:

Most upscale dishwashers now have stainless on the inside. It is more hygienic than plastic because there are no seams for germs and odors to populate.

Cycles:

You will see all of them in three comparisons, but there will be plenty of cycles for both. Many perform the same function.

Third Rack:

They both have third racks. However, this year's KitchenAid dishwasher series is upgraded and different on certain models.

Quietness:

Both are at or below 44 decibels (dB). That number isn't an accident. It is the unofficial standard for a noiseless silence rating, meaning you won't hear a 44 dB dishwasher in the next room. People pay too much money for a quiet dishwasher.

You shouldn't make that same mistake unless the more expensive dishwasher has some other desired features.

Here is a sound bit to show the differences.
KitchenAid vs. Bosch Dishwashers: What Not to Buy
You can spend over $2,000 on a Bosch Benchmark dishwasher. It's 38 dB, and has Bosch's CrystalDry drying system.
Similar to the Benchmark series, the 800 Plus series is 42 dB, well under the 44 dB quiet threshold, has their CrystalDry feature, and is $1,399 or $800 less than the Bosch Benchmark series.
KitchenAid has their 704 and 804 series.
When available, you will be spending $300-$700 more for a knife caddy, a light inside your dishwasher, and glide-out racks.
Although the glide-out racks have value, the other features don't justify the price, especially when overloaded.
KitchenAid has a problem if you're adding a custom cabinet panel as you will see further down.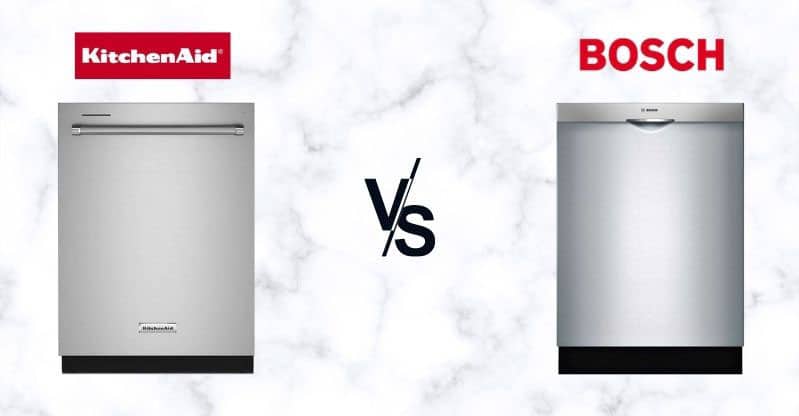 How They Wash
KitchenAid has the better spray on the top versus more of a sprinkler head for the Bosch.
That said, they both will wash your dishes.
How They Dry
Like most stainless-steel interior dishwashers, they both use condensation drying. It's a fancy word for air drying, JetDry, and time.
The KDTE204KPS is KitchenAid's least expensive, available dishwasher. The KDFE104HPS hasn't been available for at least one year.
The less expensive series is the quietest at 39 dB.
It is noiseless. You won't even hear a hum. The washing system is also slightly better.
However, cycles and drying are about the same. This comparison is about price, mostly with KitchenAid being slightly better and quieter.
This next comparison is far more interesting. You have new features in both.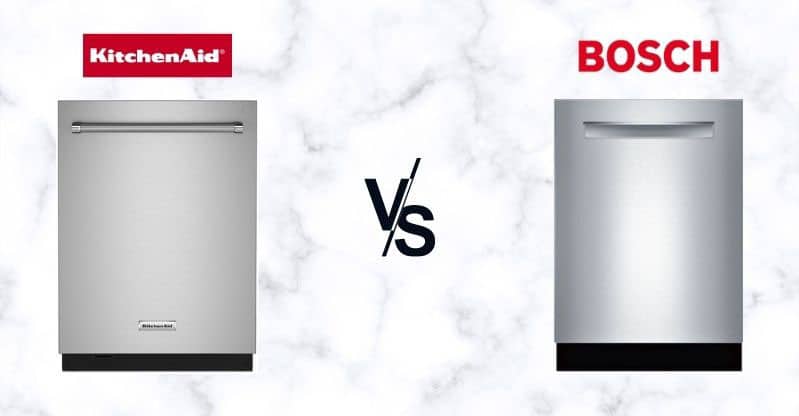 Dishwasher Racks
There was time neither had the third rack. Of course, you can now buy a third rack on a $450 Samsung.
KitchenAid's third rack is the best accommodating more than any brand (shown above). It also has separate sprays in the rods of the rack.
How They Wash
Bosch has the same sprinkler on the top and then the two under the main racks.
In addition to the spray in the rods, KitchenAid has spray on the top, middle, and bottom.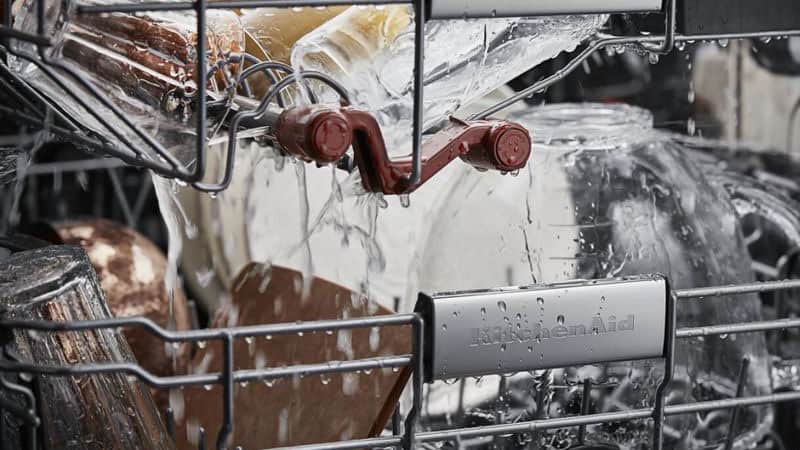 KitchenAid Third Rack With Top Dishwasher Spray Arm
KitchenAid has also changed the filtering system to two filters so the water will be cleaner as well. The second filter increases the noise from a noiseless 39 dB to a still quiet enough 44 dB.
How They Dry
Both companies have made improvements.
That said, Bosch now has the AutoAir drying, so the door pops open at the end of the cycle.
It works, releasing steam (steam rises) to cool the interior of the dishwasher. As I said before, it's great for drying overnight.
KitchenAid also uses another Miele drying tactic, letting air from the outside cool the dishwasher's interior.
The steam and moisture are attracted to the drier, cooler air and dissipated as water.
KitchenAid also has a heating element to absorb moisture.
Which Should You Buy?
This KitchenAid KDTM604KPS and the KDTE204KPS are KitchenAid's best models. You now have a better washing system coupled with better drying. The third rack will fit more as well.
At $1,299, KitchenAid seems like a value for its features.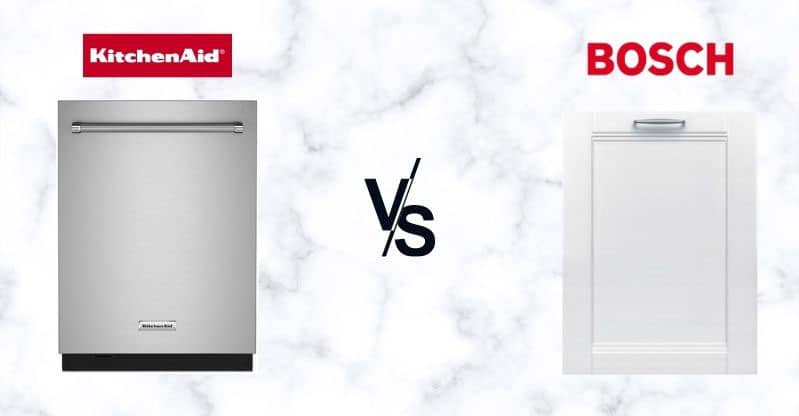 How They Wash
It is similar to the previous comparison.
How They Dry
KitchenAid has the same Pro Dry as the previous model.
Bosch also has the AutoAir feature of the door popping open. However, they add CrystalDry for the best drying in any dishwasher.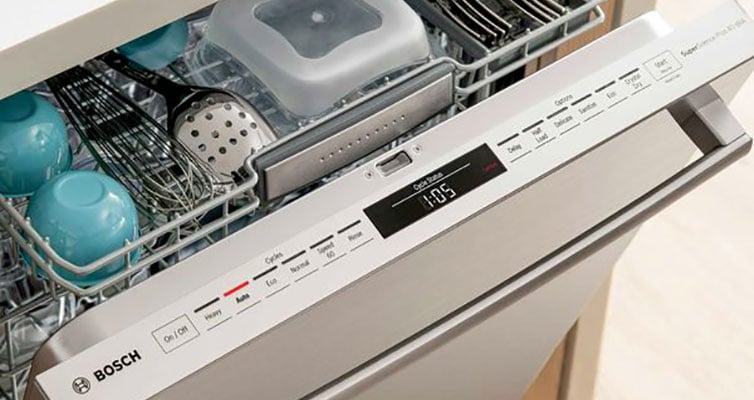 Bosch Dishwasher with CrystalDry and AutoAir Drying
It seems simple and even gimmicky, but CrystalDry uses volcanic elements called Zeolite packed in the bottom of the dishwasher.
Zeolite absorbs moisture and emits heat. And it works. We tested it even on a 20-minute wash and dry cycle in Thermador (Thermador is the same dishwasher as the Bosch).
CrystalDry will dry even plastics or other less dense utensils or plates.
Have a Tupperware party? No problem.
Bosch will also be quieter at 40 dB versus 44 for the better KitchenAid.
Which Do You Buy?
It's not so clear. Bosch has better drying, whereas the KitchenAid can fit more on the top rack with technically better washing.
KitchenAid vs. Bosch for Custom Cabinet Panels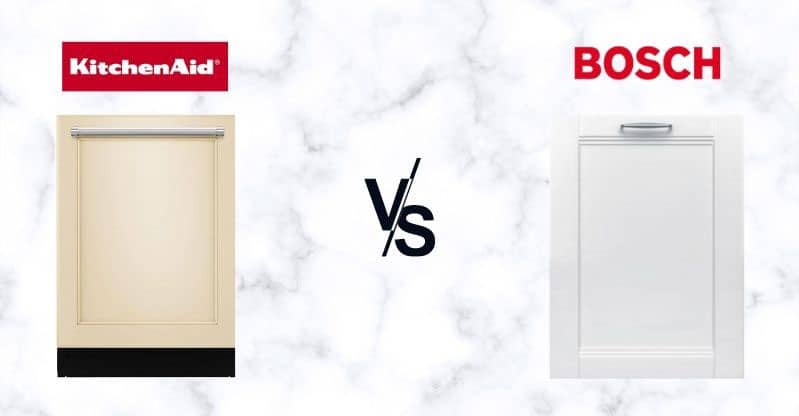 Bosch is clearly better because it fits within a 24-inch cabinet. You would think this would be a standard feature on dishwashers. However, only Beko, Miele, and Bosch fit seamlessly within cabinets.
KitchenAid will protrude outside the cabinet.
It's the difference between a dishwasher looking like a cabinet and a dishwasher looking like a dishwasher with a panel on it.
This comparison is no contest. Bosch is better for this style.
Bosch markets several panel-ready models. Look for the "V" in the model number.
KitchenAid changed their whole line but missed this opportunity.
KitchenAid vs. Bosch Dishwashers: Key Takeaways
First, both are excellent choices.
Bosch and KitchenAid will still dominate the market over $750.
When I wrote this last year, I said wait until the ever predictable sales dates of Presidents' Day, Memorial Day, Tax-Free Weekend, Labor Day, or Black Friday.
This year, you should consider the opposite.
Consider the best features for using a dishwasher and buy the available model in either brand.
If you consider a whole kitchen, you may want to start with cooking and refrigeration because there are more tangible differences.
There are more differences in cooking and refrigeration than in dishwashers.
Additional Resources
For more information about dishwashers, read the Yale Dishwasher Buying Guide with features, specs, and insider buying tips. Well over 900,000 people have read a Yale Guide.
Related Articles
Why Should You Trust Us?
It seems that every appliance review has nothing but glowing comments about almost every product, yet you read customer reviews and they are almost universally bad.
We are here to fill in the disconnect. We'll give you the best features, and the drawbacks as well, including reliability based on over 37,000 calls performed by our service team just last year. Our goal is to give you ALL the information so you know what's right for you.
Please consider subscribing or adding to the conversation in the comments below. We appreciate you stopping by.
A Note About Pricing
Pricing on this blog is for reference only and may include time sensitive rebates. We make every attempt to provide accurate pricing at time of publishing. Please call the stores for most accurate price.