Best Miele Dishwashers for 2020 (Reviews / Ratings / Prices)
You may wonder how any brand can have starting prices at $400 to $1500 more than the average dishwasher sold in the U.S.
The main benefit of a Miele dishwasher is its quality of components that are made to last longer.
In an era of outsourcing many parts to any product, Miele distinguishes itself by manufacturing 96.8% of all its components in Germany.
Miele then tests every dishwasher off the assembly line to make sure it is working correctly. Most American dishwashers and some European dishwashers are built to last ten years only.
Miele is made to last 20 years. Is that marketing, or is it still valid?
Consequently, Miele is one of the least repaired appliance brands at Yale ( or used to be). That isn't necessarily true anymore.
However, buying a Miele dishwasher is not easy. Their dishwashers look similar but have widely varying features.
4 Best Miele Dishwashers to Consider:
Best Budget Dishwasher: Miele Classic G4228
Most Popular: Miele Future Crystal G6625
Best Dishwasher for Cycles and Racks: Miele Dimension G6785SCVISF
Best Overall: Miele Diamond G69855SCVIK20
You will learn a bit about each series and feature difference plus recommendations on which might be the best for you.
First, Miele has been bashed a bit lately. You should know why. Let's start there.
Everything You Should Know About Miele Dishwashers
Miele Dishwasher Reliability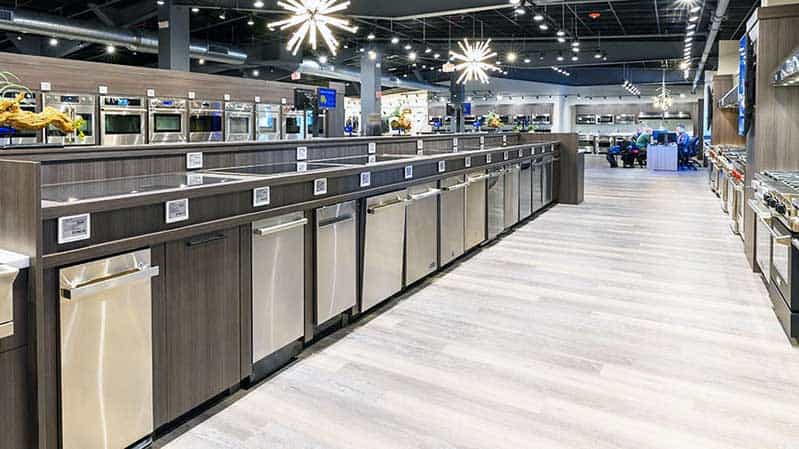 Most Reliable and Most Popular Dishwashers on Display at Yale Appliance in Hanover
We have 35 service techs and performed over 100,000 appliance service calls over the last three years. In the previous two years, Miele has fallen a bit. Have a look:
Most Reliable Dishwashers for 2020
| | | | |
| --- | --- | --- | --- |
| | Service QTY | Shipped QTY | Service Ratio |
| Asko | 103 | 190 | 54.21% |
| Jenn-Air | 188 | 493 | 38.13% |
| Bosch Benchmark | 25 | 70 | 35.71% |
| Fisher & Paykel | 56 | 193 | 29.02% |
| Miele | 185 | 903 | 20.49% |
| Maytag | 2 | 10 | 20.00% |
| Gaggenau | 16 | 104 | 15.38% |
| Thermador | 126 | 872 | 14.45% |
| KitchenAid | 90 | 688 | 13.08% |
| Café Appliances | 3 | 25 | 12.00% |
| Bosch | 398 | 3573 | 11.14% |
| Samsung | 134 | 1297 | 10.33% |
| LG | 5 | 81 | 6.17% |
| Cove | 2 | 44 | 4.55% |
| GE Appliances | 1 | 37 | 2.70% |
| Whirlpool | 38 | 1471 | 2.58% |
| Grand Total | 1377 | 10166 | 13.55% |
Most Reliable Dishwashers for 2019
| | | | |
| --- | --- | --- | --- |
| | Serviced Qty | Shipped Qty | Service Ratio |
| Amana | 3 | 11 | 27.27% |
| Asko | 47 | 195 | 24.10% |
| Bosch Benchmark | 38 | 158 | 24.05% |
| Fisher & Paykel | 42 | 175 | 24.00% |
| Blomberg | 6 | 28 | 21.43% |
| Jenn-Air | 170 | 908 | 18.72% |
| Thermador | 123 | 711 | 17.30% |
| KitchenAid | 115 | 705 | 16.31% |
| Miele | 155 | 1078 | 14.38% |
| Bosch Appliances | 303 | 2735 | 11.08% |
| Maytag | 3 | 29 | 10.34% |
| Samsung | 85 | 915 | 9.29% |
| LG | 4 | 78 | 5.13% |
| Gaggenau | 2 | 42 | 4.76% |
| Whirlpool | 44 | 1030 | 4.27% |
| Signature Kitchen Suite | 0 | 17 | 0.00% |
| Grand Total | 1140 | 8815 | 12.93% |
Miele was the most reliable single product sold at Yale. In 2018, they had an issue with frozen motors in a particular lot. That was cleared up quickly.
Last year, the problem was a buzzing solenoid, so it was noisy. That, too, was an easy replacement.
These problems aren't leaks or water issues, but more of a nuisance. It wouldn't dissuade me from buying one (I did actually).
You would think this number should drop in 2020, and beyond before these outliers become a trend.
Let's look at Miele's best dishwasher features.
Short on time? Get our free Dishwasher Buying Guide
Best Miele Dishwasher Features
1. Third Rack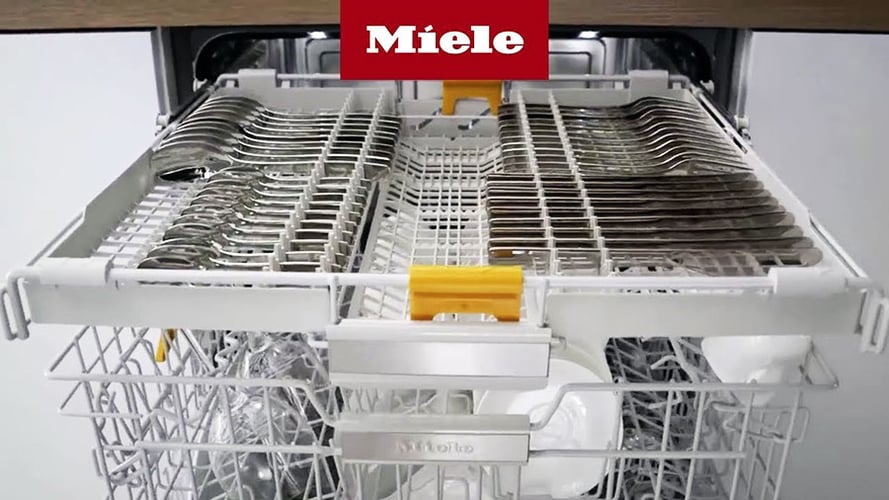 Miele Third Rack Cutlery Tray
All Miele's have a third rack for silverware. You will like this feature because you can fit more on the bottom rack without the silverware basket.
The better Miele series has the 3D cutlery rack. You can swivel this out of the way for taller glasses on the top rack.
2. Three Full Wash Arms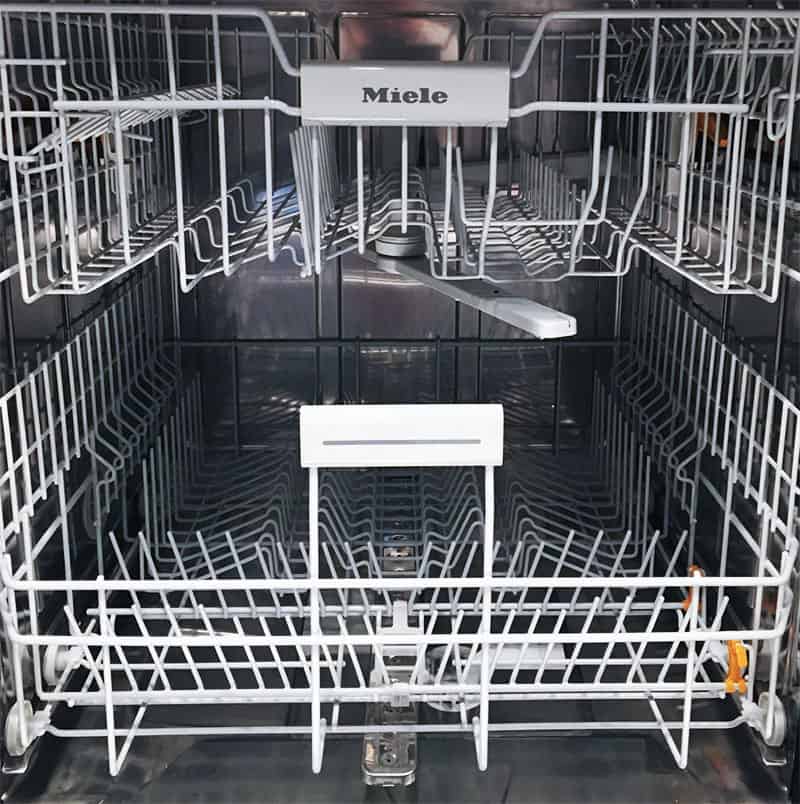 Interior of a Miele Dishwasher Featuring Multiple Wash Arms
Miele is one of the only dishwashers with top, middle, and bottom wash arms. Most brands have two wash arms, or they will have much smaller spigots on the top.
Three arms are important with the third rack because it washes silverware better. The top wash arm concentrates on that silverware basket.
3. Drying
Miele is also one of the only dishwashers with a real drying cycle.
It allows the colder outside air into the outside of the dishwasher. Steam is attracted to the "colder" side and is fully dissipated as water.
The Miele Futura Dimension and Diamond Series dishwashers feature two fans at the bottom for even faster drying.
In addition, the better Mieles (Futura Crystal and up) will pop open at the end of the cycle to allow steam to escape. This also speeds drying.
4. Double WaterProof System
Miele's Double WaterProof System automatically shuts off the water supply if the dishwasher starts to leak. Many dishwashers have some leak protection, but Miele's is better.
One of my friends had an upstairs neighbor with a water leak. It leaked through their unit to the units below, as well as other units on the side.
That's an insurance claim nobody wants. Miele has the best at leak prevention.
Pro Tip: Make sure your installer knows how to install. If you live in a condo on the 35th floor, you should also make sure they are insured as well.
5. Integrated Look (Panel-Ready)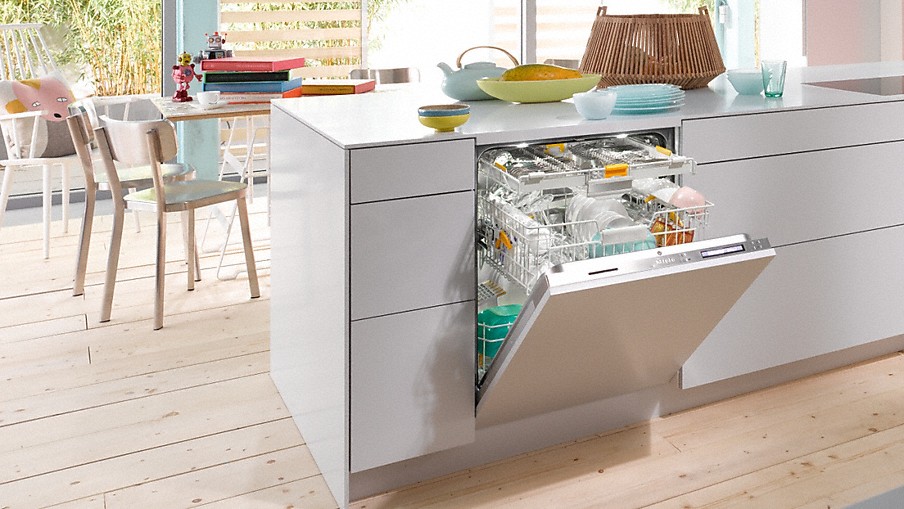 Integrated Miele Dishwasher Installed
European dishwashers like Miele (and Bosch) fit within a 24-inch cabinet, so it does not protrude. The dishwasher becomes indistinguishable from the cabinet.
It should be the only way to buy an integrated dishwasher.
Click here to learn more about the best panel-ready dishwashers for 2020.
Differences Between Miele Dishwasher Series
1. Adjustable Racks
The top rack is fully adjustable on all Miele dishwashers.
However, the better dishwashers from the Futura Crystal have adjustable racks within the rack itself to accommodate almost anything.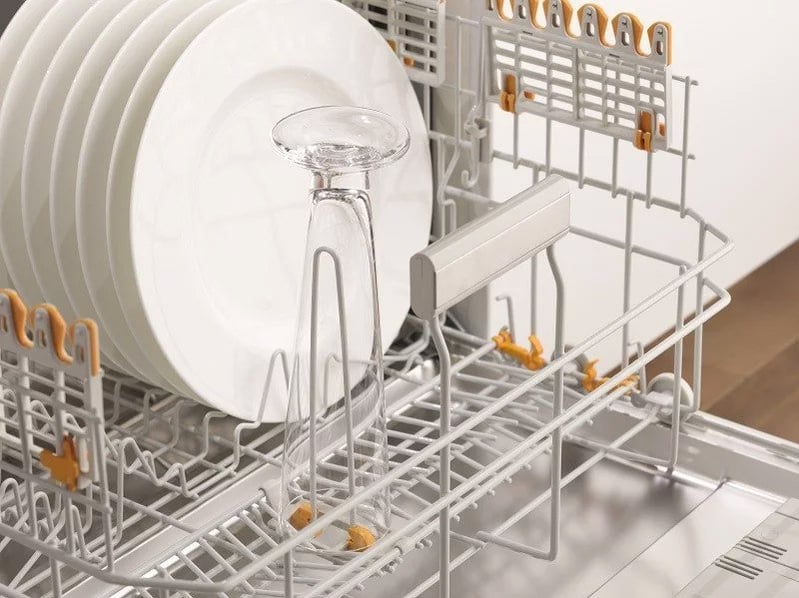 Miele Dishwasher Adjustable Racks and Tines
You can remove most of the tines from the bottom rack in these dishwashers to accommodate larger pots and pans.
Note: Any piece in orange in a Miele dishwasher is either adjustable or removable.
2. Quietness
Miele ranges from 38-46 dB. Quiet dishwashers are 44 DB and less. Here is what a typical dishwasher sounds like.
Dishwasher Sound Level Comparison [VIDEO]
3. Drying
Miele has the port in the bottom. The better machines have two to circulate air to the side for faster drying.
4. Smart
You can control your dishwasher from your phone in the top two Miele series.
5. Cycles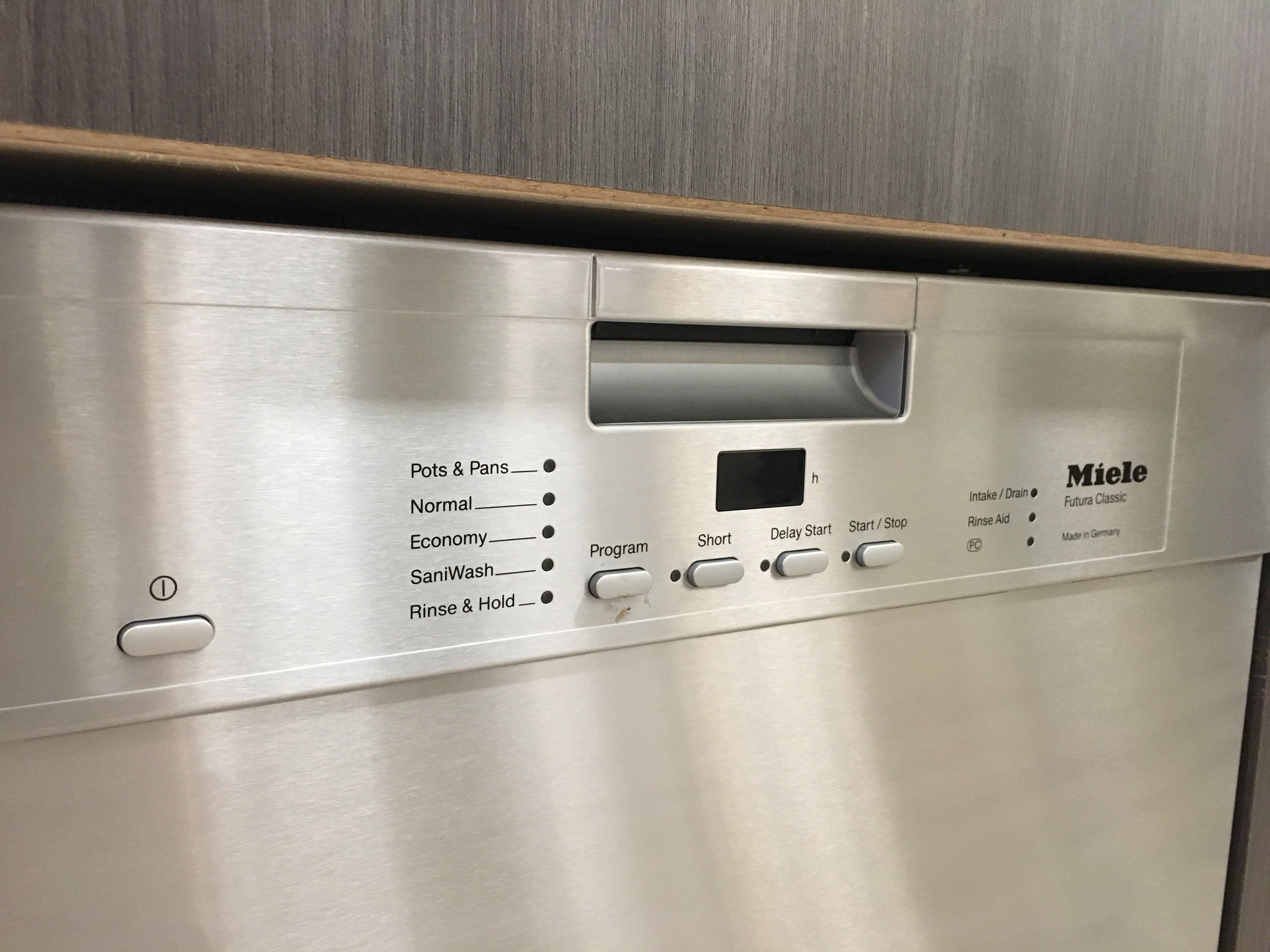 Miele Dishwasher Controls And Basic Cycles
The cycles span from basic to customized ones like hood filters and stove grates as you step into the better models.
6. Knock2Open
You can open the two best dishwashers by knocking twice on the door. It's probably not at the top of your list for features, but you do not need a handle on these models.
With better cabinets, handleless is a nice touch.
The Differences Between Miele Dishwashers Within the Same Series
Miele dishwasher series have multiple models. Thus, within the same series, the difference is having regular front controls (visible) versus integrated controls (not visible) or ones designed for your cabinet panel.
Have a look: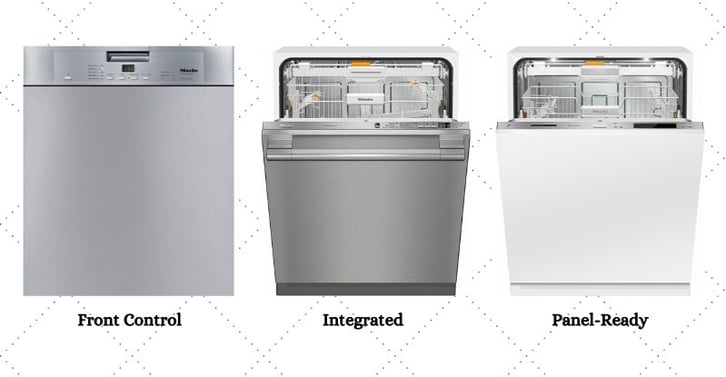 The Best Miele Dishwashers for 2020
Review:
The Classic has its main cycles plus the third cutlery tray as well as an adjustable top rack for the maximum capacity.
It does lack China and Crystal cycles for more delicate plates and stemware.
At 46 dB, you could hear the dishwasher faintly from the next room.
Features:
Comes only prefinished colors in Black, white and stainless
Auto Sensor Technology
46 dBA Noise level
Delay Start - 24 hours to delay start it.
Adjustable Upper Rack
Basic Wash Cycles:
Normal
Pots and Pans
Express
Rinse and Hold
Miele Classic Plus Dishwasher G4948SCUSS - $1,399.00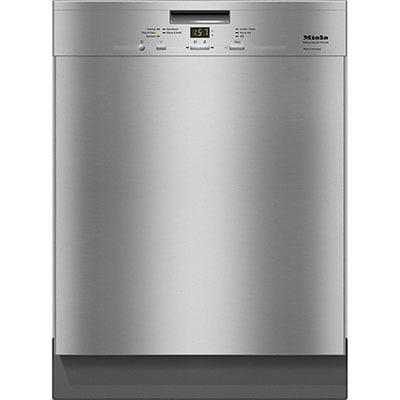 Also available in black and white
Features:
Half-Load will know to adjust the water level and electric consumption
Delay Startup to 24 hours
3D- Cutlery tray- it is good for different size utensils and can adjust to fit bigger cooking utensils
Express washer- washes 30 minutes with mixed load with food on the plates
Short wash- wash a load in 50% less time
Sani-wash- higher temperature wash gets you a better clean
Active condensation drying-recirculation Turbothermic, which is condensation drying with help from room temperature.
Noise level 46 dba
Unique Dishwasher Cycles:
Normal
Pots and Pans
Express
Sani-wash
Rise and Hold
Review:
The Futura Crystal is the most popular Miele dishwasher. The interior is almost all adjustable or removable. (anything in orange)
It can accommodate odd-shaped plates, trays, and dishes, simply by removing the tines on the bottom.
It also has the Auto-open the door to remove excess heat and speed drying. For cycles, you have the Quick Intense for washing and drying under 1 hour.
Pro Tip: Look for rebates on this model of up to $200 sporadically.
Features:
Front controls
China and Crystal- has a gentle wash and a reduced spin to clean to delicate dishware and glasses
3D-Cutlery Tray- more foldable spikes give you a better organization of your cutlery and cooking utensils
Quick Intense wash less one hour for normal mixed loads
Water Softener is for water that is hard; it gives spot free glass and shines.
Comfort close door--the door is easy to open and close
45 DB
Unique Dishwasher Cycles:
Sani Wash - Hygienically clean, for example, baby bottles, then will come out bacteria-free
Auto sensor wash - it measures the soil level and turbidity. It will adjust the time and temperature depending on the soil level
Perfect Glass Care - makes sure that the glass comes out the dishwasher gently clean
Auto-open - at the end of the wash cycle the door pops open to let air in
(White Finish G6785SCVI - 1,699)
Review:
The differences between Dimension and Futura Crystal Series are adjustability in the front part of the dishwasher and more specially designed cycles for stove grates and hood filters.
It's a 3-hour 16-minute cycle, BTW.
The upper and lower racks give a wide range of choices. You can fold down the tines or remove them to fit odd-shaped pots and pans.
On the upper rack, you adjust the height of the rail rack so you can put in a tall glass and give you extra space.
Features:
(Crystal features plus the following)
Flexicare Premium Racks
3D cutlery tray more foldable spikes give you a better organization of your cutlery and cooking utensils.
44 dBA
Sensor Dry (adjusts drying conditions to air being pulled in from the kitchen)
Intensive Mode - heavy wash in bottom basket/gentle wash in top basket at the same time
Eco-smart choices the cheapest time for electricity.
Unique Dishwasher Cycles:
AutoOpen Drying - door pops open when dry cycle is complete
Extra Quiet - Optional feature reduces noise by 20%
Appliance Care - washers dishwasher clean without and dishes or glasses in it.
Panel-ready G6875SCVI
Also 6885 SCVI k2o
Review:
The Futura Lumen is quieter at 42 DBs had has the two air ports for faster drying. You also have more cycles and their Knock 2 Open feature. Knock twice and the dishwasher opens.
The Quick Intense Wash allows you to wash and dry a normal load in 58 minutes.
Features:
EcoTech Heat Storage
3D+ Cutlery Tray
AutoSensor
12 Wash Cycles
BrilliantLight
Water Softener
Silence Rating of 42 dBA
16 Place Settings
ENERGY STAR®
Unique Wash Cycles:
QuickIntenseWash
ExtraQuiet,
Clean Machine
Grates & Filters
Best Overall: Miele Diamond G69855SCVIK20 - $2,699
Review:
The difference between the Lumen and Diamond series dishwashers is that the Diamond is completely customizable for any type of washing and cycle plus it has a 5-year warranty.
Features:
Auto-close Door
Remote Vision- Performance can be monitored by Miele via Wi-Fi
38 dBa (a quiet dishwasher will be 44 dB)
Auto Load-Size Sensor - senses the flow of water to establish what the load size is
Diamond Specific programs - heavy soil, sensor wash, light, energy saver, plastics, starch/cheese, tall items, glass-no rinse aid (warm), glass-no rinse aid (cold)
Advanced Clean Air - additional fan to help circulate air
5-year warranty
Unique Dishwasher Cycles:
Perfect GlassCare
China & Crystal
QuickPowerWash
SaniWash
Is a Miele Dishwasher Worth It?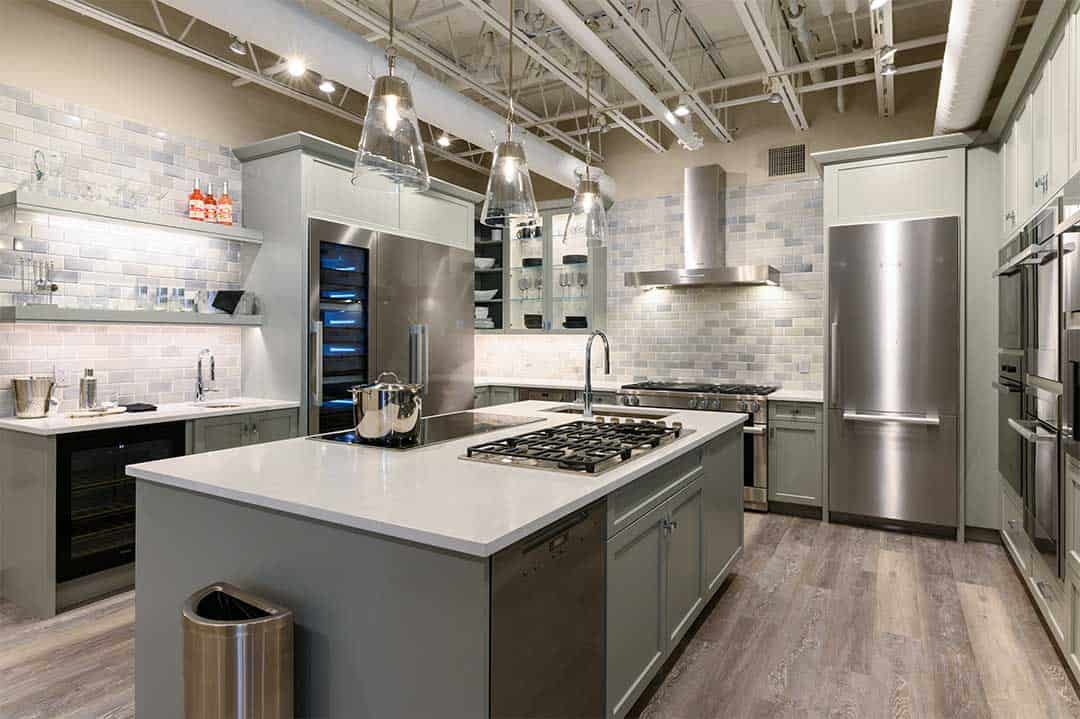 Miele Kitchen at Yale Appliance in Hanover
Miele is certainly not cheap, but it is built to a higher standard than other dishwashers.
By manufacturing the components instead of outsourcing like most other manufacturers, Miele has built a more reliable dishwasher (except in the last two years).
The difference between the Miele dishwashers is quietness from 38-46 dBs. The top cutlery tray changes from basic to an adjustable, multi-functional 3D tray.
After that, the racks, cycles, and warranties, as well as the drying system (with different fans and sensors), differ between the models.
Miele is still probably your best choice for a premium dishwasher.
Not to mention, all of Miele's dishwashers, aside from the base model, can have a panel to match your custom cabinets and will not protrude from the cabinet itself like most dishwashers.
How does a Miele dishwasher compare to Bosch?
The answer to that question needs two separate articles because there is no one single answer. Let's take a brief look at their main differences.
Miele Vs. Bosch Dishwashers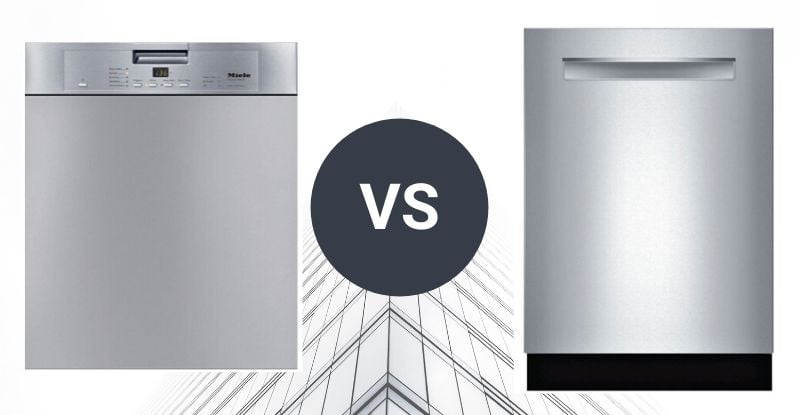 For dishwashers, the two most improved brands are Samsung on the lower end, and Bosch on the higher end.
Unlike Miele, you can buy a quiet 44 DB Bosch at $769. In the $900 range, Bosch has added Mieles Auto Opening door as a feature on their dishwasher at a lower price with the quieter 44 DB.
In the $1200 range, Bosch has added Crystal Dry or volcanic elements called Zeolite to increase heat and absorb moisture.
Over $1500, Miele has its flexible baskets and decent cycles. Bosch just adds features.
Many of Bosch's features like the Auto opening door, 3rd rack, and CrystalDry are new. At the same time, Miele has just told their reliability story. Their components are better, but the dishwasher is the same.
Their wash system is still the best with three wash arms. Their drying is still excellent, but it's not the best. Overall, Miele has the best washing and drying overall, but Bosch is more versatile with better cycles.
Both have waterproofing systems, but Miele is better. If I was on the 35th floor of a condo tower, waterproofing (and good initial installation) is important.
You should seriously consider both brands. Bosch may have an edge under $1200 with Miele being better over $1500
They are two excellent choices.
Additional Resources
Want to learn about the different dishwashers and brands? Download the Yale Dishwasher Buying Guide packed with tips, features, and brands of every major dishwasher. Over 800,000 people have read a Yale Guide.
Related Articles
WHY SHOULD YOU TRUST US?
A few review sites have placed this at the bottom of their articles. So here is our take: Our mission is to find reliable products for you to buy. Other review sites may say this as well.
However, we don't love every product. Quite frankly, it costs us way too much money in repair costs to support less reliable brands.
In fact, we sell fewer brands than most appliance stores. Here is why:
We feel it is our responsibility to repair your appliances after you buy them.
We now have 30 service technicians, each averaging 8-10 calls a day Monday through Friday, plus another 110 on Saturday. That's over 30,000 service calls logged in one year.
The labor rates of fixing an appliance do not come close to the true cost in any product's warranty period.
That is why no major retailer has a service department. It costs too much labor, money and time.
Our Blog is a bit different than most others you will read. We cannot write glowing reviews of unreliable products.
Hopefully, the bloggers and organizations who write such glowing product reviews for every brand consider servicing these products first. Only then they will understand the consequences of their marketing.
Steve Sheinkopf
My goal has always been simple: I want Yale to be the best retail experience anywhere. I have tried to create a compelling environment for customers and employees alike.
A Note About Pricing
Pricing on this blog is for reference only and may include time sensitive rebates. We make every attempt to provide accurate pricing at time of publishing. Please call the stores for most accurate price.