Best Miele Dishwashers for 2022 (Reviews / Ratings / Prices)
January 5th, 2022 | 8 min. read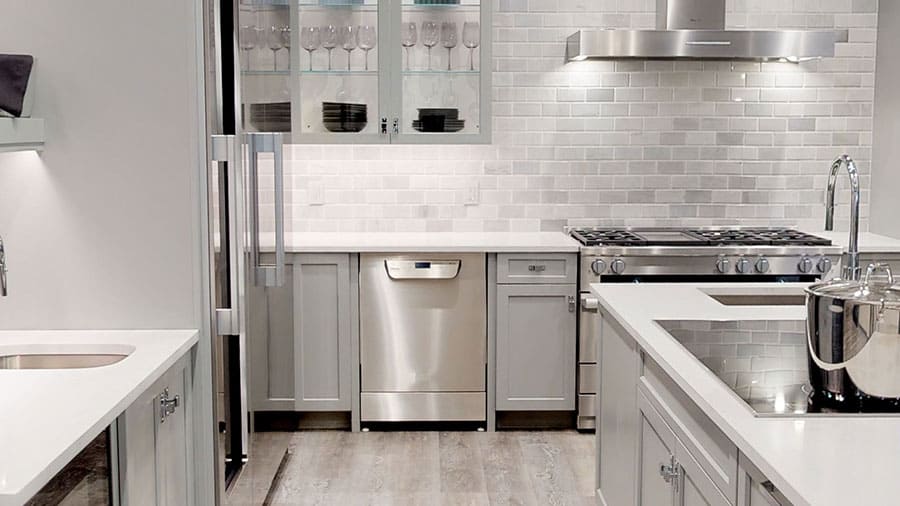 Our Tip Picks for 2022:
Best Overall: Miele G7366SCVISF Dishwasher - $1,999
The G7366SCVISF is their first dishwasher with Miele's new 20-load "AutoDos" automatic dispenser. It dispenses the exact amount of detergent needed at the right time.
Best Budget: Miele G5056SCVISFP Dishwasher - $1,299
It's hard to call $1,299 inexpensive or budget-friendly. Yet, it's the least expensive Miele dishwasher packed with features like a 58-minute wash and dry cycle and a 44 dB silence rating.
Second Best Budget Pick: Miele G5266SCVi Dishwasher - $1,399
The G5266SCVi adds the AutoOpen drying system to release steam and moisture for better drying. You also have their adjustable "3D" rack on the top.
Most Popular: Miele G7156SCViSF Dishwasher - $1,699
The G7156SCViSF adds more usable cycles, including IntenseZone to scour your bottom casserole dishes.
Best Splurge: Miele G7566SCVISF Dishwasher - $2,399
The G7566SCVISF is not Miele's best dishwasher. However, it's the best Miele dishwasher available, adding cycles, lighting, and better racks than the G7366SCVISF.
Buying a Miele dishwasher is not easy between the codes and the new models.
Over the last two years, Miele has introduced two new series, the G 5000 and G 7000 series, with better features. As confusing as it may be, it was timely because their biggest competition, KitchenAid and Bosch, dramatically improved as well.
In this article, you will learn Miele's best features, including reliability, the differences between the models, and the best models to consider. In the end, we will briefly compare Miele to Bosch and KitchenAid dishwashers.
This will be a long article with plenty of videos to guide you along the way. Let's get started.
Miele Dishwasher Availability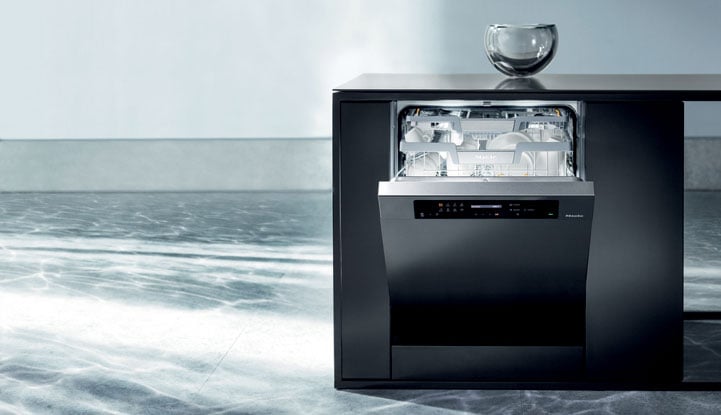 Miele G 7000 Series Front Control Dishwasher
The main benefit of a Miele dishwasher is its quality of components that are made to last longer. In an era of outsourcing, Miele distinguishes itself by manufacturing 96.8% of all its components in Germany.
Usually, this is more expensive. Outsourcing allows for better specialization and lower costs - except during a pandemic. When one of those companies isn't operating effectively or is shut down, the production of dishwashers stops.
That is one problem you see currently shopping for any appliance. Demand for home improvement products, like appliances, has soared. Miele may build its own parts, but demand surpassed their capacity.
Ultimately, the best Miele dishwasher may be the one you can find. However, buying an available Miele dishwasher is not easy. Their dishwashers look similar but have widely varying features.
Throughout this article, you will learn a bit about each series and feature differences, plus recommendations on which might be the best for you.
Miele Dishwasher Reliability
We have 35 service technicians who performed over 120,000 appliance service calls over the last three years. At one time, Miele was the most reliable dishwasher. Then they had a batch of frozen motors. The following year it was buzzing solenoids creating noise.
This year, Miele is one of the most reliable premium dishwashers you can buy while still introducing new models and features.
We calculate dishwasher reliability by dividing the products we serviced by the products we sold for a service rate percentage.
For this article, we looked at the number of dishwashers sold and serviced from December 2020 to October 2021. Miele's service rate was better than average at 8.9%.
| | |
| --- | --- |
| | Service Rates |
| LG | 1.7% |
| Thermador | 3.6% |
| Whirlpool | 4.1% |
| JennAir | 5.3% |
| KitchenAid | 5.5% |
| Miele | 8.9% |
| Fisher & Paykel | 9.9% |
| Bosch | 10.1% |
| Beko | 10.3% |
| Café Appliances | 10.7% |
| GE Profile | 12.2% |
| Asko | 12.5% |
| Samsung | 18.5% |
| Grand Total | 12.8% |
The service rates above are based on a minimum of 90 units sold and a total sample of over 8,000 pieces.
Read More: Most Reliable Dishwashers
Best Miele Dishwasher Features
Let's look at Miele's best dishwasher features standard in all Miele dishwashers.
1. Third Rack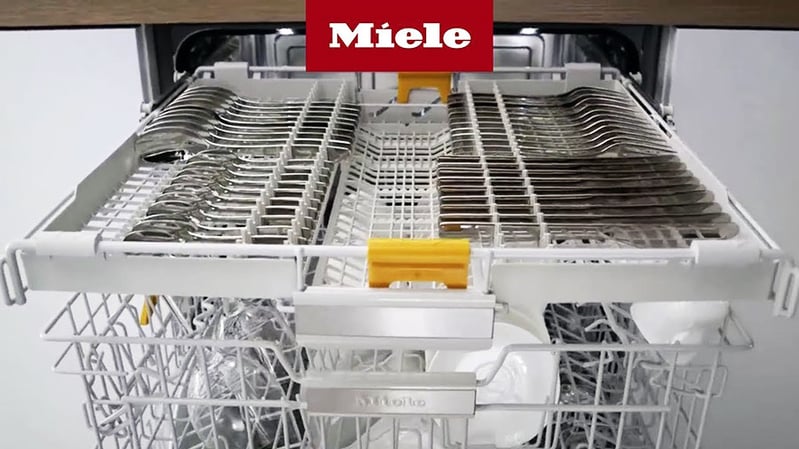 Cutlery Tray or Third Rack in a Miele Dishwasher
All Miele dishwashers have a third rack for silverware. You will like this feature because you can fit more on the bottom rack without the silverware basket. The better Miele series have the 3D cutlery rack. You can swivel this out of the way for taller glasses on the top rack.
2. Three Full Wash Arms
Miele is one of the only dishwashers with top, middle, and bottom wash arms. Most brands have two wash arms, or they will have much smaller wash arms on the top like Bosch or KitchenAid.
Three arms are essential with the third rack because it washes silverware better. The top wash arm concentrates on the cutlery tray.
3. Drying
Miele is also one of the only dishwashers with a real drying cycle. It allows the colder outside air into the inside of the dishwasher. Steam is attracted to the "colder" side and is fully dissipated as water.
Miele's high-end series features two fans at the bottom for even faster drying. The better Miele G 5000 and G 7000 series will all pop open at the end of the cycle to allow steam to escape. This also speeds drying. I have an older Miele, and I've found this feature works.
4. Double WaterProof System
Miele's Double WaterProof System automatically shuts off the water supply if the dishwasher starts to leak. Many dishwashers have leak protection, but Miele's is better.
One of my friends had an upstairs neighbor with a water leak. It leaked through their unit to the units below and other units on the side. That's an insurance claim nobody wants. Miele has the best system for leak prevention, along with Bosch's AquaStop leak protection.
Pro Tip: Make sure your installer knows how to install a dishwasher. If you live in a condo on the 35th floor, you should also make sure your installer is insured.
5. Integrated and Panel-Ready Options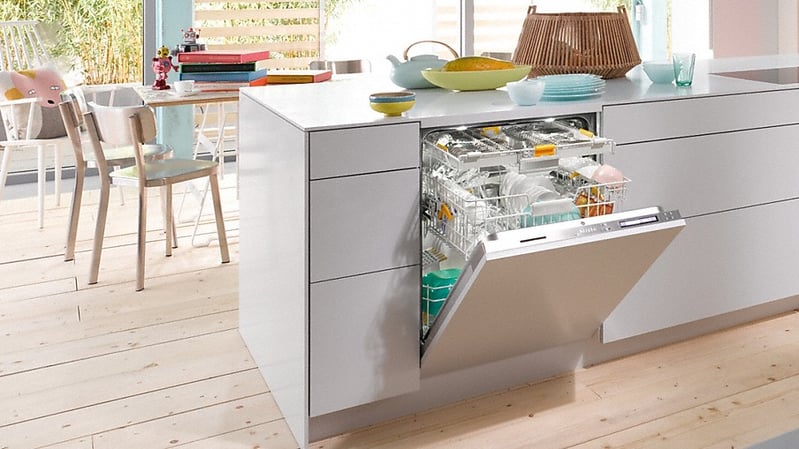 Integrated, Panel-Ready Miele Dishwasher
European dishwashers like Miele, Bosch, and Beko fit within a 24-inch cabinet, so it does not protrude. The dishwasher becomes indistinguishable from the cabinet.
It should be the only way to buy an integrated dishwasher. Yet, American brands like GE, Whirlpool, and KitchenAid will protrude and, unfortunately, look like a dishwasher with a panel stuck on it.
Read More: Best Panel-Ready Dishwashers
Differences Between Miele Dishwashers
Miele has multiple dishwasher series and models. The difference between Miele dishwashers within the same series is having visible front controls or hidden integrated controls.
Although the model numbers are confusing, the first letters like G71, G73, or G75. After that, the overly complex numbers refer to the style: Top controls, front controls, or paneled.
There are seven major differences between the Miele dishwasher series:
Adjustability in Racks
Quietness
Drying Systems
Wi-Fi Connectivity
Cycles
Knock2Open
Automatic Detergent Dispensers (AutoDos)
1. Adjustable Racks
The top rack is fully adjustable on all Miele dishwashers. However, the better dishwashers have adjustable racks within the rack itself to accommodate almost anything.
Note: Any rack piece in yellow in a Miele dishwasher is either adjustable or removable.
2. Quietness
Miele dishwashers range from 38-48 dB. Quiet dishwashers are 44 dB and less. However, for Miele's dishwashers to reach 38 dB, the motor slows down to achieve the lower dBs, resulting in a 4-hour cycle.
3. Drying Systems
Miele has the port in the bottom. The better machines have two to circulate air to the side for faster drying. All Miele dishwashers pop open at the end of the cycle to release heat and steam, except for the least expensive ones.
4. Wi-Fi Connectivity
You can control your dishwasher from your phone in the top two Miele series, including turning the dishwasher on and off or changing cycles. You can also see time remaining and receive a text when the cycle is complete.
5. Cycles
The cycles span from basic to customized ones like hood filters and stove grates as you step into the better models.
6. Knock2Open
You can open the two best dishwashers by knocking twice on the door. It's probably not at the top of your list for features, but you don't have to have a handle for these models. With better cabinets, handleless is a nice touch.
7. AutoDos With PowerDisk Dishwasher Dispenser
Miele's automatic detergent dispenser is designed to handle 20 loads and guarantees the exact amount of detergent is released at the right time.
I thought this was an overblown feature. However, clients reported cleaner dishes because the detergent is released at the right time in the cycle. AutoDos is available in their top three series, the G 7300, G 7500, and the G 7900 dishwashers.
Best Miele Dishwashers for 2022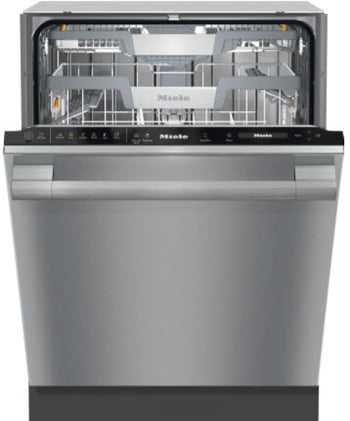 The G7366SVISF is also 44 decibels. You can use their extra quiet cycle for a silence rating of 39 dB. However, it's a 4-hour cycle slowing the motor down. The racks are a bit better. You do have some custom cycles for your stove grates and hood filters.
Most importantly, the G 7300 series has "AutoDos," an automatic detergent dispenser. It allows you to pour 20 loads of detergent into the dishwasher. The dispenser will release the detergent for you every time.
This dispenser works. Clients claim they have the cleanest dishes and glasses using this new dispenser. Lastly, this dishwasher is Wi-Fi enabled. You can turn the dishwasher on or off remotely and see how much detergent is in your new dispenser.
Miele G7366SCVISF Additional Cycles:
Clean Machine - High-temperature wash designed to clean the stainless tub
Grates and Filters Cycle - It's a 3-hour 14-minute cycle design to clean stove grates and filters.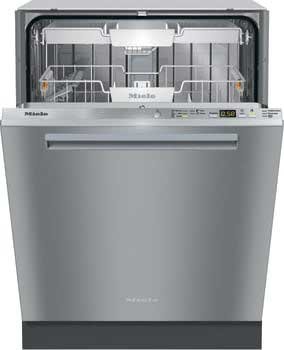 The G5056VISFP is the top control version of the least expensive G5006. This series is now officially quiet at 44 dB. Like all Miele, it features the QuickIntenseWash, a 58-minute wash and dry cycle for normally soiled dishes using temperature.
Basic Wash Cycles Included:
Normal
Pots and Pans
Express
QuickIntenseWash
Rise and Hold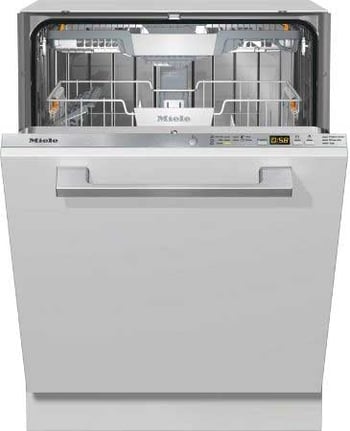 The G5266VISFP adds the 3D MultiFlex top rack. You can slide it in a few different positions to accommodate more on the rack below on the left side. You can drop the right side to accommodate cups and small bowls.
You have better drying with the AutoOpen door popping open at the end of the cycle. It releases steam. It's a great feature, especially if you wash at night. That steam doesn't become residual moisture on your glasses. This series is also quieter at 42 decibels.
Miele G5266SCVi Additional Cycles:
Normal
Economy
Express
ExtraDry
Perfect GlassCare
Pots & Pans
QuickIntenseWash
Sensor Dry
The Miele G 7000 Series has sensor-driven cycles and options. Miele's sensor recognizes the water's soil level to adjust time and temperature in the wash and dry cycles.
The Miele G 7100 series dishwasher has a new drying system, racks, and silence rating. The Intense Zone is a newer cycle for the bottom rack.
This dishwasher is now 43 dB, just a bit noisier than the previous less expensive model. The following list shares what each cycle means.
Miele G7156SCViSF's Additional Cycles:
QuickIntense Wash -This new cycle cleans and dries regularly soiled dishes in just 58 minutes.
IntenseZone - The IntenseZone option provides a longer wash duration in the lower basket at a higher temperature to scour plates and platters.
Express -This option reduces the program's length by 62% when dishes have to be done quickly.
Extra Clean - This cycle has excellent cleaning properties. This enhanced cleaning option can be added to any program.
Extra Dry -Thanks to the extended drying phase and the increased rinse temperature, even challenging plastic items are perfectly dried.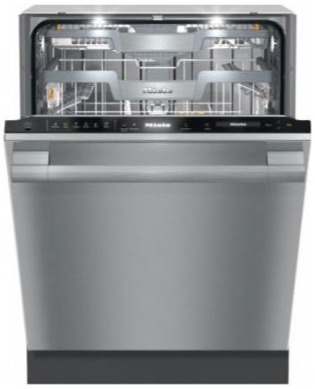 This series is 42 dB or 38 dB if you select the extra quiet cycle. This dishwasher also has Knock2Open if you're looking for a handless design. You knock three times, and the dishwasher opens.
You also have better "Flexline" racks. The 75 series also features LED lighting inside if you are unloading your dishwasher in the middle of the night.
Miele G7566SCVISF's Additional Cycle:
Sensor Wash - Measures turbidity (fancy word for food and liquid residue) and adjusts for time and temperature.
How Do Miele Dishwashers Compare to Bosch and KitchenAid Dishwashers?
Miele vs. Bosch Dishwashers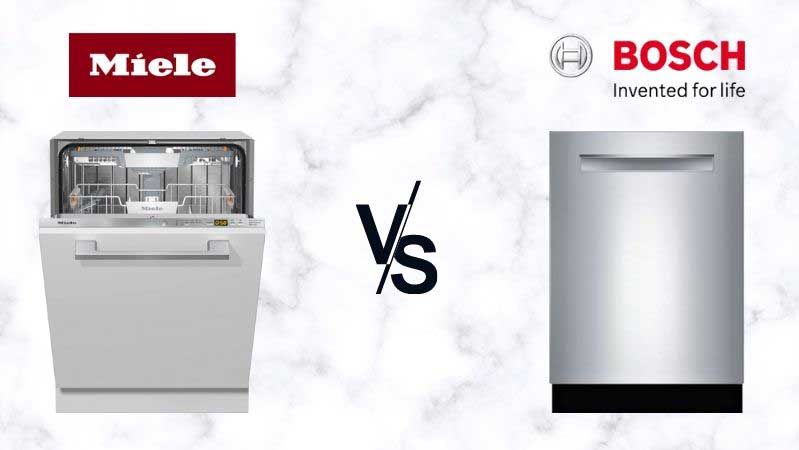 Miele Dishwasher G5266SCVi | Bosch 800 DLX Series Dishwasher SHP878ZP5N
As of this writing, Bosch has been affected by COVID-19. Many of their dishwashers below $1,000 are out of stock. At $1,279-$1,399, Bosch's dishwashers are a good consideration. Bosch now uses the volcanic element Zeolite in their drying system to increase heat and absorb moisture. It works.
Miele's $1,399 dishwasher, the G5266SCVi, will have more usable cycles along with a better wash system. Their drying is good and the auto-opening feature, but Zeolite works better on plastics. From $1,999+, Miele has a better dishwasher, especially with its new dispenser.
In terms of reliability, Miele is slightly better.
Read More: Bosch vs. Miele Dishwashers
Miele vs. KitchenAid Dishwashers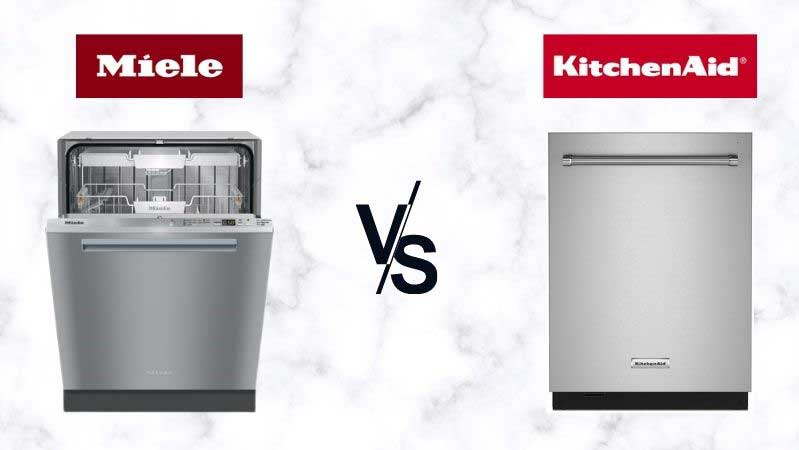 Miele G5056SCVISFP Dishwasher | KitchenAid 600 Series KDTM604KPS Dishwasher
KitchenAid has two series. Their less expensive dishwasher, the KitchenAid 200 Series, is 39 dB with decent cycles at $999.
However, KitchenAid's M series dishwashers at $1,299 have four wash action levels, including the largest 3rd rack. Their drying includes an intake and a fan to dry the dishes. It's a similar system to Miele, at least in principle.
KitchenAid is a good dishwasher to consider for under $1,299. Their two better units at $1,499 and $1,899 don't add much for features. Miele has better cycles and features, starting at $1,399.
Read More: Miele vs. KitchenAid Dishwashers
Should You Buy a Miele Dishwasher?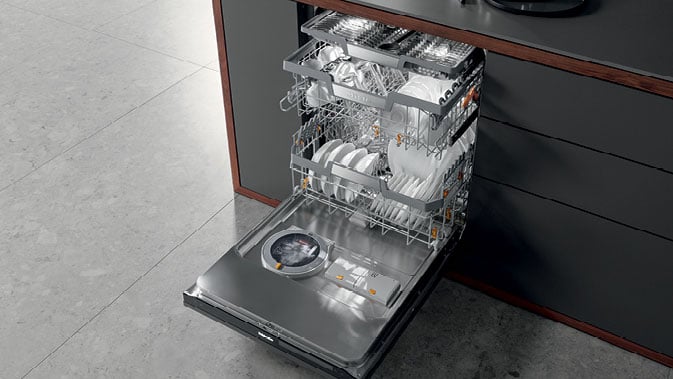 Miele G 7000 Series Dishwasher
Miele has excellent dishwashers, especially over $1,499, where most brands stop. They offer a solid package of racking features and washing and drying capability. You should know the dispenser works and is not a gimmick.
Then again, neither are the features of Bosch's and KitchenAid's new dishwashers. Still, at $1199 and above, you should consider a Miele dishwasher as it has the most comprehensive package of washing, drying, cycles, racking, waterproofing, and reliability.
Additional Resources
Want to learn about the different dishwashers and brands? Download the Yale Dishwasher Buying Guide packed with tips, features, and brands of every major dishwasher. Over 1 million people have read a Yale Guide.
Related Articles:
Why Should You Trust Us?
It seems that every appliance review has nothing but glowing comments about almost every product, yet you read customer reviews and they are almost universally bad.
We are here to fill in the disconnect. We'll give you the best features, and the drawbacks as well, including reliability based on over 37,000 calls performed by our service team just last year. Our goal is to give you ALL the information so you know what's right for you.
Please consider subscribing or adding to the conversation in the comments below. We appreciate you stopping by.
Steve Sheinkopf is the third-generation CEO of Yale Appliance and a lifelong Bostonian. He has over 38 years of experience in the appliance industry, and he is a trusted source of information for consumers on how to buy and repair appliances.

Steve has also been featured in numerous publications, including the New York Times, Consumer Reports, The Boston Globe, Bloomberg Radio, the New York Post, The Wall Street Journal, and Entrepreneur, for his knowledge of how to buy appliances and appliance repair.

Steve is passionate about helping consumers find the best appliances for their needs, and he is always happy to answer questions and provide advice. He is a valuable resource for consumers who are looking for information on appliance buying, repair, and maintenance.

Despite being the worst goalie in history, Steve is a fan of the Bruins and college hockey, loves to read, and is a Peloton biker. The love of his life is his daughter, Sophie.
A Note About Pricing
Pricing on this blog is for reference only and may include time sensitive rebates. We make every attempt to provide accurate pricing at time of publishing. Please call the stores for most accurate price.