Most Reliable Electric Ranges for 2021
If you have read our reliability posts, you're probably concerned about repair rates.
Electric ranges are the exception.
Why?
Well, electric ranges have always been made the same. They are like refined microwaves. Most new electric ranges with smooth ceran tops are like those I sold 35 years ago when I started at Yale.
In this article, you will learn about the most reliable electric ranges to consider based on our service calls logged last year.
We logged 37,061 calls last year alone or over 100,000 in less than three years.
First, you will see a break down of how we measure reliability. Reliability is a very elusive measurement in our industry.
Then you will learn about the most reliable models for 2021.
This article is about electric ranges only. The most reliable induction ranges are in a separate article. Click here for our most reliable induction ranges.
Let's get started.
Based on a minimum of 100 electric ranges sold, the most reliable electric ranges for 2021 are:
Whirlpool - 0.59%
Samsung - 2.38%
Bosch - 4.76%
GE - 7.41%
KitchenAid - 8.54%
How We Calculate Electric Range Reliability
We calculate appliance reliability by looking at products sold compared to the products serviced for one year.
You won't find reliable posts like this on the internet.
Stores typically do not have service departments or have little service. Thus, they can't deliver or collect significant data unlike us.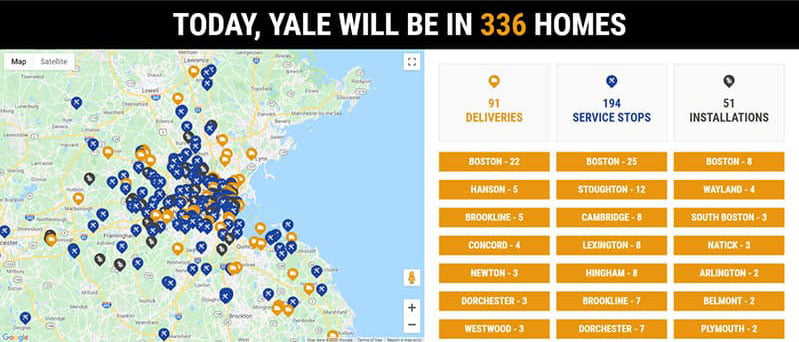 Yale Appliance Delivery, Service, and Installations During One Business Day
There is no benchmark for initial quality in the appliance business.
Consumer Reports test in a lab and report results. They also rank brands based on predictive analysis. They do this by surveying consumers over ten years.
This can be a problem.
Consumer Reports weighs past and current issues similarly, but you are buying now, not ten years ago.
I am a member, and it's still a good reference.
However, I would not depend on their results exclusively.
You want to see how these products will work in your home based on actual service calls.
For this reason, we have devised our own formula. Our formula determines reliability based on actual in-home repairs.
We have 33 service technicians performing 8-10 service calls every day.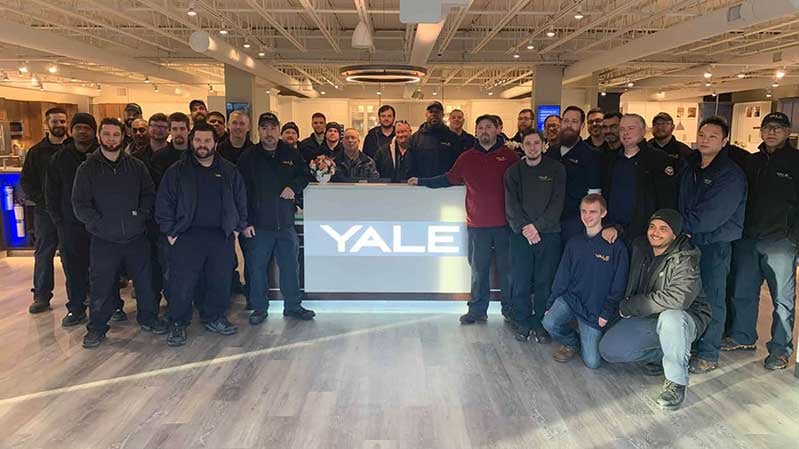 Yale Appliance Service Techs
That amounted to 37,061 service calls logged in 2020.
You will see our sales divided by service calls for brands' reliability percentage.
Let's take a look.
Most Reliable Electric Ranges for 2021
The average repair rate for electric ranges is 3.06% in the first year. Appliances, in general, are about 9.7%.
Electric Range Reliability for December 2019 to November 2020
| | |
| --- | --- |
| | Service Ratio |
| Whirlpool | 0.59% |
| Samsung | 2.38% |
| Bosch | 4.76% |
| GE | 7.41% |
| Beko | 8.25% |
| KitchenAid | 8.54% |
| Grand Total | 3.06% |
These figures are based on a minimum of 90 ranges sold and a sample of over 1900 total pieces.
Why Are Electric Ranges So Reliable?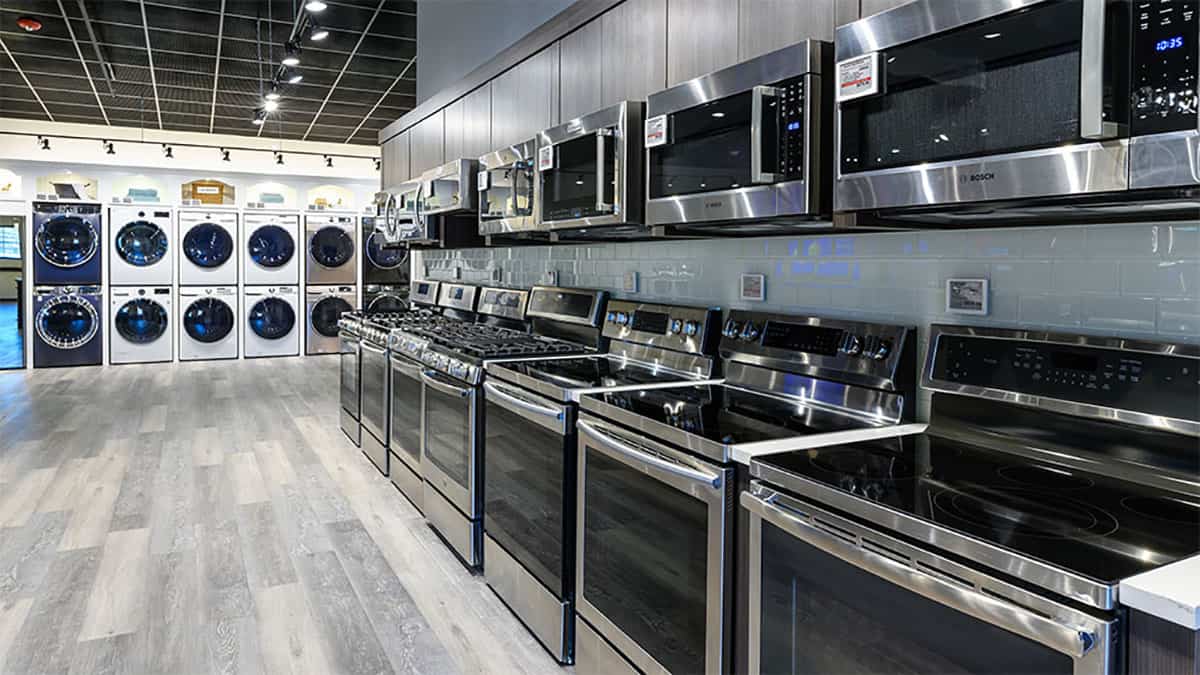 Electric Ranges at Yale Appliance in Hanover
Electric ranges are more than twice as reliable as a gas range.
As I said in the beginning, electric ranges haven't changed much in the last 34 years.
You have no direct contact with the heating elements. With the elements are under glass, you have less of a chance of breakage.
You have more direct contact with a gas burner.
The number one repair in a gas range is the burner ignition on top of the range (pictured below).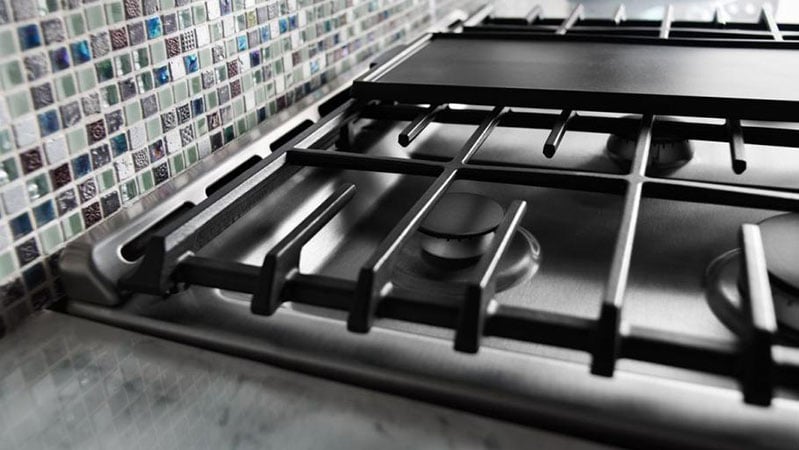 Most companies have a long history of manufacturing electric ranges since the 1920s. Since then, manufacturers have incrementally improved the heating element.
When I started at Yale back in 1986, many companies did not produce a gas range.
Electric ranges are among the most reliable appliances, along with grills and hoods.
Read More: Most Reliable Appliances
Short on time? Get our free Electric Cooking Buying Guide
What Are the Best Electric Ranges for 2021?
The most reliable and best electric ranges for 2021 are from Whirlpool, GE, Bosch, KitchenAid, and JennAir in freestanding and front control configurations.
Freestanding Electric Ranges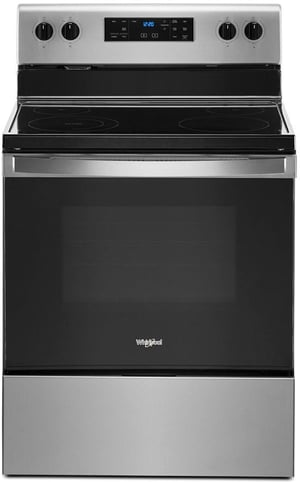 Whirlpool is the most reliable electric range. However, most of it's shipped products are basic ranges requiring less service.
Whirlpool has preprogrammed oven technology, such as their Frozen Bake feature.
With Whirlpool's Frozen Bake feature, you don't have to preheat your oven. The range calculates the time from frozen to cooked automatically.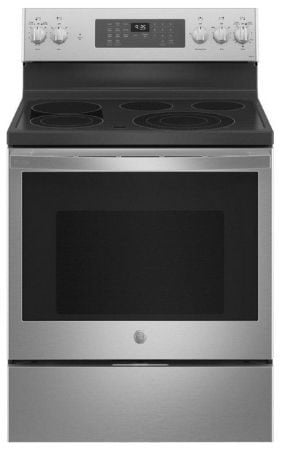 GE has always produced a decent range. The PB935YPFS is their most popular.
It has only a bit more output than the Whirlpool with the fifth element for warming, and the differences are mostly features.
The PB935YPFS has convection or fan-forced heat to keep a more even heat for better baking.
The big new feature for ranges is air fry so you can have that crispy taste without frying.
When I look at the mode, it's the convection fan and the broil element. We will be testing air fry in our test center this month.
You also have Wi-Fi as a feature as well with the ability to turn the range on or off remotely. You can also change temperature and receive text alerts right from an app on your phone.
GE also has some unique recipe tie-ins as well right on your app.
Slide-In Electric Ranges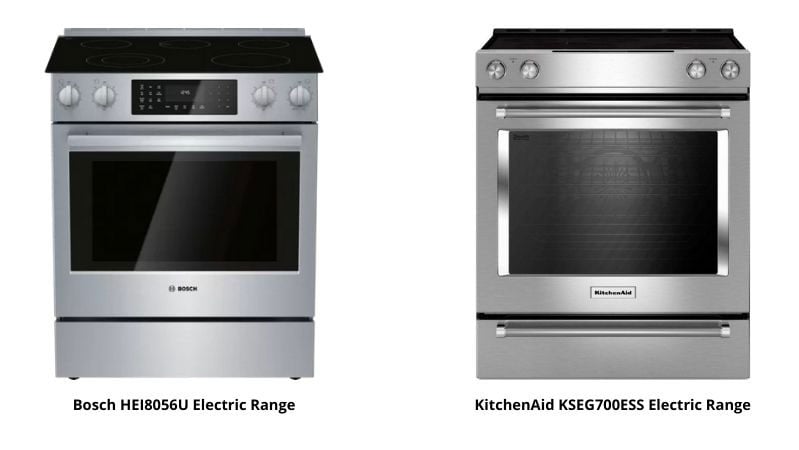 Bosch and KitchenAid are more feature-oriented stoves. Both have the controls in the front so you can see your backsplashes for a cleaner look
Bosch is a slide-in so it fits over a countertop and is easier to clean. KitchenAid, however, is a front control and can fit an existing 30-inch space without modifying the countertop.
They will all have convection, fan-forced heat to keep more even heat in your oven.
They will have plenty of modes like convection conversion.
Bosch will give you more modes. There are 11 different cooking modes in a Bosch.
The KitchenAid unit has the largest oven at 6.4 cubic foot capacity.
Bosch's total oven capacity is small at only 4.6 cubic feet. Bosch will have a warming drawer as well to keep foods warm for up to 3 hours versus just storage for the KitchenAid.
They do have a model with a baking drawer at $2499.
Electric Range Availability
Availability is tight due to the pandemic and lack of parts. I wrote that last year.
This year's availability is much worse. Samsung, for example, is quoting 6 months for the electric range previously listed.
You can't be brand loyal anymore. Every brand has an availability issue.
Be feature loyal.
In other words, pick the features desirable to you and then shop. You won't be shut out because a store is bound to have an option.
Other Brands to Consider
LG
We sell their laundry and their refrigeration (both made the most reliable lists) but haven't sold much of their cooking.
However, this range is a good alternative and styled similar to a Samsung.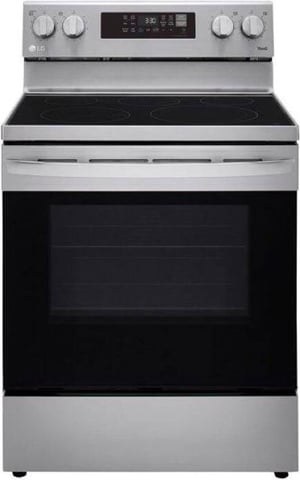 LG has decent features with a good size 6.3 cubic foot oven, Wi-Fi, and air fry capability. It's a good consideration between a Whirlpool and GE (where Samsung used to be).
Beko
At first glance, the Beko is a good option if you want a convection front control with features. It's another mode-driven stove with a warming drawer below for $400 less than the Bosch.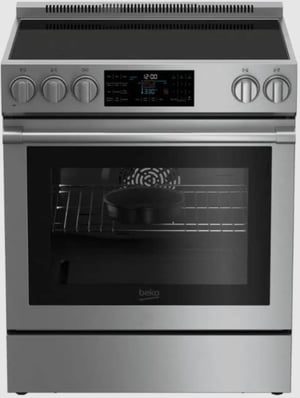 Should You Buy an Extended Warranty for an Electric Range?
No, you shouldn't buy an extended warranty for your electric range. These service rates are low enough.
If you do buy an appliance warranty, make sure your store can fix issues.
Most warranties are from third parties without actual service agents.
They take your money now and then scramble to find a tech when there is an issue.
We offer warranties. If unused, you do receive a 50% credit back to the store. You may want to consider a similar program in your area if available.
With electric ranges, you will receive that credit after the warranty expires.
Which Electric Range Should You Buy?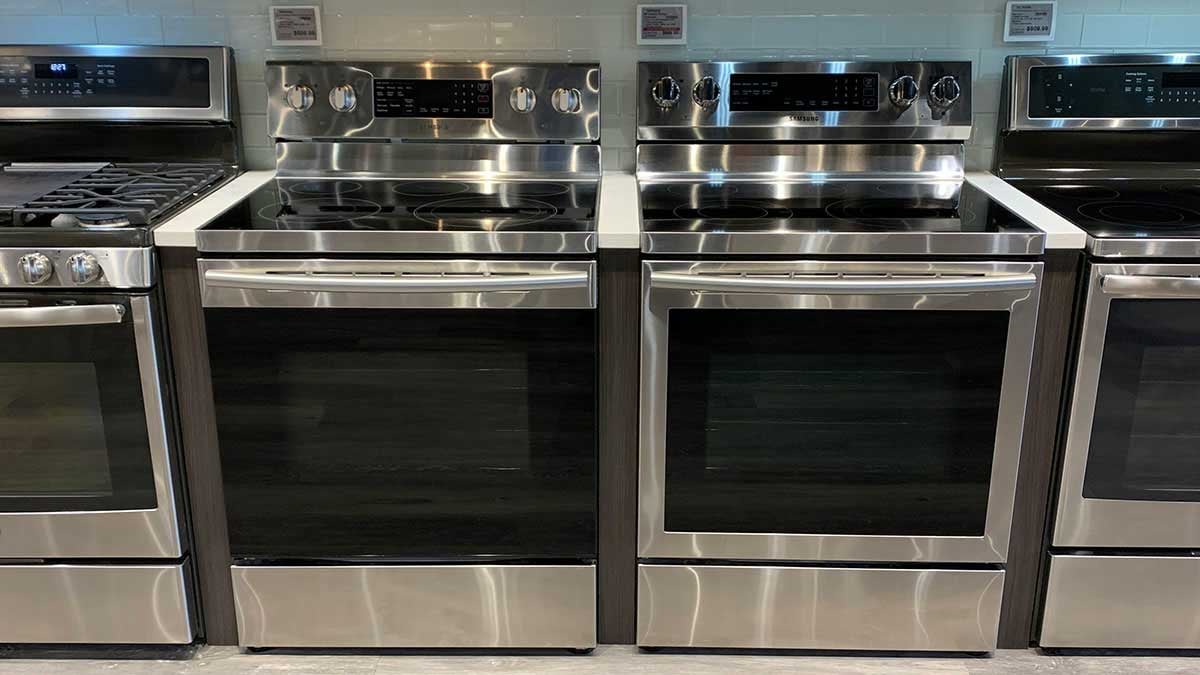 Electric Ranges at Yale Appliance in Hanover
I am a fan of any reliable product regardless of the brand because we have to fix appliances under warranty.
Whirlpool is the best electric range for reliability. However, most of this volume is builder-generated.
They are basic ranges. In apartment and condo buildings, units are not always immediately occupied. Also, customers who rent may not know to call us.
However, even the better ranges have better reliability than the average appliance.
KitchenAid, Beko, GE are all worth considering.
Read More: How to Buy an Electric Range
Key Takeaways
Electric ranges all work better than any other major appliance in your home.
I don't feel like I'm delivering bad news for once, as I do with many other appliances.
However, in a full kitchen of new appliances, your odds of repair are 50-60% within the first year.
Reliability has become a big overall issue. Most manufacturers do not have service departments anymore to fix problems.
As part of your shopping process, always shop with price, delivery, installation, and service in mind.
You should at least inquire about service before you buy any appliance.
Additional Resources
Need more information on Electric cooking? Download the Yale Electric Cooking Buying Guide with specs, features, and detailed profiles to all the brands. Well over 820,000 people have read a Yale Guide.
Related Articles:
Why Should You Trust Us?
It seems that every appliance review has nothing but glowing comments about almost every product, yet you read customer reviews and they are almost universally bad.
We are here to fill in the disconnect. We'll give you the best features, and the drawbacks as well, including reliability based on over 37,000 calls performed by our service team just last year. Our goal is to give you ALL the information so you know what's right for you.
Please consider subscribing or adding to the conversation in the comments below. We appreciate you stopping by.
Steve Sheinkopf
Steve is the third-generation CEO of Yale and a lifelong Bostonian. He currently resides in Boston, one mile from where he was born. Despite being one of the worst goalies of all time, he is a huge hockey fan of college hockey and the Boston Bruins. The love of his life is his daughter Sophie.

Steve has also been featured in numerous publications such as the New York Times, Consumer Reports, The Boston Globe, Bloomberg Radio, and Entrepreneur, for his knowledge of how to buy appliances and appliance repair.
A Note About Pricing
Pricing on this blog is for reference only and may include time sensitive rebates. We make every attempt to provide accurate pricing at time of publishing. Please call the stores for most accurate price.