The Most Reliable Electric Ranges (2023 Update)
April 25th, 2023 | 6 min. read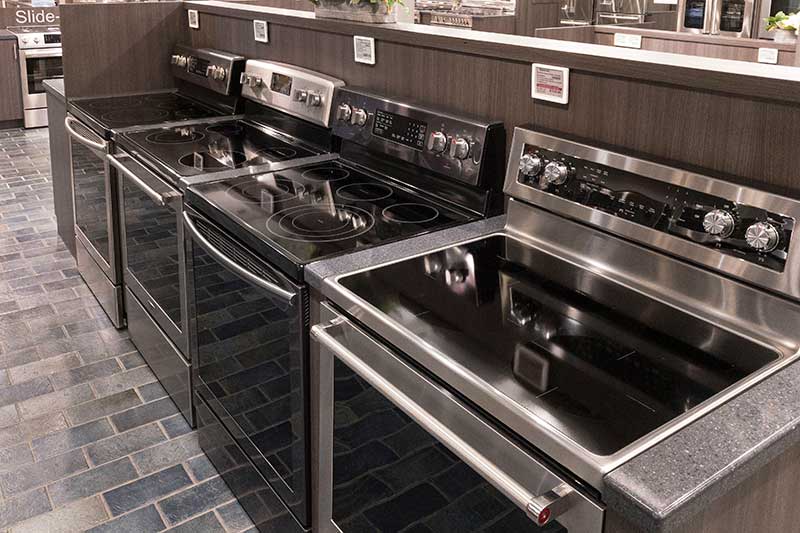 The Most Reliable Electric Ranges for 2023 are:
LG - 2.3%
GE Profile - 2.4%
Whirlpool - 3.3%
Beko - 6.2%
If you have read our reliability posts about refrigerators or professional ranges, you may be concerned about repair rates.
Electric ranges are the exception. Mostly.
Why? Well, electric ranges have always been made the same way. They are refined technology, like microwaves.
Most new electric ranges with smooth ceran glass tops are similar to those I sold 36 years ago when I started at Yale. Most of the glass for the stovetops is still made by SCHOTT, the same manufacturer, even 36 years later.
However, service rates increase when appliances have more features, depending on the brand.
In this article, you will learn about the most reliable electric ranges to consider based on over 33,000 service calls logged last year.
This article is about electric ranges only. The most reliable induction ranges are in a separate article. Click here for our most reliable induction ranges.
Why Electric Range Reliability Matters
Reliability is a very elusive measurement in our industry. It is incredibly important to buy a reliable appliance, especially now.
The wait time for a repair averages two months due to a lack of available parts and technicians.
Repair is a giant unspoken problem in this industry, so be careful.
Since many electric ranges are alike, I recommend you search for the top-rated appliance service providers in your area and read their reviews online.
The Most Reliable Electric Ranges for 2023
The figures below are based on at least 30 ranges sold and a sample of over 700 pieces from January 1, 2022 to December 31, 2022.
| | |
| --- | --- |
| | Service Rates |
| LG | 2.3% |
| GE Profile | 2.4% |
| Whirlpool | 3.3% |
| Beko | 6.2% |
| Samsung | 10.8% |
| Café Appliances | 13.5% |
| GE Appliances | 22% |
| Grand Total | 6.3% |
The average repair rate for electric ranges is 6.3% in the first year. Appliances, in general, have a rate of about 9.7%.
Advanced ranges have more repairs depending on the brand, although the issues aren't bad.
We found the most common electric range problems last year were control panel flashing and burners not heating.
The control panel controls the range, so that's a problem. It's easy enough to fix burners that aren't heating, plus you have three more burners to use when one is not working.
In addition, electric ranges can trip breakers depending on your breaker and its maximum amperage.
Pro Tip: Never self-clean your oven before a holiday. Self-cleaning is a 900-degree heat cycle. It can cause problems in older ranges.
How We Calculate Electric Range Reliability
We calculate appliance reliability by dividing the products we serviced by the products we sold. This article looked at the number of appliances sold and serviced from January 1, 2022, to December 31, 2022.
You won't find reliable posts like this on the internet. Stores typically do not have service departments or have little service. Thus, they can't deliver or collect significant data. There is no benchmark for initial quality in the appliance business.
Consumer Reports test appliances in a lab and report results. They also rank brands based on predictive analysis by surveying consumers over ten years. This can be a problem.
Consumer Reports weighs past and current issues similarly, but you are buying now, not ten years ago.
However, I am a member, and it's still a good reference, but I do not depend on their results exclusively.
Based on recent service calls, you want to see how these products will work in your home. For this reason, we have devised a better formula by determining reliability based on actual in-home repairs.
We have over 30 service technicians performing 8-10 service calls daily. That amounted to over 33,000 service calls logged in 2022.
Why Are Electric Ranges So Reliable?
As I said initially, electric ranges haven't changed much in the last 36 years. You have no direct contact with the heating elements.
With the elements under glass, you have less chance of breakage.
You have more direct contact with a gas burner. It doesn't have an additional magnet "driver" like induction. The number one repair in a gas range is the burner ignition on top of the range.
Most companies have a long history of manufacturing electric ranges since the 1920s. Since then, manufacturers have incrementally improved the heating element.
When I started at Yale in 1986, many companies like GE and Whirlpool did not even produce a gas range yet had a full portfolio of electric cooking products.
Read More: The Most Reliable Appliances
Should You Buy an Extended Warranty for an Electric Range?
I would not buy an extended warranty unless you buy it from an actual service department. Since 95% of the stores do not offer service, you are better off taking your chances and saving money.
In the unlikely event your store does offer service, then it's insurance against a larger future service bill. Just do not use the self-clean mode during the holidays.
Read More: Are Appliance Extended Warranties Worth It?
Choosing the Right Electric Range: Factors to Consider
Electric Range Style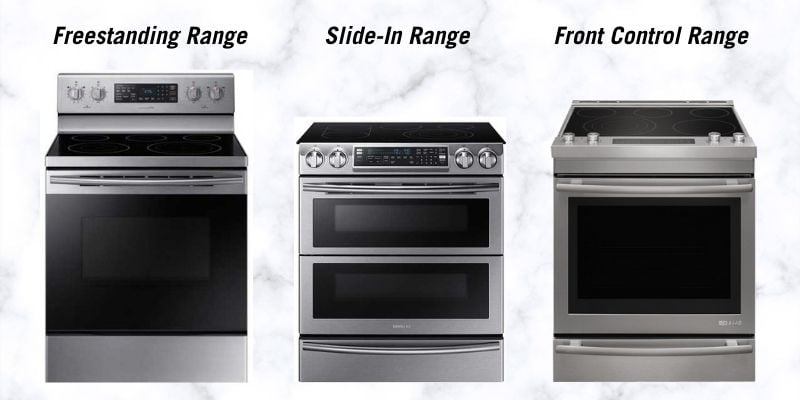 You have three styles of electric ranges: Freestanding, front control, and slide-in.
Freestanding ranges have controls on the back.
Slide-ins and front controls have controls on the front. They look better because you can see your backsplash without looking at the back of your range.
Slide-ins overlap the top, so you don't have a seam for easier cleaning, but front controls are the same cutout as a freestanding and are easier to install.
Front control ranges are produced more than slide-in ranges.
Features of an Electric Range
Stovetop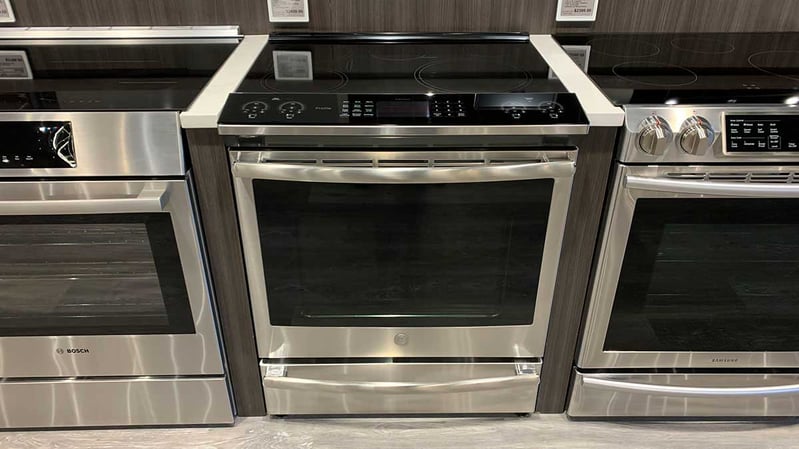 Electric Range Stovetop at Yale Appliance
Stovetops vary from the classic 4-5 burners to larger and oblong griddle burners.
Ovens
The outside dimensions of an electric range are similar at 30 inches wide and 35 inches tall, but the ovens vary a bit.
LG electric ranges have the largest ovens with a capacity of 6.3 cubic feet, but you can buy larger double ovens at 7 cubic feet.
The logical feature progression is standard ovens, then convection with fan-forced heat for more even heat. In addition, you can buy more advanced ranges with warming drawers and then a double oven.
However, more features add service problems in electric ranges, at least in the first year.
Top Electric Ranges of 2023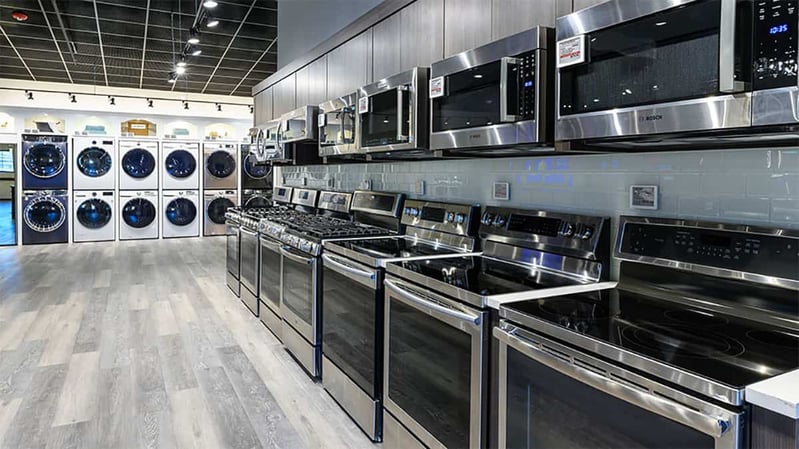 Electric Ranges at Yale Appliance in Hanover
Finding a reliable electric range is easy. Finding an available electric range is a problem.
Many companies have had issues supplying products since the pandemic's beginning, now in its second year.
Not to mention, most high-end ranges are sold as induction ranges, so the selection is limited.
Let's look at the best of what is available now. Depending on when you are reading this, it will have changed.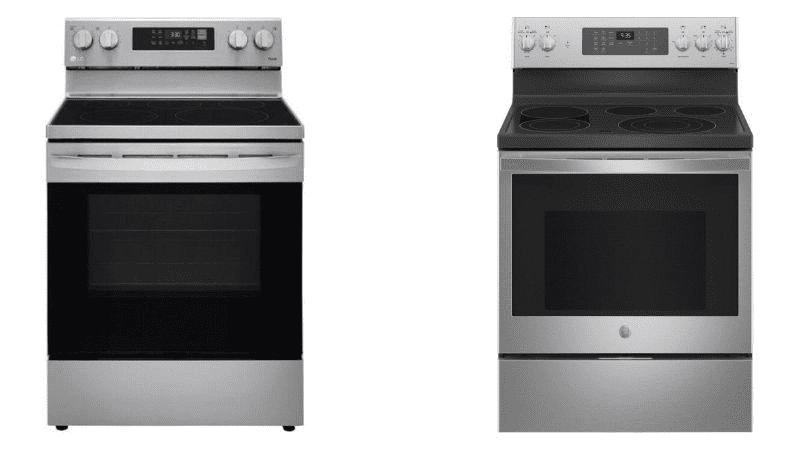 LG LREL6323S (Left) and GE Profile PB935YPFS (Right)
Both LG and GE Profile electric ranges are similar, with convection in the oven and five burners on the top, one being a warming burner.
Both ranges feature Wi-Fi as a feature so you can turn the range on or off remotely. You can change the temperature and receive text alerts right from an app on your phone.
The GE Profile electric range has some unique recipe tie-ins right on the GE app.
The Air Fry mode is the newest feature available on both. Yet air fry has not worked on any range that we've tried.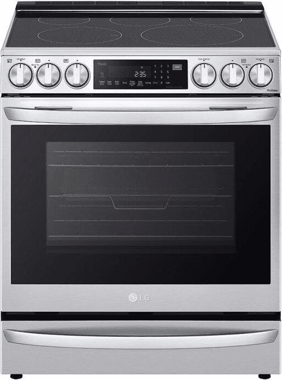 LG's front control range adds new features like an Air Fry mode and a sous vide mode. You do have a large oven capacity at 5.7 cubic feet as well.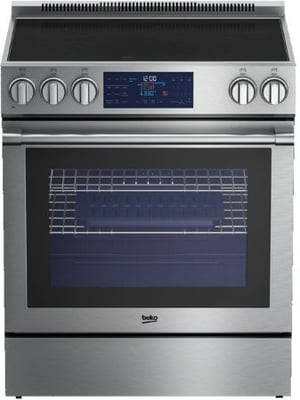 Beko is a good option for a convection front control with features. The unit has a warming drawer and is $400 less than the average front control range.
You have seven different modes in a Beko, but it has no smart functionality.
Which Electric Range Should You Buy?
I am a fan of any reliable product regardless of the brand because repairing appliances under warranty is expensive.
Most basic electric ranges are reliable. Its old, reliable technology is protected against abuse by a solid glass top.
The repair numbers increase as you add options depending on the brand, so be careful. You may consider opting for the reliable stove versus the more featured model.
Read More: How to Buy an Electric Range
Electric Ranges
FAQs
Learn answers to the most common questions about Electric Ranges.
What is an electric range, and how does it work?
How do I clean my electric range?
How do I know if my electric range is malfunctioning?
How long do electric ranges typically last?
How do I choose the right electric range for my kitchen?
Additional Resources
Need more information on Electric cooking? Download the Yale Electric Cooking Buying Guide with specs, features, and detailed profiles for all the brands. Well over 1 million people have read a Yale Guide.
Most Reliable Appliances Series:
Why Should You Trust Us?
It seems that every appliance review has nothing but glowing comments about almost every product, yet you read customer reviews and they are almost universally bad.
We are here to fill in the disconnect. We'll give you the best features, and the drawbacks as well, including reliability based on over 37,000 calls performed by our service team just last year. Our goal is to give you ALL the information so you know what's right for you.
Please consider subscribing or adding to the conversation in the comments below. We appreciate you stopping by.
Steve Sheinkopf is the third-generation CEO of Yale Appliance and a lifelong Bostonian. He has over 38 years of experience in the appliance industry, and he is a trusted source of information for consumers on how to buy and repair appliances.

Steve has also been featured in numerous publications, including the New York Times, Consumer Reports, The Boston Globe, Bloomberg Radio, the New York Post, The Wall Street Journal, and Entrepreneur, for his knowledge of how to buy appliances and appliance repair.

Steve is passionate about helping consumers find the best appliances for their needs, and he is always happy to answer questions and provide advice. He is a valuable resource for consumers who are looking for information on appliance buying, repair, and maintenance.

Despite being the worst goalie in history, Steve is a fan of the Bruins and college hockey, loves to read, and is a Peloton biker. The love of his life is his daughter, Sophie.
A Note About Pricing
Pricing on this blog is for reference only and may include time sensitive rebates. We make every attempt to provide accurate pricing at time of publishing. Please call the stores for most accurate price.