Why Your New Appliance Will Not Be Repaired (Issues / Problems)
Today is like any other day. Then you wake up, and your refrigerator is warm. Then the mad scramble happens.
You attempt to find a service agent - thinking it's as fast as ordering groceries online and having the Amazon van pull up in an hour.
You will track him through an app on your phone like Uber, and the problem will be rectified before work.
But as you call the multiple service agencies and are placed on hold for hours, you have a sinking feeling your refrigerator will not be fixed.
I originally wrote this article in 2016. At that time, I never thought appliance service (or any support) could become worse.
But, when you need to repair the most during a quarantine, it has become even more dreadful.
Below are comments from our blog this week. None of these viewers purchased with Yale.
Comment One: Samsung Refrigerator Repair
"Steve, You start out stating that Samsung is the most reliable refrigerator This is blatantly false. It is in fact one of the WORST if not THE WORST. You don't pay attention to your own messages. And it is not just the ice maker. Yes, my ice maker quit exactly 3 days after the one year warranty expired. I refused to get it fixed: the estimate was about $400.00. Any ice maker that Samsung makes is worthless & will fail again in short order. Now after 5 years the water dispenser went bad, estimate to fix is about $350. I will be getting that fixed. My sister has a French door Samsung and the entire back of the refrigerator frosted up."
Comment Two: LG French Door Refrigerator Repair
"I currently have a french door LG and it is a nightmare. Did my research, but bought it before anyone knew about the drain issue LG has and won't take care of. We literally get a sheet of ice in the bottom of our freezer about an inch and a half thick. We have to chisel it out. We tried taking the back of the frig off and cleaning the house etc. but that did not work. End result, we shut the water off. So we paid big bucks for a frig with a water/ice dispenser that we can't use because of poor design/engineering. What I want to know do other French door frigs with water/ice dispensers have the same problem from other manufacturers?"
Comment Three: Whirlpool Refrigerator Repair
"Hi Steve, I often revisit your site, to see what the most reliable brands are in various appliances. We're a Whirlpool and WP brands family. Our microwave was recently replaced and we felt forced to stick with GE based on the fact we wanted it to fit properly into our cabinet, especially buying online. However, we purchased a Whirlpool French door refrigerator four and a half years ago. Unfortunately, the ice maker stopped producing ice and after a few service calls, it's been decided we have a slow coolant leak in the line somewhere. The estimated repair cost of $700-$800 was not worth fixing and our refrigerator is still cooling and freezing quite well, just not enough to produce ice."
In this article, you will learn why appliance service is so bad, why it will become even worse, and how you can protect yourself.
We need to start here.
Short on time? Get our free Appliance Buying Guide
Service Repair In The Age Of COVID-19
The most stressful job in this company is service management. I held that job when we started in 1994.
It's tough talking to less than happy people all day.
Back then, it was 5 of us. Now it's 90 plus people in parts, management, fleet, and inventory specialists supporting 35 service techs.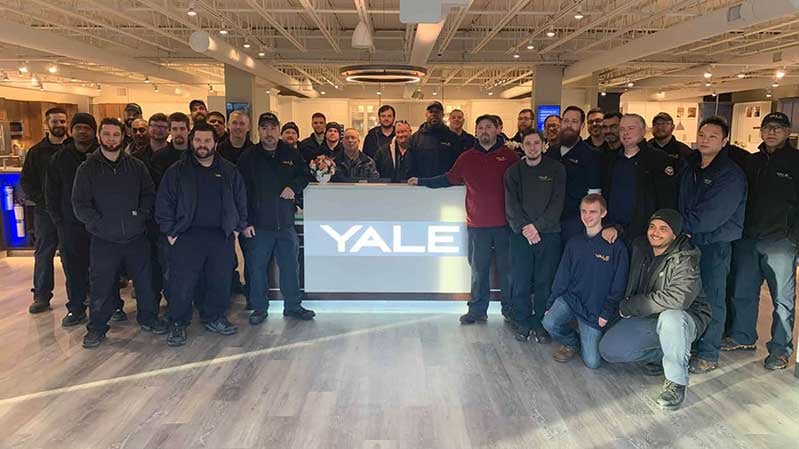 Yale Appliance Service Team After Touring the new Hanover Showroom
However, every day, there is a list.
This list is for unavailable parts.
You may have heard that COVID-19 has affected appliance shipments, but essentially it's a parts problem.
The global supply chain for manufacturing appliances has broken.
So if that Chinese circuit board company was closed in January and the Mexican wiring harness factory is shut down, those appliances will not be repaired.
Parts problems will continue probably until 2022 at the earliest.
Read More: How To Buy Appliances During A Supply Crisis
The Sad State Of Appliance Repair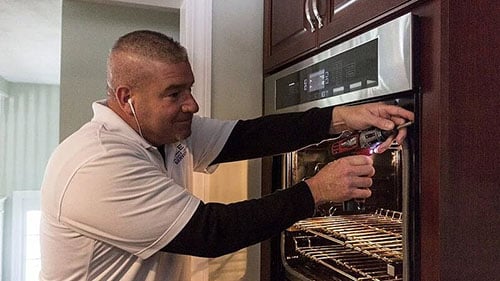 Yale Service Technician Repairing A Wall Oven
Most appliance stores do not offer any service. Of all the big box stores, only Sears still has in-home service.
In the words of a dealer I met from Boulder, Colorado, "It's way too expensive."
He has a point.
Manufacturers pay about $95 to fix an appliance under warranty.
You have to order and pay for the part and send a qualified technician in a van to your house.
Servicers also have to pay for workman's comp and insurance against damage.
Not to mention, $95 is all manufacturers typically pay whether you repair it the first time or the 6th, even if it is a manufacturing defect.
Thus, most retailers have exited the service business.
Manufacturers have decreased service as well if they even have it.
For example, there are five Bosch techs and two Miele techs in all of New England.
We have 35 very busy techs just in Metro Boston.
Service is a huge part of any appliance store, whether they embrace it with techs or have operators finding service agents for you.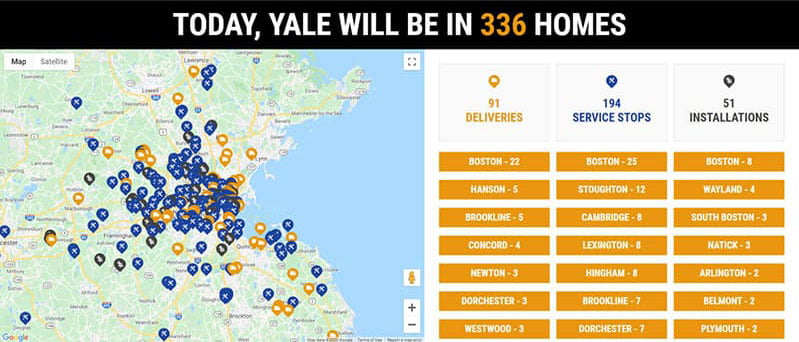 Our Typical Delivery, Service, and Install Day
The appliances are also becoming way more complicated. This is a video I shot of a tech replacing a light bulb ten years ago:
There are simply no technicians to fix your appliances any more - sort of.
Extended Warranties
Extended warranties are incredibly smart right now.
Like many people, I never believed in extended warranties for most of my career because appliances usually lasted past the extended warranty period.
But with appliances like refrigerators breaking down more often, it's a decent hedge.
With Covid and the lack of parts, what can extended warranty companies do except this:
Recent Yale Google Review:
Great service. I had an extended warranty on an electrolux washer. The part that needed replacing was no longer available. So they gave me a new machine with a brand new warranty.
I silently wonder how much this costs servicing dealers like us.
What choice do we have? If you can't fix it. You have to replace it.
Read More: Are Appliance Extended Warranties Worth It?
Outsourced Extended Warranties
However, extended warranties are not the same. Most are outsourced to call centers.
They don't employ a single tech and rely on small independent businesses to fix appliances.
These independents will decide whether they can make money on your repair at their low contract rate.
A complicated repair like a refrigerator compressor or washer tub repair will probably never even be attempted in most cases.
A servicer will not spend 6 hours fixing a machine to be paid $75-100. It is not economically feasible.
So you have some due diligence before you buy an extended warranty. You have to understand who the agent is.
Stores are usually better, but check reviews.
Oddly it is also the title of the next paragraph.
How To Avoid This Problem: Check Reviews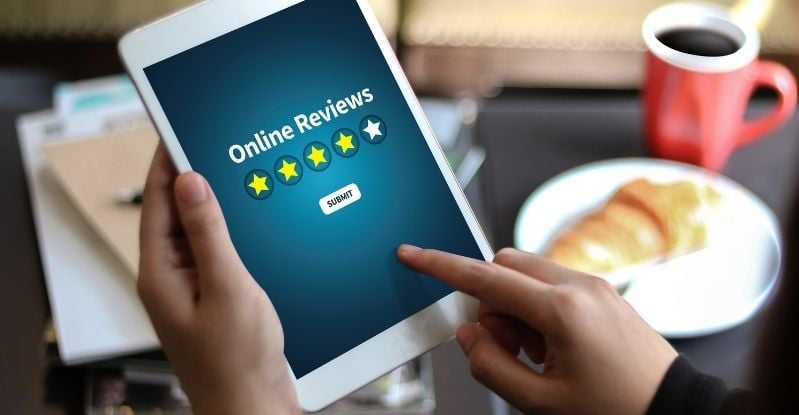 Always Check Reviews On Google, Yelp, and the BBB
First, this subject has to be part of the buying process. You should be informed before you buy it.
You are probably a trusting person, but I would check the vast resources now at your disposal.
Google reviews are fair. Yelp is the most unfair.
With Yelp, check the filtered reviews, but they always place the bad reviews in the beginning. You want to average that out with the good reviews at the end.
Better Business Bureau (BBB) gives everyone an A+ if they pay the bureau, but check the complaints section for problems.
There are companies with 350 negative cases on the BBB yet still have an A+ rating.
The best way to avoid this situation is to be prepared before you buy your appliances.
If you are buying six appliances for your new kitchen, you will need service within a calendar year for at least one unit.
What To Do With An Unrepaired Appliance
It depends on how old the appliance is. Unless there are mitigating issues (delivery damage), you should have a replacement within a year after a prohibitive amount of service calls.
For example, a "no cold" refrigerator should be replaced after one service call.
After a year, it is tricky because the warranty has expired.
You need to remember who you bought it from and leverage that relationship.
Most people will call the manufacturer, who most likely will not help.
You need to reach out to the retailer to do what is reasonable. Search for the owner or manager online. It's pretty easy to determine the right person.
Social media will usually get everyone's attention but have a legitimate complaint because it's a two-edged sword.
Read More: Most Reliable and Least Serviced Appliances Brands
A Word About Self-Servicing Dealers
You would think a self-servicing dealer would be a good thing because of control.
Unfortunately, many self-servicing dealers offer bad service due to the expense and lack of investment.
In the Massachusetts market, you have several good service dealers like Poirier, George Washington Toma Tv and Appliance, Hunter, Doyon's, and Belcher's Appliances all provide decent service in the Boston market.
Most of the self-servicing dealers will only fix appliances bought from their store due to overwhelming demand.
Read More: Best Appliance Showrooms In The Boston Area
Why Do I Invest In Service?
(This section is for appliance dealers. Yes, I know you're reading).
I invest in service for two reasons:
Most of our significant builders have told me they use us exclusively only because of service. They want their clients satisfied and not calling them.
The second reason is there is no better marketing form for Yale or your business (if run correctly). Our ad budget is almost zero or less than .01% of sales.
However, good service is far more compelling than any ad. It's just a lot harder from a resource standpoint.
I, like you, also really hate being yelled at. I really do.
It's much easier to fix the problem than to provide excuses as to why I cannot.
Why Your Appliance Will Not Be Repaired: Key Takeaways
The key to not being stuck with an unrepaired appliance is preparation.
You have all the leverage before the sale and almost none of it afterward.
You want to know who the service and extended warranty people are before the sale. Anything "promised" must be placed in writing on the slip.
Call me skeptical. But having it in writing is way better after the fact.
Preparation is easier than dealing with a rapidly thawing refrigerator a year later without assistance.
Additional Resources
Have questions on appliances? Read the Yale Appliance Buying Guide with the 10 most frequently asked questions, the best time to buy appliances as well as detailed profiles of all the brands. Well over 800,000 people have read a Yale Guide.
Related Articles:
Why Should You Trust Us?
It seems that every appliance review has nothing but glowing comments about almost every product, yet you read customer reviews and they are almost universally bad.
We are here to fill in the disconnect. We'll give you the best features, and the drawbacks as well, including reliability based on over 37,000 calls performed by our service team just last year. Our goal is to give you ALL the information so you know what's right for you.
Please consider subscribing or adding to the conversation in the comments below. We appreciate you stopping by.
A Note About Pricing
Pricing on this blog is for reference only and may include time sensitive rebates. We make every attempt to provide accurate pricing at time of publishing. Please call the stores for most accurate price.