Why Your New Appliance Will Not Be Repaired (Issues / Problems)
I read about appliance issues over the internet. No product seems immune. Even the best, state of the art products are mentioned with angst, it hit me over the 9 years of writing this blog especially reading the comments.
For example, a few years ago I wrote a comparison of Bosch vs. KitchenAid Dishwashers. Both are likable products. However, there must be 50 bad comments divided equally between both. You look at the blog comments and it seems like people are upset about the repair process with appliances, and for good reason.
I have come to this conclusion: Your new (or not old) appliances will not be repaired. I will tell you why and better yet how to avoid the situation as well as how to deal with a current repair issue.
The Sad State Of Appliance Repair
Most appliance stores do not offer any kind of service. Of all the big box stores, only Sears still has in home service. In the words of a dealer I met from Boulder Colorado, "it is way too expensive".
He has a point. Manufacturers pay about $95 to fix an appliance under warranty. For that, you have to order and pay for the part, send a qualified technician in a van to your house. Servicers have to pay for workman's comp and insurance against damage.
Thus, most retailers have exited the service realm. In fact, the average age of a technician in 2003 was 57 years old, so most have in fact retired.
Manufacturers have decreased service as well, if they even have it. For example, there are five Bosch techs and two Miele techs in all of New England. We have 21 very busy techs just in Metro Boston.
The appliances are also becoming way more complicated. This is a video I shot of a tech replacing a light bulb…watch this:
There are simply no technicians to fix your appliances any more…sort of (solutions come later).
Extended Warranties
Maybe buying extended warranties will give you piece of mind? Think again. Companies like New Leaf and Warrantech also do not employ a single tech. They rely on small independent businesses to fix appliances.
These independents will decide whether they can make money on your repair at their low contract rate. So, a complicated repair like a refrigerator compressor or washer tub repair will probably never even be attempted in most cases.
A servicer will not spend 6 hours fixing a machine and be paid $75-100. It is not economically feasible.
How Do You Avoid This Problem

First, this subject has to be part of the buying process. You should be informed before you buy. You are probably a trusting person, but I would check the vast resources now at your disposal. Google reviews are fair. Yelp is the most unfair, which is why you should check that site first.
Better Business Bureau gives everyone an A+, but check the complaints section for number of problems. There are companies with 350 negative cases on the BBB, yet still have an A+ rating.
The best way to avoid this situation is to be prepared beforehand. If you are buying 6 appliances, you will need service eventually.
What To Do With an Un-Repaired Appliance
It depends on how old the appliance is. Unless there are mitigating issues (delivery damage, user error), you should have a replacement within a year after a prohibitive amount of service calls. For example, a "no cold" refrigerator should be replaced after one service call.
After a year, it is tricky because the warranty has expired. You need to remember who you bought it from and leverage that relationship.
Most people will call the manufacturer who most likely will not help. You need to reach out to the retailer to do what is reasonable. Google the owner or manager. It's pretty easy to determine the right person.
Social media will usually get everyone's attention as well...but have a legitimate complaint, because it is a two edged sword.
A Word About Self Servicing Dealers
You would think a self servicing dealer would be a good thing. Unfortunately, most self servicing dealers offer bad service due to expense and lack of investment. That is not always the case either. Some are quite good. Barron's, George Washington Toma and Belcher's all provide decent service in the Boston market.
Why do I invest in service? For two reasons: most of my significant builders have told me they use us exclusively only because of service and some of these guys are my friends.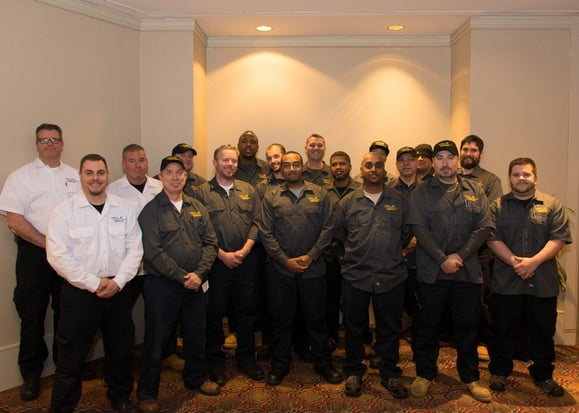 Yale Appliance Service Team
Second reason, is there is no better form of marketing for Yale (if we run it correctly). Our ad budget is almost zero or less than .01% of sales. However, helping you with a problem is far more compelling than any ad.
I also really hate being yelled at. I really do. It is simply easier to fix the problem than providing excuses as to why I cannot.
One Last Thought
Prepare yourself before the sale when all these stores need your business. It's easier than dealing with a rapidly thawing refrigerator a year later without assistance.
Read More About Our Industry
Steve Sheinkopf
My goal has always been simple: I want Yale to be the best retail experience anywhere. I have tried to create a compelling environment for customers and employees alike.
A Note About Pricing
Pricing on this blog is for reference only and may include time sensitive rebates. We make every attempt to provide accurate pricing at time of publishing. Please call the stores for most accurate price.