Most Reliable Professional Gas Ranges for 2018 (Reviews/Ratings)
So, you are buying a professional range. You are probably comparing features like grills, griddles, and convection profiles of each product. You may have compared price and rebates as many of these brands offer free dishwashers and hoods.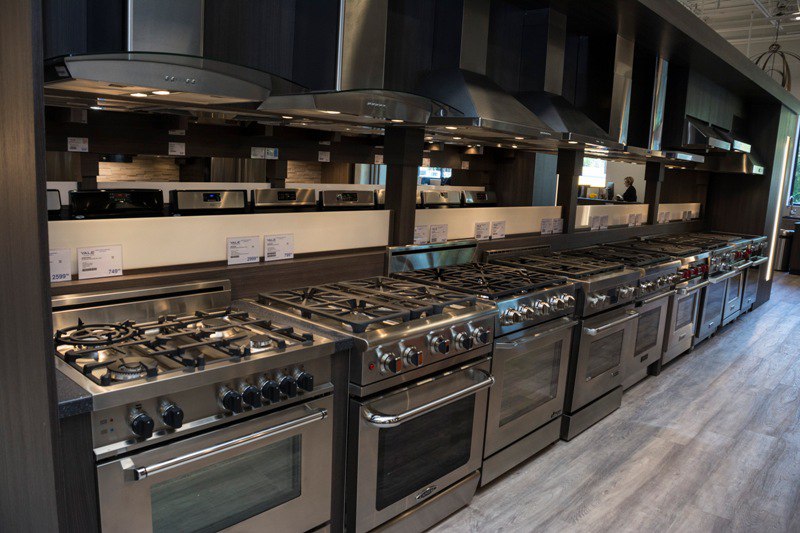 Then you check Google Reviews and the Better Business Bureau to decide which store would be the best to purchase from.
All these steps are expected (and encouraged, by the way).
But how about reliability?
Consumer Reports is a good magazine for features, and maybe initial quality. However, they cannot tell you how these products perform in the field. There is a much better way. We will talk about our reliability methodology, the statistics, and then show you the most reliable brands to consider.
Methodology
We now have 25 service technicians performing 8-10 service calls per day, Monday through Friday, with 110 on Saturday. We simply tabulate service percentages by service calls divided by sales for a percentage.
For our statistics, a service call is recorded for any reason when we are called to your house. We do not count installation issues, damage or problems solved over the phone.
That said, we only count the first year because we offer free warranty service in the first year. After that, it is hard to know what percentage use us for service.
Let's look at the most reliable professional gas ranges (we calculate dual fuel in a different post).
The average service rate for appliances is roughly 12.92%, and the average service rate for professional gas ranges is about 28%.
Most Reliable Professional Gas Ranges
| | | | |
| --- | --- | --- | --- |
| | Service Qty | Shipped Qty | Service Ratio |
| Capital | 3 | 2 | 150% |
| Miele | 9 | 21 | 42.8% |
| Wolf | 63 | 176 | 35.7% |
| Jenn-Air | 29 | 79 | 36.7% |
| BlueStar | 6 | 29 | 20.6% |
| Thermador | 82 | 421 | 19.4% |
This figure is actually way lower than previous years, mostly because we stopped selling problematic brands. Viking, for example, was well over 50% in 2013. You probably think 28% is still too high. However, more expensive appliances seem to have more calls.
What Are the Problems?
You will be paying $3,000 - $10,000 for a professional style range, so you do have a right to call for assistance on problems you might not for a $500 range.
Many of the calls are customer education-based, meaning there are no actual issues, just questions.
The 36 and 48-inch ranges also have more burners, larger ovens, and other features. In other words, there is more to actually break.
However, 60% of these problems relate to the ignitor on the cooktop. It is an easy and relatively minor repair, but for some reason, you will need to replace it within the first couple of years.
Which Should You Consider?
In years past, Miele and Wolf, were the two most reliable brands to consider. Now, they are the most serviced brands for professional gas ranges. I still think they are the two best ranges sold in terms of performance. An ignitor problem can be fixed by a tech in under an hour.
However, the average of a pro range is now 28%, and the average of a refrigerator is about 35%. Throw in a dishwasher at about 10% for about 73% chance of service in those three appliances just in the first year.
After checking prices and features, you should inquire about who will fix your new appliances.
With more dealers as well as most manufacturers not offering any service, you could have an issue finding repair in the future.
Additional Resources
Get our free Pro Cooking Buying Guide with tips, trends and reviews of all the best brands. Over 240,000 people have already found answers in a Yale guide.

Related Articles
Steve Sheinkopf
My goal has always been simple: I want Yale to be the best retail experience anywhere. I have tried to create a compelling environment for customers and employees alike.
A Note About Pricing
Pricing on this blog is for reference only and may include time sensitive rebates. We make every attempt to provide accurate pricing at time of publishing. Please call the stores for most accurate price.