Most Reliable Compact Washers 2017-2018 (Reviews / Ratings)
Compact laundry is different than regular laundry. In fact, the most reliable brands for compact washers are almost opposite from a regular top load or front load.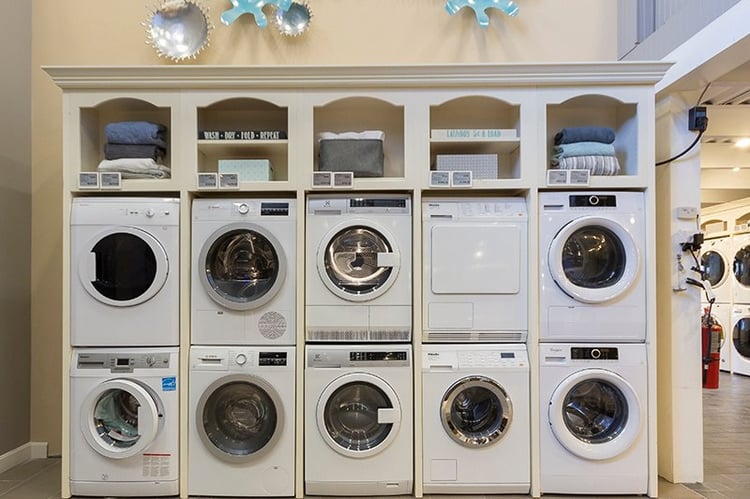 Compact laundry is designed and manufactured in different places than regular full-size laundry.
It was originated in Europe because they tend to have smaller living spaces. Even after their introduction in the US 30 years ago, the most popular products are still manufactured in Europe versus the United States or Mexico for regular laundry.
Bosch and Miele are German. Electrolux and Asko are Swedish but are now produced in Italy and Slovenia. Blomberg is Turkish (which still could be European depending on what side of Turkey).
LG and Samsung are both Korean but are not huge producers…yet.
In this article, we will review what compact laundry is, our methodology for reliability and then the most reliable brands by actual percentage.
Most Reliable Laundry at a Glance (#1 being the most reliable):
Electrolux
Bosch
Blomberg
Miele
Samsung
What is Compact Laundry?
Compact laundry is 34 inches high by 24 inches wide and 24 inches deep. It can be placed under a counter in your kitchen in a standard cabinet or in a closet.
You can also place compact laundry in most closets or upstairs. Most dryers are ventless, so all you need is water and electricity.
Most condos and apartments in Boston have compact laundry.
The Reliability Methodology
To be exact, we had 30,761 service calls booked in 2017.We have 27 service techs on 8-10 service calls per day, 5 days a week with 110 on the weekend.
In the chart below, you will see sales in the right column and service calls on the left. The percentage is calculated by service calls divided by sales.
Yale Appliance Service Team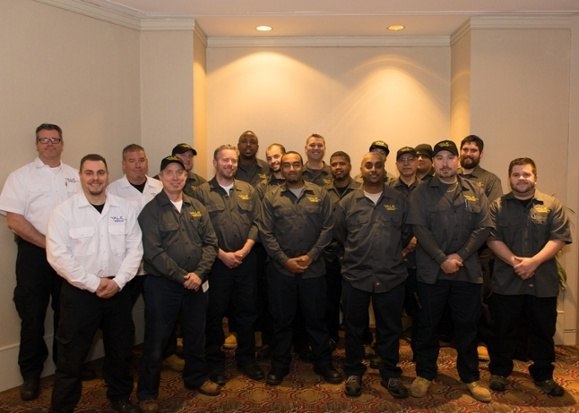 It is the fairest measure of initial quality. However, we do not distinguish between a major or minor call. If you need us to send a technician, it counts.
Customer education phone calls and damage are not applied.
These numbers also do not include people who do not call us in the first year. Most do because we fix the unit for free within the first year.
Most Reliable Compact Laundry
| | | | |
| --- | --- | --- | --- |
| Brands | Units Sold | Units Serviced | Service Ratio |
| Maytag | 26 | 10 | 38.46% |
| Asko | 47 | 15 | 31.91% |
| Whirlpool | 19 | 4 | 21.05% |
| Samsung | 20 | 3 | 15.00% |
| Miele | 71 | 8 | 11.27% |
| Blomberg | 305 | 32 | 10.49% |
| Bosch Appliances | 522 | 43 | 8.24% |
| Electrolux | 276 | 21 | 7.61 % |
| LG Electronics | 3 | 0 | 0.00% |
The average rate for compact washers is 10.55% service within the first year.
This is interesting. If you have read our full-size laundry article, Electrolux and Frigidaire is amongst the most serviced.
Yet in compact, Electrolux is the most reliable. As I said before, Electrolux has been in the compact business far longer than they have been producing laundry.
Their regular laundry is also manufactured in Mexico whereas their compact washers are currently produced in Italy to a very different specification.
Bosch and Blomberg are under the repair average for washers making them a part of the reliable conversation. Blomberg is one of the only companies producing vented laundry.
At the other side of the spectrum, Maytag is one of the most reliable full-size washers, yet requires the most service in compact.
Their full-size machines are made in the US. Their compact washers are outsourced elsewhere.
Should You buy an Extended Warranty on a Washer?
I am asked this all the time. You will be asked and sometimes pushed by your appliance store.
First, you should never buy a warranty from a company who does not offer their own service. These warranties are not designed to fix anything promptly.
Seriously.
If you are buying this for a peace of mind, then you will get exactly opposite with the repair or lack thereof.
Compact laundry is a very different repair for many repair companies. It is not the same as regular laundry.
I would be hesitant unless you are certain the repair company has actual experience including the manufacturers themselves.
You may want to take your chances if you cannot find someone competent.
Final Thoughts
There are many reasons to buy one brand of compact laundry. You may require ventless or heat pump style dryers. You may want a steam feature or a machine to wash silks and fine washables.
You should look at price because it varies from $1,499 to $3,699.
However, for reliability, Electrolux, Bosch, Blomberg, and Miele would be the best to consider.
Note: These numbers can fluctuate because companies can change factories of production.
Additional Resources
Download our Yale Washer Buying Guide with all the features, terms and brands of laundry. Over 210,000 people have already found answers in a Yale guide.

Most Reliable Appliances Series:
Steve Sheinkopf
My goal has always been simple: I want Yale to be the best retail experience anywhere. I have tried to create a compelling environment for customers and employees alike.
A Note About Pricing
Pricing on this blog is for reference only and may include time sensitive rebates. We make every attempt to provide accurate pricing at time of publishing. Please call the stores for most accurate price.