Most Reliable Compact Washers For 2020 (Reviews / Ratings)
In this article, we'll first review what compact laundry is and how we measure appliance reliability.
Then you will learn about the most reliable brands by an actual percentage based on over 1,900 compact washers repaired by us last year.
The top 5 most reliable compact laundry brands for 2020 are:
Bosch - 4.17% service rate
Whirlpool - 6.22% service rate
Blomberg - 9.33% service rate
Samsung - 9.93% service rate
Miele - 10.41% service rate
For one of these brands, I don't recommend it despite its low service rate. So, let's get started.
What is Compact Laundry?
Compact laundry is 34 inches high by 24 inches wide and 24 inches deep. It's designed to be placed in a tighter space, like a closet, either side-by-side or stacked.
It also has the same dimensions as a dishwasher, so you can also place them in your kitchen.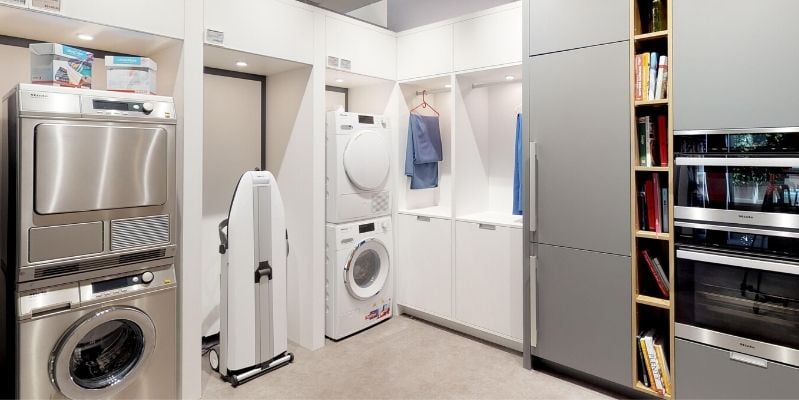 Miele compact laundry set featured in apartment display at Yale Appliance in Framingham
You can also place compact laundry in most closets or upstairs. Most dryers are ventless, so all you need is water and electricity.
Most condos and apartments in Boston have compact laundry.
Short on time? Get our free Compact Laundry Buying Guide
Compact Vs Full-Size Laundry
Compact laundry is different than regular full-size laundry. In fact, the most reliable brands for compact washers are almost opposite from regular top load or front load manufacturers.
The application is also different. Most regular laundry is vented, whereas compact laundry is ventless.
Three Types of Compact Laundry Dryers
The three types of compact laundry dryers are:
Vented
Ventless
Heat Pump
We cover this extensively in other posts. However, most compact laundry is ventless. Ventless dryers do not require a vent to the outside.
The type dictates where you can place your washer. Ventless can be placed anywhere with power and water, whereas vented would replace a traditional dryer.
Vented Dryers: Vented is similar to almost every full-size laundry on the market. You vent it outside. Samsung and Blomberg are the most common. Most manufacturers like Bosch, Miele, and Electrolux don't qualify because of UL qualifications of containing the fire in the dryer drum for 7 hours.
Ventless Dryers: Ventless or condenser dry drying is the most common type. It doesn't have to be vented to the outside, because the steam is condensed into water. You can place ventless anywhere since you do not have to run a vent to the outside. Ventless dryers do emit more heat to your room.
Heat Pump Dryers: A heat pump is a form of ventless drying. It is common in Europe and is by far the most efficient dryer on the market. Instead of elements, it uses a compressor to cool and convert the heated air. Most brands are 220 volts, but Miele has the most innovative using just 110-volt.
To learn more about the benefits of ventless and heat pump dryers, check out our free compact laundry buying guide by clicking here.
Where is Compact Laundry Produced?
Compact laundry, unlike more conventional, washers and dryers, originated from Europe because they tend to have smaller living spaces.
Even after their introduction in the U.S. 30 years ago, the most popular products are still manufactured in Europe versus the U.S. or Mexico for regular laundry.
For example, Bosch and Miele are German. Electrolux and Asko are Swedish but are now produced in Italy and Slovenia, respectively. Blomberg is Turkish (which still could be European depending on what side of Turkey).
LG and Samsung are different, as both are Korean.
How We Calculate Appliance Reliability
To be exact, we had 35,256 service calls logged in 2019. We have 30 service techs on 8-10 service calls per day, five days a week, with another ten working on the weekend.
Last year we logged more than 1,900 service calls just on compact washers.
In the chart below, you will see sales in the right column and service calls on the left for 2018. The percentage is calculated by service calls divided by sales over that period.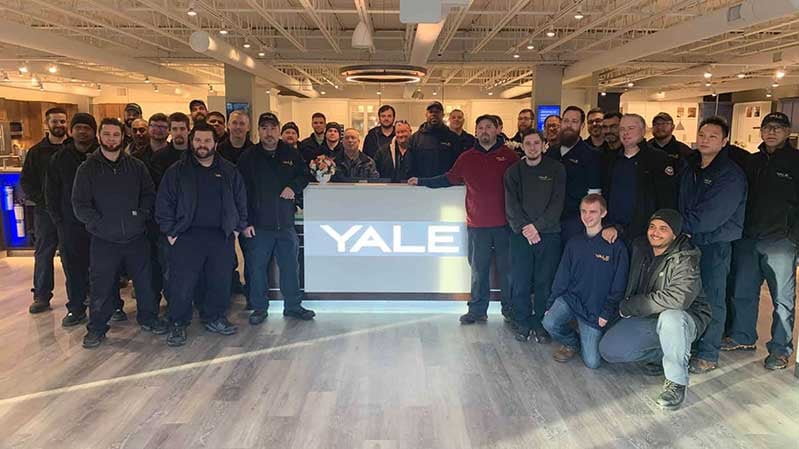 Yale Appliance Service Technicians at the lastest showroom in Hanover, MA.
It is the fairest measure of initial quality and reliability between brands. However, we do not distinguish between a major or minor call.
If you need us to send a technician, it counts as a service call.
Customer education phone calls and damage are not applied.
The Most Reliable Compact Washers for 2020
| | | | |
| --- | --- | --- | --- |
| | Serviced Qty | Shipped Qty | Service Ratio |
| Asko | 12 | 53 | 22.64% |
| Miele | 48 | 461 | 10.41% |
| Samsung | 45 | 453 | 9.93% |
| Blomberg | 21 | 225 | 9.33% |
| Whirlpool | 12 | 193 | 6.22% |
| Bosch | 35 | 840 | 4.17% |
| Grand Total | 173 | 2315 | 7.47% |
The average rate for compact washers is 7.47% service within the first year down from 10.31 from the year before.
Bosch is the most reliable brand of 2.05%. It's more than three times more reliable than the average appliance service rate.
However, Bosch sells well in the builder channel, which typically requires less service.
Builders will pay us to "start-up" or check every appliance before turning them over to owners. This eliminates much of the repair problems.
Whirlpool surprised me. We do not sell it in the store, so it's sold through the builder channel. So I would not rush out to buy one. Their heat pump requires a tech to clean out the lint.
From Whirlpool's User Guide: Lint should be removed every two years, or more often, depending on dryer usage. A qualified appliance servicer should do the cleaning.
Samsung and Blomberg would be next at 9.33%.
Miele is 10.41%. That is not surprising. It has far more technology than the others, including an automatic 30-load dispenser. Auto dispensers need to be cleaned more frequently.
Best Compact Laundry Brands For 2020
The best compact laundry brands for 2020 are:
Miele
Bosch
Samsung
Blomberg
We have arranged this in order of the best features for compact laundry. It's important to recognize added features can affect service. Again we cover this in greater detail in other "Best" posts.
1. Miele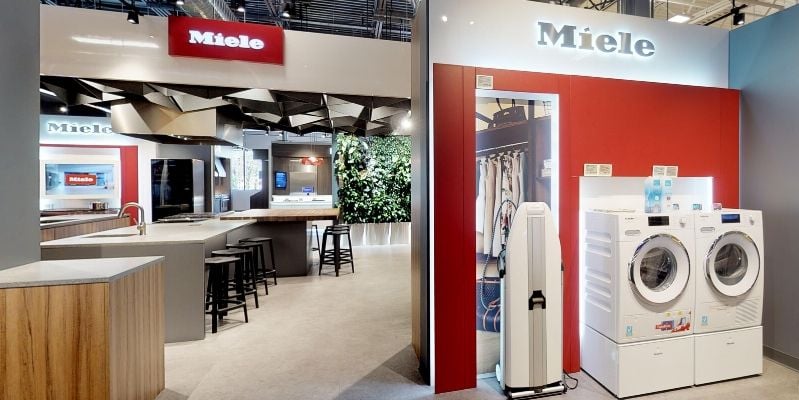 Miele Compact Laundry At Yale Appliance In Framingham
Miele has revolutionized compact laundry. The washer has an automatic dispenser for detergents and pods, steam, two pumps for better distribution of water and detergent, as well as the honeycomb drum designed to wash gentle fabrics.
Miele's heat pump dryer may be better. It's the most efficient 110-volt on the market. You can even
Order different scents for your clothes to be added to the dry cycle. Along with Bosch, Miele is the only Smart laundry you can control through an app on your phone.
Miele has the newest technology, so it does have a learning curve.
New Miele Compact Laundry [VIDEO]
To view all of Miele's compact laundry series, click here.
2. Bosch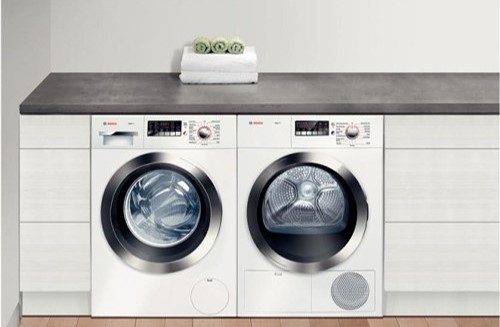 Their service rate is incredible. Bosch has three sets of laundry. You can wash by stain type as well as the more traditional settings on their best 800 series.
Bosch 800 Series Compact Laundry Review [VIDEO]
Click here for all of Bosch's compact washers and dryers.
3. Samsung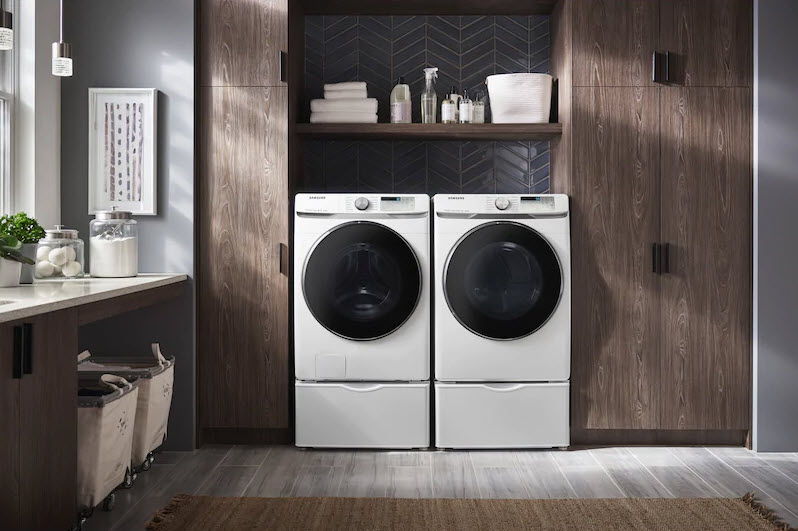 Samsung doesn't have any reliability issues in compact laundry, unlike the agitator-free top load washers. Their laundry features steam in a vented set. They will have a heat pump model later in the year.
Samsung's issue, as well as most premium brands, is the lack of service techs to repair. Their problem may be worse because of their explosive growth in the last few years.
Samsung Compact Laundry Review [Video]
Click here to view all of Samsung's compact laundry models.
4. Blomberg
They used to be the only vented dryers on the before Samsung. Now they are the least expensive.
For all of our compact washers and dryers, click here.
How To Buy Compact Laundry
First, it depends on how you are venting your dryer. If you are venting, then Samsung is the most featured, with Blomberg being less expensive.
Ventless laundry is all good. Miele is the most featured starting at $1,199 each or $2400 for a set. Their latest set with the 110-volt heat pump is the best for value with a super-efficient dryer.
For reliability, Bosch is an excellent consideration.
Remember: Most of these machines are more intricate than regular, full-size laundry. You should inquire about the service before you purchase it. (I know I have said it more than once).
Should You Buy An Extended Warranty For Your Washer And Dryer?
You will be asked and sometimes pushed by your appliance store to buy an extended warranty.
First, you should never buy a warranty from a company not offering their own service. These outsourced warranties are not designed to fix anything promptly.
Seriously.
If you are buying this for peace of mind, then you will get precisely the opposite of the repair or lack thereof.
Compact laundry is a very different repair. It is not the same as regular laundry and requires a more technically skilled technician.
I would be hesitant unless you are sure the repair company has the experience, including the manufacturers themselves.
You may want to take your chances if you cannot find someone competent.
For reliability, compact laundry is one of the most reliable appliances you can buy. However, it is somewhat expensive to repair.
So you make the argument either way.
Frequently Asked Questions
1. What is the best compact washing machine?
It depends on if you are venting to the outside or not on the dryer. The best ventless machine to consider is from Miele.
Miele's best compact washers have automatic dispensing, steam, a high RPM spin, two pumps for better distribution of water and detergent, and a honeycomb drum designed to handle gentle fabrics.
Bosch would be a good reliable alternative. They have three models. For vented Samsung would be better than Blomberg and Asko.
2. Can you run a washer and dryer at the same time?
Yes, you can run your washer and dryer at the same time.
3. Can you stack any front load washer and dryer?
You can stack any Miele on a Miele of the same year. You should not stack another brand on a different brand, because they have different kits to keep the dryer in place.
4. What is the best stackable washer and dryer?
The best stackable washer and dryer depends on price and your venting requirements. Miele is the best stackable washer and dryer with incredible washer features and a revolutionary 110-volt heat pump dryer. Bosch is the most reliable for a far less price. For vented compact laundry, Samsung is the second most reliable to Bosch, and it has steam.
5. Are ventless dryers better than vented dryers?
They are more convenient because they can be placed anywhere with water and power. They do not dry as fast and emit heat into the room. Heat pumps, a form of the ventless dryer, are more efficient and do not emit heat.
Additional Resources
Download our Yale Washer Buying Guide with all the features, terms and brands of laundry. Over 620,000 people have already found answers in a Yale guide.

Most Reliable Appliances Series:
WHY SHOULD YOU TRUST US?
A few review sites have placed this at the bottom of their articles. So here is our take: Our mission is to find reliable products for you to buy. Other review sites may say this as well.
However, we don't love every product. Quite frankly, it costs us way too much money in repair costs to support less reliable brands.
In fact, we sell fewer brands than most appliance stores. Here is why:
We feel it is our responsibility to repair your appliances after you buy them.
We now have 30 service technicians, each averaging 8-10 calls a day Monday through Friday, plus another 110 on Saturday. That's over 30,000 service calls logged in one year.
The labor rates of fixing an appliance do not come close to the true cost in any product's warranty period.
That is why no major retailer has a service department. It costs too much labor, money and time.
Our Blog is a bit different than most others you will read. We cannot write glowing reviews of unreliable products.
Hopefully, the bloggers and organizations who write such glowing product reviews for every brand consider servicing these products first. Only then they will understand the consequences of their marketing.
Steve Sheinkopf
My goal has always been simple: I want Yale to be the best retail experience anywhere. I have tried to create a compelling environment for customers and employees alike.
A Note About Pricing
Pricing on this blog is for reference only and may include time sensitive rebates. We make every attempt to provide accurate pricing at time of publishing. Please call the stores for most accurate price.