Most Reliable Compact Washers (2023 Update)
February 10th, 2023 | 8 min. read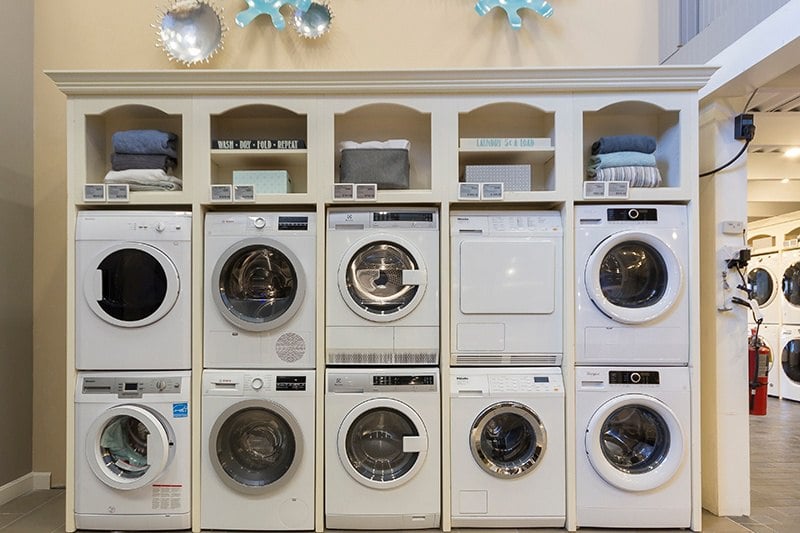 The Most Reliable Compact Washer Brands of 2023 are:
Bosch - 2.5%
Miele - 8.5%
Beko - 13.3%
Compact laundry has all the latest Wi-Fi, steam, automatic dispensing, pod dispensing, and an array of cycles and is the most sophisticated appliance in your home.
But how about reliability?
How often do these specialized machines break down, leaving you stacks of unwashed clothes?
Reliability is a curious buzzword because most companies have no service department.
Finding an appliance service is tough waiting eight weeks for a service call is not a wonderful experience for a niche product like compact laundry.
In this post, you will learn all about the most reliable compact washers based on just under 40,000 service calls logged by our service department last year.
You will also learn how compact laundry compares to full-size laundry.
First, let's define what a compact washer is.
What Is Compact Laundry?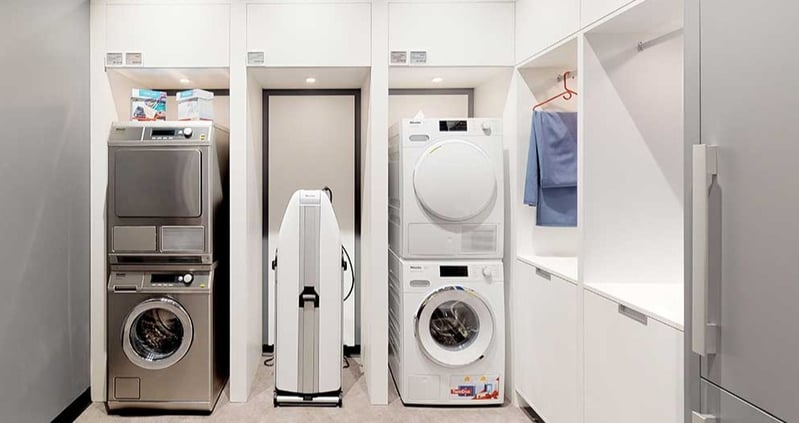 Miele Compact Laundry at Yale Appliance in Framingham
Compact laundry refers to washing machines and dryers designed to fit into smaller spaces like apartments, condos, or small homes.
These appliances have a smaller footprint than traditional laundry sets, measuring approximately 34 inches high by 24 inches wide and 24 inches deep.
In contrast, full-sized models are typically 38 inches tall, 27 inches wide, and 30.5-34 inches deep.
Compact laundry is versatile in terms of placement, making it an ideal choice for those with limited space.
It can be placed in a closet, side-by-side, stacked, or even in the kitchen since its dimensions are similar to those of a dishwasher.
Compact laundry appliances are also suitable for upstairs placement, as most compact dryers are ventless and only require water and electricity.
In urban areas like Boston, compact laundry is a common choice among condominiums and apartment residents.
Whether you live in a small home or are simply looking to maximize your space, compact laundry appliances are an excellent option for your laundry needs.
With so many options available, choosing the right compact washer and dryer can be difficult. But one factor that sets the best apart from the rest is reliability.
Let's look at the most reliable compact washer brands based on just under 40,000 service calls logged last year..
Most Reliable Compact Washer Brands for 2023
The following service rates are based on at least 50 products sold and a sample of over 1300 units over 12 months.
Compact Washer Reliability for 2023
| | |
| --- | --- |
| | Service Rates |
| Bosch | 2.5% |
| Miele | 5.8% |
| Beko | 13.3% |
| Grand Total | 9.7% |
The average service rate for compact washers has increased to 9.7% within the first year, compared to 5.6% from the previous year. This highlights the importance of choosing a reliable brand when purchasing a compact washer and dryer.
Bosch is the most reliable brand, with a 2.5% service rate.
However, Bosch has been historically reliable but recently unavailable. We only sold 79 sets last year after selling thousands, if not more, pre-pandemic.
Miele and Beko follow closely behind, with a service rate of 8.5% and 13.3%, respectively, both above and below the average.
Miele stands out from the rest with its advanced technology, including an automatic 30-load dispenser, a caplet dispenser, steam, and Wi-Fi connectivity on most models.
Additionally, its dryer operates on 110 volts, which is unique compared to the 220 volts used by other brands.
However, it's important to note that you cannot hookup the washer and dryer to a standard 110 outlet. Either amperage must be added, or a 220 adapter must be used.
Installation is also part of Miele's service percentage, so it's important to keep this in mind when considering the brand.
How We Calculate Compact Washer Reliability
We calculate dishwasher reliability by dividing the products we serviced by the products we sold for a service rate percentage.
That brand percentage is then compared to other brands and ranked.
For this article, we looked at the number of dishwashers sold and serviced from January 1, 2022, to December 31, 2022.
We have 35 service technicians on 8-10 service calls per day, five days a week, with another ten working weekends.
While others will talk about reliable brands or lab tests, these numbers are straight from our service calls.
We provide free warranty service on every brand sold at Yale in the first year.
It is the fairest measure of initial quality and reliability between brands. It counts as a service call if you need us to send a technician. Customer education phone calls and damage are not applied.
Should You Buy a Full-Size Front Load or Top Load Laundry Set Instead of Compact?
Without question, you should consider both, especially the regular front load.
Full-size front load washers and dryers are larger, with a typical size of 4.5 cubic feet compared to the compact size of 2.2-2.5 cubic feet.
Regular front-loads are also more reliable and have better features than compact laundry (except for Miele compact laundry).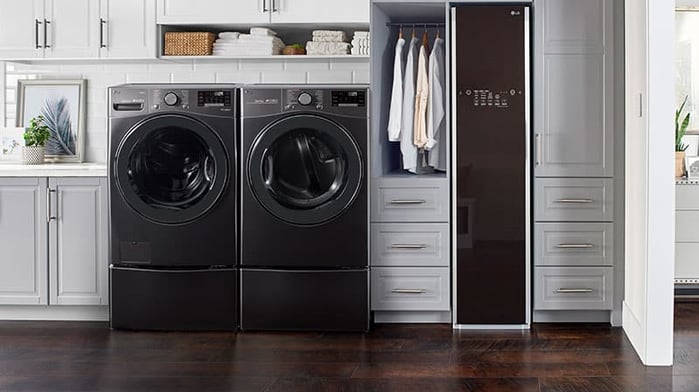 Front Load Washer and Dryer Set
Most have automatic dispensers for detergent, which dispense the exact amount of detergent based on the load size at the right time.
Top load and hybrid machines are also reliable and less expensive than compact sets, with the option to buy an inexpensive set for around $1,000 or a better hybrid for $1,800, which offers a bigger capacity and decent features.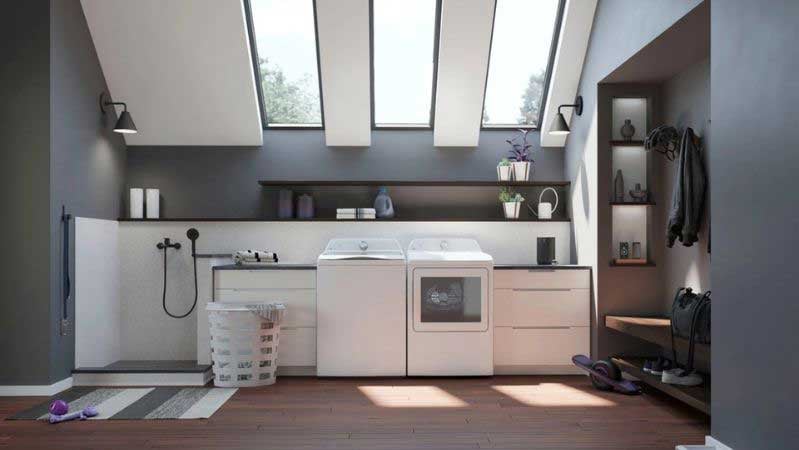 Top Load Washer and Dryer Set
Top-load laundry sets are less expensive, but front-loads are larger, better featured, and may be harder to repair.
Why You May Have to Buy Compact Laundry
Size
As mentioned previously, compact laundry machines are a great option for those who have limited space in their home or apartment.
They are designed to be much smaller in size compared to front load and top load laundry machines, which can be quite bulky and take up a lot of space.
The compact size is extremely efficient at 34 inches tall, 24 inches wide, and 24 inches deep. You can place a compact washer and dryer in most closets and even in standard kitchen cabinets.
Venting
Another advantage of compact laundry machines is that they are often purchased ventless.
This means that you don't have to worry about venting the machine to the outside, making it much more convenient and flexible in terms of placement.
You can place a compact laundry machine wherever you can access power and water, even inside a closet.
In contrast, top and front load laundry machines require venting to the outside, which can be a hassle and restrict where you can place the machine.
Additionally, a top load machine cannot be stacked, limiting its placement options.
Let's talk about choosing the right compact laundry set for your home.
How to Buy Compact Laundry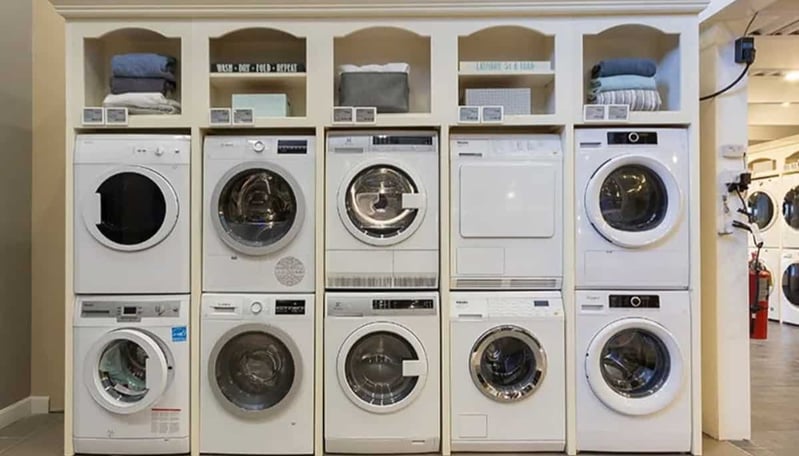 Compact Washers and Dryers at Yale Appliance in Boston
Choosing the best compact laundry set depends on how you are venting your dryer.
The three types of compact laundry dryers are:
Vented
Ventless
Heat Pump
The type dictates where you can place your washer. Ventless can be placed anywhere with power and water, whereas vented would replace a traditional dryer.
Vented Dryers: Vented is like every full-size laundry on the market. You vent it outside. Samsung and Beko are the only companies still manufacturing vented dryers.
Most manufacturers like Bosch, Miele, and Electrolux do not qualify because of U.L. qualifications of containing the fire in the dryer drum for seven hours.
Ventless Dryers: Ventless or condenser dry drying is the most common type. It does not have to be vented to the outside because the steam is condensed into water.
You can place the ventless anywhere since you do not have to run a vent to the outside. Ventless dryers do emit more heat into your room.
Heat Pump Dryers: A heat pump is a form of ventless drying. It is common in Europe and is the most efficient dryer on the market.
Instead of elements, it uses a compressor to cool and convert and store the heated air. Most brands are 220 volts, but Miele is the most innovative, using just 110 volts.
This year, heat pumps are finally becoming more popular than condensers for the first time.
To learn more about the benefits of ventless and heat pump dryers, check out our free compact laundry buying guide.
What Are the Best Compact Laundry Brands to Consider?
The best compact laundry brands for 2023 are:
We arranged this to get the best features for compact laundry. It is important to recognize that added features can affect service.
Again, we cover this in greater detail in other "Best" posts. Here is our Best Compact Laundry article if you'd like to learn more.
1. Bosch Compact Laundry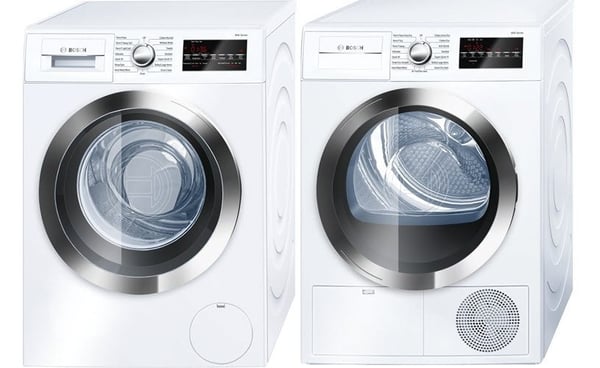 Bosch WAW285H1UC | Bosch WTW87NH1UC
Their service rate is incredible. Bosch has three sets of laundry. You can wash by stain type and the more traditional settings on their best 800 series.
However, their 500 series have a heat pump dryer. You may pay a bit more, but you will also save on operating costs.
2. Miele Compact Laundry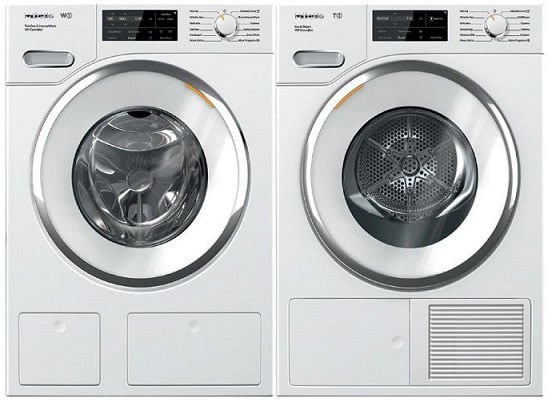 Miele WWH860 | Miele TWI180WP
The washer has an automatic dispenser for detergents and pods, steam, and two pumps for better distribution of water and detergent, as well as the honeycomb drum designed to wash gentle fabrics.
They are the only compact with an automatic dispenser. As I said before, an auto dispenser will save you future heartache and repair.
Miele's heat pump dryer is only 110-volt on the market, which normally may be an issue.
However, the washer spins so fast at 1600 RPM (Revolutions Per Minute), so the dryer does not have soaking clothes for less drying time.
Miele has the newest technology, so it does have a learning curve for installation.
3. Beko Compact Laundry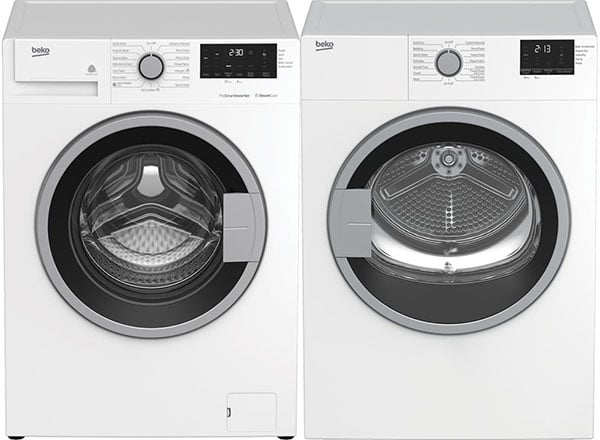 They used to be the only vented dryers before Samsung. Now they are the least expensive and most available.
They were also the first with heat pumps in the U.S.
Should You Buy an Extended Warranty for Your Washer and Dryer?
You will be asked and sometimes pushed by your appliance store to buy an extended warranty.
First, you should never buy a warranty from a company that is not offering its service. These outsourced warranties are not designed to fix anything promptly.
If you are buying this for peace of mind, you will precisely get the opposite of the repair or lack thereof.
At 9.7%, the numbers suggest you don't need an extended warranty. However, compact laundry is a vastly different repair. It is different from regular laundry and requires a more technically skilled technician.
I would be hesitant unless you are sure the repair company has the experience, including the manufacturers themselves.
For reliability compact laundry is one of the most reliable appliances you can buy. However, it is expensive to repair.
You make the argument either way. Finding someone competent to repair should be researched along with price, delivery, and installation.
Most Reliable Compact Washers: Key Takeaways
Bosch is the most reliable compact on the market, yet Miele is the most innovative. Beko should be considered for a vented set or a less expensive heat pump.
Compact Washers
FAQs
Answers to the most commonly asked questions about compact washers.
What's the difference between compact and full-size laundry?
Where is compact laundry produced?
What is the best compact washing machine?
What is the best stackable washer and dryer?
Are ventless dryers better than vented dryers?
Read More: What Are the Benefits of Ventless and Heat Pump Dryers
Additional Resources
Download the Yale Compact Laundry Buying Guide with specs, features, and buying tips for every major brand. Well over 680,000 people have read a Yale Guide.
Most Reliable Appliances Series:
Why Should You Trust Us?
It seems that every appliance review has nothing but glowing comments about almost every product, yet you read customer reviews and they are almost universally bad.
We are here to fill in the disconnect. We'll give you the best features, and the drawbacks as well, including reliability based on over 37,000 calls performed by our service team just last year. Our goal is to give you ALL the information so you know what's right for you.
Please consider subscribing or adding to the conversation in the comments below. We appreciate you stopping by.
Steve Sheinkopf is the third-generation CEO of Yale Appliance and a lifelong Bostonian. He has over 38 years of experience in the appliance industry, and he is a trusted source of information for consumers on how to buy and repair appliances.

Steve has also been featured in numerous publications, including the New York Times, Consumer Reports, The Boston Globe, Bloomberg Radio, the New York Post, The Wall Street Journal, and Entrepreneur, for his knowledge of how to buy appliances and appliance repair.

Steve is passionate about helping consumers find the best appliances for their needs, and he is always happy to answer questions and provide advice. He is a valuable resource for consumers who are looking for information on appliance buying, repair, and maintenance.

Despite being the worst goalie in history, Steve is a fan of the Bruins and college hockey, loves to read, and is a Peloton biker. The love of his life is his daughter, Sophie.
A Note About Pricing
Pricing on this blog is for reference only and may include time sensitive rebates. We make every attempt to provide accurate pricing at time of publishing. Please call the stores for most accurate price.