5 Best Panel-Ready Dishwashers (Reviews / Ratings / Prices)
In this article, you will learn about the best panel-ready dishwashers based on their features, silence ratings, and their reliability.
At the end of the article, you should know which panel-ready dishwasher is best for your home.
Paneling a dishwasher is a smart idea. Your only other finish options are stainless, white, black, black stainless and some unique colors offered by niche manufacturers like Viking and BlueStar.
It's a good alternative if it's executed properly. With better cabinets, the seamless look of a paneled dishwasher looks better than color in most applications.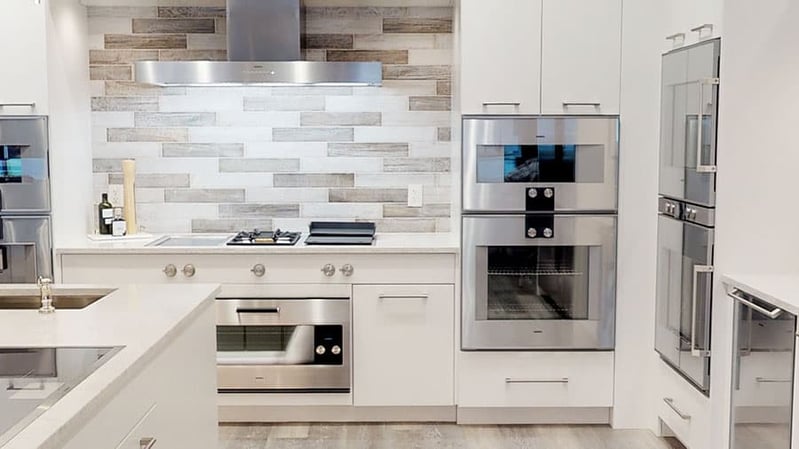 Bosch Paneled Dishwasher to Match White Cabinets at Yale Appliance in Hanover
It's also the best alternative to stainless steel as well.
Unfortunately, with many brands, the dishwasher will protrude from your cabinets, ruining the effect of placing a panel on the dishwasher in the first place.
You want your dishwasher to be indistinguishable or seamless from your cabinet.
Be careful because it's simple to make a mistake.
The five manufacturers on this list produce a dishwasher shallow enough, so it blends into the cabinet. They are Bosch, Thermador, Miele, Beko, and Fisher & Paykel.
Short on time? Get our free Dishwasher Buying Guide
Best Panel-Ready Dishwashers for 2020:
Buying A Quiet, Panel-Ready Dishwasher
Quiet dishwashers have become an issue as kitchens now have merged with the living room and TV. You don't want the dishwasher noise overwhelming your whole room.
You don't have to overpay for quiet either. Forty-four DB (DB measures sound) is usually quiet enough. Most brands charge way more for a dishwasher under 40 DB.
However, in this comparison, you can buy a super quiet dishwasher at 39 DB for less than other louder models with a higher DB.
Dishwasher Sound Level Comparison [VIDEO]
Lets look:
5 Best Panel Ready Dishwashers For 2020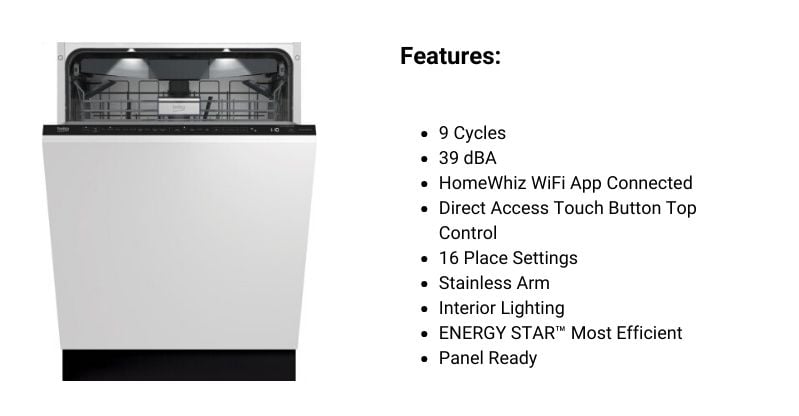 Beko Panel-Ready Dishwasher Review:
Beko is popular in Europe and just starting as their own brand. They have been manufacturing under the name Blomberg in the US for 10 years and are producing dishwashers for Viking.
You should consider this dishwasher not just for quietness but other unique features as well. The dishwasher is pretty interesting.
Beko is the quietest dishwasher on this list at 39 DB.
This unit has WIFI, so you can start, stop, and see the time remaining from an app on your phone. I don't think WIFI is an exciting feature for a dishwasher especially if you turn your dishwasher on before bedtime.
However, at 39 DB, you wont be to hear this dishwasher running at all, so a WIFI alert will stop you from opening the dishwasher before the cycle ends.
Beko is designed to clean well starting with the best heater with 167 degrees capability.
AquaIntense is another series of concentrated sprays under the pots and pans to scour the most soiled dishes.
The Aquaflex cycle allows you to lower water pressure on the top rack and use the excess to blast the plates below.
Beko is the only company to address odors in their major appliances. Their IonGuard sends out negative ions to neutralize the positive ions from odors.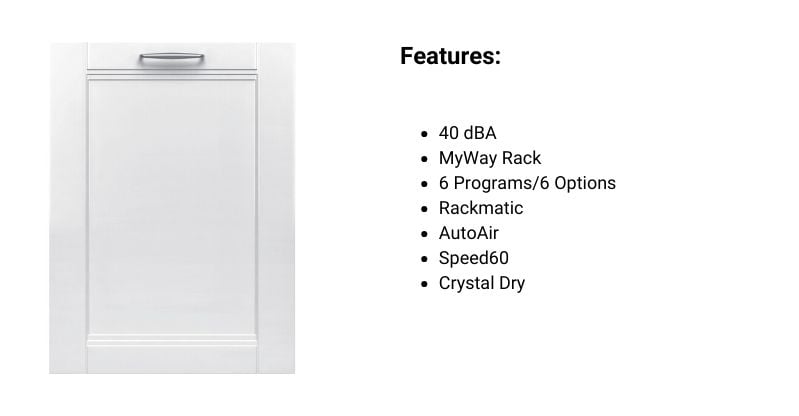 Bosch 800 Series Panel-Ready Dishwasher Review:
Silverware trays are over $700. The Bosch MyWay rack is larger to hold more than silverware. It also frees up more room on the bottom rack for pots and pans.
Like most higher-end Bosch dishwashers, you have nine different positions for the top rack to hold oddly shaped dishes.
With Bosch's AutoAir feature, this dishwasher will pop open at the end of the cycle to release heat and moisture to speed up the drying process.
The Speed60 feature washes lighter dish loads in 60 minutes.
Crystal Dry is featured in most Bosch dishwashers, including in lower-priced models. What separates this dishwasher from all others is its ability to dry well, even plastics.
Also, the average Bosch quietness is 42-44, this dishwasher is quieter at 40 DB.
Bosch 800 Series Dishwasher With CrystalDry [VIDEO]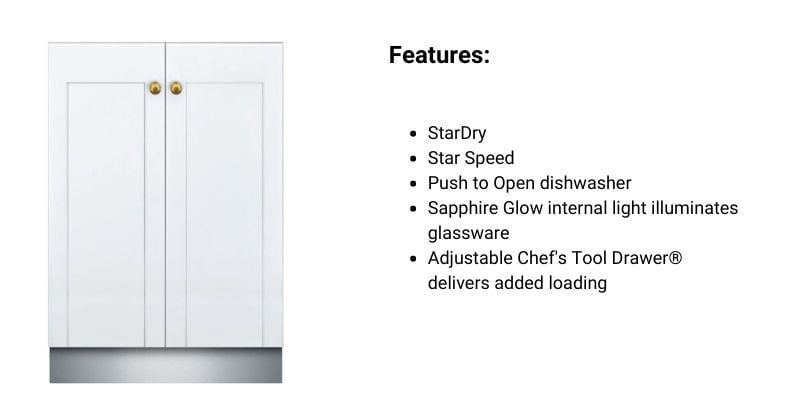 Thermador Star Sapphire Panel-Ready Dishwasher Review:
Thermador is a division of Bosch but has more features than the Bosch dishwasher, including the 20-minute wash and dry cycle.
You have to preheat the water for 20 minutes and then the dishwasher will have enough water in reserve to wash 5 loads consecutively at 20 minutes each.
Thermador Star Sapphire Dishwasher Review [VIDEO]
What are CrystalDry and StarDry?
Most dishwashers dry by adding heat or using just the residual heat and a finishing agent like JetDry.
Bosch and Thermador employ a different method and are packed with a volcanic element called Zeolite.
As I have said in other posts, Zeolite has a variety of uses like supplements and has even been used for industrial cleanups.
In a dishwasher, Zeolite absorbs moisture and emits heat to dry more thoroughly, even lighter plastics.
Combined with AutoAir (parlance for the door popping open at the end of the cycle to release steam), Bosch and Thermador are now the best drying dishwashers you can buy.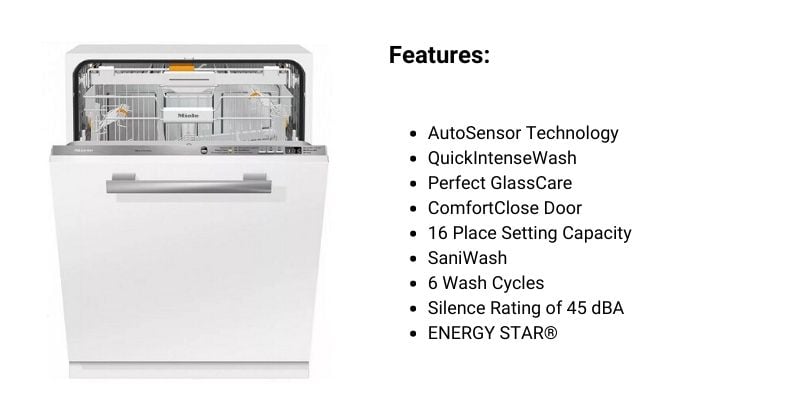 Miele EcoFlex Crystal Panel-Ready Dishwasher Review:
With it's customized cycles, you can set this dishwasher by item as well as cycles. For example, there is a cycle just for stove grates and hood filters for 3 hours and 24 minutes.
This used to be the best drying dishwasher before the Bosch CrystalDry with Zeolite. There is an air intake at the bottom of the dishwasher.
The air is channeled to the side of the dishwasher where the hotter air is attracted to the cooler side and is dissipated as water.
This dishwasher will also pop open at the end of it's cycle to speed up the drying drying process.
Miele does have the best, foldable racks. They all flip up or detach to accommodate a wide variety of dishes.
With three distinct sprays, Miele has the best wash action offered. With three racks, three sprays are better than two from the bottom.
Miele is the most solidly built dishwasher you can buy. The company still produces all its parts (except the rollers under the racks) in one German factory and ships worldwide.
Miele was the first with the third rack and the first with the door popping open at the end of the cycle to release steam.
They still are one of the only dishwashers with three arms, rather than two to thoroughly wash that third rack.
You also have the best rack flexibility.
Any item marked in orange can either be flipped up or removed to accommodate odd shaped plates, trays, and glasses.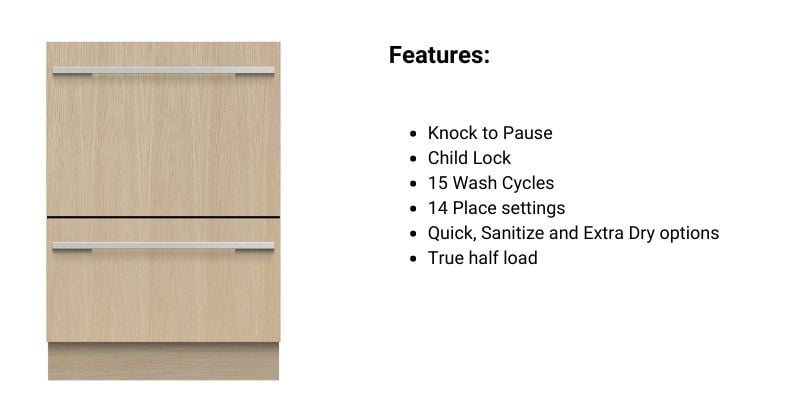 Fisher & Paykel Panel-Ready Double DishDrawer Review:
Fisher & Paykel is a drawer dishwasher. In our experience, you will either like or dislike the way it loads. I had one year ago and loved that top drawer. It was easy, and you didn't have to bend.
Then again, it was just me, and I never used the bottom drawer.
You should look at this dishwasher before buying it just because it's cool. The loading is different.
The Knock-to-Pause feature is interesting. You knock the front to pause the dishwasher. You would do that to place another plate or glass in the dishwasher. The better Miele and Gaggenau dishwashers have Knock to Open, but knocking to pause may be a better idea.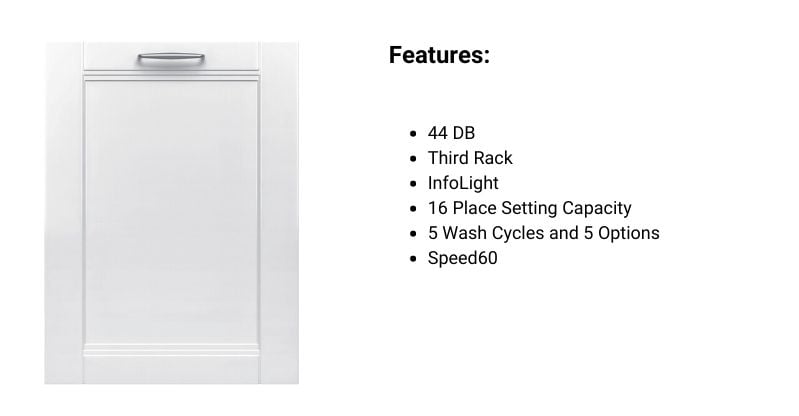 Bosch 300 Series Panel-Ready Dishwasher Review:
The SHV863WD3N is $190 less than other dishwashers on this list yet has plenty of features.
What's The Most Reliable Dishwasher Brand For Panel-Ready Dishwashers?
Most Reliable Dishwashers For 2020
| | | | |
| --- | --- | --- | --- |
| | Service QTY | Shipped QTY | Service Ratio |
| Asko | 103 | 190 | 54.21% |
| Jenn-Air | 188 | 493 | 38.13% |
| Bosch Benchmark | 25 | 70 | 35.71% |
| Fisher & Paykel | 56 | 193 | 29.02% |
| Miele | 185 | 903 | 20.49% |
| Maytag | 2 | 10 | 20.00% |
| Gaggenau | 16 | 104 | 15.38% |
| Thermador | 126 | 872 | 14.45% |
| KitchenAid | 90 | 688 | 13.08% |
| Café Appliances | 3 | 25 | 12.00% |
| Bosch | 398 | 3573 | 11.14% |
| Samsung | 134 | 1297 | 10.33% |
| LG | 5 | 81 | 6.17% |
| Cove | 2 | 44 | 4.55% |
| Ge Appliances | 1 | 37 | 2.70% |
| Whirlpool | 38 | 1471 | 2.58% |
| Grand Total | 1377 | 10166 | 13.55% |
We measure reliability by service calls divided by sales. Last year we performed over 35,256 service calls.
Bosch is the best on this list. Miele is usually the best, but they had a problem with loud solenoids in 2019.
It's an easy problem to fix. We expect Miele to be among the best this year.
However at an average 13.55% service calls in the first year, you should shop service as well as price and features.
For more of the best dishwashers to consider, download our free Dishwasher Buying Guide with everything you need to know about choosing a dishwasher.
Best Panel-Ready Dishwashers: Key Takeaways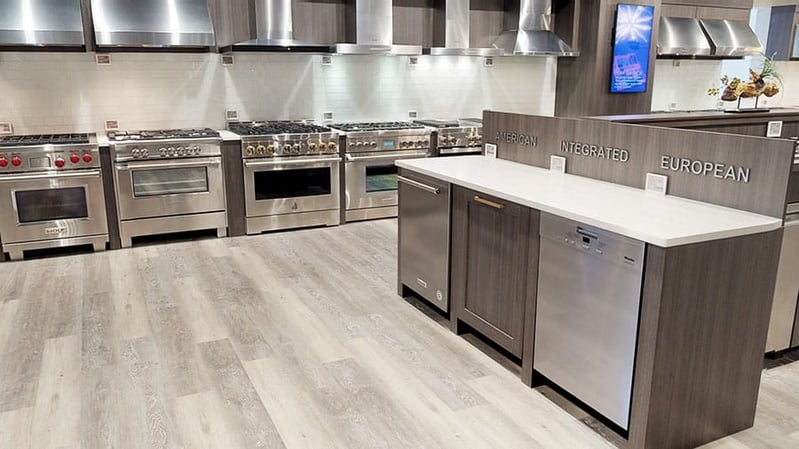 Panel-Ready, Integrated Dishwasher at Yale Appliance in Hanover
First, you want to buy the brands designed to be flush with your cabinets. I like KitchenAid and Café Appliances, but they protrude and look like dishwashers, not cabinets.
Buy the look first and features second, which is exactly the opposite of what we usually say.
Beko is the most intriguing brand on this list. It's the quietest at 39 DB and is designed to clean intensively with its heater, AquaFlex sprays, and AquaIntense cycles. The price is right as well at $999.
Fisher & Paykel is fresh and different. Different is good as long as you like loading it. But make sure before buying it.
Miele has the best wash system and good drying as well. The better Miele dishwashers have the best racks to accommodate any dish, tray, and platter.
For Miele, almost every model in their lineup can be paneled and have more features like Knock-to-Open, better quietness, and better drying at a higher price of $2000.
Bosch is the most popular because it is quiet and reliable. Their zeolite packed dishwashers really dry even plastics.
Thermador has that cool 20-minute wash and dry cycle. It may be worth it to buy if you are looking for other Thermador products. It is reduced from $2,799 to $1,499 after the $1,399 Thermador package rebate.
So, buy the style, brand, and then features for the best panel-ready dishwasher.
Then consider service.
All the dishwashers on this list are from smaller niche brands. You have to investigate whether there is adequate service in your area.
When Is The Best Time To Buy A Dishwasher?
There is a smarter way to buy appliances. Wait for holidays like Black Friday, Labor Day, July 4th, Memorial Day, and Presidents' Day.
The rebates can be 10-20%. Miele doesn't tend to participate, but they will have $200 offers during the year.
You also want to look at package opportunities. Both Bosch and Miele have 10% packages. You can save money by maximizing your rebates.
Additional Resources
Get the Yale Dishwasher Buying Guide with features, specs, and inside tips to all the brands. Over 890,000 people have read and trusted a Yale Guide.
Related Articles
Why Should You Trust Us?
It seems that every appliance review has nothing but glowing comments about almost every product, yet you read customer reviews and they are almost universally bad.
We are here to fill in the disconnect. We'll give you the best features, and the drawbacks as well, including reliability based on over 37,000 calls performed by our service team just last year. Our goal is to give you ALL the information so you know what's right for you.
Please consider subscribing or adding to the conversation in the comments below. We appreciate you stopping by.
A Note About Pricing
Pricing on this blog is for reference only and may include time sensitive rebates. We make every attempt to provide accurate pricing at time of publishing. Please call the stores for most accurate price.