Best Paneled Dishwashers (Reviews / Ratings / Prices)
Panelizing a dishwasher is a very sleek and modern look. A paneled dishwasher can look seamless to your cabinets blending right into your kitchen.
Some dishwashers will protrude past your cabinets enabling you to see the sides of the dishwasher. If you want that sleek, seamless look, there are certain types of dishwashers to consider. In this article, we will look at the best paneled dishwashers and then look at some of their different features to help you make your decision.
American vs. European Dishwashers
First, let's cover the two main categories of dishwashers: American and European. This is where your preference on aesthetics comes into play. If a truly flush to the cabinet look is important to you, then you want to have a European dishwasher like Miele and Bosch. They're about an inch less in depth compared to an American dishwasher, giving you a flush installation into standard depth cabinetry.
American dishwasher models, such as KitchenAid, Jenn-Air, and GE are a little deeper, giving you extra room in your dishwasher. In some cases, the metal side of the dishwasher door will be visible behind the custom panel.
Here are the best three to consider:
3. Jenn-Air JDB9200CWX - $1,299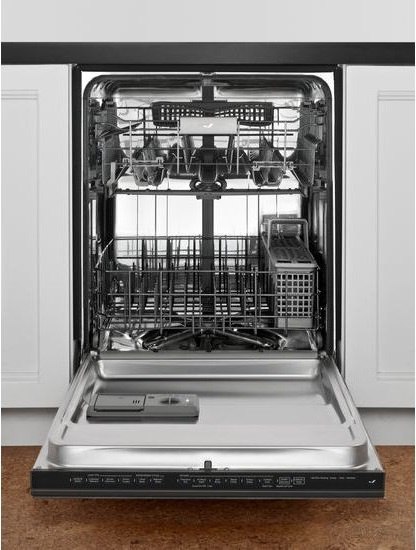 Features:
42dBAs is very quiet
LED lit interior great to make sure everything is visible, even the coffee spoon that fell to the bottom
Ultra Glide racking makes for an easy load and unloading especially the bottom rack. Basker stays on track; pulling out a fully loaded rack is much easier
SensorWash adjusts cycle time based how dirty the dishes are
Precision Dry heating element that customizes the dry cycle to your selected wash cycle
The Glide Racks are a favorite on this dishwasher. Pulling out a fully loaded basket will be effortless for you. The glide racks help guide the basket on rails so you don't have to worry about it falling off the door. This racking system is unique to most brands.
You can also buy this dishwasher in KitchenAid. It's incredibly similiar because Jenn-Air and KitchenAid are both owned by Whirlpool. Look at prices and promotions to choose between the brands.
In terms of features, quietness, these brands are loaded. Not to mention, they are super quiet at 42 dBAs. Just remember, this dishwasher will protrude from your cabinets.
Features:
42dBA is very quiet
A 3rd rack increases capacity allocating silverware to the top rack
Info Light shines a light onto the floor indicating washer status
Auto cycle adjusts wash time based on how dirty the dishes are
Touch Controls are easy to use and clean
EasyGlide improves wheeled gliders for easier loading
Bosch has the most dishwashers accepting panels. With a 42 dBAs rating for quietness, 6 cycles, and plenty of options, this dishwasher is the most popular and the least expensive against all the other brands.
Bosch is also reliable and requires service only 2% of the time more than the most reliable Miele dishwashers.
Features:
44 dBA is quiet
3rd Rack adjustable to accommodate tall items and different size cutlery
Auto Open - door opens automatically at the end of the washing program
FlexTimer, program start time
Recirculation turbothermic drying pulls in room air to assist with drying process
Miele is amongst the most reliable products sold. Their dishwasher is excellent with adjustability in all the racks. It also dries the best. Outside air is infiltrated into the side of the dishwasher. Heat is attracted to the cooler side and dissipated. The dishwasher also pops open eliminating any residual steam.
In terms of washing, Miele is the only dishwasher with three full wash arms.
So What do you buy?
They all have great features including three racks for bowls, plates, and utensils. However, Bosch and Miele will look considerably better. Miele is the best dishwasher but is almost double the price for a really good Bosch dishwasher.
If your decision is simply based on aesthetics and the look of your kitchen, then choosing either would be beneficial.
Additional Resources
Get the Yale Dishwasher Buying Guide with features, specs, and inside tips to all the brands. Over 240,000 people have read and trusted a Yale Guide.

Related Articles
Tam Nguyen
Tam is an Appliance Sales Consultant at Yale Appliance + Lighting. In his spare time he enjoys watching and playing sports and spending time with his two children.

Schedule a showroom visit with me
A Note About Pricing
Pricing on this blog is for reference only and may include time sensitive rebates. We make every attempt to provide accurate pricing at time of publishing. Please call the stores for most accurate price.