Best Dishwashers for 2024
November 29th, 2023 | 15 min. read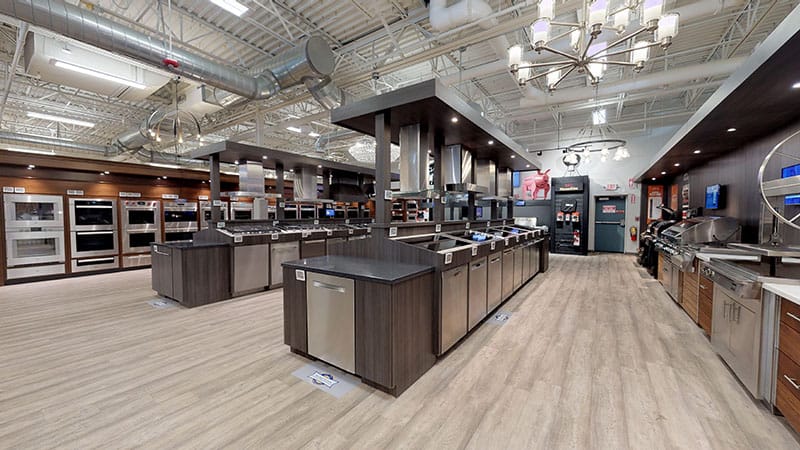 The best dishwashers have a combination of effective washing systems, the ability to dry plastics, decent racks and it won't sound like a freight train in your kitchen.
That's why you buy a dishwasher.
In this article, you will see a breakdown of all the best dishwashers for every budget.
You will also learn about reliability based on real service calls.
In the end we will show you the results of five brands and their ability to wash and dry lasagna dishes, fine China, Tupperware, and sports bottles with caked on chocolate syrup.
This will help you determine which brand is the most reliable as well as the best to do the job.
Why This Article Is Worth Your Time
Read this article for its candor.
We won't waste your time by promoting every brand or by sharing affiliate links just to earn a quick commission.
Not every brand is worth your attention, and, more importantly, your money.
On this blog, we deal with concrete facts, not abstracts.
Other reviewers will talk about reliability and never perform a service call.
We service what we sell daily and cannot afford to sell and service unreliable brands.
After reading this article, your key takeaway is this: There are plenty of worthwhile dishwashers and brands to consider other than a Bosch, Miele, or KitchenAid dishwasher.
Let's get started.
Best Dishwashers for 2024
Beko is a huge appliance manufacturer based out of Turkey. They are well known in Europe for their clean styling.
You may know Blomberg, a subsidiary of Beko. Beko also manufactures Viking dishwashers.
At one time, you had to compromise build quality and features when you bought a dishwasher for under $700.
There were fewer cycles, and the tub was plastic or a hybrid of plastic and steel. Dishwashers under $700 were also loud.
At $529, Beko is the exception. It's affordable yet functional, with decent cycles and an all-stainless tub.
The DUT25401X dishwasher's silence rating is not horrendous at 48 decibels (dB), only 4 dBlouder than what is considered quiet enough to not hear a dishwasher in the next room.
However, if you have an open kitchen, you will hear this dishwasher running.
This Beko dishwasher has five cycles and options, a soil sensor, and an adjustable upper rack.
The upper rack has three height options to accommodate taller glasses or large plates.
Pros & Cons of the Beko DUT25401X Dishwashers
Pros: This Beko dishwasher is a great value at $529 with an all-stainless tub, decent cycles, and a quiet 48-decibel operation.
It has five washing cycles, a soil sensor, and an adjustable upper rack.
Cons: Beko has had some minor service issues in the past. Additionally, there is no cycle for delicate dishware.
LG is the most reliable dishwasher brand according to just over 33,000 service calls logged by our service department last year.
This dishwasher has tons of cycles, adjustable racks, and Wi-Fi capability. If you want a hassle-free dishwasher, then consider the LG LDB4548ST.
If you're interested in the next model up, the LG LDPH7972S has steam to loosen tough stains, a quiet 44 decibel rating, and a height-adjustable third rack for $899.
It also features LG's "QuadWash" system with four rotating wash arms to wash your dishes from multiple angles.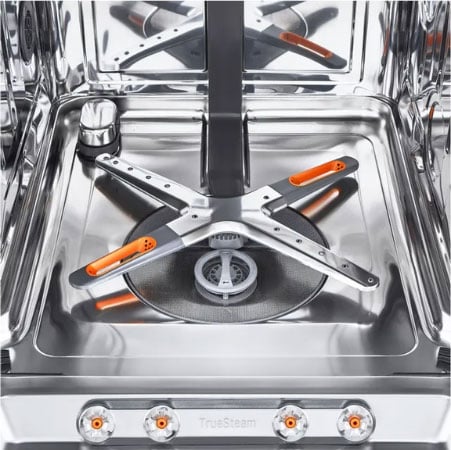 Their Dynamic Drying adds heat and a fan to dry plastics more thoroughly.
You will see later in the testing portion of the article whether it works.
Pros & Cons of the LG LDB4548ST Dishwashers
Pros: This reliable LG dishwasher comes with useful features like adjustable racks, multiple cycles, and Wi-Fi.
The high-end LG LDPH7972S model offers advanced options like steam cleaning, quiet operation at 44 decibels, "QuadWash" for cleaning, and Dynamic Drying for better drying of plastics.
Cons: At 48 dB, you will hear the LDB4548ST dishwasher in an open kitchen. In addition, this LG dishwasher does not have a third rack.
Best New Dishwashers to Consider: GE Profile PDP755SYRFS and PDT755SYRFS
GE Profile redesigned its dishwasher a few years ago and returned it to the drawing board.
GE Profile added their successful odor, mold, and moisture prevention package in their washing machines to this new line of dishwashers.
They now feature antimicrobial Microban surfaces (even on the outside handle and interior filters) and a fan to circulate fresh air into the dishwasher to reduce moisture and bacteria.
Their washing system adds four spray jets for silverware and bottles.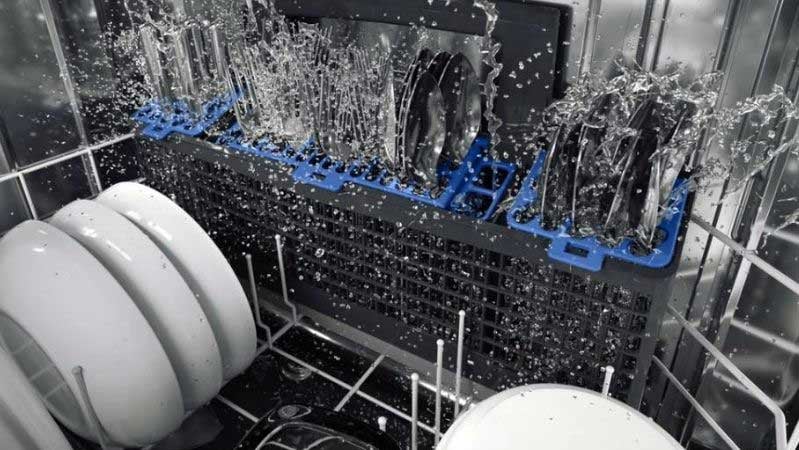 My daughter is now seven, but the bottle wash feature would have been useful for cleaning her baby bottles, which often had caked formula at the bottom.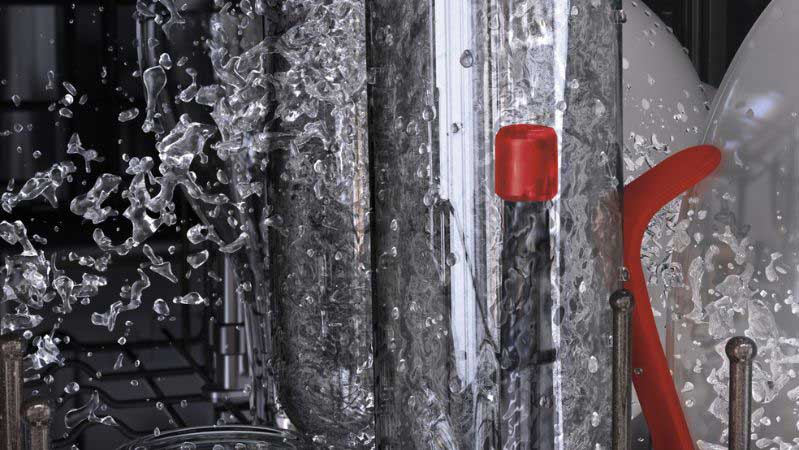 They improved their drying system with a fan to remove excess moisture by pulling out moist air from the dishwasher.
GE Profile claims that their drying system is three times more effective than a standard heated drying system, particularly for plastics.
For a quiet dishwasher, which is important if your kitchen is open to your living room, GE Profile is 42 dB.
Unlike every quiet dishwasher, GE Profile is still quiet with a hard food disposer dubbed the "Piranha."
GE still operates the largest service department for any manufacturer.
Ninety-five percent of all retailers do not employ a single technician, so finding repair services will be an issue.
In many areas and perhaps yours, GE is a good service alternative.
Pros & Cons of the GE Profile PDP755SYRFS and PDT755SYRFS Dishwashers
Pros: GE Profile's dishwasher is both efficient and hygienic.
It features Microban surfaces, a drying system three times more effective than standard models, and additional spray jets, making it ideal for families.
The dishwasher operates quietly, and GE's extensive service network provides reliable support, making it a practical choice for many households.
Cons: It all looks good on a spec sheet, but you will see how it really does in our tests
Beko is the fastest-growing brand at Yale partly because Beko has been available more than most brands.
The models changed last year to include Beko's new "CornerIntense" wash system. It washes in a square pattern (rather than round) to cover every area of the dishwasher.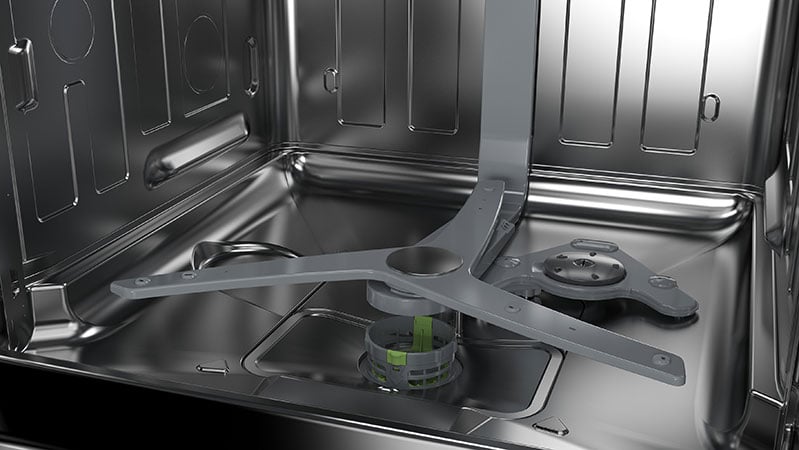 When you see it in action, the spray looks like two wash arms at the bottom.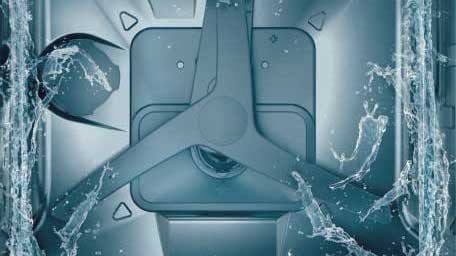 Not to mention, Beko loaded this dishwasher with features.
Their IonGuard eliminates odors by sending negatively electric-charged ions to counteract the positive ions of odors.
Beko's rack design is good as well. You can remove the third rack for silverware for more capacity. This way, you can accommodate larger glasses or bowls on the middle rack, for example.
Like the GE Profile dishwasher, Beko has three concentrated sprays on the top to wash bottles.
Beko also uses a quieter inverter motor for a 39 dB dishwasher rating. A scouring arm adds noise, but Beko designed it to be quiet.
Lastly, you may be more comfortable with familiar brands.
In case of availability issues, and there will be some, Beko is an excellent alternative and has been statistically reliable.
Pros & Cons of the Beko DDT39434XIHC2
Pros: The Beko dishwasher features a unique "CornerIntense" wash system for thorough cleaning, an odor-eliminating IonGuard technology, and flexible rack designs for larger items.
It's also notably quiet at 39 dB, making it a reliable and efficient choice.
Cons: It didn't perform well in our admittedly unfair tests.
Bosch Benchmark SHX9PCM5N
I had a hard time placing this dishwasher. It is technically the quietest at 38 decibels without slowing the motor like a Miele to four hours.
Consumer Reports named the Benchmark as the best dishwasher.
That makes me skeptical as they give zero insight on service and reliability, but at least they try.
The Benchmark is Bosch's best dishwasher series. Last year it was $2,299 with less features than the less expensive 800 series.
This year the Benchmark has the CrystalDry drying system and the PowerControl spray arm.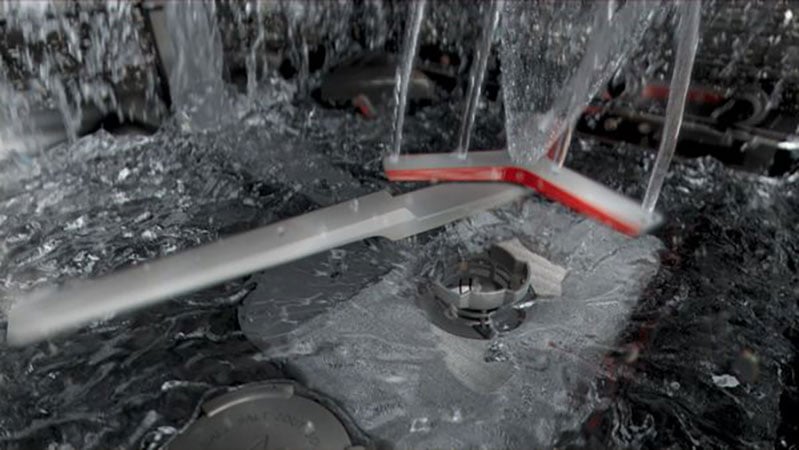 The Benchmark is 38 decibels. The 800 series is quiet enough at 42 decibels In addition, the Benchmark has smoother gliding racks for easier unloading of dishes.
Pros & Cons of the Bosch Benchmark SHX9PCM5N
Pros: The Bosch Benchmark dishwasher stands out as one of the quietest models, operating at only 38 decibels.
It features the efficient CrystalDry drying system and the powerful PowerControl spray arm. Additionally, it has smoother gliding racks for easier dish unloading.
Cons: The Bosch Benchmark dishwasher costs around $2,299, which is a lot more than the Bosch 800 series.
Even though it's a bit quieter, it doesn't have many extra features compared to the less expensive 800 series.
KitchenAid KDTE204KPS
39 dBA Dishwasher in PrintShield™ Finish with Third Level Utensil Rack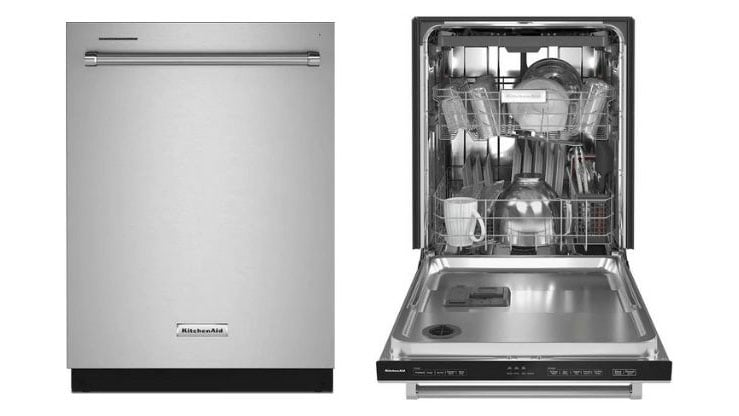 Number of Cycles: 5 Cycles, 7 Options | Sound Level: 39 dB | Drying: Condensation Dry & Heating Element | Third Rack: Yes | Disposer or Filter: Filter Only
The KitchenAid KDTE204KPS has its ProWash cycle. ProWash is an extended cycle with soil sensing capabilities.
KitchenAid features a light wash cycle for wine glasses, fine China, or an express wash.
At 39 dB, it is almost noiseless.
Like many brands, KitchenAid's prices have dropped precipitously from $1149 in 2021 to $849 in 2023.
Pros & Cons of the KitchenAid KDTE204KPS
Pros: The KitchenAid KDTE204KPS dishwasher has a smart wash cycle for better cleaning and is very quiet at 39 dB. It's also more affordable now, down to $849 from $1149 in 2021.
Cons: You buy KitchenAid for its silence rating. The cycles, options, and drying capabilities are standard and found in most brands.
Bosch's wash system features PrecisionWash.
This system uses sensors to monitor the water during the wash cycle and automatically adjust it, so your dishes get the best cleaning.
Bosch's' new system has the PowerControl spray arm controlling the intensity of the lower spray arm for light, medium, and heavy.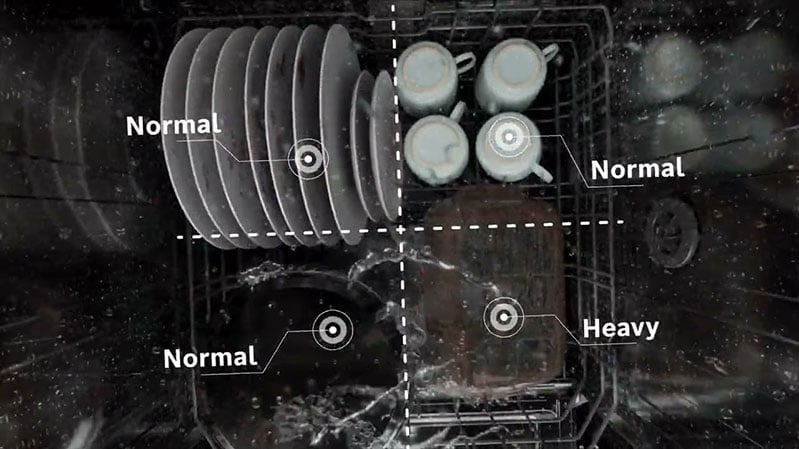 You can split the lower rack by quadrants, so you can wash lasagna dishes and fine china in the same wash.
Bosch has CrystalDry using a volcanic element, Zeolite, to emit heat and absorb moisture.
CrystalDry is reputedly the best to dry less dense items like your plastics.
You will see if that's true later in the article.
At 42 decibels, Bosch is quieter than the 44 decibel quiet standard.
Pros & Cons of the Bosch SHX78CM5N
Pros: The Bosch dishwasher has smart sensors for better cleaning and a special drying technology for plastics. It's also very quiet at 42 decibels, making it less noisy in your kitchen.
Cons: Bosch's washing system is standard aside from its PrecisionWash feature. Other dishwashers at this price range, like Miele, for example, has a full spray arm up top and a different third rack.
Miele makes excellent dishwashers.
Their G 5000 series may not have the same unique features as Beko, GE Profile, or LG, but their washing, drying, and racking features are amongst the best.
They still are a family-owned company manufacturing out of Germany.
Miele produces not just the dishwasher but almost all the componentry parts.
At 44 dB, Miele meets the quietness standard.
Miele dishwashers have three full-wash arms. Most will have two and a sprinkler head.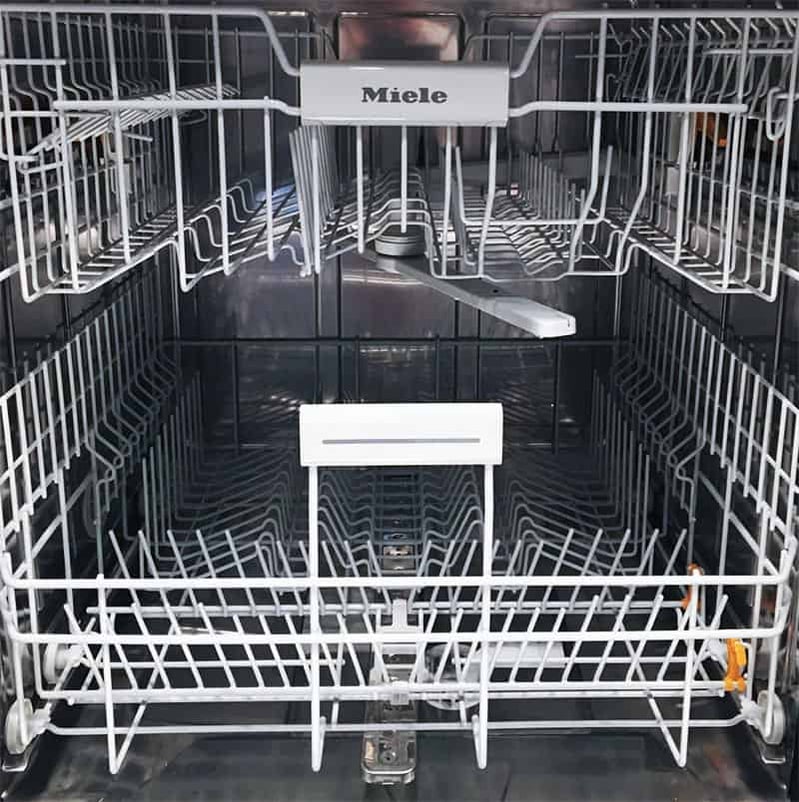 This dishwasher has the standard dishwasher cycles plus a few unique cycles, like the 58-minute QuickIntenseWash for lightly soiled dishes.
ExtraClean and ExtraDry increase the temperature in the main wash and final rinse.
Like most premium dishwashers, this dishwasher has a third rack on the top for silverware.
Third racks will leave more room at the bottom for plates and silverware.
Unlike others, the silverware is secured and will not scratch during the wash.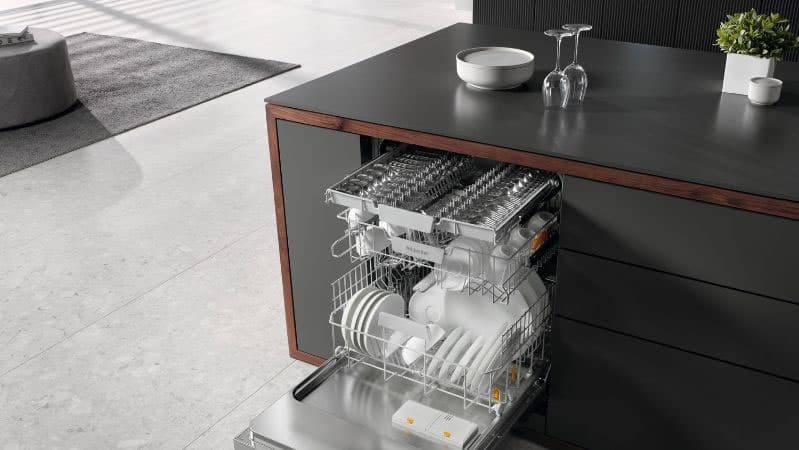 Miele has a simple but effective drying system.
The port on the bottom allows cooler air from your kitchen into the side of the dishwasher. The hotter, steamier air is attracted to the cooler side and dissipates as water.
In addition, the dishwasher pops open at the end of the cycle to release heat and steam and speed up the drying process.
Pros & Cons of the Miele G 5056 SCVi SFP
Pros: Miele dishwashers have great cleaning and drying features, including three wash arms and quick wash options.
They also have a unique drying system that opens the door automatically to let steam out.
With a quiet operation and an extra top rack for more space, they're user-friendly and efficient.
Cons: The main drawback to a Miele dishwasher is the price at $1,499.
You may have noticed all the other dishwashers have a single door. Fisher & Paykel has two pull-out drawers.
There are 27 different DishDrawers in three different series.
The top can be larger to fit more, or you can have two equal-sized drawers.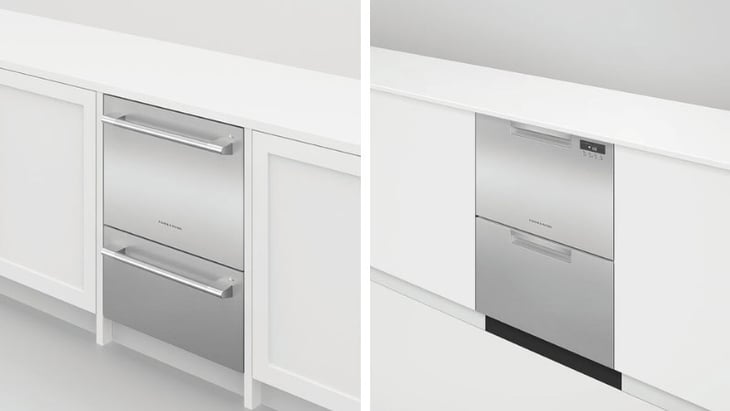 Drawers could be good or bad.
You are not bending down to reach the top drawer like you would for the other dishwashers on this list. You can do a half load with just one drawer.
However, drawers load differently than a regular dishwasher, so you may or may not like that.
Fisher & Paykel's DishDrawer is worth looking at before you buy it to decide whether you will like this dishwasher.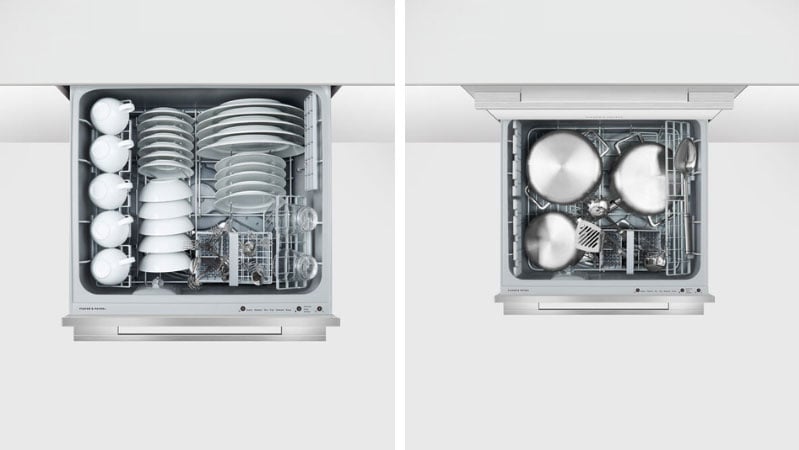 I recommend bringing a few of your most used dishes to a showroom and loading the DishDrawer to see how it loads.
Still, the Fisher & Paykel DishDrawer is worth your consideration for a unique product.
Pros & Cons of the Fisher & Paykel DD24DAX9
Pros: Fisher & Paykel's dishwashers have two drawers instead of one door, making it easier to load and unload dishes.
You can use just one drawer for smaller loads. They're a bit different to load than regular dishwashers and are fairly quiet at 45 dB.
Cons: With a 45 dB silence rating, you will faintly hear Fisher & Paykel's DishDrawer.
Miele's G 7366 models are the most popular of the G 7000 series dishwashers.
The Miele G 7366 SCVi SF dishwasher has all the features of the G 5056 SCVi SFP plus:
A China and crystal wash cycle along with a half load cycle.
A 40 dB silence rating but slows the motor down for a four-hour cycle.
Two ports allow air into the dishwasher instead of one, along with the auto-opening door for faster drying.
I hate to use the word revolutionary when talking about a dishwasher, but Miele's AutoDos detergent dispensing system may qualify.
It automatically dispenses the exact amount of detergent needed at the right time with its 20-load PowerDisk dispenser.
As gimmicky as it sounds, clients do report cleaner dishes.
Pros & Cons of the Miele G 7366 SCVi SF
Pros: The Miele G 7366 dishwasher has special cycles for delicate dishes and can run smaller loads. It's very quiet at 40 dB but takes longer to wash.
It has a unique feature that automatically adds the right amount of detergent for cleaner dishes and a good drying system with an auto-opening door.
Cons: The PowerDisk costs about $1 a load versus 18 cents for the dishwasher pods I usually buy in bulk.
Best Dishwashers of 2024: Performance Test
We tested these dishwashers by loading them with pots and pans with baked-on lasagna and eggs, fine China, caked sports bottles, glasses with chocolate syrup, and Tupperware stained with red sauce.
Washing
Miele was the best at washing, leaving just a bit of egg on the plate. Bosch was second best.
LG was surprising. Steam does loosen up baked on stains.
Beko and GE were decent.
The sports bottle tests were surprising. Every dishwasher washed well even the dishwashers without dedicated bottle washes.
Drying
Bosch was the best. I guess Zeolite does work. Miele was a close second. I have a Miele.
The door popping open helps.
The other three were decent. It's what you would expect from a dishwasher - dry dishes and semi wet plastics.
Which Dishwasher Should You Buy?
| | | | | | | |
| --- | --- | --- | --- | --- | --- | --- |
| | Price Range | Number of Cycles | Sound Level | Drying Technology | Third Rack | Disposer or Filter |
| Beko DUT25401X | $529 | 5 Cycles, 6 Options | 48 dB | Condensation Dry | No | Filter Only |
| LG LDB4548ST | $699-899 | 9 Cycles, 8 Options | 48 dB | Hybrid Condensing | No | Filter Only |
| GE Profile PDP755SYRFS and PDT755SYRFS | $849-999 | 5 Cycles, 11 Options | 42 dB | Heated Drying with Fan Assist | Yes | Disposer Only |
| Beko DDT39434XIHC2 | $1,399 | 9 Cycles, 5 Options | 39 dB | Condensation Dry | Yes | Filter Only |
| Bosch Benchmark SHX9PCM5N | $1,619 | 9 Cycles, 8 Options | 39 dB | CrystalDry | Yes | Filter Only |
| KitchenAid KDTE204KPS | $849-1,049 | 5 Cycles, 7 Options | 39 dB | Condensation Dry & Heating Element | Yes | Filter Only |
| Bosch SHX78CM5N | $1,399 | 7 Cycles, 7 Options | 42 dB | CrystalDry | Yes | Filter Only |
| Miele G 5056 SCVi SFP | $1,499 | 6 Cycles | 44 dB | Condensation Drying | Yes | Filter Only |
| Fisher & Paykel DD24DAX9 | $1,799 | 6 Cycles, 6 Options | 45 dB | Fan Assisted Drying | Yes | Filter Only |
| Miele G 7366 SCVi SF | $2,299 | 11 Cycles | 40 dB | Condensation Drying | Yes | Filter Only |
When searching for a quality dishwasher, keep in mind that there are alternatives beyond Bosch and Miele.
Comparing a more affordable $529 Beko with a luxurious $2,300 Miele can be challenging.
Pay attention to key features such as washing and drying efficiency, rack design, and noise levels.
Decide whether to invest more in a premium Bosch or Miele, or choose a less expensive brand, which may require additional tasks like manually rinsing and drying plastics.
Finally, don't forget to factor in repair services. The availability of local service can be a crucial consideration after your purchase.
What dishwasher will you buy? You can leave your answer in the comments below.
How to Choose a Dishwasher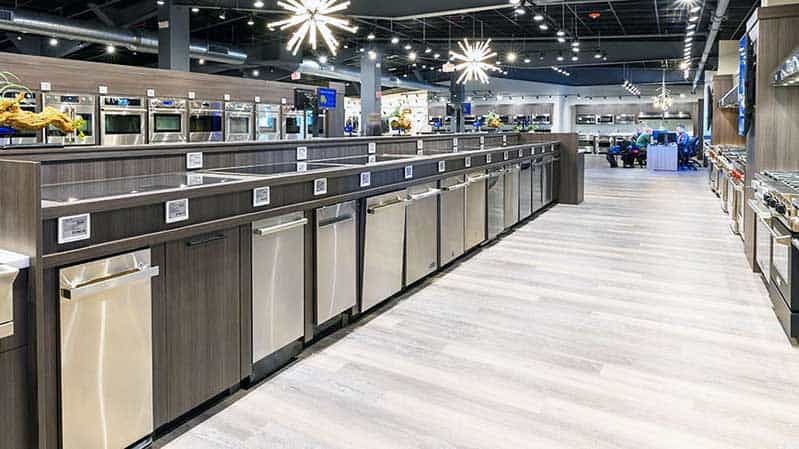 This section will cover the basics of how to buy a dishwasher. This includes the most reliable dishwasher brands based on real service data, how much you should pay for a quiet dishwasher, and the best features to look for.
Let's dive in.
Dishwasher Reliability 2024
LG, Bosch, Thermador, KitchenAid, and Miele are the most reliable dishwasher brands to consider.
We calculate dishwasher reliability by dividing the products we serviced by the products we sold for a service rate percentage.
Due to capacity issues, we could only service the appliances we sold.
The following service rates are based on at least 100 products sold and a total sample of over 8,000 pieces from January 1, 2023 to December 31, 2023.
| | |
| --- | --- |
| | Service Rates |
| LG Electronics | 3.5% |
| Bosch Appliances | 5.1% |
| Thermador | 5.9% |
| KitchenAid | 6.2% |
| Miele | 6.7% |
| GE Profile | 7.1% |
| Signature Kitchen Suite | 7.5% |
| Fisher & Paykel | 9.0% |
| Cafe Appliances | 10.3% |
| Beko Appliance | 11.2% |
| Grand Total | 6.8% |
LG was excellent at 3.5%, but last year's number was 1.7%.
Thermador and Bosch's dishwashers are both made by BSH Home Appliances.
GE Profile and Miele were reliable, especially considering they only have high-end dishwashers. Typically, the most featured models have the most problems.
Beko spiked higher at 11.2%, but they introduced new models last year.
At 6.8%, dishwashers are more reliable than most other appliances, but still, you should check locally for the best service departments for any brand before you buy an appliance.
Read More: Most Reliable Dishwashers
Plastic vs. Stainless Tub Dishwashers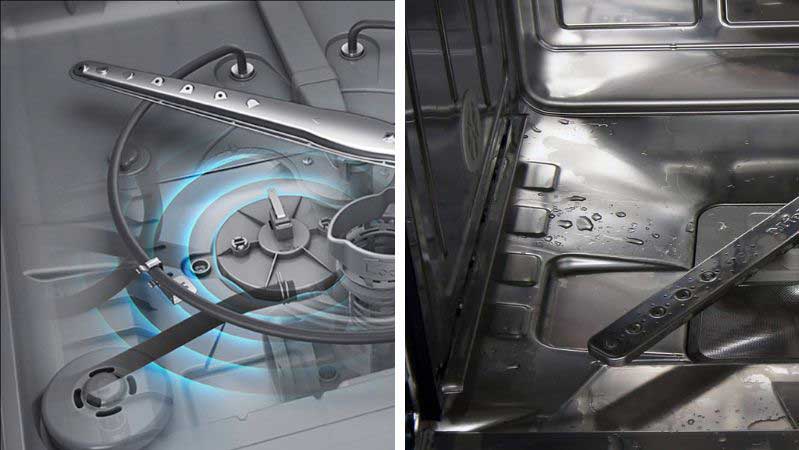 The best dishwashers have stainless steel tubs rather than plastic.
Stainless steel is non-porous and will not retain odors and germs like other surfaces.
Commercial kitchens are stainless for that reason. Then again, two brands on this list have features specifically designed to reduce odors.
Beko has IonGuard technology to neutralize negative ions and counteract positive ions of odors for a fresher-smelling dishwasher.
So many of Beko's features seem almost outlandish or "overly technical." However, they all work as specified.
GE Profile has a new dishwasher with antimicrobial surfaces and a fan to eliminate moisture. Their highly rated laundry employs the same technology.
Only Frigidaire, GE, Samsung, Whirlpool, and Maytag make dishwashers with plastic tubs.
Most brands sell more stainless-steel tubs than plastic now. Be careful, though.
Several dishwashers may look stainless but are partly plastic, like the Bosch Ascenta and Samsung hybrid dishwashers.
American vs. European Dishwashers
Dishwashers are split between American-style models and European-style models.
American-style dishwashers used to have a grinder on the bottom. European-style dishwashers have a removable filter for a quieter silence rating.
GE Profile will offer the best of both worlds with a grinder dubbed the "Piranha" and a super quiet 42-decibel rating.
KitchenAid is an American-style dishwasher with a filter to keep its silence rating down.
European-style dishwashers also sit flush with your cabinet.
They look best if you place a custom panel on your dishwasher. For the best panel-ready dishwashers, look at Bosch, Miele, or Beko dishwashers.
American-Style Dishwasher Brands:
Electrolux
Frigidaire
GE
Whirlpool
Maytag
Samsung
JennAir
KitchenAid
European-Style Dishwasher Brands:
Bosch
Thermador
Beko
KitchenAid (has both styles)
Miele
Read More: Best Panel-Ready Dishwashers
Silence Ratings
Silence ratings are important, especially if your kitchen is open to your living room. If you want a quiet dishwasher, look for a decibel level under 44 dB.
At a certain level, decibel differences are not detectable. This is an easy mistake to make. Do not overpay for just a quiet dishwasher.
That said, there are a few exceptions. Our quietest picks are both 39 dB for less than $1,000. For one decibel less, a 38 dB dishwasher typically costs $1,399 to $2,999.
Read More: Quietest Dishwashers By Decibel Rating
Washing Performance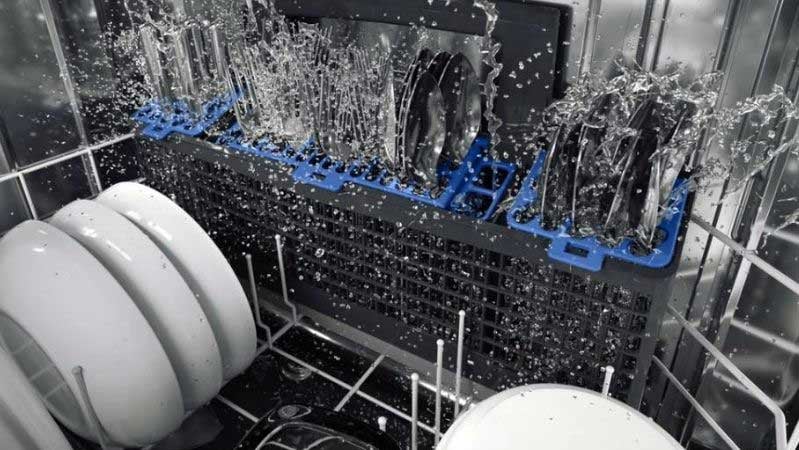 They all wash dishes. However, some have better systems.
GE Profile has four bottle washes with direct sprays to scour the gunk out of your baby and sports bottles. They also have dedicated sprays under the silverware basket.
Miele has three full spray arms, two under each basket and one on the top.
Beko has their new CornerIntense models to wash the outer edges better. They also have three bottle washes on top.
LG has steam to help lift off baked-on stains like my kid's macaroni and cheese. (It works. My neighbor has an LG dishwasher).
Drying Performance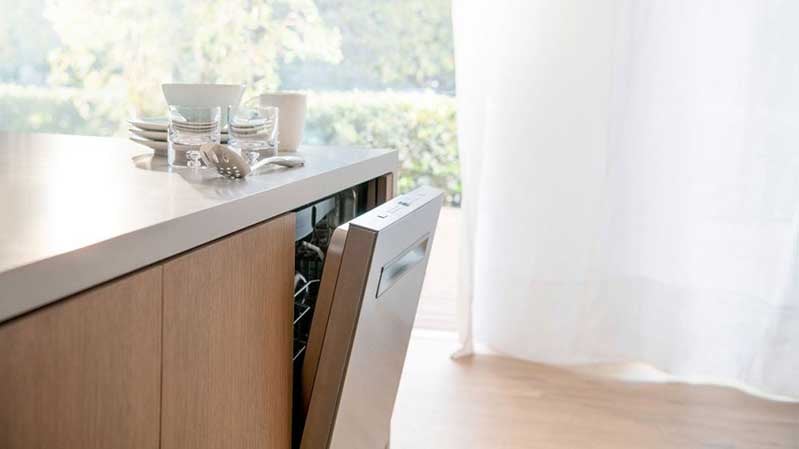 Drying has become much better in the latest models. Most high-end dishwashers use condensation or static drying.
Condensation drying uses the residual heat from the wash cycle to dry your dishes. If you buy a dishwasher with condensation drying, we recommend using Jet-Dry or a rinse aid for better drying results.
Other dishwashers used a heating element. Both drying systems did not dry plastic dishware well.
Now there are multiple types of drying systems. In Bosch's and Miele's better dishwasher models, the door opens at the end of the cycle to release heat and moisture.
The new GE Profile dishwasher has a fan to aid in pulling moisture out of the dishwasher.
In all Miele's and the better KitchenAid M Series dishwashers, the cooler outside air is directed to the side of the dishwasher, attracting the warmer air and dissipating the moisture as water.
Bosch has the best drying dishwasher. It uses the volcanic element zeolite to add heat and dissipate moisture.
Rack Design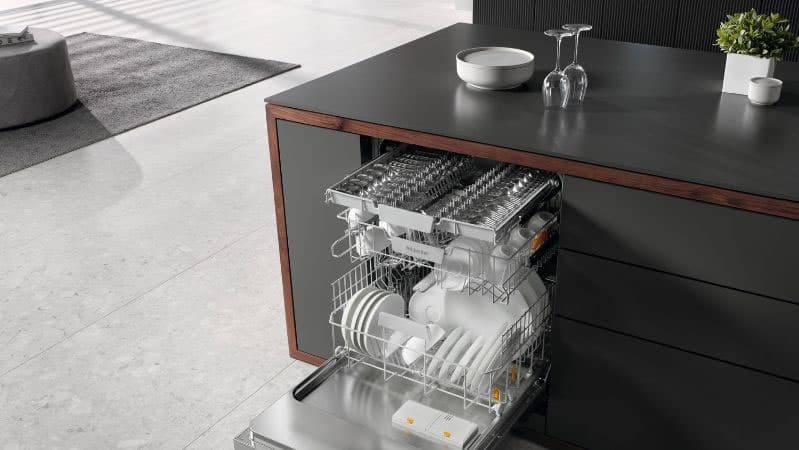 Most dishwashers over $599 have an adjustable top rack. The best dishwashers from Beko, Bosch, Miele, LG, Beko, and KitchenAid have a third rack.
Bosch has a sizeable MyWay rack to hold more than silverware. Miele has a 3D cutlery tray to hold flatware securely. It also folds down to accommodate more on the second rack.
KitchenAid may have the best solution with the largest rack. It also acts as a fourth level of spray from the rack itself.
Read More: How to Buy a Dishwasher
Additional Resources
Get our free Dishwasher Buying Guide with tips, trends, and reviews of all the major brands. Over 1 million people have already found answers in a Yale guide.
Related Articles:
Why Should You Trust Us?
It seems that every appliance review has nothing but glowing comments about almost every product, yet you read customer reviews and they are almost universally bad.
We are here to fill in the disconnect. We'll give you the best features, and the drawbacks as well, including reliability based on over 37,000 calls performed by our service team just last year. Our goal is to give you ALL the information so you know what's right for you.
Please consider subscribing or adding to the conversation in the comments below. We appreciate you stopping by.
Steve Sheinkopf is the third-generation CEO of Yale Appliance and a lifelong Bostonian. He has over 38 years of experience in the appliance industry, and he is a trusted source of information for consumers on how to buy and repair appliances.

Steve has also been featured in numerous publications, including the New York Times, Consumer Reports, The Boston Globe, Bloomberg Radio, the New York Post, The Wall Street Journal, and Entrepreneur, for his knowledge of how to buy appliances and appliance repair.

Steve is passionate about helping consumers find the best appliances for their needs, and he is always happy to answer questions and provide advice. He is a valuable resource for consumers who are looking for information on appliance buying, repair, and maintenance.

Despite being the worst goalie in history, Steve is a fan of the Bruins and college hockey, loves to read, and is a Peloton biker. The love of his life is his daughter, Sophie.
A Note About Pricing
Pricing on this blog is for reference only and may include time sensitive rebates. We make every attempt to provide accurate pricing at time of publishing. Please call the stores for most accurate price.