Top 10 Best Dishwashers For 2020 (Reviews / Ratings / Prices)
Editor's Note: I just wrote this article less than six weeks ago. However, with a combination of new models and COVID-19 supply issues, it was already dated.
So you will be seeing the newest models plus some worthwhile alternates in case of supply problems in your area.
Most manufacturers have problems as I write this.
COVID has hit California where most containers arrive. It has also hit Mexico, where many manufacturers like Samsung and Electrolux build products.
Some more specific problems.
Bosch is operating at 50% capacity in its New Bern facility. They have cut their SKUs models from 116 to 53, but lead times are now 4-8 weeks or more.
Miele has various problems from importing from Germany, introducing new models, and converting its computer system.
Samsung is effectively out of stock on most items. Their popularity and rising demand cannot offset COVID related problems.
As I wrote in this week's How to Buy Appliances During a Supply Crisis, you are best served by picking a couple of models from a few manufacturers, because half won't be available.
In other words, be loyal to a set of features and reliability and less loyal to a particular brand.
Let's get started.
It's time to buy a new dishwasher. Dishwashers all look the same nowadays, either with space for your hand or a towel bar.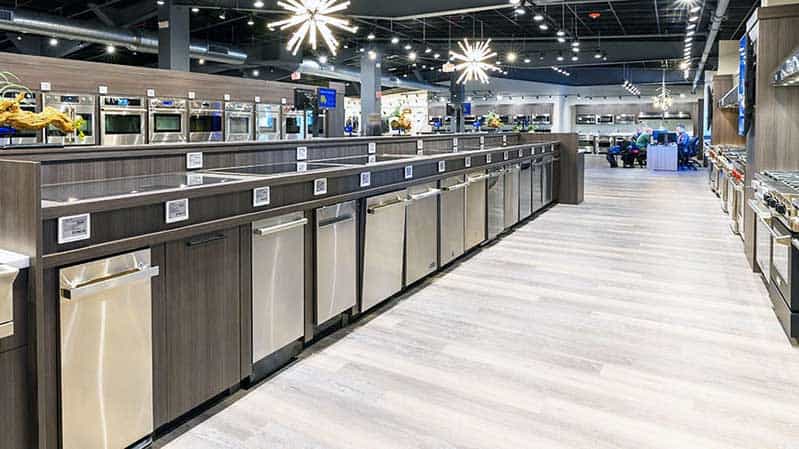 Dishwasher Display at Yale Appliance in Hanover
But there are new features to consider for washing bottles, silverware or casserole dishes. Dishwashers now have better drying cycles as well and can even dry dreaded plastics.
One dishwasher can wash and dry in 20 minutes.
You probably want a quiet dishwasher as well, especially if your kitchen opens to your living room.
However, overbuying for quietness is a huge yet common mistake.
We will show you the minimum level of quietness and how to buy a quiet dishwasher without spending a fortune.
You will also learn about the real differences between plastic and stainless steel dishwasher tubs.
Then we will compare American and European dishwashers as well as some newer features worth considering.
I will also show you our reliability data based on 35,256 service calls logged by our service department last year.
Some are more reliable than others, and repair is a huge problem in this industry. If it wasn't, we wouldn't need all of these guys.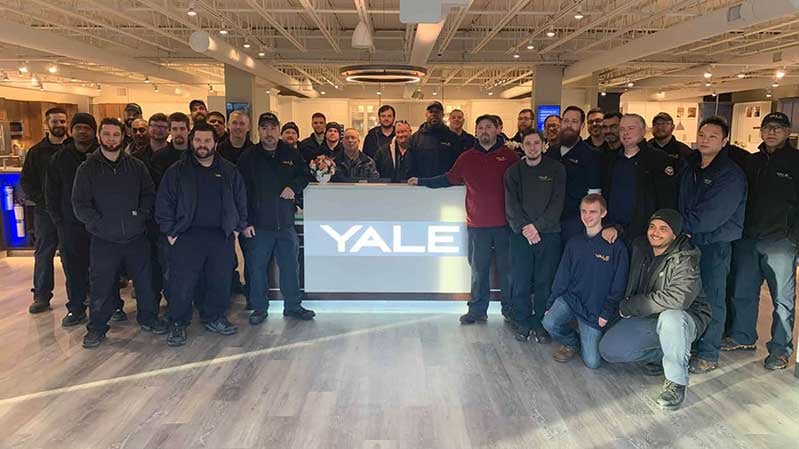 Yale Appliance Service Team in Hanover
Then you will see the 10 best dishwashers to consider out of the hundreds, if not thousands, of models available for every category.
There is no one single best dishwasher, so I segmented this article based on how you may use a dishwasher and by price range.
As I write this in July of 2020, you may want to also look at Best Affordable Dishwashers for a reliable replacement dishwasher.
First, let's cover the basics.
How to Choose a Dishwasher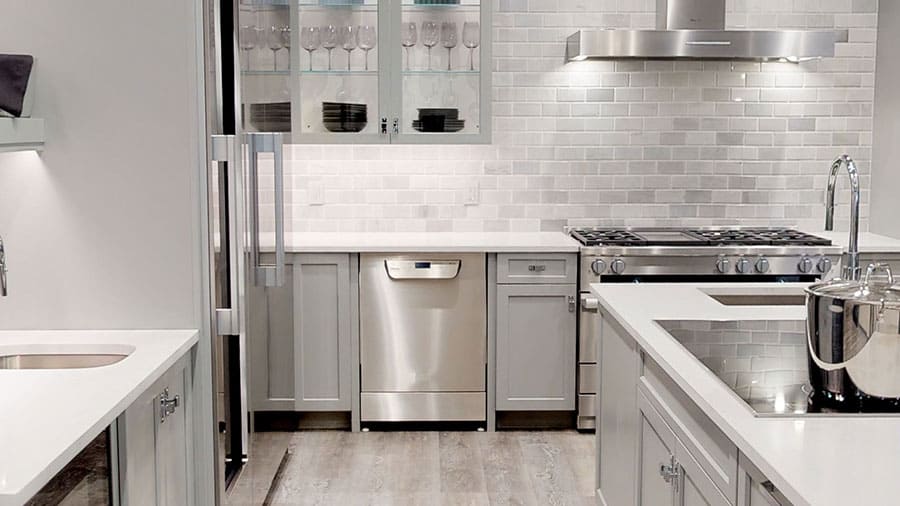 Miele Dishwasher Featuring Front Controls at Yale Appliance in Hanover
Dishwasher Reliability
Below are our sales and service statistics for 2020.
Most Reliable Dishwashers for 2020
| | | | |
| --- | --- | --- | --- |
| | Service QTY | Shipped QTY | Service Ratio |
| Asko | 103 | 190 | 54.21% |
| Jenn-Air | 188 | 493 | 38.13% |
| Bosch Benchmark | 25 | 70 | 35.71% |
| Fisher & Paykel | 56 | 193 | 29.02% |
| Miele | 185 | 903 | 20.49% |
| Maytag | 2 | 10 | 20.00% |
| Gaggenau | 16 | 104 | 15.38% |
| Thermador | 126 | 872 | 14.45% |
| KitchenAid | 90 | 688 | 13.08% |
| Café Appliances | 3 | 25 | 12.00% |
| Bosch | 398 | 3573 | 11.14% |
| Samsung | 134 | 1297 | 10.33% |
| LG | 5 | 81 | 6.17% |
| Cove | 2 | 44 | 4.55% |
| Ge Appliances | 1 | 37 | 2.70% |
| Whirlpool | 38 | 1471 | 2.58% |
| Grand Total | 1377 | 10166 | 13.55% |
Bosch, LG, KitchenAid, and Samsung are statistically the most reliable dishwasher brands. Whirlpool is basic and sold mostly to builders.
Miele is usually the best for reliability. Last year, they had a problem with a buzzing solenoid. It's easily repairable and should not be an issue going forward.
However, with a 10-15% repair rate within the first year, you most likely will need service within five years.
You should be mindful of who fixes appliances in your area. Pick a few brands and ask your local servicer what they can fix quickly.
Short on time? Get our free Dishwasher Buying Guide
Plastic vs. Stainless Tub Dishwashers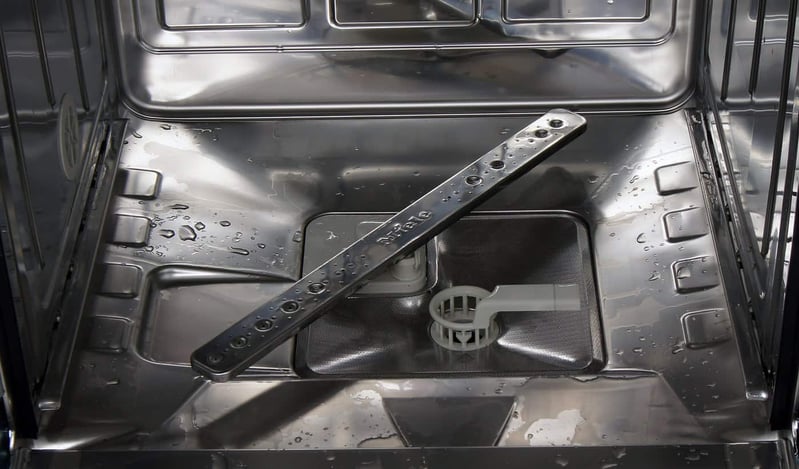 Stainless Steel Dishwasher Tub
This isn't much of an issue anymore. Most dishwashers are stainless these days, and they both can hold water.
Most of the better dishwashers have stainless tubs, whereas the less featured are plastic.
Stainless steel is non-porous and won't retain odors and germs like other surfaces. Commercial kitchens are stainless for that reason.
Frigidaire, GE, Samsung, Whirlpool, and Maytag are the only plastic tub manufacturers. Most brands are selling more stainless steel tubs than plastic now.
A few are hybrid or stainless with a plastic bottom like Samsung and the Bosch Ascenta dishwasher series.
All of the models we are introducing in this article have stainless steel tubs.
American vs. European Dishwashers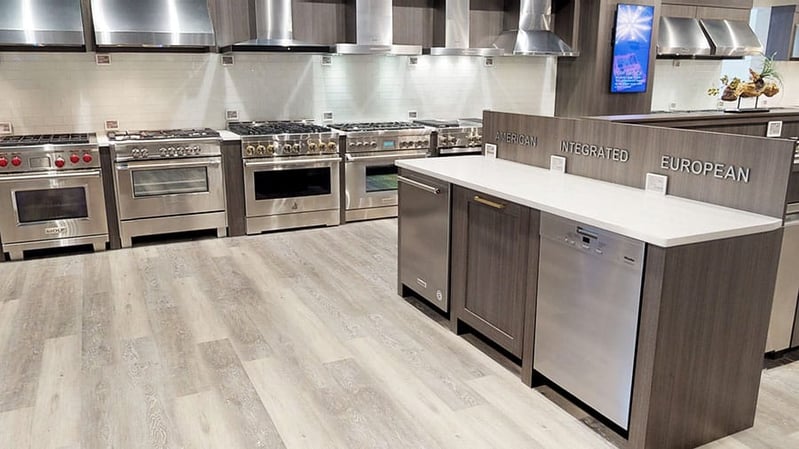 American and European Dishwashers at Yale Appliance in Hanover
Dishwashers are split between American-style models (like Electrolux, Frigidaire, GE, Whirlpool, Maytag, Samsung, Jenn-Air, and KitchenAid) and European-style models (Bosch, Thermador, Asko, Beko, and Miele).
The American style has a grinder on the bottom to handle any leftovers, whereas the European style has a removable filter.
European models tend to be quieter for that reason. They will also be flush with your cabinet, so they look better with a custom panel.
American companies still have a heating element for better drying results in some cases. Some companies, like KitchenAid for example, traded its dishwasher grinders for filters to be quieter.
What Is Quiet Enough For A Dishwasher?
If you want a quiet dishwasher, look for a decibel level between 42 and 44 dBA.
You should not pay for just quietness as a feature below 44 dBAs. At a certain level, decibel differences are not detectable in the lower dBAs.
The difference for minimal improvements in quietness can cost over $1,000 in some cases. This is a common mistake.
Do not overbuy for just quietness.
That said, there are a few exceptions. KitchenAid has a great dishwasher at 39 dBA for $749. Beko has an $849 dishwasher with 39 DB. Both are $800 cheaper than most dishwashers with a similar rating.
Bosch has a few in the $769-$1,049 range, so there is no reason to pay a great expense just for quietness alone.
Hear 55 dBA, 44 dBA, and 39 dBA dishwashers head-to-head:
When Is The Best Time To Buy A Dishwasher?
As we have said throughout this blog, you should wait to buy appliances until there is a promotional holiday.
Manufacturers always have the most heavily rebated appliances during the following holidays:
It's still worth waiting, but this year may be a bust for promotions due to a lack of supply
Presidents' Day
Memorial Day
July 4th
Labor Day
Black Friday
COVID-19 Update
This year, 2020, maybe an exception. COVID-19 is unlike any other recession because supply and demand have been affected.
Many companies have had shutdowns due to COVID-19 contamination in their factories or their warehouses.
It's one of the reasons we are rewriting this article.
So be careful.
I said six weeks ago, not to panic.
In July, however, if you have 3 top choices, then 1-2 probably have a longer lead time.
So look at the features you want from many brands.
You might also not see the season sales like years past. If you do, many of these products are unavailable
Top 10 Best Dishwashers For 2020
Now, let's take a look at our best dishwashers to consider.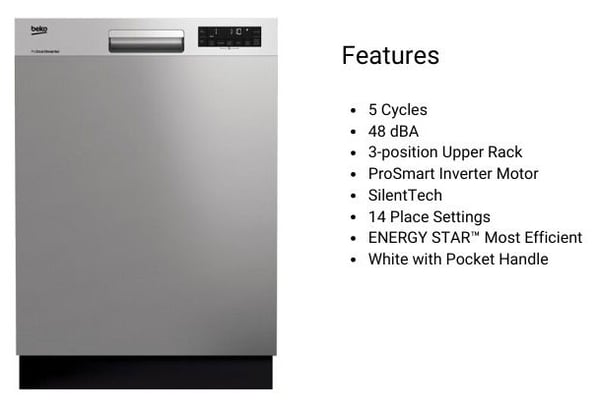 Beko DUT25401X Dishwasher Review
Beko is a huge appliance manufacturer based out of Turkey. They are well known in Europe for their clean styling and Green engineering.
Blomberg is a subsidiary of Beko. Viking dishwashers are also manufactured by Beko as well.
At one time, you had to compromise when you bought a dishwasher under $499. There were a few cycles. The tub was plastic or a hybrid of plastic and steel. It was also loud.
Beko is an exception with decent cycles and an all stainless tub. The quietness is not bad at 48 decibels.
You will hear it less than the 50 and 55-decibel dishwashers of competitive brands in this price range.
Beko Dishwasher DUT2540X Video Review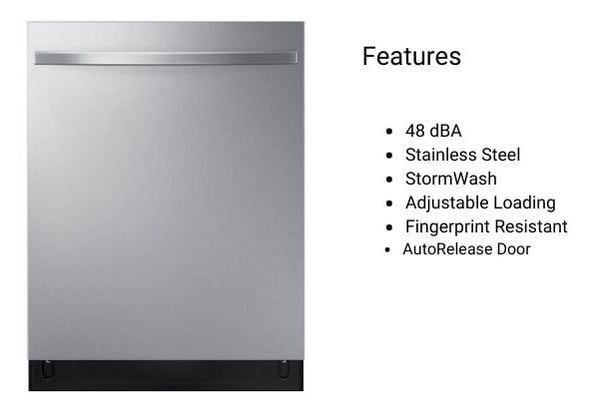 Best Dishwasher Under $800: KitchenAid Dishwasher KDTE204KPS - $749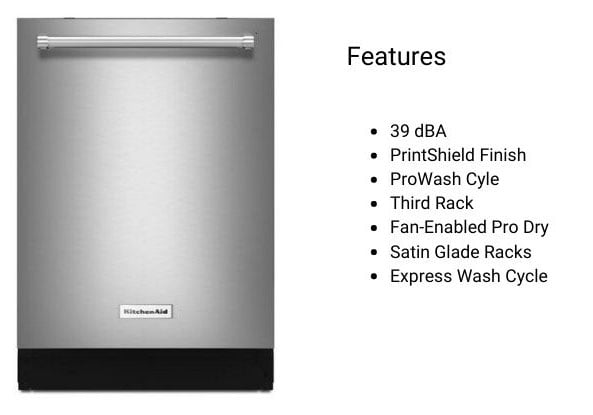 KitchenAid KDTE204KPS Dishwasher Review
The KitchenAid dishwasher KDTE204KPS has every cycle, including their ProWash or extended wash with soil sensing capabilities, light for wine classes or fine china sets, and, lastly, normal and shorter express washes.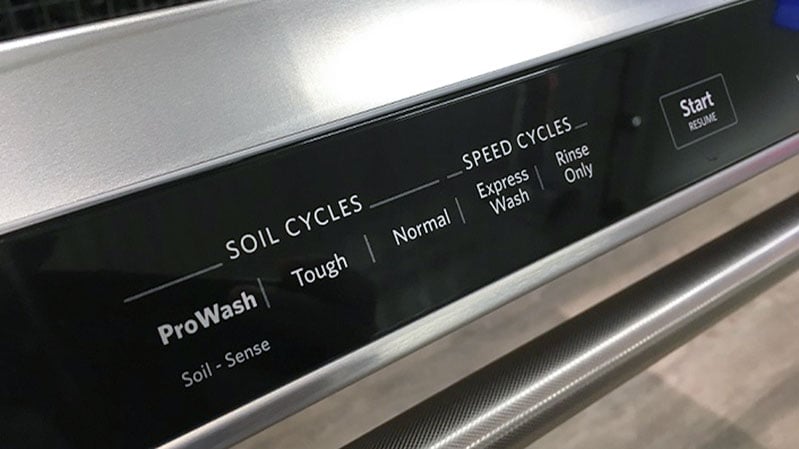 KitchenAid Dishwasher Controls Featuring ProWash
At 39 dBAs, it's almost noiseless and the quietest dishwasher on this list along with Beko. This dishwasher is priced anywhere from $659 to $899, depending on the promotion.
They removed last years bottle wash, but it's still a good value at $749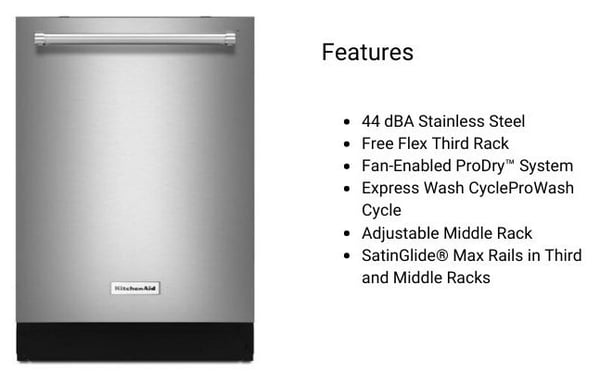 KitchenAid KDTM604KPS Dishwasher Review
KitchenAid's new dishwasher series is worth considering. It has a new larger third rack to accommodate smaller items as well as silverware.
The washing system could be the best with sprays on the top, in the rack, and underneath both main racks.
The drying cycle uses a combination of heat plus outside air to dissipate the moist hot air into water.
This dishwasher is well executed for quiet 44 DB, washing, and drying.
KitchenAid 600 Series Dishwasher Video Review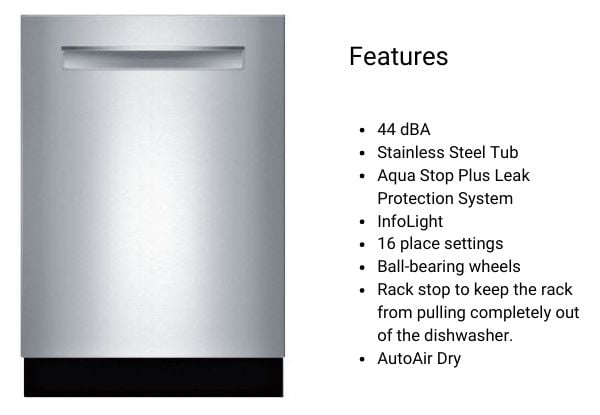 Bosch SHP865ZP5N Dishwasher Review
The recessed handle, hidden controls, and flush installation are all great design elements.
This dishwasher also offers a few high-end features for the price such as a 3rd cutlery tray, tall item holder, and a half-load cycle.
This Bosch dishwasher has better ball bearing racks, and a rack stop to prevent the rack being pulled out of the dishwasher - call it Toddler Prevention (I have a toddler).
The racks also allow you to pile on dishes and still have the rack glide smoothly. You don't have to pull and tug at the rack anymore with a full load of dishes
Bosch has added a new feature this year called AutoAir Dry. This means the dishwasher door will open at the end of the cycle.
To help cool your dishes and silverware faster.
Bosch 500 Series Dishwasher Video Review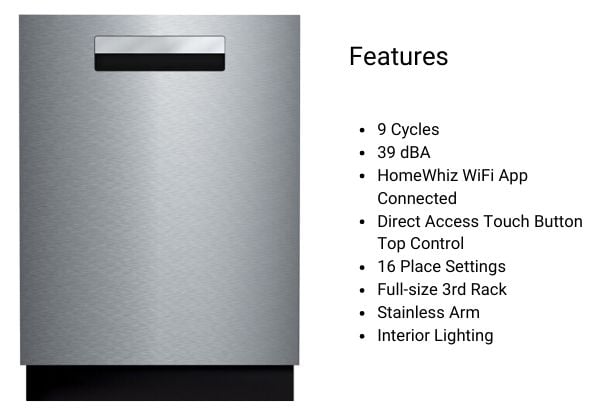 Beko DDT39432XIH Dishwasher Review
Beko may not be a name brand (yet). But with an absence of competitors everywhere, it is an excellent alternative and has some truly unique features.
Their IonGuard eliminates odors by sending negative electric charged ions to counteract the positive ions of odors.
AquiSense is another set of concentrated sprays at the bottom to scour dishes.
You can use it with the AquaIntense cycle channeling up to 60% water on the bottom, leaving a light wash for china and crystal.
The racking is good as well. The top rack is multi-position and has the third silverware rack up top like every other product.
The bottom folds down almost like Miele to fit larger dishes, so this dishwasher has good capacity.
Beko also uses a quieter inverter motor for a 39 DB dishwasher rating. Typically a scouring arm adds noise, but Beko designs quiet into the machine.
Lastly, Beko is the only dishwasher on this with Wi-Fi. It's capable of being turned on and off remotely from an app on your phone.
Again, many of you will buy KitchenAid, Bosch, and Miele. In case of issues, and there will be some, Beko is an excellent alternative.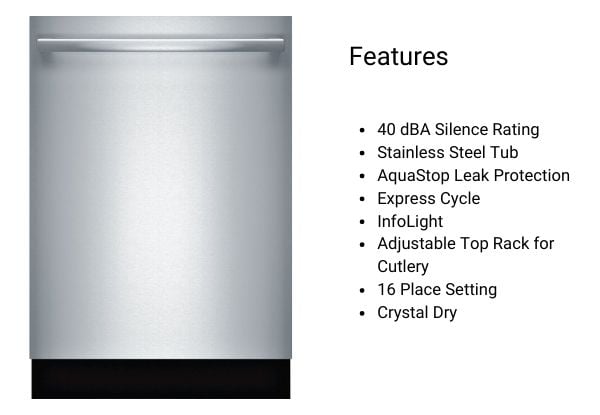 Bosch SHXM88Z75N Dishwasher Review
If you want to buy a great dishwasher with high-end features but aren't looking to break the bank, this may be an interesting choice.
The Bosch dishwasher SHXM88Z75N is one of the most feature-loaded dishwashers in the industry. This dishwasher offers a new drying feature.
Crystal Dry uses a volcanic element called Zeolite to increase heat and absorb moisture. As skeptical as we were, it works.
Bosch 800 Series Dishwasher With CrystalDry Review [VIDEO]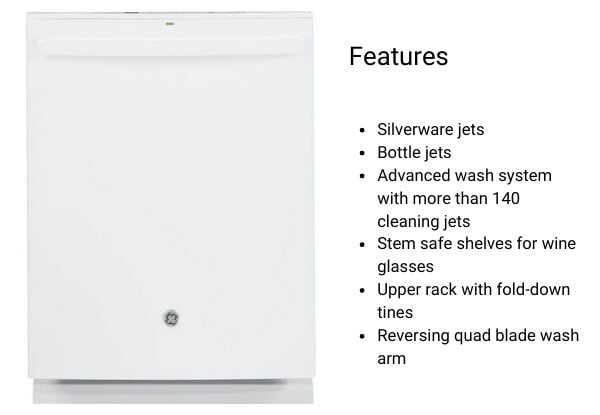 GE Profile PDT825SGJWW Dishwasher Review
This GE Profile dishwasher has a good wash and dry system. It still has the disposer on the bottom, so it's only 45 dBAs and not very quiet.
However, it has 10 dishwasher options. The silverware and bottles have their own concentrated wash jets.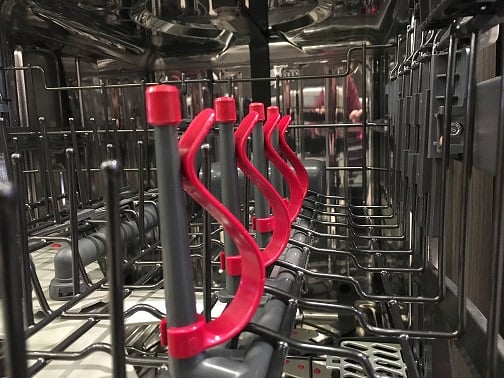 GE Bottle Jets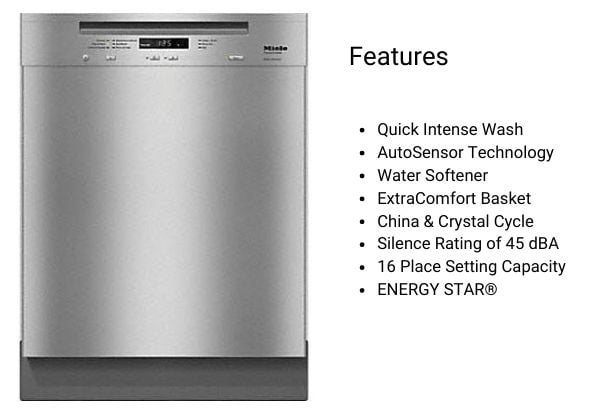 Miele G6625SCU Dishwasher Review
Without question, Miele has the best racks. You can remove almost all the tines in the bottom to fit an odd-shaped dish, for example. Every price in orange can either be flipped up or removed for maximum loading.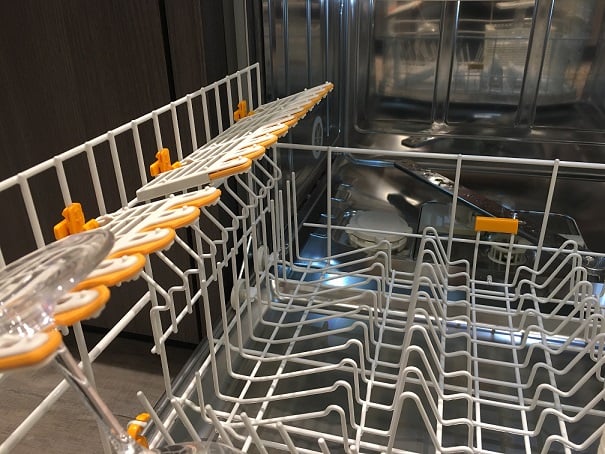 Miele Dishwasher Adjustable Rack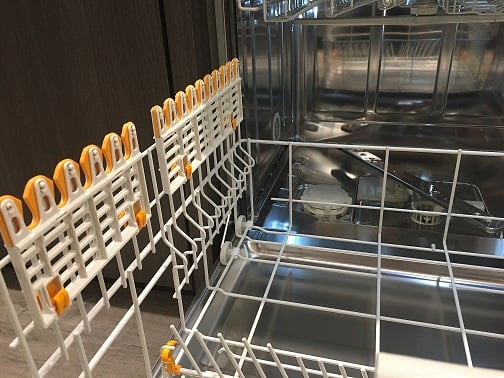 Miele Dishwasher Adjustable Rack
Along with their drying system, the door pops open to speed drying at the end of the cycle as well.
Click here to check out all of Miele's dishwashers and how they rate in our latest blog post.
Fastest Dishwasher: Thermador Dishwasher DWHD870WFP - $2,799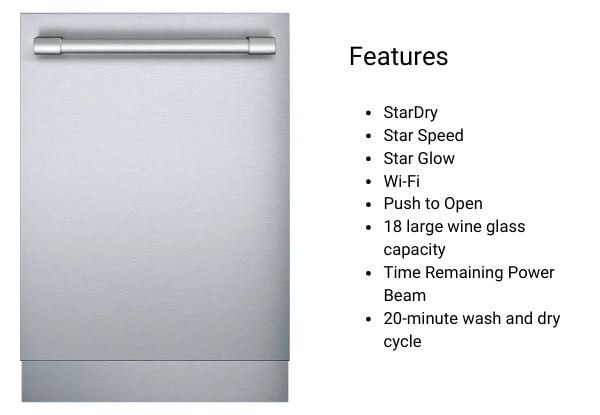 Thermador DWHD870WFP Dishwasher Review
Like Bosch, Thermador uses a mineral from volcanic ash called Zeolite for a faster drying process.
It absorbs moisture and emits heat for a 20-minute wash and dry cycle. You can wash up to 5 loads in 20 minutes each after 20 minutes preheating.
However, it's $2,799, so it should excel in washing and drying your dishes.
If you buy the Thermador range or wall oven and cooktop, you can apply a $1,399 credit for this dishwasher.
As a runner-up, the Thermador Sapphire dishwasher doesn't have the speed cycle but is less expensive.
The New Thermador Star Sapphire Dishwasher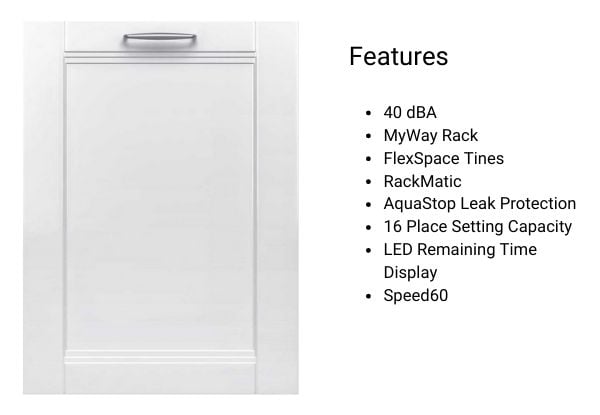 Bosch SHVM88Z73N Dishwasher Review
In this case, I would recommend a European model exclusively for the best dishwasher to use with a custom panel.
American models will protrude past the cabinet, whereas the European models will not.
Bosch and Miele have a few models you can put a custom panel on to match your cabinets.
This particular Bosch dishwasher will not protrude from your cabinets. Best of all, it will look like your cabinets with a custom panel.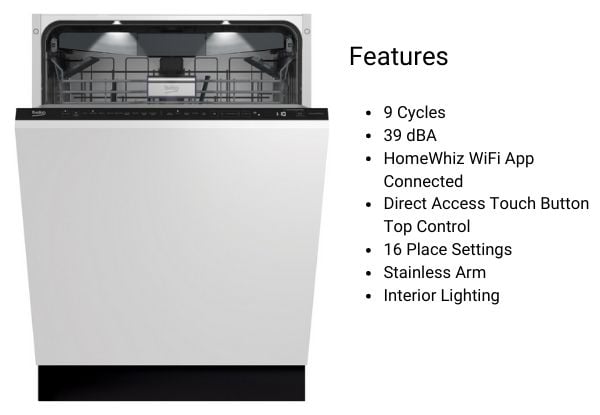 Beko DIT39432 Dishwasher Review
Buying a paneled dishwasher will be in issue in the next 3-5 months.
Bosch is operating at 50% capacity. Mieles' having issues, and theirs now starts at $1799 for a paneled model.
KitchenAid protrudes so no luck there because it looks like a dishwasher rather than a cabinet.
Beko offers all the better features of the DDT39432. 39 DB, AquaIntense and AquaFlex scouring, good overall racking, and Ion Guard odor control for $999.
Which Dishwasher Should You Buy?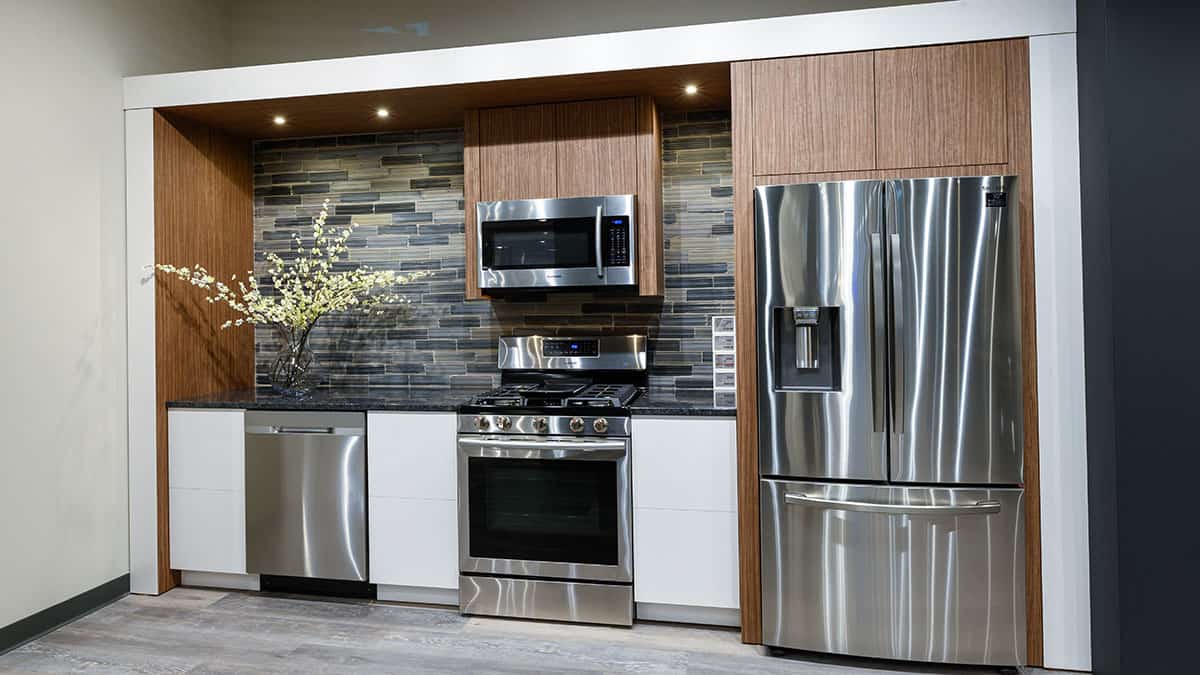 Samsung Kitchen Package Featuring Stainless Steel Dishwasher at Yale Appliance in Hanover
In terms of reliability, KitchenAid, Bosch, and Samsung are the best dishwashers for 2020.
Miele usually is high on this list but had a buzzing solenoid problem last year, as we said previously.
There is a reason to buy any of these dishwashers from $499-$2,799.
Quietness after 44 DBs is not a feature worth paying more alone. You won't hear much of a difference between 44 and 42 DB.
The most popular dishwashers are the Bosch, Samsung, KitchenAid, and Miele at the middle prices of $799-$1100. They have decent features and racks.
Samsung has its "Storm Wash" model with premium features in their wash and dry cycles for $549
KitchenAid is a great value at $749, and it is the quietest on this list and offers some great features.
Their newer models with enhanced racking, washing, and drying is a great option.
Miele is also a great dishwasher. Their washing, drying, and rack flexibility are the best in the industry.
Thermador's Star Sapphire and Sapphire dishwashers excel and should be considered if you are looking at more Thermador appliances for the rebate.
And that's all good. All are fine dishwashers. You should have three manufacturers in mind and a couple of models for the next few months to replace your dishwasher.
Should you consider a less familiar brand with better features like Beko? They are currently marketing better features for less to gain market share (AKA, your business).
So they are certainly a consideration just on features.
However, with many brands out of stock or marketing even more expensive products, Beko could be a smart option.
Additional Resources
Get our free Dishwasher Buying Guide with tips, trends, and reviews of all the major brands. Over 800,000 people have already found answers in a Yale guide.
Related Articles:
WHY SHOULD YOU TRUST US?
A few review sites have placed this at the bottom of their articles. So here is our take: Our mission is to find reliable products for you to buy. Other review sites may say this as well.
However, we don't love every product. Quite frankly, it costs us way too much money in repair costs to support less reliable brands.
In fact, we sell fewer brands than most appliance stores. Here is why:
We feel it is our responsibility to repair your appliances after you buy them.
We now have 30 service technicians, each averaging 8-10 calls a day Monday through Friday, plus another 110 on Saturday. That's over 30,000 service calls logged in one year.
The labor rates of fixing an appliance do not come close to the true cost in any product's warranty period.
That is why no major retailer has a service department. It costs too much labor, money and time.
Our Blog is a bit different than most others you will read. We cannot write glowing reviews of unreliable products.
Hopefully, the bloggers and organizations who write such glowing product reviews for every brand consider servicing these products first. Only then they will understand the consequences of their marketing.
Nic Dednah
Nic has been working for Yale since January 2nd of 2018. Before his employment at Yale, he worked in the automotive industry for over 9 years. He's a foodie and surfs year round in the frigid waters of the Atlantic. He currently lives in on the south shore with his wife Lauren, daughter Emilia, and dog Mabel.
A Note About Pricing
Pricing on this blog is for reference only and may include time sensitive rebates. We make every attempt to provide accurate pricing at time of publishing. Please call the stores for most accurate price.