Best Dishwasher Deals for 2018 (Reviews / Ratings / Prices)
Dishwashers have changed over the years. It's easy to be confused with all the features and different brands.
The familiar brands like Bosch, Miele, and KitchenAid are being challenged by newer products from Samsung and LG. However, most dishwashers are quieter with more cycles and features than older units.
Consequently, you do not need to spend a fortune anymore for a quiet dishwasher in stainless steel with a stainless tub.
In this article, we will discuss the difference between plastic and stainless tubs. Then compare American vs. European style dishwashers.
This list changes every couple of months based on rebates and new products introductions. Quietness will also be considered because it is important with open kitchen plans.
We will condense 500 options down to 8 you should consider now as well as show you different brands and features.
First, let's look at plastic and stainless tubs.
Plastic vs. Stainless Tubs
Most of the better dishwashers have stainless tubs whereas the less expensive have plastic. They both hold water, but stainless is non-porous and won't retain odors and germs like other surfaces.
All of the models we are introducing in this article have stainless steel tubs except one.
Short on time? Get our free Dishwasher Buying Guide
American vs. European
Dishwashers are split between American style (like Electrolux, Frigidaire, GE, Whirlpool, Maytag, Samsung, and KitchenAid) and European style (Bosch, Asko, and Miele).
The main differences are that the American style has a grinder on the bottom to handle any leftovers whereas the European style has a removable filter.
European models tend to be quieter. They will also be flush with your cabinet, so they look better with a custom panel.
Quietness
You probably want a quiet dishwasher. However, at a certain level, decibel (a measure of sound) differences are not detectable.
Any dishwasher at 44-46 DBs is quiet enough. You do not want to pay much more for a lower decibel rating alone.
Hear a 55 dB and 44 dB Dishwasher Head-to-Head
Best Dishwasher Deals for 2018
Pricing updated for April 2018
Plastic Tub Dishwashers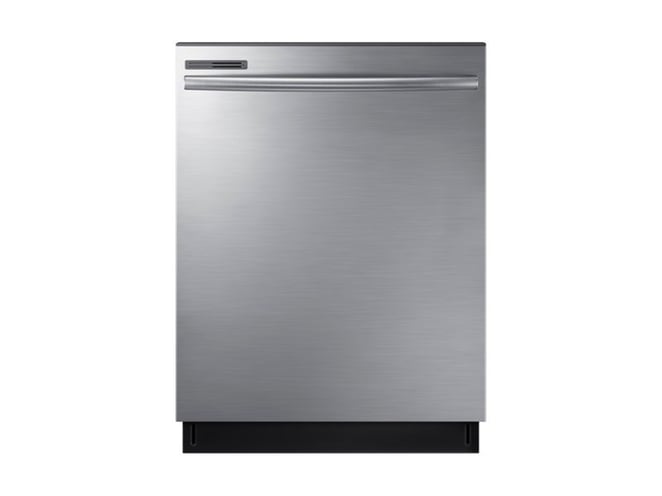 Features:
Stainless Steel Door - Durable and hygienic
Adjustable Rack - Easy to fit various dishware
Digital Leak Sensor
Advanced Wash System
14 Place Settings
55 dBA
Samsung has a stylish dishwasher with an adjustable top rack as well as leak detection. This brand is actually one of the most reliable dishwashers sold.
Stainless Steel Tub Dishwashers
Features:
Flexible Capacity
Overnight Cycle
Eco Wash Cycle
ENERGY STAR Qualified
55 dBA
Whirlpool has a good feature package for a $399 dishwasher with about every cycle and Sani Rinse to wash baked on dishes. It's not quiet but it's a reliable machine.
This model adds a stainless tank and is 5 dB quieter at 50 db. It also adds a hard food disposer, which can mash small food particles (most dishwashers now have filters.)
Features:
Durable Stainless Steel Tub
Hard Food Disposer
Hidden Heat Element
Dishwashing Performance at 50dBA
15 Place Settings
Adjustable Racking System
Features:
ProWash(TM) Cycle
Durable Stainless Steel Construction
Heat Dry Option
Fold-Down Tines in the Lower Rack
SatinGlide(R) Max Upper Rack
Fold-Down Shelf with Stemware Holders
4-Hour Delay Option
Filter-Based Wash System
Sani Rinse(R) Option
The KDFE104DSS has every cycle including their ProWash or extended wash with soil sensing capabilities, light/china for your better stemware along with normal and shorter express washes.
You also have a ton of options like heated or air drying, Sani Rinse and high-temperature wash for better scouring of baked-on dishes.
This has a good feature package for a reasonable amount of money.
Features:
15 Place Setting Capacity
Adjustable Upper Rack
Cutlery Rack
StormWash System
FlexLoad Racking System
Autorelease Door
Digital Leak Sensor
44 dBA Sound Level
Energy Star Rated
Great dishwasher for the money. It is very quiet at 44 dBs and has a 3rd rack for silverware.
Their "Storm Wash" is essentially a few areas of concentrated spray for baked on dishes.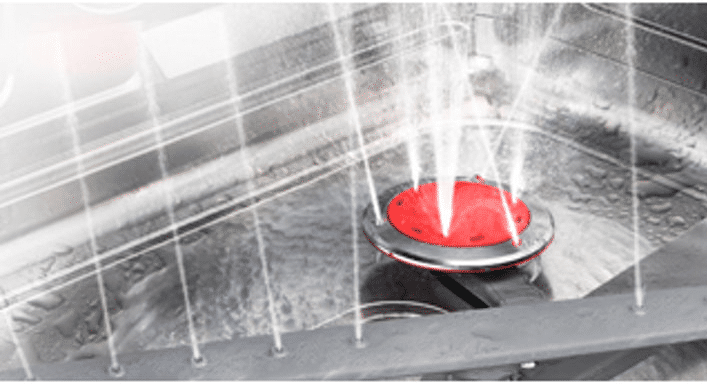 Jenn-Air and KitchenAid are the same company and dishwasher. Jenn-Air is less expensive with 14 different wash programs, adjustable top rack as well as a third rack for silverware.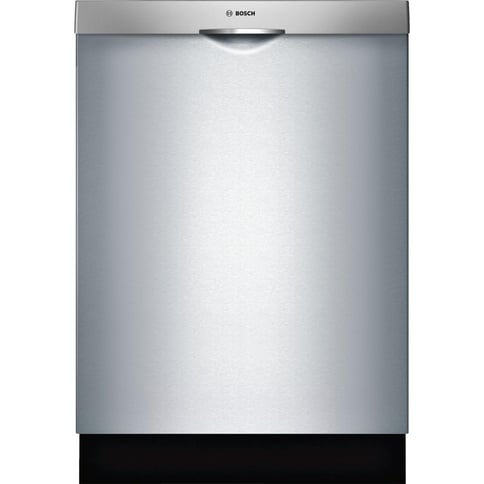 Features:
Made in North Carolina

4 Wash cycles, 5 options, button controls

44 dBA

Stainless Steel Tub

Aqua Stop Plus Leak Protection System

Info Light – tells you that the dishwasher is running

Silverware Basket

15 place settings
One of the best-selling dishwashers at Yale and nationally. This model has all the necessary cycles, 3 level adjustable racks and is incredibly quiet at only 44 dBs.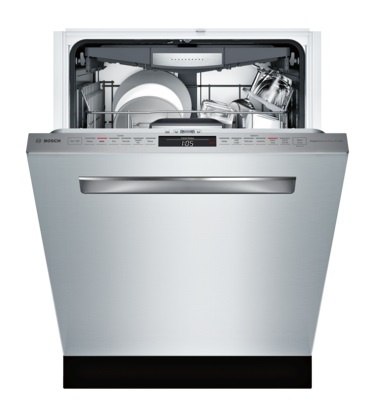 Features:
Made in North Carolina
6 wash cycles, 5 options, touch controls
44 dBA
Stainless Steel Tub
Aqua Stop Plus Leak Protection System
Five-Level wash
Info Light – tells you that the dishwasher is running
Silverware Basket and adjustable top rack for cutlery
16 place settings
Stainless front with hidden controls and scoop handle goes with any brand
It's one of our top-selling dishwashers because it can blend seamlessly into any kitchen. Bosch recently omitted a visible badge from the front of their dishwasher.
The recessed handle, hidden controls, and flush installation are all great design elements. This dishwasher also offers a few high-end features for the price such as a 3rd cutlery tray, tall item holder, and half-load cycle.
(Click here for the 5 Best Bosch Dishwashers)
Miele G4977SCVISF - $1,099
Features:
Double Waterproof System
CleanAir™ Drying
5 Wash Cycles
AutoSensor Technology
Silence Rating of 46 dBA
16 Place Setting Capacity
SaniWash
ENERGY STAR®
Miele is one of the most reliable dishwasher brands. This dishwasher features the best drying capabilities. Air is directed to the side of the dishwasher so the hot air in the dishwasher is attracted to the cooler side and then dissipated.
Features:
6 Wash Cycles/6 Options/ Touch Controls
39 dBA Silence Rating
Stainless Steel Tub
AquaStop Leak Protection
30 Minute Express Cycle
5-level Wash
Info Light - tells you that the dishwasher is running
Silverware Basket
Adjustable Top Rack for Cutlery
16 Place Setting
If you want to buy a great dishwasher with high-end features but aren't looking to break the bank, this is the right dishwasher for you.
This is one of the most feature-loaded dishwashers in the industry for a great price. It has almost every cycle available and an absolutely noiseless 39-decibel rating.
This is the best overall value for a high-end dishwasher.
Features:
Quick Intense Wash
AutoSensor Technology
Water Softener
ExtraComfort Basket
China & Crystal Cycle
Silence Rating of 45 dBA
16 Place Setting Capacity
ENERGY STAR®
Miele's best selling dishwasher. It is quieter, with better fold down racks and overall adjustability to accommodate pots, pans, and other large dishes. It also adds a concentrated intensive wash for baked-on dishes.
Along with their drying system, the door pops open to speed drying at the end of cycle as well.
Click here for our list of best Miele dishwashers.
Final Thoughts
In terms of reliability, it is Miele, Bosch, and Samsung.
However, the KitchenAid dishwasher may deliver the most value in terms of features for the price.
For drying, Miele is the best because of their air system. As for pricing, Samsung is your best bet.
That said, the Bosch dishwasher at $769 combines every feature and quietness unless you want a third rack.
All are fine choices and you do not have to spend a fortune for a great, quiet and reliable dishwasher.
Call us with any questions at 617-825-9253
Additional Resources
Get our free Dishwasher Buying Guide with tips, trends, and reviews of all the major brands. Over 280,000 people have already found answers in a Yale guide.
Steve Sheinkopf
My goal has always been simple: I want Yale to be the best retail experience anywhere. I have tried to create a compelling environment for customers and employees alike
A Note About Pricing
Pricing on this blog is for reference only and may include time sensitive rebates. We make every attempt to provide accurate pricing at time of publishing. Please call the stores for most accurate price.