Best Dishwashers for 2022 (Reviews / Ratings / Prices)
Our Top Picks for the Most Popular Dishwashers of 2022:
Best Dishwasher Under $600: Beko DUT25401X - $589
At $599, the tub is all steel, not plastic or a hybrid of stainless steel and plastic. It also has all the primary cycles.
Most Reliable Dishwasher: LG LDB4548 - $899
Last year, LG recorded the best reliability rating at just 1.7% versus over 12.8% for the average.
Best New Dishwasher to Consider: GE Profile PDP755SYRFS - $1,124
Profile's brand-new dishwasher has special sprays for bottles and silverware and a 42-decibel (dB) silence rating.
Quietest Dishwashers (Tie): Beko DDT39432X ($999) & KitchenAid KDTE204KPS ($1,149)
Both dishwashers are noiseless at 39 dB and about $1,000 less than the most popular 38 dB dishwashers.
Best Panel-Ready Dishwasher: Beko DIT39432 - $1,339
Beko is the only available panel-ready dishwasher you can buy. It also has excellent features and is $500-$1,000 less than comparable models.
Best Dishwasher Top Rack: KitchenAid KDTM604KPS - $1,449
It has the most surface area to hold dishes, glasses, and silverware.
Best Dishwasher Drying System: Bosch 800 DLX Series SHPM88Z75N - $1,449
This dishwasher uses volcanic elements to dry dishes, and it works.
Most Unique Dishwasher: Fisher & Paykel DD24DAX9 - $1,599
Fisher & Paykel uses two drawers instead of a door.
Best Premium Available Dishwasher: Miele PFD104SCVI - $4,250
The Miele ProLine dishwasher can heat up to 180 degrees and is the only dishwasher attaining NSF (National Sanitation Foundation) standards. It's also the only available Miele dishwasher.
You're probably having a hard time finding a dishwasher. The best dishwasher, in many instances, is the one you can find.
COVID-19, component issues, factory issues, and port issues are all part of a supply chain in ruins. Many companies will not have dishwashers until 2023 or even later.
The only available Miele dishwasher is their new ProLine, starting at $4,250. You don't have to spend that kind of money on a dishwasher (and probably shouldn't). However, you can find a few good dishwashers in 2022 if you know where to look.
In this article, you will learn about the best in-stock dishwashers between $599 and $4,250. You will also learn how to choose a dishwasher for the best sound level, availability, wash cycles, and drying capabilities.
Most importantly, we'll share the most reliable dishwasher brands based on over 40,000 service calls logged last year.
Let's get started.
Short on time? Get our free Dishwasher Buying Guide
How to Choose a Dishwasher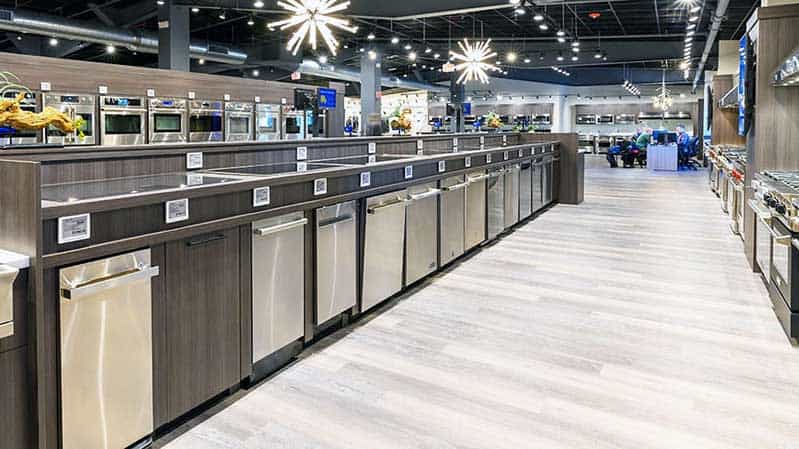 Most Popular Dishwashers at Yale Appliance in Hanover
This section will cover the basics of buying the right dishwasher. This includes the most reliable dishwasher brands based on real service data, how much you should pay for a quiet dishwasher, and the best features to look for. Let's dive in.
Dishwasher Reliability
KitchenAid, Beko, Bosch, and Miele are the most reliable high-end dishwashers to consider.
We calculate dishwasher reliability by dividing the products we serviced by the products we sold for a service rate percentage. Due to capacity issues, we could only service the appliances we sold.
For this article, we looked at the number of dishwashers sold and serviced from December 2020 to October 2021. The following service rates are based on a minimum of 90 units sold and a total sample of over 8,000 pieces.
| | |
| --- | --- |
| | Service Rates |
| LG | 1.7% |
| Thermador | 3.6% |
| Whirlpool | 4.1% |
| JennAir | 5.3% |
| KitchenAid | 5.5% |
| Miele | 8.9% |
| Fisher & Paykel | 9.9% |
| Bosch | 10.1% |
| Beko | 10.3% |
| Café Appliances | 10.7% |
| GE Profile | 12.2% |
| Asko | 12.5% |
| Samsung | 18.5% |
| Grand Total | 12.8% |
LG has an unbelievable rating at 1.7%. It's the lowest ever recorded.
Whirlpool is good, but it's sold mostly to builders. We handle most of the problems before tenants move into their new apartments, so they aren't recorded as service calls. Also, it is hard to know if the builder's customers call us or someone else for service.
You would say KitchenAid is more reliable than a Bosch dishwasher. However, Thermador and Bosch dishwashers are both made by BSH Home Appliances. We also sell fewer featured KitchenAid dishwashers.
With a 12.8% average repair rate for dishwashers, you most likely will need service within five years of owning a new dishwasher. You should be mindful of who fixes appliances in your area.
Pick a few brands and ask your local servicer what they can fix quickly. You may also want to check Google and Yelp reviews.
Read More: Most Reliable Dishwashers
Plastic vs. Stainless Tub Dishwashers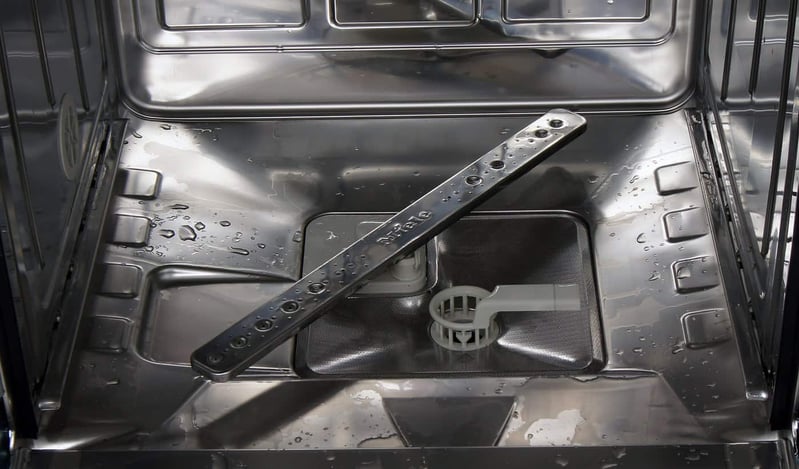 Stainless Steel Miele Dishwasher Tub
The best dishwashers have stainless steel tubs rather than plastic. Stainless steel is non-porous and won't retain odors and germs like other surfaces.
Commercial kitchens are stainless for that reason. Then again, two brands on this list have features specifically designed to reduce odors.
Beko has IonGuard technology to neutralize negative ions and counteract positive ions of odors for a fresher-smelling dishwasher. So many of Beko's features seem almost outlandish or "overly technical." However, they all work as specified.
GE Profile has a new dishwasher with antimicrobial surfaces and a fan to eliminate moisture. Their highly rated laundry employs the same technology.
Only Frigidaire, GE, Samsung, Whirlpool, and Maytag make dishwashers with plastic tubs. Most brands sell more stainless-steel tubs than plastic now. Be careful, though. Several dishwashers may look stainless but are partly plastic, like the Bosch Ascenta and Samsung hybrid dishwashers.
American vs. European Dishwashers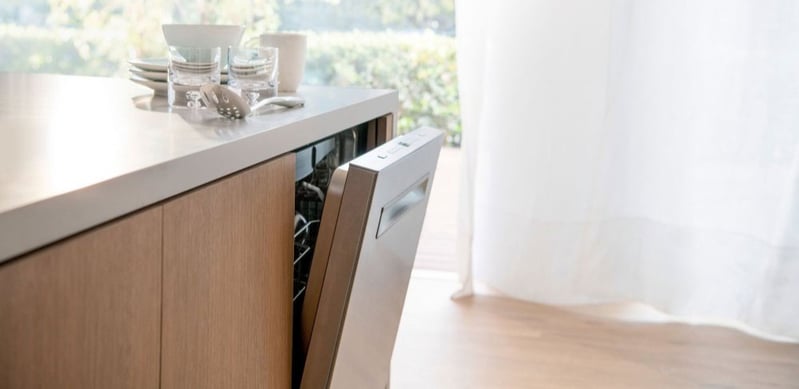 European Bosch Dishwasher Installed Flush With the Cabinet
Dishwashers are split between American-style models and European-style models. American-style dishwashers used to have a grinder on the bottom. European-style dishwashers have a removable filter for a quieter silence rating.
New for 2022 and beyond, GE Profile will offer the best of both worlds with a grinder dubbed the "Piranha" and a super quiet 42-decibel rating.
European-style dishwashers sit flush with your cabinet. They look the best if you place a custom panel on your dishwasher. If you want to place a custom cabinet panel on your dishwasher, buy a Bosch, Miele, Beko, or Asko dishwasher.
American-Style Dishwasher Brands:
Electrolux
Frigidaire
GE
Whirlpool
Maytag
Samsung
JennAir
KitchenAid
European-Style Dishwasher Brands:
Bosch
Thermador
Beko
KitchenAid (has both styles)
Miele
What Is Quiet Enough for a Dishwasher?
Silence ratings are important, especially if your dishwasher is open in your living room. If you want a quiet dishwasher, look for a decibel level under 44 dB.
At a certain level, decibel differences are not detectable. This is an easy mistake to make. Do not overbuy for just a quiet dishwasher.
That said, there are a few exceptions. Our quietest picks are both 39 dB for less than $1,000. A 38 dB, prices range from $1,399 to $2,999.
Read More: Quietest Dishwashers By Decibel Rating for 2022
Drying Performance
Drying has become much better in the latest models. Most of the European models had condensation drying or static drying at one time.
It's Jet-Dry combined with the residual heat of the wash and additional time. American dishwashers were similar, with an added heating element to dry the dishes. Both methods failed to dry less dense items, like plastics.
Now you have a few new drying methods. In Bosch's and Miele's better dishwasher models, the door pops open at the end of the cycle to release heat and moisture. The new GE profile has a fan to assist in pulling moisture out of the dishwasher.
In all Miele's and the better KitchenAid M Series dishwashers, the cooler outside air is directed to the side of the dishwasher, attracting the warmer air and dissipating the moisture as water.
Bosch has the best solution. It uses the volcanic element zeolite to add heat and dissipate moisture.
Rack Design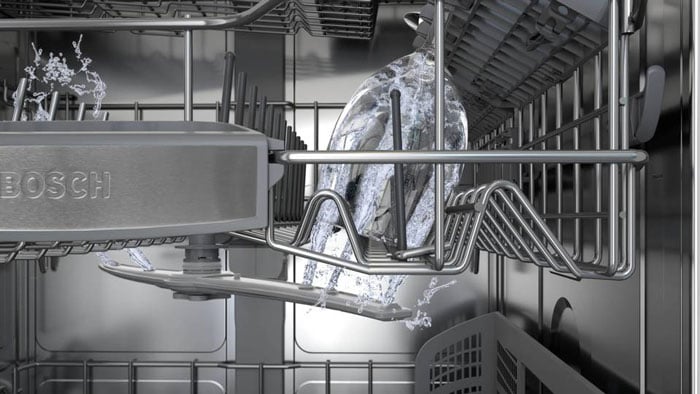 Bosch Dishwasher Rack with Top Wash Arm
Most dishwashers over $599 have an adjustable top rack. The best dishwashers from Beko, Bosch, Miele, LG, Samsung, and KitchenAid have a third rack.
Bosch has their sizeable MyWay rack to hold more than silverware. Miele has a 3D cutlery tray to hold flatware securely. It also folds down to accommodate more on the second rack.
KitchenAid may have the best solution with the largest rack. It also acts as a fourth level of spray from the rack itself.
Washing Performance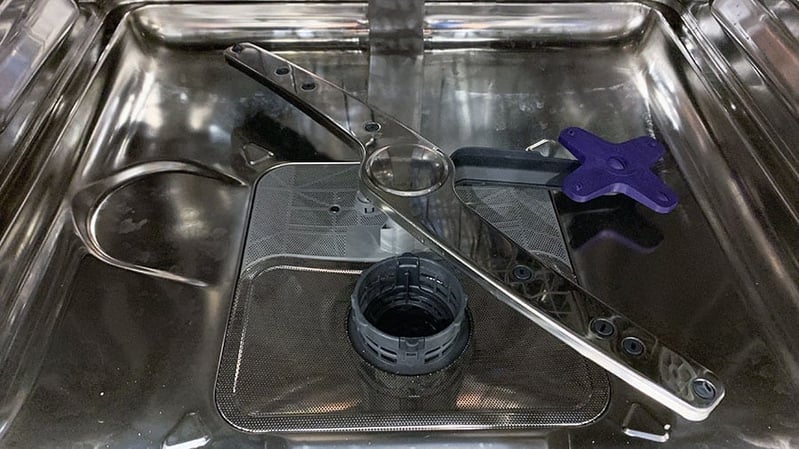 Beko Aqua Intense Dishwasher Spray Arm
They all wash dishes. However, some have better systems.
GE Profile has a bottle wash component with direct sprays to scour the gunk out of your baby and sports bottles. They also have dedicated sprays under the silverware basket.
Miele has three full spray arms, two under each basket and one on the top. At $4,250, Miele has three elements to heat the water to 180 degrees. You will learn a bit more about why that might be important later.
Beko has three wash arms with AquaIntense or concentrated sprays for baked-on dishes. Their AquaIntense cycle diverts more water pressure to the bottom as well.
Now, let's take a look at our best dishwashers to consider.
Best Dishwashers for 2022
Best Dishwasher Under $600: Beko DUT25401X - $589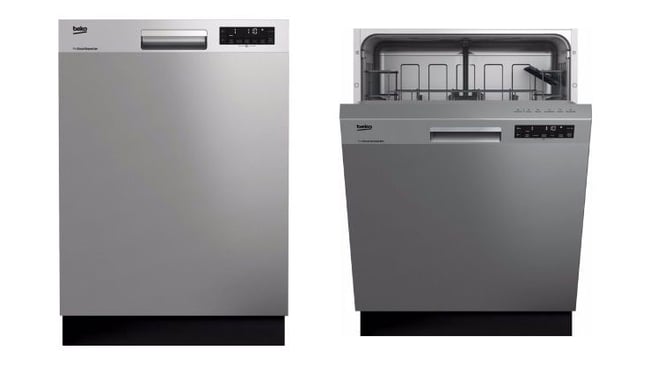 Number of Cycles: 5 Cycles, 6 Options | Sound Level: 48 dB | Drying: Condensation Dry| Third Rack: No | Disposer or Filter: Filter Only
Beko is a huge appliance manufacturer based out of Turkey. They are well known in Europe for their clean styling. You may know Blomberg, a subsidiary of Beko. Beko also manufactures Viking dishwashers.
Beko produces an excellent dishwasher for under $600. At one time, you had to compromise when you bought a dishwasher for under $499. There were fewer cycles, and the tub was plastic or a hybrid of plastic and steel. Dishwashers under $499 were also loud.
Beko is an exception, with decent cycles and an all-stainless tub. The quietness is not horrendous at 48 decibels, only 4 dB louder than what's considered quiet. However, you will be able to hear this dishwasher running in an open kitchen.
You also have five cycles and options, a soil sensor, plus an adjustable rack. The reliability rate is excellent as well.
Drawbacks: Although the first-year reliability is good, you must ensure it can be fixed in your area. Additionally, there is no cycle for delicate.
Most Reliable Dishwasher: LG LDB4548 - $899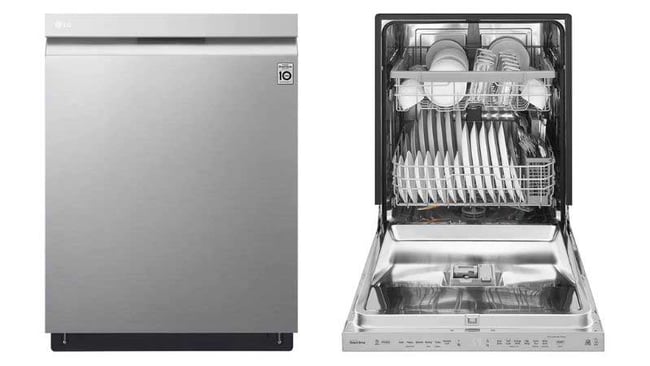 Number of Cycles: 9 Cycles, 8 Options | Sound Level: 48 dB | Drying: Hybrid Condensing Drying System| Third Rack: No | Disposer or Filter: Filter Only
LG is now the most reliable brand according to over 40,000 service calls logged by our service department last year. LG's 1.7% service rate is unbelievably low.
This dishwasher has tons of cycles, adjustable racks, and Wi-Fi capability. If you want a hassle-free dishwasher, you may want to consider this dishwasher.
Drawbacks: At 48 dB, you will hear this dishwasher in an open kitchen. You also do not have a third rack.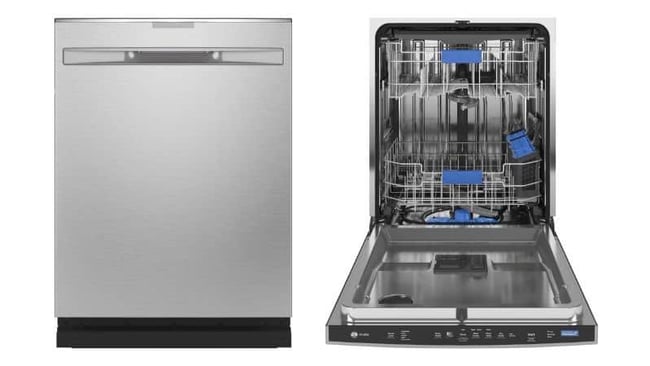 Number of Cycles: 5 Cycles, 11 Options | Sound Level: 42 dB | Drying: Heated Drying| Third Rack: Yes | Disposer or Filter: Disposer Only
GE Profile redesigned its dishwasher for 2022 and went back to the drawing board. GE Profile added their successful odor, mold, and moisture prevention package in their laundry to this new line of dishwashers.
They now feature antimicrobial Microban surfaces (even on the outside handle) and a fan to dry moisture. Their washing system adds special sprays for silverware and bottles. My daughter is now 5, but that would have been handy for her baby bottles caked at the bottom with formula.
They improved the drying with a fan to remove excess moisture and speed drying in plastics.
For a quiet dishwasher, which is important if your kitchen is open to your living room, GE Profile is 42 decibels. GE Profile is quiet with a hard food disposer, unlike every quiet dishwasher.
Drawbacks: It's hard to know right now seeing as this dishwasher is so new. It won't look good with a custom cabinet front because it protrudes and doesn't sit seamlessly.
Quietest Dishwashers (Tie): Beko DDT39432X ($999) & KitchenAid KDTE204KPS ($1,149)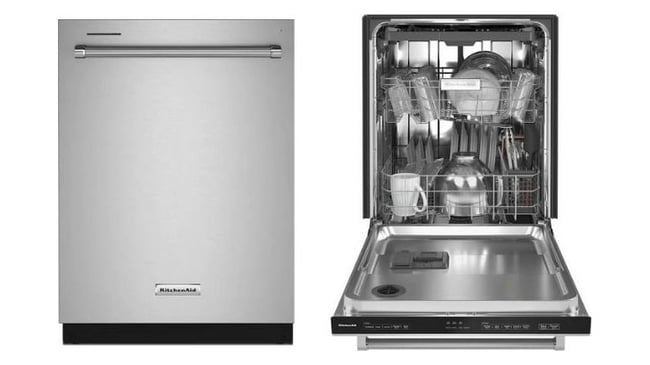 Number of Cycles: 5 Cycles, 7 Options | Sound Level: 39 dB | Drying: Condensation Dry & Heating Element | Third Rack: Yes | Disposer or Filter: Filter Only
The KitchenAid KDTE204KPS has its ProWash cycle. ProWash is an extended cycle with soil sensing capabilities. KitchenAid features a light wash cycle for wine glasses or fine China and express washes.
At 39 dB, it's almost noiseless and the quietest dishwasher on this list, along with Beko's dishwasher featured next.
Drawbacks: You buy KitchenAid for its quietness. The cycles, options, and drying capabilities are fairly simple.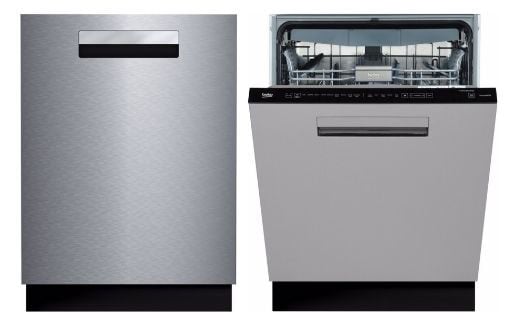 Number of Cycles: 9 Cycles, 5 Options | Sound Level: 39 dB | Drying: Condensation Dry| Third Rack: Yes | Disposer or Filter: Filter Only
Beko is the fastest-growing brand at Yale partly because Beko has been available, whereas most have not.
Not to mention, this dishwasher is loaded with features. AquaIntense is another set of concentrated sprays at the bottom to scour dishes. You can use it with the AquaIntense cycle channeling up to 60% of the water on the bottom, leaving a light wash for China and crystal.
Their IonGuard eliminates odors by sending negatively electric charged ions to counteract the positive ions of odors.
The racking is good as well. The top rack is multi-position and has the third silverware rack up top like every other product. The bottom folds down to fit larger dishes giving you more capacity.
Beko also uses a quieter inverter motor for a 39 dB dishwasher rating. A scouring arm adds noise, but Beko designed it to be quiet.
Beko is the only dishwasher under $1,000 with Wi-Fi. It's capable of being turned on and off remotely from an app on your phone.
Lastly, you may be more comfortable with familiar brands. In case of availability issues, and there will be some, Beko is an excellent alternative, and it's also statistically reliable.
Best Panel-Ready Dishwasher: Beko DIT39432 - $1,339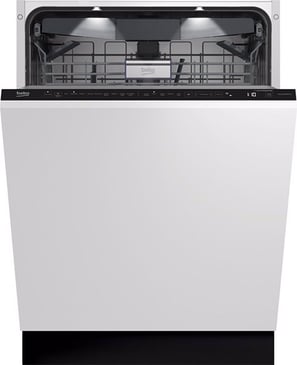 Number of Cycles: 9 Cycles, 3 Options | Sound Level: 42 dB | Drying: Closed Fan Drying | Third Rack: Yes | Disposer or Filter: Filter Only
Buying a panel-ready dishwasher will be an issue in the next 12 months. Bosch operates at 50% capacity. Miele's having issues as well. Neither will consistently offer a panel-ready dishwasher.
KitchenAid's panel-ready dishwasher protrudes from your cabinets. It doesn't as sit well as you would expect. Unfortunately, it looks like a dishwasher with a panel stuck on it rather than a cabinet.
Beko offers all the better features of the DDT39432, such as 39 dB, AquaIntense and AquaFlex scouring, good racking, and IonGuard odor control for $1,339. Comparably featured dishwashers are about $500-$1,000 higher.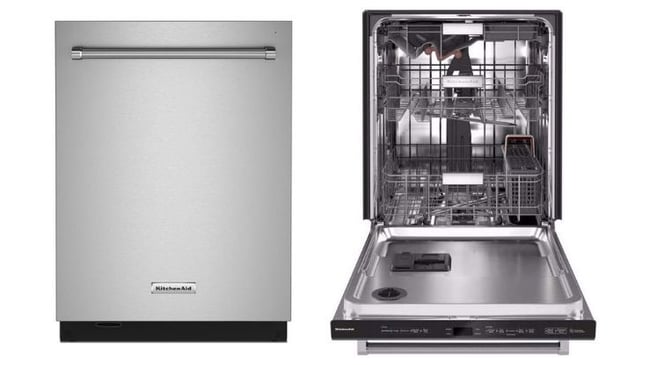 Number of Cycles: 5 Cycles, 6 Options | Sound Level: 44 dB | Drying: Air Intake, Heating Element| Third Rack: Yes, with Spray Arm | Disposer or Filter: Two Filters
KitchenAid's new dishwasher series is worth considering with two filters. It has a new larger third rack to accommodate smaller items and silverware. KitchenAid claims four levels, but one is smaller holes in the third rack.
The drying cycle is better in this series and uses heat plus outside air to dissipate the moist hot air into water. It also meets the minimum standard for quietness at 44 dB.
Drawbacks: If you wonder why the better model is louder, any KitchenAid with an "M" has two filters adding five decibels to its sound level.
It would be best if you didn't panel a KitchenAid dishwasher. It protrudes and looks like a panel stuck on a dishwasher rather than a seamless cabinet. KitchenAid has had some price increases as well and is almost $1,500.
Best Dishwasher Drying System: Bosch 800 DLX Series SHPM88Z75N - $1,449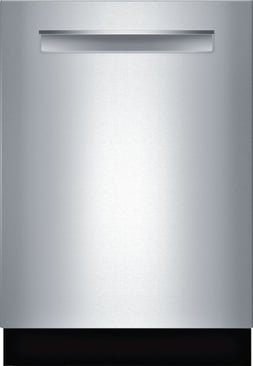 Number of Cycles: 5 Cycles, 6 Options | Sound Level: 42 dB | Drying: Zeolite and AutoAir Dry | Third Rack: Yes | Disposer or Filter: Filter Only
It sounds gimmicky, but Bosch CrystalDry works. CrystalDry uses a volcanic element called Zeolite to increase heat and absorb moisture. As skeptical as we were, it does dry even plastics (plastics are less dense and tend not to dry). It's quiet and efficient with good racking.
Drawbacks: Washing action washes, but Miele has a full spray arm up top and a different third rack.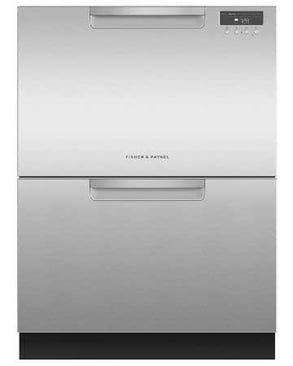 Number of Cycles: 6 Cycles, 3 Options | Sound Level: 45 dB | Drying: Fan Assisted Drying | Third Rack: Yes | Disposer or Filter: Filter Only
You may have noticed all the other dishwashers have a single door. Fisher & Paykel has two pull-out drawers. Drawers could be good or bad.
You are not bending like you are for the others in the top drawer. You can do a half load with just one drawer. However, drawers load differently than a regular dishwasher, so you may or may not like that.
Still, Fisher & Paykel is worth consideration for a unique product.
Drawbacks: With a 45 dB silence rating, you will hear Fisher & Paykel's DishDrawer faintly.
Best Premium Dishwasher: Miele PFD104SCVI - $4,250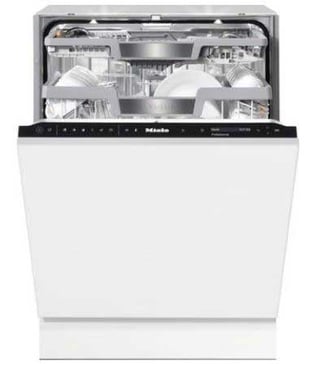 Number of Cycles: 8 Cycles | Sound Level: 38 dB | Drying: AutoOpen assisted drying and Condensation Drying| Third Rack: Yes | Disposer or Filter: Filter Only
Without question, this dishwasher is the best you can buy. Then again, it should be. As I write this, you are looking at the only Miele dishwasher available. Their new and improved G 5000 and G 7000 series released last year are not available.
This dishwasher has many of the best features of their best G 7000 plus one key difference.
For drying, it has its best CleanDrying system with two ports at the bottom, allowing air to the inside of the dishwasher. The warmer air is attracted to the colder air and dissipated as water. The dishwasher pops open at the end of the cycle to release heat and moisture.
The racks are also excellent, with their adjustable 3rd rack on the top. The baskets below fold down as well to accommodate odd shape platters. You have faster cycles and the ability to wash and dry a load in 52 minutes. You have a 5-year warranty and Wi-Fi capabilities.
Lastly, this dishwasher has one key feature separating it from the others: It can heat to 180 degrees and sanitize to NSF standards without a separate booster. In other words, the PFD104SCVI has the same sterilizing and cleaning capabilities as the restaurant dishwashers.
Drawbacks: The price is high at $4,250.
Read More: Should You Spend $4,250 to Buy the Miele ProLine PFD 104 SCVi Dishwasher?
What You Can Do About Availability Issues
Dishwasher availability is not good right now. It's pretty bad. It is grim when one of the most popular brands has one dishwasher available at $4.250.
Miele, KitchenAid, Samsung, and Bosch have availability problems. But before the clerk in the store says they are out of stock on a particular model, check another style of the same model number.
Bosch has four different panel styles, so if you cannot buy that SHP878, buy it as a SHE or SHX. Here are the different dishwasher faces:

Most brands have that option as well. You may have some luck if you pick another style that is not on display.
Which Dishwasher Should You Buy?
It depends on what you are looking for and what's available. The good news is you have options, just not in Bosch or Miele.
Many of the lesser-known brands produce good dishwashers. Profile has mold protection, 42 dB quietness with a grinder, and bottle and silverware washes.
Beko is 39 dB with separate sprays and cycles for baked-on dishes. LG is off the charts reliable with decent cycles. All are good options.
Instead of that G 7000 Miele at $1,499, buying a quieter Profile or Beko model for less might not be that bad. At least for now.
Additional Resources
Get our free Dishwasher Buying Guide with tips, trends, and reviews of all the major brands. Over 1 million people have already found answers in a Yale guide.
Related Articles:
Why Should You Trust Us?
It seems that every appliance review has nothing but glowing comments about almost every product, yet you read customer reviews and they are almost universally bad.
We are here to fill in the disconnect. We'll give you the best features, and the drawbacks as well, including reliability based on over 37,000 calls performed by our service team just last year. Our goal is to give you ALL the information so you know what's right for you.
Please consider subscribing or adding to the conversation in the comments below. We appreciate you stopping by.
A Note About Pricing
Pricing on this blog is for reference only and may include time sensitive rebates. We make every attempt to provide accurate pricing at time of publishing. Please call the stores for most accurate price.