How to Buy a Dishwasher (Reviews/Ratings)
Dishwashers were once easy to buy.
You can spend $300 to $3,000 for a dishwasher, with the main differences being their cycles and levels of quietness.
In this article, we'll cover new dishwasher features, price, and reliability based on 35,256 service calls logged last year.
We'll also cover how not to overpay for a quiet dishwasher and the minimum threshold for quiet.
Of course, you don't have to spend $3,000 on a dishwasher. You will also learn when to buy a dishwasher and how to get a good dishwasher for free.
There will be plenty of videos, along with six recommendations for the best dishwashers to consider towards the end of the article.
How to Buy a Dishwasher
The most important factors to consider when buying a dishwasher are:
Dishwasher Sound Level
Dishwasher Size
Plastic or Stainless Steel Tubs
Dishwasher Cycles
Special Wash Features
Dishwasher Drying
Dishwasher Racks
High-End Dishwasher Features
Dishwasher Styles
Dishwasher Reliability
Then you should consider the best dishwasher brands and when the best time to buy a dishwasher is.
Let's take a look.
Dishwasher Sound Level
First, let's talk about quietness.
Every manufacturer will make at least a few quiet dishwashers. A dishwasher's sound level is measured in decibels (dB) or a measurement unit for sound intensity by amplitude.
Forty-four decibels or lower is considered quiet.
You will be able to hear anything over 44 dB. Any dishwasher over 50 dB will be noticeably loud.
The biggest mistake you can make is paying too much for a quiet dishwasher.
There is no need to spend $1,000 more for a 37 dB dishwasher unless it has other features you like or will use.
The two quietest dishwashers are Beko DDT39432XIH and the KitchenAid KDTE204KPS at 39 dB for under $1000.
Other than those two, try to find a dishwasher that's 44 dB or less. Don't pay more just for quietness.
Dishwasher Sound Level Comparison [Video]
Dishwasher Size
A mistake you will not make is sizing a dishwasher. They are designed to fit either a 24 or 18- inch cabinet, with over 90% being 24 inches.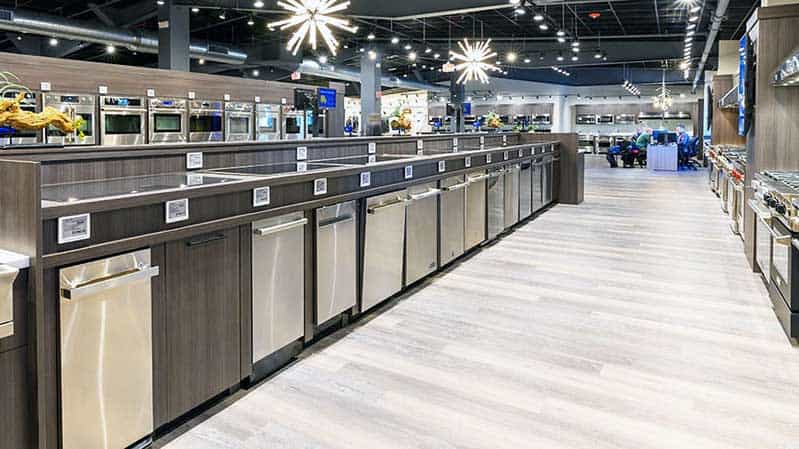 Dishwashers at Yale Appliance in Hanover
You do have to be careful if you want a shorter ADA-compliant dishwasher. There are only a few with a limited selection.
ADA dishwashers have easily accessible controls from a wheelchair. An ADA compliant dishwasher needs to have installation flexibility to be installed at a countertop height.
Many new construction projects for condos and apartments require multiple units to be ADA compliant.
Read More: Best ADA-Compliant Dishwashers
Short on time? Get our free Dishwasher Buying Guide
Plastic Vs. Stainless Steel Dishwasher Tubs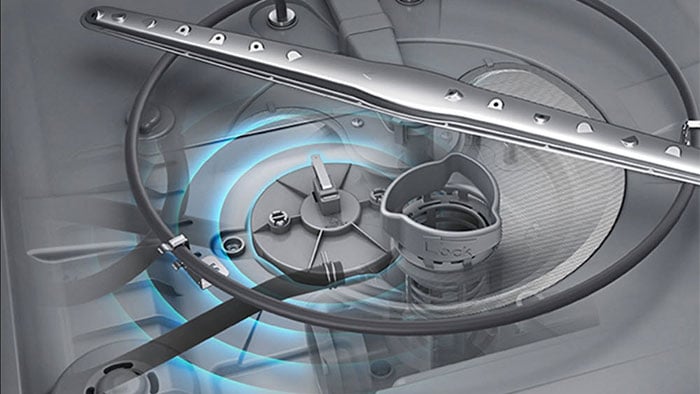 Samsung Dishwasher Plastic Tub
Both plastic and stainless tubs will hold water and not leak. Stainless, however, is non-porous, so germs and odors don't form on the surface like plastic.
Most better brands, including Miele, Bosch, Asko, KitchenAid, Café Appliances, and most Samsung dishwashers, have a stainless tub.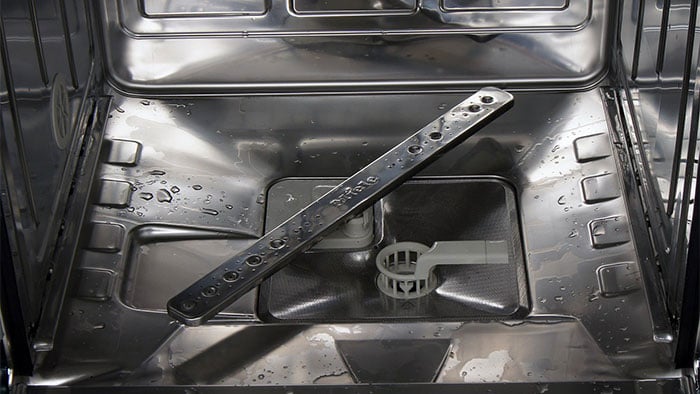 Miele Stainless Steel Dishwasher Tub and Wash Arm
The less expensive brands like Frigidaire, GE, Whirlpool, Maytag, and the cheaper Samsung dishwashers use plastic for the tub or bottom.
Dishwasher Cycles

Bosch Dishwasher Cycles
Dishwasher cycles have pretty much stayed the same over the years. There are a few new ones from Miele, Thermador, and Bosch.
Cycles control wash, rinse, and dry times from 20 minutes on the Thermador Star Sapphire to over 3 hours for Miele's cycles designed to wash hood filters and stove grates.
These include heavy, pots + pans, tough, extended wash, normal, and delicate.
Many upscale brands have a speed wash for a light load.
Bosch has their Express wash, a 60-minute wash and dry cycle for lightly soiled loads.
Miele has its QuickIntense Wash cycle, a 60-minute cycle for medium soiled dishes.
Auto washes from every brand will use a soil sensor to adjust the cycle based on the dishes' food residue.
You can add heat options for the wash and rinse cycles as well for more thorough washing.
Read More: The Fastest Dishwasher Cycle Times
Special Wash Features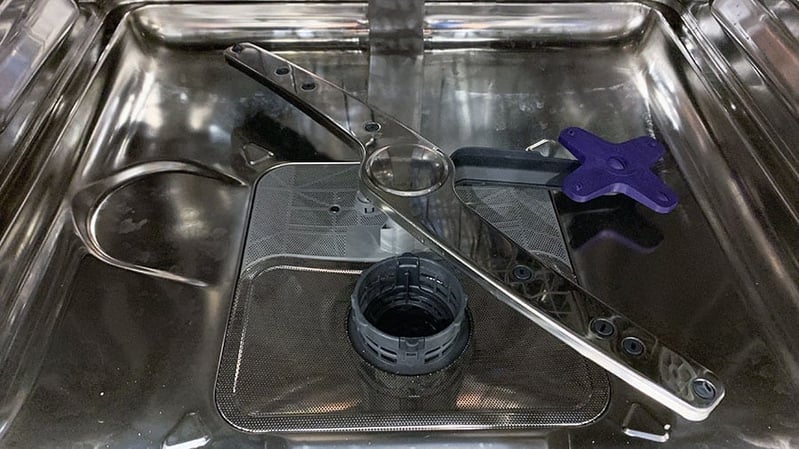 Beko Dishwasher With a 180-Degree Rotating Spray Arm
Many brands have added special wash cycles with direct sprays for bottles like JennAir or silverware like Café Appliances.
The Samsung StormWash and Beko AquaIntense cycles have special sprays for dishes with heavily baked-on food residue.
The Beko DDT39432XIH provides up to five times more powerful cleaning performance using it's unique 180-degree rotating spray arm, with a 360-degree rotating head.
Dishwasher Drying
Drying plastics has been an issue. That's because many dishwashers only use the residual steam from the wash and JetDry.
JetDry is a rinse aid to help water slide off your dishes more easily during the drying process. This also helps your dishes dry faster and with fewer water spots.
Many brands have addressed this since the last time you bought a dishwasher with advanced drying technology.
Samsung, Bosch's 500 series, and Miele's G 7000 series dishwashers will pop open to release the heat and steam and speed up the drying process.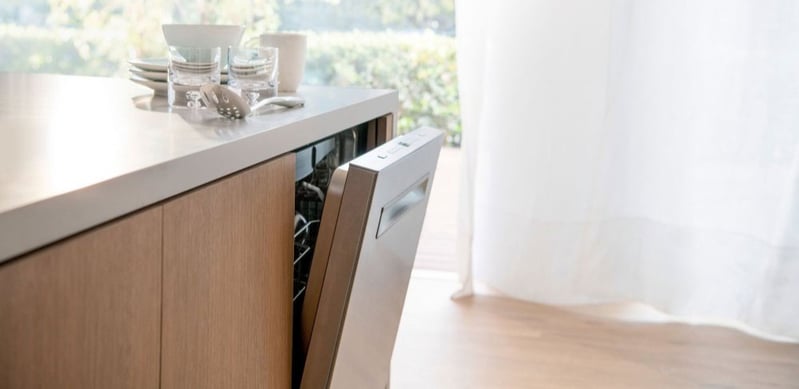 Bosch 500 Series Dishwasher With AutoAir Drying
Miele will also allow outside air to the side of the dishwasher, so the hotter air is attracted to the tub's cooler sides and dissipated as water.
In the better KitchenAid's, there is a heating element and fan to extract heat and moisture.
The high-end Bosch and Thermador dishwashers have the best drying systems with CrystalDry and Sapphire StarDry series dishwashers.
They add the mineral zeolite to the wash system to absorb moisture and add heat. It can completely dry plastics even on Thermador's 20-minute wash and dry cycle.
Watch our video test below of the new Thermador Star Sapphire Dishwasher's 20-minute wash and dry cycle.
New Thermador Star Sapphire Dishwasher [Video]
Dishwasher Racks
Third racks for silverware are now standard for dishwashers over $700.
Miele will have their 3D cutlery rack, so it folds over, accommodating more on the second rack.
KitchenAid has the largest rack on their M series, along with now four levels of wash action.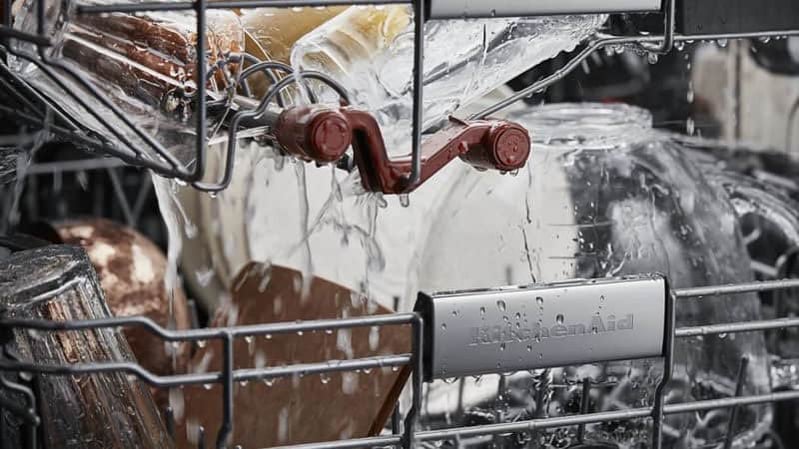 KitchenAid Dishwasher Top Rack
The better dishwashers also have multi-levels for the top rack to accommodate different dishes and plates from the top and bottom.
Miele has the best rack system. All the tines can fold up or detach to fit all kinds of dishes.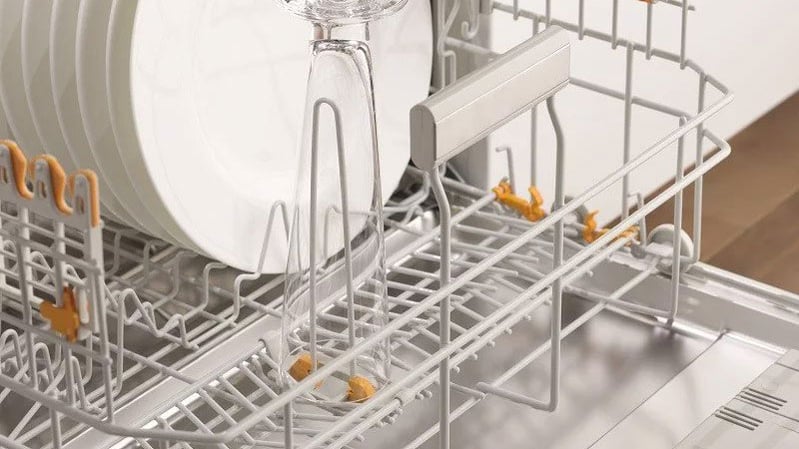 Miele Dishwasher Rack With Adjustable Tines
However, you have to pay $1,499 and up. You can buy dishwashers with decent racks at $849 for far less.
High-End Features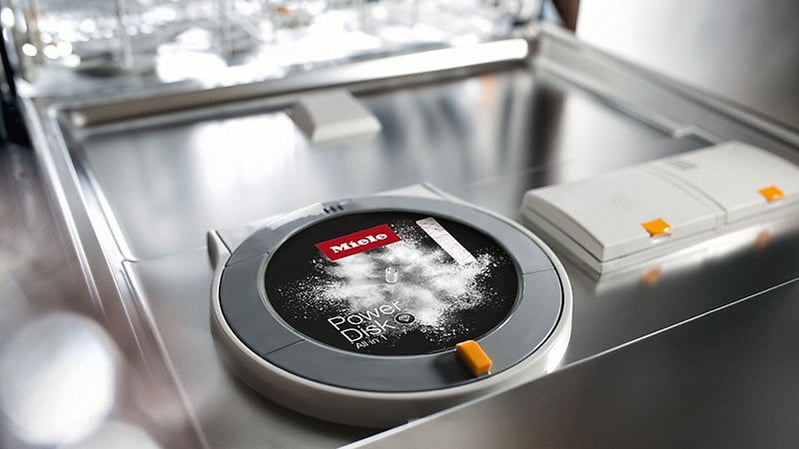 Miele AutoDos with PowerDisk Detergent Dispenser
Miele's AutoDos dispenser is not a gimmick. It releases the right amount of detergent at the right time for cleaner dishes. You can also load up to 20 loads in the dispenser.
Beko has IonGuard. It sends negative ions to neutralize the positive ions of odors.
You can also get fancy with Miele's knock to open or Thermador, and Gaggenau Push-to-Open and have no handle at all.
Thermador's' Star Sapphire will wash and dry a load in just 20 minutes.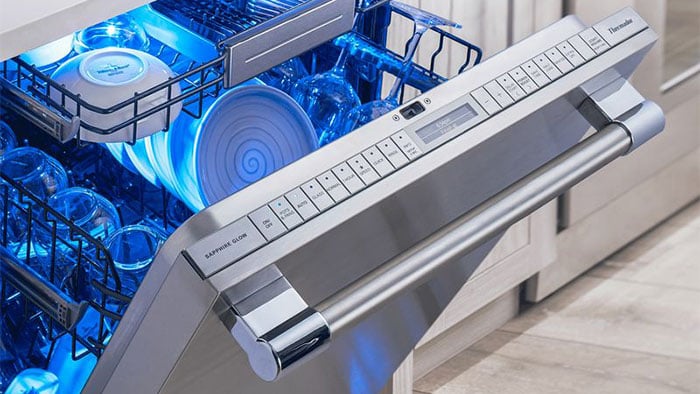 Thermador Star Sapphire Dishwasher
You can wash up to 5 loads at 20 minutes apiece. Not to mention, after Thermador's 20-minute preheat feature, you can run five consecutive wash cycles without the need to preheat again.
Dishwasher Style

Bosch Dishwasher Styles
The most common exterior finish is stainless steel.
You can get most of them with exterior or hidden controls, and various handles like pocket handles, a towel bar, or exposed controls like you probably have now.
The European dishwashers, Beko, Asko, Miele, and Bosch, fit within 24 inches, whereas the American brands protrude and look like a dishwasher with a panel on it.
The Europeans are seamless and look like the cabinet. That's the look you want in your kitchen.
Which Dishwasher Brands are the Most Reliable?
The top five most reliable dishwasher brands are Blomberg, LG, Whirlpool, Beko, and KitchenAid.
Dishwasher Reliability for January 2020 to November 2020
| | | | |
| --- | --- | --- | --- |
| | Service Qty | Shipped Qty | Service Ratio |
| Gaggenau | 9 | 10 | 90.00 % |
| JennAir | 146 | 325 | 44.92 % |
| Asko | 48 | 121 | 39.67 % |
| Fisher & Paykel | 60 | 207 | 28.99 % |
| Cove | 16 | 75 | 21.33 % |
| GE Appliances | 11 | 59 | 18.64 % |
| Bosch Benchmark | 15 | 83 | 18.07 % |
| Café Appliances | 14 | 81 | 17.28% |
| Thermador | 134 | 778 | 17.22 % |
| Miele | 123 | 776 | 15.85 % |
| GE Profile | 9 | 66 | 13.64 % |
| Bosch Appliances | 432 | 3489 | 12.38 % |
| Samsung | 119 | 1030 | 11.55 % |
| KitchenAid | 116 | 1076 | 10.78 % |
| Beko Appliance | 44 | 610 | 7.21 % |
| Whirlpool | 15 | 665 | 2.26 % |
| LG Electronics | 1 | 54 | 1.85 % |
| Blomberg | 0 | 222 | 0.00 % |
| Grand Total | 1312 | 9727 | 13.48 % |
We calculated our dishwasher reliability based on 35,000 service calls logged from January 2020 to November 2020.
We then divided our service numbers by our sales numbers within the same time period for a service ratio.
Read More: Most Reliable Dishwashers
Best Dishwashers to Consider for 2021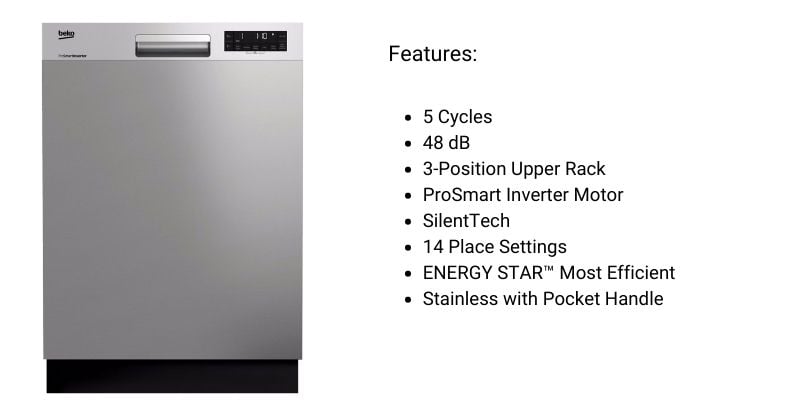 It's a great, basic dishwasher with regular cycles and a 48 dB rating for $499.
Should You Buy the Beko DUT25401 Dishwasher? [Video]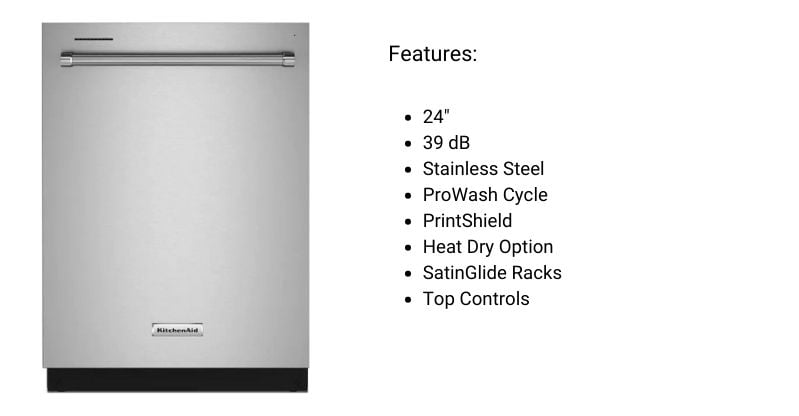 KitchenAid is 39 dB with a good wash system, decent cycles, and adequate drying.
KitchenAid KDTE204 Dishwasher Review [Video]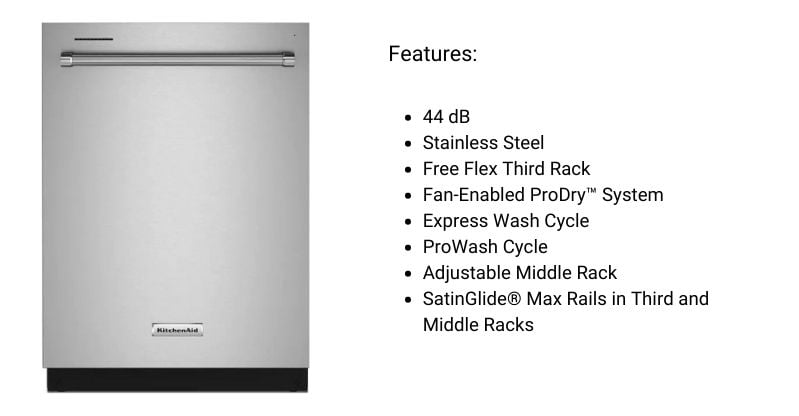 The KitchenAid 600 series dishwasher has new design featuring four sprays and the best rack arrangement. It has very good washing and drying with 44 dB at $1,199.
Should You Buy the KitchenAid 600 Series Dishwasher? [Video]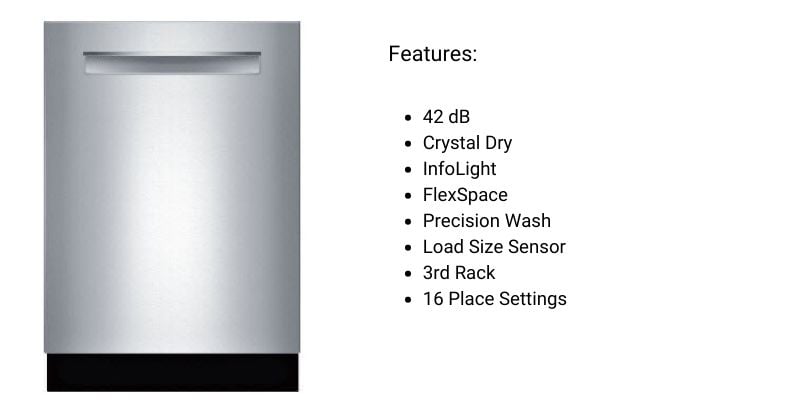 Forty-two decibels and zeolite powered (that's good) drying are hallmarks of this dishwasher.
Should You Buy the Bosch 800 Series SHP878WD5N Dishwasher? [Video]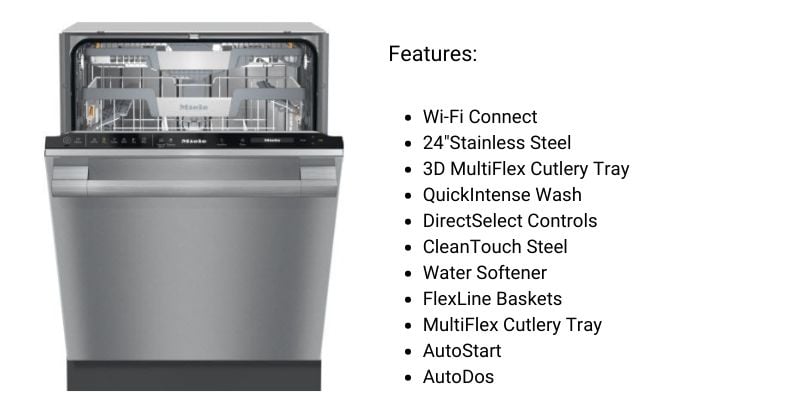 Miele has the best washing, drying, and rack package plus their revolutionary dispenser for cleaner dishes and glasses.
You will also have usable cycles like QuickIntense Wash and Intense zone. It's a great dishwasher. Then again, at $1999, it should be.
Should You Buy the Miele G7000 Series G 7366? [Video]
This dishwasher checks every box. 39 DBs, WiFi-enabled, special cycles for baked-on dishes at $849. Beko is a newer brand but does produce the Viking and Blomberg dishwashers.
Beko DDT39432 Dishwasher Review [Video]
When is the Best Time to Buy a Dishwasher?
Historically, we have always said that the best time to buy a dishwasher is around promotional holidays. Black Friday (now all of November), followed by Tax-Free Weekend, Labor Day, Presidents' Day, Memorial Day, and July 4th.
With extensive backorders from major appliance brands, these sale events are becoming less and less nowadays.
You can save 10-35%, not just on dishwashers but almost every appliance, by timing your purchases around then.
Best Times to Buy any Appliance:
Black Friday
Tax-Free Weekend
Labor Day
Presidents' Day
Memorial Day
July 4th
Of course, that was before COVID-19. Now you have to look for what features you want and then buy the dishwasher instead of being brand loyal.
Being brand loyal is tough because most brands have stock shortages. You may want to consider a different brand matching your desired features.
How Much Should You Spend on a New Dishwasher?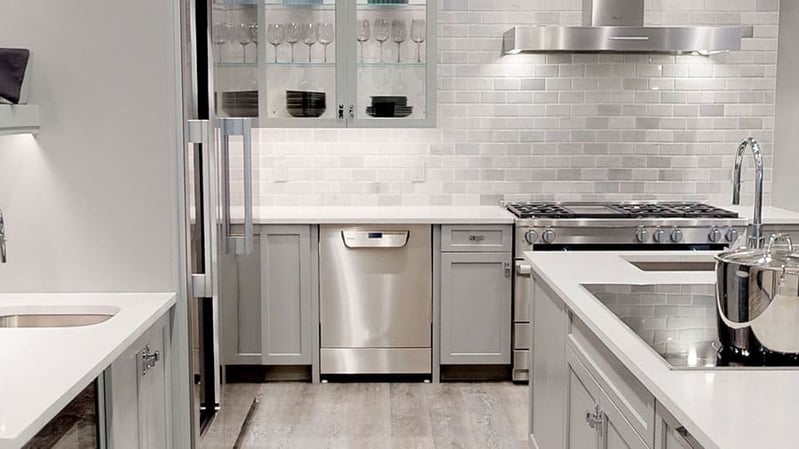 Miele Dishwasher at Yale Appliance in Hanover
You can buy a decent dishwasher for $400-600. You'll get a stainless steel tub and all the basic wash cycles and options at $500-600. Between $600-900, you have better racks, and it'll be quieter.
After $800, you have some more specialized cycles like Eco, Speed cycles, and concentrated washes like in KitchenAid and Samsung.
After $900, you can have a super-quiet machine, better racks, cycles, and better drying options.
From $1199-1399, you have the better Zeolite drying in Bosch and the best models from KitchenAid Miele.
At $1499, you have the start at the better Mieles. $1999 has their new dispenser. Over $2,000 are the eBay Miele and Thermador dishwashers.
How Do I Get a Free Dishwasher?
Yes, you can buy a free dishwasher. JennAir and Thermador offer a free dishwasher with other qualifying purchases of pro ranges or cooktops and wall ovens.
Our Final Advice
You don't have to pay more for quiet anymore. While COVID-19 and supply shortages are still a problem, buy features instead of brands for more selection.
KitchenAid, Samsung, Beko, Bosch, Miele, Café Appliances, Thermador, GE, and LG are worth considering.
It all depends on how you use your dishwasher, and unfortunately, the availability of products.
Frequently Asked Questions
1. What is the Quietest Dishwasher?
Overall, Bosch is the quietest dishwasher brand. However, if you want to take a nap next to a dishwasher, Bosch Benchmark, JennAir, and Miele all have dishwashers that go as low as 38 decibels.
These units can cost as much as $3000.
The human ear can't detect a difference between 44 decibels and lower, so this isn't a feature you should pay extra for.
2. What's the Best 18-Inch Dishwasher?
There aren't many options for the best 18-inch dishwashers, but it's an important question for older cities like Boston with a lot of small apartments that can't accommodate a full-size machine.
Bosch, Miele, and Beko are the top three choices in this segment.
They emulate the larger 24" counterparts regarding features and functions, only sacrificing about six place settings on average and providing a respectably more than generous space for 8-10 place settings.
Additional Resources
Download the Yale Dishwasher Buying Guide with features, specs and inside buying tips to all the major brands. Over 600,000 people have downloaded a Yale Guide.
Related Articles
Why Should You Trust Us?
It seems that every appliance review has nothing but glowing comments about almost every product, yet you read customer reviews and they are almost universally bad.
We are here to fill in the disconnect. We'll give you the best features, and the drawbacks as well, including reliability based on over 37,000 calls performed by our service team just last year. Our goal is to give you ALL the information so you know what's right for you.
Please consider subscribing or adding to the conversation in the comments below. We appreciate you stopping by.
A Note About Pricing
Pricing on this blog is for reference only and may include time sensitive rebates. We make every attempt to provide accurate pricing at time of publishing. Please call the stores for most accurate price.