Beko vs. Miele Dishwashers: Which is Your Better Dishwasher Option?
A lifetime ago, back in 2019, a Miele and Beko dishwasher comparison would not be possible.
Beko wasn't in the US, and Miele was Miele - the finest dishwasher manufactured.
In 2022, Beko is one of the fastest-growing dishwasher brands, while Miele hasn't been shipping dishwashers much in the last 12 months.
Some of that is incredible demand and supply chain issues, along with a port strike in Hamburg, Germany. Miele will be available again shortly.
However, is the upstart Beko worth considering when the venerable Miele is finally available?
In this article, you will learn the feature comparisons between both brands, including reliability statistics from over 40,000 service calls made by our service team last year.
Let's get started.
Short on time? Get our free Dishwasher Buying Guide
Where They Don't Compare
Dishwashers Under $1,000
Beko markets several dishwashers under $1,000 while Miele does not.
The DUT25401 is $589 with a stainless tub, decent features, and a better level of quietness at 48 decibels (dB) than most brands at this price.
While 44 dB is the standard for quietness. Forty-eight is not terrible for a dishwasher under $600.
At $979, the DDT38532 has their new CornerIntense Washing system (more about that later) and a quieter 45-decibel rating.
Dishwashers over $1,499
The Miele G 7000 series was brand new last year with three models, the G 7300, G 7500, and G 7900 series, with tons of cycles and much quieter operation.
Their significant innovation was their "AutoDos" 20-load automatic soap dispenser. I didn't think much of it at the time.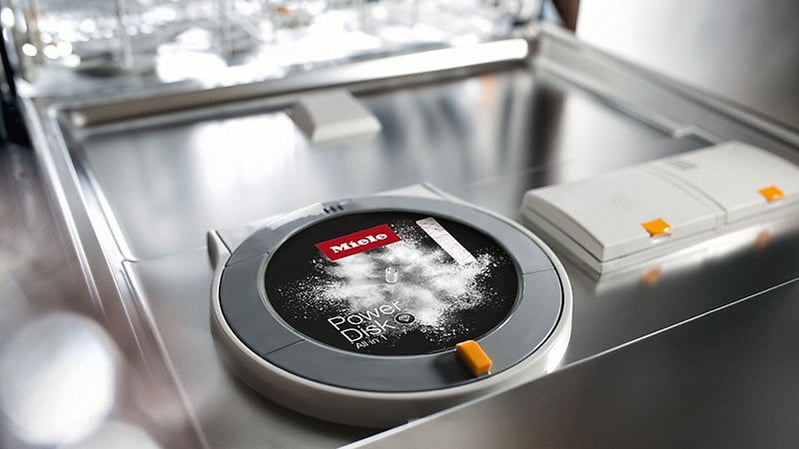 Miele Dishwasher with AutoDos and PowerDisk
However, clients reported the cleanest dishwashers because the system releases the exact amount of detergent needed for the load size at the right time.
Miele ProLine Dishwasher
Miele also manufactures two dishwashers meeting NSF (National Sanitation Foundation) standards for sterilization of 180 degrees for similar cleaning as a commercial dishwasher.
You can buy them in 110 or 220 volts starting at $4,250.
Read More: Should You Spend $4,250 to Buy the Miele ProLine PFD 104 SCVi Dishwasher?
Beko vs. Miele Dishwashers
Beko DDT39434X ($1,389) | Miele G 5056 SCVi ($1,449) Dishwashers
What They Have in Common
Racking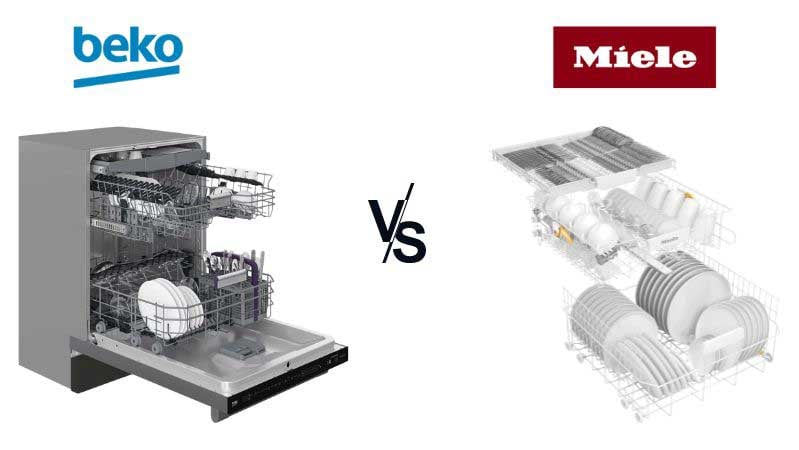 Both have an adjustable top rack and a third rack for silverware. Third racks are a decent option.
You have a place for your silverware and more room for your dishes without the traditional silverware basket.
Stainless Tubs
Both tubs are stainless. You should expect stainless in a premium dishwasher. It retains fewer odors than plastic.
Wi-Fi
You can operate both dishwashers from an app on your phone. Although smart functionality is limited for a dishwasher, you can turn your dishwasher on and off remotely.
You can also see the time remaining. Both dishwashers meet the silence rating standard, so it may keep you from opening the dishwasher while it's still running.
Cycles
Both have tons of cycles for any type of dishware.
Water Leak Prevention
You can't overlook this feature, especially if you live in a condo or apartment with a unit below you.
Beko has overfill safety while Miele has the gold standard with its doable insulated pump.
Where They Differ
How They Wash
Miele has a good washing system with three full spray arms. Most dishwashers, like Beko, have two with a smaller spray arm up top.
However, Beko has a new system called CornerIntense.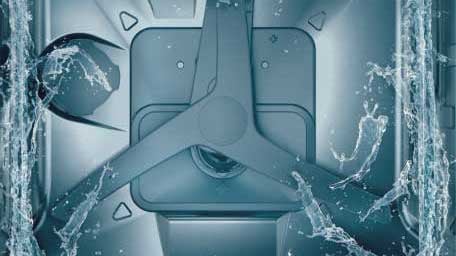 Beko CornerIntense Wash Arm
The arms are not on a fixed axis like most other brands, so they wash in a square pattern and cover more area than the rounded arms of the other brands.
Author's Note: LG has their QuadWash system spraying in different patterns. Samsung has their WaterWall with sprays moving back and forth. All other manufacturers use the traditional arms except LG, Samsung, and Beko.
Beko AquaIntense vs. Miele QuickIntenseWash
The QuickIntenseWash is Miele's signature 58-minute wash and dry cycle for medium soiled dishes.
You are supposed to be using Miele's 2-in-1 dishwasher tablet for full effectiveness.
Beko has a short cycle for lightly soiled dishes, but the AquaIntense diverts 60% of the pressure to the lower rack to scour heavily soiled dishes.
Bottle Washing
Only a few companies have an effective method for washing your taller sports bottles.
The tougher-to-clean residue at the bottom is harder for conventional dishwashers to fully remove in that taller bottle.
JennAir and GE have bottle washes.
Beko has three dedicated sprayers on the top rack called "DeepWash." They are designed to wash bottles and pans up to 12 inches.
Beko EverClean
Beko EverClean Filter and Wash Arm
Both Miele and Beko have filters on the bottom. However, Beko also adds a direct spray, so you are cleaning the filter four times less than the Miele.
Beko IonGuard
You would never know odors have positively charged ions. Neither did I.
Beko includes the "IonGuard," sending negatively charged ions to cancel the positive ions and keep your dishwasher smelling clean.
Drying
Both have doors that pop open at the end of the cycle. Beko calls theirs "SelfDry," whereas Miele invented the auto-opening door with their "AutoOpen."
Many brands have added this feature because it releases excess steam and moisture and speeds up the drying process.
Beko also has a fan inside the dishwasher.
Miele adds their "CleanDry" system allowing air into the dishwasher. The warmer air is attracted to the cooler air and evaporates as water.
Both will dry, but Miele may be a bit better.
Quietness
Miele meets the quietness standard of 44 decibels, while Beko is amongst the quietest at 39 decibels.
But what does that mean?
Not much because 44 is rarely detectable by the human ear. You may hear a light hum compared to the dead silence of a Beko.
Beko vs. Miele Dishwasher Reliability
Dishwasher Reliability December 2020 to October 2021
The following service rates are based on a minimum of 90 units sold and a total sample of over 8,000 pieces.
| | |
| --- | --- |
| | Service Rates |
| LG | 1.7% |
| Thermador | 3.6% |
| Whirlpool | 4.1% |
| JennAir | 5.3% |
| KitchenAid | 5.5% |
| Miele | 8.9% |
| Fisher & Paykel | 9.9% |
| Bosch | 10.1% |
| Beko | 10.3% |
| Café Appliances | 10.7% |
| GE Profile | 12.2% |
| Asko | 12.5% |
| Samsung | 18.5% |
| Grand Total | 12.8% |
Reliability is almost an obsession for us because we service what we sell.
Most dealers and brands do not.
Miele is good with an 8.9% service rate within the first year. Beko has a 10.3% service rate, which is still under the average for dishwashers.
Beko will be better this year because newer products typically require more service.
Like quietness, the reliability difference is not significant.
Expert Tip: Find the brand with better service. Do some Google searches for reviews. It will be time well spent.
Beko vs. Miele Dishwasher Availability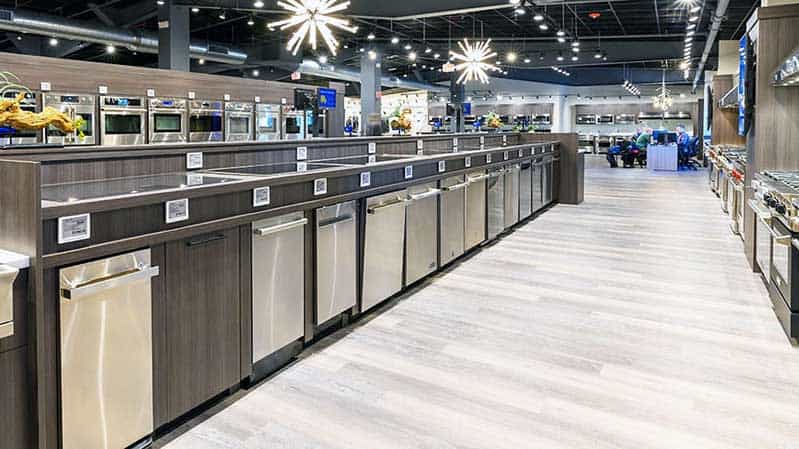 Dishwashers at Yale Appliance in Hanover
The overwhelming demand and port strikes have kept Miele from shipping dishwashers for most of this year.
Miele would not accept new orders starting in November of 2021.
It's shocking, but at least they were honest.
Miele is a family-owned and well-managed company. In their view, their brand is more important than the short-term availability.
If they can't properly ship an existing order, they won't accept new ones.
Kudos to them.
At the same time, Beko didn't have a problem with demand because they were starting from zero.
However, their availability has still been good despite their recent popularity.
Like Miele, they are careful about their brand but limit their distribution accordingly so they would not have problems later.
Beko vs. Miele Dishwashers: Which Is Your Better Dishwasher Option?
I hate using analogies.
But let's say your favorite car is not available for eight months.
Do you wait or look at a competing model with similar features?
Miele is an excellent dishwasher. I have always liked their family-owned story because Yale is family-owned.
But you probably won't be waiting for a dishwasher from us for eight months if you can buy a similar dishwasher at a reputable dealer today.
Enough with analogies. Let's look at the reasons to buy these dishwashers.
Both are good.
Miele has a good washing system, better drying, and a better name. They have been selling dishwashers in the US since the 1980s.
Beko, however, has more interesting features.
The AquaIntense is a good option to scour those lasagna dishes left over from the night before. The AquaIntense wash arm will clean off any residue at the bottom of your sports bottles after the first wash.
CornerIntense does make sense because a dishwasher is a square, and the wash action will cover the edges better, at least in theory.
The reliability is similar, but the service will differ depending on where you live. Invest a few minutes figuring that part out.
So, what do you prefer assuming Miele becomes available? You can leave your comments below.
Additional Resources
Get our free Dishwasher Buying Guide with tips, trends, and reviews of all the major brands. Over 1 million people have already found answers in a Yale guide.
Related Articles:
Why Should You Trust Us?
It seems that every appliance review has nothing but glowing comments about almost every product, yet you read customer reviews and they are almost universally bad.
We are here to fill in the disconnect. We'll give you the best features, and the drawbacks as well, including reliability based on over 37,000 calls performed by our service team just last year. Our goal is to give you ALL the information so you know what's right for you.
Please consider subscribing or adding to the conversation in the comments below. We appreciate you stopping by.
A Note About Pricing
Pricing on this blog is for reference only and may include time sensitive rebates. We make every attempt to provide accurate pricing at time of publishing. Please call the stores for most accurate price.