Fisher & Paykel Dishwashers: A Comparison Guide | Series, Styles, and Performance
July 7th, 2023 | 9 min. read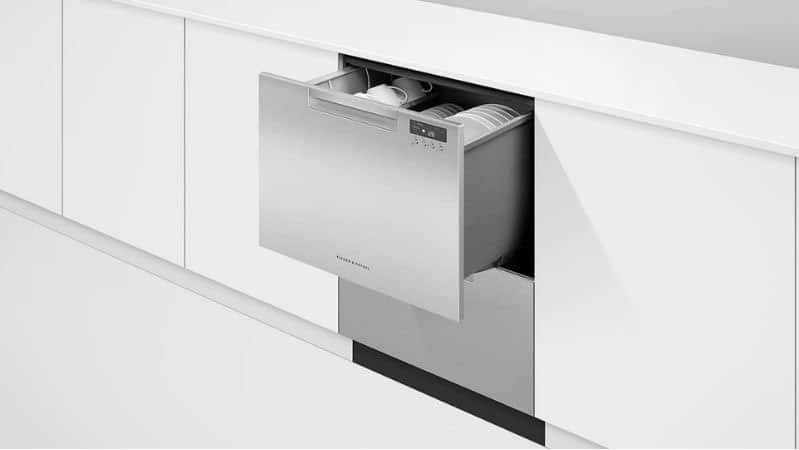 Fisher & Paykel is the most unique dishwasher in the world, utilizing two drawers instead of the traditional dropdown door. But should you buy it?
The answer depends on various factors, including your kitchen layout, personal preferences, and the availability of competent service agents in your area.
But how do you buy it?
This question is even more challenging than the first. Fisher & Paykel offers four series, each with numerous products that have slight, sometimes conflicting differences.
In this article, you will learn why you should or shouldn't buy a Fisher & Paykel dishwasher, including insights from our service team based on 33,000 completed service calls.
In the end, you will be able to identify which model is best for you.
Let's dive in.
This Article
I initially began writing this article while working from home and waiting for a delivery. Yale was one of the first stores in the country to offer Fisher & Paykel long ago.
Though I was a bit out of practice writing about DishDrawers, I figured it couldn't be too difficult. As it turns out, it's actually quite challenging, making the process of buying one quite maddening.
With 15 double drawers and 12 single drawers in their lineup, one might wonder if 27 dishwasher options are truly necessary.
So, I resorted to my usual routine of reading other blogs and conducting web research, only to find myself more confused.
Some features are available in one series but not in the better Series 9 and 11. After spending four hours pouring over diagrams and charts to recommend the best Fisher & Paykel dishwasher, I sought guidance from one of our product trainers, Paul Groux.
Having transitioned to training after 30 years in sales at Yale, Paul listened to my frustrations and offered valuable advice. He said, "Don't focus on features—they can be confusing."
Instead, he showed me the real differences using our display models.
The Benefits of Owning a Fisher & Paykel Dishwasher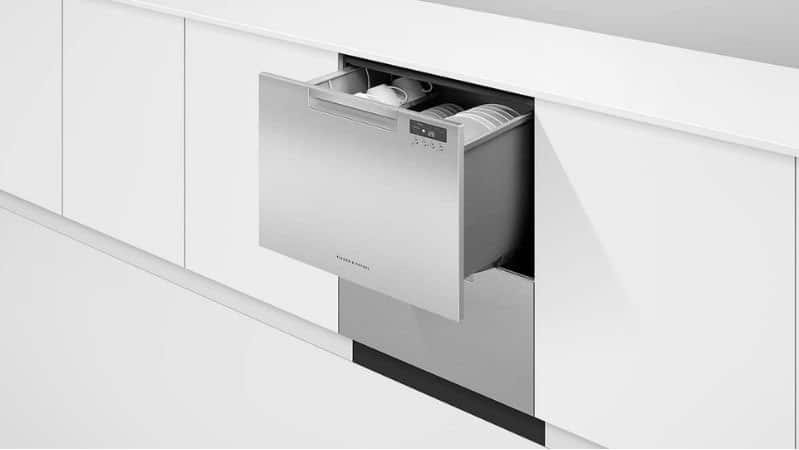 Now, let's explore why you should consider buying a Fisher & Paykel dishwasher.
I remember seeing Fisher & Paykel for the first time in 1997. I thought their appliances were the coolest.
On the service side, it featured detachable DC motors that could fit in the palm of your hand. Even after all these years, it still maintains its distinctive qualities.
However, whether this uniqueness translates into reliability will be discussed later in the article.
Reasons to Buy a Fisher & Paykel dishwasher:
It is still cool and stands out amidst the sea of dropdowns:

It remains the only manufacturer to offer a double-drawer dishwasher (also available for Café).

No bending required:

As I get older, I appreciate the benefits of not having to bend down. With a Fisher & Paykel DishDrawer, you won't need to bend down for the top drawer of a double unit or a single drawer. Better yet, you can install two single drawers on each side of the sink.

Island installation:

Fisher & Paykel dishwashers have a sleek design that doesn't protrude as much, making them a better choice for an island or galley-style kitchen.

Quiet operation:

Fisher & Paykel dishwashers comply with our 44-decibel quietness standard, ensuring that you won't hear it from the next room.
Reasons to Not Buy a Fisher & Paykel Dishwasher
On the other hand, here are some reasons to reconsider buying a Fisher & Paykel dishwasher:
Price:

At over $1,600, you can find some excellent dishwashers from brands like Bosch and Miele. For instance, the Bosch 800+ series offers Zeolite drying, which utilizes volcanic crystals to absorb moisture and emit heat. The Miele G 7000 series also excels in drying and has an automatic dispenser.

It's not for everyone:

Some reviewers dislike how it loads. Yes, it may feel strange to bring your dishes to a store, but it's even stranger to live with a dishwasher you don't like loading.

Reliability:

Fisher & Paykel has an average service rate of 9% within the first year. While this is not terrible, it's important to consider if there is a service available for their unique dishwashers in your area (Hint: probably not).
How to Choose a Fisher & Paykel Dishwasher
Now comes the hard part – picking one. Here's an easy path:
Style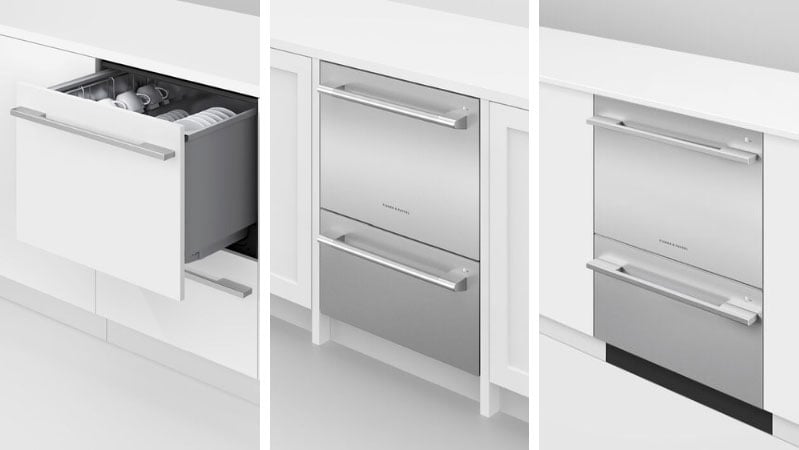 Fisher & Paykel offers three styles of dishwashers:
Integrated: You can install custom panels on the dishwasher, giving it a seamless look that blends with your cabinets, similar to Bosch, Miele, Beko, and Asko.
Professional: This look matches better with professional ranges and features a beefier handle.
Contemporary: This style has changed since I wrote this, transitioning to a more handle-less design. The "pocket" handle matches every appliance as it doesn't have any visible handle details. (They needed yet another series).
Not every series has every style. The Series 7 doesn't have the Professional look, while the Series 11 doesn't have the Contemporary style.
Single or Double Drawer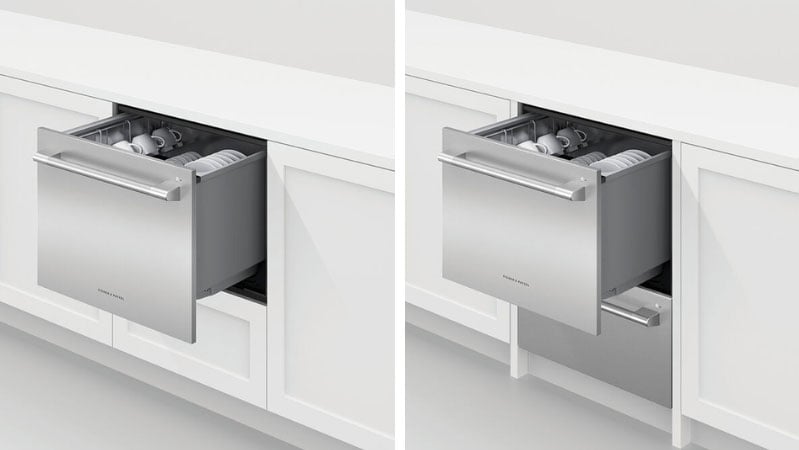 This decision is easier. The double drawer will give you the capacity of a regular dishwasher.
However, a single drawer is suitable if you want storage space underneath in a smaller kitchen or if you want to place two dishwashers on each side of the sink in a larger kitchen.
It's also nice for a bar or pantry if you want a second dishwasher.
Tall Tubs or Uniform Drawer Sizes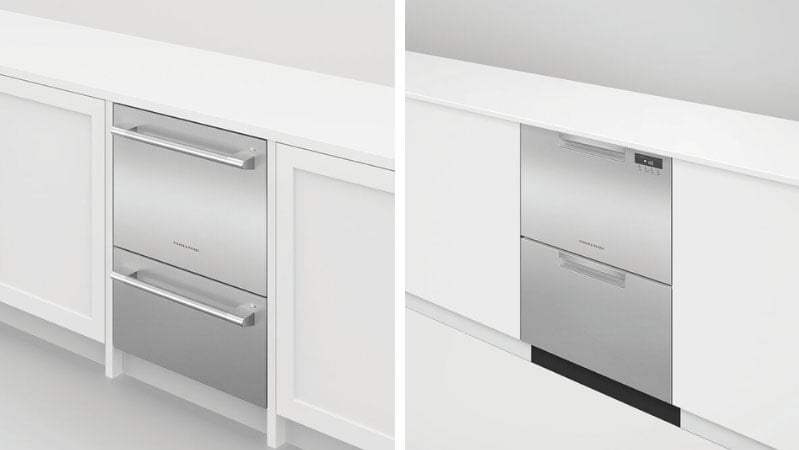 The bottom drawer is the same height in either tub. The top drawer is taller in order to fit more items.
You may prefer the uniform look of two identical-looking drawers, but keep in mind that it will reduce the capacity of the top drawer.
Differences between the Series 7, 9, and 11 DishDrawers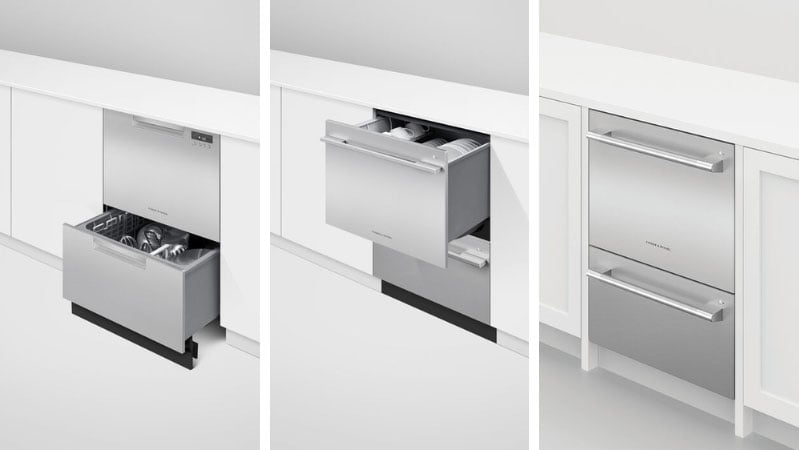 Before you delve into the decision-making process, it's important to note that there are differences within each series.
You have style variations, such as tall tubs versus equal-sized drawers, as well as differences in features.
Differences in Series 7 Models
Wi-Fi:

You can track the dishwasher cycle and receive a push notification when the cycle is over.

Intuitive Controls:

The controls are easier to use.

Water Softener:

This is a decent feature to consider if you have well water or hard water.

Contemporary Style:

Series 7 is only available in the Contemporary style.
Learn More: Fisher & Paykel Series 7 DishDrawer Comparison
Differences between Series 7 and Series 9
Series 9 Features:
Knock to Pause: The standout feature is Knock to Pause. If you forget a dish, you can pause the cycle by knocking on the door, and the dishwasher will then restart.
Delicate and Express Cycles: In addition, Series 7 offers a cycle specifically designed for delicate items, as well as a fast cycle for those times when you need your dishes cleaned quickly.
Series 7 Features:
Series 7 offers a 60-minute cycle, glassware cycle, and light cycles that are not available in Series 9.
Learn More: Fisher & Paykel Series 7 and Series 9 DishDrawer Comparison
Differences Between Series 9 and 11
With the Series 11, the main benefit is the stainless steel interior and spray arm sensing. It also provides better leak protection and a few different cycles.
Additionally, it has wine glass supports for taller glasses.
As mentioned previously, series 11 dishwashers are not available in the Contemporary style.
Learn More: Fisher & Paykel Series 9 and Series 11 DishDrawer Comparison
The Most Popular Fisher & Paykel Dishwashers
What's challenging about navigating these series and models is that the lower series may have the features you want at a lower price.
If you are as confused reading this as I was writing this, let's take a look at the most popular models (AKA what other people have chosen):
The Best Double Drawer Dishwasher: Fisher & Paykel Series 11
Fisher & Paykel DD24DTX6HI1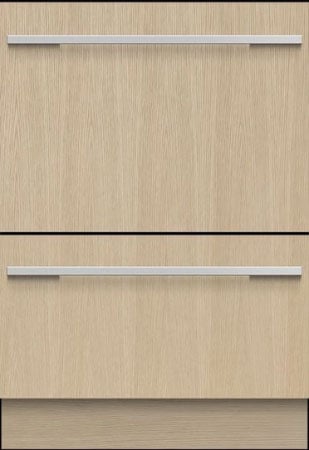 Fisher & Paykel Series 11 24" Panel-Ready Double Drawer Dishwasher
Fisher & Paykel DD24DTX6PX1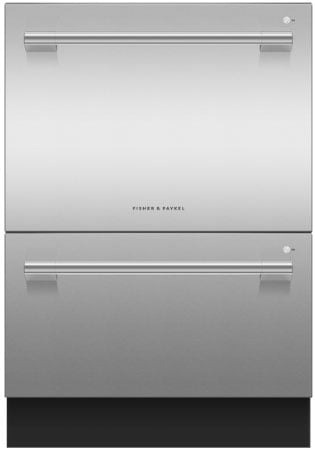 Double DishDrawer™ Dishwasher, Tall, Sanitize
Fisher & Paykel's series 11 dishwashers are considered the best because they offer every feature, including knock-to-pause, a stainless steel interior, and the water softener option.
Series 11 is newer, so it's difficult to determine its reliability just yet.
The Most Popular Tall Tub Dishwasher: Fisher & Paykel Series 9
Fisher & Paykel DD24DTI9 N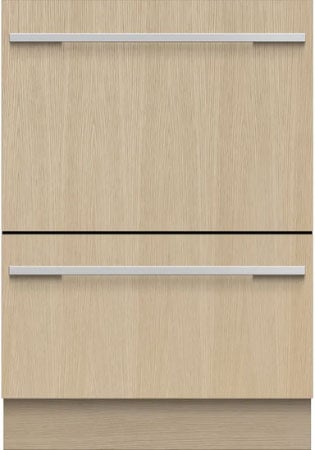 Fisher & Paykel Series 9 24" Panel Ready Double Dishwasher
Fisher & Paykel DD24DDFTX9 N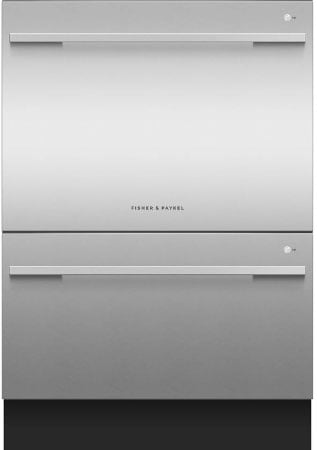 Fisher & Paykel Series 9 24" Stainless Steel Double DishDrawer™ Dishwasher
Fisher & Paykel DD24DV2T9 N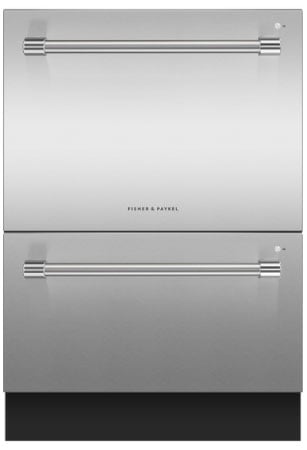 Double DishDrawer™ Dishwasher, Tall, Sanitize
Series 9 dishwashers include the Knock to Pause and Water Softener features. However, most homes in Massachusetts do not require water softening.
The Most Popular Series Among Equal-Sized Tubs: Series 7
Fisher & Paykel DD24DAX9 N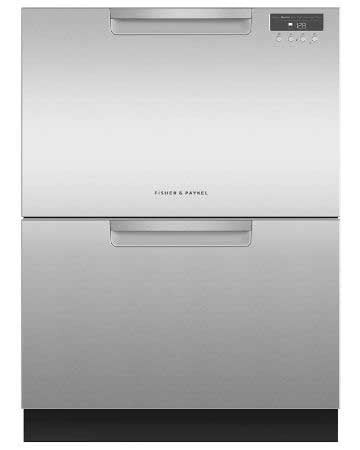 Fisher & Paykel Series 7 24" Stainless Steel Double DishDrawer™ Dishwasher
I did not anticipate that the equal-sized tub would be as popular as the tall tub.
The Series 7 is the least expensive option at $1,799, yet it still offers most of the features found in the Series 9, but at a $200 lower price.
Most Popular Single DishDrawer: Fisher & Paykel Series 9 DD24SV2T9 N
Fisher & Paykel DD24SV2T9 N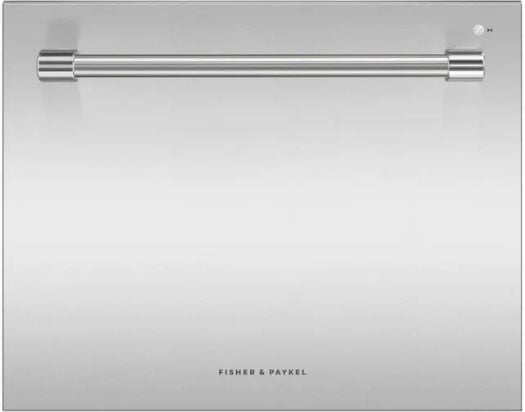 Fisher & Paykel Series 7 24" Stainless Steel Single DishDrawer™ Dishwasher
The DD24SV2T9 N is the taller tub variant in the Series 9. On the other hand, the Series 11 is a new addition, without the water softener feature and offers a 60-minute wash and dry cycle, along with light and delicate cycles.
How Does Fisher & Paykel Compare to Bosch or Miele?
Remember the show "Let's Make a Deal"? The grand prize winner could choose one prize from two scenarios.
One scenario featured a new car or a luxurious vacation, while the other always included something undesirable like a fishing pole and a child's inflatable bathtub.
Comparing Fisher & Paykel to Bosch or Miele is not like that, assuming you appreciate the unique loading mechanism of Fisher & Paykel.
Advantages of Fisher & Paykel Dishwashers
Convenience is a major advantage. You never have to bend down to reach the bottom rack like with other dishwashers. You can run a half load without feeling guilty and have different loads washing at different times.
Imagine having your salad and soup course, and then your entrees, without the need for one large load.
Fisher & Paykel is also distinct. High-end builders often use Fisher & Paykel as a distinguishing factor in their projects.
Advantages of Bosch Dishwashers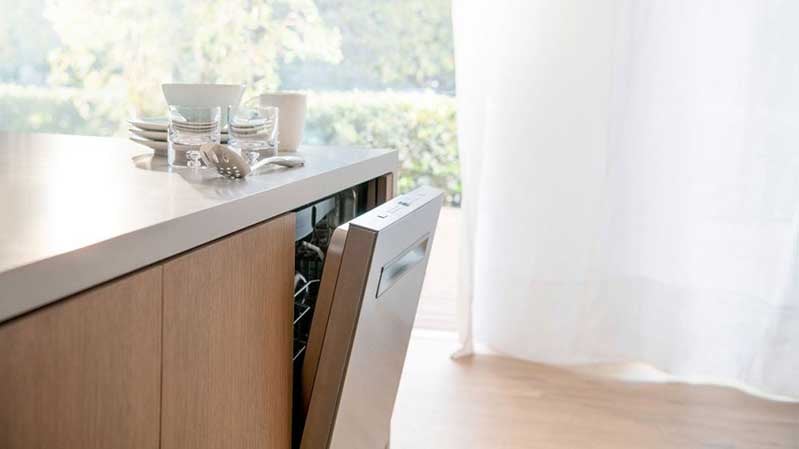 Bosch is renowned for its reliability, with only a 5.1% service rate. It is one of the most reliable dishwashers available, priced between $1,299 and $1,499. Bosch also offers Zeolite CrystalDry drying technology.
Fisher & Paykel claims to dry plastics using airflow, but we still need to verify that. Personally, I remain skeptical.
Bosch's Zeolite CrystalDry feature utilizes a volcanic element that absorbs moisture and emits heat, resulting in effective drying even for plastic items.
Read More: The Ultimate Bosch Dishwasher Comparison: 100, 300, 500, 800 & Benchmark Series Explained
Advantages of Miele Dishwashers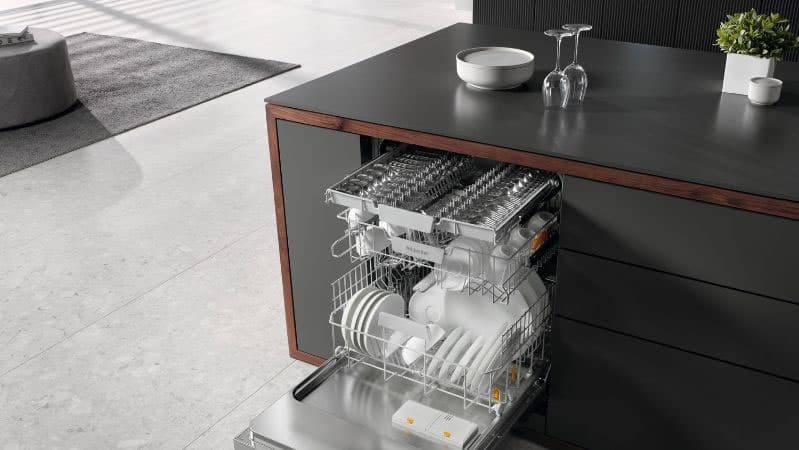 Miele is also highly reliable, with only a 6.7% service rate in the first year.
They offer one of the most comprehensive dishwasher designs, equipped with three full wash arms. Like Bosch, they have a top rack for silverware.
Miele's CleanDry system is simple yet efficient, allowing outside air to enter the dishwasher. The colder air mixes with the steamier air to create condensation and is then dissipated as water.
Miele's unique feature is the "AutoDos" 20-load automatic dispenser. It dispenses the precise amount of detergent at the right time.
Initially, I thought it was a gimmick, but clients have reported that dishes come out exceptionally clean when utilizing the AutoDos feature.
Read More: Differences Between Miele Dishwashers
Key Takeaways
While Fisher & Paykel dishwashers offer a unique loading experience, they may not be suitable for everyone if you can't easily get them fixed or if you don't like their loading mechanism.
However, they do offer the advantages of convenience and easy loading. Additionally, they look great with custom cabinet panels.
In terms of differences, you will appreciate the extra capacity of the tall tub or the aesthetic appeal of the double drawer. Single-drawer dishwashers on either side of the sink are also good options.
The question remains: Is Fisher & Paykel the right choice for you?
Dishwashers
FAQs
Answers to the most commonly asked questions about Fisher & Paykel Dishwashers
What are the key features of Fisher Paykel dishwashers?
Are Fisher Paykel dishwashers energy-efficient?
Can Fisher Paykel dishwashers handle heavily soiled dishes?
Are Fisher Paykel dishwashers easy to install?
What is the warranty coverage for Fisher Paykel dishwashers?
Where can I buy Fisher Paykel dishwashers?
Additional Resources
Get our free Dishwasher Buying Guide with tips, trends, and reviews of all the major brands. Over 1 million people have already found answers in a Yale guide.
Related Articles:
Why Should You Trust Us?
It seems that every appliance review has nothing but glowing comments about almost every product, yet you read customer reviews and they are almost universally bad.
We are here to fill in the disconnect. We'll give you the best features, and the drawbacks as well, including reliability based on over 37,000 calls performed by our service team just last year. Our goal is to give you ALL the information so you know what's right for you.
Please consider subscribing or adding to the conversation in the comments below. We appreciate you stopping by.
Steve Sheinkopf is the third-generation CEO of Yale Appliance and a lifelong Bostonian. He has over 38 years of experience in the appliance industry, and he is a trusted source of information for consumers on how to buy and repair appliances.

Steve has also been featured in numerous publications, including the New York Times, Consumer Reports, The Boston Globe, Bloomberg Radio, the New York Post, The Wall Street Journal, and Entrepreneur, for his knowledge of how to buy appliances and appliance repair.

Steve is passionate about helping consumers find the best appliances for their needs, and he is always happy to answer questions and provide advice. He is a valuable resource for consumers who are looking for information on appliance buying, repair, and maintenance.

Despite being the worst goalie in history, Steve is a fan of the Bruins and college hockey, loves to read, and is a Peloton biker. The love of his life is his daughter, Sophie.
A Note About Pricing
Pricing on this blog is for reference only and may include time sensitive rebates. We make every attempt to provide accurate pricing at time of publishing. Please call the stores for most accurate price.