Should You Buy A Miele G 7100 Series Dishwasher? (Reviews / Ratings / Prices)
The new G 7100 series is an upgrade from their old series with brand new cycles and features. In this article, you will learn whether this Miele dishwasher is worth considering.
We will detail their best features and compare Miele against the competitive Bosch, KitchenAid, and the other Miele G 7000 Series Dishwashers.
Miele has improved. Then again, you should expect a ton of functionality for nearly $1,500.
The G 7100 dishwashers are available in three styles: top control, front control, or panel-ready for custom cabinets.
If you are shopping, these model numbers are G7156SCVI (top controls), G7106SCV (front controls), and G7156SCVISF (for a panel).
Let's look at what Miele has improved.
New Miele G 7100 Series Dishwashers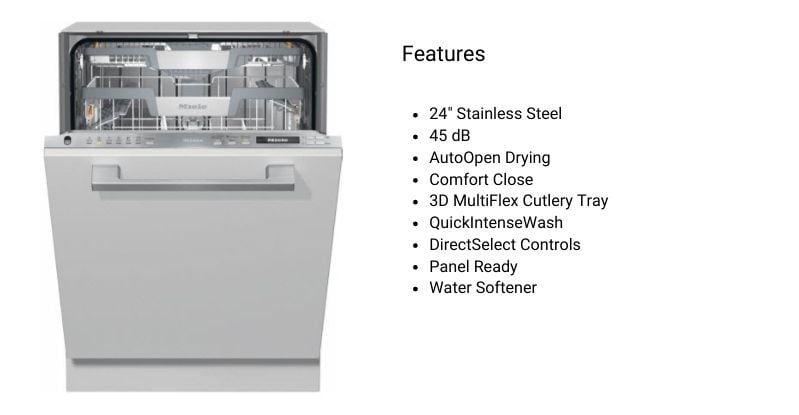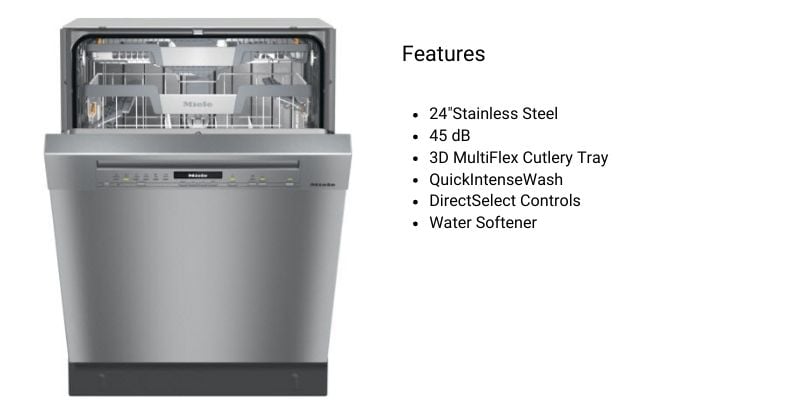 Miele G 7100 Series Dishwasher G7106SCV Review [Video]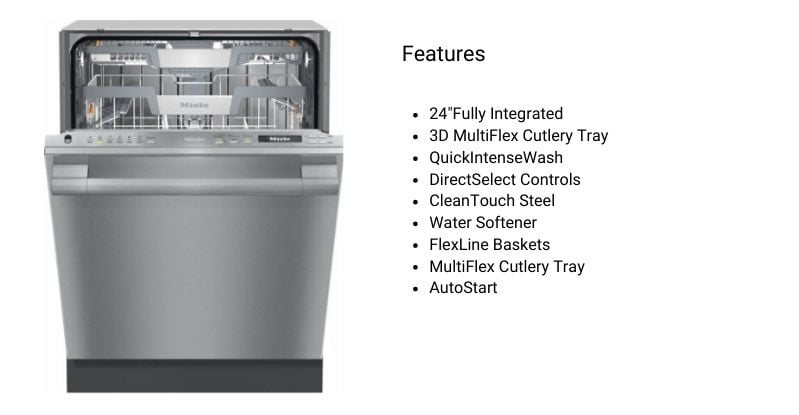 Miele G 7100 Series Dishwasher Features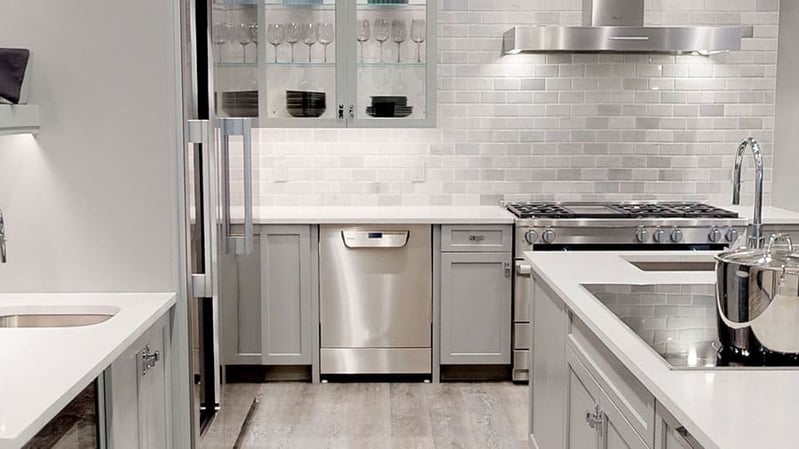 Miele Dishwasher at Yale Appliance in Hanover
Quietness
Miele's G 7100 series dishwashers are now 43 decibels (dB) or 2-3 dB quieter than the old series. It's just under the threshold for quietness at 44 dB.
Dishwasher Sound Level Comparison [Video]
Drying Capability
Miele's dishwashers have always dried well. There is an air intake on the bottom, directing the outside air to the dishwasher's side. The hot steamier air is attracted to the colder side and dissipates as water.
This year, Miele added the auto opening door on this model, so the door pops open at the end of the cycle to release heat and steam to speed drying.
Last year, it was only available on their $1999+ models.
Read More: Best Drying Dishwashers
Dishwasher Racks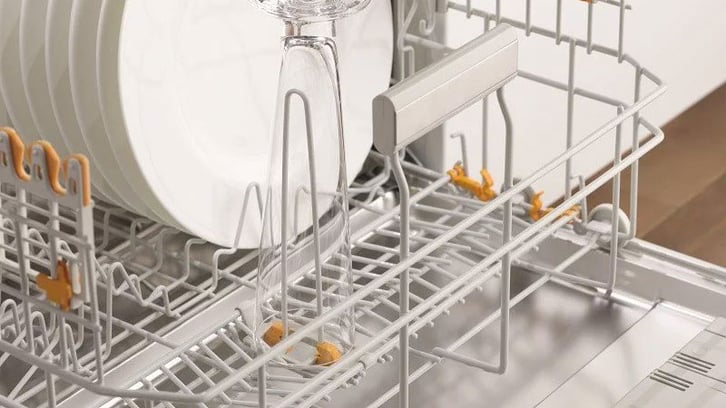 Miele Dishwasher With Adjustable Racks
The Miele racks have always been flexible. Every G7000 dishwasher has its 3D racks, so you slide them to accommodate larger dishes below.
However, they did remove the removable tines on the bottom rack. So like other brands, it's harder to fit larger or odd-shaped pans.
Washing System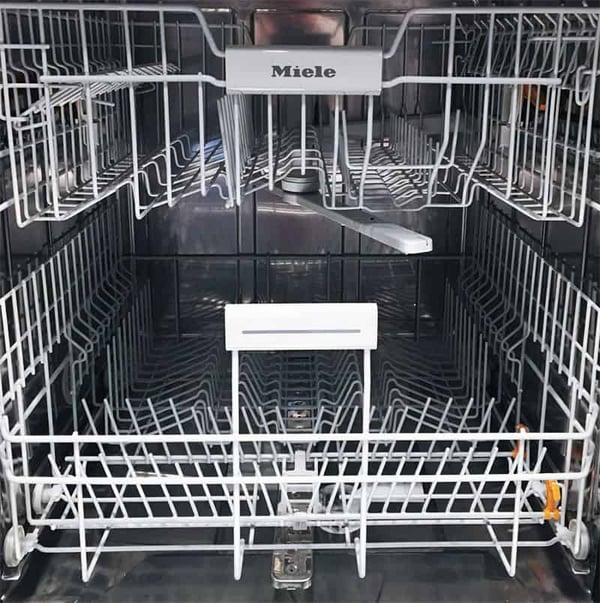 Miele Dishwasher Interior With Several Wash Arms
The wash system stays the same. It's still one of the best with three full wash arms.
The wash options probably have changed the most.
QuickIntenseWash
This new cycle cleans and dries regularly soiled dishes in just 58 minutes. The intense zone option provides a longer wash duration in the lower basket at a higher temperature to scour plates and platters.
This series is sensor-driven with an auto sensor and sensor to sense the water's soil level to adjust time and temperature in the wash and dry cycles.
Miele Dishwasher Cycles
Miele has several usable dishwasher cycles controlling time and temperature. Their pots and pans are amongst the hottest at 167 degrees, while their delicate cycle is amongst the lowest at 113 degrees.
Auto between 113–149 °F: A Variable, sensor-controlled process for standard loads includes mixed loads with all types of food residue.
Eco at 122 °F: Extremely economical, this water and the energy-saving program are perfect for mixed loads with normal, slightly dried-on food.
QuickIntense Wash at 149 °F: Mentioned above, this A-rated cycle has optimum cleaning and drying results for regularly soiled dishes in just 58 mins.
Crystal, and China at 113 °F: Gentle program that cleans delicate glassware that is slightly soiled
Normal at 140 °F: Quick and efficient for everyday use. Cleans load with normal soiling
Pots and Pans at 167 °F: For food residue containing starch: pasta, rice, and potato residue are completely removed thanks to higher temperatures and long presoak phases.
Short on time? Get our free Dishwasher Buying Guide
G 7000 Dishwashing Options
IntenseZone: Strong and gentle at the same time. This option for enhanced cleaning performance in the lower basket can be added to a program.

Longer wash duration in the lower basket
Temperature increase

Express: When things have to be done quickly, this option reduces the program's length by 62 %.

Shorter holding times
Temperature increase

Extra Clean: Excellent cleaning properties: Enhanced cleaning performance can be added to a program.

Increased temperature
Longer holding times
Additional pre-wash and interim rinse

Extra Dry: Thanks to the extended drying phase and the increased rinse temperature, even challenging plastic items are perfectly dried.
Read More: Are The New Miele G 7000 Dishwashers Any Good?
How Does Miele's G7100 Series Dishwashers Compare To Other Brands?
Miele has a decent package of washing, drying, racking, and cycles, but how does it compare to Bosch and KitchenAid at a similar $1,499 price?
Let's take a look.
Bosch Vs. Miele Dishwashers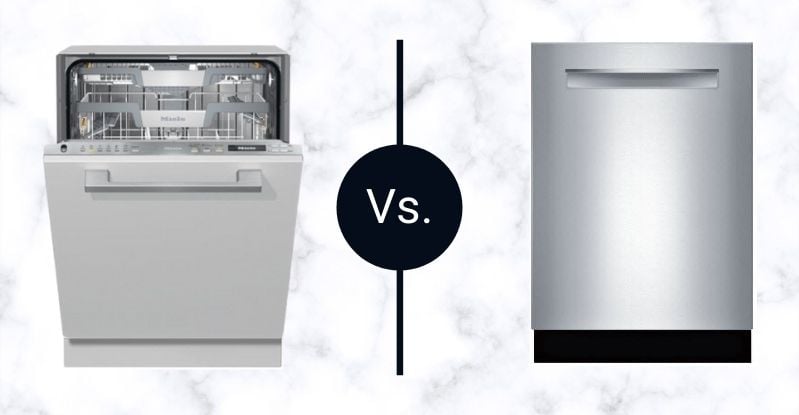 Miele G 7100 Series Dishwasher G7106SCV - $1,499| Bosch 800 Series Dishwasher SHP878ZP5N - $1,329
Bosch has its new feature CrystalDry at about $1,329. They use a volcanic element called zeolite to emit heat and absorb moisture and it works.
Bosch is also technically quieter at 40 dBs although they are both under the 44 DB threshold.
However, Miele has better racks. The Miele third rack is adjustable for 3 days. If you have fine silverware, you can secure it in its tines, unlike any other dishwasher.
Miele has a better wash system with three full sprays versus 2 and a sprinkler head in a Bosch.
Read More: Bosch Vs. Miele Dishwashers
Miele Vs. KitchenAid Dishwashers
Miele G 7100 Series Dishwasher G7106SCV - $1,499 | KitchenAid 600 Series Dishwasher KDTM604KPS - $1,199
KitchenAid has an interesting new dishwasher. It has the largest third rack and 4 levels of washing. However one of those sprays is smaller holes from the second rack itself.
New KitchenAid 600 Series Dishwasher Review [Video]
Although KitchenAids top of the line, the KDPM804KPS, is $1,799, most of KitchenAid's best features are available at $1,199.
KitchenAid shifted to a Miele intake drying system along with a heated dry option as well.
Still, Miele has better cycles, more usable cycles, and options than a KitchenAid. Although KitchenAid's third rack is larger and will hold more, Miele will still fold over and hold your silverware more securely.
Read More: Miele Vs. KitchenAid Dishwashers
Miele Vs. Miele Dishwashers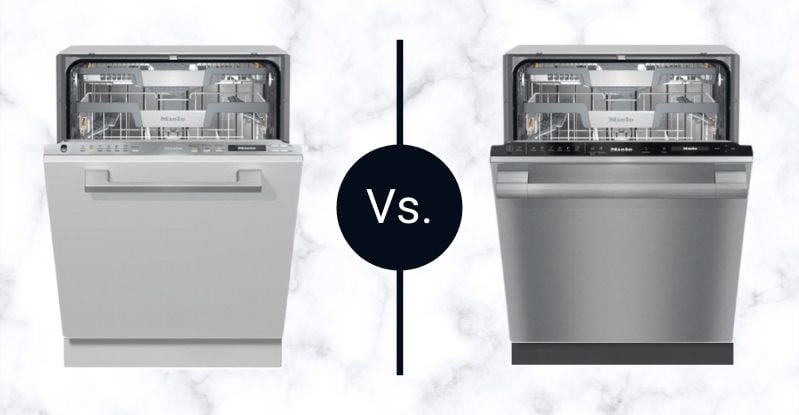 Miele G 7100 Series Dishwasher G7106SCV - $1,499 | Miele G 7300 Series Dishwasher G7366SCVISF - $1,999
Miele's next better series at $1,999 adds their revolutionary dispenser.
New Miele G 7300 Series Dishwasher G7366SCVISF Review [Video]
It can hold up to 20 loads of detergent. The detergent is then released at the right time and temperature for the best cleaning results.
I thought it was a gimmick myself, but clients have reported the cleanest dishes and glasses using that dispenser.
You also have a couple more wash programs, are a bit quieter and add Wi-Fi so you turn your dishwasher on remotely and see how much detergent is left in your dispenser.
Read More: Best Miele Dishwashers
Are The New Miele G 7100 Series Dishwashers Reliable?
Dishwasher Reliability From January 2020 to September 2020
| | | | |
| --- | --- | --- | --- |
| | Service Qty | Shipped Qty | Service Ratio |
| Signature Kitchen Suite | 1 | 2 | 50.00 % |
| JennAir | 117 | 269 | 43.49 % |
| Fisher & Paykel | 48 | 142 | 33.80 % |
| GE Appliances | 9 | 46 | 19.57 % |
| Thermador | 102 | 592 | 17.23 % |
| Cove | 9 | 57 | 15.79 % |
| Miele | 93 | 593 | 15.68 % |
| Café Appliances | 9 | 63 | 14.28% |
| Bosch - Benchmark | 10 | 82 | 12.20 % |
| Bosch Appliances | 314 | 2670 | 11.76 % |
| GE Profile | 7 | 63 | 11.11 % |
| Samsung | 94 | 904 | 10.40 % |
| KitchenAid | 79 | 851 | 9.28 % |
| LG Electronics | 1 | 16 | 6.25 % |
| Beko Appliance | 13 | 372 | 3.49 % |
| Whirlpool | 14 | 533 | 2.63 % |
| Blomberg | 0 | 224 | 0.00 % |
| Grand Total | 920 | 7479 | 12.30 % |
In terms of reliability in 2017, a Miele dishwasher was the most reliable product you can buy.
They have fallen down a bit due to some simple issues like noisy solenoids and frozen motors. Both are easy fixes.
Should You Buy A Miele G 7100 Series Dishwasher?
You should definitely consider this dishwasher.
However at this price level, there are many good dishwashers to consider including Bosch, KitchenAid and even the more expensive Miele dishwashers.
Additional Resources
Want to learn about the different dishwashers and brands? Download the Yale Dishwasher Buying Guide packed with tips, features, and brands of every major dishwasher. Over 800,000 people have read a Yale Guide.
Related Articles
Why Should You Trust Us?
It seems that every appliance review has nothing but glowing comments about almost every product, yet you read customer reviews and they are almost universally bad.
We are here to fill in the disconnect. We'll give you the best features, and the drawbacks as well, including reliability based on over 37,000 calls performed by our service team just last year. Our goal is to give you ALL the information so you know what's right for you.
Please consider subscribing or adding to the conversation in the comments below. We appreciate you stopping by.
A Note About Pricing
Pricing on this blog is for reference only and may include time sensitive rebates. We make every attempt to provide accurate pricing at time of publishing. Please call the stores for most accurate price.