Is a $999 Dishwasher Better Than a Dishwasher Over $2,000?
The new GE Profile PDT755SYRFS dishwasher has a new wash and drying system and many unique features to better wash your bottles and silverware.
But it couldn't be better than the new and popular Miele G 7366 SCVi SF dishwasher costing twice as much, right?
It just might be.
In this article, we will compare both brands for all the reasons you buy a dishwasher, such as washing, racking, and drying, plus we'll review some interesting features of both brands.
Lastly, we'll compare both Miele's and GE Profile's service rates based on over 40,000 service calls completed by our service department last year.
Let's get started.
Short on time? Get our free Dishwasher Buying Guide
Is a $999 Dishwasher Better Than a Dishwasher Over $2,000?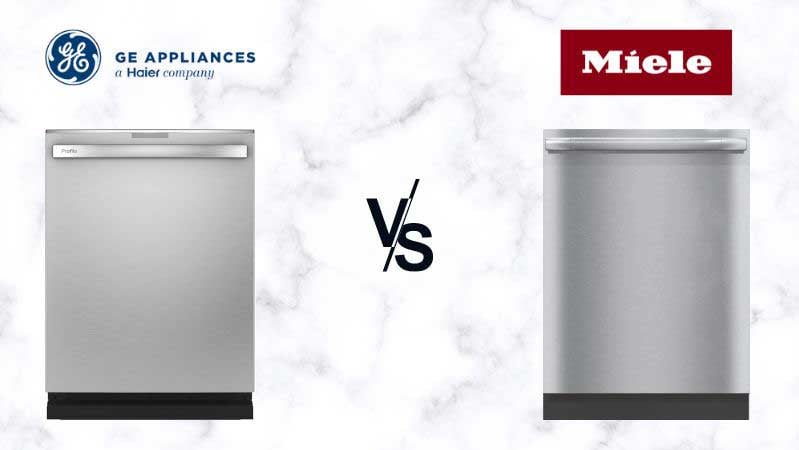 | | | |
| --- | --- | --- |
| | GE Profile PDT755SYRFS | Miele G 7366 SCVi SF |
| Size | 24 Inches | 24 Inches |
| Panel-Ready | No | Yes |
| Silence Rating in Decibels (dB) | 42 dB | 42 dB, 40 dB with the ExtraQuiet Cycle |
| Service Rate | 12.2% | 8.9% |
| Number of Cycles | 5 Cycles, 11 Options | 6 Cycles, 4 Options |
| Third Rack | Yes | Yes |
| Special Features | Antimicrobial Surfaces, Bottle and Silverware Wash Jets, DryBoost | AutoDos with PowerDisk, three wash arms, CleanAir Drying |
| Disposer or Filter | Disposer | Filter |
| Price | $999 | $2,299 |
Dishwasher Silence Ratings
Both are quieter than the 44-decibel (dB) quietness threshold at 42 dB, meaning you won't hear either. With their ExtraQuiet cycle, Miele can reach as low as 40 dB by slowing the motor for a four-hour wash and dry cycle.
Both are quiet. You won't hear either in an open kitchen, but there is a difference.
GE Profile is the only dishwasher with a food grinder at the bottom while still meeting the silence rating standard. Instead of a grinder, Miele, like Bosch, KitchenAid, and other brands, has a filter you must routinely clean.
Wash Systems
Both are, again, very good, just in different ways. Interestingly, both use features from their clothes washers.
Miele has always had the most innovative washing systems. This dishwasher has three full wash arms, one on the bottom, one in the middle under the top rack, and one on the top.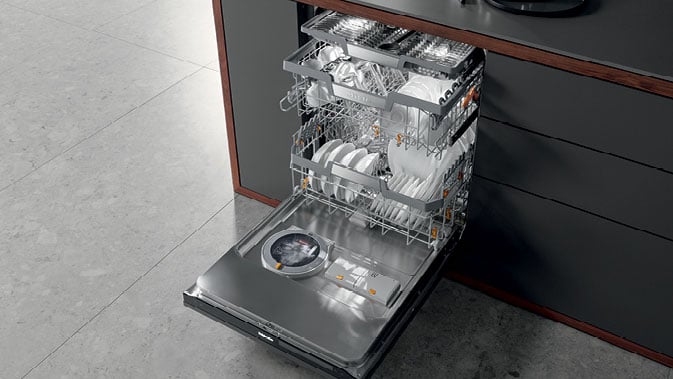 Miele Dishwasher Racks and AutoDos with PowerDisk Automatic Detergent Dispenser
Miele added the world's only automatic dishwasher dispenser, called AutoDos. It's similar to their TwinDos dispenser, releasing the exact amount of detergent needed at the right time.
You can also buy the AutoDos automatic dispenser with their 20-load PowerDisk. You can still use the standard dispenser if you so choose. Clients report the cleanest dishes using the AutoDos feature. I dislike those all-in-one pods, so I get it.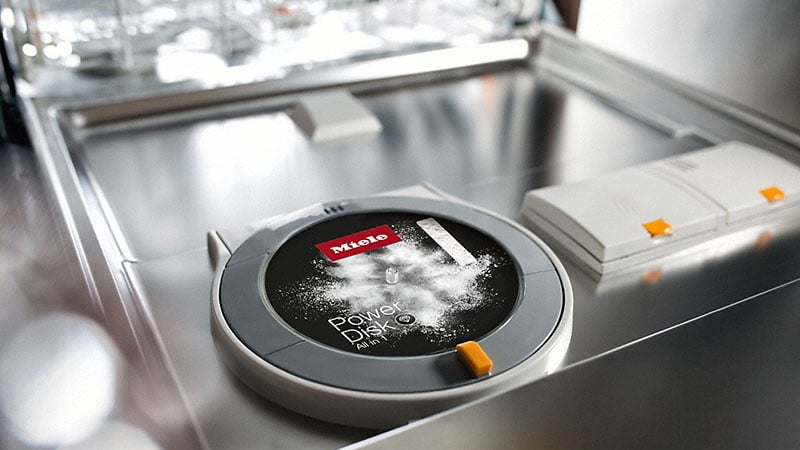 Miele PowerDisk 20-Load Dispenser
The GE Profile dishwasher doesn't have the same wash system because it has a smaller wash arm up top. However, the GE Profile dishwasher has four direct sprays on the top rack designed to scour the residue out of your taller sports or baby bottles.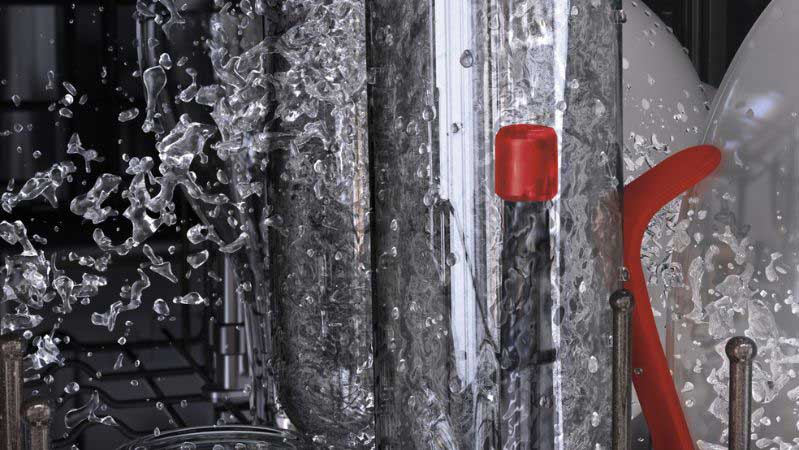 GE Profile Dishwasher Bottle Wash Jets
Like Miele, they have a third rack for silverware. Miele's third rack can expand and retract to accommodate taller glasses on the bottom.
GE Profile has an additional silverware basket with 40 high-pressure sprays to clean that stubborn leftover residue of your forks, knives, and spoons.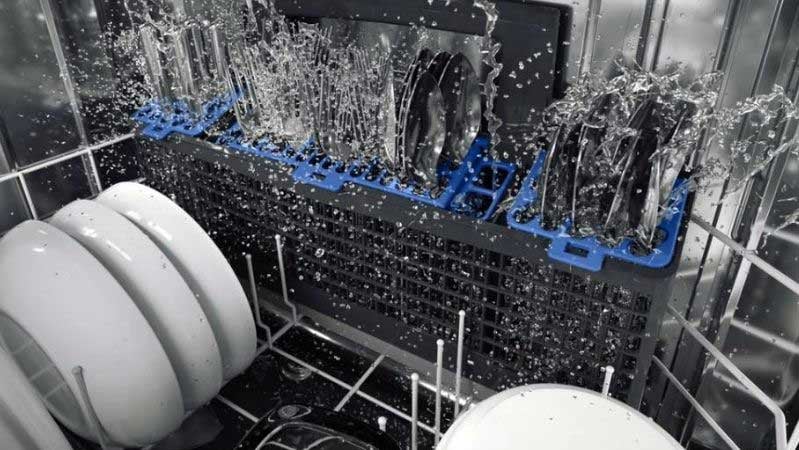 GE Profile Dishwasher Silverware Wash
In addition, all the GE Profile handles and racks are coated with Microban antimicrobial surfaces.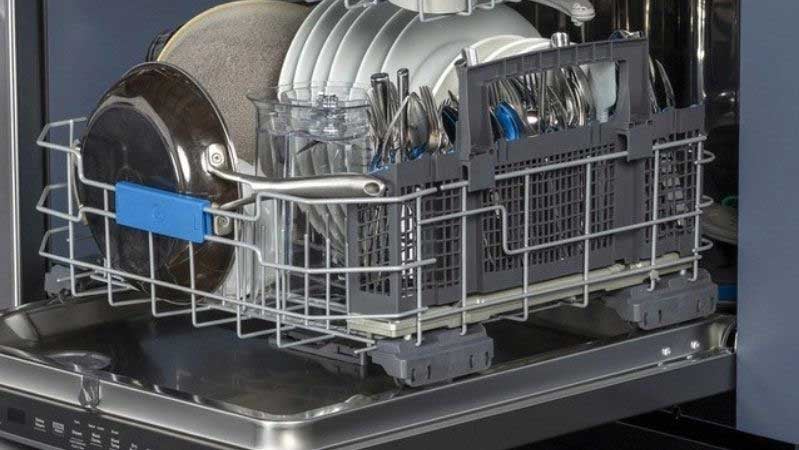 GE Profile Dishwasher with Antimicrobial Coatings in Blue
With GE Profile's antimicrobial coatings, bacteria are not transmitted from your dishwasher - a feature carried over from their front load washers.
Drying Systems
Miele has always had a great drying system. Their CleanAir drying system allows outside air into the sidewall of the dishwasher. The hot steamier air mixes with the cooler air and is dissolved as water.
The Miele dishwasher also pops open at the end of the cycle to release steam and moisture at the end of the wash.
GE Profile has a new drying system that does the opposite. Their Dry Boost system with fan assist pulls air out of the dishwasher to dry even plastics.
For drying, both brands have excellent drying systems.
Dishwasher Reliability and Service
Here is where Miele may have a slight edge.
Miele has the advantage in reliability based on last year's service rates (shown below). Miele, at 8.9%, was among the most reliable dishwasher brands.
Dishwasher Reliability December 2020 to October 2021
The following service rates are based on a minimum of 90 units sold and a total sample of over 8,000 pieces.
| | |
| --- | --- |
| | Service Rates |
| LG | 1.7% |
| Thermador | 3.6% |
| Whirlpool | 4.1% |
| JennAir | 5.3% |
| KitchenAid | 5.5% |
| Miele | 8.9% |
| Fisher & Paykel | 9.9% |
| Bosch | 10.1% |
| Beko | 10.3% |
| Café Appliances | 10.7% |
| GE Profile | 12.2% |
| Asko | 12.5% |
| Samsung | 18.5% |
| Grand Total | 12.8% |
GE Profile was just below the average at 12.2%. Last year was the first year GE Profile introduced this new dishwasher. While they work out any issues, I expect next year's service rates to improve.
Also, GE Appliance's service network is one of the largest and best in the industry. They have fast turnaround times when you have a problem due to their robust service department.
That's important if you are buying from a store that does not offer appliance service.
Overall, I would call service and reliability a tie.
Availability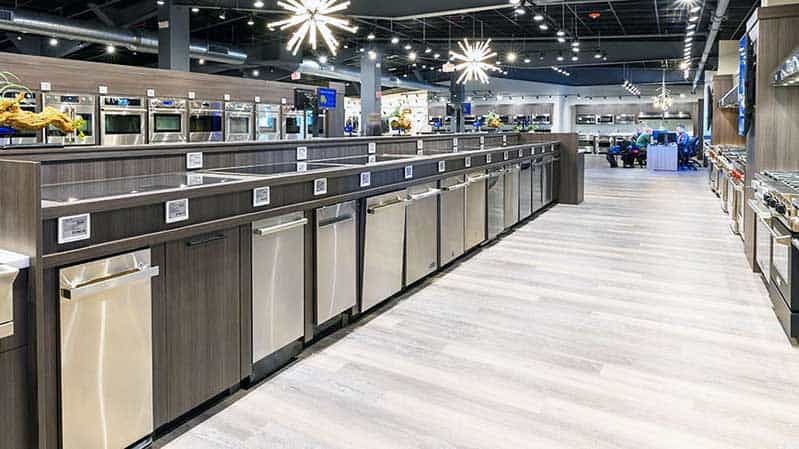 Dishwashers at Yale Appliance in Hanover
Miele hasn't accepted an order for almost one full year, so their availability has been tough, to be kind. At the same time, you have to respect their transparency. They have continuously shared their long lead times with customers instead of taking their orders and making them wait.
GE Profile has been one of the most available brands throughout the pandemic. However, there is one case where you must buy a Miele - even if you have to wait.
For some reason, American-made dishwashers cannot make a dishwasher that looks good with a custom cabinet panel. An American-made dishwasher with a custom cabinet front protrudes past the surrounding cabinetry. It does not sit seamlessly. Instead, it looks like a dishwasher with a panel stuck on it.
In this one case, buy European-made for a panel-ready dishwasher like Miele, Bosch, Beko, or Asko versus an American-made dishwasher like GE Profile or KitchenAid.
Key Takeaways
If you need a dishwasher, buy a GE Profile or wash your dishes by hand until Miele is available.
When Miele becomes available, is their feature set of an automatic dispenser, excellent washing, and CleanAir drying system at $2,299 demonstratively better than GE Profile's dishwasher with bottle and silverware washes and Dry Boost drying, which you can buy as low as $999?
What do you think? Let us know in the comments below.
Additional Resources
Get our free Dishwasher Buying Guide with tips, trends, and reviews of all the major brands. Over 1 million people have already found answers in a Yale guide.
Related Articles:
Why Should You Trust Us?
It seems that every appliance review has nothing but glowing comments about almost every product, yet you read customer reviews and they are almost universally bad.
We are here to fill in the disconnect. We'll give you the best features, and the drawbacks as well, including reliability based on over 37,000 calls performed by our service team just last year. Our goal is to give you ALL the information so you know what's right for you.
Please consider subscribing or adding to the conversation in the comments below. We appreciate you stopping by.
A Note About Pricing
Pricing on this blog is for reference only and may include time sensitive rebates. We make every attempt to provide accurate pricing at time of publishing. Please call the stores for most accurate price.