Bosch 500 Series vs. Miele Compact Laundry (Reviews / Prices / Ratings)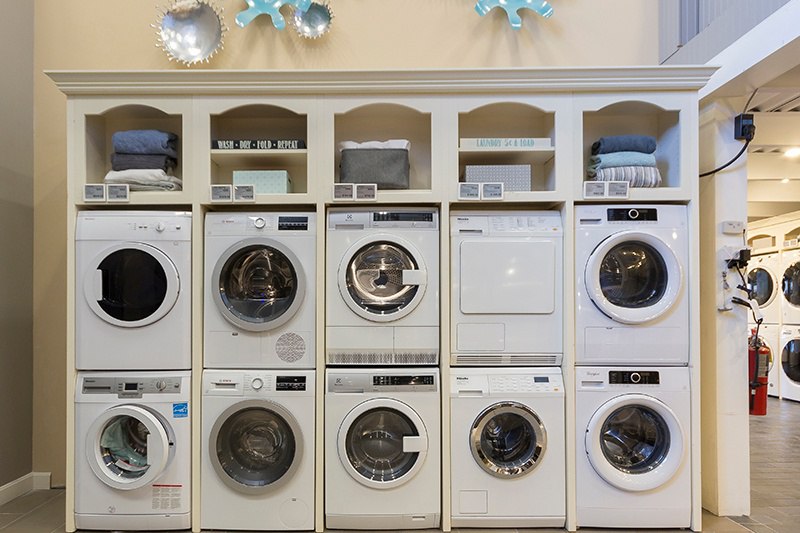 Compact washers and dryers are the most innovative laundry you buy.
The features like better dispensing, cycles, and higher RPM spins are more compelling on a compact than a regular washer.
The two most popular brands are Miele and Bosch. Most of the time, you would not compare the two because Miele has more features, whereas Bosch is less expensive.
However, Miele introduced a newer, less expensive model at the same price as the most popular Bosch. (It is even cheaper October 14-30th with $200 in rebates).
So now which brand is truly better at the same price, Bosch or Miele.
In this article, you will look at a side by side comparison for features and reliability based on actual service calls.
Unlike most laundry comparisons, the dryer may be more critical than the washer.
Bosch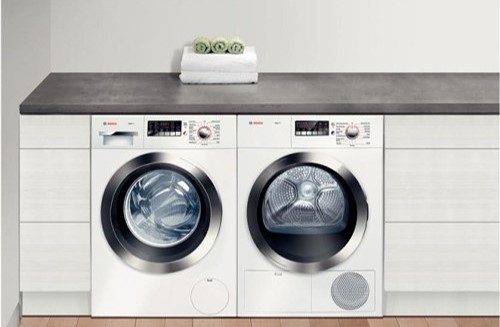 Bosch is a German-owned company, and since its launch in the American market in 1996, their appliances have become more popular for style and value.
Although Bosch is best known for its reliable and quiet dishwashers, its compact washers and dryers are best sellers nationally.
Their 500 series is their most popular.
You can purchase both the washer and the dryer for $2,259.98.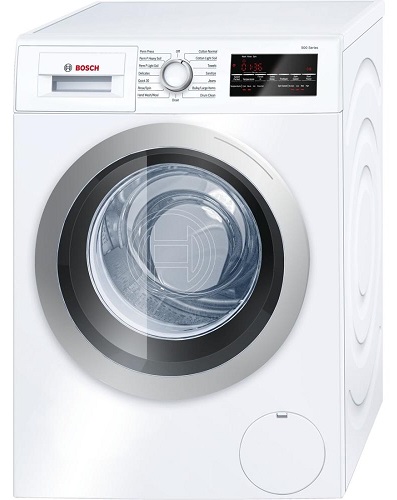 Features:
Snag-free stainless-steel drum
Large LED display screen with time remaining
15 Wash cycles: Permanent Press, Permanent Press Heavy Soil, Permanent Press Light Soil, Delicates, Quick 30 min, Rinse/Spin, Hand Wash/Wool, Drain, Cotton Normal, Cotton Light Soil, Towels, Sanitize, Jeans, Bulky Items, Drum Clean
End of cycle signal
Washer plugs into the dryer - 220 Volt
Energy Star qualified
Internal water heater
1400 RPM maximum spin speed
2.2 Cubic foot drum
Bosch has a whopping 15 cycles on this machine. It also spins at 1400 RPM. Your old top loader spun at 410, and most front loaders are about 1000-1200 RPM.
With a spin speed of 1400 RPM, your clothes dry in the washer for less time in the dryer. It also prevents shrinkage of being over dried.
Equipped with AquaShield, the washer has two burst-proof AquaShield hoses that will prevent any potential flooding. If this were to happen, the water flow to the washer would be blocked.
If you live in a condo with units below, that is an added peace of mind. There are other aftermarket options worth exploring for stopping leaks like Intelliflow.
SpeedPerfect gives you a 40% faster wash than the regular normal cycle would.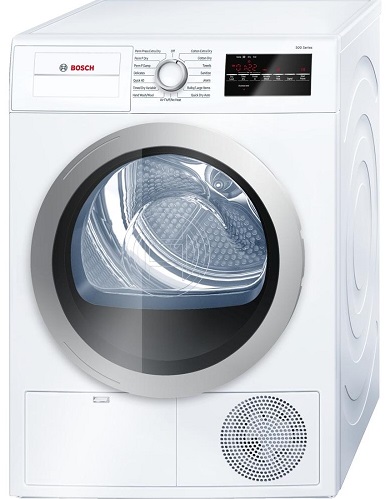 Features:
Condensation Dryer - Does not require any ducting or venting.
Moisture sensor prevents wasted energy and over-drying
15 Dry Cycles: Permanent Press, Permanent Press Extra Dry, Permanent Press Damp, Delicates, Quick 40, Time Dry, Hand Wash / Wool, Air fluff/No Heat, Cotton Dry, Cotton Extra Dry, Towels, Sanitize, Jeans, Bulky Large Items, Quick Dry Auto
Energy Star qualified
Stainless steel drum
Stackable with the washer
Door can be Reversed
Anti-vibration sensors monitor load weight in the drum to eliminate imbalances, which reduce noise levels by 30%.
4 Cubic foot drum
This dryer is ventless, so it will dry your clothes by using condensation. The heat and steam from your clothes turn into water and drains out the back of the dryer.
Pro Tip: You can hook the dryer to the washer waste, so you don't have to empty the dryer after every load.
The dryer will use the Moisture Sensors inside the drum to measure how wet or dry your clothes are. This way, your clothes aren't being removed, still damp or hot, which can cause some severe damage to your clothes.
Like the washer, the dryer offers a Quick 40 Minute Dry option. However, keep in mind that this cycle is for lighter loads, such as dress shirts.
It's important to note for installation purposes that the washer will plug directly into the dryer. The dryer plugs into a three or four-prong outlet.
To learn more about choosing the right kind of dryer for your home, click here for our free Compact Laundry Buying Guide.
Miele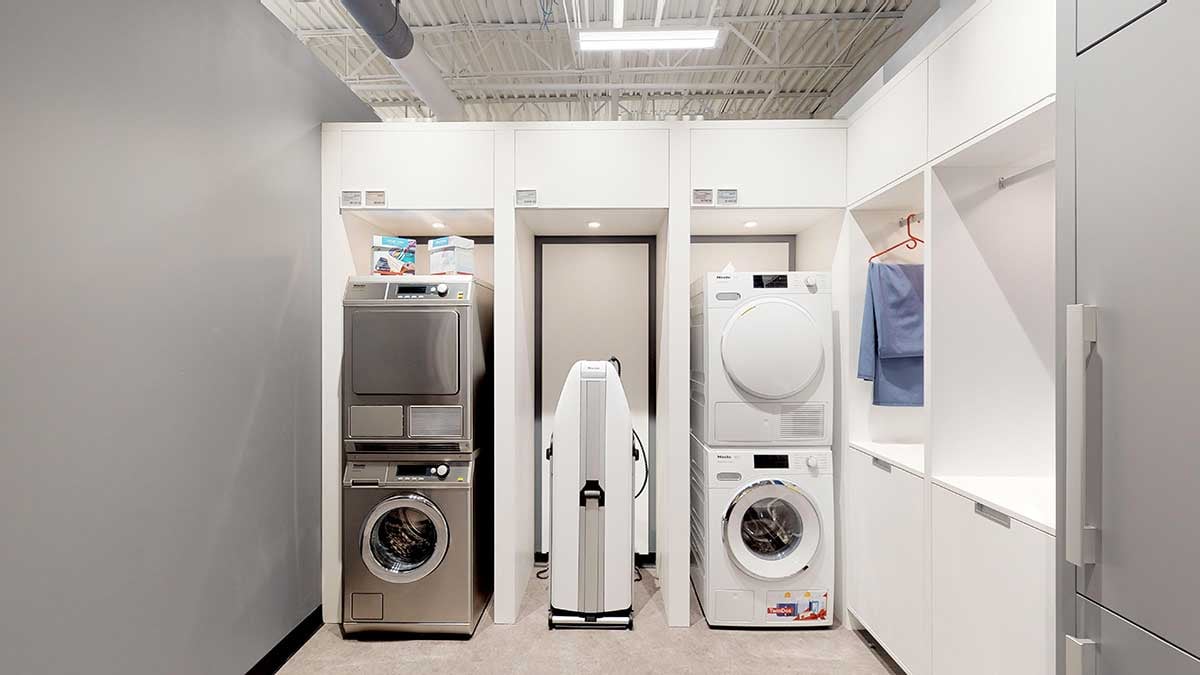 Miele is also a family-owned German company. Miele differs from most manufacturers by not outsourcing the production of components.
They even produce their controls. Typically, a Miele will last longer than any other comparable machine.
Miele's new washer and dryer set were recently released to compete with Bosch directly.
This laundry is $2,198.00 after a $200 rebate for October 14th-30th, 2019 only.
Now through December 7th, receive $100 Mail-In Rebate on qualifying Miele washers and dryers.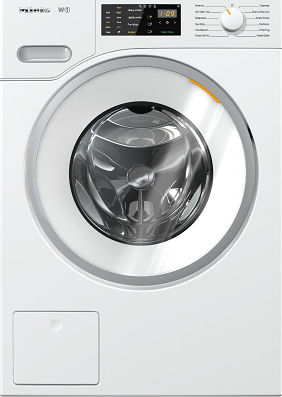 Features:
Stainless steel honeycomb drum
Enameled front
Cap Dosing
11 Washing Programs- Outerwear, Normal, HandWash, Dark/Denims, Drain/Spin, Delicates, Proofing, Wrinkle Free, Extra White, Table Linens/ Drapes, Quick Rinse
Direct Sensor Interface
115-volt washer
2.26 Cubic foot drum
Safety
Like Bosch, Miele engineers leaks out of their machines with a sensor. If there is a leak, the water intake closes automatically. A float switch in the drip tray can also detect leaking water.
Of all the machines on the market, Miele guarantees against leakage for 20 years.
The washer has a honeycomb designed drum, which allows water to flow between the drum and your clothes gently.
Miele is the only washer with the ability to wash silks and other fine washables due to their drum.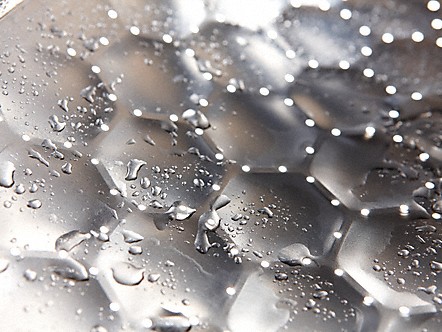 Miele HoneyComb Drum
Another unique feature of Miele is its Cap-Dosing System. Like a Keurig, you can pop in a pre-measured wash detergent capsule, and the washer will dispense it at the right time.
But what makes the Cap-Dosing system genuinely unique is the individual wash capsules themselves.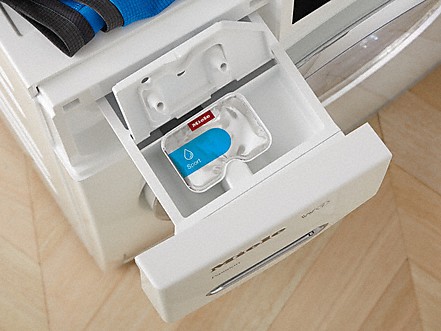 Miele's Cap-Dosing System
The capsules are designed to rejuvenate old cotton T-shirts, waterproof jackets, and even strengthen the synthetic fabrics in your work out clothes, so they never lose elasticity.
This is a feature unique to Miele.
To learn more about Miele's compact laundry features, click here for our Compact Laundry Buying Guide.
Now through December 7th, receive $100 Mail-In Rabate on qualifying Miele washers and dryers.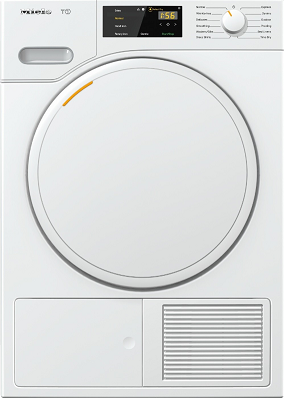 Features:
Heat Pump Dryer- Ventless
Honeycomb Drum
FragranceDos- will emit perfume into your clothing, so clothes come out smelling great
12 Dry Cycles
Reversible Door
115 Volts
4.03 Cubit Foot Drum
Miele dries clothes using a ventless heat pump system. This system will recycle the hot air trapped inside the dryer to dry the clothes.
It is the most efficient drying system available and is only a 115-volt heat pump on the market. It will also dry clothes faster than a standard condensation dryer.
This dryer also does not have to be stored in a well-vented area because it does not release any heat, unlike conventional ventless dryers.
Like the Bosch, this Miele dryer does have sensors, but they are spread out throughout the entire dryer.
The sensor system will prevent the over-drying of clothes, and it is perfect for drying delicate items.
You can also add fragrance to your dryer with specially designed scents.
Regarding installation, the dryer will require a 4-prong outlet. Fortunately, Miele offers a NEMA Adaptor.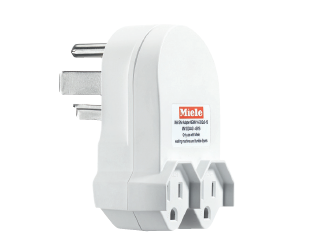 Miele NEMA Adaptor
The adaptor plugs into any 220-volt line, and it will split the outlet into two 110 ports. The adaptor allows for the washer and the dryer to both powered from the same outlet.
Bosch Vs. Miele Compact Laundry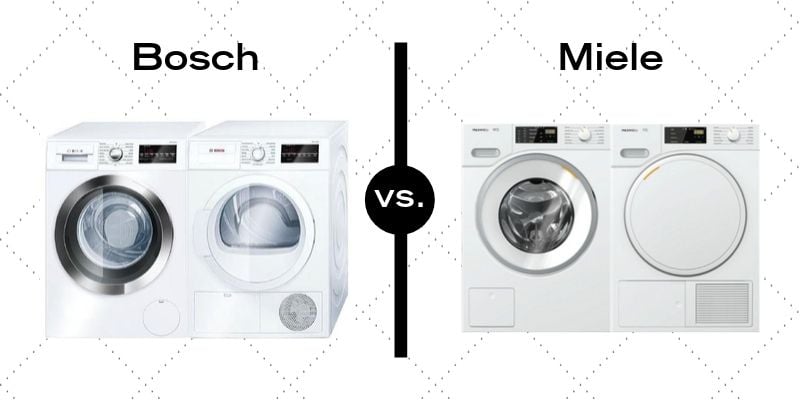 Reliability
Bosch is the most reliable for compact laundry. Some of it is multi-unit builder related jobs like towers. That work tends to have less service.
Most Reliable Compact Washers For 2019
| | | | |
| --- | --- | --- | --- |
| | Service Qty | Shipped Qty | Service Ratio |
| LG Electronics | 0 | 1 | 0.00 % |
| Bosch Appliances | 47 | 710 | 6.62 % |
| Whirlpool | 2 | 29 | 6.90 % |
| Samsung | 18 | 201 | 8.96 % |
| Miele | 19 | 180 | 10.56 % |
| Fisher & Paykel | 1 | 6 | 16.67 % |
| Blomberg | 36 | 196 | 18.37 % |
| Asko | 13 | 29 | 44.83 % |
| Maytag | 2 | 1 | 200.00 % |
| Grand Total | 141 | 1378 | 10.23 % |
However, Miele just introduced their new machine, and there is a learning curve with the installation.
It is a 110-volt dryer but needs the adapter. Many of the problems are installation rated.
What Do Bosch And Miele Have In Common For Compact Laundry?
First, they are both ventless dryers, so you do not have to vent them outside. In the compact laundry, some are vented dryers: Samsung and Blomberg.
Most are ventless like Electrolux, Bosch, Miele, and LG. Both are reliable and offer several cycles to wash and dry.
Both washers are designed and engineered to prevent leaks. If you live in a condo or Brownstone, there is some peace of mind there.
Both washers spin fast to dry clothes for less time in the dryer. Bosch is 1400 RPM, and Miele is 1600 RPM.
Pro Tip: Most water damage is from poor installation. You want to be certain, especially in the first 24 hours, with any water products in your home. We use leak detection pads on every laundry and dishwasher installation.
What Are The Differences Between Bosch And Miele For Compact Laundry?
Miele has the better-perforated Honeycomb drum so you can wash silks. You can adapt the dryer with fragrances.
CapDosing is a unique way of washing, especially with the special detergents designed for different applications.
The heat pump is a better, more efficient way of drying. It will not emit heat into the room and save you $75-100 per year. It is also gentler on your clothes and uses less power.
Bosch is easier to install and is technically more reliable.
Should You Buy Bosch Or Miele Compact Laundry?
Both laundry systems are perfectly capable of washing and drying clothes. Usually, this conclusion with most appliances ends with Bosch being cheaper and Miele having better features.
In this case, the comparison is a bit more straightforward.
Bosch is technically more reliable, although both are very good.
Miele may have the best compact laundry for the price.
The washer can handle silks. However, heat pump drying is the future in the laundry.
It is far more efficient, gentler on your clothes than elements, and does not project heat into the room.
With a $200 rebate, Miele may be the best machine to consider.
Additional Resources
Get the Yale Compact Laundry Buying Guide with features, specs, and inside tips to all the brands, to dimensions and explanations of every washer and dryer type are included. Over 600,000 people have read a Yale Guide.
Related Articles:
Why Should You Trust Us?
It seems that every appliance review has nothing but glowing comments about almost every product, yet you read customer reviews and they are almost universally bad.
We are here to fill in the disconnect. We'll give you the best features, and the drawbacks as well, including reliability based on over 37,000 calls performed by our service team just last year. Our goal is to give you ALL the information so you know what's right for you.
Please consider subscribing or adding to the conversation in the comments below. We appreciate you stopping by.
A Note About Pricing
Pricing on this blog is for reference only and may include time sensitive rebates. We make every attempt to provide accurate pricing at time of publishing. Please call the stores for most accurate price.