Best 18-Inch Dishwashers for 2020 (Reviews / Ratings / Prices)
Our Top Picks:
Best Overall: Miele 18-Inch Dishwasher G4780SCViAM
Quietest Dishwasher: Bosch 18-Inch Dishwasher SPX68U55UC
Best Value: Beko 18-Inch Dishwasher DIS25842
Most Reliable: Whirlpool 18-Inch Dishwasher WDF518SAHM
Contrary to what you might think, there are some decent 18-inch dishwashers.
You probably know 98% of the dishwashers are the larger, 24-inch size. Many manufacturers like KitchenAid, Electrolux, Samsung, and LG do not manufacture an 18-inch dishwasher.
However, Bosch, Miele, Beko, and even Whirlpool have decent 18-inch dishwashers.
In this article, you will learn your best choices for an 18-inch dishwasher, including quietness, features, and reliability.
I also included a section on kitchen design and why a smaller 18-inch dishwasher is better than a smaller stove or refrigerator for your space.
In the end, you will better understand the best 18-inch dishwasher for your kitchen or pantry.
Most Important Factors to Consider When Choosing a Dishwasher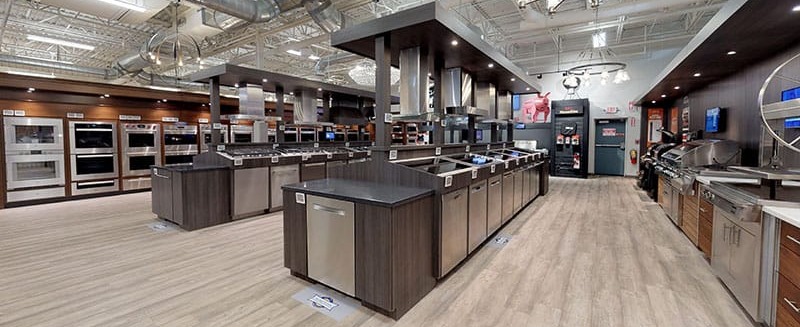 Stainless Steel And Panel-Ready Dishwashers at Yale Appliance in Framingham
1. Dishwasher Reliability
When you're choosing a dishwasher, you're probably looking at the racks, best drying methods, and the fastest cycle times.
However, the first, most important factor you should consider is reliability.
Below are our service statistics for each dishwasher brand based on 35,256 logged service calls last year.
Most Reliable Dishwasher Brands for 2020
| | | | |
| --- | --- | --- | --- |
| | Service QTY | Shipped QTY | Service Ratio |
| Asko | 103 | 190 | 54.21% |
| Jenn-Air | 188 | 493 | 38.13% |
| Bosch Benchmark | 25 | 70 | 35.71% |
| Fisher & Paykel | 56 | 193 | 29.02% |
| Miele | 185 | 903 | 20.49% |
| Maytag | 2 | 10 | 20.00% |
| Gaggenau | 16 | 104 | 15.38% |
| Thermador | 126 | 872 | 14.45% |
| KitchenAid | 90 | 688 | 13.08% |
| Café Appliances | 3 | 25 | 12.00% |
| Bosch | 398 | 3573 | 11.14% |
| Samsung | 134 | 1297 | 10.33% |
| LG | 5 | 81 | 6.17% |
| Cove | 2 | 44 | 4.55% |
| Ge Appliances | 1 | 37 | 2.70% |
| Whirlpool | 38 | 1471 | 2.58% |
| Grand Total | 1377 | 10166 | 13.55% |
This table requires some explanation.
First, we sell Whirlpool through our multi-unit builder channel for apartment complexes and condos.
It's unclear how much of these appliances are used regularly. You would also think the owner would know to call us for repair because we offer free service for one year. However, some probably don't know to call us.
Bosch has always been a reliable premium dishwasher as it was last year.
Miele had issues in 2019 after being the most reliable product sold. However, the problem was a buzzing solenoid. It's annoying but easily fixable and not a functional problem.
Dishwashers are generally reliable but you should know who can fix your appliances before you buy them.
A reliable product still breaks down on occasion. This industry is notorious for its lack of available service techs.
Short on time? Get our free Dishwasher Buying Guide
2. Dishwasher Quietness
A second important factor to consider is quietness - especially if your kitchen is open to your living room.
Unfortunately, a full selection of quiet dishwashers is the only feature truly lacking in the 18-inch category.
Forty-four decibels (a measure of sound) are considered quiet for a dishwasher.
Miele is over the threshold at 46 DB, as is Beko at 48 DB. Whirlpool is technically the loudest at 50 decibels,
Bosch meets the minimum threshold at 44 DB.
Listen to 39, 44, 50, and 55-decibel dishwashers in the video below. We used a professional microphone.
Dishwasher Sound Level Comparison [Video]
Best 18-Inch Dishwashers for 2020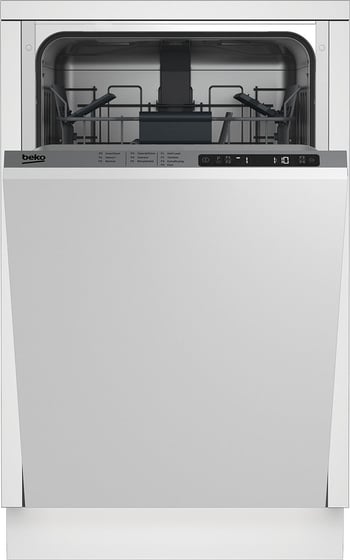 Features:
18 Panel Ready Top Control Dishwasher
5 cycles
48 dBA
Top Control
8 Place Settings
ENERGY STAR™ Most Efficient
Panel Ready Meets Consortium for Energy Efficiency (CEE) Standards.
Your first question is: Who is Beko? Many people have purchased their products under a variety of names.
They own Blomberg, for example, and also manufacture dishwashers for Viking and other brands.
Beko has a competitive dishwasher, especially if you're placing a panel on the front at $749. It's $190 cheaper than any other dishwasher on this list.
The features like three spray arms heated dry, and an adjustable top rack are all worthwhile as well.
Don't need it paneled? Look at the Bosch Stainless Steel 18-Inch Dishwasher DDS25842X for $799.
Most Reliable: Whirlpool 18-Inch Dishwasher WDF518SAHM - $809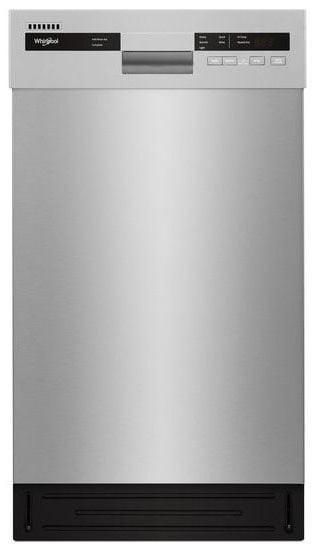 Features:
Small space solution
Cycle memory
No One Has Fewer Repairs 20 Years in a Row
Adjustable Upper Rack
ADA compliant
Quiet cleaning performance
Stainless Steel Tub
ENERGY STAR® Certified
It is the most reliable, at least by our measurements. However, it is still a good dishwasher with decent cycles, including China Crystal.
Beko doesn't offer China Crystal, but it only has two spray arms versus three for Beko.
Quietest: Bosch 18-Inch Dishwasher SPX68U55UC - $949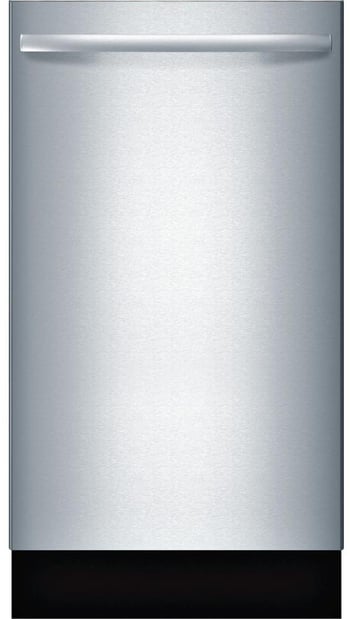 Features:
44 dBA - Quietest Dishwasher Brand
ActiveTab Tray Optimizes Detergent Dissolving
Water Softener Ensures Perfect Cleaning Results
AquaStop® Plus 4-Part Leak Protection Works 24/7
Stainless Steel EuroTub
Silver Colored Fascia in Stainless Steel
6 Programs and 5 Options
Bosch is an excellent line of dishwashers. Their 18-inch product is no exception.
It features a third rack for silverware. You will have more room for your pots and pans on the bottom rack.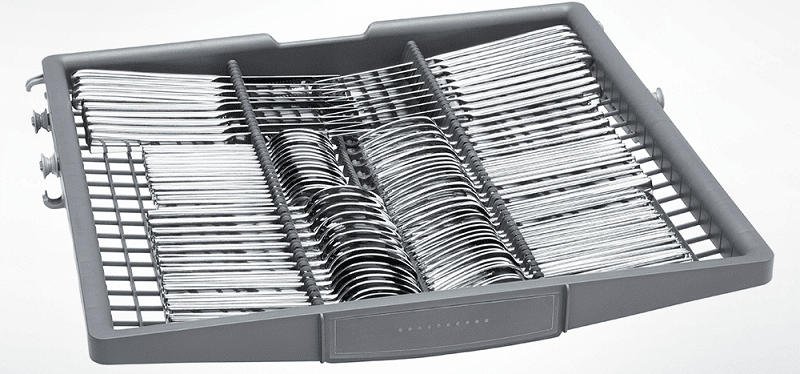 Bosch Dishwasher Third Rack For Silverware
You may need that room in a smaller dishwasher, and the third rack eliminates the basket on the bottom rack.
There are plenty of cycles in a Bosch. The China & Crystal wash cycle is not an included feature.
Bosch also offers condensation dry only. It's a fancy term for residual heat mixed with JetDry.
Beko and Whirlpool have heated dry. Miele offers the best in CleanDry feature.
Best Overall: Miele 18-Inch Dishwasher G4780SCViAM - $1,499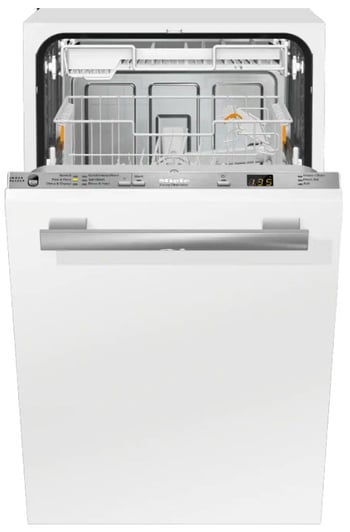 Features:
Fully integrated dishwashers
Hidden controls
Cutlery tray
QuickIntense Wash
FlexiTimer with EcoStart
ADA Compliant
The best dishwasher sold anywhere is a Miele.
The only part not manufactured directly or in-house are the rollers under the racks, so the service rate on a Miele is traditionally less than any other dishwasher listed - except last year.
Miele also has a unique drying system. The dishwasher lets air into the exterior of the sidewall. The steam on the inside becomes attracted to the side and dissipates as water.
If you exercise outside on a cold day, the steam emanating from your head is attracted to the cold in the same way.
They incorporate important features you would not normally know. Their double insulated pump cuts the chances of leaking considerably.
If you're buying this for the 34th floor of your condo in downtown Boston, it could be an important feature. (Bosch does have the Aquastop, and Beko has an overfill sensor, but Miele is a bit better).
In terms of washing, you have three larger arms to spray a bigger radius in the dishwasher.
Like Bosch, you have the third rack with better cycles like China/Crystal and a faster QuickIntense Wash.
Now the only issue (beside the solenoid in 2019): The price in stainless is over $1,700 in stainless steel (panel is extra).
Key Takeaways
First, you have good choices. There is a reason to buy all 4.
For a panel-ready dishwasher, Beko is $190 less than other major brands. It's a good all-around dishwasher as well in stainless at $799.
Whirlpool has a good warranty, specifications as well as surprisingly good features like a china crystal setting.
Miele is the best for washing, drying for features, rack configuration, and just about any other way you measure dishwashers - except the price.
Bosch is another excellent all-around the dishwasher and is the quietest on this list at 44 DB. You have a third rack and decent features as well.
Dishwashers are reliable, but you will need service. Inquire before you buy.
Why You Should Consider an 18-Inch Dishwasher in a Smaller Kitchen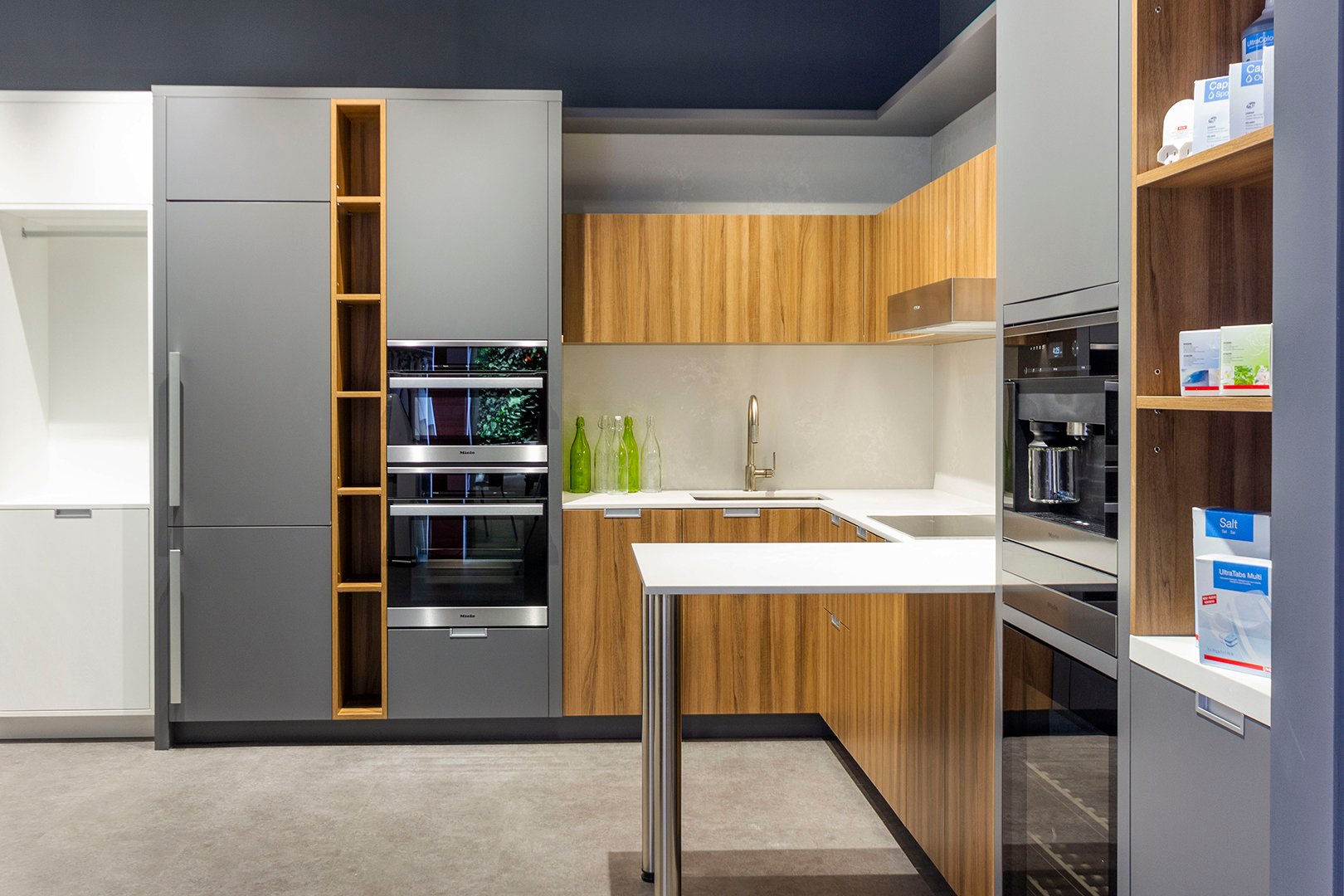 City Solutions Appliance Kitchen Featuring Paneled Miele 18-Inch Dishwasher at Yale Appliance in Framingham
If you have a small kitchen or need space, an 18-inch dishwasher is an excellent consideration. Unlike smaller stoves or refrigerators, you still have decent brands and options.
You also do not lose that much space in an 18-inch versus 24-inch dishwasher, so it is a much better option than other smaller appliances for functionality.
Small Cooking Appliances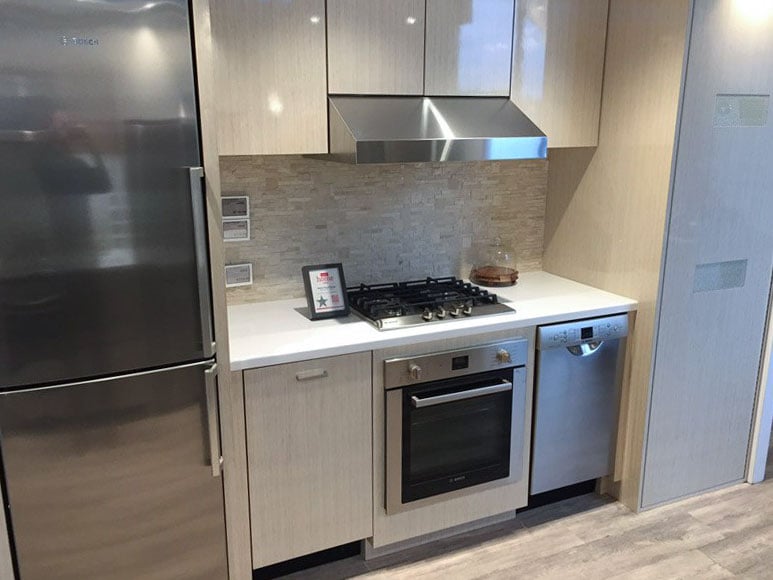 Small Apartment Display at Yale Appliance in Boston
Now compare this versus a gas or electric stove. You do not have the brand selection.
Only Viking, BlueStar, and Beko manufacture more upscale products in gas, but you pay more for fewer features.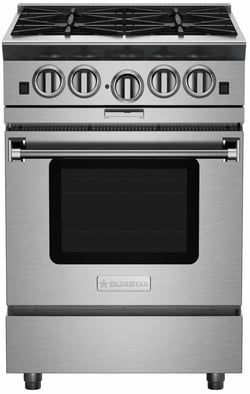 BlueStar Platinum Series 24-Inch Gas Range
Electric has even fewer choices and no provisions for induction.
You can't buy a self-cleaning 24-inch range in gas or electric.
You can buy a cooktop/wall oven with features, but it's over $2,000 for the setup.
Small Refrigerators
When you cut to size in a refrigerator, you decrease your ability to store wider dishes.
Most refrigerator cabinet sizes are 36 inches for a normal house. Thirty inches is the standard in a smaller apartment.
Cutting to 24-inch sizes limits your options as well.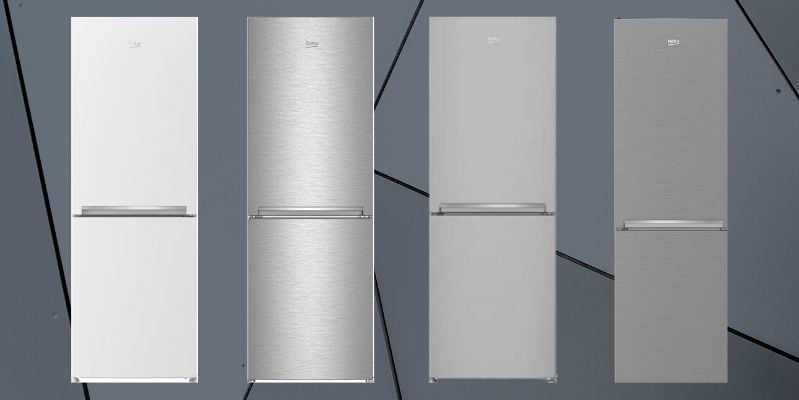 Beko 24-Inch Refrigerators
If you're just planning your small kitchen, your best appliance to narrow is a dishwasher versus a smaller range or refrigerator.
Frequently Asked Questions
1. What size is a standard dishwasher?
Dishwashers fit cabinets of 24 and 18 inches wide. Twenty-four inches is considered standard.
2. How long should a dishwasher last?
Your dishwasher should last an average of 6-10 years.
3. What are the best dishwasher brands?
Generally, Bosch, KitchenAid, and Miele are the top three best dishwasher brands. Beko (made by Blomberg), GE, Samsung, Asko, and LG are worth considering.
4. Should I install a dishwasher myself?
You can install a dishwasher yourself. It's a 110-volt appliance, so you don't need to be an electrician. However, you have to install it correctly, so it doesn't leak.
Additional Resources
For more information about dishwashers, including 18-inch dishwashers, read The Yale Dishwasher Buyers Guide Dishwasher Buying Guide. Over 700,000 people have read a Yale Guide.
Related Articles:
Why Should You Trust Us?
It seems that every appliance review has nothing but glowing comments about almost every product, yet you read customer reviews and they are almost universally bad.
We are here to fill in the disconnect. We'll give you the best features, and the drawbacks as well, including reliability based on over 37,000 calls performed by our service team just last year. Our goal is to give you ALL the information so you know what's right for you.
Please consider subscribing or adding to the conversation in the comments below. We appreciate you stopping by.
A Note About Pricing
Pricing on this blog is for reference only and may include time sensitive rebates. We make every attempt to provide accurate pricing at time of publishing. Please call the stores for most accurate price.