Best 18-Inch Dishwashers (2022 Update)
Contrary to what you might think, you have some decent dishwasher options.
At least that was what I wrote in 2020.
Throw in the word "available" in front of the best 18-inch dishwashers, and now you only have two choices.
However, if you are just starting to plan a kitchen project that's a year out, you have more choices.
This article will cover your best options if you need a dishwasher now or later based on features and reliability.
Ultimately, you will better understand the best 18-inch dishwasher for your kitchen or pantry.
I also included a section on kitchen design and why a smaller 18-inch dishwasher is better than a smaller stove or refrigerator.
Let's get started.
Most Important Factors to Consider When Choosing a Dishwasher
Dishwasher Reliability
When choosing a dishwasher, look at the racks, best drying methods, and the fastest cycle times.
However, the first, most crucial factor you should consider is reliability.
Dishwasher Reliability December 2020 to October 2021
The following service rates are based on a minimum of 90 units and a sample of over 8,000 pieces.
| | |
| --- | --- |
| | Service Rates |
| LG | 1.7% |
| Thermador | 3.6% |
| Whirlpool | 4.1% |
| JennAir | 5.3% |
| KitchenAid | 5.5% |
| Miele | 8.9% |
| Fisher & Paykel | 9.9% |
| Bosch | 10.1% |
| Beko | 10.3% |
| Café Appliances | 10.7% |
| GE Profile | 12.2% |
| Asko | 12.5% |
| Samsung | 18.5% |
| Grand Total | 12.8% |
This table requires some explanation:
The dishwashers in this article are all more reliable than the average. KitchenAid and JennAir don't produce an 18-inch dishwasher.
You won't find an available LG or Whirlpool 18-inch dishwasher.
Dishwashers are reliable, but you should know who can fix your appliances before buying them.
A reliable product still breaks down on occasion. This industry is notorious for its lack of available service technicians.
Read More: Most Reliable Dishwashers
Dishwasher Quietness
I always thought a dishwasher should just wash dishes, but that is assumed since most do.
Quietness is the most asked question in dishwasher purchases - especially if your kitchen is open to your living room.
Forty-four decibels (a measure of sound) is the threshold of quietness for a dishwasher.
Bosch and Miele meet that standard, but the Monogram and the Beko are slightly off at 46 and 48 decibels (dB).
Listen to the video below showcasing 39, 44, 50, and 55-decibel dishwasher sound levels.
Short on time? Get our free Dishwasher Buying Guide
Best 18-Inch Dishwashers (2022 Update)
Most Available: Beko DIS25842 - $879
In Stainless Steel: Beko DDS25842X - $929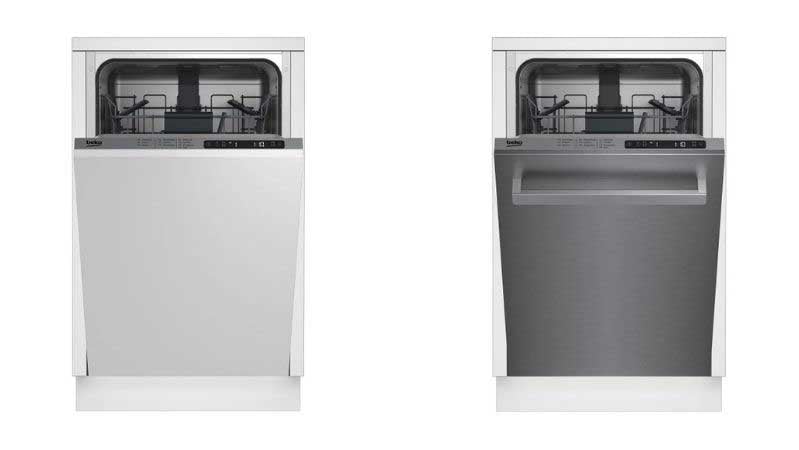 Beko has been one of the most successful companies since the pandemic in 2020.
Availability has been one of the reasons. You can buy one and have it delivered the same week rather than wait six months to a year for Miele or Bosch.
Beko has a competitive dishwasher, especially if you're placing a panel on the front at $879. It's roughly $370 cheaper than any other dishwasher on this list.
The features like three spray arms heated dry, and an adjustable top rack are also worthwhile. You even have the third rack for silverware.
However, it is louder than 48 dB.
Also, Beko uses condensation dry or the heat from the wash, plus JetDry, and time. It works well on dishes but not as well on less-dense items like plastics.
Best Overall: Bosch SPX68U55UC - $1,149
Panel-Ready: Bosch SPV68B53UC - $1,249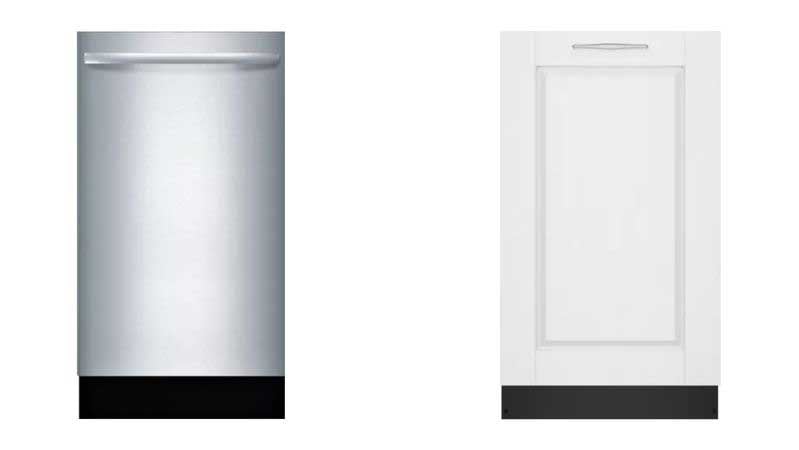 Bosch is an excellent line of dishwashers. Their 18-inch product is no exception.
It also features a third rack for silverware. You will have more room for your pots and pans on the bottom rack.
You may need that room in a smaller dishwasher, and the third rack eliminates the basket on the bottom rack.
There are plenty of cycles in a Bosch, although you do not have a crystal cycle.
You also have Wi-Fi through the HomeConnect app, so you can see the time remaining on the cycle through an app on your phone.
You can also turn the dishwasher on or off remotely as well. Smart functionality is not as important in a dishwasher as a stove. A quiet dishwasher will save you from opening the dishwasher before the cycle is over.
Bosch also offers condensation dry only. They call it PureDry since the dishwasher heats hotter, so the coolness of the steel pulls away the water from the dishes.
Their 800 series normally include the better CrystalDry using volcanic elements to absorb moisture and emit heat.
However, CrystalDry is not available in this dishwasher.
Best Premium: Miele G 5892 SCVi SL - $1,999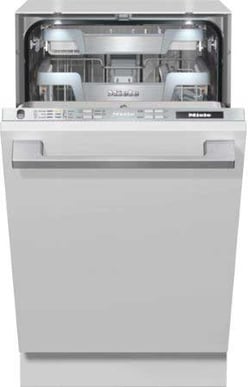 The G 5892 SCVi SL is a great dishwasher and the best of Miele's two models ranging from $1,,299 to this one at $1,999.
Miele also has a unique drying system. The dishwasher lets air into the exterior of the side wall. The steam on the inside becomes attracted to the side and dissipates as water.
If you exercise outside on a cold day, the steam emanating from your head is attracted to the cold similarly.
They incorporate important features you would not normally know. Their double insulated pump cuts the chances of leaking.
It could be an important feature if you're buying this for the 34th floor of your condo in downtown Boston (Bosch does have the AquaStop, and Beko has an overfill sensor, but Miele is a bit better).
In washing, you have three larger arms to spray a bigger radius in the dishwasher.
Like Bosch, you have the third rack with better cycles like Crystal and a faster QuickIntense Wash of 58 minutes for normally soiled dishes.
Best Service Network: Monogram ZDT165SIL11 ($1,500) and Profile PDT145SSLSS ($799)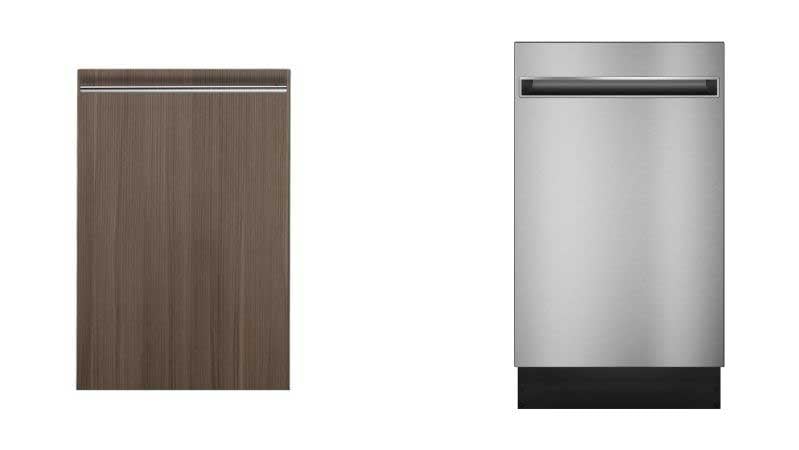 I included two GE lines in this article because the Monogram is available, and GE has its own service network.
You may be reading this outside Boston. Most dealers do not have their own service, so you will have problems with Beko, Miele, and Bosch in certain parts of the country.
The Monogram is a bit expensive for the features at $1,500. It is slightly over the quietness standard at 46 decibels, but they have a grinder at the bottom.
With a grinder, you don't have to clean a filter at the bottom like the others.
Monogram also has many cycles and options, including a slightly better heated dry.
Profile is not as available with fewer cycles and options. It's also 47 dB and uses condensation drying. However, it is almost 50% cheaper than the Monogram at $829.
Key Takeaways
First, you have good choices, yet only two are available.
For a panel-ready dishwasher, Beko is $300 less than other major brands. It's a good all-around dishwasher as well in stainless around $930.
Miele is the best for washing, drying, rack configuration, and unique features. However, it's expensive.
Bosch is another excellent all-around dishwasher and is the quietest on this list at 44 dB. You have a third rack and decent features as well.
Monogram is available with more features than the Beko. It's your only other available choice for an 18-inch dishwasher, at least in Boston.
Dishwashers are reliable, but you will need service. Inquire before you buy.
Why You Should Consider an 18-Inch Dishwasher in a Smaller Kitchen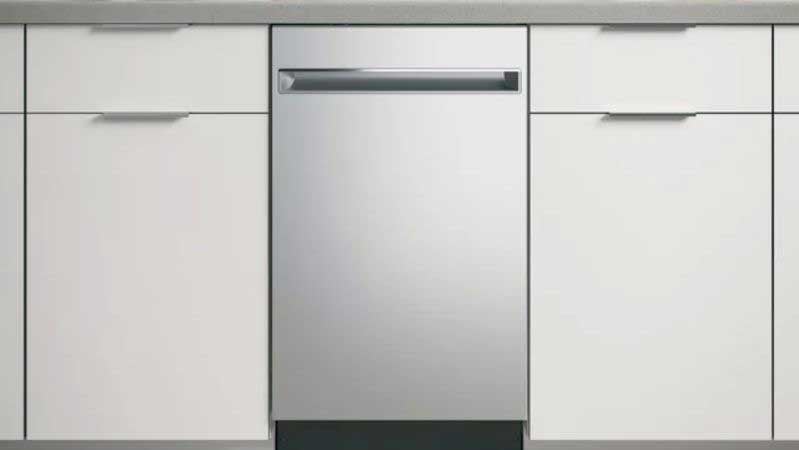 Profile 18-Inch Dishwasher
Well, I can't give you choices, so I may as well make you feel better about buying an 18-inch dishwasher.
If you have a small kitchen or need space, an 18-inch dishwasher is an excellent consideration. Unlike smaller stoves or refrigerators, you still have decent brands and options.
You also do not lose that much internal space in an 18-inch versus 24-inch dishwasher, so it is a much better option than other smaller appliances for functionality.
Small Cooking Appliances
You do not have the brand selection with small cooking appliances. Only Viking, BlueStar, and Beko manufacture more upscale products in gas, but you pay more for fewer features.
Electric has even fewer choices and no provisions for induction. You can't buy a self-cleaning 24-inch range in gas or electric.
You can buy a cooktop and wall oven with features, but it's over $2,000 for the setup.
Small Refrigerators
When you cut down the size of a refrigerator, you decrease your ability to store wider dishes.
Most refrigerator cabinet sizes are 36 inches for a normal house. Thirty inches is the standard in a smaller apartment.
Cutting to 24-inch sizes limits your options as well.
If you're just planning your small kitchen, your best appliance to narrow is a dishwasher versus a smaller range or refrigerator.
Frequently Asked Questions
1. What size is a standard dishwasher?
Dishwashers fit cabinets 24 and 18 inches wide. Twenty-four inches is considered standard.
2. How long should a dishwasher last?
Your dishwasher should last an average of 6-10 years.
3. What are the best dishwasher brands?
Bosch, KitchenAid, and Miele are the top three best dishwasher brands. Beko (made by Blomberg), GE, Samsung, Asko, and LG are worth considering.
4. Should I install a dishwasher myself?
You can install a dishwasher yourself. It's a 110-volt appliance, so you don't need to be an electrician. However, you must install it correctly, so it doesn't leak.
Additional Resources
For more information about dishwashers, including 18-inch dishwashers, read The Yale Dishwasher Buyers Guide Dishwasher Buying Guide. Over 1 million people have read a Yale Guide.
Related Articles:
Why Should You Trust Us?
It seems that every appliance review has nothing but glowing comments about almost every product, yet you read customer reviews and they are almost universally bad.
We are here to fill in the disconnect. We'll give you the best features, and the drawbacks as well, including reliability based on over 37,000 calls performed by our service team just last year. Our goal is to give you ALL the information so you know what's right for you.
Please consider subscribing or adding to the conversation in the comments below. We appreciate you stopping by.
A Note About Pricing
Pricing on this blog is for reference only and may include time sensitive rebates. We make every attempt to provide accurate pricing at time of publishing. Please call the stores for most accurate price.