How to Buy a Professional Range: The Definitive Guide
August 12th, 2022 | 18 min. read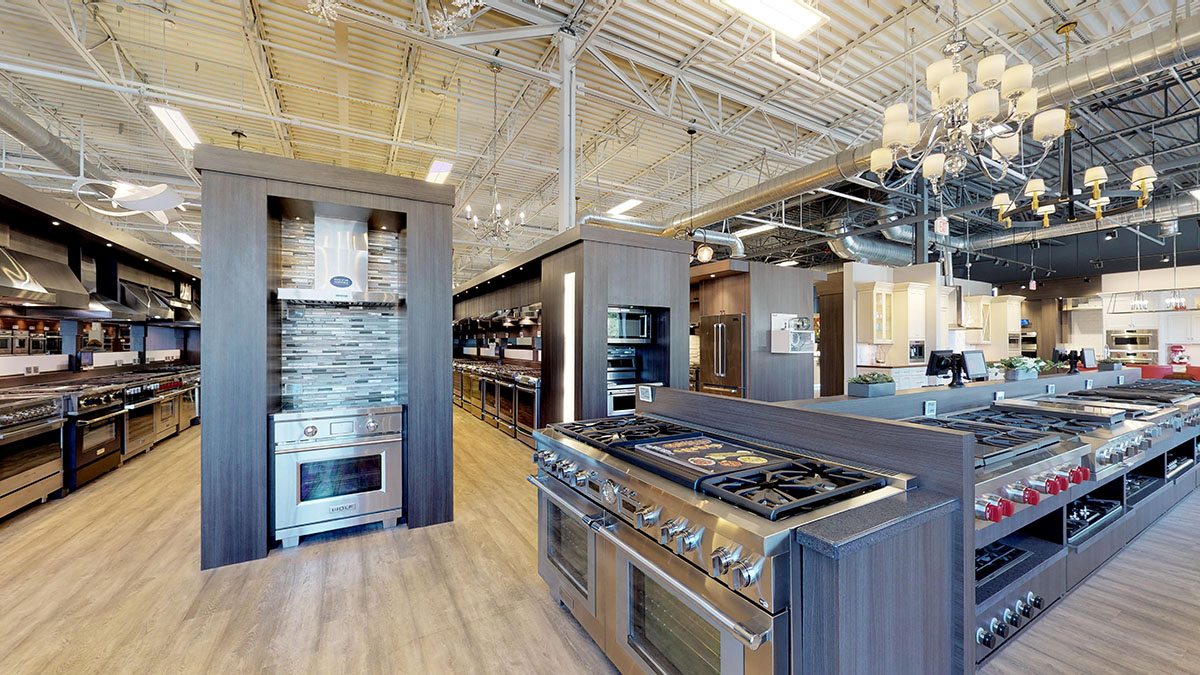 A professional range is not easy to buy.
They all differ in terms of burner output, fuel types, and cooktop configurations, such as having a grill, griddle, or French top.
However, professional (pro) ranges have changed over the last ten years with more residential features.
Now, it's the most confusing single appliance to buy with no single best brand, model, or style for everyone.
Therefore, throughout this article, we will ask you one question: "How do you cook?"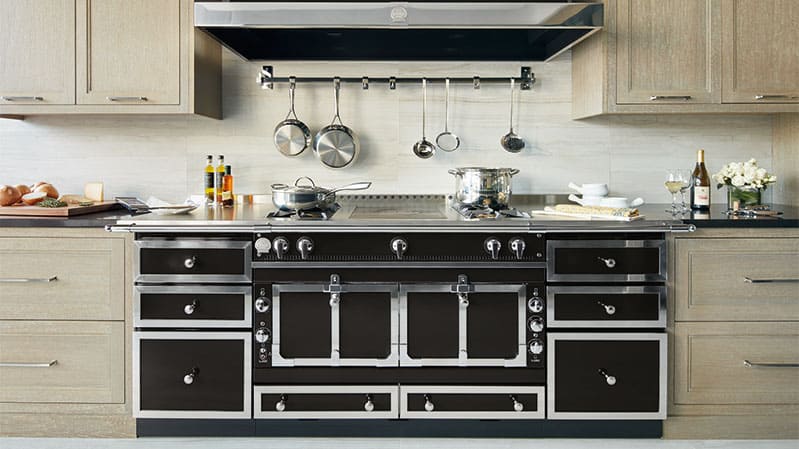 La Cornue Château Pro Range
This article will show you the best features to consider on the cooktop, oven, and controls.
This blog is a lengthy article, probably our longest, with references to commercial and regular gas ranges.
I have included some videos and links to guide you in determining which range is right for you.
Please don't let a salesperson just tell you what to buy. You can do so much better.
Before we jump into how to buy a pro range, let's define what a pro range is and is not.
What Is a Professional Range?
A pro range is defined in four ways:
1. Multiple High Output Burners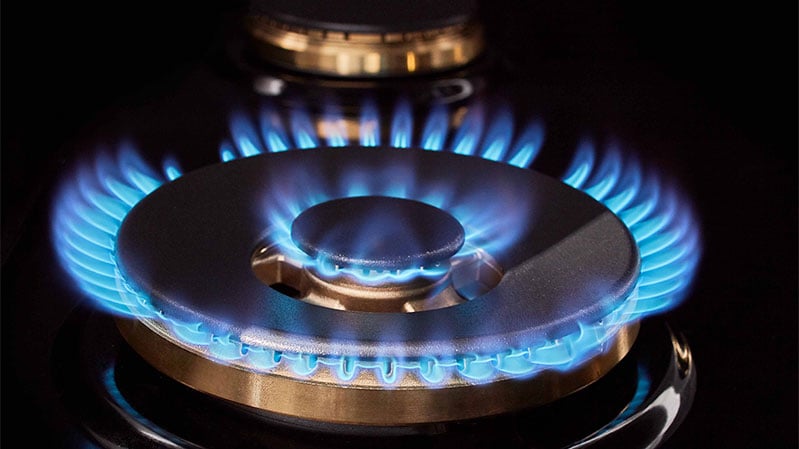 SKS Pro Range Burner
Burner outputs have increased over the years from 15,000 BTU (British Thermal Units) max output to 25,000 BTU, with the average output being 18,000-23,000 BTU depending on the manufacturer.
Most high-end regular gas ranges do have two high output burners ranging from 15,000-21,000 BTU.
You will learn a bit more about burner output when we compare ranges in the end.
2. Stainless Steel Construction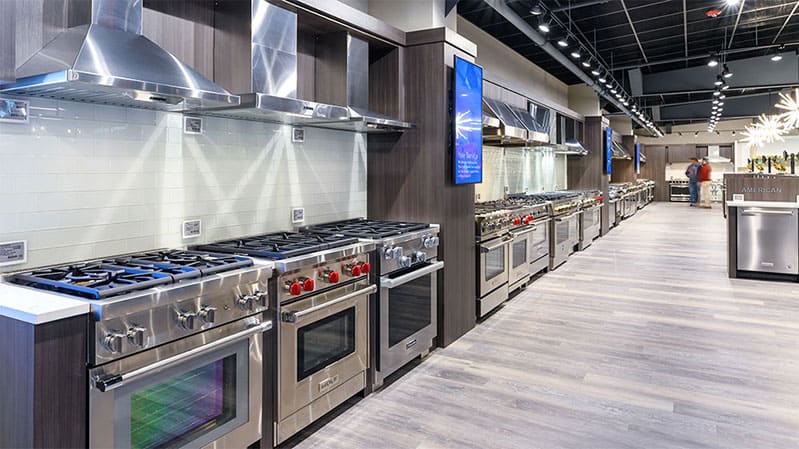 Professional Ranges at Yale Appliance in Hanover
Most ranges are now stainless. However, a pro range will have better knobs and a heavier gauge of stainless for more of that restaurant-style look.
3. Infrared Broiler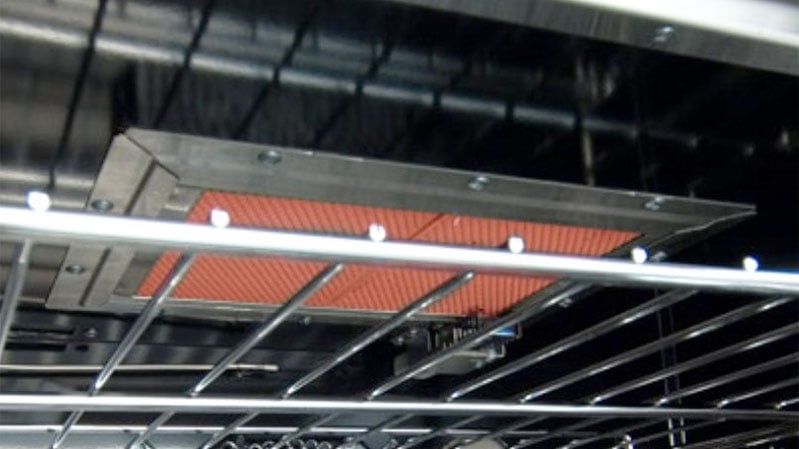 BlueStar Pro Range Infrared Broiler
Maybe because my mom broiled everything when I was a kid, but infrared is a much better broiler than the standard types.
Infrared is a more intense directed heat for better searing than the diffused heat of a standard broiler.
4. Size and Options
La Cornue Professional Range Featuring a French Top and One Power Burner
A standard stove is 30 inches, with only a few 36-inch models. Pro ranges are available in 30 inches but also in larger 36, 48, and 60-inch widths.
A pro range is also available with an integrated griddle, grill, and French top options as well.
What a Professional Range Is Not
If I showed you two almost identical-looking pictures, would you be able to pick which one was a pro range?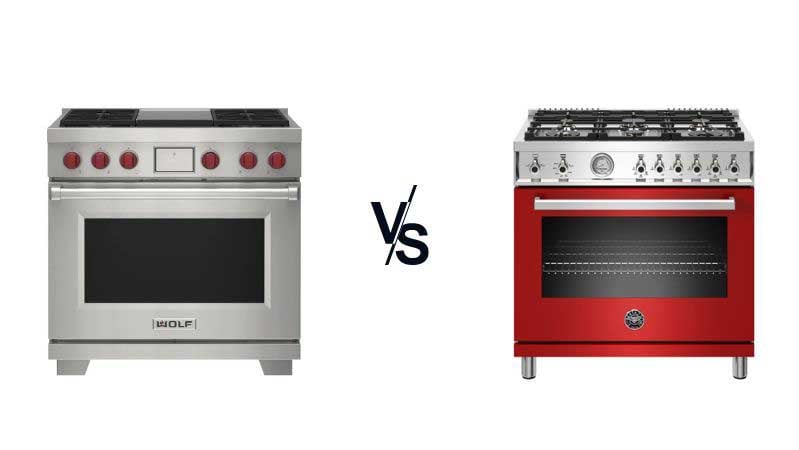 Brands like Bertazzoni, AGA, Ilve, and Fisher & Paykel manufacture large "pro-style," 36 and 48-inch gas ranges.
Pro-style ranges are much less expensive to buy than a pro range, but they lack the output of a pro with only one high output burner.
You also don't have the option of having a grill, griddle, or French top.
In the oven, the broilers are lower powered with a standard of 11,000 BTU vs. the 20,000 BTU infrared broilers in pro ranges.
You also lack the capacity and modes like self-cleaning in the pro-style range compared to a pro range.
If you value price over performance, then a pro-style range may be the best option.
Always check specifications first and compare them to any pro range to see how they perform.
Read More: Professional vs. Pro-Style Gas Ranges
How to Buy a Professional Range: The Definitive Guide
The most crucial factors to consider when buying a pro range are:
Size
Burners and BTU Output
Stovetop Configuration
Oven Controls
Oven Functionality
Finish
Venting Options
Rangetop and Wall Oven vs. Pro Ranges
Pro Ranges vs. Commercial Ranges
Size
Your first step is looking at size.
Pro Ranges are available in 24, 30, 36, 48, and 60-inch sizes, with 30 and 36 inches being the most popular.
Kitchen Design Tip: Stoves follow cabinet sizes. So, a 36-inch pro range fits into a standard 36-inch kitchen cabinet.
Feature differences between sizes:
24-Inch Pro Ranges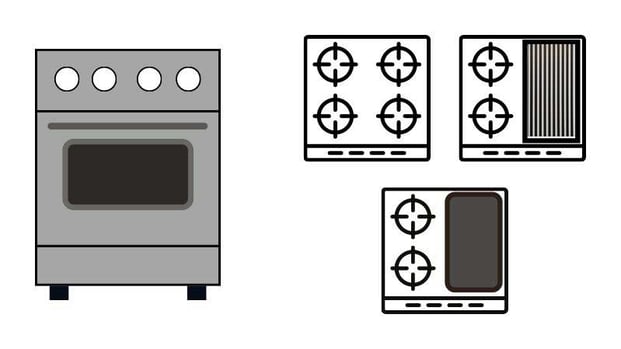 Twenty-four-inch pro ranges are smaller ranges for apartments, smaller vacation homes, and galley-style kitchens.
If you need a 24-inch and want a professional range, BlueStar is your only choice.
BlueStar is not a bad choice, as you will find out later.
30-Inch Pro Ranges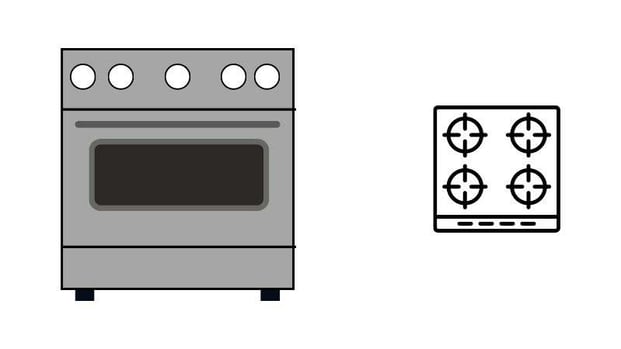 A 30-inch range is the most common size. It has the same four-burner configuration as a 24-inch pro range.
Although, a 30-inch professional range has a larger oven and a vast selection of controls and features, every brand sells a 30-inch stove.
Read More: Best 30-Inch Professional Gas Ranges
36-Inch Pro Ranges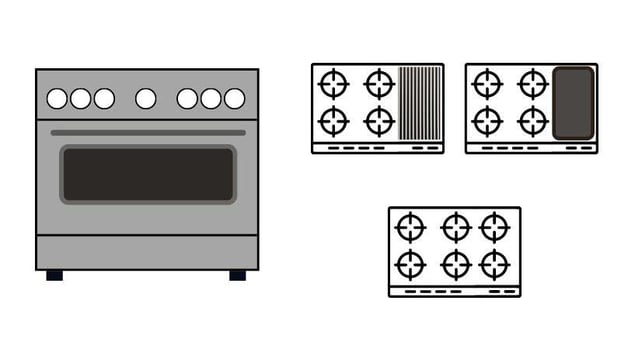 Thirty-six-inch ranges have a larger oven. You can also choose to have a grill, griddle, or six burners.
Read More: Best 36-Inch Professional Ranges
48-Inch Pro Ranges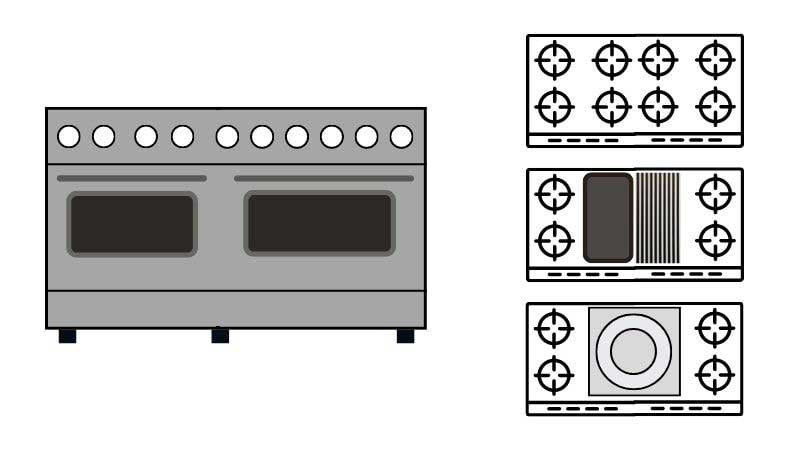 Forty-eight-inch pro ranges have a second oven with more options. You can have a steam oven, speed oven, and warming drawers instead of the two ovens.
The grills and griddles can now be larger at 24 inches, and you can buy a combination of a grill and griddle.
You have an induction option in SKS (Signature Kitchen Suite), Thermador, and Fisher & Paykel.
Fisher & Paykel will offer a larger 24-inch induction option, whereas the other two are only 12-inch modules.
SKS also offers a sous vide water bath for precision boiling in a bag.
You will learn the features of each later in the article.
Read More: Best 48-Inch Professional Ranges
60-Inch Pro Ranges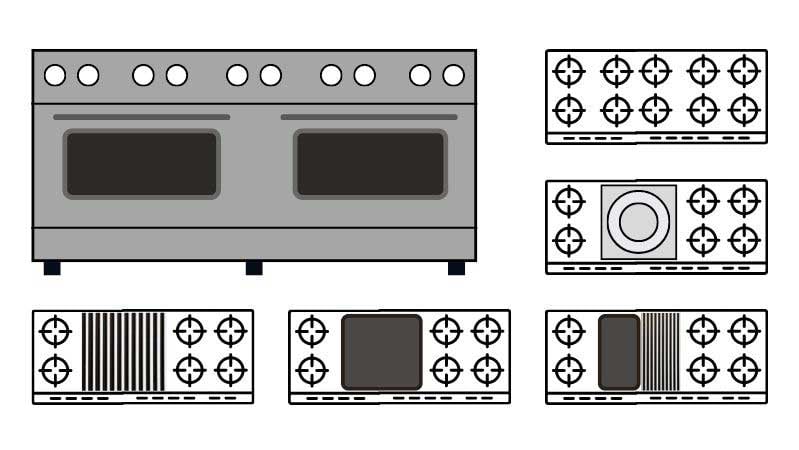 The second oven is substantial in the 60-inch pro range.
You also have up to 10 different cooktop combinations instead of 8 options in a 48-inch.
BlueStar, Wolf, and La Cornue (in theory) all have burner combinations.
Before you look at burner outputs, simmering capabilities, grills, and a griddle option, you should understand the difference between an open and sealed burner and why it matters.
Read More: Best 60-Inch Pro Ranges
Burners
An open burner typically is hotter than a sealed burner because there is more surface area for oxygen flow.
BlueStar and Capital are both open burners with 25,000 BTU max output in a few burners.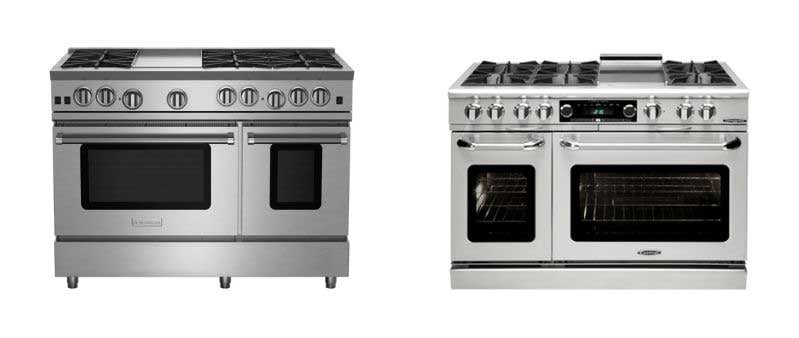 Viking, Fisher & Paykel, and SKS have the highest with sealed burners at 23,000, but most pro ranges' sealed burners are typically 15,000-20,000 BTUs (British Thermal Units).
Hestan and Wolf have models with larger 30,000 and 35,000 BTU burners, respectively, but you lose a set of burners.
Thermador is 18,000 BTU for half their burners, with 15,000 for the other half. Wolf in all gas is 15,000 BTU.
JennAir and Wolf in dual fuel have a combination of 20,000, 18,000, and 15,000 BTU.
Cleaning
In terms of cleaning, sealed burners keep spills on the top, making it easier to wipe down, but you have to scour the burner.
The easiest sealed burner to clean is the Thermador Star burner because it's raised from the surface for easier cleaning underneath.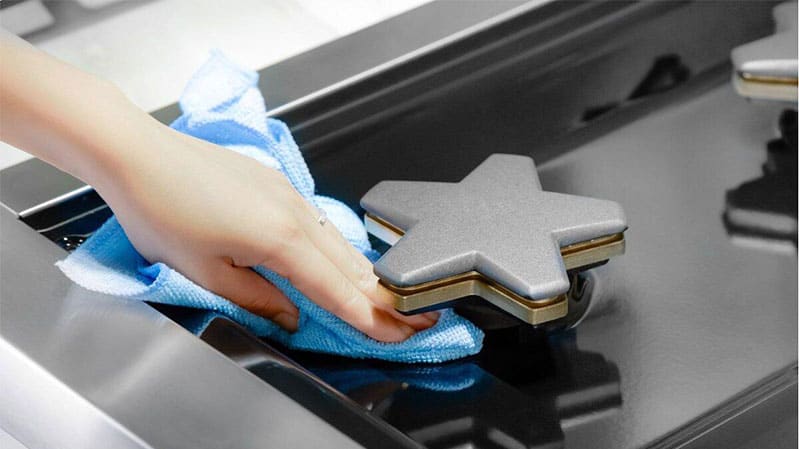 Thermador Pro Range Star Burner
You can disassemble an open burner and clean it in the sink just as easily. However, with larger spills, you have to clean more.
Simmering Capability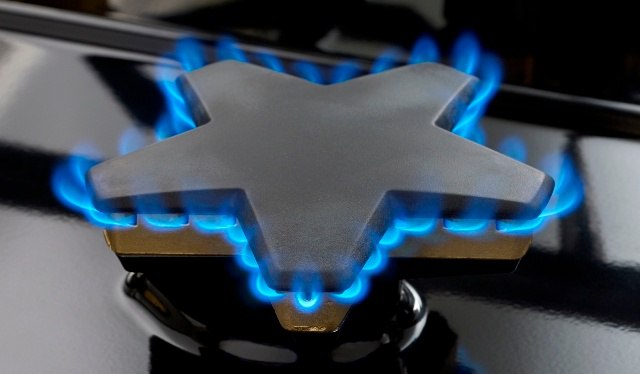 Thermador Pro Range Star Burner Set to Simmer
Thermador has the best simmer burners at 100 BTUs on two of their burners, but the burners turn on and off for that average temperature.
The new SKS Ultralow has two consistent simmers at 100 BTU, while Wolf has a 340 BTU simmer on all their burners.
Stovetop Configuration
Griddle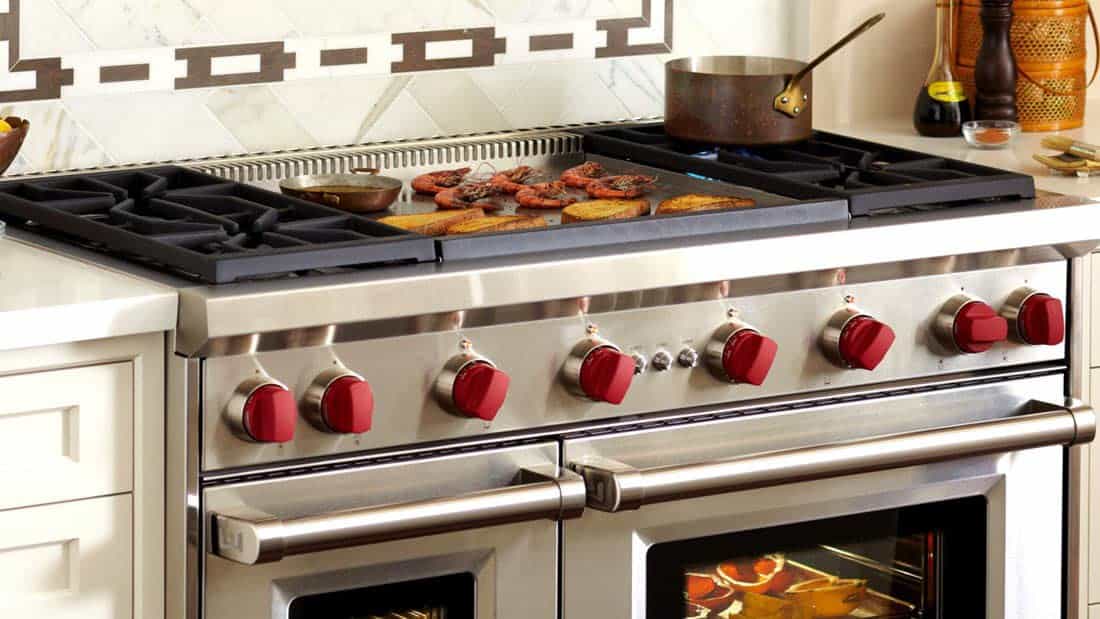 Wolf Pro Range 24-Inch Infrared Griddle
Griddles are like grills. Griddles, powered by infrared, heat up faster.
However, JennAir, Viking, and SKS have a chromium finish and are the easiest to clean than any other.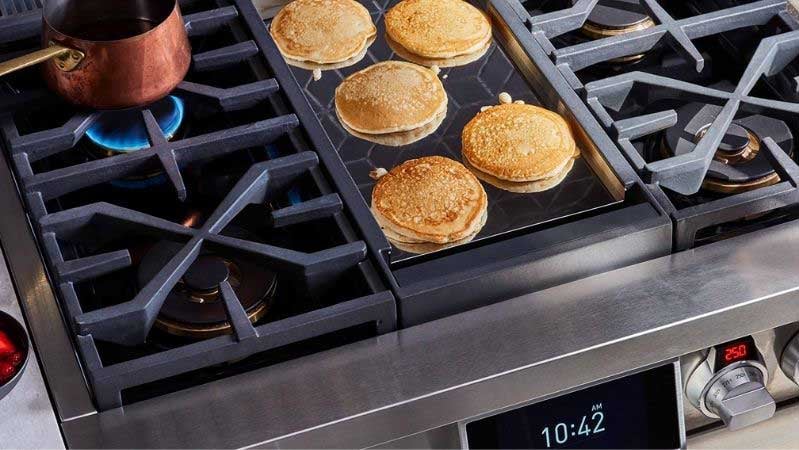 SKS Pro Range Griddle and Gas Burners
Thermador and JennAir are electric for a consistent temperature, but electric takes more time to heat than gas or infrared.
Most people assume griddles only cook pancakes and eggs.
When I was a kid, Yale was on Canal Street near the Garden with a diner across the street.
I watched the owner cook omelets, hot dogs, hamburgers, potatoes, bacon, grilled cheese, and eggs on a griddle about the size of a desk - the guy could cook anything on a griddle.
You can always buy a portable griddle for almost any range, but a built-in griddle will perform better because it maintains a consistent temperature.
You can buy a griddle in 12 or 24 inches in the larger 48 and 60-inch sizes.
Read More: Should You Buy a Griddle for a Professional Range?
Grill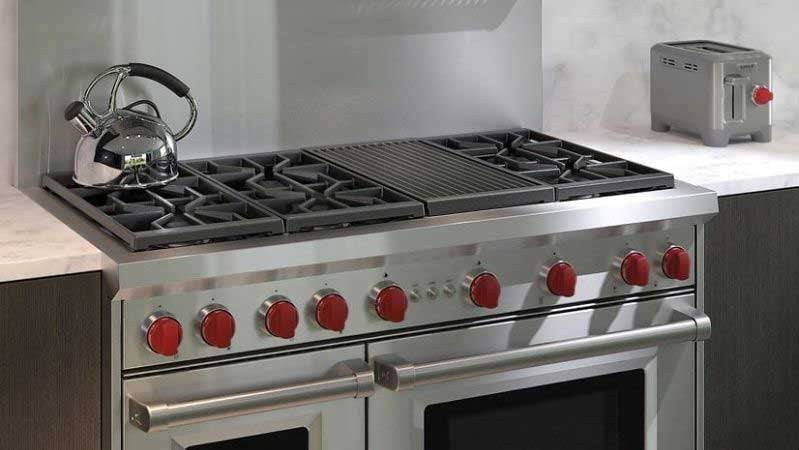 Wolf Pro Range with the Infrared Charbroiler
The infrared style is the best grill for a professional range due to its directed heat and sears quickly.
Fun Tip: The infrared grills are similar to the sear element of a high-end Lynx grill. Lynx is 23,000 BTU compared to 16,000 BTU for the rangetop in a smaller space.
Infrared is much easier to clean than a gas or electric grill. The drippings are evaporated rather than you having to clean the burners.
Viking's and BlueStar's pro grills use regular gas, while Thermador uses electric.
Miele, JennAir, and Wolf employ an infrared grill.
Once again, you can have a 24-inch grill in the larger 48 and 60-inch sizes.
Remember you must have a more powerful hood with an indoor grill to ventilate your space correctly.
Read More: Professional Range Built-In Griddles vs. Grills
French Top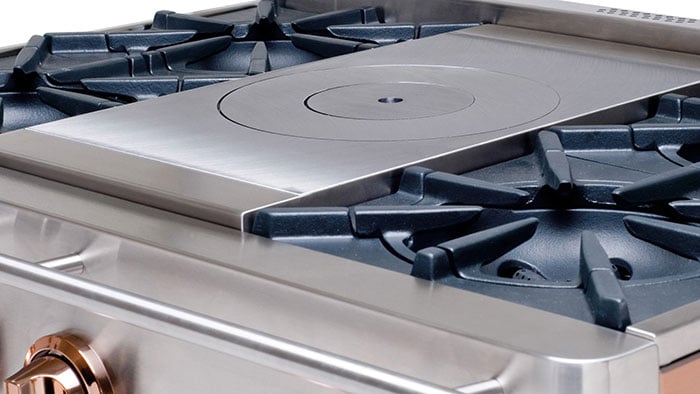 BlueStar Pro Range French Top
French top professional ranges look like griddles but have one big burner in the middle, so the outside temperature is further away from the burner or center.
Unlike the griddle, the French top is designed to be inconsistent with cooking multiple items at different temperatures, whereas a griddle is consistent.
You also leave the food in the pans on a French top versus placing the food directly on a griddle.
Wolf, BlueStar, and La Cornue all have French tops.
Read More: What Is a French Top Range and Should You Buy One?
Sous Vide Stovetop Accessories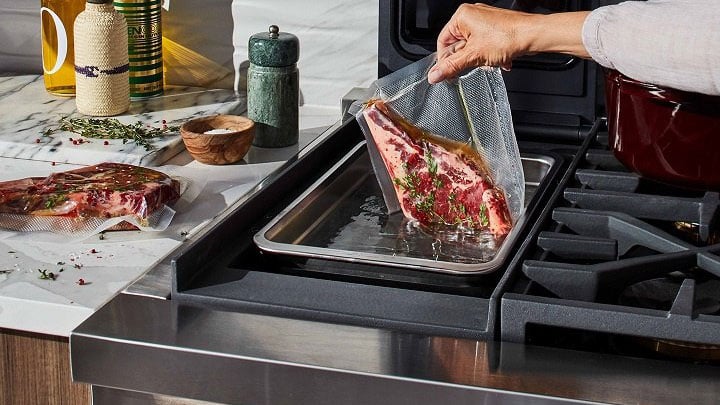 SKS Sous Vide Water Bath Panel on a Pro Range
Sous vide cooking achieves precise internal temperatures through water immersion. It's precision boiling in a bag.
Sous vide has become popular on cooking shows for its even-temperature cooking.
Right now, only Signature Kitchen Suite's (SKS) professional range, a high-end division of LG, offers sous vide.
Read More: What Is Sous Vide Cooking?
Induction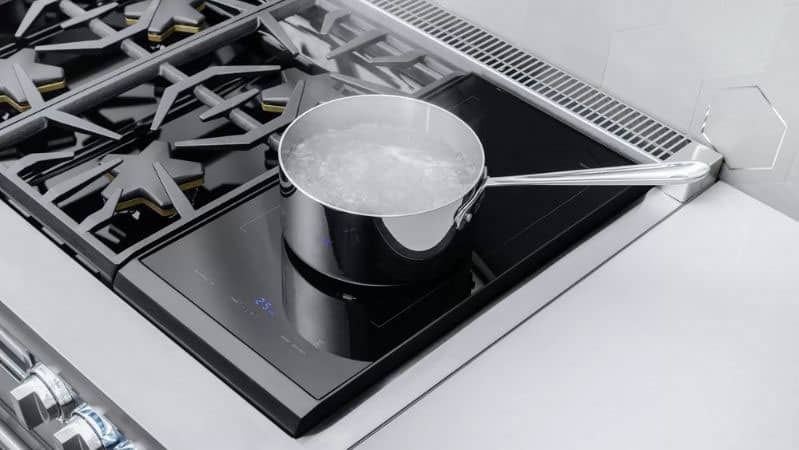 Thermador Pro Range with Induction Burners
Induction is magnetic heat.
The magnets of the induction burners excite the metal molecules in the pan, and the pan cooks the food.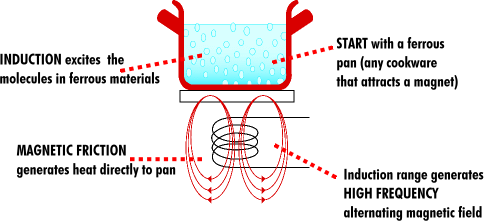 It's faster to boil with a better simmer than a pro-gas burner. It is also safer and requires less venting.
Thermador and SKS have two induction burners on a few of their pro ranges. Fisher & Paykel has the larger 24-inch with four gas burners in their pro ranges.
Induction Ranges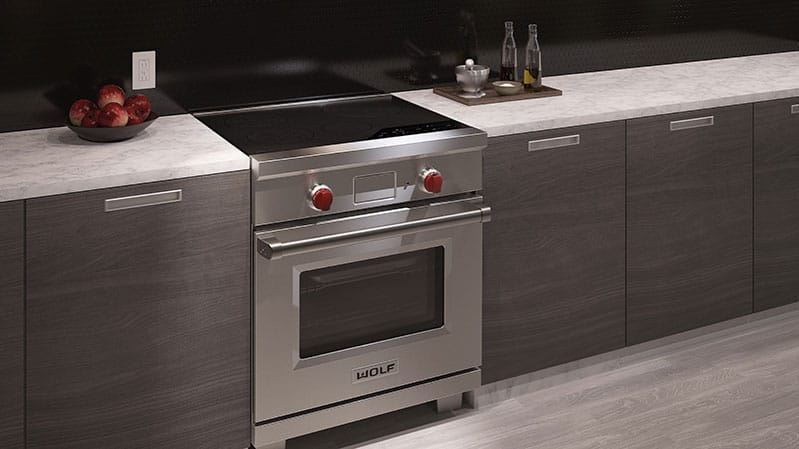 Wolf Induction Pro Range
You can also buy larger 36-inch pro-type induction ranges from Wolf, Dacor, Fisher & Paykel, and Viking.
You should consider induction over dual fuel for boiling and simmering because it is a better heat source for burners than even the hottest pro range.
However, you do not have a grill, built-in griddle, or French top capability.
The oven is electric, as well.
Gas vs. Induction
Induction is faster with a better simmer. It's more child safe because the burner needs to sense metal. It's also easier to vent.
Gas requires less power.
Many people also like to see the burner on, unlike induction.
You don't have power sharing in gas where the front burner borrows power from the back like induction.
Also, you can always light a gas range when the power is out.
Right now, you should have a sense of what you want on the cooking surface.
You have several combinations of the grill, griddle, French top, sous vide, or induction, along with the type and power of the burners.
You can even buy a range with all gas burners.
Again, the best answer is what you will use.
Let's move on.
Pro Range Oven Controls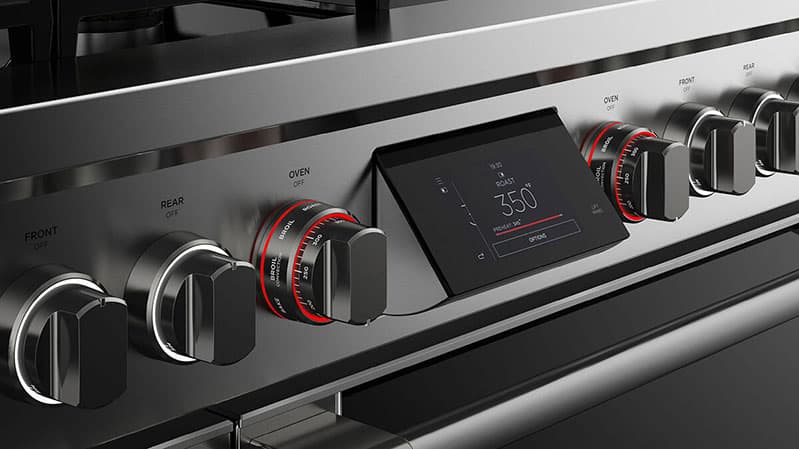 Fisher & Paykel Pro Range Controls
Oven controls run the gamut from having no controls like BlueStar, Thermador Harmony, and La Cornue to having controls completely accessible through your phone like JennAir, SKS, Wolf, and Thermador.
JennAir Culinary Center, Wolf Gourmet, and Thermador Home Connect
Some pro ranges have entered the age of Wi-Fi and smart functionality, namely SKS, Monogram, Wolf, and Thermador.
Miele, Wolf, SKS, and JennAir have guided cooking to calculate temperature and time.
All you have to do is input the food type and your preferred doneness level.
The range calculates time and temperature for you based on those factors.
Wolf even calculates rack position.
Thermador and JennAir have recipes available through their apps with tie-ins to additional cooking apps for pro ranges.
Monogram and SKS are testing services where the range will self-diagnose and send the part to the service agent.
As a service agent, that would be huge. It would eliminate errors and save time.
Oven Functionality
Gas vs. Electric Convection Ovens
Gas is better for roasting, whereas electric is more precise and better for baking.
Certain gas manufacturers have hotter infrared broilers like Thermador, Wolf, and Miele being the best.
It's also a bit more complicated than straight gas vs. electric for pro ranges.
Wolf, Thermador, SKS, and Miele dual fuel ranges have better features than their all-gas models, like better convection systems, controls, and steam and speed functionality in the Miele specifically.
Best Ovens
La Cornue Pro Range with Arched Oven Top
The best oven may be the La Cornue with its arched top for natural convection flow and temperature.
In the larger La Cornue stoves, you can choose both gas and electric ovens.
Wolf has reengineered their convection to be a blower style. Blowers deliver more air than fans for even baking.
Other ranges employ either twin or single convection fans.
In gas, BlueStar has its "ProBake" convection or element behind the fan to blow the heat across.
ProBake is more efficient than the traditional method of a baking element generating the heat from below.
Self-Cleaning
You would think self-cleaning would be a given, but commercial ranges are non-self-cleaning, as are many pro ranges.
BlueStar, La Cornue, Thermador Harmony, Capital, and Wolf pro gas ranges are not self-cleaning.
Miele, JennAir, Dacor, and Thermador Pro Grand all have self-cleaning gas ranges.
Every dual fuel professional range is self-cleaning.
Special Oven Features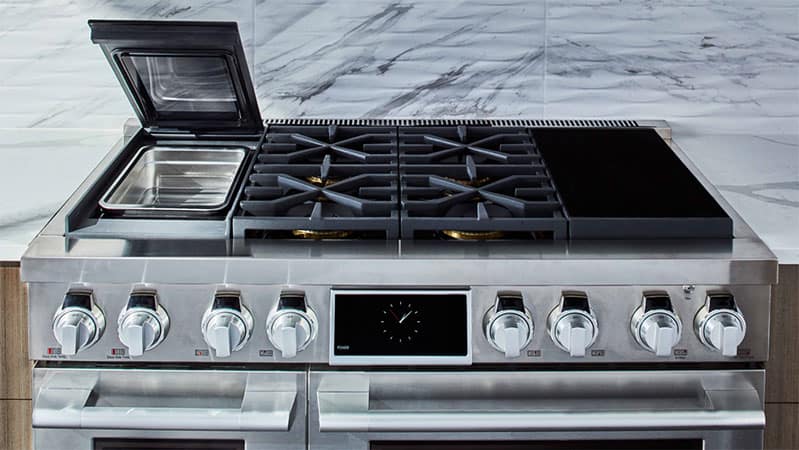 Miele, Dacor, Thermador, and now SKS have changed the standard for pro range features.
In the Thermador Grand 48 and 60-inch ranges, along with SKS in 48 inches, you have a steam oven option.
By adding moisture, steam does not bake nutrients out of the food. Instead, it adds texture and flavor.
Thermador was also the first to add a warming drawer for keeping food warm for up to three hours.
Miele's dual fuel pro range adds steam assist for bread baking.
On their 48-inch pro ranges, you also have a speed oven option and a warming drawer option.
Steam Oven vs. Steam Assist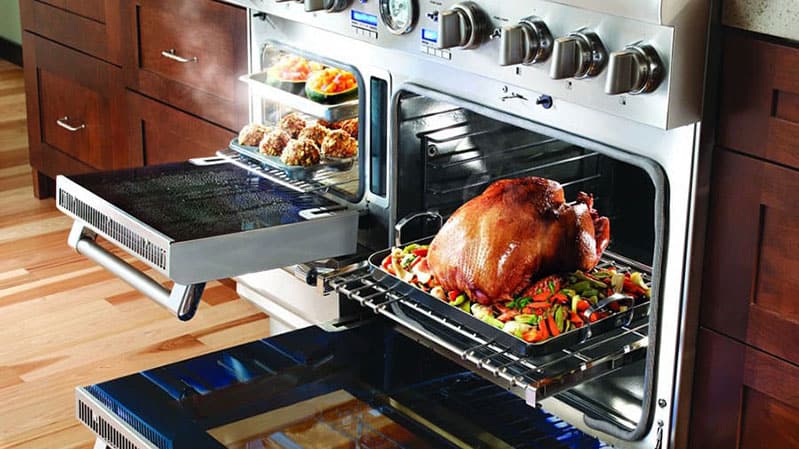 Thermador 48-Inch Pro Range with a Steam Oven
Steam is the best way of cooking.
By using steam, you are not baking nutrients out of your food like you would with radiant heat.
You can't cook a meal with steam in a steam-assisted oven. So, what does it do?
Steam assists by adding bursts of steam 1-3 times in the cooking process. It is essential for proofing bread and other baked goods.
Speed Ovens
Speed is a convection oven with a microwave boost. You can use a speed oven as an oven, microwave, or a combination of both. The combination will save you half the time without the rubbery microwave texture.
Speed vs. Steam Ovens
Speed ovens will cook faster than a steam oven. However, food prepared in a steam oven will be more flavorful.
Colors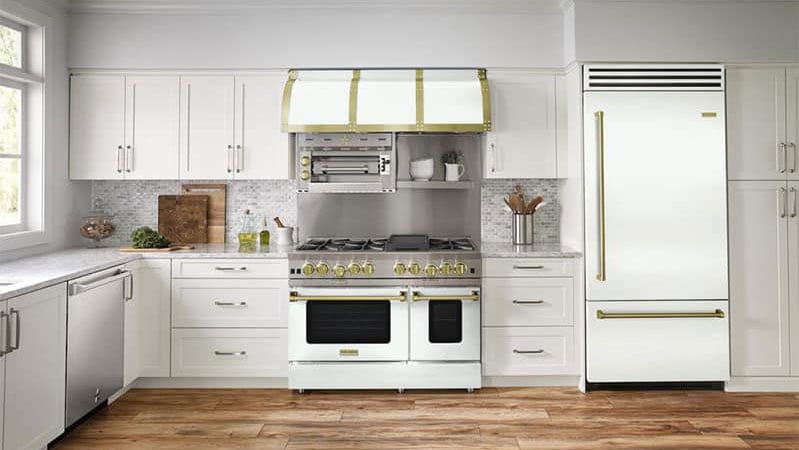 BlueStar 48-Inch Pro Range in White
Most pro ranges come in stainless steel only, like Miele, Wolf, Thermador, Monogram, and JennAir.
BlueStar has 1,000 assorted colors and ten trim styles.
La Cornue can be customized, too, with 50 colors and available trims options.
Both companies will allow you to customize your specific paint color as well.
Viking has 16 colors and brass trim options.
Dacor has a black finish.
Read More: Best Alternatives to Stainless Steel for Your Kitchen
Reliability
Pro ranges have a higher service rate than any appliance at 15.5% in the first year.
Then again, a pro range can be equivalent to one and a half to two ranges in some cases.
They require proper installation, minor adjustments, and training after you start using one.
Still, you should understand who can service your new range before you buy it.
Pro ranges are more complicated than regular ranges, and not every agency can fix them in your home.
Thanksgiving is not the time to discover repair appointments are 6-12 weeks (about three months) out due to a lack of technicians.
You should consider the brand with the best service.
Read More: Most Reliable Professional Ranges
What Are the Best Pro Range Brands?
Monogram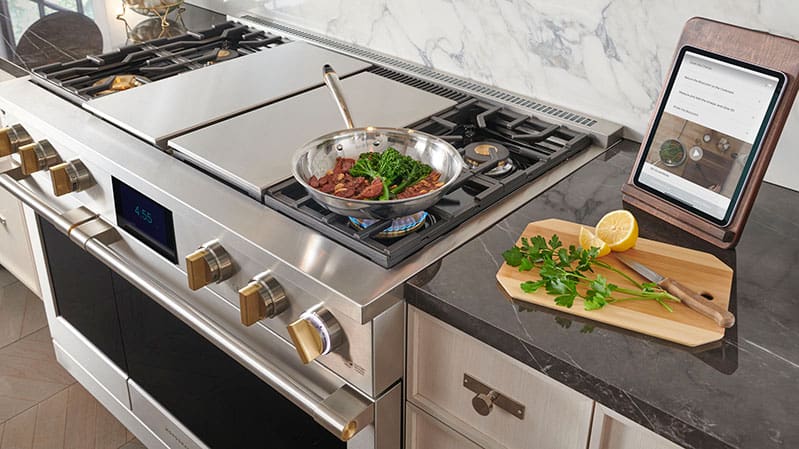 Monogram 36-Inch Professional Range
Monogram has an interesting new range with 23,000 and 21 000 BTU power burners.
The LCD clock swings out. It's interesting.
Their Wi-Fi and smart functionality are robust through their SmartHQ app.
Unlike many brands, the Monogram has the same specifications in all gas as dual fuel with the same controls, output, and modes like self-cleaning.
They are always adding new modes wirelessly. Two years, GE added a Turkey mode before Thanksgiving.
Weaknesses: Monogram doesn't have a French top or colors.
SKS (Signature Kitchen Suite)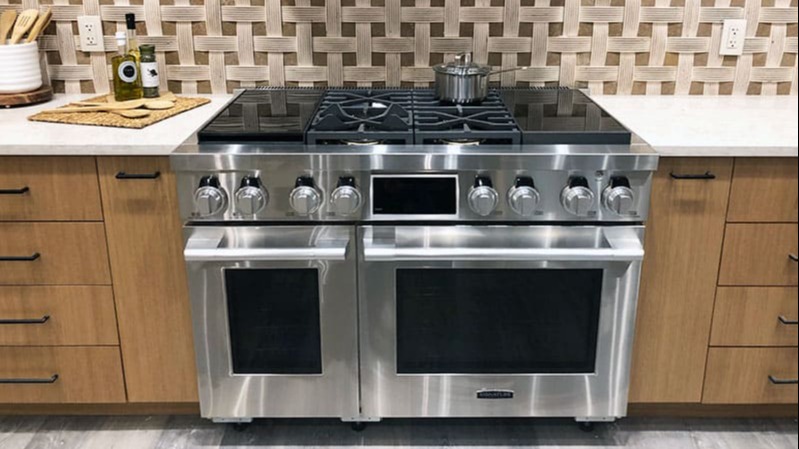 SKS 48-Inch Professional Range at Yale Appliance in Hanover
SKS is the high-end division of the most reliable brand sold at Yale, LG.
Reliability is a significant factor when buying appliances.
The output is excellent with multiple 23,000 BTU burners and a 100 BTU consistent simmer.
SKS has the easiest to-clean chromium griddle, the only sous vide option, and induction burners on their stovetop.
The oven has steam in the larger 48-inch size and LG's smart ThinQ app.
Weaknesses: They don't have a grill or French top configurations. The selection is limited as well.
Fisher & Paykel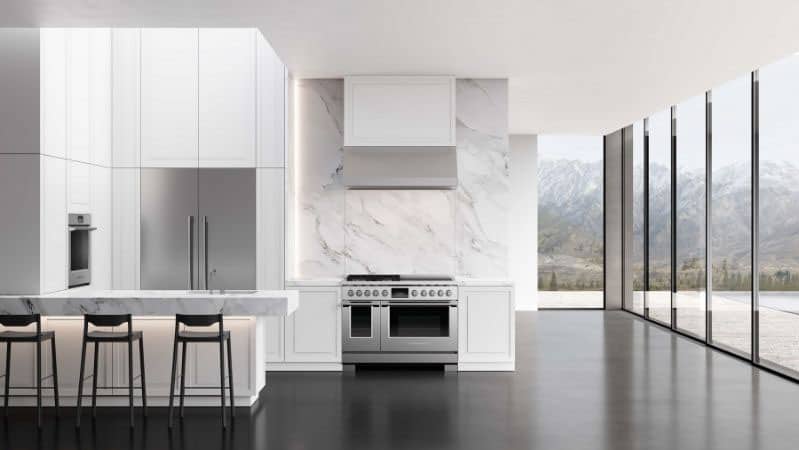 Fisher & Paykel 48-Inch Professional Range
Fisher & Paykel has the most induction pro gas combinations.
These combos may be the future of the industry as you have the speed and simmer capability and safety of induction with the reliability of gas.
Weaknesses: They don't offer a grill, griddle, or French top. The oven is basic convection.
Read More: Should You Buy the Fisher & Paykel 48-Inch Dual Fuel Range With Induction?
BlueStar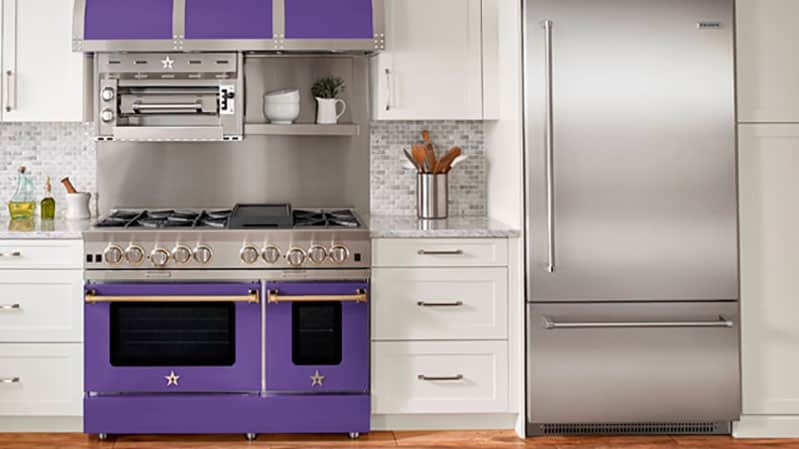 BlueStar 48-Inch Professional Range
BlueStar has five series of pro ranges, the Platinum Series, Nova (RNB) Series, Precious Metals Series, and the Culinary Series with open or sealed burners.

Their Platinum range is the most popular. All burners have a max output of 25,000 BTU and a pure convection oven.
The Nova series has slightly less powerful burners at 22,000 BTU. However, the Nova series features the options of having a built-in grill or griddle.
You can choose any color option out of 1,000 or customize one of your own with BlueStar's by Design program.
Weaknesses: The burners are open and not sealed. The range is also not self-cleaning and does not have a clock or timer. Their ranges are only gas, with dual fuel being introduced shortly.
Read More: Best BlueStar Professional Ranges
Miele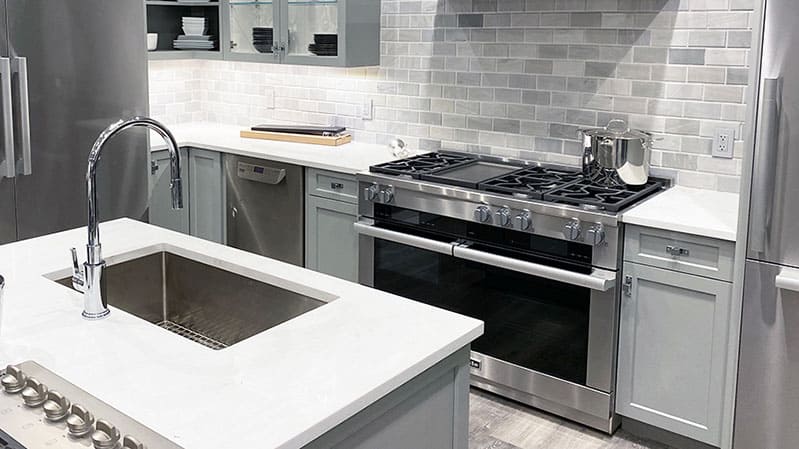 Miele 48-Inch Professional Range at Yale Appliance in Hanover
Miele has a clean, modern appearance with an infrared grill, griddle, and self-cleaning in electric and gas.
Their 36-inch range is easy to clean, with the grates being dishwasher safe. The racks can be self-cleaned.
Their 48-inch dual-fuel range has steam assist, a speed oven, and a warming drawer.

The M touch series is the easiest to use. The controls guide you step by step.
Weaknesses: The oven is a bit low. Additionally, their style may be too modern in a traditional kitchen. Lastly, the output is on the light side with 19,000 BTU power burners.
Wolf All Gas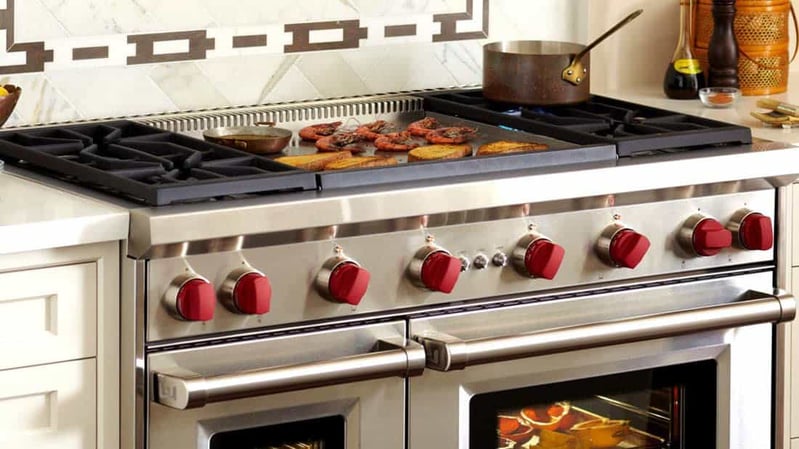 Wolf 48-Inch Professional Range with a Griddle
Wolf has the best grill, griddle, and an exceptionally good broiler. The simmer is probably the best and is available on every burner.
Weaknesses: Their gas range is not self-cleaning, has no clock and timer, and is a bit underpowered with 15,000 BTU burners. In addition, Wolf does not have smart functionality in gas.
Their dual fuel has more power, twin convection, and a clock.
Wolf Dual Fuel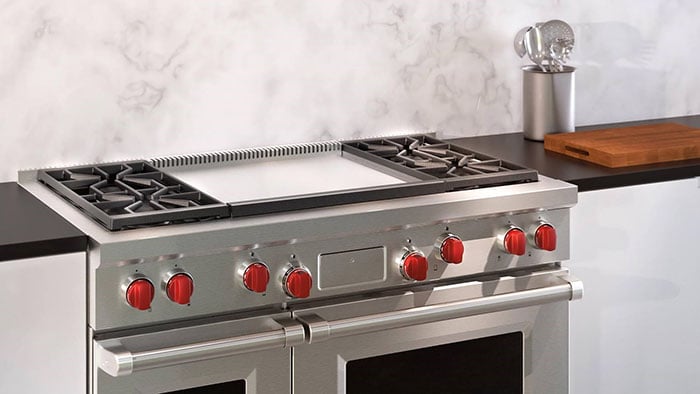 Wolf 48-Inch Professional Dual Fuel Range
Their dual fuel range was revamped in 2021.
You have the newer blower style convection, the best grill, griddle, French top, and upgraded burners.
Wolf Gourmet will help you figure out how to cook, including which rack to place your dish on.
Weaknesses: The Wolf dual fuel may have the most competitive stovetop, controls, and oven. However, their availability is tough.
Read More: Are Wolf Professional Ranges Worth It?
Thermador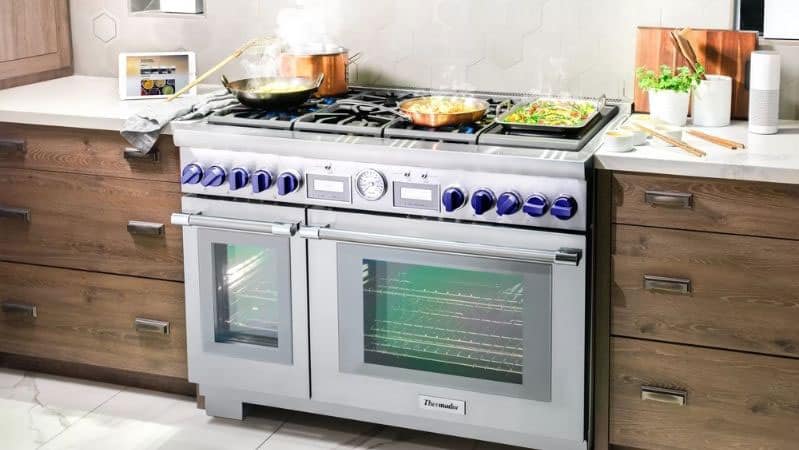 Thermador Pro Grand 48-Inch Professional Range
Thermador has the best simmer and smart functionality through their HomeConnect app.
You have two series: Pro Harmony and Pro Grand.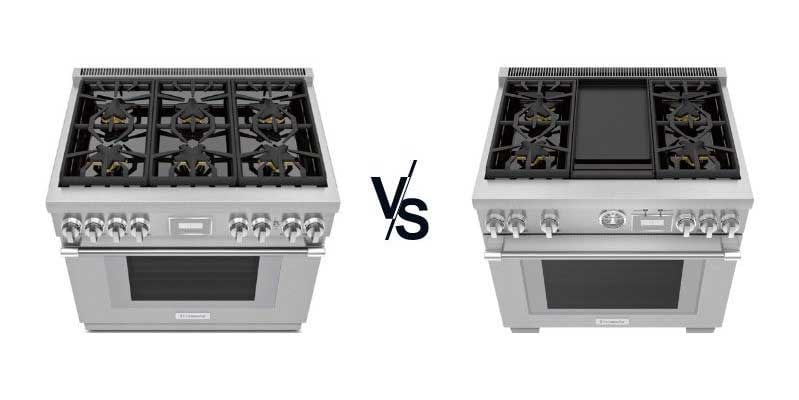 Pro Harmony is shallower and doesn't have the same functionality as the Pro Grand.
Pro Grand has a small radial clock and timer and a 22,000 BTU power burner or induction capability. You also don't have a steam oven and warming drawer option in the larger sizes.
Thermador has the easiest-to-clean Star burner and many different model choices.
Their price is excellent with their One-Two-Free rebate program of a free hood and dishwasher with qualifying purchases.
Weaknesses: The Harmony all-gas series is not self-cleaning and does not have a basic clock or timer. The grill and griddle are electric, not infrared. They also recently changed half their burners from 18,000 BTU to 15,000 BTU.
Read More: Should You Buy a Thermador Professional Range?
La Cornue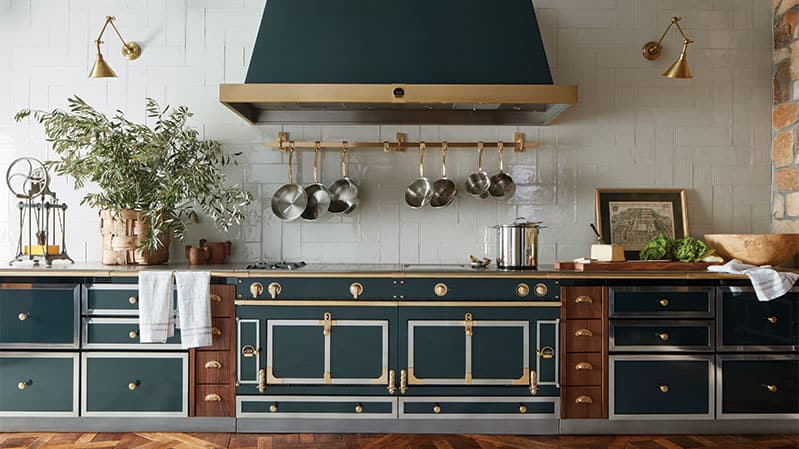 La Cornue Château 60-Inch Professional Range in Brands Hatch Green
La Cornue is customizable on the top and oven. You can add induction burners, a grill, a griddle, or a French top to the stovetop in almost any configuration.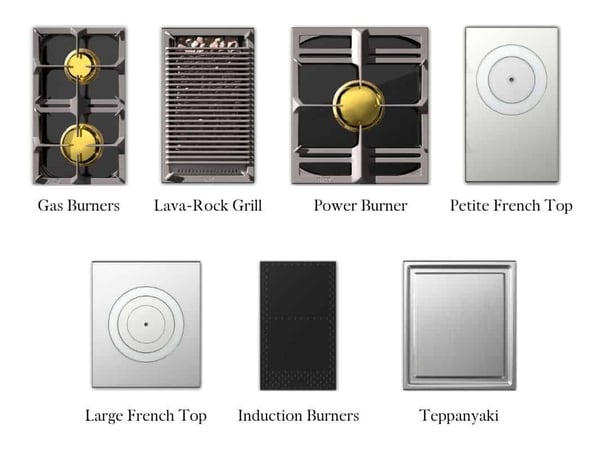 You can order electric for baking and gas for roasting in larger sizes.
This French range is almost like a high-end piece of furniture. Their arched top ovens are the best for heat distribution.
Their CornuFé 110 is less expensive and available in a few styles for classic colors.
Weaknesses: It's the most expensive pro range brand on this list.
Read More: Should You Buy a La Cornue Château Professional Range?
Viking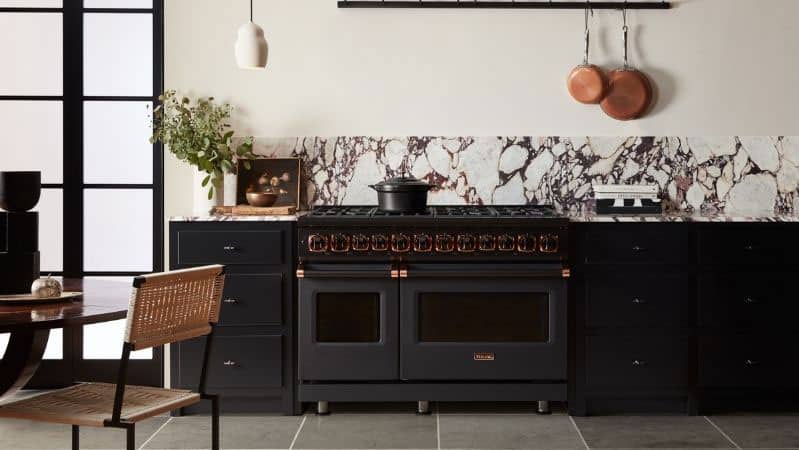 Viking 48-Inch Professional Range with Rose Gold Accents
Viking was the inventor of the pro range back in 1989.
They have four series of ranges the vintage Tuscany, the 7, 5, and 3 series.
They vary in output and features, with the 7 series at 23,000 BTU and 15,000 BTU sealed burners.

Viking has 16 finishes. Their Tuscany is an interesting look.
Weaknesses: Viking may have turned the corner from their past service issues. They don't have special features, but they are still an interesting product (even if we don't sell them).
Pro Rangetop and Wall Oven vs. a Pro Range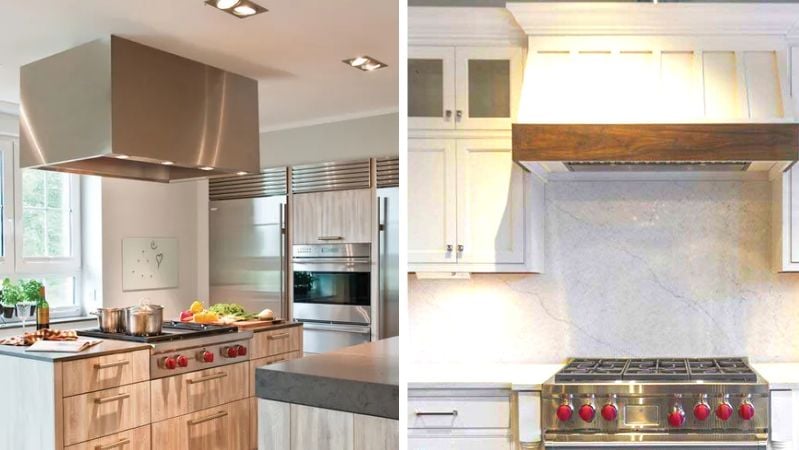 Wolf Rangetop and Wall Ovens vs. Wolf Professional Range
Having rangetop and wall oven compared to only having a range profoundly affects your kitchen's overall look.
Cooking appliances are the only appliance to change a kitchen design.
Your choice is a bit complicated. Let's start with the basics.
Wall Oven vs. Range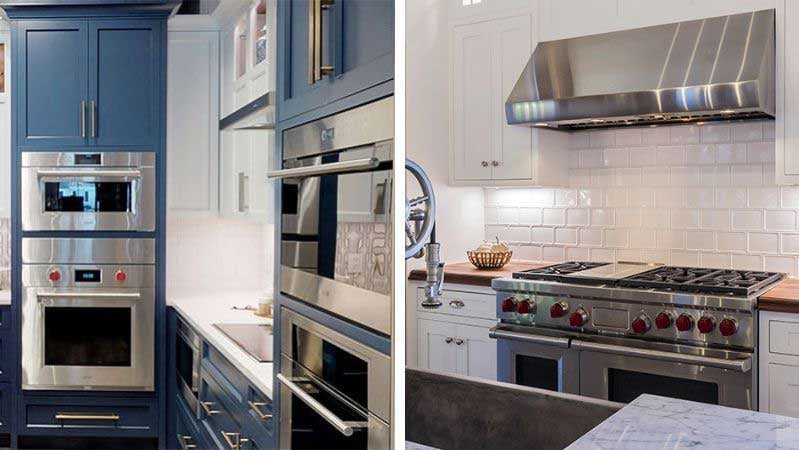 Wolf Wall Oven and Steam Oven vs. Wolf 48-Inch Dual Fuel Professional Range
The range is more centralized while you bend less for a wall oven.
In a wall oven configuration, you have infinite choices of steam ovens, warming drawers, and speed ovens.
Rangetop vs. Range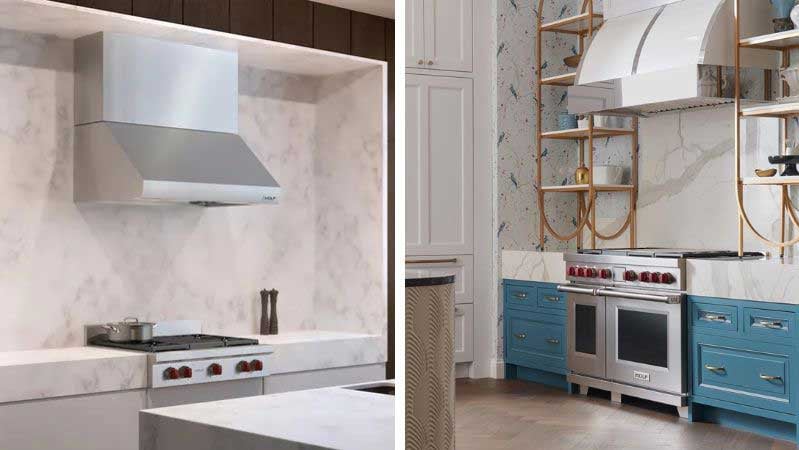 Wolf Rangetop vs. Wolf 48-Inch Professional Range
The stovetop choices on a pro range are far more compelling with induction, grill, and griddle combinations.
For kitchen planning, look at the space first. A smaller or more compact space might be better for a range.
The wall oven and rangetop combo may be better with larger spaces.
Pro Ranges vs. Commercial Stoves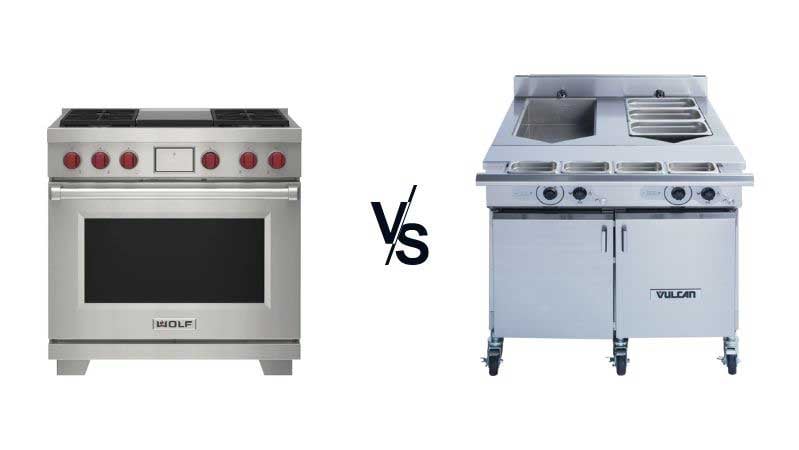 Wolf Dual Fuel Professional Range and Vulcan Commercial Range
Commercial stoves are less expensive and high-powered.
Vulcan advertises 300 different configurations for the top because each restaurant has its own way of cooking.
However, a commercial stove is not insulated, so you cannot place it adjacent to cabinets.
The door can also become scalding hot. You will need special sprinkler systems in your house, like in restaurants in certain areas.
A commercial range is just one step removed from a hot open flame, but it is less expensive.
You don't have the features of a pro range in a commercial range.
When Is the Best Time to Buy a Professional Range?
A lifetime ago, back in 2019, I would have recommended you wait before a promotional holiday like Black Friday or Tax-Free Weekend to buy your appliances.
With many of these brands, your lead times are 8 -15 months out. You have to be careful.
Promotions
JennAir and Thermador have the best promotions with free dishwashers and hoods with other qualifying products.
Miele will have package promotions 10% off, and Viking will have 5% at certain times of the year.
You want your store to keep track of manufacturer rebates and then buy when the rebates are active. Have your salesperson check the model numbers to make sure they qualify.
Another strategy is to buy closeouts, returns, or floor models for bigger savings.
But with supply chain issues, your best time is at least one year before the delivery date.
Read More: Best Stainless-Steel Kitchen Appliance Packages
How to Vent a Professional Range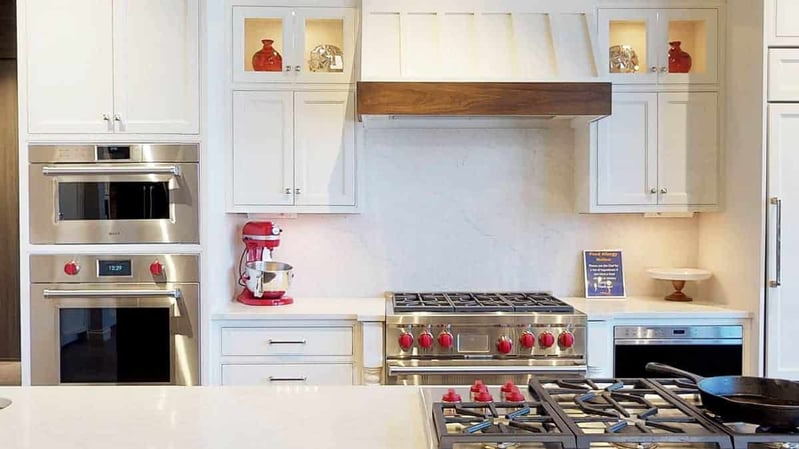 Custom Range Hood Above a Professional Gas Range at Yale Appliance in Framingham
I included venting because it's important.
Your 48-inch gas range can emit over 120,000 BTU if you use all the burners.
In addition to all that heat, you have Carbon Dioxide (CO2), Carbon Monoxide (CO), Formaldehyde (CH2O), and other gases that could linger in your home if not vented correctly.
If you cannot vent properly, induction and electric are better options. They don't emit the heat and fumes of a gas range.
You should download our Ventilation Buying Guide, especially if you live in Massachusetts.
Let's start with what not to do. You will be reading the opposite viewpoint from most manufacturers.
If you like to cook, you cannot downdraft a pro range.
It doesn't work because downdrafts have no capture area and are reversing too much airflow through a narrow aperture.
Only a few hoods are designed to vent a pro range effectively.
Here is how you vent a pro range:
Capture Area:

The vent should be a minimum of 24 inches deep because the smoke must be channeled and vented. Smoke will bypass a hood less than 24 inches.

Duct Pipe:

Check the specifications, but the minimum is 8-10 inches round. I have seen 5-inch round duct pipes installed. It doesn't work.

Duct Run:

Straight up through your roof is the best because smoke rises. Straight back is ok. Do NOT turn the duct with an elbow more than once, or it won't work. Shorter runs are also better.

CFM (Cubic Feet Per Minute):

How much CFM do you need is the big question. It depends on how you cook. The minimum for a 36-inch is 600 CFM. For 48-inch ranges, you need 1000-1200 CFM, and for 60 inches, you need 1200-1500 CFM. More is always better if you like to grill or stir fry using a wok.
Read More: How to Vent Your Kitchen Range
Make-Up Air (For Massachusetts Residents Only)
If you live in Massachusetts, inspectors will inspect make-up air vents over 400 CFM. New homes are built tightly; evacuating air is unhealthy when no air is "made up."
So, you must have a return. It's not that hard when planned. Most builders have a return in the HVAC system.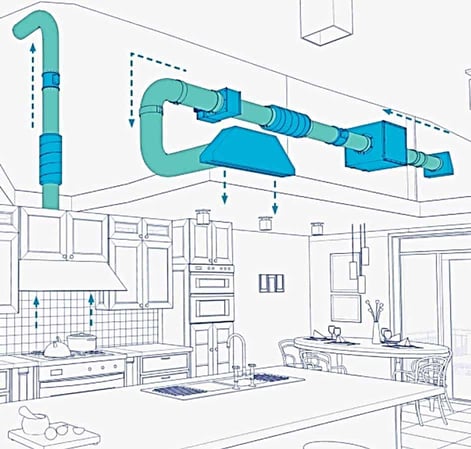 It is not as easy if you are reading this after the vent has been installed without the return. There are some aftermarket kits available, depending on installation.
Plan in advance.
Read More: Best Ventilation for Professional Ranges
Should You Not Buy a Professional Range?
Pro vs. Pro-Style Ranges
Before you read the key takeaways, you do have other choices.
As we discussed, pro-style ranges like Bertazzoni have larger 36- and 48-inch sizes with high fashion colors at lower prices.

Bertazzoni Pro-Style Ranges in Black, Red, and Orange
They lack the output, oven size, and options of a pro range even if advertised as "pro."
Watch this video to learn more:
Pro vs. High-End Slide-In Ranges
The high-end slide-in ranges have good features and surprisingly high outputs.
Café has a total output of 71,000 BTU and six burners with two ovens.
Café features SmartHQ functionality and self-cleaning. It's available in a few finishes and trim options.

Café High-End Slide in Ranges in White, Black, and Stainless
It is more powerful and more affordable than most pro ranges.
A pro range like a Thermador range will have a better-infrared broiler, and all the burners will be 15,000 BTU.
Read More: Professional vs. High-End Gas Slide-In Ranges
How Do You Choose a Professional Range?
Ok, you may have difficulty buying a range with every possible feature.
Let's ask the only important question: What is best for YOU?
How will you use the range? Will you use a grill, griddle, sous vide accessory, or a French top?
How about the oven? Do you roast, bake, or broil a lot?
Once you know how you will use your range the most, you will be ready to pick one.
Provided you can vent well. Venting should not be an afterthought.
That's where I would have stopped in 2019. Availability will continue to be an issue for appliances into 2024-2025.
Many brands are 8-15 months to order, so plan accordingly.
Lastly, service needs to be vetted as well. After considering the differences between all the brands, consider which company has the better service agency in your area.
Still need help? I can answer your questions in the comments below.
Additional Resources
Looking for more information on pro ranges? Get the Yale Pro Cooking Buying Guide with features, specs, BTU Outputs, and detailed profiles of the major brands. Well over 1 million people have read a Yale Guide.
Related Articles:
Why Should You Trust Us?
It seems that every appliance review has nothing but glowing comments about almost every product, yet you read customer reviews and they are almost universally bad.
We are here to fill in the disconnect. We'll give you the best features, and the drawbacks as well, including reliability based on over 37,000 calls performed by our service team just last year. Our goal is to give you ALL the information so you know what's right for you.
Please consider subscribing or adding to the conversation in the comments below. We appreciate you stopping by.
Steve Sheinkopf is the third-generation CEO of Yale Appliance and a lifelong Bostonian. He has over 38 years of experience in the appliance industry, and he is a trusted source of information for consumers on how to buy and repair appliances.

Steve has also been featured in numerous publications, including the New York Times, Consumer Reports, The Boston Globe, Bloomberg Radio, the New York Post, The Wall Street Journal, and Entrepreneur, for his knowledge of how to buy appliances and appliance repair.

Steve is passionate about helping consumers find the best appliances for their needs, and he is always happy to answer questions and provide advice. He is a valuable resource for consumers who are looking for information on appliance buying, repair, and maintenance.

Despite being the worst goalie in history, Steve is a fan of the Bruins and college hockey, loves to read, and is a Peloton biker. The love of his life is his daughter, Sophie.
A Note About Pricing
Pricing on this blog is for reference only and may include time sensitive rebates. We make every attempt to provide accurate pricing at time of publishing. Please call the stores for most accurate price.