The Most Reliable Induction Cooktops for 2022
Induction checks a lot of boxes if you plan on buying an induction cooktop.
It's faster than the hottest professional gas unit, with a far better simmer and instant response.
Yes, faster than a 25,000 BTU (British Thermal Unit) BlueStar burner.
If you live in Massachusetts, you can also vent induction under 400 CFM to comply with Make-Up Air regulations, unlike professional gas rangetops or even high output gas cooktops.
Also, induction is the safest for children because the glass doesn't heat, so there is far less chance for burns. Plus, the magnetic burners need to sense metal to heat the pan. It can't be turned on accidentally. I have a five-year-old. I get it.
It is simple to clean because the glass doesn't heat and embed stains like an electric or gas cooktop. So, it is a well-featured unit, powerful, safe, and easy to clean.
There is just one problem. Induction cooktops are expensive to fix, and you need a highly skilled technician to fix them.
In this article, you will learn about the most reliable induction cooktop brands based on over 40,000 service calls logged by our service team last year.
Unlike most review sites, you will understand reliability based on how induction works in your home.
How We Calculate Induction Cooktop Reliability
Our reliability measurement is a pretty simple formula. We have 35 service technicians averaging eight calls a day, five days a week, with 12 working on Saturday.
In 2021, we logged over 40,000 service calls from December 2020 to October 2021.
Yale has a higher number of service stops daily out of delivery, installation, and service. We simply take the warranty service calls and divide them by unit sales for that year.
We count every time our service technician enters a home as a service call, no matter if it's for minor or major issues.
Induction Cooktop Reliability from December 2020 to October 2021
| | |
| --- | --- |
| | Service Rates |
| Wolf | 3.4% |
| Bosch Benchmark | 3.5% |
| Thermador | 3.8% |
| KitchenAid | 4.8% |
| Gaggenau | 7.4% |
| Miele | 8.7% |
| Bosch | 9.4% |
| JennAir | 17.9% |
| Grand Total | 6.1% |
The service rates above are based on a minimum of 20 cooktops sold and a total sample of over 400 cooktops.
Short on time? Get our free Induction Cooking Buying Guide
Most Reliable Induction Cooktop Brands for 2022
Based on a minimum of 40 induction cooktops sold, the most reliable induction cooktop brands are Wolf, Thermador, and KitchenAid.
1. Wolf - 3.4%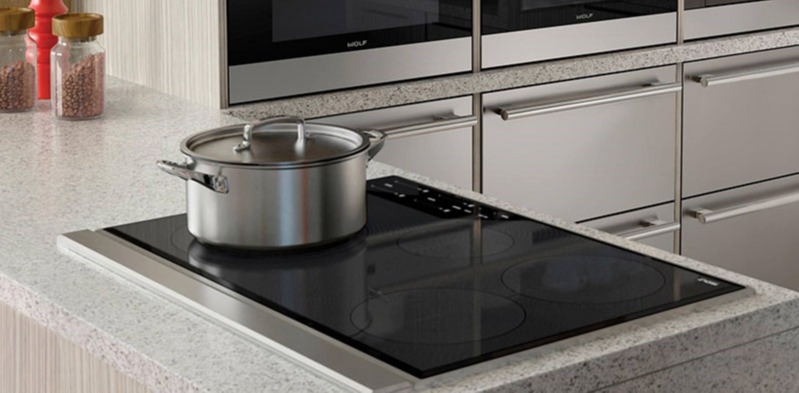 Wolf is excellent. It is also the house favorite from our chef. The four left-hand burners can all be joined for one large, powerful burner to cook a large pot or pan on their 36-inch unit.
2. Thermador - 3.8%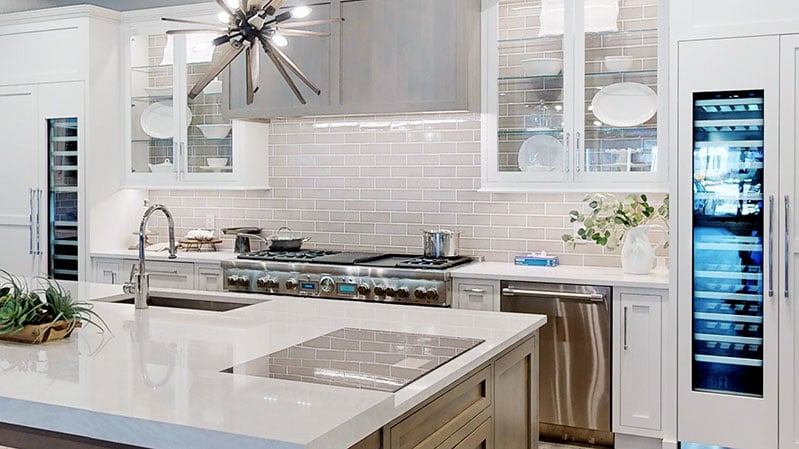 Thermador is particularly interesting because they have the best technology. The burner can follow the pan automatically in every part of the cooktop in their Freedom cooktops. Their less expensive version, the Liberty, moves with the pot back and forth.
3. KitchenAid - 4.8%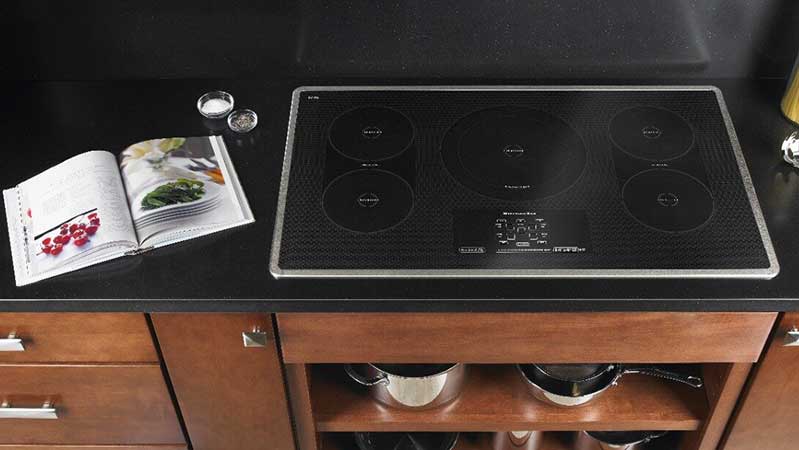 KitchenAid has decent features with expandable burners on both sides and a power burner in the middle.
Read More: Best 36-Inch Induction Cooktops
Induction Reliability vs. the Overall Appliance Industry
Induction performs much better than the average appliance at 6.1% for the category versus over 9.5% for appliances overall.
Induction cooktops are reliable as a regular electric cooktop because the working parts are covered under glass, unlike a gas burner. Induction is electric but uses magnets to excite the molecules in your pan while the pan cooks the food.
Now the bad news: Although induction is reliable, it is hard to repair. Make sure your cooktop can be repaired in your area in case something goes wrong.
Most repair rates are good, so the edge should be with a better repair experience after the sale.
Should You Buy an Extended Warranty for an Induction Cooktop?
As I have said in every blog post, you should NEVER buy an extended warranty from a company without actual service behind the agreement.
Most warranty providers simply call centers and outsource the repair to the cheapest servicer in your area.
On a difficult repair like induction, that rate will never match the repair cost. In that case, save your money and hope for the best.
If you are buying from a reputable company, there are still reasons not to buy an extended warranty. The magnets are under glass, and the reliability is excellent. The repair is expensive.
So it's up to you. Don't be pushed into an extended warranty and ask many questions on who will be providing the repair.
Read More: Are Appliance Extended Warranties Worth It?
Key Takeaways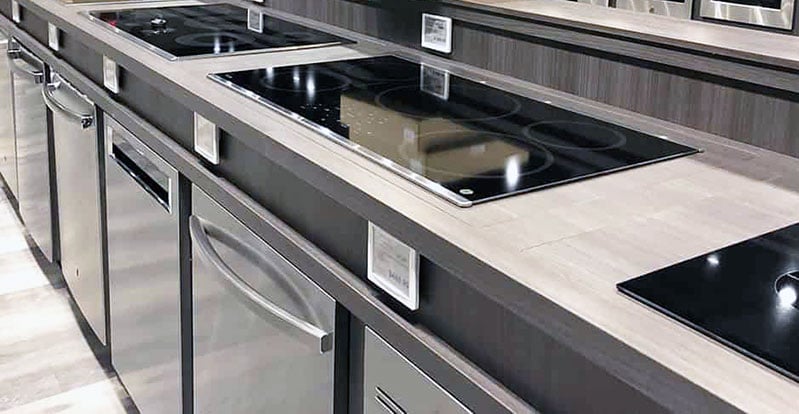 Induction Cooktops at Yale Appliance in Hanover
Induction is a product you should consider for cooking, venting, safety, and cleanability. It is by far the best performing cooking type and has excellent reliability.
However, it's not an easy repair, so look at the most reliable brands first. Check local repair agents before buying any appliance instead of finding out later.
Frequently Asked Questions
1. What are the best induction cooktops?
Bosch brands and Wolf are the most reliable and best induction cooktops to consider.
2. Are induction cooktops better than gas?
Yes. They are faster and have a greater range of temperature and simmer. Induction is also safer because you need metal to activate the metal burner.
3. How does induction work?
Induction is magnetic heat. It excites the metal in your pan, so the pan cooks your food.
4. What kinds of pots can I use on an induction cooktop?
Because it is magnetic, you have to use pans with a level of the metal composition.
5. Do induction cooktops scratch easily?
It can be scratched, but the glass is tempered and mostly scratch-resistant.
Additional Resources
Read our Induction Cooking Buying Guide for features, buying tips, and ratings of every available induction cooking product in the market. Well over 1 million people have read a Yale Guide. Induction is our most popular.
Related Articles:
Most Reliable Appliances Series:
Why Should You Trust Us?
It seems that every appliance review has nothing but glowing comments about almost every product, yet you read customer reviews and they are almost universally bad.
We are here to fill in the disconnect. We'll give you the best features, and the drawbacks as well, including reliability based on over 37,000 calls performed by our service team just last year. Our goal is to give you ALL the information so you know what's right for you.
Please consider subscribing or adding to the conversation in the comments below. We appreciate you stopping by.
A Note About Pricing
Pricing on this blog is for reference only and may include time sensitive rebates. We make every attempt to provide accurate pricing at time of publishing. Please call the stores for most accurate price.