Top 7 Best Luxury Appliance Brands (Reviews / Ratings / Prices)
These are the brands for your dream kitchen. They have the most features and look the best.
If you are a home builder, these names will help sell your project.
Luxury brands focus mostly on designer refrigeration, professional cooking appliances, and ventilation.
In this article, you will read about the best luxury appliances, as well as the pros and cons of each brand.
I have updated price estimates based on this year's tariffs plus you will see the latest innovations as well.
You'll also see reliability ratings on each brand as well as the difference between luxury and affordable luxury brands.
Short on time? Get our free Appliance Buying Guide for comparisons of all the major brands »
Now, I am not implying that you should only consider these brands if you have the budget or specific need for them.
Honorable mention to Dacor and BlueStar, which can be considered luxury in the future.
Short on time? Get our free Appliance Buying Guide
What do you get with a luxury appliance brand?
As I stated earlier, most luxury brands revolve around cooking and refrigeration first.
You will probably also consider separate steam ovens, speed ovens, microwave drawers, and undercounter refrigeration or wine storage.
Dishwashers have also become interesting. Miele has always been considered the best, but Thermador has their new dishwasher with a 20-minute wash and dry cycle. Sub-Zero introduced their Cove dishwasher line.
Refrigeration would be either professional with the compressor on the top or integrated behind the cabinet. You can also add drawers and another point of use of products.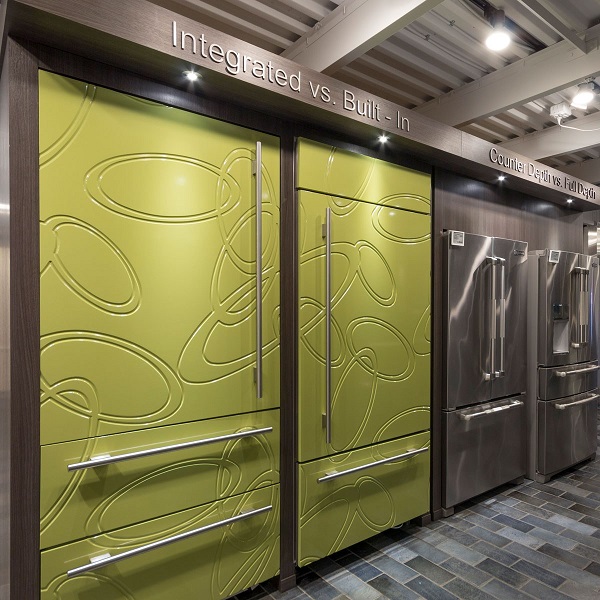 Yale Appliance Boston Showroom - Refrigeration Display
For cooking, you're looking at either a professional range or a wall oven combination with a cooktop or rangetop.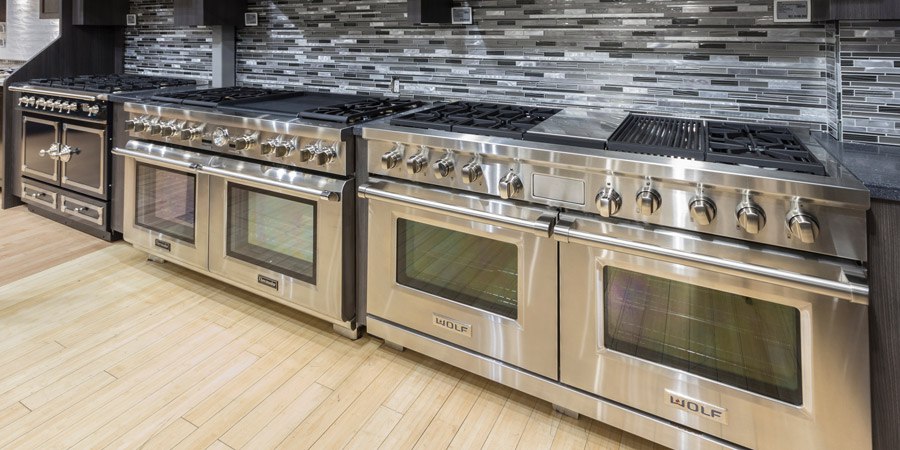 Yale Appliance Boston Showroom - Professional Range Display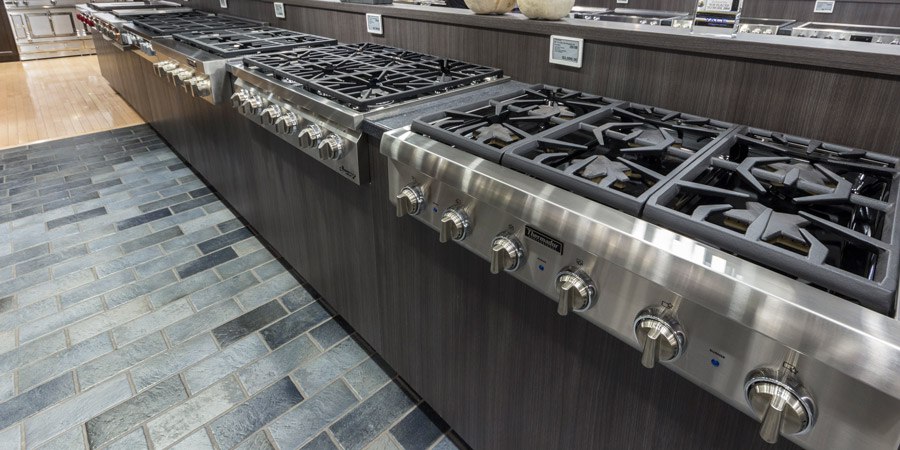 Yale Appliance Boston Showroom - Rangetop Display
Luxury brands are about better style and function. However, most are slow adapting to Wi-Fi technology and controlling your kitchen from an app.
Only Dacor (through Samsung), Thermador and Jenn-Air have started to address Wi-Fi. Samsung, GE and LG are the other pioneers.
Estimated Prices
I added the total price of what a typical kitchen would cost with a 48-inch range, a 48-inch professional refrigerator (or 2 integrated adding to 48 inches), a dishwasher, and a hood for each brand below.
This is just a range of prices. It will change depending on your selections.
The 7 Best Luxury Appliance Brands
Viking
Viking was the first company with a professional range in the U.S. They've had ranges since 1987. Their marketing has been one of the best in the appliance world.
There was a time when most high-end kitchens had a Viking range and a Sub-Zero refrigerator. Out of Mississippi, Viking continues to innovate and has now introduced the Tuscany range as an alternative to the expensive La Cornue ranges.
Viking also maintains its professional stainless steel cooking line as well. Viking's strength is their cooking without question, and they have recently upgraded their iconic range with better BTUs.
If this was the 1990s Viking would be number 1 or 2; but their initial product launches of refrigerators (late 1990s), dishwashers (2010), and the D3 (2012) line launch were quite problematic.
Unfortunately, the line suffers from past service issues and a bad reputation on the internet, especially in refrigeration and dishwashers.
To be truly iconic, the product must work.
What's New:
Their 7 Series range has sealed 23,000 BTU burners on the front across all the range.
To be totally transparent, we no longer sell Viking products.
| | |
| --- | --- |
| Viking Heritage Range - TVDR480 | Viking 7 Series - VDR7486GSS |
Strengths: Cooking
Weaknesses: Reliability, dishwashers, refrigeration
Promotions: Free dishwasher and hood promotion – restrictions apply
How much will a Viking kitchen cost? $21,000-$25,000
Thermador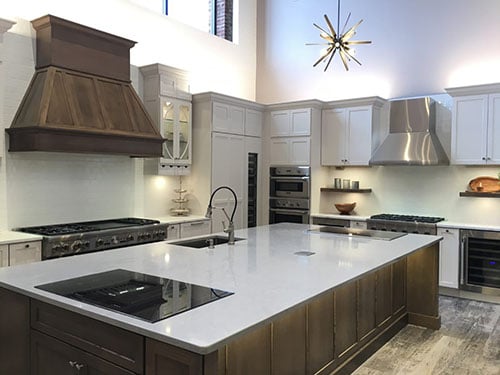 Yale Appliance Boston Showroom - Thermador Kitchen Display
Thermador Integrated Refrigerators
Thermador Wall Ovens
Thermador is out of California and has been manufacturing appliances for over 75 years. They are credited with producing the first wall oven and downdraft.
Bosch purchased Thermador in the late 1990s to add reliability to the innovation.
Their newer integrated refrigerators have customized bins.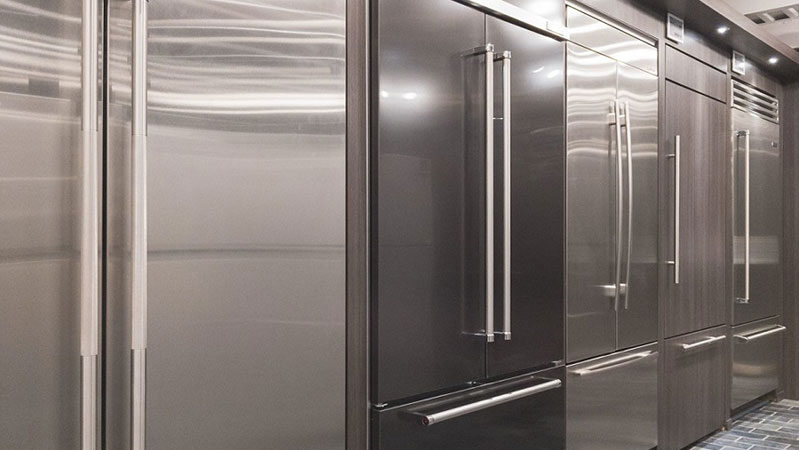 Yale Appliance Boston Showroom Thermador Refrigeration Display
Thermador is also very strong in cooking, especially pro ranges, wall ovens, and induction. They have now taken the step forward into steam like many other brands.
See how Thermador compares to all the other major brands in our Appliance Buying Guide
Newer product introductions include the 48-inch steam professional range (2014) as well as a 60-inch pro range (2016) with a steam oven and warming drawer, induction hybrid pro range (2018), as well as new induction cooktops (2018).
In 2019, Thermador updated their wall ovens with a new look and controls. They are now Wi-Fi enabled. However, it is still the more basic single fan convection as well.
Their new dishwasher uses Zeolite, a natural volcanic element, to wash and dry in 20 minutes instead of 60 minutes.
Thermador Star Sapphire Dishwasher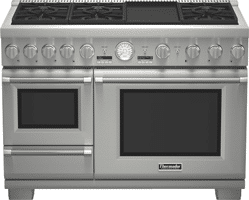 Thermador Harmony 48" Range PRD48JDSGU
Thermador is also the most affordable of the 6 with great rebate programs including free dishwashers and one other appliance i.e. a hood and blower or microwave drawer.
Strengths: Refrigeration, cooking, induction
Weaknesses: Wall ovens refreshed but still lacking a bit in cooking technology, no colors or customizations
Rebates: Free dishwasher and another free appliance promotion - restrictions apply
How much does a Thermador kitchen cost? $17,000-$22,000
Jenn-Air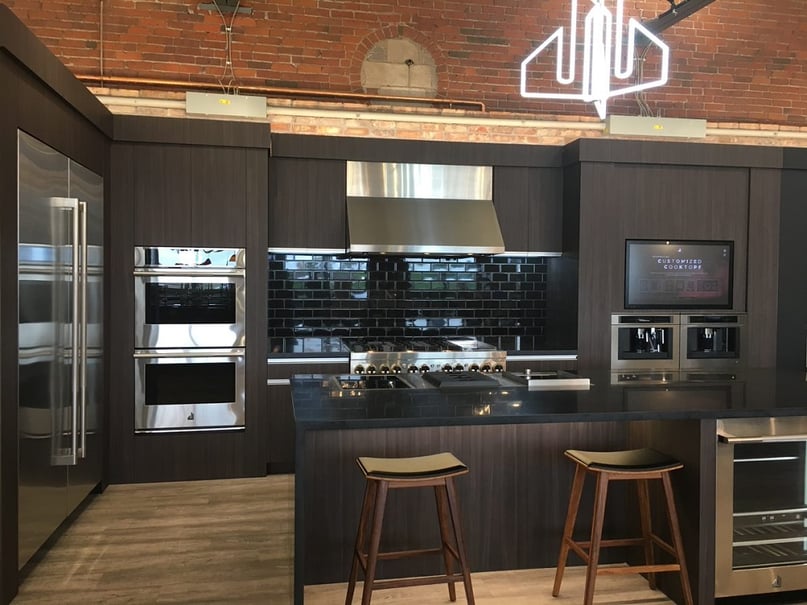 Yale Appliance Boston Showroom - Jenn-Air Kitchen Display
Last year Jenn-Air won Best of Show at the Architectural Digest Design Show.
That product is now available, and it is stunning.
They have 2 lines, the Rise and Noir. The knobs and the overall look is beautiful. Their integrated refrigerator has 3 zones of cooling as opposed to two zones with Sub-Zero.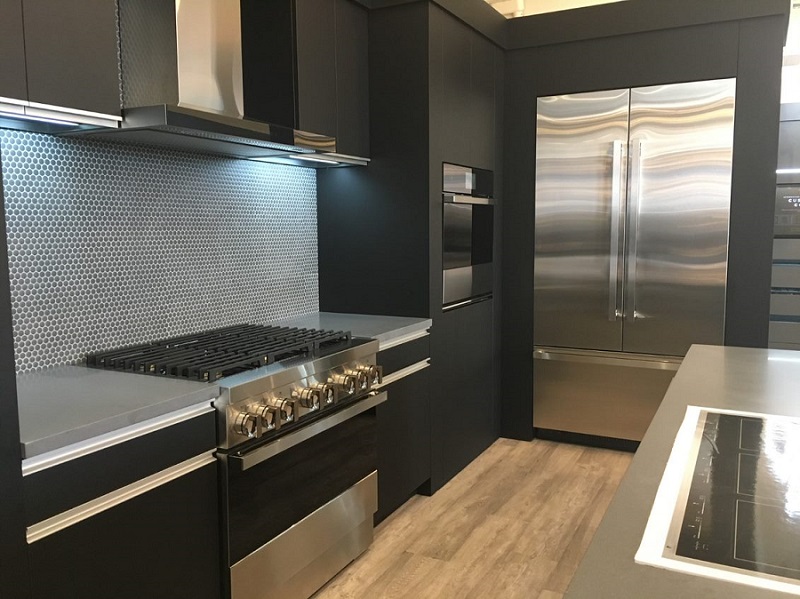 Yale Appliance Boston Showroom - Jenn-Air Kitchen Display
New Jenn-Air Intergrated Refrigerator Columns ▶️
Their wall ovens are the most functional. The correct time and temperature will be calculated if you want that meat medium rare.
The wall oven will show you a picture of that meat before you cook.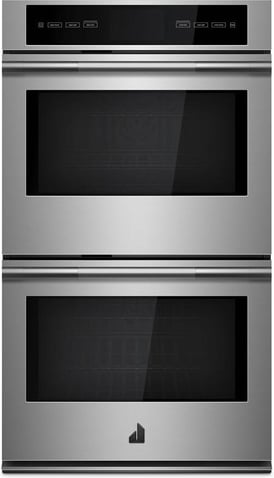 Jenn-Air Double Wall Oven JJW3830IL - $5,599
Strengths: Best temperature refrigerator controls, Fantastic pro ranges, and wall ovens
Weaknesses: It's new. There usually is a learning curve with new products. No colors or customization's
Promotions: $1,399 Credit
How much does a Jenn-Air Kitchen Cost? $21-26,000
Gaggenau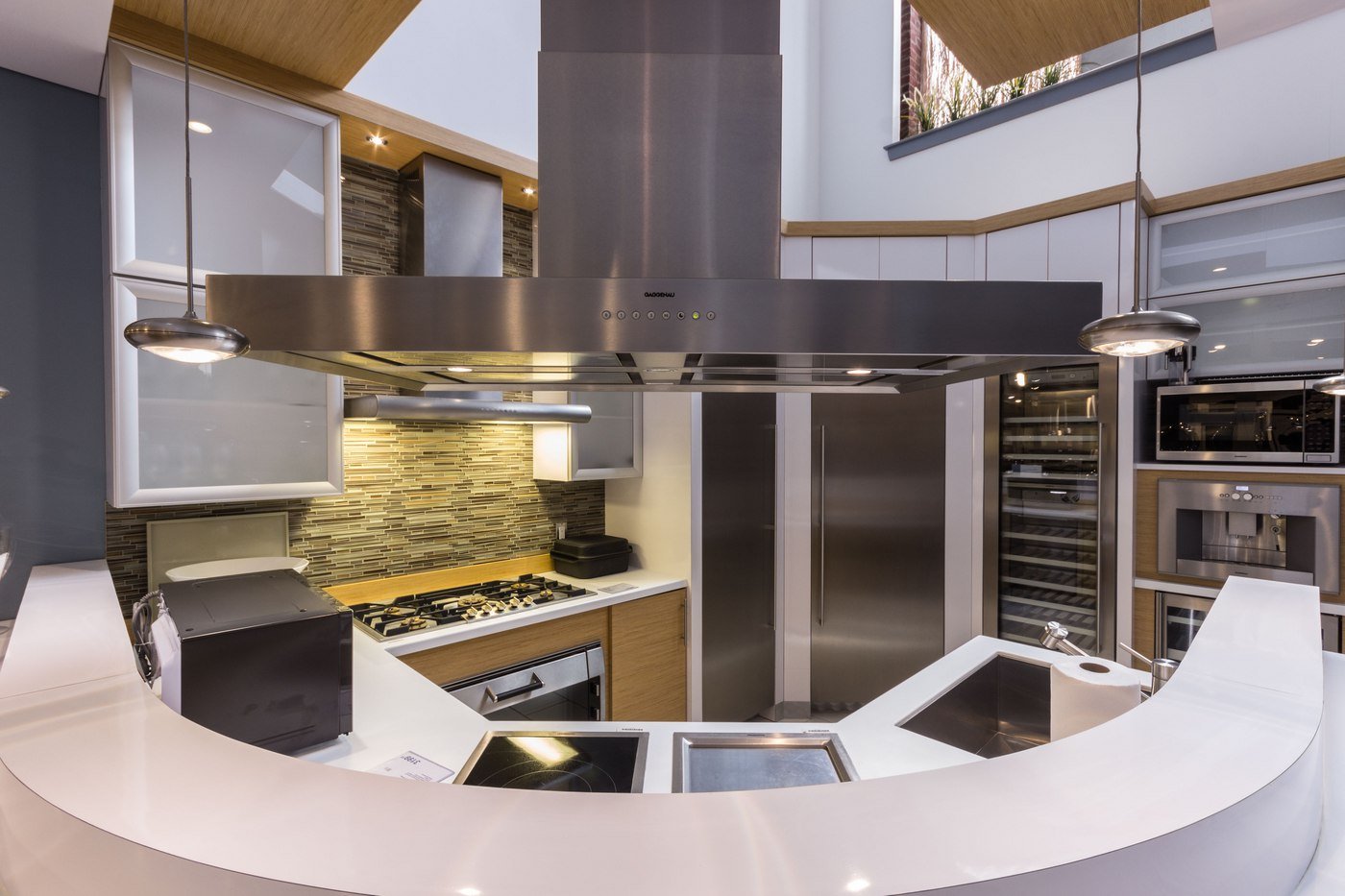 Yale Appliance Boston Showroom - Gaggenau Kitchen Display
Gaggenau is also owned by Bosch was founded in Germany in 1681. They have been on the cutting edge of style and technology and produce some of the finest appliances in the world.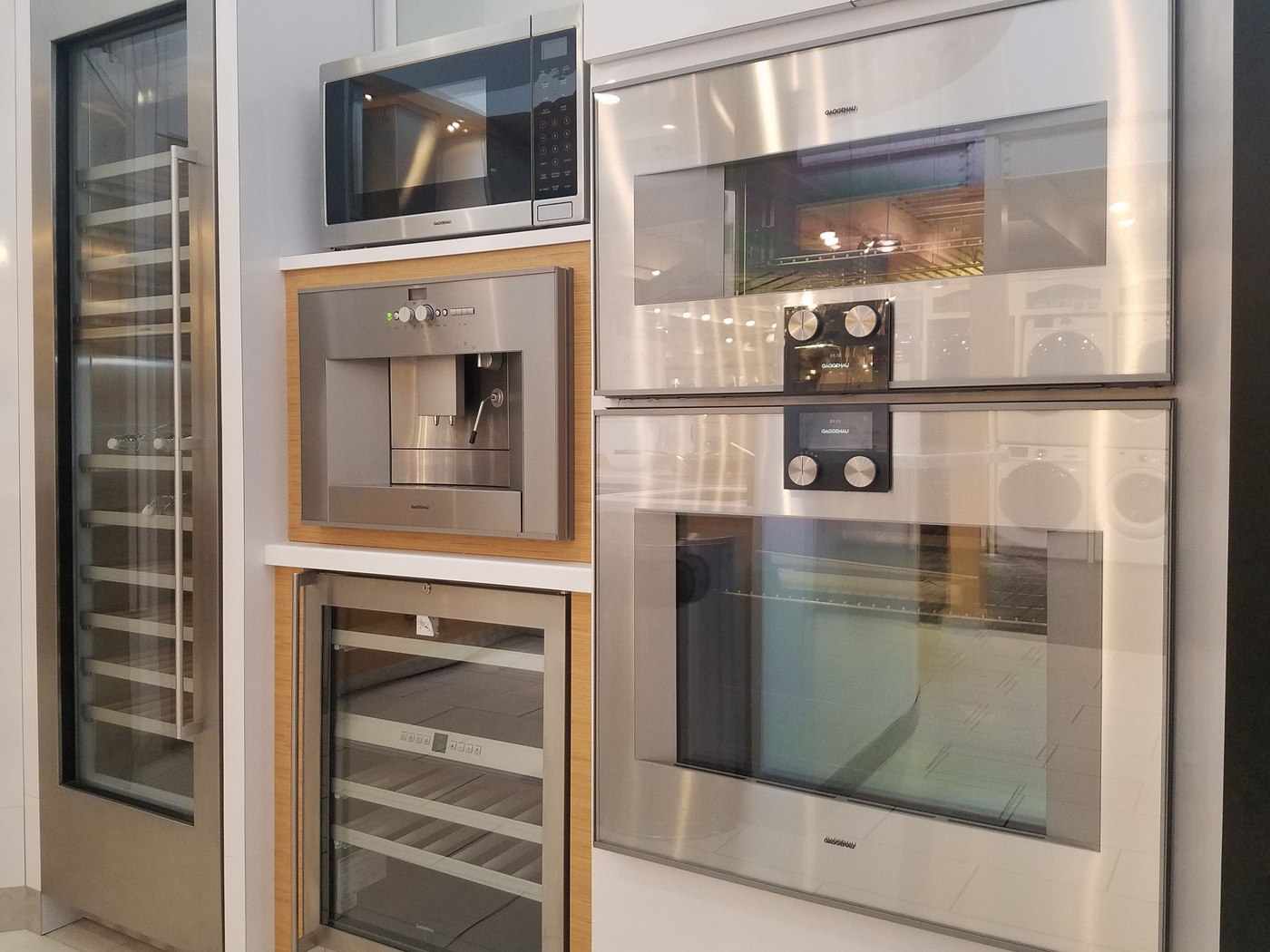 Yale Appliance Boston Showroom - Gaggenau Kitchen Display
Bosch's purchase of the company reinvigorated the brand by redesigning and restyling the product, essentially bringing the brand to its roots. Now Gaggenau is once again trendy and attractive with trend-setting products like steam ovens for example.
Gaggenau has had a convection steam oven long before Miele, Thermador, and Wolf, and it is still the best and most versatile.
What is the Best Steam Oven for You? ▶️
However, with Gaggenau, you have a very distinctive, industrial style designed by Bang & Olufsen.
Your kitchen will be different looking with Gaggenau products than any other brand. The products work better than any other but need to be learned. They do not have the intuitive, easy to learn controls of a Jenn-Air, Miele or Wolf.
Strengths: Style, wall ovens, plumbed steam oven, ventilation, induction, style
Weaknesses: Limited offerings, need more guided controls, No Wi-Fi, no color or customization
Rebates: None
How much for a Gaggenau kitchen? $30,000+
Miele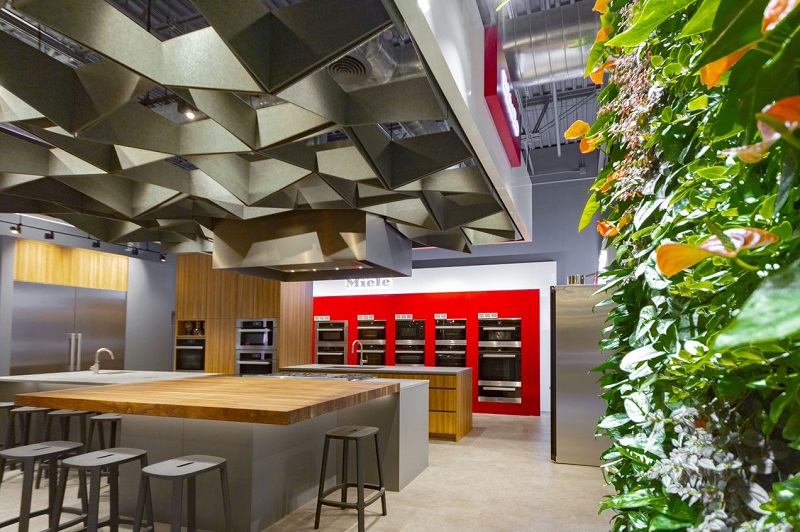 Yale Appliance Framingham Showroom - Miele Display
I remember seeing the Miele factory in 2004. They were pushing their vacuum cleaner into a wall repeatedly to simulate 20 years of life.
They also built the machine that pulled the vacuum into the wall. Such is their commitment to quality with about 100 years in the appliance industry.
Their wall ovens, coffee systems, and especially dishwashers and laundry, are all excellent with incredible reliability.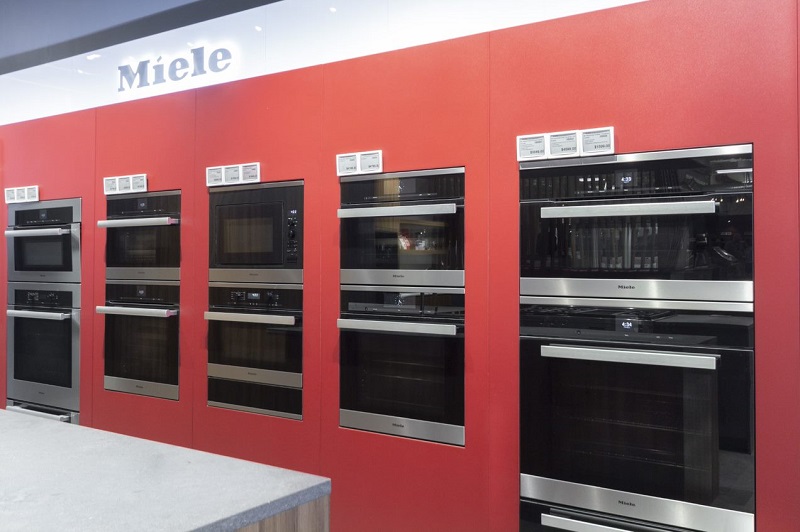 Yale Appliance Framingham Showroom - Miele Wall Oven Display
Miele has joined the ranks of brands like Sub-Zero and Wolf by introducing a pro range in 2014 with some great technology.
Their 48-inch pro range even has a microwave warming drawer with steam assist built into it. The pro range, as well as some of their wall ovens, connect to a water line for steam cycles which are fantastic for bread as well as finishing foods.
Miele simplified cooking in their M touch series ovens and ranges with their MasterChef system which automatically cooks based on your inputs.
Their new laundry with a 110 heat pump is by far the best in the market.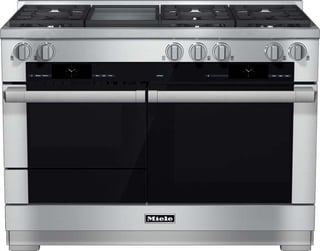 HR 1956 DF GD 48" Dual Fuel Range
Strengths: Cooking, dishwashers, and 24-inch laundry
Weaknesses: Hood needs to be sized bigger than the range, modern styling may be a turn-off
Rebates: 10% during different times of the year
How much for a Miele Kitchen? $23,000-$30,000
Sub-Zero / Wolf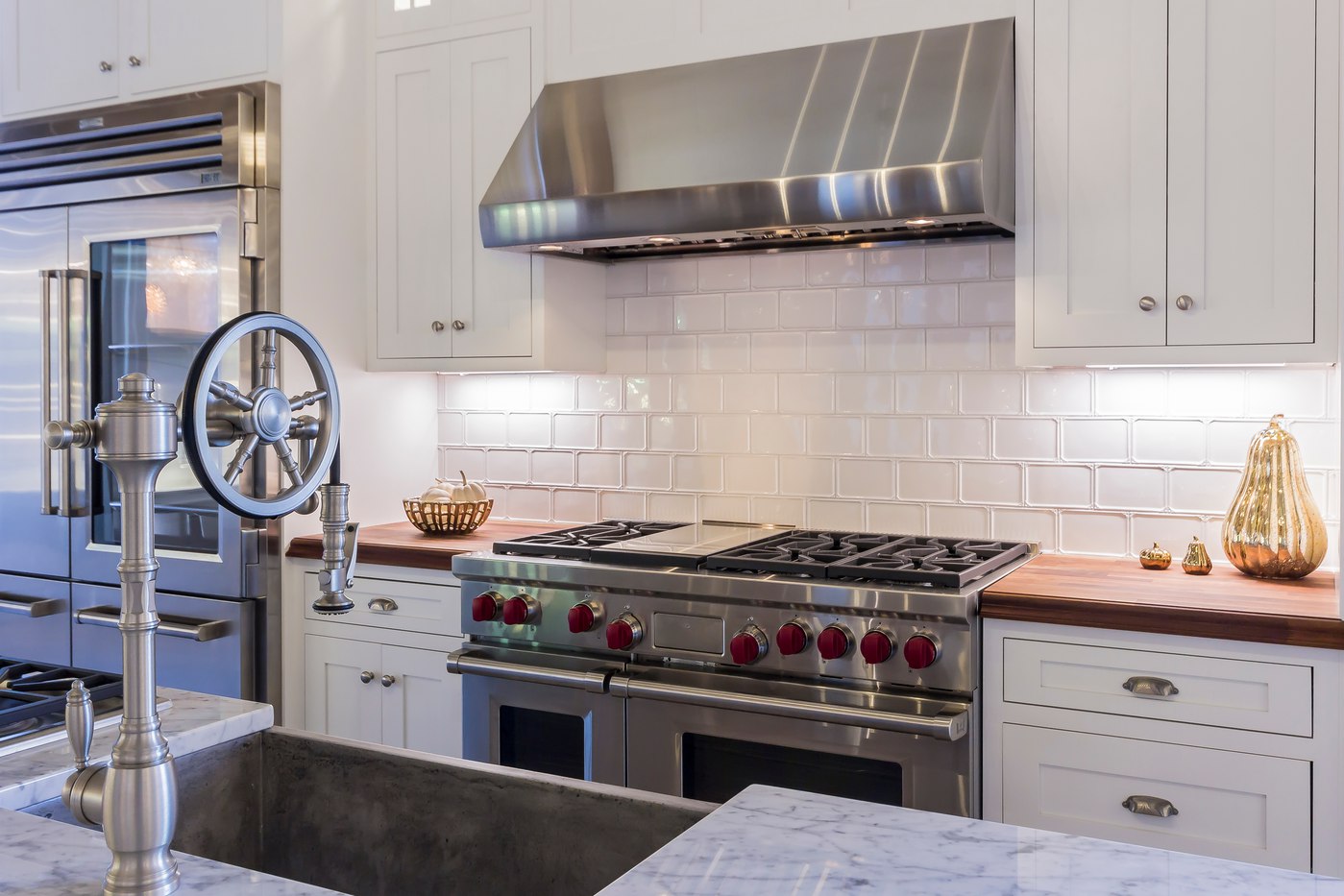 Yale Appliance Boston Showroom - Sub-Zero/Wolf Display
Don't buy a Sub-Zero refrigerator for name recognition and resale, buy it for 2-compressor performance, air scrubber, vacuum seal, and water purifier all maintaining food fresher and longer.
For over 60 years, Sub-Zero is a family-owned Madison, Wisconsin company successfully competing against the largest companies in the world.
Sub-Zero bought Wolf 15 years ago and revolutionized cooking with the double convection technology and great simmer capabilities on each burner.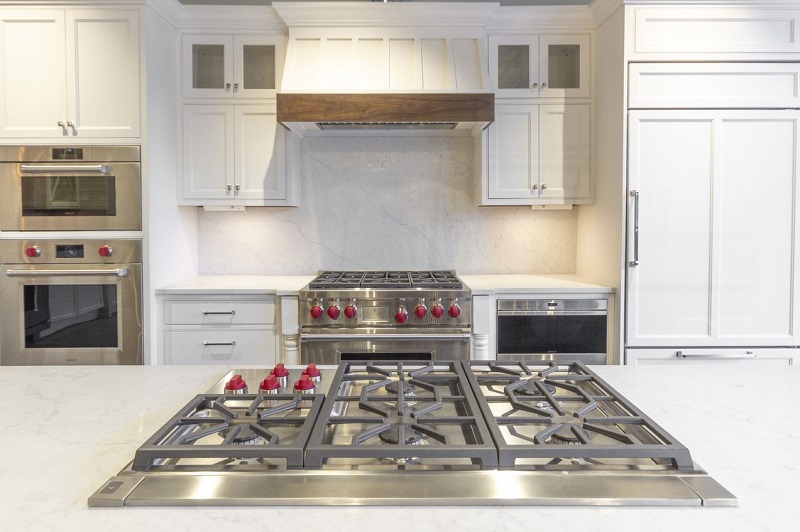 Yale Appliance Framingham Showroom - Sub-Zero/Wolf Kitchen Display
The new M series ovens now have much more intuitive control panels as well as blower convection instead of fans.
Sub-Zero still outperforms every other product on the market and is still the standard for our industry.
Their wall ovens have similar functionality as the Miele with new convection blower technology. It deploys blowers to deliver more air than conventional fan convection
Wolf M Series Double Oven DO30PM/S/PH
Strengths: Best refrigerator, great cooking
Weaknesses: All gas pro needs better output
Rebates: Free wolf gourmet products – restrictions apply
How much for a Sub-Zero/Wolf kitchen? $24,000-$35,000
La Cornue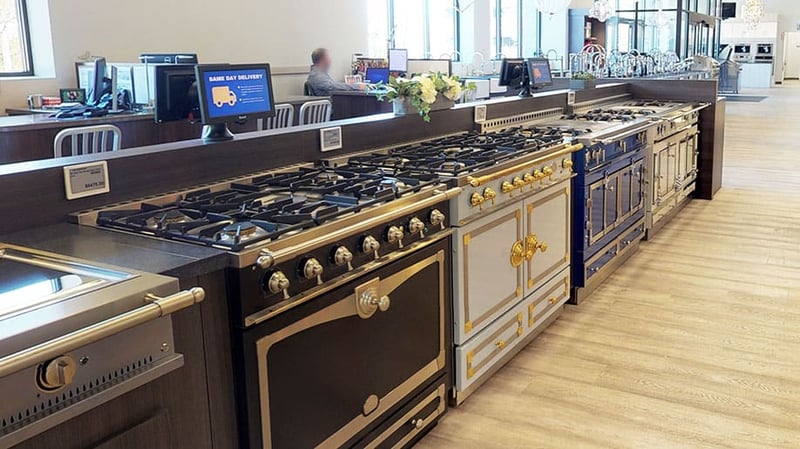 Yale Appliance Framinham Showroom - La Cornue Display
La Cornue is a French custom line that introduced the first chateau range in 1964. They offer custom made ranges in sizes ranging from about 3 feet wide all the way up to 6 feet wide.
In addition, there are large island ranges, cabinets, and cooktops available. Tons of color options add to the customization. La Cornue specializes in cooking. For example, you can have dual ovens, one gas, and one electric.
You can also choose the cooktop configuration with options such as gas, electric, induction, and/or a French top.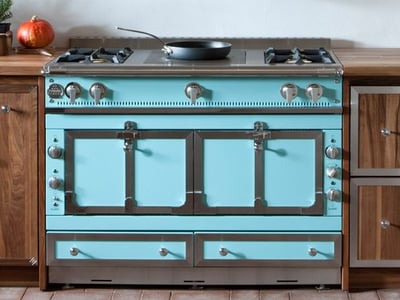 Chateau 120 Range
The Chateau range is the luxury appliance for a kitchen. The top is fully customizable so you can pick induction, gas, French top, grill or griddle elements.
Their gas ovens have natural convection with arched tops so air flows naturally without a fan assist. It is the best oven to bake.
You can spend $7,500 on a 36-inch wide range or go all the way up to $160k for a much larger and more elaborate La Cornue.
Strengths: The range
Weaknesses: Pricey
Rebates: None
Prices: $26,000-115,000. La Cornue only makes cooking products.
What luxury appliance brands are the most reliable?
| | | | |
| --- | --- | --- | --- |
| | Service Qty | Shipped Qty | Service Ratio |
| Gaggenau | 27 | 251 | 10.76% |
| Miele | 298 | 2235 | 13.33% |
| Wolf | 399 | 2173 | 18.36% |
| Thermador | 638 | 2882 | 22.14% |
| Jenn-Air | 1056 | 4419 | 23.90% |
| Subzero | 452 | 1717 | 26.32% |
| La Cornue | 17 | 36 | 47.22% |
| Grand Total | 2,887 | 13,713 | 21.05% |
What appliances are the most reliable?
Wall Oven Reliability
| | | | |
| --- | --- | --- | --- |
| | Service Qty | Shipped Qty | Service Ratio |
| Gaggenau | 3 | 38 | 7.89% |
| Miele | 33 | 303 | 10.89% |
| Wolf | 77 | 451 | 17.07% |
| Thermador | 61 | 270 | 22.59% |
| Jenn-Air | 103 | 363 | 28.37% |
| Grand Total | 277 | 1425 | 17.37% |
Dishwasher Reliability
| | | | |
| --- | --- | --- | --- |
| | Service Qty | Shipped Qty | Service Ratio |
| Gaggenau | 2 | 42 | 4.76% |
| Miele | 155 | 1078 | 14.38% |
| Thermador | 123 | 711 | 17.30% |
| Jenn-Air | 170 | 908 | 18.72% |
| Grand Total | 450 | 2739 | 16.42% |
Professional Style Refrigeration
| | | | |
| --- | --- | --- | --- |
| | Service Qty | Shipped Qty | Service Ratio |
| Gaggenau | 4 | 46 | 8.70% |
| Miele | 9 | 71 | 12.68% |
| Subzero | 332 | 1043 | 31.83% |
| Jenn-Air | 270 | 780 | 34.62% |
| Thermador | 119 | 240 | 49.58% |
| Grand Total | 763 | 2267 | 33.7% |
Duel Fuel Professional Ranges
| | | | |
| --- | --- | --- | --- |
| | Service Qty | Shipped Qty | Service Ratio |
| Jenn-Air | 17 | 57 | 29.82% |
| Wolf | 70 | 215 | 32.56% |
| Miele | 11 | 31 | 35.48% |
| Thermador | 54 | 108 | 50.00% |
| La Cornue | 12 | 24 | 50.00% |
| Grand Total | 164 | 435 | 37.7% |
Professional Gas Ranges
| | | | |
| --- | --- | --- | --- |
| | Service Qty | Shipped Qty | Service Ratio |
| Thermador | 85 | 346 | 24.57% |
| Jenn-Air | 36 | 138 | 26.09% |
| Wolf | 75 | 278 | 26.98% |
| Miele | 10 | 20 | 50.00% |
| La Cornue | 1 | 2 | 50.00% |
| Grand Total | 207 | 784 | 35.53% |
Looks pretty grim, doesn't it. Now look at this.
| | | | | | |
| --- | --- | --- | --- | --- | --- |
| | Invoice Count | Sum of Has Parts | Sum of Has Labor | Sum of % Parts | Jobs with Labor But No Parts |
| Jenn-Air | 536 | 383 | 473 | 71.5% | 32.3% |
| Wolf | 259 | 163 | 224 | 62.9% | 42.9% |
| La Cornue | 7 | 4 | 7 | 57.1% | 42.9% |
| Thermador | 274 | 155 | 246 | 56.6% | 48.4% |
| Sub-Zero | 200 | 113 | 168 | 56.5% | 51.8% |
| Gaggenau | 33 | 18 | 30 | 54.5% | 50.0% |
| Miele | 178 | 62 | 174 | 34.8% | 66.7% |
| Grand Total | 1487 | 898 | 1322 | 60.4% | 44.6% |
Almost 45% of these service calls are resolved without parts.
They were not product problems per se, but other issues.
Installation has become an issue for appliances. Placing panels on dishwashers is not easy, but on refrigerators, it's problematic.
Many of the steam appliances also require direct plumbing feeds which are sometimes overlooked.
The other issue is education. As much as we can address the concerns over the phone, we send techs anyway to mitigate problems and teach people how to use their new, unfamiliar appliances.
As appliances become more complicated, I do not see us saying no to customers looking for help.
But, luxury brands are in line for reliability with other high end appliances as a percentage.
Should You Buy Luxury Appliances
Although the costs will approach $30,000 and more for a whole kitchen with a La Cornue Range-topping at $115,000.
Luxury appliances are still the best investment in your house in terms of ROI (return on investment) compared to any other home improvement.
Over the last few years, most of the brands have improved cooking performance and introduced new technology to make your life a bit easier, at least in your kitchen.
Luxury vs. Affordable Luxury Appliance Brands
Affordable luxury is one of the fastest growing segments in appliances. The difference between the two are the refrigerators and cooking products as well as roughly $12-20,000 less.
You can read (and should) read the whole article on affordable luxury appliances, but let's look briefly.
Refrigerators
For luxury, you are either selecting a pro or integrated refrigerator. The Affordable Luxury is a shallow depth or a regular looking French door with less depth.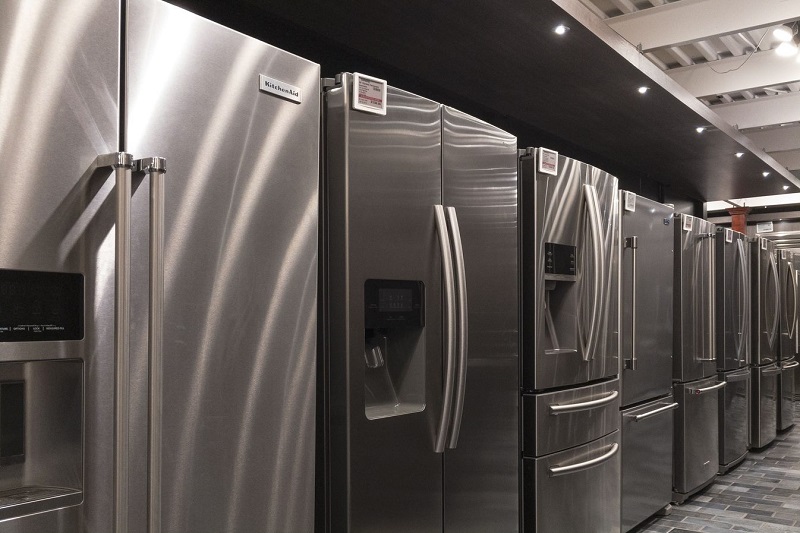 Yale Appliance Boston Showroom - Full Depth Refrigeration Display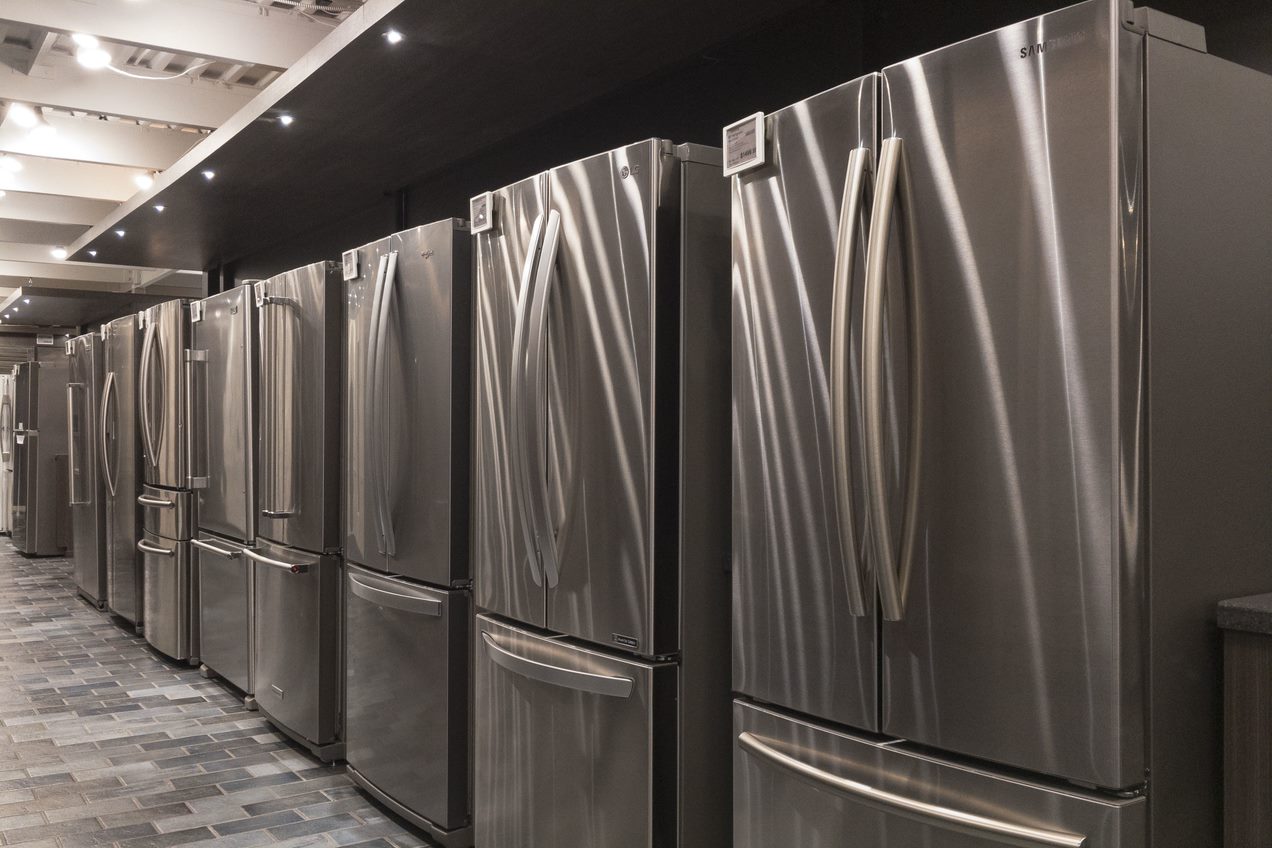 Yale Appliance Boston Showroom - Counter Depth Refrigeration Display
Cooking
For luxury, you will be selecting a pro gas range at 30,36, 48 or 60 inches wide or wall oven and cooktop. For affordable luxury, it will be a 30-inch slide-in only.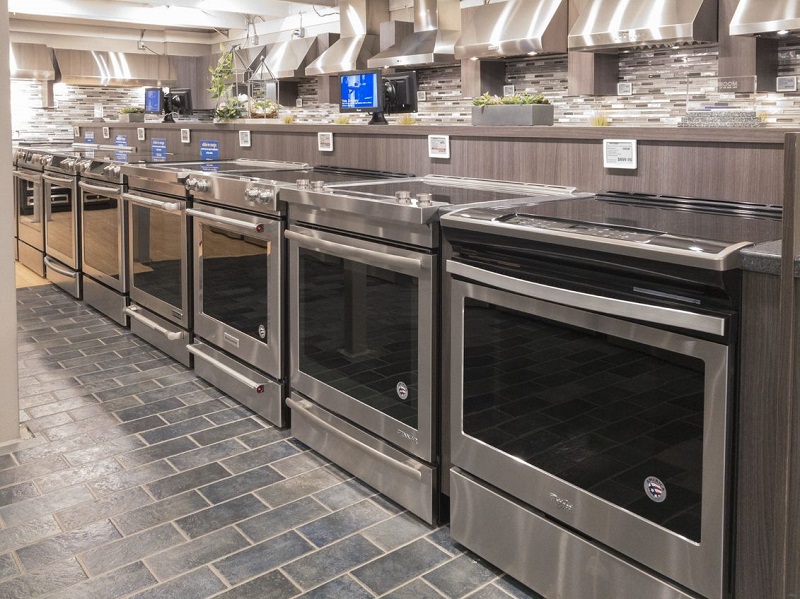 Yale Appliance Boston Showroom - Slide-In Range Display
These are general observations, but there are different methods to value engineer your kitchen and still have luxury appliances by buying showroom display pieces or going to clearance events. You can always buy a bit of luxury and affordable luxury to lower your costs as well.
Additional Resources
Have questions on premium appliances? Get the Yale Appliance Buying Guide with features, specs and detailed profiles on Sub-Zero, Wolf, Miele, Viking, La Cornue, Thermador and more. Over 550,000 people have read a buyers buyers guide.
Related Articles
Editor's Note: This article was originally published on January 3rd, 2014 and has been updated for accuracy, freshness, and comprehensiveness.
WHY SHOULD YOU TRUST US?
A few review sites have placed this at the bottom of their articles. So here is our take: Our mission is to find reliable products for you to buy. Other review sites may say this as well.
However, we don't love every product. Quite frankly, it costs us way too much money in repair costs to support less reliable brands.
In fact, we sell fewer brands than most appliance stores. Here is why:
We feel it is our responsibility to repair your appliances after you buy them.
We now have 30 service technicians, each averaging 8-10 calls a day Monday through Friday, plus another 110 on Saturday. That's over 30,000 service calls logged in one year.
The labor rates of fixing an appliance do not come close to the true cost in any product's warranty period.
That is why no major retailer has a service department. It costs too much labor, money and time.
Our Blog is a bit different than most others you will read. We cannot write glowing reviews of unreliable products.
Hopefully, the bloggers and organizations who write such glowing product reviews for every brand consider servicing these products first. Only then they will understand the consequences of their marketing.
Steve Sheinkopf
My goal has always been simple: I want Yale to be the best retail experience anywhere. I have tried to create a compelling environment for customers and employees alike.
A Note About Pricing
Pricing on this blog is for reference only and may include time sensitive rebates. We make every attempt to provide accurate pricing at time of publishing. Please call the stores for most accurate price.