9 Best Luxury Appliance Brands for 2021 (Reviews / Ratings / Prices)
These are the best luxury brands you should consider for your dream kitchen.
The Best Luxury Appliance Brands for 2021 are:
In this article, you will learn about the nine best luxury appliance brands, their strengths, and some possible drawbacks.
We'll also review reliability based on 37,061 service calls logged by our service department last year.
Towards the end, you will learn a few problems with buying luxury brands nobody ever talks about.
Ultimately, this article will help you start your kitchen project.
But first, let's look at luxury products, prices, and then the best brands.
What Makes a Kitchen Luxury or High-End?
Luxury kitchens are based on premium refrigerators, cooking, and ventilation. You have better options for dishwashers, but the other categories are more important.
Refrigeration
You should expect pro-style or integrated refrigerators in a luxury kitchen.
A pro-style refrigerator has a compressor on the top. An integrated refrigerator is hidden with a custom cabinet front.
Both options are either cabinet-depth or flush to the cabinet for better aesthetics.
Cooking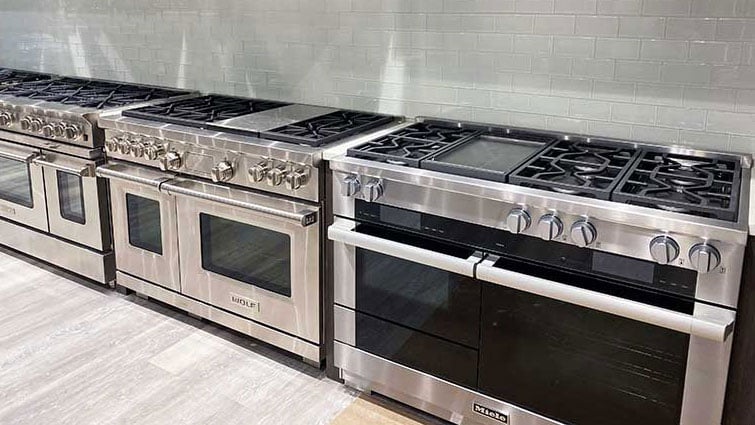 Professional Ranges at Yale Appliance in Hanover
The professional range is the luxury appliance of choice with cooking. You can also consider a wall oven and rangetop.
Pro ranges are centralized, whereas your wall oven can be placed anywhere.
Ventilation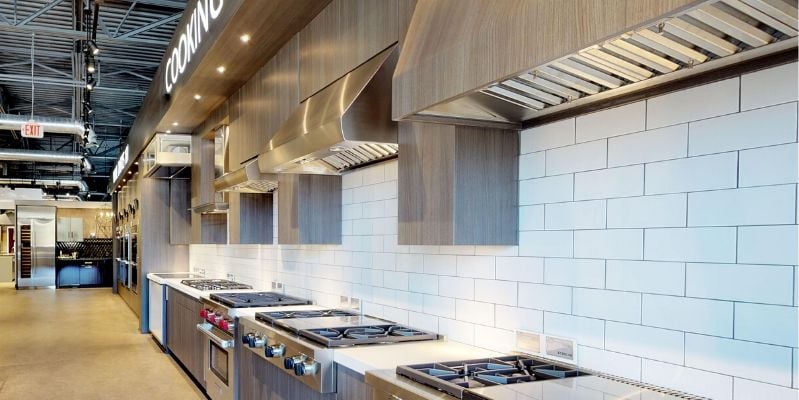 Ventilation Hoods and Professional Rangetops at Yale Appliance in Hanover
Ventilation is another aspect of luxury kitchens. You can buy a high CFM pro hood or customize your vent with a wood enclosure.
Customizing Your Luxury Kitchen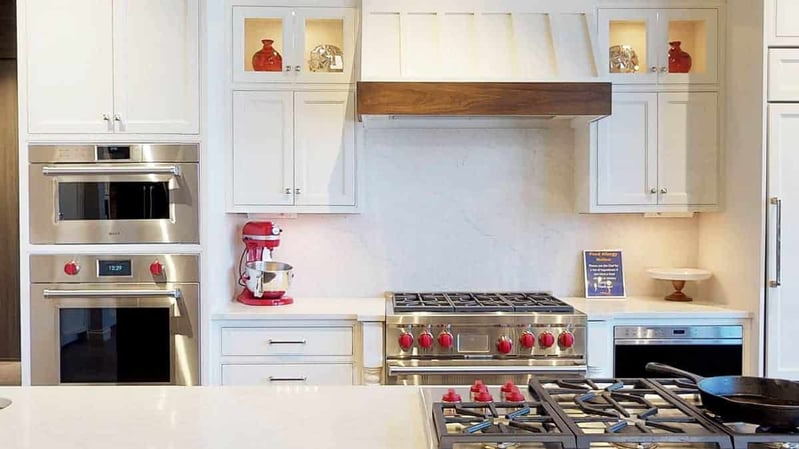 Wolf Kitchen Featuring a Steam Oven and a Wall Oven at Yale Appliance in Framingham
You can also customize your kitchen with specialty appliances such as:
Coffee makers
Steam
Speed ovens
Microwave drawers
Undercounter refrigerators or wine units
Key Takeaway: Your first three focus points for designing a kitchen are refrigeration, cooking, and ventilation.
How Much Does a High-End or Luxury Kitchen Cost?
A high-end kitchen costs $22,000-$30,000 for a pro range, refrigerator, pro hood, and dishwasher. However, prices will vary between brands and options.
You can buy a La Cornue range for $150,000 or add other elements to other brands and spend much more than $30,000.
Now that we have some guidelines let's look at the best luxury appliance brands for 2021.
Short on time? Get our free Appliance Buying Guide
Best Luxury Appliance Brands for 2021
1. La Cornue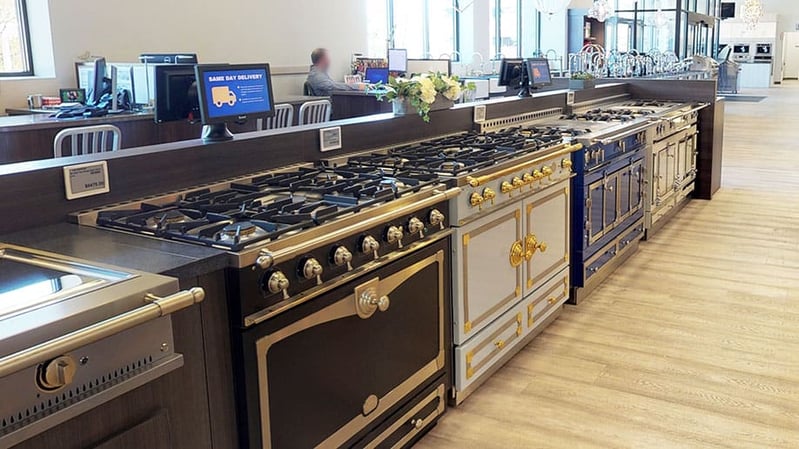 La Cornue Ranges at Yale Appliance in Framingham
La Cornue is French made but owned by US Middleby.
La Cornue is beautiful and will enhance your kitchen's look like a piece of furniture.
You can customize the range's cooktop into any configuration. Your La Cornue range could have an induction cooktop, a grill, gas burners, a wok burner, griddle, or a French top.
It's all made to order, so almost any combination is possible.
The oven has an arched top for natural convection.
La Cornue has over 400 colors and trims combinations to compliment about any style.
Drawbacks: Although it's great looking and customizable, La Cornue has simple controls.
2. Sub-Zero, Wolf, and Cove
Sub-Zero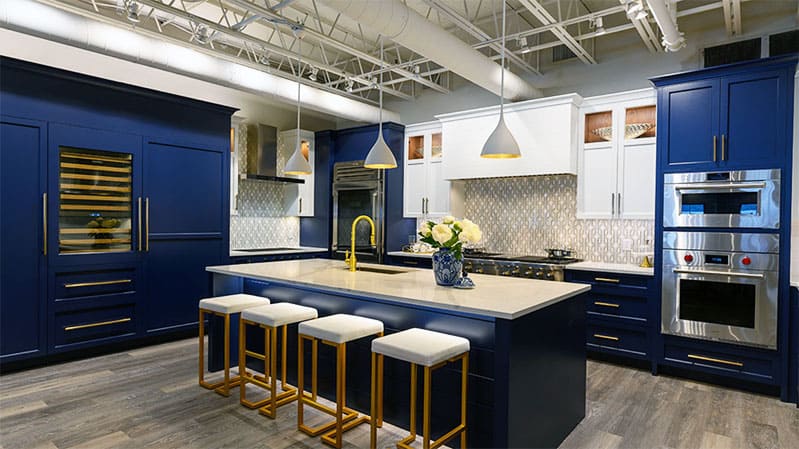 Sub-Zero and Wolf Kitchen at Yale Appliance in Hanover
Sub-Zero is still the most well-known luxury appliance company. They are American owned and operated.
Sub-Zero has the most refrigerators offered in various sizes.
They focus on keeping food fresh longer, and their features consist of vacuum-sealed doors, air filtration, and an air scrubber.
Sub-Zero's air scrubber cleans ethylene gases of spoiling foods to keep food fresh.
Sub-Zero has three refrigeration series:
The Pro Series: Stainless inside and outside to emulate a restaurant refrigerator
The Built-In Classic Series" Available in 30, 36, 42, and 48 inches. It's available in several configurations in the bottom freezer, side-by-side, and French door. You can buy the Classic in stainless or panel-ready.
The Designer Serie: It's available in 18, 24, 30, 36 inches in several refrigerators, freezers, and combination units. The Designer Series is made to fit seamlessly in cabinets and looks great with cabinet panels.
Drawbacks: Like Miele, Sub-Zero has no Wi-Fi functionality.
▶️ Is a Sub-Zero Refrigerator Worth the Money?
Wolf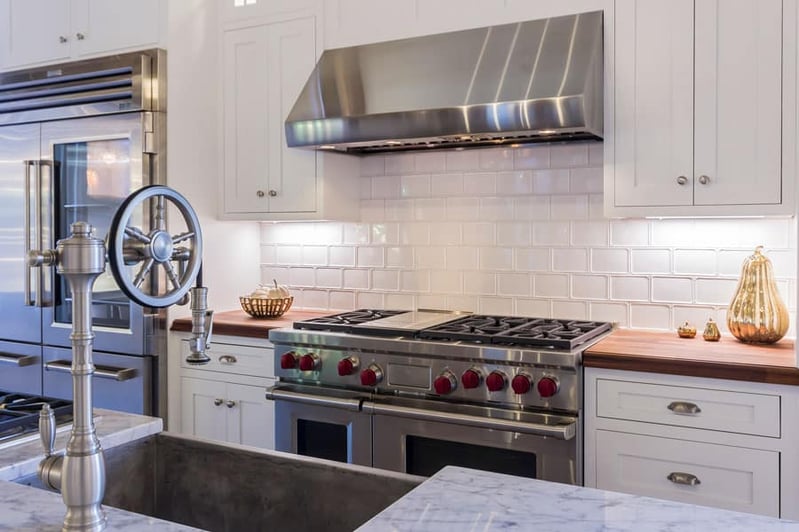 Wolf Kitchen at Yale Appliance in Dorchester
The Wolf line has menu-driven controls. Wolf's oven features their Verticross convection blower. This provides a more consistent heat than the standard convection fan.
Their Gourmet function allows you to choose the food and how you like it cooked. The oven calculates time and temperature.
For pro ranges, their dual fuel has the only dual convection where both fans operate independently. Wolf also features infrared for the grill and griddle for faster and more even heat.
Along with BlueStar and La Cornue, Wolf features a French top configuration.
A French top can cook many foods at different temperatures on the same surface.
Wolf offers a full array of speed and steam cooking products as well.
Wolf and Sub-Zero are the most reliable luxury appliances sold based on our 37,061 service calls logged last year.
Drawbacks: Their gas pro ranges need updating for self-cleaning and more output.
▶️ Are Wolf Professional Ranges Any Good?
3. Gaggenau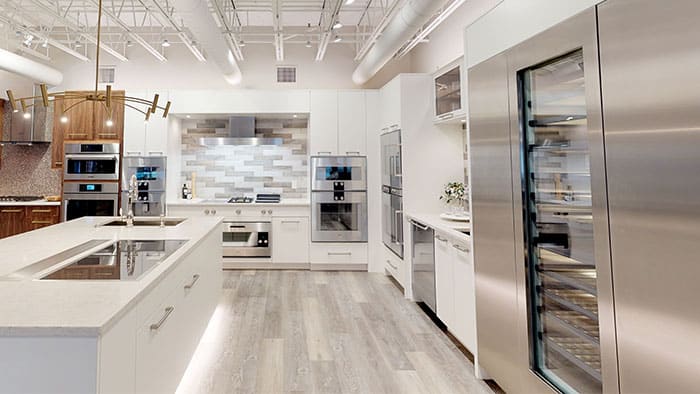 Gaggenau Kitchen at Yale Appliance in Hanover
If you want truly unique looking appliances, then Gaggenau is your best choice. They were designed by Bang & Olufsen, the Danish modernist designers.
Their products are reliable, and they have the best functioning steam ovens. Along with their side-swing ovens, they have a commercial-looking 36-inch pizza oven.
Gaggenau is the best you can buy for precision cooking.
Their refrigerator columns have stainless steel interiors to cool items faster. Their stainless interior is more hygienic and easier to clean.
Drawbacks: The controls on Gaggenau are mode driven. The controls aren't menu-driven like Miele or Wolf. You can do more in Gaggenau, but there is a learning curve to use the controls.
▶️ What Is the Best Steam Oven for You?
4. Miele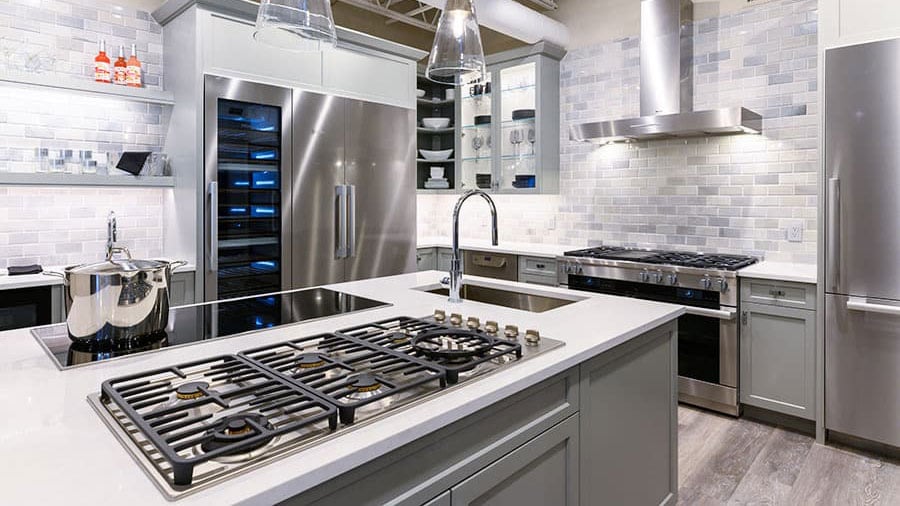 Miele Kitchen at Yale Appliance in Hanover
Over the last ten years, Miele's developed new wall ovens and steam ovens. Miele's wall ovens feature a menu-driven MasterChef program and steam assist.
Steam assist, featured in Miele's wall ovens and pro range ovens, use three bursts of moisture. It's great for caramelizing foods or baking bread.
Miele's pro ranges and steam ovens have M Touch controls, making them the simplest to use.
Miele's new G 7000 series dishwashers and compact laundry are the best in the industry. With automatic dispensing and heat pump technology, their products are bold and unique.
With the ease of use, Miele's appliances are generally reliable.
Drawbacks: Miele's Contemporary styling may not fit every kitchen. Although the controls are advance, you have no Wi-Fi, and it can't be operated remotely from your phone.
▶️ Click here to learn about Miele
5. JennAir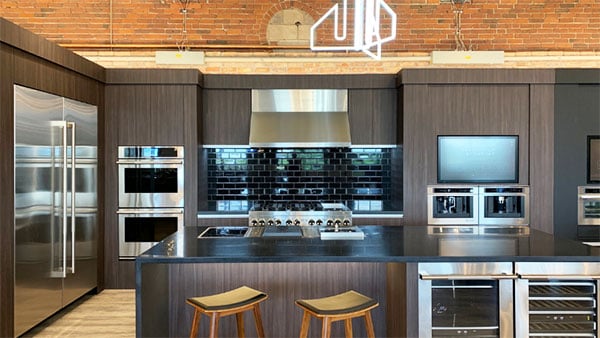 JennAir Kitchen at Yale Appliance in Dorchester
JennAir won Best New Products at the Architectural Digest show years back with their current lineup. Their highly styled products are available in the Rise and Noir series.
JennAir's pro ranges have always been popular, but their new series changes the brand's look and perception.
Refrigeration columns are new and have the most varied temperature controls available. You can set different temperatures in your crisper bins than in your refrigerator.
Their wall ovens have always been the easiest to use. It will calculate the time, temperature and even show you how the food will look before cooking it.
The whole line is well styled and available with Wi-Fi connectivity. JennAir elevates your cooking with their cooking app for fresh recipes.
Drawbacks: The availability of JennAir appliances has been poor. Make sure to order your JennAir appliances well in advance before you need them.
▶️ The New Jenn-Air Integrated Column Refrigerators
6. Thermador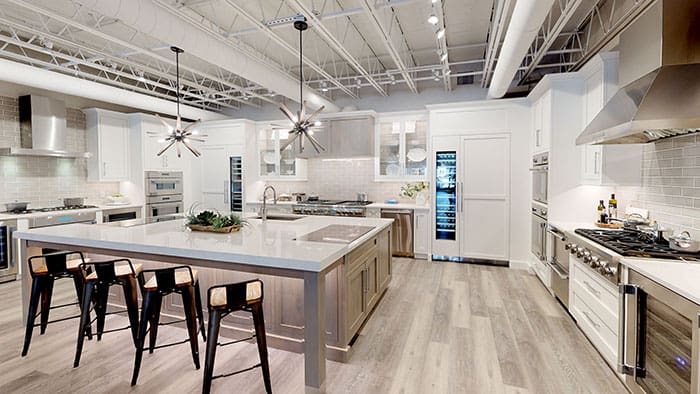 Thermador Kitchen at Yale Appliance in Hanover
Thermador had changed the styling of their lineup last year.
Their strength has always been cooking with their Star Burner and ExtraLow simmering feature.
Their pro ranges are reasonable and have two series, the Pro Harmony and Pro Grand. Both are available with steam oven options in their larger sizes.
They also have the most extensive line of integrated refrigerators.
Their refrigerators have better bin storage and allow you to push to open and pull with a handle. New for 2021-2022, their interiors will also be stainless, and Wi-Fi enabled.
Their dishwashers have zeolite, a volcanic element, for a 20-minute wash and dry cycle.
Thermador has the most wall oven options with side-swing doors, steam ovens, and combination wall ovens.
They incorporated one of the best Wi-Fi experiences with their HomeConnect App as well.
Drawbacks: Although their cooking appliances are new, they feature single convection only. They also lack menu-driven controls like Wolf, JennAir, and Miele.
7. Viking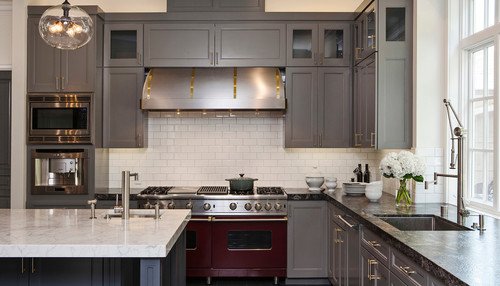 In many ways, Viking was the first luxury brand - debuting the first pro range in 1987.
Over the years, they added other appliances to round out a whole suite. Their best ranges are the Tuscany and their 7 Series pro ranges. The 7 Series range has the most powerful sealed burners. Their new Rose Bold range is beautiful.
They have a promising new refrigerator line after years of issues.
Drawbacks: Viking is plagued by service-related issues, especially for refrigerators and dishwashers. We do not sell or service Viking, so we can't provide service rates.
8. BlueStar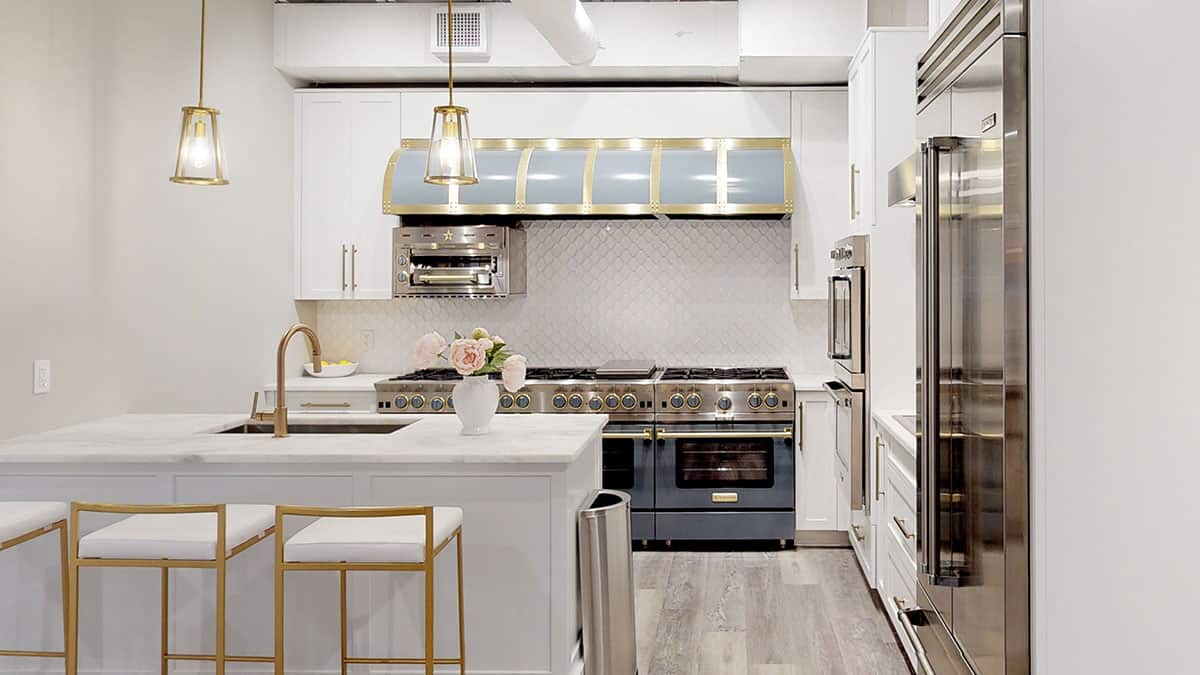 BlueStar Kitchen at Yale Appliance in Framingham
Their Platinum series ranges have the highest output at 25,000 BTU. BlueStar's ranges are available in five different series. BlueStar is a range company, and you can buy any type of pro range from 24 to 60 inches.
You have a French top, grill, griddle, and even a series with French doors.
Their new pro refrigerators are all metal on the inside and are designed to fit a sheet pan.
Also, you can completely customize your range with 1000 different colors and trim options.
For colors and customization, BlueStar is the best on this list. Seventy-five percent of Bluestar ranges sold at Yale are customized.
Without question, if you want a unique look in your kitchen, BlueStar is your best choice. Their ranges are excellent.
Drawbacks: BlueStar is not for everyone. They have no clock and timers on their ranges and have open restaurant-style burners. They are also not available in dual fuel options.
Unlike the others, BlueStar is not a full line of appliances. Just cooking and refrigeration.
Read More: Is a BlueStar a Good Professional Range?
9. Dacor by Samsung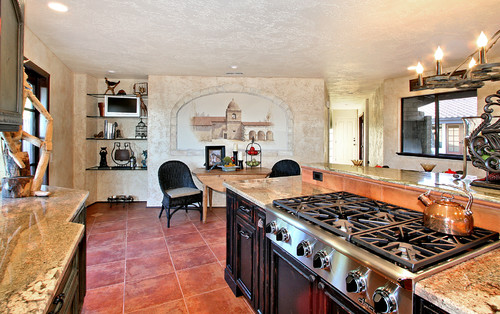 Dacor was purchased by Samsung four years ago. They went from a family-owned company to being part of one of the most innovative multi-industry companies.
They market some interesting pro ranges with steam in high-tech finishes.
Dacor also has stainless interior refrigerator columns with cool controls. It's all Wi-Fi enabled.
With the rapidly innovative Samsung behind Dacor, their appliances could be worth considering in the future.
Drawbacks: The problem, at least with Samsung, could be served after you buy it. For reference, we don't sell or service Dacor.
Two Potential Luxury Appliance Brands to Consider
1. SKS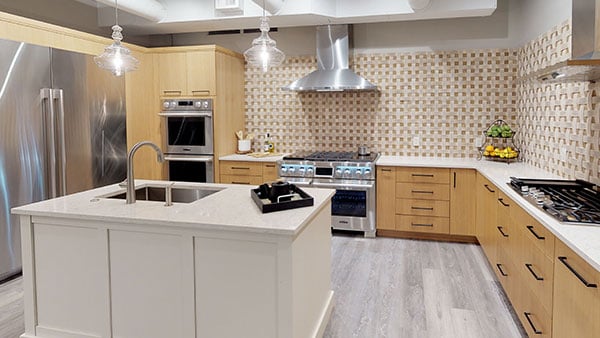 Signature Kitchen Suite Display at Yale Appliance in Hanover
Signature Kitchen Suite (SKS) is a division of LG.
Suppose you like to sous vide (Sous vide is precision boiling in a bag).
In that case, Signature Kitchen Suite (SKS) is one of your only choices with a pro range featuring sous vide.
SKS also features induction on their pro ranges along with Fisher & Paykel and Thermador.
Their 36-inch pro range is Make-Up Air compatible for MA residents. SKS's entire line is Wi-Fi enabled as well.
Their induction cooktop and refrigerators are pretty interesting.
Drawbacks: SKS's appliances are new and untested as of yet.
2. Fisher & Paykel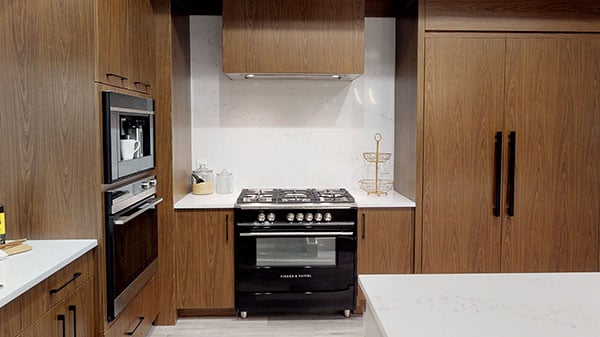 Fisher & Paykel Kitchen at Yale Appliance in Hanover
Fisher & Paykel has some impressive pro ranges. Like SKS, they feature a combination of induction and gas burners.
Their double drawer dishwasher has always been different.
Drawbacks: Fisher & Paykel's wall ovens and cooktops are solid but unspectacular.
Luxury Kitchen Appliance Problems
Delivery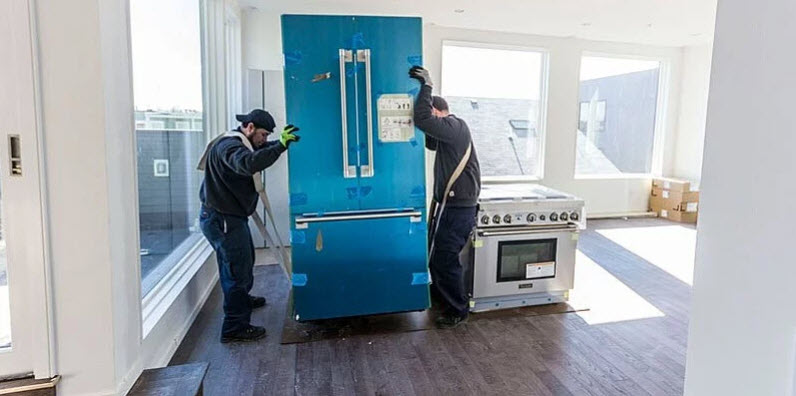 Yale Appliance Top-Floor Refrigerator Delivery
Delivery, especially in Boston, is a problem. Before you buy your appliances, make sure you have good delivery service available.
A delivery team needs to lift and navigate 600-pound luxury appliances into your home.
A lot can happen during the delivery of a Sub-Zero, Viking, or Thermador appliance.
Google reviews for the delivery experience before you buy appliances from any store.
▶️ See what a refrigerator delivery should look like.
Installation
Installation isn't usually a problem. Your contractor is usually under contract to install your appliance.
But, you may want to ask how comfortable your contractor is placing cabinet panels on an integrated refrigerator.
It's incredibly hard. We now have 18 installation teams daily installing what contractors aren't comfortable with.
If you are installing the appliances yourself, you may need to move your electrical and water lines.
▶️ Click here to see what a custom installation should look like.
Service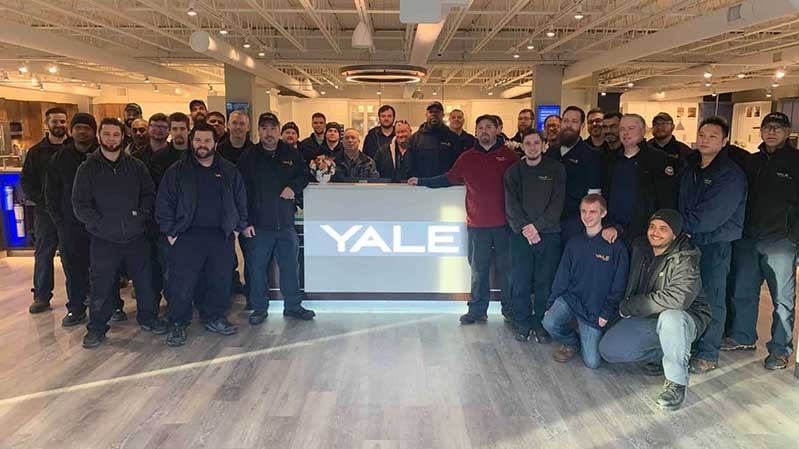 Yale Appliance Service Team
Service is the biggest problem in this industry.
You must inquire and vet service before the sale. If the dealer doesn't have service, find out who they refer to.
Ask, investigate, and read reviews.
The average technician can't handle your new Thermador range with a steam oven.
Find out who can or don't buy the brand when no local service is available.
Key Takeaways
Luxury appliances have evolved to be some of the most advanced products in your home. However, service is a problem in certain areas.
You may think you will receive that "Lexus" or "Mercedes" service treatment, but in fact, most companies on this list do not operate service.
Besides exploring your options, it's very important to know the service behind all these brands before you buy.
You will love cooking on a pro range, induction cooking surface, or steam oven. Just make sure you can get it fixed.
Additional Resources
Have questions on premium appliances? Get the Yale Appliance Buying Guide with features, specs and detailed profiles on Sub-Zero, Wolf, Miele, Viking, La Cornue, Thermador and more. Over 620,000 people have read a buyers buyers guide.
Related Articles
Why Should You Trust Us?
It seems that every appliance review has nothing but glowing comments about almost every product, yet you read customer reviews and they are almost universally bad.
We are here to fill in the disconnect. We'll give you the best features, and the drawbacks as well, including reliability based on over 37,000 calls performed by our service team just last year. Our goal is to give you ALL the information so you know what's right for you.
Please consider subscribing or adding to the conversation in the comments below. We appreciate you stopping by.
Steve Sheinkopf
Steve is the third-generation CEO of Yale and a lifelong Bostonian. He currently resides in Boston, one mile from where he was born. Despite being one of the worst goalies of all time, he is a huge hockey fan of college hockey and the Boston Bruins. The love of his life is his daughter Sophie.
A Note About Pricing
Pricing on this blog is for reference only and may include time sensitive rebates. We make every attempt to provide accurate pricing at time of publishing. Please call the stores for most accurate price.