Best Luxury Appliance Brands (2023 Update)
January 1st, 2023 | 12 min. read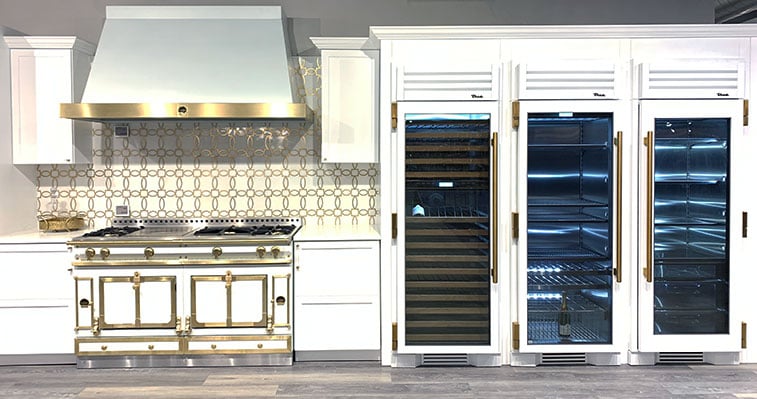 In this article, you will learn about the best luxury appliance brands, their strengths, and some possible drawbacks.
You will also learn about the best appliances, what makes a kitchen luxurious, and what a luxury kitchen will cost.
There is no single "best" brand for everyone. You want to match the best individual products to how you cook and use your kitchen.
Towards the end, we'll also cover a few problems with buying luxury brands nobody ever talks about. I will also show you how to prevent this with a little planning.
Ultimately, this article will help you start your kitchen project.
Let's get started.
Best Luxury Appliance Brands for 2023
La Cornue and Sub-Zero, Wolf, and Cove tied for first place for the best luxury appliance brands for 2023.
It's really hard comparing La Cornue to Sub-Zero and Wolf. La Cornue is completely customizable with 50 colors, but a La Cornue range can cost ten times more than a Wolf range.
La Cornue offers larger ranges, while Wolf has a much broader line of ovens, cooktops, and rangetops.
Wolf, however, has their new Wolf Gourmet system installed in its dual fuel ranges. You place the food in the oven and select how you want it cooked. The range will provide the optimum time, temperature, and rack position.
La Cornue is French-made but owned by US Middleby, while Sub-Zero and Wolf are American-made and family-owned. You may be leaning toward one or the other because they are such different products.
Let's start with La Cornue.
La Cornue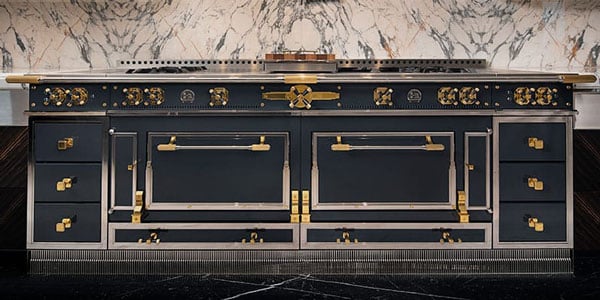 Château Suprême By Ferris Rafauli, Courtesy of La Cornue
La Cornue is beautiful and will enhance your kitchen's look like a piece of furniture. However, your ability to customize the range truly sets La Cornue apart.
For instance, you can buy Drake's (the rapper, not the cake owner) range, the Château Suprême, at $130,000 (shown above). How about a pink La Cornue range designed by Suzanne Kasler?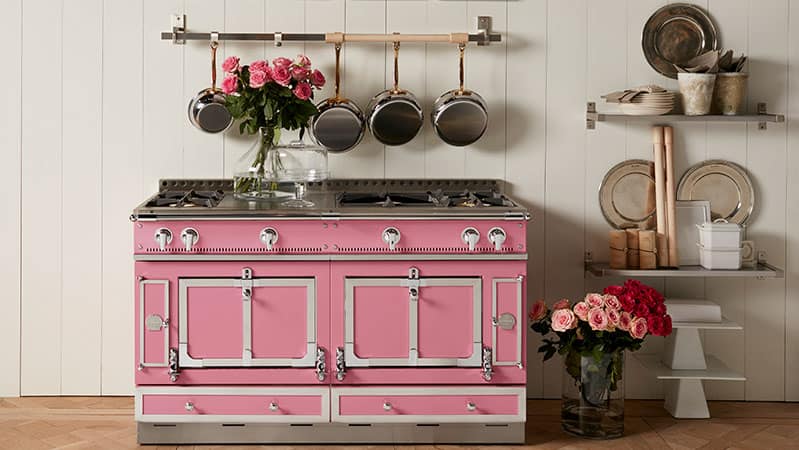 Suzanne Kasler La Cornue Range, Courtesy of La Cornue
You can customize the range's cooktop into any configuration. Your La Cornue Château range could have an induction cooktop, a grill, gas burners, a wok burner, a griddle, or a French top.
It's all made to order, so almost any combination is possible.
The oven has an arched top for natural convection, which can be customized in electric or gas. Electric is better for baking, whereas gas heat is better for roasting and broiling. On the larger ranges, you can buy one of each.
La Cornue has 51 colors and ten trims to complement any style. They also offer their lower-priced CornuFé in a few sizes with standard convection ovens and no customization.
Pros: La Cornue has more stovetop configuration options than any brand on this list. It also has many stylish customization options.
Cons: Although it's great-looking and customizable, La Cornue has no smart functionality, nor does it have a clock and timer.
Read More: What's the Difference Between the La Cornue Château and the CornuFé Series Ranges?
Sub-Zero, Wolf, and Cove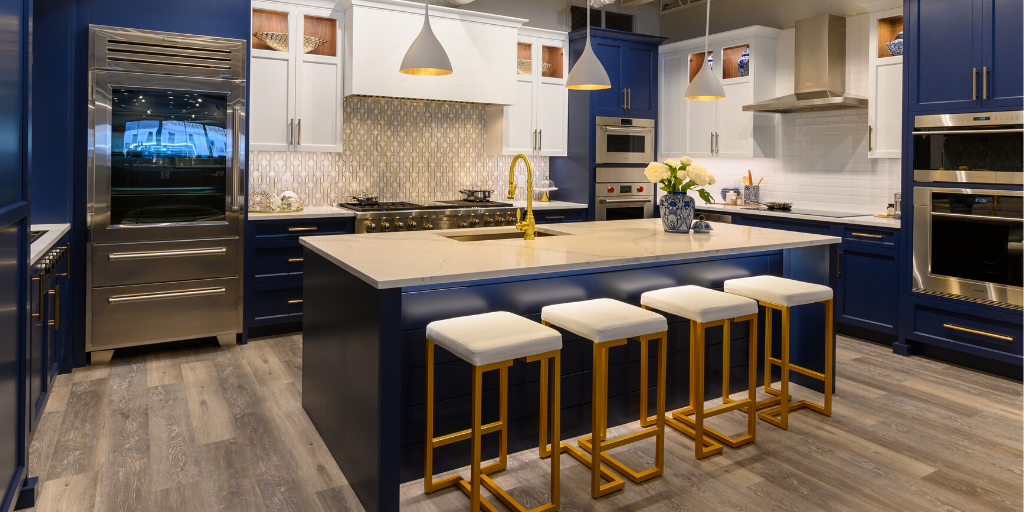 Sub-Zero and Wolf Kitchen at Yale Appliance in Hanover
Sub-Zero, Wolf, and Cove are still the most well-known luxury appliance companies. They are American-owned and operated, with Arizona, Kentucky, and Wisconsin factories.
Sub-Zero has the most refrigerators offered in various sizes.
They focus on keeping food fresh longer, and their features consist of vacuum-sealed doors, air filtration, and an air scrubber. Sub-Zero's air scrubber cleans ethylene gases of spoiled foods to keep food fresh.
They are also the best for preserving wine by keeping light, heat, humidity, and vibration from destroying the tannins of the wine.
Sub-Zero has three series of refrigerators: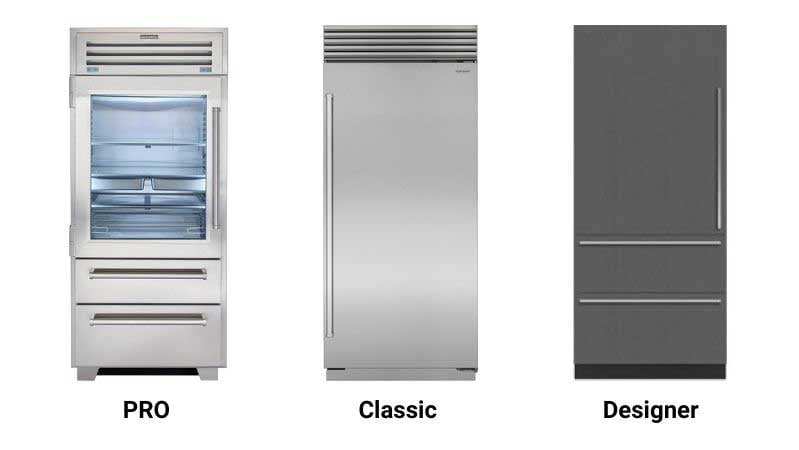 The Pro Series: Stainless inside and outside to emulate a restaurant refrigerator.
The Built-In Classic Series: Available in 30, 36, 42, and 48 inches. It's available in several configurations in the bottom freezer, side-by-side, and French door. You can buy the Classic in stainless or panel-ready.
The Designer Series: It's available in 18, 24, 30, 36 inches in several refrigerators, freezers, and combination units. The Designer Series is made to fit seamlessly in cabinets and looks great with cabinet panels.
The Wolf line has menu-driven controls. Wolf's dual fuel oven features their VertiCross convection blower. This provides a more consistent heat than the standard convection fan.
Their Gourmet function allows you to choose the food and how you like it cooked. The oven calculates time, temperature, and even rack position.
Wolf's professional dual fuel ranges are new with their blower convection, LCD (Liquid Crystal Display) screen, Wolf Gourmet, and smart integration.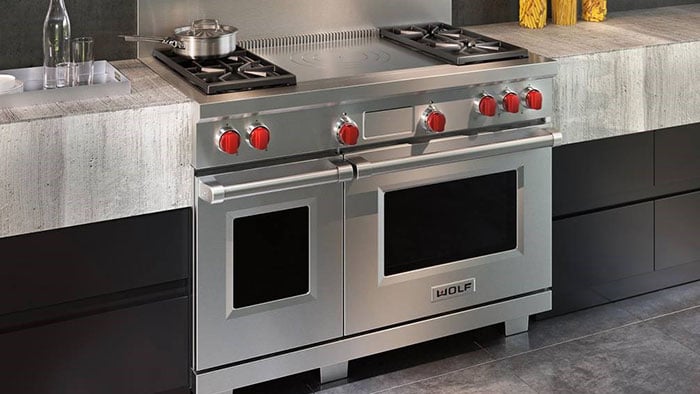 Wolf 48-Inch Dual Fuel Range with a French Top
Along with BlueStar and La Cornue, Wolf features a French top configuration. A French top can cook many foods at different temperatures on the same surface. Wolf offers a full array of speed and steam-cooking products as well.
Wolf and Sub-Zero are some of the most reliable luxury appliances sold based on over 40,000 service calls logged last year.
Pros: Excellent reliability and features such as VertiCross convection and the Wolf Gourmet guided cooking system in their pro ranges and ovens. Sub-Zero refrigerators keep food fresh the longest, according to our Project Produce test.
Cons: Sub-Zero refrigerators might have the most features, but they are also one of the most expensive refrigerators on the market. Wolf's gas pro ranges need updating for self-cleaning and more output (their grill, griddle, and French top are amongst the best).
Lastly, their current lead times are longer than usual due to their well-earned popularity.
Read More: Are Wolf Professional Ranges Worth It?
Gaggenau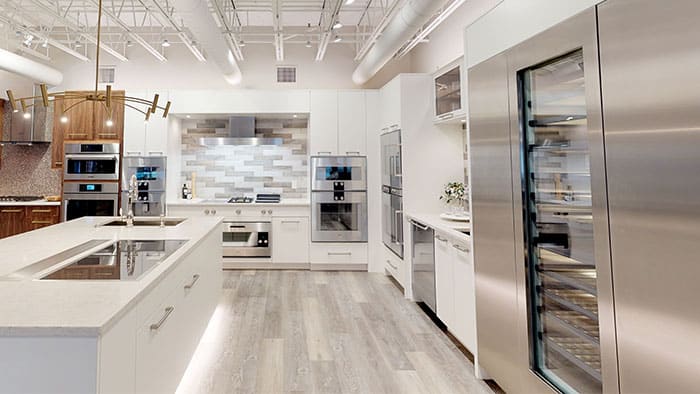 Gaggenau Kitchen at Yale Appliance in Hanover
If you want truly unique-looking appliances, then Gaggenau appliances are a good consideration. They were designed by Bang & Olufsen, the Danish modernist designers.
Their products are reliable and offer the most cooking modes. Gaggenau is the best you can buy for precision cooking.
Along with their side-swing ovens, they also have a commercial-looking 36-inch pizza oven.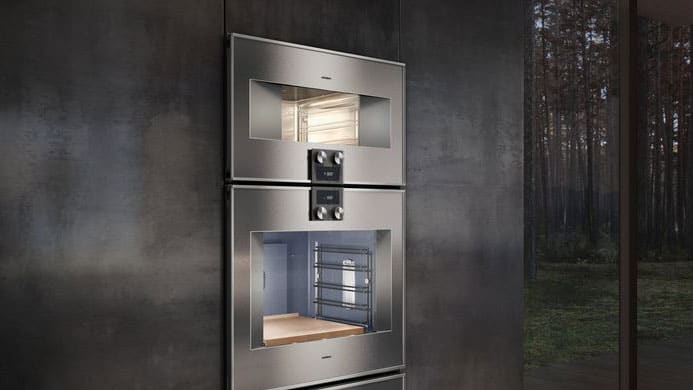 Gaggenau Side Swing Wall Ovens
Pros: Great for the experienced chef. Gaggenau has the the most amount of cooking modes, and their appliances are reliable.
Cons: The controls on Gaggenau are mode-driven rather than intuitive, like Miele and Wolf. You can do more with Gaggenau, but you must take the time to learn how to use all the modes and controls.
True Refrigerators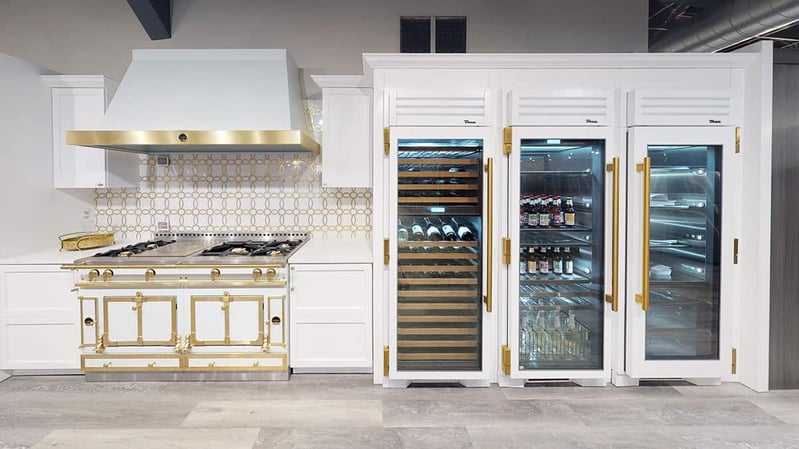 True Refrigeration at Yale Appliance in Hanover
I want a game room for one of these refrigerators. True refrigeration is available in 36, 42, or 48-inch sizes with or without a glass window.
You can purchase a regular refrigerator from True, but you can also buy designer refrigeration such as a designer refrigerator, freezer, beverage center, or wine column, as shown in bright yellow.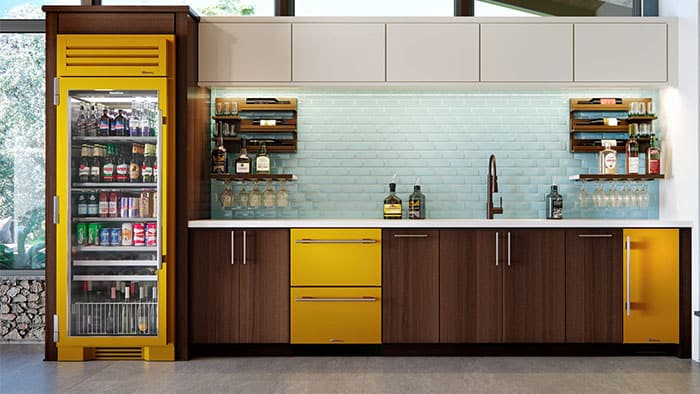 True Refrigeration in Yellow
True's refrigeration has 11 color options, with six for hinge accents. It's interesting looking at all the possible combinations on their websites, like a Cobalt Blue refrigerator with brass hinges.
True has an all-stainless interior. Most of their lines are approved and rated for even outside use.
If you want a different-looking statement piece, then consider a True refrigerator.
Pro: Beautiful designs, solid appliances
Cons: You can't place a custom panel on a True refrigerator to match your cabinets. They only sell refrigerators, freezers, and ice makers. The larger units do not have an icemaker.
Read More: True vs. Sub-Zero Professional Refrigeration
Thermador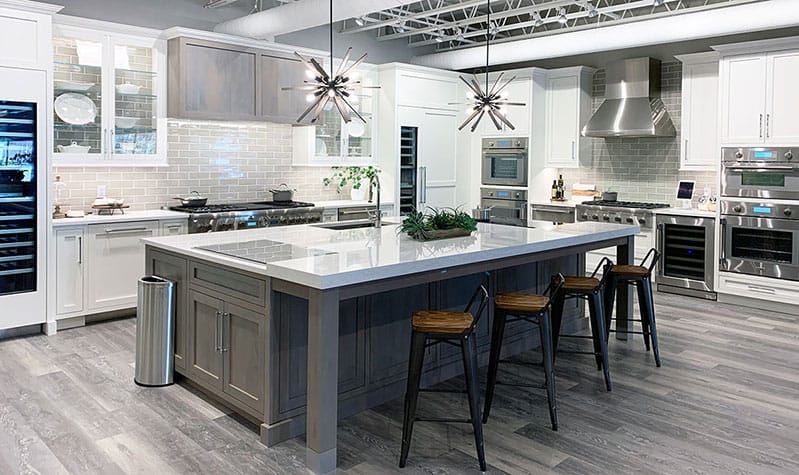 Thermador Kitchen at Yale Appliance in Hanover
Thermador had changed the styling of their lineup a couple of years ago. Their strength has always been cooking with their Star Burner and ExtraLow simmering feature.
Thermador professional ranges are reasonable and are available in two series, the Pro Harmony and Pro Grand, with the availability of a steam oven in the larger 48 and 60-inch sizes.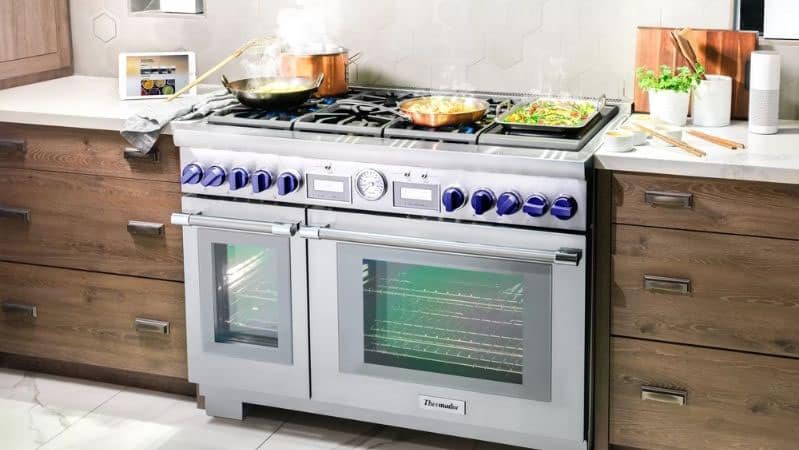 Thermador 48-Inch Pro Grand Dual Fuel Range
They also have the most extensive line of integrated refrigerators with new stainless interiors. Their refrigerators have better bin storage and allow you to push to open and pull with a handle.
Thermador's dishwashers have zeolite, a volcanic element, for a 20-minute wash and dry cycle when available. Thermador has the most wall oven options with side-swing doors, steam ovens, and combination wall ovens.
They also incorporated one of the best Wi-Fi experiences with their HomeConnect app.
Pros: Good selection of products throughout the line. The raised Star burner is easier to clean than the others. Reasonable prices
Cons: Although their cooking appliances are new, they feature single convection only. They also lack menu-driven controls like Wolf and Miele. Like many other manufacturers, Thermador has availability issues.
Read More: Should You Buy a Thermador Professional Range?
Miele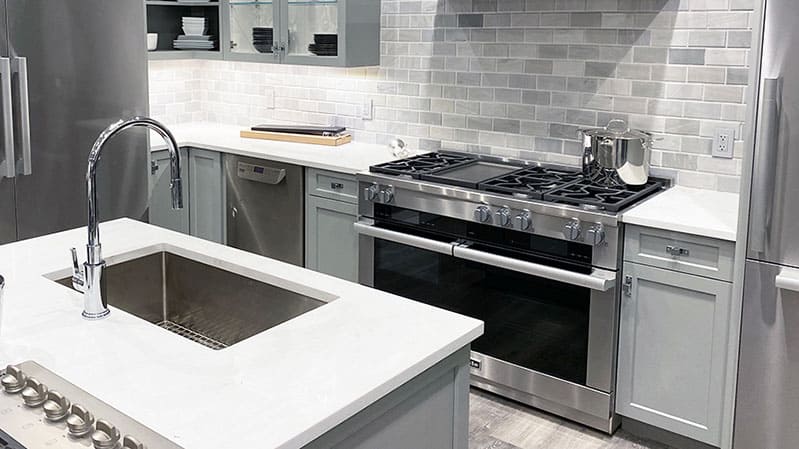 Miele 48-Inch Pro Range at Yale Appliance in Hanover
Miele is a great brand with great styling. Many companies have copied their once-unique styling. Ten years ago, Miele's developed their menu-driven MasterChef program and steam assist.
Steam assist, featured in Miele's wall ovens and pro ranges, uses three bursts of moisture. It's great for baking bread. Miele's pro ranges and steam ovens have M Touch controls, making them also simple to use.
Miele's new G 7000, lower-priced G 5000 series dishwashers, and compact laundry are some of the best appliances in the industry.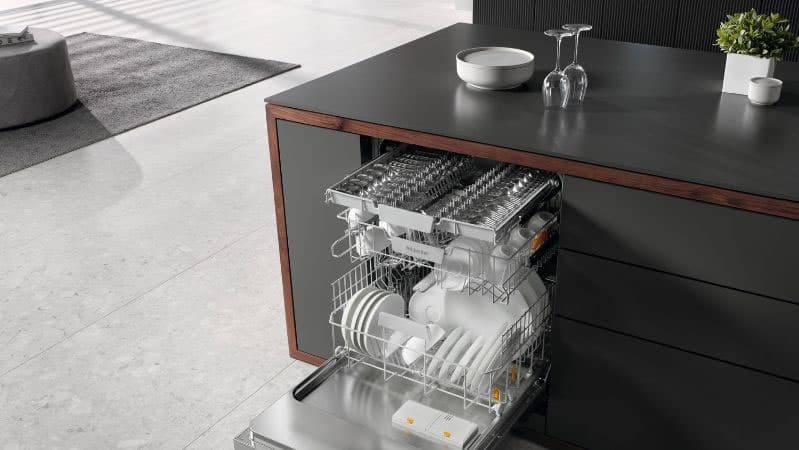 Miele G 5000 Series Dishwasher
Pros: Fantastic cooking technology. The laundry and dishwashers are excellent.
Cons: Miele's contemporary styling may not fit every kitchen. Although the controls are advanced, you have no Wi-Fi, and it can't be operated remotely from your phone. Ranges need a refresh, especially the burner output.
Read More: Best Miele Dishwashers
Signature Kitchen Suite (SKS)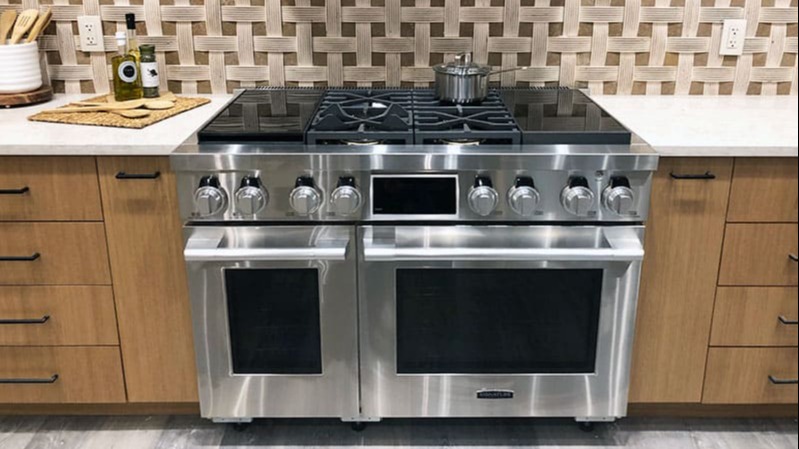 SKS Pro Range With Sous Vide and Induction at Yale Appliance in Hanover
SKS has been the fastest-growing premium line mostly because it has been available. Still, SKS appliances are worth considering for their features.
Their 48-inch range has 23,000 BTU, and 15,000 BTU sealed burners, induction, and sous vide. Their lowest output for simmering is now the best at a constant 100 BTU. Their pro range ovens consist of a large convection oven and a steam oven.
Their column-style refrigerators have the largest internal capacity and are all stainless on the inside. The whole SKS line is Wi-Fi enabled through LG's (SKS's parent company) ThinQ App.
SKS may not have the brand reputation of the others, but they are worth considering. The warranty is excellent, and LG is the most reliable brand sold at Yale.
Pros: Solid reliability and availability (so far). Ranges are well-featured. Their refrigerators are larger in capacity.
Cons: Limited number of products. They have sous vide, but no grill accessory or configuration.
Read More: Should You Buy a Signature Kitchen Suite Professional Range?
Monogram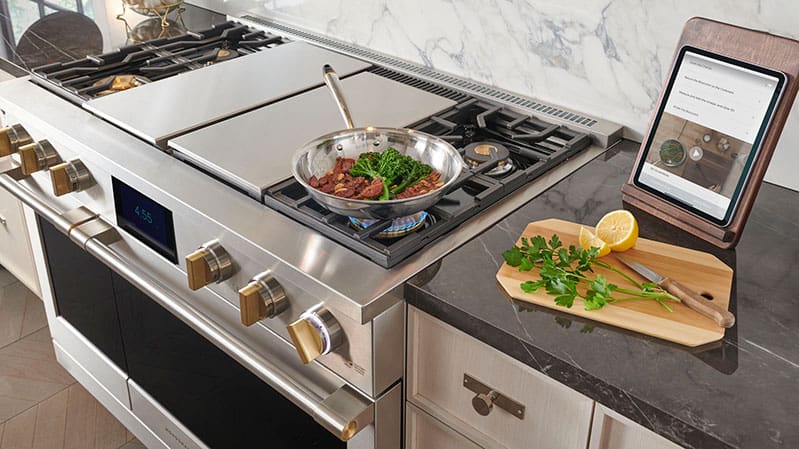 Monogram 48-Inch Pro Range
We decided to sell Monogram after 15 years because their appliance features are compelling.
Their ranges feature 23,000 BTU sealed burners, infrared grills, and an articulating display option.
The refrigerators have an interesting design with cold air flow above each shelf and a crisper to speed up chilling or thawing.
Dishwashers have specially designed bottle washes. They have a decent rebate program and excellent smart functionality with their SmartHQ app tied to Hestan Cue cooking.
Pros: Good rebates up to $3,000, plus some compelling features.
Cons: The selection is fairly limited on the range side.
BlueStar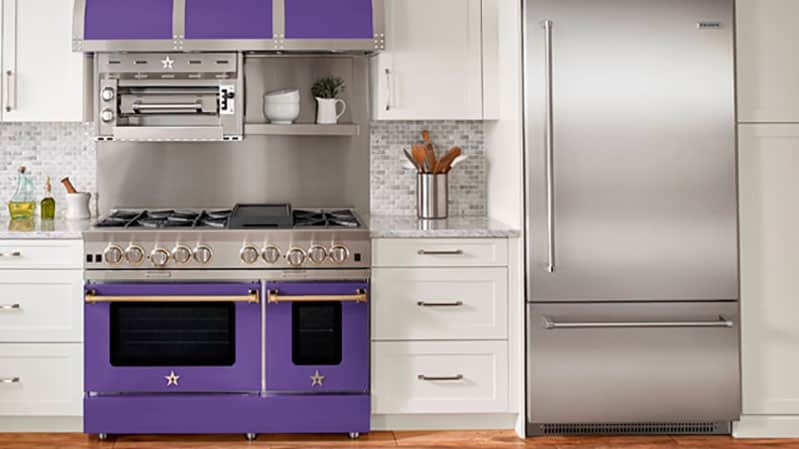 BlueStar 48-Inch Professional Customized Range
Their new dual fuel range looks promising when it debuts in a few months. For now, their Platinum series ranges have the highest output at 25,000 BTU with the only pure convection system. BlueStar's ranges are available in five different series.
BlueStar is a range company, and you can buy any type of pro range from 24 to 60 inches.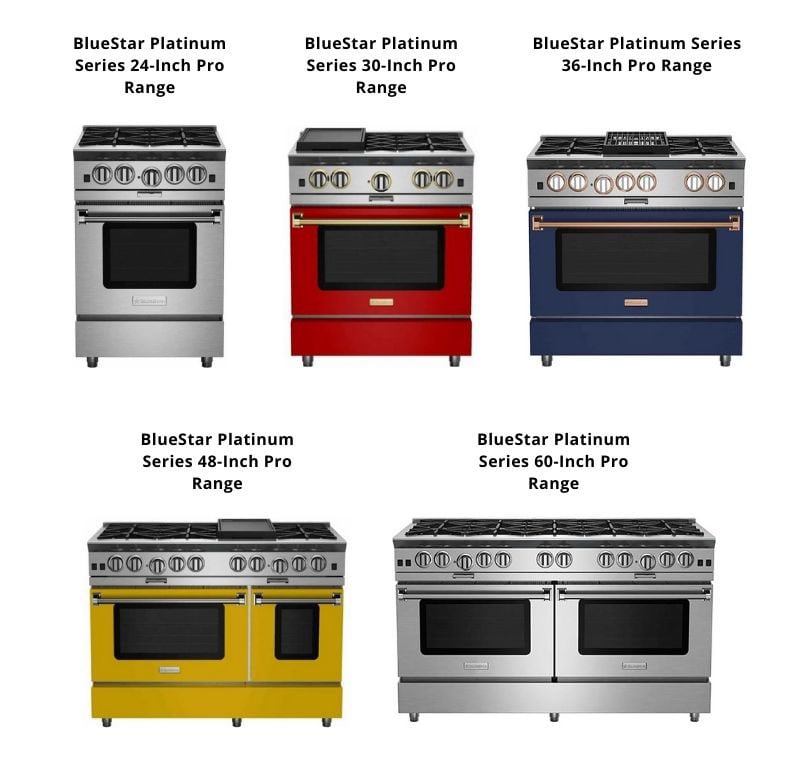 You have a French top, grill, griddle, and even a series with French doors in a limited size. Their pro refrigerators are all metal inside and are designed to fit a sheet pan.
Also, you can completely customize your range with 1,000 different colors and ten trim options. For colors and customization, BlueStar is the best on this list.
Roughly seventy-five percent of Bluestar ranges sold at Yale are customized. Without question, if you want a unique look in your kitchen, BlueStar is your best choice, next to La Cornue. Their ranges are excellent.
Pros: One thousand color options, plus you can choose your own, high output cooking with tons of options in every size
Cons: BlueStar is not for everyone. Their ranges are basic without clocks and certainly without Smart functionality. Unlike the others, BlueStar does not have a full line of appliances. Just cooking and refrigerating.
Read More: Best BlueStar Professional Ranges
Viking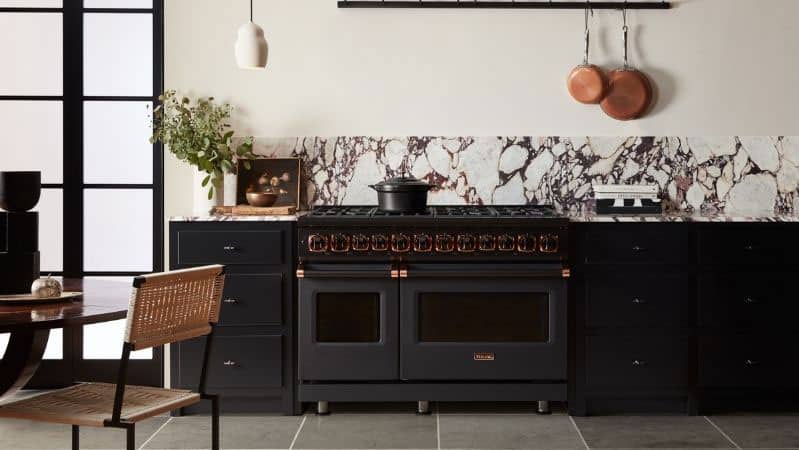 Viking 48-Inch Rose Bold Professional Range
In many ways, Viking was the first luxury brand - debuting with the first pro range in 1987. Over the decades, they added other appliances to round out a whole suite of kitchen appliances.
Their best ranges are the Tuscany and their 7 Series pro ranges. The 7 Series range has the most powerful sealed burners. Their new Rose Bold range is beautiful.
Lastly, they have a promising new refrigerator line after years of issues and have an excellent CEO in Scott Grugel.
Pros: Extensive range line up, great name recognition, 17 colors to choose from
Cons: Viking has been plagued by service-related issues in the past, especially for refrigerators and dishwashers. We do not sell or service Viking, so it's worth checking for available service with your local dealer before you buy any Viking appliances.
Fisher & Paykel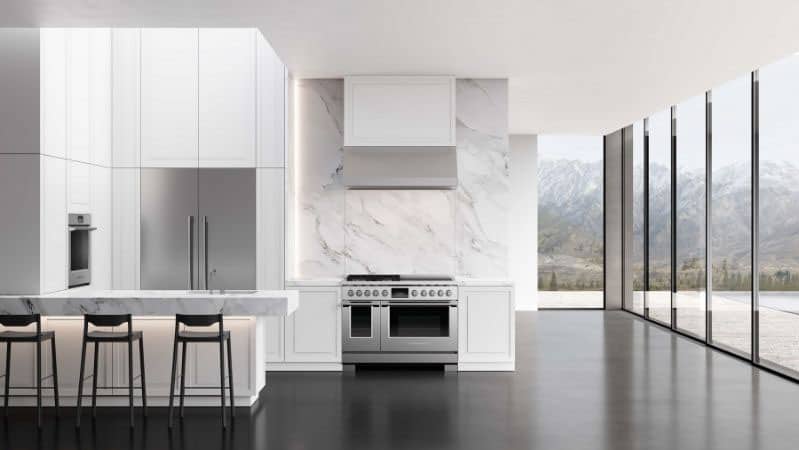 Fisher & Paykel Professional Kitchen
Fisher & Paykel has some impressive pro ranges. They feature a combination of induction and gas burners. Their 48-inch is half gas at 23,000 BTU and 15,000 BTU (British Thermal Unit) burners, with the other half being induction.
They also offer column-style refrigerators. Their DishDrawer has always been different, and their wall ovens offer various cooking modes.
Fisher & Paykel also offers a five-year warranty on all their appliances.
Pros: All of Fisher & Paykel's appliances have a five-year warranty. They also have unique column refrigerators and DishDrawers.
Cons: It's limited in terms of selection. The columns are only 30, 24, and 18-inch widths. Thirty-six inches is the most popular.
Read More: Should You Buy the Fisher & Paykel 48-Inch Dual Fuel Range With Induction?
JennAir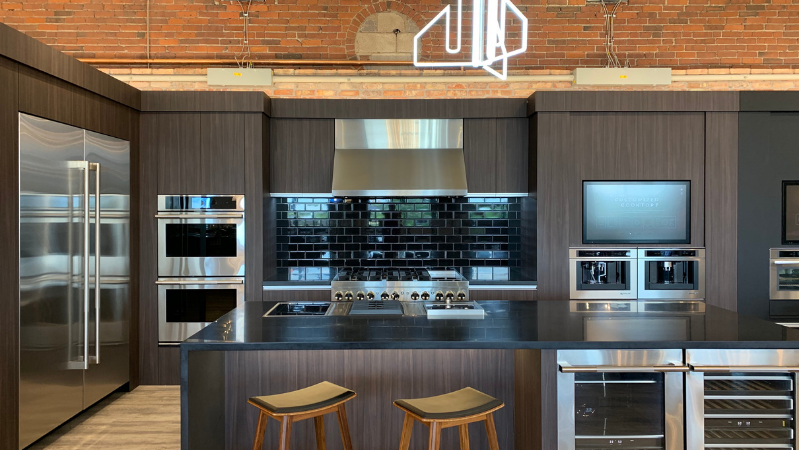 JennAir Professional Kitchen at Yale Appliance in Boston
JennAir won "Best New Products" at the Architectural Digest show in 2018 with their current lineup. Their highly styled products are available in the Rise and Noir series.
JennAir's pro ranges have always been popular, but their new series changes the brand's look and perception. Their wall ovens have always been the easiest to use.
JennAir's wall ovens will calculate the time and temperature and even show you how the food will look before cooking it.
Pros: The whole line is well-styled and available with Wi-Fi connectivity. JennAir elevates your cooking with their cooking app for fresh recipes.
Cons: However, the line has been plagued by poor availability. Additionally, JennAir has yet to evolve to keep up with some of the more current brands.
What Makes a Kitchen Luxury or High-End?
Luxury kitchens are based on premium refrigerators, cooking, and ventilation. You have better dishwasher options, but the other categories are more important.
Refrigeration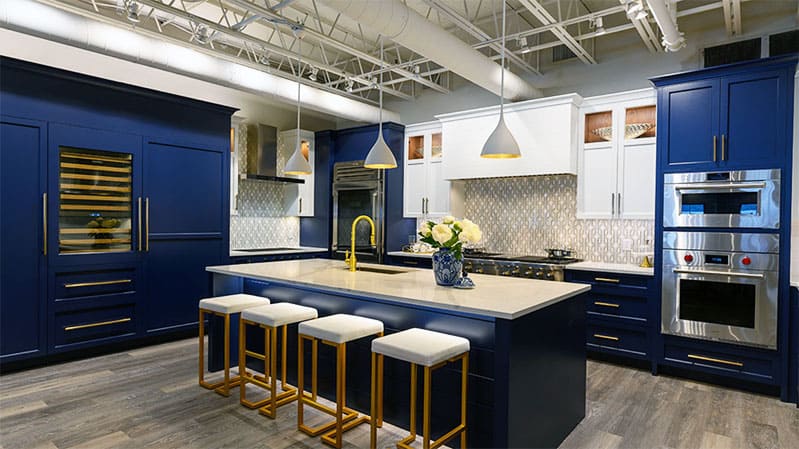 Sub-Zero Refrigeration at Yale Appliance in Hanover
You should expect pro-style or integrated refrigerators in a luxury kitchen. A pro-style refrigerator has a compressor on the top.
An integrated refrigerator is hidden with a custom cabinet front. Both options are either cabinet-depth or flush to the cabinet for better aesthetics.
Cooking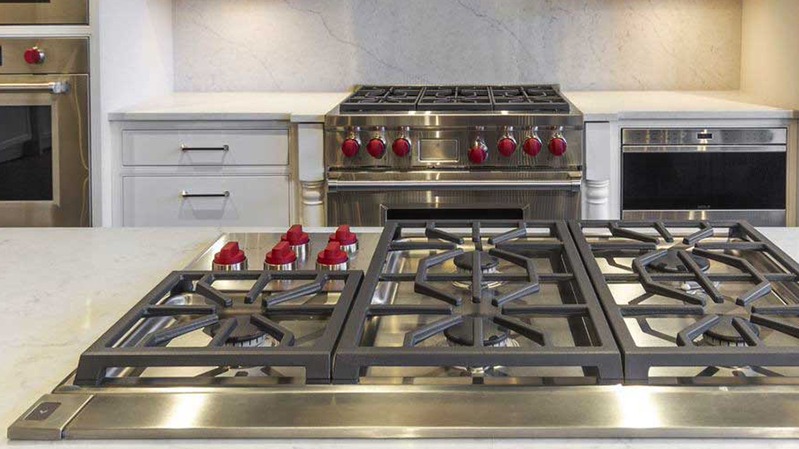 Wolf 36-Inch Rangetop and Pro Dual Fuel Range at Yale Appliance in Framingham
The professional range is the luxury appliance of choice for cooking. You can also consider a wall oven and rangetop - an important distinction for your kitchen design.
Pro ranges are centralized, whereas you can place your wall oven anywhere.
Ventilation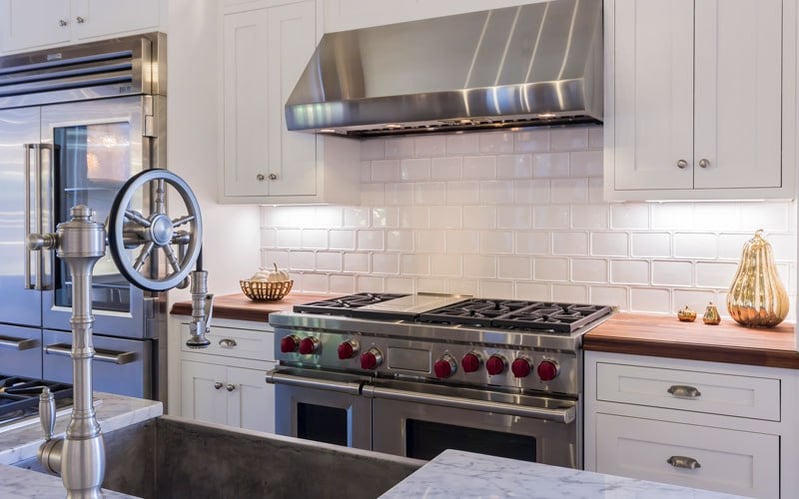 Ventilation Hood and Wolf 48-Inch Professional Range at Yale Appliance in Boston
Ventilation is another aspect of luxury kitchens. You can buy a high CFM (Cubic Feet Per Minute) pro hood or customize your vent with a wood enclosure.
Customizing Your Luxury Kitchen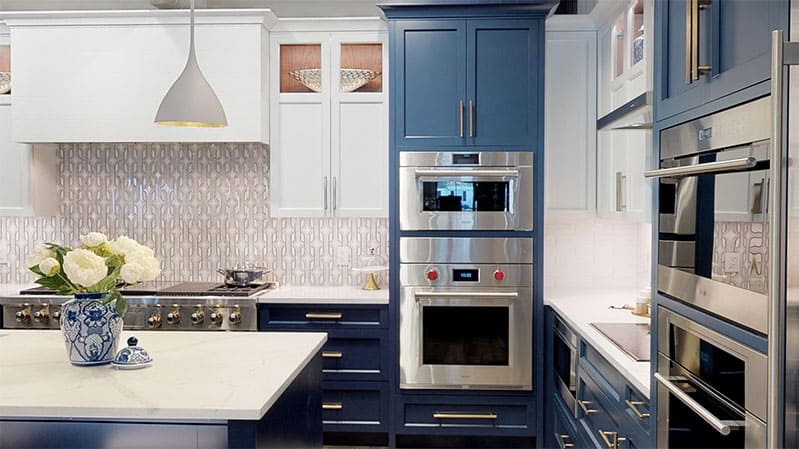 Wolf Built-In Steam and Speed Ovens at Yale Appliance in Hanover
You can also customize your kitchen with specialty appliances such as:
Coffee Makers
Steam Ovens
Speed Ovens
Microwave Drawers
Undercounter Refrigerators or Wine Units
In summary: Your first three focus points for designing a kitchen should be cooking, ventilation, and refrigeration, in that order.
Do Luxury Appliances Need to Be Smart or Wi-Fi Enabled?
Many manufacturers have promoted smart technology or the ability to operate your appliances remotely. Smart appliances offer great future potential and are rapidly evolving.
A few have tie-ins to Innit, Side Chef, and Hestan Cue, so you can follow them step-by-step.
Then again, a few brands like BlueStar and even La Cornue need more functionality.
In Summary: Smart technology and Wi-Fi are good features for appliances but not essential for a luxury kitchen. It depends on how you cook and whether you will use the apps.
How Much Does a High-End or Luxury Kitchen Cost?
A high-end kitchen costs $25,000-$50,000 for a professional range, refrigerator, pro hood, and dishwasher.
However, prices will vary between brands and options. You can buy a La Cornue range for $150,000. You could easily add other elements like a coffee system, speed oven, and wine storage and spend more than $25,000.
In Summary: A luxury kitchen costs $25,000 and up depending on your brand and appliance selections.
4 Luxury Kitchen Appliance Problems
1. Delivery
Delivery, especially in Boston, is a problem. Before you buy your appliances, make sure you have a good delivery service available. A delivery team must lift and navigate 600-pound luxury appliances into your home on increasingly soft floors in a tight area.
A lot can happen during the delivery of a Sub-Zero, Viking, or Thermador appliance in terms of damage to your house and appliances.
Never sign any delivery without a full inspection. Check reviews about the delivery experience before you buy appliances from any store.
Download our delivery checklist to compare stores.
2. Installation
Installation isn't usually a problem. Your contractor is usually under contract to install your appliance. But ask how comfortable your contractor is placing cabinet panels on an integrated refrigerator or dishwasher. It's incredibly hard.
We now have 18 installation teams daily installing what contractors aren't comfortable with. You may need to move your electrical and water lines if installing the appliances, yourself.
3. Service
Service is the biggest problem in this industry. You must inquire and vet service before the sale. If the dealer doesn't have service, find out who they refer to.
Ask, investigate, and read reviews.
The average technician can't handle your new Thermador range with a steam oven. Find out who can or don't buy the brand when no local service is available.
Read More: Why Doesn't Every Appliance Brand and Store Offer Service?
4. Availability
Availability is anywhere from 6-14 months. In 2019, it was 1-4 weeks, with special orders like La Cornue being six months. Before 2019, appliances were an afterthought and typically bought after buying the cabinets.
Now you have to buy appliances even beforehand. It's not that hard to do once you understand the flow of your kitchen.
The best place to start with your kitchen design is with this webinar, How to Start Your Kitchen Project:
Key Takeaways
Luxury appliances have evolved into some of the most advanced products in your home. However, service is a problem in certain areas.
You may think you will receive that "Lexus" or "Mercedes" service treatment, but most companies on this list do not operate appliance service.
Besides exploring your options, it's very important to know what service is available behind all these brands before you choose one.
You will love cooking on a pro range, induction cooking surface, or steam oven. Just make sure you can get it fixed.
Additional Resources
Have questions on premium appliances? Get the Yale Appliance Buying Guide with features, specs, and detailed profiles on Sub-Zero, Wolf, Miele, Viking, La Cornue, Thermador, and more. Over 1 million people have read a Yale buying guide.
Related Articles:
Why Should You Trust Us?
It seems that every appliance review has nothing but glowing comments about almost every product, yet you read customer reviews and they are almost universally bad.
We are here to fill in the disconnect. We'll give you the best features, and the drawbacks as well, including reliability based on over 37,000 calls performed by our service team just last year. Our goal is to give you ALL the information so you know what's right for you.
Please consider subscribing or adding to the conversation in the comments below. We appreciate you stopping by.
Steve Sheinkopf is the third-generation CEO of Yale Appliance and a lifelong Bostonian. He has over 38 years of experience in the appliance industry, and he is a trusted source of information for consumers on how to buy and repair appliances.

Steve has also been featured in numerous publications, including the New York Times, Consumer Reports, The Boston Globe, Bloomberg Radio, the New York Post, The Wall Street Journal, and Entrepreneur, for his knowledge of how to buy appliances and appliance repair.

Steve is passionate about helping consumers find the best appliances for their needs, and he is always happy to answer questions and provide advice. He is a valuable resource for consumers who are looking for information on appliance buying, repair, and maintenance.

Despite being the worst goalie in history, Steve is a fan of the Bruins and college hockey, loves to read, and is a Peloton biker. The love of his life is his daughter, Sophie.
A Note About Pricing
Pricing on this blog is for reference only and may include time sensitive rebates. We make every attempt to provide accurate pricing at time of publishing. Please call the stores for most accurate price.