Gaggenau vs. Miele Wall Ovens (Reviews / Ratings / Prices)
September 28th, 2021 | 9 min. read
By Saba Wahid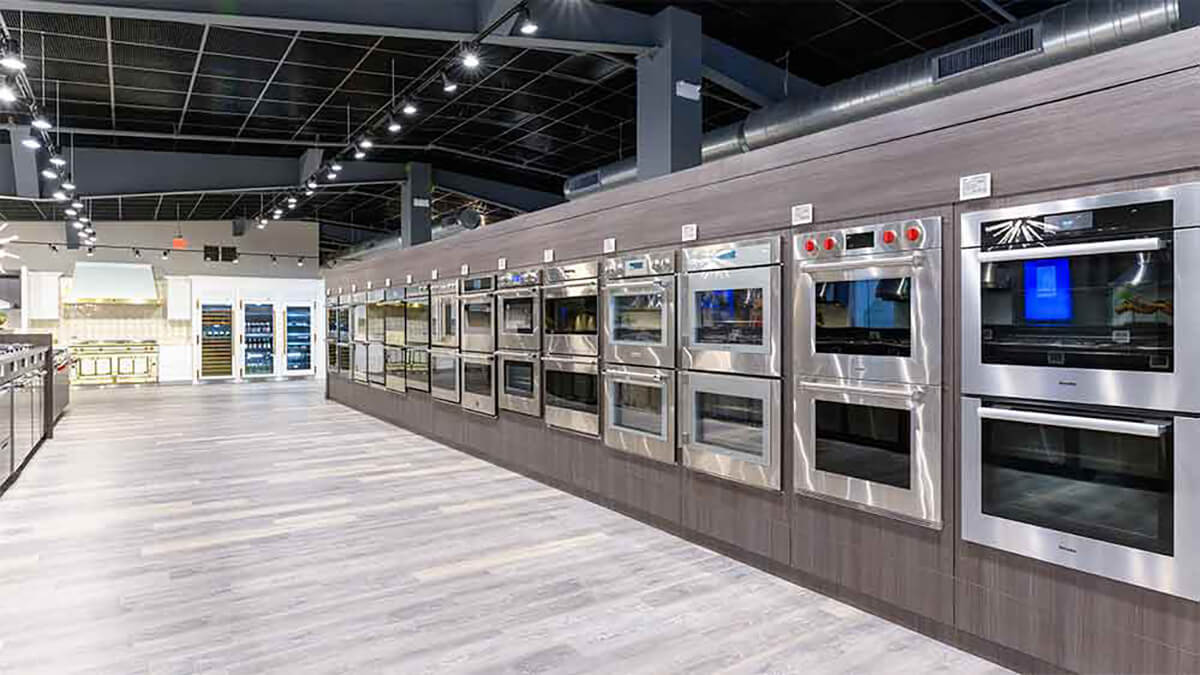 Gaggenau and Miele are two of the most sophisticated wall ovens you can buy. Yet, they are entirely different.
Gaggenau offers 17 different modes, so you can cook any food, from poaching and warming to convection broiling.
Miele, on the other hand, features their MasterChef controls. You input your food and how you like it cooked, and the oven calculates time and temperature.
In this article, you'll learn the differences between Miele and Gaggenau wall ovens, including their features, modes, and reliability. We'll also share why you should consider one over the other.
Like you have probably read in other articles, there is no universal best wall oven.
However, either brand may be better for you and your unique cooking style.
Let's get started.
Gaggenau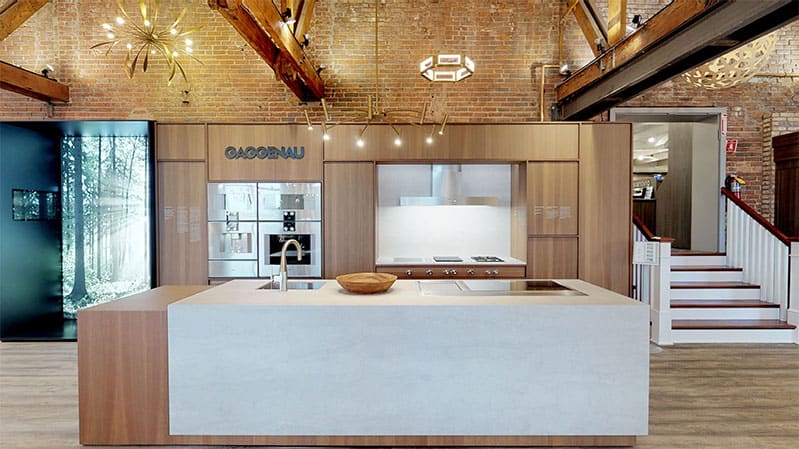 Gaggenau Kitchen at Yale Appliance in Boston
Gaggenau traces its history all the way back to 1683. It started as an ironworks in the town of Gaggenau, Germany.
Today, they are owned by Bosch (BSH), also of Germany. Over the years, Gaggenau has been synonymous with cooking flexibility with the most functions of any brand.
Also, Gaggenau has unique styling and was designed by Bang & Olufsen, the Danish electronics company.
Gaggenau Wall Ovens
Gaggenau offers two different series, the 200 and 400 series wall ovens. Each series has different configurations, including a double oven configuration.
The 200 series has the same cooking modes as the 400 but sits flush compared to having both proud and flush install options with the 400.
The 200 series is available in 24 inches and comes with a handle, unlike the 400 series. The 400 series is handleless and available as a 24-inch or 30-inch oven.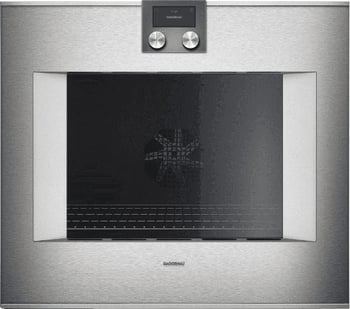 Features:
Handleless door / automatic door opening
Pyrolytic self-cleaning system
Universal heating system with 17 heating methods, with core temperature probe, rotisserie spit, and baking stone operation
Core temperature probe with an estimation of cooking time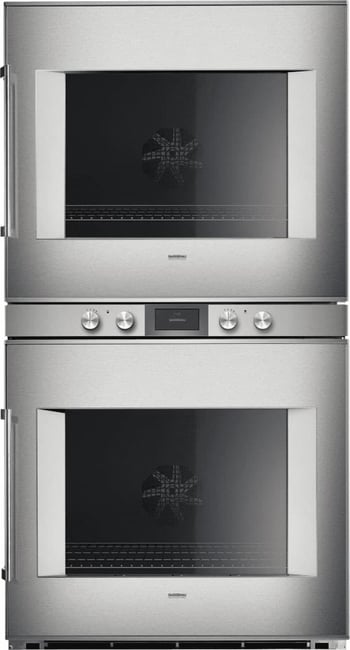 Features:
Unique, Stainless steel-backed full glass door
17 Heating methods, with 3 point core temperature probe
Side-opening doors, swing open up to 180 degrees
Rotary knob and TFT touch display operation
Baking stone outlet for creating your own best pizza in town
Rotisserie spit in the lower oven
What You Will Like About Gaggenau
There is no arguing the design of these wall ovens is aesthetically pleasing and stands out as a statement piece.
The accessories and features also make this appliance unique.
Gaggenau offers a three-point core temperature probe that will automatically shut the oven off and estimate cooking time.
The oven comes with a rotisserie spit, unlike Miele, who has stopped producing a rotisserie for their wall ovens.
Gaggenau's wall ovens also feature Home Connect and a thermally insulated door with quadrupled glazing, so it's cool to touch when the oven is on.
The side-swing door is also unique in the appliance world, with only a couple of manufacturers offering this option.
What You May Not Like About Gaggenau
Gaggenau appliances are on the expensive side, so pricing is sometimes an issue for some.
However, the longevity of Gaggenau products is said to be 20 years versus 10-15 years like most other appliances.
The complicated-looking interface can be intimidating.
Gaggenau has the least intuitive controls you can buy. You will have to discern what each mode is, so read the instructions.
Miele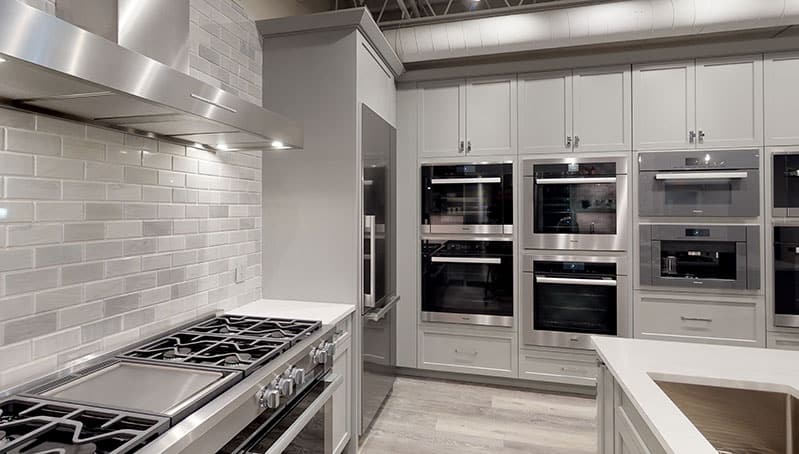 Miele Kitchen featuring Wall Ovens and Steam Oven at Yale Appliance in Hanover
Miele is the largest family-owned appliance company in the world. They started a bit later than Gaggenau in 1899.
Their first products were cream separators and washing machines.
After 120 years, Miele is still based in Gütersloh, Germany, about two hours outside of Cologne.
They manufacture most of the components in their appliances rather than outsourcing like the norm.
With Miele, you have unique features like MasterChef guided cooking controls and an automatic detergent dispenser like the AutoDos feature in their dishwashers.
Miele Wall Ovens
The M-Touch Wall oven offers the best options and features of the various models. This also includes the most sophisticated interface on the market.
Miele's M-Touch models have a wireless probe and the Moisture Plus option available in 30 inches as a single or double wall oven only. It's available in four color options: Brilliant White, Clean Touch Steel, Graphite Grey, and Obsidian Black.
Miele Single Wall Oven H 6780-2 - $6,499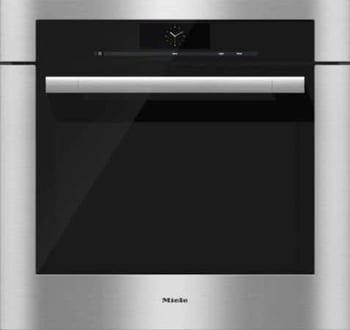 Features:
M Touch Display and Controls
Moisture plus
Wireless Precision Probe
Wireless Precision Probe
MasterChef Programs
Miele Double Wall Oven H 6780-2 BP2 - $8,999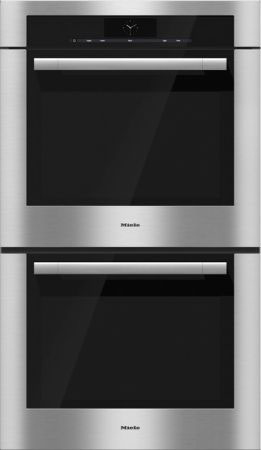 Features:
MasterChef programs offer over 100 food types to cook to perfection
Wireless meat probe
Twin power fans provide optimum and even distribution of hot air
Soft open and soft close door
Touch controls
15 different types of bread recipes
What You Will Like About Miele
The Miele is more intuitive than the Gaggenau and provides more guidance for cooking.
The wireless probe is convenient and works efficiently.
Although you must have the oven plumbed for the Moisture Plus option, it's excellent for baking bread.
You can add a touch of steam to certain baked or roasted food items when a steam oven isn't available.
The MasterChef automatic programs are one of the most extensive guided cooking systems on the market and offer many recipes to help beginners or novice cooks.
What You May Not Like About Miele
They no longer offer the rotisserie option, and it does not have its own baking stone accessories.
There is a mode that will allow you to use a baking stone, but it won't be as precise as a Gaggenau.
You also don't have as many mode options as a Gaggenau.
Gaggenau vs. Miele Wall Ovens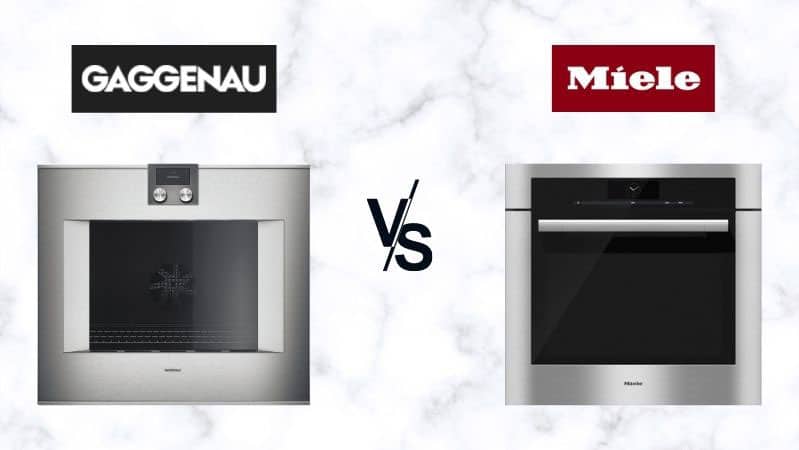 Modes
Miele has the wireless probe and an Auto Roast program which are both unique.
The wireless probe has a compact storage place right inside the oven. You can program the probe to the desired internal temperature of the protein.
You can use the Auto Roast program in conjunction with the probe as well.
The oven will start in the searing phase at a higher temperature and then drop down to the programmed temperature once the sear phase is complete.
Gaggenau offers a couple of unique cooking options that are very specific to certain food items.
This requires a little more savviness and enthusiasm in the kitchen but will certainly do the job as advertised.
For example, the option of adding 1/3 of the amount of heat on the bottom while the top is fully heated would be great as a finishing mode or for browning meringues.
Alternatively, there is also the option to have the full amount of heat on the bottom with only 1/3 on the top of the oven. This would be ideal for custards, cheesecakes, certain types of quick bread, or anything cooked in a water bath (Bain Marie).
I also love the Cast Roaster function (additional accessories required).
The Cast Roaster function allows you to do all the cooking straight in the oven without having to use your stovetop. The Cast Roaster pan sits on top of a telescopic rack, which works with an additional heating element plugs into the oven's bottom (this heating element can also be used with the pizza stone).
Once this heating element works in conjunction with the cast roaster, I have a perfect Dutch oven scenario set up inside the oven, allowing me to sear and sauté with a simple pull of the telescopic rack.
You can give it a burst of heat if you need to get things hotter for searing or browning purposes at the touch of a button as well.
Gaggenau Wall Oven Modes
Miele Wall Oven Modes
Convection-Hot circulated air
Multi-rack baking cooking for cakes, cookies, gratins, casseroles, and more
Convection Bake-Hot Circulated Air Default 350 F
Used for multi-rack baking and roasting. Even heat distribution for consistent results
Economy (convection)-Hot circulated air, no oven light, no preheat
Energy-saving mode with convection, no oven light. Temp display only when the oven is preheating. No preheating in this mode. The oven door should remain closed for the entire duration to conserve energy. Ideal for most things like cakes cookies, meats, casseroles, and gratins.
Surround-top and bottom heat, NO fan. Default Temp 350 F


Ideal for baking things that need to rise, soufflés, angel food cakes (delicate things you don't want to be impacted by the fan blowing directly on them)
Top + bottom heat-No Fan/Convection
Consistent heat from top and bottom. I deal with delicate things that need to rise. Like angel food cakes, soufflés, sheet cakes + more
Intensive-bottom heat with fan
Ideal for pizza, pies, tarts. Anything that needs additional heating to crisp up from the bottom.
Top + 1/3 bottom heat-No Fan/Convection
Great for things that require a little more browning on top like meringues or as a finishing mode
Auto Roast-Miele exclusive feature
Automatically incorporates a searing phase, then drops to programmed temperature after 20 minutes.
Top Heat-NO fan/Convections
Another finishing mode is to brown or caramelize cakes once they are baked.
Convection Roast-Hot circulated Air Default 375 F
Ideal for roasts, vegetables, casseroles that require a little extra browning on top
1/3 Top + Bottom Heat
This mode works well for anything in a Bain Marie (custards/cheesecakes/certain types of quick bread/rolls)
Bake-Bottom heat only
A finishing mode is used to brown the tops of lasagnas, casseroles, or toasting coconut flakes/nuts
Bottom Heat
Classic baking is similar to an old-fashioned thermal oven. Best for single rack backing or as a finishing mode where things need a little more color or browning or crispness on the bottom.
Maxi Broil-Intense top heat across the entire surface

Ideal for meat, like steak, fish, and poultry, and larger quantities of food

Convection and Bottom Heat
This will give you Circulated hot air through the cavity of the oven and concentrated bottom heat. Perhaps a fruit-topped cake, a tart, galette, or puff pastry
Broil-intense focused top heat
Great for smaller quantities of food like steak, fish, or poultry
Convection + 1/3 Bottom Heat
This is Circulated Air along with a little heat from the bottom. This is great for lasagnas, frittatas, tarts and more.
Convection Broil-Hot air with intense top heat

This is for thicker cuts of meat

Broil and Circulated Air
Concentrated heat from the top for smaller pieces of meat, fish, and poultry or as a finishing mode to melt/brown cheese
Gentle Bake-A combination of various heating elements
Ideal for baked goods, casseroles, and more
Economy Broil
Focused on the center part of the broiler, less heat/energy is used. Ideal for individual pieces of protein or smaller items.
Surround Roast- Top and bottom heat-NO Fan. Default temp 400 F

This mode is for roasts and braises you don't want to dry out.

Also

for low-temperature cooking.

Baking Stone Function
Exclusive for the baking stone element (optional accessories)
Roaster Function
Exclusive for Roaster "Pill-Out" system and Heating element (Optional Accessories)
Dough Proofing
Temperature can be set a slow as 100 F, the ideal environment for yeast to bloom/grown
Defrosting
Temp range from 100 F-140 F. Even low temperature to vegetables, meats, and more
Keeping Warm
Temp range from 85 F-250 F for keeping dishes hot and preheating dinnerware or platters before serving
Convection Systems
Both Miele and Gaggenau have excellent convection systems with multiple variations of cooking modes that can be used.
Steam
Miele offers the Moisture Plus option with its wall oven, but the unit would have to be plumbed for this to work.
Steam allows you to bake bread by adding moisture. If it sounds hard, it's not.
Miele has 17 different types of modes for bread automatically programmed.
If you want sourdough or focaccia, all you have to do is hit a button.
You can also harden the tops of food by adding moisture like cheese for lasagna.
Gaggenau does not have this option.
Guided Cooking
Miele has one of the best-guided cooking systems on the market. The MasterChef is so simple to use.
You simply select the food you're making, how you want it cooked, and the oven does the rest.
You also have 100 preprogrammed recipes as well.
Gaggenau offers several preprogrammed recipes in Automatic Programs that you can also modify.
Meat Probes
Meat probes simplify your cooking.
Gaggenau has its accurate three-point probe, but it still has to be tethered to your oven. It can be inconvenient with a large turkey or roast.
Miele has their wireless probe. It's accurate and incredibly convenient.
Wireless Probes
This is unique to Miele, and one of my favorite features.
Problems With Both Gaggenau and Miele Wall Ovens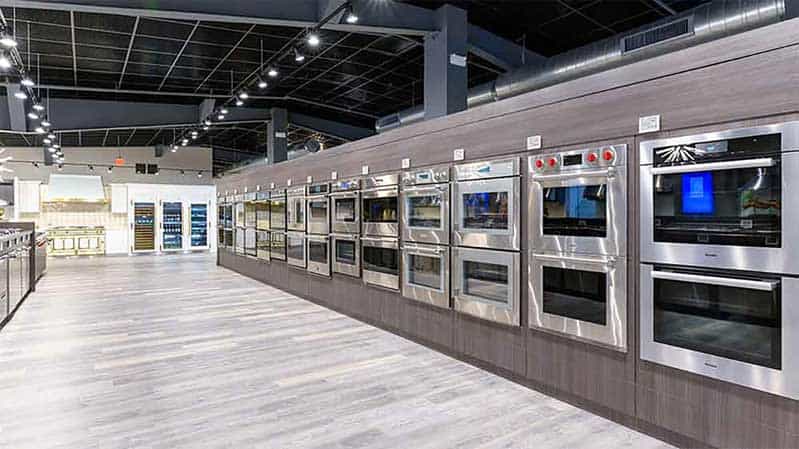 Double Wall Ovens at Yale Appliance in Hanover
Neither wall oven has smart functionality, so you do not have an app to control either oven from your phone remotely.
As I write this, smart home technology is not a huge feature yet. You can perform basic features like turning your oven on or off and adjusting temperature and modes remotely.
However, you are starting to see brands where you can download recipes from your phone into your oven automatically.
You will one day soon tell your oven what to cook, how you will have it done, and when you want it served.
With that in the near future, then both brands should start soon.
Both have apps and Wi-Fi capability in other products. Gaggenau can probably use Bosch's HomeConnect App as well.
Service
I could say this about any specialty appliance. You have read horror stories about every brand.
However, these brands need sophisticated technical people to fix any issues.
Be sure you check in your area before you buy either Gaggenau or Miele.
Final Verdict
Both Miele and Gaggenau wall ovens are fantastic in terms of style, design, and function.
It depends on which features are right for you.
The Miele offers an extensive guided cooking system, Wireless probe, Moisture Plus, but no rotisserie option.
The Gaggenau oven is sleek with a modern aesthetic. There are several cooking options along with the rotisserie and add-on accessories like the cast roaster and baking stone.
I would love one of each if I had no budget and ample space.
When I do cooking demos, people always ask me what I like the best.
That question can cause a problem. You should buy what you will use and what will fit your cooking style.
But since they always ask, my answer is Gaggenau.
I prefer the additional add-ons with the Gaggenau, and it suits my cooking style best.
If you are a chef or love to cook like me, Gaggenau may be the right choice for you.
I would have a steam oven as well if I need to use moisture in my cooking.
The only feature I'm sacrificing here is the wireless probe and MasterChef programs, but I'm comfortable using the Gaggenau without them.
But my needs are probably different than yours since I cook professionally.
You do have a tremendous array of features with Miele. You want to cook a roast. Hit a button.
Baking bread. Hit a button.
The decision should be based on your cooking style and the types of food you make for yourself and your family.
Both Gaggenau and Miele are certainly worth your consideration in a sea of good options.
However, one may be better designed for the way you cook.
Additional Resources
Confused about Wall Ovens? Get the Yale Wall Oven Buying Guide with updated features, specs, and detailed profiles of the best brands like Miele, Wolf, Viking, Bosch, Thermador, and more. Over 1 million people have read a Yale Guide.
Related Articles:
Why Should You Trust Us?
It seems that every appliance review has nothing but glowing comments about almost every product, yet you read customer reviews and they are almost universally bad.
We are here to fill in the disconnect. We'll give you the best features, and the drawbacks as well, including reliability based on over 37,000 calls performed by our service team just last year. Our goal is to give you ALL the information so you know what's right for you.
Please consider subscribing or adding to the conversation in the comments below. We appreciate you stopping by.
Saba is the resident Chef at Yale. She will teach you how to use your new oven, cooktop, or range. She is skilled in every new feature, including steam, induction, convection of all types, air frying, and sous vide. Saba is also the reigning Chopped Grand Champion crowned by Martha Stewart herself. Saba is incredibly versatile with all different types of cuisine. After just one session with her, you will be a better chef.

Saba has also been featured in numerous publications such as Mashed, Eater Boston, the Boston Herald, and the Framingham SOURCE.
A Note About Pricing
Pricing on this blog is for reference only and may include time sensitive rebates. We make every attempt to provide accurate pricing at time of publishing. Please call the stores for most accurate price.