Miele vs. KitchenAid Dishwashers (Reviews / Ratings / Prices)
If you are looking for a premium dishwasher, then you will probably be looking at Miele and KitchenAid. Both are excellent but completely different.
The most popular dishwasher in this comparison is the least expensive.
In this article, you will learn about the differences between Miele and KitchenAid dishwashers, their reliability based on 34,687 service calls completed last year, and which dishwasher may be right for you.
In the end, you'll look at completely contradictory information to choose the right dishwasher for your home.
First, let's look at the fundamental differences between American-made (KitchenAid) and European-made (Miele) dishwashers.
American vs. European Dishwashers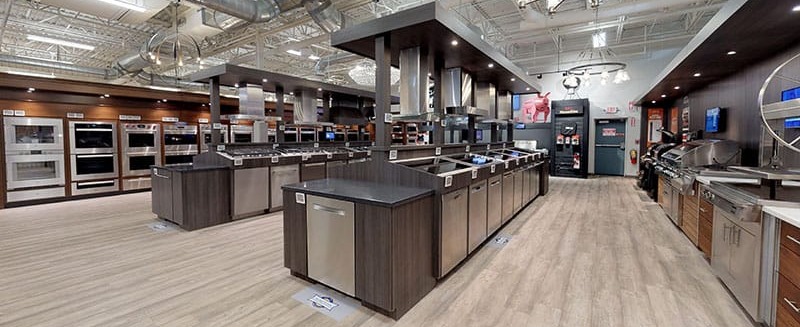 Dishwasher Display At Yale Appliance In Framingham
One of the reasons you may have chosen a European-made dishwasher over the American-made dishwasher in the past is quietness.
American dishwashers, like KitchenAid, used a noisy soft food disposer while the Europeans used a washable and noiseless filter.
To solve this problem, KitchenAid released a new line of dishwashers about three years ago with filters in the bottom for the quieter decibel ratings of their European competition.
KitchenAid also included its high-end glide racks at a more affordable price as well as a third cutlery rack for silverware.
Short on time? Get our free Dishwasher Buying Guide
Most brands now feature the third cutlery rack, whereas it was only available in higher-end Miele dishwashers.
Now, American-made and European-made dishwashers have started to mirror each other.
However, the European-made dishwashers sit flush with the cabinet, so they are much better for custom panels and matching cabinets.
In fact, KitchenAid (American made) used to buy their paneled dishwashers from Bosch (European made) for a brief period.
American dishwashers protrude out of the cabinet but are slightly larger on the inside.
Now, let's look at the brands and their dishwashers.
Miele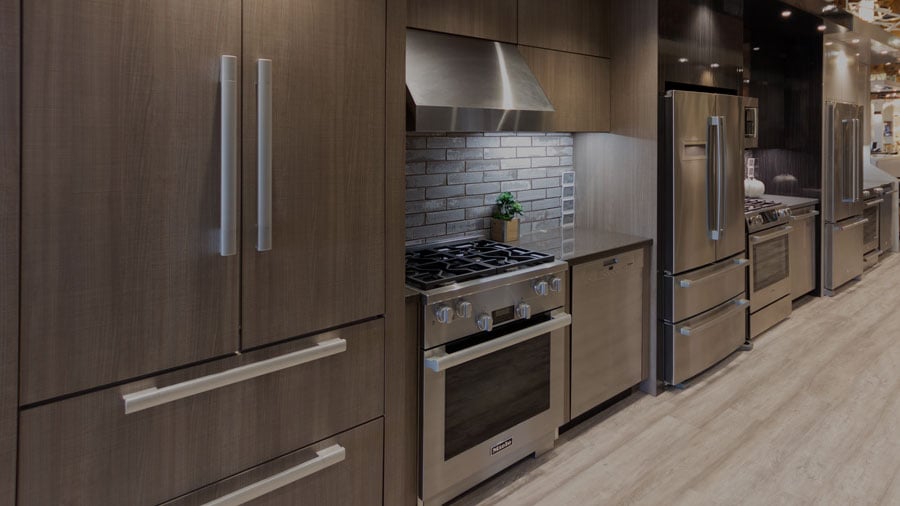 Miele Kitchen Appliance Package At Yale Appliance
Miele is the largest family-owned appliance company in the world, headquartered in Germany.
They manufacture almost every component for their appliances, including the controls. Each unit is tested before leaving the factory.
In a world of outsourcing, Miele designs, engineers and manufactures all their equipment in one factory.
This creates a more reliable machine (usually), but a higher price for a similar feature set.
Miele dishwashers are known for their reliability and drying methods priced from $999 with their Classic series to $3,099 with their Diamond series.
Miele's Most Popular Dishwashers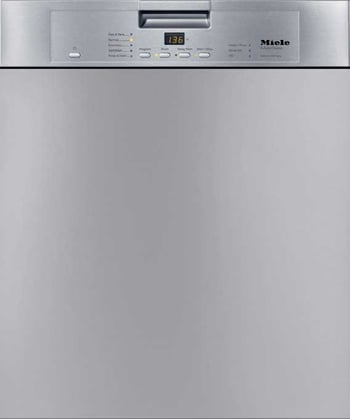 46 dBA
Clean Dry
Pots&Pans, Normal, Economy, Rinse and Hold, Short, Delay Start
Third rack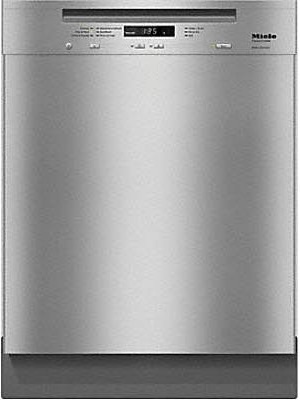 Features:
Panel-Ready or Stainless Steel
FlexiCare Deluxe 3D Cutlery Tray
AutoClose
BrilliantLight
Delay Start
ComfortClosePerfect GlassCare
5 Year-Warranty (with registration)
Double WaterProof System
45 dBA without
Satisfaction Guarantee
RemoteVisionTM capable
AutoSensor
SensorDry
Water Softener
QuickIntenseWash
What's the difference between the Miele Classic and Dimension series?
Cycles: The Dimension has more cycles. You can wash by type of pot or pan as well. For example, there is a cycle just for stove grates and hood filters
QuickIntense Wash: Quick/Intense is a 58-minute wash and dry cycle using heat and specially formulated tablets
Racks: The Dimensions rack is the best for any brand. They fold up or can be removed to accommodate any dish or pan
Quietness: The Classic is 46 dBA, and the Dimension is 45 dBA. The minimum standard for quietness is 44 dBA, so you will hear it in an open kitchen plan
Drying: The Dimension will pop open at the end of the cycle to release excess steam and heat
Miele Dishwashers [VIDEO]
KitchenAid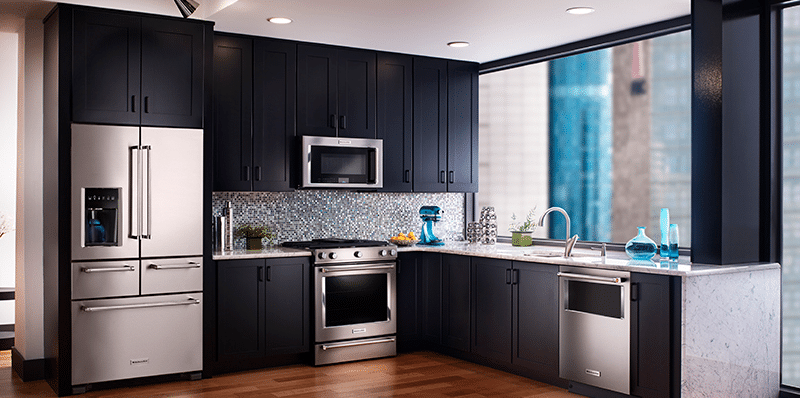 For years, KitchenAid has been a well-known brand in the consumer market. KitchenAid produces solid, reliable dishwashers with a variety of features priced from $899 to $1,899.
After being beaten to market on the high-end by Bosch and Miele, KitchenAid has finally designed better dishwashers at more affordable prices.
In fact, they may be the best value in the industry.
KitchenAid's Most Popular Dishwashers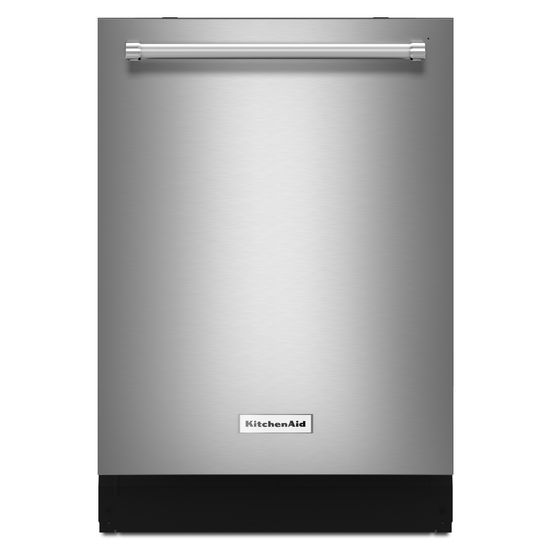 39 dBA
Pro Scrub
Pro Dry
Bottle Wash
KitchenAid KDTE334GPS Dishwasher Review [VIDEO]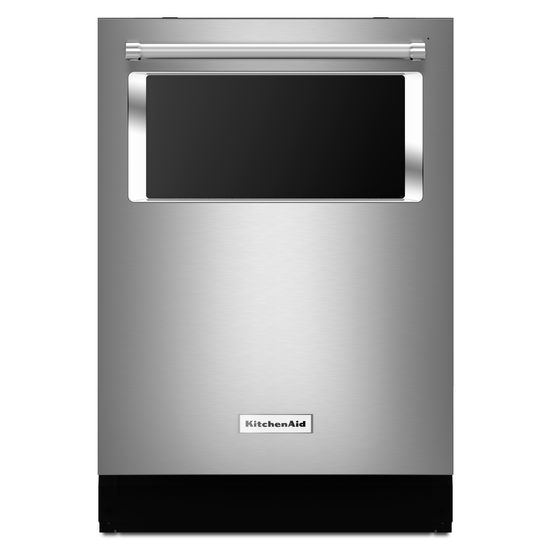 Features:
ProDry(TM) Option: Heated Dry with Fan assist.
SatinGlide(R) Max Upper and Lower Racks
Third Level Utensil Rack
ProScrub(R) Trio Option: More spray coverage areas
Ultra Handle: Throwback design
ProWash(TM) Cycle: Determines the appropriate cycle for washing, makes real-time adjustments for the best performance.
Concealed Controls
Whisper Quiet(R) System at 44 dBA
Top Rack Cycle
Fold-Down Shelf with Stemware Holders
Exclusive window design, let's you see inside
Their top of the line unit is being closed out, and it's easy to understand why. (The newer one will not have a window at $1,499).
For a window, you also have a louder dishwasher at 44 dBA than the KDTE334GPS.
The better KitchenAid has a better wash system called the Dynamic Wash Arms or water sprays on top of the bottom wash arm.
Quite frankly, the regular sprays wash fine.
For the latest information on all of the best dishwashers, check out our free Dishwasher Buying Guide by clicking here.
Miele Vs. KitchenAid Dishwashers
Best For Washing
This depends on what you are washing.
First, Miele has a better system with a full wash arm on the top. KitchenAid has a small spigot.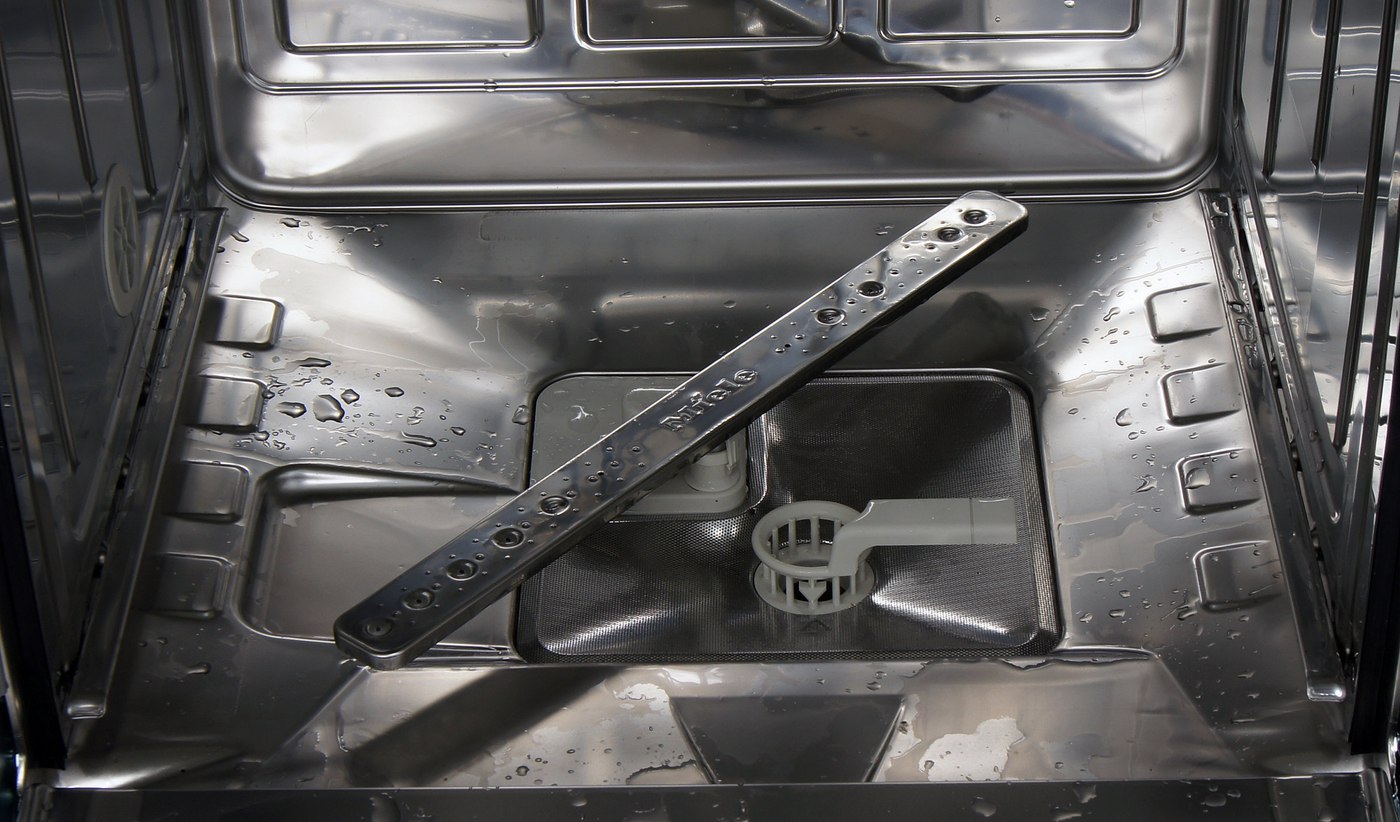 Miele Dishwasher Full Wash Arm
Normally, that would not be a problem, but now there is a third rack, so water may not flow through as well.
KitchenAid has a bottle wash feature. It's a separate series of dedicated sprays to clean the gunk out of the bottom of your sports and baby bottles.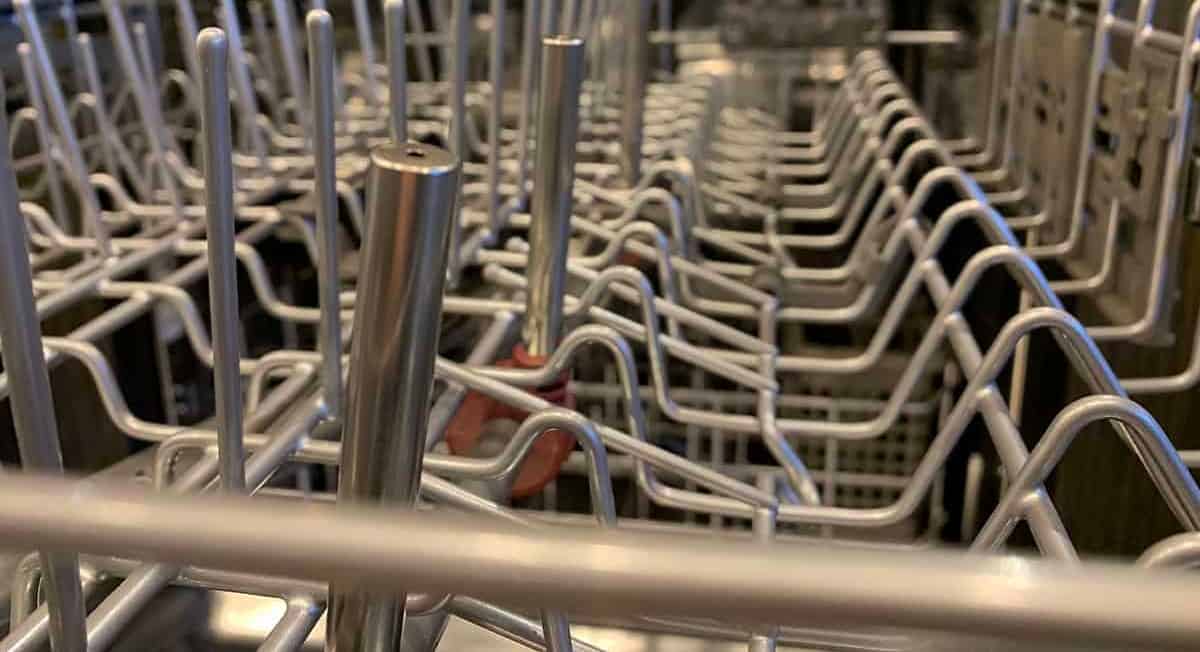 KitchenAid Dishwasher Bottle Wash Feature
KitchenAids ProScrub is a series of intense sprays at the bottom of the tub to remove the baked-on casserole dishes.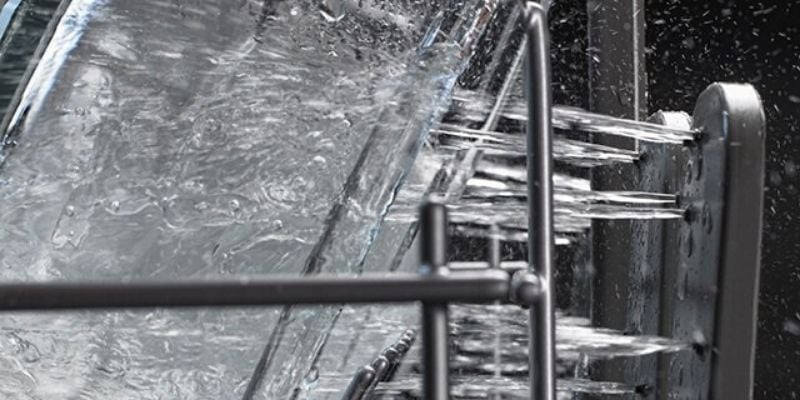 KitchenAid Dishwasher ProScrub Wash
Think of it like putting your thumb over your garden house. It works the same way
So for washing, it depends. Both are good. Miele should be better on the top rack, but KitchenAid will be better for bottles and caked-on dishes.
Best For Drying
Again, both have good systems.
KitchenAid using a heating element and a fan to draw out excess moisture.
Miele is one of the best. Their CleanAir system allows air from your kitchen to the outside wall of the dishwasher where It's dissipated as water.
Warm air is always attracted to a colder temperature. You will notice next time you exercise outside and see steam off your head.
The better Miele will also pop open to release heat and moisture.
Click here to read more about the best drying dishwashers.
Best For Quietness
You would think Miele because they advertise themselves as the quietest dishwasher.
The KitchenAid is the best quiet dishwasher value at just 39 dBA.
Miele is only 2 dBAs lower with a $2699 price tag.
You will hear the Miele at 45 and 46 dBA in an open floor plan. You will not hear the KitchenAid.
You can listen to a 44 dBA dishwasher in the article at the end.
Click here to read more about the quietest dishwashers by decibel rating.
Best For Rack Flexibility
Maybe because I load dishes so haphazardly, it seems so similar.
However, the Miele Dimension has the best racking in the industry due to its flexibility.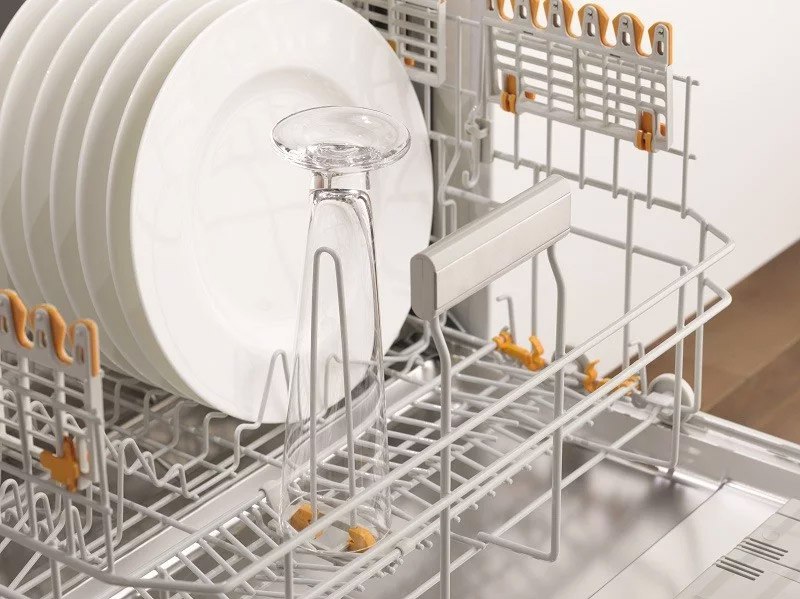 Miele Dishwasher Bottom Rack
All the parts in orange either flip up or are removable. It's simple to rack odd shape dishes in this dishwasher.
Note to prospective dishwasher buyers: Have an odd-shaped dish? Bring it to the store before you buy a dishwasher. More people should do this.
Best For Reliability
| | | | |
| --- | --- | --- | --- |
| | Service Qty | Shipped Qty | Service Ratio |
| Signature Kitchen Suite | 0 | 17 | 0.00 % |
| Whirlpool | 44 | 1030 | 4.27 % |
| Gaggenau | 2 | 42 | 4.76 % |
| LG Electronics | 4 | 78 | 5.13 % |
| Samsung | 85 | 915 | 9.29 % |
| Maytag | 3 | 29 | 10.34 % |
| Bosch Appliances | 303 | 2735 | 11.08 % |
| Miele | 155 | 1078 | 14.38 % |
| KitchenAid | 115 | 705 | 16.31 % |
| Thermador | 123 | 711 | 17.30 % |
| Jenn-Air | 170 | 908 | 18.72 % |
| Blomberg | 6 | 28 | 21.43 % |
| Fisher & Paykel | 42 | 175 | 24.00 % |
| Bosch - Benchmark | 38 | 158 | 24.05 % |
| Asko | 47 | 195 | 24.10 % |
| Amana | 3 | 11 | 27.27 % |
| Frigidaire | 10 | 22 | 45.45 % |
| Frigidaire Gallery | 5 | 8 | 62.50 % |
| Electrolux | 2 | 2 | 100.00 % |
| Frigidaire Professional | 2 | 2 | 100.00 % |
| Grand Total | 1159 | 8852 | 13.09 % |
Miele is generally the most reliable appliance brand sold in the US. 14% is high for them, but It's due to a series of frozen motors. In 2017, they were the best for premium dishwashers at just under 5.95%.
It still is more reliable than KitchenAid. I would expect this number to be in the range of 6-8% in 2020-21.
Which Dishwasher Should You Buy?
Let's start with some absolutes.
First, buy the Miele if you are placing a custom cabinet panel on your dishwasher. It will look seamless to your cabinets versus a dishwasher protruding beyond your cabinets with a panel on it.
The KitchenAid high end or even new high end is expensive for the novelty of a window or beefed up wash system.
Miele is an excellent machine in both washing and drying. It's more reliable as well. The racks on their best are the best allowing you to fit anything.
However, KitchenAid has better cleaning power for truly baked-on dishes and bottles
It's also noticeably quieter at 39 dBA.
In an open kitchen plan, you will not hear the KitchenAid, but you will hear Miele faintly.
Here are a couple of other factors:
Miele is more reliable: When the new reliability numbers are revealed, it could be significantly more reliable. Given the poor state of appliance repair services (or lack thereof), reliability should be a huge factor in your decision making.
KitchenAid has better deals: With rebates and 10% off buying an appliance package, KitchenAid's dishwashers could be almost $300 less than a Miele.
But again, this comparison depends on what you value because both dishwashers are great choices.
To stay up to date with our dishwasher deals,
Additional Resources
Want to learn more about Dishwashers? Download the Yale Dishwasher Buying Guide with features, specs and inside buying tips to all the brands. Over 620,000 people have read a Yale Guide.
Related Articles
WHY SHOULD YOU TRUST US?
A few review sites have placed this at the bottom of their articles. So here is our take: Our mission is to find reliable products for you to buy. Other review sites may say this as well.
However, we don't love every product. Quite frankly, it costs us way too much money in repair costs to support less reliable brands.
In fact, we sell fewer brands than most appliance stores. Here is why:
We feel it is our responsibility to repair your appliances after you buy them.
We now have 30 service technicians, each averaging 8-10 calls a day Monday through Friday, plus another 110 on Saturday. That's over 30,000 service calls logged in one year.
The labor rates of fixing an appliance do not come close to the true cost in any product's warranty period.
That is why no major retailer has a service department. It costs too much labor, money and time.
Our Blog is a bit different than most others you will read. We cannot write glowing reviews of unreliable products.
Hopefully, the bloggers and organizations who write such glowing product reviews for every brand consider servicing these products first. Only then they will understand the consequences of their marketing.
Steve Sheinkopf
My goal has always been simple: I want Yale to be the best retail experience anywhere. I have tried to create a compelling environment for customers and employees alike.
A Note About Pricing
Pricing on this blog is for reference only and may include time sensitive rebates. We make every attempt to provide accurate pricing at time of publishing. Please call the stores for most accurate price.