Miele vs. KitchenAid Dishwashers (Reviews / Ratings / Prices)
July 28th, 2021 | 10 min. read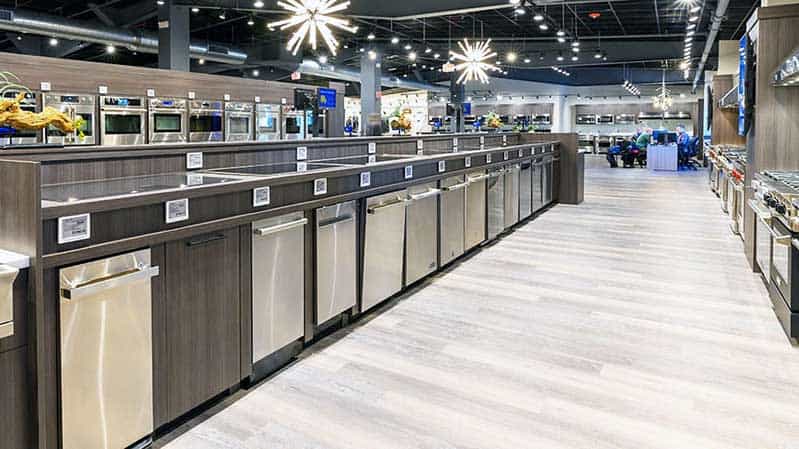 If you are looking for a premium dishwasher, you will probably look at Miele, Bosch, and KitchenAid.
Of the three, Miele and KitchenAid are the most unique.
You will easily consider Miele or KitchenAid for price, features, and whether you are placing a panel on the front.
We will compare Mieles' Classic and newer G 7000 series dishwashers against the most popular KitchenAid dishwashers for this comparison.
In this article, you will learn about the differences between Miele and KitchenAid, their reliability based on 37,061 service calls completed last year, and different features from both brands.
In the end, you'll look at completely contradictory information to choose the suitable dishwasher for your home.
Since both are new, we will provide videos and pictures to guide you in finding the right dishwasher for you.
What Are the Key Differences Between KitchenAid and Miele Dishwashers?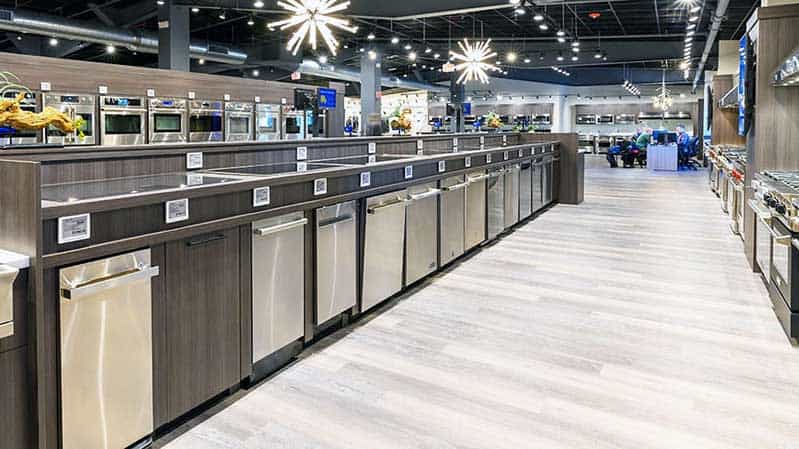 The key differences between Miele and KitchenAid dishwashers are their value, whether they are designed to be paneled, and reliability.
1. Price
One of the reasons you may have traditionally chosen a Miele or any other European dishwasher brand over an American brand, like KitchenAid, was quietness.
American dishwashers used a noisier soft food disposer, while the Europeans used a washable and noiseless filter.
To solve this problem, KitchenAid released a new line of dishwashers three years ago with filters in the bottom for quieter decibel ratings like their European competition.
Now, KitchenAid's best dishwashers are equally as quiet as Miele's for far less money.
Miele's quietest dishwashers start at $1,499, while KitchenAid's quietest dishwashers start at $999.
For $1299, KitchenAid has a brand-new rack and wash system and a better third cutlery tray.
Miele is more expensive for better cycles, drying systems, and wash systems at higher prices.
2. Panel-Ready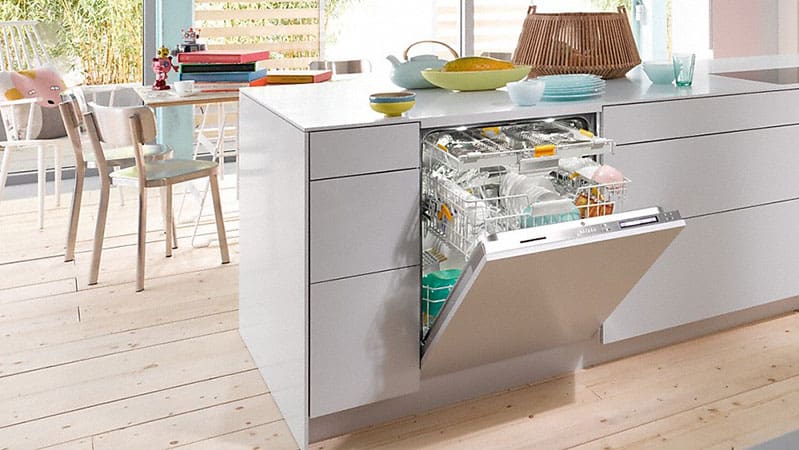 Miele's dishwashers sit flush with the cabinet for a seamless look. KitchenAid's panel-ready dishwashers don't sit flush and protrude from the cabinet.
It's the difference between looking at a panel versus looking at a dishwasher with a panel stuck on it.
If you're planning to add a custom cabinet front to your dishwasher, Miele is the better option.
3. Reliability
Dishwasher Reliability from December 2019 to November 2020
| | |
| --- | --- |
| | Service Ratio |
| Blomberg | 0% |
| LG | 2% |
| Whirlpool | 2% |
| Thermador | 8% |
| Beko | 8% |
| Miele | 8% |
| GE Profile | 11% |
| Samsung | 11% |
| JennAir | 11% |
| KitchenAid | 11% |
| Asko | 12% |
| Bosch | 13% |
| Bosch Benchmark | 18% |
| Café Appliances | 19% |
| GE Appliances | 20% |
| Fisher & Paykel | 28% |
| Average | 11% |
Miele is generally the most reliable appliance brand sold in the US. In previous years, Miele's reliability was high due to frozen motors and buzzing solenoids.
Since then, Miele has fixed those issues and introduce their G 7000 Series with automatic dispensers and AutoAir drying.
With the issues seemingly behind them, Miele is again the top-rated premium dishwasher at 8%.
KitchenAid has always had average reliability ratings.
KitchenAid isn't far behind Miele at 11% and even statistically better than their rival, Bosch.
Now that we've covered their main differences let's look at the brands and their dishwashers we're comparing.
Read More: Most Reliable Dishwashers
Miele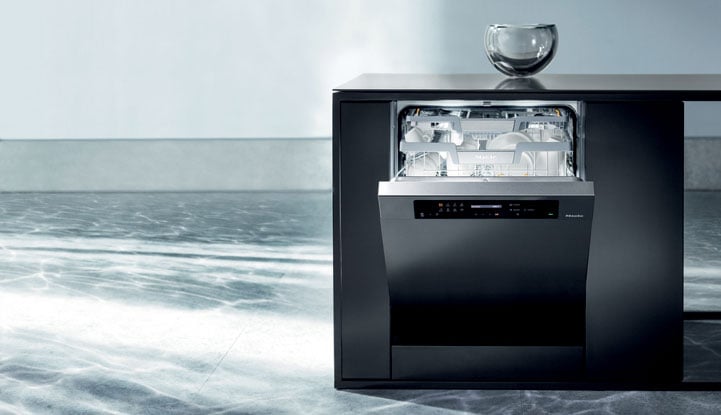 Miele is the largest family-owned appliance company in the world, headquartered in Germany.
They manufacture almost every component of their appliances, including the controls. Each unit is tested before leaving the factory.
In a world of outsourcing, Miele designs, engineers, and manufactures all its equipment in one factory.
This creates a more reliable machine but a higher price for a similar feature set.
Miele dishwashers are also known for their washing and drying systems
Hallmarks of a Miele Dishwasher
Washing
They have three full spray arms, one on the top, middle, and bottom versus two for many brands or two, and a sprinkler in the top for Bosch.
Drying
Miele has an intake at the bottom of the dishwasher to channel your cooler, drier kitchen air to the side of the dishwasher.
The hotter, moister air is attracted to the cooler side and dissipates as water.
The G 7000 series dishwashers will pop open at the end of the cycle to release excess steam and heat.
Third Rack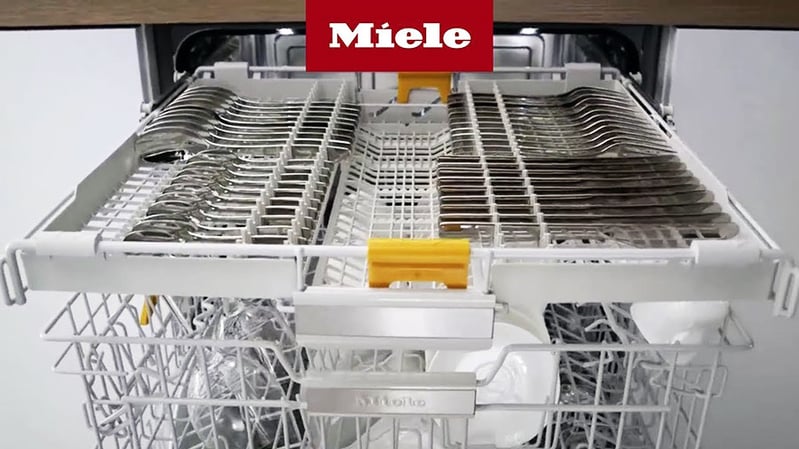 Miele was the original dishwasher with a third rack for silverware. In many ways, it's still the best.
Each piece of silverware is cradled, so it won't move and scratch other pieces. You can also remove it to store your silverware more easily.
The better models have the 3D (movable) cutlery tray allowing you to accommodate more glasses below.
Racking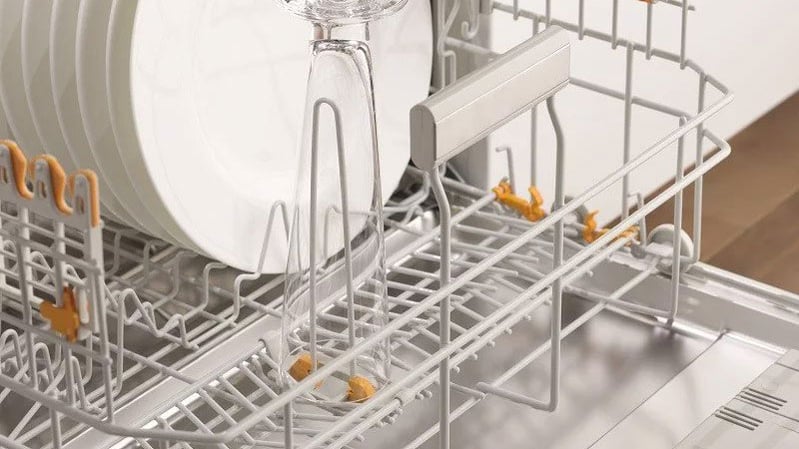 Miele has decent racking. Yes, the top rack is adjustable like every other brand.
The better G 7000 series dishwashers offer adjustable racks that are removable to fit an odd-shaped dish or platter.
Leak Protection
Like many German products, Miele does the small things well.
Its double insulated pump almost guarantees no leaking.
Dishwasher leaks aren't typically an issue. However, when they do happen, it can be a big problem, especially in taller buildings.
Miele's Most Popular Dishwashers
Miele Classic Series Dishwasher G4228SCUSS - $999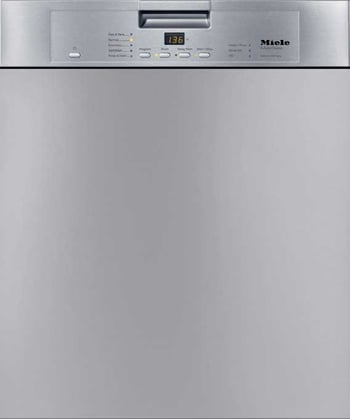 Miele's Classic Series Dishwasher, the G4228SCUSS for $999, is Miele's least expensive dishwasher.
This front control dishwasher shows what cycle it's on and how much time is left.
With auto sensor technology, Miele's dishwasher will sense the soil level of your dishes and select the right cycle time and water temperature for you.
It's a little louder than Miele's new G 7000 series dishwashers at 46 DB
You won't hear anything under 44 DB
With active condensation drying, this dishwasher has an intake on the bottom of the dishwasher to direct outside air to the sidewall.
The steamier air is then attracted to the cooler air and dissipates as water.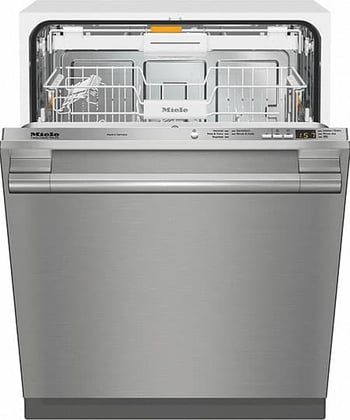 A step up from the Miele Classic dishwasher is the Miele Classic Plus G4998SCVISF for $1,399. It's one of the more expensive Miele dishwashers.
Compared to the G4228SCUSS, this dishwasher has an Express cycle, better cutlery tray, and is a few hundred dollars more.
Like the Classic series, it has three levels of wash action with three full spray arms. It has three racks, with the second being adjustable.
Unlike the Classic series, it has a better 3D cutlery tray that can fold over to allow more room for the second rack.
It also has tines to secure your silverware, so they don't scratch against each other.
The only issue with these dishwashers is they are not technically quiet.
Like the Classic series, its silence rating is 46 dB. With the threshold for quiet being 44 dB, you'll hear this dishwasher.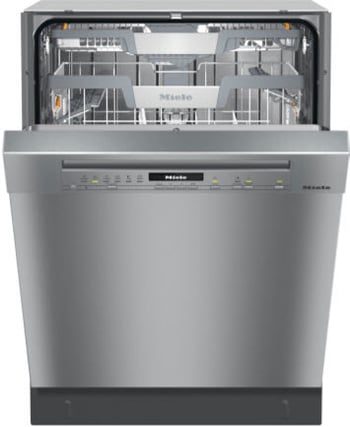 Miele introduced the new and more expensive G 700 series dishwashers in 2020. The Miele G7106SCUSS dishwasher has new features and cycles.
It's also quieter at 43 dB than Miele's Classic series dishwashers.
Like the older series, this dishwasher features active condensation drying. Miele's dishwashers have always dried well.
Every Miele G 7000 now also pops open to release steam and heat. If you wash at night, you won't have any residual moisture on your dishes.
Every G 7000 dishwasher features Miele's flexible 3D racks.
The wash system stayed the same with three full wash arms, one of the best.
However, the wash cycles changed the most.
The Miele G 7106SCUSS features several usable cycles controlling time and temperature.
One of Miele's best new wash cycles is their QuickIntense Wash. This cycle will clean and dry your dishes in 58 minutes.
All of Miele's cycles are sensor-driven to adjust time and temperature depending on the soil level of your dishes.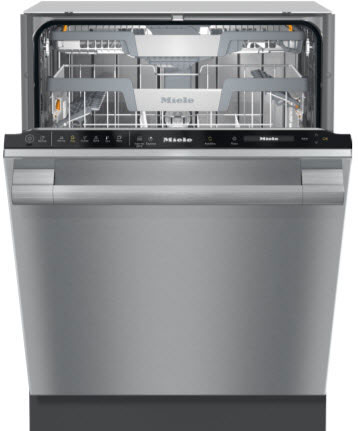 The Miele G7366SVISF is a step up from the G7106SCUSS dishwasher.
Unlike the G7100 series dishwasher, the Miele G 7300 series features AutoAir Drying, an automatic detergent dispenser, and has an ExtraQuiet cycle.
AutoDos features a circulating PowerDisk to distribute detergent automatically. It can hold up to 20 loads of detergent. Sound familiar? AutoDos was inspired by Miele's compact laundry units that also feature automatic detergent dispensers.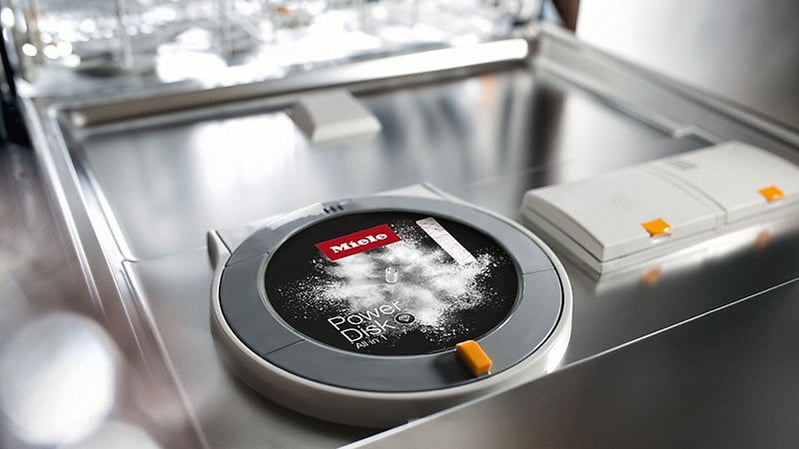 Additionally, the G 7300 series has the same silence ratings as the G 7100 series.
However, with the ExtraQuiet cycle, Miele's dishwasher can reach 39 dB of quietness. The only drawback is this will increase the cycle time to over three hours by slowing the motor.
This dishwasher also has Wi-Fi, so you can track the cycle and see the time remaining through an app on your phone.
You will also see how much detergent is left in the AutoDos.
KitchenAid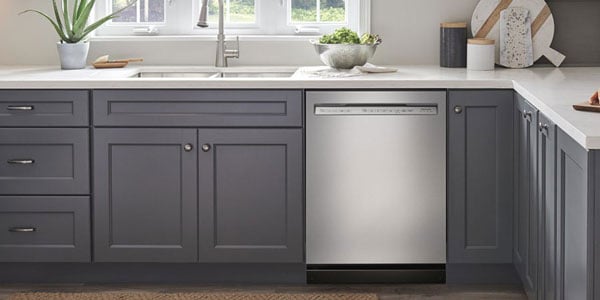 For years, KitchenAid has been a well-known brand.
KitchenAid produces solid, reliable dishwashers with a variety of features priced from $749 to $1,899.
After being beaten to market on the high-end by Bosch and Miele, KitchenAid has finally designed better dishwashers at more affordable prices.
They may have the best value dishwashers in the industry.
Hallmarks of a KitchenAid Dishwasher
Since KitchenAid has changed so much in the last two years or even two months, it's hard to know. They have two levels of dishwashers.
The first series has the major wash cycles, three levels of wash, and a basic dry. Basic meaning the dishwashers use air and JetDry to dry your dishes like most brands.
KitchenAid also has heated drying for the final rinse, as well as the dry cycle.
It is also quiet - very quiet. It's 39 dB or the rough sound equivalent of Miele's $2,699 Diamond dishwasher.
KitchenAid's focus seems to be their "M" series dishwashers. Their best value dishwasher is the KDTM604.
Third Rack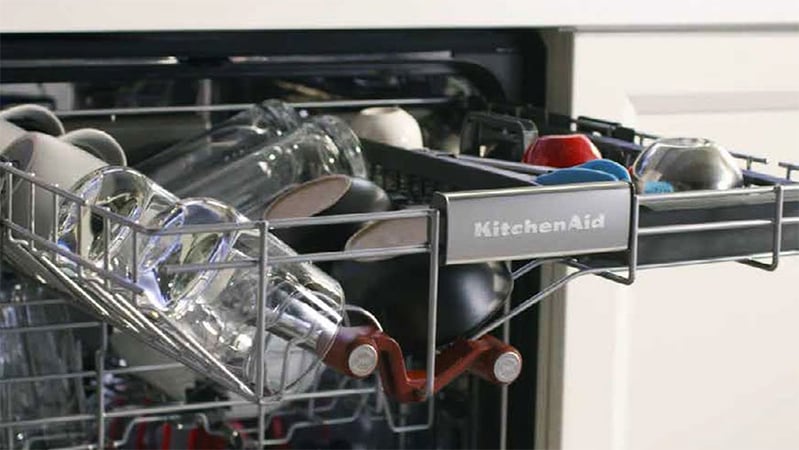 It holds the most allowing you to fit smaller cups and saucers.
Washing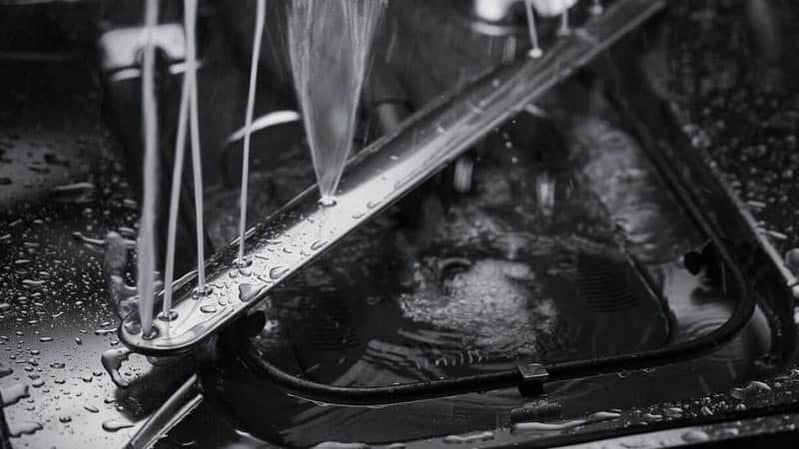 It now has four levels of wash action, including concentrated sprays from the rack. KitchenAid dishwashers now have a two-stage filter, so cleaner water washes your dishes.
Drying
It's like Miele. The fan pulls in air from the outside, dissipating the moisture as water. KitchenAid adds a heating element as well.
Quietness
All M series dishwashers are 44 DB as the second filter added some noise.
KitchenAid's Most Popular Dishwashers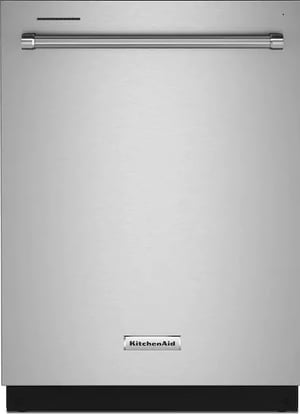 KitchenAid's 200 M series dishwasher is one of KitchenAid's most popular dishwashers on the market.
At 39 dB, its silence rating is one of this dishwasher's best features. 39 is noiseless.
This dishwasher has three levels of wash arms. One is at the top above the third rack for silverware, while the other two are under the baskets.
For drying, this dishwasher uses a heated element for condensation drying. Condensation drying uses the heat from the previous wash cycle to dry your dishes.
Its strongly recommended using JetDry with condensation drying.
The 200 series dishwasher features all of KitchenAid's basic wash cycles such as Tough, Normal, Express Wash, and Rinse Only. It also features ProWash, KitchenAid's best wash cycle.
With the selection of ProWash, your KitchenAid dishwasher will sense the soil level of your dishes and adjust the water temperature and timing accordingly to offer the best cleaning for your dishes.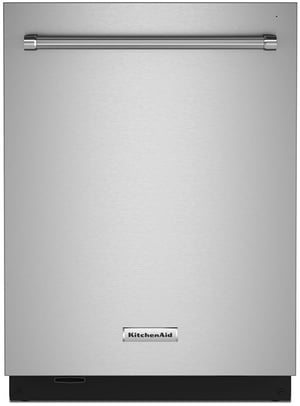 The 600 series dishwasher is KitchenAid's best-selling model with better filtering, drying, and rack systems than the 200 series.
Its key features include a new third rack designed to accommodate more items.
Its wash systems may be the best in the industry, with four levels of wash action.
Above the new third track, there is a small wash arm. Then there are two below each basket and one from the rack itself.
The 600 series also feature a new water filtration system.
However, this causes the dishwasher to be louder than the previous model at 44 dB.
Forty-four decibels are the threshold for quietness, so it shouldn't be an issue even in an open kitchen.
Unlike the 200 series, this dishwasher also features ProDry, KitchenAid's new fan-enabled drying system.
ProDry features a heated element and a fan to pull outside dryer air into the dishwasher to attract the moister air in the dishwasher and dissipate it as water.
What's the Difference Between KitchenAid Dishwashers?
Pretty much everything except cycles.
Ironically the lesser expensive model is quieter. It's the quietest dishwasher in this price range.
The M series dishwashers have better racks with the new beefed-up third rack. It has a second filter for cleaner water.
You also have better wash action as the dishwasher has additional sprays in the rack itself.
The KitchenAid KDTM604 also has better drying with the fan pulling in the air.
The difference between KitchenAid dishwashers is their silence ratings (quietness) versus dishware flexibility with better washing and drying.
What Added Features Are Available on the KitchenAid Upgrades?
This one isn't so easy to answer. I could say knife caddy, but it's not on anyone's checklist. That's one of the differences between the KDTM604 and the next better model, the KDTM704.
The KDTM804 has these extra features.
Ball Bearing Racks
Bosch has this feature on their best dishwashers. Ball bearings glide out no matter how much is on the rack.
LED Interior Lights
So, you can see the interior (I'm assuming).
Unlike Miele, KitchenAid does not give you a reason to buy their best dishwashers.
Read More: Best KitchenAid Dishwashers
Miele vs. KitchenAid Dishwashers: Which Is Better?
Below, we picked winners based on the best features you should consider.
Best for Washing
This depends on what you are washing and which machine you are comparing.
First, Miele has a good system with a full wash arm on the top, middle, and bottom.
KitchenAid has four levels of wash action, with the KDTM604ESS having two filters.
Both Miele and KitchenAid's wash systems are probably the best on the market.
Best for Drying
Both have great drying systems.
KitchenAid uses a heating element and a fan to draw out excess moisture.
Miele is one of the best. Their CleanAir system allows air from your kitchen to the outside wall of the dishwasher, where it's dissipated as water.
Warm air is always attracted to a colder temperature. You will notice next time you exercise outside and see steam off your head.
Miele's high-end G 7000 series dishwashers will pop open to release heat and moisture to speed up the drying process.
It's a good feature, especially if you wash at night. The steam escapes instead of reforming on your dishes as moisture.
Best for Quietness
You would think Miele is the quietest dishwasher available because they advertise themselves as a quiet dishwasher.
The KitchenAid has the quietest dishwasher at just 39 dB for $999. Ironically, the rest of KitchenAid's more expensive dishwashers are 44 dB.
Miele starts at 46 dBs, which is decent. You have to buy the Miele at $1,999 for a 44 dB dishwasher.
You will hear the Miele faintly at 45 and 46 dB in an open floor plan.
You will not hear the KitchenAid at 39 dB nor 44 dB.
Overall, KitchenAid is equally as quiet as Miele's best models and doesn't have a longer cycle time like Miele's.
Best for Rack Flexibility
Maybe because I load dishes so haphazardly, it seems so similar.
However, the Miele's G 7000 series dishwashers have the best racking in the industry due to their flexibility, and it even improves with better models because everything is adjustable.
However, KitchenAid has the most coverage with its new third rack at a much lower price.
Note to prospective dishwasher buyers: Have an odd-shaped dish? Bring it to the store before you buy a dishwasher and test it in the dishwasher's racks. More people should do this.
Should You Buy a KitchenAid or Miele Dishwasher?
It's hard to decide.
The two KitchenAid dishwashers at $999 and $1,299 are compelling. They are equally as quiet as Miele's, with faster cycle times, and are less expensive.
Miele's dishwashers starting at $1,499, have the best rack flexibility than any other brand, different wash cycles, and better drying than KitchenAid.
The "AutoDos" dispenser is a great feature, but it's only available in Miele's dishwashers that are $1,999 and up.
Overall, both are great dishwashers with decent features.
KitchenAid has better features at lower prices from $999-1,299, whereas Mieles best dishwashers start at $1,499 and especially $1,999.
Also, ask yourself the following questions.
Are You Placing a Panel on the Dishwasher?
If you are placing a custom cabinet panel on your dishwasher, buy a Miele dishwasher. It will look seamless to your cabinets versus a dishwasher protruding beyond your cabinets with a panel.
Is Your Kitchen on a Third Floor or Above?
Miele has the best leak protection. It may be worth the peace of mind and saving of insurance costs and headaches.
In the end, your choice depends on your budget, how you load your dishwasher, and where you live.
Both are decent considerations. It depends on which feature set you prefer.
Additional Resources
Want to learn more about Dishwashers? Download the Yale Dishwasher Buying Guide with features, specs, and inside buying tips for all the brands. Over 900,000 people have read a Yale Guide.
Related Articles:
Why Should You Trust Us?
It seems that every appliance review has nothing but glowing comments about almost every product, yet you read customer reviews and they are almost universally bad.
We are here to fill in the disconnect. We'll give you the best features, and the drawbacks as well, including reliability based on over 37,000 calls performed by our service team just last year. Our goal is to give you ALL the information so you know what's right for you.
Please consider subscribing or adding to the conversation in the comments below. We appreciate you stopping by.
Steve Sheinkopf is the third-generation CEO of Yale Appliance and a lifelong Bostonian. He has over 38 years of experience in the appliance industry, and he is a trusted source of information for consumers on how to buy and repair appliances.

Steve has also been featured in numerous publications, including the New York Times, Consumer Reports, The Boston Globe, Bloomberg Radio, the New York Post, The Wall Street Journal, and Entrepreneur, for his knowledge of how to buy appliances and appliance repair.

Steve is passionate about helping consumers find the best appliances for their needs, and he is always happy to answer questions and provide advice. He is a valuable resource for consumers who are looking for information on appliance buying, repair, and maintenance.

Despite being the worst goalie in history, Steve is a fan of the Bruins and college hockey, loves to read, and is a Peloton biker. The love of his life is his daughter, Sophie.
A Note About Pricing
Pricing on this blog is for reference only and may include time sensitive rebates. We make every attempt to provide accurate pricing at time of publishing. Please call the stores for most accurate price.