Bosch Vs. Miele Dishwashers (Reviews / Ratings / Prices)
Dishwashers have changed more than any other appliance.
Years ago, you would typically buy a Bosch for $999 or a Miele dishwasher for over a $1000.
With new dishwashers marketed by both brands, this comparison has changed. They now compete from $999 to $1,499.
You will probably be confused by all the new terms, features, and options, as was I.
In this article, you will learn about both companies, their new dishwashers, and you'll see a head-to-head comparison of their competitive models.
I will also show you where they do not compete in price and whether those models may be good alternatives.
Lastly, you will learn about Miele's and Bosch's dishwasher reliability. That has changed considerably over the years as well.
Let's get started.
Bosch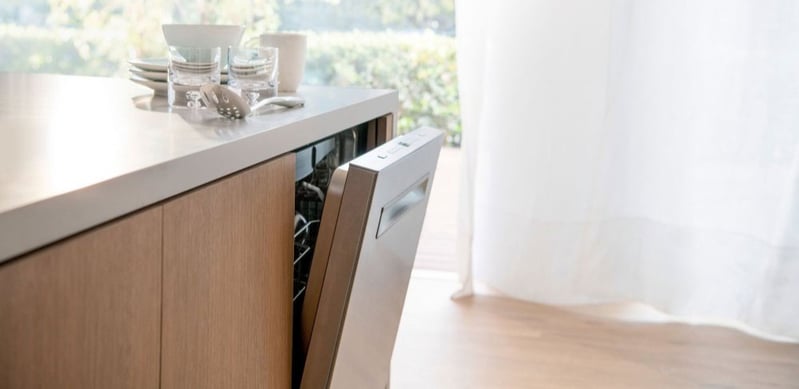 Bosch Dishwasher Featuring AutoDry
Bosch is a German company but operates the largest dishwasher manufacturing facility globally in New Byne, North Carolina.
Dishwashers are Bosch's most known products. Miele may have been the first importing dishwashers into the US, but Bosch was the first with quiet, affordable dishwashers.
Bosch has improved their dishwashers in the last year, especially with their drying systems with the AutoAir and CrystalDry.
Read More: Best Bosch Dishwashers
Best Bosch Dishwashers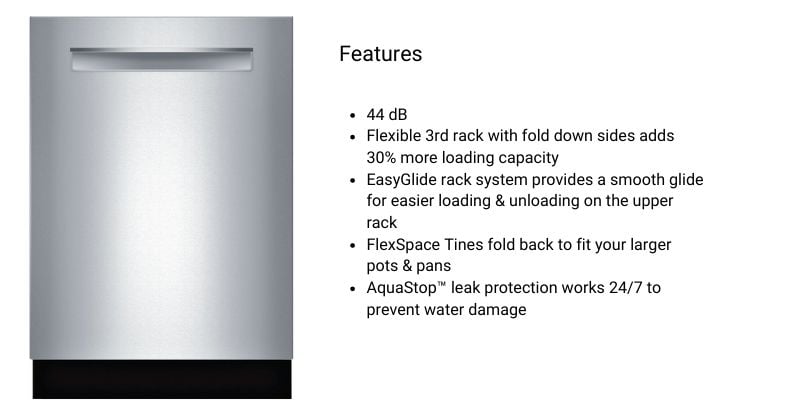 Bosch 500 Series Dishwasher Review
Bosch 800 Series Dishwasher With CrystalDry Review
Miele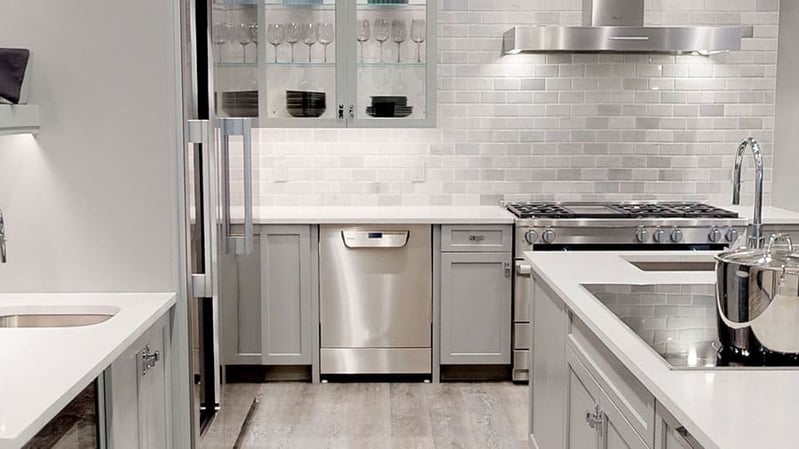 Miele Dishwasher at Yale Appliance in Hanover
Miele is the largest family-owned appliance manufacturer operating from one factory in Germany.
Unlike every other company, Miele still manufactures its components instead of outsourcing globally.
It is more expensive, but typically there is better quality control and a more long-lasting product.
The other benefit, as it turns out, is during a pandemic.
If a supply chain is global, chances are one part of the chain will have an issue.
Many of the shortages for appliances and other home improvement products are due to parts problems.
As one factory representative once told me, "If you need 222 parts in a dishwasher and you have 219, you can't ship the dishwasher."
Miele has a brand new dishwasher. The G 7000 series has some unique features worth considering.
Read More: Are The New Miele G 7000 Dishwashers Any Good?
Best Miele Dishwashers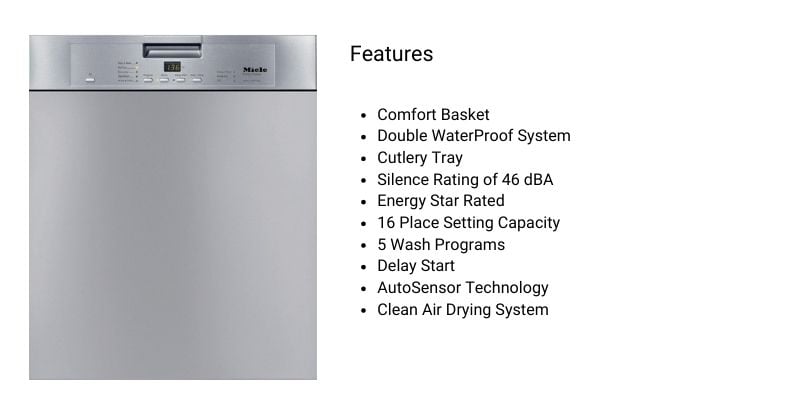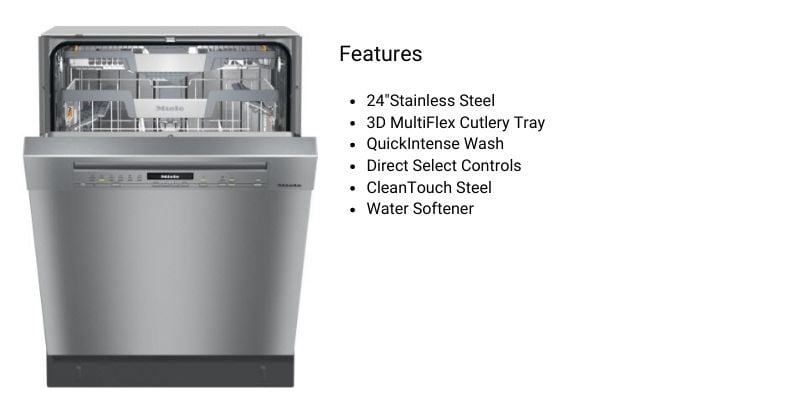 Miele G 7106 Dishwasher - G 7000 Series Dishwashers Review
Let's see how Miele competes against the new Bosch.
Why Miele Vs. Bosch Is Such A Good Dishwasher Comparison
Both companies are German. Both companies regard dishwashers as their best products.
Most companies like Samsung, LG, GE, and Whirlpool, regard their washers and dryers as their best, followed by refrigerators, and lastly, dishwashers.
For Miele and Bosch, their success starts with the dishwasher. Their products improve more rapidly than any of their other products.
Short on time? Get our free Dishwasher Buying Guide
Bosch Vs. Miele Dishwashers
Where They Do Not Compete
Although Bosch and Miele are the best-known premium brands, they only compete between $999 and $1,499.
Bosch starts at $499 and $599 depending on promotions, but their single most popular dishwasher is $769 or $849.
Pro Tip: Appliance promotions are Presidents' Day, Memorial Day, July 4, Labor Day, and Black Friday
Bosch's most popular dishwasher has its primary cycles, as well as its 44 dB sound level. Forty-four is the minimum standard for not hearing a dishwasher.
Read More: What Does A Quiet Dishwasher Sound Like?
However, any Bosch dishwasher under $1,000 lacks the glide-out racks and their newest drying features like AutoAir and Crystal dry.
Miele Vs. Bosch Dishwashers $1,999 And Up
Bosch has its Benchmark series in this price range, but you are only paying for more cycles. You can buy a similar dishwasher in their 800 and 800+ series at $1249-$1,349.
Miele, on the other hand, is entirely different at $1,999.
Miele added a 20-load dispenser in the dishwasher. Like their incredibly successful laundry, you can load up to 20 loads of dishwasher detergent.
Miele's AutoDos With PowerDisk [Video Courtesy of Miele]
For laundry, this feature is incredibly convenient because it adds the right amount of detergent at the right time in the wash cycle.
For dishwashers, all I ever do is throw a pod in before each load. It's not that complex.
However, you do have some other refinements like:
Quietness
Miele decreases the noise from 46-38 dB in their better models. However, cycle time also increases to 4 hours.
Wi-Fi
You can control the dishwasher from an app on your phone. I am not sure Wi-Fi is a huge feature on a dishwasher.
It does signal you when the cycle is complete. It will also prevent you from opening the door during the wash on a quiet cycle.
Knock to Open
You knock three times, and the door opens automatically. Its a bit cool because you do not have to place a handle on your dishwasher anymore.
Sensor Wash
Changes the wash cycle based on turbidity. I love that word, turbidity. It's overly complicated. Its industry jargon for the soil in water.
Rack Change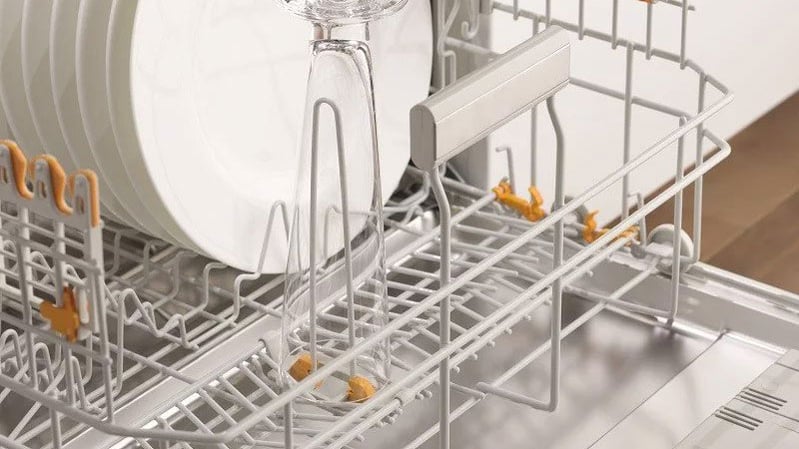 Miele Dishwasher Racks
Miele's dishwasher racks become more adjustable in the better models. Miele is excellent because you can flip up or remove any part in orange.
What Bosch And Miele Dishwashers Have In Common
Panel-Ready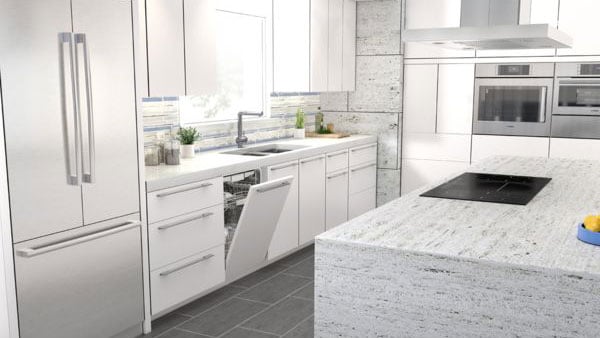 Bosch Dishwasher With Custom-Cabinet Panel
You can place a custom cabinet panel on either of these dishwashers seamlessly. They will look like your cabinet, not like a dishwasher with a panel because they do not protrude past the cabinet.
Read More: Best Panel-Ready Dishwashers
Safety
Miele has a double insulated tub. Bosch has AquaStop leak protection, so you don't flood your kitchen or your downstairs neighbors. Its an especially good feature if you are reading this in a Boston condo on the 37th floor.
Multiple Styles

Bosch Dishwasher Styles
Bosch has five styles with one being panel-ready, Miele has 3 and 1 panel-ready style. Normally, I don't mention styles.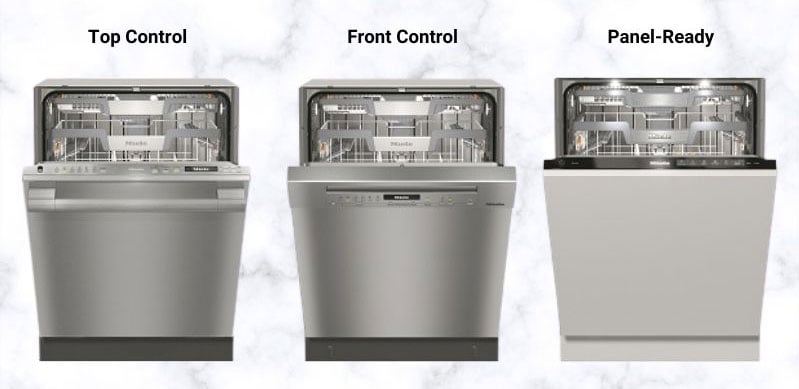 Miele G 7000 Series Dishwasher Styles
However, with product scarcities, you can buy a dishwasher with the same features a number of different ways.
If it's not available with a towel bar handle, buy it with the pocket handle.
Bosch Vs. Miele Dishwashers Under $1,000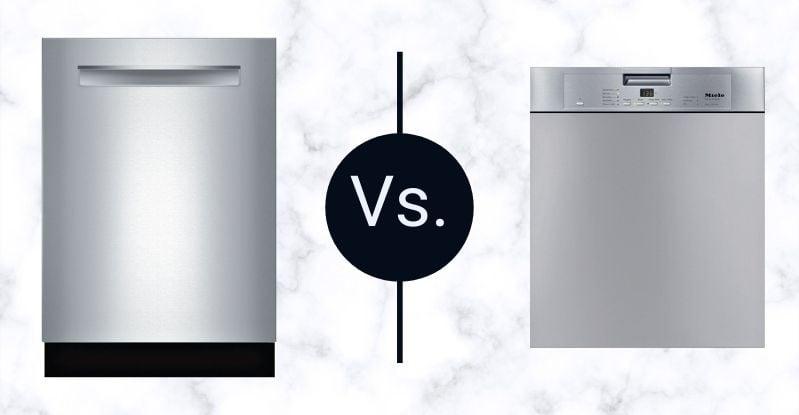 Bosch 500 Series Dishwasher SHPM65Z55N | Miele Futura Classic Dishwasher G4228SCUSS
Cycles are almost identical. Miele has a short cycle, whereas Bosch has the Speed60.
Quietness
Bosch is 44 DB, whereas Miele is 46 DB. It may not seem like much, but you will not hear the Bosch. You will hear the Miele faintly.
Washing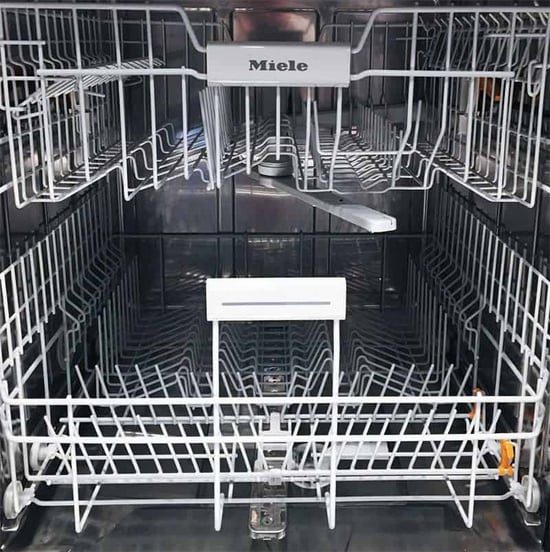 Miele Dishwasher With Multiple Wash Arms
Miele is technically superior with three full wash arms versus two and a sprinkler head for the Miele.
Racks
The racks are identical with an adjustable top rack. However, the third rack in the Miele is technically superior. It holds silverware, so they stay in place.
Drying
Bosch has its AutoAir cycle. In this series, Bosch uses condensation dry or the heat from the wash plus JetDry to dry the dishes. AutoAir pops the door open to dissipate the steam.
Miele allows air into the sidewall of the dishwasher. The hot air is attracted to the cooler side to liquefy and drain the steam. It's a good system.
Availability
I added this due to the rampant availability problems for appliances. Miele has been much better than Bosch in this dishwasher series in terms of availability.
Bosch Vs. Miele Dishwashers Under $1500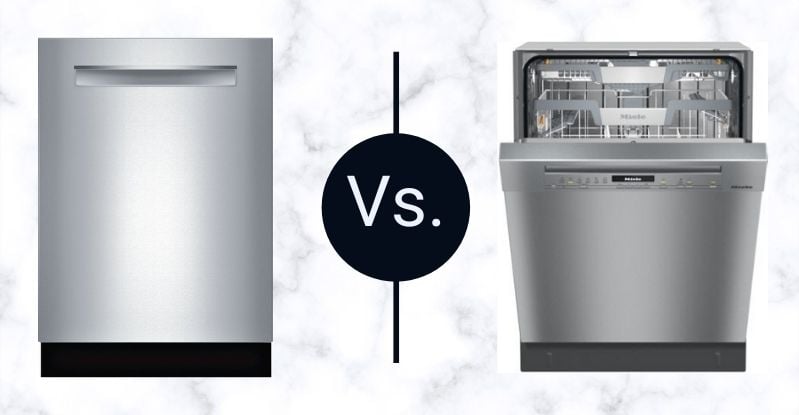 Bosch 800 Series Dishwasher SHP878ZP5N | Miele G 7100 Series Dishwasher G7106SCUSS
Quietness
Bosch will be quieter. It s 42 DB versus 45 for the Miele. Remember, 44 is the standard for not hearing your dishwasher.
Cycles
Once again, the cycles are similar. QuickIntenseWash adds water pressure to wash in 60 minutes, whereas Bosch Express 60 doesn't.
The Miele, 50% cycle, is kind of cool as it is a special sensor to determine half load or full load.
Racks
Miele has more adjustable than Bosch in the bottom rack. The 3rd cutlery tray on top dubbed, the 3D, is more flexible as well.
Wash System
The wash system is the same as the top with Miele have the three full spray arms versus 2 for Bosch
Drying
Miele is excellent with the system described above plus the automatic door opening. Bosch is the best. CrystalDry uses a volcanic element called Zeolite.
For drying, Zeolite absorbs moisture and emits heat. It can dry plastics well.
Availability
Miele is new, so it is hard to know. Bosch will be hard to find.
Are Bosch Dishwashers More Reliable Than Miele Dishwashers?
Dishwasher Reliability From January 2020 to September 2020
| | | | |
| --- | --- | --- | --- |
| | Service Qty | Shipped Qty | Service Ratio |
| Signature Kitchen Suite | 1 | 2 | 50.00 % |
| JennAir | 117 | 269 | 43.49 % |
| Fisher & Paykel | 48 | 142 | 33.80 % |
| GE Appliances | 9 | 46 | 19.57 % |
| Thermador | 102 | 592 | 17.23 % |
| Cove | 9 | 57 | 15.79 % |
| Miele | 93 | 593 | 15.68 % |
| Café Appliances | 9 | 63 | 14.28% |
| Bosch - Benchmark | 10 | 82 | 12.20 % |
| Bosch Appliances | 314 | 2670 | 11.76 % |
| GE Profile | 7 | 63 | 11.11 % |
| Samsung | 94 | 904 | 10.40 % |
| KitchenAid | 79 | 851 | 9.28 % |
| LG Electronics | 1 | 16 | 6.25 % |
| Beko Appliance | 13 | 372 | 3.49 % |
| Whirlpool | 14 | 533 | 2.63 % |
| Blomberg | 0 | 224 | 0.00 % |
| Grand Total | 920 | 7479 | 12.30 % |
You are looking at our the amount of dishwashers we serviced and shipped from January 2020 to September 2020.
We divide sales into service calls for a service percentage.
At one time, Miele was the standard for reliability in appliances.
In recent years, Bosch has been the most reliable premium dishwasher. Miele has had small nagging issues. In 2018, it was one batch of frozen motors. In 2019, it was noisy solenoids.
Neither are huge issues but are issues nevertheless.
Bosch Vs. Miele Dishwashers: Key Takeaways
First, both are great brands. They both set the standard for better dishwashers.
You should consider both plus the different styles in your dishwasher search.
There will be availability problems with both brands in 2021.
For Bosch, the advantages are better quietness and reliability. You also have the best drying with CrystalDry at a better price than Miele.
Miele has the best wash system and racking with excellent drying.
The only real question is whether the new Miele will again be the most reliable product sold.
Additional Resources:
Have questions on dishwashers? Then get The Yale Dishwasher Buying Guide with features, specs, and detailed profiles of every major brand like Miele, Bosch, Samsung, KitchenAid, and more. Over 550,000 people have read a Yale Guide.
Related Articles:
Why Should You Trust Us?
It seems that every appliance review has nothing but glowing comments about almost every product, yet you read customer reviews and they are almost universally bad.
We are here to fill in the disconnect. We'll give you the best features, and the drawbacks as well, including reliability based on over 37,000 calls performed by our service team just last year. Our goal is to give you ALL the information so you know what's right for you.
Please consider subscribing or adding to the conversation in the comments below. We appreciate you stopping by.
Steve Sheinkopf
My goal has always been simple: I want Yale to be the best retail experience anywhere. I have tried to create a compelling environment for customers and employees alike.
A Note About Pricing
Pricing on this blog is for reference only and may include time sensitive rebates. We make every attempt to provide accurate pricing at time of publishing. Please call the stores for most accurate price.