Best 48-Inch Professional Ranges (Reviews / Ratings / Prices)
After spending $10-20,000 on a 48-inch pro range, you would think that it meets all your needs.
However, it is simple to buy the wrong range. It's easy.
Let's say you will like to broil.
You would want an all-gas range with an infrared broiler, not a dual fuel with an electric.
The key is buying the right 48 professional range for you and how you use it.
You have to check the most important features you commonly use and then match them with the best brand and model.
This article will be long and detailed, with plenty of videos along the way to guide you.
You will learn about all the familiar brands like Wolf, Thermador, JennAir. Miele and a few less familiar yet interesting brands like BlueStar, SKS, and Hestan.
We will also cover the difference between all gas and dual fuel, different features for each range, and the list of the best brands and models.
Then we will rate the best range for each feature and performance.
Again, there is no best range for every feature (shopping would be much easier if that were the case).
At the end of the article, you will have a much better idea of the one or two ranges best suited to your style.
As always, feel free to ask any questions in the comment section below. Short on time? Get our free Pro Cooking Buying Guide
What Is a Professional Range?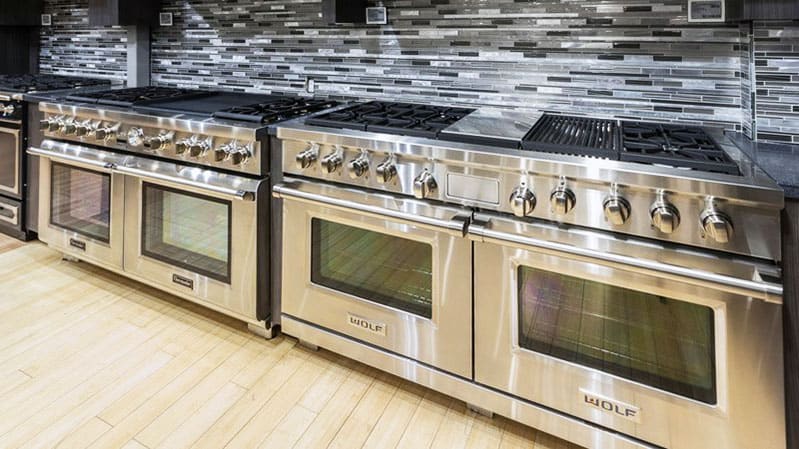 Professional (pro) ranges are modeled after ranges found in restaurants with high BTU output and a commercial look.
However, they are rated for residential use, so you do not need special permits or sprinkler systems. They are also easier to clean.
What is a pro range should be an easy question to answer.
However, there are a lot of pros-looking ranges without the pro type of performance. There are many pro-style looking ranges like Bertazzoni, ILVE, and Verona, and others.
Let's look at this Bertazzoni range below as an example.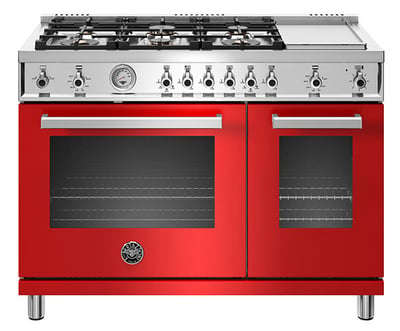 Bertazzoni 48-Inch Range
It's a good-looking unit, but this range only has two pro burners of 19,000 BTU, then it drops to 10,400 and then a combination of 5,000 and 3500 BTU burners.
They are less expensive if you need a cheaper range to fit a 48-inch opening, but not pro-type performance.
The fit and finish are not the same either.
I didn't include La Cornue either because it is more of a customized product.
Gas vs. Electric (Dual Fuel) Ovens
Before we talk about brands and models, you should know the difference between all gas and dual fuel (gas over an electric oven).
Gas ovens have a moist heat, and electric ovens have a drier heat.
Moist heat is better for roasting meats, whereas electric is better for baking.
On average, dual-fuel ranges have a more accurate temperature than all gas ranges. It is easier to control the temperature for precision cooking in electric.
All-gas ranges have better broilers, especially if they are infrared broilers, and will sear better than electric.
Most of these broilers are infrared and the same as the sear burner on a pro grill like Lynx. Dual fuel ranges also typically incorporate more advanced features such as self-cleaning, a timer, and sometimes, menu-driven electronics.
Wolf, Thermador, SKS, and Miele will have enhanced features available only in their dual fuel models like better controls, steam or speed ovens, and self-cleaning.
On average, all-gas ranges are about $1,500 to $4,000 less expensive than dual fuel ranges in the professional-style category.
Benefits of an All-Gas Oven: Broiling, roasting, less expensive. It does not need an added 50 amp of electricity
Benefits of Electric Oven: Controls, special features, and baking
Best Features in a 48-Inch Professional Range
Cooktop Configuration
Many ranges give you some opportunity to customize your range's surface configuration.
Most brands will offer six burners and a griddle or grill. You have a few offering a double grill or griddle and four burners as well.
A select few offer a French top, a larger flat surface with the ability to cook at different temperatures, or all burners such as BlueStar (shown below) and Wolf.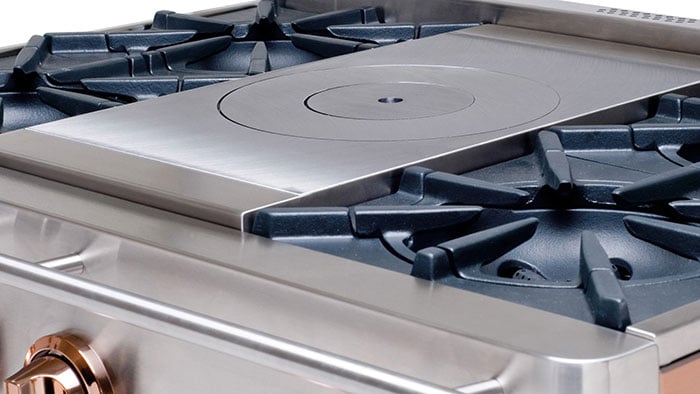 SKS offers sous vide precision boiling in a vacuum-sealed bag (shown below).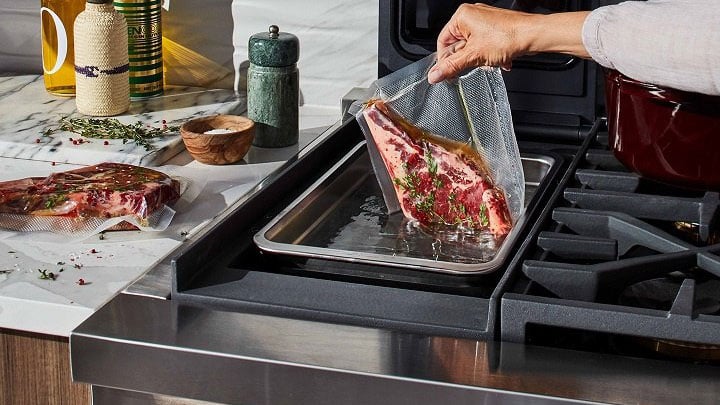 Thermador Pro Grand, SKS, and Fisher & Paykel offer an induction option as well.
Infrared grills and griddles, like the infrared broiler, is faster, intense heat than electric. Wolf, BlueStar, and Miele offer infrared.
Steam Vs. Steam Assist Ovens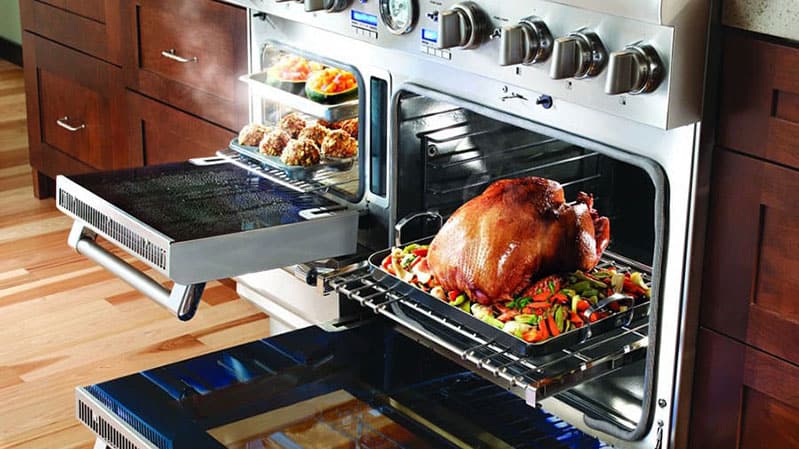 Thermador 48" Pro Range With Steam
Steam is a great way to cook. It adds moisture and does not bake the nutrients out of your food.
Thermador (shown above) has a traditional steam oven in its range (shown above). You can cook anything from meats to brownies in steam. However, it is smaller than a regular oven.
Miele has a steam assist. You are still cooking with regular elements but adding 1-3 bursts of steam.
SKS has both options in the same range.
Adding steam is important for caramelizing foods and essential for baking bread.
Smart Technology
Thermador, SKS, Wolf, and JennAir both offer you the ability to operate your range through an app on your phone.
You can turn the oven on or off as well as adjust the temperature.
They also have tie-ins to different recipe apps to enhance your cooking.
Wi-Fi may be basic now, but it will evolve over time.
Best 48-Inch Professional Ranges for 2021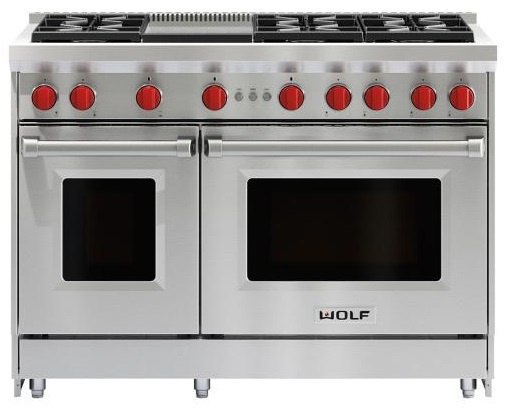 Wolf is the cooking brand owned by Sub-Zero. Wolf is made in the US. They are best known for professional-style ranges with their signature red knobs.
The griddle and grill are infrared and are similar to an outdoor gas sear zone providing you less cleanup because the infrared will evaporate drippings.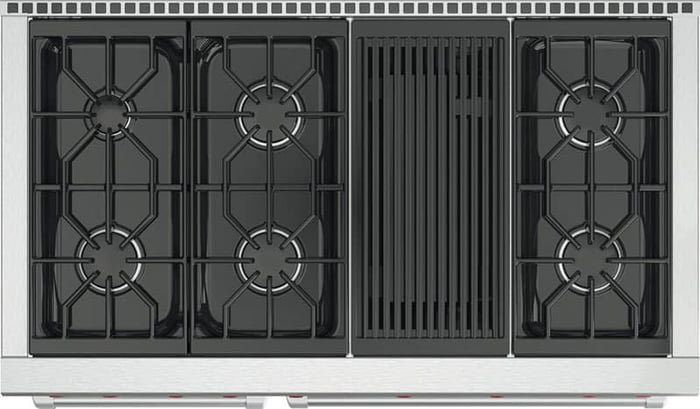 Wolf allows for a French top option as well.
French tops look like griddles but work completely differently. A griddle is designed to be consistent.
A French top is designed to vary the heat outward so that you can cook many items at different temperatures.
You also leave the food in the pans on a French top instead of placing it directly on the griddle.
Wolf Pros: Grill, griddle, and broiler (in gas) are infrared. The simmer is excellent as well, with every burner capable of 500 BTU.
Best twin convection system available for temperature because both fans operate independently.
Wolf Cons: The all-gas model is a bit underpowered, with only a 15,000 BTU max. No steam or advanced features, and no color choices.
Features:
Six sealed burners

5 x 15,000 BTU burners
1 x 9,200 BTU burner

Dual-stack burners allow you to simmer on every burner
Gas-powered charbroiler (18,000 BTU) or griddle (15,000 BTU) (you must specify at the time of sale)
Available in natural gas or liquid propane (you must specify at the time of sale)
Two gas ovens
18,000 BTU Infrared broiler in 30-inch ovens
Non-self-cleaning ovens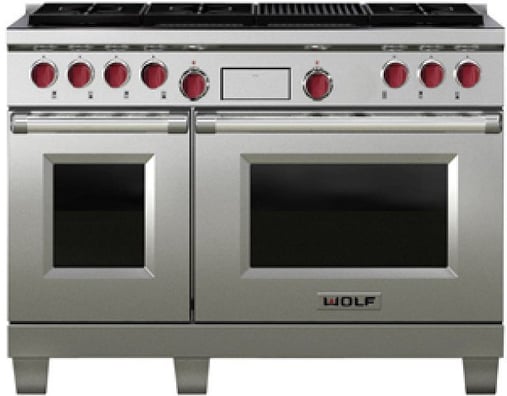 There is a huge difference between the all gas and dual fuel Wolf ranges. Only the grill, griddle, and French top are the same.
The burners are upgraded to multiple 20 and 18,000 BTU burners versus the 15,000 of all gas.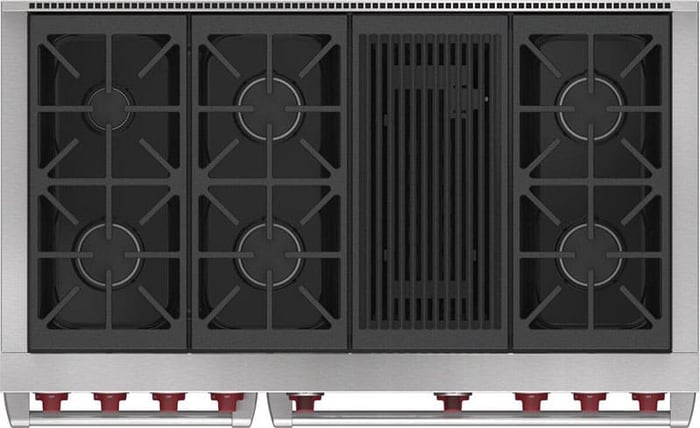 In Wolf's dual fuel range, the ovens will have the Verticross blower convection system instead of single convection like the gas model.
Blowers move air faster than fans for more even heat and more space in the oven.
Verticross has been in Wolf wall ovens for three years.
This range also features Wolf Gourmet.
You pick the food, and how you like it cooked, the Gourmet will program time and temperature along with 50 automatic recipes.
The dual-fuel will also have the new Wolf Wi-Fi system
Features:
Six sealed burners

2 x 15,000 BTU burners
1 x 9,200 BTU burner
2 x 18,000 BTU burners
1 x 20,000 BTU burner
1 x 16,000 BTU charbroiler

Dual-stack burners allow you to simmer on every burner
Gas-powered charbroiler (18,000 BTU) or griddle (15,000 BTU) (you must specify at the time of sale)
Available in natural gas or liquid propane (you must specify at the time of sale)
Two electric ovens
18,000 BTU infrared broiler in 30-inch oven
Self-cleaning ovens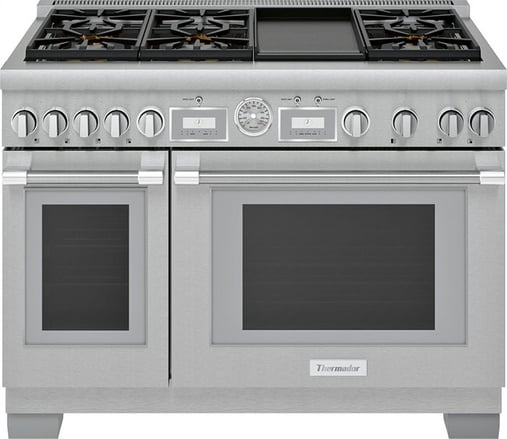 Thermador is the cooking brand owned by BSH Home Appliances Corporation. Although BSH is a German corporation, Thermador is made in the US.
They are best known for professional-style ranges, aggressive package offerings, and their rebate program.
With their rebate program, you will receive a free dishwasher and hood.
Thermador makes two different series of ranges - the Pro Grand series and the Harmony series. The Grand series is the premium offering of the two with a large capacity oven, high BTU burners, and self-cleaning in all gas.
Their larger 48 and 60-inch versions offer steam ovens and warming drawers as well.
However, Harmony is more popular because it does not protrude from your cabinets, unlike the Pro Grand.
Both ranges have the star burner, which can simmer better at 100 degrees on two burners. It's also raised for easy cleaning.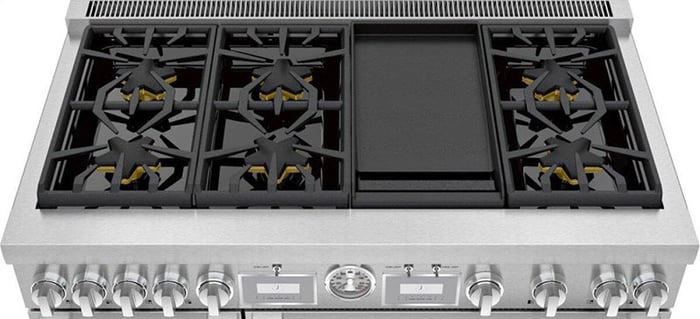 In 2019, they changed the style, added Wi-Fi, but dropped their back burners from 18,000 to 15,000 BTU.
Two burners can be induced for hotter heat and the best simmer of any fuel type on a few models.
Thermador has a huge difference between all gas and dual fuel.
You can buy the steam oven option with a warming drawer in dual fuel, and all models are self-cleaning in dual-fuel vs. just the Pro Grand in all gas.
Thermador Pros: Great simmer, Good Wi-Fi system, Star burners are cleanable with good simmer. The only company with a steam oven and induction option. Good price and promotions. Pro Grand is self-cleaning in gas.
Thermador Cons: Electric grill and griddle are not as fast, single, not dual convection oven, no colors.
Features:
Six sealed burners

5 x 18,000 BTU burners
1 x 22,000 BTU burner

Two burners have an XLO simmer (intermittent) for an extra-low 100-degree simmer.
Electric griddle 1,630 watts
Available in natural gas, liquid propane conversion kit sold separately
Two gas ovens 30" convection (5.5 cubic ft.) and 18" convection (2.4 cubic ft.)
Broiler
2-hour self-clean cycle
Temperature probe
Timer
Telescopic glide racks
Available cooktop configurations for Thermador 48-inch all-gas ranges (prices will vary):
Six burners and electric grill
Six burners and an electric griddle
Dual Fuel Thermador specs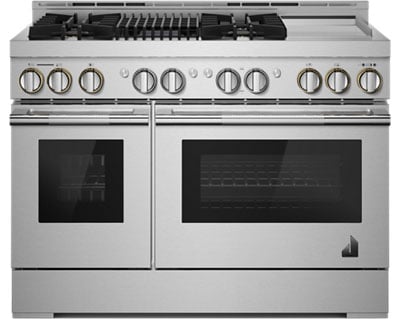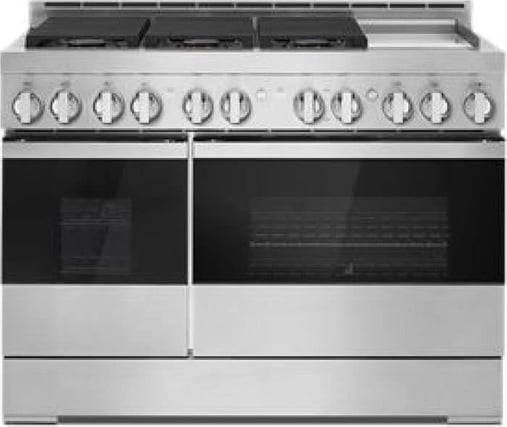 JennAir is a premium brand made by Whirlpool Corporation.
Their new series, Rise and Noir, are beautifully designed.
Their Wi-Fi experience is the most robust, with the ability to see pictures of the cooked food before it's cooked.
The grill is now infrared, along with decent output on the burners and a twin convection oven.
They coated the griddle with chromium, so it is the easiest to clean.
Dual fuel and all gas are similar in features and looks. Both are self-cleaning.
JennAir Pros: Best Wi-Fi for recipes, great looking, easiest to clean chromium griddle, good price, and $1,399 rebate program.
JennAir Cons: Higher repair rate, no colors. Their twin convection is not as advanced as Wolf for temperature control. Their availability is incredibly tough even before COVID-19.
Features:
Four sealed burners

2 x 20,000 BTU Dual-Stacked Powerburner
1 x 18,000 BTU Dual-Stacked PowerBurner
1 x 9,000 BTU Dual-Stacked PowerBurner

Chrome infused griddle
16,000 BTU Grill
Available in natural gas, liquid propane conversion kit sold separately
Two gas ovens 30" convection (4.1 cubic ft.) and 18" convection (2.2 cubic ft.)
Broiler
Self-clean cycle
Timer
Telescopic glide racks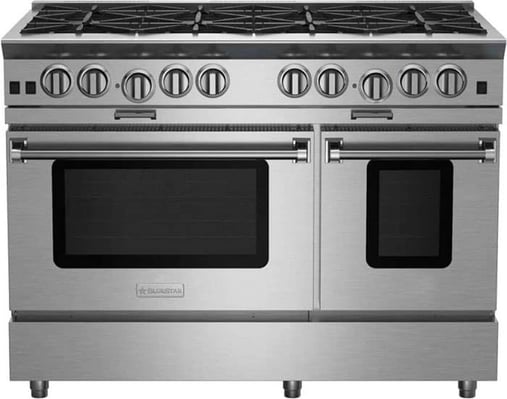 BlueStar is a commercial cooking company originating in Pennsylvania. This list is the most commercial style of the pro ranges listed for looks and BTU power.
This range has two 25,000 and two 22,000 BTU burners.
BlueStar ranges are also known for customization. They are available in 1000 colors and ten trims, and you can also customize the cooking surface for an added cost.
BlueStar has five different series.
BlueStar's Platinum series is their premium range line. This range line has open burners, ideal for very high heat but tougher to clean.
BlueStar is pure convection with the heating element in the back.
If you are looking for a range that has commercial characteristics or if you want a pop of color in your kitchen, you should consider a BlueStar platinum range.
Having open burners is easier to clean. In a spill, you have to clean the underneath of the top. However, most everything is removable and can be cleaned in the sink.
BlueStar Pros: Power, pure convection, colors,
configurations
BlueStar Cons: Basic Controls, higher repair rate, no self-cleaning, no dual fuel, The Platinum offers an interchangeable griddle/grill. If you want a better grill, then you should buy their RNB series.
Features:
Eight open burners

2 x 25,000 BTU burners
2 x 22,000 BTU burners
1 x 18,000 BTU burner
2 x 15,000 BTU burners
1 x simmer burner down to 130 degrees F

Interchangeable grill/griddle accessory (gas) allows you to have a gas grill/griddle when you want it, yet have the convenience of 8 burners. However, the grill/griddle is not thermostatically controlled. You can buy other series with integrated griddles.
Available in natural gas or liquid propane (you must specify at the time of sale)
Two gas ovens 30" convection (4.1 cubic ft.) and 18" convection (2.2 cubic ft.)
PowR convection oven designed to reduce preheat time by 40% and efficiency by 30%
15,000 BTU Infrared Broiler
Available cooktop configurations for BlueStar 48" all-gas Platinum range:
Eight burners with included interchangeable grill/griddle accessory
Burners can be upgraded for an added cost (limitations by local codes may apply)
BlueStar does not manufacture a dual fuel yet (expected soon)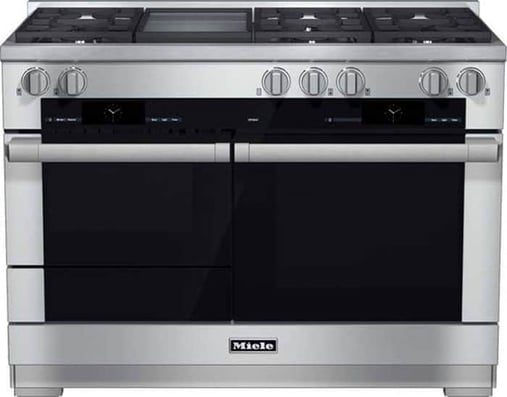 Miele was the latest major manufacturer (2014), producing a pro range. They have copied a lot of good features like an infrared grill, griddle, and broiler.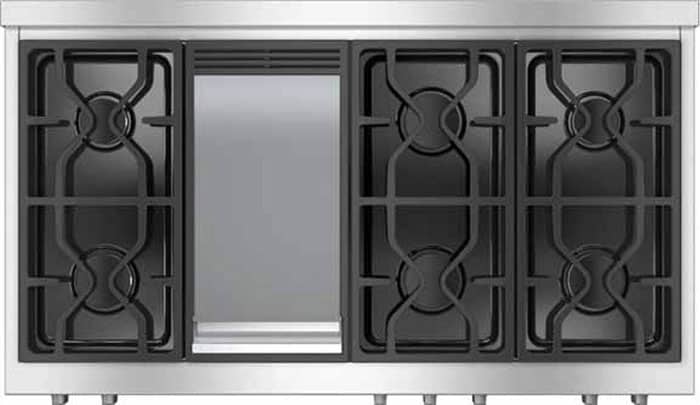 Then they added a few more like self-cleaning racks and dishwasher safe grates. Miele offers steam assist in all their dual fuel range.
You have a speed oven (convection microwave/oven) with a warming drawer instead of a smaller oven.
Steam assist will allow you to bake bread, as we described earlier.
The real highlight of this range is their MasterChef controls.
Miele simplifies the cooking process. You choose the food and weight. The oven calculates time and temperature.
You can choose 15 different types of bread for that bread, from focaccia to sourdough, to cook automatically.
Miele Pros: Most cleanable, infrared grill and griddle, best controls
Miele Cons: No Wi-Fi, No all gas models in 48 inch
Features:
Six Burners

3 x 13,000 BTU Burners
2 x 10,000 BTU Burners
1 x 13,600 BTU Burner

M Touch controls and backlit precision knobs
M Pro dual-stacked burner system with TrueSimmer
M Pro infrared griddle
Fully functional M Touch Speed Oven
Fully functional Warming Drawer
For proper ventilation, pair with Miele Range Hood
Hestan 48" Pro Range KRD485GD - $15,559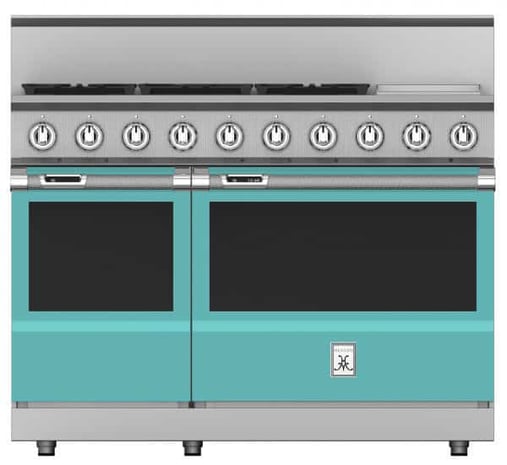 Hestan is the latest commercial range company to design for your home.
It is built well with brass ignition and solid metal knobs. Normally, I don't note these as more than just niceties. They usually don't impact service.
However, it's pretty impressive.
Hestan now has the highest output burner at 30,000 BTU, and it's sealed.
BlueStar is an open 25,000 BTU.
Hestan has the next most powerful burner at 23,000 with a combination of 15,000 BTU burners.
The griddle is thermostatically controlled for a precise temperature, unlike most other griddles at high and low.
The oven is called "PureVection." It's single convection but changes speed and temperature to maintain proper temperature.
Hestan ranges are in some notable restaurants like French Laundry, but we have to test the claim.
Hestan has 12 interesting colors covering the basics. It's 11 more than every other manufacturer but 988 less than BlueStar.
The Differences Between Hestan All Gas and Dual Fuel Pro Ranges
They look the same, but the dual fuel is self-cleaning. They also have their "Marquise" display on the handle, showing time, mode, and temperature.
Hestan Pro: Highest output, thermostatically controlled griddle, colors
Hestan Cons: No grill, PureVection claims have to be tested, No Wi-Fi
Features:
Heavy-duty cast-iron grates
Brass sealed center power burner provides 30,000 BTUs of high-performance cooking power
Dual-flow burner system (23,000 BTUs Front Burners) to low continuous simmer (500 BTUs All
Burners)
Diamond stainless steel burner bowl allows for easy cleaning
Commercial-grade stainless steel griddle with infrared gas burner
PureVection oven
Touch control oven display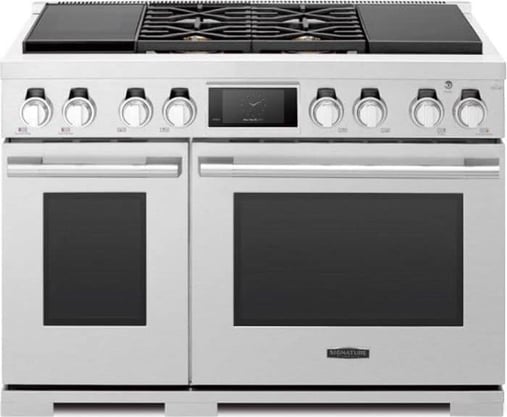 Newer brands seem to have the same playbook. Match the best features of existing products and add a few.
SKS is now the most featured pro range you can buy.
Burners are 23,000 BTU with a combination of 15,000 BTU. Three of the burners are UltraLow at 100 BTU, matching Thermador's high and low output.
The griddle is chromium, the easy cleaning surface JennAir made famous.
SKS adds induction on the top again like Thermador. The induction will be faster than gas with a better simmer.
It also requires less venting, so more companies have been adding induction to their professional gas ranges.
Sous vide or cooking through precision water immersion is SKS's unique feature. You can cook with precise results with Sous vide.
Just add your protein and marinade in a vacuum-sealed bag, then wait for it to reach core temperature for a perfectly cooked meal.
SKS is also Wi-Fi-enabled through the LGs ThinQ app.
SKS Pros: Induction and sous vide options, 23,000 BTU burners, steam oven, and steam assist in their dual fuel ovens, chromium griddle
SKS Cons: No recipe tie-ins in their Wi-Fi, no Grill. New brands typically have a problem with service technicians.
Difference Between SKS Dual Fuel and All Gas Models Pro Ranges
All gas has one option with a griddle and ovens.
The dual-fuel has two options: One with the griddle and the other with an induction set and the sous side option.
The oven in the dual fuel has steam assist (Miele) and a steam oven (Thermador) in one oven.
The other brands have only one, while SKS has both.
Features:
48-inch Dual-Fuel Pro Range
Built-in sous vide
Power up or simmer down
Two-zone induction
True Steam-Combi
Speed-Clean
Are Professional Ranges Reliable?
Pro ranges need more service than any other appliance.
That said, a 48-inch range is also much larger than an average appliance with more burners, ignition systems, and two ovens.
Before you become panicked, half these ranges are fixed without parts. Installation and customer education are two big factors that contribute to the life of your range.
Igniters are one of the most common repairs for gas ranges in general, but it is usually just a burner. In a 48 inch range, you have at least 3-7 more.
However, service for sophisticated appliances becomes crucial. You want your range to work on Thanksgiving.
Always inquire about repair before you buy any appliance.
Professional Gas Range Reliability December 2019 - November 2020
| | |
| --- | --- |
| | Service Ratio |
| Thermador | 13.41% |
| JennAir | 13.08% |
| BlueStar | 16.33% |
| Miele | 9.38% |
| Grand Total | 13.46% |
The figures above are based on a minimum of 20 products sold and over 1000 total pieces.
Professional Dual Fuel Range Reliability December 2019 - November 2020
| | |
| --- | --- |
| | Service Ratio |
| Wolf | 15.79% |
| JennAir | 29.17% |
| Thermador | 31.50% |
| Miele | 47.37% |
| Grand Total | 23.12% |
The figures above are based on a minimum of 15 products sold and over 300 total pieces.
Which 48-Inch Professional Range Is the Best?
There is no single best range for price, baking, broiling, steam, or any preferred features.
So here is a breakdown:
Best Professional Range for Burner Output: Hestan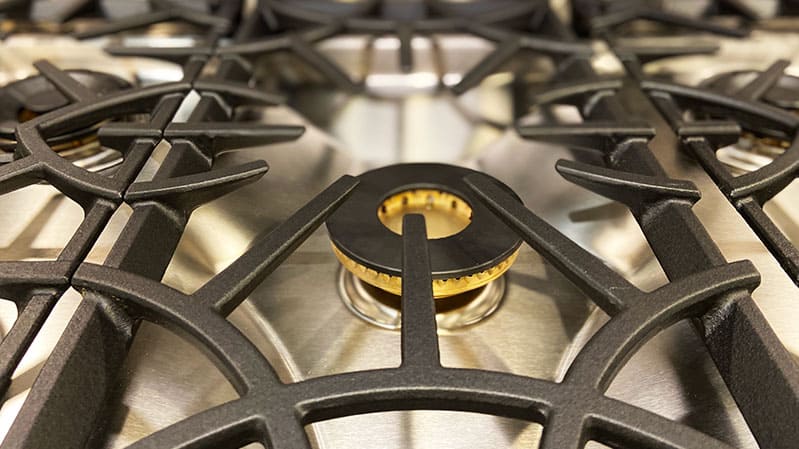 Hestan Pro Range 23,000 BTU Burner
Hestan now tops the list at 30,000, followed by their 23,000 BTU burner along with SKS. BlueStar has 25,000 BTU in an open.
Best Professional Ranges for Cooking Surface Options: Wolf and BlueStar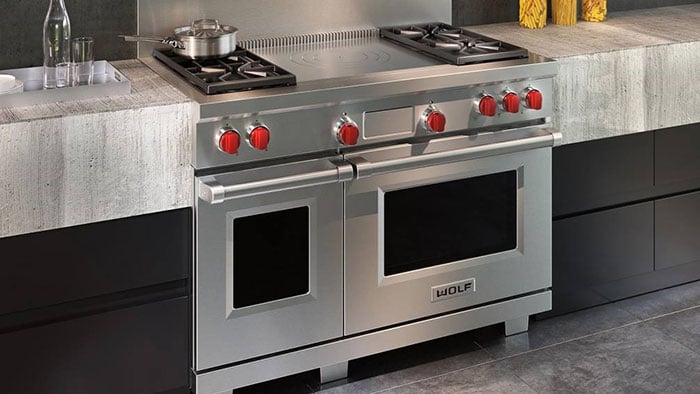 Wolf French Top on a 48-Inch Dual Fuel Pro Range
Wolf offers the most cooktop configurations of any 48-inch range brand. Keep in mind that you are married to that configuration when you commit to a configuration with Wolf.
Best Professional Ranges for Simmering: Thermador and Wolf
Thermador's XLO burner (intermittent simmer), SKS Ultralow is 100 degrees as well, and Wolf's dual-stack burner are the three best burners for simmering in the industry.
Best Professional Range for Charbroiler and Grill Performance: Wolf, Miele, and JennAir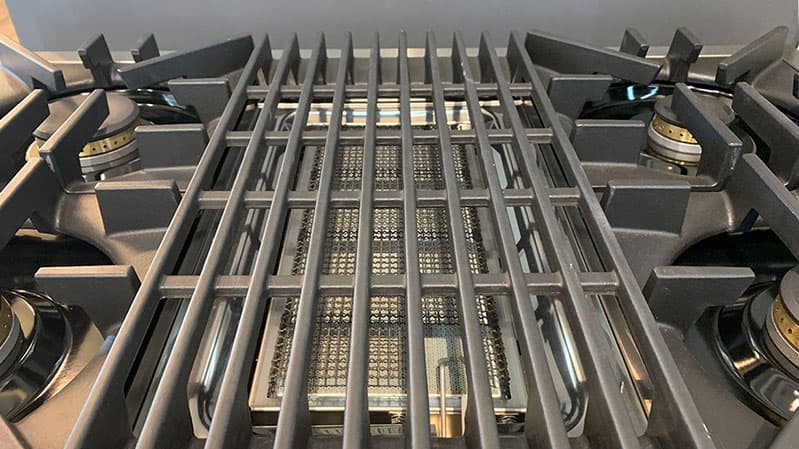 JennAir Pro Range Grill
For indoor grilling, having a gas-powered grill will be better for sear and taste than an electric grill. It is infrared, so the drippings also burn off for easier cleaning.
Best Professional Ranges for Griddle Performance: JennAir, SKS, and Hestan
JennAir and SKS will be the easiest for cleaning and maintenance with their chromium surfaces. Hestan is the only griddle to be precisely regulated by temperature.
Best Professional Ranges for Oven Capacity: Thermador and BlueStar
Both Thermador and BlueStar can hold a commercial sheet pan. The other companies cannot. If you are looking for a large oven, BlueStar and Thermador are the best choices.
Best Professional Ranges for Steam Features: Miele, Thermador, and SKS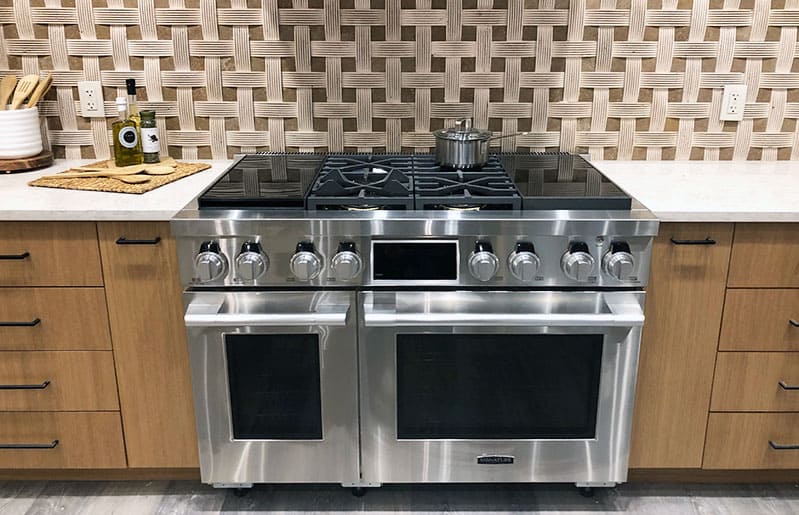 SKS 48" Pro Range
This depends. Miele and Thermador both have some version of steam and a warming drawer. Miele has the best controls. JennAir has the best Wi-Fi.
SKS has a bit of everything steam, steam assist, Sous Vide, Wi-Fi, and induction
Best Professional Range for Value: JennAir
JennAir is the only range that made this list under $10,000. They have some great package promotions as well.
If you're looking for a 48-inch pro range but aren't looking to break the bank, this is a great range for the price.
Best Professional Ranges for Broiling: Thermador/ Wolf/ BlueStar
Both have infrared and will sear the fastest.
Best Professional Ranges for Tech and Controls: Miele and JennAir
Miele is the easiest to use. JennAir has the best Wi-Fi app.
Most Cleanable Professional Range: Miele
You can clean everything in this range with minimal difficulty. The grates, racks, and burners are easy to clean.
Best 48-Inch Professional Range: Key Takeaways
First, there is no single best professional range.
You should buy the features important to how you cook, whether baking, broiling, grilling, griddling, steam cooking, or any other feature.
See a demonstration on these ranges before you buy if possible. Always inquire about service as well.
Unfortunately, you will need some type of service throughout the lifetime of any of these ranges.
Each manufacturer has its pros and cons. You want to match those to how you cook.
Additional Resources
Get our free Pro Cooking Buying Guide with tips, trends, and reviews of all the best brands. Over 900,000 people have already found answers in a Yale guide.
Related Articles:
Why Should You Trust Us?
It seems that every appliance review has nothing but glowing comments about almost every product, yet you read customer reviews and they are almost universally bad.
We are here to fill in the disconnect. We'll give you the best features, and the drawbacks as well, including reliability based on over 37,000 calls performed by our service team just last year. Our goal is to give you ALL the information so you know what's right for you.
Please consider subscribing or adding to the conversation in the comments below. We appreciate you stopping by.
A Note About Pricing
Pricing on this blog is for reference only and may include time sensitive rebates. We make every attempt to provide accurate pricing at time of publishing. Please call the stores for most accurate price.