Best 48-Inch Professional Ranges (2023 Update)
March 23rd, 2023 | 19 min. read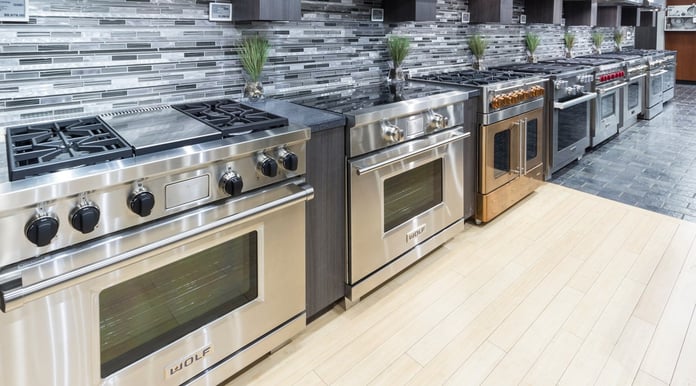 After spending $10,000-$20,000 on a 48-inch professional range, you would think that it meets all your needs.
With so many options available, it's easy to make the wrong choice. Most people don't know that choosing the right range depends on how you cook.
The key to buying the right 48 professional range is determined by how you use it.
For instance, if you love to broil, you need an all-gas range with an infrared broiler, not a dual fuel range with an electric broiler.
To help you choose the right professional range, this article provides a comprehensive guide to the best 48-inch professional ranges.
We'll explore popular brands such as Wolf, Thermador, Monogram, and Miele, as well as some lesser-known but intriguing options like BlueStar, SKS, and Fisher & Paykel.
We've also included a section on La Cornue, which offers a high-end customizable range.
This article is long and detailed, with plenty of videos to help illustrate the features and benefits of each range. By the end, you'll have a better understanding of which range is best suited to your cooking style and needs.
As always, feel free to ask any questions in the comments section below.
Let's dive in.
Best 48-Inch Professional Ranges for 2023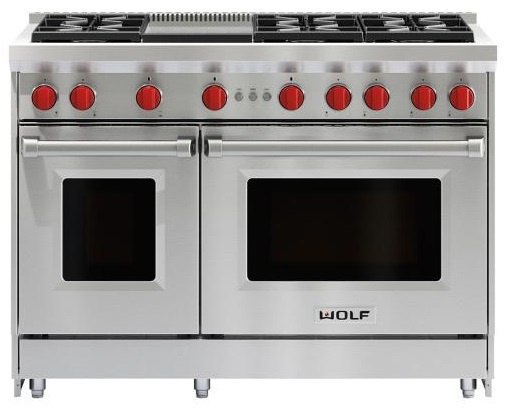 Wolf is a well-respected cooking brand owned by Sub-Zero and made in the USA. They are best known for their professional-style ranges with signature red knobs.
Wolf's 48-inch pro gas range is an excellent range for those looking to elevate their kitchen or for the experienced chef. Let's look at Wolf's best features.
Grill and Griddle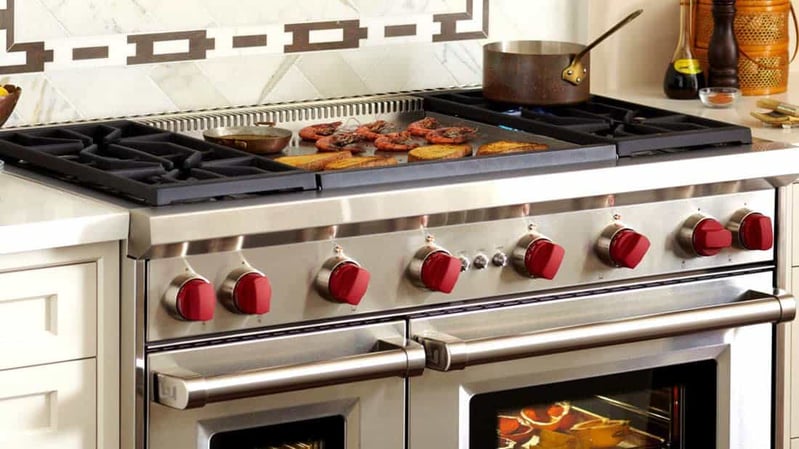 Wolf Pro Range Griddle
One of the best features of this range is its infrared grill and griddle that can reach temperatures as high as 15,000 BTU.
Wolf's grill operates like an outdoor grill's sear zone. Futhermore, both the grill and griddle are easy to clean as the infrared technology burns off drippings or residue.
French Top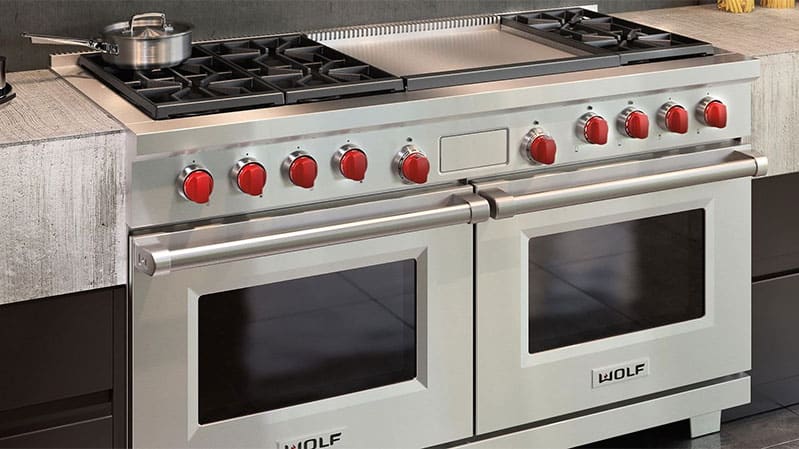 Wolf Pro Range French Top
In addition to the grill and griddle, Wolf offers a French top option, which looks like a griddle but functions differently.
While a griddle is designed to provide consistent heat across its surface, a French top is designed to vary the heat outward, so you can cook many items at different temperatures.
You can also leave the food in the pans on a French top instead of placing it directly on the surface.
This allows for greater versatility in cooking, making it a popular option for those who want to achieve professional results at home.
Convection Ovens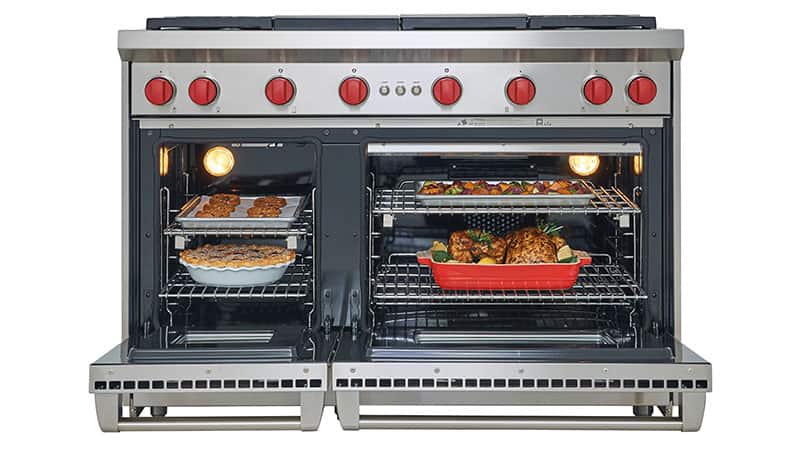 Wolf Pro Range Ovens
Another impressive feature of the Wolf 48-inch pro gas range is its convection ovens, which allow for even baking and roasting.
This model has 30-inch and 18-inch ovens to accommodate multiple dishes at once..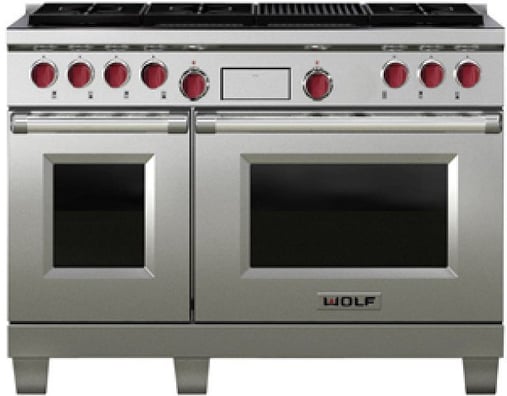 The Wolf 48-inch pro dual fuel range offers more benefits and features than Wolf's all-gas pro ranges.
Upgraded Burners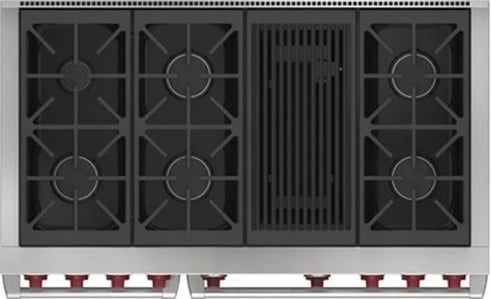 Wolf Pro Range Stovetop
The Wolf 48-inch pro dual fuel range features upgraded burners that are much more powerful than the gas models.
Wolf's dual fuel ranges have multiple 20,000 and 18,000 BTU burners compared to the 15,000 BTU burners in Wolf's all-gas models.
Having more powerful burners make cooking faster and more efficient, allowing you to prepare meals in less time.
Convection
Wolf Pro Range Oven with VertiCross Convection System
The oven in the Wolf 48-inch pro dual fuel range has the VertiCross blower convection system, which is an upgrade over the single convection of the gas model.
The VertiCross blower convection system moves air faster than fans for more even heat distribution and more space in the oven.
This convection system has been in Wolf wall ovens for six years, and it has proven to be highly effective.
LCD Screen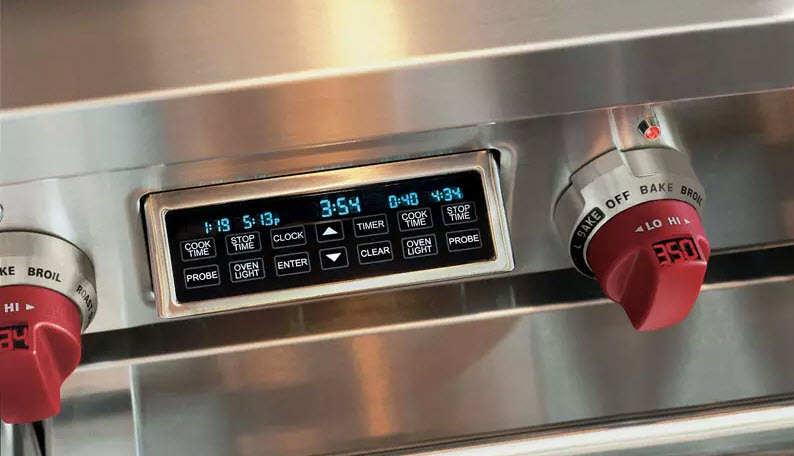 Wolf Pro Range Controls
In the Wolf 48-inch pro dual fuel range, the clock and timer have been replaced with an LCD screen. The controls are easy to use and provides a more modern appearance.
Wolf Gourmet
This range also features Wolf Gourmet, a guided cooking program that allows you to select the food and how you like it cooked.
Wolf's Gourmet program will then choose the exact time and temperature for your meal and determine the best rack position for optimal cooking.
Additionally, Wolf Gourmet features 50 automatic recipes that can simplify meal preparation.
Wi-Fi System
The new Wolf Wi-Fi system is available in the Wolf 48-inch pro dual fuel range, allowing you to control your Sub-Zero refrigerator, Cove dishwasher, and Wolf range on the same app.
This feature provides more convenience and ease of use, allowing you to control all your appliances from one place.
After-Sale Service
Being a family-owned American company, Wolf is renowned for its exceptional after-sale service.
If you ever have any issues with Sub-Zero and Wolf appliances, you can count on the company's outstanding customer support to help you resolve the problem.
Wolf Pros
Wolf's gas range features an infrared grill, griddle, and broiler for exceptional heat distribution.
The simmer function is outstanding, with each burner capable of producing up to 500 BTU.
Wolf has the best convection systems with it's new VertiCross blower system.
Wolf is one of the best appliance brands for after-service support in the market.
Wolf Cons
Unfortunately, gas models fall short on power with a maximum of only 15,000 BTU.
Wolf ranges lack advanced features like steam and induction featured in other pro range brands like Miele and Thermador.
Additionally, they do not offer any color options to match your kitchen aesthetic.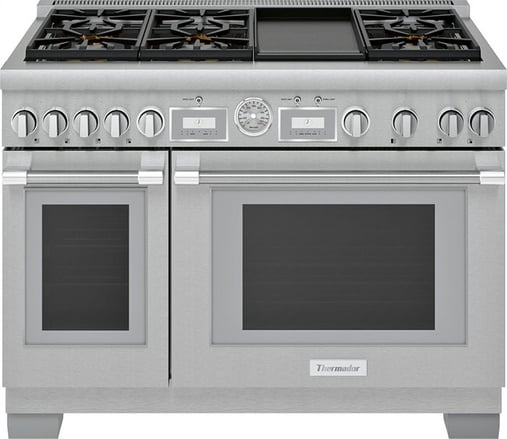 Thermador, owned by BSH Home Appliances Corporation, is a popular cooking brand that offers professional-style ranges, kitchen package offerings, and rebate programs.
Although BSH is a German corporation, Thermador products are manufactured in the United States.
Thermador offers 15 different 48-inch ranges, ranging from $10,499 to $16,599, which can make choosing the right one confusing.
However, the decision can be made almost by process of elimination. The first choice you need to make is whether you want a Pro Grand or Pro Harmony series range.
Thermador Pro Grand and Pro Harmony Series Ranges
The Pro Grand series is the premium offering of the two, with a larger capacity oven, a high BTU burner of 22,000 BTU, and is self-cleaning in all gas.
Additionally, the Pro Grand series offers steam ovens and warming drawers, as well as an induction option for the stovetop.
On the other hand, the Pro Harmony series is more popular because it does not protrude from your cabinets, unlike the larger capacity Pro Grand. The Thermador Pro Harmony is also less expensive.
Star Burners and Output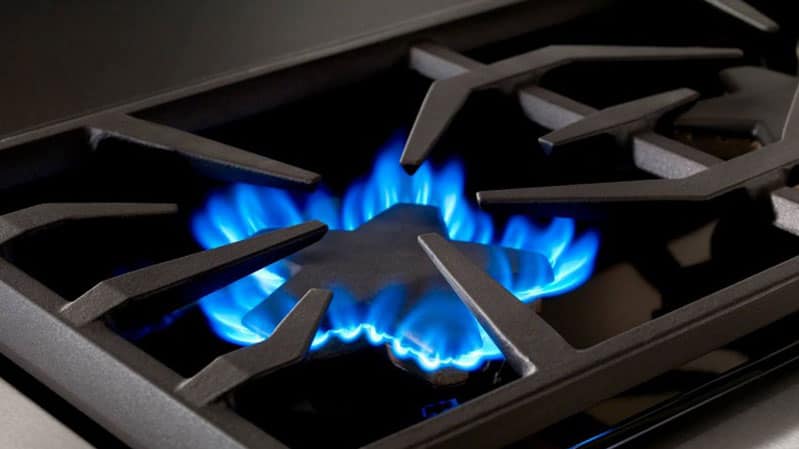 Thermador Pro Range Star Burners
Both ranges have star burners, which can simmer at 100 degrees on two burners. Thermador's star burners are raised for easy cleaning as well.
However, in 2019, they changed the style and dropped the back burners from 18,000 to 15,000 BTU, while adding Wi-Fi connectivity.
Electric Grill and Griddle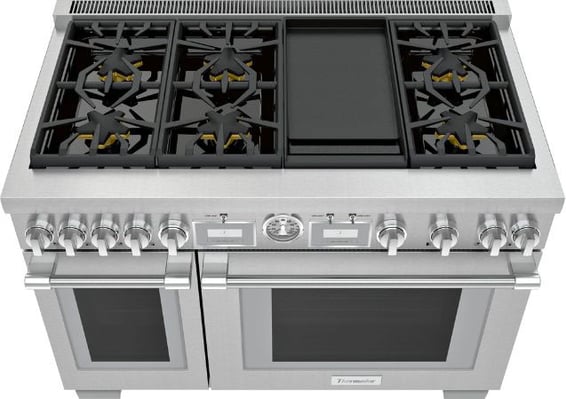 Thermador Pro Range with Electric Griddle
Both the Pro Grand and Pro Harmony series come with electric griddle and grill options.
However, electric is not as responsive as gas, and the "grilling" is not as good since you do not have the higher temperatures.
Dual Fuel vs. All Gas Features
Lastly, there are some differences between the Thermador dual fuel and all gas ranges.
The dual fuel option allows for the steam oven and warming drawer, and all dual fuel models are self-cleaning, unlike the all gas option where only the Pro Grand has self-cleaning.
Thermador Pros
This range has impressive simmering capabilities, seamless Wi-Fi integration, and easily cleanable star burners that deliver consistent results.
Notably, it's the only brand that offers a steam oven and induction option, and they offer competitive pricing and attractive promotions.
Additionally, their Pro Grand model self-cleans in gas, making maintenance a breeze.
Thermador Cons
While the Thermador range features a single convection oven and limited color options, it should be noted that the electric grill and griddle may not be as speedy as some other models on the market.
Monogram Pro Dual Fuel Range ZDP484NGTSS - $15,000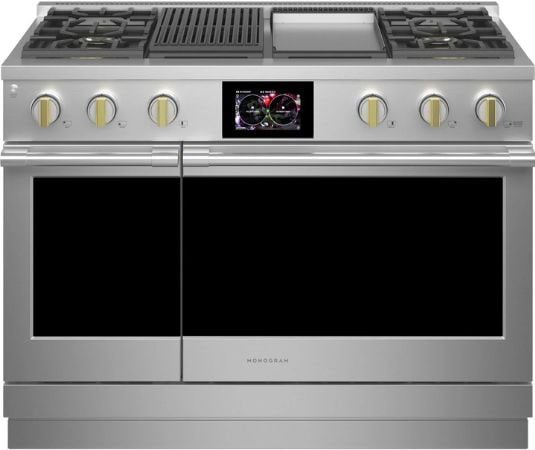 Monogram, a luxury appliance brand owned by GE, has recently launched new professional ranges, including a new 48-inch Smart dual fuel range.
Let's start there.
Smart Technology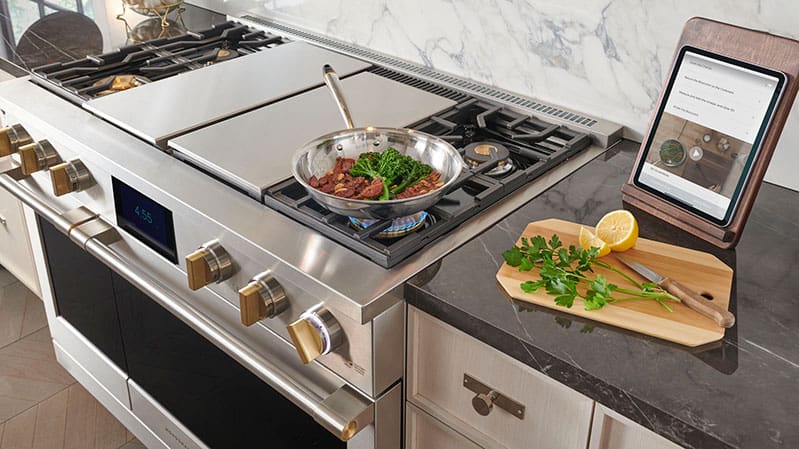 Monogram Pro Range Featuring Hestan Cue Recipe System
The Monogram Smart range allows for connectivity via their SmartHQ app to numerous recipe sites. T
he front burner is connected to the Hestan Cue system, which provides users with step-by-step recipe guidance.
The Smart range is one of the few in the market to offer such advanced technology features.
Burners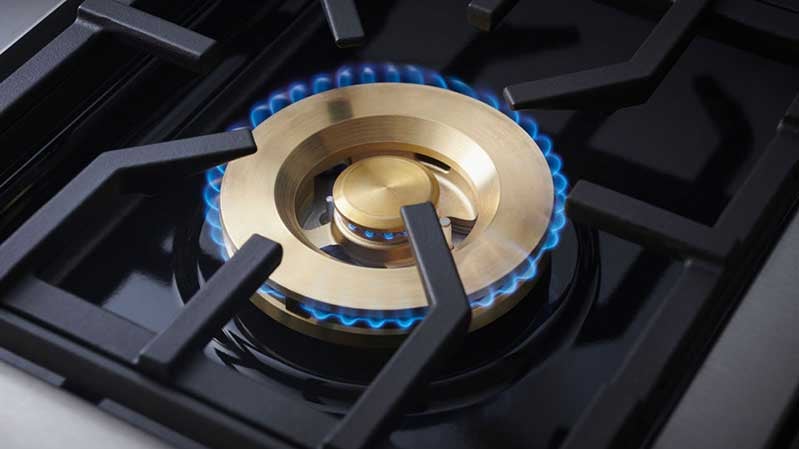 Monogram Pro Range Burners
Monogram's burners are made of brass, making them durable and long-lasting, and only the La Cornue range, priced at over $50,000, features brass burners.
The burner outputs are impressive, with one 23,000 BTU burner, one 21,000 BTU burner, and two 15,000 BTU burners.
Grill and Griddle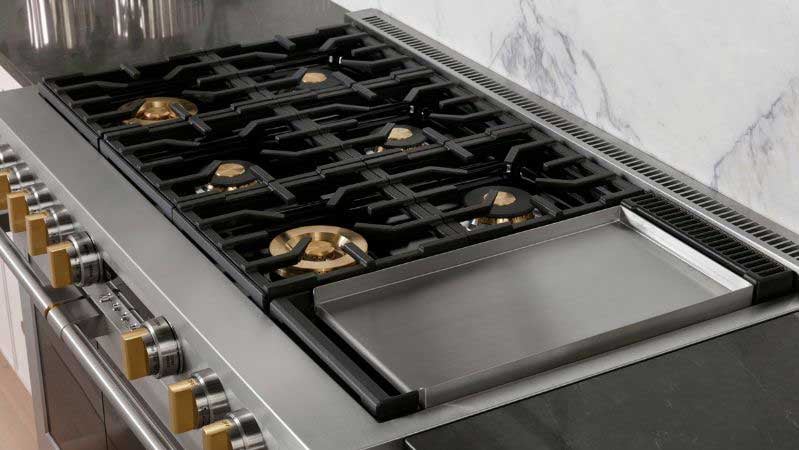 Monogram Pro Range with Griddle Option
The Monogram pro range comes with an infrared grill and griddle as well.
The grill and griddle both offer high heat output, with the grill capable of producing up to 18,000 BTU and the griddle up to 14,000 BTU.
Promotions
Monogram is known for its promotions and currently offers a $3,500 credit to be used towards the purchase of other Monogram appliances.
All Gas Ranges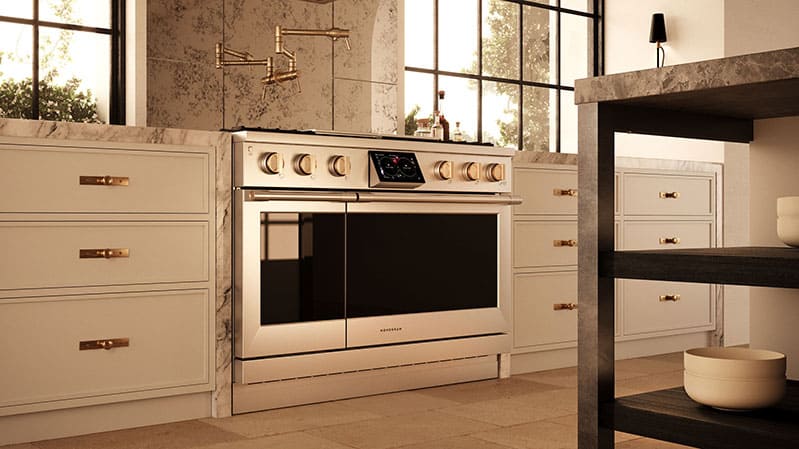 Monogram 48-Inch Pro Range
Monogram offers both dual fuel and all-gas models in their pro range lineup, with the all-gas models offering the same level of power and function as their dual-fuel counterparts.
Both models use steam for self-cleaning, which is a convenient feature that makes cleaning up after cooking much easier.
Monogram Pros
The Monogram range has impressive smart features.
It has high output brass burners and a top-of-the-line grill and griddle.
Monogram Cons
Monogram's 48-inch pro range lineup has a limited selection of only three models.
It's also not available in custom colors.
Monogram's ranges do not have special features like induction burners or sous vide options.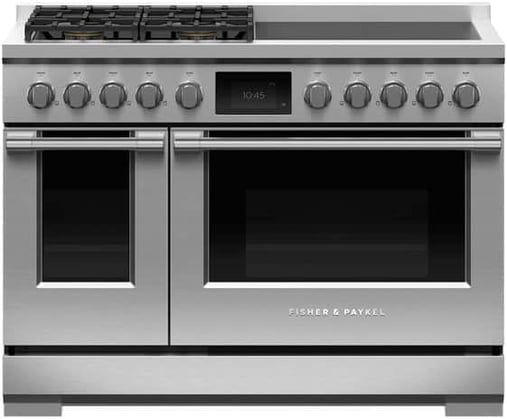 Fisher & Paykel offers a range of five pro ranges that are very similar to one another, except for the fuel type: all gas or dual fuel.
Powerful Burners and Griddle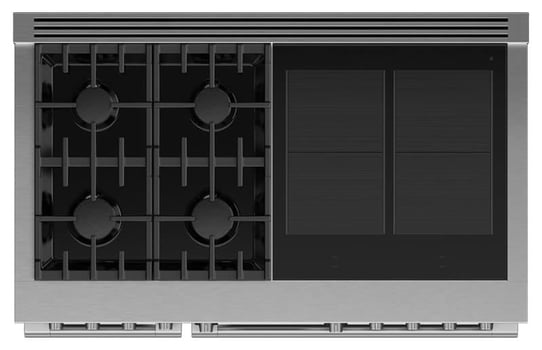 Fisher & Paykel Pro Range Burners with Four Induction Zone
However, their RHV3-484-N range stands out as the most unique offering.
It features a combination of 23,500 BTU and 18,500 BTU gas burners and four induction burners, offering a glimpse into the future of larger ranges.
The other dual-fuel models come with either eight burners or five burners with a powerful 24,000 BTU griddle.
The griddle is particularly noteworthy as it heats up unusually fast.
Cooking Modes and Wi-Fi Enabled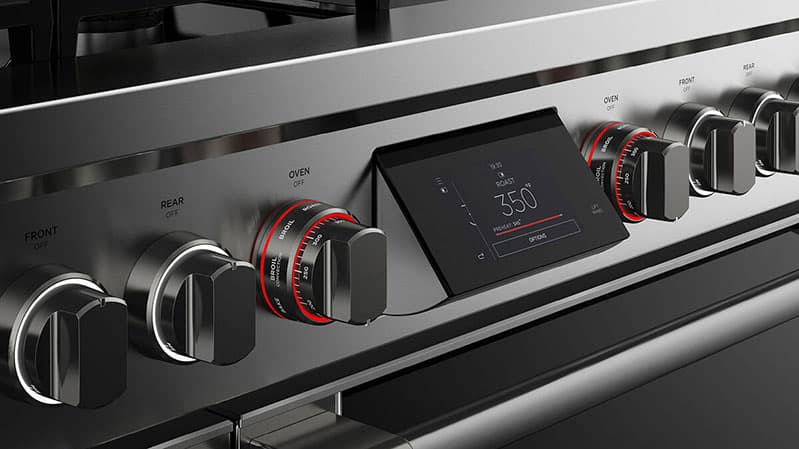 Fisher & Paykel Pro Dual Fuel Range with LCD Display to Access Additional Cooking Modes
Dual-fuel models also offer more cooking modes and Wi-Fi connectivity, but no grill. The grill is only available in all-gas models.
Fisher & Paykel Pros
Fisher & Paykel's pro range has a griddle and powerful burners, with the added bonus of the best induction option available in the market.
Fisher & Paykel Cons
The Fisher & Paykel pro range lacks a grill and French top, and has limited options compared to other brands.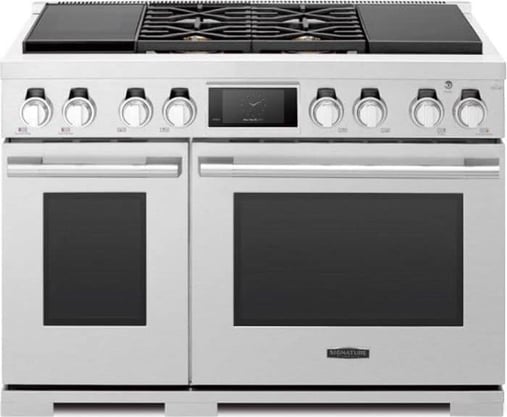 When it comes to newer kitchen appliance brands, it's common to see a similar playbook of taking the best features from existing products and adding a few new features.
However, SKS (Signature Kitchen Suite) has taken this strategy to new heights with their professional range. It's now one of the most feature-packed ranges on the market.
Burner Output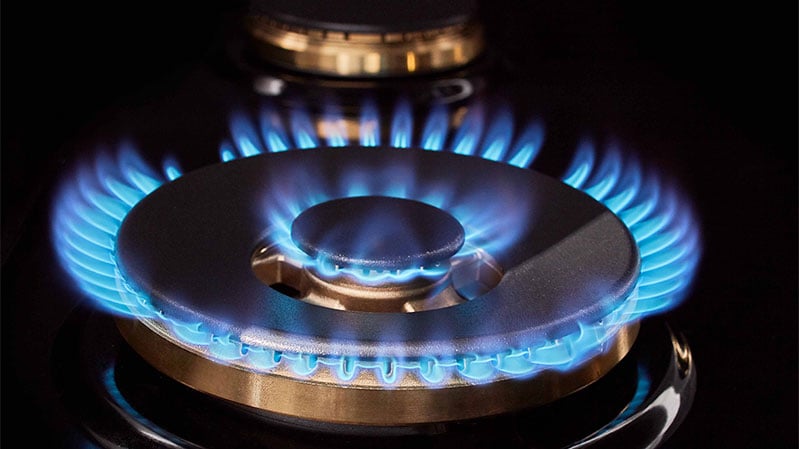 SKS Pro Range Burner
One of the standout features of the SKS pro range is its burner output. The burners are capable of producing 23,000 BTUs of power, with a combination of 15,000 BTUs.
In addition, three of the burners have a 100 BTU output, which matches the high and low output of Thermador's professional range.
Chromium Griddle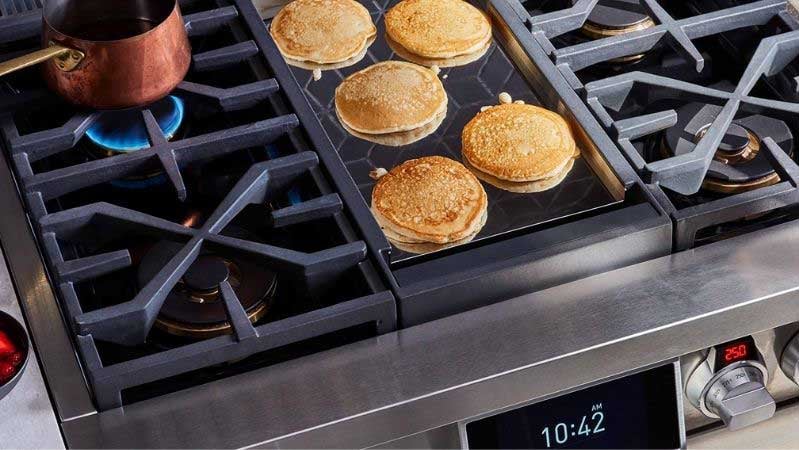 SKS Pro Range Griddle
If you're looking for a range with a griddle, the SKS pro range has one option in all gas. If you prefer a dual fuel range, SKS offers two options, one with the griddle and the other with an induction set and a sous vide water bath option for the stovetop.
The griddle is chromium, which is known for its easy-cleaning surface, and SKS has added induction to the stovetop, similar to Thermador.
Induction Burners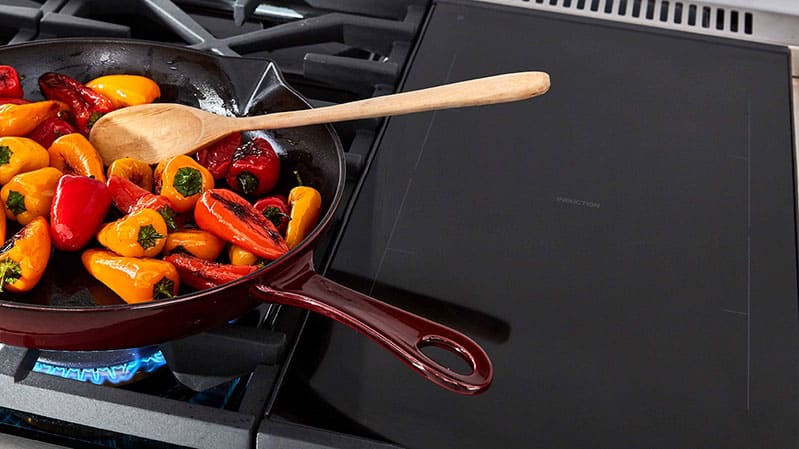 SKS Pro Range with Induction Burners
The induction burner on the SKS pro range is a standout feature. It's faster than a professional gas burner and has a better simmer.
In addition, it requires less venting, which is why more companies are adding induction to their professional gas ranges. With cities like New York and Cambridge banning gas, we can expect to see more induction ranges in the future.
Steam and Sous Vide Cooking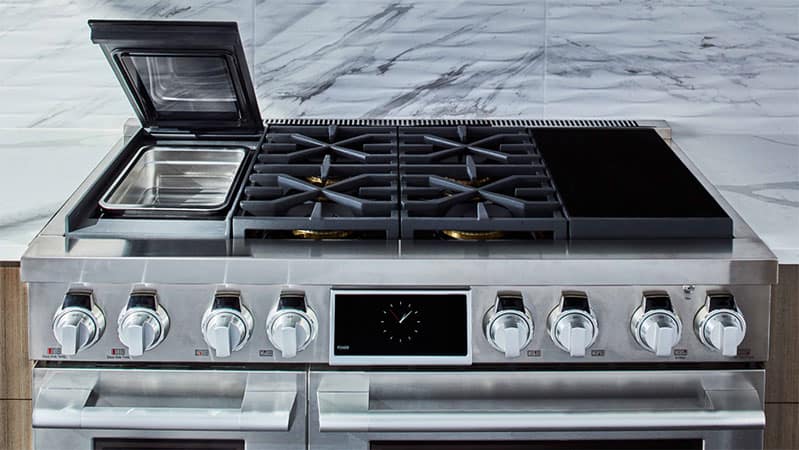 SKS Pro Range with Sous Vide Cooking Stovetop Option
In the smaller oven, you'll find a combi-steam oven like Thermador. However, SKS' unique feature is its sous vide capability.
With this feature, you can cook with precise results. Simply add your protein and marinade in a vacuum-sealed bag, then wait for it to reach the core temperature for a perfectly cooked meal.
Wi-Fi Enabled
Lastly, SKS has made their pro range Wi-Fi enabled through LG's ThinQ app. This allows you to control and monitor the range remotely.
SKS Pros
SKS offers an impressive range of features, including a chromium griddle, 23,000 BTU burners, and the unique combination of induction and sous vide options.
Additionally, their dual fuel ranges include steam assist ovens and a steam oven, making it a top choice for those seeking high-end cooking capabilities.
SKS Cons
Unfortunately, SKS lacks recipe integration in their Wi-Fi feature and does not offer a grill option.
It is worth noting that newer brands may face challenges with service technicians.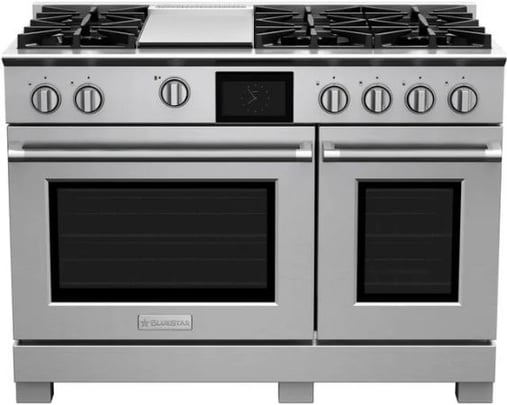 BlueStar is a Pennsylvania-based company that specializes in commercial cooking appliances. Among the various professional ranges available on the market, BlueStar is renowned for its commercial style and high BTU power.
The company's latest dual-fuel range features four burners at 25,000 BTU and four at 18,000 BTU, and a griddle model is also available.
Sealed Eight Point Burners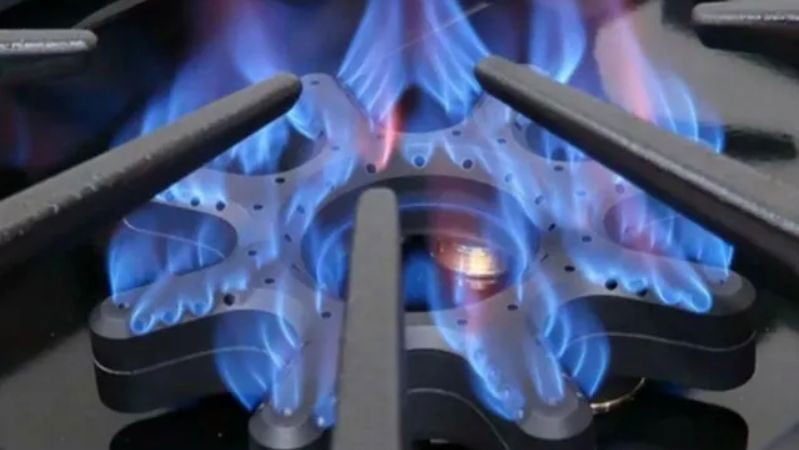 BlueStar Pro Range Burners
One of the standout features of this new range is the sealed eight-point burners, which provide a larger cooking surface than competitors' models.
LCD Clock and Timer
Another impressive feature is the LCD clock and timer, which offer seven-inch control panels and eight different cooking modes.
Oven Capacity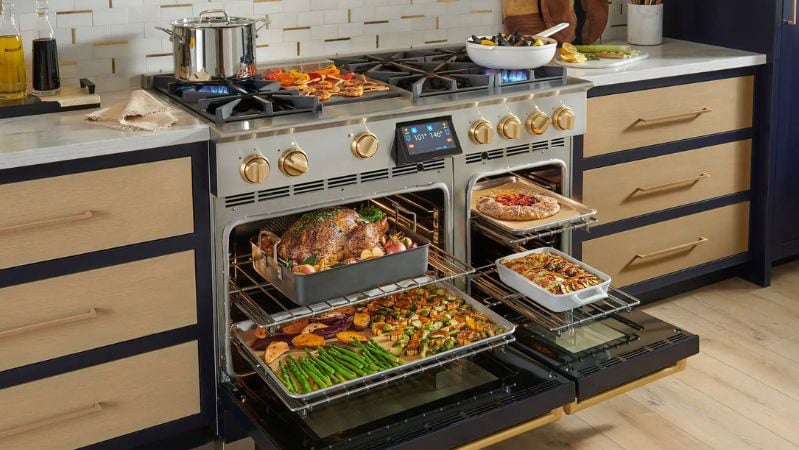 BlueStar Pro Range Ovens
The main oven can accommodate 18-26-inch commercial sheet pans.
Customization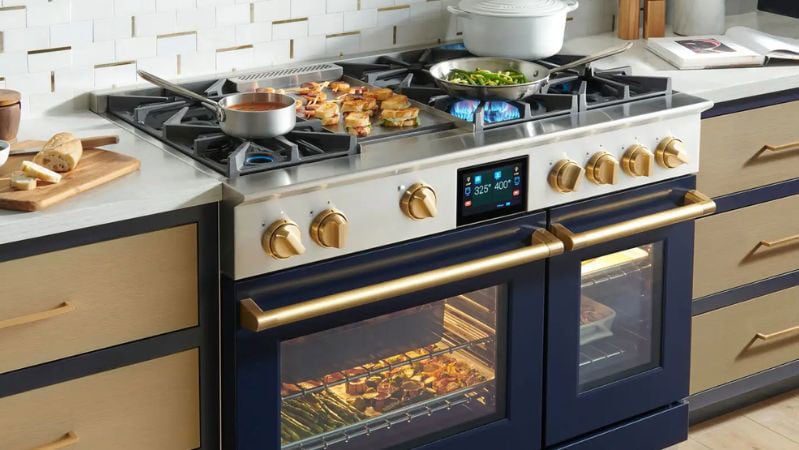 BlueStar Pro Range in Blue with Brass Hardware
The BlueStar range is highly customizable, with over 1,000 color options and ten trims available.
Over 75% of the BlueStar ranges are purchased in a color at Yale. In addition, you can customize the cooking surface for an additional cost.
All Gas Ranges
BlueStar's all-gas range has five different lines, with the Platinum and RNB series being the most notable.
The Platinum series features open burners, which are ideal for high heat but can be challenging to clean. The range uses pure convection in its ovens, with the heating element located at the back.
The RNB series has a built-in grill and griddle, slightly lower BTU output, and no pure convection in the element. French tops are also available in the RNB series.
BlueStar Pros
With a range of impressive features, including powerful performance and convection capabilities, as well as various colors and configurations to meet your individual needs, these ranges offer a lot of options for the discerning cook.
BlueStar Cons
Platinum's versatile range comes with an interchangeable griddle and grill, but for those who prioritize a superior grilling experience, the RNB series is the better option.

However, it's important to note that the dual fuel model does not include a grill option.
Miele Pro Dual Fuel Range HR1956DFGD - $14,699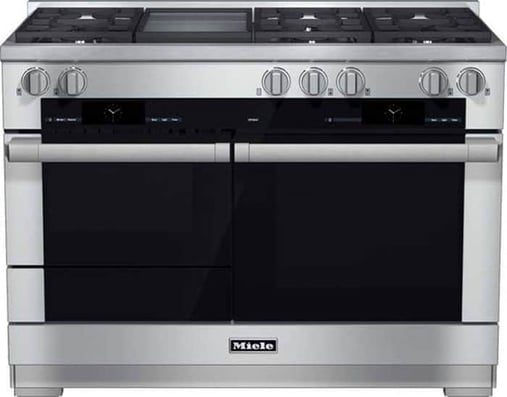 Miele is a relatively new player in the professional range market, having started producing professional ranges in 2014.
Despite being a newcomer, Miele has managed to incorporate several standout features in their 48-inch pro ranges.
Infrared Griddle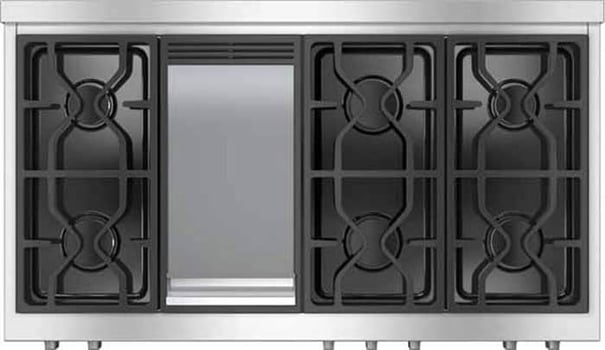 Miele Pro Range Stovetop with Infrared Griddle
One of the standout features of Miele's pro ranges is the infrared griddle with great heat distribution.
You can make anything on Miele's griddle from fluffy French toast and eggs to perfectly seared fish and steaks.
Additionally, Miele has added several other useful features, including self-cleaning racks and dishwasher-safe grates, which make cleaning up after cooking much easier.
Steam Assist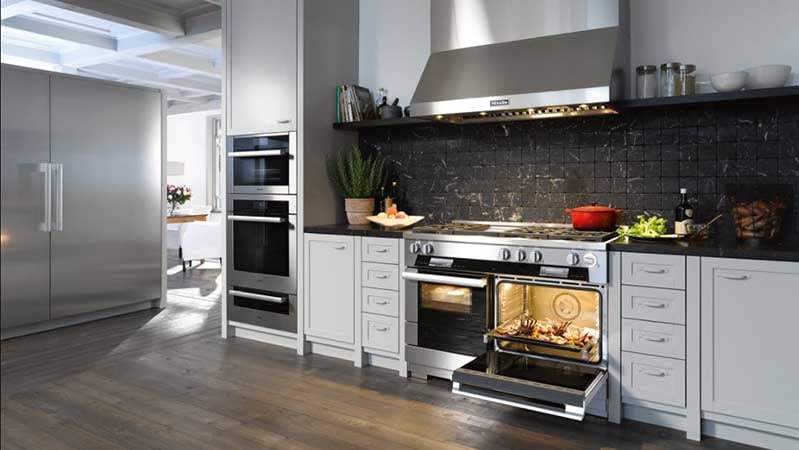 Miele Pro Range and Ovens
Miele's dual fuel ranges include a steam assist feature and a speed oven that can cook food as a microwave, convection, or combination, allowing you to save time while cooking.
Furthermore, the warming drawer can keep food warm for up to three hours without dehydrating it.
MasterChef Guided Cooking System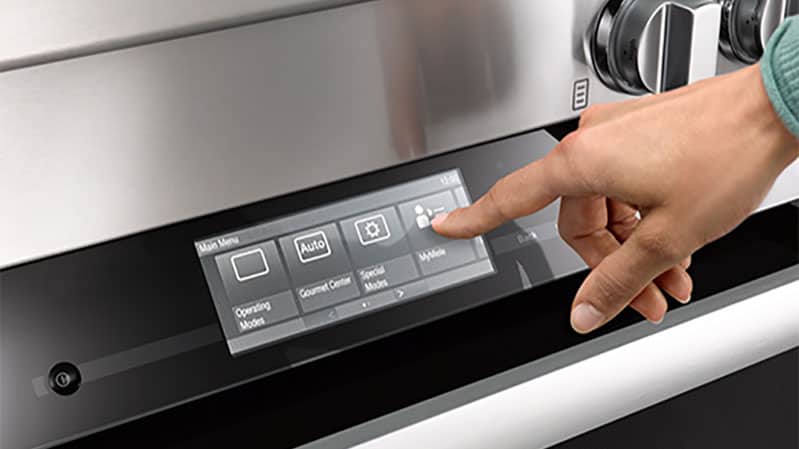 Miele Pro Range MasterChef Guided Cooking System Controls
However, the real highlight of Miele's 48-inch pro ranges is their MasterChef controls.
These controls simplify the cooking process by allowing you to select the food and weight, and the oven calculates the time and temperature required.
Additionally, Miele offers many automatic cooking presets, including 15 different bread modes, ranging from focaccia to sourdough.
Miele Pros
Miele's pro range has an infrared grill and griddle.
Miele's advanced MasterChef controls makes this pro range a top choice if you want the best controls and cooking experience.
Miele Cons
This range may be considered underpowered compared to other brands, with only half of the burners at 19,000 BTUs and the other half at 12,000 BTUs.
La Cornue Le Château 120 Pro Range - Starting at $50,000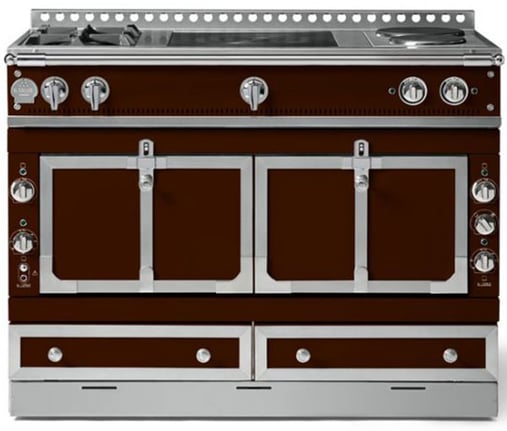 You probably have a sense of what we said in the beginning. No one range has the best of all features - except for the La Cornue Chateau.
For some people, it won't be the best of the best.
Stovetop Customization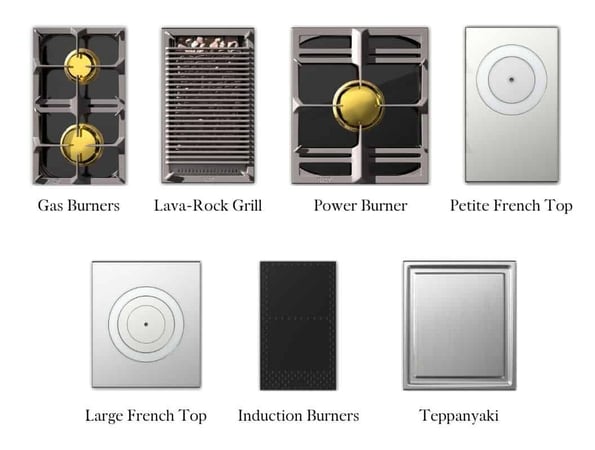 La Cornue Stovetop Options
Unlike other ranges, it's fully customizable, allowing you to choose from a range of options for the stovetop, including wok burners, induction burners, a grill, a griddle, or a French top.
Gas and Electric Ovens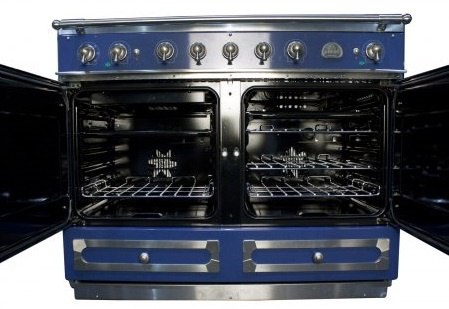 La Cornue Le Château 120 Ovens
The range also features both gas and electric ovens, with the gas option providing moister heat for broiling and the electric option providing dry heat for baking.
One unique feature of La Cornue's ovens is their natural convection design, where the air is emitted from the bottom, creating even heat without using fans.
Colors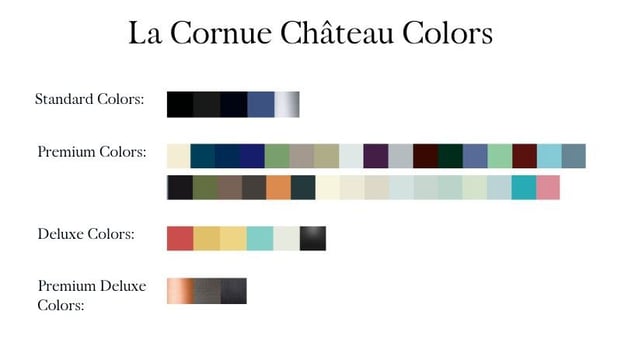 The range comes in 56 different colors with eight trim styles, so you can customize it to your heart's content.
The coloring process is also noteworthy, using a dripping process to wet enamel that results in a richer color.
Price
However, the one major drawback of the La Cornue range is its price, starting at over $60,000. But if you want the best of the best, this range is worth considering.
La Cornue Pros
The La Cornue Le Chateau 120 range has the most customization options, including several stovetop configurations and over 40 stunning color choices you can choose from.
La Cornue Cons
Be prepared to shell out a hefty price tag, as the La Cornue Le Chateau 120 range starts at a staggering $50,000.
Which 48-Inch Professional Range Is the Best?
When it comes to buying a 48-inch professional range, there are many factors to consider, including:
Burner output
Cooking surface options
Simmering capabilities
Grill and griddle performance
Oven capacity
Steam features
Value
Broiling
Tech and controls
Ease of cleaning
With so many options available, it can be challenging to know which range is the best fit for you.
Below, we'll break down the most popular considerations when buying a range and highlight the top performers in each category.
| | | | | | | | |
| --- | --- | --- | --- | --- | --- | --- | --- |
| | Burner Output | Self Cleaning | Clock or Timer | Wi-Fi | Grill Output | Griddle Output | Convection Type |
| Wolf All Gas | Up to 15,000 BTU | No | No | No | 15,000 BTU | 15,000 BTU | Convection Fan |
| Wolf Dual Fuel | Up to 20,000 BTU | Yes | Yes | Yes | 15,000 BTU | 15,000 BTU | VertiCross Convection |
| Thermador Pro Grand | Up to 22,000 BTU | Yes | Yes | Yes | 1,630 Watts | 1,630 Watts | True Convection |
| Thermador Harmony | Up to 18,000 BTU | DF only | Yes | Yes | 1,630 Watts | 1,630 Watts | Convection Bake |
| Miele | Up to 19,000 BTU | Yes | Yes | No | No Grill | 15,000 BTU | Twin Convection |
| Monogram | Up to 23,000 BTU | Yes | Yes | Yes | 18,000 BTU | 14,000 BTU | True European |
| BlueStar | Up to 25,000 BTU | No | No | No | 14,000 BTU | 18,000 BTU | Convection Bake |
| SKS | Up to 23,000 BTU | Speed Clean | Yes | Yes | No Grill | 18,000 BTU | ProHeat Convection |
| Fisher & Paykel | Up to 23,500 BTU | Yes | Yes | Yes | No Grill | No Griddle | Convection Bake |
Best Professional Range for Burner Output: BlueStar, SKS, and Fisher & Paykel
If you're looking for a range with powerful burners, BlueStar, SKS, and Fisher & Paykel are your best options. BlueStar's open burner has an impressive 25,000 BTU output, while Fisher & Paykel and SKS offer multiple sealed burners that deliver 23,500 BTU of power.
Best Professional Ranges for Cooking Surface Options: Wolf and BlueStar
For those who want plenty of options for their cooking surface, Wolf and BlueStar are the top brands. Wolf offers the most cooktop configurations of any 48-inch range brand. However, keep in mind that once you commit to a specific configuration with Wolf, you're married to it. La Cornue offers the most options for a range, providing even more flexibility in customization.
Best Professional Ranges for Simmering: Thermador, SKS, and Wolf
If you're looking for a range that can simmer at low temperatures, Thermador, SKS, and Wolf are excellent choices. Thermador's XLO burner and SKS Ultralow burners can drop down as low as 100 degrees. Wolf's dual-stack burner can simmer well on all burners.
Best Professional Range for Grill Performance: Wolf, Miele, and JennAir
For indoor grilling, gas-powered grills are better for searing and taste than electric grills. Wolf, Miele, and JennAir are the top performers in this category. Ensure that the grill is infrared so that drippings burn off for easier cleaning.
Best Professional Ranges for Griddle Performance: SKS, Miele, and Wolf
SKS, Miele, and Wolf offer the best performance for griddles. SKS's chromium surfaces make cleaning and maintenance a breeze, while Miele and Wolf's infrared heating provides faster, more directed heat.
Best Professional Ranges for Oven Capacity: Thermador and BlueStar
For those who need a range with ample oven space, Thermador and BlueStar are the best choices. Both can hold a commercial sheet pan, while other brands cannot.
Best Professional Ranges for Steam Features: Miele, Thermador, and SKS
Miele, Thermador, and SKS all offer some version of steam, but it depends on your specific needs. Miele has the best controls and is great for steam-assisted cooking, but it's not a full steam oven. Thermador and SKS offer combi-steam features, with Thermador also including a warming drawer at the bottom.
Best Professional Range for Value: Monogram and Thermador
Monogram and Thermador offer great package promotions for those looking for a 48-inch pro range that doesn't break the bank.
Best Professional Ranges for Broiling: Thermador, Miele, and Wolf
Miele, Thermador, and Wolf all offer powerful broiling options, with Miele being the hottest at 23,500 BTUs.
Best Professional Ranges for Tech and Controls: Miele, Wolf, and Monogram
Miele, Wolf, and Monogram all have excellent tech and controls, with Miele being the easiest to use and Monogram having the best Wi-Fi app in SmartHQ. Wolf offers both features.
Most Cleanable Professional Range: Miele
Miele is the most cleanable professional range, with easy-to-clean grates, racks, and burners.
Best Colors: BlueStar and La Cornue
BlueStar and La Cornue are the only options that offer a range of colors for their professional ranges.
What Is a Professional Range?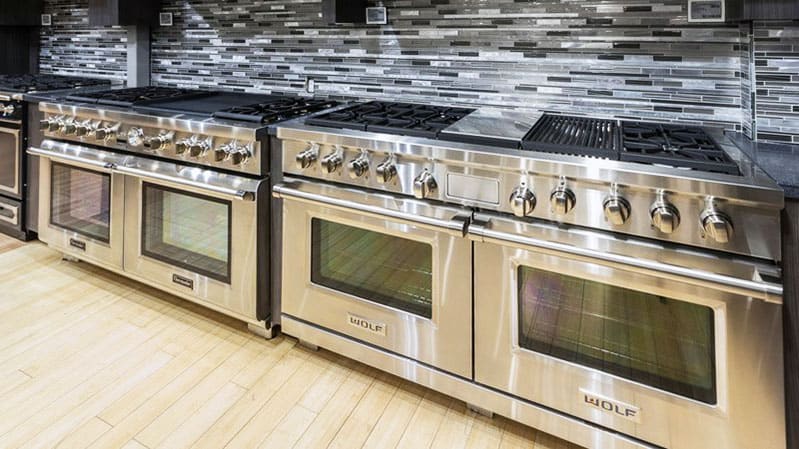 Professional Ranges at Yale Appliance
Professional (pro) ranges are designed to mimic the high-performance ranges found in restaurants, with powerful burners that can reach high BTU outputs and a commercial aesthetic.
However, unlike commercial ranges, pro ranges are rated for residential use and do not require special permits or sprinkler systems. They are also typically easier to clean.
That being said, not all ranges marketed as "pro" are created equal.
Many lower-powered models with a pro-like appearance are cleverly marketed as professional ranges. Brands such as Bertazzoni, ILVE, Forte, Hallman, and Verona often fall into this category.
For example, let's take a look at the Bertazzoni range: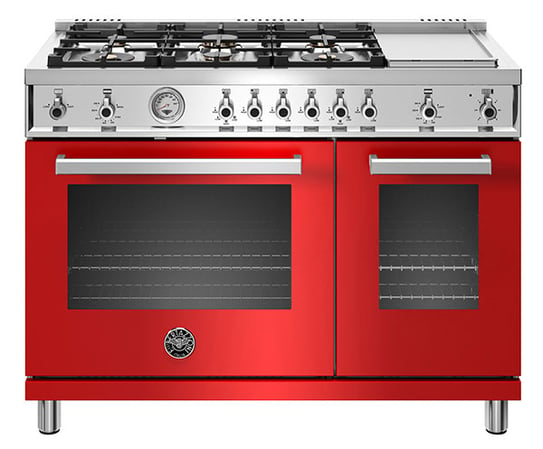 While it may be aesthetically pleasing, it only features two burners rated at 19,000 BTU, followed by a drop to 10,400 BTU, and a combination of 5,000 BTU and 3,500 BTU burners.
Additionally, the ovens tend to be smaller and lack advanced features found in true professional ranges.
Although some of these ranges may have a broiling power of 10,000 BTU, true professional ranges typically offer more powerful and directed infrared broilers rated at 18,000-20,000 BTU.
While lower-powered pro-looking ranges may be a more affordable option for a 48-inch opening, they cannot match the performance of true professional ranges.
The fit and finish of these ranges are also typically not on par with true professional models.
It's important to carefully evaluate any range marketed as a professional range before making a purchase.
Be sure to inspect the unit in person at your local store and compare the specifications to those of true professional ranges to ensure you're getting the performance and features you need.
Read More: How to Buy a Residential Professional Gas Range
Pro Range Gas vs. Electric (Dual Fuel) Ovens
It's important to understand the difference between all-gas and dual-fuel ranges before delving into specific brands and models.
All-gas ranges use gas for both the cooktop and oven, while dual-fuel ranges feature a gas cooktop paired with an electric oven.
Gas ovens are better for roasting due to their moist heat, while electric ovens are typically better for baking. However, dual-fuel ranges often offer more precise temperature control for precision cooking.
All-gas ranges typically have better broilers, especially those with infrared technology, and are better for searing due to the intense heat provided by gas burners.
In fact, many all-gas ranges feature broilers that are similar to those found on professional-grade grills.
Dual-fuel ranges often incorporate advanced features such as self-cleaning, timers, and menu-driven electronics.
Brands such as Wolf, Thermador, SKS, and Miele may offer enhanced features exclusively in their dual-fuel models, such as improved controls, steam or speed ovens, and self-cleaning functions.
Overall, all-gas ranges tend to be less expensive than their dual-fuel counterparts in the professional-style category, typically costing between $2,000 to $5,000 less.
It's important to consider your cooking needs and preferences when deciding between an all-gas or dual-fuel range, as well as any additional features you may require.
Benefits of an all-gas: Broiling, roasting, less expensive. Does not need 50-amp electricity
Benefits of electric: Controls, special features, and baking
Read More: What's the Difference Between All Gas and Dual Fuel Professional Ranges?
Best Features of a 48-Inch Professional Range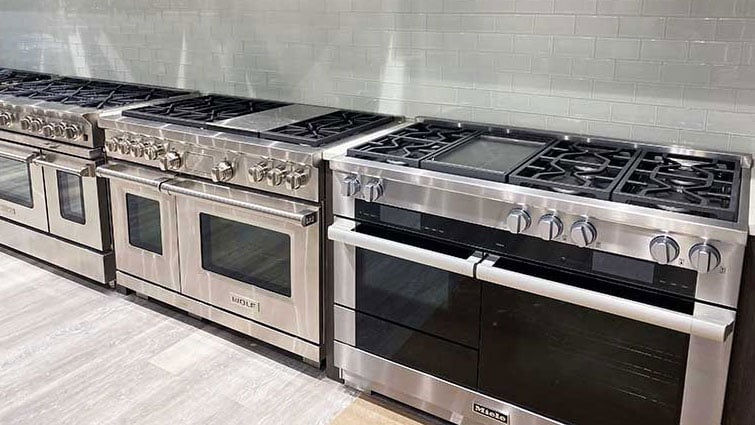 Professional Ranges at Yale Appliance in Hanover
Cooktop Configuration
One of the most important features of a professional range is the cooktop configuration, which can vary widely between brands and models.
While most ranges offer six burners and a griddle or grill, some brands offer a double grill or griddle and four burners.
For those who want more cooking options, a select few brands offer a French top, which is a larger flat surface that can cook at different temperatures or all burners.
In addition, some brands like SKS offer sous vide precision boiling in a vacuum-sealed bag, while Thermador Pro Grand, SKS, and Fisher & Paykel also offer an induction option.
Wolf and Miele offer infrared grills for their cooktop, which are faster and provide intense heat compared to an infrared broiler.
Read More: Professional Range Built-In Griddles vs. Grills
Steam vs. Steam Assist Ovens
Another important feature to consider is the type of oven, specifically whether it is a steam or steam-assist oven.
Steam cooking is a great way to cook food as it adds moisture and doesn't bake the nutrients out of your food.
Some brands like Thermador and SKS offer traditional steam ovens, while Miele has a steam assist option that allows you to cook with regular elements and add 1-3 bursts of steam to bake bread.
Smart Technology
Smart technology is also becoming an increasingly popular feature in professional ranges.
Brands like Thermador, SKS, and Wolf offer the ability to operate your range through an app on your phone, allowing you to turn the oven on or off and adjust the temperature remotely from your office.
These brands also have tie-ins to different recipe apps to enhance your cooking experience.
As smart features continue to evolve, it's important to consider what features will be most useful to you in your cooking routine.
Learn More: Smart Appliance Buying Guide
Are Professional Ranges Reliable?
Professional ranges are high-end appliances that offer superior performance and durability, but they can be prone to more service issues than other appliances.
This is because they are larger and more complex, with more burners, ignition systems, and features such as griddles, broilers, and convection ovens.
However, with proper installation and regular maintenance, many of these issues can be avoided.
It's important to choose a reputable dealer who can provide professional installation and customer education to ensure that you get the most out of your range.
In addition, it's essential to inquire about repair and warranty options before making a purchase, as service for sophisticated appliances can be expensive and time-consuming.
While igniters are one of the most common repairs for gas ranges, larger 48-inch ranges with multiple burners may require more frequent maintenance.
Nevertheless, by choosing a reliable brand and investing in quality installation and maintenance, you can enjoy the benefits of a professional range for years to come.
Read More: Most Reliable Professional Ranges
Best 48-Inch Professional Range: Key Takeaways
In conclusion, there isn't a one-size-fits-all solution when it comes to professional ranges.
The key is to identify the features that best align with your cooking style and preferences, such as baking, broiling, grilling, griddling, and steam cooking.
Whenever possible, it's recommended to see a demonstration of the ranges you're considering before making a purchase.
Additionally, it's important to inquire about service and maintenance, as these appliances will require upkeep over their lifetime.
Each manufacturer has its strengths and weaknesses, and it's important to select a range that matches your unique needs.
By considering the factors we've discussed, you'll be well on your way to finding the best 48-inch professional range for your kitchen.
Additional Resources
Get our free Pro Cooking Buying Guide with tips, trends, and reviews of all the best brands. Over 1 million people have already found answers in a Yale guide.
Related Articles:
Why Should You Trust Us?
It seems that every appliance review has nothing but glowing comments about almost every product, yet you read customer reviews and they are almost universally bad.
We are here to fill in the disconnect. We'll give you the best features, and the drawbacks as well, including reliability based on over 37,000 calls performed by our service team just last year. Our goal is to give you ALL the information so you know what's right for you.
Please consider subscribing or adding to the conversation in the comments below. We appreciate you stopping by.
Steve Sheinkopf is the third-generation CEO of Yale Appliance and a lifelong Bostonian. He has over 38 years of experience in the appliance industry, and he is a trusted source of information for consumers on how to buy and repair appliances.

Steve has also been featured in numerous publications, including the New York Times, Consumer Reports, The Boston Globe, Bloomberg Radio, the New York Post, The Wall Street Journal, and Entrepreneur, for his knowledge of how to buy appliances and appliance repair.

Steve is passionate about helping consumers find the best appliances for their needs, and he is always happy to answer questions and provide advice. He is a valuable resource for consumers who are looking for information on appliance buying, repair, and maintenance.

Despite being the worst goalie in history, Steve is a fan of the Bruins and college hockey, loves to read, and is a Peloton biker. The love of his life is his daughter, Sophie.
A Note About Pricing
Pricing on this blog is for reference only and may include time sensitive rebates. We make every attempt to provide accurate pricing at time of publishing. Please call the stores for most accurate price.