Miele Compact Laundry With Heat Pump Dryer
Compact laundry has better features than even the best regular washer and dryers. Without question, the Miele is the best compact laundry you can buy.
In this article, you will learn the best features to the new Miele compact washer and heat pump dryer.
You will also learn a bit about how to buy compact laundry and possible alternatives and brands to Miele.
Unlike most of our laundry articles, we're starting with the dryer because how you decide to vent your dryer determines what you will consider for laundry.
What is a Heat Pump Dryer?
Heat pumps have been around in HVAC for a long time as well as in Europe for almost 15 years.
A heat pump is a compressor. Instead of pulling air from the outside, the heat pump will recirculate air in the dryer itself.
It will remove the water and moisture from your clothes and reheat the existing air. The process is far more efficient and will save roughly half the energy of normal elements.
Heat pump dryers are also ventless, so you can place your washer and dryer anywhere there is water and power supplied. You will need 220 and 110 volts with the Miele. You will not need to worry about a vent like most every other dryer on the market.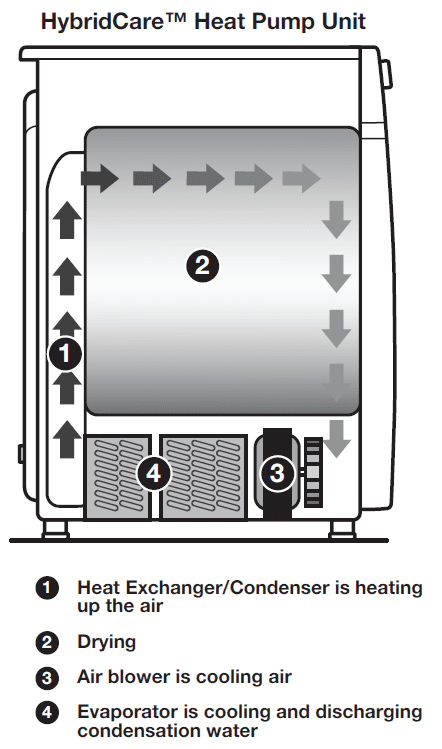 Read More about Heat Pump Dryers
Miele Compact Laundry with Heat Pump Dryer
The Miele dryer is truly revolutionary (if I can ever use that word in this industry). It is a heat pump but requires only 110 volts instead of 220 volts like every other dryer.
If you're a frequent reader of our blog, you may have noticed I have warned you against ever buying a 110-volt dryer. Typically, 110-volt dryers will take up to 4 hours to dry a simple load of laundry.
More importantly, the 110-volt washer and dryer combinations are the most repaired appliances in the industry with the highest level of failure in the first year.
The 110 voltage will work with Miele because it is a more efficient heat pump. The Miele washer can also spin up to 1600 RPMs to predry your clothes.
This speed is roughly 4 times faster than a top load washer and 25% faster than the fastest front load washer.
New Features
Mineral Sensors
If you have hard or soft water, Miele will calculate the precise time by employing mineral sensors. These sensors will adjust drying times depending on the minerals left in the moisture from your clothes.
Scents
The other cool part of a Miele dryer is you can customize a number of different scents at the end of the wash.
Miele FragranceDos
Now let's look at the Miele Compact Washer.
Miele has three washers. The difference is the new features, TwinDos and the Intense Wash option.
Like the dryer, the new Miele compact washer is very different than any other washer currently on the market.
TwinDos
The top two machines have an automatic dispenser at the bottom. You can have bleach and detergent dispensed automatically.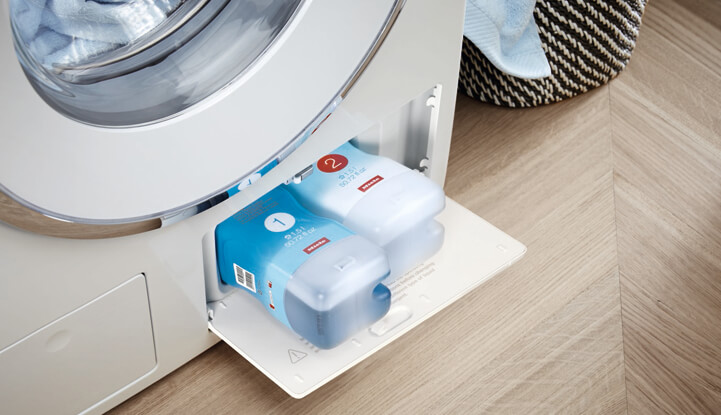 Miele TwinDos
Both are also dispensed at different times for maximum effectiveness unlike most machines dispensing at the same time.
CapDosing
You also have the option of buying Miele detergent caplets. They are designed for special applications and stains. You can buy them for silks, outerwear wool, and synthetic fabrics.
Miele CapDosing
Steam
Although this is not a new feature on the market, Miele now has steam settings to loosen tougher stains.
Intensive Wash
The best model has a feature called an Intensive Wash. This is a term for two pumps. The detergent and water are more evenly distributed from the top and bottom rather than just the bottom like every other washer.
The detergent is also mixed more evenly between the two pumps.
Wi-Fi Enabled
Both the washer and dryer are Wi-Fi enabled for counting down cycles and remotely powering on and off through an app.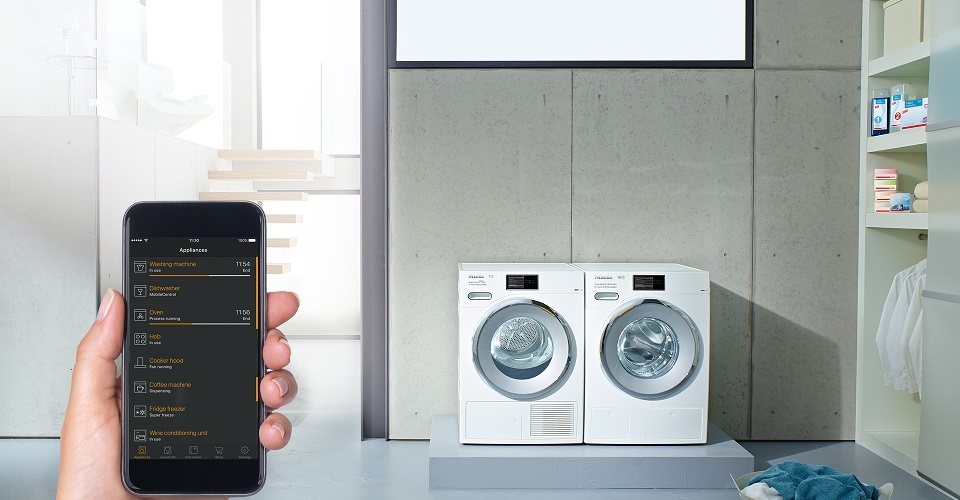 Miele Wi-Fi Connect
Honeycomb Drum
Now you know the new features, let's look at some of the best older features to Miele laundry.
Their perforated, honeycomb drum is the best for fine washables. During the wash, the drum allows the clothes to "float" on a sheet of water rather than touching the sides for a far more gentle wash.
Miele HoneyComb Drum
Spin Speed
As we alluded before, a spin speed of 1600 RPMs allows you to almost dry your clothes in the washer. It is roughly 4 times faster than a top load washer and is great for sheets, towels, and other hard to dry clothing.
Miele Reliability vs. Other Brands
| | | | |
| --- | --- | --- | --- |
| | Units Sold | Units Serviced | Service Ratio |
| Maytag | 26 | 10 | 38.46% |
| Asko | 47 | 15 | 31.91% |
| Whirlpool | 19 | 4 | 21.05% |
| Samsung | 20 | 3 | 15.00% |
| Miele | 71 | 8 | 11.27% |
| Blomberg | 305 | 32 | 10.49% |
| Bosch Appliances | 522 | 43 | 8.24% |
| Electrolux | 276 | 21 | 7.61 % |
| LG Electronics | 3 | 0 | 0.00% |
Read more: Most Reliable Compact Laundry
If there is a knock on Miele, it would be price. The best Miele pair is about $3,700 or almost $1,000 more than the best Bosch 800 series pair.
Compact laundry is different than regular laundry. Half are vented like Samsung and Blomberg. The other half like Electrolux and Bosch are not vented like Miele but use regular drying elements instead of heat pumps.
Whirlpool and Blomberg are the only companies in the US with heat pump technology but in 220-volt machines.
Best Compact Laundry
Here is a short synopsis of Miele vs. other Brands.
Ventless Dryers
Miele vs. Electrolux Compact Laundry
Electrolux is a well-featured machine, and one of the first products to feature steam. However, Miele has Wi-Fi, with the better dispensing, RPM spin, 110-volt heat pump drying, and two-pump washing. Miele is also about $1500-1700 more expensive.
Bosch has great features. You can program the machine to clean by stain type. It is also Wi-Fi enabled and can be connected to your Amazon Alexa. In terms of reliability, Bosch is the only company similar to Miele.
Miele has better dispensing, better RPM speed, the intensive two pump system, and 110-volt heat pump drying.
Miele is also $800-1000 more expensive than Bosch's 800 series set.
Their more basic 500 series without Wi-Fi functionality and stain cycles is $1,700 cheaper than Miele.
Heat Pump Dryers
Whirlpool is a less expensive alternative with none of the functions of Miele. Their heat pump dryer is 220 volts, but the lint needs to be cleaned by a service tech at least twice a year.
Blomberg is a Turkish company. Their heat pump dryer set is reliable and a good lesser expensive option to Miele. Like Whirlpool, it is 220 volts with none of the functionality of a Miele.
Should You Buy Miele Compact Laundry?
That depends.
There is good compact laundry for less money. However, if your wash silks or fine washables, Miele is the only machine to wash these types of fabrics.
It also has the best wash and the best drying system by far allowing you to treat any type of fabric more precisely.
If you are looking for the best laundry, Miele is without peer. But, you can consider Bosch and other brands for far less.
Additional Resources
Get the Yale Compact Laundry Buying Guide with features, specs, and inside tips to all the brands, to dimensions and explanations of every washer and dryer type are included. Over 355,000 people have read a Yale Guide.

Related Articles
Steve Sheinkopf
My goal has always been simple: I want Yale to be the best retail experience anywhere. I have tried to create a compelling environment for customers and employees alike.
A Note About Pricing
Pricing on this blog is for reference only and may include time sensitive rebates. We make every attempt to provide accurate pricing at time of publishing. Please call the stores for most accurate price.