Miele Compact Washer WXR 860 WCS and Heat Pump Dryer TXR 860WP Review
November 16th, 2023 | 8 min. read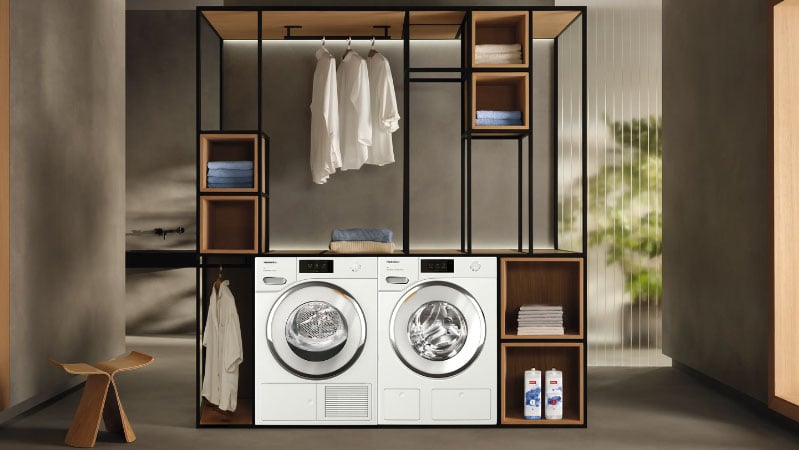 The WXR 860 WCS washer and the TXR 860WP dryer were the best compact laundry set you could buy five years ago.
This Miele compact washer and dryer set had tremendous functionality, and the dryer was the world's only 120-volt heat pump dryer at the time.
But with advancements in technology, should you still buy Miele's best washer and dryer five years later?
Or would it be better to go for Bosch's compact set with a heat pump dryer, LG's unitized WashTower, or GE Profile UltraFast's combo washer and dryer?
Let's dive in and review Miele's features.
Key Features of Miele Compact Washers & Dryers
HoneyComb Drum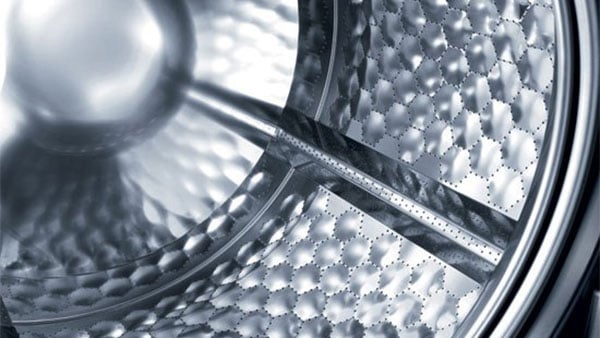 Miele washers have a honeycomb drum, ensuring that your clothes gently glide on a layer of water.
This unique feature reduces wear and tear caused by hard items like zippers and buttons.
Additionally, Miele's washers are ideal for delicate fabrics like silk, minimizing the risk of stretching and tearing during washing.
120-Volt Heat Pump Dryer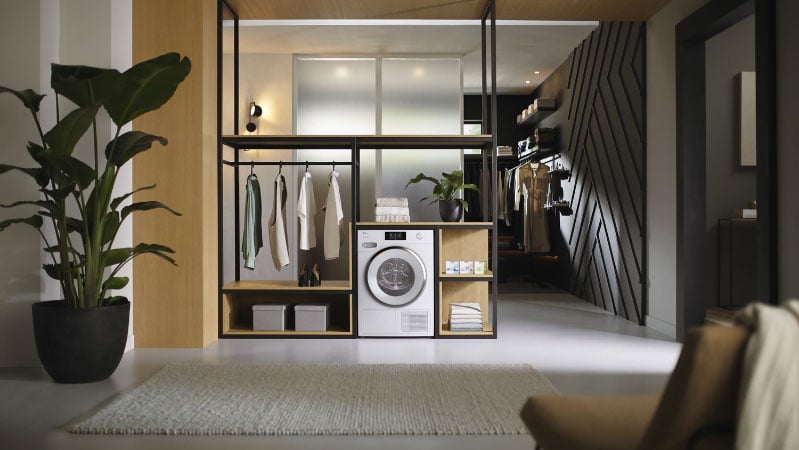 Miele dryers are designed with advanced 120-volt heat pump technology that is more efficient than traditional methods.
This technology recycles air through a compressor, evaporator, and heat exchanger to dry clothes gently at lower temperatures and conserve energy.
Heat pumps are a better way to dry clothes, saving up to 50% more energy than traditional heating elements.
Heat pumps recycle warmer air while your regular dryer pulls cooler air, heating it with elements and projecting that hot air outside.
Ventless
Miele's heat pump technology doesn't require a vent, so you can place your washer and dryer anywhere with access to water and power.
120-Volts vs. 220-Volts Dryers
You don't need additional electrical work to use Miele's dryers because they can be plugged into a standard 120-volt outlet.
Despite the lower voltage, Miele dryers have been tested and shown to dry clothes just as quickly as Bosch's 220-volt dryers.
Mineral Sensors
Miele washers are equipped with mineral sensors that adjust cycles based on the mineral content in your water, ensuring the best wash and dry performance.
25 Wash Cycles & 19 Dry Cycles
The Miele Compact Washer WCS WXR 860 and the Heat Pump Dryer TXR 860WP offer 25 wash cycles and 19 dry cycles, each designed for specific fabrics.
This makes them a great choice for anyone who wants to keep their clothes in excellent condition.
High RPM Spin Speed
With a 1600 RPM spin speed, the washer gets your clothes dry faster after the wash, so they need less time in the dryer.
Read More: Differences Between Miele Compact Washers and Dryers
Miele Compact Washer WXR 860 WCS and Heat Pump Dryer TXR 860WP Review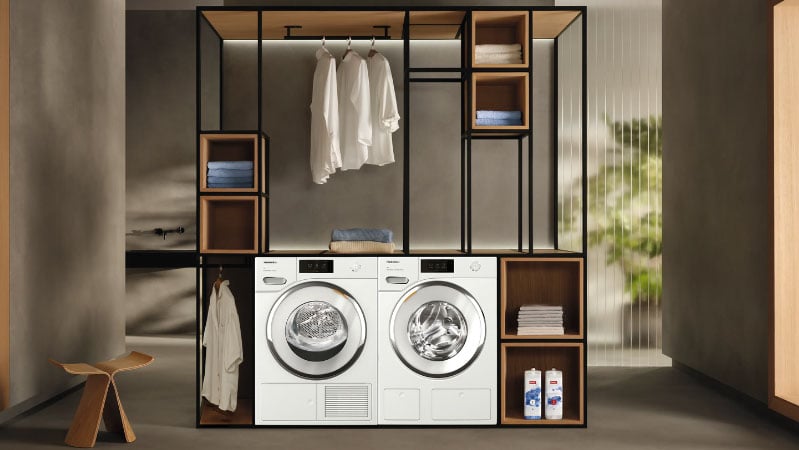 In this section, we'll review these machines in detail, highlighting their performance, features, and overall value.
Miele Compact Washer WXR 860 WCS
The WXR 860 WCS, priced at $2,449, sits atop Miele's compact washer line-up.
It features a touchscreen for easy cycle selection and an auto-clean dispenser, maintaining cleanliness and efficiency.
Let's look at its best features.
Best Features of the Miele WXR 860 WCS Compact Washer
Steam Function
The steam function on the Miele washer can help loosen stubborn stains from your clothes, making it easier to get them out.
Wi-Fi Connectivity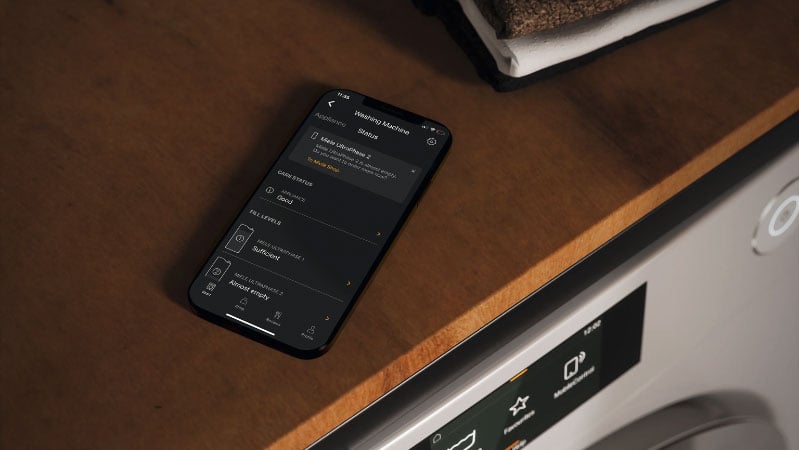 You can easily manage your laundry from anywhere using Miele's Wi-Fi connectivity.
All Miele compact washers have Wi-Fi connectivity, permitting remote laundry monitoring and control via the Miele@home app.
Automatic Load Recognition
Miele washers adjust the water and energy usage based on the size of the laundry load, which can help conserve resources.
TwinDos and Capsule Dispensing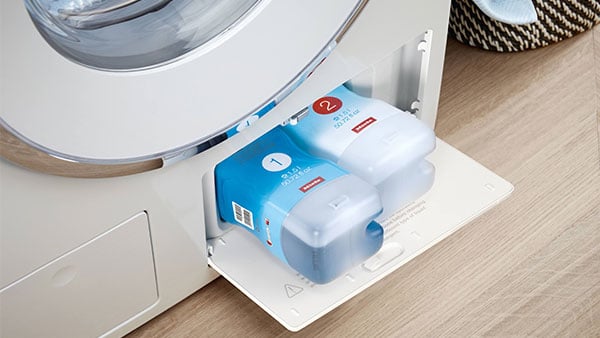 The washer can automatically dispense detergent and use pre-measured detergent capsules.
You've probably read that using too much detergent can lead to future service issues. Excess detergent remaining inside the machine can cause problems later on.
Now, the good news:
With Miele's automatic dispensing system, you don't need to measure detergent or bleach. This reduces the risk of using too much, making things easier for you.
The downside, however, is that you have to buy the bleach and detergent from Miele.
IntenseWash
For when you're in a hurry, there's a program that can wash clothes thoroughly in under an hour.
Miele Compact Heat Pump Dryer TXR 860 WP
The Miele TXR 860 WP, priced at $2,449, has a touchscreen interface to navigate through its dry cycles easily. An auto-clean function for the dispenser is also featured in this model.
Let's look at this dryer's best features.
Best Features of the Miele TXR 860 WP Compact Dryer
Heat-Pump Technology
The TXR 860 WP dryer uses heat pump technology, providing up to 60% energy savings compared to conventional dryers.
This feature also extends the life of delicate fabrics by using lower temperatures to dry.
SteamFinish
This option in the dryer can reduce wrinkles in your clothes, potentially saving you time on ironing.
PerfectDry
The dryer adjusts its drying process based on the calcium content of the water for more even drying results.
EcoDry Technology
This feature is designed to maintain the dryer's energy efficiency over its lifetime.
Wi-Fi Connectivity
Like the washer, the dryer also connects to Wi-Fi, which allows you to manage it remotely through an app.
Fragrance Dos Dispenser
A unique feature of Miele dryers is the Fragrance Dos dispenser, which infuses laundry with scents, enhancing the freshness of your clothes.
Drum Reversal
The drum periodically reverses direction during the drying cycle to prevent tangling and twisting, particularly with bed linens.
Miele's Service and Reliability
When considering a premium brand like Miele, it's important to focus on their service quality.
Our service department's report from last year shows that Miele is a reliable, compact laundry brand with a first-year service rate of 5.8%, ranking second only to Bosch.
This rate is slightly lower than the industry average of 9.7%, making Miele a decent choice for areliable laundry brand.
Compact Washer Reliability for 2023
The following service rates are based on at least 50 products sold and a sample of over 1300 units over 12 months.
Compact Washer Reliability for 2023
| | |
| --- | --- |
| | Service Rates |
| Bosch | 2.5% |
| Miele | 5.8% |
| Beko | 13.3% |
| Grand Total | 9.7% |
You should always consider service before buying a washer, dryer, or any appliance.
Read More: The Most Reliable Compact Washers
Considerations Before Choosing Miele Compact Laundry
Despite the many benefits, there are a few points to consider regarding Miele's compact washers and dryers:
Capacity
Always consider your lifestyle and laundry demands.
While the compact size of Miele's units allows for flexible placement, their capacity is roughly half that of standard front-load washers.
If you have a big family or large laundry loads, Miele's compact size may require you to adjust.
But for smaller households, it could be a great fit.
Price
Miele comes with a higher price tag of $2,449 each. The cost is higher than some full-sized models, starting at around $1,500.
Repair
Although Miele is reliable, you still must research repair services in your area. Finding repairs for sophisticated appliances is not easy.
Read More: The Best Compact Washers and Dryers
Click here to subscribe to our blog and gain access to exclusive insights, in-depth reviews, and valuable resources on home appliances. Don't miss out on the latest trends and expert advice that will help you make informed decisions for your household.
Miele's Top Competitors in Laundry
Miele's compact laundry units are favored for their distinctive features, such as the honeycomb drum, high RPM spin speed, dual dispensing system, and mineral sensors.
Yet, Bosch's compact laundry, LG's WashTower, and GE Profile's UltraFast also hold creditable positions in the market.
Miele vs. Bosch Compact Washers & Dryers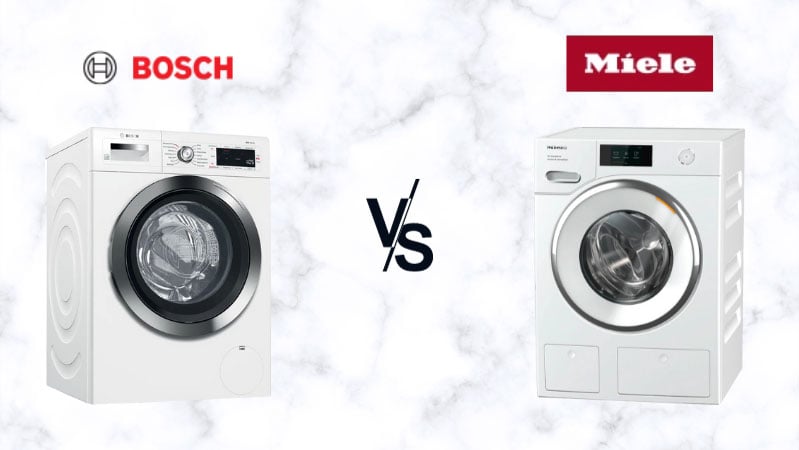 Drum
Miele has a honeycomb drum design and better spin speed, producing drier clothes post-wash versus the stainless drum of the Bosch.
Dispensing
Miele includes an exclusive caplet detergent dispenser and steam for more challenging stains. Miele also has their Twin Dos dispenser to calculate the amount of bleach and detergent precisely.
Electrical Requirements
Bosch's heat pump dryer needs a 220-volt outlet, but Miele's equivalent dryer can use a 120-volt outlet and still dry clothes efficiently.
Unique Features
Miele's dryer has advanced technology to detect moisture and minerals.
Bosch, on the other hand, has a self-cleaning heat pump feature that minimizes maintenance efforts.
Reliability
In terms of reliability, Bosch has a significantly lower service rate at 2.5%, in stark contrast to Miele's 5.8%.
Choosing between the two may hinge on the importance of advanced features versus the value of reliability and ease of maintenance.
Read More: Bosch vs. Miele Compact Washers & Dryers
Miele vs. LG WashTower Washer & Dryers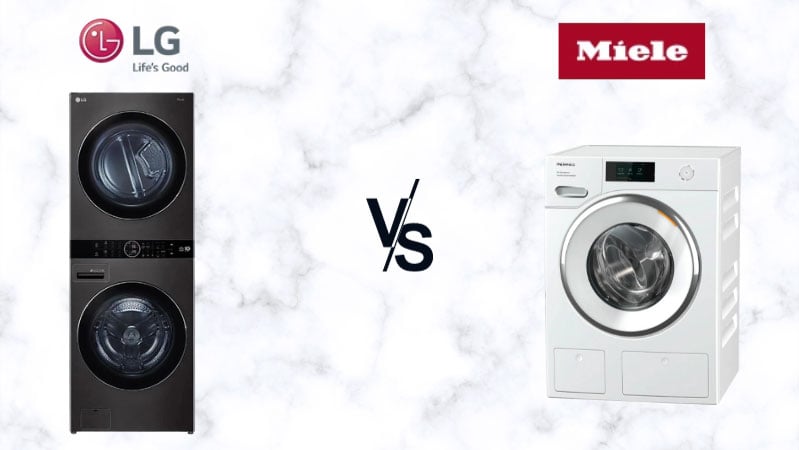 The WashTower is new and has a 220-volt heat pump. The capacity is much larger than the Miele at 4.5 cubic feet and more programs than even Miele.
Miele has the dispenser, but LG offers their AI DD, which washes by fabric type using sensors. The heat pump is new to LG and is unproven.
Miele will have more functionality, especially with the drum and dispensing. LG has size and features.
Miele vs. GE Profile UltraFast Washer & Dryers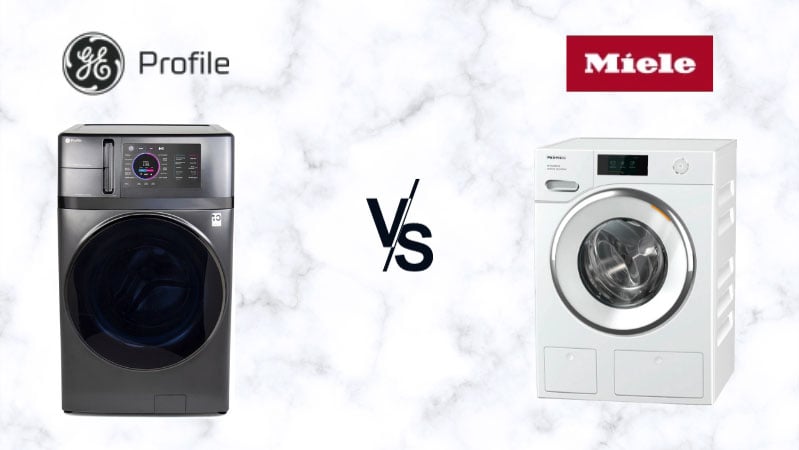 The GE Profile UltraFast Combo Washer & Dryer is the first generation of a combination washer and dryer that may work.
Combos generally can't remove the lint, but the UltraFast has a huge double-sided filter in the front.
The UltraFast is an intriguing machine. The UltraFast machine washes and dries clothes in one cycle.
The Profile has a 32-load dispenser and mold protection like their signature Microban surfaces and OdorBlack fan to dry residual water.
Miele still has more features, while the UltraFast is much larger at 4.8 cubic feet.
Should You Buy a Miele Compact Washer and Dryer?
Miele is still the best machine for taking care of your clothes.
However, five years later, you have decent choices, especially with the larger LG and Profile models.
The Bottom Line: Miele's Compact Washer and Dryer Reviewed
Let's sum it up. Here are the key takeaways from this review:
Fabric Care: If you're seeking gentle yet effective cleaning that protects your garments, Miele's honeycomb drum technology provides better fabric care.
Energy Efficiency: Miele's heat pump dryers offer significant energy savings, and with 120-volt compatibility, you don't need special electrical accommodations.
Drying Performance: Miele washers excel with a high RPM spin speed, ensuring clothes are less damp and can dry faster, saving you time.
Innovative Features: With unique offerings like the TwinDos and Caplet Dispensing systems and Wi-Fi connectivity, Miele sets itself apart with convenience and smart technology.
Space Saving: The compact design is ideal for limited spaces without compromising on performance, perfect for urban living or smaller homes.
Investment vs. Budget: Miele comes at a premium price, reflecting its advanced features and design. Evaluate if the investment aligns with your budget and laundry care expectations.
Service Considerations: Miele has a reliable service rate, but it's worth noting that Bosch presents lower service rates. Consider the availability and convenience of service in your area.
Capacity Needs: If you have a larger family or greater laundry demands, consider that Miele's compact size has less capacity than standard units.
Only you can determine if Miele's best washer and dryer set aligns with your lifestyle and is worth the cost.
If your preferences are for a larger capacity or a lower price point, it may be better to explore other options.
What do you think about Miele's compact washer and dryer? Share your thoughts and questions in the comments below.
FAQs
Compact Washers & Dryers
FAQs
Answers to the most commonly asked questions about Miele compact washers and dryers.
What are the benefits of Miele compact laundry machines?
How much laundry can Miele compact washers and dryers handle?
Are Miele compact laundry machines stackable?
Can I install Miele compact laundry machines in a small bathroom?
Are Miele compact laundry machines energy-efficient?
How long do Miele compact laundry machines typically last?
Are Miele compact laundry machines noisy?
Do Miele compact washers require a specific detergent?
Can I customize the settings on Miele compact laundry machines?
Are Miele compact laundry machines easy to maintain?
Additional Resources
Download our Compact Laundry Buying Guide with all the features, terms and brands of laundry. Over 1.2 million people have already found answers in a Yale guide.
Related Articles:
Why Should You Trust Us?
It seems that every appliance review has nothing but glowing comments about almost every product, yet you read customer reviews and they are almost universally bad.
We are here to fill in the disconnect. We'll give you the best features, and the drawbacks as well, including reliability based on over 37,000 calls performed by our service team just last year. Our goal is to give you ALL the information so you know what's right for you.
Please consider subscribing or adding to the conversation in the comments below. We appreciate you stopping by.
Sara Silvestro is a skilled marketer and writer with over 10 years of experience. In her free time, she enjoys reading, sketching, and embarking on new adventures with her faithful black cat, Raven. With a passion for all things spooky and a love for the Morbid podcast, Sara enjoys exploring the mysteries of the paranormal and seeking out haunted houses during her travels.
A Note About Pricing
Pricing on this blog is for reference only and may include time sensitive rebates. We make every attempt to provide accurate pricing at time of publishing. Please call the stores for most accurate price.