Best 48-Inch Professional Gas Rangetops
April 25th, 2020 | 9 min. read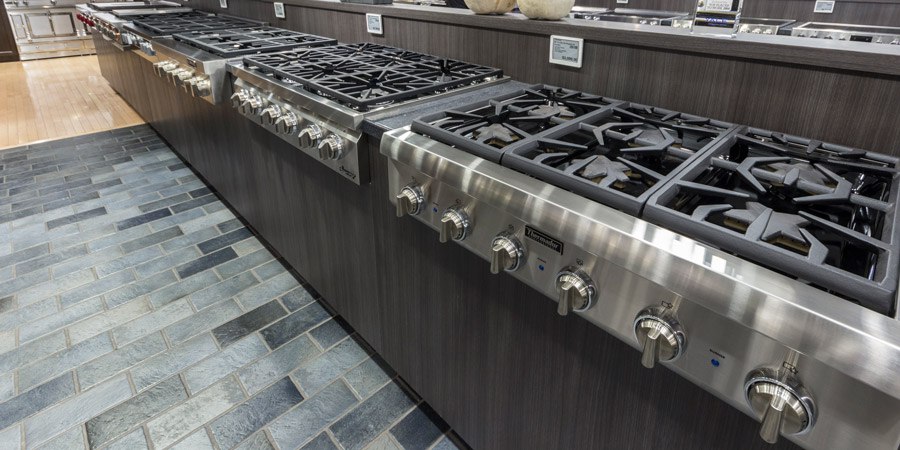 Forty-eight-inch rangetops should be easy to buy. It's half a pro range.
You don't have to worry about the whole range component, whether its dual-fuel, all gas, twin, or single convection.
You don't have to compare steam versus steam assist, whether it has Wi-Fi (whether that even works).
It's just burners, grill, griddle, Frenchtop, and a few other new options.
But that's the problem.
For example, when we talk about griddles. Wolf and Miele have a faster-infrared grill. JennAir coats their griddle with chromium, so it is easier to clean.
Which do you prefer?
In this article, you will learn the best for all these comparisons, including grill, griddle, output, simmer, and other new special features.
You will also see real reliability stats based on real service data. Last year alone, we logged 35,256 service calls.
There is no one best rangetop.
You want to be able to match the best rangetop for your particular cooking style, whether you want to output, a better simmer, or an easier to clean griddle or grill.
The Best 48-Inch Pro Gas Rangetops for 2020 are:
Best Rangetop For Sous Vide And Induction: SKS
Best Rangetop for Output: BlueStar
Best Rangetops for Simmer: Thermador, SKS, and Wolf
Best Rangetop With A Grill: Miele
Best Rangetop With A Griddle: Wolf and JennAir
Best Rangetop For Woks: Wolf
Best All-Around Rangetop: Wolf And JennAir
This article will also help you if you are considering the other 36 and 60-inch rangetop sizes.
First, you should know the difference between cooktops and rangetops. The terms are used interchangeably, and that could be an issue.
Cooktops vs. Rangetops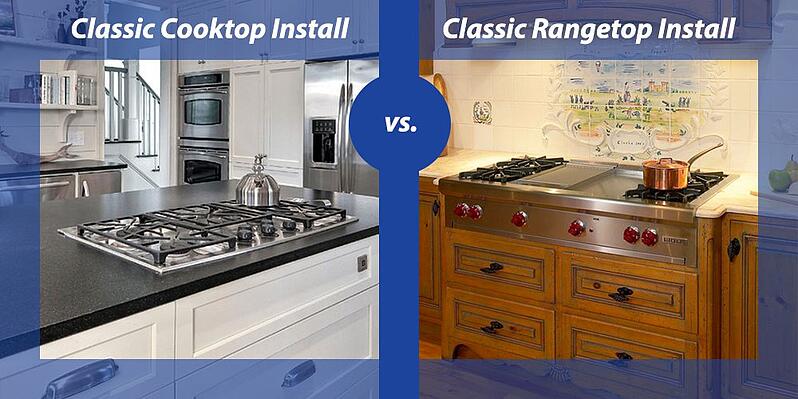 A cooktop is the top part of a regular stove. The rangetop is the top part of a pro range.
Here are the differences:
Size: A cooktop is available in 12, 15, 24, 30, and 36-inch sizes with 30 and 36 being the most popular. A rangetop is available in 24, 30, 36, 48, and 60-inch widths. Thirty-six and 48 inches are the most common sizes.
Options: With a cooktop, its burners only. A rangetop has grill, griddle, Frenchtop, induction, and Sous Vide possibilities.
Installation: The cooktop is installed into your countertop while the rangetop is installed on your base cabinet.
This is a crucial difference to remember. You can also fit a wall oven underneath a cooktop. It cannot fit under a rangetop.
Price: Rangetops are $1,000-2500 more expensive on average than a comparable cooktop.
Burners: A rangetop will have all high output burners or all high output and one dedicated simmer burner. Cooktops will have at least two high output burners.
Both are viable options. Your decision should always be based on what you will use. Rangetops have more options, but there some decent cooktops with good output as well.
Rangetop Options
Infrared vs. Regular Gas Grills and Griddles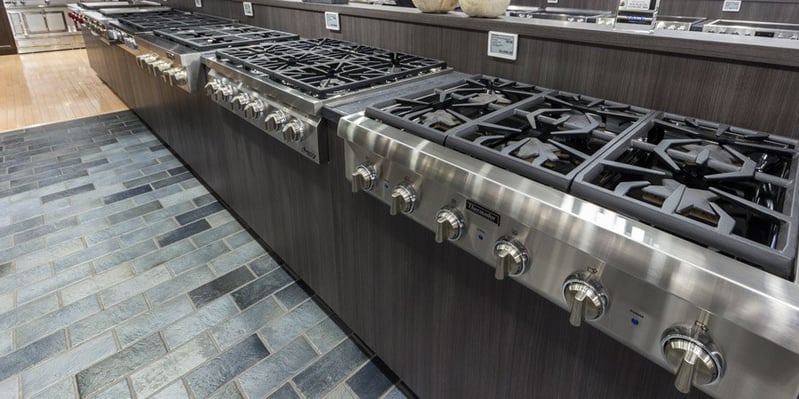 Professional Rangetops with Gas Burners on Display at Yale Appliance in Boston
You will see infrared vs. regular gas a lot in these comparisons, so let me explain the difference briefly now.
Infrared is direct heat, whereas a gas burner diffuses the heat. Think of one as a laser and the other more as a flashlight.
Infrared is faster and hotter.
Infrared under the griddle will be faster
For indoor grills on your cooktop, it's faster and easier to clean because it burns off any residue or grease drippings.
Induction vs. Pro Gas Burners
A few of the pr units have an induction set of burners.
You should know induction is a better burner than pro-gas. It is faster with a much better simmer.
Induction also requires less venting. Because it is magnetic and needs metal to activate, it is the most child safe
Induction is an intriguing option, especially in a larger size.
Sous Vide
Do you remember in college, we cooked those Stouffer's boil in the bag dinners. Sous Vide is similar but far more precise.
You add your food, seasonings, and then boil to cook for the exact internal temperature.
Frenchtop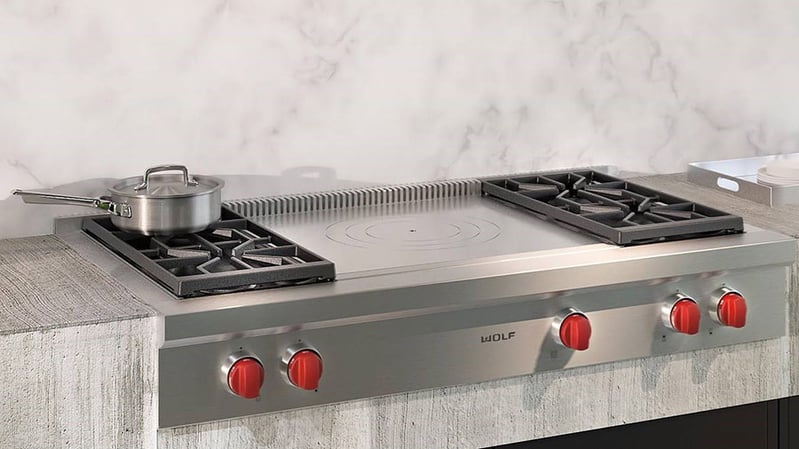 Wolf Rangetop With a Frenchtop
French tops have one big burner in the middle of a larger griddle. You can cook several items at once because the center is hotter than the edges.
Are Rangetops Reliable?
The following chart is our sales and service calls from 2019.
| | | | |
| --- | --- | --- | --- |
| | Service Qty | Shipped Qty | Service Ratio |
| Miele | 6 | 27 | 22.22 % |
| JennAir | 14 | 92 | 15.22 % |
| Wolf | 25 | 176 | 14.20 % |
| Thermador | 22 | 155 | 14.19 % |
| Gaggenau | 13 | 147 | 8.84 % |
| Grand Total | 81 | 601 | 13.48 % |
Most of these service calls are ignitors. Igniters and ignitions are the number 2 repair in appliances after ice makers in refrigerators.
These aren't major repairs. However, finding repair is often the issue. Only 5% of the appliance dealers have service departments.
You will need service, whether it's replacing an igniter or spark module within five years. Inquire before you buy.
Look at reviews and spend some time vetting service as much as features because it is a real problem in most areas.
Let's look at some 48-Inch pro rangetops.
Read More: Most Reliable Professional Gas Cooktops and Rangetops
Best 48-Inch Professional Gas Rangetops
SKS Pro Rangetop SKSRT480SIS - $5,499

Signature Kitchen Suite (SKS) is the much-publicized, much marketed, upscale brand and subsidiary of LG. The Korean companies are technology first, and this unit is no exception offering features unavailable in other brands.
Features:
Sous Vide: If you like this feature, SKS is the only unit with Sous Vide capability.
23,000 BTU Power Burner: Most powerful for a sealed burner.
100 BTU Simmer: The great part of marketing a new product is emulating the best features. This ultra-low simmer of a 100 degrees is copied from Thermador.
Induction: As much as you like gas, you will induction better for output and simmer

JennAir has two new series, Rise and Noir, and 14 different configurations. They beefed up the power, changed the design, and added an infrared grill.
Features:
Griddle - This high-performance, 1,320-watt chrome griddle provides even heat distribution for consistent cooking along with its entire surface.
Its durable chrome surface allows for faster cooking at lower temperatures and is by far the easiest to clean.
High Output: Unit features 20,000 and 18,000 BTU burners for a decent output. The burners are more durable brass as well.
Grill: 16,000 BTU infrared, similar to Wolf
Cleanable: Grates are dishwasher safe similar to Miele

Miele is the largest family-owned appliance business and based in Germany. They are known for their quality of manufacturing and their reliable products. However, Miele is new to the professional range category as of 2014. Their focus is cleanability and a decent all-around grill and griddle
Features:
Stainless steel backlit knobs
Dual-Stacked burners with TrueSimmer
19,000 BTU power burners
8 Burner or 6 Burner with grill or griddle options
Clean touch stainless steel front
Dishwasher safe grates
One year mfg. warranty
Infrared: Grill and griddle. Fast, hot, and efficient. The grill is 19,000 BTU, so it is the hottest on the market.
Dishwasher Safe: They were the first for grates and the caps to be placed in the dishwasher. Miele even has a dishwasher cycle for stove grates
BTU Output: Miele has a decent output of 19,000 on 3 of their burners. However, It drops off to a lower 13,600 and 10,000 BTU on the other three units.

Thermador is part of BSH Home Appliances Corporation, a fully owned subsidiary of BSH Bosch. They have an excellent mix of burners. Their Star burner is unique in the industry.
Thermador prides itself on its formerly industry-leading, extra-low simmer at 100 degrees on two of their burners.
It is also the only cooktop with a star-shaped burner, which provides a more even heat on the pan (in theory). It is easier to clean because the burner is raised from the top.
Their max output is 18,000 BTU. Last year, they changed their back burners from 18,000 to 15,000 BTU. The electric grill and griddle are slower and harder to clean then the infrared burners.
Features:
Exclusive, patented Star® Burner – most even heating, unsurpassed flame coverage
QuickClean Base™ designed for easy surface cleaning
Every burner 18,000 BTU (NG)
Precision simmering capabilities as low as 100°F (375 BTU) with 2 ExtraLow Simmer burners
Professional style, continuous cast-iron grates
Continuous porcelain, easy to clean cooking surface
Widest range of simmer options from 375 BTU to 3,000 BTU
Star® design delivers superior heat spread for any size pan
Simmer without stirring/scorching with exclusive ExtraLow
Superior griddle results-6 pass, 1630 watt electric griddle
Titanium surface non-stick, rust-proof cast-aluminum griddle
Removable griddle and grill accessory for easy clean-up
Grill accessory-thermostatically controlled for even heating

Wolf is a family-owned company based in Wisconsin. Many of the innovations mentioned were started by Wolf, as the infrared grill and griddle.
Wolf does everything well. It has a high of 20,000 BTU but has four other burners of 15,000 or more. It can simmer well at about 350 BTU on every burner.
The grill and griddle are also infrared with the griddle being 15,000 BTU. Wolf will be introducing a rangetop with a 35,000 BTU wok burner. They have the Frenchtop as well.
Features:
Dual-stacked, sealed surface burners, all with simmer capabilities and automatic reigniting at all settings. Wolf has the best grill of the four and the most grill, griddle and Frenchtop configurations available
Classic stainless steel exterior finish with island trim
Comes standard with Wolf's signature red control knobs and stainless-finished bezels surrounding each knob - the second set of black or stainless steel knobs is available at no charge at the time of purchase
Bezels with stainless steel finish surround all knobs - chrome or brass bezels optional
Porcelain-coated cast iron continuous top grates
20,000 Btu/hr (4.4 kW) burners with 950 Btu/hr (.3 kW) delivered at simmer
9,200 Btu/hr (2.7 kW) burner with 325 Btu/hr (.1 kW) delivered at simmer and melt
Stainless steel cover included with griddle, charbroiler, and French Top.

BlueStar is an American manufacturing company based in Pennsylvania. They are the closest to a restaurant range.
They have two rangetops. The Platinum has a max output of 25,000 BTU, but with eight burners and a removable grill/griddle option.
Their RNB has two 22,000 BTU and a built-in gas grill and griddle. BlueStar has the highest output but is an open, not sealed burner. That's good news/bad news.
If you spill, you have to clean under the cooktop. However, you can clean everything in your sink including burner pans instead of scrubbing the unit like the other brands
BlueStar will give you choices as well. How about 750 colors plus eight knob and trim packages
Features:
Restaurant-style 22,000 BTU UltraNova™ & 15,000 BTU Nova™ open burners
Precise 130° simmer burner
Integrated wok cooking
Removable dishwasher friendly stainless steel drip trays
Full motion grates
Includes standard island trim backguard
Available in Natural or LP gas
Promotions And Rebates
JennAir and Thermador will offer similar rebate programs for free dishwashers and hoods or cashback with qualifying purchases only.
At times, Sub-Zero and Wolf have a rebate for $1,000 and points for pots and pans or countertop appliances for qualifying products with the purchase of both brands.
Miele has its discount programs as well. Make sure to ask about current offers as they do change sporadically. Better yet, have a decent salesperson call you when there is an interesting offer.
Which 48-Inch Pro Rangetop Is the Best?
There is no single best pro rangetop, so let's break it down.
Best Rangetop For Sous Vide And Induction: SKS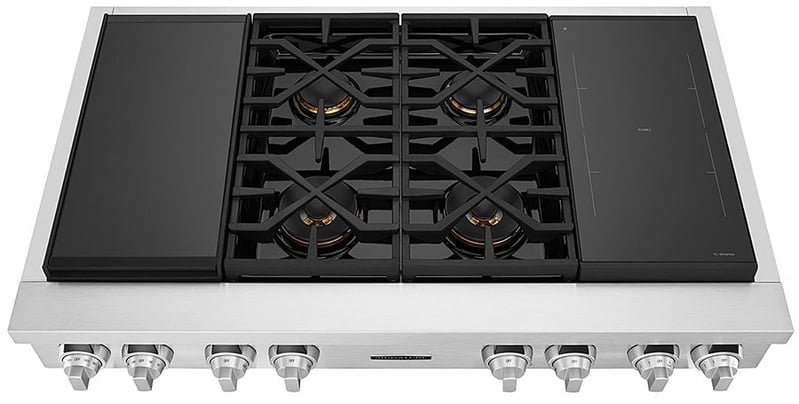 SKS Pro Rangetop With Induction And Sous Vide Water Bath
SKS is the only one with Sous Vide and induction.
Best Rangetop for Output: BlueStar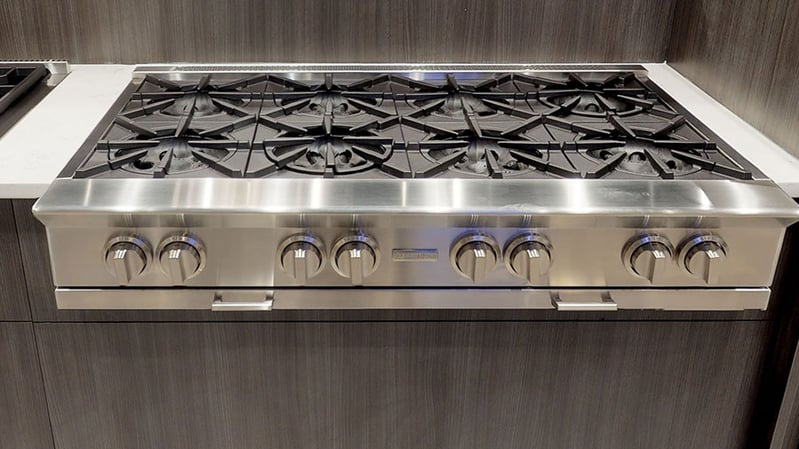 BlueStar Pro Rangetop on Display at Yale Appliance in Hanover
BlueStar has 22,000 BTU power in the RNB unit. Their eight burner Platinum unit delivers 25,000 BTU. For sealed, SKS has a max unit of 23,000. JennAir and Wolf are decent as well with 20,000 BTU multiple burners.
Best Rangetops for Simmer: Thermador, SKS, and Wolf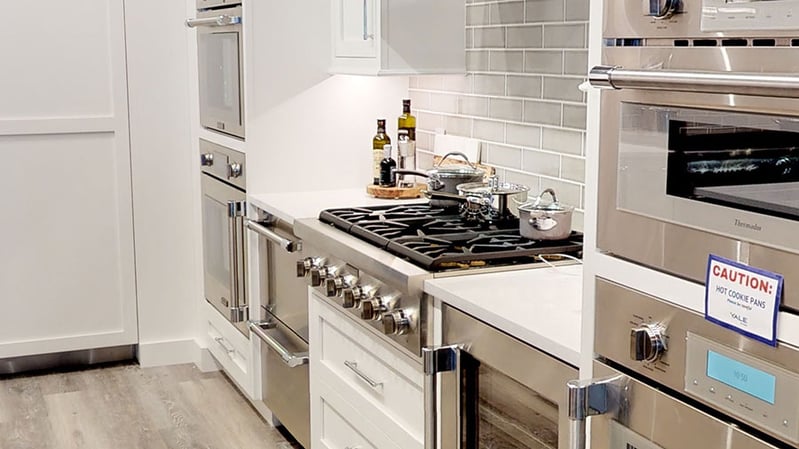 Thermador Pro Rangetop On Display at Yale Appliance in Hanover
Thermador, SKS, and Wolf all the the best rangetops for simmering. SKS and Thermador have the 100 BTU simmer on two burners. Wolf can simmer well on every burner. The SKS induction is the best if you buy that option.
Best Rangetop With A Grill: Miele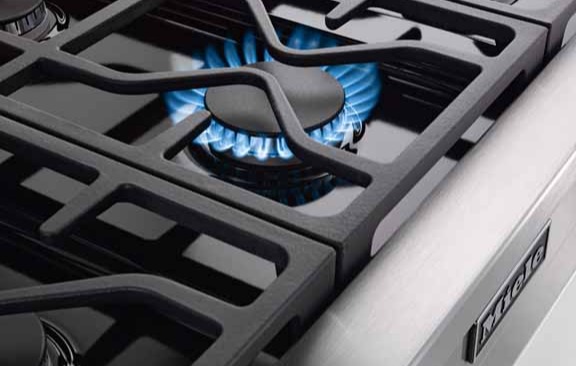 Miele Pro Rangetop with high BTU Burners and Infrared
Miele has the highest infrared at 19,000 BTU.
Best Rangetop For Woks: Wolf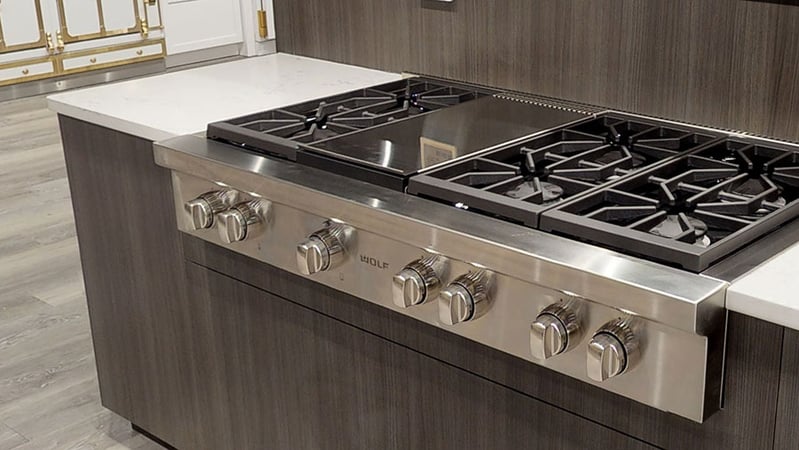 Wolf Pro Rangetop at Yale Appliance in Hanover
Wolf has the 35,000 BTU single wok burner.
Best Rangetop With A Griddle: Wolf and JennAir
JennAir Pro Rangetop with a 48-Inch Griddle
Wolf has the hottest griddle. JennAir's griddle is the easiest to clean.
Best All-Around Rangetop: Wolf and JennAir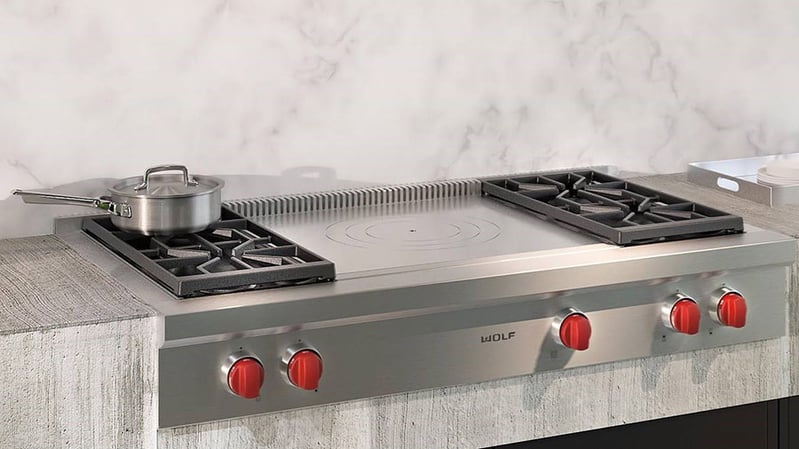 Wolf Pro Rangetop Featuring a Frenchtop
Wolf and JennAir will offer a good combination of every feature.
Key Takeaways
Now you know there isn't one best rangetop. Is there one best suited for your cooking style? So look at the feature or combination of features most appealing.
Consider service. It really is that bad throughout the country as most retailers think the sale is over when you write a check. Find the few that don't. Lastly, consider how you'll ventilate your rangetop.
Can You Place a Downdraft Behind a Rangetop?
This could be the worst idea for your home. This is number 1 on my top 10 list of mistakes. A downdraft even at max 1200 BTUs cannot handle the output of a pro range.
It has no capture area. Then it reverses gravity and adds an elbow to lessen effective CFM on Top of it. Even if your designer is adamant, don't do it.
Additional Resources
Looking for more information on pro ranges? Download the Yale Pro Cooking Buying Guide with specs, features and detailed profiles of all the best brands. Well over 800,000 people have read a Yale Guide.
Related Articles:
Why Should You Trust Us?
It seems that every appliance review has nothing but glowing comments about almost every product, yet you read customer reviews and they are almost universally bad.
We are here to fill in the disconnect. We'll give you the best features, and the drawbacks as well, including reliability based on over 37,000 calls performed by our service team just last year. Our goal is to give you ALL the information so you know what's right for you.
Please consider subscribing or adding to the conversation in the comments below. We appreciate you stopping by.
Steve Sheinkopf is the third-generation CEO of Yale Appliance and a lifelong Bostonian. He has over 38 years of experience in the appliance industry, and he is a trusted source of information for consumers on how to buy and repair appliances.

Steve has also been featured in numerous publications, including the New York Times, Consumer Reports, The Boston Globe, Bloomberg Radio, the New York Post, The Wall Street Journal, and Entrepreneur, for his knowledge of how to buy appliances and appliance repair.

Steve is passionate about helping consumers find the best appliances for their needs, and he is always happy to answer questions and provide advice. He is a valuable resource for consumers who are looking for information on appliance buying, repair, and maintenance.

Despite being the worst goalie in history, Steve is a fan of the Bruins and college hockey, loves to read, and is a Peloton biker. The love of his life is his daughter, Sophie.
A Note About Pricing
Pricing on this blog is for reference only and may include time sensitive rebates. We make every attempt to provide accurate pricing at time of publishing. Please call the stores for most accurate price.