Bosch vs. Miele $899 Dishwashers (Reviews / Ratings)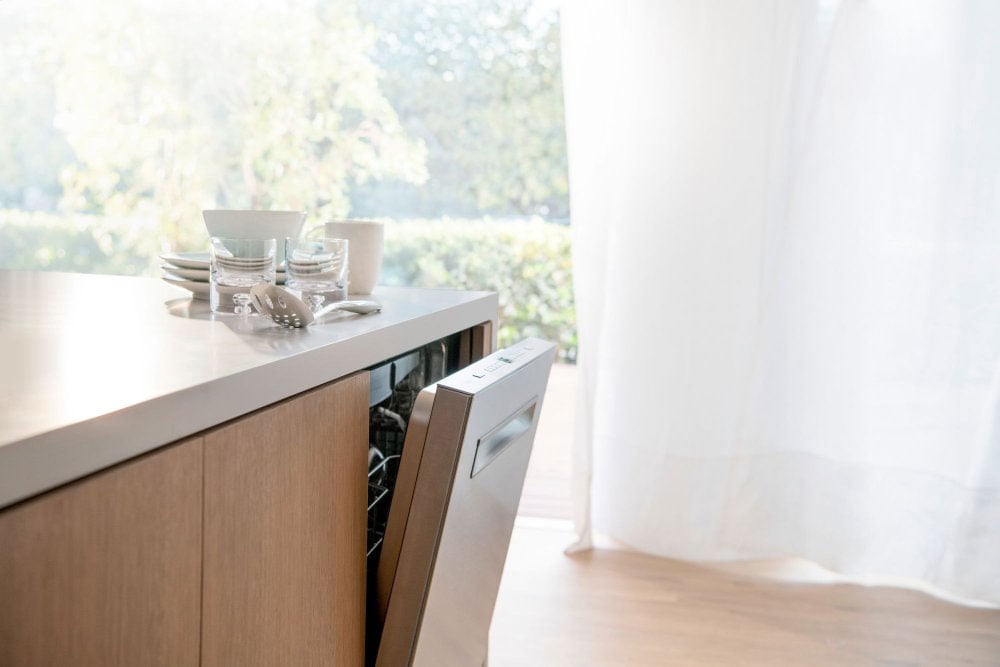 With so many dishwashers available on the market, it can be overwhelming trying to find a good reason to buy whether its features, cycles washing, or drying capability (more about that later).
You can buy a good dishwasher at $599. However, you can buy a great dishwasher at $899.
Two of the best names are Miele and Bosch. Both are German but are completely different companies with different products and features.
In this article, you will learn a bit about both companies, their wash and dry systems, their reliability based on 34,687 service calls, and some of their new features as well.
Miele Vs. Bosch Corporate
Although Miele and Bosch are German, the similarities stop there. Bosch is a huge industrial company, whereas Miele is family-owned.
This mentality is evident in their prices and products. Miele designed and manufactured all the working parts of their dishwashers in Germany except the rollers for the racks.
Bosch manufactures their dishwashers in the US in North Carolina. They outsource parts throughout their organizations' supply chain.
As you will see, the middle part of the Bosch line is at $899 versus entry-level for Miele. This will affect almost everything, from quietness to features.
What Miele And Bosch Dishwashers Have In Common:
Third Racks for Silverware: This feature was only available in just higher-end Mieles for a long time. Third racks allow you an easy place for silverware and more space on the bottom Rack.
Flood Protection: Bosch has sensors, and Miele has the double insulating pump to check against leaks (especially important in high rises in Boston and Beyond.
Short on time? Get our free Dishwasher Buying Guide
Miele Vs. Bosch Dishwashers At $899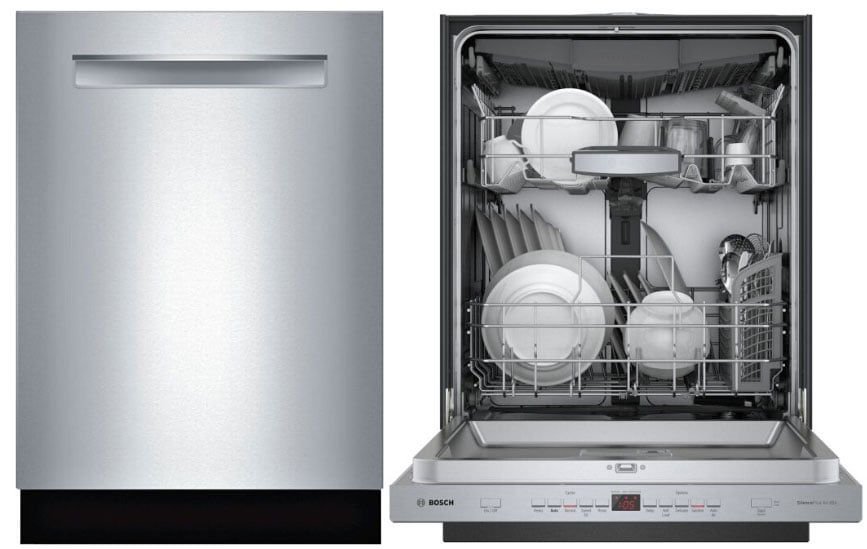 44 dBa - noise level of the dishwasher
Third Rack - used for utensils, cutlery, and smaller bowls
FlexSpace Tines - Fold-down tines to accommodate larger items such as pots
EasyGlide Rack System - Middle basket has ball bearing wheels for smooth, effortless pull out with a
AutoAir - Door opens at the end of the cycle to release humid air for better drying
Bosch 500 Series Dishwasher Key Features: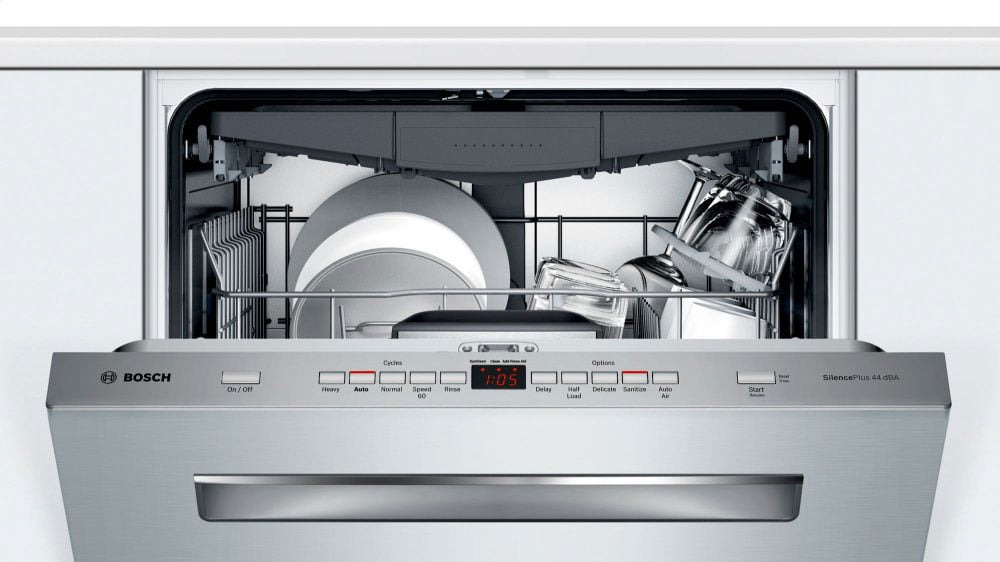 Forty-four decibels is the minimum decibel rating for quietness. Anything over 44, you will hear. You have five wash programs with five options in this dishwasher.
It has the third Rack, as previously discussed.
As you know, if you read our Best Drying Dishwashers article, Bosch is a condensation drying dishwasher. It uses JetDry and residual heat from the dishwasher to dry your dishes.
This series also has AutoAir, so the dishwasher pops open at the end of the cycle to release heat and moisture. It's better than just condensation dry.
Bosch 500 Series Dishwasher Review [VIDEO]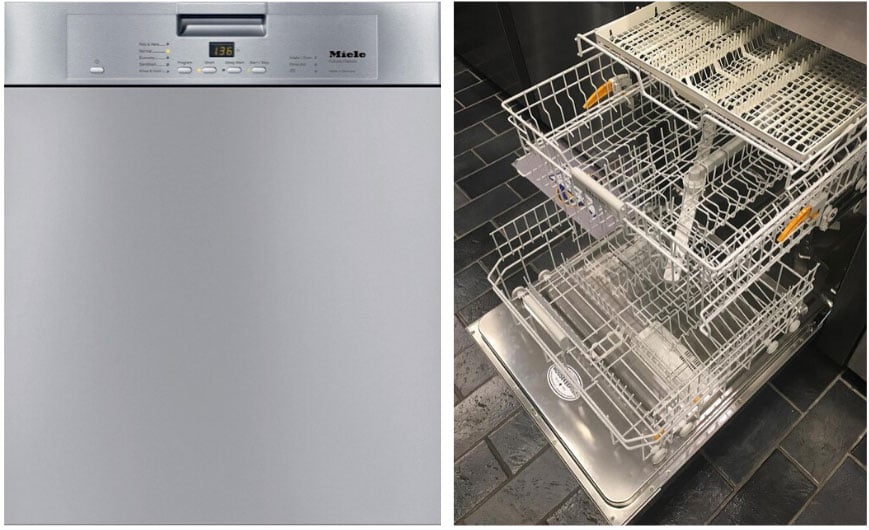 46 dBa - noise level of the dishwasher
Third Rack - used for flat utensils and cutlery
Condensation Drying - uses room air to make the drying process more efficient
Spray Arm For The third Rack - ensures wash covers the whole tray area
Miele Classic Series Dishwasher Key Features:

Mieles entry-level still has many of the features of the better models. It has the full spray arm on the top like in their best series dishwashers.
It also has Clean Drying. The air intake at the bottom allows air to the side of the dishwasher. The steamy heat of the dishwasher is attracted to the cooler side and dissipated as water.
Think of this analogy: When you exercise or see pro athletes compete in cold weather, you usually see steam rising from the top of their heads because heat is attracted to the cold air.
For years, Miele has been the standard for drying dishes. It's now the second-best way. We will talk about a newer, improved method later.
Miele Classic Series Dishwasher Review [VIDEO]
The Comparison
Washing Performance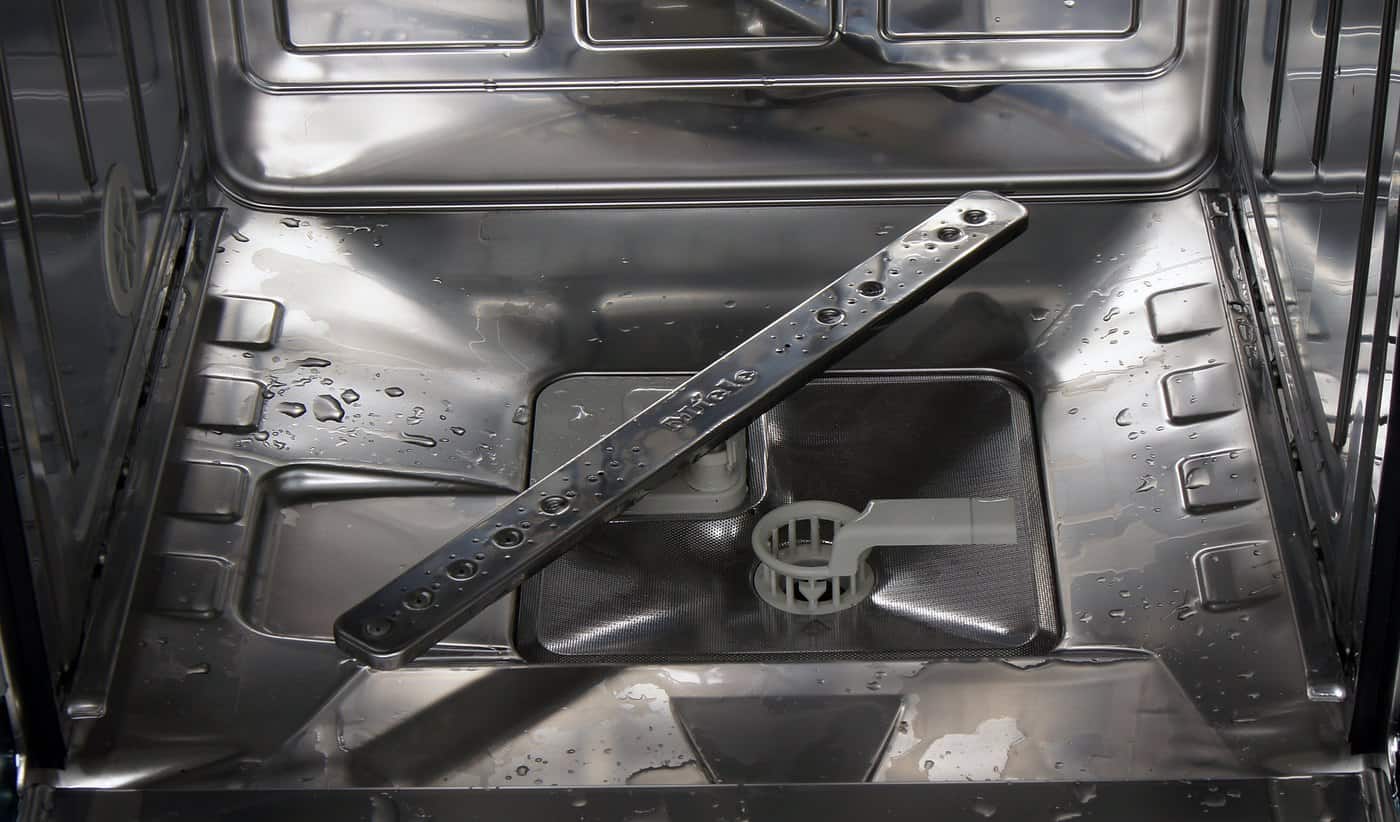 Miele Dishwasher Spray Arm
They both wash well. However, Miele has a full spray arm on the top, and Bosch does not.
Normally, this is not a huge deal. However, it's an improvement with the third Rack below. Water will flow better from top to bottom.
Drying Performance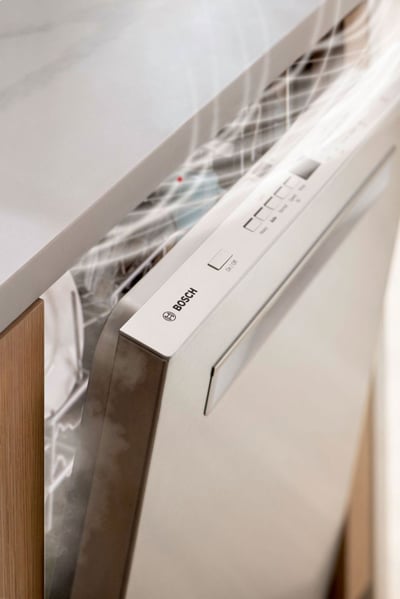 Bosch Dishwasher AutoAir Feature
Drying is a more difficult answer. Bosch has the AutoAir opening door. Miele has Clean Drying. They both serve the same purpose of reducing heat and moisture in your dishes.
Miele is better because it introduces cooler air into the sealed tub while the Bosch releases heat from the top.
Reliability
Based on our own service history, Bosch was more reliable last year. Miele had been the most reliable but had an isolated issue with frozen motors. I expect it to be better going forward.
Quietness
Bosch is quieter by 2 DB. But what does that mean? Certain websites claim a doubling of sound every 3 DB. There is an audible difference between 44 and 46, but probably not a double.
Still, you should consider sound in an open floor plan, and Bosch will be quieter.
Features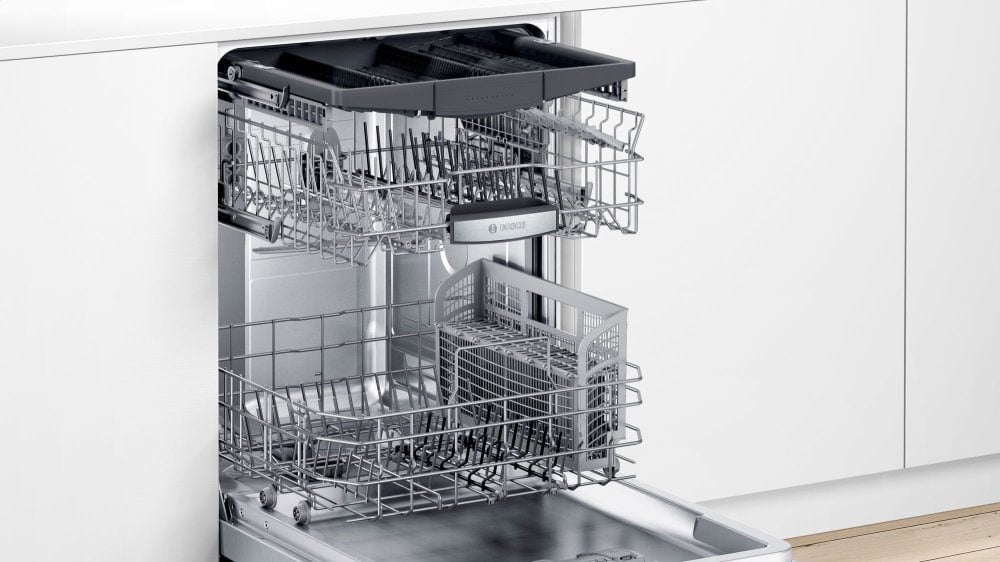 Bosch Dishwasher Racks
At the $899, it will be hard to choose the Miele if you're looking for a feature-packed dishwasher. Besides the Normal and Pots and Pans cycles, Express tends to be the most used. You won't find this feature in the base model Miele.
The Bosch model at $899 will have the Speed 60 as well for a complete cycle finished in 60 minutes.
You'll see more adjustable racks and tines in the Bosch as well.
For a more detailed comparison of dishwasher features from the best brands, download our free Dishwasher Buying Guide by clicking here.
The Next Step-Up
Let's say you are looking above the $899 range. In Miele, the next model is routinely at $1599-1799, but the Bosch is only $1049 is interesting because of a brand new feature.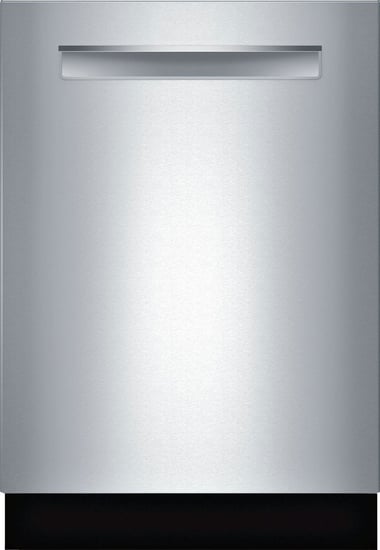 42 dBa - noise level of the dishwasher
Flexible Third Rack - used for flat utensils and cutlery
FlexSpace Tines - Fold-down tines to accommodate larger items such as pots
EasyGlide Rack System - Middle basket has ball bearing wheels for smooth, effortless pull out with a
CrystalDry - uses moisture to increase drying temperature up to 176 degrees
Bosch now has the best drying system. They use a volcanic element called Zeolite to aid the drying process.
Zeolite has been used for just about everything for your supplements and our government's environmental cleanups.
In a dishwasher, Zeolite absorbs moisture and emits heat to dry even plastics. We tested it in Thermador's model (Thermador and Bosch are the same company), and it works.
You also never have to resupply Zeolite. It's packed inside the dishwasher. It's part of a cycle. We don't have to worry about fixing a broken drying cycle later on as well because of its not a mechanical item.
If you value drying the most, you may want to consider this model.
To read more about the best drying dishwashers, click here.
Bosch Vs. Miele Dishwashers [Video Comparison]
Should You Buy A Miele Or Bosch Dishwasher?
This depends.
Miele will wash and dry better. Bosch will have more cycles, and this year it's more reliable. Bosch is also quieter.
You may want to consider offers and sales as a possible inducement because this comparison is so close.
Both promote during the year at different times. Look at Black Friday, Presidents' Day, Memorial Day, Tax-Free Weekend, and July 4th as the best time to buy.
Both offer packages of 10-15%, so it may be advantageous to look at your whole kitchen and then pick your dishwasher.
Both have their unique features, but the final price, as well as your personal preference, are the deciding factors.
Additional Resources
Get our free Dishwasher Buying Guide with tips, trends, and reviews of all the major brands. Over 620,000 people have already found answers in a Yale guide.
Related Articles:
Editor's Note: This article was updated for accuracy, freshness, and comprehensiveness.
Why Should You Trust Us?
It seems that every appliance review has nothing but glowing comments about almost every product, yet you read customer reviews and they are almost universally bad.
We are here to fill in the disconnect. We'll give you the best features, and the drawbacks as well, including reliability based on over 37,000 calls performed by our service team just last year. Our goal is to give you ALL the information so you know what's right for you.
Please consider subscribing or adding to the conversation in the comments below. We appreciate you stopping by.
Tam Nguyen
Tam is an Appliance Sales Consultant at Yale Appliance. In his spare time he enjoys watching and playing sports and spending time with his two children.

Schedule a showroom visit with me
A Note About Pricing
Pricing on this blog is for reference only and may include time sensitive rebates. We make every attempt to provide accurate pricing at time of publishing. Please call the stores for most accurate price.