Best 30-inch Professional Dual Fuel Ranges for 2022
January 7th, 2022 | 10 min. read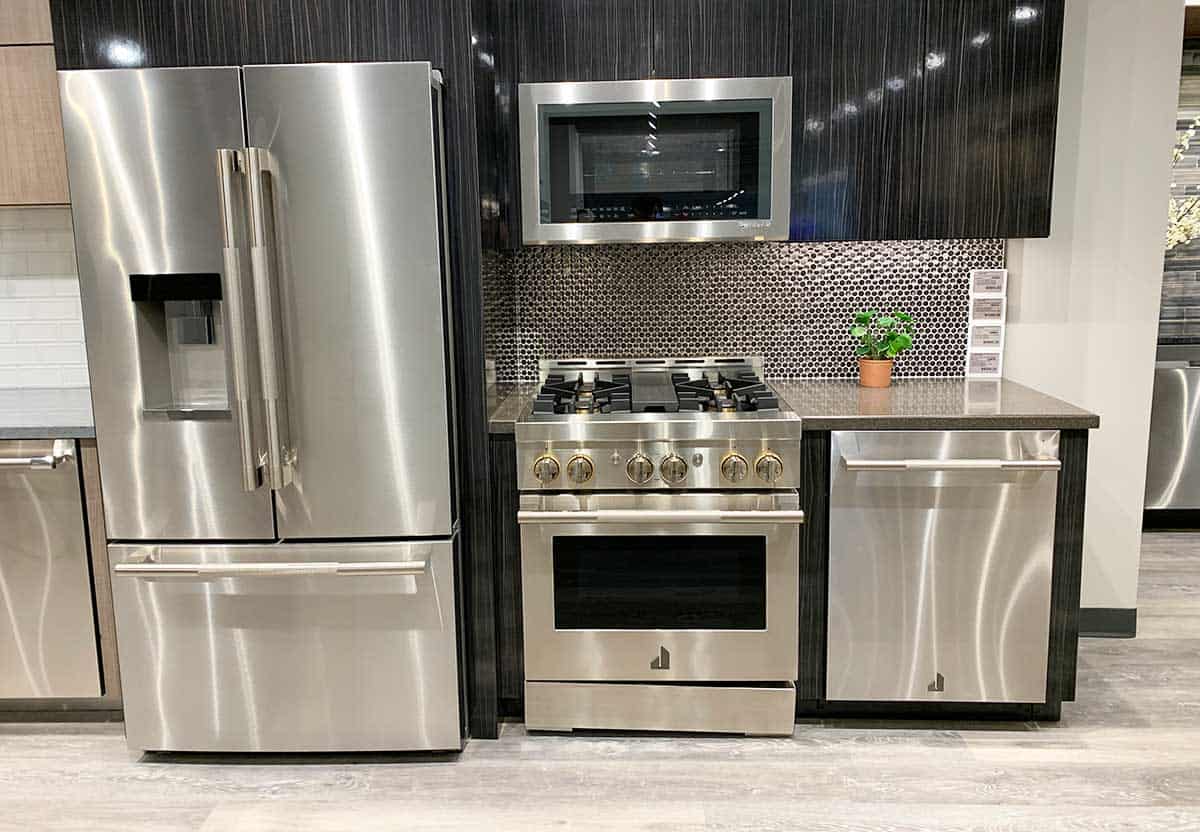 The best range you can buy is a professional dual-fuel 30-inch range, or so you have been told.
Dual fuel ranges are marketed as high output gas ranges with even temperatures of an electric oven.
In this article, you will learn about the best dual fuel 30-inch professional ranges, their prices, and their features.
This article will guide you through the best ranges and alternatives to consider. In the end, you will also see how professional dual fuel ranges compare to professional gas and induction ranges.
Let's get started.
What Is a Dual Fuel Range?
A dual fuel range has a gas rangetop and an electric oven. The benefit of cooking with a gas rangetop is high output burners and controllability. It's easy to see the flame increase on a gas cooking surface to achieve high heat cooking and a low flame for simmering.
However, you buy a dual fuel range for its electric oven. With an electric oven, you have better temperature control and cook your baked meals more evenly.
Benefits of Professional Dual Fuel Ranges:
Temperature Control With an Electric Oven: Electric ovens have more accurate temperature control than gas ovens.
Self-Cleaning: Most dual fuel ranges over self-cleaning, while many gas ranges do not offer self-cleaning such as Wolf, BlueStar, Capital, and Thermador Pro Harmony. These brands only offer self-cleaning in their dual fuel ranges.
Controls: In brands such as Wolf and Miele, the controls are more robust than the all-gas versions. Miele's range controls have automatic programs for every type of meat. It also adds steam assist for bread baking as well.
More Features: Thermador, Wolf, and Miele upgrade their dual fuel ranges with better features like self-cleaning, better output, steam functionality, or better controls than the all-gas versions.
Now let's look at the best dual fuel pro ranges.
Best 30-Inch Professional Dual Fuel Ranges for 2022
The following professional ranges are in order of most expensive to least expensive.
La Cornue Château 75 Pro Dual Fuel Range - $27,500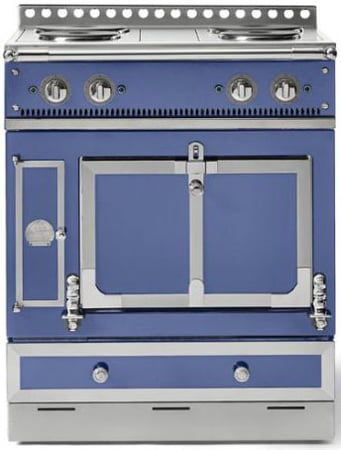 Burner Output: 49,000 total BTU output | Number of Burners: 4 | Convection Type: Natural Convection | Self-Cleaning: Yes| Smart Integration: No
Although La Cornue doesn't exactly qualify as a pro range in some configurations, it is the most unique appliance in the world. Every aspect of a La Cornue Château range is customizable with several different burner configurations.
You have 48 different colors and eight different trims to choose from. The finishes are well executed and beautiful, making La Cornue the best-looking appliance you can buy.
The La Cornue Château's electric oven uses natural convection and an arched top to maintain even temperature without fans.
Downsides to a La Cornue Château 75 Professional Dual Fuel Range
It is the best looking, but it is much more expensive than any other brand on this list.
Viking 30" Pro Dual Fuel Range VDR5304BSS - $8,829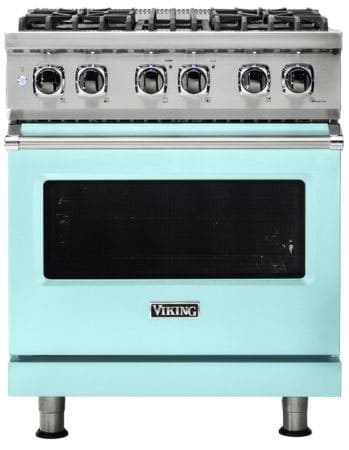 Burner Output: 63,500 total BTU output | Number of Burners: 4 | Convection Type: Single Convection Fan | Self-Cleaning: Yes | Smart Integration: No
Viking is an American brand, well known for their professional range. This range is similar to the others in terms of aesthetics and price. However, you can buy Viking in 17 different finishes.
Downsides to a Viking 30-Inch Professional Dual-Fuel Range
It has an average burner output and older single convection technology.
Viking doesn't have smart functionality yet. As smart functionality improves to be more intuitive, it will be a problem for the brand (just not now).
Many people will point to serve as an issue. However, Viking is now well managed, and I believe over their past issues. We haven't sold Viking for over a decade, so I recommend checking more recent reviews.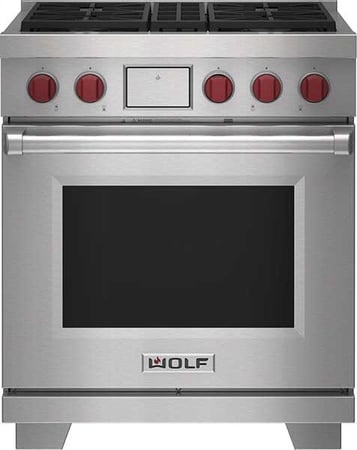 Burner Output: 62,200 total BTU output | Number of Burners: 4 | Convection Type: Dual VertiCross Convection | Self-Cleaning: Yes| Smart Integration: No
Wolf's professional dual fuel range is primarily new. The rangetop has stayed the same with a 20,000 BTU (British Thermal Unit), 18,000 BTU, 15,000 BTU, and 9200 BTU burners. All the burners can simmer at a consistent 500 BTU.
The controls and oven have changed dramatically and are like their wall oven controls. Instead of a clock, you now have a touch screen.
The Wolf Gourmet, a guided cooking program, will calculate time and temperature based on your food selections. Wolf will even show you the best rack position to use.
Instead of fans, the Wolf "VertiCross" convection system employs blowers for more even heat. The Wolf oven size is now the largest at five cubic feet.
Wolf incorporates Wi-Fi in dual fuel wall ovens as well.
Downsides to a Wolf 30-inch Dual Fuel Professional Range
Wolf improved every facet of the oven. However, could they have put steam functionality in their ranges to match Miele's pro ranges?
Lastly, availability may be challenging next year in 2023.
Miele 30" Pro Dual Fuel Range HR1924DF - $7,499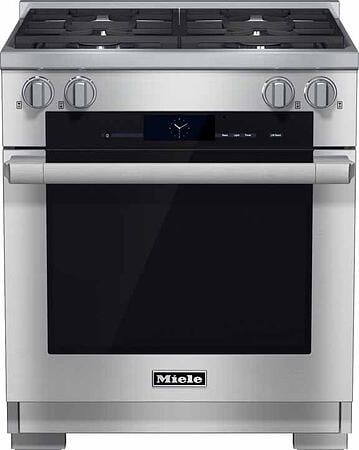 Burner Output: 69,000 total BTU output | Number of Burners: 4 | Convection Type: Twin Convection | Self-Cleaning: Yes| Smart Integration: Yes
Miele's range is loaded with the most features. The MasterChef controls are menu-driven and straightforward to use with 100 automatic recipes.
You pick the food you're cooking, how you want it cooked, and the oven calculates the time and temperature for you. It is effortless.
Miele has steam assist with up to 3 bursts of steam. You also have 16 automatic programs just for bread. All you have to do is push the button to make the perfect Sour Dough bread.
Miele is also the most cleanable range on this list. You can leave the oven racks in the oven during the self-cleaning mode, and the racks are dishwasher safe.
Downsides to a Miele 30-inch Dual Fuel Professional Range
What once was the most technology-driven product now lacks Wi-Fi and smart technology. It isn't a problem now, but Wolf should start investing in-home connectivity.
The burners are good but no longer the most powerful at three 19,000 BTU and one 12,000 BTU burners.
Burner Output: 66,000 total BTU output | Number of Burners: 4 | Convection Type: Single Convection Fan | Self-Cleaning: Yes | Smart Integration: Yes
Thermador recently changed their range and style in 2019. Their HomeConnect App is excellent and works well.
Their Star Burner is innovative. It is raised from the cooktop surface for easier cleaning than a traditional sealed burner. Thermador has the lowest simmer at 100 degrees achieved by cycling the flame on and off.
Like JennAir, Thermador has their One-Two-Free program where you can receive a free dishwasher with other qualifying purchases.
Downsides to a Thermador 30-inch Dual Fuel Pro Range
Their improvements from two years ago were lower BTU output from 18,000 BTU to 15,000 BTU on the back burners. They also did not upgrade their single convection oven.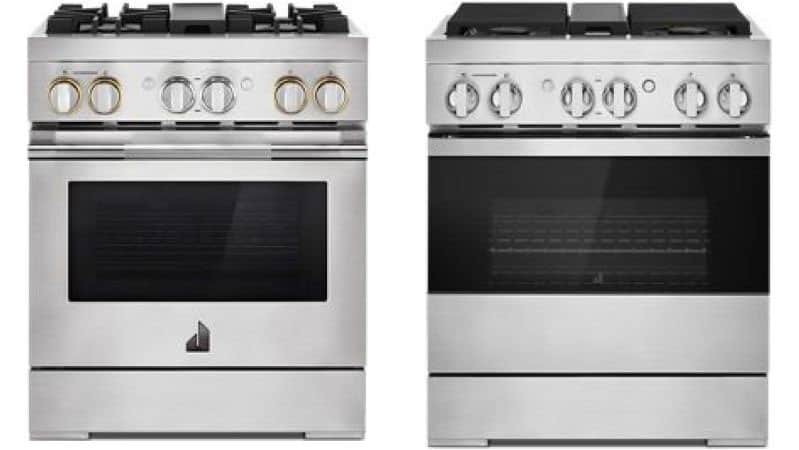 Burner Output: 67,000 total BTU output | Number of Burners: 4 | Convection Type: Dual Fan True Convection | Self-Cleaning: Yes | Smart Integration: Yes
JennAir is a premium brand owned by the Whirlpool Corporation. Their newer pro range is stunning in either the Rise or Noir series.
With a JennAir professional dual fuel range, you have a robust Wi-Fi app controlling time, temperature, and even tie-ins with their cooking app for recipes. The oven is dual convection for precise temperatures.
My Creations is an interesting setting that allows you to combine up to three different cooking modes, and it will remember your favorite recipes. In addition, the JennAir Culinary Center helps you create the perfect meal by selecting the right cooking cycle based on your preferences. It will also show you pictures of different foods, pan types, and doneness levels.
You have a $1,399 rebate with this range, so it's the least expensive on this list.
Downsides to a JennAir 30-Inch Professional Dual Fuel Range
Since being the year's best product back in 2018, JennAir has been the least available pro range on the market. It's almost impossible to order a complete JennAir kitchen without a significant wait time.
Their App offers a glimpse of the future with all the functionality, but it has not performed well due to connectivity issues. Most of the smart Apps have higher ratings.
Which 30-Inch Professional Dual Fuel Range Should You Buy?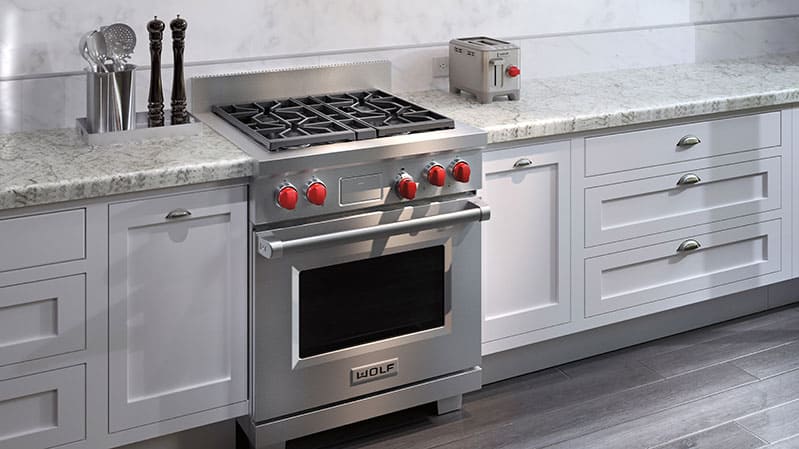 Wolf 30-Inch Professional Dual Fuel Range
When comparing ranges feature-by-feature, many of them are similar. All have true convection, a self-cleaning oven, high BTU output burners, at least a 4-5 cubic feet oven capacity, and glide racks.
Still, all of these ranges distinguish themselves in different ways. Let's look at the best range for each of your buying factors. Reliability is an excellent place to start.
Most Reliable: Wolf 30" Pro Dual Fuel Range DF304
Wolf was 5% better than the average based on over 40,000 service calls. However, dual fuel ranges need more service than regular gas ranges.
Best for Simmering: Thermador 30-inch Pro Dual Fuel Range PRD304WHU
Thermador has 2 Extra-Low simmers at 100 BTU. Wolf will have four 500 BTU consistent simmers.
Best Value: Thermador 30-inch Pro Dual Fuel Range PRD304WHU
Thermador is $6299 and includes $1399 towards a second appliance.
Best for Wi-Fi and Home Connectivity: Wolf 30" Pro Dual Fuel Range DF304
JennAir has more functionality, but Thermador is more highly rated. However, Wolf includes their Wolf Gourmet system for calculating time, temperature, and even rack position.
Best for Baking: Wolf 30" Pro Dual Fuel Range DF304
JennAir and Miele have twin convection, but Wolf's new system will be better with blowers instead of fans.
Best for Baking Bread: Miele 30" Pro Dual Fuel Range HR1924DF
Miele is the only company with Steam Assist to bake bread.
Best for Cleanability: Miele 30" Pro Dual Fuel Range HR1924DF
You can leave Miele's racks in the oven while self-cleaning, and the top grates are dishwasher safe.
Best for Custom Finishes: Viking 30" Pro Dual Fuel Range VDR5304BSS and La Cornue Château 75
Viking and La Cornue are the only dual fuel ranges with a custom finish on this list. In all gas, BlueStar offers 1000 different colors. La Cornue is incredibly beautiful but more expensive.
Best 30-Inch Professional Dual Fuel Ranges: Key Takeaways
Now, you need to match these to your particular cooking style.
Will you use Wi-Fi? Do you want more automatic controls
What is important to you? Is it power, simmer, or the ability to bake?
You also should assess whether all gas or induction might be better for the way you cook.
Regardless of what you buy, make sure you know who can fix a professional range in your area. Technical support will be a bigger issue with these more advanced features.
Other Range Options to Consider
Usually, I would end the article right here, but I have one last thought for you.
Do you need a dual fuel professional range?
There was a time when you needed to buy a pro range for output. Now you can buy all gas, induction, or a high-end slide-in range. Just remember, the JennAir and Thermador dual fuel pro ranges have $1,399 rebates, so the price is about the same.
Let's briefly look at a few of your options.
Professional Gas Ranges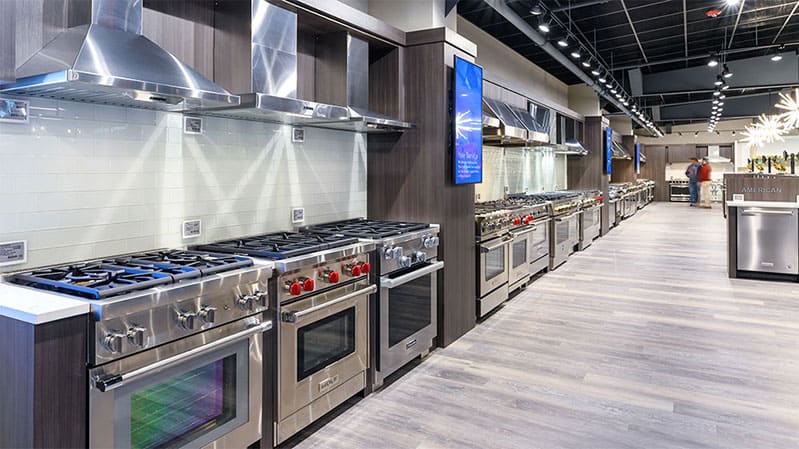 Professional Gas Ranges at Yale Appliance in Hanover
All gas is better for roasting, especially broiling. You will learn the differences between dual fuel and all gas ranges. All gas is still a legitimate option you should consider.
Benefits of Gas
Roasting: Gas is better for roasting meats.
Broiling: The broiler is far better in gas, especially infrared. You have faster, more concentrated heat for broiling. Infrared is the same as a sear element in a pro grill. Miele has the hottest at 23,000 BTU, but most are still hot 15-20,000 BTU range.
Price: You will spend $1,000 - $2,000 less than a dual fuel
Read More: Best 30-Inch Professional Gas Ranges
Induction Ranges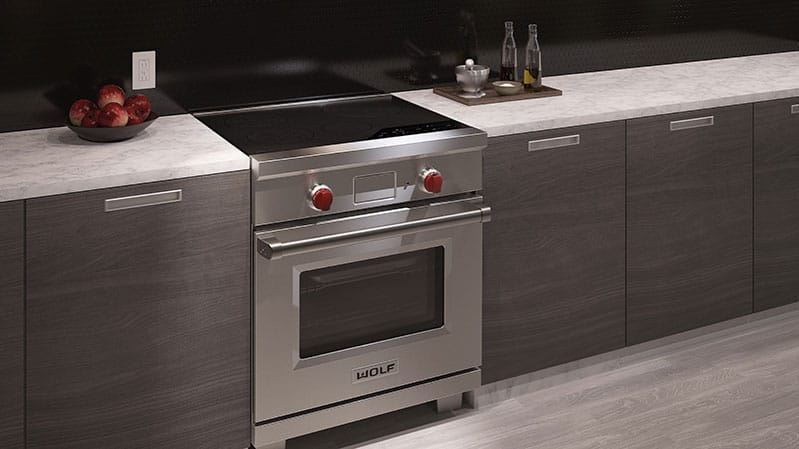 Wolf 30-Inch Induction Range
If you like the power of gas, then you should also consider induction. Induction is faster to boil with an infinite simmer. If you want an electric oven, then you need to consider induction.
For Massachusetts residents, you should pay close attention to induction. It allows you to comply with our Make-Up Air laws of 400 CFM or less good than gas.
Benefits of Induction
Induction is faster than professional gas stovetops.
Simmering is instant: You can reach lower temperatures than gas with an induction stovetop.
Child-safe: Induction is magnetic. It can only activate with contact from a metal pan. The glass does not heat up and is much cooler. There is residual heat from the pan, but the chance of being burned is far less in induction.
Make-Up Air acceptable: For Massachusetts residents, you can comply with Make-Up Air regulations of 400 CFM with induction due to its efficiency (90% vs. 60% for gas) and lack of heat emission. You cannot exhaust that heat emission with a pro-gas stove at 400. If you don't know what I am talking about (and why should you), download our Ventilation Buying Guide to explain what state inspectors now cite as code violations.
Easier to clean: The glass for induction does not heat like an electric or a gas burner with only residual heat from the pan. The spills do not harden with a cooler surface and are much easier to clean.
Induction Drawbacks
Induction can use 50 Amps: Dual fuel ranges are typically only 30. It may require changing the service. In some places in Boston with limited total amperage, you do not want an induction stove. Then again, you shouldn't buy dual fuel either with limited amps.
The increased amperage can be an issue with power surges: It's still covered under warranty, but the repair is not easy.
You won't see a flame-like you would go with a gas rangetop: Samsung does give the Blue LEDs simulating flame, but other brands have surface indicator lights. Many brands share power amongst the burners, so cooking on all four burners could be an issue.
Poor resale: For builders/remodelers, gas is better than induction for resale.
You do have the best of both worlds with induction. It's the best cooking surface and also has an electric oven. However, it requires more power, more service and lacks the curb appeal of gas.
Read More: Best Induction Slide-In Ranges
Slide-In Dual Fuel Ranges
Slide-in dual fuel ranges now have good output and other features like controls in professional ranges (except Miele).
Café Appliances 30-Inch Dual Fuel Slide-In Range C2S950P2MS1 - $3,899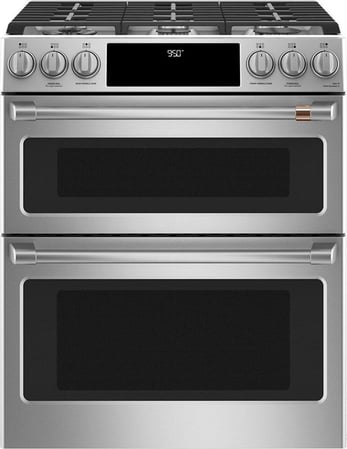 This slide-in range has six burners. You can also buy it with five burners plus a griddle. It is unique with two separate ovens. It is available in different finishes and different trim packages.
Features:
Double Oven
Convection
Six Burners with the following BTU Output:
21,000
15,000
12,000
9,500
9,500
5,000
JennAir 30-Inch Dual Fuel Slide-In Range JDS1450FS - $3,199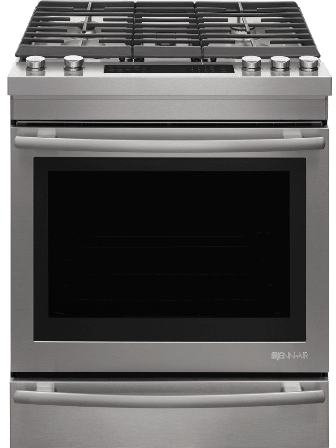 It's larger than any other oven. It also has a baking drawer at the bottom and three high-output burners.
Features:
7.1 Cubic Foot Total Baking Capacity
True Convection
5 Burners with the following BTU Output:
19,000
15,000
15,000
9,200
8,000
These are two good brands with excellent features like larger ovens and other features not available in a professional range.
Still need a professional dual fuel range?
Additional Resources
Download the Yale Pro Range Buying Guide with features, specs and inside buying tips to all the major brands. Over 900,000 people have read a Yale Guide.
Related Articles:
Why Should You Trust Us?
It seems that every appliance review has nothing but glowing comments about almost every product, yet you read customer reviews and they are almost universally bad.
We are here to fill in the disconnect. We'll give you the best features, and the drawbacks as well, including reliability based on over 37,000 calls performed by our service team just last year. Our goal is to give you ALL the information so you know what's right for you.
Please consider subscribing or adding to the conversation in the comments below. We appreciate you stopping by.
Steve Sheinkopf is the third-generation CEO of Yale Appliance and a lifelong Bostonian. He has over 38 years of experience in the appliance industry, and he is a trusted source of information for consumers on how to buy and repair appliances.

Steve has also been featured in numerous publications, including the New York Times, Consumer Reports, The Boston Globe, Bloomberg Radio, the New York Post, The Wall Street Journal, and Entrepreneur, for his knowledge of how to buy appliances and appliance repair.

Steve is passionate about helping consumers find the best appliances for their needs, and he is always happy to answer questions and provide advice. He is a valuable resource for consumers who are looking for information on appliance buying, repair, and maintenance.

Despite being the worst goalie in history, Steve is a fan of the Bruins and college hockey, loves to read, and is a Peloton biker. The love of his life is his daughter, Sophie.
A Note About Pricing
Pricing on this blog is for reference only and may include time sensitive rebates. We make every attempt to provide accurate pricing at time of publishing. Please call the stores for most accurate price.