Best 36-Inch Dual Fuel Professional Ranges for 2022
January 28th, 2022 | 12 min. read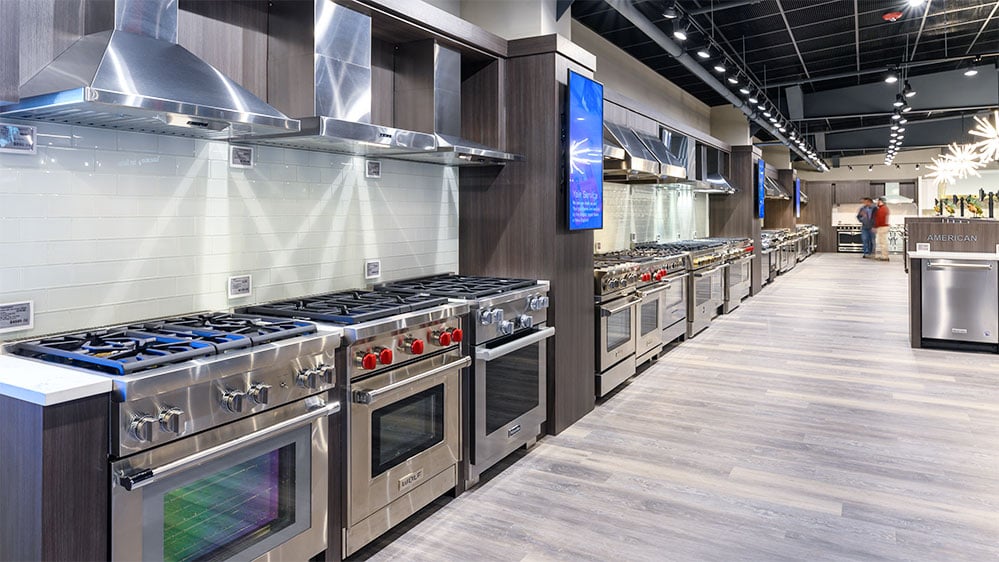 Our Top Picks for 2022:
It's incredibly hard to buy the right range.
Here is why: You walk into an appliance store or online site, and you are corralled into what the salesperson makes the most commission on, not what's best for you.
The truth is there is no one best range for every feature. Yet, you can undoubtedly buy a range based on your cooking style.
In this article, you will learn the best features and problems from the best brands like Wolf, Thermador, Miele, and JennAir.
Since our last update, you will see a new professional range from Wolf, Fisher & Paykel, and Signature Kitchen Suite (SKS).
I also added a range you most likely won't consider based on its price tag.
We'll also share the most reliable professional range brands to consider based on over 40,000 service calls our service department logged last year. In the last three years, we've logged more than 120,000 service calls.
First, let's talk about what is not a professional (pro) range. Many companies claim to be pro but miss the mark for output, capacity, and features.
You don't want to buy one of these expecting the performance of a pro range.
Then we will briefly compare gas and dual fuel, so you can narrow down your choices by fuel type.
Let's get started.
What's the Difference Between Dual Fuel and All-Gas Professional Ranges?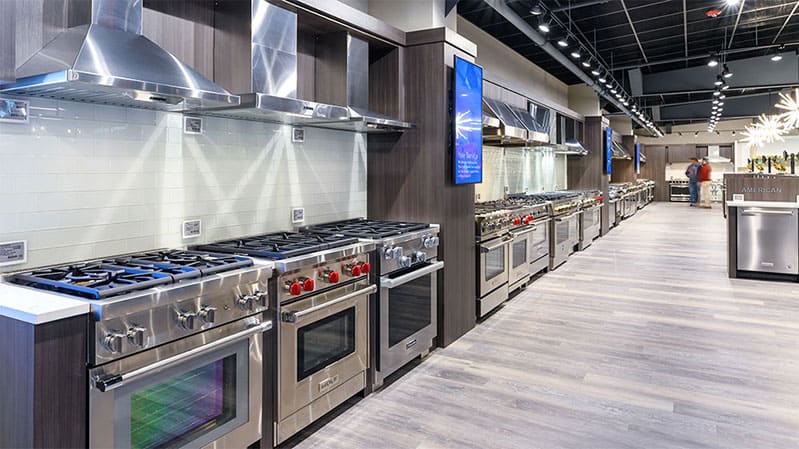 Professional Gas and Dual Fuel Ranges at Yale Appliance in Hanover
When you ask an appliance salesperson which is better, they almost always say dual fuel is better than all gas.
Yet, you don't have a clear picture of why for a $2,000-$5,000 upcharge.
Dual fuel ranges have an electric oven. Electric oven systems are better for baking. Also, self-cleaning modes are standard for electric. Only a few all-gas models offer self-cleaning.
Gas ovens, however, are better roasting and broiling. Infrared broilers are offered in gas models as well. Of course, if you like to broil, you can buy a professional range with a grill for a similar effect.
What complicates choosing between dual-fuel and all gas ranges is Wolf, Miele, SKS, and Thermador offer feature upgrades in their dual fuel ranges.
It has nothing to do with gas vs. electric. If you like baking and added features, then dual fuel may be better. If you like to broil or roast more, consider all gas.
Read More: Best 36-Inch Professional Gas Ranges
What Is Not a Professional Range
Verona, Bertazzoni, Ilve, Forte, and Fisher & Paykel all have 36-inch ranges marketed as "pro-style types." They do not have the BTU (British Thermal Unit) output or feature set to be considered professional ranges.
Let's look at this Bertazzoni 36-inch pro dual fuel range.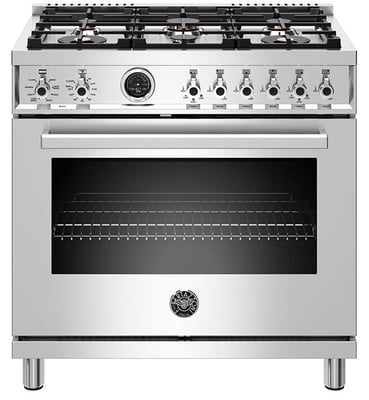 It does have two high output burners at 19,000 BTU but drops dramatically with 10,600, 5,900, and 3,500 BTU burners.
You have two high output burners and four simmer burners with a pro-style range like Bertazzoni's.
Pro-style ranges are limited in functionality, output, or having the option of a grill or griddle on your stovetop. Most have basic clock and timer modes. The ovens have smaller sizes as well. They are more like a 30-inch oven with two extra burners and fillers to look like a 36-inch oven.
Buy a pro-style range if you care more about style and an affordable price.
Let's look at some dual fuel ranges.
Best 36-Inch Dual Fuel Professional Ranges for 2022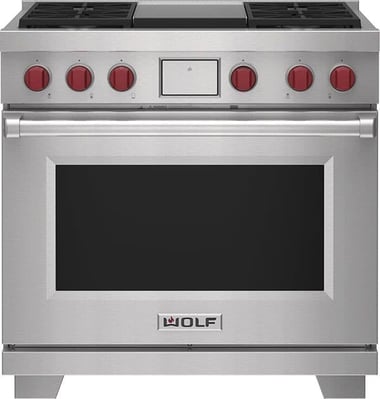 Wolf was independent until being purchased by Sub-Zero in the late 1990s. Known for their stylish looks, red knobs, and twin convection-powered oven, Wolf, is an excellent baking range. They also have a rebate program with Sub-Zero and other Wolf appliances.
Wolf is mostly all-new with new controls, an oven, and Wi-Fi functionality. Two burners can reach up to 20,000 BTUs (British Thermal Unit). Their grill and griddle are both infrared gas.
Infrared is a more intense direct heat than regular gas for grills. It's easier to clean because it evaporates the grease drippings as well.
The oven has changed to be more like their M series wall oven in terms of functionality. They moved from dual convection to their VertiCross blower convection. Blowers deliver more air than fans. You also have more capacity in the back of the range without fans.
Also, you have their Wolf Gourmet settings with preprogrammed selections for foods. You input the food, weight, and how you like it cooked. The range calculates time, temperature, and even rack position.
Gone are the clock and timers. Instead, you have a brand-new touch screen. Wolf will finally have Wi-Fi functionality to be operated remotely through an app on your phone. The app controls Sub-Zero and Cove dishwashers as well.
Wolf Dual Fuel Range Problems
Hard to know of any issues as Wolf's dual fuel range is new. Availability is a concern. Hopefully, their Wi-Fi will be better than others. The output is good, but not the best.
Thermador, a division of the German Bosch company, is known for their cooking appliances. Their professional ranges feature the star-shaped burner, the lowest simmer, and Wi-Fi. They offer two different ranges, the Thermador Pro Harmony, and the Pro Grand ranges.
The Pro Grand has a clock, one higher output burner at 22,000, and a proof mode in the oven. The larger oven is due to depth. This series is available with an induction burner as well.
The Pro Harmony is less expensive and more popular because its 24-inch depth is in line with your cabinets and doesn't protrude into your kitchen.
Thermador has a decent all-around burner. The Thermador Star Burner tops out at 18,000 BTU in the Harmony and 22,000 in the Pro Grand. Two burners are capable of extra-low simmering (perfect for soups and sauces). The raised pedestal style also offers easier cleanup.
Wi-Fi allows you to start, pause, and abort oven programs remotely via the Home Connect app on a mobile device.
Thermador has a rebate program with free dishwashers and hoods with qualifying purchases.
Thermador Dual Fuel Ranges Problems
The griddle and grill are electric. Do you own an electric grill outside? You probably don't because gas has greater output and is more easily controlled.
Additionally, Thermador lowered half of the burners from 18,000 BTU to 15,000 BTU, and the oven is only single convection.
Miele Dual Fuel Pro Range HR 1936-2 G - $10,999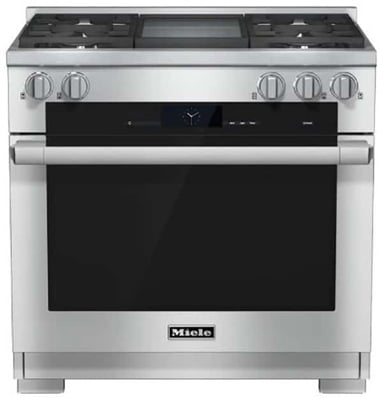 "Forever Better" was inscribed on the Miele founders' first products. Miele has incredible MasterChef technology. You set the food and your specified doneness, and the range calculates the time and temperature.
Miele's grill and griddle are infrared with better output than Wolf.
You also have steam functionality (requires a water line), great for baking bread. In fact, you have 16 automatic programs just for several types of bread.
It's a cleanable range, and both the grates and burner caps are dishwasher safe. You can self-clean the racks as well.
Miele has a combination of high output and lower output burners. Three of the burners are 19,500 BTU. The other half are two burners at 13,600 BTU and one burner at 12,500 BTU.
Miele will offer 10% rebates with the purchase of other Miele products.
Miele Dual Fuel Range Problems
The output is a bit light versus their competition with three professional burners (high output burners) and the other three with regular burner output.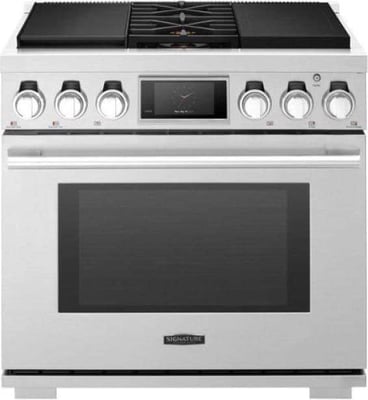 Signature Kitchen Suite (SKS) has an interesting range with some unique features. Sous vide or precision broiling in a bag is an SKS exclusive.
With the combination of induction, sous vide, and professional burners SKS has the only pro range compatible with Massachusetts's Make-Up Air requirements. You can vent this range at 400 CFM (Cubic Feet per Minute) without running a return back into your home.
They also offer four burners with induction and four burners with a chromium griddle. The burners are 23 and 15,000 BTU with 118 and 15,000 BTU on induction and sous vide.
At 6.3 cubic feet, SKS is tied with Wolf as the largest oven, and it has steam assist or combi-steam capability (requiring a water line). You can cook a meal in steam exclusively or with bursts of steam in a combination mode.
SKS Dual Fuel Range Problems
You can't buy a grill as part of the stovetop. It seems odd that they focused on sous vide cooking without offering a grill. Their Wi-Fi experience is simply basic.
JennAir Dual Fuel Pro Range JDRP436HL - $7,999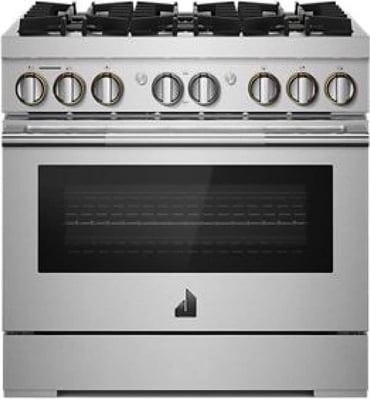 JennAir was well known for downdraft ranges and cooktops. Their parent company, Whirlpool, finally invested 300 million dollars in the production of cooking appliances, specifically on JennAir's wall ovens and professional ranges, back in 2007.
JennAir's new range is laden with a serious amount of technology and connectivity, along with some excellent features.
They offer an easy-to-clean chromium-infused griddle, infrared grill, and 20,000 BTU max burner output.
JennAir now has two new different series, the Rise and Noir. Both series are beautifully styled.
The range is Wi-Fi enabled and allows you to cook with several compatible cooking apps. The updated JennAir app allows for voice command and an enhanced culinary center showing you the doneness level before cooking.
JennAir Dual Fuel Ranges Problems
Due to limited availability, you have a better chance of winning at Keno than outfitting a whole JennAir kitchen.
Their Wi-Fi experience is robust yet rated poorly in the App Store. Somehow, the connectivity has to match the functionality.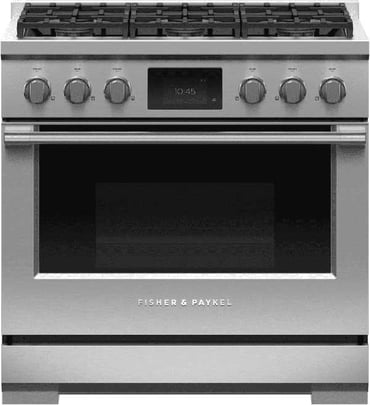 The Fisher & Paykel professional dual fuel range is designed for one purpose: Output.
They don't offer a grill or griddle - only six gas burners. Three of their burners reach up to 23,500 BTU, and the three can reach up to 18,500 BTU for a total of 121,000 BTUs.
That's good output.
Fisher & Paykel Dual Fuel Range Problems
It's powerful, but not for you if you like to grill or griddle. The oven is 1.5 cubic smaller than the Wolf and SKS at 4.8 cubic feet. It's only single convection as well.
La Cornue Le Château 90 Dual Fuel Pro Range – Starting at $40,000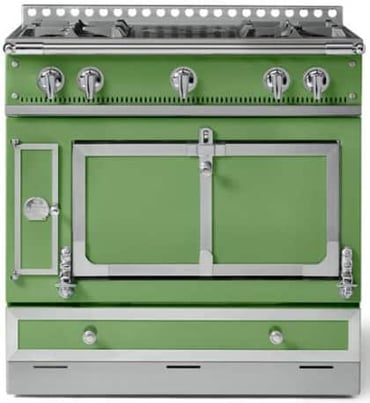 If you equate the best professional range as the best range, then La Cornue could be a consideration, except for one drawback: its price tag.
La Cornue is French-made but American-owned. You can buy this range any way you want. The stovetop is customizable to fit a grill, griddle, induction, or all gas burners.
The oven is exceptional with natural convection. The air is introduced at the bottom of the range and keeps a consistent temperature without fans. La Cornue's arched oven top better distributes the air.
You also have 48 colors and eight trims, so the range is like an heirloom or furniture, albeit an expensive piece of furniture.
La Cornue Dual Fuel Range Problems
You also have no controls of any kind with La Cornue. The range is over $40,000 plus shipping from France.
Which Dual Fuel Pro Range Brands Are the Most Reliable?
The average appliance service rate is 9.5%, while professional dual fuel ranges need service 19.9% of the time, based on over 40,000 service calls logged last year.
Premium products are more likely to need service as a general rule. A product with more technology often requires repair services. However, it's not always a repair that is needed but education and adjustment.
Read More: Most Reliable Professional Ranges
Which 36-Inch Dual Fuel Pro Range Is the Best?
Best Dual Fuel Range for BTU Output: Fisher & Paykel
Fisher & Paykel is number one with 23,500 BTU and 18,500 BTU burners.
SKS has 23,000 BTU burners as well. JennAir and Wolf top out at 20,000 BTU. Miele comes in at 19,500 BTU and Thermador at 18,000 BTU with the Pro Grand at 22,000 BTU.
All are extremely powerful. At one time, 15,000 was considered powerful. Then again, you may like induction better. It's faster with a low simmer offered on Thermador and SKS.
Best Dual Fuel Ranges for Simmer Performance: Thermador, SKS, and Wolf
If you're looking for precision in simmering, Thermador and SKS are the lowest with achievable lows of 100°. It is, however, an intermittent simmer or, in other words, an on/off simmer.
Wolf does have a great consistent simmer at a temperature of 375° on the smaller burner.
Best Dual Fuel Range for Grill & Griddle: Wolf, JennAir, and Miele
Wolf, JennAir, and Miele have an infrared grill and griddle. For ease of cleanup, the chromium-infused JennAir griddle is the best.
Best Dual Fuel Range Oven: Wolf and La Cornue
Wolf's oven uses the blower convection system, while La Cornue has natural convection.
Best Smart Dual Fuel Range: Thermador
JennAir, Wolf, and Thermador have connected ranges offering remote diagnostics, preheating, and remote monitoring. Both have apps with recipe tie-ins. JennAir is more robust, but Thermador's HomeConnect App is more reliable. Wolf is too new to be considered the best.
Best Dual Fuel Range for Cleanability: Miele
Miele has dishwasher-safe caps and grates. You can also leave the racks for self-cleaning.
Best Dual Fuel Range Oven Controls: Miele and Wolf
This one is a tie. Miele does not have Wi-Fi. However, their MasterChef controls are still the most intuitive. You just program the food and how you want it cooked. The range calculates time and temperature. The Steam Assist feature will also add another dimension to your recipes and overall cooking.
Wolf does have Wi-Fi, just not steam. They do have Wolf Gourmet. It's similar to the MasterChef but also lets you know the right rack position to place your cooking dish.
Best Dual Fuel Range for Make-Up Air and Sous Vide: SKS
The SKS is an intelligent alternative. You have plenty of power with induction and pro plus the Sous Vide functionality.
Best Dual Fuel Range for Customization and Colorful Finishes: La Cornue
This one is easy. The only company on this list offering color is La Cornue, with 48 colors and eight trims.
BlueStar offers 1000 colors and ten trims but is all gas only. Viking has 17 in dual fuel and all gas. We don't sell Viking appliances.
Rebates & Promotions
JennAir offers a $1,000 credit towards a qualifying second JennAir piece with a pro-range purchase.
Thermador offers a free dishwasher with the purchase of their range. (Or you can receive a credit of $1,399 towards the Thermador dishwasher of your choice).
Miele and Wolf both offer rebates as well. Miele's are typically geared towards full kitchen purchases, while Wolf has individual and package rebates at various times.
Which 36-Inch Dual Fuel Pro Range Should You Buy?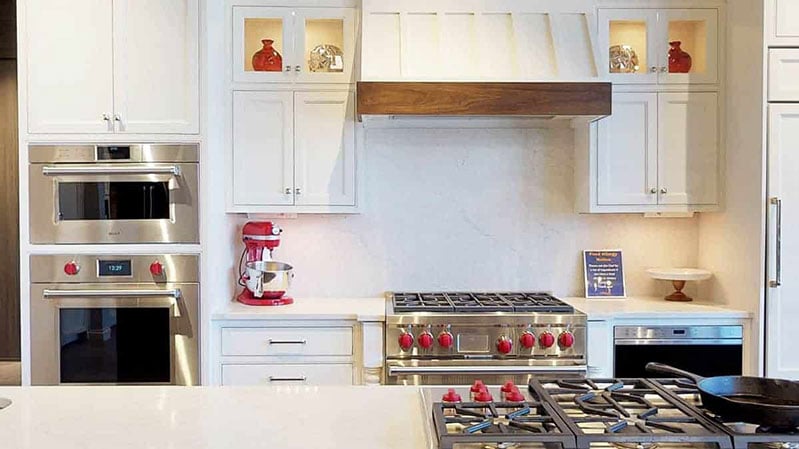 Wolf Dual Fuel Pro Range at Yale Appliance in Boston
It depends on how you cook. You have to assess how you use your range.
Do you use the oven more than the cooktop or vice versa?
Do you want to add a grill or griddle?
Do you want to have higher output or simmering capabilities?
Do you like more or fewer controls and smart functionality?
Wolf is a solid all-around performer with great baking capability.
Miele has the most cooking functionality with steam capability. It even has 16 automatic recipes for different types of bread.
JennAir is a beautiful range and another decent all-around range.
Thermador has excellent burners, especially with the simmer. They probably have the best rebate program, as well.
SKS has some unique combinations with induction and Sous Vide, especially if you cant vent past 400 CFM.
Fisher & Paykel has an excellent output and should be considered if you use the top more.
The big unknown is Wolf. It was the best all-around range before the improvement. Their Gourmet series will improve it, as will the new convection system. But do you wait for it to become available?
Reliability, especially education and minor service, is a factor when buying any range. You should consider the company with the best service in your area.
Best Dual Fuel Pro Range Alternative: 36-Inch Induction Ranges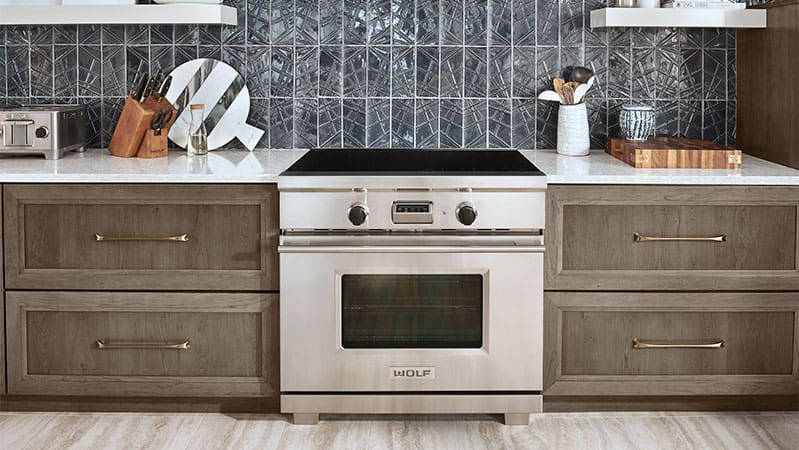 Wolf 36-Inch Induction Pro Range
Consider an induction range before you think about a dual fuel or all gas pro range. Then again, you may have to consider it sooner as New York just followed Cambridge to ban gas installations in high rises.
Gas can lead to issues with your health if you do not vent properly. Most high rises don't vent at all for LEED certifications. It's also cheaper than cutting holes. For everyone else, turn your vent on while you cook.
Induction is the fastest to boil with the best simmer. It's hotter than a BlueStar at 25,000 BTU and better than the Thermador 100 BTU simmer.
It's simple to clean and requires less venting than a gas range. Mass Residents: You can even bypass Make-Up Air regs with a 400 CFM vent depending on how you cook.
Lastly, induction is the most child-safe because the magnetic burners need to sense metal to activate.
Why You Shouldn't Buy an Induction Range
Induction doesn't have a grill or griddle. It also requires more amps than gas. In some areas of Boston, that could be an issue.
Pro Ranges
FAQs
Answers to the most commonly asked questions about pro ranges.
What's the difference between a gas range and a professional range?
Are dual fuel ranges better than gas ranges?
How do I choose a dual-fuel range?
Read More: How to Buy a Residential Professional Gas Range
Additional Resources
If you need any more information on professional cooking products, read the Yale Professional Range Buying Guide with BTU output and features of every professional cooking product on the market. Well over 1 million people have read a Yale Guide.
Related Articles
Why Should You Trust Us?
It seems that every appliance review has nothing but glowing comments about almost every product, yet you read customer reviews and they are almost universally bad.
We are here to fill in the disconnect. We'll give you the best features, and the drawbacks as well, including reliability based on over 37,000 calls performed by our service team just last year. Our goal is to give you ALL the information so you know what's right for you.
Please consider subscribing or adding to the conversation in the comments below. We appreciate you stopping by.
Steve Sheinkopf is the third-generation CEO of Yale Appliance and a lifelong Bostonian. He has over 38 years of experience in the appliance industry, and he is a trusted source of information for consumers on how to buy and repair appliances.

Steve has also been featured in numerous publications, including the New York Times, Consumer Reports, The Boston Globe, Bloomberg Radio, the New York Post, The Wall Street Journal, and Entrepreneur, for his knowledge of how to buy appliances and appliance repair.

Steve is passionate about helping consumers find the best appliances for their needs, and he is always happy to answer questions and provide advice. He is a valuable resource for consumers who are looking for information on appliance buying, repair, and maintenance.

Despite being the worst goalie in history, Steve is a fan of the Bruins and college hockey, loves to read, and is a Peloton biker. The love of his life is his daughter, Sophie.
A Note About Pricing
Pricing on this blog is for reference only and may include time sensitive rebates. We make every attempt to provide accurate pricing at time of publishing. Please call the stores for most accurate price.