The Best 36-Inch Dual Fuel Professional Ranges (Reviews / Ratings / Prices)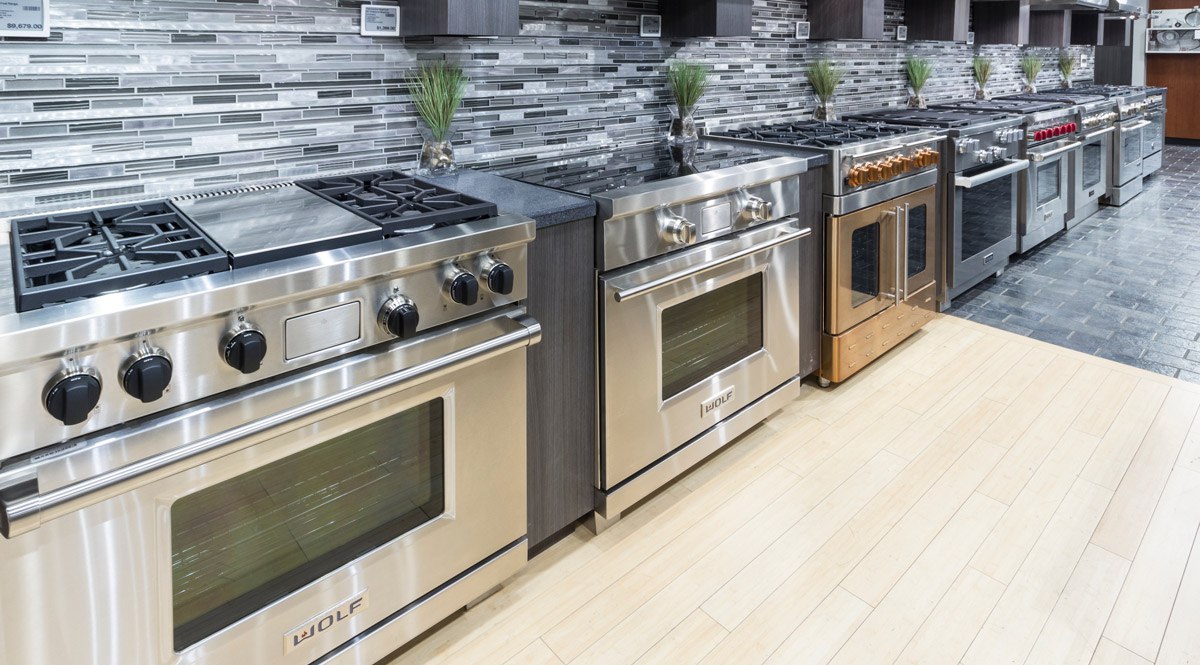 Your choice for a 36-inch dual fuel professional (pro) range has just become more complicated.
Before this year, pro ranges were either simple and powerful but with no features like Capital, BlueStar, and Viking.
You can also buy well featured and somewhat less powerful pro ranges like Thermador, Miele, Wolf, and Jenn-Air.
Now there is Wi-Fi, adding an exciting new twist to your choice as well. Two major manufacturers, Thermador and Jenn-Air, have invested in Wi-Fi along with Samsung and their subsidiary, Dacor.
So, in this article, we will compare the most popular 36-inch dual fuel ranges, features, and reliability based on 34,687 service calls.
First, as an FYI, Verona, Bertazzoni, Ilve, and Fisher & Paykel all have 36-inch ranges, but they do not have the output or feature set to be considered pro ranges.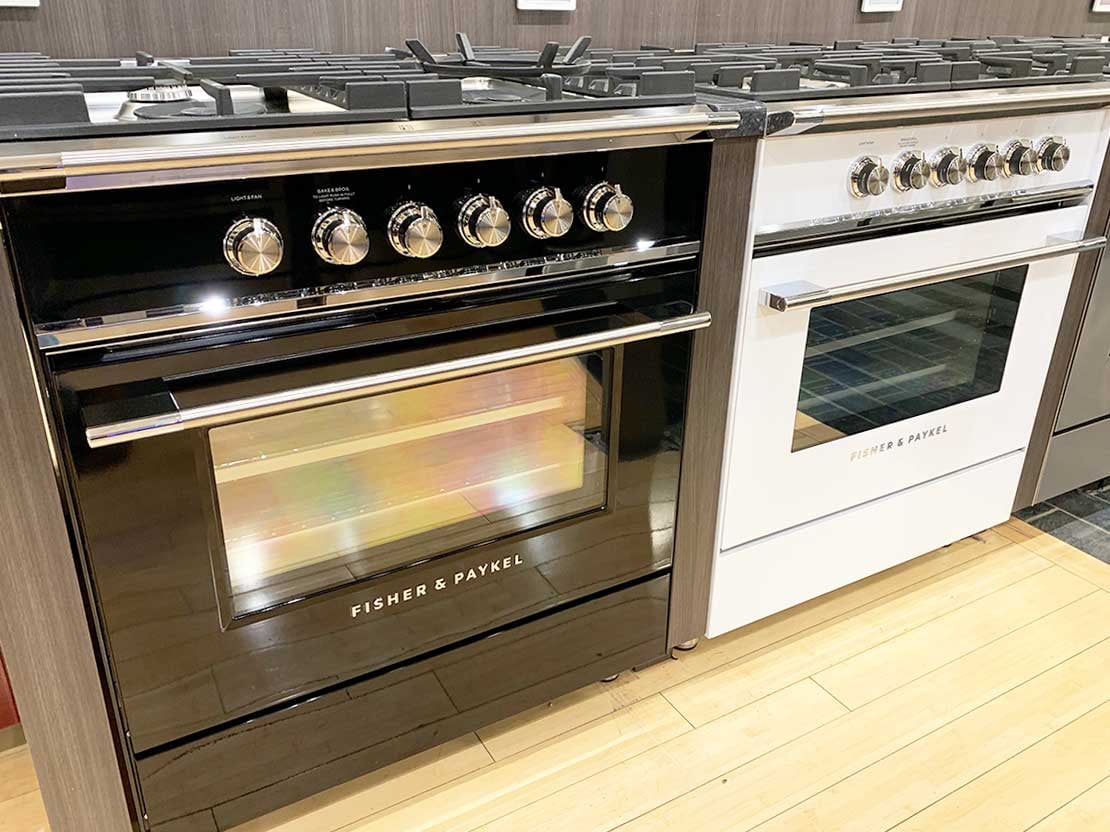 Fisher & Paykel 36-Inch Dual Fuel Ranges At Yale Appliance + Lighting
Second, you should not buy dual fuel because you think it's way better than all gas. In some cases, the reverse is true.
Let's start there.
What's The Difference Between Dual Fuel And All-Gas Professional Ranges?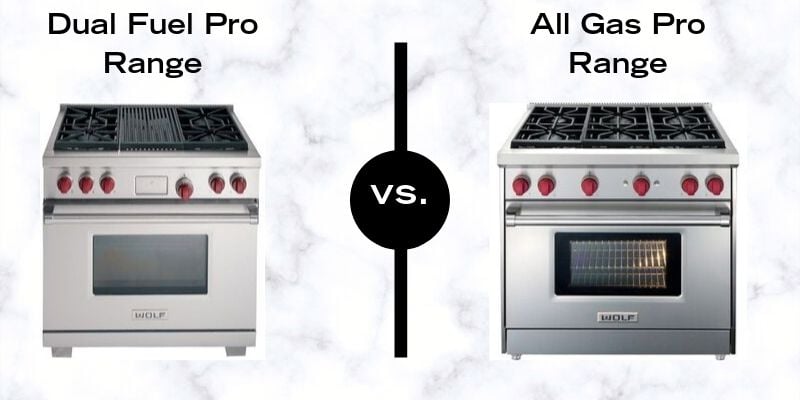 Dual fuel is a gas stovetop over an electric oven. It is a dryer, more precise heat than a gas oven.
Every dual fuel oven is also self-cleaning, whereas only Jenn-Air, Miele, and Thermador in the Harmony series are self-cleaning in all gas.
Some like Wolf and Miele have better output or added functionality and features.
Wolf has better output, twin convection, and light up knobs in their dual fuel range versus single convection non-self-cleaning in their all gas unit.
Miele adds steam assist and their intuitive MasterChef controls in their dual fuel range only.
However, gas cooking is moister and better for roasting. The broiling, especially with the infrared, is way better with gas.
Short on time? Get our free Pro Cooking Buying Guide
Most brands will have infrared. It is a direct, intense heat and doesn't spread the heat like regular gas.
Infrared is better than gas and way better than electric for broiling. It looks like this: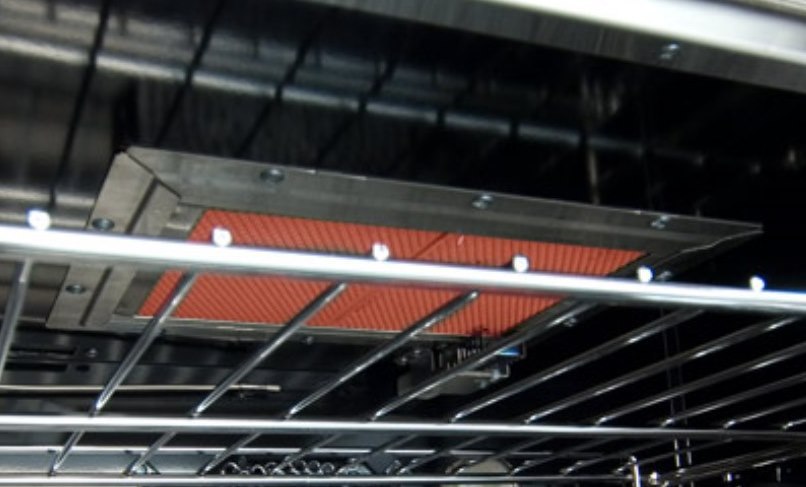 Infrared Broiler In An All Gas Professional Range At Yale Appliance + Lighting
Pro Tip: If you like baking and added features, then dual fuel may be better for you. If you like to broil or roast, consider all gas.
Just understand the feature upgrades, especially on Wolf, Thermador, and Miele.
Gas Vs. Dual Fuel Professional Ranges [VIDEO]
The Best 36-Inch Dual Fuel Professional Ranges
Wolf
Wolf was independent until being purchased by Sub-Zero in the late 1990s. Known for their stylish looks, red knobs, and their twin convection-powered oven, Wolf is an excellent baking range.
They also have a rebate program with Sub-Zero and other Wolf appliances.
36" Pro-Style Dual-Fuel Range with 4 Dual-Stacked Sealed Burners
Features:
Ranging from 9,200 BTU's to 20,000 BTU Power Burner
5.4 cu. ft. Dual Convection Oven
Self-Cleaning
Infrared Griddle
Temperature Probe
Pivoting Hidden Touch Controls
Available in Natural Gas or Liquid Propane.
Reasons To Consider This Pro Range: Their burners max at 20,000 BTUs on two burners. Their grill and griddle are infrared gas. (Infrared is a faster, more focused heat).
Wolf's dual convection is thermostatically controlled on both fans for the best temperature control. Unlike other dual fuel, the fans can work independently or together for ideal temperature.
Miele
"Forever Better" was inscribed on the first products that the Miele founders produced. They are the latest manufacturer to build a pro range starting in 2015 and were able to incorporate many of the best available features at that time.
They have the best controls with the MasterChef but have not invested in Wi-Fi yet. Miele will offer 10% rebates with the purchase of other Miele products.
Want to learn more about Miele's MasterChef programs and their best features? Click here to download our FREE Pro Cooking Buying Guide.
Miele 36-Inch Dual Fuel Pro Range HR1936DF - $9,199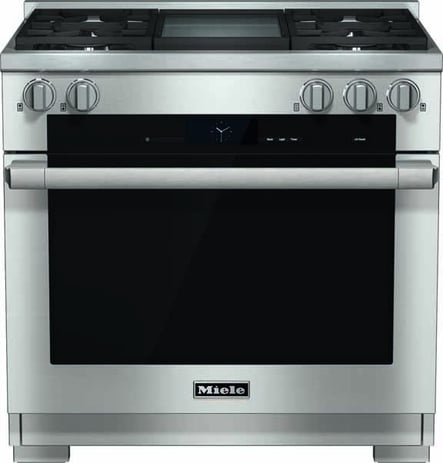 36" Pro-Style Dual Fuel Range with 4 M Pro Dual-Stacked Sealed Burners with True Simmer and M Pro Infrared Griddle
Features:
M Touch Controls with backlit knobs
Self-Cleaning
Twin Power Convection Fan Oven
21 Operating Modes
Moisture Plus, MasterChef,and MasterChef Plus Automatic Programs
Wireless Roast Probe
Comfort Clean Dishwasher-Safe Grates
Soft Open and Soft Close Oven Door
Clean Touch Stainless Steel Front.
Available in Natural Gas or Liquid Propane.
Reasons To Consider This Pro Range: Miele has incredible technology. You set the food, and your specified doneness, and the range calculates the time and temperature. The grill and griddle are infrared and similar to Wolf.
You also have a steam functionality(requires water line) to caramelize meats or bake bread. In fact, you have 16 automatic programs just for different types of bread.
Thermador
Thermador, a division of the German Bosch company, is known for cooking. Their professional ranges feature the star-shaped burner and the lowest simmer.
Thermador changed their pro range to include Wi-Fi as well. They are known for their star burner and low simmer. They are the only single convection range in this comparison.
Like Jenn-Air, Thermador now has Wi-Fi. However, they also lowered some of the burners from 18-15,000 BTU.
They also have a great rebate program of free dishwashers, microwave drawers, discounts off their steam oven, and hoods with qualified purchases.
Thermador 36-Inch Dual Fuel Pro Range PRD366GH- $7,599
36" Pro-Style Dual-Fuel Range with 4 Sealed Burners
Features:
22,000 BTU Power Burner
ExtraLowSimmers
5.7 cu. ft. True Convection Oven
Electric Griddle
All Telescopic Racks
Available in Natural Gas or Liquid Propane
Reasons To Consider This Pro Range: Thermador has the best all-around burner. The Star burner tops out at 18k BTU, and there are two burners capable of x-lo simmering(perfect for soups/sauces). The raised pedestal style burners also offer easier cleanup.
Remote start allows you to start, pause, and abort oven programs remotely via the Home Connect app on a mobile device.
Jenn-Air
Jenn-Air was well known for downdraft ranges and cooktops. The parent company, Whirlpool, finally invested 300 million dollars in cooking, specifically on their wall ovens and professional ranges back in 2007.
Their new range is laden with a serious amount of tech and connectivity along with some great features like an easy to clean chromium infused griddle, infrared grill, and 20,000 BTU max burner output.
Jenn-Air now has two new different series, the Rise and Noir.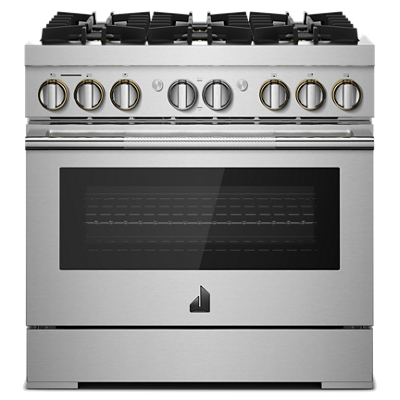 Jenn-Air® 36-Inch Rise Dual Fuel Professional Range
Features:
One 20,000 BTU stacked burner deliver power and precision
High-performance, chrome-finish griddle
Six different convection cooking modes like bake, roast,and broil
Available in Natural Gas or Propane
Reasons To Consider This Pro Range: Both series, the Rise and Noir, are beautifully styled.
The updated app allows for voice command and enhanced culinary center showing you the doneness before you cook. It is Wi-Fi enabled and allows you to cook with Yummly and other cooking apps.
Best 36-Inch Dual Fuel Professional Ranges [VIDEO]
Which 36-Inch Dual Fuel Pro Range Is The Best?
BTU Output
Jenn-Air and Wolf top out at 20,000 BTUs. Miele comes in at 19,500 and Thermador at 18,000. All are extremely powerful. Until recently, 15,000 was considered powerful.
Click here to download our FREE Pro Cooking Buying Guide with all BTU outputs for every major manufacturer.
Simmer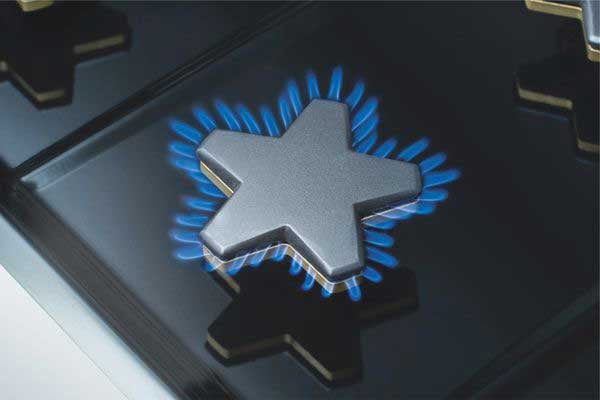 Thermador's Dual Fuel Professional Range Star Burner
If you're looking for precision in simmering, Thermador is the lowest with achievable lows of 100°. It is, however, an intermittent simmer or, in other words, an on/off simmer.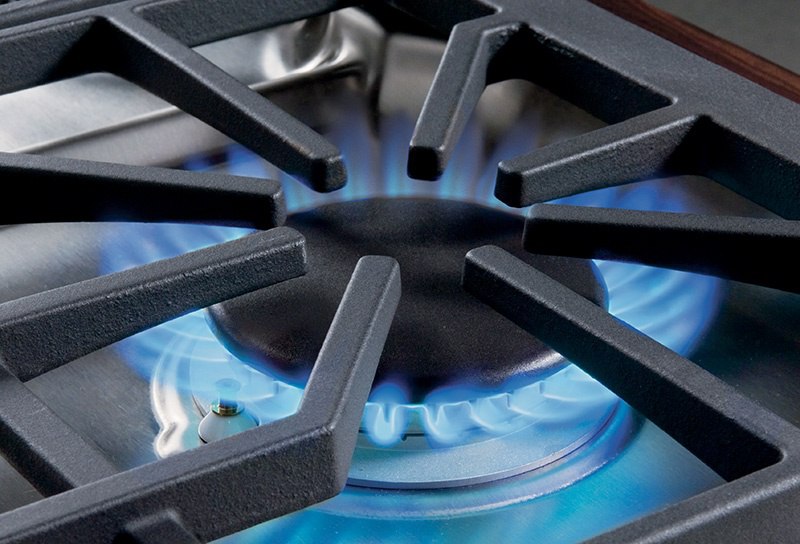 Wolf's Dual Fuel Professional Range Sealed Burner
Wolf does have a great consistent simmer at a temperature of 375° on the smaller burner.
Grill/Griddle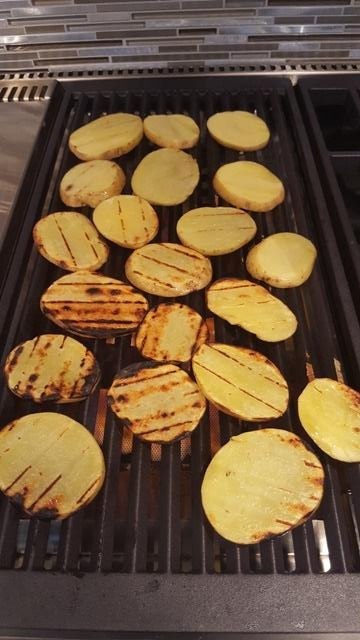 Wolf's Dual Fuel Professional Range Grill At Yale Appliance
Wolf, Jenn-Air, and Miele have the infrared grill and griddle. Yet, the electric grill of Thermador was a bit more consistent front to back in our testing.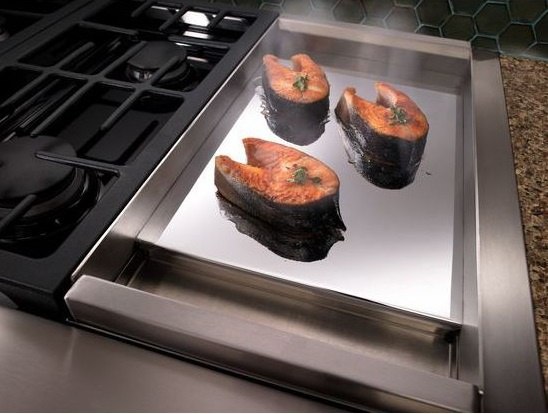 Jenn-Air's Dual Fuel Professional Range Griddle
For ease of clean up, the chromium infused Jenn-Air griddle is the best.
Oven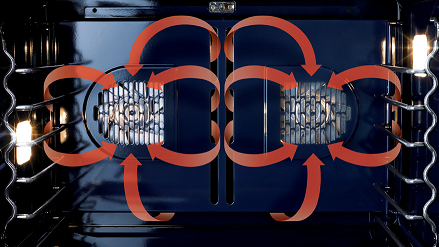 Twin Convection Oven
The new Jenn-Air, Miele, and Wolf, all have twin convection to move even more air. The Wolf, however, alternate the blowers for different foods, so it is technically the best.
Connectivity
The Jenn Air and Thermador offer connected ranges. Remote diagnostics, preheating, and remote monitoring is things that save you time. This is the way all appliances are going. Jenn-Air has even the clock and timer function only on their app.
Rebates/Incentives
Jenn Air offers a $1,000 credit towards a qualifying second Jenn Air piece with the purchase of a pro range. Thermador offers a free dishwasher the purchase of their range(or a credit of $1399 towards the Thermador dishwasher of your choice).
Miele and Wolf both offer rebates as well. Miele's are typically geared towards full kitchen purchases while Wolf has individual and package rebates at different times of the year.
Reliability
The following are service ratios for these brands dual fuel ranges:
Jenn Air 29.82%
Wolf 32.56%
Miele 35.48%
Thermador 50%
The average appliance is 13.4%, so all these brands are higher. Premium products have more service as a general rule. It's not always service but education and adjustment.
Have a look:
Most Reliable Dual Fuel Pro Ranges For 2019
| | | | |
| --- | --- | --- | --- |
| | Service Qty | Shipped Qty | Service Ratio |
| Jenn-Air | 17 | 57 | 29.82 % |
| Wolf | 70 | 215 | 32.56 % |
| Miele | 11 | 31 | 35.48 % |
| Fisher & Paykel | 3 | 8 | 37.50 % |
| La Cornue | 12 | 24 | 50.00 % |
| Thermador | 54 | 108 | 50.00 % |
| Grand Total | 194 | 573 | 33.86 % |
Which 36-Inch Dual Fuel Pro Range Should You Buy?
It really depends.
Wolf is a solid all-around performer with great baking capability. Miele has the most cooking functionality with steam capability. It even has 16 automatic recipes for different loaves of bread.
Jenn-Air is a beautiful range and another all-around performer. Their app can help you cook almost any food. Like Miele, their functionality is excellent.
Thermador has excellent burners, especially with the simmer. They probably have the best rebate program, as well.
What do you think?
Frequently Asked Questions:
1. What's the difference between a gas range and a professional range?
A gas range has gas burners and a gas oven. The gas oven in a pro range typically has an infrared broiler(intense heat for searing). Gas Pro ranges will have more high output burners whereas gas ranges will have better controls and baking drawers
2. Are dual fuel ranges better than gas ranges?
I wouldn't deem one better than the other, as both have their benefits. Really it all depends on how you are going to use them. If you do a lot of baking that requires precise temperatures, dual fuel is better. If you do a lot of broiling or roasting, all gas is better.
3. How do I choose a dual fuel range?
It depends on what you value. Do you value having a grill, griddle, high or low BTU output, simmering capabilities, a convection system or other features like Wi-Fi and steam? It's all a matter of what's important to you, how you cook, and what you'll actually use.
Additional Resources
If you need any more information on professional cooking products, read the Yale Professional Range Buying Guide with BTU output and features of every professional cooking product on the market. Well over 600,000 people have read a Yale Guide.
Related Articles
Editor's Note: This article was originally published on January 3, 2014 and has been updated for accuracy, freshness, and comprehensiveness.
WHY SHOULD YOU TRUST US?
A few review sites have placed this at the bottom of their articles. So here is our take: Our mission is to find reliable products for you to buy. Other review sites may say this as well.
However, we don't love every product. Quite frankly, it costs us way too much money in repair costs to support less reliable brands.
In fact, we sell fewer brands than most appliance stores. Here is why:
We feel it is our responsibility to repair your appliances after you buy them.
We now have 30 service technicians, each averaging 8-10 calls a day Monday through Friday, plus another 110 on Saturday. That's over 30,000 service calls logged in one year.
The labor rates of fixing an appliance do not come close to the true cost in any product's warranty period.
That is why no major retailer has a service department. It costs too much labor, money and time.
Our Blog is a bit different than most others you will read. We cannot write glowing reviews of unreliable products.
Hopefully, the bloggers and organizations who write such glowing product reviews for every brand consider servicing these products first. Only then they will understand the consequences of their marketing.
Steve Sheinkopf
My goal has always been simple: I want Yale to be the best retail experience anywhere. I have tried to create a compelling environment for customers and employees alike.
A Note About Pricing
Pricing on this blog is for reference only and may include time sensitive rebates. We make every attempt to provide accurate pricing at time of publishing. Please call the stores for most accurate price.