The professional range is still the marquee appliance in any kitchen.
Pro ranges were introduced by Viking in the late 80s. The original idea appealed to chefs and culinary enthusiasts who wanted higher BTU and better performance (you can now have high BTU in a regular gas range just as a FYI).
(Short on time? Get our free Pro Cooking Buying Guide)
Now professional products are also synonymous with upscale kitchens. The 36 inch is truly a different product than a regular 30 inch range, because it has the larger oven as well as a choice of griddle or grill.
However, the choice has become harder for you. Wolf has upgraded their range. Viking has a new product, and Miele has designed an incredibly interesting pro range.
So what do you choose? Well, we highlighted the best features and then compared the ranges at the end, you can choose which one is right for your home.
Dual Fuel vs. All Gas

Dual fuel originally introduced electric convection which offers more even baking than gas. However, most manufacturers like Miele, Wolf and Thermador have added features like better clocks, self-cleaning and even steam.

The Wolf and Miele products are almost completely different than the all gas models. As a side note you do need 40-50 amps for the oven.
The Five Best Dual Fuel 36 Inch Professional Ranges
Wolf started out as a manufacturer of commercial cooking products before their acquisition by built-in refrigeration pioneers Sub-Zero in the year 2000. The Wolf name is synonymous with high end residential ranges, cooktops, and wall ovens. Wolf stoves are immediately recognized due to the signature red knobs.
Their dual fuel models offer 6 sealed burners, 5.4 cu. ft. self-cleaning convection oven, one 9,000BTU and five 20,000 BTU burners. Wolf offers a low, consistent simmer at about 500 BTU.
If you decide on a grill or griddle, Wolf has the best at 16,000 BTU and gas fired versus electric for some of the others.
Another upgrade to a Wolf is the dual (two fan) convection which spreads air more evenly through the oven plus their sealed burners.
There are also 10 pre-programmed cooking modes including a dehydrate mode. A bake stone is available for pizza, etc.
6 sealed burners
self cleaning convection oven
5.4 cu. ft.
(1) 9k BTU burner
(5) 15k BTU burners
10 Pre-programmed cooking modes
Electronic oven controls
Benefits of Wolf: Their twin convection system is still the best as the fans sequence depending on the food. I also like the 500 BTU consistent simmer. Their grill is infrared and most closely emulates a genuine outdoor grill.
Jenn-Air was purchased by Whirlpool Corporation who have invested heavily in the line. They have also been aggressive with rebates, making their products a contender in the professional range segment.
In the 36 inch size they have two dual fuel models. There is a 36 inch range with 6 burners, or a 36 inch 4 burner model with a griddle. The chromium plating on the griddle is the most cleanable of all the ranges.
Jenn-Air, unlike Wolf, is virtually identical in dual fuel or all gas models. Models include the most powerful burners, with a max of 20k BTU's, self-cleaning in all models, automatic convection conversion, temperature probe, and probably the best oven controls on the market.
For the oven part of the range, it feature a full color 7-inch touch screen display. Their rebate program includes free products and even an installation allowance rebate.
6 burners
5.1 cu. ft. self cleaning convection oven
20k BTU burner
Electronic oven controls
Benefits of Jenn-Air: I like the output, price and rebate program but the touch display is also very simple to use. The griddle is chromium so its very simple to clean.
Thermador is part of the B/S/H company, their other brands being Bosch and Gaggeneau. Thermador is probably best known for making great cooking products including 36 inch ranges.
The Thermador ranges in the 36 inch size are either 6 burners or 4 burners with a griddle. Grill models will be out soon. The dual fuel models are knob controls. There is no electronic control panel like the Jenn-Air, Miele or Wolf. Thus, the Thermador does not offer a temperature probe or multiple pre-programmed cooking options. It is also single, not twin convection like Jenn-Air, Wolf and Miele.
The two features that set the Thermador apart from the other brands are the more efficient raised Star Burners. The burner is a star shape instead of round, so more of the flame will contact the bottom surface of the pan. The raised design will make cleaning easier.
The high output on all burners will also be the same at 18k BTU's with an incredibly low simmer of 100 BTU on two of the burners.
There are promotions available with Thermador that will get you a rebate of $1,299 with the purchase of the range.
5 cu. ft.
Sealed Star Burners
Telescopic ball bearing rack
Self-cleaning convection oven
Sabbath Mode
Benefits of Thermador: Thermador has great burners with 18,000 BTUs and one simmers to an ultra low 100 BTU. I like the rebate program, and it is the most reliable professional range.
Miele HR1934DF - $8,499
Miele is a family owned company (like Wolf/Sub-Zero) that is best known for dishwashers. They also offer a full line of cooking products since the introduction of their Professional range line earlier this year. Miele products are among the most as they are fanatical about quality control. In the 36 inch size they have 3 dual fuel models, offering 6 burners, 4 burners with grill, or 4 burners with griddle.
Miele has 19,000 as a high output and 12,000 as the standard (in a 6 burner, you would have 3 of each). The griddle and grill like Wolf is gas not electric.
They are the first to deploy technology in a professional range with their MasterChef controls. You have 21 preset cycles plus another 16 for different breads. In other words, Miele eliminates guesswork from cooking by automatically programming the right time and temperature for you with twin convection. The temperature probe is even wireless.
It is also the only pro range with steam capability. Steam is used to refresh leftovers and is especially helpful in baking breads. In fact, you have 16 automatic cooking programs just for bread.
Now the downside, you need 12 extra inches for clearance in Miele according to their specs, so you would need 48 inches for the cabinets over a 36 inch range.
Dual fuel
21 cooking modes
Wireless temperature probe
Steam capability
19,000 BTU capability
Benefits of Miele: Great burner output at 19,000. Has a gas grill and griddle. Steam capability. Best technology with MasterChef controls.
Viking VDSC536T6BSS - $8,659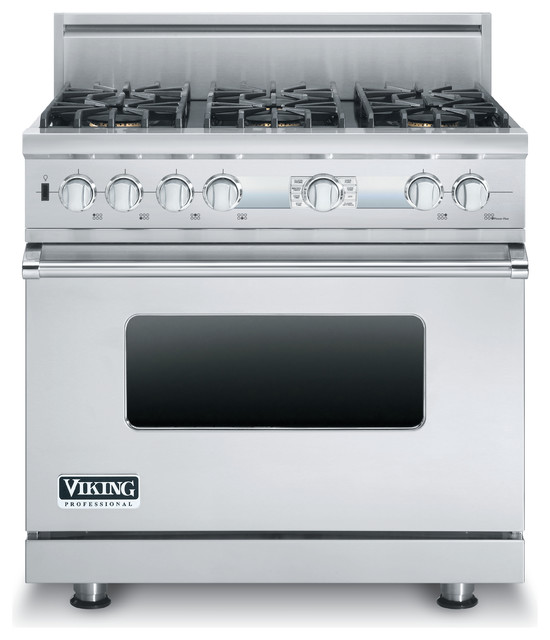 Viking was the original professional range company. They have recently been acquired by Middleby who will hopefully reinvigorate the once proud American brand. To be transparent we no longer sell Viking products.
They offer 2 ranges. Their 7 series dual fuel with 23,000 BTU burners in the front with burners or griddle and their regular 15,000 BTU burner model. Like Miele, they have a wireless probe and are the only company to offer color finishes.
6 sealed burners
Convection
Self-clean
5.6 cu. ft.
18.5 k BTU's
Electronic oven controls
Benefits of Viking: High BTU's. Viking also offers a variety of color ranges.
Which Pro Range Should You Buy?
This really depends.
From a budget standpoint, Jenn-Air is a good choice with 20,000 BTU burners, LCD clock and chromium griddle.
Thermador is not as gadget oriented as the others, but has great burners with exceptionally good simmering. With their 1, 2, free program, Thermador is the most reasonably priced.
Wolf has a very good grill as well as an excellent (probably the best) twin convection system and upgraded burners. Miele and Jenn-Air have twin convection, but Wolf cycle's are based on food for a better cooking result.
Miele has just unbelievable controls and steam capability. It has the ability to bake breads and makes cooking really simple.
Viking has colors and a higher BTU output on their lesser featured product. Like Thermador, their oven is only single convection.
Reliability
Wolf and Miele are the only ones on the most reliable brands list. It is determined by products sold divided by service calls. Thermador's cooking has been the most reliable. Jenn-Air is decent. Viking…well, perhaps you should look at various reviews. Hopefully their new parent company can turn it around.
Best 36" Dual Fuel Pro Ranges Video

Additional Resources
If you need any more information on professional cooking products, read the Yale Professional Range Buyers Guide with BTU output and features of every professional cooking product on the market. Well over 150,000 people have read a Yale Guide.
Related Articles