Differences Between Miele Compact Washers and Dryers
June 21st, 2023 | 7 min. read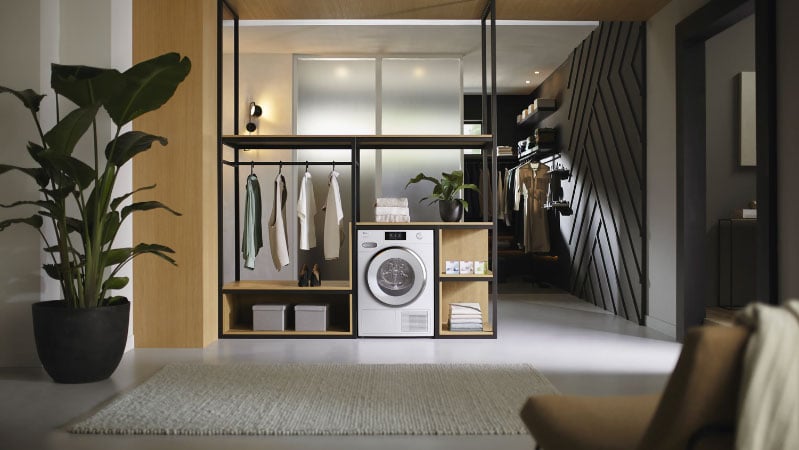 Miele compact laundry is designed to be the best, with unique features to wash and dry more effectively than any other brand.
Their recent redesign has made Miele even better, but it may not be the best anymore.
In this article, you will learn the pros and cons of buying Miele compact laundry. I will also compare their main competitor, Bosch, and Profile's new Ultrafast Combo, the newest and most publicized machine on the market.
Let's get started.
Differences Between Miele Compact Washers and Dryers
Best Features of Miele Compact Washers and Dryers
Miele differentiates itself with their honeycomb drum. It doesn't seem significant, but the clothes glide on a sheet of water on the washer instead of touching the sides. It also prevents zippers and buttons from catching, fraying, and tearing the fabric.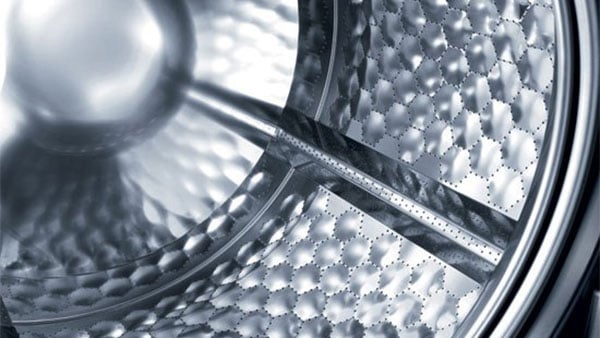 The dryer uses a 110-volt heat pump.
They are more efficient than traditional dryer elements by employing a compressor and heat exchanger to recirculate and reuse air.
Heat pumps are better for your clothes because they dry at lower temperatures and use less energy.
While true, you can plug the washer and dryer into a 110-volt outlet. They both use 15 amps, so you can't plug them into a 20-amp receptacle, but they have an adapter to plug them both into a 240-volt, the same outlet you probably have now for the dryer.
You might think a 110-volt is slower than a 220, but in our tests, Miele dried at the same time as the Bosch 220-volt unit.
Miele features mineral sensors to adjust time and temperature based on the mineral content of your water.
Miele has a spin speed of 1600 RPM, making it the fastest among compact laundry sets and surpassing the average of 1200 RPM. This means your clothes are much drier after a wash cycle than any other brand. Drying won't be a problem and will take less time.
The units are compact, great for closets, and fit even 24-inch kitchen cabinets. You can place them anywhere you have water and power because you don't need to run the vent.
Now let's look at the updated washer models.
Miele Compact Washers
Miele WXD160 WCS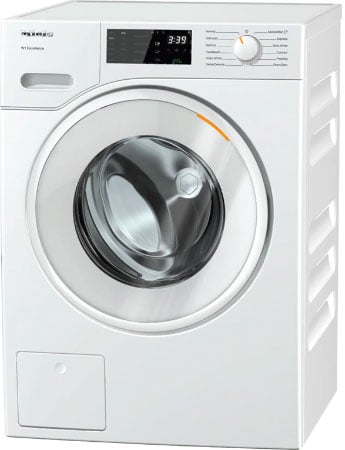 Miele W1 White Edition 2.3 Cu. Ft. Lotus White Front Load Washer
Miele WXF660 WCS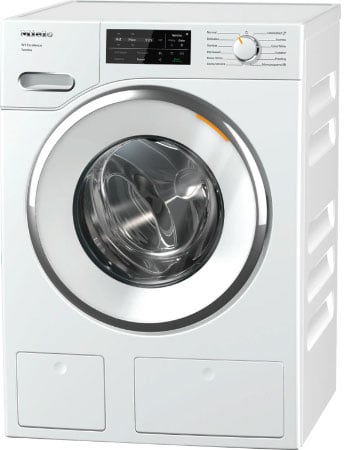 Miele W1 White Edition 2.3 Cu. Ft. Lotus White Front Load Washer
Miele WXI860 WCS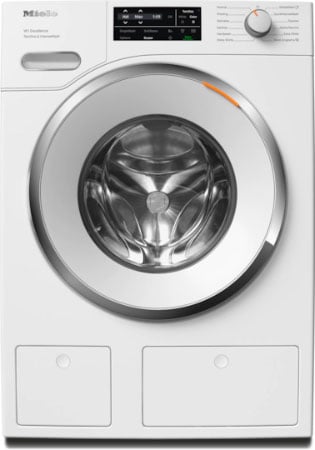 WXI860 WCS TDos & IntenseWash
Miele WXR860 WCS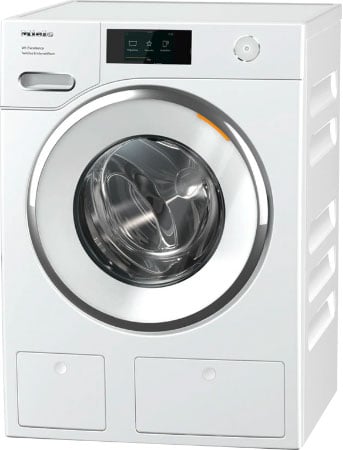 Miele W1 White Edition 2.3 Cu. Ft. Lotus White Front Load Washer
New Washer Features
The washers have steam, which is great for loosening tough stains like wine, grass, or blood.
Miele is the only washer with a caplet dispenser.
They are the only compact washer with the ability to dispense caplets. Every machine has Wi-Fi, so you can see the time remaining, start or stop, or get a push notification when the cycle is over in the Miele@home app.
You'll even have that feature in their WXD 160 WCS base model for $1,499.
WXD160 WCS
The Miele WXD160 WCS is designed to make your life easier with its CapDosing and Miele@home technology. You can customize your wash cycles according to your requirements.
Additionally, the washer has automatic load recognition and offers 12 programs to choose from, including a time-saving Express cycle and a SoftSteam feature that eliminates the need to iron your clothes.
WXF660 WCS
The next better model, the WXF660 WCS at $1,749, has Miele's automatic dispenser, the TwinDos. The TwinDos automatic dispenser releases the exact amount of detergent needed at the right time.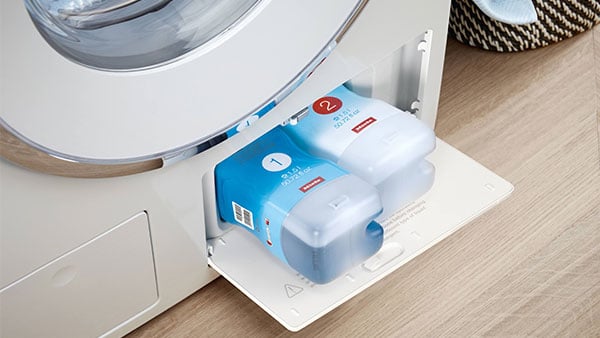 Many full-size machines like LG and GE offer auto dispensers. It's important because many people add too much detergent.
Those excess suds stay in the machine, leading to an expensive future service call.
The dispenser also holds up to 27 loads, so you don't have to keep reloading. But the downside to Miele's auto dispenser is using their detergent exclusively, unlike the other brands. You can always use regular detergent in the top dispenser.
There are a few new cycles for baby clothes, quick wash, outerwear, wrinkle-free outerwear, linens, and self-cleaning.
WXI860 WCS
The next better model is the WXI860 WCS at $2,099 with Miele's QuickIntense wash with two pumps to completely saturate your clothes and wash faster. You also have a single wash cycle.
WXR 860 WCS
Their best is the WXR 860 WCS at $2,449 with its touchscreen control panel to easily scroll the many cycles and options along with the auto clean setting for the dispenser.
Miele Compact Dryers
Miele TXD160WP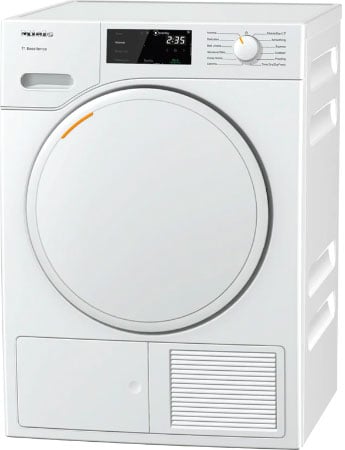 Miele T1 4.0 Cu. Ft. White Edition Lotus White Heat-Pump Tumble Dryer
Miele TXI680WP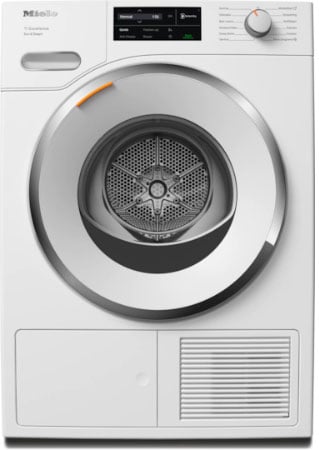 Miele T1 4.0 Cu. Ft. White Edition Lotus White Heat-Pump Tumble Dryer
Miele TXR860WP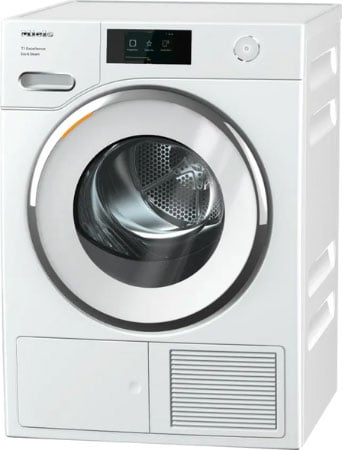 Miele T1 4.0 Cu. Ft. White Edition Lotus White Heat-Pump Tumble Dryer
New Dryer Features
Like the washers, Miele dryers also feature Wi-Fi, an anti-crease feature I wish was on my dryer. You can also add special fragrances with their Fragrance Dos dispenser (they are customized in France, no less). You can also pause the dryer to add an item of clothing.
The dryer drum also reverses, so your clothes, especially bed sheets, are not knotted and half-dried like my dryer.
TXD160WP
Miele's dryer base model, the TXD160WP, sells for $1,599. With features like Miele@home and FragranceDos, you can enjoy fresh-smelling laundry customized to your liking.
In addition, the DirectSensor interface allows easy and intuitive fingertip control, making laundry care a breeze.
TXI680WP
For $200 more, you have steam in the TXI680WP to refresh that shirt and pants before you go out for the evening. The basket for shoes and sneakers is a good idea rather than hearing them bang against the drum all cycle.
TXR860WP
Their best dryer, the TXR860WP, features the same iPhone-like controls to scroll the different cycles and options.
Disadvantages of Miele Compact Laundry
Capacity
The advantage to a Miele is its small size can be placed anywhere. However, the interior capacity is about half of a regular front load, so it might not be your best choice for a large family.
Price
The price is $2,899 for the pair, while the full-sized units on sale are far less at $1,500. Miele does have better features like a better drum, higher spin, and overall design at a small footprint.
Service and Reliability
Service is another consideration, as it is with any specialty brand or product. Miele's first-year service rate is 8.5% based on about 33,000 service calls logged by our service department just last year.
It's less than the industry average at 9.7%, but you want to check the service carefully before you buy Miele or any other brand, for that matter.
Read More: The Most Reliable Compact Washers
Miele's Top Competitors in Laundry
Miele's compact laundry set has always been the top choice with its unique honeycomb washer, high RPM spin, twin dispenser, and mineral sensors.
However, there's a new player in town that matches Miele's innovation - the GE Profile UltraFast combo washer and dryer.
Miele Compact Laundry vs. GE Profile UltraWash Combo Washer & Dryer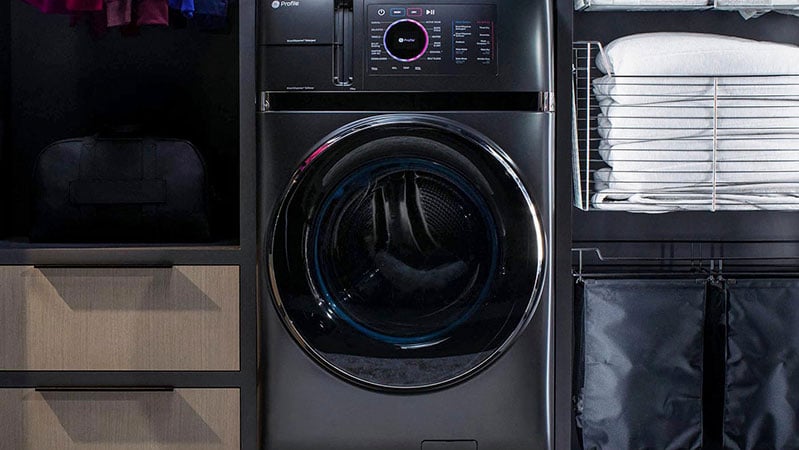 GE Profile introduced a larger heat pump combination washer and dryer, the GE Profile PFQ97HSPVDS. At first glance, you wouldn't think a unit of this size would be a competitor to the compact Miele washer and dryer.
Despite its larger size, the GE Profile UltraFast Combo Washer & Dryer can still be placed anywhere just like the Miele, as both machines operate on 110 volts.
This makes for an interesting comparison between the two brands.
Let's consider the wash performance: with the GE Profile, you simply load your dirty clothes, and they emerge clean and dry—a hassle-free experience.
In contrast, the Miele stands out with its Honeycomb drum, superior spin speed, and a range of additional features that ensure a thorough and gentle wash for your clothes.
We will get this comparison in greater detail in future blogs and videos.
Miele vs. Bosch Compact Laundry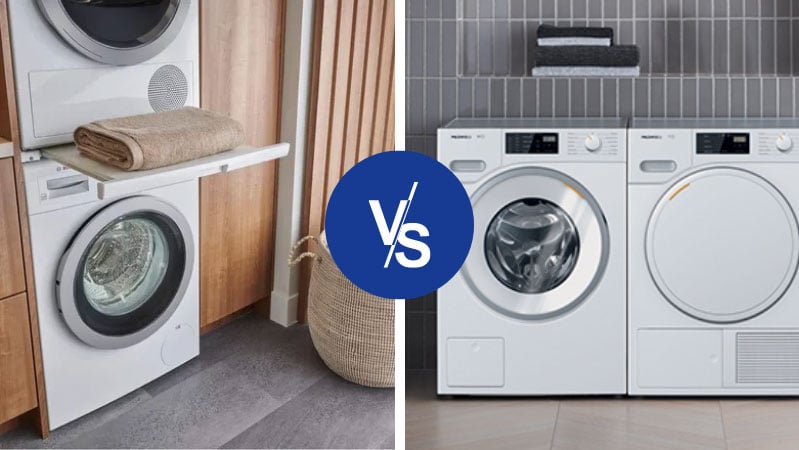 You can't mention Miele without considering Bosch for compact washers and dryers. Miele is the best for features with the drum, better cycles, steam, better RPM spin, and an auto dispenser.
Yet Bosch is one of the most reliable appliances requiring just 2.5% service in the first year compared to 8.5% for the Miele.
Read More: Bosch 500 Series vs. Miele Compact Washer and Heat Pump Dryer
Should You Buy Miele Compact Washer and Dryer?
Miele still washes and dries better. They are the only machine to wash silks, and their mineral sensing drying matches a 220-volt compact.
However, you do have options: The GE Profile UltraFast is interesting, going to show you the size and the ability to wash and dry. Bosch has none of the features of the Miele but better reliability.
What do you think? Leave any questions or comments in the section below.
Compact Laundry
FAQs
Answers to the most commonly asked questions about Miele compact washers and dryers.
What are the benefits of Miele compact laundry machines?
How much laundry can Miele compact washers and dryers handle?
Are Miele compact laundry machines stackable?
Can I install Miele compact laundry machines in a small bathroom?
Are Miele compact laundry machines energy-efficient?
How long do Miele compact laundry machines typically last?
Are Miele compact laundry machines noisy?
Do Miele compact washers require a specific detergent?
Can I customize the settings on Miele compact laundry machines?
Are Miele compact laundry machines easy to maintain?
Additional Resources
Download our Compact Laundry Buying Guide with all the features, terms and brands of laundry. Over 1.2 million people have already found answers in a Yale guide.
Related Articles:
Why Should You Trust Us?
It seems that every appliance review has nothing but glowing comments about almost every product, yet you read customer reviews and they are almost universally bad.
We are here to fill in the disconnect. We'll give you the best features, and the drawbacks as well, including reliability based on over 37,000 calls performed by our service team just last year. Our goal is to give you ALL the information so you know what's right for you.
Please consider subscribing or adding to the conversation in the comments below. We appreciate you stopping by.
Steve Sheinkopf is the third-generation CEO of Yale Appliance and a lifelong Bostonian. He has over 38 years of experience in the appliance industry, and he is a trusted source of information for consumers on how to buy and repair appliances.

Steve has also been featured in numerous publications, including the New York Times, Consumer Reports, The Boston Globe, Bloomberg Radio, the New York Post, The Wall Street Journal, and Entrepreneur, for his knowledge of how to buy appliances and appliance repair.

Steve is passionate about helping consumers find the best appliances for their needs, and he is always happy to answer questions and provide advice. He is a valuable resource for consumers who are looking for information on appliance buying, repair, and maintenance.

Despite being the worst goalie in history, Steve is a fan of the Bruins and college hockey, loves to read, and is a Peloton biker. The love of his life is his daughter, Sophie.
A Note About Pricing
Pricing on this blog is for reference only and may include time sensitive rebates. We make every attempt to provide accurate pricing at time of publishing. Please call the stores for most accurate price.