Read More: Should You Buy Miele's Compact Laundry Set WWB02 And TWB120?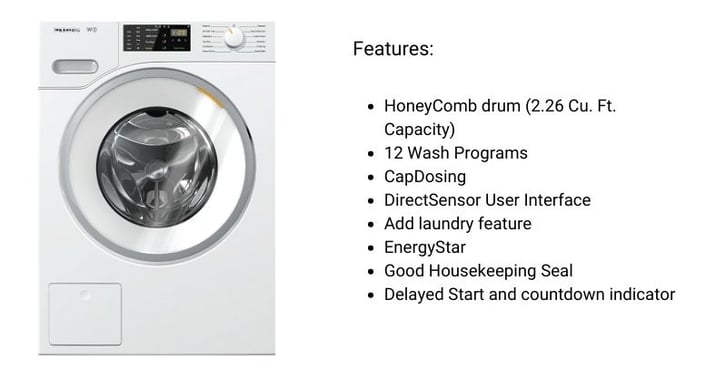 The soft steam feature is excellent for softening clothes and loosening tough stains like wine, grass, and blood.
With this washer, you have more specialized cycles for silks, wool, sportswear, drapes, an a quick rinse.
The WWF060 is the first Miele washer featuring Wi-Fi.
You have lived without it before. You can see the time remaining, so you don't have to wait that 4 minutes in front of the machine.
It will also text you when the cycle is complete.
Many companies are offering Wi-Fi and the ability to operate your appliances through an app on your phone. However, the reviews are mixed. Many are spotty and lack connectivity.
Miele's App functionality and connectivity are amongst the best in the industry.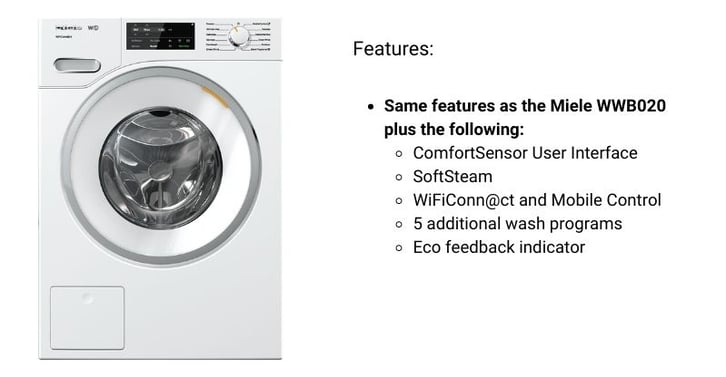 The "Twin Dos" Dispenser is worthwhile.
It holds 37 loads of detergent and adds the perfect amount of detergent for the best cleaning results.
Miele also has several different formulations for sensitive skin and other applications.
Besides cleaning exceptionally well, an automatic dispenser will save you from an expensive service call.
Most people add too much detergent. The excess will remain in the machine and eat away the motor and bearings.
The auto dispenser will prevent that.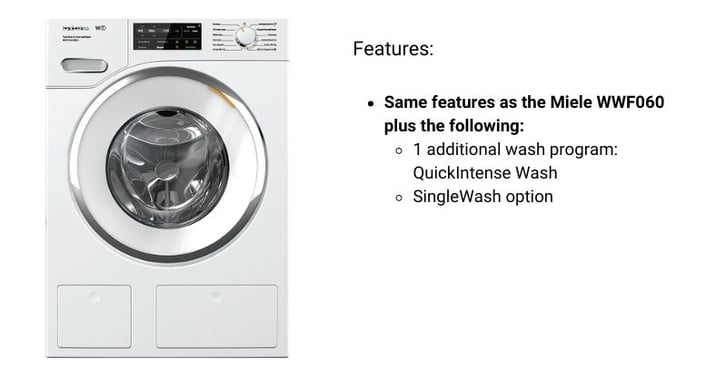 QuickIntense Wash is a program for cotton. This program will clean up to 11lbs for laundry in less than an hour.
Single Wash is an option for loads that are up to 2.2lbs. The washer will use lower water and energy consumption for a shorter wash cycle.
Miele Compact Dryers
Miele dryers use a revolutionary 110-volt heat pump drying system unlike any other manufacturer. They also feature the Honeycomb drum, Wi-Fi, and more functional cycles to dry your clothes.
First, let's take a look at what they have in common.
What Miele Dryers Have in Common:
Heat Pump Drying
Heat pump dryers are the most efficient. Instead of using heating elements, heat pumps use compressors to store and better utilize heat and energy. It also doesn't emit heat back into your room.
110-Volt System
With high spin speed in the washer and a more efficient drying system, Miele is the only 110-volt system with the ability to dry. You also do not need to add amperage to your space.
Read More: Electrical Requirements for Compact Laundry
Honeycomb Drum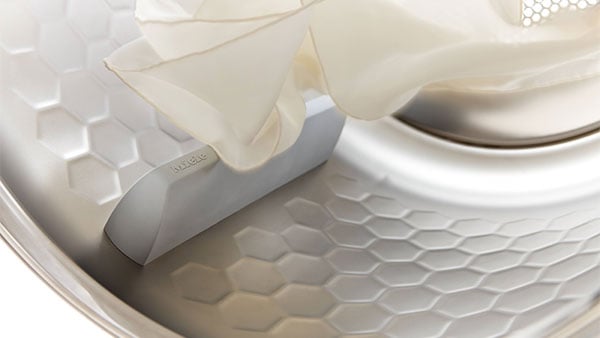 Miele Dryer Honeycomb Drum
Like the washer, a perforated drum is gentler on clothes.
12 Automatic Programs/ 3 Drying Options

Their base model has most of what you need.
Fragrance Dispenser
Miele has several custom scents you can add to your clothes - from France, no less.
What are the Differences Between Miele Compact Dryers?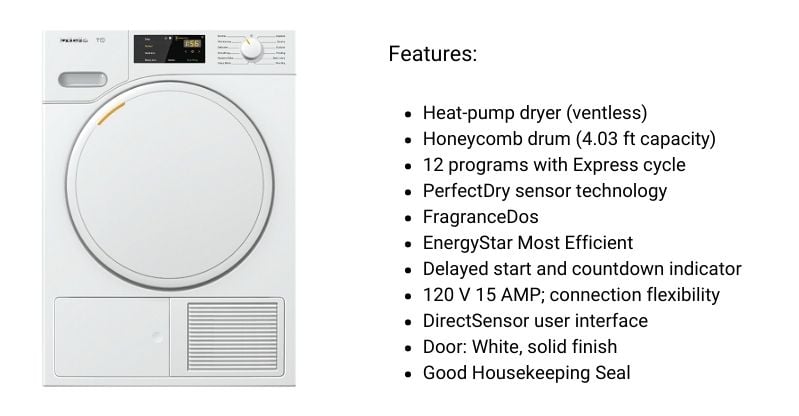 The TWB120WP is Miele's base model incorporating most of their best features and 12 individual cycles to dry your clothes.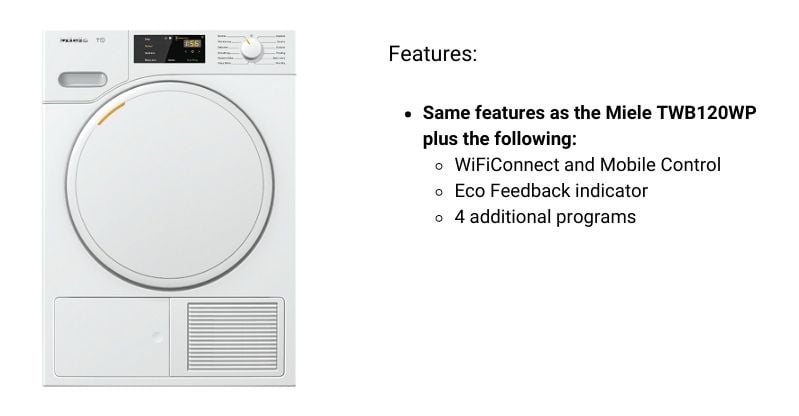 Wi-Fi is pretty useful, especially if you already have it in the washer.
You can use the FreshenUp option to help remove or reduce odors in clean (dry or damp) clothing.
The drying air is heated up for a specific length of time. After this, the garments are aired to the Normal drying level without any more heat being added.
That favorite shirt is wrinkled up and has some residual odors?
FreshenUp will take care of that.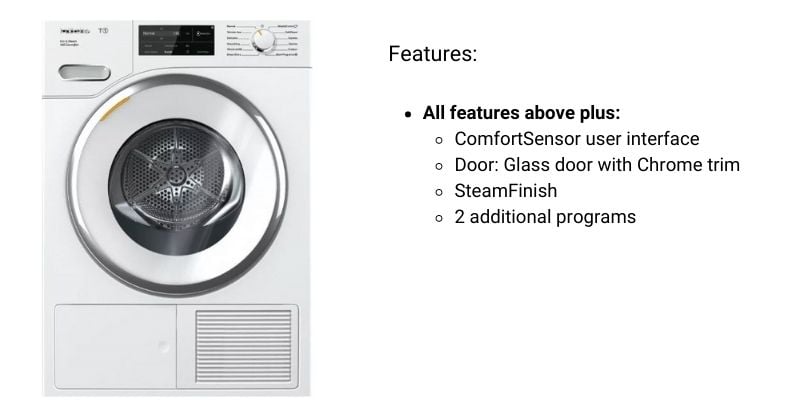 Steam in a dryer is excellent for refreshing clothes, smoothing wrinkles, washing pillows, and removing odors.
Are Miele Compact Washers and Dryers Reliable?
Compact Washer Reliability January 2020 to November 2020
| | | | |
| --- | --- | --- | --- |
| | Service Qty | Shipped Qty | Service Ratio |
| Miele | 33 | 173 | 19.08 % |
| Asko | 8 | 57 | 14.04 % |
| Samsung | 41 | 389 | 10.54 % |
| Beko Appliance | 19 | 287 | 6.62 % |
| Bosch Appliances | 20 | 684 | 2.92 % |
| LG Electronics | 1 | 75 | 1.33 % |
| Grand Total | 122 | 1665 | 7.32% |
Compact Dryer Reliability January 2020 to November 2020
| | | | |
| --- | --- | --- | --- |
| | Service Qty | Shipped Qty | Service Ratio |
| Miele | 67 | 609 | 11.00 % |
| Samsung | 34 | 376 | 9.04 % |
| Beko Appliance | 18 | 271 | 6.64 % |
| Asko | 3 | 53 | 5.66 % |
| Bosch Appliances | 27 | 600 | 4.50 % |
| Whirlpool | 7 | 163 | 4.29 % |
| Grand Total | 156 | 2072 | 7.52 % |
Most of Miele's issues are installation related. Many of these calls don't have any parts tied to their repair.
Remember, in terms of electrical requirements, you need two 110-volt receptacles. You can also use Miele's 220-volt adapter.
We probably could do a better job communicating this in the sales process.
Read More: Most Reliable Compact Washers
Miele Vs. Bosch 500 Series Compact Laundry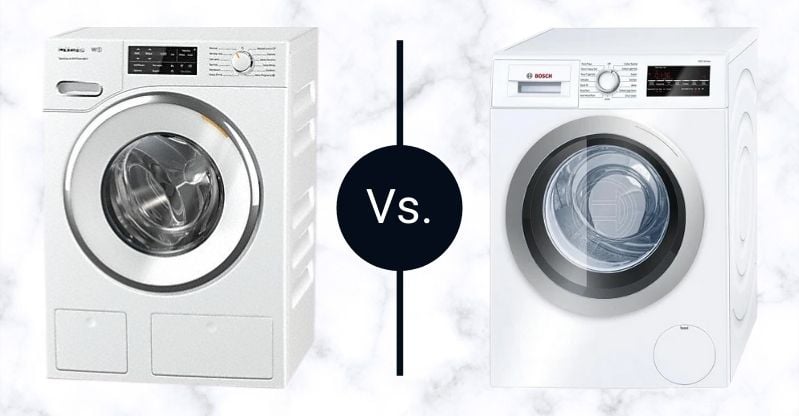 Miele Compact Washer WWB020 Vs. Bosch 500 Series Compact Washer WAT28401UC
Bosch is the most reliable compact washer and dryer.
It is more widely sold in the builder channel. Typically builder jobs require less maintenance because we do the installation and check every appliance as part of the contract.
However, Miele has a better system with a honeycomb drum, a caplet dispenser, and more usable programs.
The difference in drying is more profound. Bosch is a 220-volt condenser versus a more efficient 110-volt heat pump.
For the same price, Miele has more features and is the better unit to consider.
Read More: Bosch 500 Series vs. Miele Compact Laundry
Should You Buy a Miele Compact Washer and Dryer?
Yes, you should consider Miele compact laundry. In terms of washing and drying, Miele has the best compact washer and dryer on the market.
The base Miele is an excellent unit with usable technology.
Every machine listed has their most important features like Honeycomb drums and Capdosing along with 110 volt heat pump for the dryer.
The difference between the models are specialized programs for different clothing, steam, and Wi-Fi along with the dispenser.
The AutoDos dispenser is worth considering because the clothes will be cleaner, and service should be less without over dispensing.
In terms of features, technology, and the basics of washing and drying, Miele is the best to consider.
Additional Resources
Download our Compact Laundry Buying Guide with all the features, terms and brands of laundry. Over 820,000 people have already found answers in a Yale guide.
Related Articles:
Why Should You Trust Us?
It seems that every appliance review has nothing but glowing comments about almost every product, yet you read customer reviews and they are almost universally bad.
We are here to fill in the disconnect. We'll give you the best features, and the drawbacks as well, including reliability based on over 37,000 calls performed by our service team just last year. Our goal is to give you ALL the information so you know what's right for you.
Please consider subscribing or adding to the conversation in the comments below. We appreciate you stopping by.
A Note About Pricing
Pricing on this blog is for reference only and may include time sensitive rebates. We make every attempt to provide accurate pricing at time of publishing. Please call the stores for most accurate price.