The Best Compact Laundry for 2018 (Reviews / Ratings / Prices)
Compact Laundry is a great alternative if you have limited space. At 24 inches wide and 24 inches deep, compact laundry can fit in standard kitchen cabinets as well as closets.

Most city condos and homes will have compact laundry, and you can place them anywhere in your house with water and electricity.
Best brands to consider are Miele, Bosch, Blomberg, and Samsung.
In this article you will learn about the different dryers (odd that I mention dryers first), then the different brands and a brief comparison.
Vented vs. Non-Vented Dryers
If you live in the suburbs (like me in Needham originally), you have a vented dryer. You can immediately identify them by the steel tube exiting out of your house from the dryer.
A vented dryer is like a vacuum because it pulls air in. To put it simply, it pulls air in from your laundry room, heats it, and tumbles your clothes in it. Then it pushes the air outside through an exhaust.
Vented dryers usually cost less money to buy and dry faster than ventless versions, but are more expensive to operate.
As for ventless dryers, they work with a condenser which heats the air and helps evaporate water. Instead of pushing the air outside, it circles back into the condenser where it is cooled.
Still, the evaporated water needs to be removed from the dryer. Small Tip: You can run a line from the dryer to the drain of the washer to remove excess water.
Ventless dryers have become more popular, especially with builders and homeowners who cannot vent to the outside.
It is also way cheaper for the builder to not cut holes into a building and better for LEED certification and energy efficiency for supplying ventless laundry.
Ventless dryers can work in any space with just 220 watts of power and a water line.
That said, many vented dryers also cannot pass the UL fire test, meaning the dryer cannot contain a fire for 7 hours, so many companies, like Bosch and Miele, now only market a ventless dryer.
Heat Pump Dryers
Heat pump dryers work by using a compressor instead of elements. The air is then recirculated with no outside air being used. Heat pumps are more efficient than any type of dryer, but it is not widely sold in the US. Heat pumps are generally ventless as well.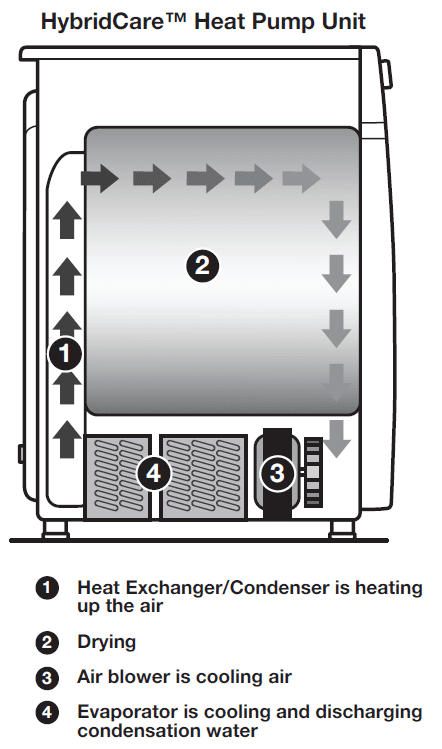 Miele, Whirlpool, and LG are trying to change that. Many more European companies along with Samsung and LG will be next.
Smart Laundry
Laundry would be truly smart if the machines could transfer the clothes from washer to dryer. Of course, that may never happen.
In terms of function, Bosch and Miele have some very good Smart Programs to actually control your laundry from your phone.
Bosch Home Connect
Both have cycles and automatic programs, so you can choose by stain.
Before you buy any Smart appliances, you should know there can be connectivity and security issues. Smart appliances and devices are the future.
However, I would buy based just on features in 2018 until the issues are resolved.
Now, let's dive into your five best options for compact laundry pairs.
5 Best Compact Laundry Pairs for 2018
Miele
Miele is a family owned German company. Their hallmark has been quality control and over 98% of the parts and components are built in their own factories. For this reason, Miele is one of the least repaired items in the appliance industry.
Miele Washer WWH860 - $1,999

Capsule Dispensing – washer will automatically dispense portioned detergent
Honeycomb drum for gentle care
Quick Intense Wash
TwinDos – a two-phase detergent dispensing system
Wi-Fi Connectivity
Stackable

Miele Heat Pump Dryer TWI180 - $1,799

Ventless
FragranceDos
SteamFinish – remove wrinkles and smooth with steam
Perfect Dry - Precision drying
Stackable
These machines are truly different. Miele now has three washers and two dryers in their line. All are Wi-Fi enabled.
Let's start with the dryer: It is a 110-volt heat pump with a steam cycle. Miele is the first with this technology as every other major compact dryer is 220-volt.
Typically, 110-volt dryers are offered in washer and dryer combos or niche brands. Simply put, they usually take a long time to dry if they work at all.
Miele should be different because the heat pump is far more efficient and faster than elements. Also, the washer has an incredibly fast 1600 RPM spin to pre-dry the clothes.
The washer is also steam. Just as an FYI, use steam in the washer to power out stains and steam in the dryer to eliminate creases and freshen the clothes.
The dispenser is very different as well. You can load up to 40 washes in the dispenser and even turn on remotely using the app.
Both washer and dryer are 110-volt. There is an adapter for your 220-volt outlet.
Bosch
Bosch, like Miele, is another German company. Bosch has always been one of our most popular sellers. They are built solid, offer better sound insulation, and are reliable for parts and service.
Also, compared to other options, they are the quietest at 52 DB. You have a choice with Bosch. You can pick the temperature and not just hot, warm and cold, but 60, 90, 105 and 140 degrees.
You can also choose your cycle based on the stain. Have red wine on your new pants? The machine will pick the right cycle to remove it.
Bosch is the only washer with speed in both washer and dryer at 15 minutes each on washer and dryer.
Bosch will have two washer models and two dryer models. The dryers are both condensation only (ventless).
Bosch Axxis Plus Series WAT28401UC - $1,079

AquaShield® - protection against water damage
SpeedPerfect™ - faster washing time
EcoSilence™ Motor
Stackable

Bosch Axxis Plus White WTG86401UC - $1,079

Condensation Drying - Doesn't require ducting
Anti-vibration Circular Side Walls to reduce vibration and noise
Stackable
Sensitive Drying System
Samsung
Samsung WW22K6800AW - $899

2.2 cu. ft. front load washer
Steam Wash - Powerful steam eliminates stains without pre-treatment
Super Speed - Wash a full load in 40 minutes
Self Clean
Smart Care
Diamond Drum Interior

Samsung DV22K6800EW - $899

4.0 cu. ft. capacity
5 Temperature Settings
Smart Care - Troubleshoot straight from your smartphone
Sensor Dry - Automatically turns off when your clothes are dry
Samsung has many of the features of their larger machines like steam in the washer. They also have a 40-minute speed cycle for the washer.
They have Wi-Fi as well, but only for diagnostics. It will help us with service but not you with performance.
Samsung is also 26.625 deep as opposed to just over 24 inches for the other brands. You will have more capacity with Samsung than other brands but be careful where you place the Samsung. It could be deeper than the cabinet.
Blomberg
Blomberg is a huge Turkish manufacturer. Samsung and Blomberg are vented because they passed for fire containment. As I said previously, most manufacturers did not. They are unique is their depth of 22 inches vs. most compact laundry units, which are usually 24 inches.
In tight spaces, sometimes the depth can make a huge difference. The Blomberg laundry will have automatic and adjustable controls.
The automatic controls will adjust to the wash and dry, or they can be manually selected for more customization, based on the your preference and load types.
Bloomberg Washer WM77120 - $849

Energy Star Rated
Stainless Steel Drum
400 - 1200 RPM Spin
Electronic Control Display
12 Automatic Cycles
Internal Water Heater
Child Lock

Blomberg Vented Dryer DV17542 - $679

Passed UL 2158 Fire Containment Test
Stainless Steel Drum
Opti-Sense Dryer Sensing
Led Control Display
15 Automatic Cycles
Stacking Kit Included With Dryer
Child Lock
What is Compact Laundry?
Compact Laundry Comparison
Remember you should be aware of where your laundry will be situated. Can you vent, or will it be in a ventless location like a closet or kitchen space?
When comparing these brands, the Blomberg will be less expensive. From an installation perspective, Blomberg is great for tight areas and the dryer can be vented outside.
Samsung is an upgrade with a better interface, steam and a speed cycle.
Miele is the best with an almost revolutionary design of heat pump while using only 110-volts. It starts at over $3000, so Miele is the most expensive by far.
Bosch would be an excellent compromise on price while still having a great machine. In fact, it may be the best value for compact laundry with speed and cycles.
Additional Resources
Download the Yale Compact Laundry Buying Guide with specs, features, and buying tips to every major brand. Well over 300,000 people have read a Yale Guide.

Steve Sheinkopf
My goal has always been simple: I want Yale to be the best retail experience anywhere. I have tried to create a compelling environment for customers and employees alike.
A Note About Pricing
Pricing on this blog is for reference only and may include time sensitive rebates. We make every attempt to provide accurate pricing at time of publishing. Please call the stores for most accurate price.