The Best Compact Laundry for 2022
Do you have a spare closet or spot in your kitchen? Is your child finally out of the home? You can place compact laundry anywhere without having to vent it outside your home.
In other words, you can place your compact washer and dryer near your bedroom without having to trudge to your basement. Compact laundry is 24 inches in width and 24 inches in depth - the exact dimensions of a standard cabinet.
Compact washers and dryers fit in most cabinets and closets. It's the best laundry machine you can buy despite its small size.
In this article, you will learn about the three best brands to consider. You will also learn the differences between ventless, heat pump, and vented dryers.
Most importantly, these machines are available and reliable based on over 40,000 service calls logged by our service department last year.
Why only three best compact laundry brands, you ask? Well, supply chain issues are certainly part of the problem. Some brands have not had compact laundry available since the pandemic started almost two years ago.
Other than that, Bosch, Miele, and Beko are popular choices for different reasons. Bosch is the most reliable, Miele has the best features, and Beko is a solid brand and is the most available. Then again, the best compact laundry may be the available set. I have a feeling you (and me) will have a hard time finding a set from a known brand.
Short on time? Get our free Compact Laundry Buying Guide
What Is Compact Laundry?
There are two main sizes of laundry, 27-inches wide and 24-inches wide. Depth is also critical, with compact laundry being 24 inches in depth and the full-size laundry units ranging from 30.4 inches to 34.5 inches.
Compact laundry is primarily sold as ventless laundry, whereas full-size laundry is vented to the outside. The downside is capacity. Full-size laundry is rated at 4.5-5.0 for the most popular models, whereas compact is less than half at about 2.4 cubic feet.
If you are reading this, you most likely have a small space to put a washer and dryer. Many larger homes are now placing compact sets upstairs in closets near the bedrooms instead of going downstairs to the basement.
Best Compact Laundry Pairs for 2022
Best Overall: Miele Compact Washer WXR860WCS ($2,299) and Dryer TXR860WP ($2,299)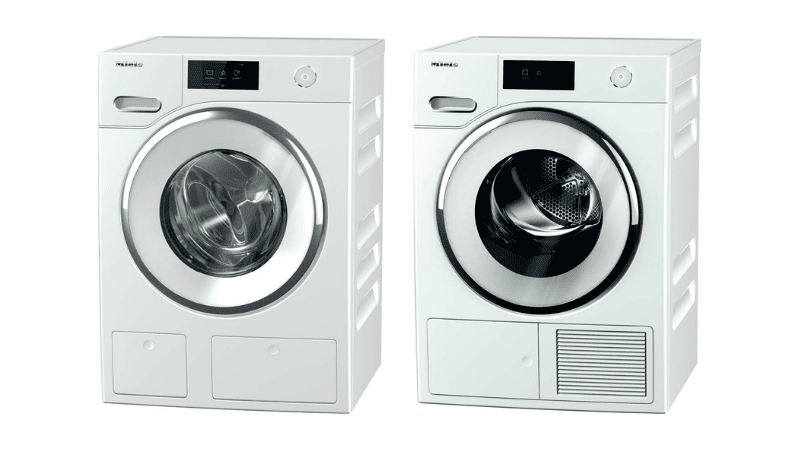 Miele is a family-owned German company known for its quality control. Miele builds over 98% of their parts and components in their factories. For this reason, Miele is one of the least repaired brands in the appliance industry.
The high-end Miele models have a setting for every type of clothing. There washer and dryers are genuinely focused on fabric care with 25 different cycles. With multiple options for detergent, like caplets, as well as the best automatic dispenser releasing detergent and bleach at the same time, Miele is the best washer and dryer of any size.
These machines are profoundly different from every other manufacturer. Miele now has four washers and three dryers in their line.
All are now smart, so you can see the time remaining on your phone through an app. You will also receive texts when the cycle is finished or when you need to refill the detergent in the dispenser. Wi-Fi and smart functionality are evolving for other appliances, but it makes sense in laundry and will be convenient to you.
Miele Dryer Features
Let us start with the dryer. If you are not venting and you are not on an inside wall or spare room, you always want to start with the dryer. It is a 110-volt heat pump with a steam cycle. Miele is the first with this technology, as every other major compact dryer is 220-volts.
Typically, 110-volt dryers are offered in washer and dryer combinations or specialized brands. Simply put, they usually take a long time to dry if they work at all.
Miele uses a heat pump for more efficient and faster drying, even in a 110-volt operation. Heat pumps are compressors, not heating elements. They use existing air and store it, so they are more efficient and do not project heat into the room.
Also, the washer has an incredibly fast 1600 RPM spin. Why is this important? The fast spin speed removes more moisture from the clothes resulting in shorter drying times in the dryer. It is pre-dry clothes. You also can add fragrance to your clothes with Miele's unique fragrance dispenser. These fragrances are from France, no less.
Lastly, Miele's dryer features steam. Steam in a dryer refreshes the fabrics and removes the wrinkles. Need your favorite shirt for a night out? Place it in a steam setting on the dryer, and it is ready to go.
Miele Washer Features
Your fine washables glide on the water and do not touch the sides during the wash on Miele's specially designed perforated honeycomb drum. You will notice less stretching and tearing. It is the best machine for your gentle fabrics.
The washer also features steam to loosen and power out tough stains like red wine and grass.
Miele's washer has a fast spin speed of 1600 RPM. The average spin speed on a front load washer is 1200 RPM (revolutions per minute). A faster spin speed will wring the clothes of excess water. Miele's will almost spin the clothes dry.
Their "TwinDos" automatic dispenser is a unique feature, as well. You can load up to 40 washes in the dispenser and even check how much is left on your phone using the app. The machine will calculate the number of clothes in the drum and dispense the optimal amount of detergent and bleach versus just detergent for every other brand.
Miele has special application detergents as well. Many full-size brands like GE, Whirlpool, and LG now have auto dispensers. It is a clever idea. You only need a capful detergent in front loads, yet most people use it more.
That excess detergent from every load will eventually cause a problem in the machine for an expensive service call.
The intensive wash cycle imports the water from top and bottom for the maximum saturation of clothes with even distribution of detergents and bleach.
Pros: There's a cycle for every type of fabric with 25 cycles and swipe controls. If possible, if you have delicate clothing or just want to make your clothes last longer, this is the model to consider.
Miele also offers several ways to provide the machine with detergent. Use the TwinDos system and let the machine do all the thinking. You can also put in your favorite detergent brand using the single-dose tray.
Have a specific load like sportswear that just needs a little to clean? Miele offers specially formulated detergent through the CapDos system.
Cons: It is the most expensive at $4,198.
Best Value: Miele Compact Washer WXD160WCS ($1,199) and Dryer TXD160WP ($1,299)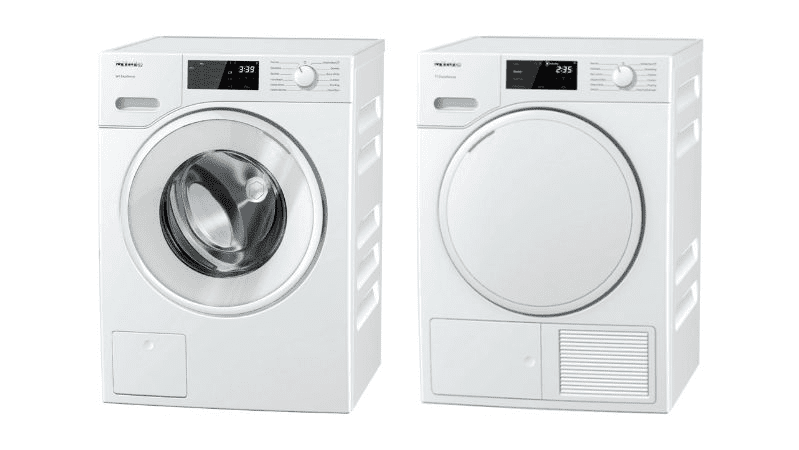 The more basic Miele washer and dryer still have their best features with their honeycomb drum to wash silks and other fine washables. You also have their caplet dispenser and 1600 RPM spin to dry your clothes, as well as steam to power out stains.
They upgraded this set versus last year and even included Wi-Fi. What it lacks from their best machine is the IntenseWash, Automatic dispenser, and it is 11 cycles versus 25 in their best machine. You lose some cycles and steam in the dryer between the two machines.
Read More: Differences Between Miele Compact Laundry Models
Best for Features and Reliability: Bosch Compact Washer WAW285H1UC ($1,399) and Heat Pump Dryer WTW87NH1UC ($1,399)
Bosch, like Miele, is another German company. They have always been the most popular suppliers of compact laundry. Unlike family-owned Miele, Bosch is a huge conglomerate.
The machines are built solidly, offer better sound insulation, and are reliable for parts and service. Bosch compact laundry is one of the most reliable appliances at 2.1% repair in the first year, compared to 5.6% for compacts and 9.5% for appliances in general.
Their compact laundry lineup will have three washer and dryer models with unique features. The dryers are condensation-only (ventless) dryers. Compared to other options, they are the quietest at 52 dB.
With Bosch compact laundry, you can pick the water temperature for your wash cycles. I do not mean just hot, warm, and cold, but 60, 90, 105, and 140 degrees. You can also choose your cycle based on the stain. Have red wine on your new pants? The machine will pick the right cycle to remove it.
Bosch is the only manufacturer with speed cycles in both their washers and dryers at 15 minutes each in the highest-end 800 Series models.
The 500 series Bosch compact laundry set (featured above) is the best Bosch set with a 220-volt heat pump dryer. With a heat pump dryer, its drying cycle is faster than Miele. This unit has 14 programs and eight options as well.
Pros: Proven brand with a long history of manufacturing compact washers and dryers. Bosch offers excellent fast wash, stain selector, and quietness features. It is also the most reliable.
Cons: Miele offers more than the 500 series at $1129 with their better drum and heat pump. Condensation drying does emit heat and moisture in the room. Availability will be especially tough in Bosch until 2023.
Best for Tight Spaces: Beko Compact Washer BWM7200X ($999) and Dryer BDV7200X ($899)
Beko is a huge Turkish manufacturer also manufactured under Blomberg. Beko is one of your only vented options because they passed the UL fire containment requirements, unlike most vented brands.
It has a unique depth of 22 inches vs. most 24-inch depth compact laundry units. In tight spaces, sometimes the depth can make an enormous difference.
The Beko laundry will have automatic and adjustable controls as well. Depending on your preference and load types, your machine can adjust to customized wash and dry cycles or be manually selected for more customization.
Least Expensive Heat Pump Dryer: Beko HPD24412W ($1,149)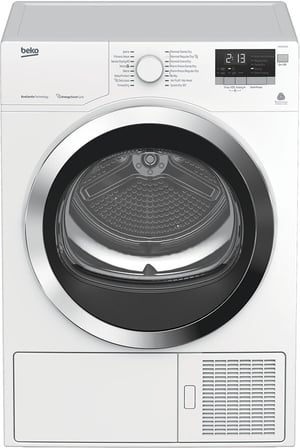 Beko is a likable company. They are committed to green technology and even have a manifesto on their website. They also have been marketing heat pump technology in the US longer than any other company under their subsidiary Blomberg.
The brand made it on our most reliable appliance list this year. It is a good option and especially good when there are no alternatives.
Read More: Should You Buy a Beko Compact Washer and Dryer?
What Are the Most Reliable Compact Laundry Brands?
Compact Washer Reliability for December 2020 to October 2021
| | |
| --- | --- |
| | Service Rates |
| Bosch | 2.1% |
| Samsung | 4.5% |
| Beko | 5.8% |
| Miele | 7.1% |
| Grand Total | 5.6% |
These figures above are based on a minimum of 150 compact washers sold and a total sample of over 1700 units. The average rate for compact washers is 5.6%.
Bosch is the most reliable brand with 2.1%. It is more than three times more reliable than the average appliance service rate. The average appliance repair rate is about 9.5%, so the washer and dryer are better than average.
Read More: Most Reliable Compact Washers
Key Takeaways
You should be aware of where your laundry will be situated. Can you vent, or will it be in a ventless location like a closet or kitchen space?
When comparing these brands, Beko will be less expensive. They are also great for tight areas, and you can vent the dryer outside from an installation perspective. Their heat pump was worth considering as well.
Miele is the best, with an almost revolutionary design of heat pump technology at 110-volts, so you do not have to update your electrical work. Less amperage can be beneficial in apartments and condominiums with limited electrical service.
Bosch is the most reliable brand with some decent cycles.
Availability will be tight for every brand, so any decent brand may be a good choice. If you have any questions about compact laundry and any other brands, feel free to leave them in the comments. I will be happy to offer any suggestions.
Frequently Asked Questions
Below are our top questions from our readers.
1. How Do I Vent Compact Laundry?
As we said before, compact laundry has the most variation between brands. Some have vented dryers, some have ventless condensation, and some have a ventless heat pump. Your current electrical and venting profile determines the compact laundry set. Most compact laundry is ventless, whereas the full size is vented.
2. Do Compact Laundry Dryers Need to be Vented?
You have a vented dryer if you live in the suburbs (like me in Needham originally). You can immediately identify them by the steel tube exiting your house from the dryer. However, compact laundry dryers do not need to be vented.
Ventless dryers work with a condenser which heats the air and helps evaporate water. Instead of pushing the air outside, it circles back into the condenser, where it is cooled. Still, the evaporated water needs to be removed from the dryer.
Pro Tip: You can run a line from the dryer to the washer drain to remove excess water.
Ventless dryers have become more popular, especially with builders and homeowners who cannot vent outside. It is also cheaper for the builder to not cut holes into a building and better for LEED certification for supplying ventless laundry.
Ventless dryers can work in any space with just 220 watts of power and a water line.
As for a vented dryer, it is are like a vacuum because it pulls the air in. To put it simply, it pulls air in from your laundry room, heats it, and then tumbles your clothes in it. Then it pushes the air outside through an exhaust.
Vented dryers usually cost less money to buy and dry faster than ventless versions but are more expensive to operate.
Learn More: Compact Laundry Buying Guide
3. What Is a Heat Pump Dryer?
Heat pump drying is the future. It is more efficient than the elements of condenser drying, so you will save money.
Heat pumps have other added benefits. They do not emit heat back into the room and are gentler on your clothes. Instead of elements, they use a compressor to store and recycle heat. I will copy Beko as they originally taught me years ago for the technical definition.
"A heat pump tumble dryer uses hot air to absorb moisture from your clothes to get them dry after a wash. After the air passes through the drum, it goes through the evaporator, removing the moisture collected as condensation and storing it in a tank. The remaining air is re-heated and sent back to the drum to start the cycle again and continue drying your clothes."
Miele went heat pump only in their drying two years ago. You will learn about Bosch and Beko as well in this article.
4. Do Heat Pump Dryers Work?
Yes, heat pump dryers work by using a compressor instead of elements. The air is then recirculated with no outside air being used. Heat pumps are more efficient than any type of dryer, but they are not widely sold in the US. Heat pumps are ventless as well.
Miele, Beko, and Bosch are changing that. Many more European companies, along with Samsung, will be next. Only Miele has engineered a 110-volt heat pump.
Read More: What Are the Benefits of Ventless and Heat Pump Dryers?
5. What Are the Electrical Requirements for Compact Laundry?
Below are the electrical requirements for Miele, Bosch, and Beko compact laundry.
Miele Heat Pump Laundry Requirements
Washers: 120V, 15amps
Dryers: 120V, 15amps
They can be powered individually but must be on different circuits. The most common installation, NEMA 4 prong adapter, is needed. The adapter plugs into a four-prong 30-amp outlet. Then the washer and dryer will need each plug into this adapter.
Bosch Condensation Laundry Requirements
Washers: 208 – 220/240V, 20amps NEMA 3 or 4 prong plug
Dryer: 208 – 220/240V, 30amp 3, or 4 prong outlets
Units can be plugged in separately, but this is uncommon due to the NEMA plug. By far, the most common installation is dryer plugs into the washer.
Beko Vented Laundry Requirements
Washer WM77120: 208 – 240V, 15amps
Dryer DV17542: 208 – 240V, 15amps
The washer plugs into the dryer. Dryer plugs into 208 – 240V, four-prong 30amp outlet.
Read More: Electrical Requirements for Compact Laundry
6. Can You Stack Compact Laundry?
Yes, every compact washer and dryer from every brand is designed to be stacked with a separate stacking kit.
Read More: How to Buy a Stackable Washer and Dryer
7. What Is the Average Cost of Compact Laundry?
The average cost of a compact washer and dryer set is about $2,000. This is about 10% more when compared to the average price of a full set. You can find more expensive models with better features, but it will be tough to find any reliable options priced less.
8. Should You Buy Smart Laundry Units?
Laundry would be truly smart if the machines could transfer the clothes from washer to dryer. Of course, that may never happen. There are all in one machine that washes and dries, but they are unreliable.
In terms of function, Bosch and Miele have some particularly good smart Programs to control your laundry from your phone. You can see how much time is remaining in all machines. This way, you do not have to trudge to the basement or upstairs in your closet to find you have 4 minutes left in a cycle.
The Miele app lets you control the machine and track the amount of detergent left in the TwinDos system. However, unlike Bosch, Miele does not seem to work with virtual assistants like Alexa or systems such as Nest.
Before buying any smart appliances, you should know there can be connectivity and security issues. Smart appliances and devices are the future. You just want to make sure they work today.
Learn More: Smart Appliance Buying Guide
9. What Compact Laundry Sets Should I Avoid?
I know I will get a lot of debate internally and externally for this. However, Whirlpool does not manufacture a competitive compact set currently. The lint has to be cleaned out periodically by a service tech. As I said before, having a service tech clean out the filter on a heat pump dryer is wrong on many levels.
Another compact laundry set to avoid is Samsung's. I love their product. Their vented has steam and is deeper for more capacity. However, their availability is tough, with no product in the future. Finding a service if your dealer does not have it is another issue, as many people have said online and on this blog.
Additional Resources
Download the Yale Compact Laundry Buying Guide with specs, features, and buying tips for every major brand. Well over 1 million people have read a Yale Guide.
Why Should You Trust Us?
It seems that every appliance review has nothing but glowing comments about almost every product, yet you read customer reviews and they are almost universally bad.
We are here to fill in the disconnect. We'll give you the best features, and the drawbacks as well, including reliability based on over 37,000 calls performed by our service team just last year. Our goal is to give you ALL the information so you know what's right for you.
Please consider subscribing or adding to the conversation in the comments below. We appreciate you stopping by.
A Note About Pricing
Pricing on this blog is for reference only and may include time sensitive rebates. We make every attempt to provide accurate pricing at time of publishing. Please call the stores for most accurate price.