Best 30-Inch All Gas Professional Gas Ranges for 2021 (Reviews / Ratings / Prices)
So, you're looking for the best all-gas professional range.
Choosing one for your kitchen should be simple.
You like to bake but love to broil that steak. You want the burners to be both powerful and have an extra-low simmer.
It's self-cleaning and never needs repair.
But I have just described a range that doesn't exist.
If it did, you wouldn't have all these choices.
In this article, you will learn about the best companies and their pro ranges.
You will also learn what is not a pro range, although many companies advertise their products as such and aren't.
Then we'll break down the best ranges for each significant factor, whether it's value, features, reliability, or performance.
Our reliability stats are based on 37,061 service calls completed by our service department just last year.
There is not one dominant range or brand. So pick one that best matches your particular cooking style.
Our top picks for the best 30-inch professional gas ranges for 2021 are:
Most Powerful Pro Range: BlueStar Platinum BSP304B and Hestan KRG304NG Pro Ranges

Best Pro Range for Simmering: Thermador PRG304WH and Wolf GR304 Pro Ranges

Best Pro Range for Convection: BlueStar Platinum BSP304B Pro Range

Best Pro Range with Self-Cleaning: Miele HR1124 and JennAir JGRP430HL Pro Ranges

Best Pro Range with Wi-Fi and Smart Connectivity: JennAir JGRP430HL Pro Ranges

Best for Promotions: Thermador PRG304WH and JennAir JGRP430HL Pro Ranges
This article will guide you with the best features and the downsides to each brand, including prices and reliability rankings.
We'll also cover the differences between dual fuel and all gas ranges. You have been led to believe dual fuel is automatically better.
In many cases, gas is a better range to buy.
Let's get started.
Short on time? Get our free Pro Cooking Buying Guide
Choosing Between Gas or Dual Fuel Professional Ranges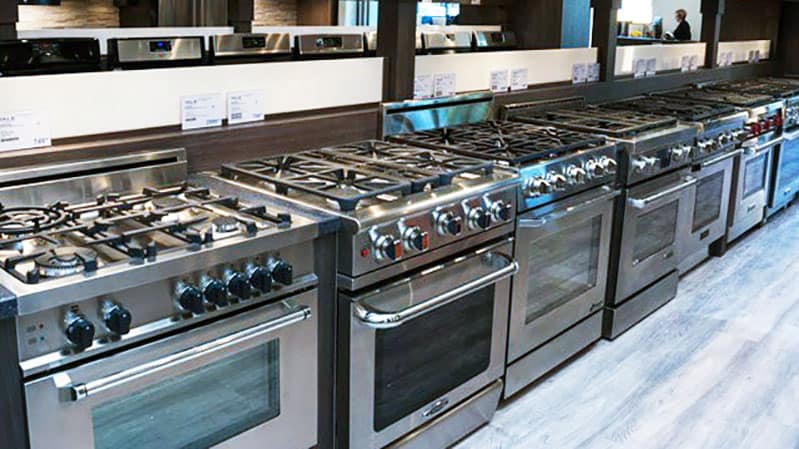 All Gas 30-Inch Pro Ranges at Yale Appliance in Boston
Dual fuel is a gas stovetop and electric oven versus an all gas product. It is usually $1,000 to $2,000 more than a gas range.
We cover the best dual fuel pro ranges in a separate article.
The benefit of an electric oven is a dryer, more consistent heat. It's better for baking.
On pro ranges, Wolf and Miele's will also add features on their dual fuel. Wolf adds a timer, self-cleaning, added BTU on the burners, and twin convection.
Miele's 30-inch dual fuel range adds their MasterChef controls, so the range calculates time and temperature automatically based on your inputs. It also has steam assist in baking bread.
Hestan has a cool temperature control plus self-cleaning on their dual fuel.
Gas is a moist heat than electric, and it's preferable for roasting. However, gas is also exceptional for broiling.
If you love to broil, a gas infrared broiler is intense direct heat and is the best to buy for your home.
Wolf, Thermador, Miele, Hestan, and BlueStar all have infrared, with BlueStar saying they are the hottest at 1,850 degrees. However, Miele has the best output at 23,000 BTU.
Personal Note: When you buy a professional gas grill, that sear element is infrared. My Dad used to burn lamb chops all the time on the grill.
I finally figured out he was using a sear element instead of the gas and then finishing in a sear. It's that fast.
Choosing a gas or dual fuel would depend on whether you bake versus roast and broil.
Self-cleaning is standard on all dual fuel ranges, yet only JennAir and Miele are the only pro ranges with self-cleaning in all gas.
What is Not a Professional Range
Look at the range below. It's pretty nice.
Bertazzoni 30-Inch Pro-Style Range
They even advertise a 19,000 BTU burner. They don't tell you the BTU output of the other burners at 10,400, 5,900, 5,900, and 3,500.
So you have a power burner and four simmer burners. These ranges are mostly imported from Italy like Bertazzoni, Smeg, and Ilve.
Their style is beautiful, but they lack functionality both on the cooktop and in the oven.
At the same time, many regular ranges have two "pro-style" burners.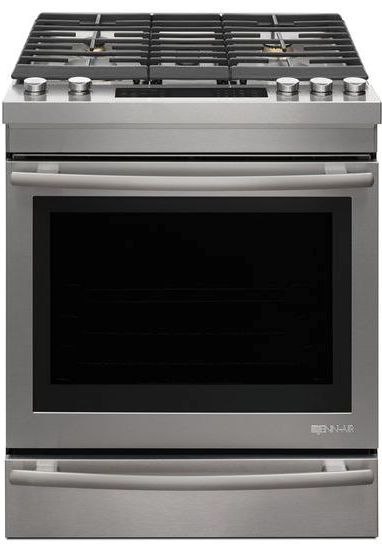 JennAir JGS1450FS 30-Inch Gas Range
This regular JennAir may lack its pro-style version, but it has two pro-style burners at 17,000 and 19,000 BTU burners.
You also have other features like a fifth griddle burner and a baking drawer underneath not available on their pro at a technically lower price.
Now, let's look at the best 30-inch pro ranges for 2021.
Short on time? Get our free Pro Cooking Buying Guide
Best 30-Inch Professional Ranges for 2021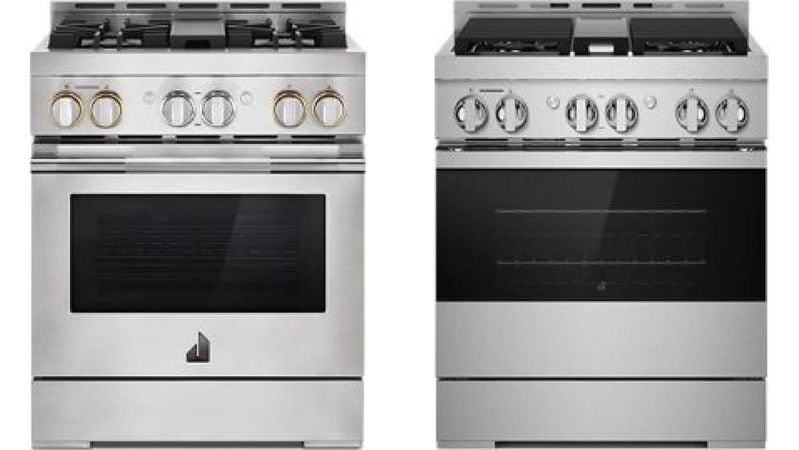 Burner Output: 67,000 total BTU output | Number of Burners: 4 | Convection Type: Dual Fan True Convection | Smart Integration: Yes | Broiler Power: 11,000 BTU
JennAir offers two series, the Rise and Noir, at 30 inches. They were styled beautifully from their launch a few years ago.
They still have high output with two 20,000 BTUs and one 18,000 BTU burner but have emphasized the cooking experience.
It is Wi-Fi enabled and compatible with Amazon's Alexa. JennAir added their Cooking Center interface for Wi-Fi.
It allows you to cook more precisely and shows you pictures of your food's doneness before you cook.
Their My Creations settings remember your recipes without programming.
JennAir has its own cooking app similar to Yummly. This cooking app allows you to cook from any recipe - when it works. The JennAir app is rated as 1.5 stars, but that should improve.
JennAir has two distinctive looking ranges: the Rise and Noir.
The oven is twin convection as well.
Their rebate with this range is $1,399, so it's about the same price as their regular non-pro range mentioned earlier in the article.
The Downside to a JennAir 30-Inch Professional Range
It's availability is a concern and has been since its release. If you want a JennAir kitchen, then plan a year.
For all its technical wizardry, JennAir is the only range on this list without an infrared broiler.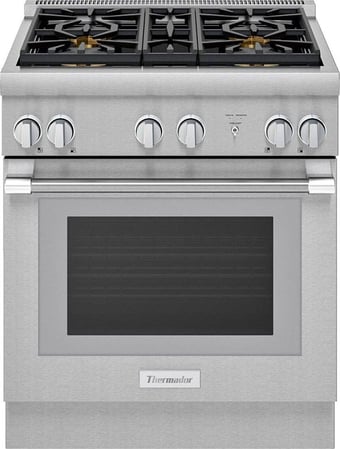 Burner Output: 66,000 total BTU output | Number of Burners: 4 | Convection Type: Single Fan Convection | Smart Integration: No | Broiler: 17,500 BTU
Thermador is known for its Star Burners with even heat distribution and an extremely low simmer.
The Thermador Star burner is unique from everybody else's round burner. I can't claim its shape is any better, but it can simmer at an unbelievable 100°.
The burner turns on and off intermittently to achieve this temperature. Thermador offers a free dishwasher (valued at $1,399) and a free hood promotion with other qualifying purchases.
It's also raised from the cooktop, so it's easier to clean than the other pro ranges.
Thermador introduced a new range with better styling and Wi-Fi through an app.
Their HomeConnect app helps you adjust the time and temperature remotely from your phone. You can even download recipes.
However, they also dropped their BTU output in two of their burners from 18,000 to 15,000 BTU, so it's not as powerful as the previous models.
The Downside to a Thermador 30-Inch Professional Range
Their range has a good simmer but now average BTU.
They upgraded the Wi-Fi, so it's smarter. However, Thermador is still single convection, non-self cleaning in the oven without any clock and timer functions.
Burner Output: 54,200 total BTU output | Number of Burners: 4 | Convection Type: Single Fan Convection | Smart Integration: No | Broiler: 18,000 BTU Infrared
Wolf has the dual-stacked burners for a really good simmer on every burner. There are also up to $1,000 in rebates with other combined purchases from Sub-Zero.
The stovetop is a bit underpowered with three 15,000 BTU burners, but each burner can simmer lower than 300 degrees.
Unlike the on/off simmer of Thermador, Wolf maintains the simmer continuously.
The oven is single convection, but their infrared broiler is powerful at 20,000 BTU. Wolf, along with the Thermador Harmony and BlueStar, are not self-cleaning ovens.
In terms of repair, Wolf is your best bet if you are buying from a dealer without service. They are the most invested with technicians, parts, and support on this list.
The Downsides to a Wolf 30-Inch Professional Range
It's underpowered at 54,000 total BTU versus 76,000 for a Hestan with single convection. Wolf does not have colors or Wi-Fi yet.
Hestan KRG Series KRG304NG - $5,499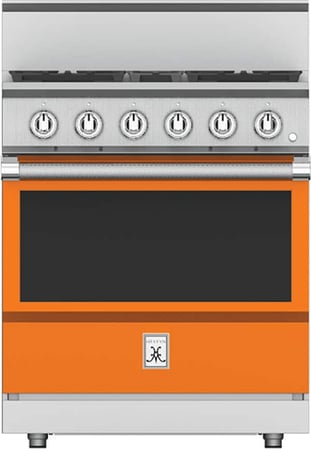 Burner Output: 76,000 total BTU output | Number of Burners: 4 | Convection Type: PureVection | Smart Integration: No | Broiler: 20,000 BTU Infrared
Hestan is new and different. We reviewed it last week.
As I said then, heavier components do not mean less service. However, Hestan has the most solid knobs and burners on this list.
Their brass ignition should save some service down the line (ignition is the number 1 repair).
It's a beautiful range available in 12 colors, 11 more than every other brand on this list but 988 less than BlueStar.
The output for Hestan is outstanding at two 23,000 and two 15,000 BTU output. It is the best for a sealed burner. Only BlueStar is better with their open burner design.
The oven is single convection, but they call theirs "Purevection," so it alternates time and temperature for an even result.
Many of their commercial ranges have the same technology and are located in some of the best restaurants.
French Laundry uses the range. You would think they would demand a consistent temperature. However, it's worth a test for our chef one day.
Their three-year warranty is the best on the list.
The Downsides to a Hestan 30-Inch Professional Range
Like Wolf, Thermador, and BlueStar, Hestan is not self-cleaning and offers no clock and timer functions in their all-gas ovens.
Also, anything new deserves more scrutiny. You worry about reliability because there are no published numbers yet.
If you are buying from a dealer who does not have service, who will fix it?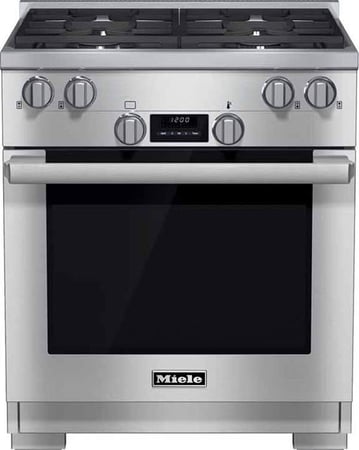 Burner Output: 69,000 total BTU output | Number of Burners: 4 | Convection Type: Twin Convection| Smart Integration: No | Broiler: 23,000 BTU Infrared
Miele was one of the last manufacturers to produce a pro range. Its a product designed to be highly competitive when introduced in 2014.
The burner output is excellent at 19,000 BTU max output (great back then)
They also offer twin convection for even cooking. Miele has the hottest infrared broiler at 23,000 BTU.
It is the most cleanable with self-cleaning in the oven.
The racks are designed to withstand the self-cleaning cycle's heat, so you do not have to remove them and wash them separately.
The grates are also dishwasher safe.
So it's pretty competitive when you consider output, stove performance, and cleanability.
Downsides to a Miele 30-Inch Professional Range
The burners are not the hottest anymore, with Hestan and BlueStar being measurably hotter. Their twin convection is similar to JennAir.
If the future is Smart cooking and App functionality, then industry leaders, Miele and Wolf, should get started.
The specifications on this range are still good, but it almost needs a refresh.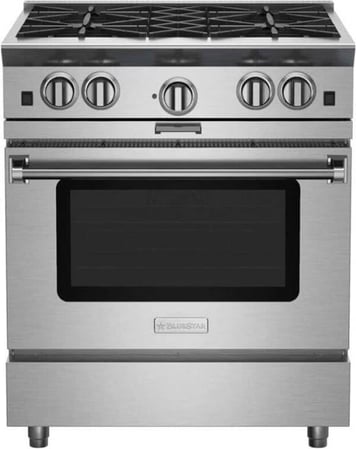 Burner Output: 71,000 total BTU output | Number of Burners: 4 | Convection Type: True Convection | Smart Integration: No | Broiler: 15,000 BTU Infrared
BlueStar platinum ranges have the highest heat output at 25,000 BTU on their highest burner. Their grates can be modified to fit a round-bottomed wok, great for high-heat cooking.
The Platinum is the best BlueStar range. The Nova, Precious Metals, Culinary with open and sealed burners all have less output and oven features.
This range features an interchangeable griddle and charbroiler for added cooking flexibility. The griddle is a good idea, especially over the higher BTU burners.
The grill? Not really. Grilling is over an open flame which this is not.
BlueStar has their" POWR" convection oven that reduces preheat and cooking time.
It's also the only pure convection oven besides Hestan, so it eliminates taste crossover between racks (you should ask for a custom demo).
BlueStar Platinum series ranges offer 1000 custom color finishes and ten trim options for an added cost.
Have a look at this: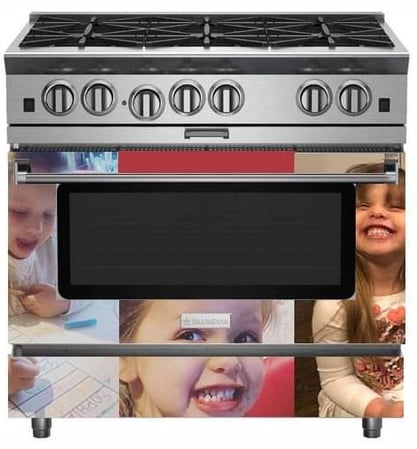 Starting soon, you can send BlueStar a high-resolution picture for your new stove or refrigerator front.
Like I did just for fun with a photo of my daughter on one of her better days (shown above).
So you have 1000 colors and infinite photo opportunities with a BlueStar range.
The Downsides to a BlueStar 30-Inch Professional Range
The burners are open, not sealed. If you are a messy cook, then you will be cleaning. Then again, all the components are removable.
They do lose the most powerful range to newcomer Hestan.
They claim the hottest broiler in temperature, but at 15,000 BTU, Miele is 50% more powerful.
Once again, like most other ranges, it has basic controls and no Smart capability.
Which Professional Range Should You Buy?
| | | | | | | |
| --- | --- | --- | --- | --- | --- | --- |
| | JennAir JGRP430HL | Thermador PRG304WH | Wolf GR304 | Hestan KRG304NG | Miele HR1124 | BlueStar BSP304B |
| Power Burner | 20K BTU | 18K BTU | 15K BTU | 23 BTU | 19K BTU | 25K BTU |
| Simmer Burner | 850 BTU | 100 Degrees | 9K BTU | 500 BTU | 12K BTU | 130 Degrees |
| Oven Capacity | 4.1 Cu. Ft. | 4.4 Cu. Ft. | 4.4 Cu. Ft. | 4.9 Cu. Ft. | 4.63 Cu. Ft. | 18" x 26" Baking Sheet |
| Self-Cleaning | Yes | No | No | No | Yes | No |
| Broiler | Gas | Infrared Gas | Infrared Gas | Infrared | Infrared Gas | Infrared Gas |
| Open or Sealed Burners | Sealed | Sealed | Sealed | Sealed | Sealed | Open |
| Included Accessories | Glide Rack | Glide Rack, Roasting Pan | Roasting Pan | Wok | Glide Rack | Interchangeable Grill / Griddle, Glide Rack |
As I said before, this is a tough choice. If you are using the top cooking surface the most, look at JennAir or BlueStar for power or Wolf and Thermador for a better simmer.
Miele and JennAir will have self-cleaning and twin convection for better temperature control.
JennAir is the most interesting because their online app experience is so advanced (when it works).
Each range has its attributes, depending on what and how you like to cook. Below, we broke down which range is the best for every major factor of your buying decision.
Most Powerful Pro Ranges: BlueStar Platinum BSP304B and Hestan KRG304NG
BlueStar has the most powerful burner with the 25,000 BTU Nova open burner. However, at 77,000 total BTU, Hestan is the most powerful range on the market.
Best Pro Ranges for Simmering: Thermador PRG304WH and Wolf GR304
You would think high to low would be an easy comparison, but it's not. Thermador is the lowest, with temperatures as low as 100 degrees.
However, it's simmer is intermittent meaning it turns on and off to maintain that low simmer.
Wolf has a consistent simmer with a smaller burner that can simmer lower than 300 degrees or a larger burner with a higher temperature of 500 degrees.
Best Pro Range for Convection: BlueStar Platinum BSP304B
All the ranges offer convection (fan-forced heat for more even baking and roasting). BlueStar's PowR convection oven is designed to be the fastest and most even.
It's the only pure convection. The air is blown in through the rear versus the bottom.
Second Best Pro Ranges With Convection: Miele HR1124 and JennAir JGRP430HL
Miele and JennAir have twin convection or two fans for even baking. I like twin convection in 36-inch ovens because there is more of a difference in larger cavities.
Hestan has the Purevection of alternating time and temperature.
Best Pro Ranges with Self-Cleaning: Miele HR1124 and JennAir JGRP430HL
JennAir and Miele are the only companies offering self-cleaning in pro-all-gas models.
Every company features self-cleaning in its dual fuel ranges. (BlueStar is the exception because they don't offer a dual fuel range yet until later in 2021).
Best Pro Range for Wi-Fi and Smart Connectivity JennAir JGRP430HL Pro Ranges
Wi-Fi is the future of appliances without question. JennAir is the furthest, along with recipes and apps to improve and innovate your cooking.
Thermador would be next. It's not as advanced but more reliable for now.
In the next 3-5 years, you'll be telling your range what to cook. It will know what you want, shop for your food, and set the dishwasher to the right cycle.
But we're not there yet.
Best for Promotions: Thermador PRG304WH and JennAir JGRP430HL Pro Ranges
Thermador and JennAir are the most aggressive with their rebate promotions. Both give you a product valued at ($1,000-$1,399) from buying the range. Both brands offer additional incentives with the purchase of full-size integrated refrigeration.
Wolf offers a $1,000 mail-in rebate.
Miele offers 10% back via mail-in rebates with qualifying kitchen packages during different times of the year.
Are Professional Gas Ranges Reliable?
Professional Gas Range Reliability December 2019 - November 2020
| | |
| --- | --- |
| | Service Ratio |
| Thermador | 13.41% |
| Wolf | 13.67% |
| JennAir | 13.08% |
| BlueStar | 16.33% |
| Miele | 9.38% |
| Grand Total | 13.46% |
The figures above are based on a minimum of 20 products sold and over 1000 total pieces.
Hard to buy just on reliability because they are so similar. Miele is technically the most reliable on a much smaller sample.
Before you buy on features exclusively, you have to investigate which company has the best service in your area because these ranges are now highly technical and will probably need service within 5 years.
Key Takeaways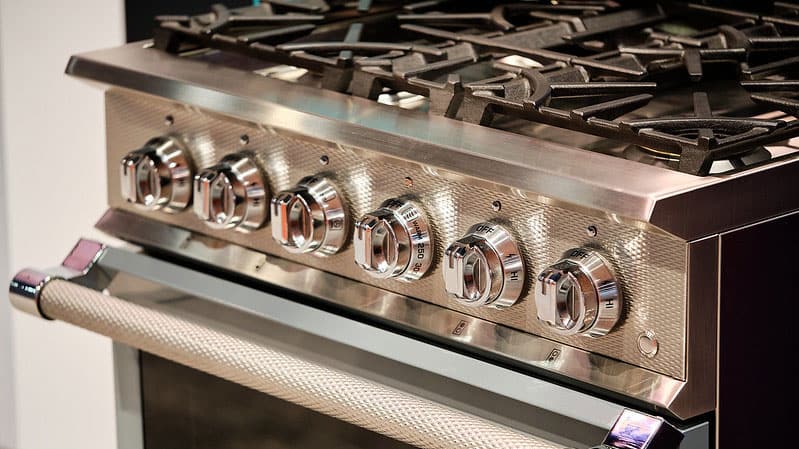 Hestan 30-Inch 4-Burner All Gas Pro Range
All of these ranges would be a great, functional addition to your kitchen. They are all strong brands with different strengths and some drawbacks.
You need to choose what's right for you.
Is it the least expensive yet most technology-driven brand JennAir? Perhaps you like the cleanability of the Thermador Star Burner or the Wolf three-stage burner?
Miele offers many features, yet Hestan and BlueStar have a ton of power and interesting convection systems.
As I said, there isn't one best range.
Remember, all gas ranges can have an ignitor issue, so always check to see who can service your appliances in your area.
Frequently Asked Questions
1. What type of oven is best for home use?
The best oven for home use depends on your lifestyle and how you cook. For broiling or roasting, gas provides moist heat and is better for baking meat.
2. What is the best appliance brand to buy?
Sub-Zero and Wolf are the best names for resale, but Thermador, Miele, and JennAir are great considerations also.
Additional Resources
Download the Yale Pro Range Buying Guide with features, specs and inside buying tips to all the major brands. Over 820,000 people have read a Yale Guide.
Related Articles:
Why Should You Trust Us?
It seems that every appliance review has nothing but glowing comments about almost every product, yet you read customer reviews and they are almost universally bad.
We are here to fill in the disconnect. We'll give you the best features, and the drawbacks as well, including reliability based on over 37,000 calls performed by our service team just last year. Our goal is to give you ALL the information so you know what's right for you.
Please consider subscribing or adding to the conversation in the comments below. We appreciate you stopping by.
Craig Marcotte
Craig Marcotte is an Appliance Sales Consultant at Yale Appliance. He has been with Yale for over two years now. Before working at Yale, Craig was a corporate trainer and later spent several years managing restaurants in Boston. A New Hampshire boy at heart, you can often find Craig on a mountain or running a Spartan race when he isn't helping customers upgrade their homes.
A Note About Pricing
Pricing on this blog is for reference only and may include time sensitive rebates. We make every attempt to provide accurate pricing at time of publishing. Please call the stores for most accurate price.