Best 30 Inch Professional Gas Ranges (Reviews / Ratings / Prices)
The professional gas range is still the marquee kitchen appliance, and yes, it will make a statement in your kitchen.
Viking was the early pioneer but has lost interest especially against Wolf, Thermador, Jenn-Air, Miele, and BlueStar. Which should you consider? That all depends.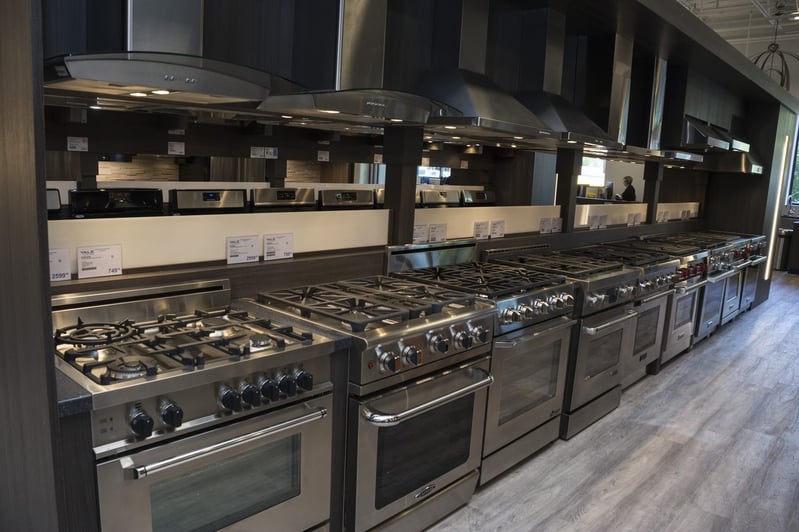 We will look at the companies, the ranges, and then break down the best range for each feature. There is not one dominant range or brand, so you are best to choose one based on how you cook.
Best 30" Professional Ranges
Thanks for reporting a problem. We'll attach technical data about this session to help us figure out the issue. Which of these best describes the problem?
Any other details or context?
message
What is a Professional Gas Range?
A professional range is a stove with high output BTU burners in a commercial appearance. They are available in all-gas or dual fuel with electric convection ovens.
Regular gas ranges will have at least one professional style burner. The professional range will have all high output burners and at least two burners with a very low simmer.
The Companies
Jenn-Air: Jenn-Air was best known for downdraft ranges and cooktops then languished after being purchased by Maytag. New parent Whirlpool has invested 300 million dollars in wall ovens and this range. Suddenly, Jenn-Air is relevant again with some really cool features and aggressive rebates.
Thermador: Thermador was known for their wall ovens and cooktops before languishing in the early 1990s. In 1997, Bosch acquired Thermador and turned the company around with the Star Burners and incredible simmer. Thermador is another brand with aggressive rebates.
BlueStar: BlueStar is the only brand in this lineup maintaining commercial features and style. The BlueStar brand surfaced in 2002 by Prizer-Painter Stove works, a company that has been manufacturing ranges since 1880. BlueStar is known for high burner output, custom color/trim options, and a powerful convection system.
Short on time? Get our free Pro Cooking Buying Guide
Wolf: Wolf was independent until being purchased and rejuvenated by Sub-Zero in the late 1990s. It is still considered state of the art in the industry due to its twin convection powered oven and dual stack simmer burners.
Miele: Miele ranges are designed and manufactured in Germany. Known for their iconic dishwasher, Miele typically produces the most reliable appliances on the market. Although Miele was originally known for manufacturing cleaning appliances, their cooking product has taken off in the high-end residential market especially with their MasterChef M Touch controls.
(The free Pro Cooking Buying Guide explains the evolution of Miele cooking products and their new pro range)
All these ranges are manufactured in the US with the exception of Miele. Each has its features and reasons to buy. The ranges are all gas. Some are available in dual fuel with electric ovens as well, but dual fuel has totally different features.
The Best 30 Inch Professional Ranges
Jenn-Air has retooled their cooking and has started to manufacture a great professional range. This range has one 20,000 BTU burners, an advanced interactive LCD clock, and twin convection oven. Jenn-Air also offers a $1,300 toward select Jenn-Air appliances with the purchase of this range.
Thermador is known for its star burners with even heat distribution and extremely low simmer. The Thermador can simmer at an unbelievable 100°. It turns on and off intermittently to achieve this temperature. Thermador offers a free dishwasher (valued at $1,299) as well as a free hood promotion with other qualifying purchases. A few years ago, Thermador released a 5-burner, 30-inch range. This 5-burner range was designed with less overall burner power to help combat the requirement for high-CFM ventilation.
Wolf has the dual stacked burners for a really good simmer on each burner. There is also up to $1,000 in rebates with other combined purchases from Sub-Zero.
(Our Pro Cooking Buying Guide explains everything you need to know about Wolf gas ranges)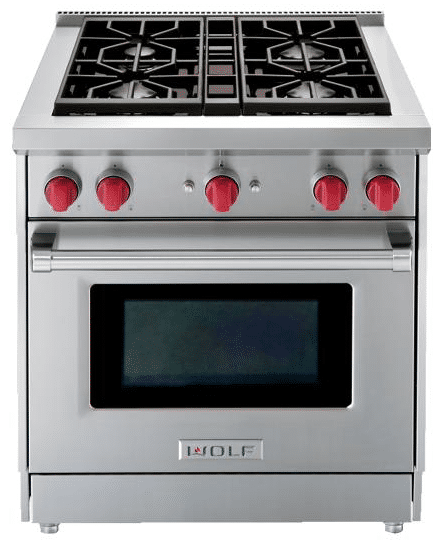 Miele has really great output per burner at 19,000 BTU. They also offer the twin convection for even cooking. This range is also the most cleanable. It is self-cleaning. The racks are designed to withstand the heat of the self-cleaning cycle, so you do not have to remove them and wash separately. The grates are also dishwasher safe.
BlueStar platinum ranges have the highest heat output at 25,000 BTU on their highest burner. Their grates can be modified to fit a round-bottomed wok, great for high-heat cooking. This range comes with an interchangeable griddle/char broiler for added cooking flexibility. This range has a POWR convection oven that reduces preheat and cooking time. BlueStar Platinum series ranges are offered in 750+ custom color/trim options for an added cost. BlueStar occasionally offers rebates and incentives but they change regularly.
Which do you buy?
Below is a table comparing features between these ranges:
| | | | | | |
| --- | --- | --- | --- | --- | --- |
| Brand/Feature | Jenn-Air | Thermador | BlueStar | Wolf | Miele |
| Power Burner | 20K BTU | 18K BTU | 25K BTU | 15K BTU | 19K BTU |
| Simmer Burner | 850 BTU | 100 degrees | 130 degrees | 9K BTU | 12K BTU |
| Oven Capacity | 4.1 cubic ft. | 4.4 cubic ft. | 18''x26'' baking sheet | 4.4 cubic ft. | 4.63 cubic ft. |
| Self-Cleaning | yes | no | no | no | yes |
| Accessories Included | Glide rack | Glide rack, roasting pan | Interchangeable grill/griddle, glide rack | Roasting pan | Glide rack |
| Broiler | gas | Infrared gas | Infrared gas | Infrared gas | Infrared gas |
| Open/Sealed Burner | sealed | sealed | open | sealed | Sealed |
| Promotions | $1300 toward another (select) J-A appliance | $1299 toward a Thermador dishwasher | Up to $1000 for BlueStar appliance package | Up to $1000 after mail-in with select Sub Zero product(s) | -10% after mail-in rebate on select Miele packages |
BTU Output
Winner: BlueStar is the most powerful with the 25,000 BTU Nova open burner.
BlueStar Burner
Runner-Up: Jenn-Air is really powerful for a sealed burner range at 20,000 BTU.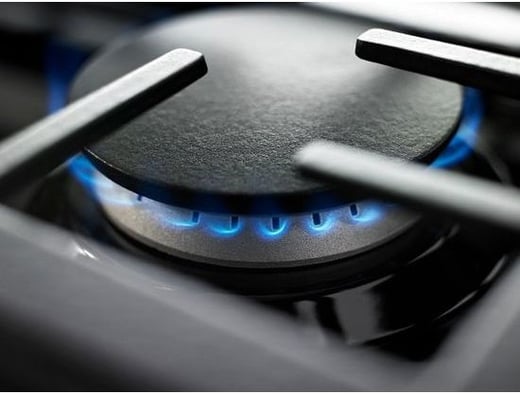 Jenn-Air Burner
Convection
All the ranges offer convection (fan forced heat for more even baking and roasting).
Winner: BlueStar's POWR convection oven is designed to be the fastest and most even. It is the only pure convection. The air is blown in through the rear versus the bottom.
BlueStar Oven
Runners Up: Miele and Jenn-Air have twin convection or two fans for even baking. I like twin convection in 36-inch ovens because there is more of a difference in larger cavities.
Miele Twin Convection Oven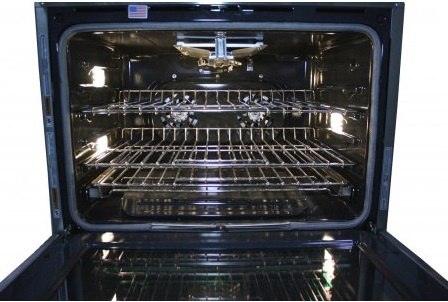 Jenn-Air Twin Convection Oven
Still, many 30-inch wall ovens have twin convection, so it is an advantage.
Self-Cleaning
Jenn-Air and Miele are the only companies offering self-cleaning in an pro all gas models. Every company features self-cleaning in their dual fuel ranges. (BlueStar is the exception because they don't offer a dual fuel range).
Simmer
You would think high to low would be an easy comparison, but it's not. Thermador is the lowest with temperatures as low as 100 degrees. It is, however, an intermittent or on/off simmer. Wolf has a consistent simmer at a higher temperature of 500 degrees with a smaller burner of 375 degrees.
Promotions
Thermador and Jenn-Air are the most aggressive with their rebate promotions. Both give you a product valued at ($1299) from buying the range. Both brands offer additional incentives with the purchase of full-size integrated refrigeration.
Wolf will offer a $1,000 mail-in rebate until March 2018. Miele offers a 10% mail-in rebate through early December 2017.
Reliability
This is interesting. Wolf and Thermador are on our list of most reliable manufacturers. Miele is the most reliable manufacturer at a minuscule 5%, but they have never produced a professional range (or anything close) before 2015-2016. There will probably be a learning curve.
Final Thoughts
As I said before, this is a tough choice. If you are using the top cooking surface, look at Jenn-Air or BlueStar for power or Wolf and Thermador for a better simmer. I like the twin convection of Miele with the clock/timer functionality of Jenn-Air.
All have merit depending on your budget and what features interest you.
Additional Resources
Download the Yale Pro Range Buyers Guide with features, specs and inside buying tips to all the major brands. Over 220,000 people have read a Yale Guide.
Related Articles
Jessica Petrino
Jessica Petrino is an Appliance Sales Consultant at Yale Appliance + Lighting. Jessica is a graduate of Brandeis University where she studied Economics and Philosophy. In her spare time she enjoys skiing, golfing, and traveling.

Read more about Jessica here.
A Note About Pricing
Pricing on this blog is for reference only and may include time sensitive rebates. We make every attempt to provide accurate pricing at time of publishing. Please call the stores for most accurate price.