GE Profile UltraFast Combo Washer & Dryer: Test and Performance Review
May 19th, 2023 | 7 min. read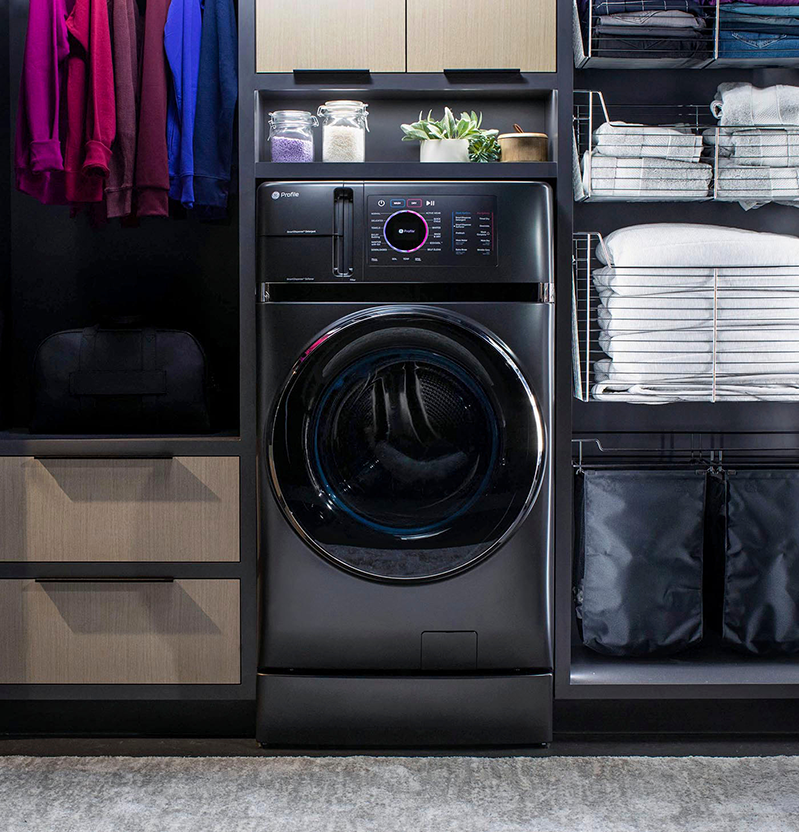 We finally received and tested the GE Profile PFQ97HSPVDS at our service and repair center.
In this article, you will learn about all the features of this innovative new product.
Then you will see drying results and times of four different loads of whites, colors, bed sheets, and a king-size comforter.
Finally, we will highlight some potential drawbacks to consider and review if this combo washer and dryer is worth buying.
Let's get started.
GE Profile UltraFast Combo Washer & Dryer PFQ97HSPVDS Overview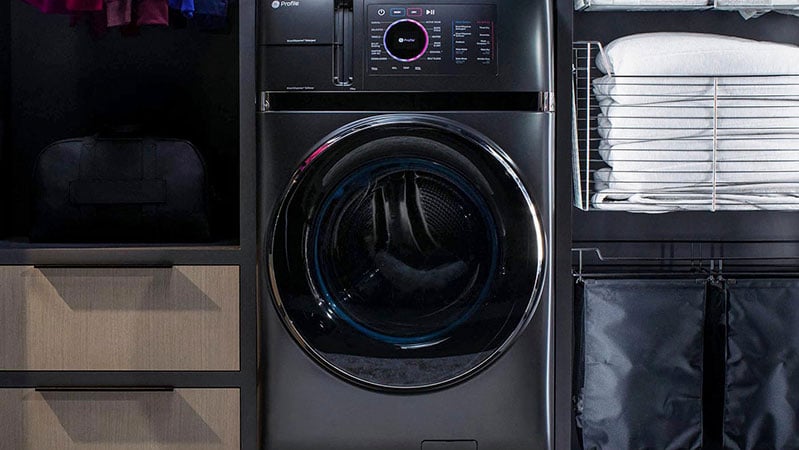 Main Benefits
All-in-One Washer and Dryer
It's a washer and dryer, meaning you will never have to transfer your clothes from a washer to a dryer.
Pop your dirty clothes in, and they will finish clean and dry. You will never have to rewash a load you forgot to place in your dryer.
Ventless
The unit is ventless and requires only 110 volts to power meaning you can place this anywhere with an outlet and water.
Plus, you never have to worry about cleaning your dryer vent ever again.
Most people don't, so fires happen with heat and lint. I am not trying to scare you because they don't happen often.
Unlike regular ventless condenser dryers, heat pumps don't project heat back into your room, although the GE Profile got warm in our tests.
Heat Pump System
Heat pump dryers are a highly efficient option when it comes to conserving energy.
Compared to vented dryers, which are about as efficient as a large, wasteful hair dryer, the heat pump recirculates air through an air exchanger with a compressor to heat the air and pump it through the dryer.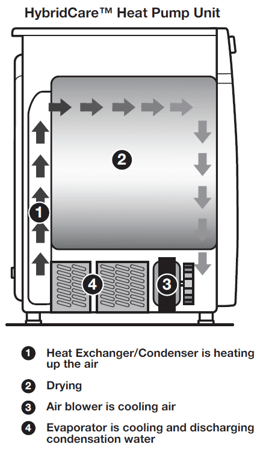 This not only saves you money on your energy bill, but it's also gentler on your clothes since it operates at lower temperatures.
Problems with Heat Pump Dryers
Like we mentioned earlier, the cycles are longer than condenser dryers.
Although heat pumps have been around for 30 years, you have more parts to break, like the heat pump and air exchanger.
If you want to learn more about heat pump technology, subscribe to the blog; we will compare the GE Profile to Miele, Bosch, Beko, and the LG WashTower in future articles and videos.
The Problems with Combination Washers and Dryers
Lint Removal
We would all own a combination washer and dryer in a perfect world.
Think about it. You would never have to take your clothes out of the washer and into a dryer.
You would never have to rewash a load you forgot to place in your dryer like I did last week.
Combo washers and dryers have a common problem of being unable to effectively remove lint.
Over time the lint will seize the machine for an expensive and impossible service call.
We normally advise against the combo because we know the impending issues.
This is at odds with many influencers and people who have one. However, many of these evangelists are single and use their laundry sparingly.
I am not knocking them and respect their opinion, but I have yet to find a family or heavy use endorsing a combo washer and dryer unit.
Then again, that will never happen. A combo washer and dryer is not built for frequent daily loads.
The GE Profile has a unique solution to this problem with a heavy two-sided filter before the air exchanger.
It collects lint at the top of the machine rather than the bottom, making it easier to remove and preventing potentially costly service calls.
Reduced Drying Efficiency or Performance
Heat pumps, a technology commonly found in European dryers, have made their way into larger combination washer and dryer units like the LG WashTower and the GE Profile UltraFast.
These heat pumps offer greater energy efficiency but may require longer drying times as a result.
This becomes a notable concern when dealing with a much larger unit like the GE Profile UltraFast Combo washer and dryer.
When assessing the dryer's performance, it is crucial to consider the time results for the drying cycle.
Further down in the article, you will see our drying time results for the GE Profile combo washer and dryer.
Features
Microban Coated Surfaces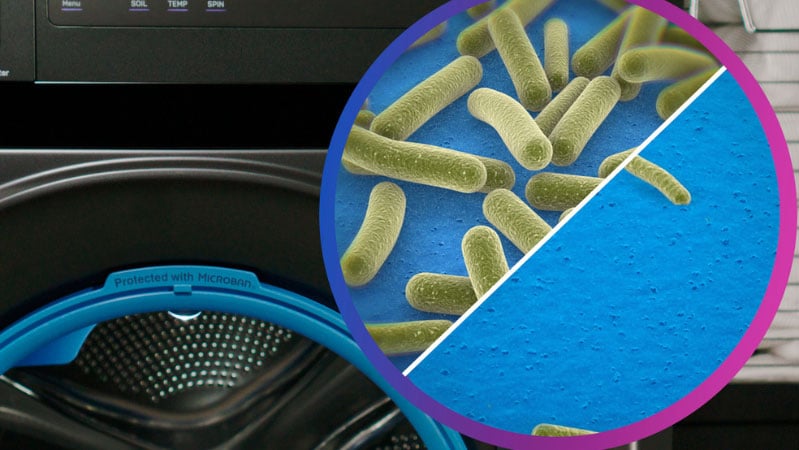 The GE Profile is similar to GE's high-end front load washers with Microban coatings to resist mold in the gasket, hoses, and dispenser.
It doesn't have GE's UltraFresh Vent System with OdorBlock because the drying cycle keeps the gasket and the inside dry.
We noticed the GE Profile's gasket was dry after we completed multiple loads of laundry during our tests.
Automatic Detergent Dispenser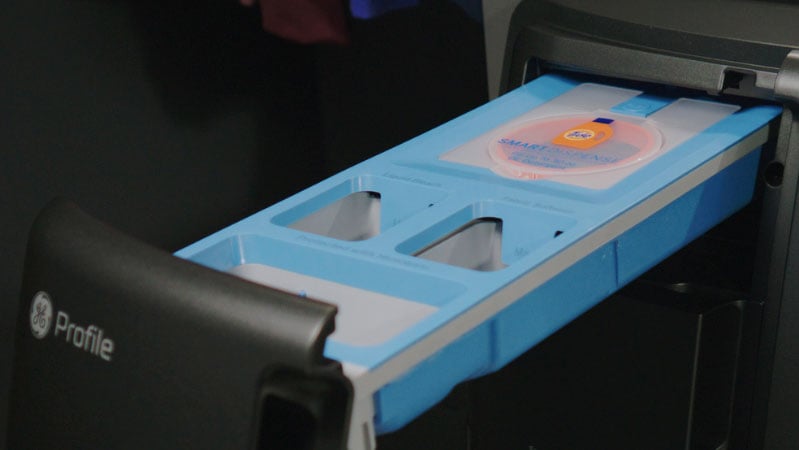 People often overload the detergent dispenser, possibly due to their habit of using excessive detergent in their old top load washers.
Front-load washers require less detergent. However, excess detergent will stay in the machine and cause service problems.
It's like that lint problem I mentioned earlier. You don't want to excess anything inside the machine.
An auto dispenser solves that problem by dispensing the exact amount of detergent needed at the right time.
GE has a 32-load capacity. You don't have to reload the detergent after every wash cycle.
Smart Functionality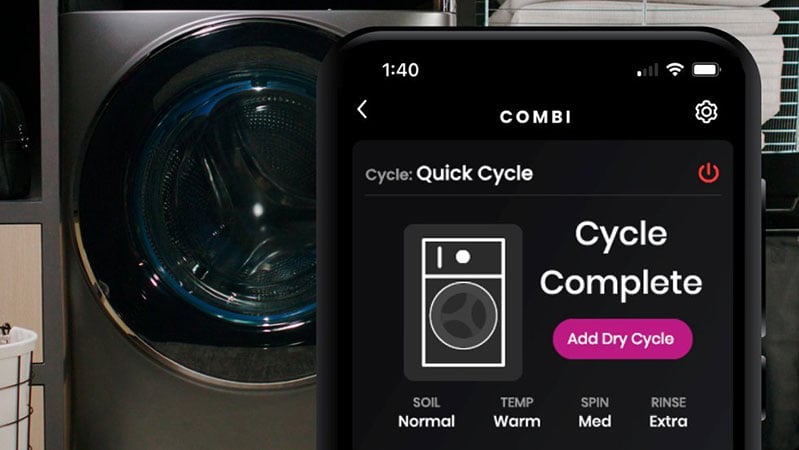 You can also track the time remaining on your phone and receive a push notification when the cycle is finished.
Smart functionality works for laundry. It saves you from walking down to the basement and staring at a machine with 4:23 seconds left.
You can also see how much detergent is left in the dispenser as well, right on the app.
4.8 Cubic Foot Capacity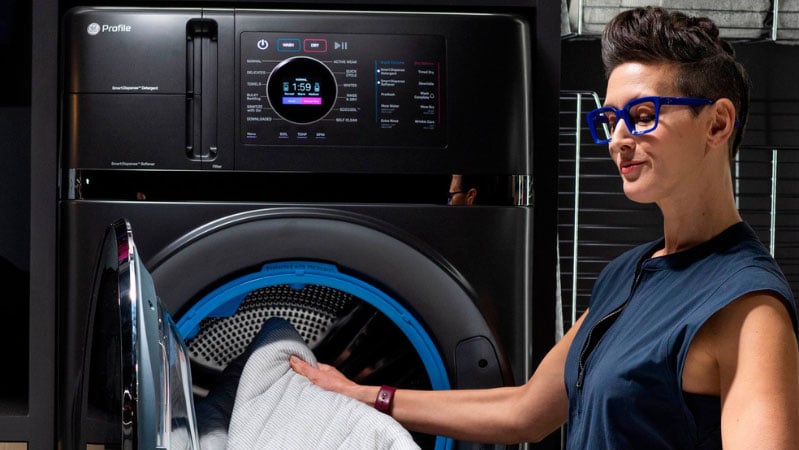 The average front load is between 4.5-5 cubic feet. So, this is a full-size combination water and dryer with a lot of new technology.
Now let's see if it works and how and if the lint is captured.
GE Profile UltraFast Combo Washer & Dryer: Test and Performance Review
| | | | | |
| --- | --- | --- | --- | --- |
| | Colors | Blankets/Sheets | Whites | Comforter |
| Cycle Used | Towels | Bedding | Whites | Bulky/Bedding |
| Time Indicated | 3 hours and 25 mins | 2 hours and 2 mins | 2 hours and 50 mins | 2 hours and 12 mins |
| Time Completed | 2 hours and 51 mins | 2 hours and 8 mins | 2 hours and 48 mins | 2 hours and 1 min |
| Was It Dry? | Yes | Yes | Yes | Mostly |
| Notes | Washed 6 extra large men's t-shirts and four beach towels | Washed a king-size sheet set and a king-size blanket | Washed 8 men's large dress shirts, four towels, and 8 men's large t-shirts | Washed a king-size comforter |
For four towels and 6 XL men's shirts, the machine showed 3 hours and 25 minutes but finished in 2 hours and 51 minutes.
For a king-sized sheet and blanket, it showed 2 hours and 2 minutes and finished a bit later at 2 hours and 8 minutes.
For whites, including eight men's shirts, four towels, and eight large T-shirts, the kit showed 2 hours and 50 minutes and was completed in 2 hours in 48 minutes.
For a comforter, the cycle was completed in 2 hours and 1 minute, while it indicated 2 hours and 12 minutes.
GE Profile PFQ97HSPVDS Drying Performance
It dried well except for the comforter, which was mostly dry and needed more time. Then again, I need to dry my comforter multiple times in my current dryer.
Other than that, I was impressed with the drying.
It works.
GE Profile PFQ97HSPVDS Lint Buildup and Removal
The lint filter removed almost all the lint way better than any combo on the market.
The lint filter is next to the air exchanger's heat sync. It is like the outer fins of your AC unit. So, you must be extremely careful of how you clean it.
GE Profile PFQ97HSPVDS Temperature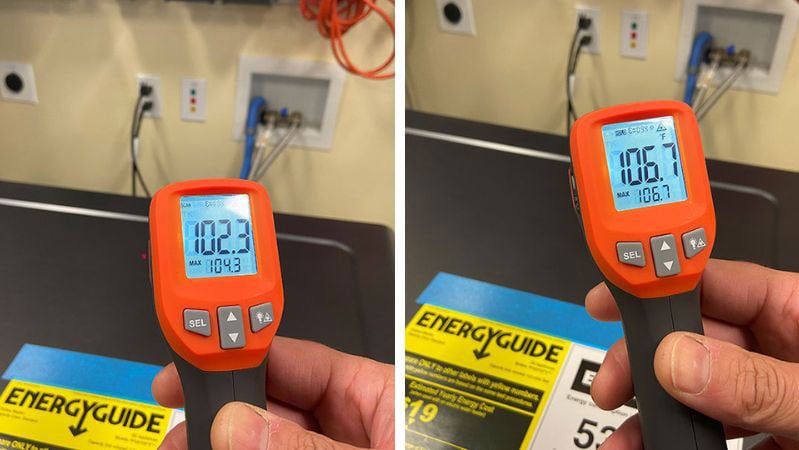 The temperature reached 102-106 degrees, so you want to be careful about what you place on the top.
The GE Profile Combo vs. Having a Separate Washer and Dryer
At $2899, you are paying $900-$1,200 more than GE's comparably-sized set with a regular dryer.
The combo will do more, and the heat pump will save you operating costs of $50-100 per year, depending on how you use it.
Should You Buy the GE UltraFast Combo Washer & Dryer PFQ97HSPVDS?
Well, someone has to go first.
However, GE has tested this product extensively, and it did perform well in our thorough, yet limited tests.
Before I dive into who should invest in the GE Profile PFQ97HSPVDS, let me first address who shouldn't.
Who Shouldn't Buy the GE Profile PFQ97HSPVDS
Somewhere a designer will incorporate this into a custom laundry room. I wouldn't do that because you won't have any alternatives if it ever needs replacement.
Don't buy it if you are reticent to buy new products.
I like the machine, grilled the lead designer in a video, but nobody can yet vouch for this product's long-term viability.
Who Should Buy the GE Profile PFQ97HSPVDS
If You Only Have 110 Volts of Power
For people with 110 volts only, this unit is a godsend. You can finally have decent laundry and get your clothes done.
Same with people in voltage-starved older condominiums.
If You Have a Spare Room
You can also place this unit anywhere with water and 110 power, so many rooms in your house could now be laundry rooms.
If You're Replacing a Similar Machine
You can also replace your washer or dryer with this combo. Think about it. You are investing $1700 in just a new washer or dryer.
For Everyone Else
You must weigh the advantages of convenience, energy efficiency, and better drying against the fear of buying unknown products and technology.
For its introduction, buy it from a company with a good service department. You can fix it quickly if it breaks and quicker returns if problems occur.
Either way, this unit is one of the boldest and most innovative we have ever seen at Yale.
It's well designed and engineered and does the job advertised.
You must decide if it is worth buying.
FAQs about the GE Ultrafast Combo Washer & Dryer
Read More: Frequently Asked Questions about the GE Ultrafast Combo Washer & Dryer
Additional Resources
Download our Yale Washer Buying Guide with all the features, terms, and brands of laundry. Over 1 million people have already found answers in a Yale guide.
Related Articles:
Why Should You Trust Us?
It seems that every appliance review has nothing but glowing comments about almost every product, yet you read customer reviews and they are almost universally bad.
We are here to fill in the disconnect. We'll give you the best features, and the drawbacks as well, including reliability based on over 37,000 calls performed by our service team just last year. Our goal is to give you ALL the information so you know what's right for you.
Please consider subscribing or adding to the conversation in the comments below. We appreciate you stopping by.
Steve Sheinkopf is the third-generation CEO of Yale Appliance and a lifelong Bostonian. He has over 38 years of experience in the appliance industry, and he is a trusted source of information for consumers on how to buy and repair appliances.

Steve has also been featured in numerous publications, including the New York Times, Consumer Reports, The Boston Globe, Bloomberg Radio, the New York Post, The Wall Street Journal, and Entrepreneur, for his knowledge of how to buy appliances and appliance repair.

Steve is passionate about helping consumers find the best appliances for their needs, and he is always happy to answer questions and provide advice. He is a valuable resource for consumers who are looking for information on appliance buying, repair, and maintenance.

Despite being the worst goalie in history, Steve is a fan of the Bruins and college hockey, loves to read, and is a Peloton biker. The love of his life is his daughter, Sophie.
A Note About Pricing
Pricing on this blog is for reference only and may include time sensitive rebates. We make every attempt to provide accurate pricing at time of publishing. Please call the stores for most accurate price.