Most Reliable Appliance Brands for 2021
This post will be read almost 1 million times this year.
I'm glad you're here.
Buying reliable appliances is the best way to avoid service problems.
Unfortunately, no brand is immune to issues, although some are better than others.
Service is a problem in this industry.
If other stores tell you not to worry about it, look at a typical day at Yale in the graph below.
Service is by far our biggest department. These are our 35 service technicians, and we still need five more.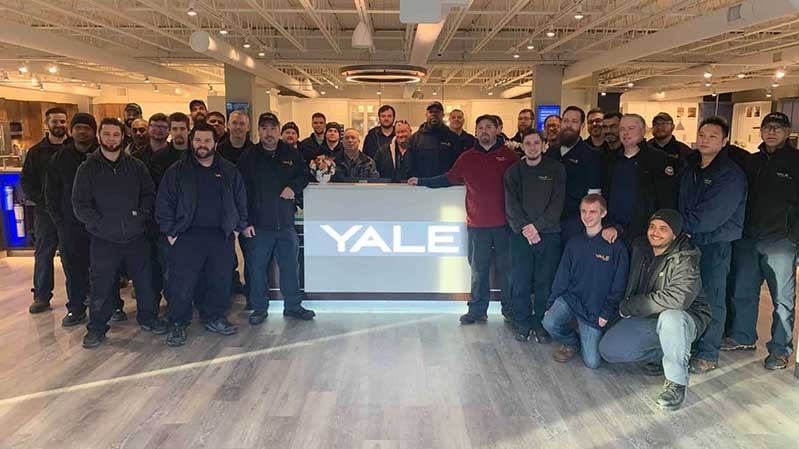 Yale Appliance Service Team
By the way, this is just for Massachusetts and our stores.
In this article, you will learn about the most reliable brands and appliances based on 37,061 service calls logged last year.
Based on a minimum of 2000 products sold, the most reliable, least serviced appliance brands for 2021 are:
We'll cover each brand's service rate by percentage and their most common problems.
In some cases, you should not buy or consider the most reliable brands on this list, depending on where you live.
I'll let you know why to further down in this post.
There is a lot to digest.
However, reading this article will increase your odds of working appliances next July 4th, Thanksgiving, or any family get-together.
How You Should Use This Article:
You want to use this article as a resource to compare similar companies with similar products like Bosch and KitchenAid or LG Vs. Samsung.
Then you want to look at the best of each category like dishwashers, washers, ranges, and refrigerators.
We will have those reliability posts published by the end of the month. There will be links to those articles at the bottom.
Short on time? Get our free Appliance Buying Guide
Appliance Categories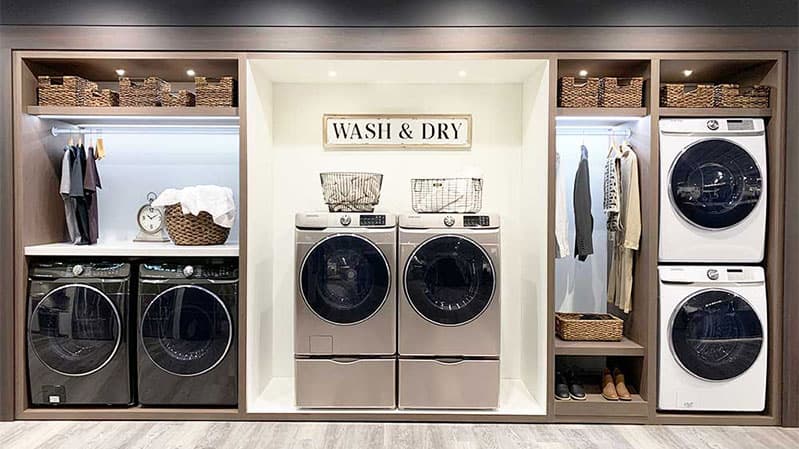 Samsung Front Load Laundry at Yale Appliance in Hanover
Specific categories like washers are more reliable than French door refrigerators.
The most reliable brands sell more reliable categories and more basic, builder-grade appliances typically, but there are exceptions.
Remember this:
Before you buy any brand, make sure your local appliance service technicians can fix it. Some of the best brands on this list have little support available when there is an issue.
Buy a reliable brand, but also find the best support.
How We Calculate Appliance Reliability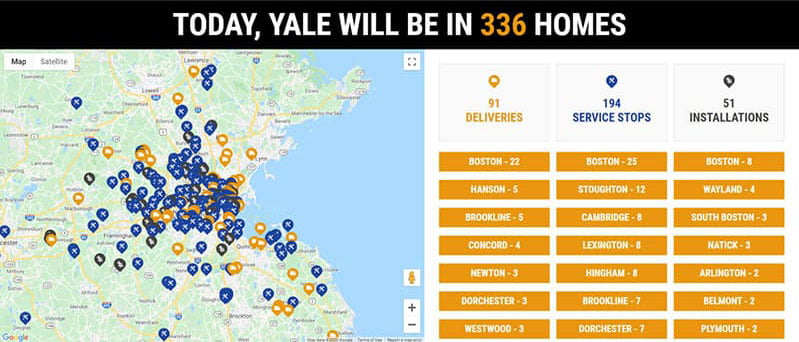 One of the benefits of having a huge service department is data collection. We will be in approximately 130-150 homes today, fixing appliances, with a good portion being less than a year old and under warranty.
The total service calls for 2017 was 30,467. That escalated to 34,687 in 2018.
In 2020, our total number of service calls for one year was 37,061, up from 35,256 service calls in 2019.
That's over 100,000 service calls in 3 years.
We calculate appliance reliability by looking at the products sold compared to the products serviced by brand for one year.
Any time a service tech is sent to your house, it counts as a service call.
Lastly, we don't play favorites because we don't have any.
Yet we see comments like this on the blog weekly:
"Yeah, sorry. I simply do not believe you on this. Speed Queen is the only washer dryer I could find without a motherboard. That in itself makes this the best you can buy in terms of life and reliability. I'm sure they have had some issues with some models(you mention a front-load model), but to not acknowledge Speed Queen and their lack of a motherboard as a MAJOR factor in reliability and overall life is suspect at best. The best way to build trust is to be truthful. Just sayin.'"
As an appliance dealer, the only way to be truthful and know what's reliable in the appliance business is repairing the appliances.
If your appliance store doesn't repair and most don't, then reliability doesn't matter.
After all, it's someone else's problem (by the way, the motherboard is not the problem on this machine).
The Most Reliable Appliances for 2021
The most reliable brands will be in the most reliable categories like hoods, grills, disposers, and microwaves.
Laundry and dishwashers are generally reliable, as well.
If you are looking to buy warranties (Hint: don't unless you have a local appliance service team), those categories are probably not worth the purchase of a warranty.
A front load washer may be an exception because of the high repair expense.
1. Weber Grills - 2.4% Service Rate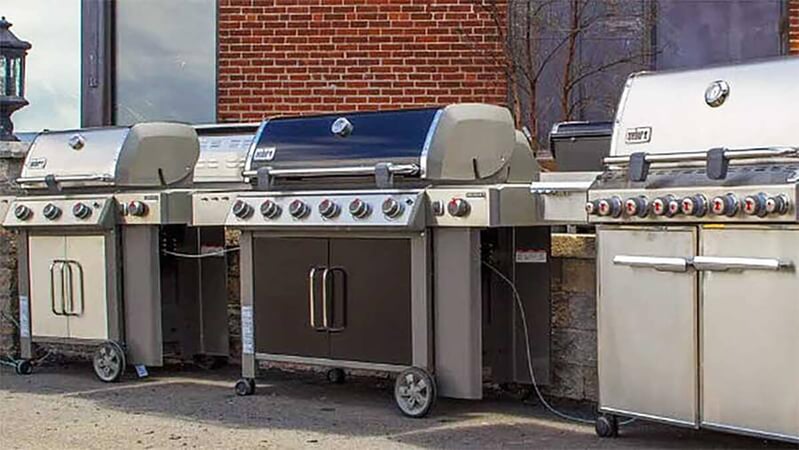 Weber Grills at Yale Appliance in Boston
The single most reliable brand sold by us is Weber grills at 2.4% service for 2021. It was the most reliable in 2020 as well.
2. Range Hoods - 4.87% Service Rate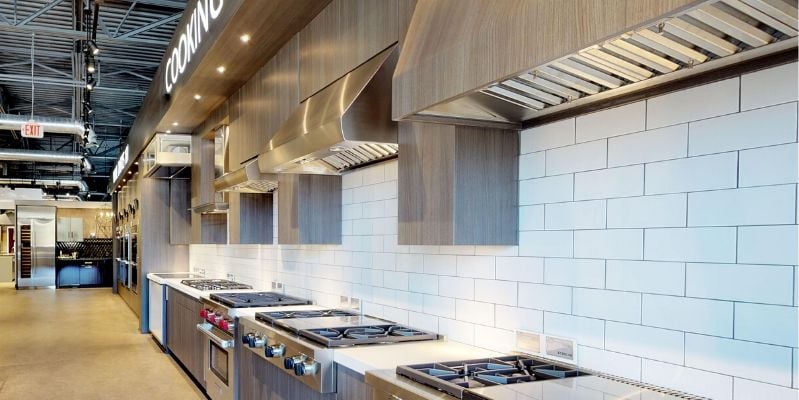 Range Ventilation Hoods at Yale Appliance in Framingham
No surprise here. A hood moves air. That does not seem that difficult. The Yale brand was the best, with over 1,500 purchases and a 3.8% repair rate.
3. Microwaves - 5.67% Service Rate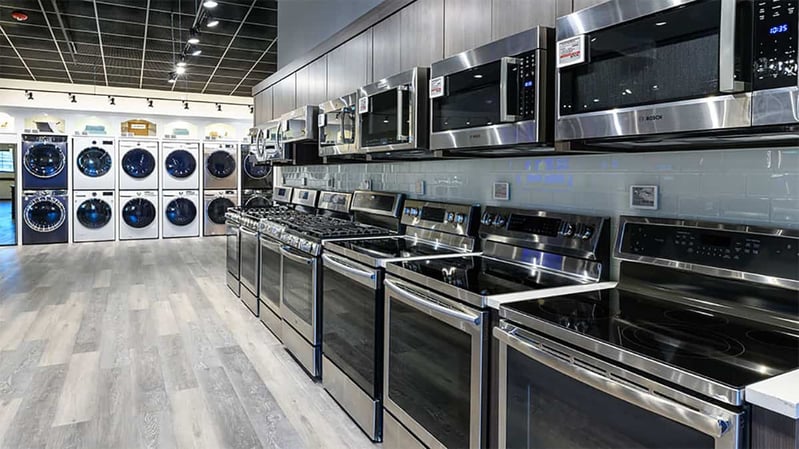 Over-the-Range Microwaves and Freestanding Ranges at Yale Appliance in Hanover
Sharp was fewer than 5%. Most companies had few problems with their microwaves too. Once again, it's an older, refined technology.
Editor's Note: Many people have had problems with drawers sparking and catching on fire. We honestly do not see that issue.
We wouldn't sell it if it did (I have a microwave drawer and a four-year-old at home, so I'm sensitive to it).
Read More: Best Appliance Maintenance Tips
The Least Reliable Appliances for 2021
1. French Door Counter Depth Refrigerators - 21.1% Service Rate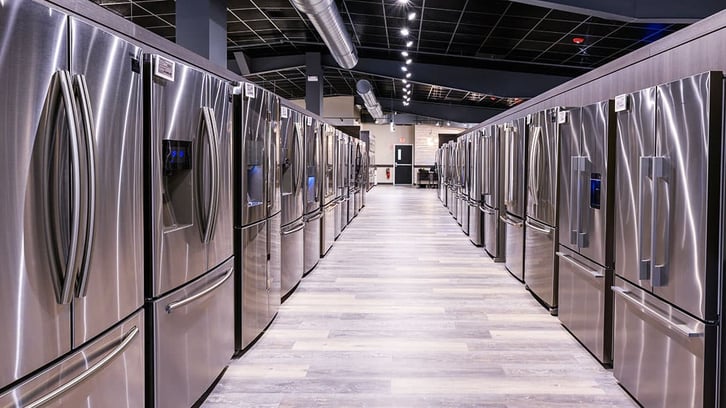 French Door Counter-Depth Refrigeration at Yale Appliance in Hanover
A French door refrigerator's ice maker has traditionally been an issue. Ice cubes traveling through a warmer refrigerator continues to be a problem.
2. Professional Ranges (Gas and Dual Fuel) - 31.64% Service Rate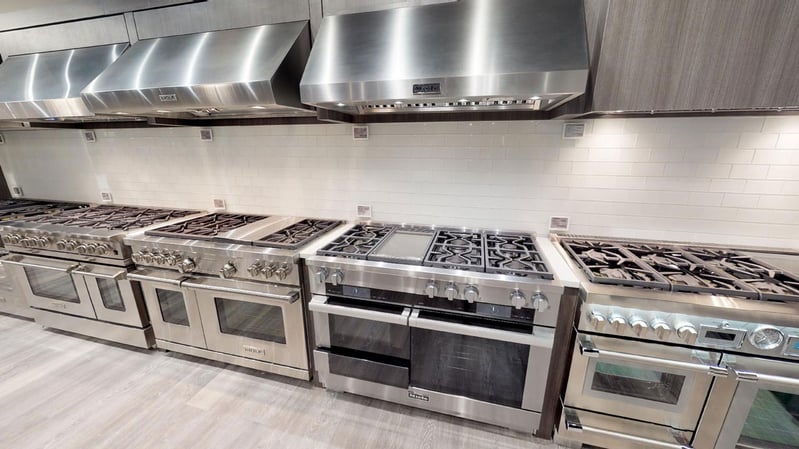 Professional Ranges at Yale Appliance in Hanover
Pro ranges have an issue, especially with gas igniters.
However, these pro ranges tend to be larger units with more features like grills, griddles, steam, and multiple burners with the possibility of more issues than a regular four-burner range.
The brands at the top of this list sell fewer refrigerators and pro ranges and more reliable appliances like dishwashers and laundry.
Reliability is about numbers. Many companies tout build quality, but only repair percentages can back that claim.
Read More: The Most Serviced Appliance Brands
The Most Reliable Appliance Brands for 2021
Three brands are in a statistical tie for first, GE, Whirlpool, and LG.
GE Appliances - 6.3% Service Rate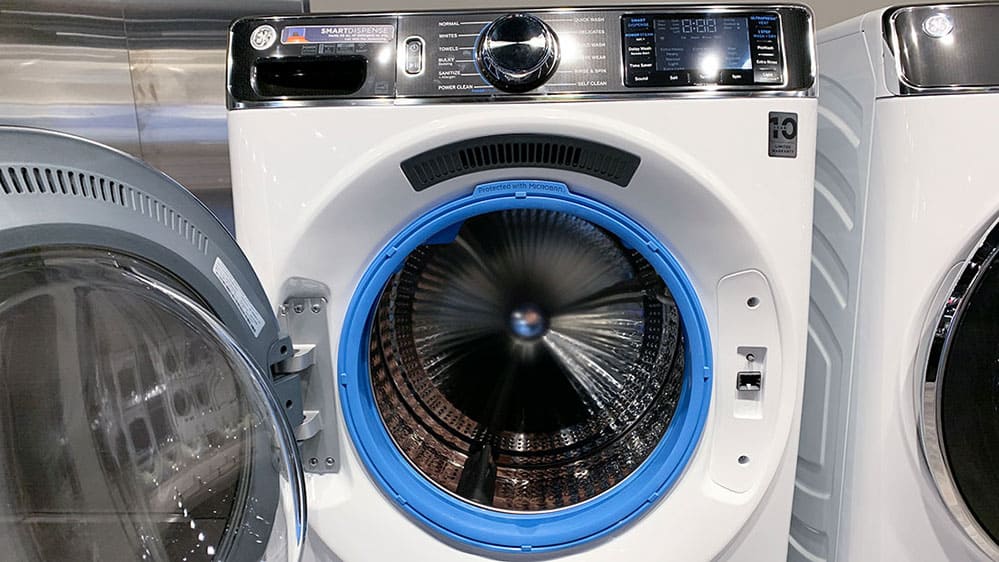 GE Smart Front Load Laundry at Yale Appliance in Hanover
If 2020 has taught us anything, GE produces the best and most reliable laundry. They also are decent all-around in stoves and in normality repair prone French door refrigerators.
Unlike other brands, these numbers are store driven, not builder-driven like Whirlpool and include less reliable appliances like refrigerators than LG.
For 2020-2021, GE is the most reliable brand.
Whirlpool - 6.3% Service Rate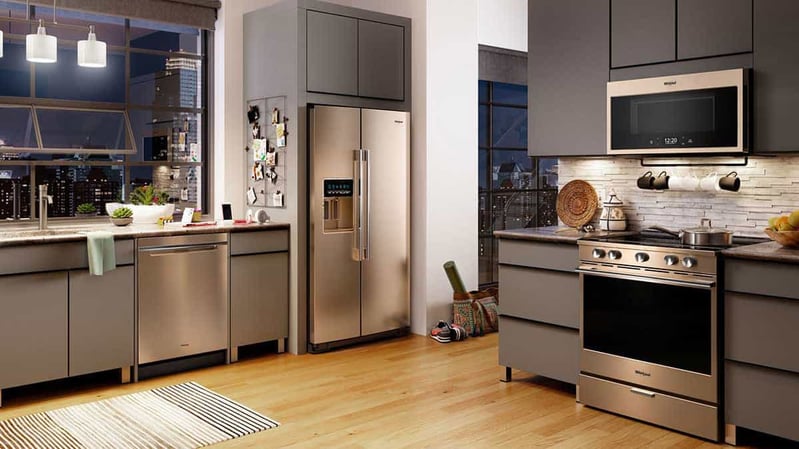 Whirlpool Kitchen Appliances in a Sunset Bronze Finish
You walk around Yale and hardly see Whirlpool appliances. We sold nine thousand of these units to builders. They are basic products.
The builder channel requires less service because we are paid to do "start-up checks with techs before the owner moves into the units.
This eliminates most of the potential issues. The repair rate in your home should be similar to their sister brand, KitchenAid, on this list at 13% repair.
LG - 6.3% Service Rate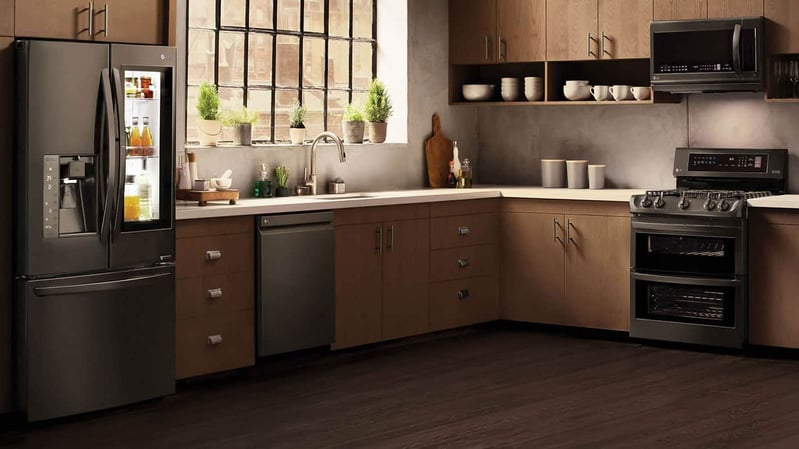 LG Black Stainless Steel Kitchen Appliances
Most of these units are laundry, so this isn't too surprising. They excel in the reliable washer and dryer category. French doors are better than average as well.
Beko / Blomberg - 6.85% Service Rate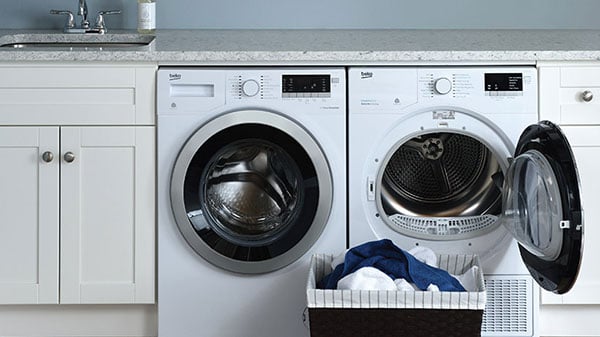 Beko Compact Laundry
Beko is new in the US but is a popular European brand based in Turkey. Beko actively sells appliances in 140 different countries and manufactures other products for companies like Viking and BlueStar.
Their portfolio includes competitive dishwashers and compact laundry.
Their French door refrigerators with "Blue Light" technology were the best, keeping food fresher for a longer time other than Sub-Zero when tested over one month.
Read More: Which Refrigerator Keeps Food Fresh The Longest?
Miele - 9.3% Service Rate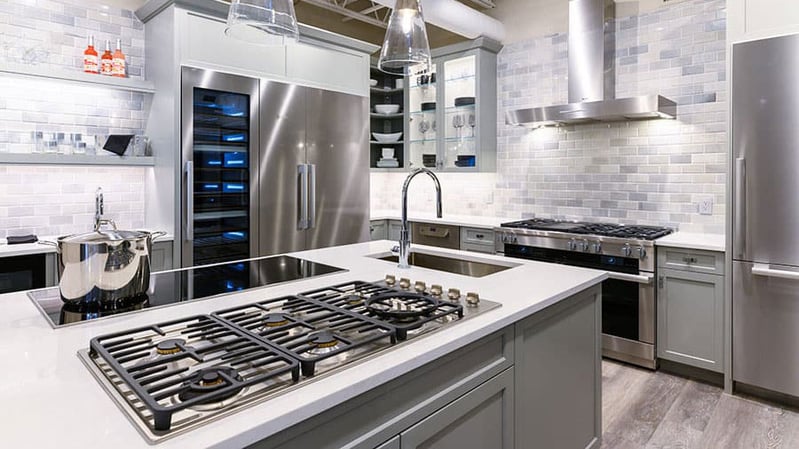 Miele Kitchen at Yale Appliance in Hanover
Their dishwasher, laundry, and wall oven categories are excellent.
Miele is the last company to manufacture the parts incorporated into the dishwashers instead of outsourcing.
It's more expensive than other brands like Bosch or KitchenAid, but better reliability should be considered.
Samsung - 9.6% Service Rate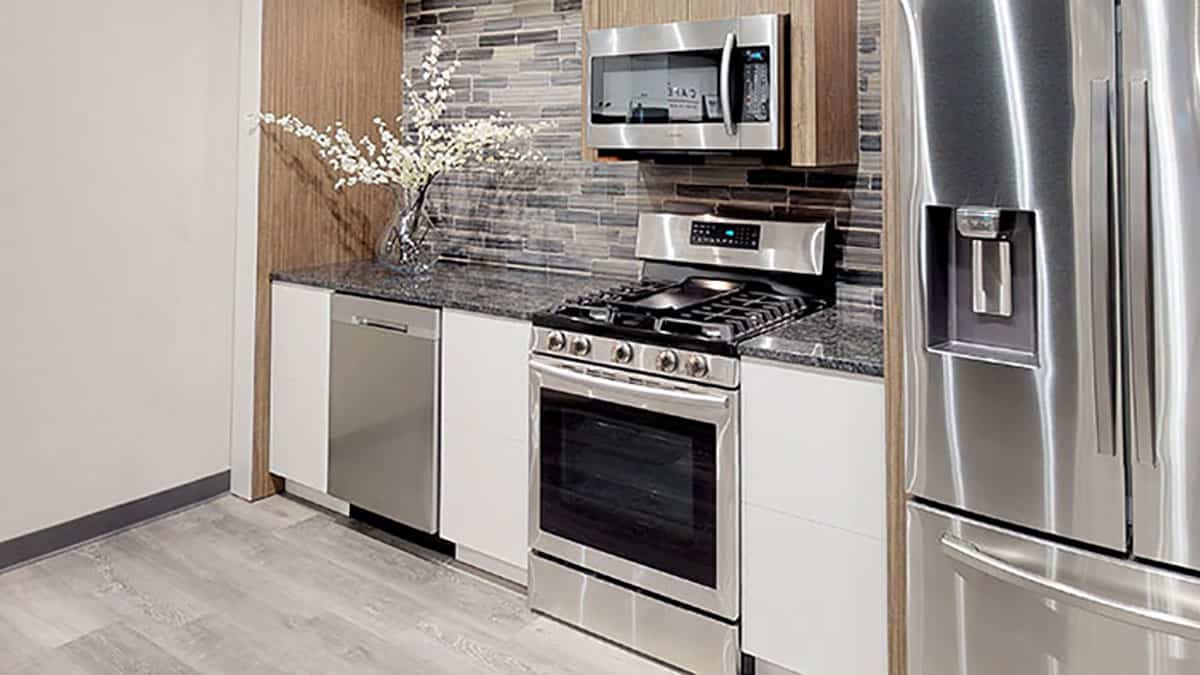 Samsung Kitchen Appliances at Yale Appliance in Hanover
Every year someone will call me out on Samsung's reliability and probably a dealer or two. I will repeat this:
"I too am a Samsung appliance survivor. We bought the full set of their high-end crapfest....refrigerator with [a] defective motherboard that leaks and won't make ice...microwave that comes on by itself and beeps at all hours of the day and night.....dual convection stove with a malfunctioning timer that seems designed specifically to screw up whatever you're trying to make. And hours spent on the phone with a customer service department whose sole mission, seemingly, is to drive you so completely over the edge with frustration So for all you folks out there pondering the wisdom of purchasing a Samsung appliance, who are you going to believe....Steve 'Leverage Your Retailer'....I'm not in the tank for Samsung, Honest!' Sheinkopf, or the multitudes of consumers on here who have ALL shared in virtually identical, awful experiences with this wretched, patently dishonest and corrupt manufacturer?!?! In the immortal words of TV Superdad Mike Brady: Caveat Emptor!"
These numbers are straight from our system. I don't make them up.
These numbers are remarkable because Samsung products are skewed to the more repaired refrigerator category.
However, this year, we shipped more dishwashers and laundry as well.
Samsung's and LG's real problem and what will upset you is their lack of service techs in the field.
Everyone will always remind me of their Class Action suits.
Every company has issues. However, Samsung cannot handle their explosive growth. Those suits are a product of customer dissatisfaction with the service, more than the actual product.
Statistically, you will have fewer issues with Samsung.
However, there will be problems in finding competent repair.
Read More: Are Samsung Appliances Reliable?
Bosch - 11.6% Service Rate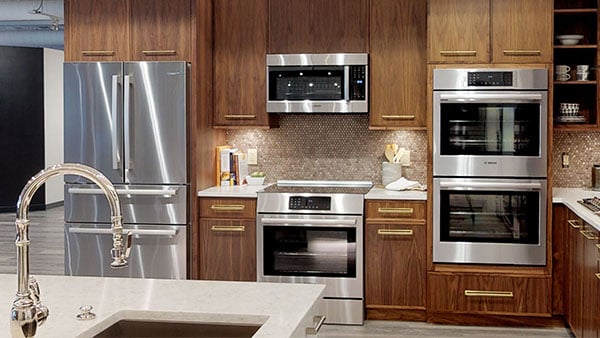 Bosch Kitchen Appliances at Yale Appliance in Hanover
The best company to buy any appliance due to their incredible support (at least in Boston). They sell mostly dishwashers, so this is no surprise.
However, they also manufacture a new two compressor French door refrigerator that seems to work as well.
KitchenAid - 13.1% Service Rate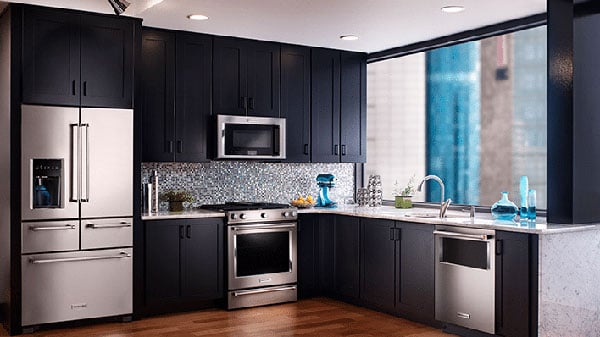 KitchenAid Stainless Steel Kitchen Appliances
KitchenAid's dishwashers are now statistically more reliable than arch-rival Bosch by 1.5% for the first time in 5 years. Their ranges work as well.
Read More: Best KitchenAid Dishwashers
Premium Appliance Reliability
Premium appliances will require more service.
A certain percentage of repair calls are customer education calls or fixing installation issues. It's hard to say no to a customer who has spent $10,000 on a range or refrigerator.
That said, let us look at the appliance trends for 2019-2020.
2021 Vs. 2020 Appliance Service Trends
We also had more service calls despite actively eliminating less reliable brands.
The first-year percentage decreased from last year.
Much of it reflects a shift to more basic appliances like freezers and simple gas and electric stoves.
That number would be way higher if also we didn't proactively manage brands based on reliability.
The numbers continue to indicate service issues in your future with a new kitchen full of appliances.
Appliance Service Problems
The average appliance service rate, 9.7%, is not bad when compared to service rates for cars and other durables.
However, these are just the clients who call us.
There has to be a percentage who do not know or forget that we offer warranty service free.
You will see higher rates from online stores because the long-distance shipping and multiple warehouses will add a certain percentage.
Installation or lack of qualified installers will add more service problems as well, so be careful.
Poor handling and poor delivery have caused some issues, too.
Google stores in your area and reads reviews about store delivery experience.
Read More: Why Your New Appliance Won't Be Repaired
COVID-19 and Service
You have probably heard of product availability issues.
Parts for service are much worse.
Instead of fixing appliances, we exchanged it when the product wasn't available.
Read More: How to Buy Appliances During a Supply Crisis
Most Reliable Appliance Brands: Key Takeaways
If you buy a whole kitchen, there is a good chance you will still need service.
Bosch, Thermador, and Whirlpool's brands (Jenn-Air, KitchenAid, and Maytag) have the best tech support and part availability, at least in Boston.
Your area could be different.
Samsung is a problem. The product works, but when it doesn't. It will be your problem.
Most of these brands, unlike automobile manufacturers, offer minimal service.
Finding competent service should be part of your buying decision before you buy, along with price, installation, and delivery.
To learn more about the most reliable appliances, check out our free Appliance Buying Guide.
Frequently Asked Questions
1. What is the best brand for kitchen appliances?
It depends on what you want. For commodities, Whirlpool, Samsung, Bosch, and LG based on their reliability percentages. For premium Wolf and Miele.
2. What appliances are made in the US?
All of the Whirlpool Corporation and most Sub-Zero appliances are made in the US.
3. What brands are made by Whirlpool?
The Whirlpool Corporation makes KitchenAid, Jenn-Air, Whirlpool, Estate, Amana, and some Kenmore appliances.
Additional Resources
Have questions on appliances? Read the Yale Appliance Buying Guide with the 10 most frequently asked questions, the best time to buy appliances as well as detailed profiles of all the brands. Well over 820,000 people have read a Yale Guide.
Related Articles:
Most Reliable Appliances Series:
Why Should You Trust Us?
It seems that every appliance review has nothing but glowing comments about almost every product, yet you read customer reviews and they are almost universally bad.
We are here to fill in the disconnect. We'll give you the best features, and the drawbacks as well, including reliability based on over 37,000 calls performed by our service team just last year. Our goal is to give you ALL the information so you know what's right for you.
Please consider subscribing or adding to the conversation in the comments below. We appreciate you stopping by.
A Note About Pricing
Pricing on this blog is for reference only and may include time sensitive rebates. We make every attempt to provide accurate pricing at time of publishing. Please call the stores for most accurate price.