Most Reliable Appliance Brands for 2022
The Most Reliable Appliance Brands for 2022 are:
Let's face it. We all have an appliance service nightmare story.
Your range is not working right before a holiday celebration.
Your refrigerator is suddenly warm just after you fill it with groceries.
You came home to your basement or kitchen flooded because your dishwasher or washing machine leaked while you were away on vacation.
We started in service in the early 1990s because a local appliance service agent nearly burnt a customer's new kitchen to a crisp while fixing their range.
Buying reliable appliances is the best way to avoid service problems.
Unfortunately, no brand is immune to issues, although some are better than others. This industry's service is a problem because 95% of appliance stores do not employ a single technician. Most manufacturers have minimal service departments and are critically short-staffed.
If other stores tell you not to worry about it (and they will), look at a typical day at Yale in the graph below.
Graph Representing How Many Homes Yale Appliance Services On a Typical Day
Service is by far our largest department. We have 35 service technicians, and we could use 30 more. Then again, these guys and the many people who supported them logged over 40,000 service calls last year.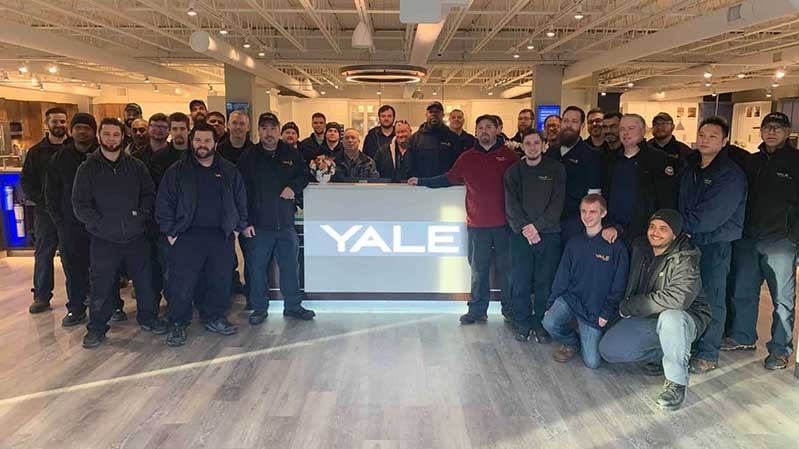 Yale Appliance Service Team
By the way, the numbers shown above are only for our stores in Massachusetts only.
In this article, you will learn about the most reliable brands and appliances based on over 40,000 service calls logged last year. We'll cover each brand's service rate by percentage and their most common problems.
Depending on where you live, you should not buy or consider some of the brands on this list.
There is a lot to digest. However, reading this article will increase your odds of having working appliances next July 4th, Thanksgiving, Easter, Christmas, Passover, or any family get-together.
How You Should Use This Article
You want to use this article as a resource to compare similar companies with similar products like Bosch compared to KitchenAid or LG versus Samsung.
Then you want to look at the best of each category like dishwashers, washers, ranges, and refrigerators. We will have those individual reliability posts published by the end of February. There will be links to those articles at the bottom.
Short on time? Get our free Appliance Buying Guide
Appliance Categories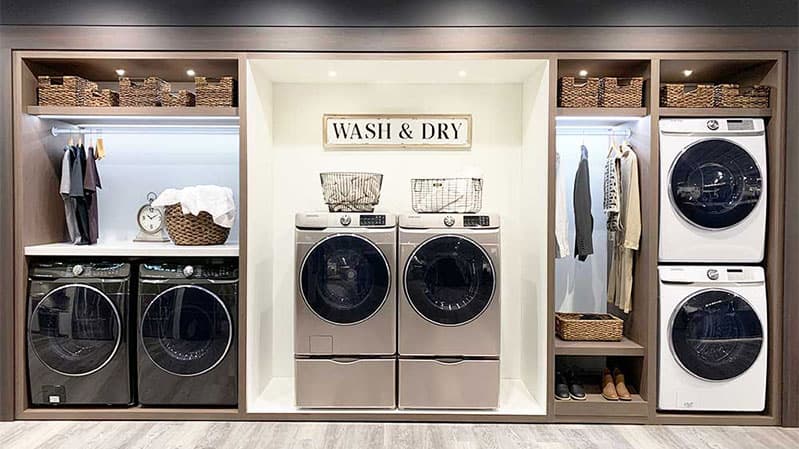 Front-load laundry at Yale Appliance in Hanover
Specific categories like washers are more reliable than French door refrigerators. The most reliable brands sell more reliable categories and more basic, builder-grade appliances typically, but there are exceptions.
Before you buy any brand, make sure your local appliance service technicians can fix it.
Some of the best brands on this list have little support available when there is an issue. I say that a lot in this article, but it needs to be repeated.
Buy a reliable brand, but also find the best support. I'd recommend searching online for service and service providers as part of your appliance research.
How We Calculate Appliance Reliability
We calculate appliance reliability by dividing the products we serviced by the products we sold. For this article, we looked at the number of appliances sold and serviced from December 1, 2020, to October 31, 2021.
Whenever a service technician is sent to your house, it counts as a service call. One of the benefits of having a huge service department is data collection. We will be in approximately 130-150 homes today, fixing appliances, with a good portion being less than a year old and under warranty.
The total number of service calls for 2017 was 30,467. That escalated to 34,687 in 2018. In 2020, our total number of service calls for one year was 37,061, up from 35,256 service calls in 2019.
This year that number was over 40,000 total calls.
We had a full calendar year of service versus losing a couple of months to COVID-19 in 2020. Home improvement as a category and appliances specifically increased by the same rate. That's over 120,000 service calls in 3 years in the Boston area.
Why Reliability Matters More Now Than Ever
You probably know about the supply crisis with products like appliances. Parts are even worse.
The average turnaround nationwide on a repair is probably 90 days between scheduling the repair, the technician arriving, and your appliance being fixed.
The Most Reliable Appliances for 2022
The most reliable appliances are grills and microwaves. Ventilation hoods, washers, dryers, and dishwashers are generally reliable, as well.
If you are looking to buy warranties (Hint: don't unless you have a local appliance service team), those categories are probably not worth purchasing a warranty. A front load washer may be an exception because of the high repair expense.
Weber Grills - 1.3% Service Rate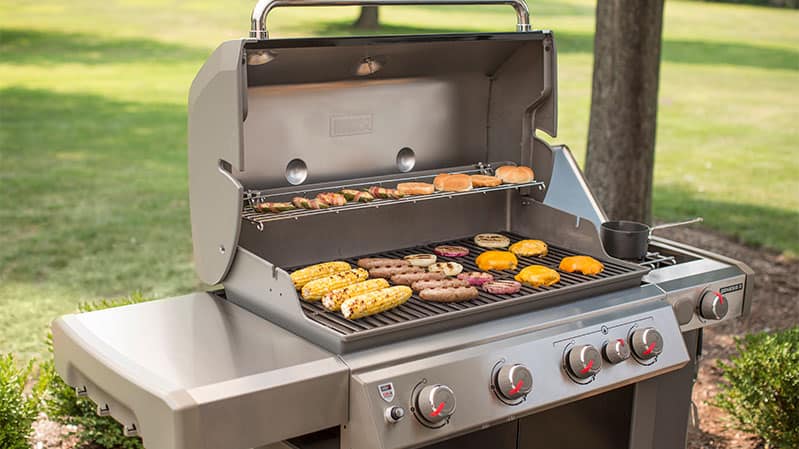 Weber Genesis BBQ Grill
The single most reliable brand is Weber grills at 1.3% service for 2022. It was the most reliable in 2020 and 2021 as well.
Then again, a grill is simple. Most people only use their grill in our area for six to nine months of the year before the weather makes it unbearable.
Read More: Best BBQ Grills in Boston
Sharp Microwaves - 6.2% Service Rate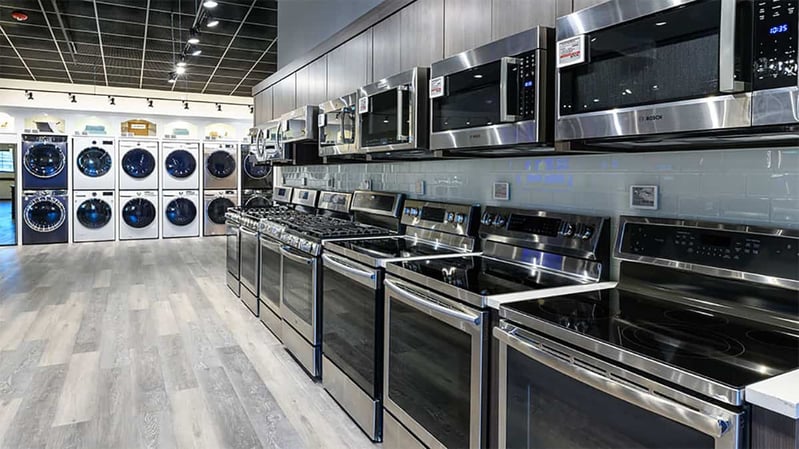 Over-the-Range Microwaves at Yale Appliance in Hanover
Sharp was fewer than 6.5%. Most companies had a few problems with their microwaves too. Once again, it's an older, refined technology.
Many people have reported problems with microwave drawers sparking and catching on fire. We honestly do not see that issue. We wouldn't sell it if it did (I have a microwave drawer and a five-year-old at home, so I'm sensitive to it).
Read More: The Best Microwave Drawers
The Least Reliable Appliances for 2022
Counter-Depth French Door Refrigerators - 15.5% Service Rate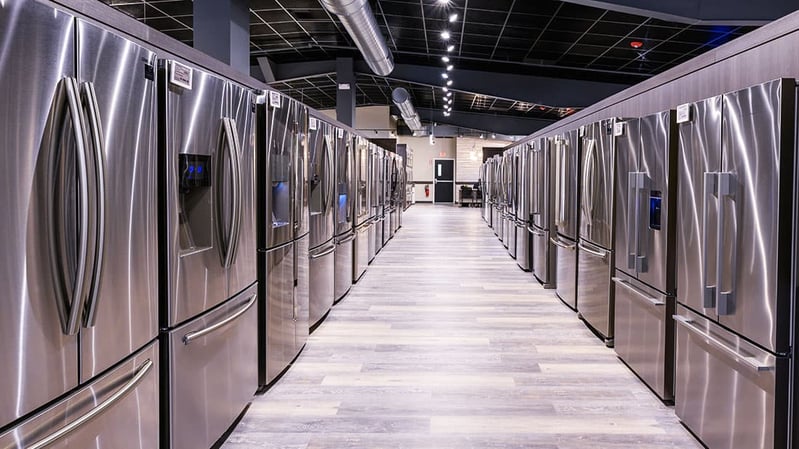 Counter-Depth French Door Refrigeration at Yale Appliance in Hanover
A French door refrigerator's ice maker has traditionally been an issue. Ice cubes traveling through a warmer refrigerator continue to be a problem. However, the reliability was 6% better than in 2020. Have they figured out the ice maker?
LG's French door counter refrigerators were particularly good, with a 4.6% service rate this year.
Read More: The Most Reliable Counter-Depth French Door Refrigerators
Professional Ranges - 15% Service Rate for Gas Pro Ranges and 19.3% for Dual Fuel Pro Ranges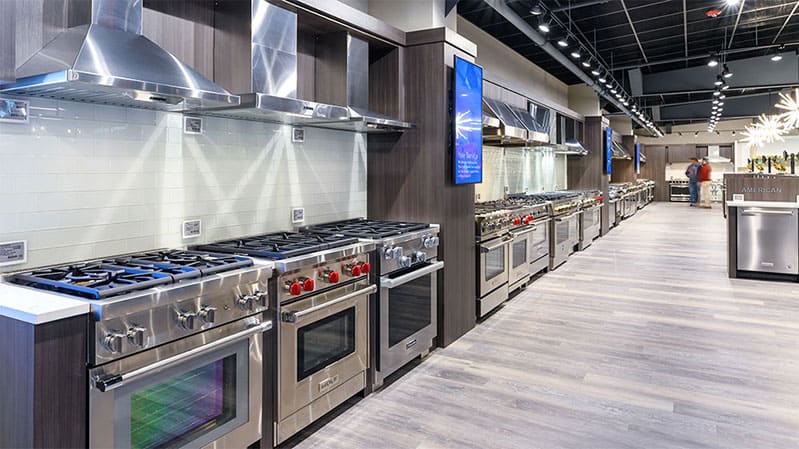 Professional Ranges at Yale Appliance in Hanover
Pro (Professional) ranges with high output burners have problems with gas igniters. Usually, it's not an issue because you can have three to seven more burners on a pro range.
However, these pro ranges also tend to be larger units with more features like grills, griddles, steam ovens, and multiple burners, with the possibility of more issues than a regular four-burner range. A 60-inch range is twice as big as a regular range with plenty more to break.
The most reliable brands sell fewer refrigerators and pro ranges and more reliable appliances like dishwashers, microwaves, and compact laundry.
Brands like Thermador, Miele, Wolf, and JennAir are at a disadvantage because they sell primarily pro ranges and built-in refrigerators.
Reliability is about numbers between similar companies. Many companies market excellent build quality, but only repair percentages can back that claim.
Read More: The Most Reliable Professional Ranges
The Most Reliable Appliance Brands for 2022
1. LG - 4.4% Service Rate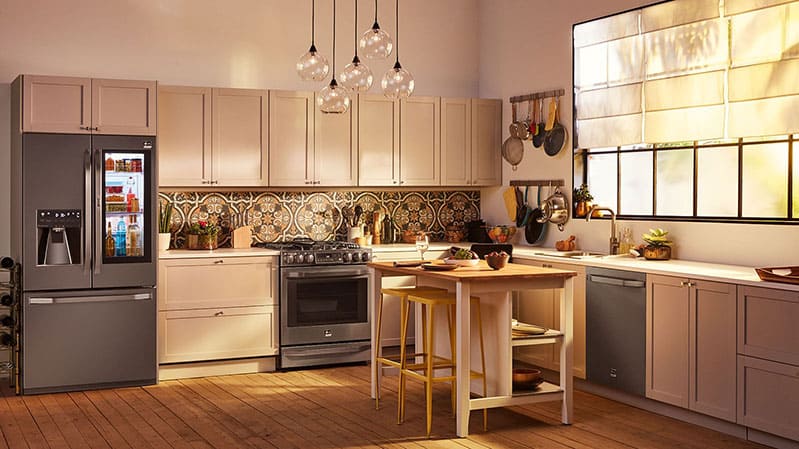 LG Studio Kitchen Appliances
LG being number one is surprising because their French door refrigerators are their most popular appliance. You would think it would affect their overall rate. They have sold a mix of ranges, washers, dishwashers, and dryers, all at higher prices.
They are also far more reliable than arch-rival Samsung at 13%. Their dishwasher had a reliability rating of 1.7%. That's the lowest we have ever measured reliability other than a Weber grill.
2. GE Profile - 6.1% Service Rate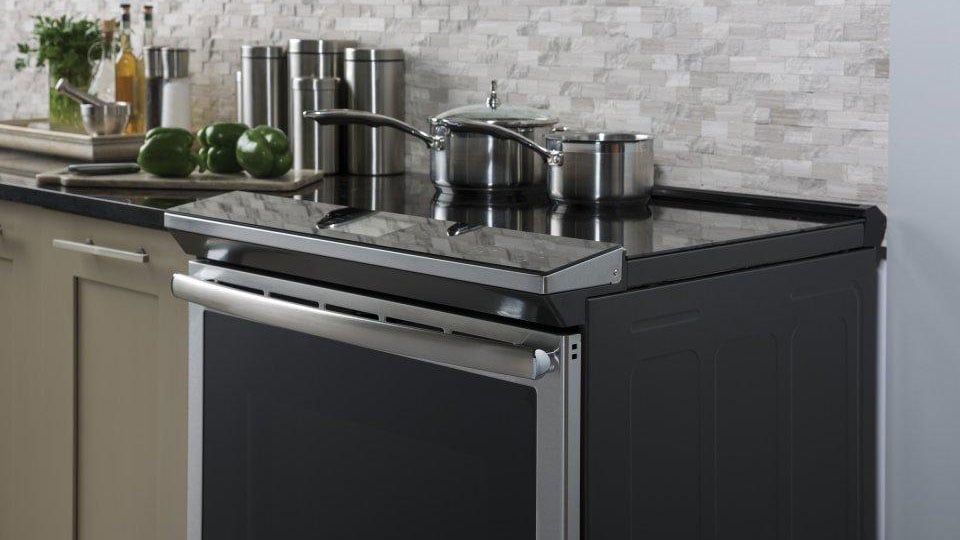 GE Profile Induction Range
Profile is GE's upscale refrigerator, dishwasher, and cooking line. We separated Profile from Café Appliances, their most featured line (which ranked just out of the top 10 for reliability).
I thought their less featured GE line would be the most reliable, but that number includes their laundry (at over 8%) as well.
3. Gaggenau - 7.7% Service Rate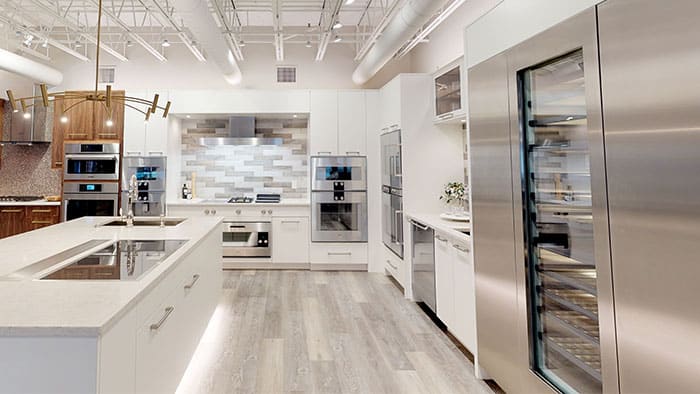 Gaggenau Kitchen Appliances at Yale Appliance in Hanover
Gaggenau is the exclusive cooking line from Bosch. It is German designed and manufactured in France. Gaggenau makes mostly wall ovens and steam ovens. They are built incredibly well.
4. Liebherr - 8.0% Service Rate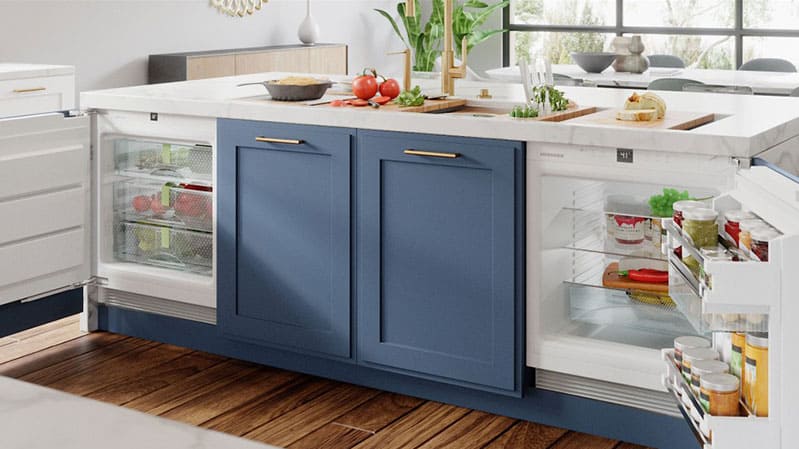 Liebherr Undercounter Refrigeration
Liebherr is another German company. Yes, you are sensing a pattern with German-made appliances. Liebherr manufactures columns and built-in refrigerators.
5. Signature Kitchen Suite (SKS) - 8.2% Service Rate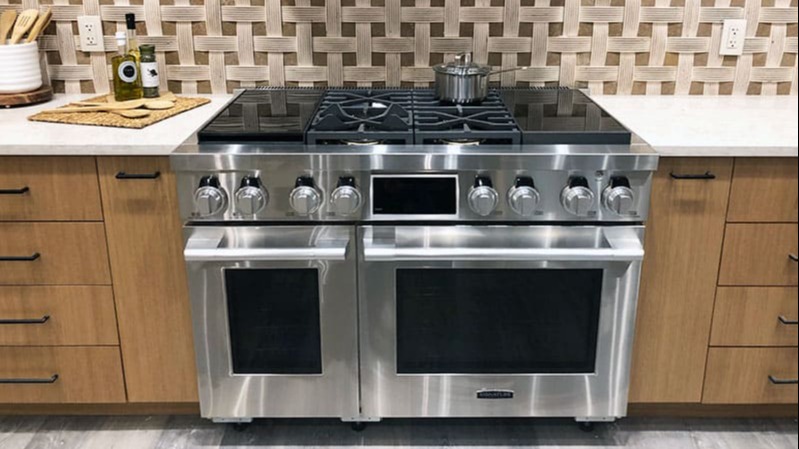 Signature Kitchen Suite Professional Range With Induction and Sous Vide Features
SKS is LG's premium line of slide-in ranges, refrigerators, and dishwashers. They also manufacture pro ranges with Sous Vide and induction features. Given LG's reliability numbers, it's no surprise that SKS is also reliable.
6. GE Appliances - 8.4% Service Rate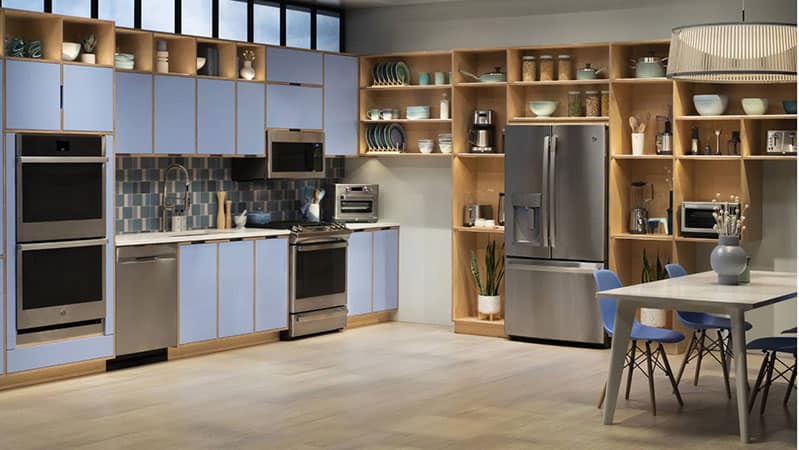 GE Kitchen Appliances
The GE appliance numbers reflect mostly laundry, basic dishwashers, cooking, and French door refrigerators. Interestingly, the more feature-oriented and expensive Profile line is the most reliable of the GE corporation.
7. Maytag - 8.6% Service Rate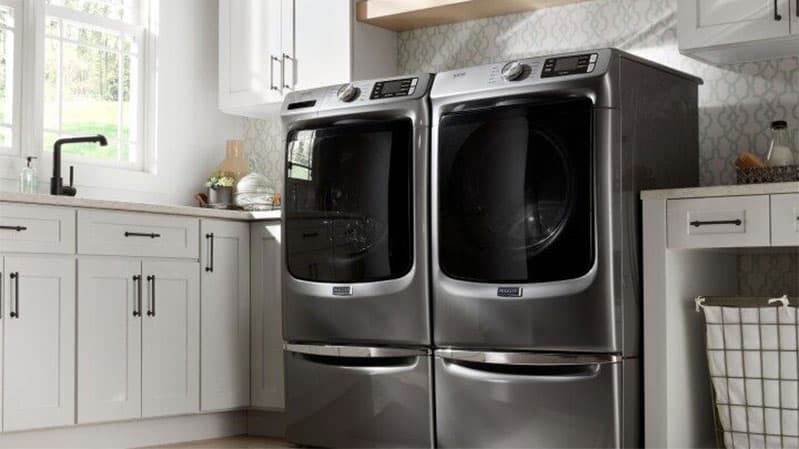 Maytag Front-Load Washer and Dryer
Maytag's reliability is based on laundry only. Their dryer is incredibly reliable. That's their most popular product by far and the only Maytag appliance we sell at Yale.
8. Thermador - 9.6% Service Rate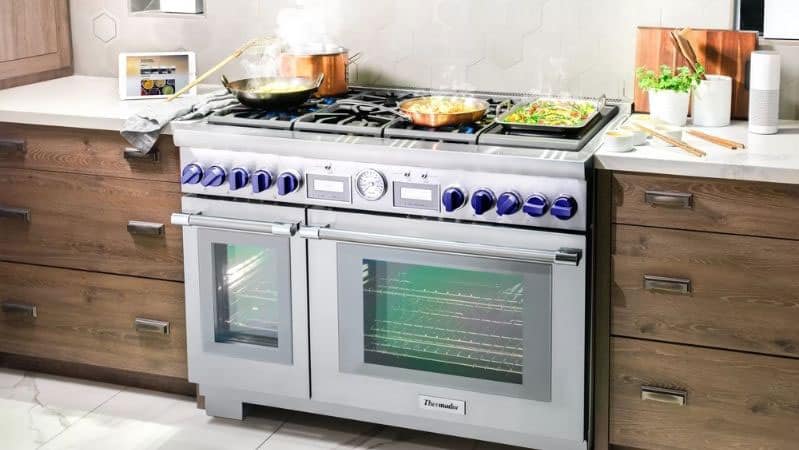 Thermador Pro Grand over 40-000h Dual Fuel Range
It's hard to believe any company selling mostly pro ranges, wall ovens, steam ovens, cooktops, and rangetops can be on this list. Thermador's reliability was rough until the 1990s when Bosch bought the company.
9. Miele - 9.9% Service Rate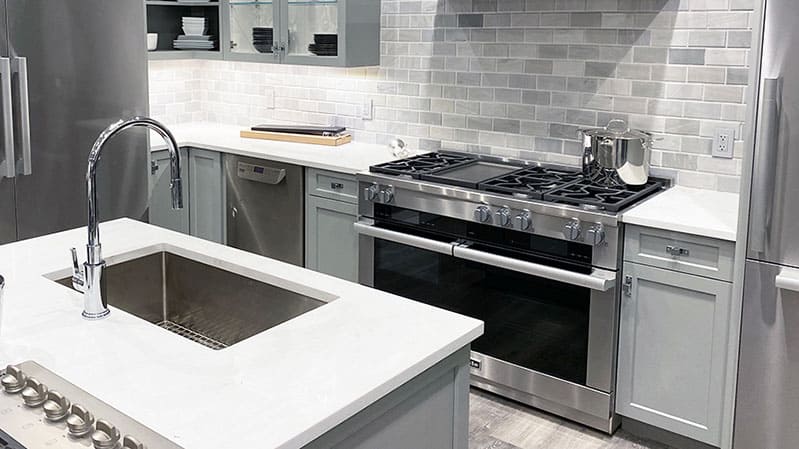 Miele Professional Range at Yale Appliance in Hanover
Their dishwasher, laundry, and wall oven categories are excellent. They sell a fair number of pro ranges too. Miele's appliances are incredibly sophisticated with 110-volt heat pump dryers, washers, and dishwashers with automatic dispensers as well as menu-driven controls.
Miele manufacturers most of their components more than anyone else on this list. Most brands outsource different parts for their appliances.
10. KitchenAid - 10.2% Service Rate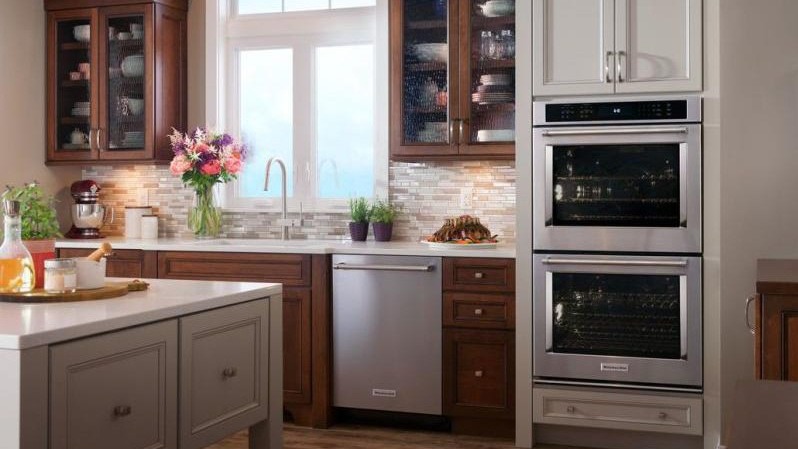 KitchenAid Dishwasher and Double Wall Ovens
KitchenAid's dishwashers are incredibly reliable at 5.5%, which means the other products are north of 10%. It's a great dishwasher. The other appliances may need a refresh.
11. Speed Queen - 10.3% Service Rate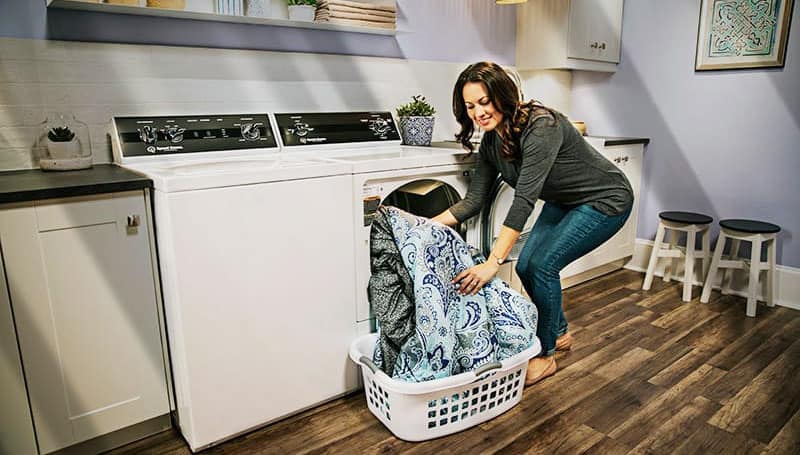 Speed Queen Residential Top-Load Washer and Dryer
They don't make them like they used to. Except at Speed Queen, where they "make 'em exactly like they used to."
Speed Queen manufactures top load washers in a plant, also producing commercial laundromat equipment. The design works as it did for your mom and grandmom.
Appliance Service Trends
We also had more service calls despite actively eliminating less reliable brands. However, it's much more because we eliminated builder sales and service as part of the reporting.
Builder sales require less service because we handle the problems as part of the contract before the people move in. This year it's just appliances delivered to homes like yours.
That number would also be higher if we didn't proactively manage brands based on reliability.
Many of the lesser reliable brands didn't ship much last year. For example, with its 4.4% service rate, LG shipped more products than Samsung at 13%. That becomes a significant shift.
The numbers continue to indicate service issues in your future with a new kitchen full of appliances.
Appliance Service Problems
The average appliance service rate, 9.5%, is not bad compared to service rates for cars and other durables. However, these are just the clients who call us.
There has to be a percentage who do not know or forget that we offer warranty service free.
You will see higher rates from online stores because the long-distance shipping and multiple warehouses will add a certain percentage.
Installation or lack of qualified installers will add more service problems, so be careful. Poor handling and poor delivery will cause future service issues.
Take your time checking your newly delivered appliances before you sign for them. Google stores in your area and read reviews about store delivery experiences. Better yet, download our Free Appliance Delivery Checklist to help you.
COVID-19 and Service
You have probably heard of product availability issues. Parts for service are much worse. Every day we have a list of appliances not available and then another for parts not available. We have a fleet of loaners of all diverse types, as you can imagine.
Most Reliable Appliance Brands: Key Takeaways
If you buy a whole kitchen, there is a good chance you will need service. Bosch, Thermador, and GE's lines have the best technician support and part availability, at least in Boston.
Your area could be different. Most appliance brands, unlike automobile manufacturers, offer minimal service.
Finding competent service should be part of your buying decision, along with price, installation, and delivery.
Frequently Asked Questions
1. What is the best brand for kitchen appliances?
It depends on what you want. GE and LG based on their reliability percentages.
2. What appliances are made in the US?
The Whirlpool Corporation and most Sub-Zero appliances are made in the US. GE, LG, Samsung, Bosch, and Thermador have significant manufacturing in the US.
3. What brands are made by Whirlpool and GE?
The Whirlpool Corporation makes KitchenAid, Jenn-Air, Whirlpool, Estate, Amana, and some Kenmore appliances. For GE, its Profile, Cafe, Monogram, GE, and Hotpoint.
Additional Resources
Have questions on appliances? Read the Yale Appliance Buying Guide with the 10 most frequently asked questions, the best time to buy appliances as well as detailed profiles of all the brands. Well over 1 million people have read a Yale Guide.
Related Articles:
Most Reliable Appliances Series:
Why Should You Trust Us?
It seems that every appliance review has nothing but glowing comments about almost every product, yet you read customer reviews and they are almost universally bad.
We are here to fill in the disconnect. We'll give you the best features, and the drawbacks as well, including reliability based on over 37,000 calls performed by our service team just last year. Our goal is to give you ALL the information so you know what's right for you.
Please consider subscribing or adding to the conversation in the comments below. We appreciate you stopping by.
A Note About Pricing
Pricing on this blog is for reference only and may include time sensitive rebates. We make every attempt to provide accurate pricing at time of publishing. Please call the stores for most accurate price.