Most Reliable Compact Dryers for 2022
The Most Reliable Compact Dryers for 2022 are:
Bosch - 3.4%
Beko - 4.6%
Miele - 4.9%
Most people check reliability or plan their laundry purchase around the washer. That is a mistake.
You may have to replace both your washer and dryer if you plan to stack them. Stacking kits can change and differ from the old and the new models.
In other models, the connections may differ from old to new, meaning both may need to be changed. You should consider the washer and dryer together, especially if you're looking at reliability.
You will need more reliable machines as repair becomes more challenging due to new, highly technical machines.
In this article, you will learn the most reliable dryers from over 40,000 real service calls logged last year, as well as the best dryers and washers to consider.
Then we will address the bigger problem: finding an available compact laundry set.
Let's get started.
What You Need to Know About Compact Laundry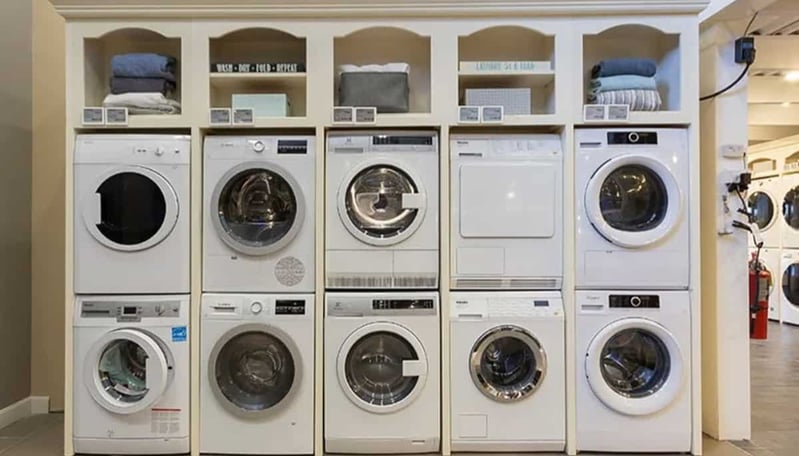 Compact Washer and Dryers at Yale Appliance in Boston
You won't see familiar brand names like Maytag, Whirlpool, and GE while you shop for a compact washer or dryer. Historically, compact laundry is manufactured in Europe rather than the US and Mexico like full-size units.
Europeans typically live in smaller spaces, so compact laundry fits their smaller kitchens and closets. We typically live in houses with larger spaces. Yet, compact laundry has become popular in the US because empty nesters are moving back to the city with smaller spaces.
In terms of features, compact laundry brands, like Miele and Bosch, are much better than full-size units.
Over 85% of compact dryers sold are ventless, whereas full-size, regular dryers are almost exclusively vented.
Ventless compact laundry can be placed anywhere with power and water as you do not have to run a vent outdoors. There are two types of ventless laundry: condenser dryers and heat pump dryers.
Condenser dryers use electrical elements to dry your clothes. Heat pump dryers use a compressor to store and recycle heat. You have less heat emission with heat pump models. It's also more efficient to run.
Read More: The Best Compact Laundry for 2022
How We Calculate Dryer Reliability
We calculate appliance reliability by dividing the products we serviced by the products we sold. For this article, we looked at the number of appliances sold and serviced from December 1, 2020, to October 31, 2021.
The lowest percentage is considered the most reliable. We try to solve customer education and installation issues by phone. However, we consider this a service call anytime we dispatch a truck to your home.
Most Reliable Compact Clothes Dryers for 2022
The following service rates are based on a minimum of 150 dryers sold and a total sample of over 1300 pieces.
Compact Dryer Reliability from December 2020 to October 2021
| | |
| --- | --- |
| | Service Rate |
| Bosch | 3.4% |
| Beko | 4.6% |
| Miele | 4.9% |
| Grand Total | 4.6% |
All the compact laundry brands have excellent service rates compared to the average appliance rate of 9.5%.
Miele is pretty incredible when you consider it a completely new product type. A 110-volt heat pump dryer did not exist before Miele marketed it (at least in the US).
You may ask why there are only three brands. With supply shortages, Samsung, Bosch, and LG are out of the compact laundry business.
Short on time? Get our free Compact Laundry Buying Guide
Most Reliable Compact Washers for 2022
The following service rates are based on a minimum of 150 compact washers sold and a total sample of over 1700 units.
Compact Washer Reliability for December 2020 to October 2021
| | |
| --- | --- |
| | Service Rates |
| Bosch | 2.1% |
| Samsung | 4.5% |
| Beko | 5.8% |
| Miele | 7.1% |
| Grand Total | 5.6% |
Bosch has been incredible at just 2.1%, followed by Samsung, Beko, and Miele.
This year only Beko has consistently been reliable and available, followed by Miele. Samsung has had problems since the pandemic. Bosch has decreased production due to COVID-19 setbacks and component issues.
Read More: Most Reliable Compact Washers
How to Choose a Compact Washer And Dryer Set
Unlike most of your laundry purchases, you should start with the dryer because of venting.
Most compact dryers do not vent to the outside so that you can place your set anywhere you have water and electricity (I know I have said that quite a bit in this article).
Three Types of Clothes Dryers
Vented:

Vented dryers are similar to regular dryers. The heat and moist air are expelled outdoors using a vent and wall cap. The most popular vented brands are Samsung and Blomberg.

Condensation:

Using regular heating elements, condensation dryers turn the heated air into water. The most popular condensation dryers are from Bosch, Electrolux, Asko, and Fisher & Paykel. (Pro Tip: Have the installer run a water line from the dryer to the washer. You will not have to empty the dryer after each use).

Heat Pump:

A heat pump dryer uses a compressor to recycle the air. It is ventless but far more efficient than condensation. It reuses existing air rather than pulling air from your room and does not project heat like other straight condenser models.
Beko, Bosch, and Miele all have heat pump dryers. Samsung has a heat pump dryer as well. Miele requires 110 volts, whereas the others require 220 volts.
Read More: How to Buy a Stackable Washer and Dryer
Best Compact Dryers for 2022
Best Compact Heat Pump Dryers: Miele TXD160WP ($1,299) and TXR860WP ($2,099)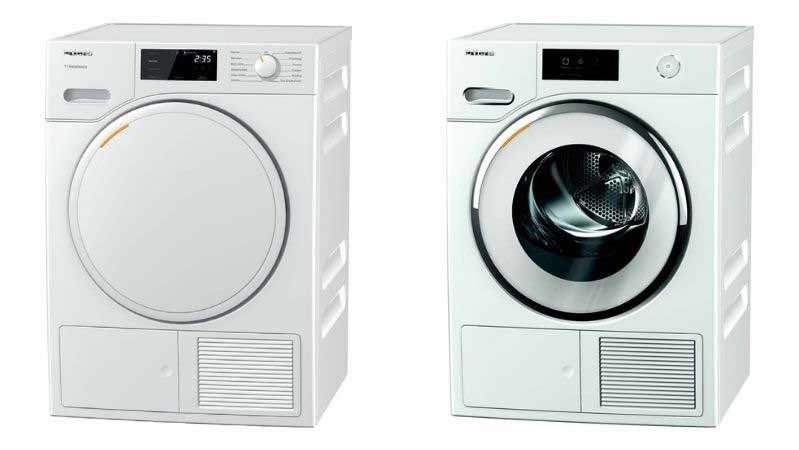 Miele is considered the best by anyone. They revolutionized the industry by introducing a 110-volt heat pump dryer. You also have some unique features, including the "FragranceDos" or the ability to add custom fragrances to your dryer.
Wi-Fi is standard on all Miele laundry sets. Smart functionality makes sense in the laundry. You can turn the machines on or off and get text alerts when the cycle is completed.
The TXR860 adds steam and more cycles to the base model.
Match them to these washers, the Miele WXD160WCS and WXR860WCS.
Matching Compact Washers: Miele WXD160WCS ($1,199) and WXR860WCS ($2,099)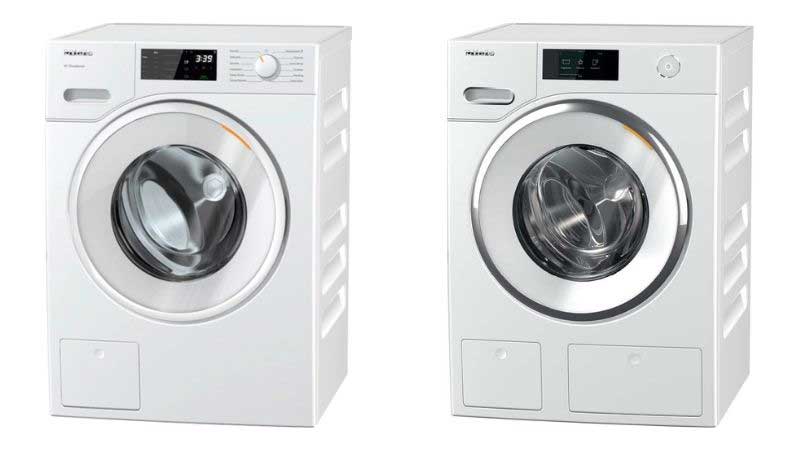 Miele again has unique washers starting with their perforated Honeycomb drum. It washes fine washables better because they glide on a sheet of water during the wash.
The 1600 RPM spin speed is the best for any washer, compact or regular. A faster spin will almost dry the clothes for less time in the dryer.
Miele is the only compact washer to dispense pods. You can buy your own or use Miele's special application pods. Like the dryers, Miele washers all have Smart functionality.
Their best washer adds steam to loosen tough stains. The WXR860 also features two pumps to dispense from the top and bottom. You also have an auto dispenser to hold up to 30 loads of detergent. The dispenser will release the exact amount of bleach and detergent needed at the right time.
Read More: Differences Between Miele Compact Laundry Models
Best Compact Vented Dryer: Beko BDV7200X ($899)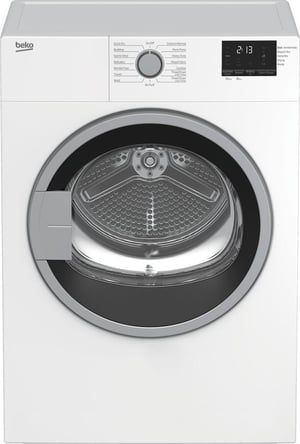 Beko is Turkish. Their vented machine is the only compact dryer available. Another vented option is with Samsung. You can check Samsung's compact laundry availability, but we haven't seen Samsung in over a year, but it could be available in your area.
Beko's dryer works well and has a staggering 15 different programs. You can match it with this compact washer, the Beko BWM7200X.
Matching Compact Washer: Beko BWM7200X ($999)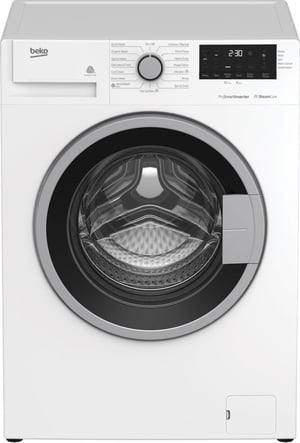 The washer is smaller, but that could be good in tighter spaces like closets.
Read More: Should You Buy a Beko Compact Washer and Dryer?
Which Compact Dryer Should You Buy?
From a reliability standpoint, most brands are better than the average. However, finding one this year, 2022, and next year in 2023 will be extremely difficult.
Beko, the brand you never heard of or probably considered, will be the only company with availability in 2022. Miele is your second best bet for availability and the best compact laundry you can buy for features. Hopefully, Bosch and the other brands will be available later this year.
Frequently Asked Questions
1. Can you stack any washers and dryers?
Yes, all washers and dryers are designed to be stacked.
2. What are brands of washers and dryers the best?
It depends, but Miele, Bosch, and Samsung are the most reliable and best brands for washers and dryers.
3. What is the smallest full-size washer and dryer?
The smallest full-size washer and dryers are from LG because their models have less depth. Compact dryers will be shallower than the shallowest LG by about 6 inches.
4. Can you mix washer and dryer brands?
It depends on the installation. If the washer and dryer are tied together, then probably not. I would not recommend mixing the brands while stacking. They all fit differently and have different stacking kits.
5. What compact washers and dryers have Wi-Fi?
Bosch and Miele offer Wi-Fi for basic functions like turning on and off and seeing the time remaining.
6. Are ventless dryers good?
Most ventless dryers are decent. Look at Bosch, Electrolux, and Asko.
7. Do ventless washers cause mold?
You do not hear this complaint from compacts as much. The gasket is narrow, and water does not pool and becomes stagnant like a regular front load.
8. Are our washer and dryer combos any good?
No, one-piece washer and dryer combos are not good. They take way too long to complete a cycle and are repair prone.
Additional Resources
Download the Yale Compact Laundry Buying Guide with specs, features, and buying tips for every major brand. Well over 1 million people have read a Yale Guide.
Most Reliable Appliances Series:
Why Should You Trust Us?
It seems that every appliance review has nothing but glowing comments about almost every product, yet you read customer reviews and they are almost universally bad.
We are here to fill in the disconnect. We'll give you the best features, and the drawbacks as well, including reliability based on over 37,000 calls performed by our service team just last year. Our goal is to give you ALL the information so you know what's right for you.
Please consider subscribing or adding to the conversation in the comments below. We appreciate you stopping by.
A Note About Pricing
Pricing on this blog is for reference only and may include time sensitive rebates. We make every attempt to provide accurate pricing at time of publishing. Please call the stores for most accurate price.