Beko Vs Samsung Compact Laundry (Reviews / Ratings / Prices)
Let me guess. You're here because your search for compact vented laundry has not been easy. There are only a few manufacturers, and one of the best is less well known.
Miele, Electrolux, and Bosch are ventless only. This does not help if you are replacing an existing vented set.
Of the few vented dryer manufacturers, Samsung and Beko are the best.
In this article, you will learn about Samsung's and Beko's best compact laundry, their features, dimensions, prices, and how they compare.
We will also show you reliability based on real service data (lots of it actually).
If you are just browsing, scroll to the end. There is a section about how to prevent dryer fires.
But first, let me show you why your search has been tough until now.
Why Are There So Few Vented Compact Laundry Pairs?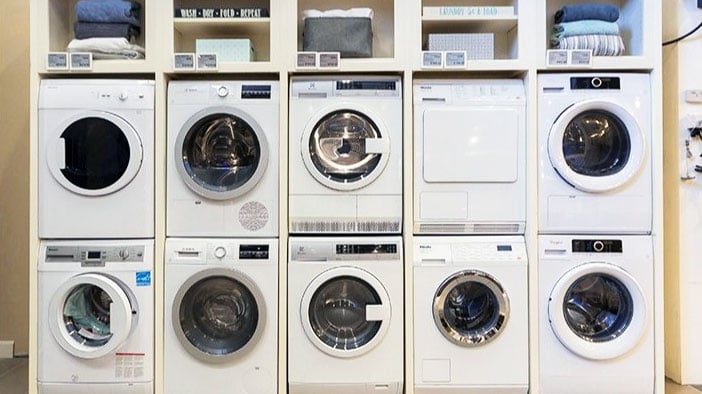 Stackable Compact Laundry With Ventless and Vented Dryers at Yale Appliance in Boston
In 2013, UL dryer regulations stated that a fire in a dryer must be contained for 7 hours. This must have been in response to a few fires at that time, mostly in the vent.
Ventless dryers aren't a problem because a fire cannot be spread to a vent and then possibly through your house.
However, at that time, only Blomberg (a subsidiary of Beko) could comply with the regulations. Samsung became active in compact laundry only since 2017.
At the end of the article, I will include some suggestions to prevent dry fires, whether you have compact or full-size laundry.
Who Is Beko?
This is a question I would ask. You don't want to buy an off-brand for an appliance. We have tried that route early in my 34-year history at Yale.
It's a good idea until you need repair.
Beko is not an off-brand and is one of the largest appliance companies in the world, based in Turkey.
You may have already bought a Beko appliance under their Blomberg brand. They manufacture appliances for other brands as well.
That Viking dishwasher is a Beko, for example.
Anyway, compact laundry and refrigeration are their biggest categories.
They have been leaders in innovation with the first ventless heat pump imported into the US, and the first UL approved vented compact dryer.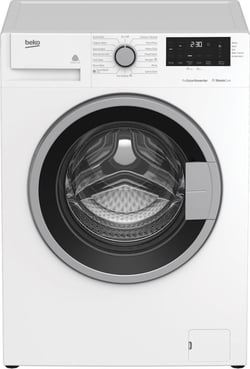 Features:
1,200 rpm Maximum Spin Speed
White with Silver Door
Product Dimensions - 33 1/8" x 23 5/8" x 23 1/5"
Total Capacity - 1.95 Cu. Ft.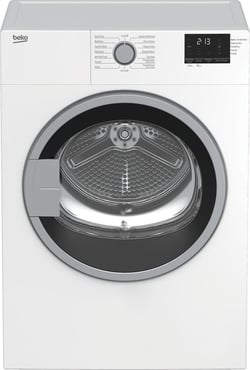 Features:
Stack kit included
White with Chrome Door
Product Dimensions - 33 11/16" x 23 1/2" x 23"
Total Capacity - 3.7 Cu. Ft.
Samsung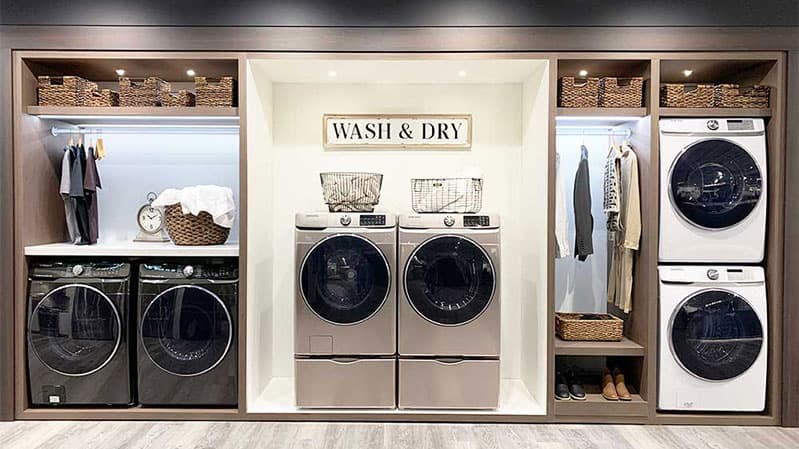 Samsung Washers and Dryers at Yale Appliance in Hanover
You know Samsung for its phones. However, you probably didn't know it's the number 1 sold appliance brand in the US in a relatively short time.
They have done so with beautiful yet functional appliances.
Like Beko, laundry and refrigeration are their best products. This compact laundry set is excellent.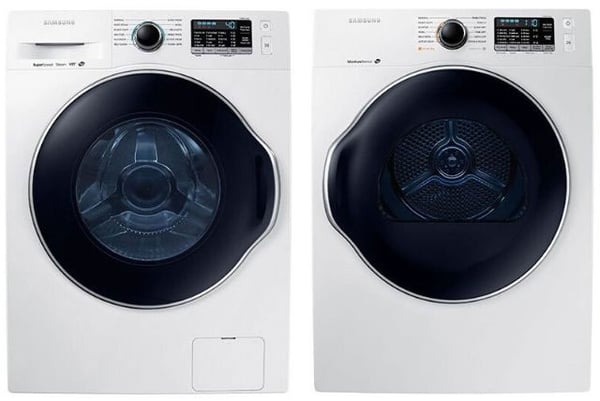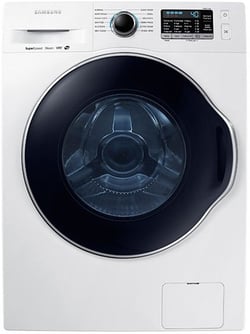 Features:
Steam Wash - Powerful Steam Eliminates Stains without pre-treatment
Super Speed - Wash a full load in 40 minutes*
Product Dimensions - 23 5/8" x 33 1/2" x 26 5/8"
Total Capacity - 2.2 Cu. Ft.
Features:
Smart Care - Troubleshoot straight from your smartphone*
Sensor Dry - Automatically turns off when your clothes are dry
Product Dimensions - 23 5/8" x 33 1/2" x 25 13/16"
Total Capacity - 4.0 Cu. Ft.
Samsung Compact Laundry Review [VIDEO]
Let's compare their key features with their dimensions being the most important.
Beko Vs Samsung Compact Laundry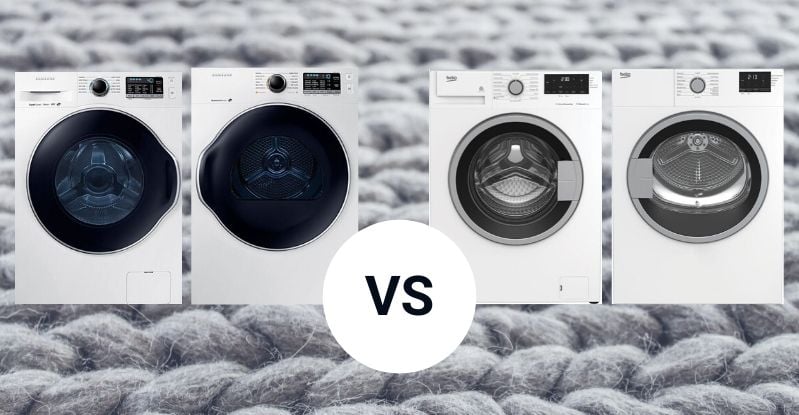 Compact Laundry Reliability
Most Reliable Compact Laundry Brands for 2020
| | | | |
| --- | --- | --- | --- |
| | Serviced Qty | Shipped Qty | Service Ratio |
| Asko | 12 | 53 | 22.64% |
| Miele | 48 | 461 | 10.41% |
| Samsung | 45 | 453 | 9.93% |
| Blomberg | 21 | 225 | 9.33% |
| Whirlpool | 12 | 193 | 6.22% |
| Bosch | 35 | 840 | 4.17% |
| Grand Total | 173 | 2315 | 7.47% |
I always start here and encourage you to look at reliability before you buy an appliance.
In this instance, 0.6% is not significant or important enough to decide on either brand.
However, service is an issue in this industry.
It's not like buying a car where every dealer has a service department. In the appliance world, maybe 5% have significant service departments.
Check before you buy it.
Check again, because compact laundry is highly technical with few technicians available to repair.
Washer RPM Spin Speed
Why is it important?
Higher RPM spin speeds in your washer equate to less time in your dryer by "spinning" excess water out in the washer.
The average for a top load is 400 RPM. The average front load RPM is 1000. Miele is the highest at 1600 RPM.
Beko is above average at 1200. Samsung is faster at 1400 RPM.
Steam
Steam can help loosen and power out stains. Samsung is one of the few compact washers with steam. Beko does not offer steam in this model.
Compact Laundry Size
Compact laundry is all roughly the same size. It's designed to fit into a smaller closet or kitchen.
Most of these cabinets and spaces are 24 width and 24 depth.
Samsung is a rare exception.
It is 26.63 deep. So it has a larger capacity. However, that larger capacity may not be able to fit in your closet.
In a kitchen, it will protrude almost 3 inches.
Beko is the opposite. The washer is 23.2 inches deep and the dryer is 23 inches, so you have a bit less capacity.
However, Beko is your best choice for compact laundry in shallower spaces, especially tight closets.
Key Takeaways
Both are good choices. It's almost a statistical tie in reliability.
Samsung is larger and has a few better features. Beko will be easier to fit in tighter spaces and with a much easier installation.
Dryer Fire Safety
I promised you a section on preventing dryer fires.
If you are replacing your existing dryer, you should switch out the accordion, flexible vent for straight sheet metal to prevent lint from being trapped in the seams of the flex.
You should also clean out the lint in your dryer screen after every load.
In 2013, there were some well-publicized fires. Heat and lint can create a fire. The vent is usually inside your house, so a fire is difficult to extinguish.
It does not happen that often, but it is easily preventable.
According to the Commonwealth of Massachusetts and UL fire codes, here are a few dryer safety tips:
An adult should always be home while your dryer is in use.
Clean the lint filter screen before or after each load to prevent lint buildup. Do not forget to clean the back of the dryer where lint can be trapped.
The interior of the dryer and venting system outside should be cleaned twice a year by a qualified service technician. Qualified personnel should also replace plastic or vinyl exhaust hoses with rigid or flexible metal venting.
Make sure to keep the dryer's surrounding area clean.
Do not dry mop heads, clothing, or fabric upon which there is any chemical residue like cooking oils, gasoline, or alcohol.
Read manufacturers' warnings and care manuals that accompany new dryers. Also, make sure to read the warning markings that can usually be found on the inside of the dryer's lid.
Additional Resources
Download our Compact Laundry Buying Guide with all the features, terms and brands of laundry. Over 800,000 people have already found answers in a Yale guide.
Related Articles:
Why Should You Trust Us?
It seems that every appliance review has nothing but glowing comments about almost every product, yet you read customer reviews and they are almost universally bad.
We are here to fill in the disconnect. We'll give you the best features, and the drawbacks as well, including reliability based on over 37,000 calls performed by our service team just last year. Our goal is to give you ALL the information so you know what's right for you.
Please consider subscribing or adding to the conversation in the comments below. We appreciate you stopping by.
A Note About Pricing
Pricing on this blog is for reference only and may include time sensitive rebates. We make every attempt to provide accurate pricing at time of publishing. Please call the stores for most accurate price.