Beko vs. Samsung Compact Laundry
Beko and Samsung for compact laundry is a common comparison. It is the only comparison for a vented compact set.
In this article, you will learn about both sets and the advantages and disadvantages of both.
Ultimately, your decision may be more about availability and service than features and reliability.
Let's start with the basics first.
What Is Compact Laundry?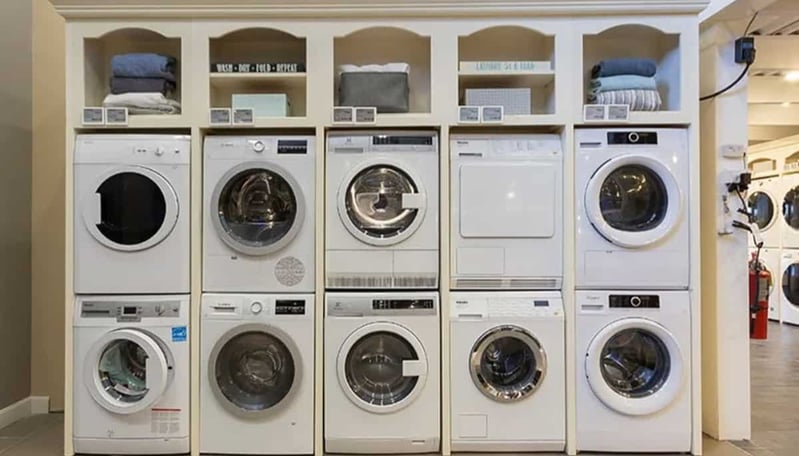 Compact washers and dryers are different from a regular full-size set.
Compact laundry is designed to be 34 inches tall, 24 inches wide, and 24 inches deep to fit in a small closet or even a standard kitchen cabinet.
Compact laundry has the same dimensions as a dishwasher.
The average full size washer is 38 inches tall, 27 inches wide, and 30.58 to 36 inches deep. Unlike full size, you buy compact by the dryer type, not by the washer.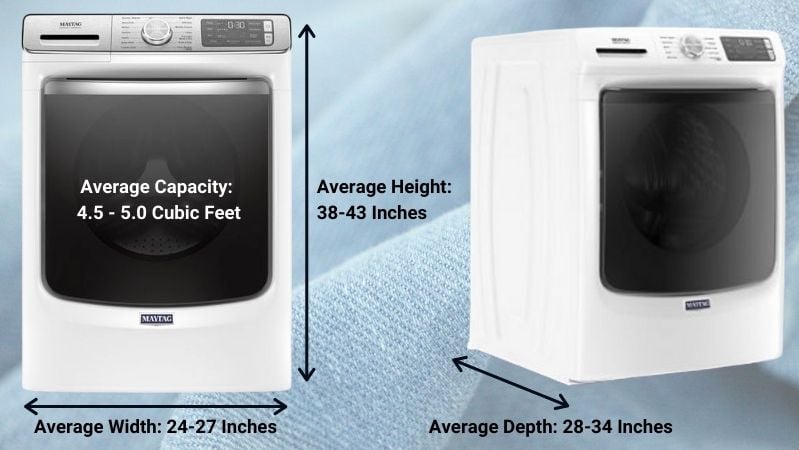 Read More: The Best Compact Laundry
Three Types of Compact Dryers
Most compact laundry is sold ventless, not vented outside your house like full-size pairs.
Developers use compact laundry, so they don't have to drill holes in their buildings for dryer vents.
It also helps with LEED (Leadership in Energy and Environmental Design) certifications because the air isn't infiltrated back into their building.
You may like ventless because any space with water and power can be a laundry space without having to vent even on interior walls.
Is Junior going off to college? Turn his closet into a laundry room. All you need is power and water.
Below are the three types of compact dryers.
Vented Dryers:

It's uncommon to replace a vented full-size set with a smaller compact set. With developers buying ventless, you don't see this often. Also, many manufacturers can't produce vented because they don't pass the UL fire tests (I will include some information about fire safety at the bottom if you are interested).

Ventless Condenser Dryers:

Condenser drying using heating elements projects heat into your room. It was once the most popular. Most brands like Miele have stopped manufacturing condenser dryers. Bosch has started cycling away from this type as well. Samsung and Beko have never produced ventless condenser dryers.

Ventless Heat Pump Dryers:

Heat pumps are the most efficient drying type using compressors instead of heating elements. Compressors store energy and don't project heat into your room.
Heat pumps will also save you money. We have other in-depth articles about how heat pump technology works.
Read More: What Are the Benefits of Ventless and Heat Pump Dryers
Compact Laundry Availability
The pandemic and the subsequent supply chain issues like (pick your favorite: port issues, component issues, container issues, freak weather incidents, trucking, and warehouse issues) have disrupted how you buy every product from baby formula to cars.
Appliances have been affected perhaps more than any other product. With these issues, the industry has experienced unprecedented demand.
You will learn the differences between Beko and Samsung. However, consider which one you can buy in a reasonable amount of time first.
Compact Laundry Reliability
The figures below are based on a minimum of 150 compact washers sold and a total sample of over 1,700 units.
Compact Washer Reliability for December 2020 to October 2021
| | |
| --- | --- |
| | Service Rates |
| Bosch | 2.1% |
| Samsung | 4.5% |
| Beko | 5.8% |
| Miele | 7.1% |
| Grand Total | 5.6% |
I always start here and encourage you to look at reliability before you buy an appliance.
In this instance, a difference of 1.3% is not significant enough to decide on either brand.
However, service is an issue in this industry.
It's not like buying a car where every dealer has a service department. In the appliance world, maybe 5% have significant service departments.
Check for available service before you buy any appliance.
Then check if they can repair compact washer or dryer. Compact laundry is highly technical, with few technicians available to repair it.
Both have good service rates below the average. Their products work. That's great.
However, what happens when you do have an issue? Both do not operate service departments.
So, before you buy, find out who can service your compact laundry in your area.
Some areas will be better than others, so Google repair services where you live.
Read More: Most Reliable Compact Laundry
Short on time? Get our free Compact Laundry Buying Guide
Beko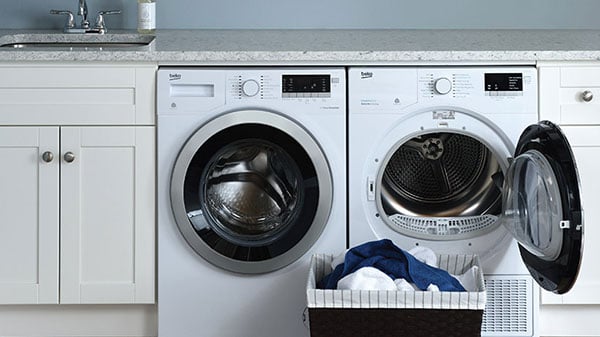 Beko is a Turkish brand.
Somehow, they have been strangely unaffected by the supply chain issues.
In compact washers and dryers, they have been leaders in innovation, with the first ventless heat pump dryer imported into the US and the first UL-approved vented compact dryer.
Then again, Beko focuses on compact washers and dryers. They do not manufacture a full-size set.
Beko Vented Compact Laundry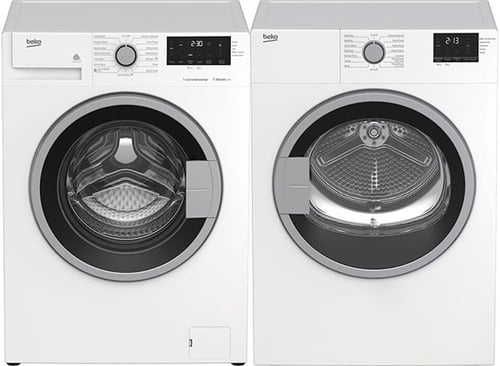 Features:
2.0 Cu. Ft. Capacity
1200 RPM Spin Speed
15 Wash Programs
Stainless Steel Drum
No Wi-Fi
Not ADA Compliant
Stackable
Energy Star Qualified
Features:
Electric Vented Dryer
3.7 Cu. Ft. Capacity
15 Drying Programs
Automatic Anti Creasing
Stainless Steel Drum
No Wi-Fi
Not ADA compliant
Stackable
Energy Star Qualified
Two Year Warranty
Beko Ventless Compact Laundry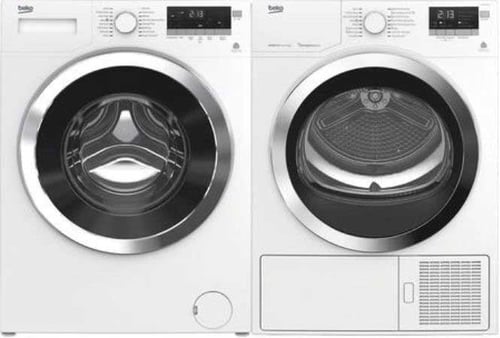 Features:
2.5 Cu. Ft. Capacity – Wash up to 14 large towels
1400 RPM Spin Speed for faster wash time and less drying time
16 Wash Cycles
Energy Star Qualified
Pet Hair Removal Plus Cycle
Direct draining – Automatic draining of excess water
Child Lock for safety
Stainless Steel Drum
The washer plugs into the matching dryer
2 Years of Parts and Labor warranty
Features:
Heat Pump System - conserves and reuses hot air during the tumble-drying cycle. 50% more energy savings over traditional vented dryers.
4.1 Cu. Ft. Capacity
16 Drying Programs
Humidity Free
Stacking Kit included
Automatic draining of excess water from the tank
Reversible door
Lifetime Stainless Steel Drum
208-240 volts
2 Years of Parts and Labor warranty
Also available in a vented dryer
Samsung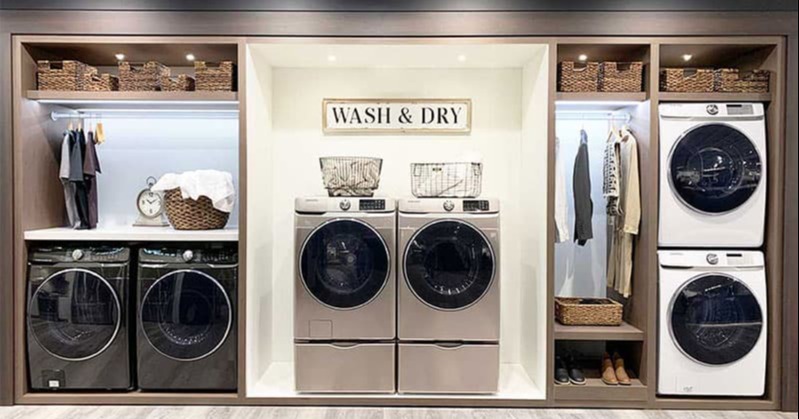 You know Samsung for its phones. However, you probably didn't know it's the number one selling appliance brand in the US climbing to the top in a relatively short time.
They have done so with beautiful yet functional appliances.
This compact laundry set is excellent.
Samsung Vented Compact Laundry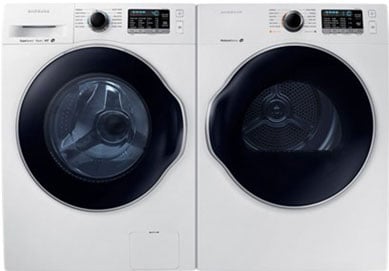 Samsung Compact Washer WW22K6800AW ($799)
Features:
Requires 15-amp 120-volt Electrical Outlet
2.2 Cu. Ft. Capacity
Steam Wash Cycle
1400 RPM Spin Speed
12 Wash Cycles
VRT - Vibration Reduction Technology
Smart Care Diagnostic
Samsung Compact Dryer DV22K6800EW/A1 ($799)
Features:
Vented Dryer Only
Requires 240v Electrical Outlet 30 amps
4.0 cu. ft. capacity
12 Drying Cycles
Wrinkle Prevent
Smart Care Diagnostic
5 Temperature Settings
Samsung Ventless Compact Laundry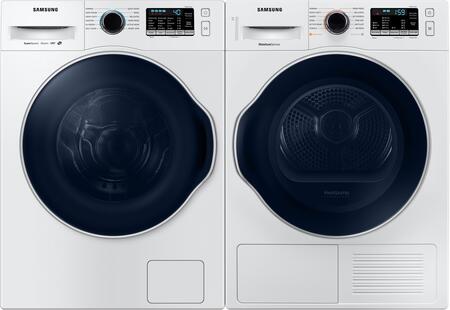 Samsung Compact Washer WW22K6800AW ($799)
2.2 Cubic Feet Capacity
Steam Wash Cycle for powerful stain removal
Super Speed Cycle – Wash a full load in under 40 minutes
Smart Care – Perform diagnosis with your smartphone
Self-Clean – Notifies you when it's time for cleaning after every 40 wash cycles
Diamond Drum Interior
Energy Star Certified
Vibration Reduction Technology
12 Wash Cycles
1400 RPM Spin Speed
120V electrical outlet
1 Year Parts and Labor warranty
Samsung Heat Pump Dryer DV22N6800HW/A2 ($799)
Heat Pump technology for more energy efficiency
4.0 cu. Ft. Capacity
Smart Care – Perform diagnosis and interact with your dryer from your smartphone
12 Drying Cycles
Interior Drum Light
40 Minute Express Dry Cycle
Reversible Door
Stainless Steel Drum
Child Lock
208-240 volts
1 Year parts and labor warranty
Optional Stacking Kit
Beko vs. Samsung Compact Laundry
Let's compare their key features, with their dimensions being the most important.
What Beko and Samsung have in Common
1400 RPM Spin
Higher RPM (Revolutions Per Minute) spin speeds in your washer equate to less time in your dryer by "spinning" excess water out in the washer.
The average for a top load is 400 RPM. The average front load RPM is 1200 RPM with Miele being the highest at 1600 RPM.
Cycles
Both have plenty of wash cycles. Beko has 16 while Samsung has 12 in both the washer and dryer.
Stainless Drums
Both have stainless steel drums with similar electrical requirements.
How They Differ
Steam
Steam can help loosen and power out stains. Samsung is one of the few compact washers with steam. Beko does not offer steam.
Wi-Fi
Wi-Fi and smart functionality have some value in the laundry. You can see the time remaining and receive a push notification when the cycle is complete.
It will save you from constantly checking your washer and dryer
Samsung is Smart enabled, whereas Beko is not.
Learn More: Smart Appliance Buying Guide
Compact Laundry Size
Beko is listed as 2.5 cubic feet, whereas Samsung is smaller at 2.2 cubic feet. It's curious because Samsung is 2 inches deeper.
Beko is a better choice for tighter closets and smaller spaces.
Warranty
Beko has a two-year warranty while Samsung has a one-year warranty.
Key Takeaways
Both are good choices. As I said in the beginning, they are the only choices for vented laundry.
Samsung will have a few better features with steam and Wi-Fi while Beko is larger and has a better warranty.
The differences should not convince you either way.
For both, check availability and the service reputation of both in your area, then decide on those two factors.
Dryer Fire Safety
I promised you a section on preventing dryer fires.
If you are replacing your existing dryer, you should switch out the accordion, flexible vent for straight sheet metal to prevent lint from being trapped in the seams of the flex.
After every load, you should also clean out the lint in your dryer screen.
In 2013, there were some well-publicized fires. Heat and lint can create a fire. The vent is usually inside your house, so a fire is difficult to extinguish.
It does not happen that often, but it is easily preventable.
According to the Commonwealth of Massachusetts and UL fire codes, here are a few dryer safety tips:
An adult should always be home while your dryer is in use.
Clean the lint filter screen before or after each load to prevent lint buildup. Do not forget to clean the back of the dryer where lint can be trapped.
A qualified service technician should clean the interior of the dryer and venting system outside twice a year. Qualified personnel should replace plastic or vinyl exhaust hoses with rigid or flexible metal venting.
Make sure to keep the dryer's surrounding area clean.
Do not dry mop heads, clothing, or fabric upon which there is any chemical residue like cooking oils, gasoline, or alcohol.
Read manufacturers' warnings and care manuals that accompany new dryers. Also, read the warning markings that can usually be found on the inside of the dryer's lid.
Additional Resources
Download the Yale Compact Laundry Buying Guide with specs, features, and buying tips for every major brand. Well over 1 million people have read a Yale Guide.
Why Should You Trust Us?
It seems that every appliance review has nothing but glowing comments about almost every product, yet you read customer reviews and they are almost universally bad.
We are here to fill in the disconnect. We'll give you the best features, and the drawbacks as well, including reliability based on over 37,000 calls performed by our service team just last year. Our goal is to give you ALL the information so you know what's right for you.
Please consider subscribing or adding to the conversation in the comments below. We appreciate you stopping by.
Roger Pontes
Roger Pontes has been with Yale Appliance for over 10 years. He's worked in both the lighting and appliance department over the years. Roger truly enjoys helping people. He's a married father of 2 kids, a boy and a girl. On his spare time Roger enjoys spending time with his family and playing sports.

Schedule a showroom visit with me
A Note About Pricing
Pricing on this blog is for reference only and may include time sensitive rebates. We make every attempt to provide accurate pricing at time of publishing. Please call the stores for most accurate price.