Should You Buy a Heat Pump Dryer?: Exploring the Pros and Cons
September 6th, 2023 | 8 min. read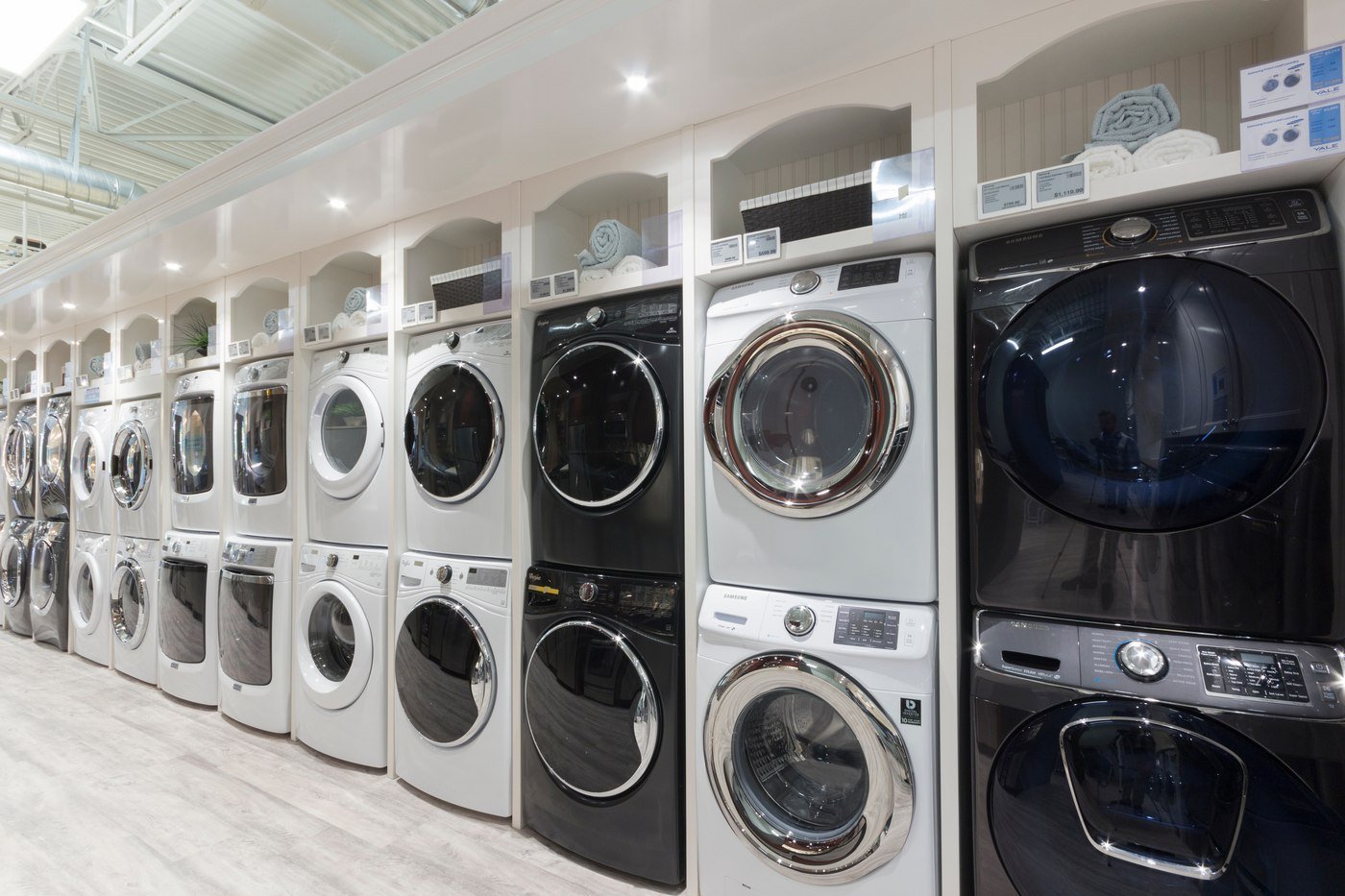 Curious about heat pump dryers?
Heat pump dryers are a bold departure from the older, yet reliable dryers.
They are far more efficient, but heat pumps have their issues as well.
In this article, you will learn the pros and cons of heat pump drying systems, including the actual costs of operation from my own electricity bill.
In the end, you will understand whether a heat pump dryer is right for you.
Key Takeaway: Your dryer uses a ton of energy, as you will discover. Heat pumps can reduce some of that cost.
Watch a webinar presentation of this topic!
History of the Heat Pump Dryer
Guess the most important dates for heat pump dryer innovations:

1850s
1970s
1990s
2020-2023
Well, if you guessed anything, you would be correct.
Heat pumps were invented in 1856 in Austria, almost 170 years ago. They were used to clean out salt marshes near Vienna.
In the 1970s, heat pumps were first used in heating and air conditioning as a way to combat the higher OPEC oil prices.
Many hotels switched to those big individual heat pumps in each room for heating and cooling.
The first heat pump dryer was invented by Electrolux in 1997. It was a small compact heat pump dryer that had a capacity of 4 cubic feet.
Smaller sizes were the most popular heat pumps until 2023.
In the past three years, there has been a surge of innovation in the laundry appliance industry, particularly with the introduction of larger models like the LG WashTower, GE Profile UltraFast combo washer and dryer, and the Miele 110-volt heat pump dryer.
I used to drive my dad's Oldsmobile in the 1990s, the same time when heat pumps were invented.
Heat pumps have a rich history and have long been the standard in most of Europe, over 115 years.
How Heat Pump Dryers Work
It's not new technology. Don't be intimidated.
Reading about how heat pumps work on the internet will drive you crazy.
So let's simplify it (for my sake as well).
Heat pump dryers work with a condenser heating up the air through an air exchanger and an evaporator to remove the moisture.
They are ventless, and the air is recirculated through an air exchanger. That recirculated air will become increasingly hot and less costly to heat.
Heat Pump Dryers vs. Standard Dryers
Compare the closed-loop recycling of air to a standard dryer.
Your standard dryer will pull heat from the room, heat it with electric or gas elements, and exhaust it to the outside.
Regular dryers are always pulling colder air rather than reusing the warmer or hotter air of a heat pump.
Therefore, heat pump dryers are 50-60% more efficient than regular electric dryers.
How Efficient Are Heat Pump Dryers?
You will see a lot of estimates of heat pump efficiency on the internet, so I thought I would take my bill and break it down.
Massachusetts has the highest energy costs in the US at 34.1 cents per KWH.
My energy bill in Jamaica Plain, after distribution costs, was 28.1 cents.
That's 554.89 divided by 1967 KWH.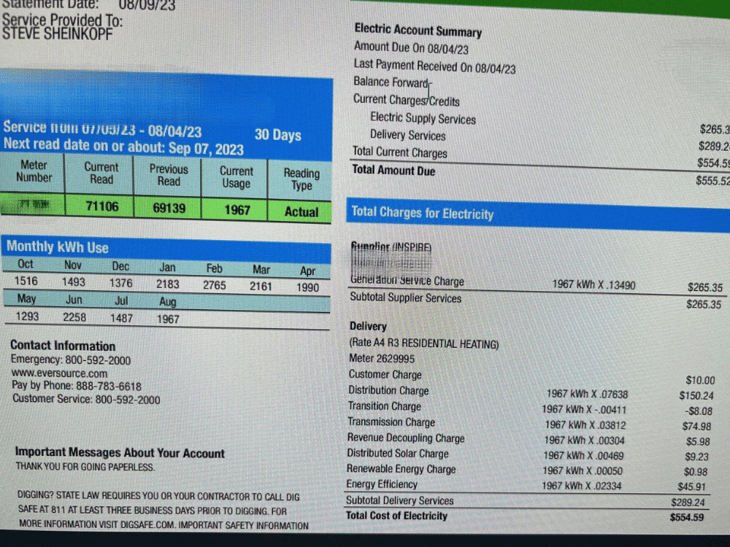 Here is the math:
According to Whirlpool, the average KWH of a dryer is 1.8-5 KWH per load.
If you are reading this with an older dryer, you are using 4-5 KWH.
But let's average at 3.4 KWH per load.
Multiply 3.4 KWH * .281 = .96 per load.
One load per day is $350 per year.
At 50% efficiency, the savings are $175 for just my family of two.
If you have a family of five with an older dryer, the savings will be considerably more.
That little dryer uses a ton of energy and costs a lot to operate.
The Pros & Cons of Heat Pump Dryers
Heat Pump Dryer Pros
Lower energy costs
Gentler on your clothes
Ventless
Can operate on 110 volts of power
Gentler on Your Clothes
Heat pumps operate at lower temperatures and are gentler on your clothes. Your clothes are mostly dry now with front load washer spin speeds of 1200-1600 RPM.
Ventless
You don't have to worry about cleaning your vent because heat pumps do not vent to the outside.
Any room is now a laundry room without the required vent to the outside.
110-Volt Operation
Heat pumps are a godsend in many apartments lacking the electricity to handle a regular dryer.
With a ventless 110-volt dryer, your laundry room is anywhere with standard power and a drain.
No Heat Emission
Unlike conventional ventless dryers, heat pumps do not emit heat back into your room.
Regular ventless dryers use regular elements and condensers to exhaust inside rather than outside.
Consequently, your laundry room will be much hotter for additional HVAC costs of cooling the area as well as the extra energy costs of a regular dryer.
Fast ROI
The average heat pump dryer will cost about $300-$400 more. Then again, Miele and the GE Profile UltraFast washer and dryers are only available with heat pumps.
However, the payback and overall savings will be less than 2-3 years.
Better for the Environment
The switching of conventional dryers to heat pumps will save tons of electricity per household at scale and tons of carbon emissions.
Heat Pump Dryer Cons
Long Dryings Times
GE Profile UltraFast Combo Washer and Dryer Test Results
| | |
| --- | --- |
| | Total Wash and Dry Time |
| Mixed Colors | 2 hours & 51 minutes |
| Whites | 2 hours & 48 minutes |
| Sheets/Blankets | 2 hours & 8 minutes |
| Comforter | 2 hours & 1 minute |
GE 650 Series Washer and Dryer Test Results
| | | | |
| --- | --- | --- | --- |
| | Wash Time | Dry Time | Total Time |
| Mixed Colors | 59 minutes | 28 minutes | 1 hour & 27 minutes |
| Whites | 1 hour & 9 minutes | 40 minutes | 1 hour & 49 minutes |
| Sheets/Blankets | 1 hour & 8 minutes | 42 minutes | 1 hours & 50 minutes |
| Comforter | 1 hour & 2 minutes | 1 hour & 16 minutes | 2 hours & 18 minutes |
LG WashTower Test Results
| | | | |
| --- | --- | --- | --- |
| | Wash Time | Dry Time | Total Time |
| Mixed Colors | 32 minutes | 1 hour & 2 minutes | 1 hour & 34 minutes |
| Whites | 36 minutes | 1 hour & `8 minutes | 1 hour & 54 minutes |
| Bedding | 1 hour & 5 minutes | 3 hour & 20 minutes | 4 hours & 25 minutes |
| Comforter | 1 hour & 2 minutes | 2 hour & 45 minutes | 3 hours & 47 minutes |
You are looking at the washing and drying times of the GE UltraFast Combo, the GE 650 Series, and the LG WashTower. Each of these machines uses a heat pump dryer.
The UltraFast had a longer duration, but that is a combo washer and dryer.
We will discuss that a bit later.
However, the difference between the LG WashTower and a regular washer and dryer is not much different for whites and colors.
Bedding is a different story. The LG WashTower is a sensor-driven machine. It won't shut off until it's completely dry.
Washing a comforter until bone dry is not easy in any dryer.
Placing the WashTower heat pump on a timed dry cycle will yield a similar result as the separate washer and dryer.
Heat Pump Dryer Reliability
Heat Pump Dryer Reliability Based on 33,000 Plus Service Calls
| | |
| --- | --- |
| | Service Rates |
| Bosch | 3.3% |
| Beko | 9.2% |
| Miele | 11.3%* |
| Grand Total | 9.2% |
I looked at this and thought there is no way Miele has an over 11% service rate.
Sixty-six percent of the service calls were an error code for removing the lint from the front filter.
So their heat pumps are reliable at around 4%, mirroring the regular dryers at 3.5%.
Still, the average service rate for heat pump dryers was 9.2%, just below the appliance average.
Poor Service Availability
Who can repair your heat pump dryer?
That's the question.
Heat pumps are more intricate than a regular dryer with more parts.
Appliance service is bad enough nationally without throwing a new technology into the mix.
The biggest drawback to a heat pump dryer is repair and technical know-how.
Best Heat Pump Dryer Brands
You can choose from a lot of brands like Samsung, Electrolux, and Whirlpool.
The following are a few more brands to consider:
Beko
Beko holds the distinction of being the company to introduce heat pump dryers to the US market.
Beko is a Turkish company built on sustainability.
In fact, the outer tubs of their washers are made from reclaimed plastic from the oceans. They recycle millions of pounds of plastic yearly.
Bosch
Bosch is the most reliable compact washer and dryer set you can buy. The washer is about 2.5%, and the dryer is 3.3%. Compare that to 9.7% for appliances on average.
Beko and Bosch spin at 1400 RPM. The average top load washers has a spin speed of 600-800 RPM, so your clothes are drier from the washer.
Miele
Miele is the most innovative heat pump set you can buy.
The washer has the multi-load dispenser, the highest spin at 1600 RPM, and every dryer is 110 volts. You can even control the fragrance in the dryer.
Read More: Best Compact Washers and Dryers
Bosch 220-Volt vs. Miele 110-Volt Heat Pump Dryers: Which Dries Faster?
According to our tests, the drying time is about the same.
How can a 110-volt system be as fast as 220 volts?
You would have to pore through a spec sheet, but Miele has mineral sensors and adjusts to the water to dry more efficiently.
Read More: Bosch 500 Series vs. Miele Compact Washer and Heat Pump Dryer
LG WashTower with Heat Pump Dryer
The European models are all roughly four cubic feet. Heat pumps started in Europe and they have smaller sizes.
Most of the larger heat pumps from Whirlpool and LG have been disappointing for various reasons.
The WashTower is one of the most successful new products since I have been at Yale (1986).
It's 7.2 cubic feet with controls in the middle operated by sensors.
Read More: Should You Buy the LG WashTower?
GE Profile UltraFast Combo Washer & Dryer
The UltraFast combines a washer and heat pump dryer into one machine. I don't normally recommend combos because they can't remove the lint.
GE Profile's standout feature in this machine is its double-sided filter design. Hopefully, lint buildup won't be a problem because it is an expensive, impossible service call.
The UltraFast is 4.8 cubic feet with a 32-load dispenser, Microban antimicrobial surfaces, and smart functionality.
We have tons of videos and articles related to the UltraFast. You can access them through the links below or watch this video for a brief review:
Read More:
The GE Profile UltraFast Combo vs. the LG WashTower
Briefly, the Ultrafast works on 110 volts, whereas the WashTower is 220 volts.
You can wash and dry in the UltraFast, meaning you can set it before you go to sleep and have the load clean and dry the next morning.
However, you can do more laundry in the WashTower. The wash cycle is shorter. You can transfer the load to the dryer and then reload it with another wash.
The WashTower might be better for larger families, while the Ultrafast is better for smaller spaces and is the most convenient.
Read More: The GE Profile UltraFast Combo vs. the LG WashTower
Key Takeaways
Well, hopefully, you will never look at your dryer the same way again.
At $1 a load, it costs money to dry that shirt.
Heat pumps offer the same value proposition as front load washers did years ago.
You will save a considerable amount of money in operating costs.
However, repair could be a problem both in cost and finding experienced technicians, although early repair stats are encouraging.
It's certainly worth the investment.
In the next few years, more manufacturers will produce larger heat pump dryers and combos like the UltraFast.
After the successful launch of the UltraFast, they must sell their laundry.
Without question, the heat pump dryer will be the future in laundry and what you will own in the next 5-10 years.
Heat Pump Dryers
FAQs
Answers to the most commonly asked questions about heat pump dryers.
How do heat pump dryers work?
Are heat pump dryers more energy-efficient?
Do they take longer to dry clothes?
What about initial costs?
Are heat pump dryers suitable for delicate fabrics?
Do I need a special installation setup?
Are heat pump dryers more complicated to repair?
What's the environmental impact of using them?
Are there maintenance requirements?
Can I choose based on personal preference?
Additional Resources
Download our Yale Washer Buying Guide with all the features, terms, and brands of laundry. Over 1.5 million people have already found answers in a Yale guide.
Related Articles:
Why Should You Trust Us?
It seems that every appliance review has nothing but glowing comments about almost every product, yet you read customer reviews and they are almost universally bad.
We are here to fill in the disconnect. We'll give you the best features, and the drawbacks as well, including reliability based on over 37,000 calls performed by our service team just last year. Our goal is to give you ALL the information so you know what's right for you.
Please consider subscribing or adding to the conversation in the comments below. We appreciate you stopping by.
Steve Sheinkopf is the third-generation CEO of Yale Appliance and a lifelong Bostonian. He has over 38 years of experience in the appliance industry, and he is a trusted source of information for consumers on how to buy and repair appliances.

Steve has also been featured in numerous publications, including the New York Times, Consumer Reports, The Boston Globe, Bloomberg Radio, the New York Post, The Wall Street Journal, and Entrepreneur, for his knowledge of how to buy appliances and appliance repair.

Steve is passionate about helping consumers find the best appliances for their needs, and he is always happy to answer questions and provide advice. He is a valuable resource for consumers who are looking for information on appliance buying, repair, and maintenance.

Despite being the worst goalie in history, Steve is a fan of the Bruins and college hockey, loves to read, and is a Peloton biker. The love of his life is his daughter, Sophie.
A Note About Pricing
Pricing on this blog is for reference only and may include time sensitive rebates. We make every attempt to provide accurate pricing at time of publishing. Please call the stores for most accurate price.