Bosch vs. Miele Compact Laundry (Reviews / Ratings)
January 8th, 2021 | 7 min. read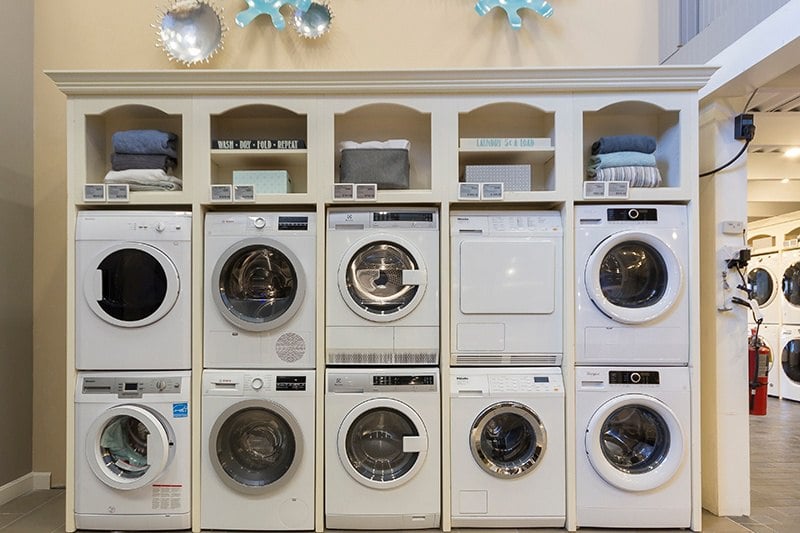 Without question, the two best ventless compact laundry manufacturers are Bosch and Miele.
Which one is better?
In this article, you will learn Miele's and Bosch's best features for their washers and dryers, including reliability based on our internal service numbers.
The article is on the longer side, covering every aspect of washing and drying to heat pump technology and automatic detergent dispensers.
There are five Miele and Bosch compact laundry sets to consider at the end based on the volume of information in the article.
If you want to go directly to the best laundry sets from Bosch and Miele, click the links below.
In the end, you will learn whether Bosch or Miele is right for you and which set is best.
Let's get started.
Bosch vs. Miele Compact Laundry
What Miele and Bosch Compact Laundry Have in Common
First, it's almost easier to learn about what they have in common. The basics are important when installing either, so it's important you know ahead of time.
Size
Both are the same size despite marketing claims.
The dimensions are designed to fit in a 24-inch closet or a standard 24-inch kitchen cabinet.
Cycles
Both Miele and Bosch compact washers have several washing programs to select from.
The basic Bosch, for example, has 15 cycles. Miele has 12, and both have options on top of that.


You will learn the important distinctive cycles later in this article.
Wi-Fi
Wi-Fi is a feature in both brands' better machines, so you can turn the machine on or off remotely or see the time remaining through an app on your phone.
Both brands have good connectivity and work well - a rarity for appliances.
Ventless Drying
They both have ventless dryers meaning you do not have to run a vent to the outside of your home.
You can have laundry anywhere with electricity and water.
Miele and Bosch compact laundry's biggest differences are how they dispense detergent and how they deploy heat pump technology in their dryers.
Let's look at Miele and Bosch compact washers and dryers, their prices, and then we'll compare them.
Bosch Compact Washers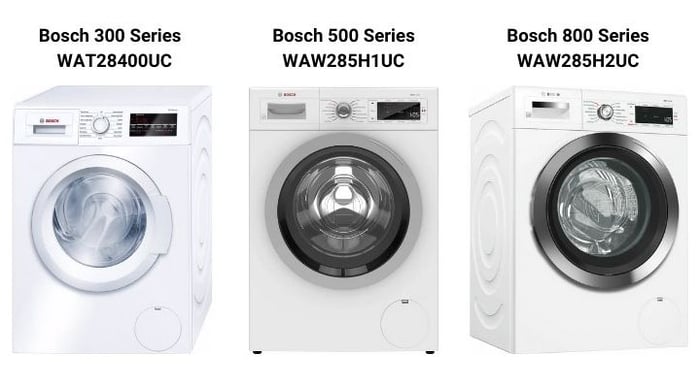 The Bosch line up has three models, the 300, 500, and 800 series from $1,020 to $1,550.
When you step up in the Bosch machines, you have more cycles and added quietness.
The Bosch 300 Series washer WAT28400UC has 15 cycles and six options, so it's a fully-featured washer.
The 500 Series washer WAW285H1UC adds Wi-Fi so that you can turn your washer on/off remotely. You can also wash by stain type and fabric type along with three more options for large items, outdoor sport, and large items.
The 800 series washer WAW285H2UC has better LED controls, their AquaStop leak protection package, and the Super Quick 15 minute cycle.
Bosch Compact Dryers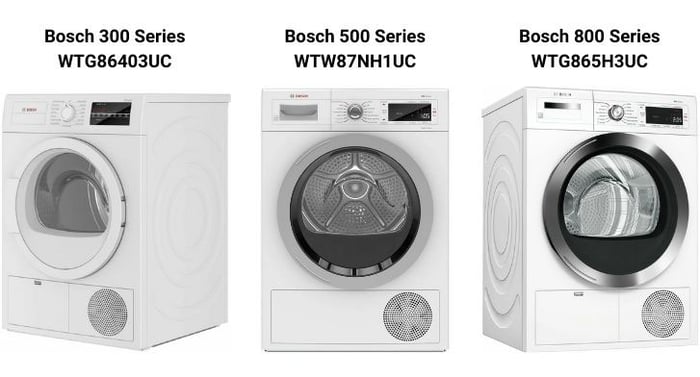 The Bosch 300 Series dryer WTG86403UC is their least expensive at $1,099, but the washer has 15 cycles and six options.
The 800 Series dryer WTG865H3UC has Wi-Fi, has more cycles and is made to be paired with the 800 series washer with the super quick cycle at $1,549.
The 500 series dryer WTW87NH1UC is the middle model. It has Bosch's best features for a lower price of $1,399.
Specifically, it has a more efficient heat pump drying.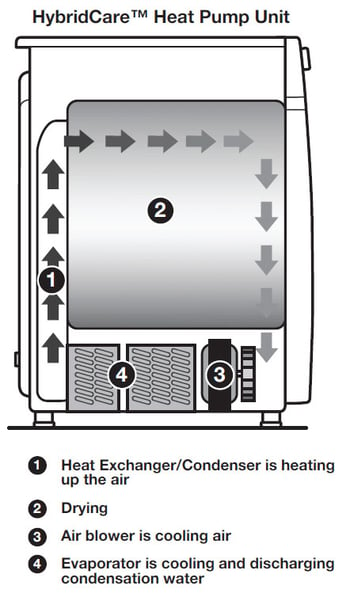 Heat pumps use a compressor instead of heating elements and stores the heat better, so it's gentler on your clothes and less expensive to operate.
Heat pumps also do not emit heat into the room like regular ventless dryers. Bosch is new, and 220 volts and is far different than the Miele, as you will see.
Miele Compact Washers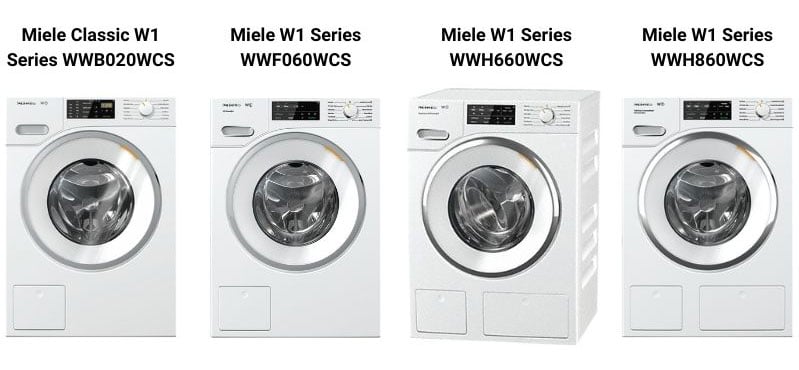 Miele has 4 models from $1,199 to $1,999.
There is a profound difference between the four.
The basic Miele Classic W1 Series washer WWB020WCS is a good machine at $1,199 with many of their base features of RPM speed, Capdosing, and specialized drum for delicates.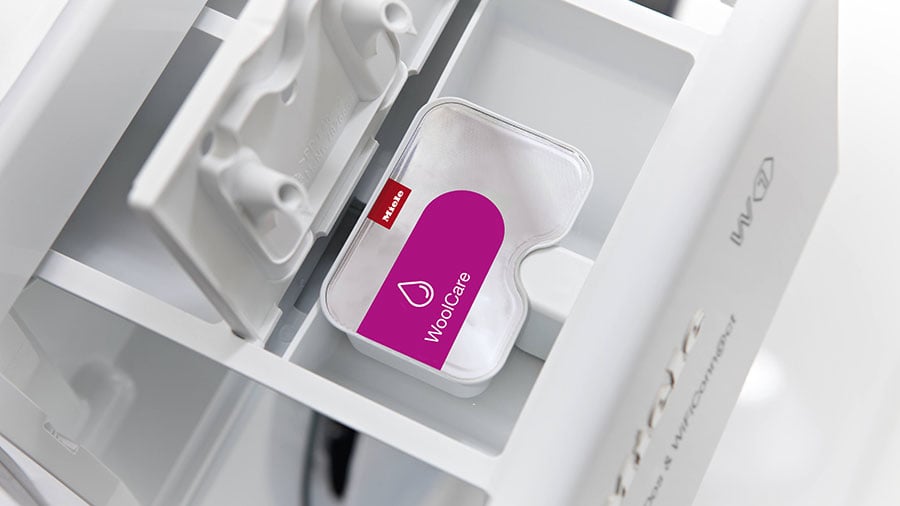 Miele CapDosing Caplet Dispenser
At $1,499, the W1 Series washer WWF060WCS adds their "Soft Steam." Steam loosens up tough stains for easier cleaning, along with five added programs and three more options.
The Miele WWH660WCS washer is the first in the series with Wi-Fi and Miele's TwinDos dispensing system at $1,799.
TwinDos is an automatic fabric and bleach dispenser for up to 37 loads.
Many people place too much detergent in their compact or front load washers.
The excess foam will eventually eat away at the inside of your machine, causing a costly repair.
Automatic dispensers add the right amount of bleach and detergent at the right time.
At $1,999, the W1 Series washer WWH860WCS has 22 customized wash cycles and options along with their QuickIntenseWash, which will wash in less than an hour and a single wash function to clean just an outfit.
Miele Compact Dryers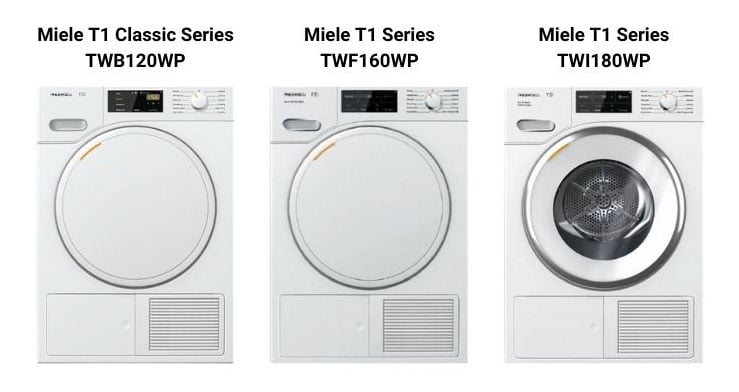 Miele's dryers start at $1,199 to $1,899.
Unlike Bosch, Miele's whole line up of dryers are all ventless, heat pump dryers, but are still very different from the Bosch heat pump dryer, as you will see.
Their basic model, the Miele T1 Classic Series dryer TWB120WP, has 12 programs with the ability to add fragrances. The fragrances are imported from France, no less.
From $1,199-$1,499, you are buying four additional Wi-Fi cycles in the next better model, the T1 Series dryer TWF160WP. They also have a Freshen up steam function to dry and remove odors from your clothes.
Their best dryer model, the T1 series TWI180WP at $1,899, will give you steam. Steam is an excellent option to unwrinkle and sanitize your favorite shirt or blouse before a night out.
Read More: Differences Between Miele Compact Laundry Models
Bosch vs. Miele Compact Washers: Which Washes Better?
Miele has better features.
They will both wash your clothes.
Miele is gentler on your clothes with its honeycomb drum design. Your clothes are insulated by water and don't touch the sides during the cycle.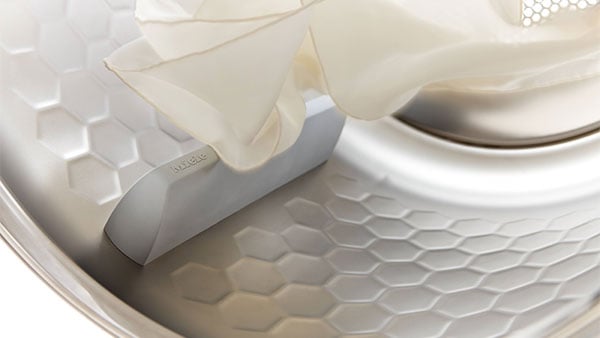 Miele Compact Dryer Honeycomb Drum
It spins faster at 1600 vs. 1400 for the Bosch, extracting more water for less drying time.
Miele also dispenses better.
They both have a normal dispenser, but Miele has added a caplet dispenser as a standard feature along with a special dispenser for wool, outerwear, and other types of fabrics.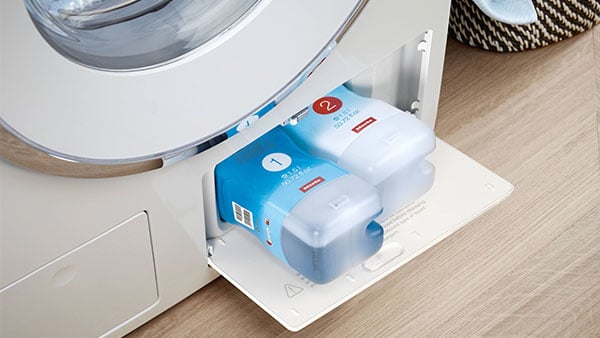 Miele Compact Laundry TwinDos Automatic Dispenser
Also, Miele has their TwinDos automatic dispenser so that you can load up 37 loads at once.
It will also save you money and have your washer serviced by adding only the correct amount of detergent to your wash.
Almost every brand GE, Whirlpool, Maytag, and LG, have auto dispenser models in the full-size laundry. Only Miele has it for compact.
Steam is a convenience and will help with tougher stains. Miele offers steam in their most expensive $1,799 and $1,999 washers.
Bosch's set is typically less expensive at around $1,900-$2,100. Miele starts at $2,299.
Their best series has a 15-minute wash cycle as opposed to Miele's shortest 60-minute cycle.
Bosch vs. Miele Compact Dryers: Which Dries Better?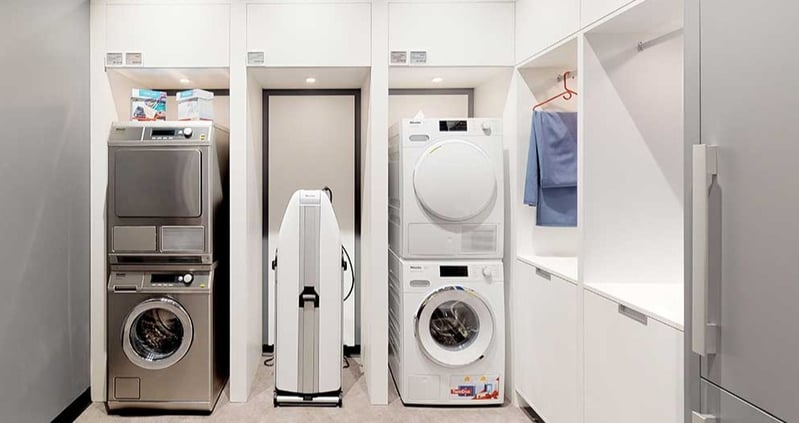 Miele Compact Laundry at Yale Appliance in Framingham
Dryers are a bit harder to quantify.
Bosch still has regular ventless dryers with one heat pump model, whereas Miele's whole line is all heat pump dryers.
A heat pump dryer is the better way to dry. But which heat pump dryer is better?
Bosch's heat pump dryer requires 220 volts while Miele's requires 110 volts.
Typically 220 volts is much better, but Miele's washer wrings out most of the water at 1600 RPM.
You also do not need a 220-volt line in a new installation for a Miele.
However, the fundamentals of electricity and amps don't change due to brands or clever brand marketing.
Bosch will dry the clothes faster, but Miele will still work because the clothes are already pre-dried, and it uses a more efficient compressor instead of heating elements.
Miele does offer steam in their best series, while Bosch has a faster cycle in their better models.
Which Compact Laundry Set is More Reliable: Bosch or Miele?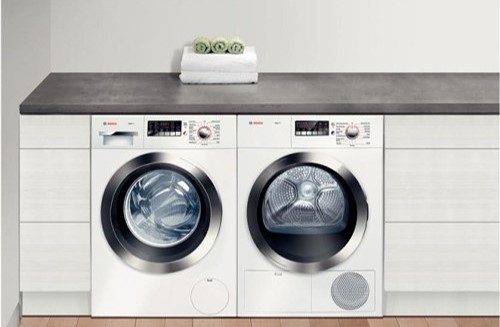 Bosch 800 Series Compact Laundry Pair
Based on 37,061 service calls logged last year, the average compact washer service rate was 11.58%. Both Bosch and Miele fell below this standard, however, Bosch's reliability was significantly better.
Miele has more features with better dispensing, and their whole line features heat pump dryers. Miele makes reliable compact laundry with service rate of 10.56%.
It's good for new technology and better than the average, but Bosch is the most reliable brand sold in this category at 6.20%.
We calculated Bosch's and Miele's reliability by looking at the products sold compared to the products serviced from December 2019 to November 2020.
Read More: Most Reliable Compact Washers
How to Install a Miele Washer and Dryer
You have a 110 outlet with two outlets so that you can install a Miele?
Not likely.
Most 110 receptacles are 15 or 20 amp. Miele requires 30 with both washers rated at 15 amp.
Ironically you can install a Miele into a 220 outlet using this splitter.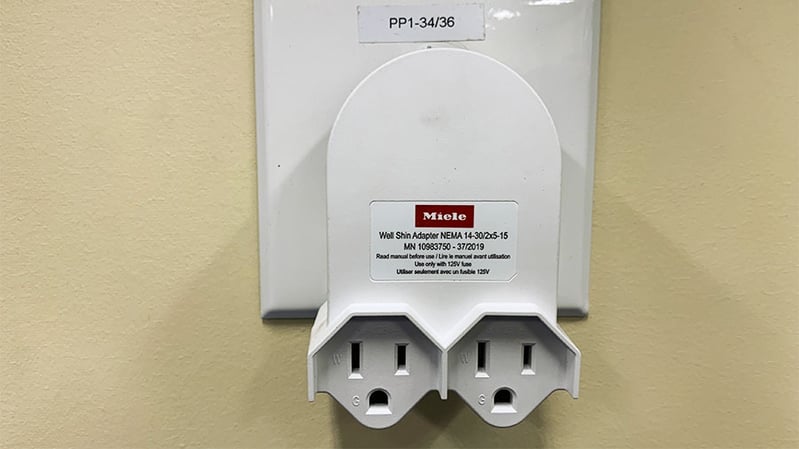 Miele Compact Laundry Electrical Adaptor
Part of Miele's service is installation, so either install a 30 AMP 110 line or use the regular 220 voltage.
Best Bosch and Miele Compact Washers and Dryers
Most Affordable Compact Laundry Set: Bosch 300 Series WAT28400UC & WTG86403UC - $2,198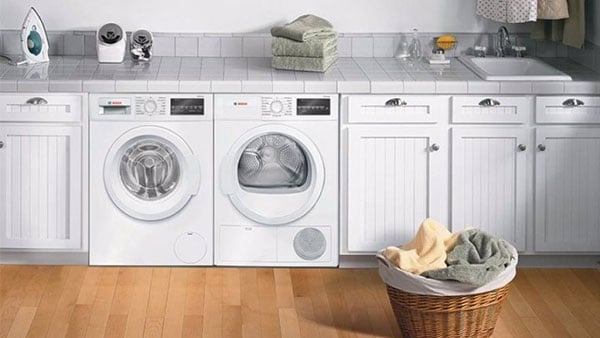 Most affordable doesn't mean cheap. Both machines have 15 cycles and six options.
Best Compact Laundry Set: Miele WWH860 & TWI180WP - $3,898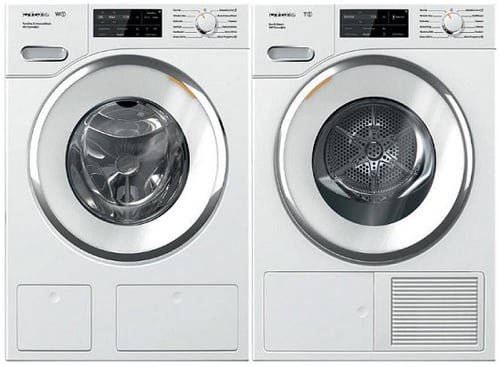 Miele checks every box in their best set. Steam, Wi-Fi, and every option, including their TwinDos dispenser.
Best Compact Laundry Set For Speed: Bosch 800 Series WAW285H2UC & WTG865H2UC - $2,948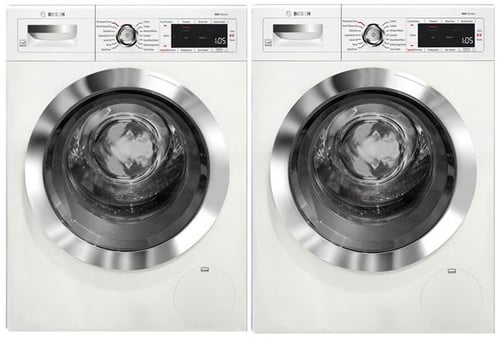 At 30 minutes for a small load, the Bosch 800 series is the fastest.
If you don't need the speed, consider the heat pump dryer, WTW87NH1UC. It's a great piece of technology and will pay for itself in reduced energy costs.
It's $150 less but lacks the Super Quick 15 minute cycle.
More Affordable Compact Laundry Set with Steam and Auto Dispensing: Miele WWH660 & TWF160WP - $3,298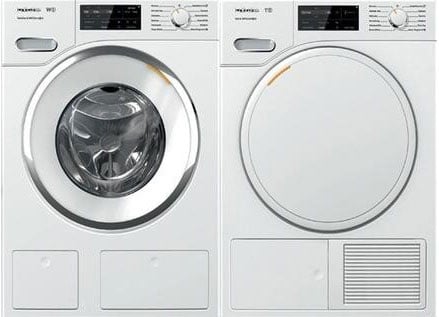 The washer has nearly every feature including Capdosing, TwinDos, steam, the HoneyComb drum. What this set doesn't have is their single-load speed cycle, the QuickIntenseWash.
The dryer is essential but still has decent features with fragrances, a Honeycomb drum, and heat pump technology.
Least Expensive Compact Heat Pump Laundry Set: Miele WWB020WCS & TWB120WP - $2,398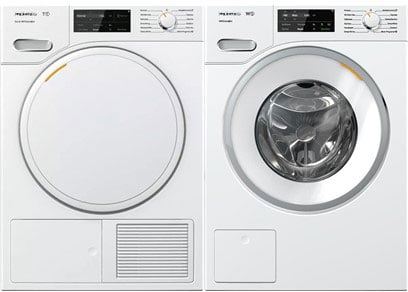 Like the Bosch, Mieles basic set has great features like Capdosing, HoneyComb drum, and 1600 RPM spin. The dryer is a heat pump with the ability to add fragrances.
Should You Buy Miele or Bosch Compact Laundry?
It depends. Both are excellent with many decent options, cycles including Wi-Fi and heat pump technology.
If you want to buy a less expensive washer, then the Bosch 300 series is a good value, usually less than $2,000.
If you are in a rush, then 30 minutes is all you need to wash a small load.
For features, Miele has the best dispensing with Caplets and the automatic dispenser, which should be a standard feature in any front load.
The steam in both the washer and dryer is good convenience as well.
Reliability is good for Miele, especially with its newer 110-volt dryer technology, but Bosch compact laundry is the most reliable appliance you can buy.
Choosing between Miele and Bosch compact laundry is about Miele's features and new technology compared to a more standard yet reliable set with Bosch.
Additional Resources
Get the Yale Compact Laundry Buying Guide with features, specs, and inside tips to all the brands, to dimensions and explanations of every washer and dryer type are included. Over 880,000 people have read a Yale Guide.
Related Articles:
Why Should You Trust Us?
It seems that every appliance review has nothing but glowing comments about almost every product, yet you read customer reviews and they are almost universally bad.
We are here to fill in the disconnect. We'll give you the best features, and the drawbacks as well, including reliability based on over 37,000 calls performed by our service team just last year. Our goal is to give you ALL the information so you know what's right for you.
Please consider subscribing or adding to the conversation in the comments below. We appreciate you stopping by.
Steve Sheinkopf is the third-generation CEO of Yale Appliance and a lifelong Bostonian. He has over 38 years of experience in the appliance industry, and he is a trusted source of information for consumers on how to buy and repair appliances.

Steve has also been featured in numerous publications, including the New York Times, Consumer Reports, The Boston Globe, Bloomberg Radio, the New York Post, The Wall Street Journal, and Entrepreneur, for his knowledge of how to buy appliances and appliance repair.

Steve is passionate about helping consumers find the best appliances for their needs, and he is always happy to answer questions and provide advice. He is a valuable resource for consumers who are looking for information on appliance buying, repair, and maintenance.

Despite being the worst goalie in history, Steve is a fan of the Bruins and college hockey, loves to read, and is a Peloton biker. The love of his life is his daughter, Sophie.
A Note About Pricing
Pricing on this blog is for reference only and may include time sensitive rebates. We make every attempt to provide accurate pricing at time of publishing. Please call the stores for most accurate price.