Front Load vs. Top Load Washers (Reliability / Price / Reviews / Ratings)
You now have a ton of different options to buy a washer. You can buy a front load washer so called because it loads from the front.
There are also now three different types of top load washers to buy.
There is no inventory parlance for the top load washer categories, so we'll stick to three simple terms. The first being basic top loads or the same machine our parents and grandparents owned.
Then there are the newer premium top loads like Speed Queen or Maytag Professional. It's a similar machine as a basic top load only with premium features like a 70-gallon soak, better overall construction and enhanced warranty of 5-7 years.
You can also consider the Energy Star HE top loads with bigger capacity and better energy savings as well.
All four machines, including front load washers, have their advantages, but there are only two to seriously consider based on reliability, washability, price, and features.
That's right…only 2.
You will learn about each, see actual reliability stats from 30,761 service calls, and a strategy of when to buy a washer or any appliance (if possible).
Front Load Washers vs. Top Load Washers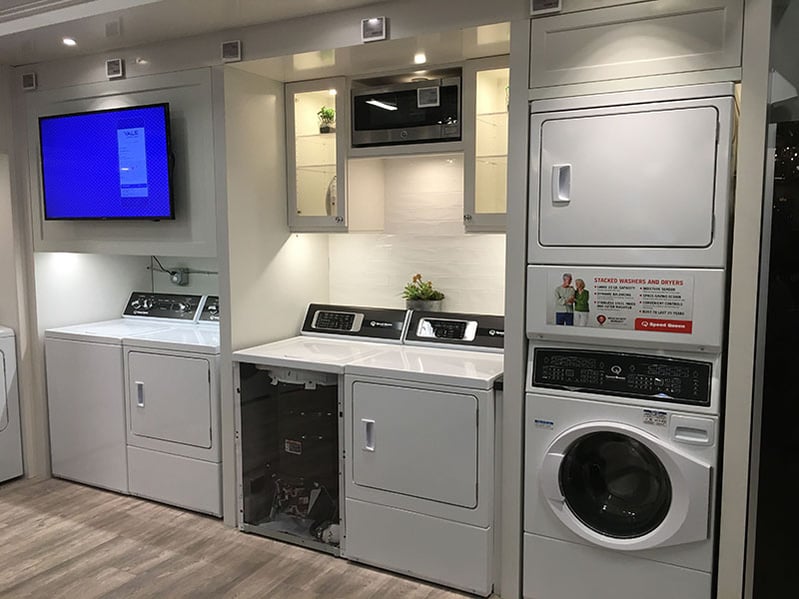 Reliability of Top Load vs. Front Loads
Most Reliable Top Load Washers
| | | | |
| --- | --- | --- | --- |
| | Units Sold | Units Serviced | Service Rate |
| Amana | 32 | 2 | 6.25% |
| Fisher & Paykel | 7 | 2 | 66.67% |
| Frigidaire | 3 | 2 | 66.67% |
| LG | 24 | 0 | 0% |
| Maytag | 104 | 21 | 20.18% |
| Samsung | 14 | 0 | 0% |
| Speed Queen | 329 | 49 | 14.89% |
| Whirlpool | 378 | 9 | 2.38% |
Most Reliable Front Load Washers
| | | | |
| --- | --- | --- | --- |
| | Units Sold | Units Serviced | Service Rate |
| Whirlpool | 524 | 20 | 3.82% |
| LG Electronics | 320 | 17 | 5.31% |
| Maytag | 1,124 | 74 | 6.58% |
| Samsung | 154 | 12 | 7.79% |
| Electrolux | 1,549 | 295 | 19.04% |
| Speed Queen Commercial | 13 | 3 | 23.08% |
| Frigidaire | 86 | 21 | 24.42% |
| Speed Queen | 44 | 16 | 36.36% |
I wanted you to see this first because the repair rates are similar. Most people think top loads are far more reliable.
That depends on the brand, but overall top loads are just over 2% more reliable. We eliminated two of the more repaired brands in front load washers, so the numbers should be even going forward.
Now that you know the reliability of both, actual repair is very different.
Front loads are much tougher to repair when the motor seized. In fact, if you buy an extended warranty at Yale we replace the entire washer instead of repairing the motor.
It is more costly for us to pay for the parts and labor to replace a motor than delivering a brand new washer.
Basic top loads are the simplest to repair.
Let's look at the advantages and disadvantages of all four machines.
Short on time? Get our free Washing Machine Buying Guide
Advantages of Front Load Washers
Front loads are larger. The average capacity is 4.2-4.4 cubic feet with the largest topping out at 5.0? cubic feet. It also uses an average of 40% less water and electricity.
The spin speed is also 1000 RPM vs 400 RPM in a top load. The clothes are much drier leaving a front load due to the faster spin than a top load washer. It translates to less drying time for more energy efficiency.
You also have more features to control the water, spin speed, detergent dispensing, and water temperature.
Disadvantages
It is more expensive than a basic top load at $1000-1200 versus $399-499.
You may have heard about mold growth in a front load. Mold is a product of standing water, so you should wipe the gasket and leave the door open to eliminate that problem. Affresh also helps.
Basic Top Load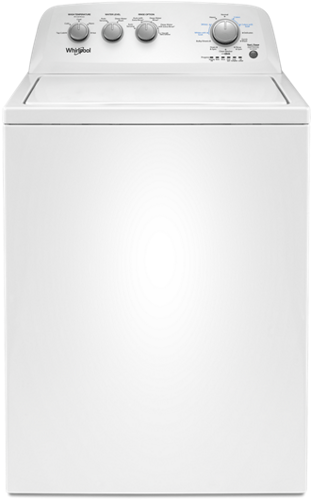 Whirlpool WTW4885HW
I still like this machine. It works and is easy to repair. You also don't have to stoop for your laundry.
As you have read, it is less expensive to buy, but far more expensive to operate.
The capacity without the agitator is 2.3-2.5 cubic feet vs 4.2-4.4 in a front load washer, but a top load uses 40 plus gallons to wash as well as more electricity with less RPM spin.
Premium Top Load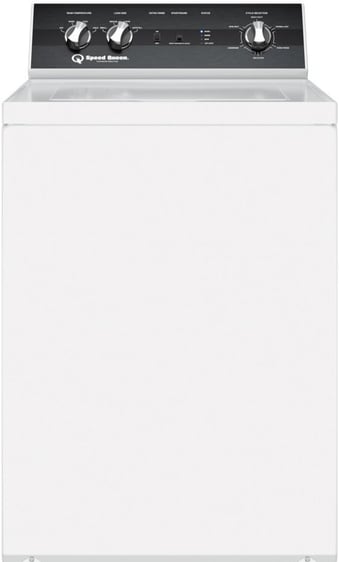 Speed Queen TR700
In response to front-load issues imagined or otherwise, there is a trend towards premium top loads like Speed Queen or Maytag Pro at a cost of $100-1200.
They are built with better metal parts and have up to a 5 or even 7-year full warranty.
It's built better, but that has not translated to last any longer. Their service rates are on the high side if you look at the chart.
You also do have a longer warranty and are covered, but it may be hard to find a tech to fix these units in year 3-7 due to low manufacturer labor warranty rates.
HE "Hybrid" Top Load Washers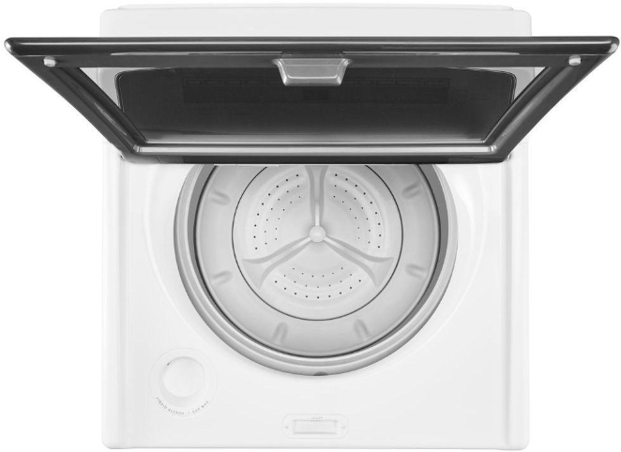 Whirlpool WTW7500GW
These machines are the largest top load washers at 5.3 cubic feet. However, you have all that capacity, because there is no agitator like the basic and premium top load.
I am not a fan of these machines for two reasons. They don't wash well because it turns out you need an agitator to wash your clothes in a top load.
Also, most manufacturers have had well-documented issues with these machines.
Feature Comparisons
Size
Front 4.2-4.4 vs 2.3-2.5 in a top load with hybrids being 5.3 cubic feet
Energy Comparisons in Kilowatt Hours
Front Load 100 Kilowatt per year
Top Load 198 Kilowatt per year
Hybrid Top Load 196 Kilowatt per year
In Boston, it's 21.6 cents per KWH, $21 dollars for the front load or $42.77 for the others. However, you should add the capacity difference to that number as well.
So double the top and premium top load numbers for a more accurate comparison.
Water Usage
Front Load Normal 13 Gallons
Top Load Normal 44.52 Gallons
Hybrid 23 Gallons
The premium Maytag Commercial can use up to 70 gallons…but it will cost you. You pay about $70 for using 80-100 gallons daily. Add another $60 per month if you use that cycle daily.
You should also add the capacity difference as well because the front load is larger and will fit more per load at a lower price.
Features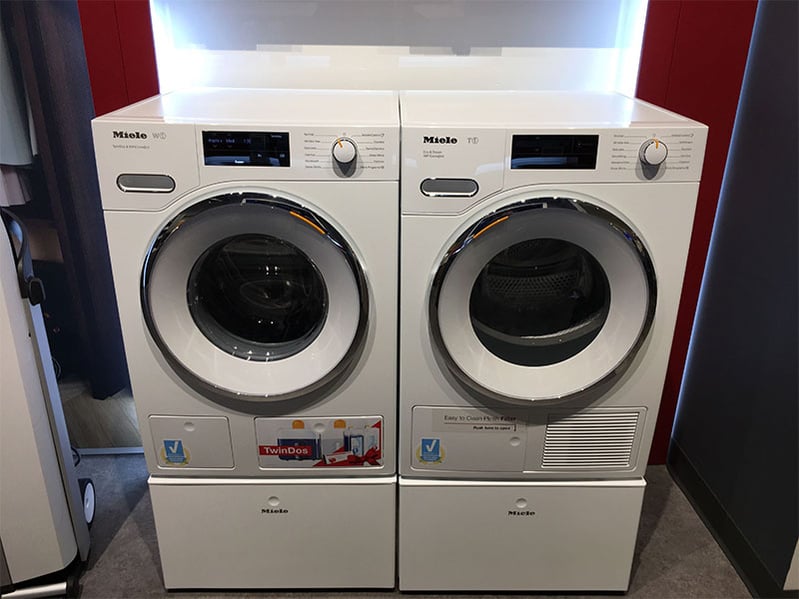 When I started at Yale in 1986, you bought a 1 or two-speed machine with three cycles. Now, most of these machines have 5 Speeds for different fabrics, soil sensors and 5 temperatures for different colors.
Front load washers will have tons of cycles, dispensing options, and Wi-Fi capabilities.
Here are a few:
Smart Dispense: In the Whirlpool/Maytag, there is a smart dispense holding loads of detergent, so you do not have to fill the dispenser for every wash.
Turbo: LG washes 30 minutes faster than a normal LG cycle.
Wi-Fi: LG and Samsung both have Wi-Fi compatibility. This will be a great feature in the future. You can see the time remaining as well as turn on/off the machine. However, it is too unreliable presently.
You also need to transfer the clothes from washer to dryer, so unlike other appliances WiFi is of limited value in the laundry.
Heat Boost: Better models offer an internal heater for added cleaning power on whites.
Steam: Steam lifts the tough stains like grass, wine, and blood. This is a worthwhile upgrade depending on how you stain your clothes.
SmartBoost: Electrolux mixes the detergent and water and then applies the mix on your clothes.
2 Washer: Samsung offers a double washer in the same chassis. It's a good feature, but you can buy 2 full-sizes for less.
Overnight Cycle: Maytag offers a way to wash and dry an outfit or small load using the wash and spin cycle overnight. You wake up to a fresh outfit washed and dried.
LG Sidekick: Kind of the opposite of the Samsung two washer, but the second washer is under the main washer. It's a good idea, but there are numerous water connections to install, so be careful.
Should You Buy a Front Load Washer or a Top Load Washer?
Based on reliability, size, capacity, and features, you should consider a front load, I did.
Seriously, the size plus energy efficiency make this compelling. If you don't like to do laundry, you can stuff this machine with more clothes rather than doing two loads in a top load.
The only downside is the expense of repair when needed.
The other machine to consider is the basic top load. Thought I would say spend more for the premium?
Buy the basic top load with an extended warranty and save $200-300 with similar performance.
You do need to make sure the store can fix issues and repair your washer. Then again, they probably can't…if not, buy the basic, save $500 without the warranty, and take your chances.
When to Buy a Front or Top Load Washer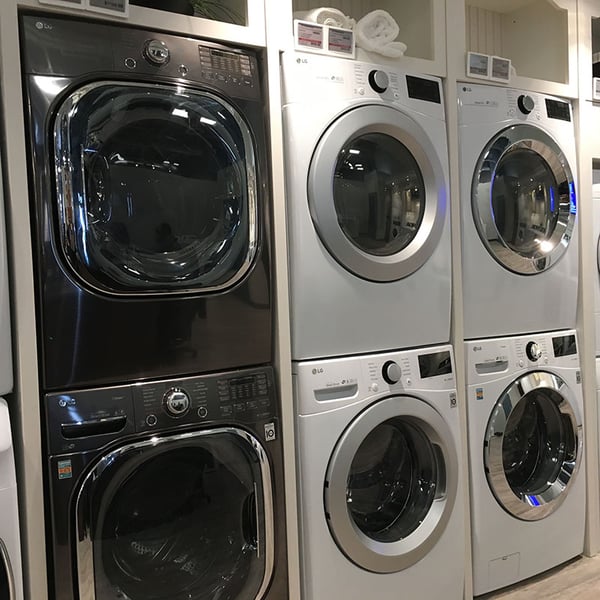 Over the last few years until this year, you would save 10-30% on a few days like Black Friday, President's Day, Veterans Day, Memorial Day, and July 4th.
It is still a good bet if you can wait. However, tariffs have changed appliance buying completely, at least in the short term.
Tariff Implications on Washers
Samsung and LG were hit with 20- 50% tariffs for dumping their laundry into the US. Up to 50% tariffs on imported machine parts as well.
The industry has been affected by a 25% tariff on imported steel and 10 % on aluminum, so prices have increased.
The tariff on LG and Samsung will lessen as both companies will have factories manufacturing laundry in the US.
Frequently Asked Questions:
How long do front load washers last?
The average appliance lasts 6-10 years, according to the United Servicers Association
Do front load washers have mold problems?
They can if water accumulates on the gasket. Dry the gasket and the back of the machine, then leave the door open. Washing with Affresh can help as well.
What is the best brand for top load washers?
A basic Whirlpool is fine.
What washers are most reliable?
Whirlpool, LG, Maytag, and Samsung in that order by service percentage.
Are all front load washers stackable?
Yes, but you shouldn't stack different brands because the stacking kits do not always match.
What are the main differences between a front load washing machine and a top load washing machine?
Capacity, water usage, electricity usage, custom dispensing, and the ability to stack.
Additional Resources
Get the Yale Washer Buying Guide with features, specs, and inside tips to all the brands, to dimensions and explanations of every washer and dryer type are included. Over 355,000 people have read a Yale Guide.

Related Articles:
WHY SHOULD YOU TRUST US?
A few review sites have placed this at the bottom of their articles. So here is our take: Our mission is to find reliable products for you to buy. Other review sites may say this as well.
However, we don't love every product. Quite frankly, it costs us way too much money in repair costs to support less reliable brands.
In fact, we sell fewer brands than most appliance stores. Here is why:
We feel it is our responsibility to repair your appliances after you buy them.
We now have 30 service technicians, each averaging 8-10 calls a day Monday through Friday, plus another 110 on Saturday. That's over 30,000 service calls logged in one year.
The labor rates of fixing an appliance do not come close to the true cost in any product's warranty period.
That is why no major retailer has a service department. It costs too much labor, money and time.
Our Blog is a bit different than most others you will read. We cannot write glowing reviews of unreliable products.
Hopefully, the bloggers and organizations who write such glowing product reviews for every brand consider servicing these products first. Only then they will understand the consequences of their marketing.
Steve Sheinkopf
My goal has always been simple: I want Yale to be the best retail experience anywhere. I have tried to create a compelling environment for customers and employees alike.
A Note About Pricing
Pricing on this blog is for reference only and may include time sensitive rebates. We make every attempt to provide accurate pricing at time of publishing. Please call the stores for most accurate price.