Front Load vs. Top Load Washers: Which Is Better?
September 30th, 2022 | 10 min. read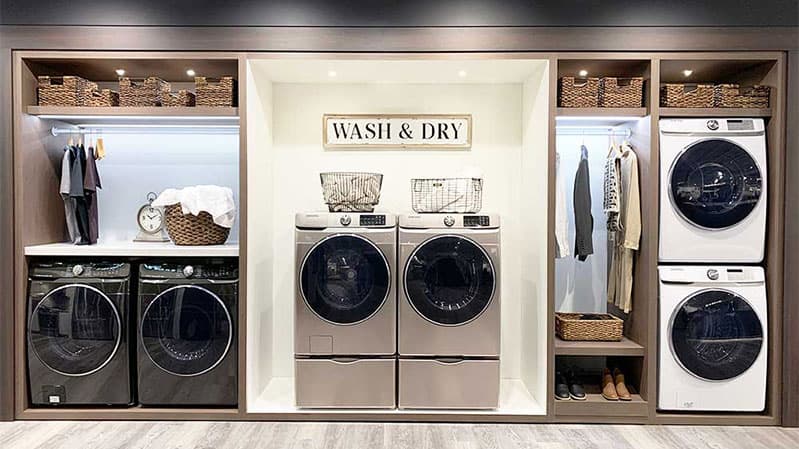 It's not easy buying a front load or top load washer these days.
Even the title of this article, "Front Load vs. Top Load Washers" is confusing because you can now pick three types of top load washers.
In this article, you will learn the pros and cons of top load and front load features, capacity, water extraction, energy efficiency, and washer reliability based on over 40,000 service calls completed by our service department last year.
You will also learn the one style to not buy. We don't sell this style at Yale.
Overall, you'll learn about six best washers to buy between both types.
I have used front load Miele, Electrolux, and Maytag washers over the last 20 years. I just moved to an apartment with a traditional top load washer.
It's been a bit of an adjustment. Not all bad.
Let's break the first myth by looking at the reliability difference between front and top load washers for 2022.
Front Load vs. Top Load Washers: Which Is Better?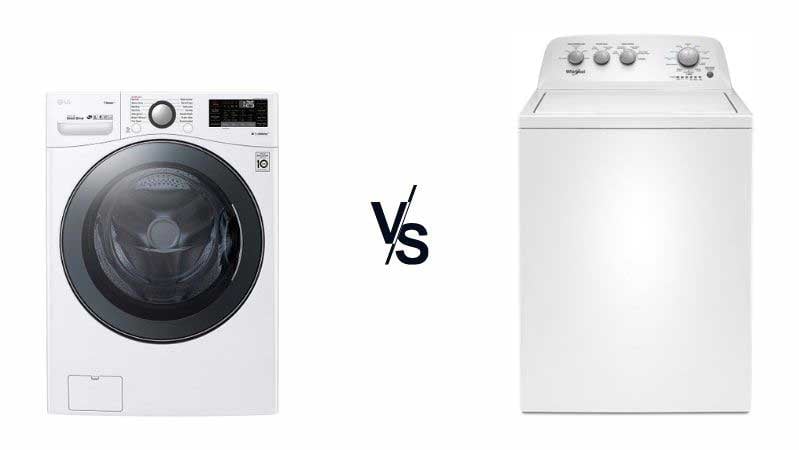 Front Load Washer (Left) vs. a Top Load Washer (Right)
Are Top Load Washers More Reliable Than Front Load Washers?
Below are our most recent reliability stats for front load and top load washers.
We calculate washer reliability by dividing the products we serviced by the products we sold.
For this report, we looked at the number of front washers sold and serviced from December 2020 to October 2021.
Front Load Washer Reliability
The most reliable front load washers are based on a minimum of 300 front load washers sold per brand and a total sample of over 3000 from December 2020 to October 2021.
| | |
| --- | --- |
| | Service Ratio |
| LG | 3.3% |
| Samsung | 4.9% |
| GE Appliances | 8.0% |
| Whirlpool | 9.5% |
| Maytag | 15.0% |
| Grand Total | 6.3% |
The average repair rate for top load washers is 6.3%, or about 3.2% better than appliances in general.
Top Load Washer Reliability
The most reliable top load washers are based on a minimum of 150 sold per brand with a sample of over 900 units.
| | |
| --- | --- |
| | Service Rate |
| LG | 1.7% |
| Maytag | 6.4% |
| Speed Queen | 7.5% |
| Whirlpool | 8.0% |
| Grand Total | 5.7% |
Not what you expected? Front load and top load washers are statistically nearly the same at 6.3% vs. 5.7%.
Both are much lower than the average for appliances at about 9.5%.
Which Lasts Longer: Front Loads or Top Load Washers?
Most review sites will have top load washers lasting an average of 14 years and front load washers lasting at 11 years.
However, since these sites offer no service or documentation, these numbers are completely arbitrary.
That said, you should expect at least a 10-year life on both, depending on how you use and maintain your washer.
Front Load Washer Problems: Why People Hate Their Front Load Washers
A prominent Google search is "I hate my front load washer."
There is one probable reason: Front load washers are much more difficult to repair, especially the motor.
For example, if you buy a five-year warranty from us and have a motor issue, we automatically replace the machine even at year five.
It's less of a hassle for you to wait for all the parts and less expensive for us to replace the washer rather than buying the parts with over five hours of labor needed to fix it.
Mold, Mildew, and Odor Issues in Front Load Washers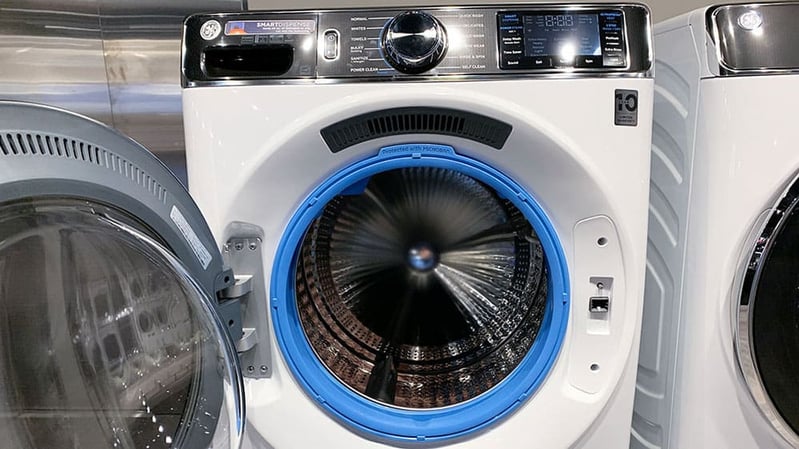 Front Load Washer with Fan and Microban Surfaces for Mold Prevention
Problem number two is mold and its cousin, mildew.
There are problems with mold to a certain extent, but it's controllable.
Mold, mildew, and odor are a function of standing water.
You should dry the gasket and the back of the machines after every use. You also should leave the door open to dry any residual moisture.
Every month, just run the machine in a hot water wash. There are machine cleaning products, like Affresh, to help as well.
GE front load washers have Microban antimicrobial surfaces preventing the build-up of mold along with GE's UltraFresh fan. The fan inside the drum dries the residual moisture.
Samsung introduced similar CleanGuard technology as well.
Read More: How to Prevent Mold in Your Front Load Washer
Front Load vs. Top Load vs. Hybrid Washers: Pros and Cons
Front Load Washers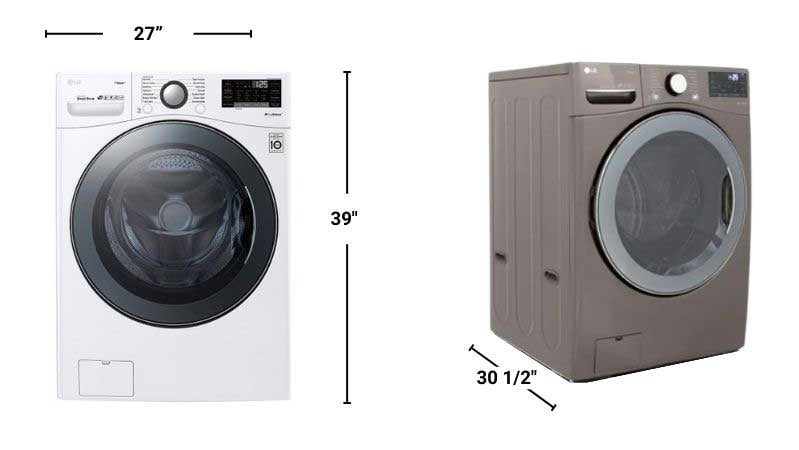 Front-load washers have the largest capacity, up to 6 cubic feet, along with the most advanced speed, AI (Artificial Intelligence), and Wi-Fi cycles.
You also have a higher spin speed up to 1300 RPM (Revolutions Per Minute) versus 800 RPM for the average top load washer.
Front loads use less water, electricity, and detergent than any washer type.
They are also gentler on your clothes. Clothes are never knotted or ripped in a front load, from my experience, versus a top load washer.
Pros: More capacity, better cycles, lower cost of operation for water and electricity, as well as less detergent needed
Cons: More expensive to buy and fix. You can develop mold as standing water can be left in the gasket and the dispenser.
Pro Tip One: You can eliminate mold by wiping down the gasket and dispenser and leaving them open.
Pro Tip Two: Buy a front load washer between 4.5 and 5 cubic feet for the best features and price. The larger 5.5-6 cubic foot capacity washers become too expensive for the marginal gain in capacity.
Read More: Best Front Load Washers
Top Load Washers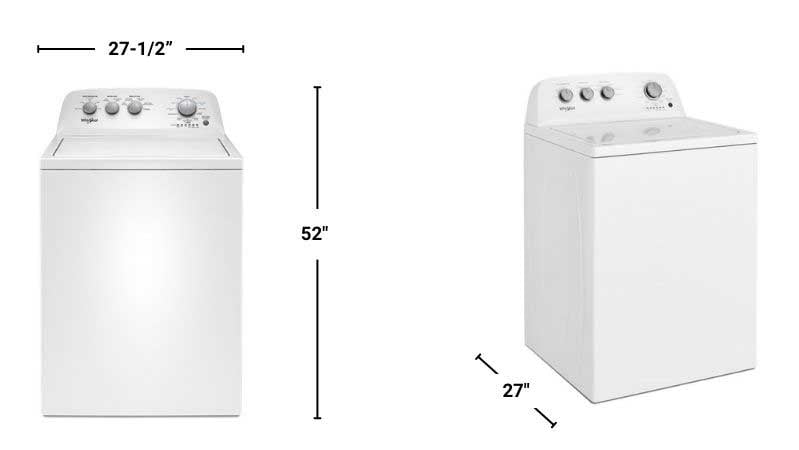 Top-load washers didn't change much until recently. Now they have larger sizes and better features.
The agitator stirs the clothes and detergent to clean. Agitators can be tough on clothes, especially more delicate fabrics.
Bed sheets can be knotted around the agitator as well.
Pros: It's a lot less expensive, starting at $400 and up. The machine does work.
Cons: You use much more energy, water, and detergent with less capacity. You also can't buy a top load washer with advanced technology like auto dispensers or advanced cycles.
Read More: Best Top Load Washers
My Experience with Top Load Washers
My Top Load Laundry Set
I now have a top load washer after using front load washers over the last 20 years.
The advantage is you don't have to wipe down the gasket and leave the door open like a front load to resist mold development.
I also don't have to bend down to fill or remove my clothes from the washer like I did with my front load. However, you must bathe the clothes in detergent.
The capacity is somewhat of an issue, especially with a comforter. The usable capacity of any top load will be less because of the agitator, especially with blankets and comforters.
You can stuff it in but need at least two cycles to dry.
The washer spins much slower than the other three types, so the dryer must do more of the work.
Hybrid Top Load Washers
Without an Agitator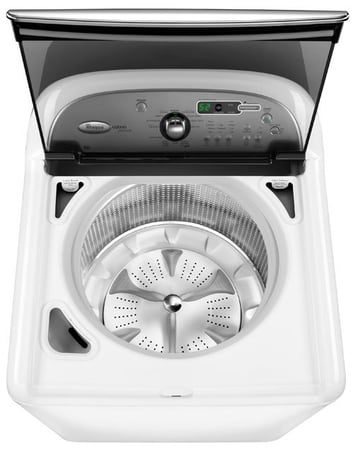 Hybrid Top Load Washer with No Agitator
A friend of our sales manager was telling the story of having to add water to one of these during the cycle to get their clothes clean.
That's because this top load washer can't thoroughly clean clothes.
Hybrid washers combine the convenience of a top load washer with the efficiency of a front load washer. At least they are supposed to. The "impeller," or much smaller agitator, is supposed to clean the clothes like a regular top load.
As much as I like the idea, I have never seen it work to clean clothes effectively for any manufacturer.
We do not sell this type of washer at Yale.
With an Agitator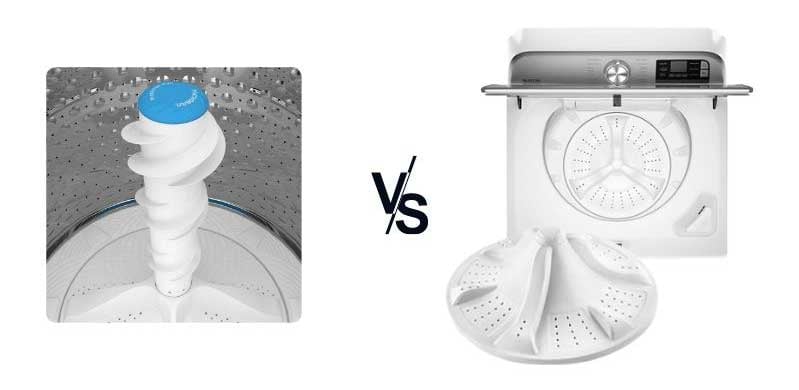 Hybrid Top Load Washer with an Agitator (Left) vs. No Agitator (Right)
As much as you shouldn't consider the hybrid without an agitator, the hybrids with agitators are worth considering.
They have a good capacity of 4.7-4.9 cubic feet, decent spin speeds, and even advanced features like auto dispensers, and Wi-Fi connectivity.
Pros: Good size and features at a slightly less high price than a regular top load washer. No standing water issues. No bending down to fill or remove your clothes.
Cons: Less capacity than a front load washer with a lower spin speed and less features
Size Differences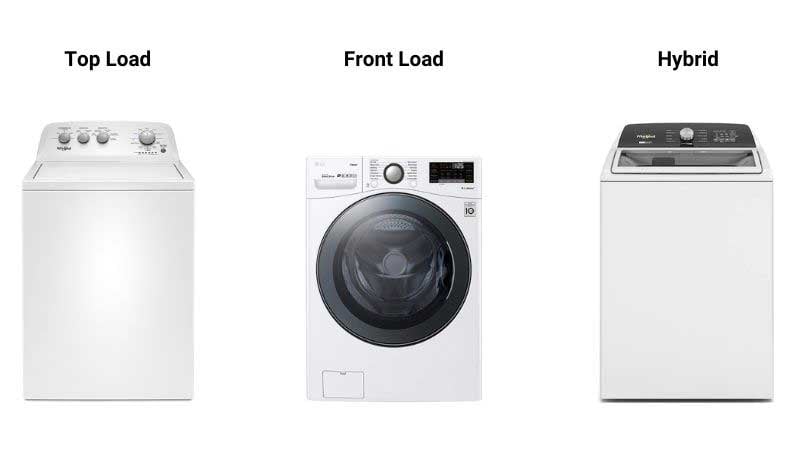 Front-load washer sizes average about 4.5 to 5 cubic feet. They can be as large as 6.0 cubic feet, but they are not popular due to their higher price tag.
The larger washers don't fit in many places due to greater depth.
Agitator-driven hybrid top load washers are about the same or roughly 4.7-4.9 cubic feet. Top loads average about 3.5 cubic feet.
However, you must contend with the agitator taking up space, as I found out with my comforter.
The agitator's volume in a top load washer is about 0.8 cubic feet, so the washer has about 2.7 cubic feet of actual capacity.
Washer Energy Efficiency Differences
Electrical Energy Efficiency
I wanted to break down the costs between the different types of washers. It's hard to do because the hybrids and front loads are about twice as large.
Electricity Costs for Washing Machines:
Top-load washers use about 348 kWh (kilowatt-hour) yearly.
Hybrid washers use about 212 kWh yearly.
Front-load washers use about 159 kWh yearly.
In Boston, with 22.5 cents per kilowatt-hour, there is a $22 difference per year to run a top-load versus a front-load based on 1.5 hours of usage per day.
Of course, front-load washers have greater capacity, so that you will use them less or use a top load more.
The difference is around $40-$50 per year, factoring in size.
Water Usage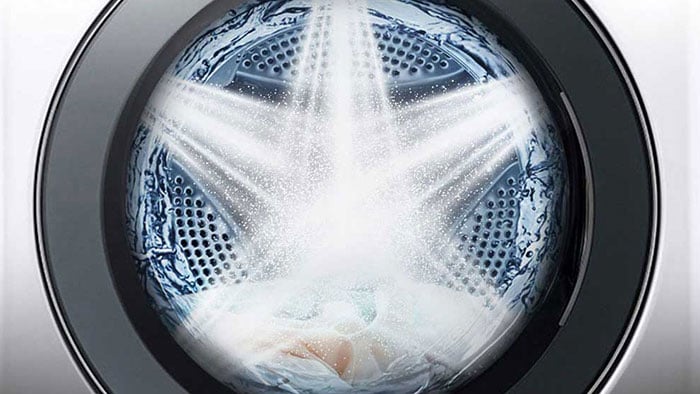 Water Jets in a Front Load Washer
The average top load washer uses 40 gallons of water and up to 70 gallons on deep fill cycles. A hybrid top load washer uses about 17 gallons while front-load washers use about 10-14 gallons of water.
The average water and sewer bill for Boston is $17.77 cents per 1,000 gallons or .017 cents a gallon. The average front load washer is about .21 cents per load.
A top load washer is about .51 cents per load as a rough average.
You would have to multiply the top load again because the capacity is much smaller.
Read More: Most Efficient Clothes Washers
Detergent Requirements
You only need to use a capful of detergent for a front load washer cycle. I use almost half a cup or more in a top load washer.
Again, I am new to using a top load washer, so this could vary.
Washer RPM Spin Speed Differences
RPM is significant for extracting water for less drying time.
Front load washers have a 1000-1300 RPM spin speed. Top load washers average about 700 RPM, while a hybrid washer averages about 850 RPM.
You will notice a difference if you're washing a full load of laundry. I often must dry my bed sheets, and my daughter's Taekwondo karate Gi uniform twice.
When you add all this together, depending on where you live, there are significant savings between a front and a top load washer in water, electricity, and less drying time.
Especially when you consider a front load washer has a 4.5-5 cubic feet capacity and a top load washer has far less at 2.7 cubic feet.
Washer Convenience
With a top load washer, you have the advantage of not having to bend down like you would with a front load washer.
You can always buy pedestals for a front-load washer, but pedestals cost about $500 per pair and raise about 17 inches off the ground.
Top load washers still are better on your back than a front load, even with the pedestals.
Stacking Washers and Dryers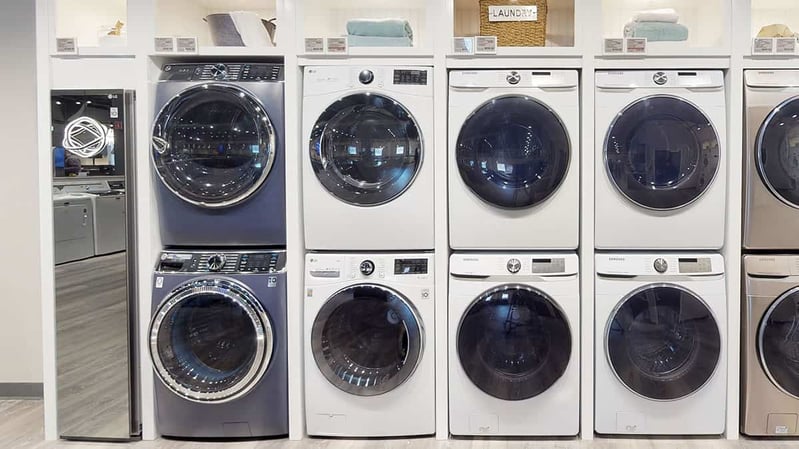 Stackable Front Load Washers and Dryers
All front loads are made to stack with the dryer on top. There are a few exceptions.
Top loads cannot be stacked. There are one-piece top load units from Whirlpool, GE, and Frigidaire, but they tend to have a smaller capacity and are expensive.
Features Differences
Cycles

Front Load Washer Cycles
Every machine in any configuration has enough cycles. The average machine has ten cycles and 11 options.
Steam Cycles
Steam loosens up tough stains so they can be powered out. It's almost a standard for front load washers and only available in more pricey top load washers.
Speed Cycles
In most front-load machines, you can now wash a small load in about 15-30 minutes. LG will have their Turbo360 cycle with five high-pressure water jets in their hybrid and front load washer.
Automatic Detergent Dispensers
Front Load Washer with an Automatic Detergent Dispenser
Dispensing is a feature you should consider. You can add from 8-40 loads of detergent depending on the brand.
It's not just about convenience. An automatic detergent dispenser will prevent you from placing too much detergent in the wash.
Too much detergent is a problem for front load washers because you only need a capful. All that detergent becomes foam and can create a problem with the motor and bearings.
An automatic dispenser will prevent that expensive service call.
Both hybrid washers with agitators and front load washers have a few models with auto dispensers, specifically LG, GE, and Maytag.
Wi-Fi Connectivity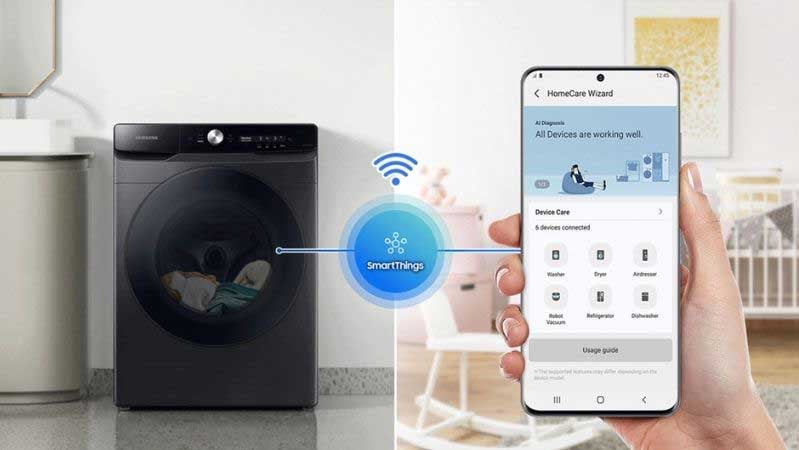 Smart Front Load Washer with Wi-Fi Connectivity and Remote Access
Wi-Fi connectivity has grown on me for laundry, unlike other appliances. You can see the time remaining through an app on your phone.
It will alert you when the cycle is over, eliminating an unnecessary trip to the basement or the third floor.
Most front load washers, except Whirlpool, have Wi-Fi functionality, while only a few hybrid washers do.
Read More: How to Buy a Front Load Washer
6 Best Washers for 2022-2023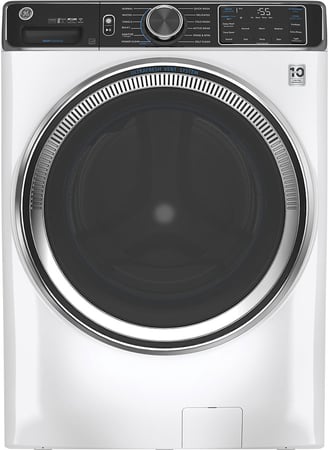 These two washers are new with every feature available, from the auto dispenser to Wi-Fi, speed, steam, a reversible door, and the only front load washer with an anti-mold package.
It even has an overnight cycle to wash and dry an outfit for the next day. The two models differ between 0.2 cubic feet in capacity and the overnight cycle.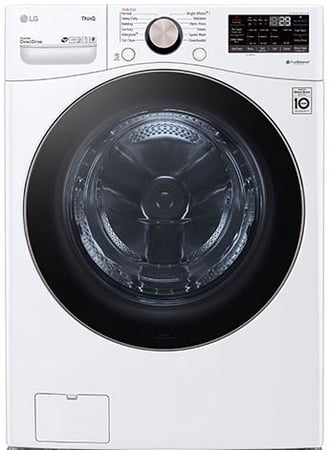 It's been reliable since its inception and is the most reliable washer you can buy.
Their TurboWash 360 cycle can shorten any wash by employing six spray heads in the front of the machine. Their TubClean cycle is a nice reminder to sanitize your washer.
LG is the shallowest for a front load at 30.58 depth and is a good consideration for stacking in tighter spaces.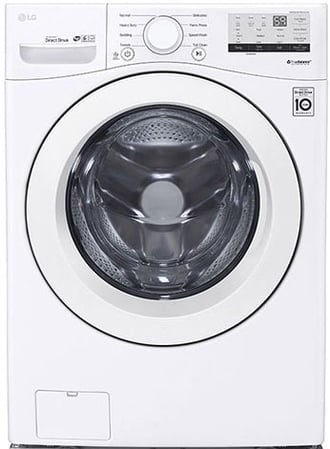 The WM3400 is the basic model still with plenty of cycles. It lacks the Turbo360 and steam cycles.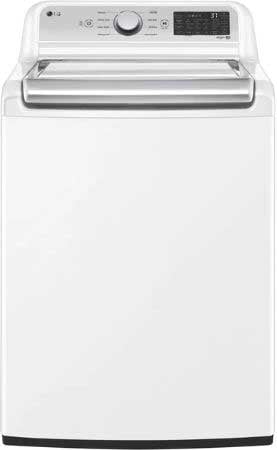 The WT7405 is the largest on this list at 5.3 cubic feet. Then again, it isn't when you remove the volume of the agitator.
It has the high-pressure TurboWash for shorter load times and Wi-Fi through the ThinQ app.
GE employs the same Microban technology as in their front load washers in the dispenser and drain hoses.
Their dispenser could be better than their front load. You can dispense PODS, fabric softener, bleach, detergent, or anything else.
Their SmartHQ app allows you to customize detergents and cycles as well.
It even has the technology to eliminate knots in your clothes, unlike my top load washer.
Read More: Best Front Load Washers
Front Load vs. Top Load Washers: Key Takeaways
There is no one answer to what you should buy.
It would be best if you inquired about the hybrid washers without agitators by asking friends and checking reviews. The design seems destined to fail in washing your clothes.
The new hybrids with the agitator look promising with good size and features. At $699, it's still $250 less expensive than a basic front-load washer.
Traditional top load washers versus front load washers are complicated and is based on what you value.
Top load washers are cheaper to buy and easier to fix. You don't have to bend down to retrieve your clothes, and you don't have to worry about mold or any other dispensing issues.
However, with a front load washer, you will be doing much less laundry with greater water and power efficiency.
Front load washers are gentler on your clothes and have more updated features like auto-dispensing, steam, and Wi-Fi. After a wash cycle, your clothes need less drying time in the dryer due to the high front load washer spin speeds.
It comes down to whether you want a less expensive machine with less expensive repair rates - a top load - or a more modern machine with greater capacity and features - a front load washer.
What do you think?
Additional Resources
Get the Yale Washer Buying Guide with features, specs, and inside tips to all the brands, to dimensions and explanations of every washer and dryer type are included. Over 1 million people have read a Yale Guide.
Related Articles:
Why Should You Trust Us?
It seems that every appliance review has nothing but glowing comments about almost every product, yet you read customer reviews and they are almost universally bad.
We are here to fill in the disconnect. We'll give you the best features, and the drawbacks as well, including reliability based on over 37,000 calls performed by our service team just last year. Our goal is to give you ALL the information so you know what's right for you.
Please consider subscribing or adding to the conversation in the comments below. We appreciate you stopping by.
Steve Sheinkopf is the third-generation CEO of Yale Appliance and a lifelong Bostonian. He has over 38 years of experience in the appliance industry, and he is a trusted source of information for consumers on how to buy and repair appliances.

Steve has also been featured in numerous publications, including the New York Times, Consumer Reports, The Boston Globe, Bloomberg Radio, the New York Post, The Wall Street Journal, and Entrepreneur, for his knowledge of how to buy appliances and appliance repair.

Steve is passionate about helping consumers find the best appliances for their needs, and he is always happy to answer questions and provide advice. He is a valuable resource for consumers who are looking for information on appliance buying, repair, and maintenance.

Despite being the worst goalie in history, Steve is a fan of the Bruins and college hockey, loves to read, and is a Peloton biker. The love of his life is his daughter, Sophie.
A Note About Pricing
Pricing on this blog is for reference only and may include time sensitive rebates. We make every attempt to provide accurate pricing at time of publishing. Please call the stores for most accurate price.