6 Best Front Load Washers for 2021 (Ratings / Reviews / Prices)
Our Top Picks for 2021:
Best Overall: GE GFW650SSNWW Front Load Washer - $1,049
The GE GFW650SSNWW has just about every feature, including steam, along with 12 cycles and nine options. GE has a reversible door and Microban antimicrobial coating to resist mold and mildew. You can see the time remaining on GE's app on your phone as well, plus it has a 32-load automatic dispenser.
Largest Capacity: GE GFW850SSNWW Front Load Washer - $1,149
The GFW850 has all the features of the 650. It has a large capacity at 5.0 cubic feet, and an overnight wash and dry cycle. The washer sets the dryer cycle as well.
Most Reliable: Whirlpool WFW8620HW Front Load Washer - $1,249
It is the most reliable, measured under 2% within the year. The average appliance is 9.97%, with front load washers being about 5-6%.
Best Budget Pick: LG WM3400CW Front Load Washer - $849
LG is incredibly reliable. It's also the least deep at only 30.25 inches making it great for stacking or installing in an existing laundry room.
Inexpensive doesn't mean cheap. You still have the primary eight cycles and six options with this machine.
Best Stackable: LG WashTower WKEX200HWA - $2,229
It's designed for stacking with the controls in the middle, not at the top. The WashTower also has some incredible, useful technology, including one-touch controls and smart technology to remember your favorite cycles. The washer can also set the dryer's cycle and time for you. The machine uses AI with 300 sensors monitoring your wash.
Best Compact: Miele WWB020WCS Compact Washer - $1,999
Miele laundry is the most sophisticated appliance you can buy. The honeycomb drum allows your fine washables to glide on a sheet of water.
It is the only washer to dispense detergent caplets. It also has a 1600 RPM spin speed, so the clothes are almost spun dry in the washer.
---
It must be confusing to buy a front-load washer. There are many new features since your last washing machine purchase.
In this article, you will learn about the best front load washers and their features to consider. You will also learn how to buy a front load washer.
We've included a few videos to help you along the way, and in the end, you can download our free Washer Buying Guide for more information.
Feel free to ask any questions in the comments below.
Now that you know what you'll learn in this article, let's look at the six best front load washers you can buy right now.
6 Best Front Load Washers for 2021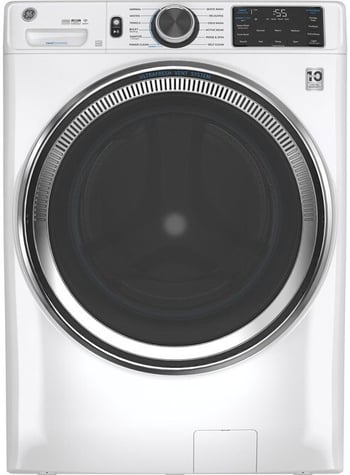 Dimensions: 28 W 39.75 H 32 D | Capacity: 4.8 Cubic Feet | Number of Cycles: 12 Cycles, 9 Options | Spin Speed: 1300 RPM | Reversible Door: Yes | Automatic Dispenser: Yes | Reliability: 8.61%
The best features of the GE GFW650SSNWW front load washer are Wi-Fi, mold, and mildew prevention, as well as its automatic detergent dispenser.
Like the GFW850SSNWW, it also has reversible doors to accommodate your washer and dryer layout. This is especially useful if you plan to stack your washer and dryer.
A 32-load dispenser like in the GFW850SSNWW dispenses automatically and is located at the top of the washer.
Thirty-two loads of laundry are equivalent to 50 ounces of detergent.
This is great for preventing excess suds and future service issues.
Pro Tip: Only use a capful of HE detergent per wash.
This GE model also has 12 wash cycles with ten options. You can wash almost any type of fabric in GE's front load washers.
However, the GFW650SSNWW doesn't have the overnight wash and dry cycle of the GFW850SSNWW, and it's smaller by 0.2 cubic feet.
Read More: Should You Buy the GE Front Load Laundry GFW650SSNWW?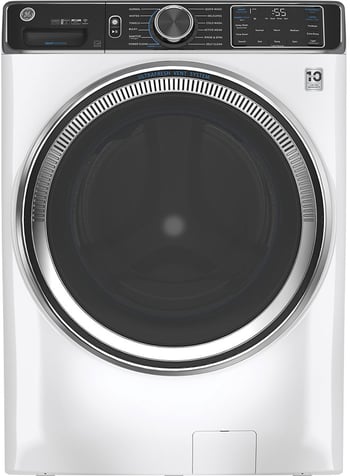 Dimensions: 28 W 39.75 H 34 D | Capacity: 5 Cubic Feet | Number of Cycles: 12 Cycles, 10 Options | Spin Speed: 1300 RPM | Reversible Door: Yes | Automatic Dispenser: Yes | Reliability: 8.61%
GE redesigned their washer and dryer with new features two years ago. It's completely different for features than any other washer in the market.
At five cubic feet, it will be smaller than the LG Mega Capacity Washer at 5.8 cubic feet. However, it's $700-900 less expensive for 0.8 of a cubic foot.
GE will also fit in your laundry room, but just barely at 34 inches deep.
The deeper Samsung 2-in-1 Washer with two washers in one or the Mega Capacity Washer will be even deeper. (Where do they think of these names?)
Five cubic feet is the cut-off from reasonable at $899-$1,299. After that, the extra capacity becomes much more expensive.
Microban Technology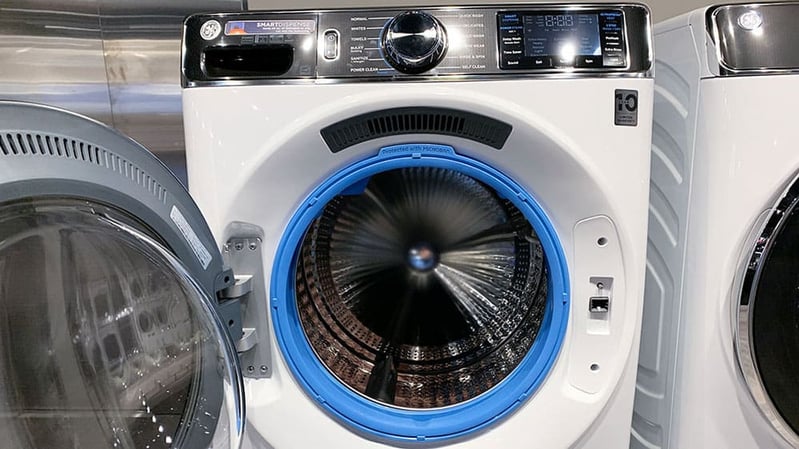 If you ever had to change your child in a public restroom, that changing table is protected with Microban.
Microban is an antimicrobial agent to stop the growth of bacteria. It can be pretty nasty in public restrooms (I have a toddler, I know).
To prevent mold in your washer, GE integrated Microban in their new design. Their front load washer uses Microban for the gasket, dispenser, and draining system.
OdorBlock is another feature designed to eliminate moisture.
With OdorBlock, the washer's vents are built into the door, and the cycle spins the drum to create a vacuum effect and dry any moisture.
Pro Tip: Want to prevent Mold? Mold thrives in moisture. Dry the gasket and the back of the machine after every wash. Then leave the door open when your washer isn't running.
Automatic Dispenser
It also features a 32-load automatic detergent dispenser. It's at the bottom of the machine.
It's easier to load and doesn't have mold issues like auto dispensers loaded at the top.
The brands with auto dispensers at the bottom of their washers, GE, Whirlpool, and Miele, have service rates of less than 9% in the first year.
Maytag loads from the top and had an 18% repair rate for the year due to the mold build-up. LG introduced their new models with their automatic dispenser on the top.
You should consider an automatic dispenser to limit how much detergent you're using.
Any extra detergent will form suds, staying inside the machine for one expensive, eventual service call.
Pro Tip: Over sudsing is one of the top reasons front load washers fail. An auto dispenser will dispense the right amount of detergent at the right time and will prevent over sudsing.
Wi-Fi
The GE GFW850SSNWW is Wi-Fi enabled.
As I said in previous articles, having Wi-Fi connectivity for your washer and dryer makes sense.. You can see the time remaining, and it will even text you when the cycle is over.
This model will also automatically set the dryer's time and show you how much detergent is left in your dispenser.
Like Electrolux, GE has a reversible door so that the doors can open the same way. It's convenient for stacking or placing units side-by-side in a tight spot.
The GFW850SSNWW has the overnight wash and dry feature to add a small load like an outfit and wash and dry it by the morning.
GE Problems
GE is number one according to our 37,000 service calls logged last year in terms of reliability for every appliance.
However, for front load laundry, it is slightly higher than Whirlpool and LG, but significantly lower than Maytag.
GE, along with Whirlpool, is the best at handling problems after the sale with their service departments.
Reliability is important, especially if you are buying from a store without service.
Read More: Should You Buy GE Smart Front Load Laundry?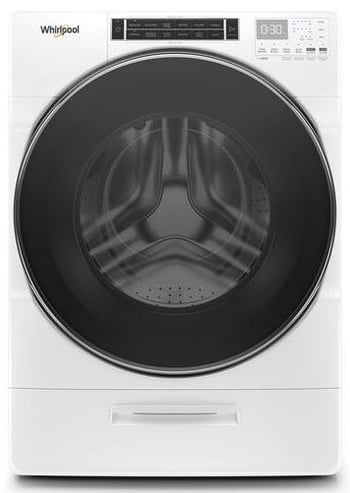 Dimensions: 27 W 38.625 H 33.25 D | Capacity: 5 Cubic Feet | Number of Cycles: 12 Cycles, 35 Options | Spin Speed: 1100 RPM | Reversible Door: No | Automatic Dispenser: Yes | Reliability: 1.85%
The WFW8620HW is the most featured washer available.
The new controls are a simple, intuitive push-button style and Wi-Fi enabled.
You can choose between 35 options, including steam, sanitize, and cold-water options.
FanFresh
Ever leave your clothes in the washer? They can become less than fresh.
Whirlpool has the longest spin speed and has up to 12 hours in no heat. Your clothes will stay fresh, not wrinkle, or shrink with its 12-Hour FanFresh Option.
Auto Dispenser
Whirlpool has a 40-load detergent dispenser.
It's located at the bottom of the machine and is the largest in the industry.
I know I am repeating myself, but most people will place too much detergent in the dispenser. That extra foam will eat away at the inside of your washer.
You only need a capful of detergent.
Auto dispensers release the right amount at the right time, and you don't have to refill after each wash.
Overnight Wash
The Whirlpool front load washer WFW8620HW has an overnight wash and dry cycle for small loads.
Reliability
Whirlpool is the most reliable for front load laundry, with less than a 2% repair rate. Along with GE, Whirlpool has the best parts and repair services after the sale.
However, Whirlpool's volume is builder-driven. With a more basic machine, it traditionally requires less service. That service rate is probably closer to 5-6%.
It's important if you are buying from a store without service.
Whirlpool Front Load Washer Problems
The RPM spin speed is a bit lower than the average of 1200 at 1100 RPM. Faster spins will wring more water out for less drying.
When it comes to cost, Whirlpool's price is a bit high at $1,249 versus $849-$1,149 for LG and GE.
You do have Clean Tub cycles like LG. Whirlpool has the Affresh cycle for preventing mold. But they do not have comprehensive mold prevention like GE.
Lastly, you cannot reverse the washer or dryer doors, so the doors do not line up while stacked.
Read More: Should You Buy the WFW8620HW Whirlpool Front Load Washer?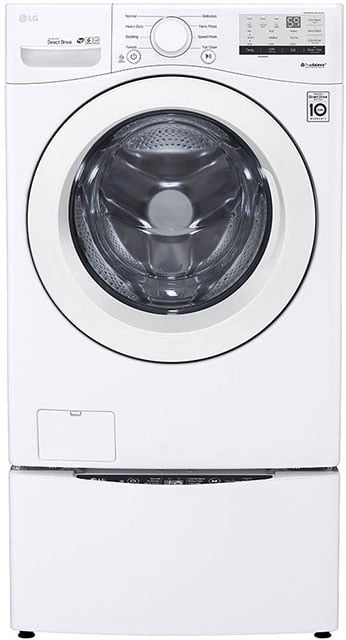 Dimensions: 27 Wide, 39 H, 30.25 Deep | Capacity: 4.5 Cubic Feet | Number of Cycles: 8 Cycles, 6 Options | Spin Speed: 1300 RPM | Reversible Door: No | Automatic Dispenser: No | Reliability: 4.14%
The WM3400CW is one of the most popular front load washers sold. LG has been the most available through the pandemic and for service problems before the pandemic.
Affordable doesn't mean cheap. The WM3400CW still has eight cycles, six options, and the same spin speed and reliability as LG's better machines.
For perspective, our parents, for instance, washed with three cycles, one or two speeds, three temperatures, and 2.5 usable capacity versus the 4.5 in LG.
Shallow Depth
The GE 5.0 cubic feet is 34 inches. At 4.5 cubic feet, the WM3400CW is only 30.25 inches, which is a world of difference when stacking in a closet
It has many of the features of the WM4000HWA, just without the TurboWash, Allergen cycle, and Wi-Fi.
Spin Speed
LG's 1300 RPM spin speed is fast, with the average being about 1000 to 1200 RPM for a full-size front load washer. Faster spin speeds mean less time in the dryer because the clothes are not as wet from the washer.
Reliability
LG's service rates are low within the first year of use at 4.14%. The average appliance is 9.97%. Only Whirlpool is better, and they have fewer serviced builder jobs. So, it's debatable.
LG Front Load Washer Problems
The WM3400 is a good basic machine and still an upgrade from your present machine.
It does lack some of the better cycles like steam and Allergen cycles. It also lacks Wi-Fi connectivity. That's to be expected in an entry-level appliance.
The washer is not reversible. If you're stacking with a dryer, the doors won't line up. It can be annoying if the washer and dryer are on opposite sides.
Read More: Best LG Front Load Washers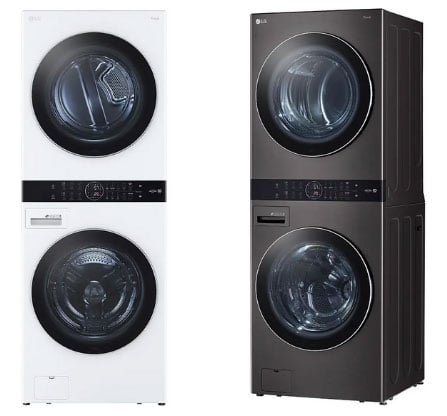 Dimensions:27" x 74 3/8" x 30 3/8" | Capacity:Washer 4.5 Cu. Ft., Dryer 7.4 Cu. Ft. | Number of Cycles:12 Washer Cycles & 10 Washer Options, 6 Dryer Cycles & 9 Dryer Options| Washer Spin Speed:1300 RPM | Reversible Door:No | Automatic Dispenser:No
The WashTower uses 11,000 data points to detect the fabric and load size.
Then it customizes the washing and drying process, including the motion of the washer.
The LG WashTower is incredibly smart, for lack of a better term.
Controls in the Middle
First, you can stack every front load on the market except Speed Queen.
Look at the controls. When you stack a dryer on the washer, the dryer controls are on the top.
The LG WashTower's controls are in the middle, so if you are 5'7" or less, you can reach them easily.
LG wasn't the first with controls in the middle. GE, Whirlpool, and Frigidaire all have existing one-piece stacks with older technology.
Pro Tip: Look at the controls of the dryer when stacking on top of a washer.
Turbo360
Turbo360 shortens any cycle to 30 minutes with five higher intensity wash jets in the front of the washer.
TurboSteam
Both the washer and dryer have steam.
In the washer, steam is used to power out tough stains. In the dryer, steam is used to refresh and de-wrinkle your clothes.
Have a favorite shirt? Place it in the dryer and set it to a steam cycle. It will be ready in 10 minutes.
Smart Learner/Smart Pairing
The WashTower is unlimited in terms of washing and drying capability.
You have six cycles and ten options, along with five speeds and five dry and wash combinations.
If you like your shirt washed a certain way or use a specific cycle, the WashTower will remember, so you don't have to hit seven buttons.
This machine will learn what cycles you like, so you hit just one button for the size, cycle, wash, rinse, and any options.
The washer then sets the proper cycle for the dryer automatically.
Depth
LG is the shallowest full-size washer on the market, which will fit more applications than other manufacturers.
Pro Tip: Depth is the crucial dimension when looking to buy a washer and dryer.
One-Piece vs. Two-Piece Laundry Units
You probably think if the washer needs repair, you will have to replace both.
That's good future thinking.
However, when stacking two pieces in the same scenario, a new dryer in the same manufacturer doesn't necessarily mean it's stackable.
Most times, it won't.
The dimensions change. More importantly, the stacking kits do as well.
You may have problems replacing one-piece or two laundry units.
Read More: Should You Buy the LG WashTower WKEX200HWA?
Best Compact: Miele WWB020WCS Compact Washer - $1,999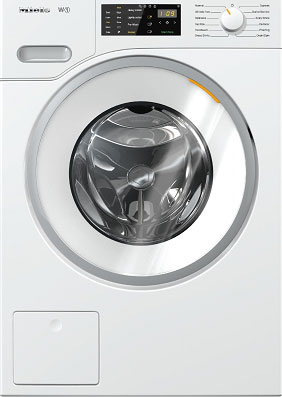 Dimensions: 24 W 35 H 24D | Capacity: 2.4 Cubic Feet | Number of Cycles: 12 Cycles, 4 Options | Spin Speed: 1600 RPM | Reversible Door: No | Automatic Dispenser: No | Reliability: 8.6%
Why Compact?
Compact washers allow you to place a washer and dryer almost anywhere.
Unlike full-size washers, most compact sets are ventless, so you don't have to run a vent to the outside.
You can fit them in a standard 24-inch kitchen cabinet.
They will also fit in most closets.
The most sophisticated appliances on the market are Miele washers and dryers.
This article is about full-size washers, but Miele's 110-volt heat pump dryer is revolutionary(yes, I said that).
Honeycomb Drum
Miele is designed to wash silks and other fine washables. The HoneyComb patterned drum allows clothes to wash on a sheet of water instead of touching the metal surface for the gentlest wash available.
CapDosing
If you like using caplets, Miele has a dispenser designed for caplets. They also have their own line of special application caplets for wool and other fabrics.
1600 RPM Spin Speed
It's the fastest you can buy 300 more than GE and LG. Clothes are almost pre-dried after the spin from a Miele washer.
TwinDos
Miele has the most sophisticated automatic dispenser dubbed "TwinDos."
You can buy special application detergents for sensitive skin and more specialized fabrics as well.
Steam and Wi-Fi
Although both are standard in a full-size washer, Miele is one of the only compact washers with these features.
Miele Compact Washer Problems
The price is high, from $1,199-$1,999 for a smaller one. You can't buy Miele in most stores right now. Make sure you can find available services.
Read More: Differences Between Miele Compact Laundry Models
Key Takeaways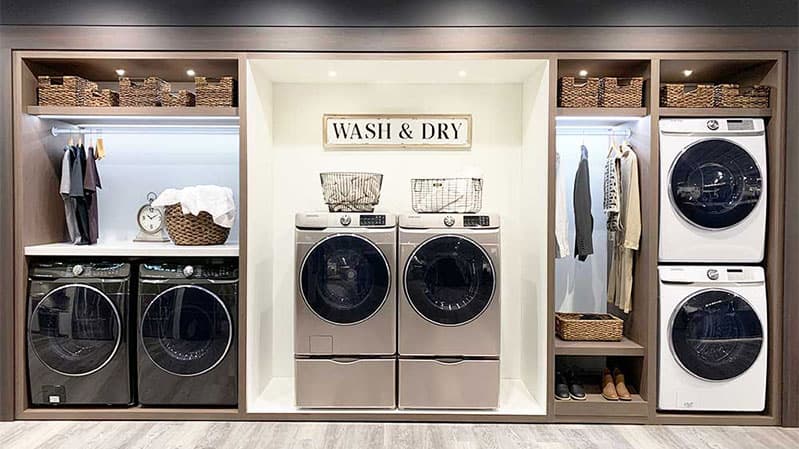 There are plenty of reasons to buy any front load washer on this list.
Just make sure you stay within the 4.5-5 cubic range for the best value. Buying more capacity costs way too much for the added size.
The key now is availability, mostly availability, as most companies are having issues.
Pro Tip: If you can't find a washer in white, check the colors. Most of these brands offer models with a chrome ring or titanium color.
The good news is every model on this list has better reliability than the average appliance.
How you buy a front load washer depends on the space and features.
The least expensive one still has good features. Our parents could not have dreamed of better features.
However, is it worth it for you to pay more for steam, Wi-Fi, and other specialty cycles?
It's up to you.
What to Look for in a Front Load Washer
Before shopping for a new washer and dryer, here are a few general features and considerations to look for in all brands.
Size and Capacity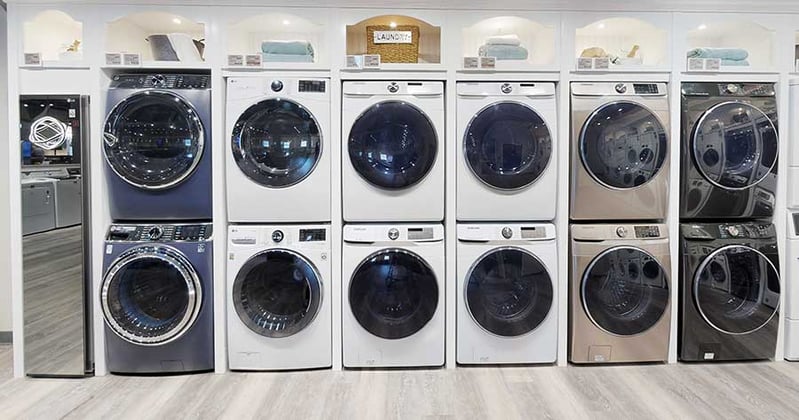 Front-load washers are between 4.3-5.8 cubic feet, with the vast amount sold between 4.3-4.5 cubic feet.
Before buying a larger size, measure your current unit, the door, and the delivery areas.
In some cases, larger front-loads are bigger than existing spaces.
We recommend buying between 4.3-5 Cu. Ft. The price becomes much more expensive, over five cubic feet.
You will spend $300-900 for 0.5-1 cubic feet.
The best front-loads are between 4.5-5 cubic feet.
For example, this LG washer (pictured below) is $1,999 for 5.8 cubic feet or double the price of a washer with five cu. Ft capacity.
Don't buy any front load washer over five cubic feet - most notably the largest LG and the 2-in-1 Samsung washers.
Availability
Front-load washers are all decent for features and price. I would even add the supply-challenged Samsung into the mix as well.
Samsung has had more than its share of supply chain issues. You can probably buy the washer or maybe just the dryer.
However, it's hard to buy the pair in terms of availability, at least right now.
Buy on features first, then look at brands.
Reliability
Let's take a look at the most reliable front load washer brands established from 37,061 service calls logged by our service team.
Front Load Washer Reliability for December 2019 to November 2020
| | |
| --- | --- |
| | Service Rate |
| Whirlpool | 1.85% |
| Samsung | 2.90% |
| LG Electronics | 4.14% |
| GE Appliances | 8.61% |
| Maytag | 17.61% |
| Total | 6.18% |
These figures are based on a minimum of 300 washers sold per brand and over 4,000 total pieces.
Whirlpool is the most reliable at 1.85%.However, many of those units were basic models sold to builder jobs.
LG is probably the best as it is all in homes rather than condo developments.
Samsung seems reliable, but we have not been supplied in a long time. Most problems happened in the first few months.
The average appliance service rate is 9.7% within the first year of use.
Front-load washers are the most reliable major appliance behind electric and gas ranges.
However, the repair can be expensive for the direct-drive motor.
You want reliable appliances, especially now.
You may have an awful time fixing any appliances. Most stores do not have a service department.
Self-servicing dealers (like us) are being overwhelmed by the overwhelming demand and lack of supply for parts.
Read More: Most Reliable Front Load Washers for 2021
Better Features
Automatic Detergent Dispensers
High-end Whirlpool, GE, and LG front load washers offer automatic dispensers.
Maytag's front load washer and Miele's compact washer also have automatic dispensers.
Depending on the manufacturer, each dispenser can hold 8-40 loads of laundry detergent.
Buying an auto dispenser assures you the right amount of detergent at the right time.
It will also prevent problems in the future.
Steam
Steam loosens up tough stains in the washer. If you have a toddler (I can identify), Steam is particularly good on grass, so you won't have to rewash.
Wi-Fi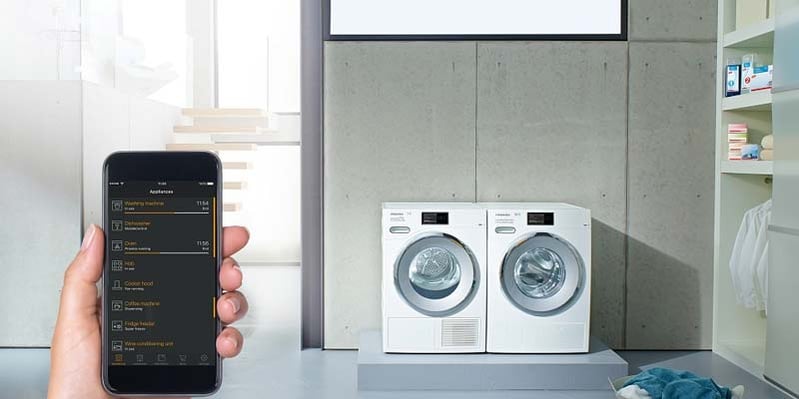 All the best, GE, Whirlpool, LG, Samsung, Miele, Bosch, and Maytag washers feature Wi-Fi.
Wi-Fi will allow you to activate your washer remotely. The machine will also tell you when it's done, so you do not have to keep running to the basement before the load is done.
How many times have you gone to your basement, and it has two minutes and thirty-two seconds on the cycle.
You can't go anywhere, so you wait.
The machine will text you when the cycle is done - no waiting.
Reversible Door
I have no idea why more manufacturers don't have a reversible door.
GE and Electrolux allow you to reverse the washer door so that you can move the clothes from washer to dryer easier in certain applications.
Stacking is better when the doors open on the same side.
You also may have the washer on the left.
Reversible doors are not critical, but they will make your life easier.
Pro Tip:Have the store reverse the door. You do not want to do it yourself.
Frequently Asked Questions
What Is Better: Front Load or Top Load Washers?
From a specification standpoint, front-loads are much better than top loads or even hybrid top loads.
You have much more capacity in a front-load at 4.5 cubic feet versus 2.5 cubic feet of usable capacity for a top load.
But you also use less water, energy, detergent and have a much higher spin speed.
The reliability is almost identical based on our 37,000 service calls.
Top loads are typically less expensive to buy at $599 vs. $999 on average and are much cheaper to repair when there are problems.
Although front-loads are more expensive, they should pay for themselves in fewer washes due to capacity and less energy per load in a short period of time.
Hybrid or top loads with no agistators have a similar capacity to a front load. However, you have no mechanism for turning the clothes, so cleaning is not as good.
Read More: Front Load vs. Top Load Washers
How Long Do Front Load Washers Last?
Front-load washers should last 6-10 years, according to the United Servicers Association.
Certainly, you want to clean your washer using the appropriate cycle.
Also, use the right amount of HE detergent. Excess soap wreaks havoc on the inside of your washer
Are Front Load Washers Stackable?
Yes, most front load washers are stackable.
But you need to know more information before you stack a washer and dryer, so read this section.
Only Speed Queen washers are not stackable. They only offer a unitized washer and dryer.
As we said before, all of our front load washers on this list are stackable.
The Samsung 2-in-1 washer is another exception. The largest LGs also can't be stacked due to the height and depth.
Here are some pointers for stacking front load laundry:
Should I Buy a Vented or Ventless Dryer?
If it's on an inside wall, it's probably ventless.
Most full-size laundry is vented. Most compact laundry is ventless.
Check to see if there is a metal vent in the back.
The best ventless dryers are compact and 24 inches in depth and width.
Only Whirlpool and LG offer one ventless dryer in full size. Both dryers are not widely sold, and LG's ventless dryer is off-market as of this writing.
For ventless dryers, check out the Best Compact Laundry article by clicking here.
Fuel Type
Is it gas or electric? You can tell by the plug. Gas is 110 volts like your small appliances, and electric is 220 volts with a larger, thicker cord.
New models are often deeper than your previous washer and dryer.
To prevent a return, measure your space. If you live in a brownstone (Hello Boston), measure the staircases and landings as well.
Schedule a Site Check
If you have any questions, have your store send a specialist to measure for you.
Read More: How to Buy a Stackable Front Load Washer and Dryer
Should I Buy an Extended Warranty for My Front Load Washer?
You will be asked and pushed by your store to buy an extended appliance warranty.
First, you should never buy a warranty from a company that does not offer its service.
Your appliance is less likely to be repaired quickly with an outsourced warranty.
If you are buying this for peace of mind, then you will get exactly the opposite.
For washers, the reliability numbers suggest not buying a warranty.
At 5-8%, these machines work better than almost every other appliance.
Unfortunately, the repair itself is costly because front load washers have a direct-drive motor. A
The direct-drive motor's shaft is connected to the washer's drum.
It's less expensive to replace a front load washing machine than paying in parts and labor to fix the motor.
Ultimately, it's the insurance of a low repair rate versus a very high cost of repair.
Read More: Are Appliance Extended Warranties Worth It?
How to Prevent Mold in My Front Load Washer?
A lot of reviews talk about mold in their front load washers.
The best GE washers use Microban and their OdorBlock feature to stop mold before it starts.
It's preventable in other machines.
Mold and its foul-smelling cousin Mildew exists in moist environments
You can develop mold in a front load washer due to standing water in the machine's gasket and back.
To prevent mold in your washer, you should always make sure the washer barrel and gasket are as dry as possible.
You can do this by running a towel over the gasket and leaving the door open to air dry after every cycle.
A few companies address mold in their cycles. LG has the Tub Clean cycle, Whirlpool their Affresh cycle. Maytag has a separate fan.
If you do have mold, run a wash without clothes under a high temperature with Affresh tablets.
This will clean any mold or mildew.
Read More: How To Prevent Mold In Your Front Load Washer
Additional Resources
Download our Yale Washer Buying Guide with all the features, terms, and brands of laundry. Over 820,000 people have already found answers in a Yale guide.
Related Articles:
Why Should You Trust Us?
It seems that every appliance review has nothing but glowing comments about almost every product, yet you read customer reviews and they are almost universally bad.
We are here to fill in the disconnect. We'll give you the best features, and the drawbacks as well, including reliability based on over 37,000 calls performed by our service team just last year. Our goal is to give you ALL the information so you know what's right for you.
Please consider subscribing or adding to the conversation in the comments below. We appreciate you stopping by.
Steve Sheinkopf
Steve is the third-generation CEO of Yale and a lifelong Bostonian. He currently resides in Boston, one mile from where he was born. Despite being one of the worst goalies of all time, he is a huge hockey fan of college hockey and the Boston Bruins. The love of his life is his daughter Sophie.
A Note About Pricing
Pricing on this blog is for reference only and may include time sensitive rebates. We make every attempt to provide accurate pricing at time of publishing. Please call the stores for most accurate price.