Top 6 Best Front Load Washers For 2020 (Ratings / Reviews / Prices)
It can be confusing to buy a front-load washer. There are so many new features since your last purchase.
Our recommendations change almost every 90 days depending on the manufacturer, fluctuating prices, and the availability of the product, especially now.
The Top 6 Front Load Washers for 2020 are:
Best Overall: GE Front-Load Washer GFW850SSNWW
Most Reliable: Whirlpool Front-Load Washer WFW9620HW
GE Front-Load Washer GFW650SSNWW
Maytag Front-Load Washer MHW8630HW
LG Front-Load Washer WM3900HWA
Samsung Front-Load Washer WF45R6300AW
In this article, you will learn about the best front-load washers to consider including their features and reliability based on 35,256 service calls.
You will also learn when the best time to buy laundry is and why Koala brand baby tables could influence your decision.
You can stack almost every front load washer and dryer on this list.
However, there are some issues when stacking a dryer on a washer, so we will review some problems and solutions to consider before delivery.
Then you will see the best sets to consider in case you need the dryer as well.
This will be a long article, so click on the table of contents to skip around to what you want to learn.
How To Buy A Front Load Washer
Front Load Washer Availability
COVID-19 is unlike any other recession since I started at Yale in 1986. COVID-19 affects demand due to uncertainty like the other times.
However, it has also affected supply, unlike the previous recessions. COVID-19 exposure has shut down factories and/or warehouses, so there are fewer products as well.
That said, you shouldn't panic and buy the first washer you see. We are not at that point.
However, the promotions in the short term may not happen either. So waiting for a July 4th or Black Friday promotion may not be a good idea.
In Massachusetts, we have a Tax-Free weekend. It's now written into law. However, that may change this year.
Lastly, front load washers and laundry, in general, is a good purchase. You will see the reliability charts, and most are less repair prone than the average appliance.
So let's say if LG is unavailable, buy a Whirlpool, GE, or Samsung with similar features.
What Are The Most Reliable Front Load Washers?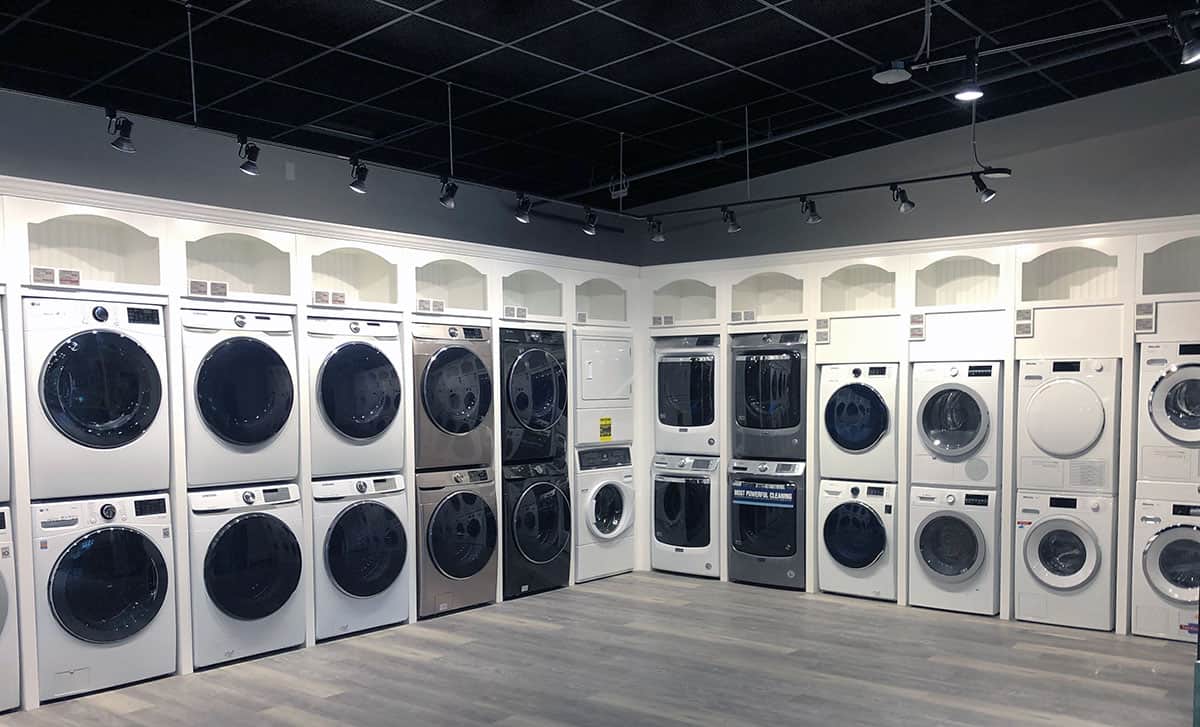 Best Front Load Washers at Yale Appliance in Hanover
Whirlpool is technically the most reliable at just under 6%. However, many of those units were basic and sold to easier builder jobs.
The average appliance is serviced at 13.4%. Most of the front load washers are below 8%.
Most Reliable Front-Load Washers for 2020
| | | | |
| --- | --- | --- | --- |
| | Service Qty | Shipped Qty | Service Ratio |
| Whirlpool | 20 | 350 | 5.71% |
| GE Appliances | 1 | 15 | 6.67% |
| LG | 161 | 2270 | 7.09% |
| Samsung | 27 | 349 | 7.74% |
| Maytag | 251 | 659 | 38.09% |
| Electrolux | 13 | 13 | 100% |
| Grand Total | 473 | 3656 | 12.94% |
It's the most reliable major appliance only behind electric and gas ranges.
However, the repair can be expensive for the direct-drive motor. Just make sure wherever you buy has repaired or can easily arrange it.
Pro Tip: The number 1 repair problem is too much detergent. The "oversudsing" can eat at the bearings of the motor.
To learn more about the most reliable front-load laundry brands for 2020, and how we calculate reliability, click here.
Top Load Vs. Front-Load Washers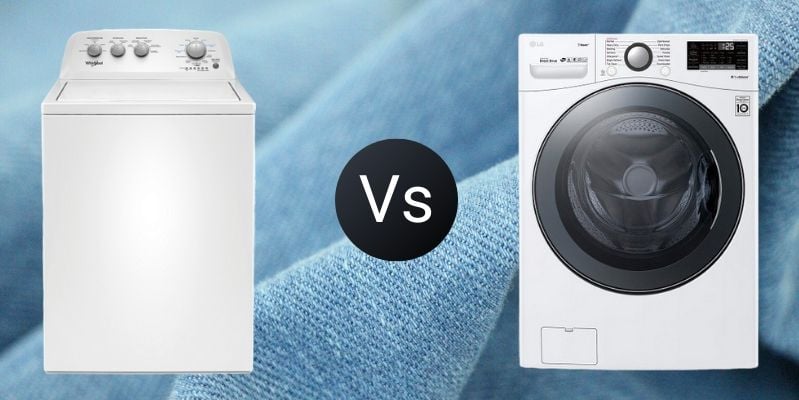 Front-load washers offer a high spin speed, larger sizes - almost double of a top-load washer - and better electrical and water efficiency.
This, in turn, reduces drying time.
Almost all the brands below have an abundant number of cycles and features. Every unit has 4-5 speeds and different temperature selections for every fabric type.
Front-Load Washer Features for 2020
Before shopping for a new washer and dryer, here are a few general features to look for in all brands.
Here are front load washer features for 2020:
Size
Front loads are between 4.3-5.4 cubic feet, with the vast amount sold between 4.3-4.5 Cu. Ft. Before you buy a larger size, measure your current unit, the door, and delivery areas.
In some cases, larger front-loads are bigger than existing spaces.
It is our recommendation you buy between 4.3-5 Cu. Ft. because the price becomes much more expensive, over 5 Cu. Ft.
You will spend $300-700 for .5-1 cubic feet.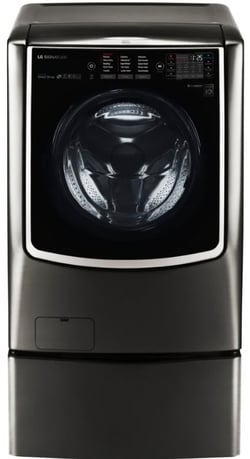 For example, this LG washer is $1,799 for 5.8 cubic feet or double a five cubic foot for .8 cubic feet.
Faster Spin/Heat Boost
A faster spin speed will wring out more moisture out of your clothes for less time in your dryer. Heat boost will increase the heat by 20 degrees for better cleaning of white colors.
"Load & Go" and Automatic Dispensers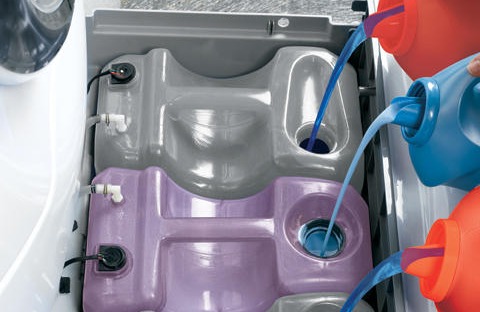 GE Front Load Washer Detergent Dispenser
Maytag, Whirlpool, GE, and Miele offer a dispenser with 8- 40 load capability depending on the manufacturer. They will dispense automatically for convenience.
Wi-Fi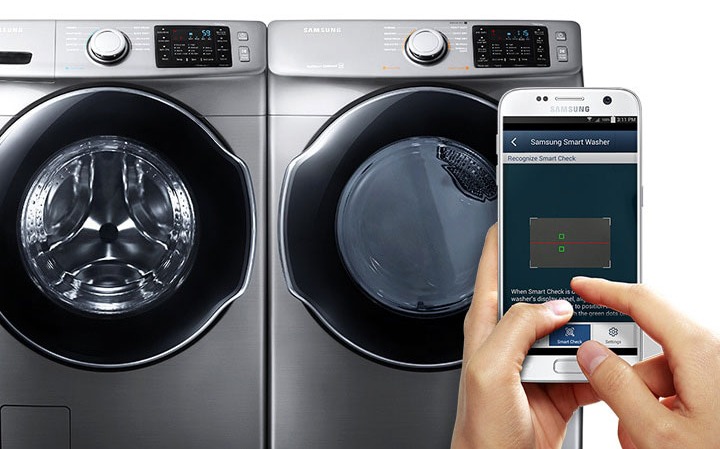 Samsung Smart Front Load Laundry
Wi-Fi will allow you to activate your washer remotely. The machine will also tell you when it's done. So you do not have to keep running to the basement before the load is done.
AI
You will see more AI (artificial intelligence) in washers soon, even by the time you are reading this.
AI is a fancy term for predictive analytics. In this case, you will push a button, and the machine will calculate time and temperature automatically based on the load.
Specialty Cycles and Features for Front-Load Washers
TurboWash/Super Speed
LG and Samsung wash 30 minutes faster than a normal cycle by employing high-pressure water jets in the door. Both claim a 30-minute wash. LG will wash slightly more at 10 lbs versus Samsung's 8 lbs.
SmartBoost
Electrolux mixes the detergent and water and then applies the mix on your clothes.
Two Washers
Samsung offers a double washer in the same chassis. It's an interesting feature, but you can buy two full-size washers and dryers for much less.
Microban Technology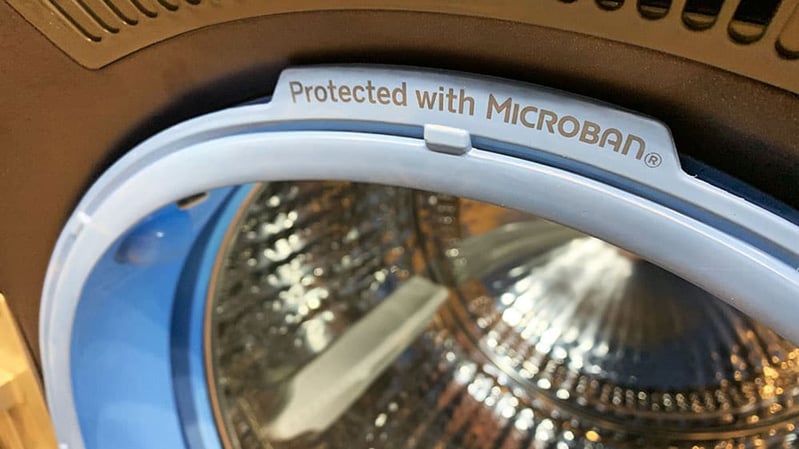 GE Front Load Washer with Microban Technology on display at Yale Appliance in Hanover
GE now employs Microban to eliminate mold and mildew in their front load washers
Overnight Cycle
Maytag, Whirlpool, and GE offer a way to wash and dry an outfit or small load using the wash and spin cycle.
LG Sidekick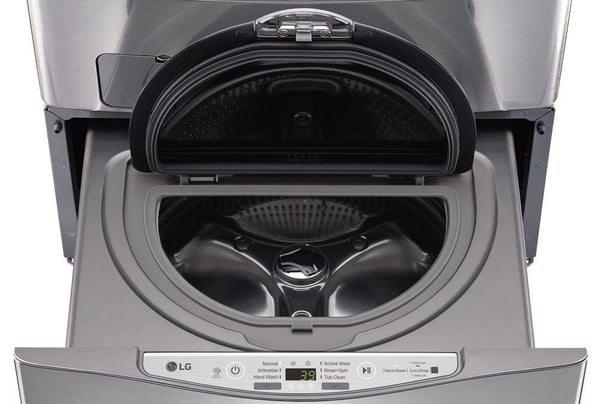 LG SideKick Pedestal for Front Load Washers
Kind of the opposite of the Samsung two washer, but the second washer is under the main washer.
Reversible Door
GE and Electrolux allow you to reverse the washer door, so you can move the clothes from washer to dryer easier.
Pro Tip: Have the store reverse the door. You do not want to do it yourself.
Top 5 Best Front-Load Washers For 2020
Now that you've learned about the latest technology and features in front load washers, let's check out the best brands and their models for 2020.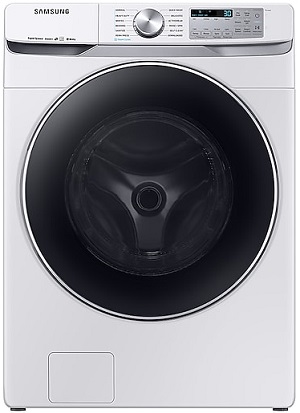 Features:
SuperSpeed - Fast, thorough washing in just 30 minutes
Steam
Self Clean
VRT Noise Reduction
Why You Should Consider the Samsung Front-Load Washer WF45R6300AW:
Perhaps the lowest price for a front-load with these features.
It has a 30-minute full wash cycle for an 8-pound load. You also have a 15-minute quick wash along with a soak cycle.
The soak and steam are designed to power out tough stains.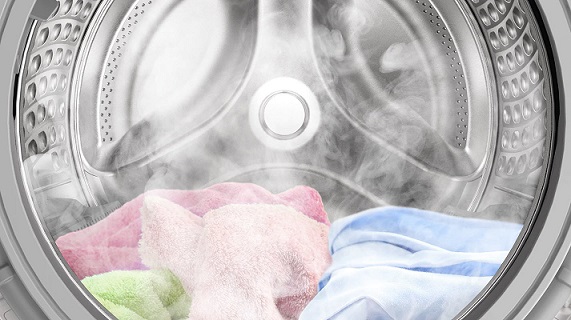 The Samsung front-load washer WF45R6300AW powers out tough stains with its steam cycle.
This new Samsung washer is reputed to be extremely quiet. They claim 40% quieter due to VRT noise reduction in the chassis.
It's also one of the most reliable at less than 8% service within the first year.
Pro Tip: Most of the complaints against LG and Samsung relate to lack of service when there is an issue. You should ask who will be repairing your laundry units or any appliances before you buy them.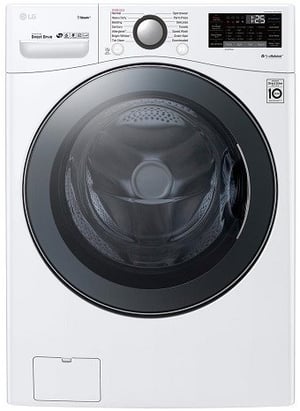 Features:
4.5 cu. Ft. Ultra Large Capacity with NeveRust Stainless Steel Drum
Direct Drive Motor with 10-Year Limited Warranty
Control Panel with Dual LED Display and Dial-A-Cycle
TurboWash(R) Technology - 30-minute wash cycle
LG SideKick Compatible
Al Fabric Sensing
Al Smart Pricing
Why You Should Consider LG's Front-Load Washer WM3900HWA:
This is the most popular LG washer.
You have their TurboWash 30-minute wash cycle for a 10-pound load along Wi-Fi.
It also has plenty of specialty cycles for you to wash in every conceivable way designed for speed, allergens, and one to clean the washer itself.
Like Samsung, LG is popular but you may have problems finding service in certain areas. Check reviews before you buy any appliance.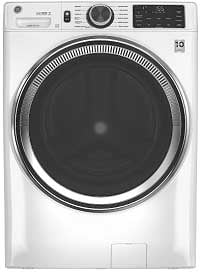 Features:
4.8 cu. ft.
UltraFresh Vent System
OdorBlock
Energy Star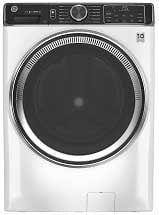 Features:
5.0 cu. ft.
12 Wash Cycles
Steam Cycle
Sanitize Cycle
Allergy Cycle
Wi-Fi
Why You Should Consider GE's Front-Load Washers GFW650SSNWW And GFW850SSNWW:
If you ever had to change your child in a public place, those flip-down baby centers are treated with Microban to eliminate bacteria….and it can be pretty nasty in these places.
GE has incorporated MicroBan technology in the gasket, dispenser, and draining system to prevent mold and mildew build-up in your washer.
Odorblock is another feature designed to eliminate moisture. The washer vents built into the door, the cycle spins the drum to create a vacuum effect and dry any moisture.
GE is brand new, so it includes many of the best features of all the brands.
All their machines are Wi-Fi like LG, while the 850 has the overnight wash and dry cycles like Maytag, a 32 load dispenser like Whirlpool, and a reversible door like Electrolux.
So you have the best of every brand plus the Microban and Odorblock.
The 650 doesn't have the wash and dry cycle but is only 32 inches deep for tighter installations.
New GE Smart Front Load Laundry Review [VIDEO]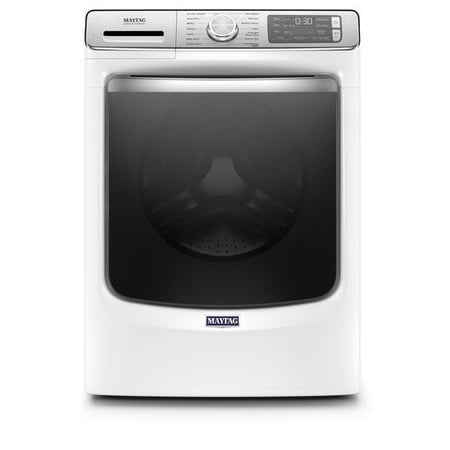 Features:
Most Powerful Cleaning in the industry driven by the Heavy Duty cycle + Extra Power button
Extra Power Button
Smart Appliance
24 Hr Fresh Hold(R) Option
Optimal Dose Dispenser
Quick Wash Cycle
Sanitize Cycle
Why You Should Consider Maytag's Front-Load Washer MHW8630HC:
This is the best-selling Maytag washer (for Whirlpool, who is the actual manufacturer).
It has every cycle, including steam. It also has a "Fresh Hold" option, which will rotate the machine to keep clothes fresh for a longer period of time.
The detergent dispenser will hold up to 8 loads, so you do not have to reload after each wash. Just clean it regularly to avoid a service call, which was a problem last year.
Maytag also features an overnight cycle. Add your gym clothes, an outfit, or a small load, and it will be washed and dried the next morning.
Should You Buy Maytag Front Load Laundry? [VIDEO]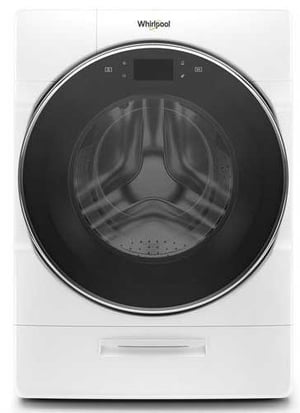 Features:
Load & Go™ XL Plus Dispenser
Remote control with the Whirlpool® app
Our largest capacity front-load washer at 5.0 cu. ft.
Intuitive Controls
Touchscreen
12-Hour FanFresh® Option
Steam Clean Option
Why You Should Consider Whirlpool's Front-Load Washer WFW9620HW:
The WFW9620 is the most featured washer available. It has WIFI and every other feature from steam to a beautiful operating touch screen.
Whirlpool has a 40 load dispenser. It's located at the bottom of the machine. This dispenser will fit more, should not be as moldy, and will allow you to change detergents easier.
How To Stack Laundry
As we said before, most front-load and all on this list are designed to be stacked. The Samsung two and one washer is an exception. The largest LG also can't be stacked due to the height and depth.
Here are some pointers:
Is the dryer vented or ventless: If it is on an inside wall, it's probably ventless. Check to see if there is a metal vent in the back. The best ventless dryers are compact and 24 inches in depth and width.
Fuel Type: Is it gas or electric? You can tell by the plug. Gas is 110 volts and Electric 220 volt.
Measure the space. If you live in a brownstone (Hello Boston), measure the staircases and landings as well. Laundry is returned only less than refrigerators because the new sets are often deeper than your older ones.
Schedule a site check: If you have any questions, have your store send a specialist to measure for you.
Best Front-Load Stackable Laundry Pairs
Most people concentrate on the washer as part of their laundry purchase, yet the dryer is still very important, especially when you stack the dryer on top of the washer.
Almost all of the front load dryers now have a "sensor dry" which automatically shuts down the heat by sensing how much moisture is in the clothes.
This will save you money and prevent shrinkage.
With that in mind, as the cycles and technology like Wi-Fi and steam are similar, I will give you a few feature differences.
Samsung Steam Front-Load Laundry Pair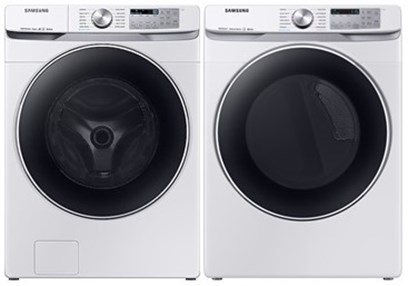 Samsung, along with LG, has a vent indicator. So you will be able to correct any blockages before they become issues.
LG Premium Front-Load Laundry Pair
Electric $1,699 | Gas $1,799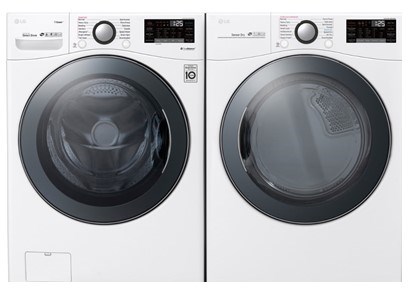 Both are high tech, Wi-Fi enabled, and seem to be reliable.
LG has the 10-minute steam cycle, so it's convenient for refreshing clothes fast.
GE Smart Front-Load Laundry Pair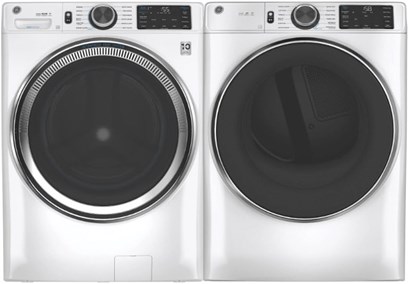 GE is reversible both in the washer and dryer. It also has the longest possible venting system up to 90 feet with a stainless steel drum.
Maytag Maxima Front-Load Laundry Pair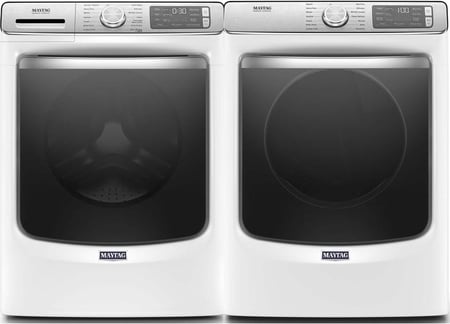 Maytag has two sensors in the drum to calculate the right amount of time for mixed loads.
Whirlpool Premium Front-Load Laundry Pair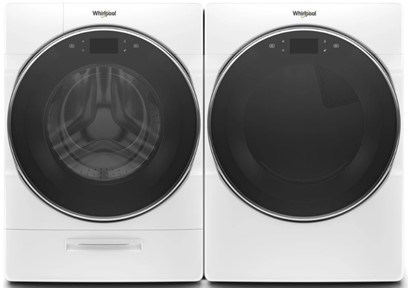 Whirlpool has LED screens in both. The dryer also has a stainless steel drum.
Which Front-Load Washer Is The Best?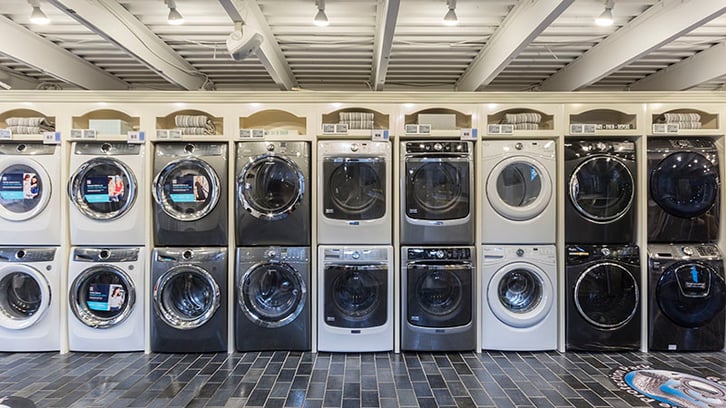 Stackable Front Load Washers at Yale Appliance in Boston
There is a reason to buy any front load washer on this list. They have similar capacity and varying features.
Samsung has an affordable piece with steam, speed, and features.
LG is a bit more proven but is $100 higher for similar features plus WIFi
Whirlpool and Maytag are excellent as long as you remember to clean the dispensers.
The big question is GE. It probably has the most features and is the most advanced for the money.
GE is also the only front load washer to address mold, mildew, and odors as well, but the product is new.
With so many good choices, our advice after the price is simple:
First, buy a front load washer between 4.3-5 cubic feet. It will cost $300-1000 for larger machines with only a .5-1 cubic foot increase in capacity.
In your area, find the product that can be fixed the fastest. Samsung, GE, Whirlpool, Maytag, and LG are all good considerations.
Find the repair companies and look for reviews. Don't just trust the salespeople or website.
Check first and then buy that brand.
Should You Buy An Extended Warranty?
You will be asked and pushed by your store to buy an extended appliance warranty.
First, you should never buy a warranty from a company that does not offer its own service. These warranties are outsourced and not designed to fix anything promptly or even correctly.
Seriously.
If you are buying this for peace of mind, then you will get exactly the opposite.
For washers, the reliability numbers suggest not buying a warranty.
At 4-13%, these machines work better than almost every other appliance.
Unfortunately, the repair itself is incredibly expensive because they have a direct-drive motor, meaning the motor shaft is connected to the washer's drum.
It's less expensive in parts and labor to simply replace a front-load washing machine than fixing its motor.
Ultimately, it's the insurance of a low repair rate versus a very high cost of repair.
How To Prevent Mold In Your Front-Load Washer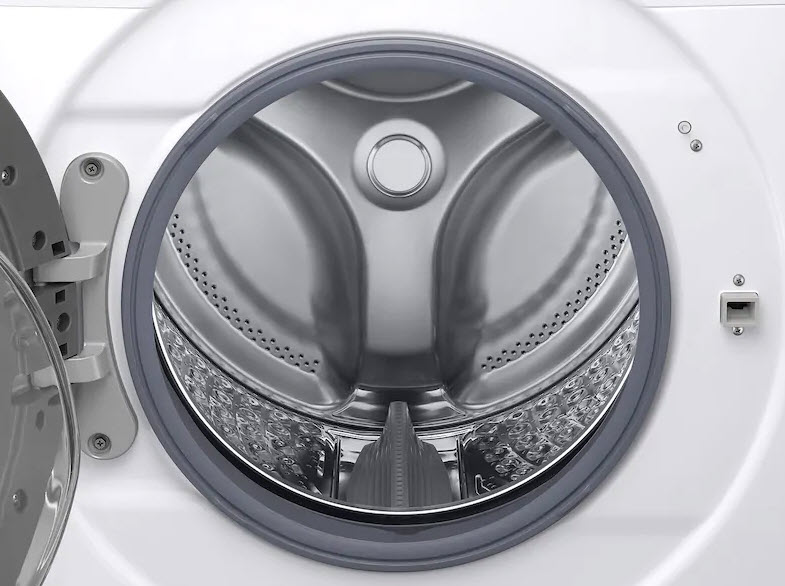 A lot of reviews talk about mold in their front-load washers. The new GE has Microban technology and OdorBlock to eliminate the problem before it even starts.
It's preventable in other machines.
Mold is caused by standing water over a prolonged period of time.
You can develop mold in a front-load due to standing water in the gasket and back of the machine.
To prevent mold in your washer, you should always make sure the washer barrel is dry as possible, especially the gasket in the front.
You can do this by running a towel over the gasket and leaving the door open to air dry after you are done using your washer.
A few companies specifically address mold in their cycles. LG has the Tub Clean cycle, which is a 149-degree wash. Maytag has a separate fan.
If you do have mold, run a wash without clothes under a high temperature with Affresh tablets. This will clean any mold or mildew.
Click here to read more about how to remove mold and mildew from your washer.
Frequently Asked Questions About Front-Load Laundry:
1. Which brand is best for front-load washing machines?
GE, Samsung, Maytag, Whirlpool, and LG are the best front-load washing machine brands to consider.
2. How long do front-load washers last?
Front-load washers should last 6-10 years, according to the United Servicers Association.
3. What's better, a top load or a front-load?
Front loads are larger with better cycles and energy efficiency. As I said previously, front loads have a larger capacity and use less water and energy, so you will save money in the long run.
You can read more about front-load washers vs. top load washers by clicking this link.
4. Why do front-load washers smell?
Standing water is the main problem, especially at the gasket. You want to dry the gasket from any residual water. Leaving the door open after every cycle always helps.
Additional Resources
Download our Yale Washer Buying Guide with all the features, terms, and brands of laundry. Over 820,000 people have already found answers in a Yale guide.
Related Articles:
WHY SHOULD YOU TRUST US?
A few review sites have placed this at the bottom of their articles. So here is our take: Our mission is to find reliable products for you to buy. Other review sites may say this as well.
However, we don't love every product. Quite frankly, it costs us way too much money in repair costs to support less reliable brands.
In fact, we sell fewer brands than most appliance stores. Here is why:
We feel it is our responsibility to repair your appliances after you buy them.
We now have 30 service technicians, each averaging 8-10 calls a day Monday through Friday, plus another 110 on Saturday. That's over 30,000 service calls logged in one year.
The labor rates of fixing an appliance do not come close to the true cost in any product's warranty period.
That is why no major retailer has a service department. It costs too much labor, money and time.
Our Blog is a bit different than most others you will read. We cannot write glowing reviews of unreliable products.
Hopefully, the bloggers and organizations who write such glowing product reviews for every brand consider servicing these products first. Only then they will understand the consequences of their marketing.
Steve Sheinkopf
My goal has always been simple: I want Yale to be the best retail experience anywhere. I have tried to create a compelling environment for customers and employees alike.
A Note About Pricing
Pricing on this blog is for reference only and may include time sensitive rebates. We make every attempt to provide accurate pricing at time of publishing. Please call the stores for most accurate price.