Best Front Load Washers for 2021 (Ratings / Reviews / Prices)
It can be confusing to buy a front load washer. There are many new features since your last washing machine purchase.
Our recommendations change every 90 days depending on the manufacturer, prices, and availability.
In this article, you will learn about the best front load washers and their features to consider.
You will also learn about their reliability based on 37,061 service calls, and why Koala baby tables could influence your decision.
The Top 5 Best Front Load Washers for 2021 are:
Every front load washer and dryer on this list is stackable.
However, there are some issues when stacking a dryer on a washer. We'll review the most common washer problems and solutions to consider before delivery.
This will be a long article, so click on the table of contents to skip around to what you want to learn.
There will be plenty of answers to our most commonly asked questions at the end of the article as well.
5 Best Front Load Washers for 2021
Now that you know what you'll learn in this article, let's look at the five best front load washers for 2021.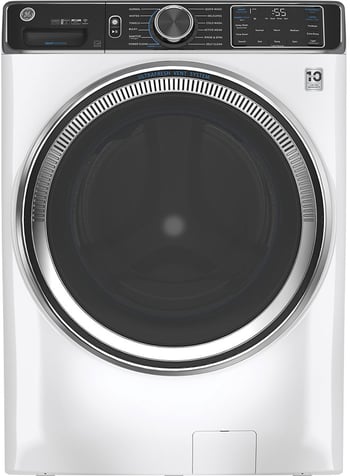 Dimensions: 28 W 39.75 H 34 D | Capacity: 5 Cubic Feet | Number of Cycles: 12 Cycles, 10 Options | Spin Speed: 1300 RPM | Reversible Door: Yes | Automatic Dispenser: Yes | Reliability: 8.61%
GE redesigned their washer and dryer with new features two years ago.
If you ever had to change your child in a public restroom, the changing table is protected with Microban. Microban is an antimicrobial agent to stop the growth of bacteria. It can be pretty nasty in public restrooms (I have a toddler, I know).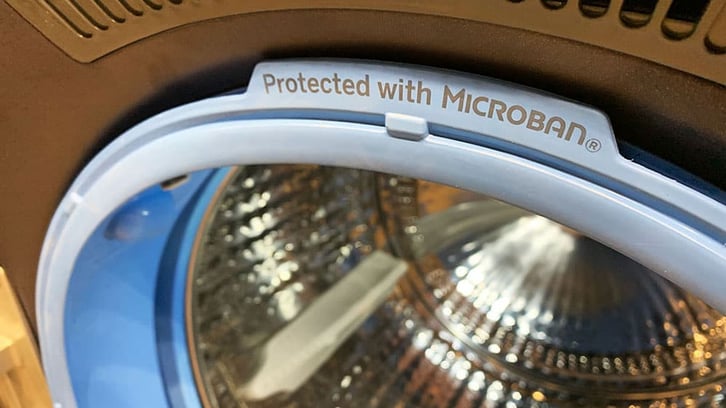 To prevent mold in your washer, GE integrated Microban (shown above) in their new design. Their front load washer uses Microban for the gasket, dispenser, and draining system.
OdorBlock is another feature designed to eliminate moisture. With OdorBlock, the washer's vents are built into the door, and the cycle spins the drum to create a vacuum effect and dry any moisture.
The GE GFW850SSNWW is Wi-Fi enabled. It will set the time on the dryer automatically.
It also features a 32-load automatic detergent dispenser. It's at the bottom of the machine.
It's easier to load and doesn't have mold issues like auto dispensers loaded at the top.
The brands with auto dispensers at the bottom of their washers, GE, Whirlpool, and Miele, have service rates less than 10% in the first year.
Maytag loads from the top and had 41.19% repair due to the mold build-up. LG introduced theirs at the top this year on the best models.
Like Electrolux, GE has a reversible door, so the doors can open the same way. It's convenient for stacking or placing the units side-by-side in a tight spot.
The GFW850SSNWW has the overnight wash and dry feature to add a small load like an outfit and wash and dry by the morning.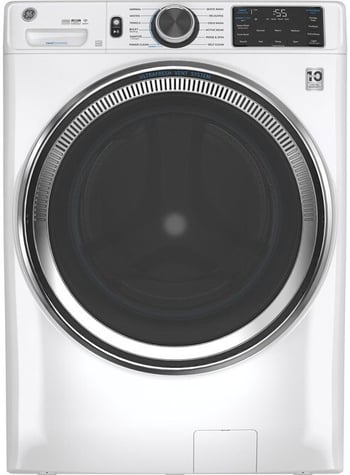 Dimensions: 28 W 39.75 H 32 D | Capacity: 4.8 Cubic Feet | Number of Cycles: 12 Cycles, 9 Options | Spin Speed: 1300 RPM | Reversible Door: Yes | Automatic Dispenser: Yes | Reliability: 8.61%
The best features of the GE GFW650SSNWW front load washer are Wi-Fi, mold and mildew prevention, as well as its detergent dispenser.
Like the GFW850SSNWW, it also has reversible doors to accommodate your washer and dryer layout.
With a 32-load dispenser like in the GFW850SSNWW, it dispenses automatically and is located at the top of the washer (pictured above). Thirty-two loads of laundry is equivalent to 50 ounces of detergent.
This is great for preventing excess suds and future service issues.
This GE model also has 12 wash cycles with 10 options. You can wash almost any type of fabric in GE's front load washers.
However, the GFW650SSNWW doesn't have the overnight wash and dry cycle of the GFW850SSNWW, and it's smaller by 0.2 cubic feet.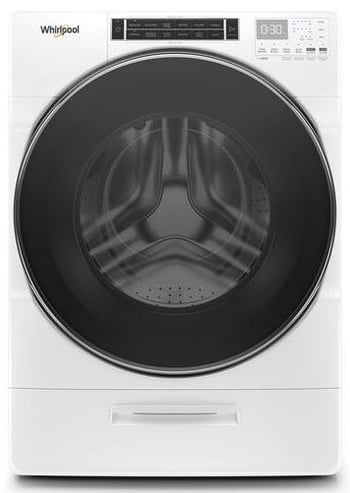 Dimensions: 27 W 38.625 H 33.25 D | Capacity: 5 Cubic Feet | Number of Cycles: 12 Cycles, 35 Options | Spin Speed: 1100 RPM | Reversible Door: No | Automatic Dispenser: Yes | Reliability: 1.85%
The WFW8620HW is the most featured washer available.
The new controls (shown below) are a simple, intuitive push-button style and Wi-Fi enabled. You can choose between 35 options, including steam, sanitize, and cold water options.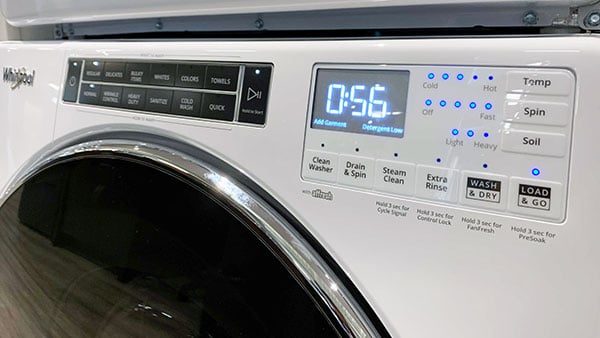 Ever leave your clothes in the washer? They can become less than fresh. Whirlpool has the longest spin, up to 12 hours in no heat, so your clothes will stay fresh and not wrinkle with its 12-Hour FanFresh Option.
Whirlpool has a 40-load detergent dispenser. It's located at the bottom of the machine and is the largest in the industry.
Auto dispensers are a decent feature and worth considering. Most people will place too much detergent in the dispenser. That extra foam will eat away at the inside of your washer.
You only need a capful of detergent.
It is one of the top 3 reasons why front load washers fail.
Auto dispensers release the right amount at the right time, and you don't have to refill after each wash.
The WFW8620 has an overnight wash and dry cycle to add a small load like an outfit and wash and dry by the morning.
Whirlpool is the most reliable with less than a 2% repair rate. Also, along with GE, Whirlpool has the best parts and repair services after the sale.
However, Whirlpool's volume is builder-driven. With a more basic machine, it traditionally requires less service. That service rate is probably closer to 5-6%.
It's important if you are buying from a store without service.
Whirlpool Front Load Washer Problems
The RPM spin speed is a bit lower than the average of 1200 at 1100. Faster spins will wring more water out for less drying.
When it comes to cost, Whirlpool's price is a bit high at $1,199 versus $999-$1,099 for LG and GE.
You do have clean tub cycles like LG. Whirlpool has the Affresh cycle for preventing mold. But, they do not have comprehensive mold prevention like GE.
Lastly, you cannot reverse the washer or dryer doors, so the doors do not line up while stacked.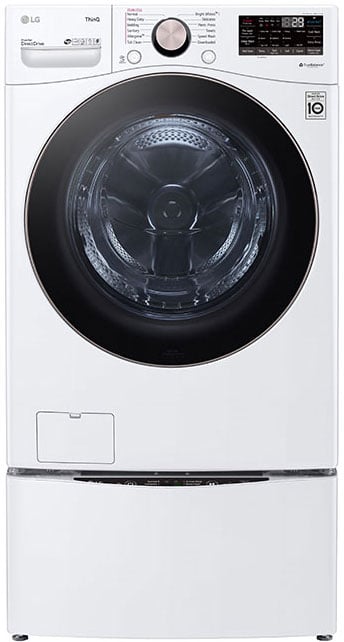 Dimensions: 27 W 39 H 30.5 D | Capacity: 4.5 Cubic Feet | Number of Cycles: 14 Cycles, 12 Options | Spin Speed: 1300 RPM | Reversible Door: No | Automatic Dispenser: No | Reliability: 4.14%
The WM4000 is the most popular LG washer.
LG created the first modern-looking front load washer, now copied by every manufacturer. (Maytag marketed the first front load washer with their infamous Neptune model).
LG's washer features four high-pressure hoses upfront for a faster cycle (pictured below). LG's fastest cycle, the TurboWash, is a 30-minute cycle for a 10-pound load.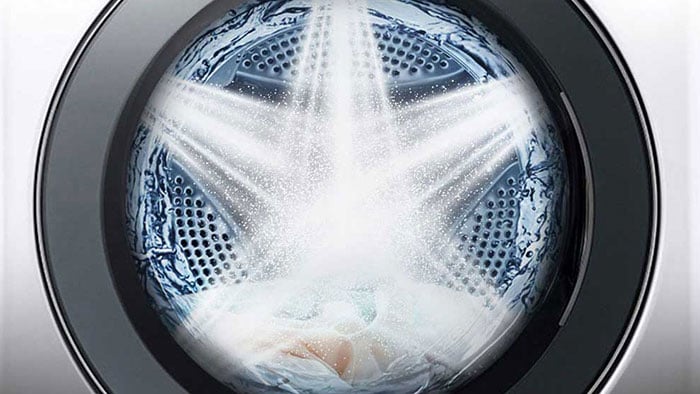 When it comes to specialty cycles, the LG front load washer has plenty of options designed with speed and steam. The TubClean cycle removes mold and odors.
Their Allergen cycle's high heat wash kills 99.9% of bacteria.
Forget to add that sock in the wash? The Add a Garment cycle allows you to add garments during the cycle.
LG is a pioneer of Wi-Fi and AI as well. You can adjust time and receive alerts when the cycle is through right on your phone.
Reliability has been good as well and always in the top 3 or 4. This year, it was under 5% in the first year.
Depth may be LG's best feature.
It is the shallowest at 30.5 inches, so LG can stack in closets or deliver in tight places.
LG tied with GE for the fastest spin speed, so your clothes will be pre-dried before adding them to your dryer.
The reliability has been excellent as well. Last year was no exception.
LG Front Load Washer Problems
To some extent, LG has service problems. However, LG is improving their service problems by adding technicians.
In addition to lack of service, LG's dryer does not have a reversible door, so it does not line up when stacked.
Lastly, LG does not have an automatic dispenser.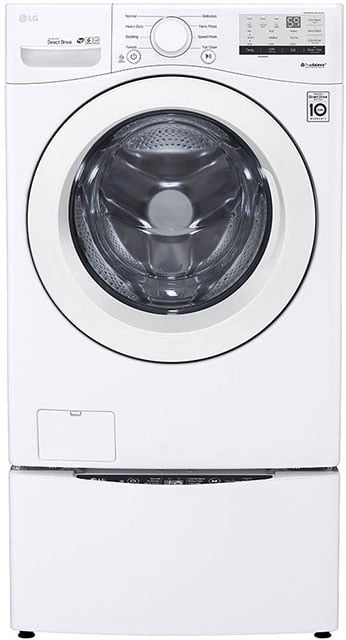 Dimensions: 27 Wide, 39 H, 30.25 Deep | Capacity: 4.5 Cubic Feet | Number of Cycles: 8 Cycles, 6 Options | Spin Speed: 1300 RPM | Reversible Door: No | Automatic Dispenser: No | Reliability: 4.14%
Finally, the WM3400CW is one of the most popular front load washers sold.
Affordable doesn't mean cheap. The WM3400CW still has eight cycles and six options and the same spin and reliability as LG's better machines.
It has many of the features of the WM4000HWA, just without the TurboWash, Allergen cycle, and Wi-Fi.
What Are the Most Reliable Front Load Washers?
Let's take a look at the most reliable front load washer brands established from 37,061 service calls logged by our service team.
Front Load Washer Reliability for December 2019 to November 2020
| | |
| --- | --- |
| | Service Rate |
| Whirlpool | 1.85% |
| Samsung | 2.90% |
| LG Electronics | 4.14% |
| GE Appliances | 8.61% |
| Maytag | 17.61% |
| Total | 6.18% |
These figures are based on a minimum of 10 washers sold per brand and over 4,0000 total pieces.
Whirlpool is the most reliable at 1.85%. However, many of those units were basic models sold to builder jobs.
The average appliance service rate is 9.7% within the first year of use.
Front-load washers are the most reliable major appliance behind electric and gas ranges.
However, the repair can be expensive for the direct-drive motor.
Make sure wherever you buy your washer from has repair services or can easily arrange it for you. Always check reviews.
What Happened to Samsung?
I have no idea. Samsung has had more than its share of supply chain issues. You can probably buy the washer or maybe just the dryer.
However, it's hard to buy the pair at least right now in terms of availability.
Read More: Most Reliable Front Load Washers for 2021
Best Front Load Washers: Key Takeaways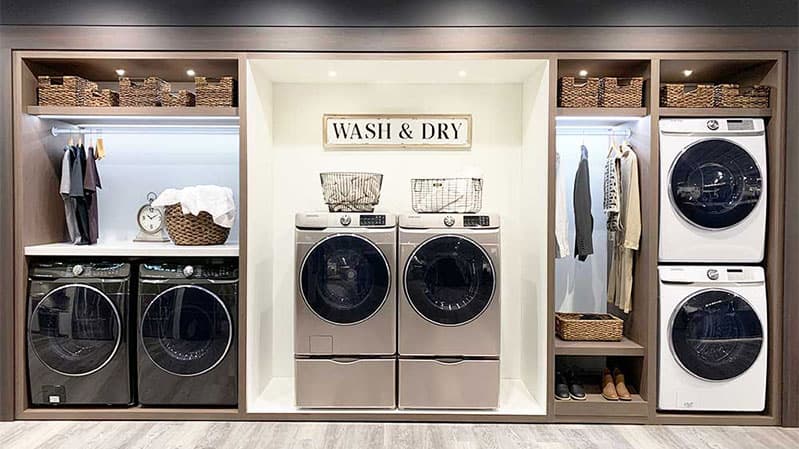 There is a reason to buy any front load washer on this list. They have a similar capacity, with two at 4.5 and two at five cubic feet with varying features.
LG is a bit more proven but is $100 higher for similar features plus Wi-Fi. Shallow depth matters, especially when stacking.
LG is your best consideration for stacking at 30.25 inches.
Whirlpool is reliable. Their interface is different and intuitive. You should look because it is a refreshing change from the knob.
GE is also the only front load washer to address mold, mildew, and odors and is well priced. It deserves the number 1 and 2 rankings.
With so many good choices with availability issues, our advice after the price is simple:
In your area, find the product that can be fixed the fastest.
GE, Whirlpool, and LG are all good considerations.
Availability was a problem in 2020 and is expected to be an issue in 2021. But what's reliable, but be mindful of what's available.
LG, Whirlpool, and GE can be interchanged based on what is available in your area.
Pro Tip: If you can't find a washer in white, check the colors. Most of these brands offer models with a chrome ring or titanium color.
How to Buy a Front Load Washer
Before shopping for a new washer and dryer, here are a few general features and considerations to look for in all brands.
Cost
Front-load washers cost $799-$1,199 for a decent front-load washer.
Size and Capacity
Front-load washers are between 4.3-5.8 cubic feet, with the vast amount sold between 4.3-4.5 cubic feet. Before you buy a larger size, measure your current unit, the door, and delivery areas.
In some cases, larger front-loads are bigger than existing spaces.
Our recommendation is to buy between 4.3-5 Cu. Ft. The price becomes much more expensive, over 5 cubic feet.
You will spend $300-700 for 0.5-1 cubic feet.
The best front-loads are between 4.5-5 cubic feet.
For example, this LG washer (pictured below) is $1,799 for 5.8 cubic feet or double a five cubic foot for 0.8 cubic feet.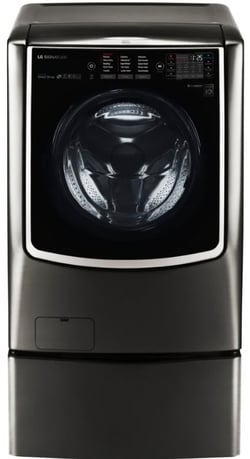 Don't buy any front load washer over five cubic feet - most notably the largest LG and the 2-in-1 Samsung washers.
Microban Technology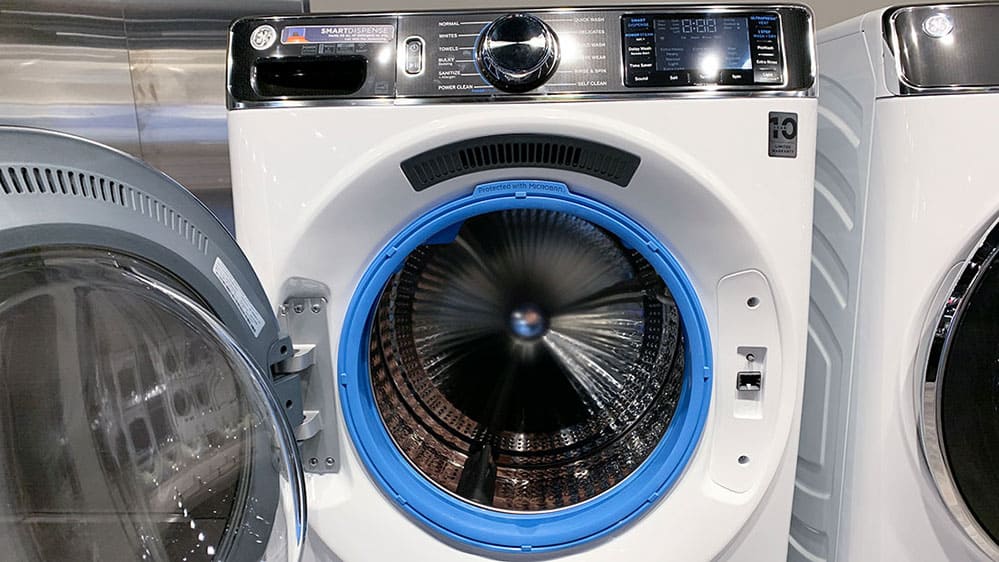 GE now employs Microban (the blue coating above) to eliminate mold and mildew in their front load washers.
Reversible Door
GE and Electrolux allow you to reverse the washer door, so you can move the clothes from washer to dryer easier.
Pro Tip: Have the store reverse the door. You do not want to do it yourself.
Wi-Fi
Samsung Smart Front Load Laundry
Wi-Fi will allow you to activate your washer remotely. The machine will also tell you when it's done.
So you do not have to keep running to the basement before the load is done.
All the best GE, Whirlpool, LG, Samsung, and Maytag washers feature Wi-Fi.
Automatic Detergent Dispensers
High-end Whirlpool, GE, and LG front load washers offer automatic dispensers. Maytag's front load washer and Miele's compact washer also have automatic dispensers.
Depending on the manufacturer, each dispenser can hold 8-40 loads of laundry detergent.
Overnight Wash and Dry Cycles
Whirlpool, GE, and Maytag offer a way to wash and dry an outfit or small load using the wash and spin cycle.
Faster Spin Speeds and Heat Boost Options
A faster spin speed will wring out more moisture out of your clothes for less time in your dryer.
Heat boost will increase the heat by 20 degrees for better cleaning of white colors.
TurboWash and SuperSpeed Cycles
LG claims to wash up to 10lbs of clothes within 30 minutes due to its high-pressure water jets in the door. A normal wash cycle is an hour long.
Two-in-One Washers
Samsung offers a double washer in the same chassis on their best washer.
It's an interesting feature, but you can buy two full-size washers and dryers for much less.
Two-in-one washers are not a recommended option.
Pedestal Washers
LG offers a pedestal washer known as the LG SideKick (shown above). It's kind of the opposite of the Samsung 2-in-1 washer where Samsung's washer is located at the top.
The LG SideKick has a second washer under the main washer.
Front Load Washer Brand Profiles
GE Appliances
GE is not the same company anymore. They were purchased by Haier in 2017 and have evolved more quickly since.
Most of their production is still in the US despite their foreign ownership.
Laundry has changed more than any other product as they managed to address all the concerns and features of their competitors while adding mold protection.
LG
LG is one of the two large Korean brands, with Samsung being the other. LG has been stronger in the laundry. They were the first with the modern front load, first with speed cycles, and the first with a Wi-Fi interface.
They are also better than Samsung on the service side and have invested in technical support.
Whirlpool
Whirlpool started as a laundry company and flourished as the Kenmore private label brand for years. It started as a handshake agreement and lasted for almost a century.
What Whirlpool lacks for imagination, they compensate in reliability and service after the fact. They rarely innovate but make a consistently solid product.
Samsung
This year is the first time Samsung has not been on this list for the best front load washers. Their availability is that bad. In terms of products, Samsung is similar to LG for features.
That said, Samsung's service is not good, but the product works. If you lack other choices in your market, Samsung is worth considering.
Frequently Asked Questions
1. Are Front Load Washers Stackable?
Yes, most front load washers are stackable. Only Speed Queen washers are not stackable. They only offer a unitized washer and dryer.
As we said before, all of our front load washers on this list are stackable.
The Samsung 2-in-1 washer is an exception. The largest LG also can't be stacked due to the height and depth.
Here are some pointers for stacking front load laundry:
Is the dryer vented or ventless?
If it's on an inside wall, it's probably ventless. Check to see if there is a metal vent in the back.
The best ventless dryers are compact and 24 inches in depth and width. Only Whirlpool and LG offer one ventless dryer in full size. It was not widely sold. LG's was off-market as of this writing.
For ventless dryers, check out the Best Compact Laundry article by clicking here.
Fuel Type
Is it gas or electric? You can tell by the plug. Gas is 110 volts like your small appliances, and electric is 220 volt with a larger, thicker cord.
New models are often deeper than your previous washer and dryer.
To prevent a return, measure your space. If you live in a brownstone (Hello Boston), measure the staircases and landings as well.
Schedule a Site Check
If you have any questions, have your store send a specialist to measure for you.
Read More: How to Buy a Stackable Front Load Washer and Dryer
2. What's the Best Brand for a Front Load Washing Machine?
GE, Samsung, Maytag, Whirlpool, and LG are the best brands to consider for front load washers.
3. How Long Do Front Load Washers Last?
Front-load washers should last 6-10 years, according to the United Servicers Association.
4. Should I Buy an Extended Warranty for My Front Load Washer?
You will be asked and pushed by your store to buy an extended appliance warranty.
First, you should never buy a warranty from a company that does not offer its service.
Your appliance is less likely to be repaired quickly with an outsourced warranty.
If you are buying this for peace of mind, then you will get exactly the opposite.
For washers, the reliability numbers suggest not buying a warranty.
At 5-8%, these machines work better than almost every other appliance.
Unfortunately, the repair itself is incredibly expensive because front load washers have a direct-drive motor. A direct-drive motor's shaft is connected to the washer's drum.
It's less expensive to replace a front load washing machine than paying in parts and labor to fix the motor.
Ultimately, it's the insurance of a low repair rate versus a very high cost of repair.
Read More: Are Appliance Extended Warranties Worth It?
5. How Do I Prevent Mold in My Front Load Washer?
A lot of reviews talk about mold in their front load washers.
The best GE washers use Microban and their OdorBlock feature to stop mold before it starts.
It's preventable in other machines.
You can develop mold in a front load washer due to standing water in the machine's gasket and back.
To prevent mold in your washer, you should always make sure the washer barrel and gasket is as dry as possible.
You can do this by running a towel over the gasket and leaving the door open to air dry after every cycle.
A few companies address mold in their cycles. LG has the Tub Clean cycle, Whirlpool their Affresh cycle. Maytag has a separate fan.
If you do have mold, run a wash without clothes under a high temperature with Affresh tablets. This will clean any mold or mildew.
Read More: How To Prevent Mold In Your Front Load Washer
Additional Resources
Download our Yale Washer Buying Guide with all the features, terms, and brands of laundry. Over 820,000 people have already found answers in a Yale guide.
Related Articles:
Why Should You Trust Us?
It seems that every appliance review has nothing but glowing comments about almost every product, yet you read customer reviews and they are almost universally bad.
We are here to fill in the disconnect. We'll give you the best features, and the drawbacks as well, including reliability based on over 37,000 calls performed by our service team just last year. Our goal is to give you ALL the information so you know what's right for you.
Please consider subscribing or adding to the conversation in the comments below. We appreciate you stopping by.
Steve Sheinkopf
My goal has always been simple: I want Yale to be the best retail experience anywhere. I have tried to create a compelling environment for customers and employees alike.
A Note About Pricing
Pricing on this blog is for reference only and may include time sensitive rebates. We make every attempt to provide accurate pricing at time of publishing. Please call the stores for most accurate price.